At Jay Luigi "We Trust the Crust"
At Jay Luigi "We Trust the Crust"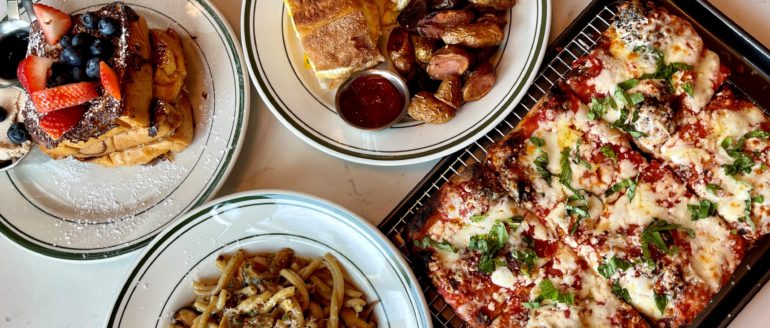 If you know me, which most of you likely don't, you know I am a huge fan of Ciccio Restaurant Group (CRG). I'm a regular at Fresh Kitchen, Taco Dirty and Better Byrd (if you ever need to know the perfect meal to order from any of them, just ask me). And this is only a handful in their restaurant portfolio. You can find CRG eats across Tampa and St. Pete and Fresh Kitchen across the state.
When I saw the changing of the guards happening in the old Burger21 location at 4th Street N and 32nd Ave N, I couldn't help but wonder what was going in next. Every time I drove by I would check out the progress being made on the building. I was thrilled when I started seeing the pizza mural going up and even more thrilled when I saw CRG post about their newest child, Jay Luigi an authentic Italian eatery, coming to St. Pete in the exact spot I had been eyeing for months. I immediately followed the Instagram, regularly checking on their updates and sending them to friends. You could say I was pretty excited for this concept. Once they finally opened, it took me longer than I would have liked to make it in… a whopping three weeks. But it was well worth the wait.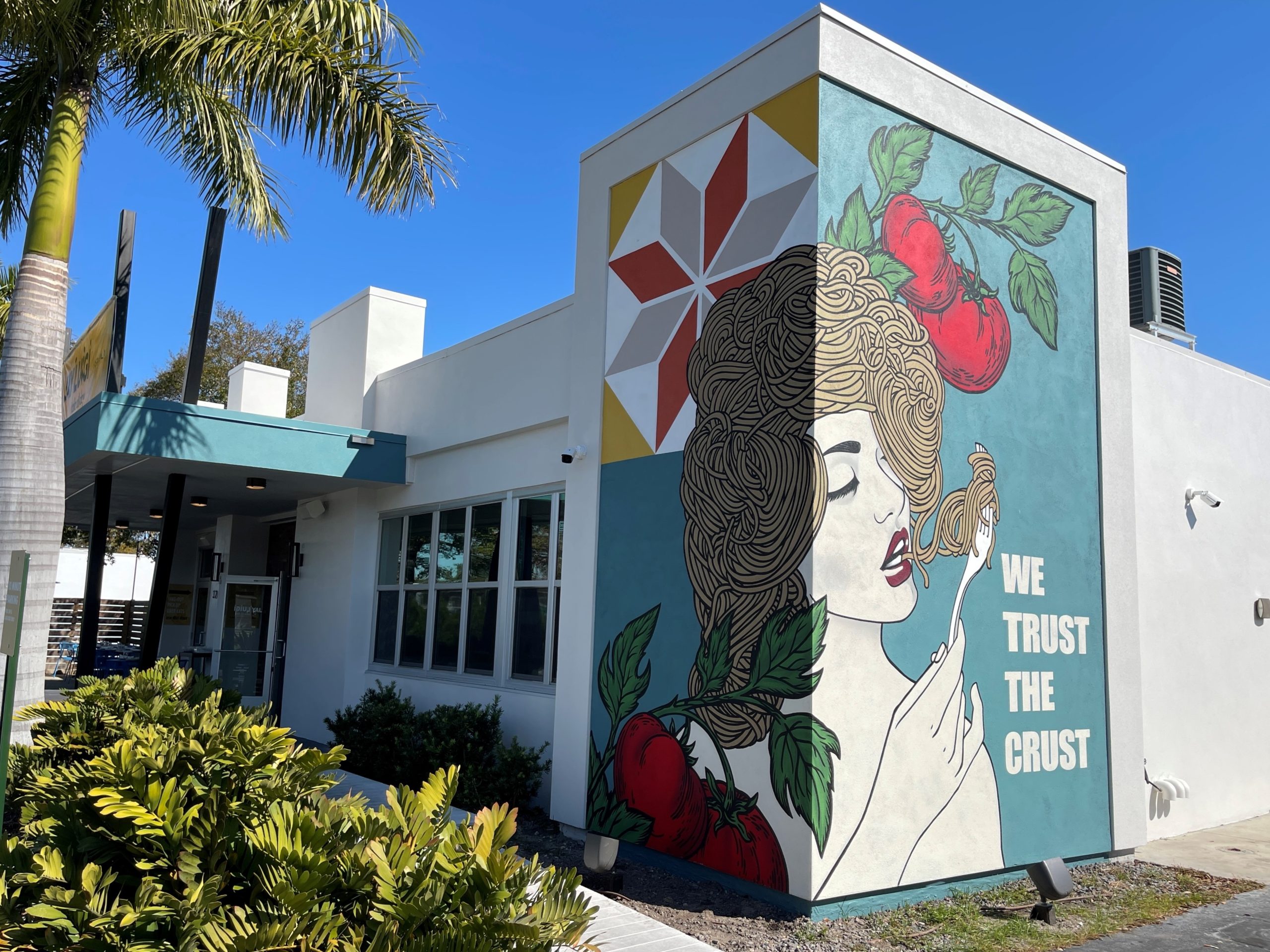 Jay Luigi is an "attentive counter service" restaurant serving up authentic Italian cuisine, including pasta and pizza while not leaving out the CRG staple… bowls. Attentive counter service happens when you mesh counter service and a full-service restaurant together. You'll order at the counter and will be fully tended to once you're at your table. Want a refill on your soda? Another beer? Dessert? They have servers to assist and QR codes on the tables so you won't have to get back up.
Lucky for me, the day I decided to try Jay Luigi for the first time was also the first day they were serving brunch. As my friend and I walked in, we were immediately greeted by friendly, smiling faces ready to make sure we had a great experience. There were two people who took care of us at the register that were very knowledgeable about the menu and gave great suggestions. During our discussion we settled on a hybrid brunch/lunch/dinner meal. We started with mimosas (can't do brunch without!) for drinks and for our meals ordered the Tiramisu French Toast, Ciabatta Breakfast Egg Sandwich, Drunken Mushroom Pasta and the Stella Pizza Romana.
After ordering we sat down and were promptly greeted by another smiling face clearing the extra plates and glasses off the table, pouring our water and asking if we needed anything else before our food came out. The French toast, egg sandwich and pasta all came out at the same time with the pizza shortly following. Everything is served as it's ready, which could be worrisome for groups, but it didn't seem like it should be a concern.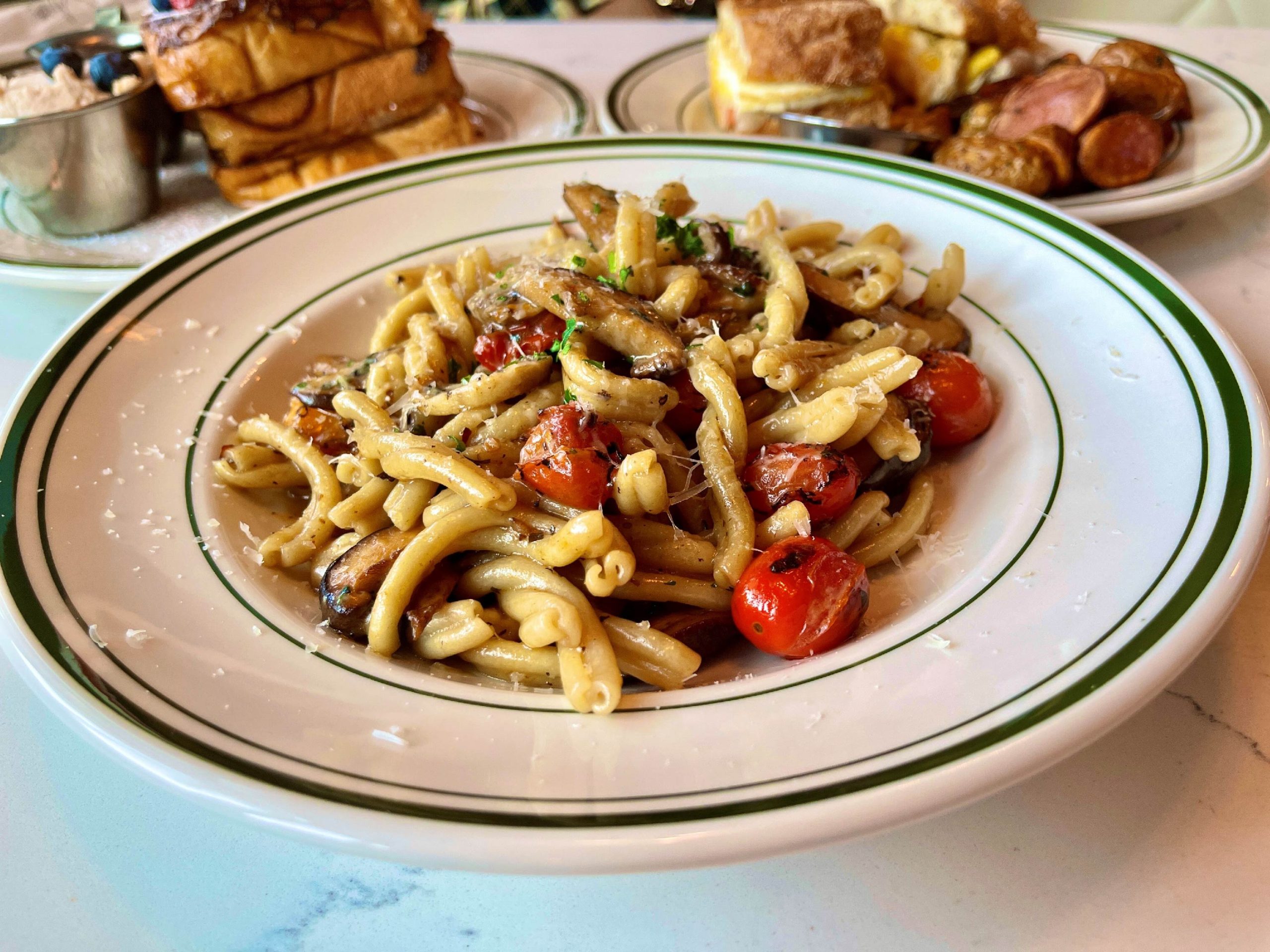 When all our food was delivered to the table, I started off by trying the Drunken Mushroom pasta. This is a vegetarian dish made with casarecce pasta, blistered tomatoes, white wine, cremini mushrooms, garlic, chili flake, mushroom stock and grana padano. You can win me over with any dish if it has blistered tomatoes.  And these tomatoes beautifully balanced the dish adding some acidity to the umami flavor of the mushrooms and was punched up a notch with the spice of the chili flakes.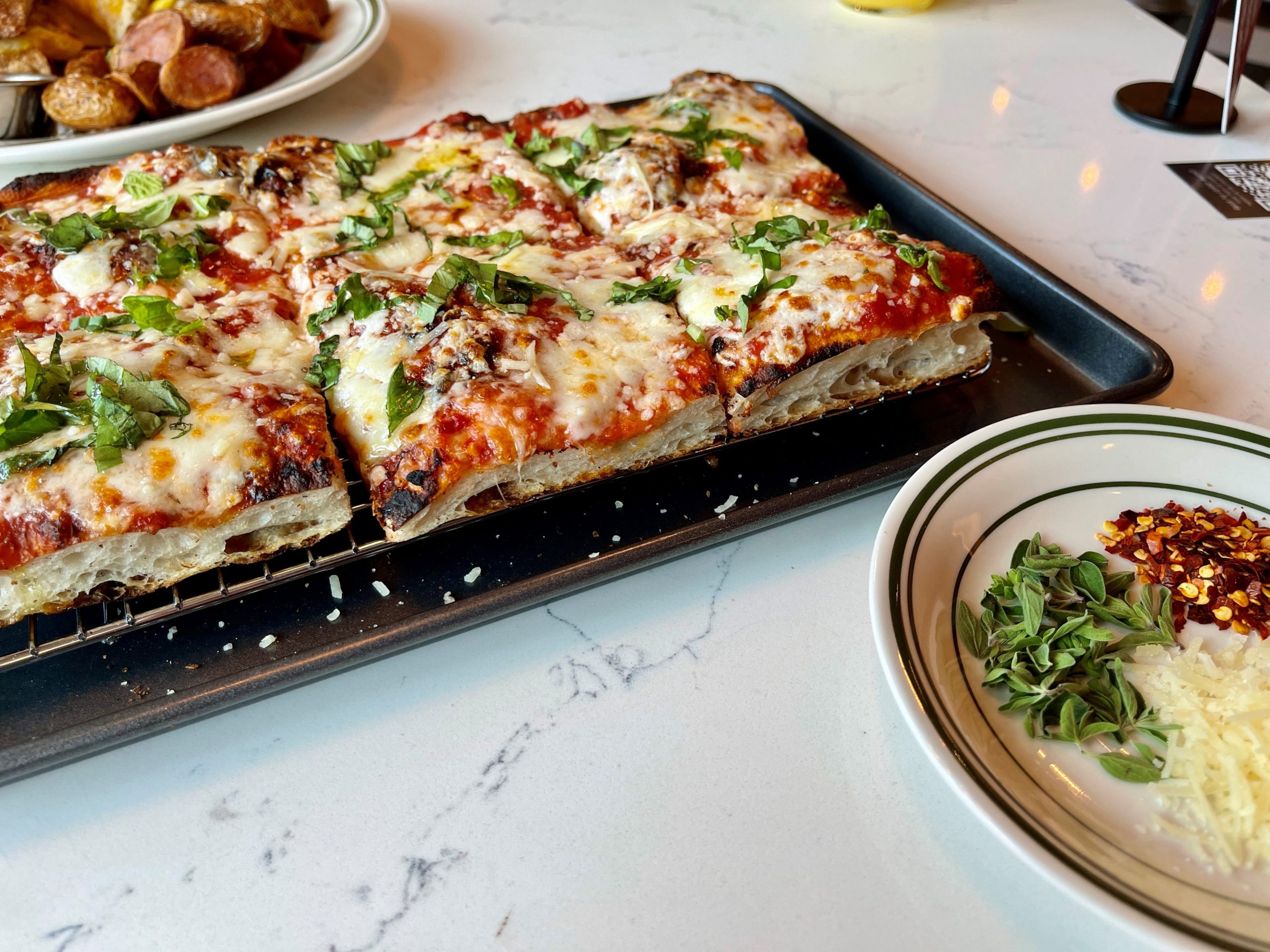 We mulled over which pizza to choose… do we go simple? Or do we do one with several toppings? Do we go Romana-style? Or do we go NY-apolitan? We settled on the Stella Pizza Romana. Stella is their most simple of Romana-style pizzas with tomato sauce, house-made mozzarella, basil and grana padano. While the pizza was more on the simple side, it truly let you enjoy the authentic flavors. The pizza was served with a small plate holding fresh grated grana padano, red pepper flakes and fresh oregano. I sprinkled a little bit of each on my slices and it was the perfect addition to step the pizza up another notch.
While we were dining, we enjoyed a couple of visits to our table by one of the partners at Jay Luigi, Jay Brunetti, who explained the process of how they create their pizza. And while I can't remember all the scientific details, I can tell you they use the best of ingredients and techniques… including importing wild yeast from Italy (dubbed "NIKI"), using 00 flour, creating a crispy, fluffy crust by using 80% water in their dough and whipping up house made mozzarella.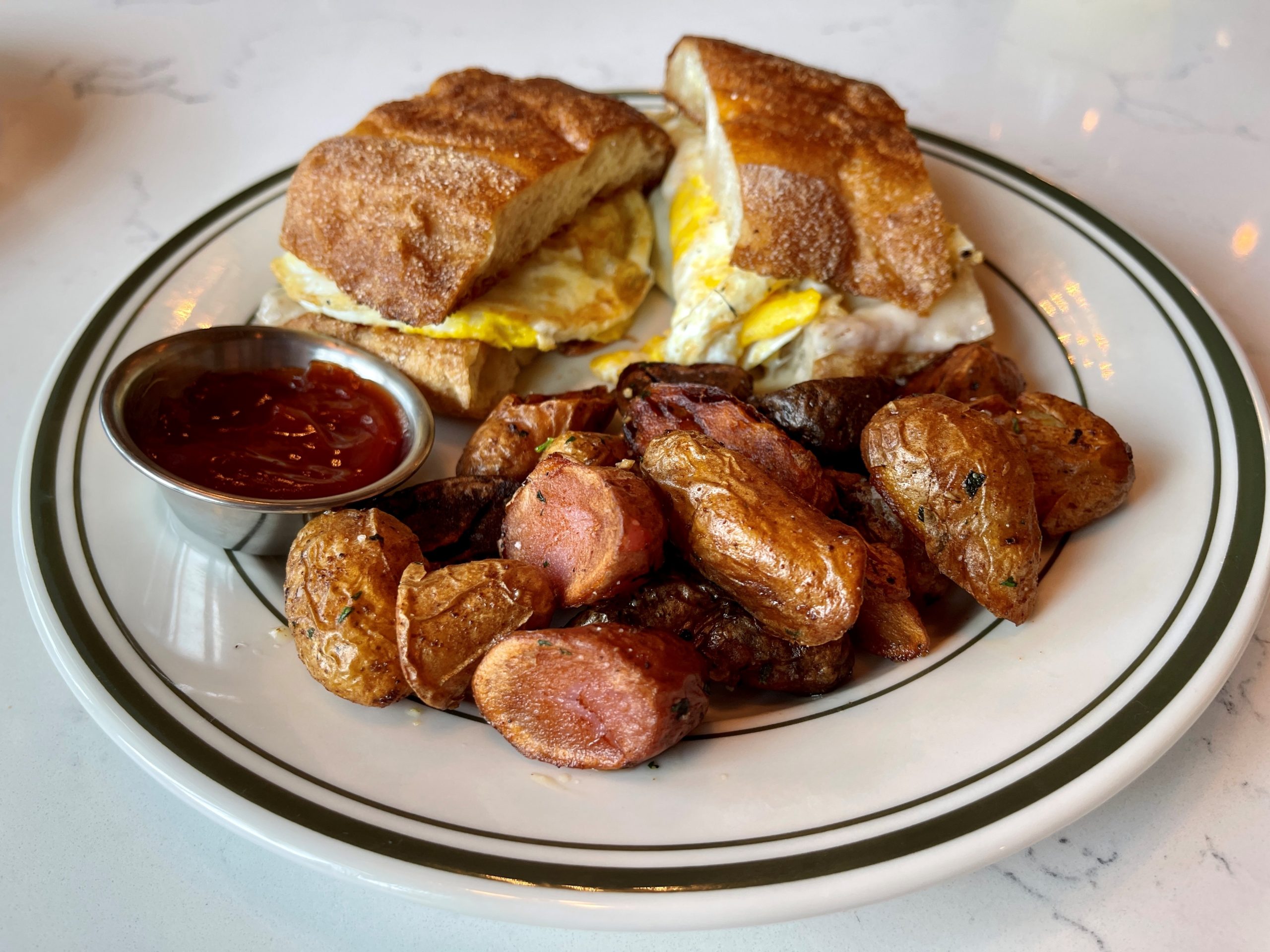 Now on to the brunch portion of the meal… The Ciabatta Egg Sandwich is layered on the house made ciabatta with fried eggs, bacon, mozzarella, tomato, house made Calabrian-basil aioli and served with a choice of Italian fingerling fries or fresh fruit. The friend I dined with does not eat pork, so we ordered the sandwich with no bacon and chose the Italian fingerling fries for our side. The fries, which were more like breakfast potatoes, were crispy on the outside and smooth on the inside. Or as I like to call it, "what potato lovers' dreams are made of". The house made ciabatta bread and Calabrian-basil aioli made this breakfast sandwich so good, I didn't even miss the bacon.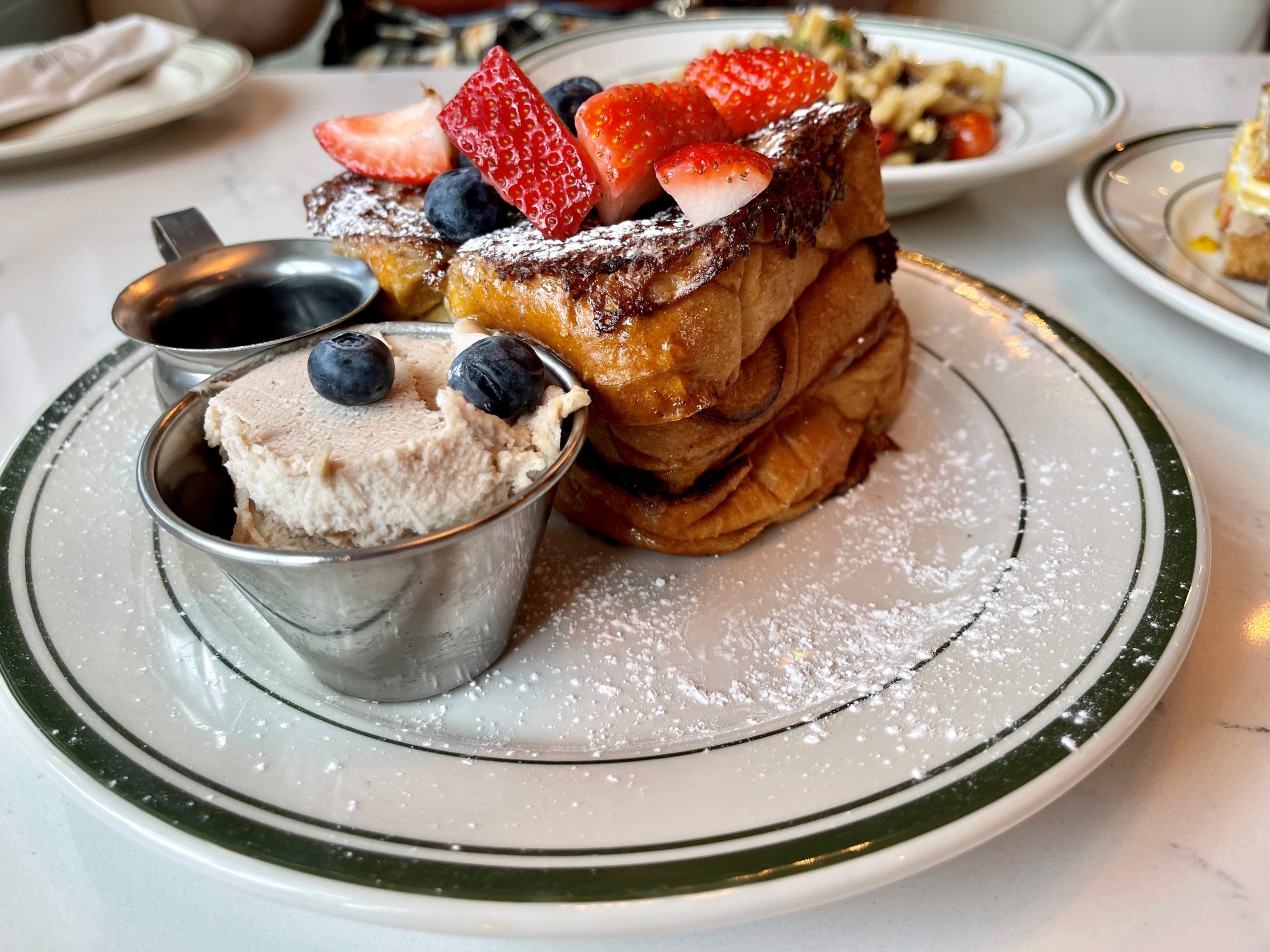 I've saved the best for last. The Tiramisu French Toast!!! Oh my gosh. I have never had a sweet treat like this. Three thick cut slices of French toast stacked to heaven and above. With crisp edges, a soft custardy center this dish is topped with fresh berries and served with cinnamon syrup and a sweet mascarpone (which I believe had cinnamon swimming in it, as well). You will want to live inside of this French toast and eat it from the inside out. My friend who is not into sweets in the slightest (I can't even get her to eat a sweet potato) nearly cleared the entire plate off. So, now you know where to find me for brunch in the foreseeable future.
Jay Luigi is one of the best dining and food experiences I've had in a while. For a "counter service" restaurant it will make you feel like you are nearing a fine dining experience. This is a place that will keep you coming back for more. Not just for the food, but for the kind demeanor of the staff, the laughs and Italian food lessons with the owner and an all-around delightful experience. I'm actually headed back there right now… see ya! (Keep scrolling, there's more)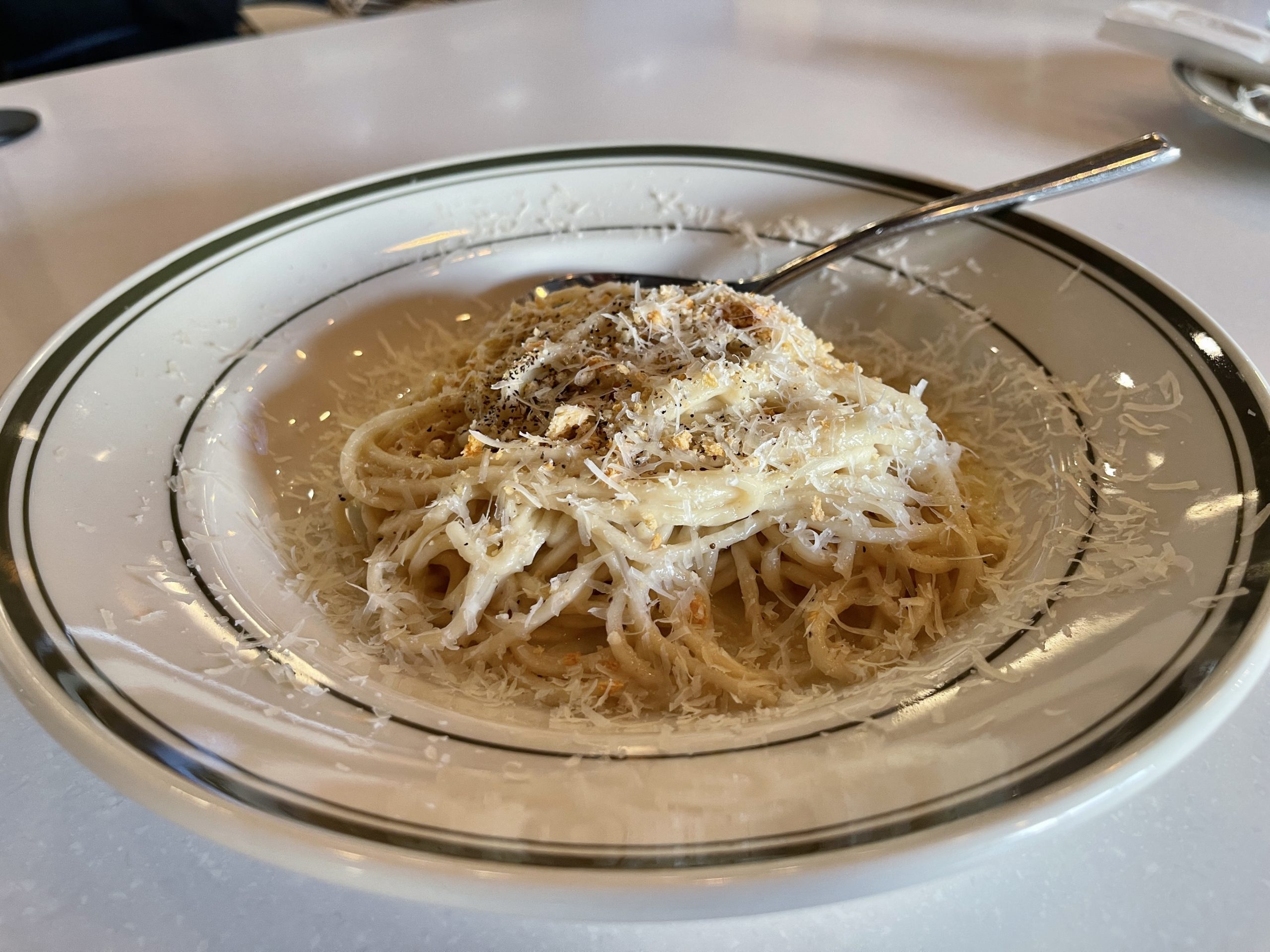 I just got back from my second visit to Jay Luigi… You didn't think I'd leave you without sharing what I had, did you? I was greeted by the same friendly faces ready to give the same great service as before. I decided to try a classic pasta dish and went with the Cacio e Pepe (suggested by Jay, it's his favorite). Cacio e Pepe is a simple but delicious sauce made out of two simple main ingredients, cheese and pepper. The sauce was creamy and perfectly balanced, tossed with al dente spaghetti. The cheese allowed for a slight tang while the pepper added just a little kick. The dish was topped with panko breadcrumbs to give it a bit of a crunchy texture.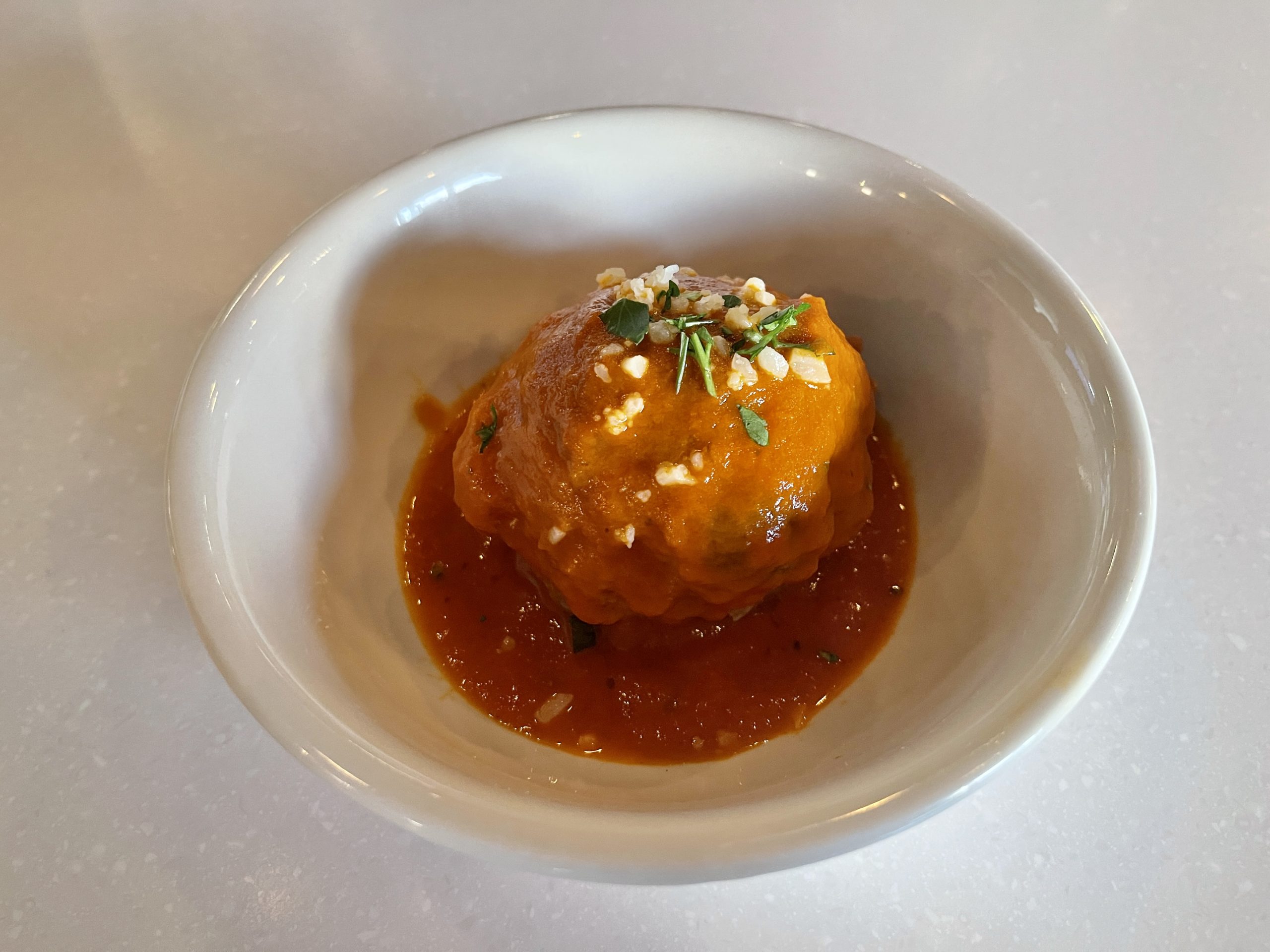 I finished off my meal with the perfect dessert… a meatball! Jay was kind enough to let me try one of Jimmy's Meatballs. It's made out of an 80/20 mixture of beef and pork with fresh parsley and coarsely shredded cheese throughout then smothered in a classic Pomodoro sauce. It was the ideal texture, not too dense while also not being too crumbly. I can't imagine a better way to end my meal!
FUN FACT:
Jay Luigi is an homage to the original CRG restaurant, Ciccio & Tony's in NYC. They then brought their Italian concept to Tampa when they opened Ciccio's on South Howard (now Water + Flour), which still has some Italian favorites on the menu today. They decided to bring their original concept full circle when opening the authentic Italian eatery, right here in St. Pete, Jay Luigi.
Attentive counter service, authentic Italian restaurant serving pizza, pasta, bowls and brunch in St Petersburg, FL.
DISCLAIMER: Kevin, Lori, Abby, Haley, & Lindsey do not dine anonymously (this would be impossible) and we sometimes get free food (though never expected). However, we dine with the locals and we support our own. You will always get honesty in a respectful manner.

PLEASE NOTE: Reviews reflect a certain moment in time. Some restaurants stay extremely consistent over many years, and some change for the better or worse. Some things that may change are: chefs, recipes, food suppliers, ingredients, philosophies, ownership, etc. We always hope that you have the same good, or great experience we had.
More Foodies News, Reviews & Recipes