Beau n Mo Two Point Oh! (2.0)
Beau n Mo Two Point Oh! (2.0)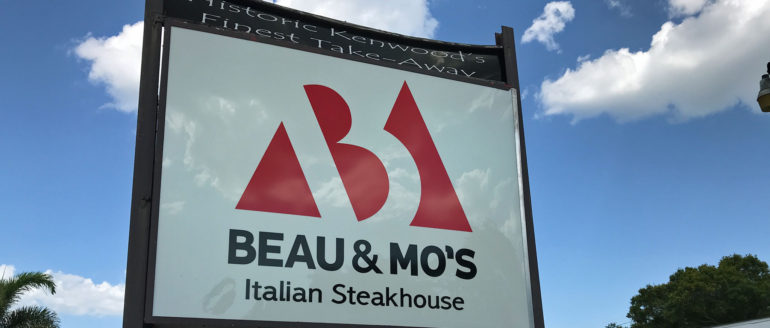 We've loved Beau n Mo's from the start when they opened in 2015, but apparently, they were just getting warmed up.
They started as Beau n Mo's Italian Eating House, but then things evolved where they became most popular for their steaks, and changed to Beau n Mo's Chicago Style Steakhouse.
We thought the Italian options were good, but the steaks were amazing, and that's what we've been going there for in the last couple of years.
Good news: The Italian options are now just as good as the steaks.
There's a lot of competition in this town, and new places keep opening. If you want to keep up, you need to kick it into high gear, and that's what Rob and Madonna did. The red sauce is out of this world, eyes roll back in your head amazing, but more on that later.
The reboot of Beau n Mo's, which I like to call Beau n Mo 2.0, is quite a success.
The interior has been redone with new floors, new booths, and tables for a sophisticated, but welcoming vibe.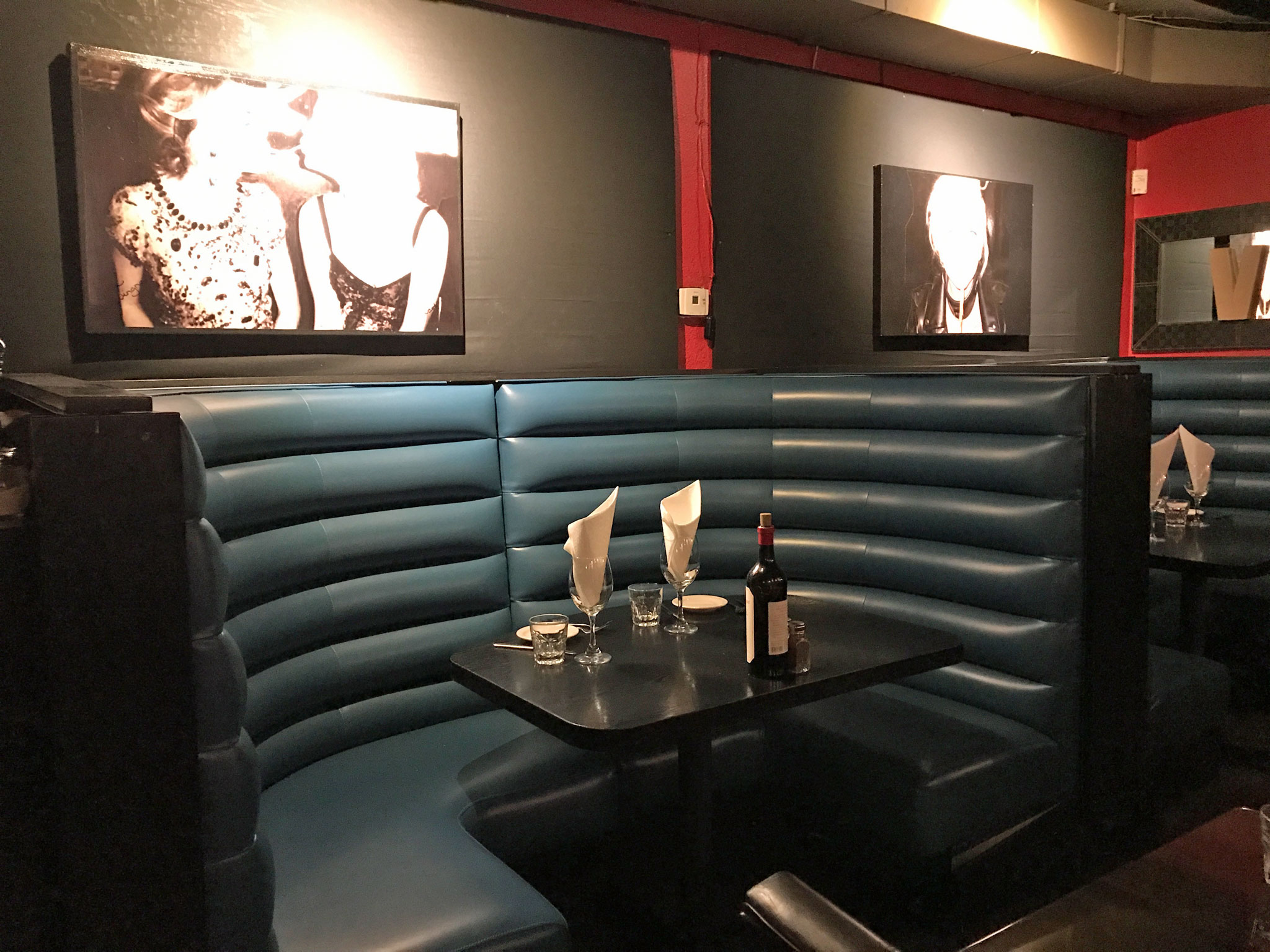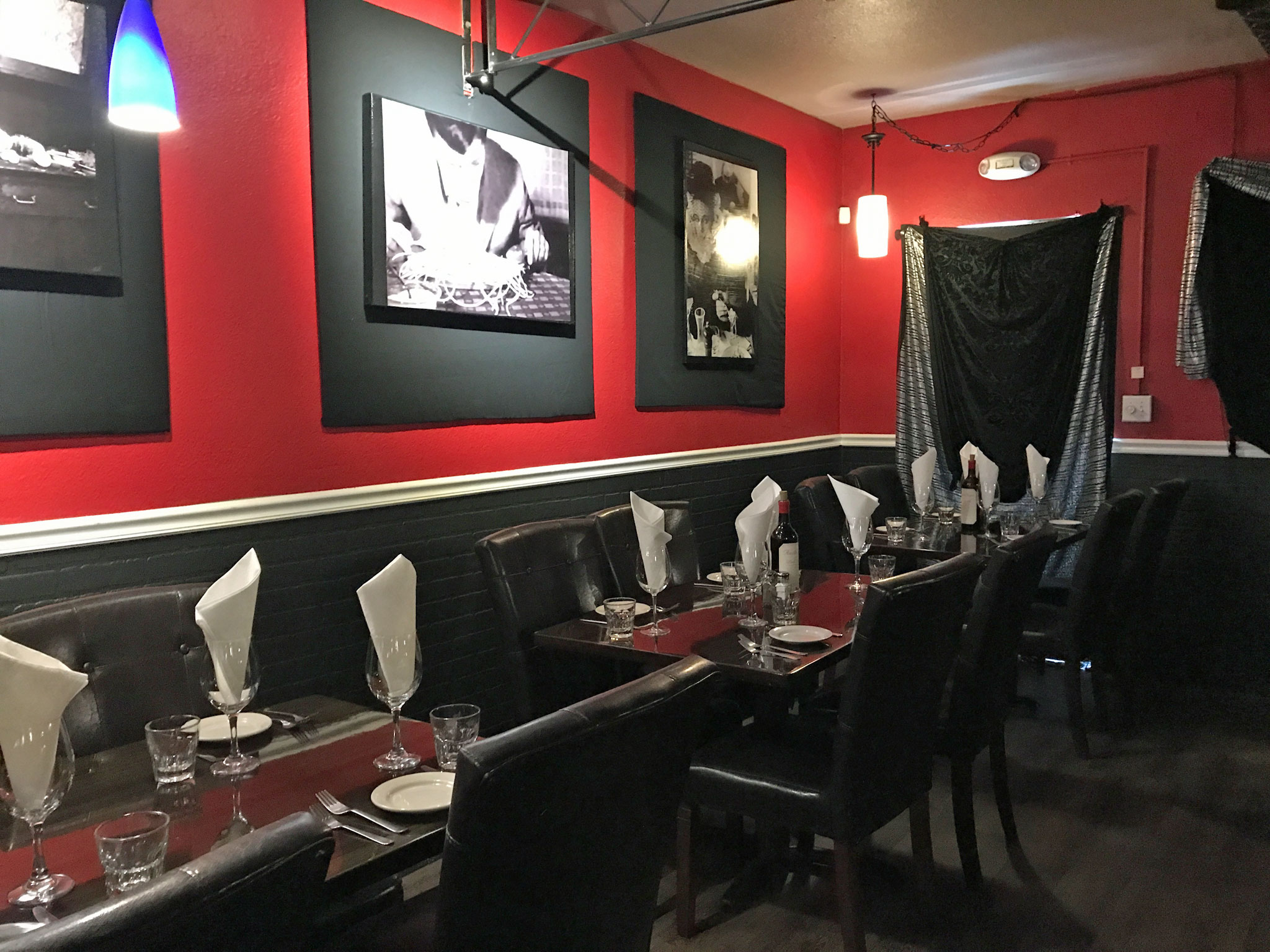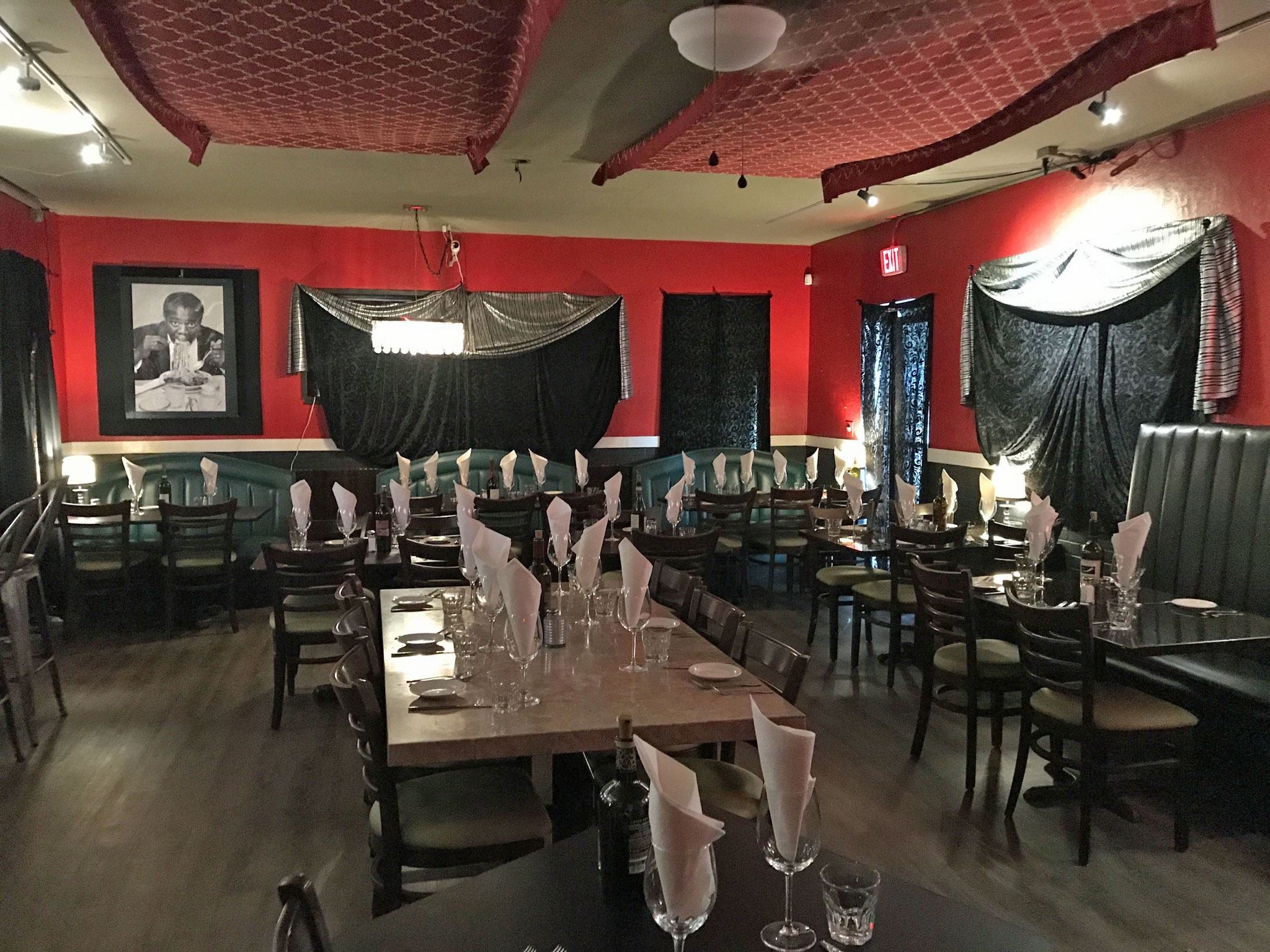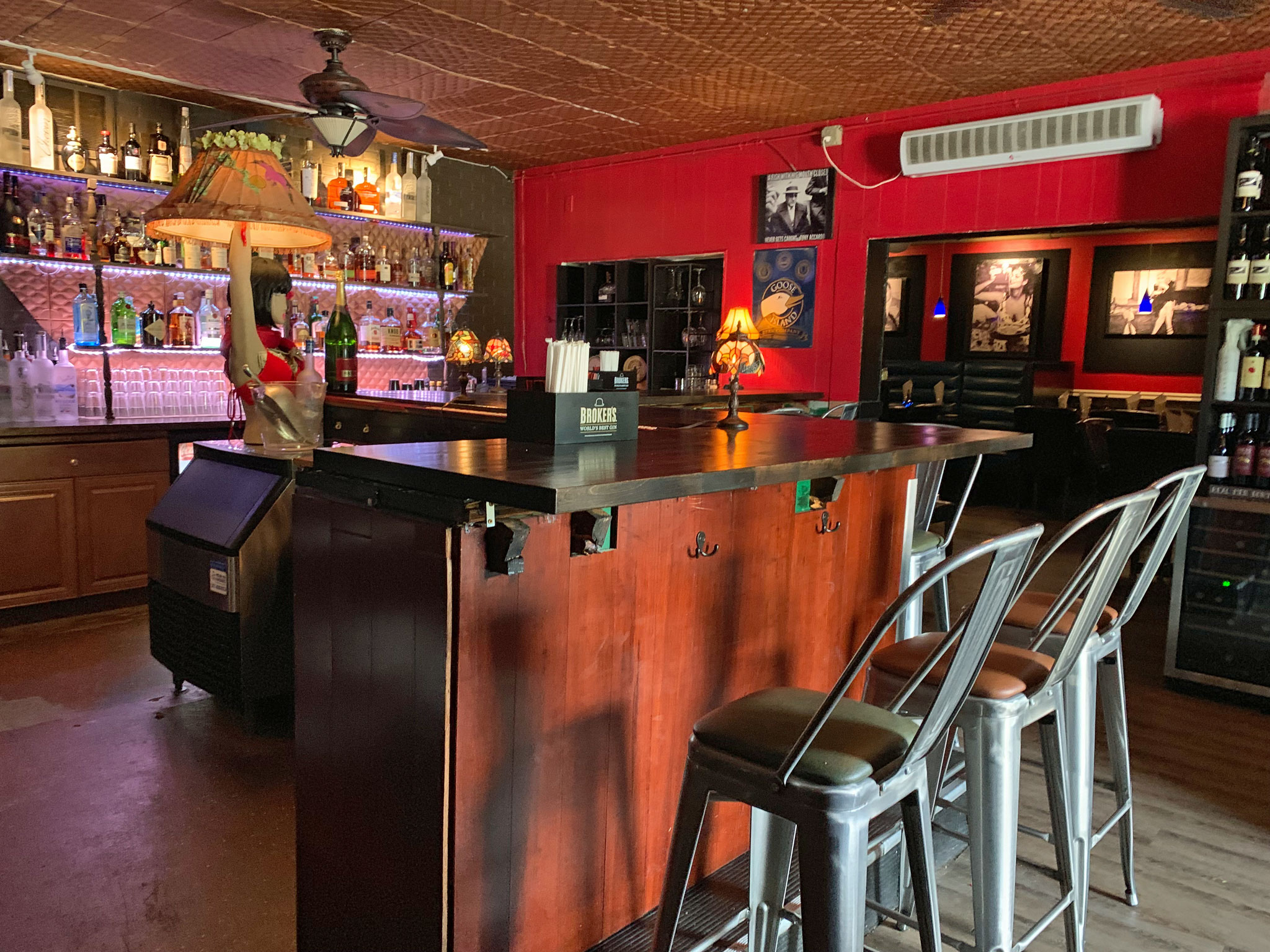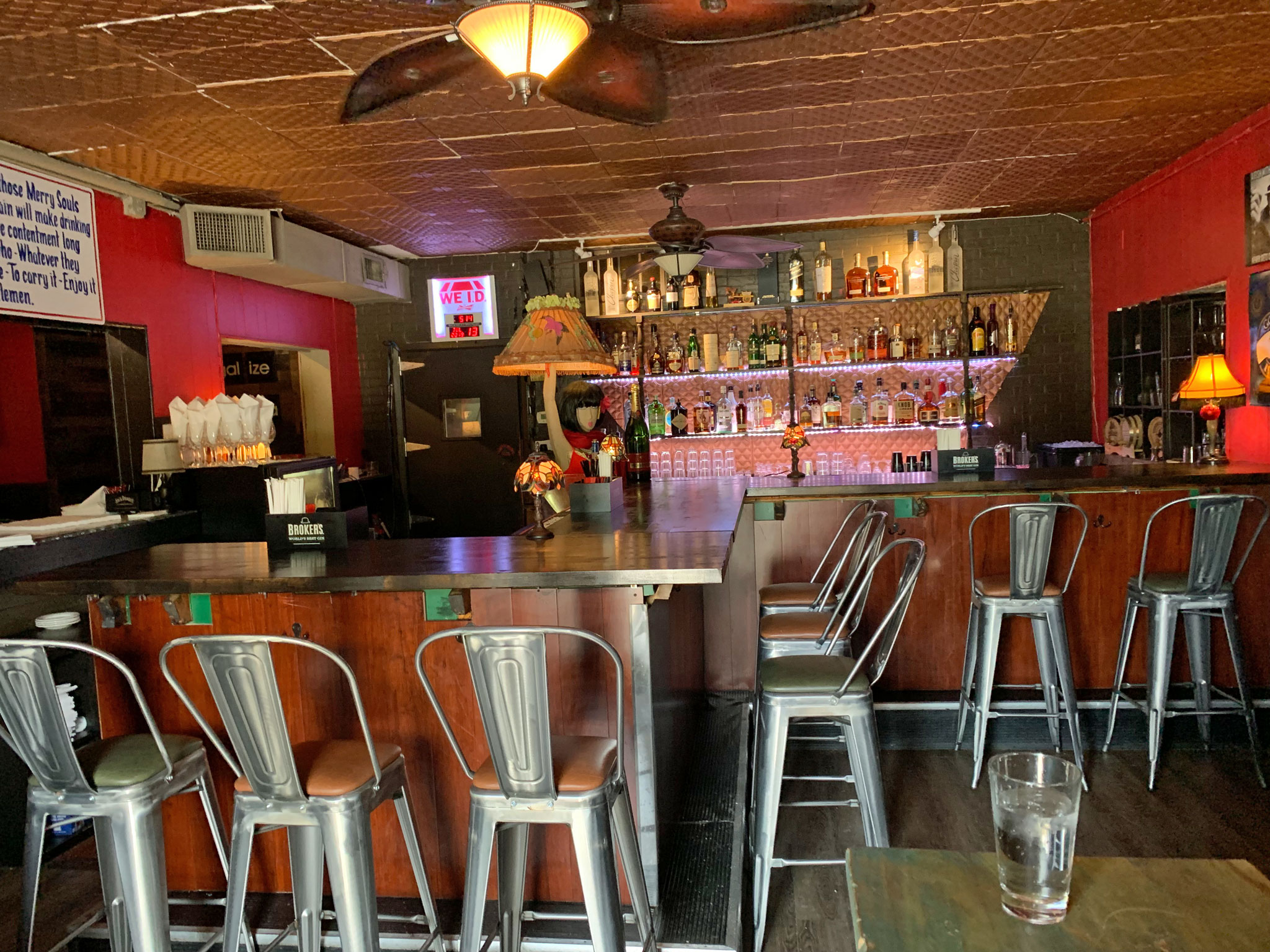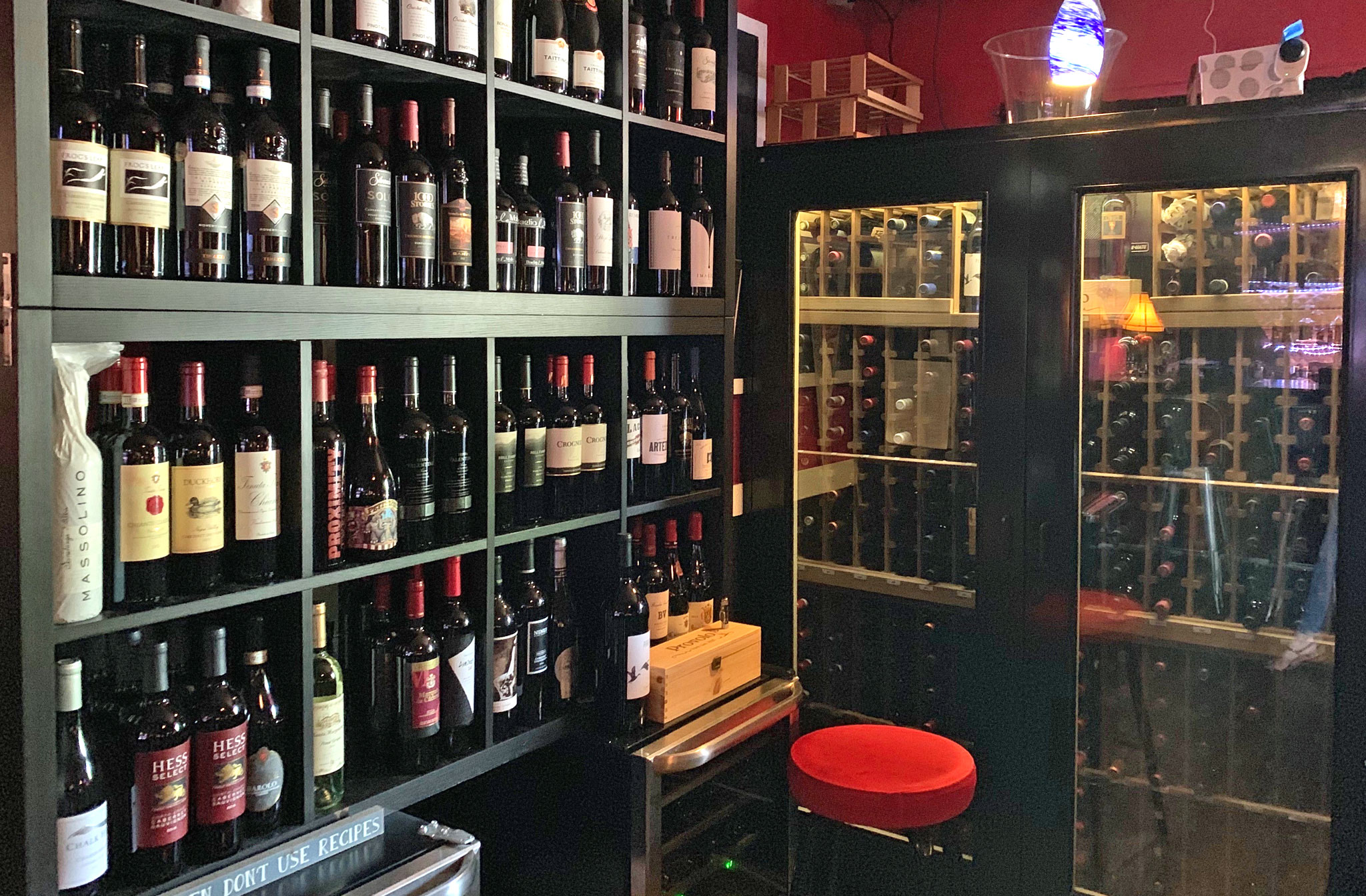 Now, on to the food! We start with our visit from a couple of weeks ago.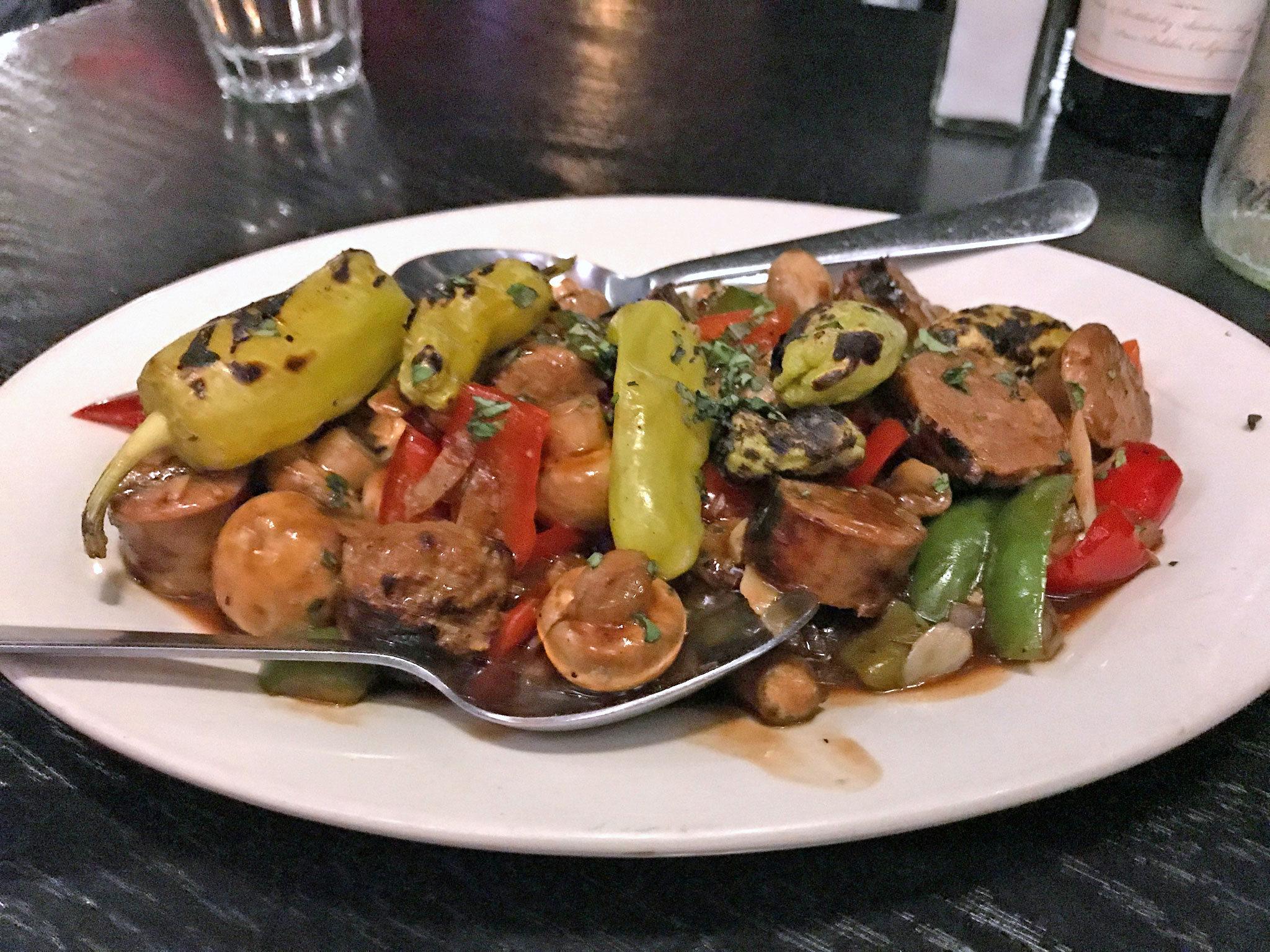 I've always loved the Sausage ala Joe, but the new version is my favorite. Green and red bell peppers have been added along with mushrooms, and of course the sausage is just perfect. We get this almost every time we come.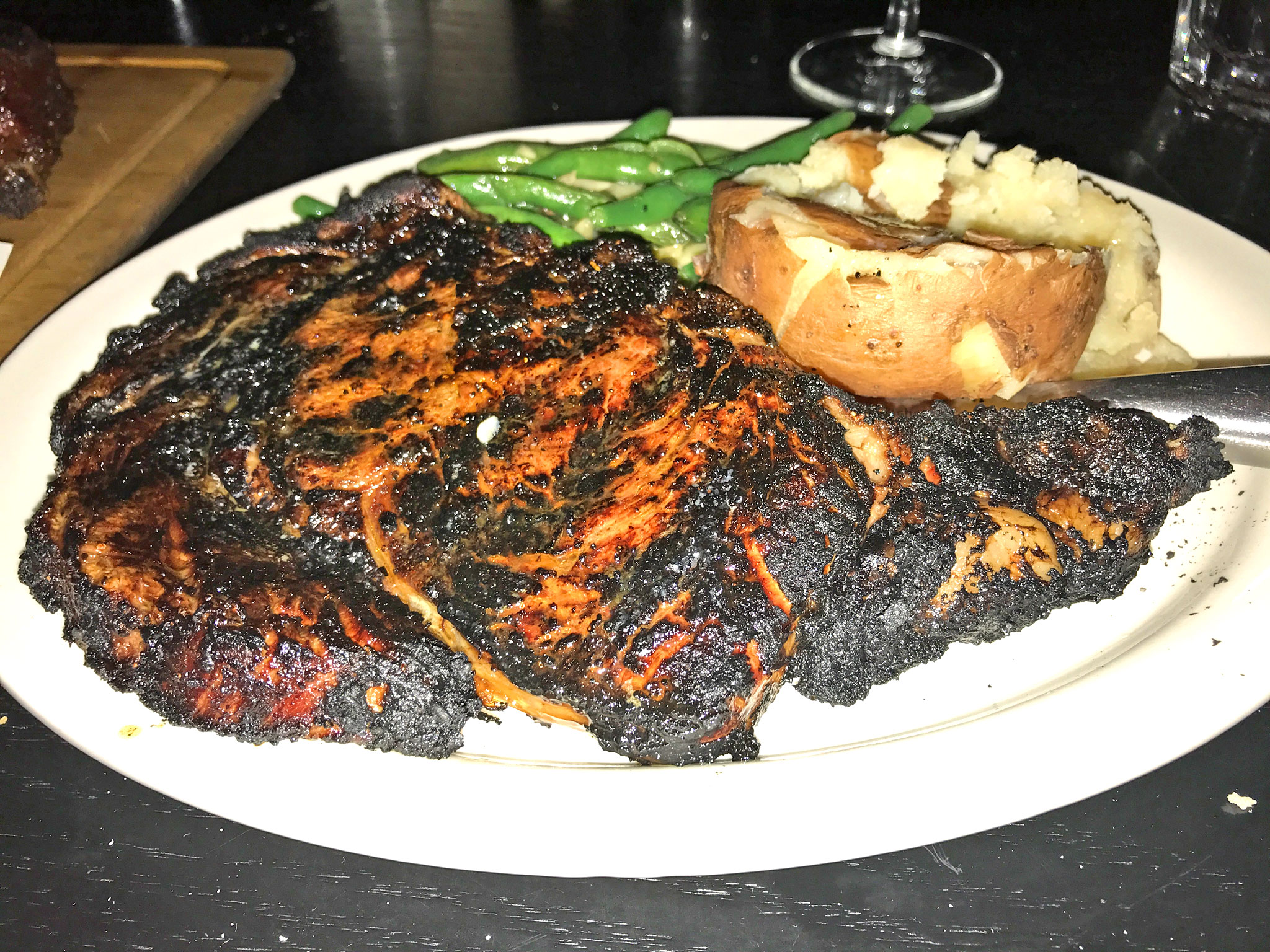 The Ribeye steak is always amazing, but last night's was extra delicious. The ribs were fantastic too – rich, and slightly charred on the outside yet moist, juicy, and tender on the inside. Check out the close up picture. We loved the smashed baked potatoes too.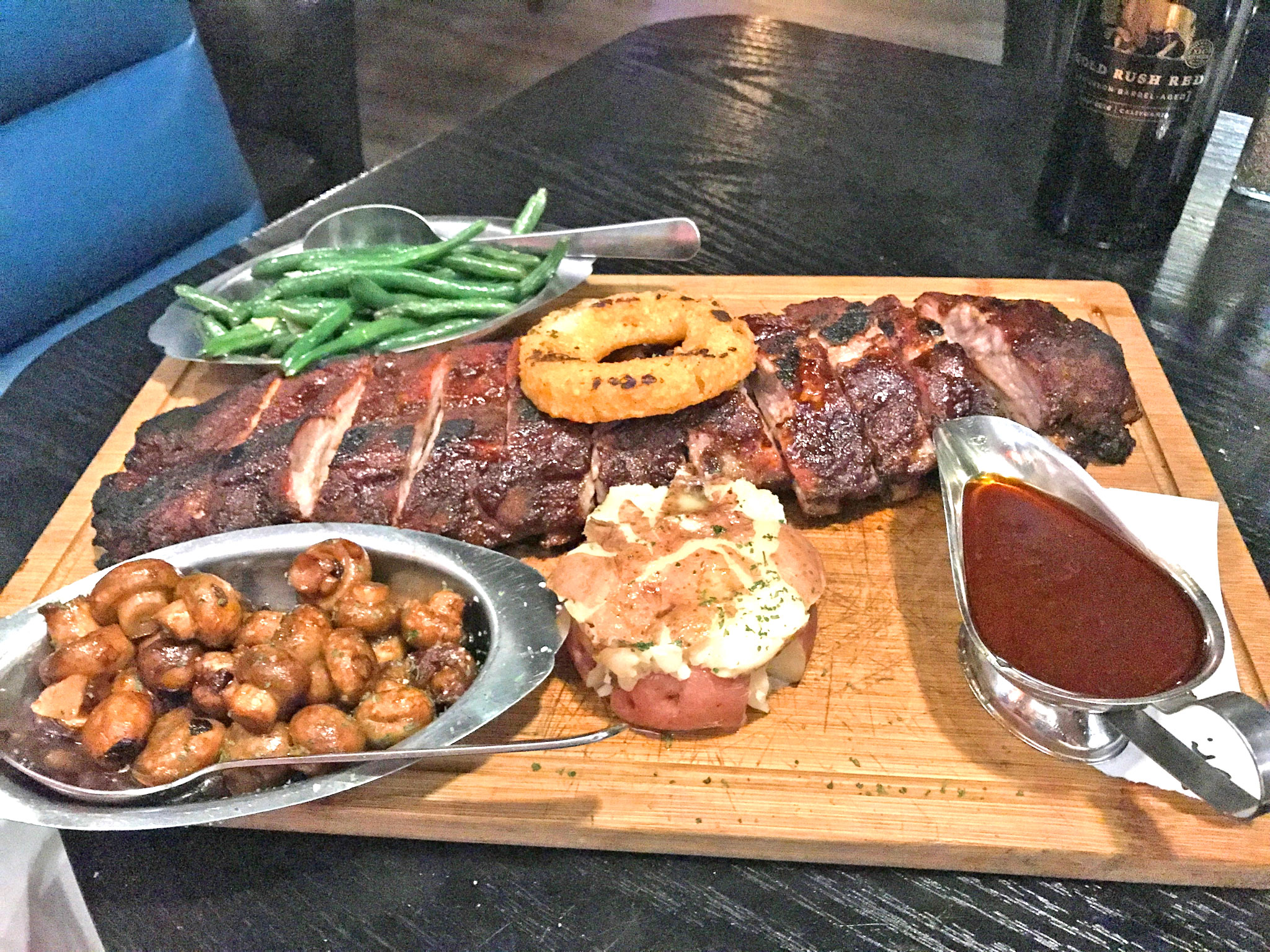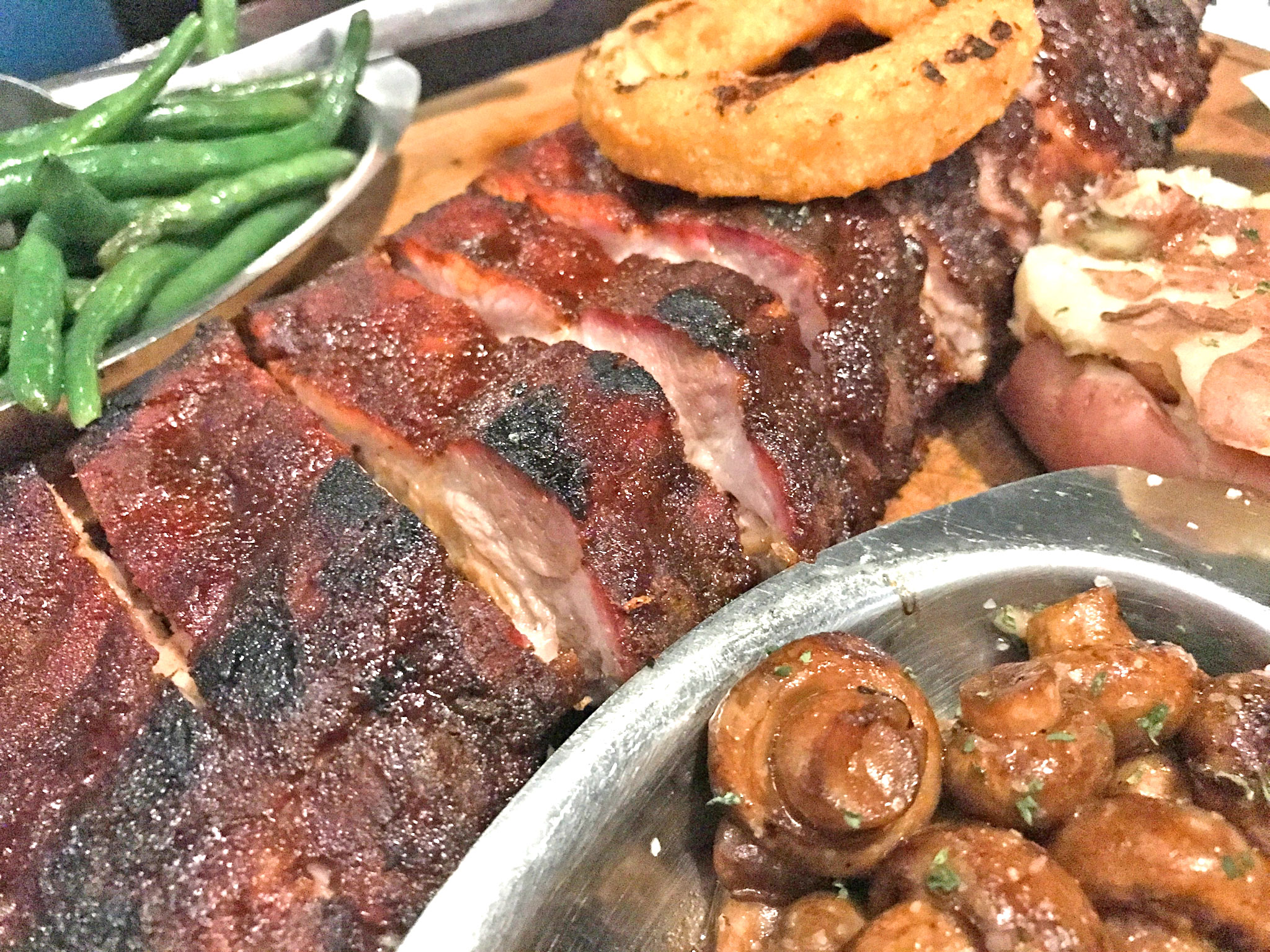 The above was a regular impromptu dinner. We were at an event that we thought would have food, but it didn't so we just showed up at the restaurant last minute.
While we paid for our food and wine, Rob and Madonna were nice enough to buy us a drink and a shot before we left. (We do use Uber or Lyft, and do not drive when we've been drinking … which is pretty much all of the time.)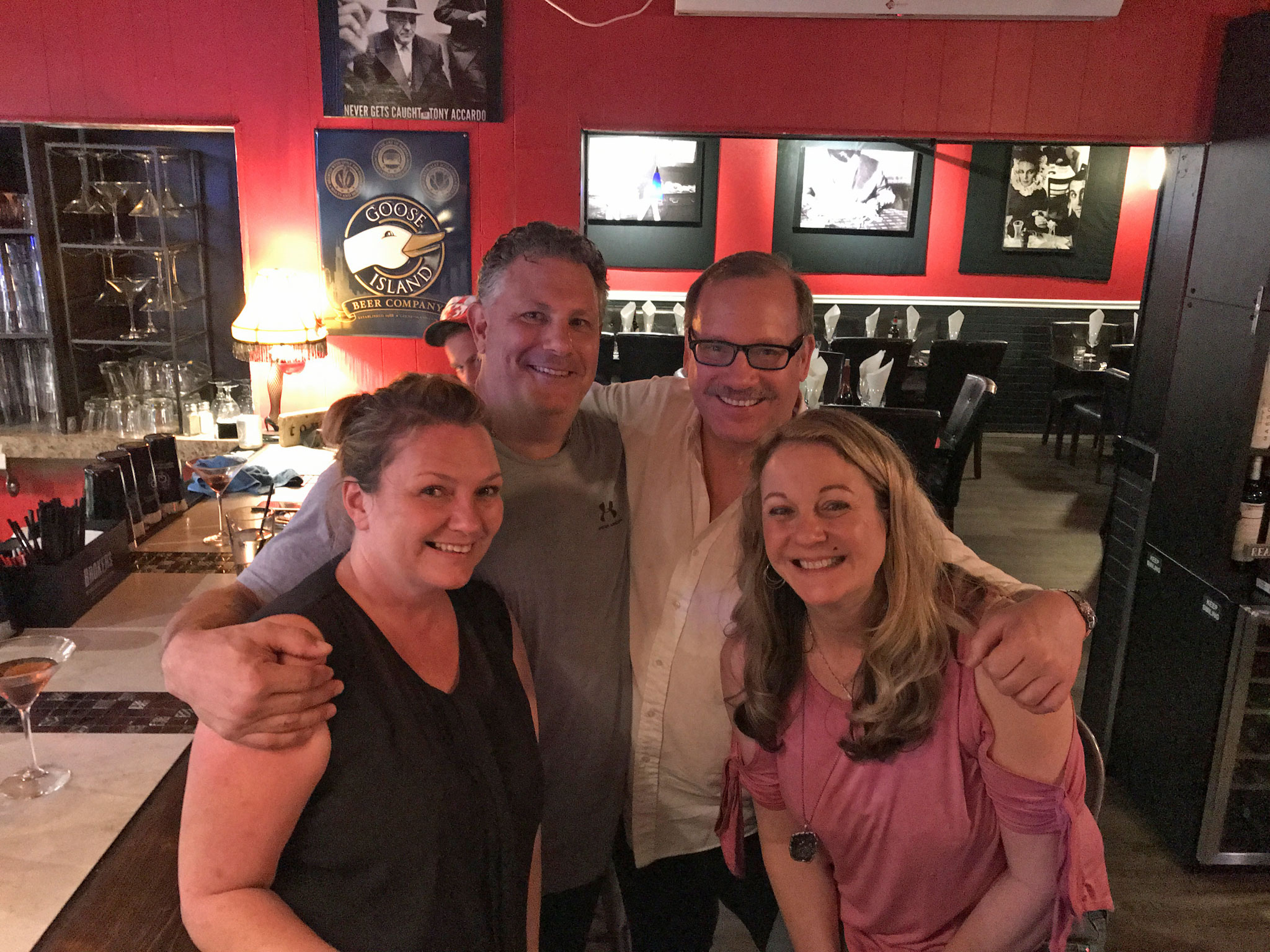 At the end of this visit, when we realized that there have been so many recent changes, we decided to schedule another visit to have different items so we could review them.
We were expecting to just order and pay for all of our food, just like last time, but we got some other items brought to us as well.
Occasionally, we get one hater popping up yelling, "You got free food! Not fair!"
So, to diffuse that nonsense, I'll tell you now that we ordered a bunch of stuff that we paid for, and we were surprised some comped items too. We didn't ask for anything free, but Rob wanted us to try a few more items.
As should be done, I tipped on what the full amount would have been … then added a little extra.
Here we are onto visit number two.
We ordered and paid for: Cocktails, Shrimp De Jonghe, 1000 Stories Red Gold Rush, 42 oz. Tomahawk, Gnocchi, and Lasagna. (Side Salads come with dinner.)
We also received: Arancini, Chicken Puttanesca, French Fried Shrimp, and a Mini-Baked Alaska.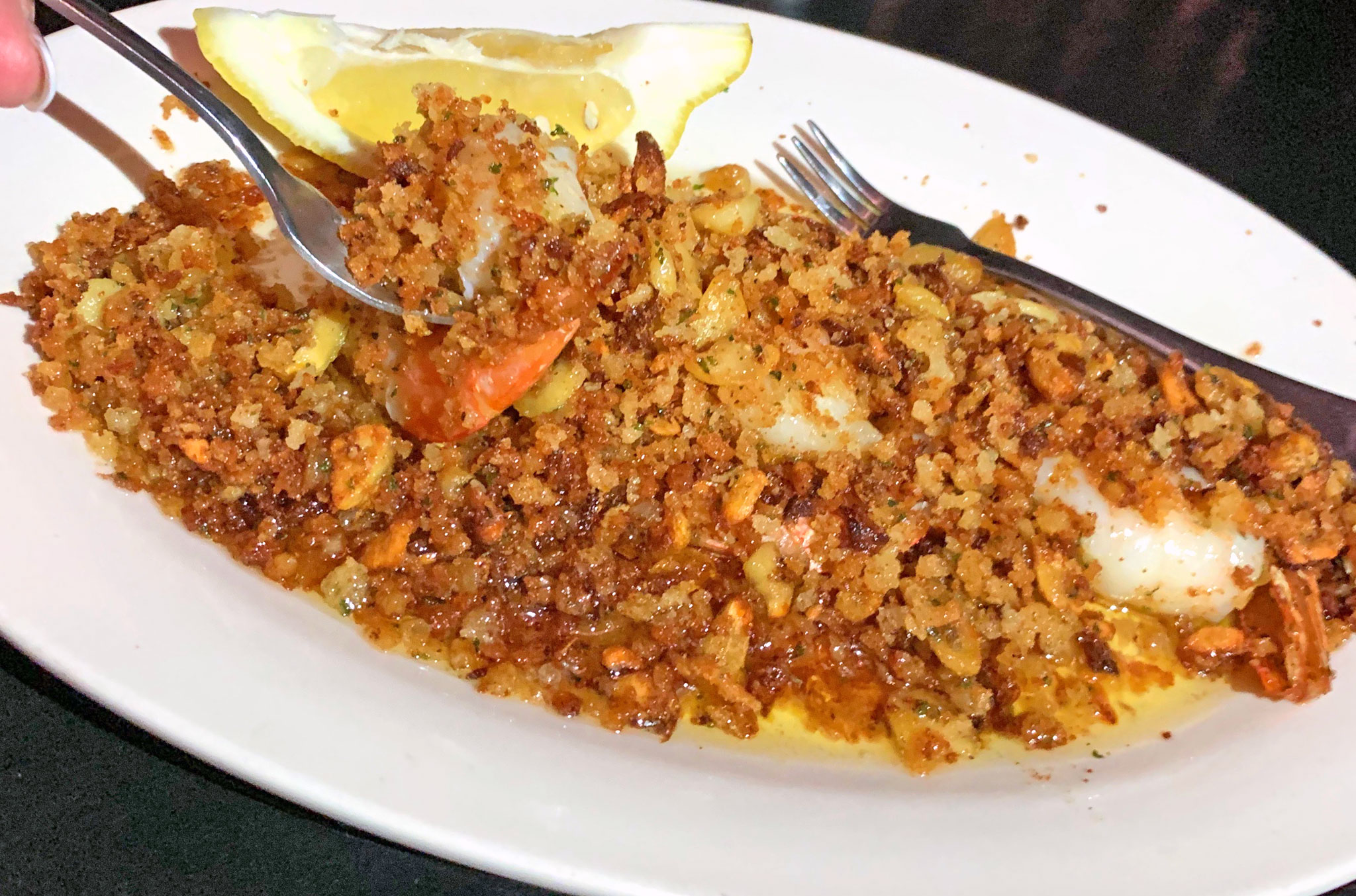 The Shrimp De Jonghe broiled in garlicy breadcrumbs is a garlic lover's delight. We don't always eat the bread, but you have to dip it in this when the shrimp is gone.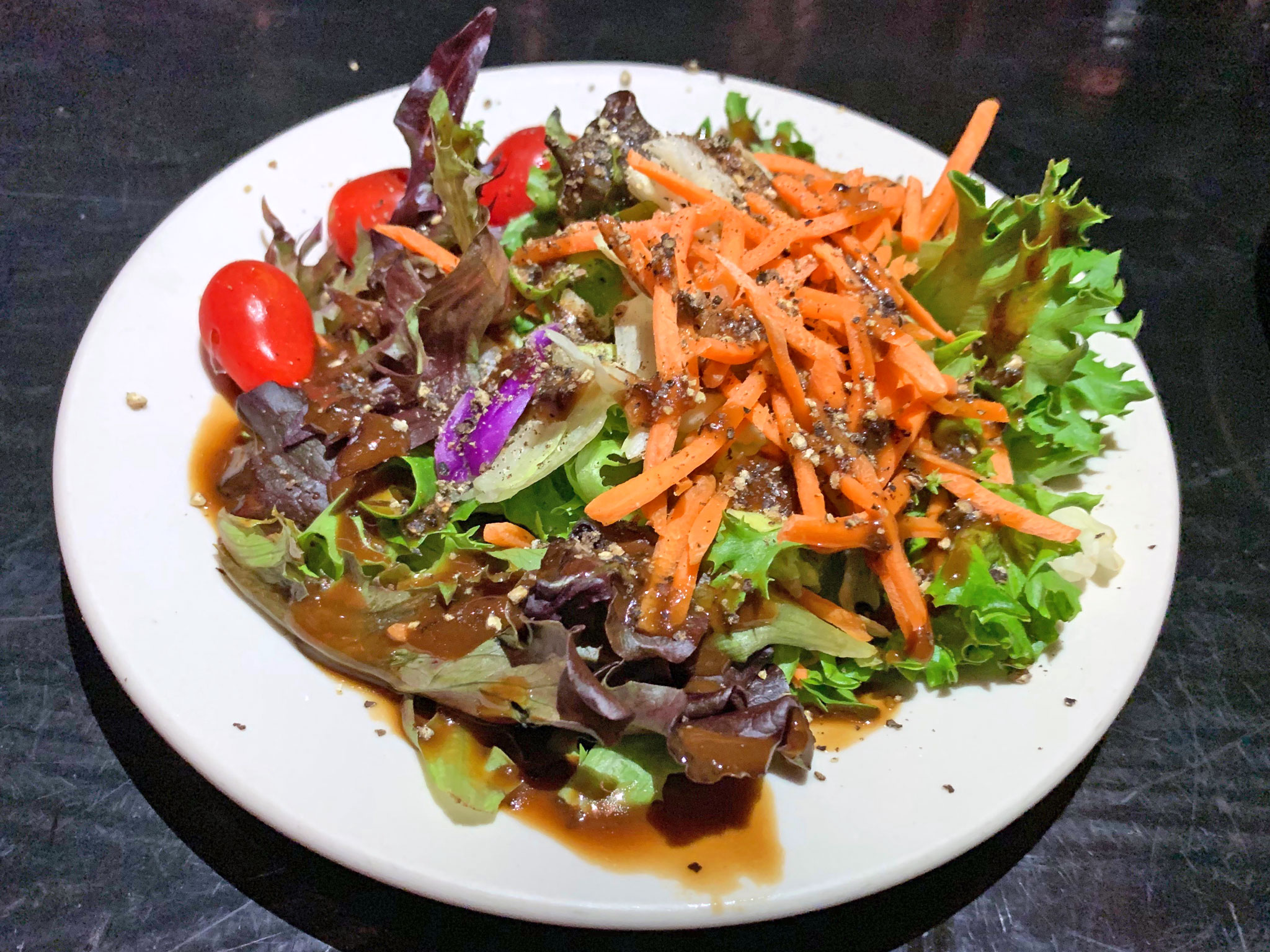 Even the side salads are better than they used to be.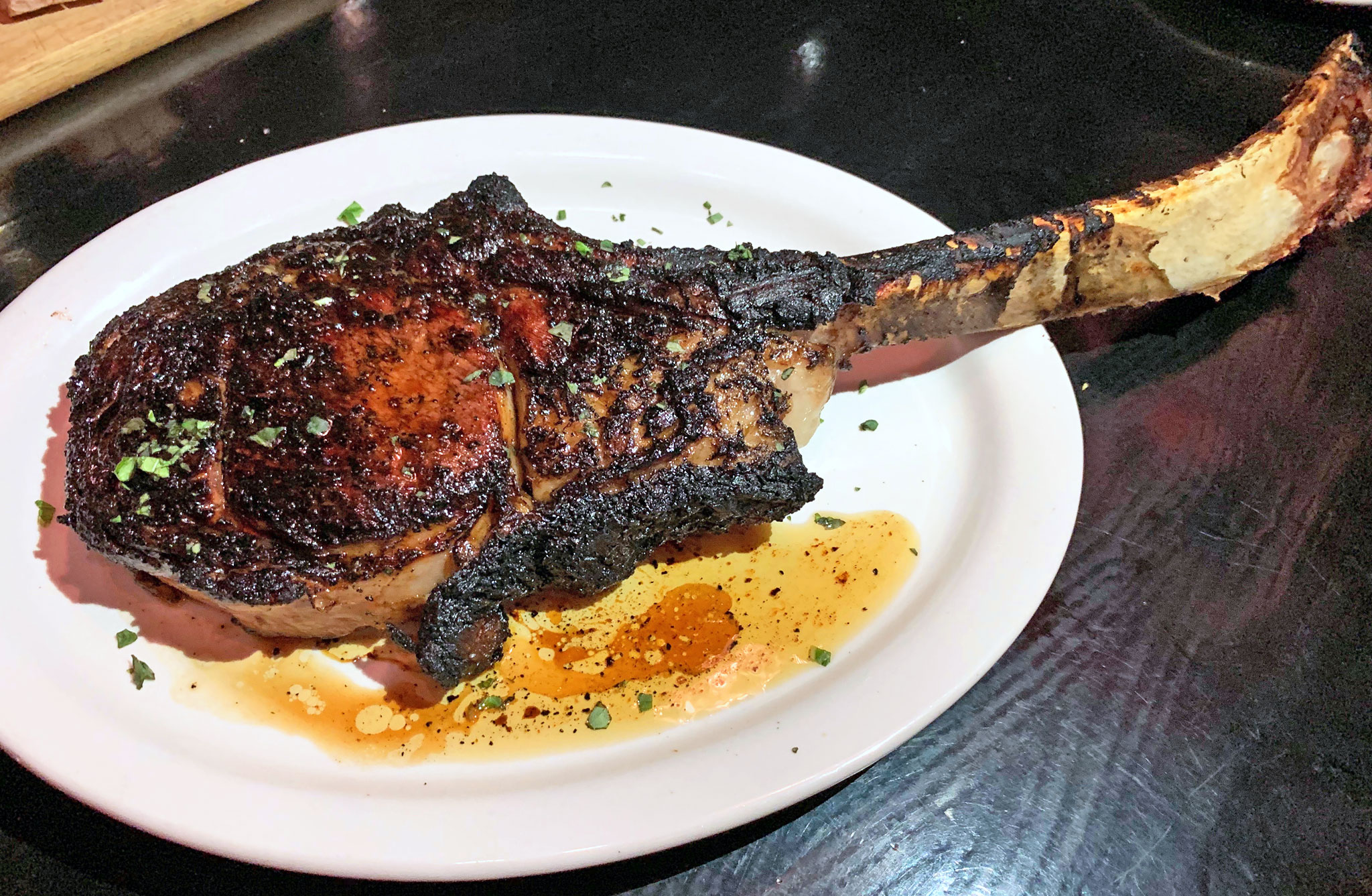 Compared to the regular ribeye, the Tomahawk is much thicker, and has more fat on it. Lori likes the regular ribeye better, and I do too, but I appreciate this for what it is. The meat is still moist and juicy, and full of flavor. Lori didn't like the large pieces of fat, but I did. You can actually eat them, and I did. They are completely tender and nearly melt in your mouth, and the fat is where the flavor and tenderness come from.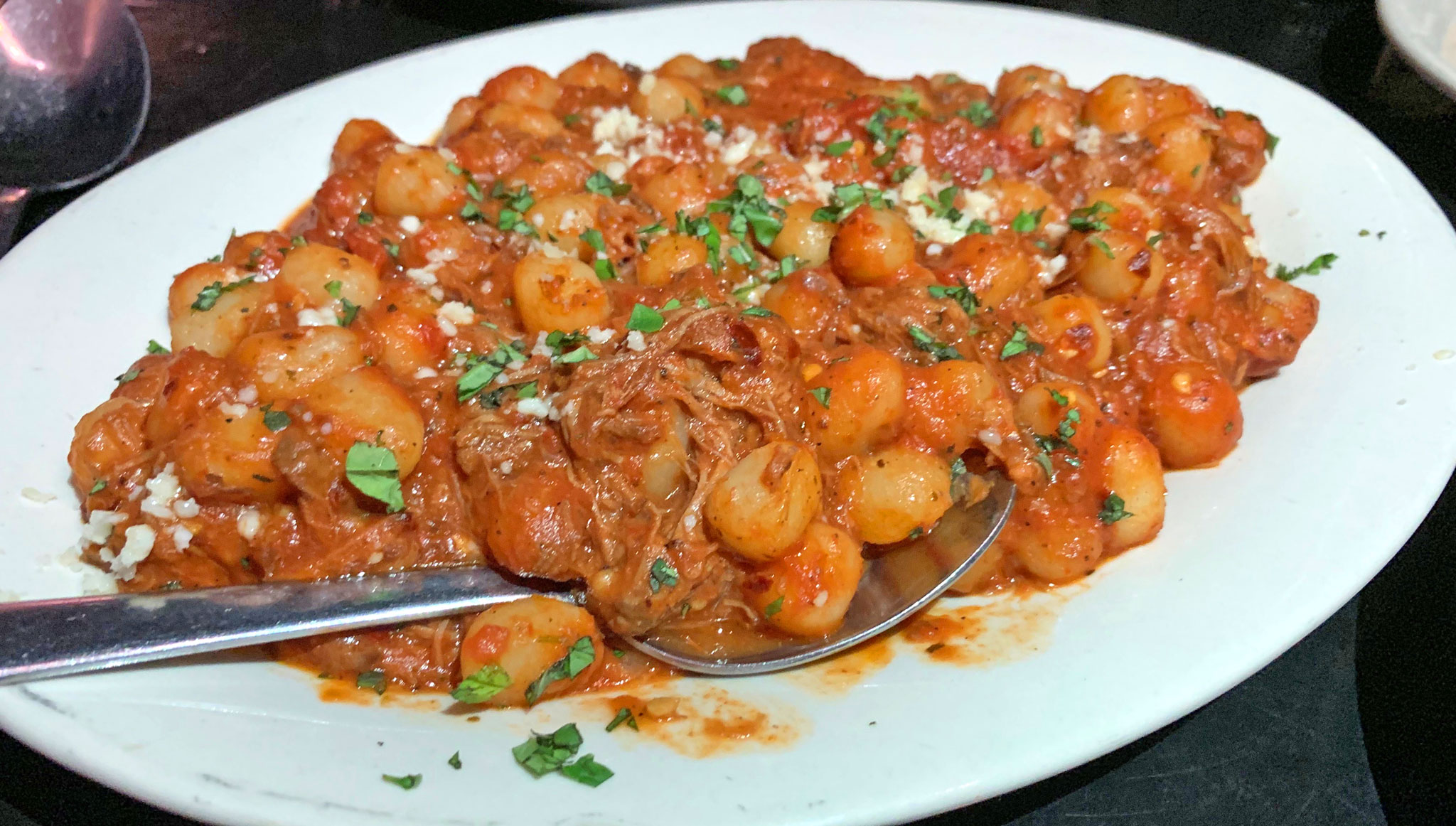 Baby Gnocchi – Chianti braised beef tenderloin, shallots, onions, celery, carrots. This and the lasagna are the epitome of comfort food. The gnocchi is so amazingly delicious – the chewiness of the little doughy dumplings combined with the meat and sauce – sit back and loosen your belt.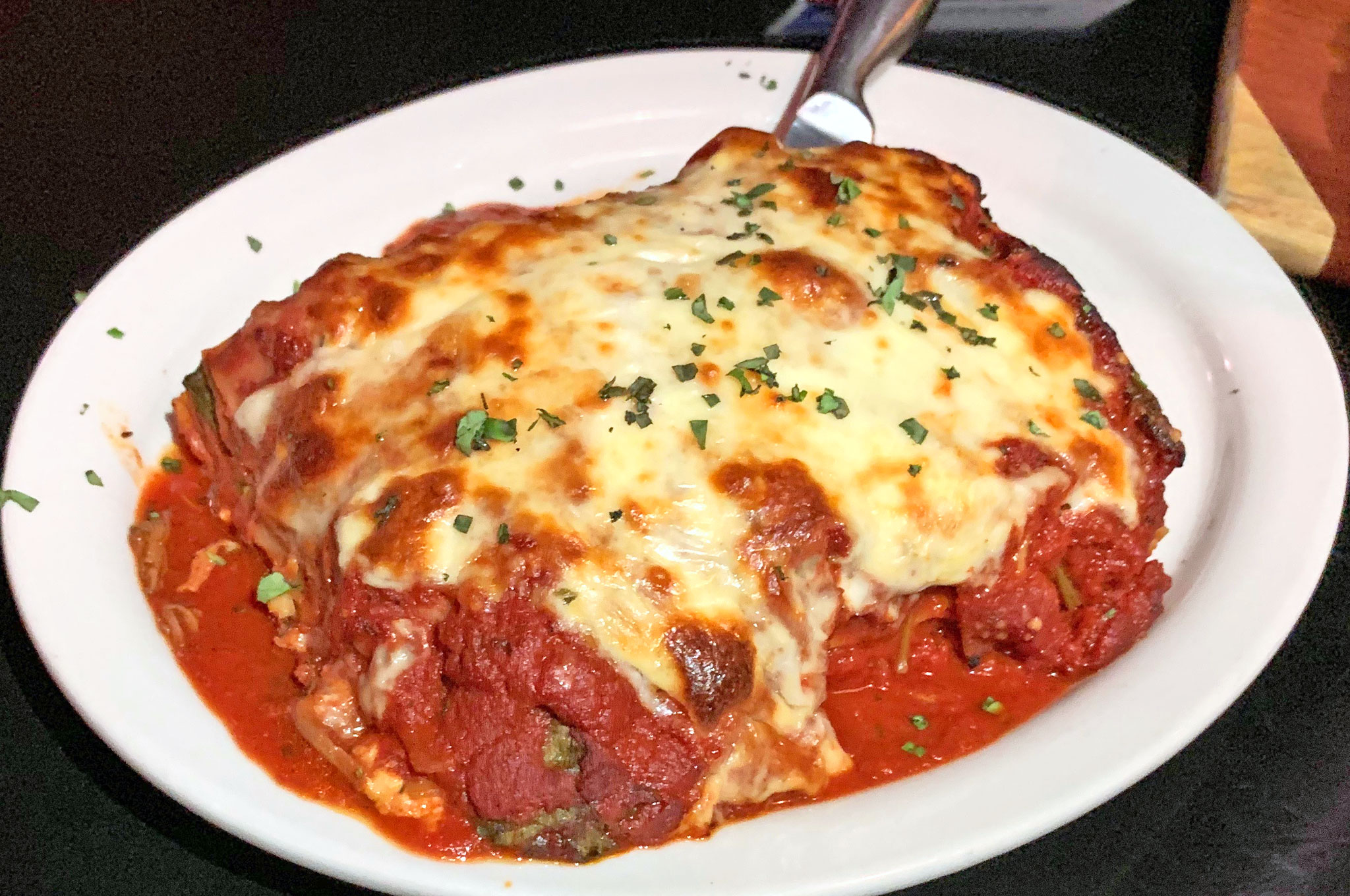 Uh oh! Just when I thought I had found the best lasagna in St. Pete, Beau n Mo's pulls this one on us. I love how rustic it is, with the little burnt pieces – so good – and the meat is filet mignon. Lori said that she missed the ground meat that you usually find in lasagna, but I wasn't going to be complaining about filet mignon. I understand where she's coming from though. That's a texture thing.
Also, the red sauce – a new best in St. Pete – both on the lasagna and the arancini below.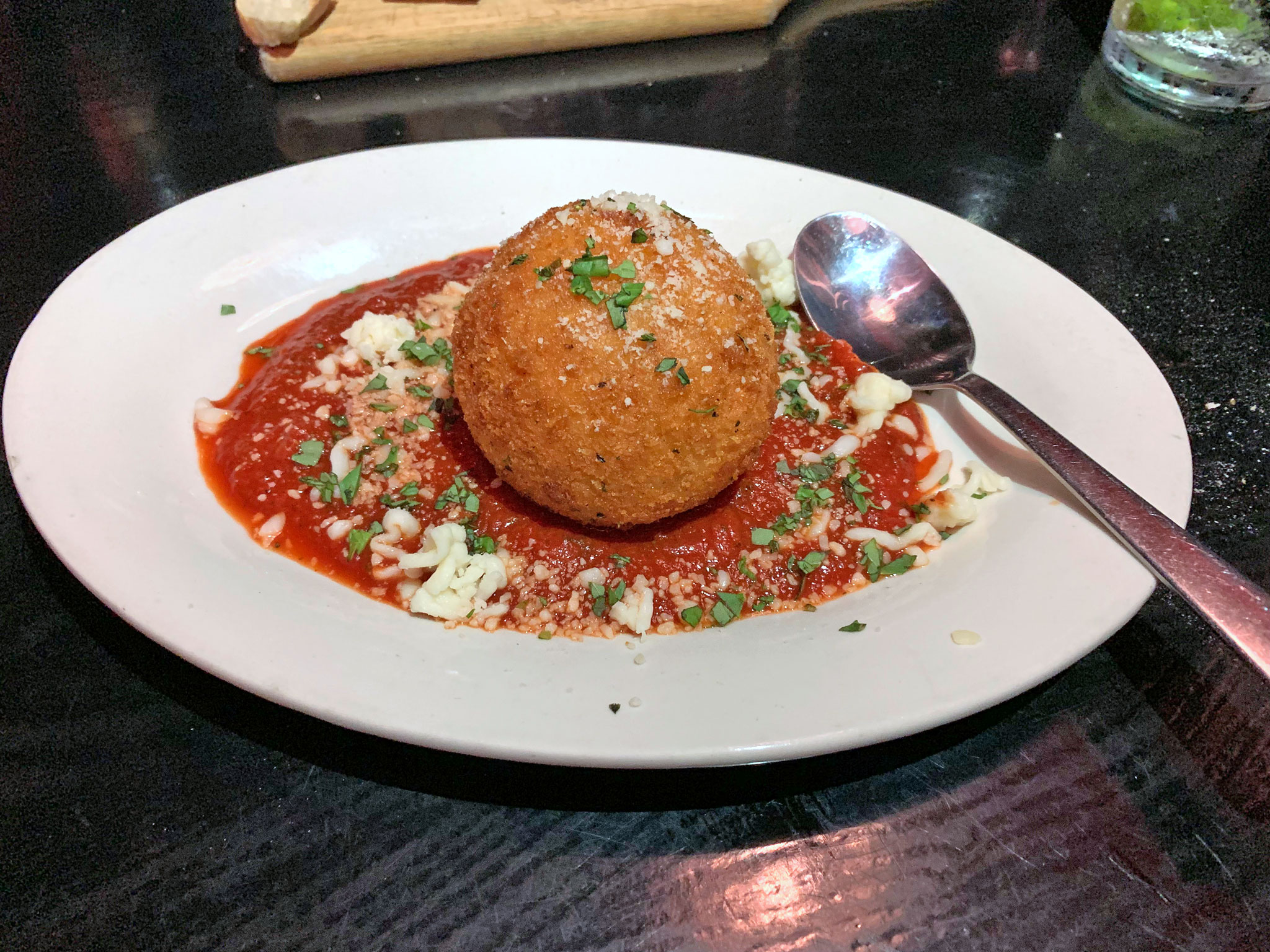 The arancini is done to perfection with ground beef and peas, and the red sauce! Holy heck!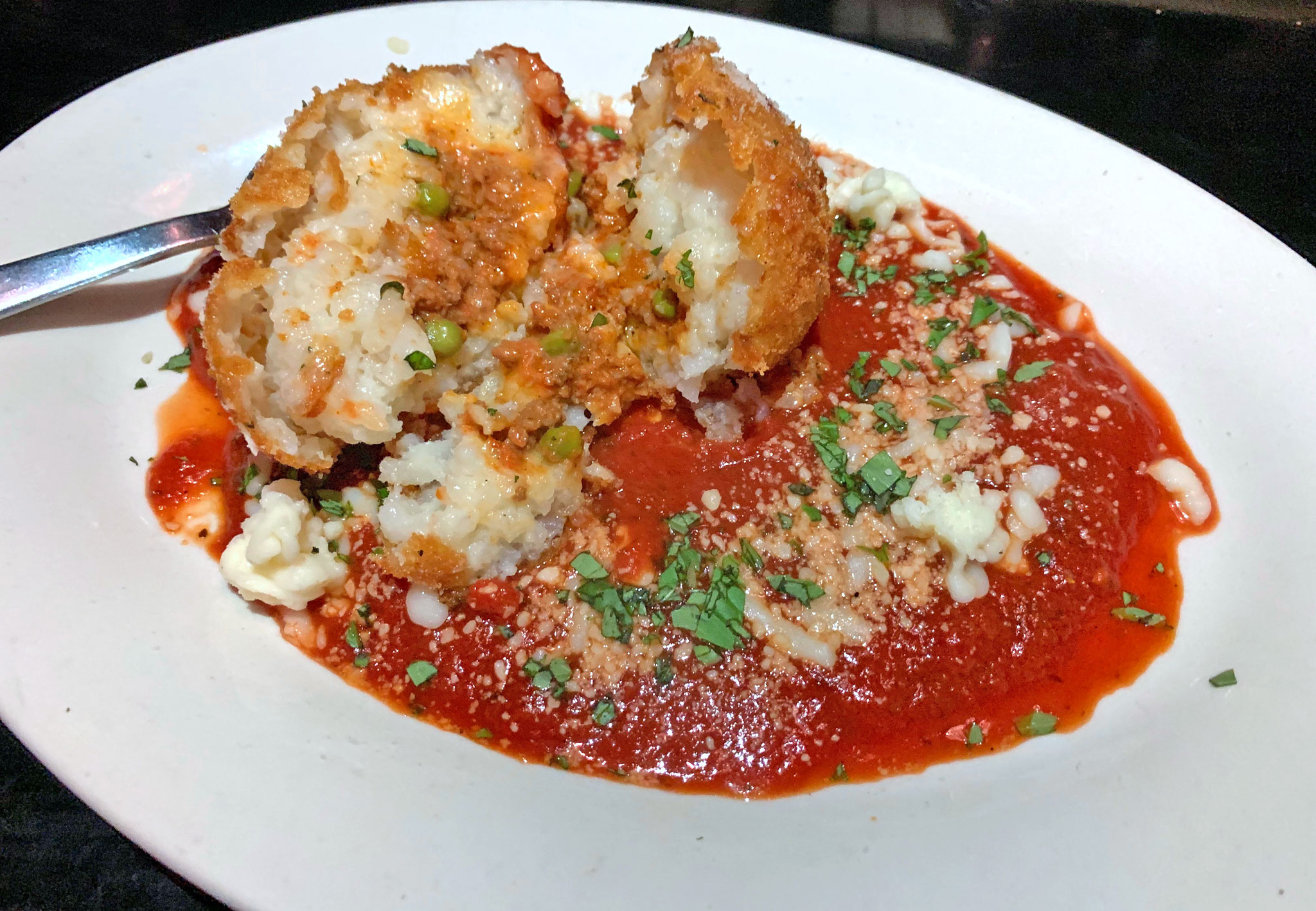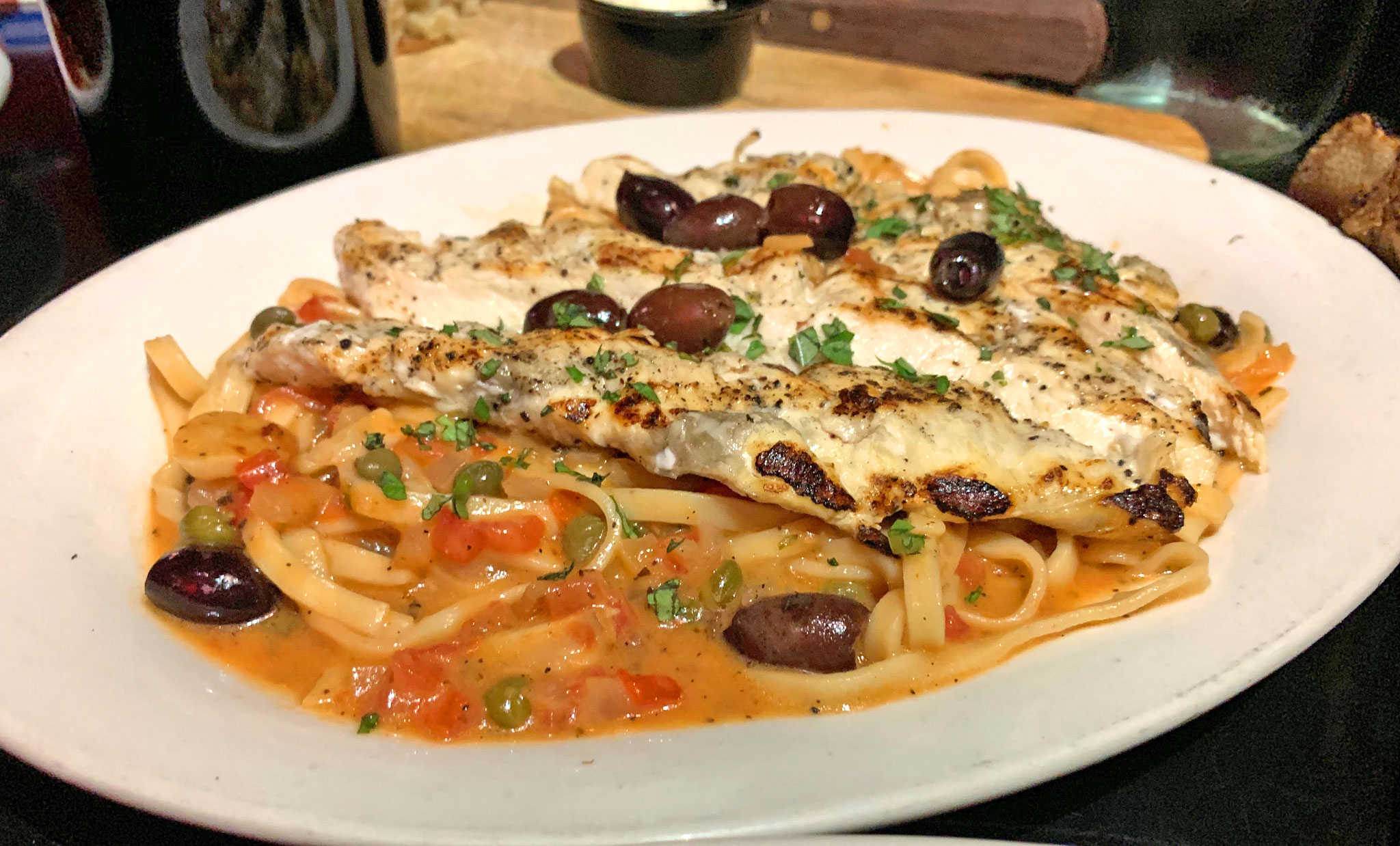 Chicken Puttanesca with Linguine – garlic, tomato, capers, olives, sautéed in extra virgin olive oil. It might sound hard to believe, but the chicken puttanesca was Lori's favorite! I really, really loved it too. I just have a hard time picking favorites. For those of you that know Lori, this will mean a lot – the seasoning on this one reminded her of the flavors she gets at her favorite restaurant in downtown St. Pete.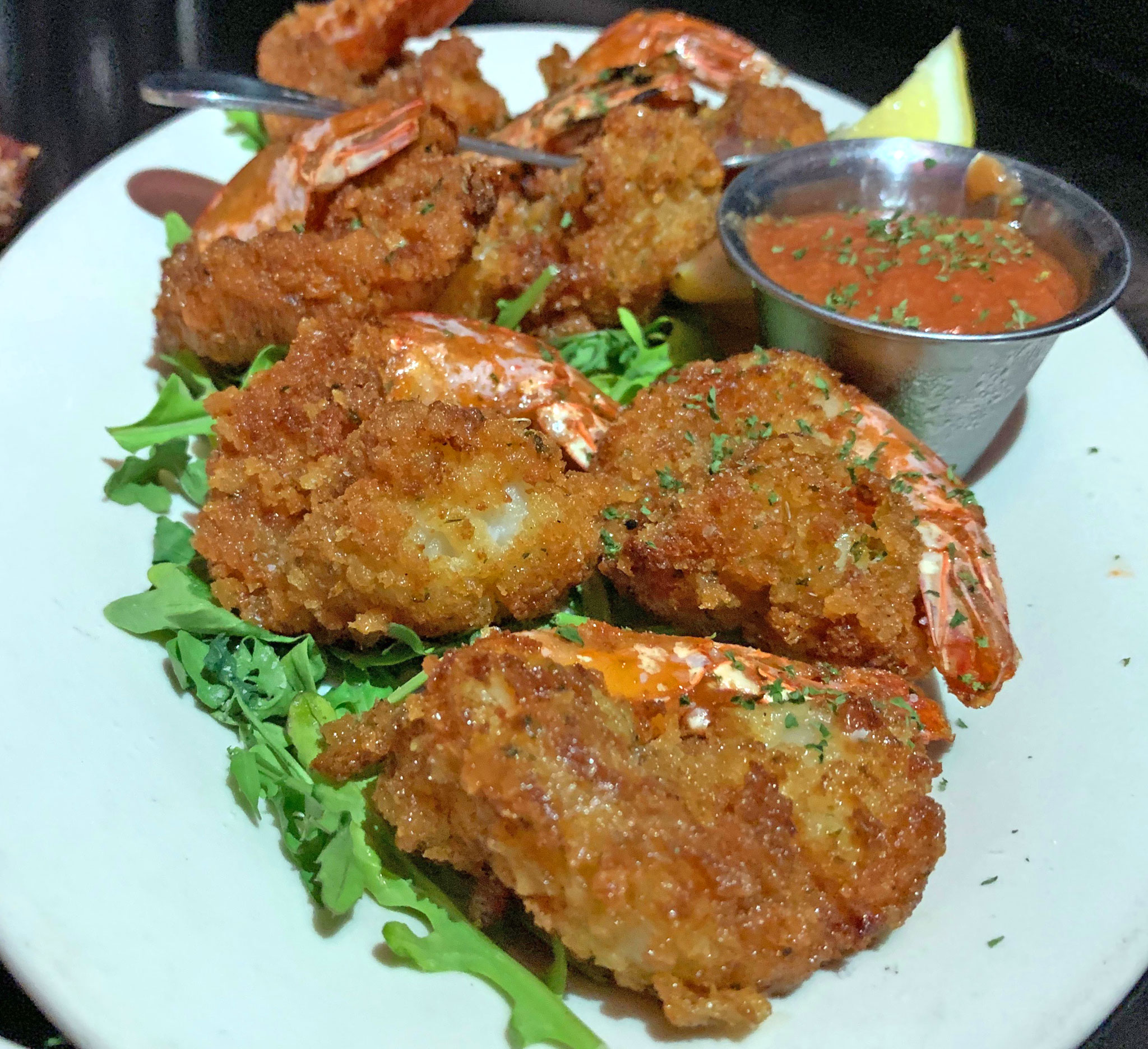 At first glance, you may think, "Oh. Ok. Fried Shrimp."
Nope.
I mean, yes, it is, but not like any other fried shrimp you've had. This was another one of Lori's favorites.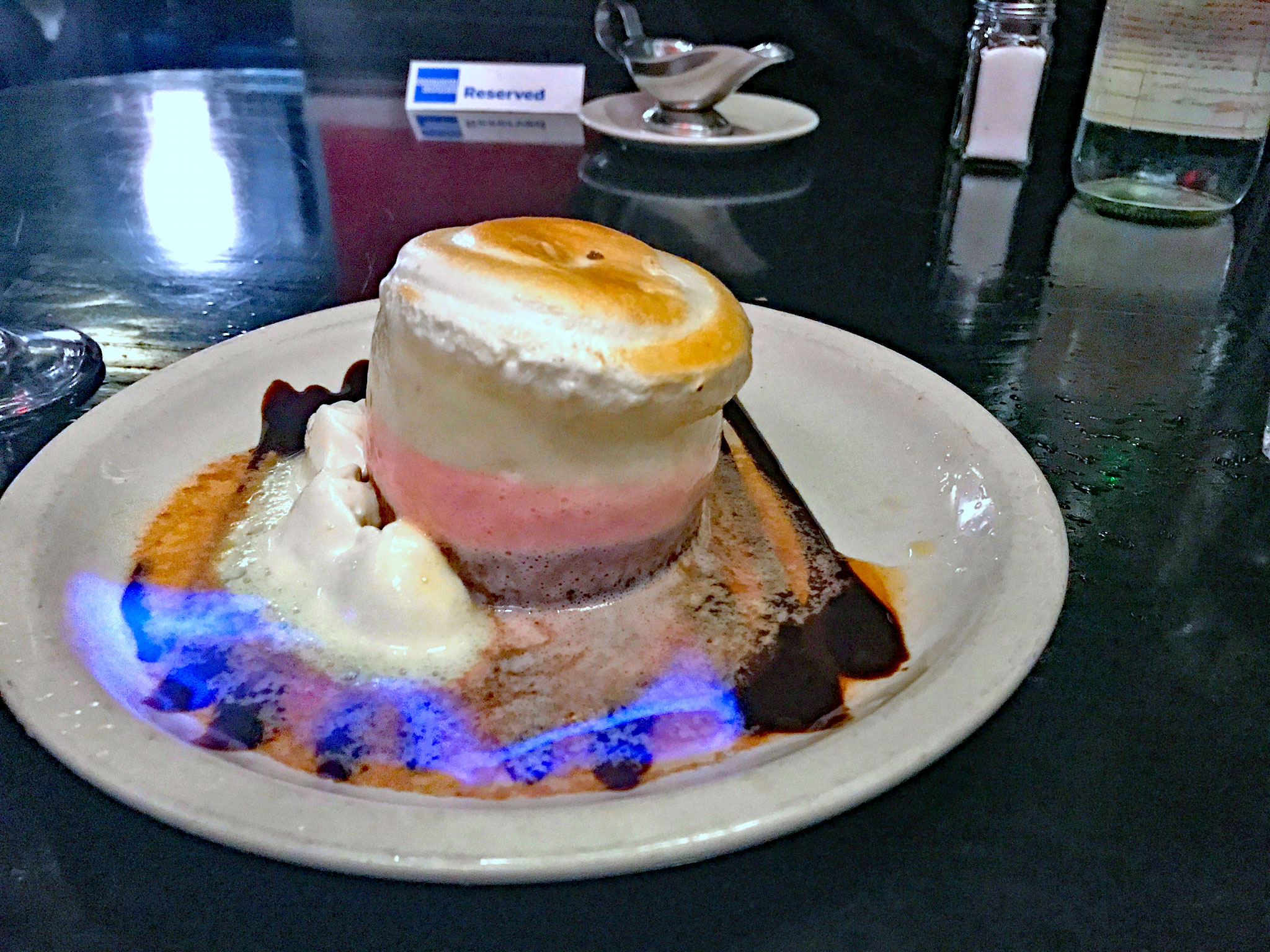 I remember that Baked Alaska was a big thing when I was growing up back in the 70s.
It seems to be making a comeback as it was requested in our Facebook Group, and Beau n Mo's was paying attention.
We quite enjoyed this Mini Baked Alaska dessert.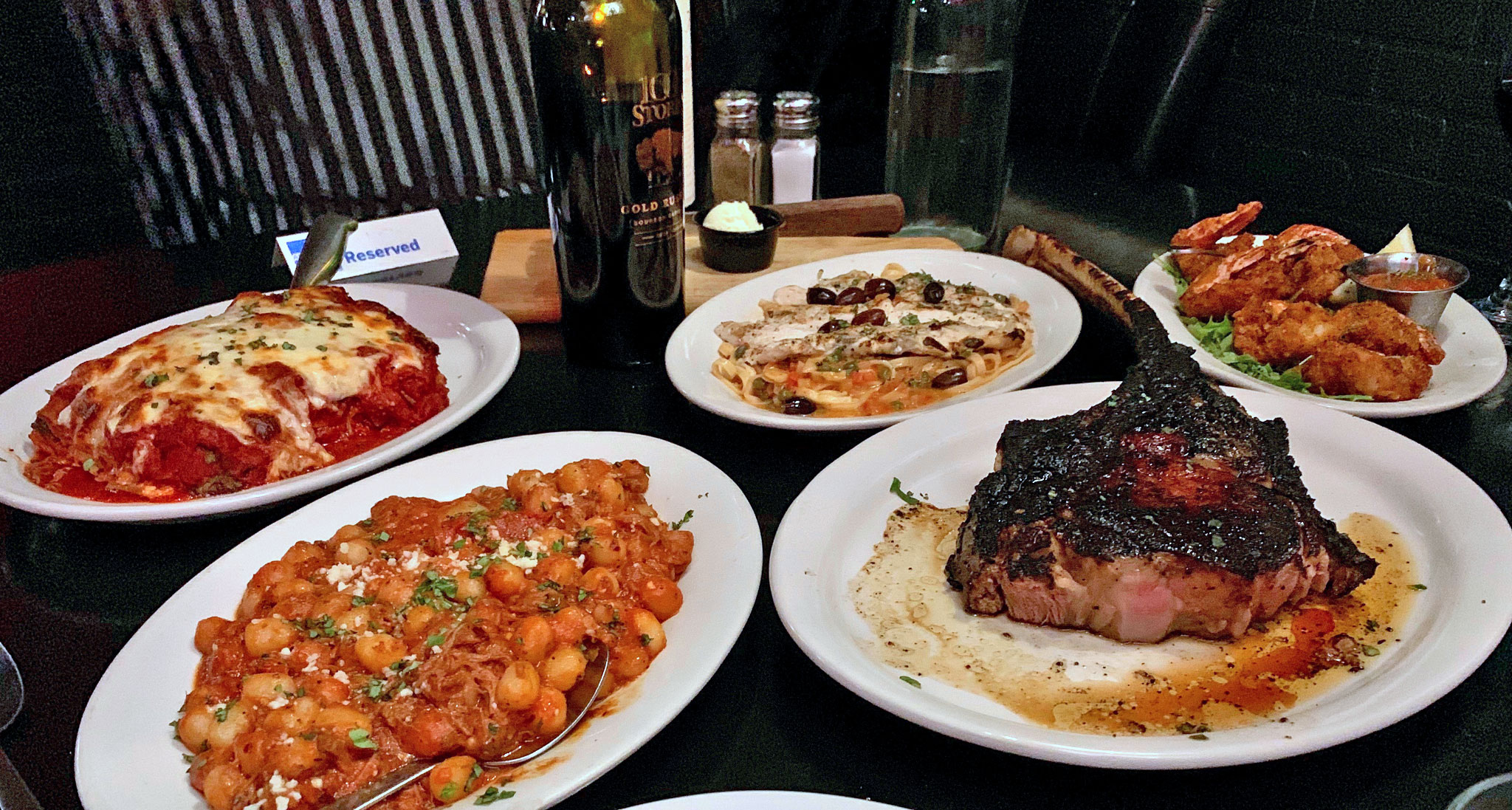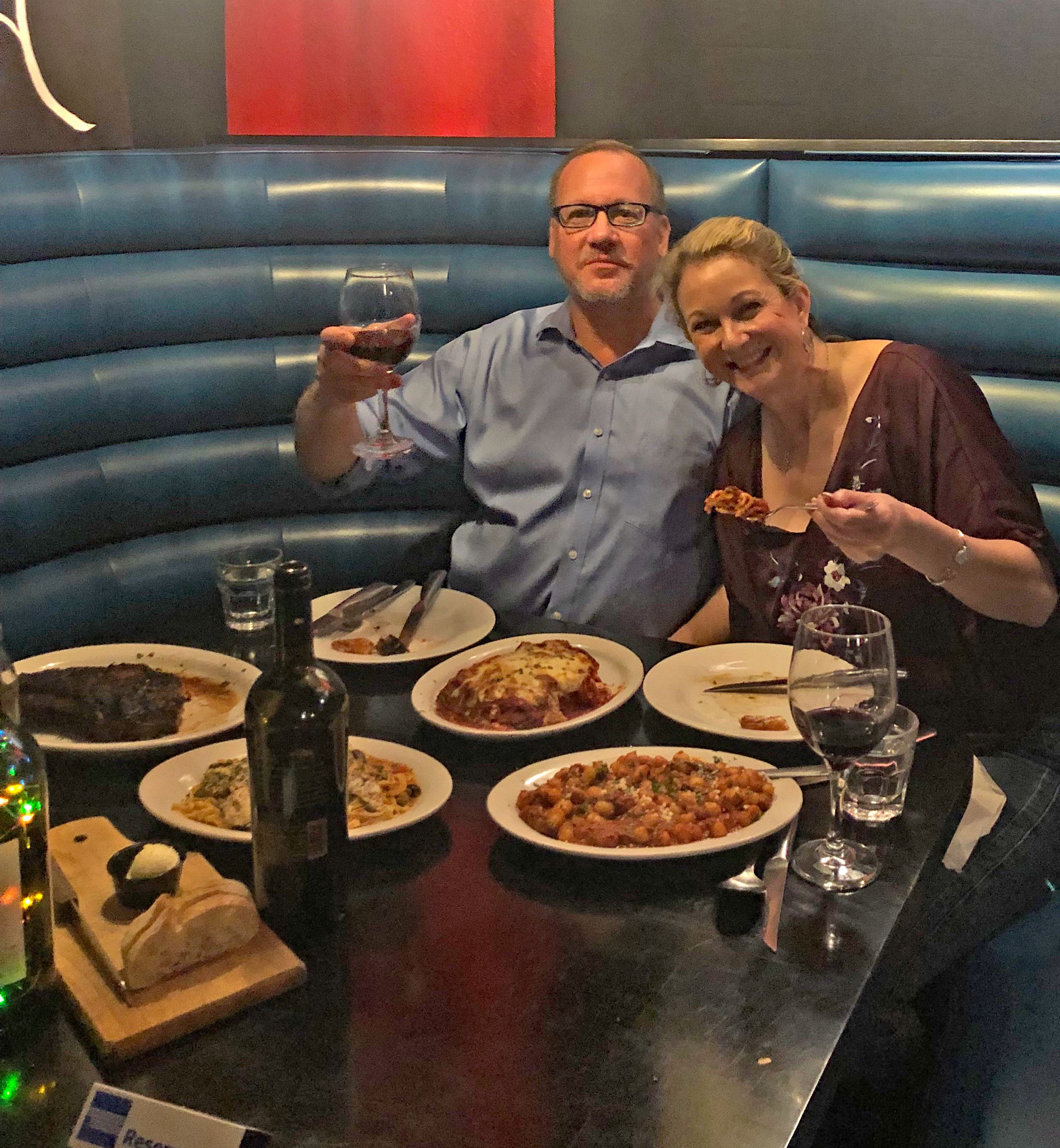 Cheers!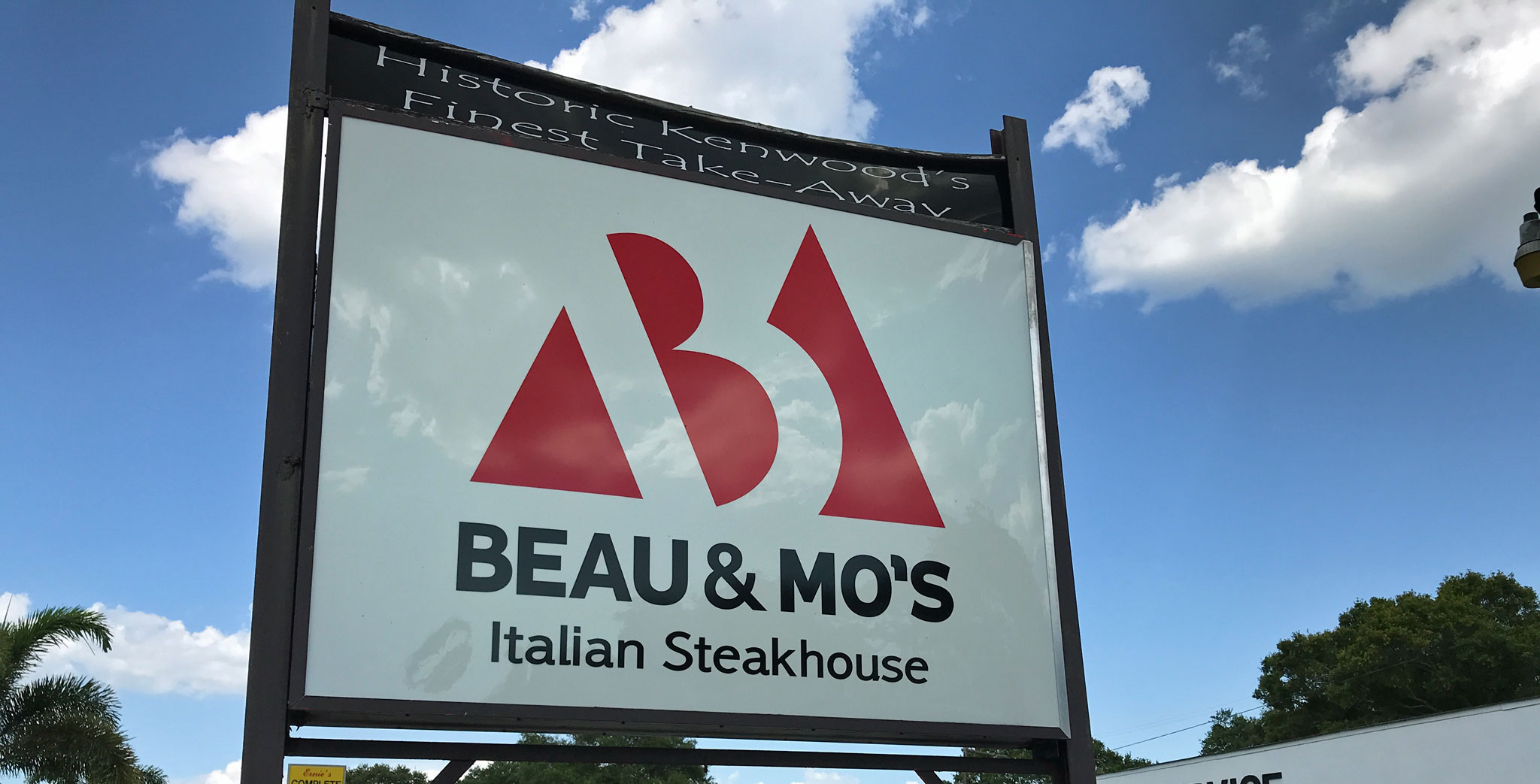 Readers Rating

Rated 4.7 stars




4.7

/ 5 (

Reviewers

)

Outstanding
---
Beau & Mo's Chicago Style Steakhouse

(727) 771-3690

Steaks

,

Italian

,

Chicago Style

Tue - Thu

4:30pm - 9:00pm

Fri - Sat

5:30pm - 10:00pm

Sun -

5:00pm - 8:00pm
2924 5th Ave North

,

St. Petersburg

,

FL

33713

,

US
---
One of the Best Steakhouses and Italian Restaurants in St. Petersburg, Florida
DISCLAIMER: Kevin, Lori, Abby, Haley, & Lindsey do not dine anonymously (this would be impossible) and we sometimes get free food (though never expected). However, we dine with the locals and we support our own. You will always get honesty in a respectful manner.

PLEASE NOTE: Reviews reflect a certain moment in time. Some restaurants stay extremely consistent over many years, and some change for the better or worse. Some things that may change are: chefs, recipes, food suppliers, ingredients, philosophies, ownership, etc. We always hope that you have the same good, or great experience we had.
More Foodies News, Reviews & Recipes