BellaBrava's Features Menu Delights With Unique & Delicious Dishes
BellaBrava's Features Menu Delights With Unique & Delicious Dishes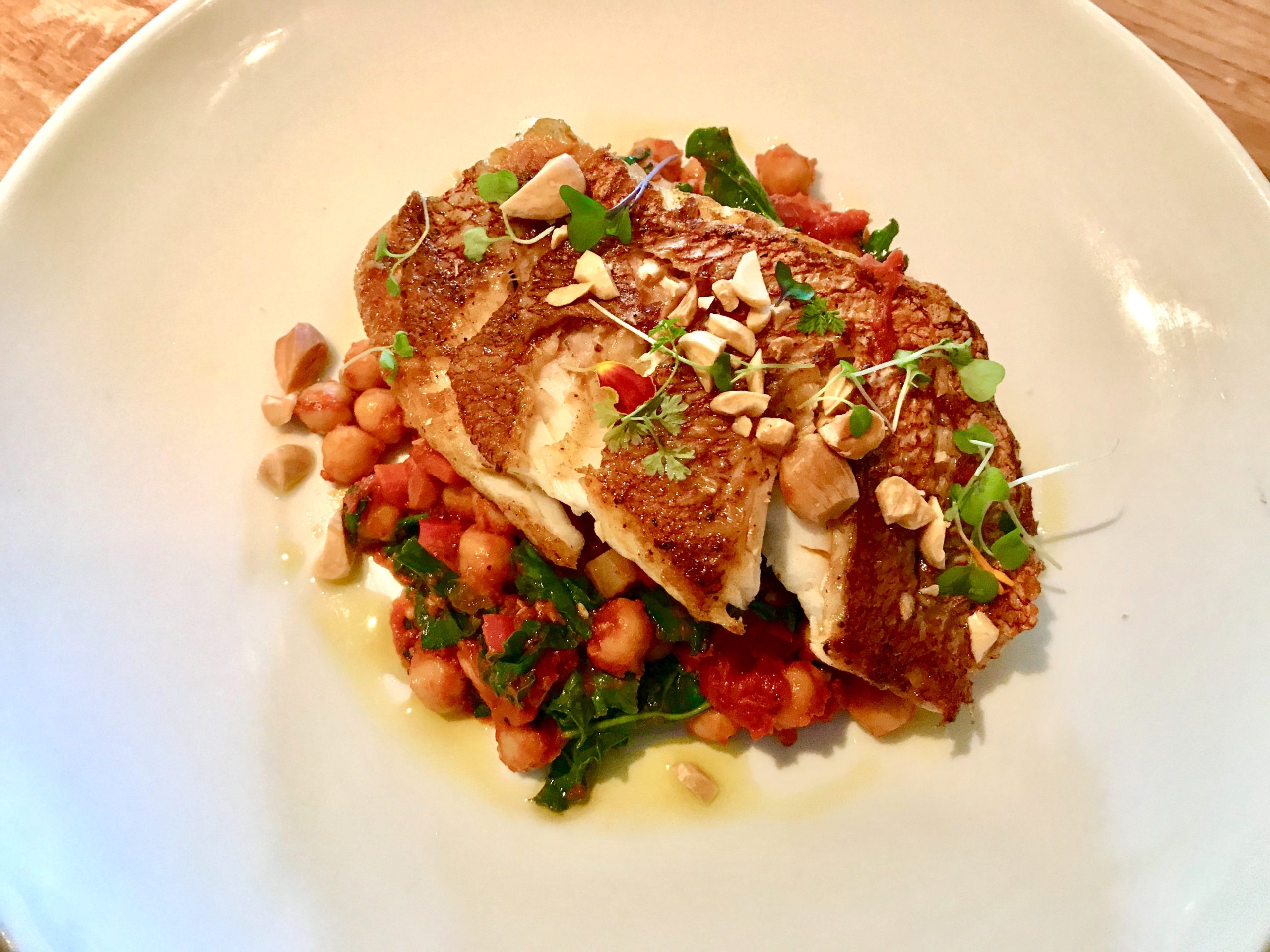 Arriving on the St Pete scene in 2005, BellaBrava has been a mainstay in downtown for many years. Well before the restaurant boom that has hit us now. Originally occupying the space on Central Avenue, where The Acropolis Greek Taverna is now, they moved to their iconic Beach Dr location in 2010.
After Chef Jeffrey Jew and the partners of BellaBrava took at trip to Italy this past summer, they came up with some modern ways to ramp up existing menu favorites and to create some edgier new dishes. With such stiff competition in the industry these days, it is important for menus to stay fresh. The team at BellaBrava recognizes that and has spruced up the main menu while offering a separate seasonal Features menu to offer the newer dishes as well.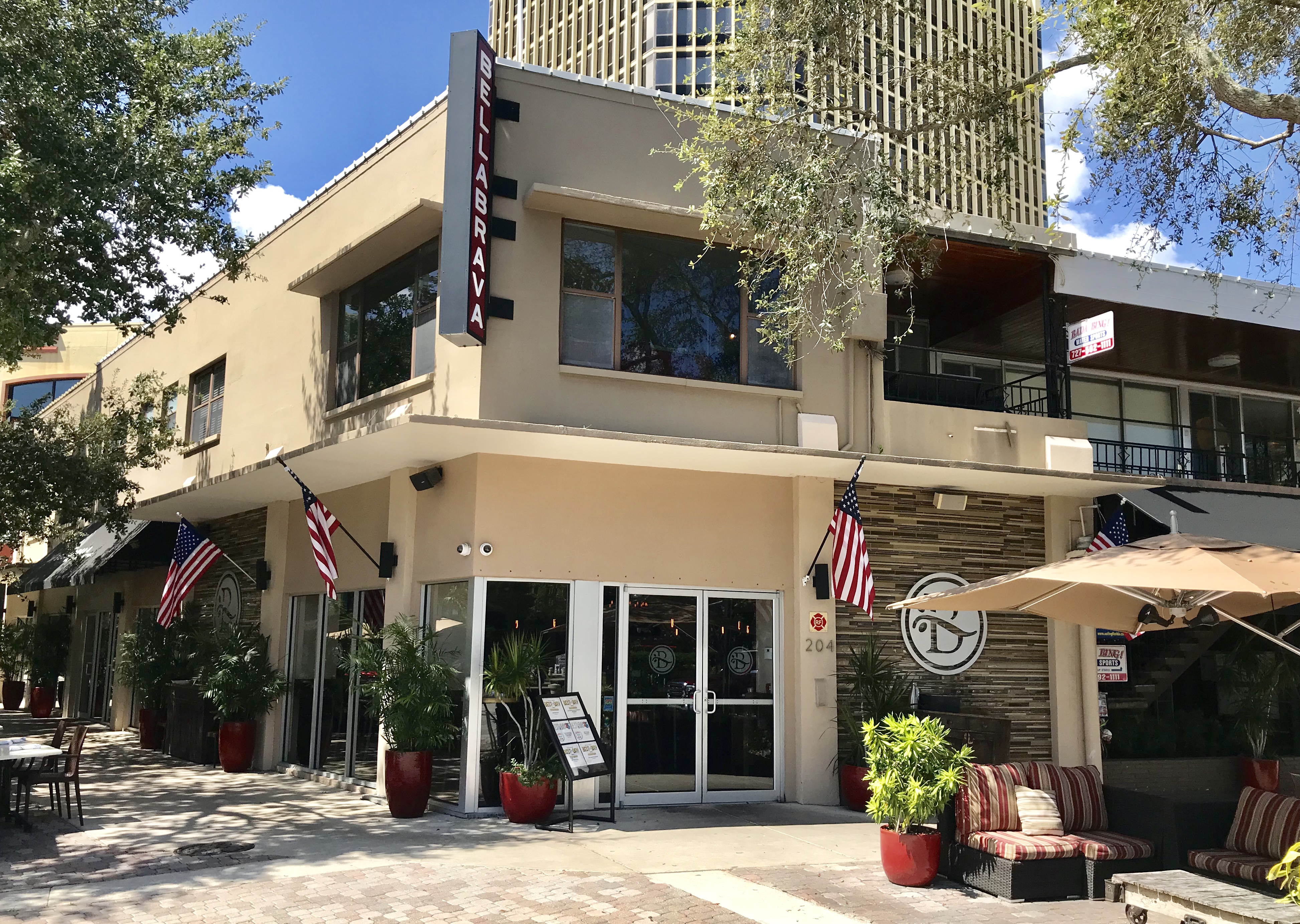 Chef Jeffrey invited us in to photograph and sample these new items so that we could share them with you.
Below is a new wine to BellaBrava, Prunotto Barolo from the Piedmont region of Italy, that they are featuring by the glass and by the bottle. It is unusual to see a wine that goes for $70+ by the bottle, to be offered by the glass. But this Barolo, a regional Italian favorite, is being offered at $19.99/glass for a six ounce pour and is selling extremely well.
It is a delicious red, that is not super heavy, which makes it easier to drink in the heat. It is well rounded with a delicate mouth feel and soft undertones. We really enjoyed it.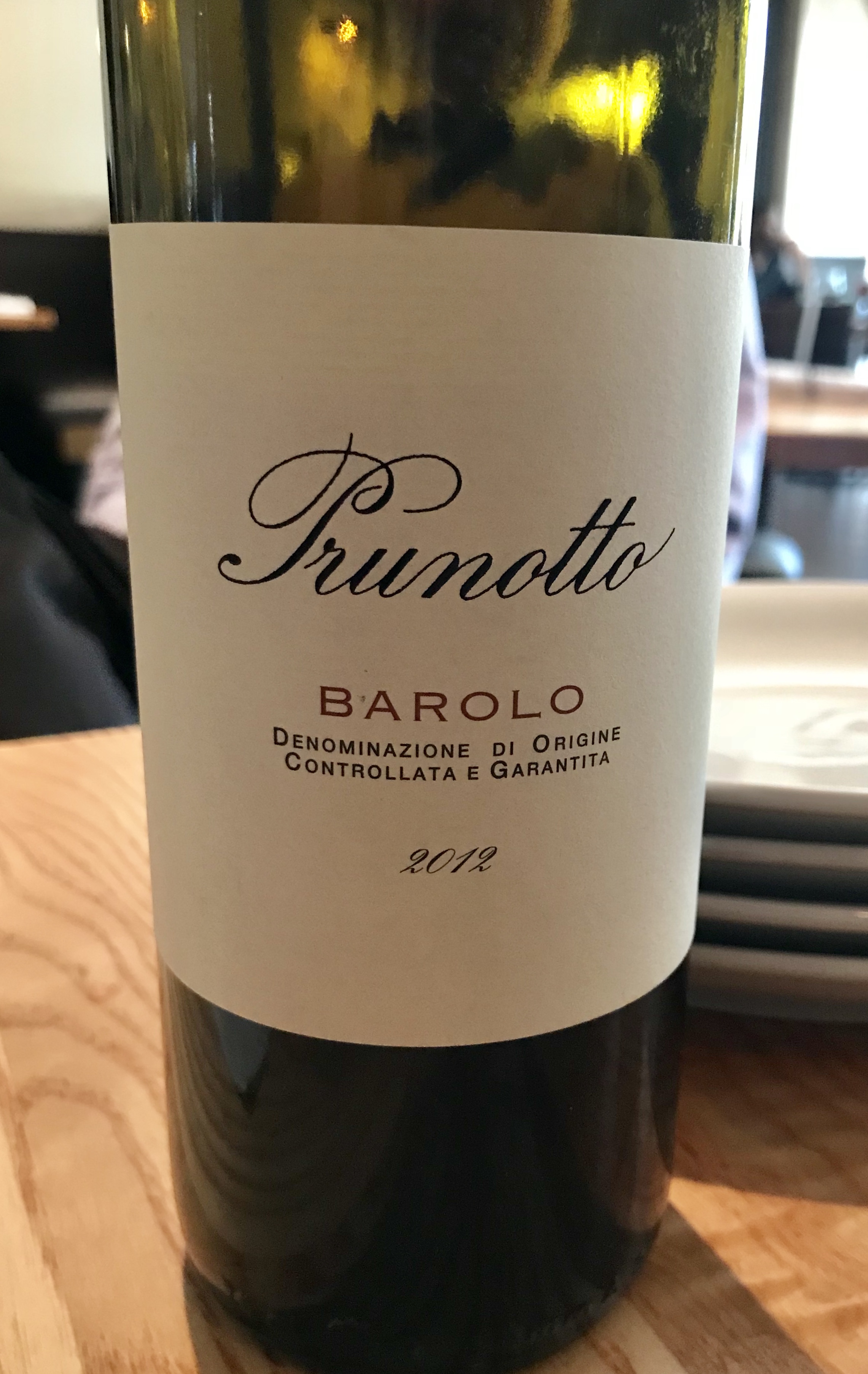 Our first dish was spectacular! Grilled peaches from South Carolina, served with a fresh burrata from Pompano Beach, the peaches are surrounded by crispy prosciutto bits and it is topped with fresh pea shoots, and served over a house-made honey basil vinaigrette. The burrata is ordered and then handmade for BellaBrava using a double cream stracciatella, which accounts for its soft creaminess, and then it is wrapped in fresh mozzarella.
I am not sure that there are words to describe how I feel about this dish. The fresh peaches – not too sweet with just a touch of acidity, pair perfectly with the richness and crunch of the crispy prosciutto. Add those two elements to the silky creaminess of the burrata and the flavor of the honey basil vinaigrette, to say I was in heaven it not enough. It is not something I would ever have dreamed up or would have thought would work together. But this salad is a perfect Florida pairing. It is not on the regular menu so get over there and try it as soon as you can. I will be going back very soon. It's that good! It was my favorite dish of those we tried.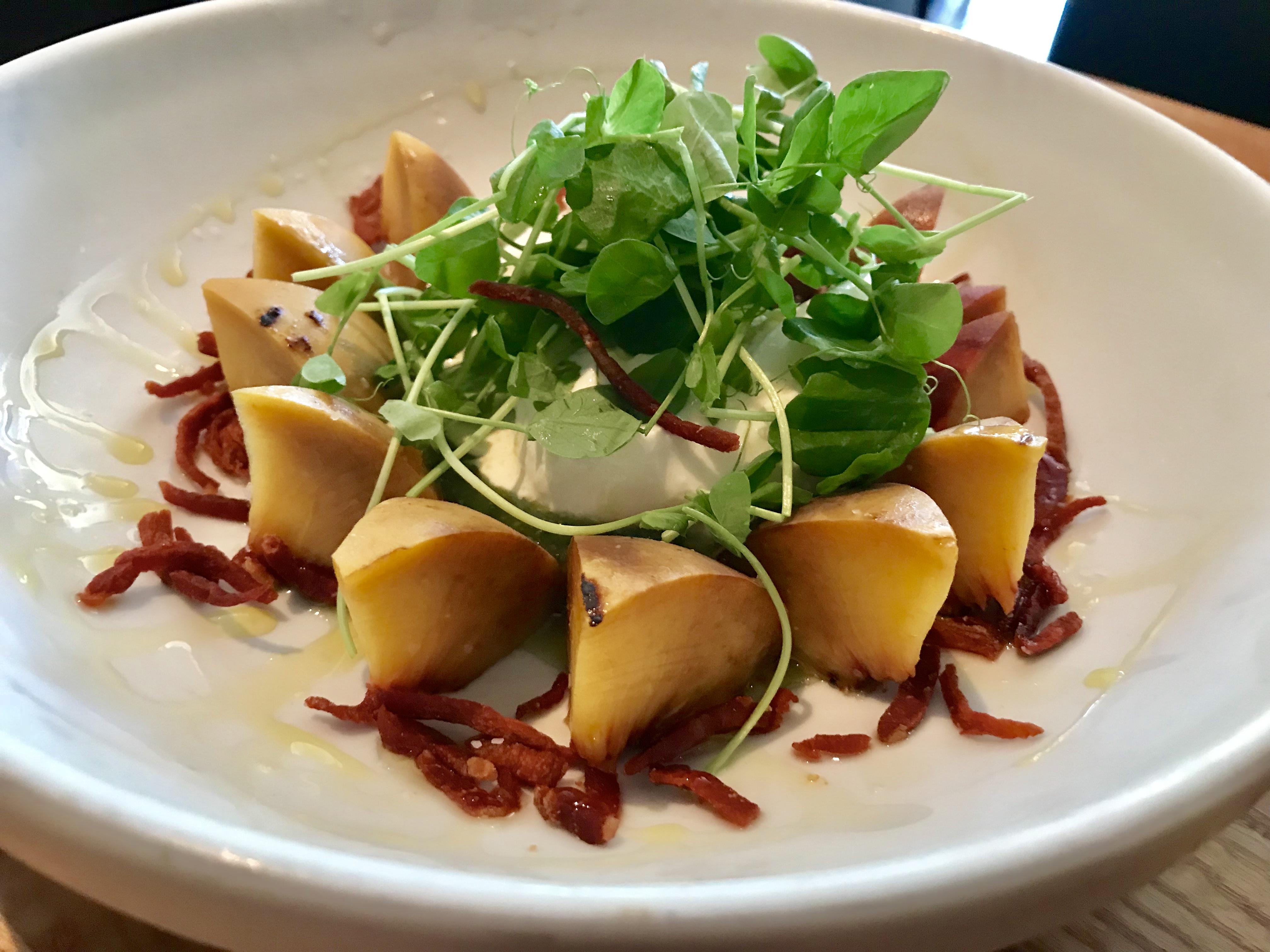 Next up was the Porchetta Sandwich that has fennel salami, porchetta, arugula, fennel, pecorino cheese, crisp apple aioli, a bit of mustard and some spices all served on delicious, grilled foccacia bread.
This sandwich was a true surprise to us as Porchetta itself is typically a quite heavy dish. Not this sandwich. It was flavorful, a tad tangy, and light and airy. The bread as you can see is not dense, which helps with the lightness of this dish and has the delicious grill marks that add to the rustic flavor of the salami and porchetta. It's the arugula, pecorino cheese and the apple aioli which really elevate this sandwich to not only a different level than most sandwiches, but to the lighter flavors that makes this so delightful. I typically do not like fennel but the flavor is very well balanced by the other ingredients so that it doesn't overpower the sandwich. This one was another winner with us.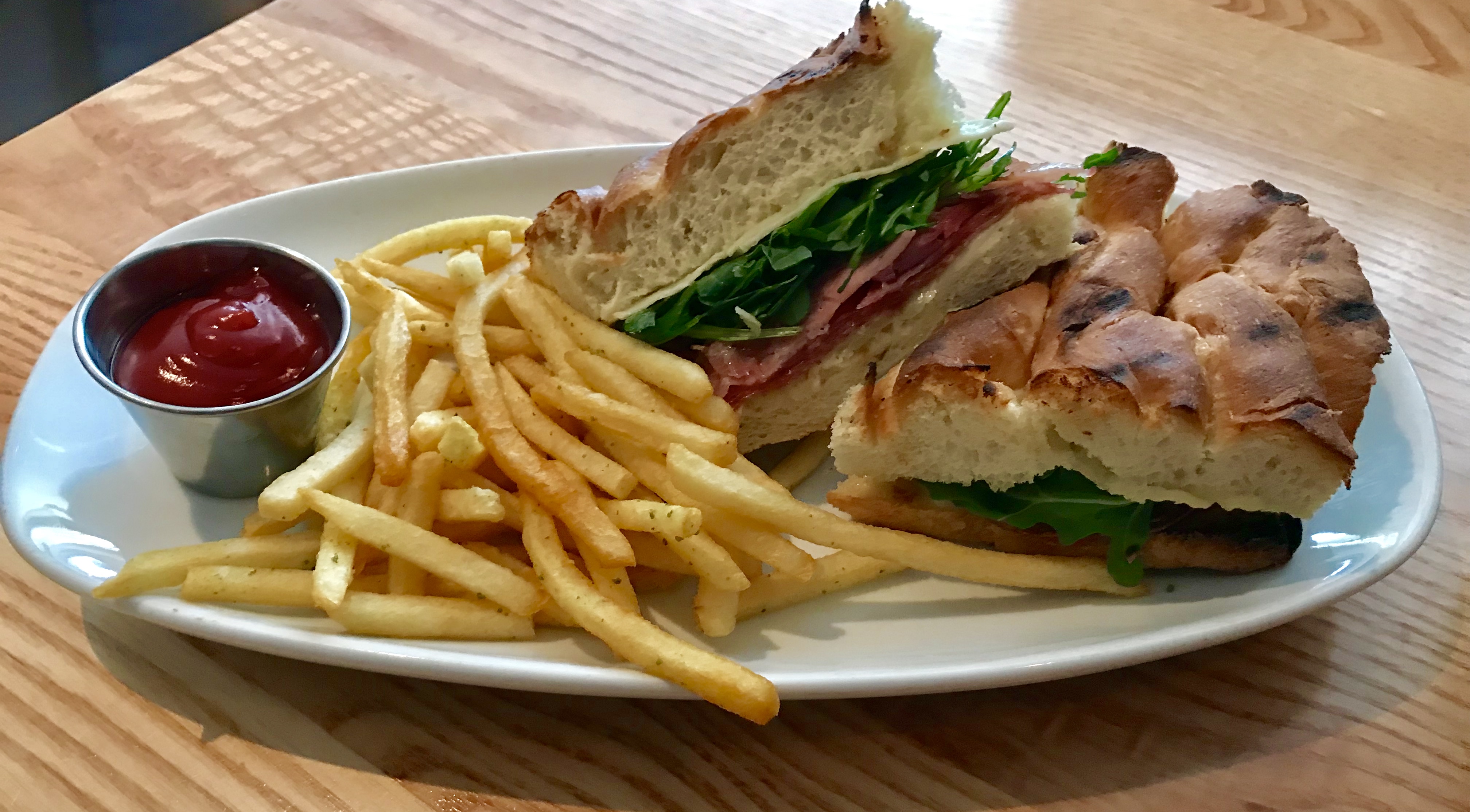 This next dish is a Sweet Stem Cauliflower Pizza. It is served as a flatbread at lunch. The pizza dough is house-made and it has smoked mozzarella and ricotta topped with cauliflower, house-made sausage, pecorino cheese and olive oil.
What a unique combination, right? We have a lot of places in St Pete that make pizza/flatbread. I have not seen one with toppings quite like this. It is a white pizza, so no red sauce, which I typically do not lean towards. So for my taste it was missing the richness and acidity of a red sauce and I felt it needed a bit more seasoning (salt). For most, especially those who love white pizza and love cauliflower, this is a great combination. The dough has great consistency and flavor. Kevin liked it a lot more than I did. Overall, it's a very nice addition.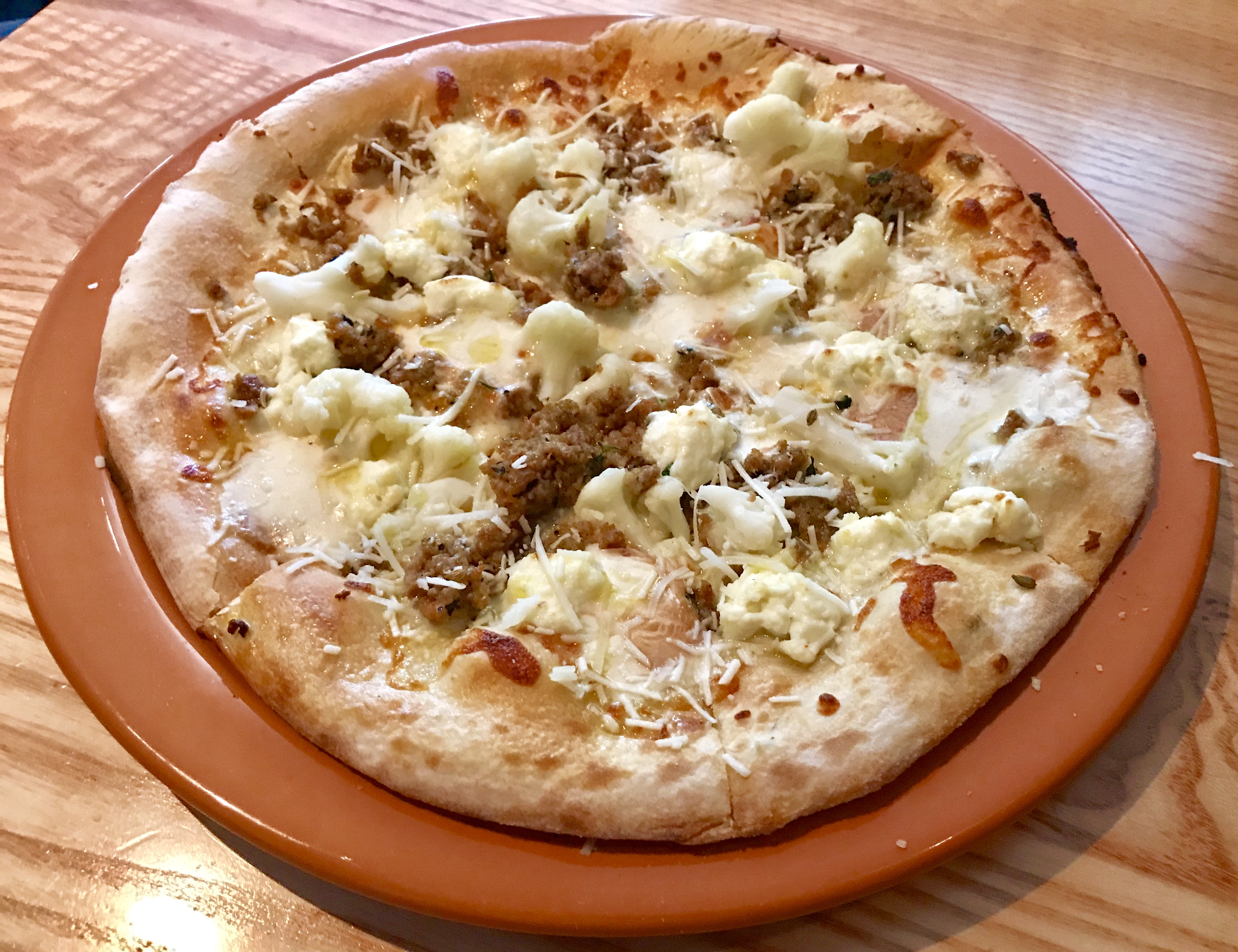 Now onto the pasta. The Pork Cheek All'Amatriciana made of fresh bucatini (made in Tampa and ordered in), Guanciale (pork cheek), red onions, chili tossed and topped with pecorino cheese and olive oil is another dish like no other that I have seen in St Pete.
The meatball looking parts of the dish is the pork cheek. This dish is very rustic and rich tasting but not overpowering. It has great depth of flavor from the chili. The sauce is more like the consistency of a paste. The pork cheek at first I did think was a meatball until I felt its different texture. It is full of great flavor. This one almost tied with the peach salad for me.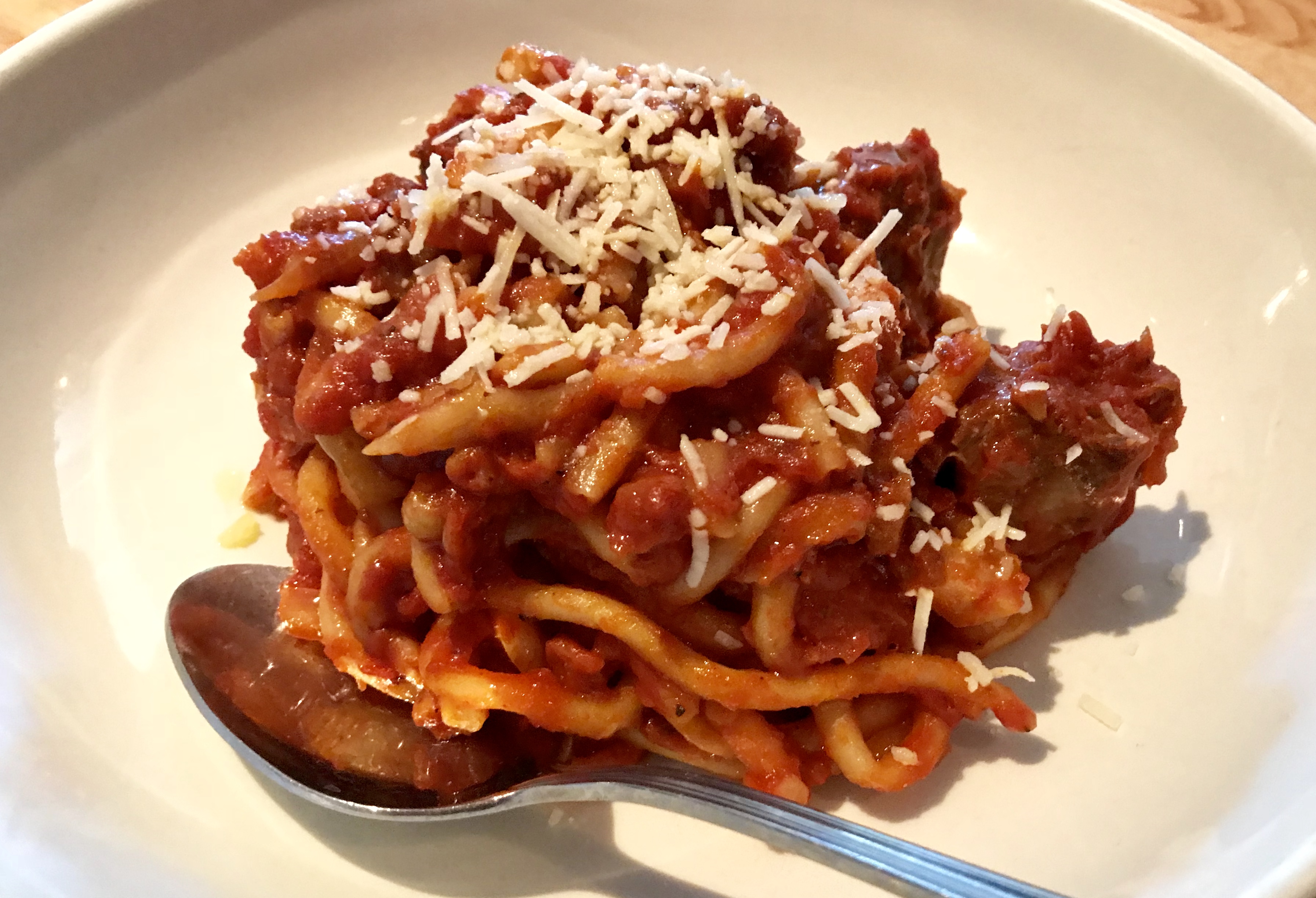 Onto the sea, we have local black fin snapper that has been pan seared and is served over a bed of nduja (spicy prosciutto spread) spiced summer chickpea stew and kale, and is finished with olive oil and marcona almonds. This dish was originally served with cod and was not selling very well. As soon as it was switched to snapper, it started flying right out of the kitchen.
The fish is cooked to perfection and is moist, light and flaky inside. Snapper can sometimes be too heavy and taste somewhat fishy. This snapper has none of that going on. The flavors are quite different and perfect for a fall fish dish. Somewhat mediterranean inspired with the chickpea stew and inspired flavorings, the dish is another unique hit for BellaBrava. Again, for me, I would add a touch of salt, but other than that, it is a very flavorful seafood dish.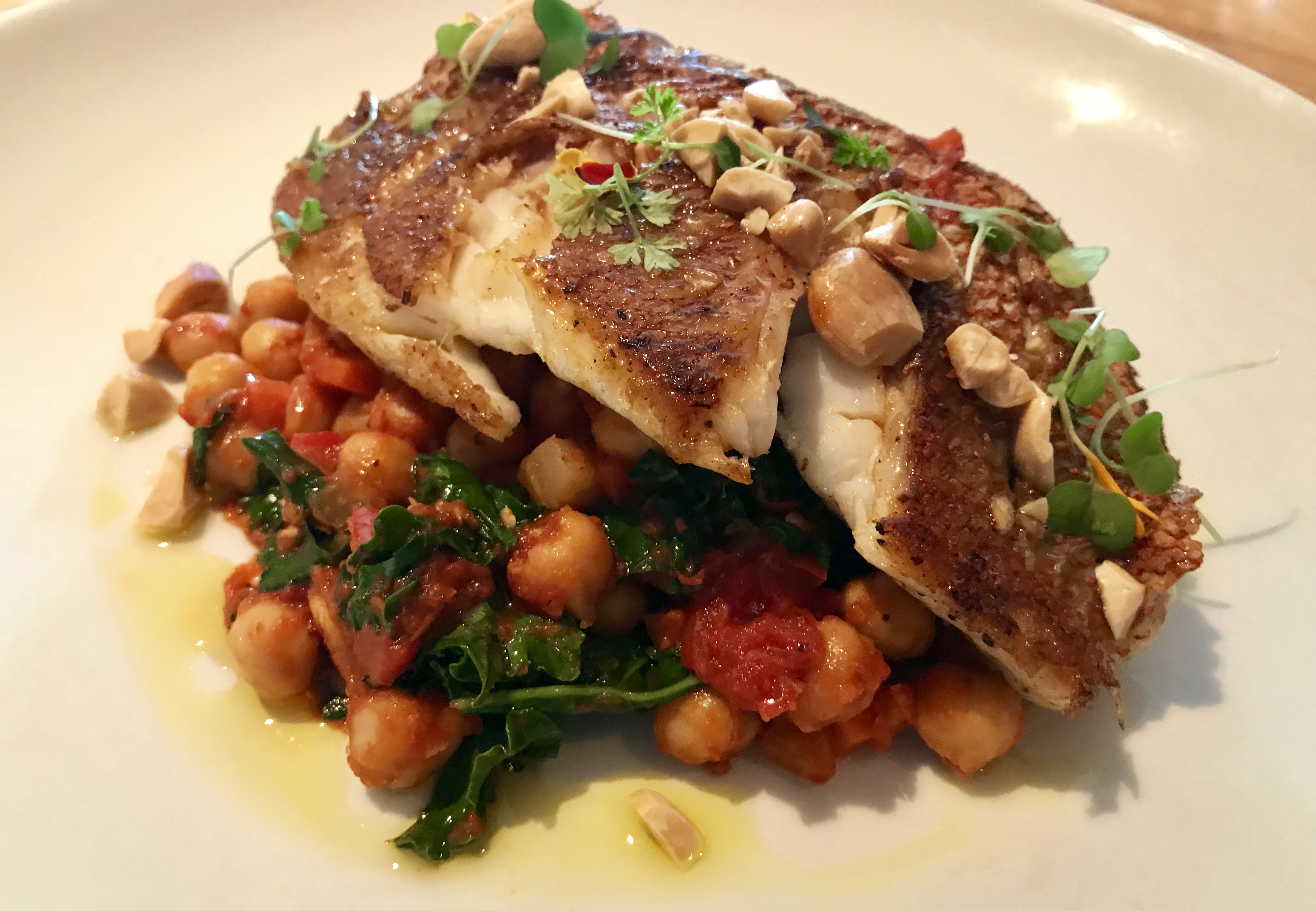 Again, all of these items are available on the current Features menu, not the regular menu. The pasta and fish are only served at dinner and the Porchetta Sandwich is only a lunch feature. See below for the entire Features menu. The wines are subject to change.
As far as your favorite regular menu items, most are still available and some of them just got a little "facelift" or refresher. Stop by to check them out and get in soon to try these great features before they change with the seasons. We are hoping that some of them will be added to the regular menu next go around.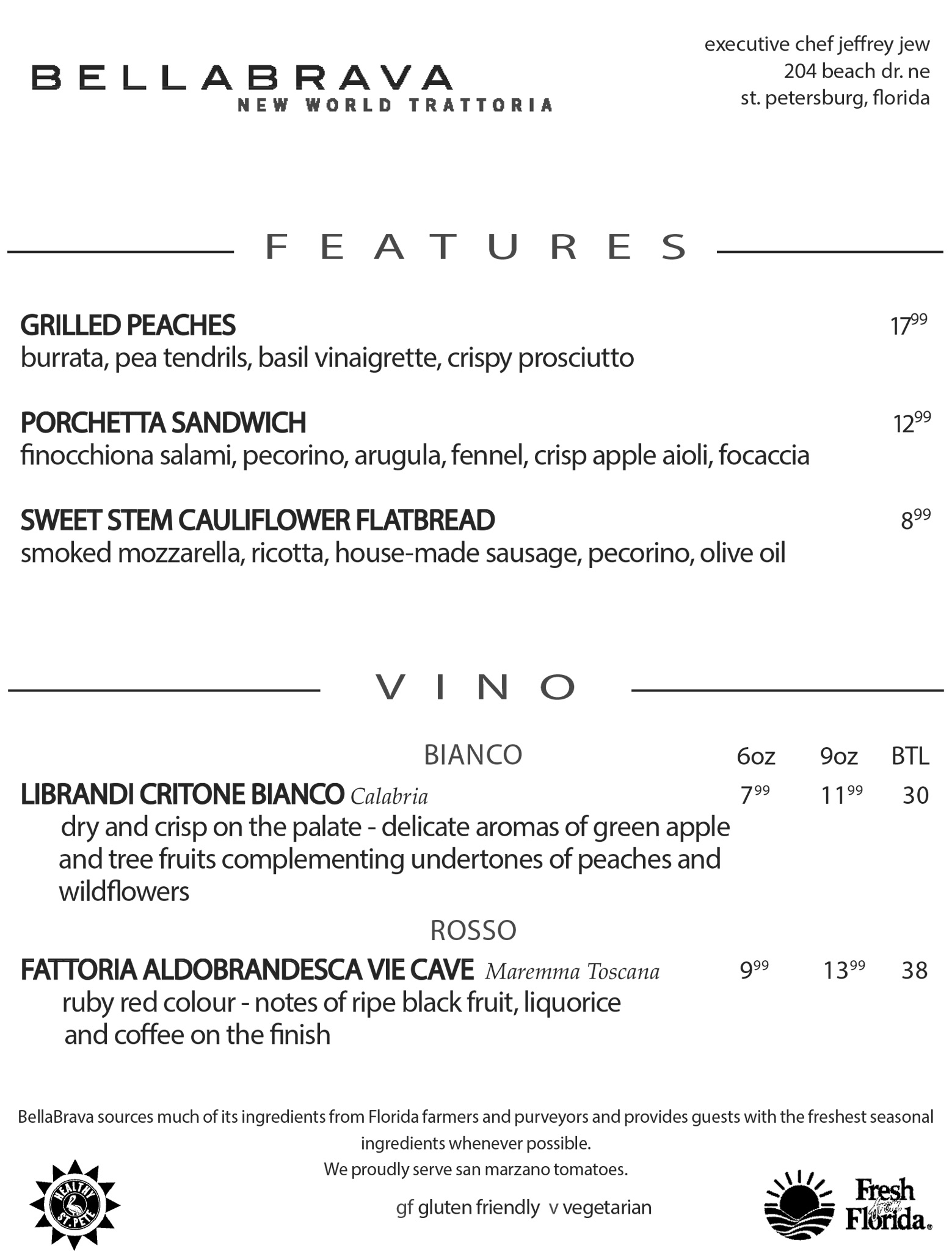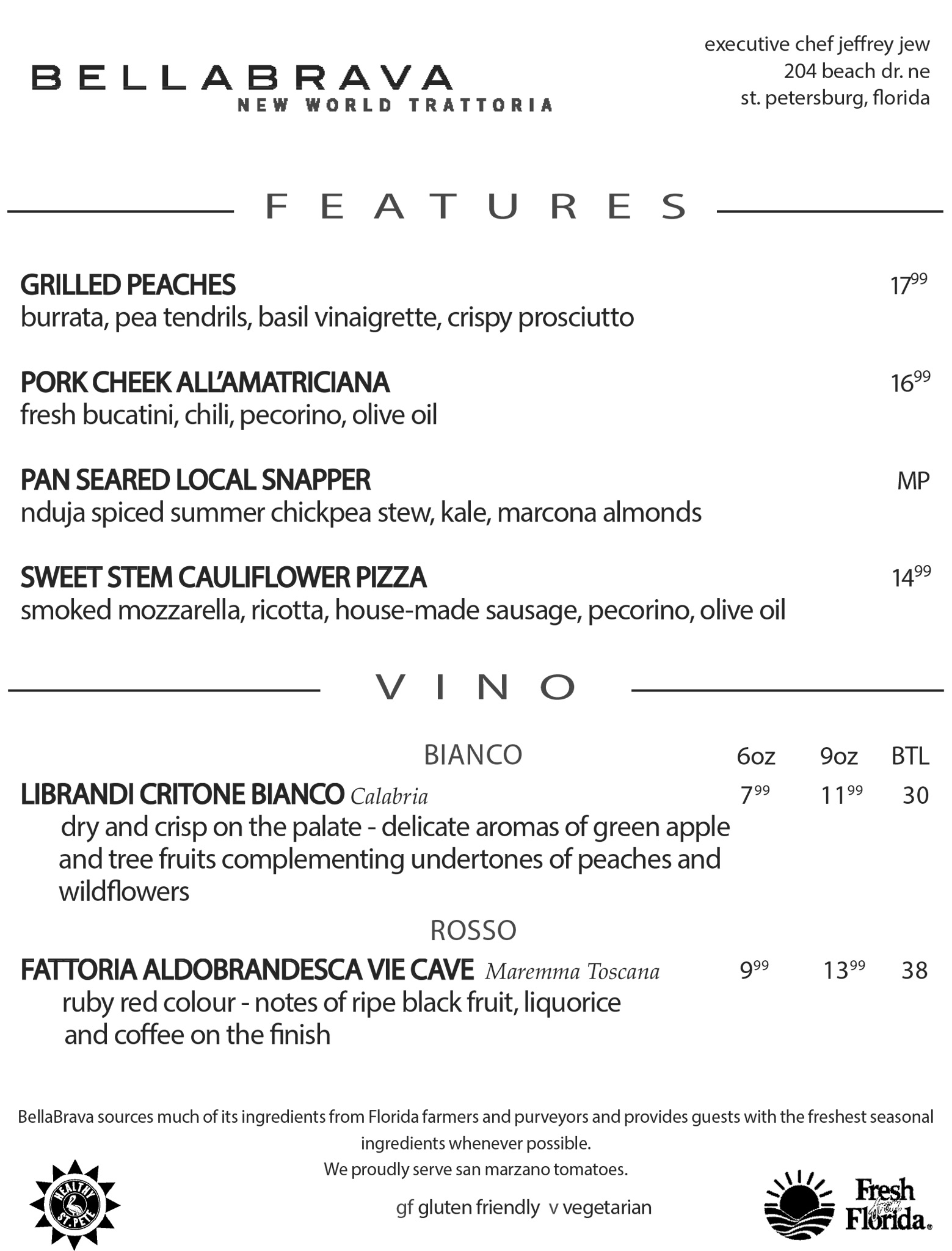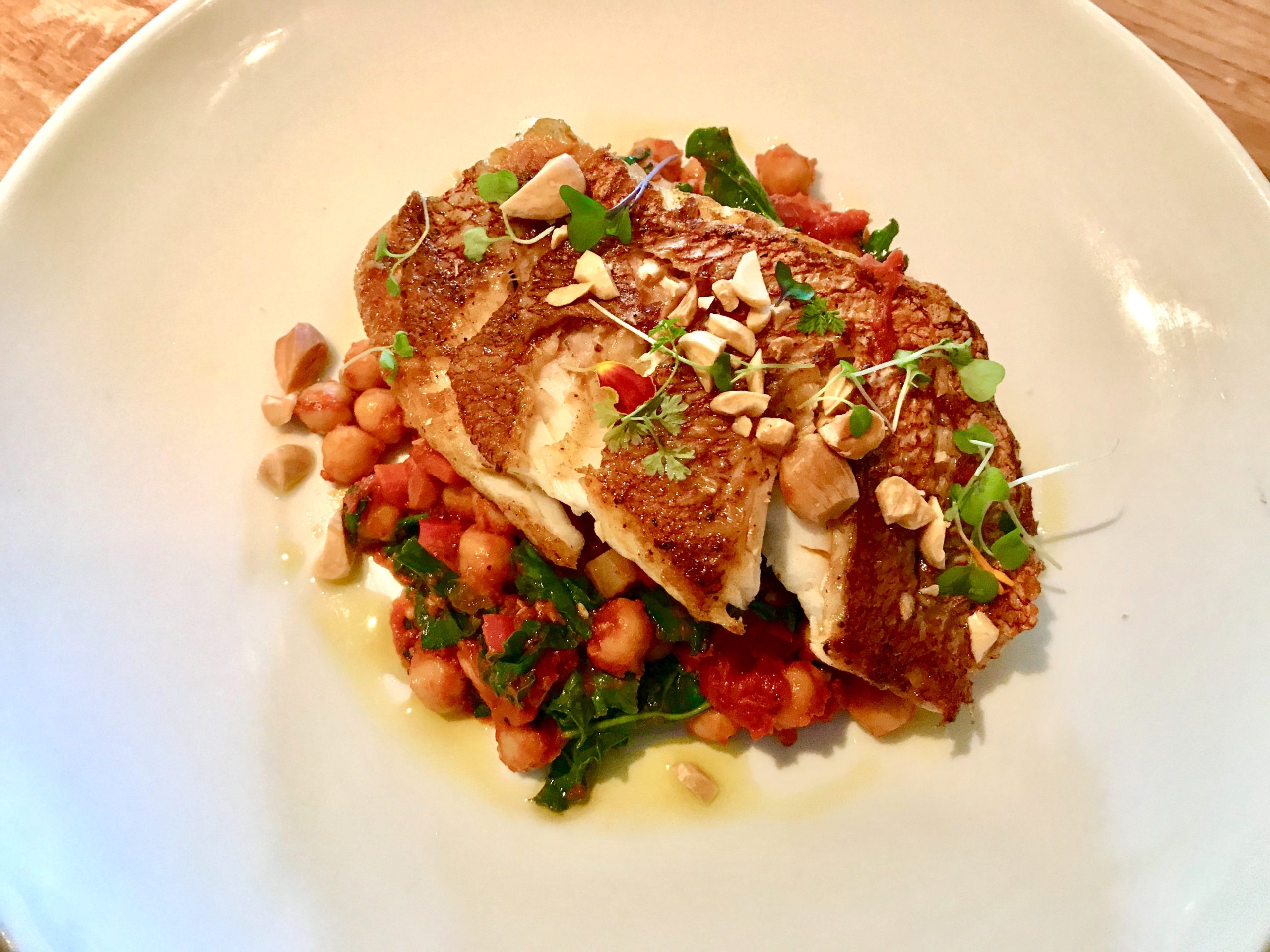 Readers Rating

Rated 5 stars




5

/ 5 (

Reviewers

)

Spectacular
---
BellaBrava

727-895-5515

Sun - Thu

11:30am - 10:00pm

Fri - Sat

11:30am - 11:00pm
204 Beach Dr NE

,

St Petersburg

,

FL

33701

,

USA
---
Where old world flavor mingles with new world flair. BellaBrava is a restaurant that blends Italian cuisine with the modern bustle of a New World urban lifestyle.
Whether sampling their seafood or famous American burgers with a Tuscan twist, you will find something the whole family will enjoy. The menu has a wide variety of pastas and antipasti, as well as unique Woodstone ovens to cook delicious flatbreads, pizzas and calzones.
Less formal than a ristorante, the service is casual, the prices remain low, and the emphasis is on a steady clientele rather than haute cuisine.
DISCLAIMER: Kevin, Lori, Abby, Haley, & Lindsey do not dine anonymously (this would be impossible) and we sometimes get free food (though never expected). However, we dine with the locals and we support our own. You will always get honesty in a respectful manner.

PLEASE NOTE: Reviews reflect a certain moment in time. Some restaurants stay extremely consistent over many years, and some change for the better or worse. Some things that may change are: chefs, recipes, food suppliers, ingredients, philosophies, ownership, etc. We always hope that you have the same good, or great experience we had.
More Foodies News, Reviews & Recipes