Bin 6 South, Wine Cellar and Intimate Eatery in St. Petersburg, FL
Bin 6 South, Wine Cellar and Intimate Eatery in St. Petersburg, FL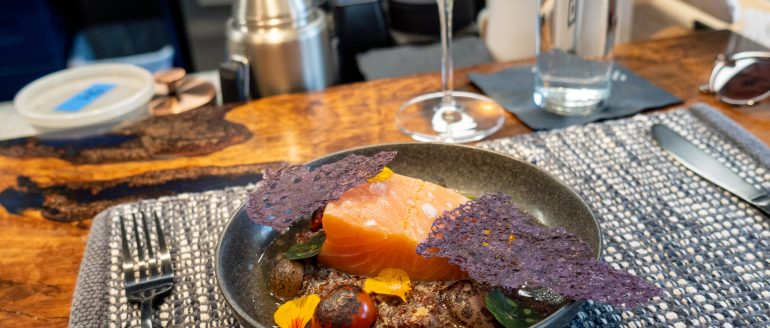 If you're looking for an astonishing experience, head to this quaint house cellar and restaurant, Bin 6 South. It's a relaxing establishment in downtown St. Pete and just a few blocks off Central Avenue. Though the atmosphere is casual, the food menu and wine options are truly extraordinary. I was blown away by the attention to detail, the quality of the food and wine and the charm. Life's 'bin' good ever since I visited Bin 6 South.
This home turned wine cellar/restaurant has an impressive wine list and a surprising menu of lunch, dinner and decadent desserts. The setting is super intimate with only 12 seats in total. You'll either be seated at the table with other parties or you can have a front row seat of the kitchen sitting at the bar. Be sure to book a reservation or call them in advance.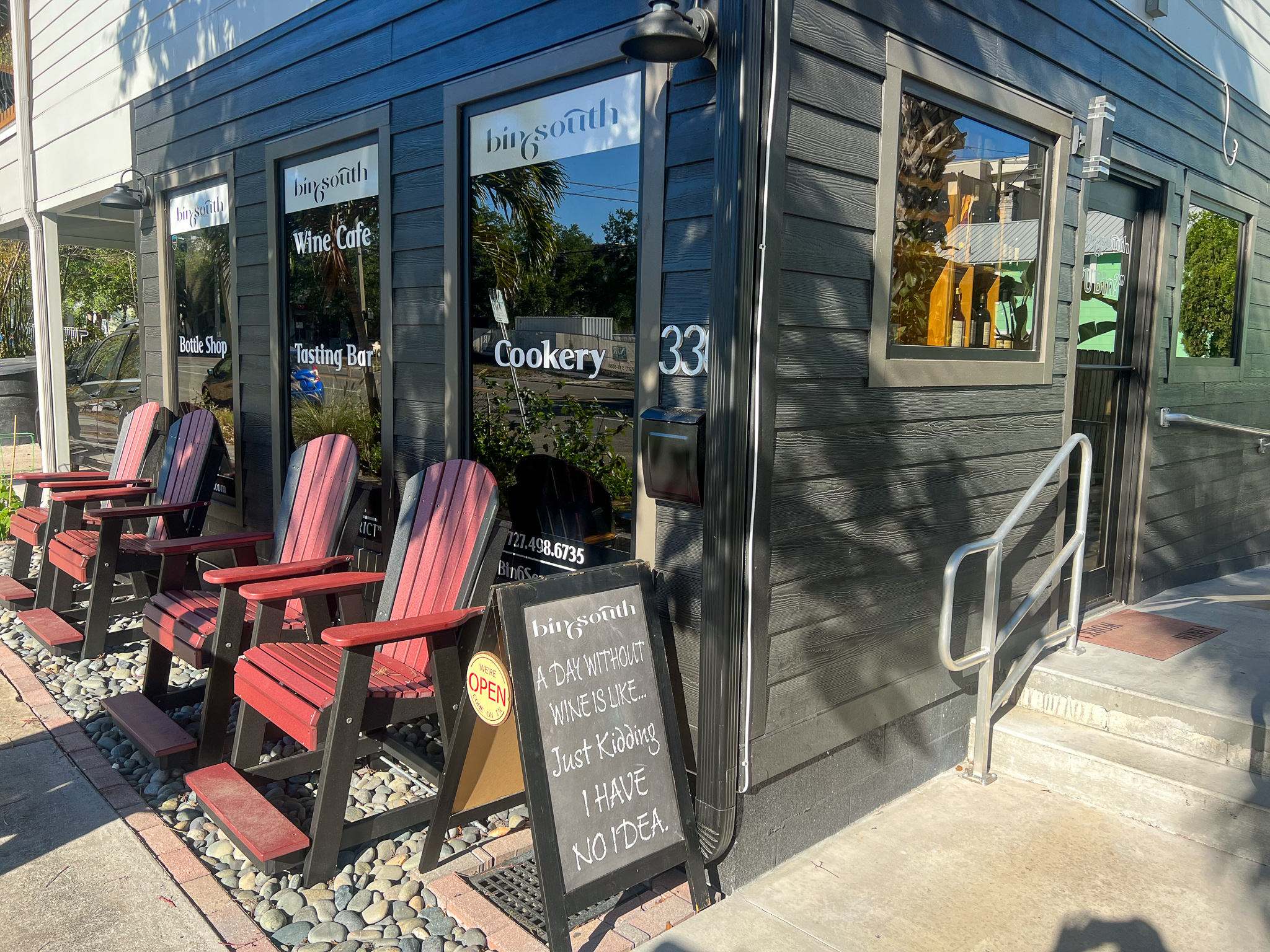 There is a lot of wine packed into this little home so be ready to let Sommelier, Danielle, guide you to your new favorite. Locals get 10% of wine bottles from the cellar.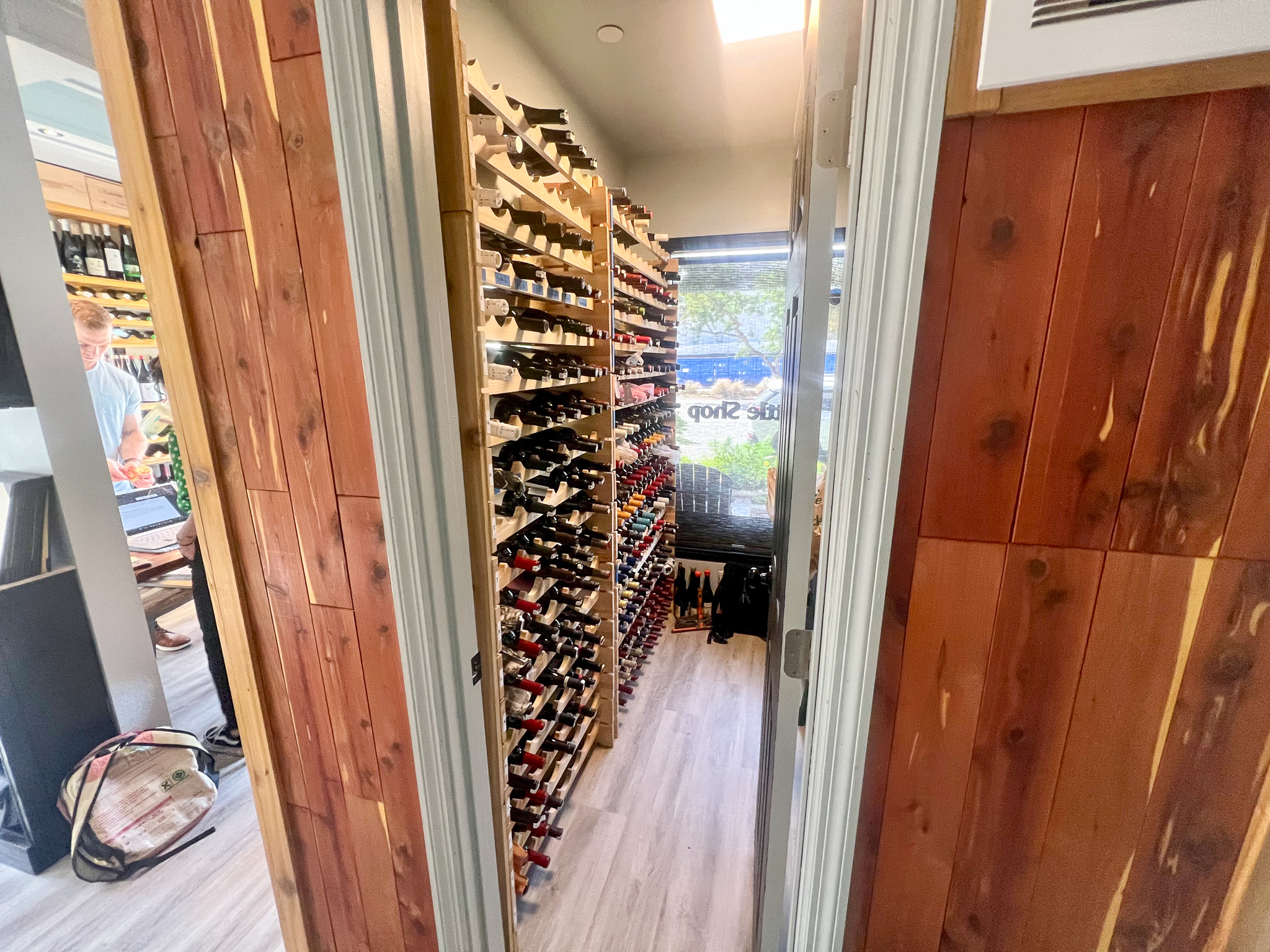 You can reserve the whole table for a party of 6 or you'll be seated next to strangers turned friends. It's that kind of place where everyone talks to everyone and you'll leave with some new wine friends and a buzz.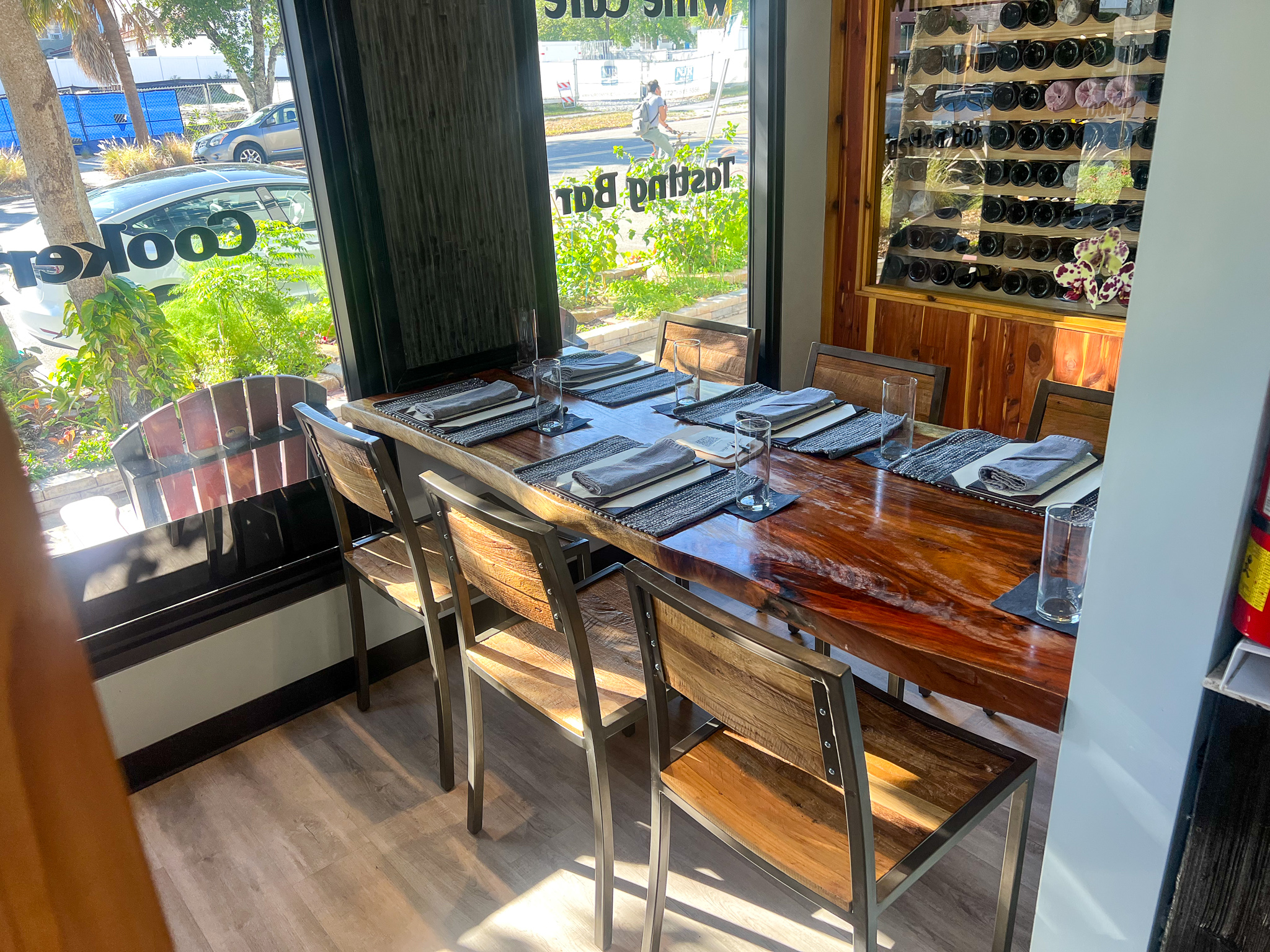 Inside Table
Watching the chefs do their thing is really unique. If you sit at the bar, not only will you see the creation of each dish, but you'll hear the story or little fun facts as the chef is preparing it. Although the vibe is casual and friendly, Bin 6 South offers a remarkable experience to be able to learn about the dishes you're about to eat. There's also an element of  familiarity as if you're hanging at your best friend's house and they're cooking for you while you sip on wine. The only difference is now your best friend is a chef and your getting wine suggestions from a sommelier.
Getting to know the team throughout the night really made my encounter change from simply enjoying dinner to making new friends and seeing the passion and story behind Bin 6 South really unfold.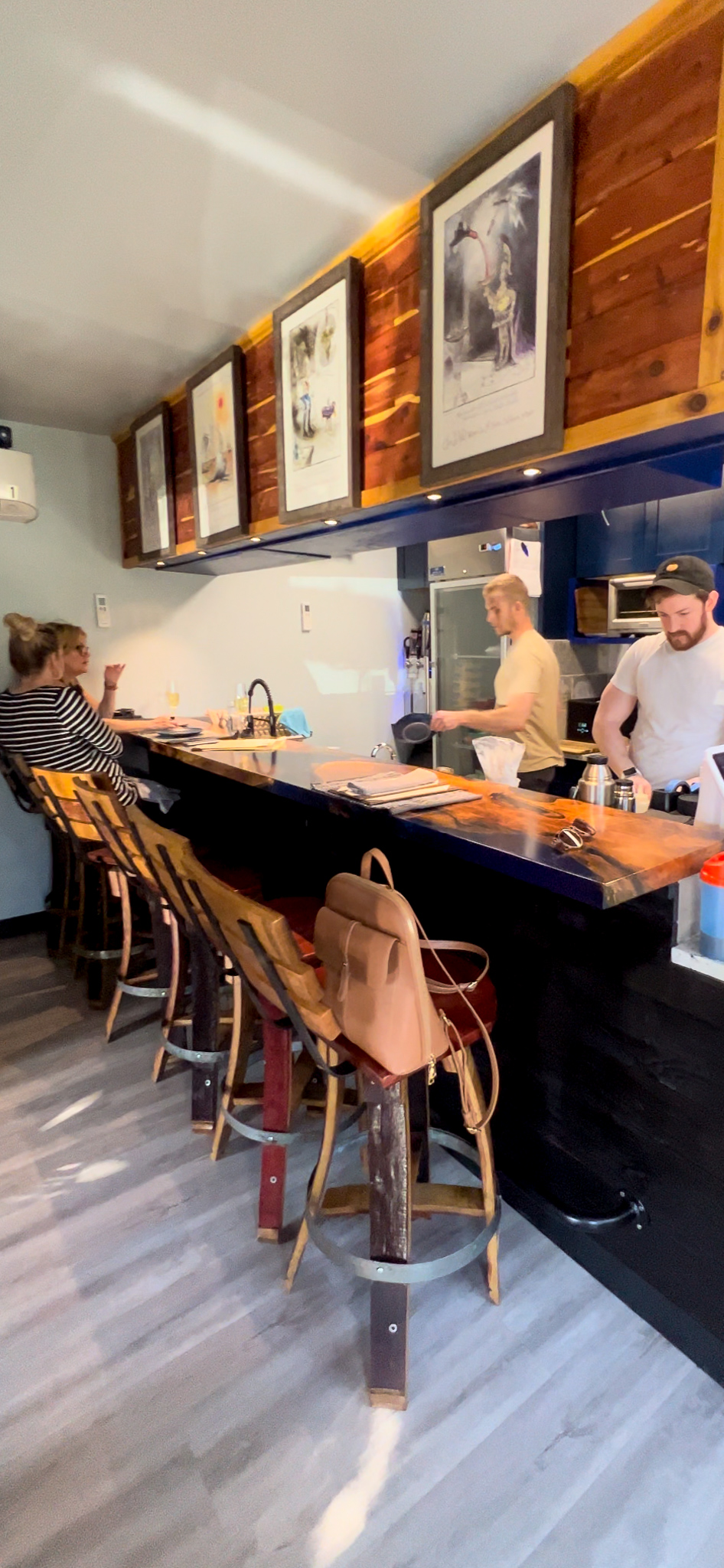 If you're like me, as soon as the temperatures climb, you'll want to swap those bold reds for light, refreshing whites and rosés. I started with a glass of Secateurs Rosé and it was exactly what I needed for something light. The description reads as aromas of complex red fruits, spice, rose water and currants. Generous, textured palate with a long finish.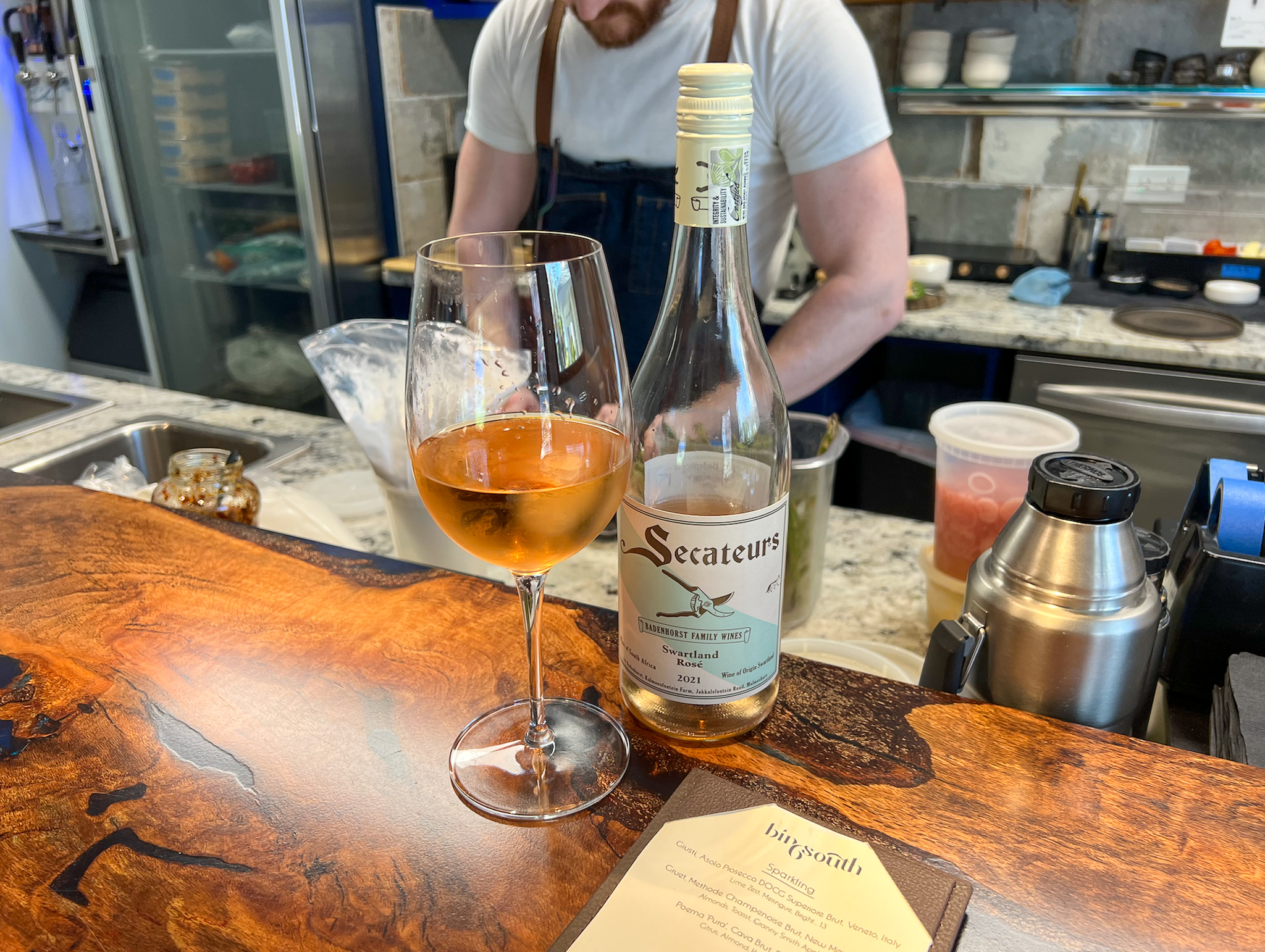 If asparagus appears on any menu, I'm always going to order it. This spring special was a wonderful start for me to really understand how fresh their menu is. It was simple but the cheese on top and white bean hummus on the side really made it comforting.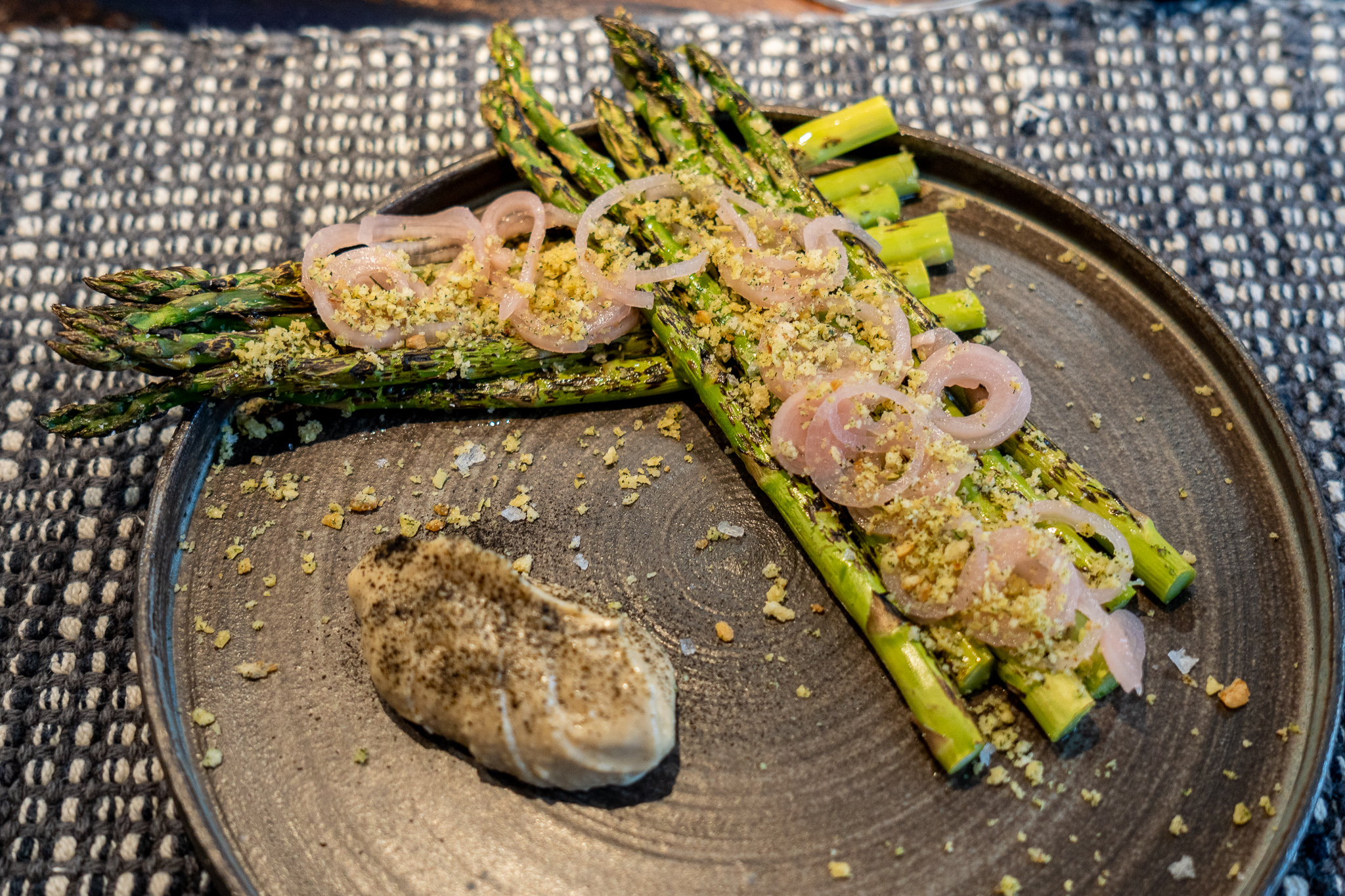 Their Roasted Red Pepper Soup is unlike any other. It's a must-order for me every time now because of the freshness and spice. It's a comforting bowl of fresh roasted red pepper, chipotle, sun dried tomato, cold smoked crema, herb cracker, and aleppo pepper. The crunch and savoriness of the dipper was fantastic too.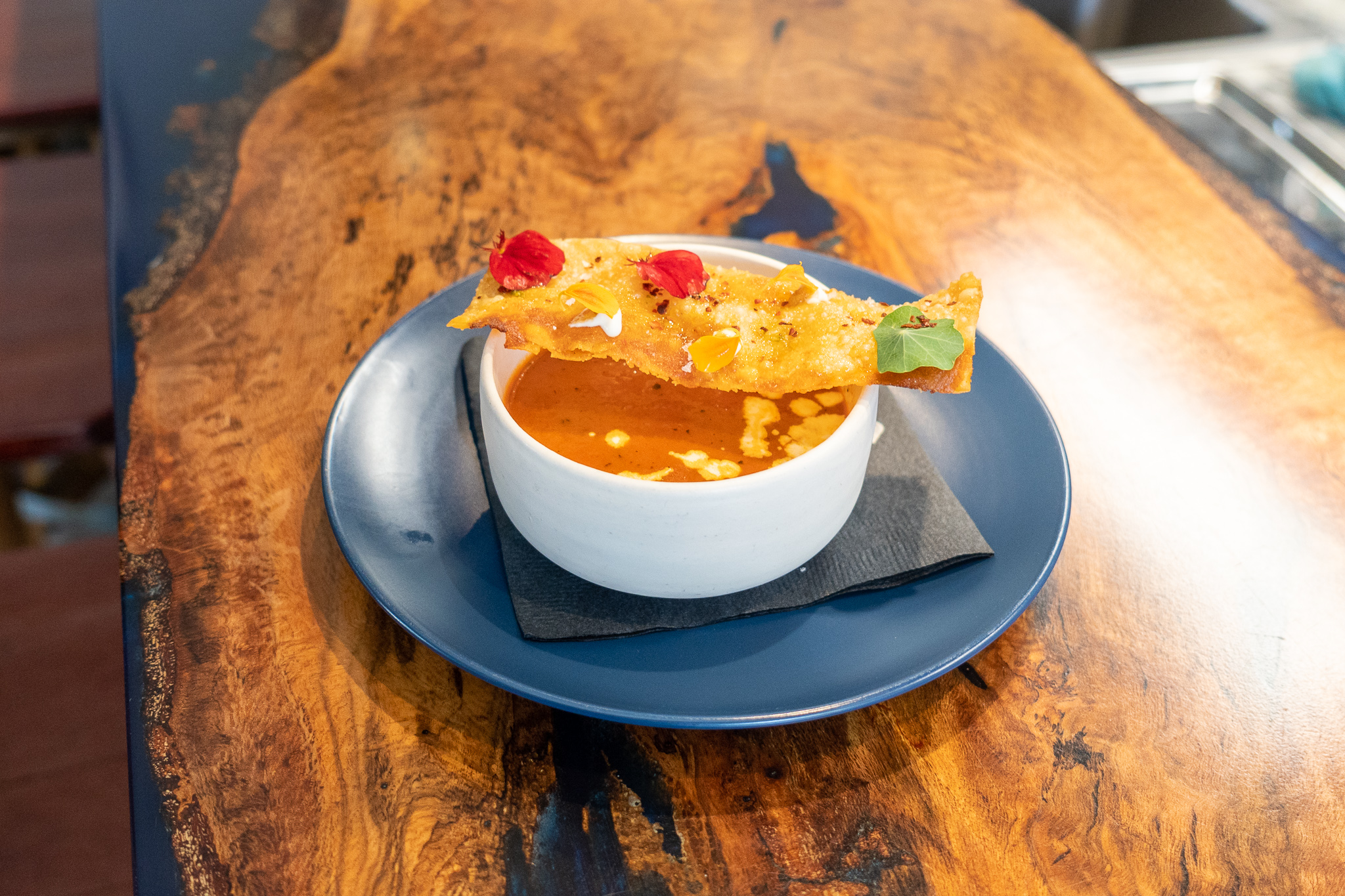 Now that my entree was approaching, I had to switch to Chardonnay. The description is: notes of brioche, toasted almonds and stone fruit flavors are echoed in the multi-textured palate. I really enjoyed the taste and knew it would go well with my salmon that chef was preparing.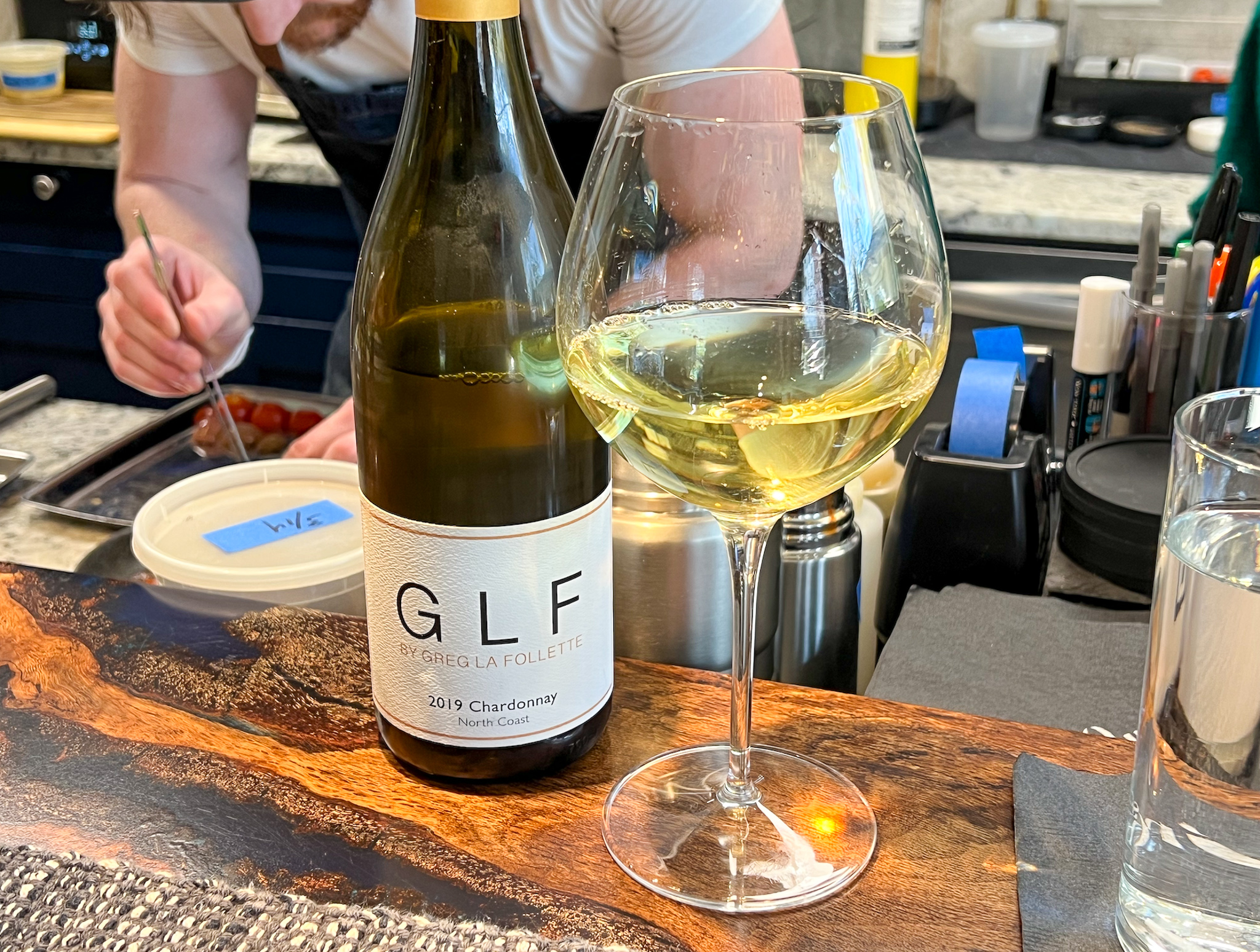 If I could only use one word to describe the Salmon Mi Cuit, it would be tremendous. Wow. The flavors really pair so nicely and it's unlike any salmon dish I've ever had. If you don't know what Mi Cuit means, it's French for "half cooked" which may seem odd but just trust the process. The Salmon Mi Cuit at Bin 6 South is a dish with tender Salmon, quinoa, preserved lemon, chamomile, and herbs de Provence tuile. Chef pours chamomile tea over the dish as a sort of tableside experience. I'm so glad I ordered this. All of the elements paired so nicely and gave a variety of flavors from savory to zesty to salt to comfort. If you don't know what to order, start here.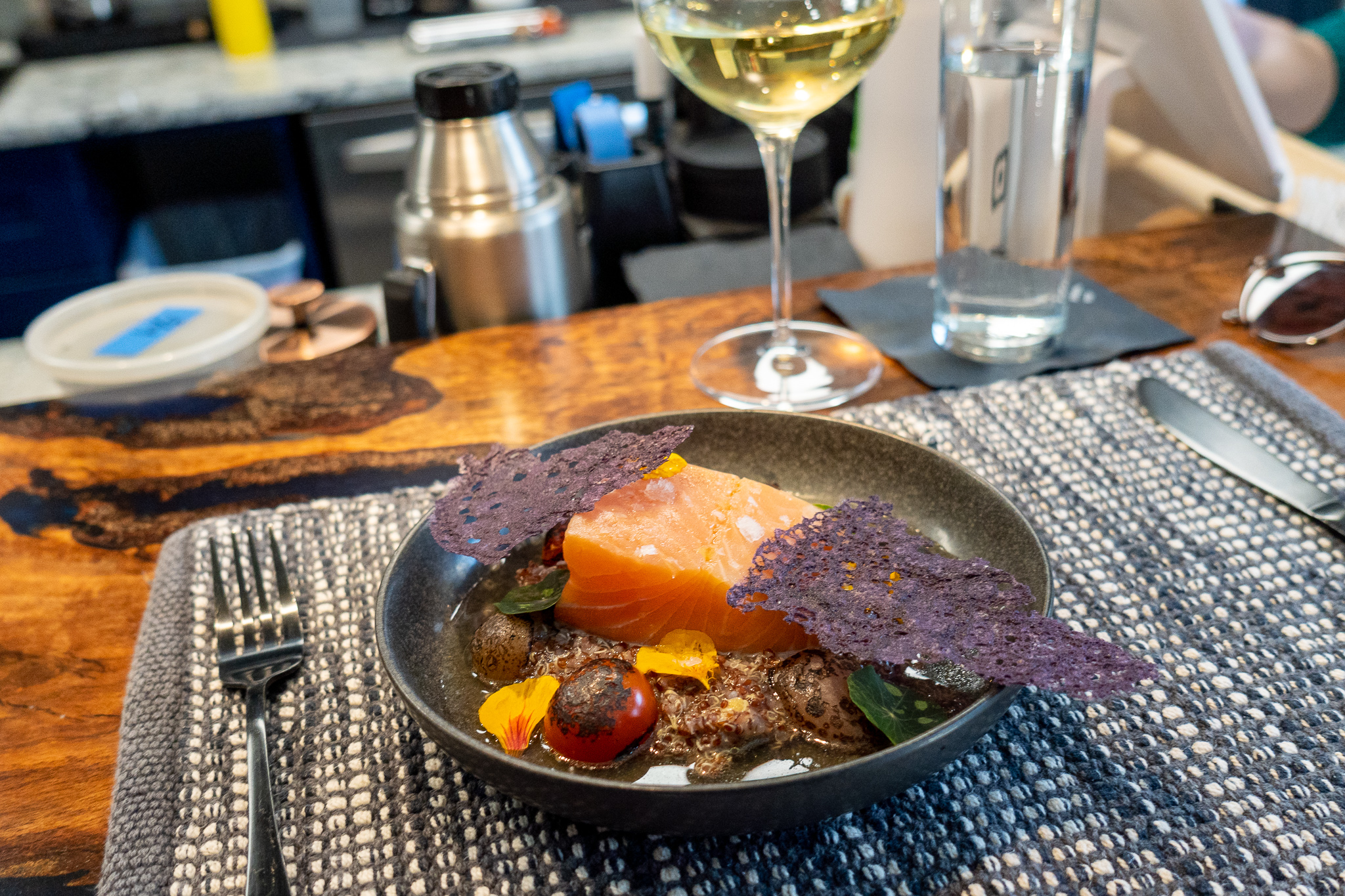 For lunch, I was drawn to the Banh Mi on a French baguette with chicken breast, ku cai vegetables, fresh jalapeño, chicken liver mousse, sambal olek, cilantro, and a side of B&B pickles. The level of detail this sandwich had, did not go unnoticed. This delectable sandwich delivered a fiery kick that was balanced out by the refreshing sweetness of pickled vegetables and savory chicken.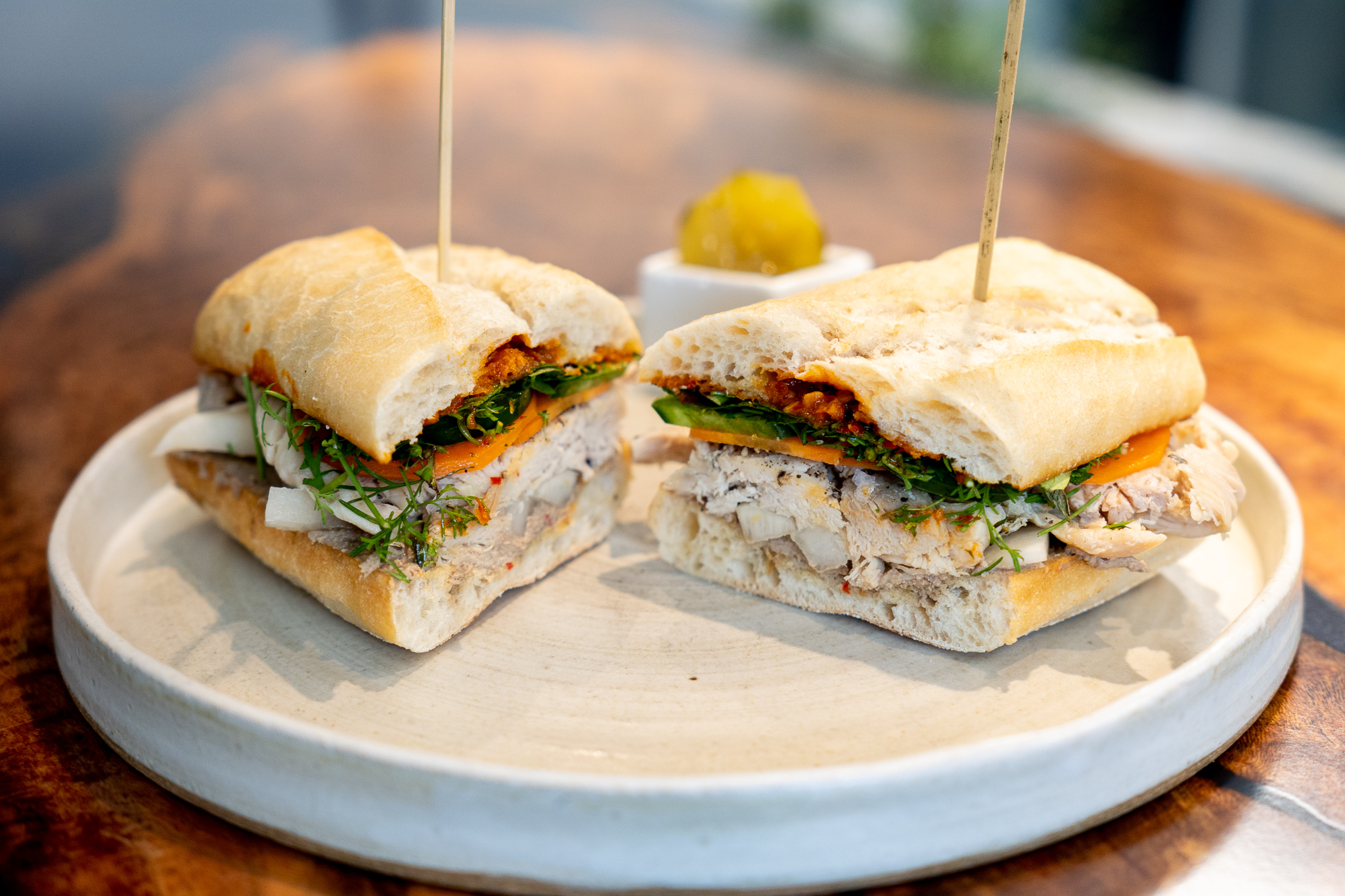 It was time for dessert so naturally I needed another glass of wine for that. I tried three dessert wines and ended up loving the Itsasmendi Urezti (the middle bottle in the photo). It was dense, sugary and very complex in my opinion. I loved it.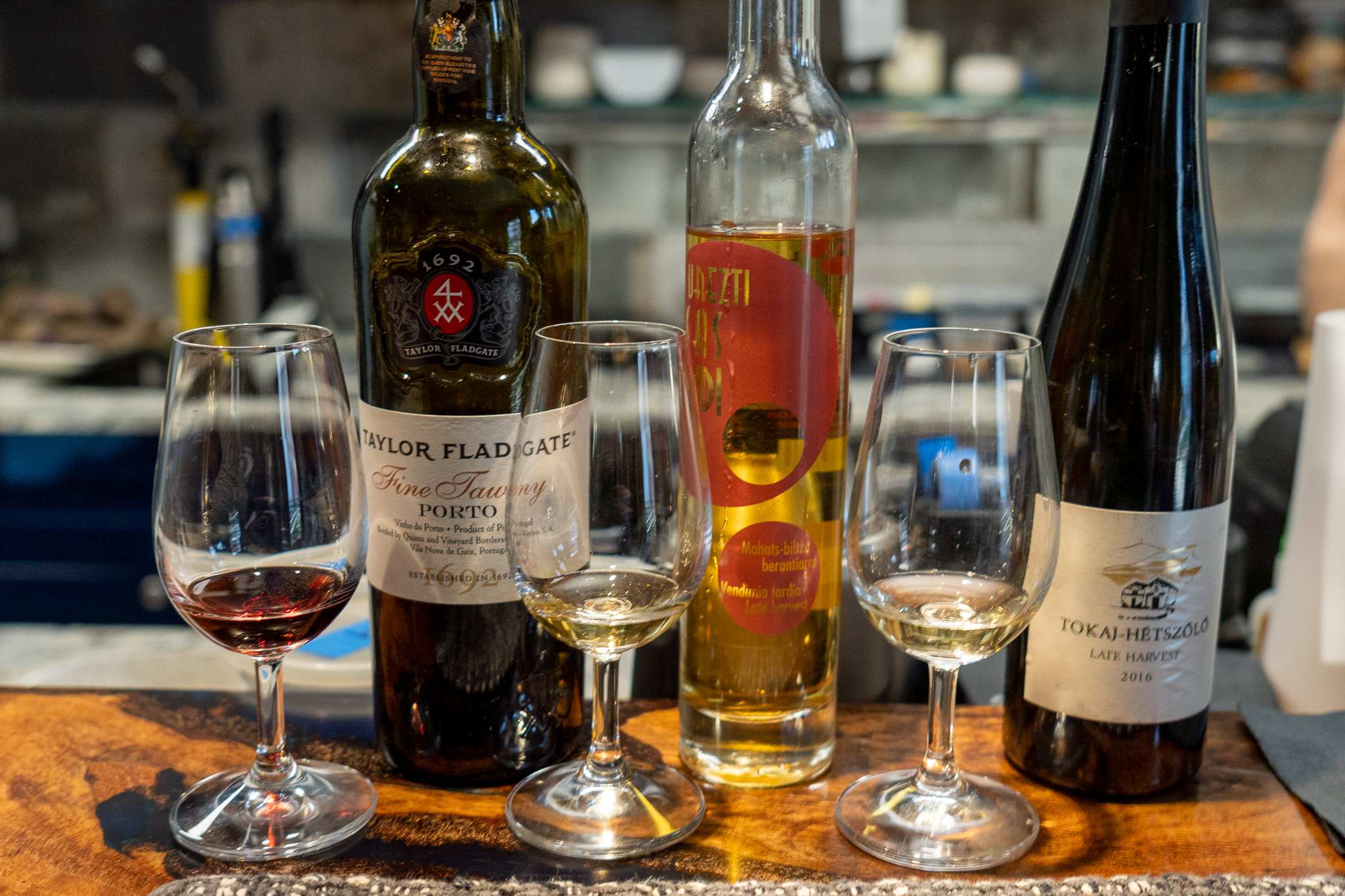 If you're looking to end the night with something super bright and light, and mildly tart, yet sweet, The Lime in the Coconut is for you. The Lime in the Coconut is lime curd, coconut meringue, toasted coconut crumble, lime zest, and a glucose tuile. The complexity of this dessert is unmatched and truly one of a kind. Again, all of the little details from the smooth coconut meringue and zesty lime curd are fantastic. The shining glucose tuile was a great touch for that extra crunch and sugar, plus it really makes the dessert look even more fancy.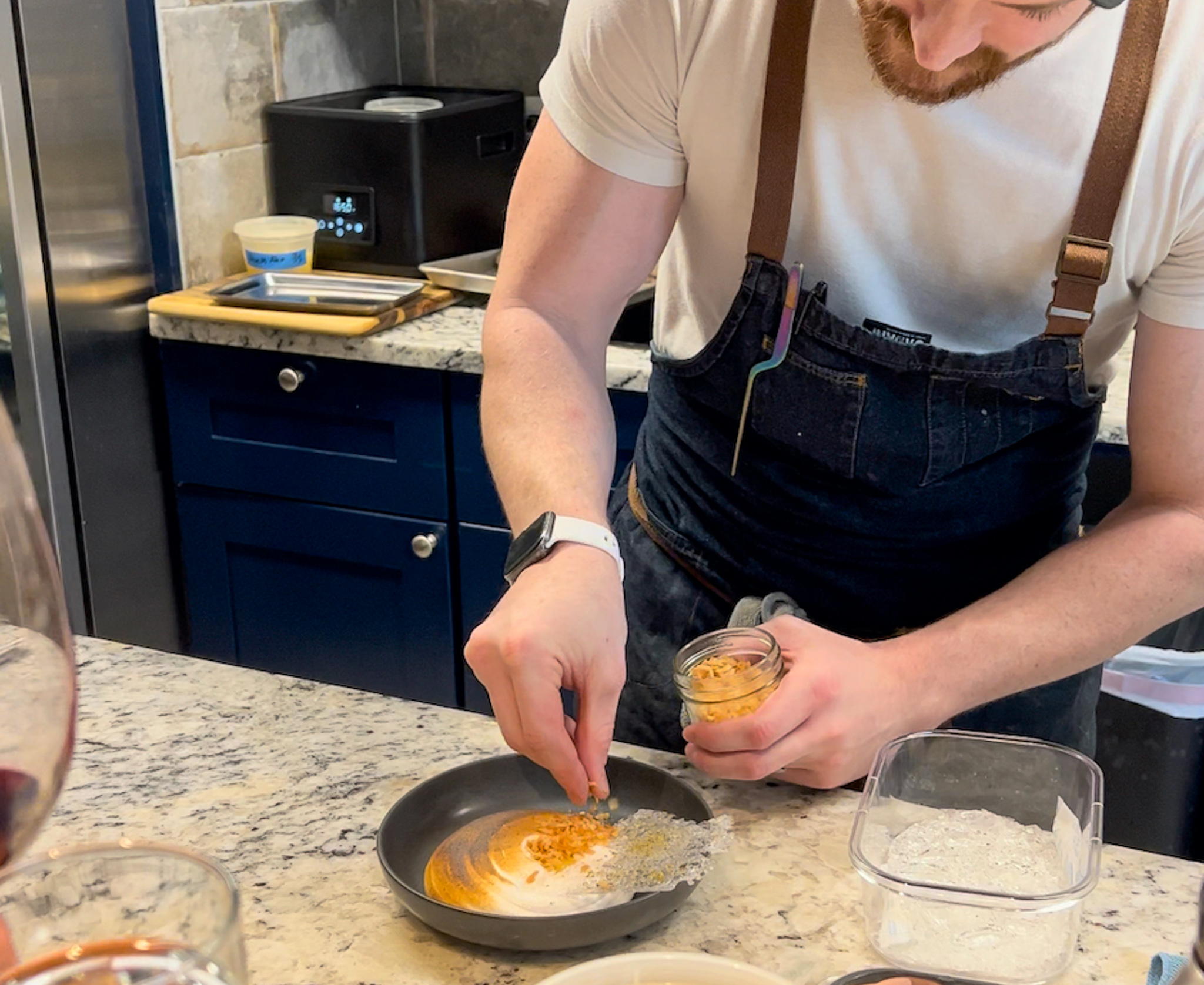 The next dessert had this brilliant holographic chocolate on top. How cool is that? I've never seen anything like this. It tasted just as good as it looks.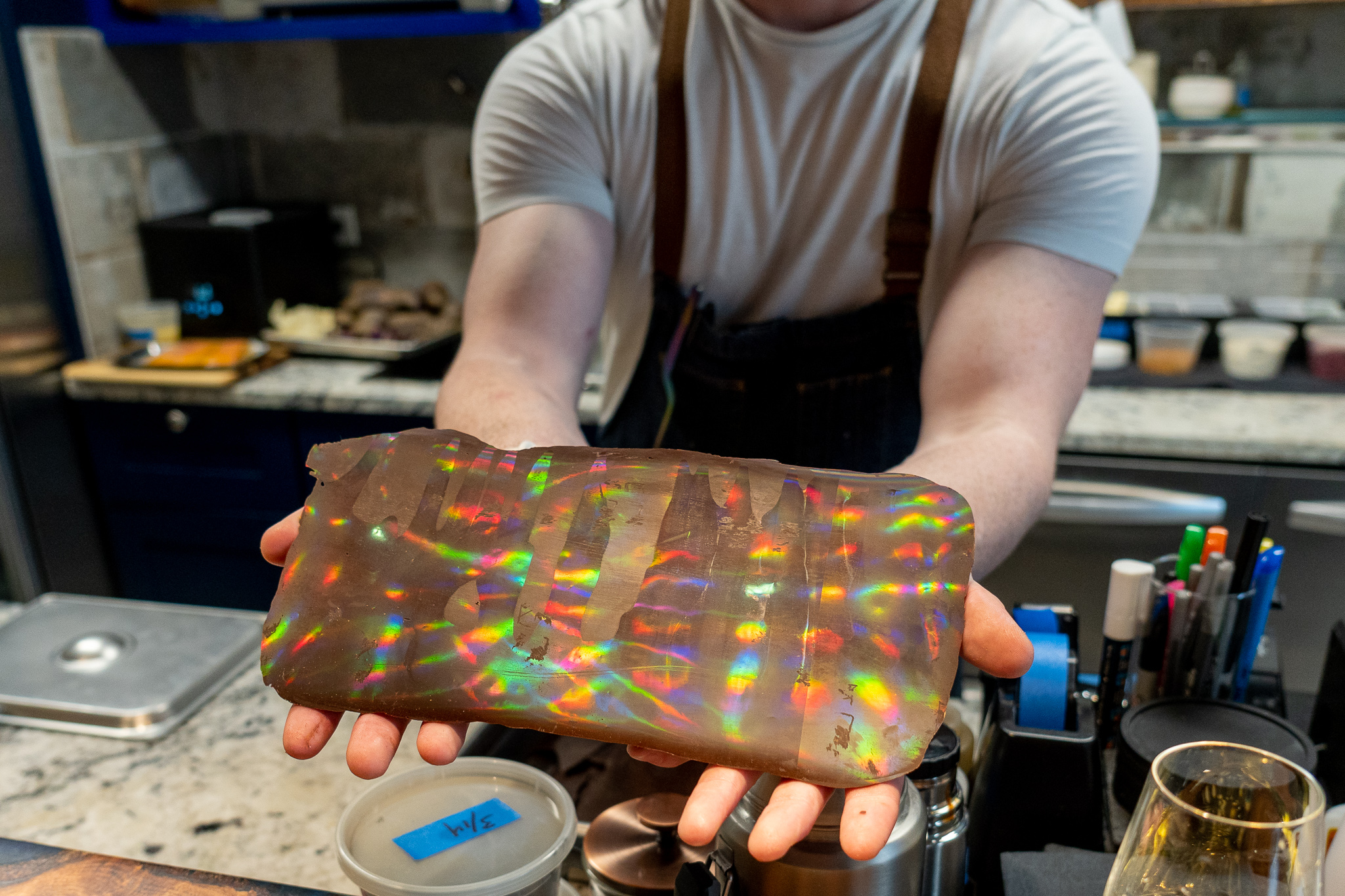 The Chocolate Cake dessert was my favorite only because I love anything chocolate. To have three different styles of chocolate on a dish really won me over. This plate of chocolate cake, cherry rose coulis, berries and edible flowers was truly the perfect night cap. The cherry rose coulis added a nice sweetness. Behind the holographic piece of chocolate is a form of cake pop chocolate, too. The presentation is like a true work of abstract art.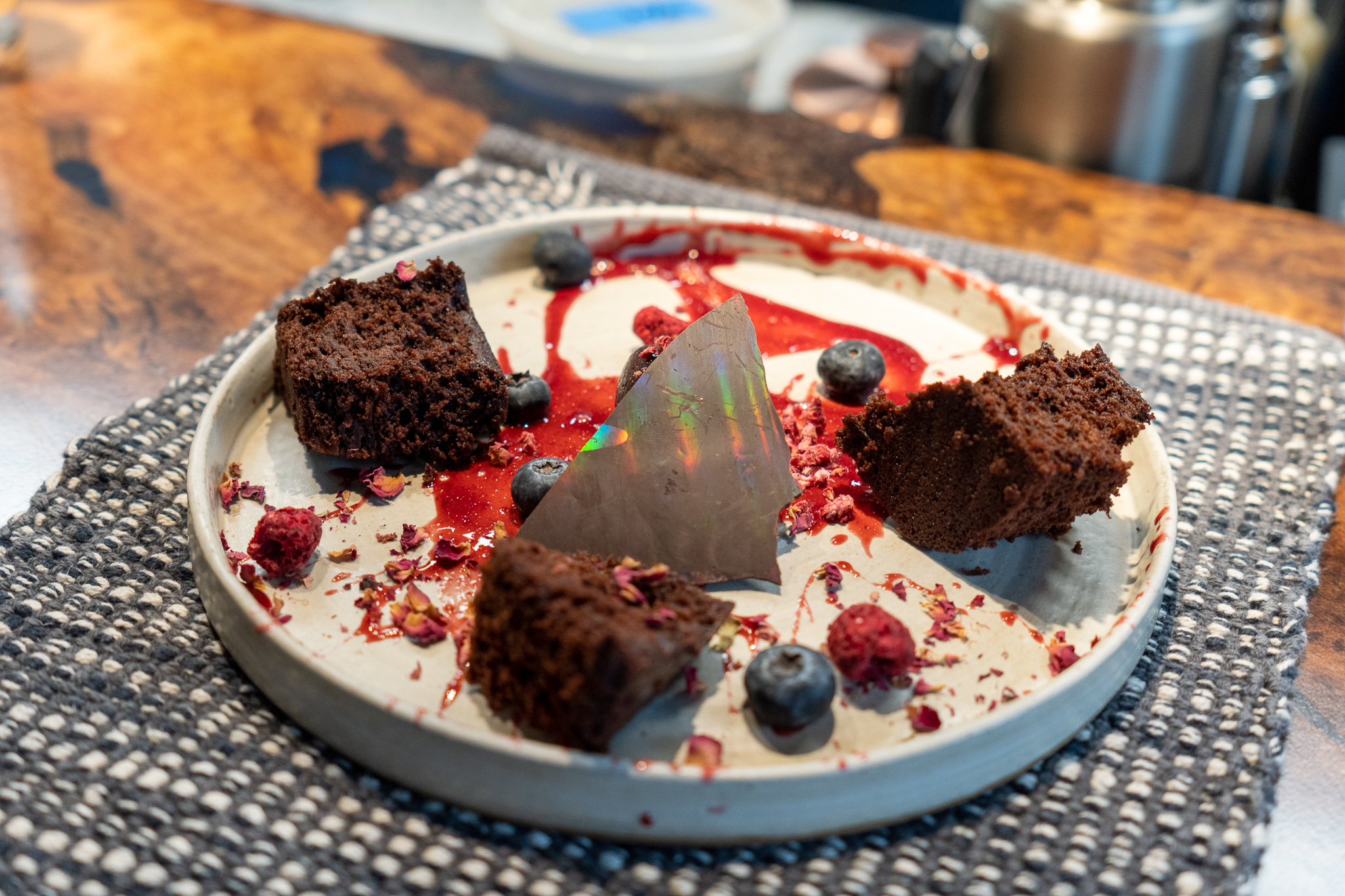 The level of attention to detail and quality of every bite and sip really made the experience at Bin 6 South an unforgettable one. The charismatic and charming team was what really tied everything together. I definitely walked in a stranger and left feeling like a friend. This team is talented and if you get to enjoy all of their skills coming together, I guarantee you will leave in astonishment, just as I did.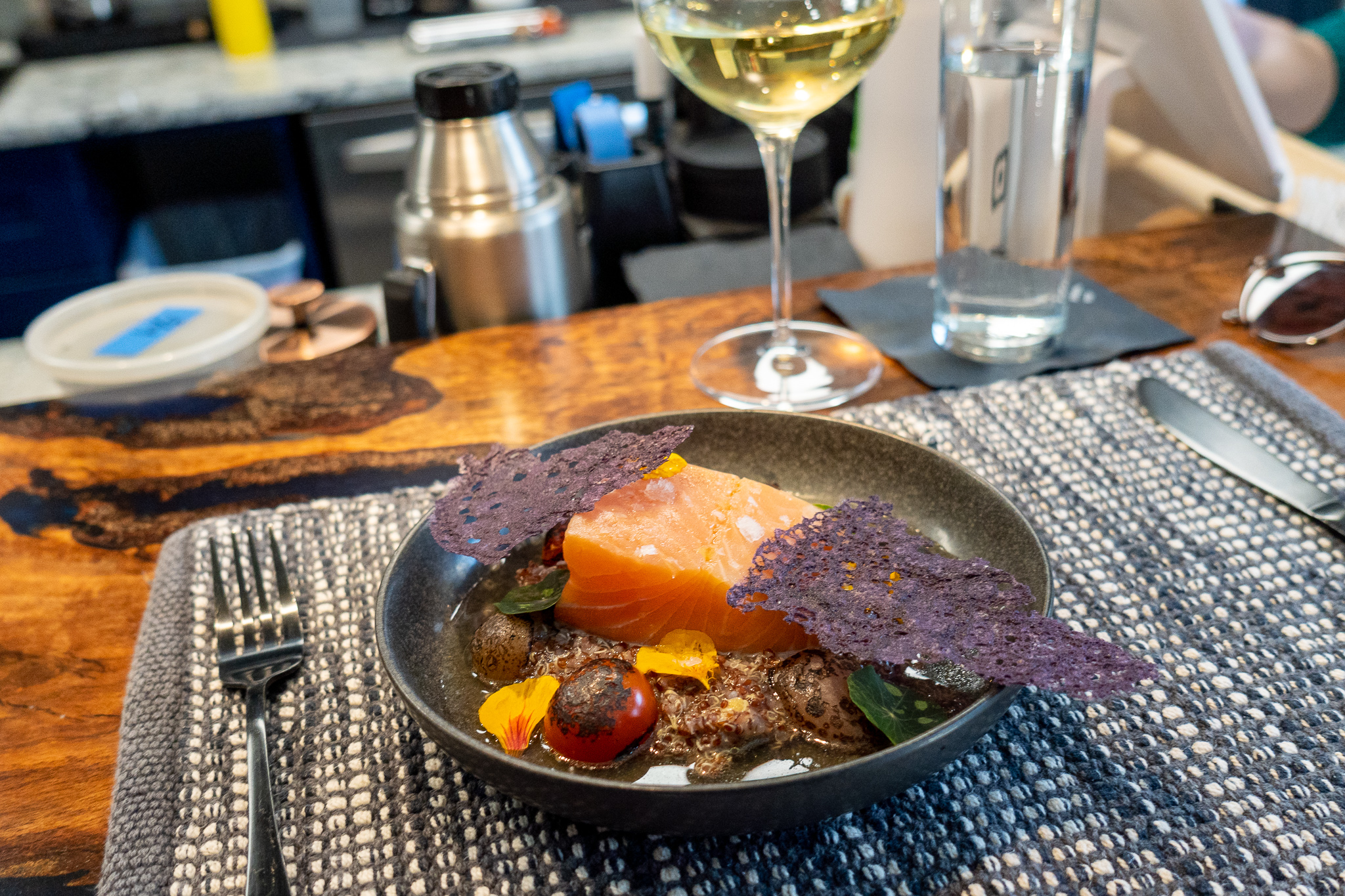 Readers Rating

Rated 5 stars




5

/ 5 (

Reviewers

)

Spectacular
---
Bin 6 South

(727) 498-6735

Wine Cellar

,

Wine Shop

,

Eatery

Tue - Sat

11:30am - 10:00pm
330 6th St S

,

St. Petersburg

,

FL

33701

,

US
---
Intimate wine cellar, eatery and bottle shop.
DISCLAIMER: Kevin, Lori, Abby, Haley, & Lindsey do not dine anonymously (this would be impossible) and we sometimes get free food (though never expected). However, we dine with the locals and we support our own. You will always get honesty in a respectful manner. We do not include any large national or regional chains in our ratings and reviews. We focus on independent locally owned eateries exclusively.

PLEASE NOTE: Reviews reflect a certain moment in time. Some restaurants stay extremely consistent over many years, and some change for the better or worse. Some things that may change are: chefs, recipes, food suppliers, ingredients, philosophies, ownership, etc. We always hope that you have the same good, or great experience we had.
More Foodies News, Reviews & Recipes