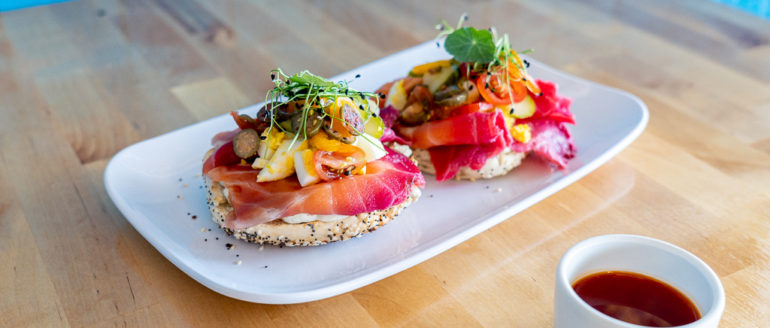 This bright and quaint cafe, Sammy + Paco's Community Cafe, has proven to be quite popular since its opening in May. The owners of Lolita's are the masterminds behind this gem and if you know and love Lolita's as much as I do, then you'll quickly adore Sammy + Paco's. Just as you'd expect, the food and drinks are beyond scrumptious and there's even a case full of baked goods by Chef Megan, who was the pastry chef at Sophia's. Now, if you're wondering where Sammy and Paco came from, they're the names of the owners' cats. Don't you just love passionate pet parents? Trust me, you'll need to schedule a cat nap after a visit here with all of their tasty food options.
The blue walls, colorful seating and dainty sunflowers on each table add a lovely touch to this already cute spot. You'll order at the counter and then find a seat either inside or out. This is a really great place to meet up with a friend for breakfast or lunch. Sammy + Paco's offers standout food options from breakfast all day, lunch and a weekend brunch menu. They're connected to Lolita's Catering + Events which is perfect for serving eclectic food for your next big event.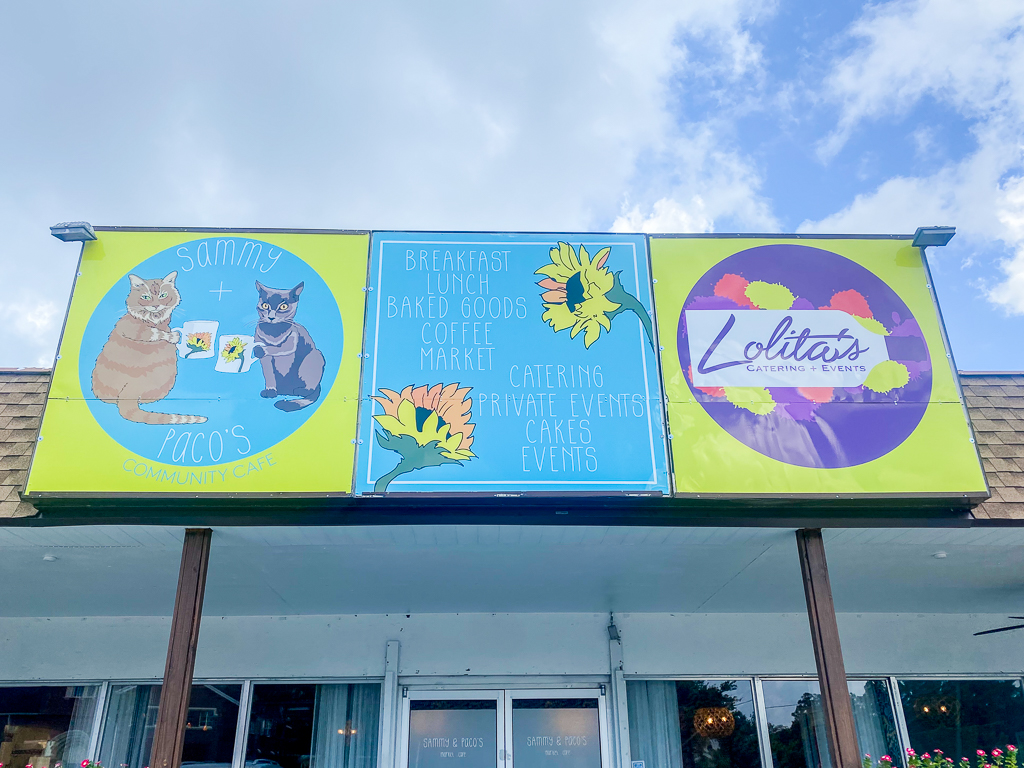 If you're looking for a well blended and divine iced latte, Sammy + Paco's should be on your Google Maps search now. The creamy sips were smooth and just right. Plus, the caffeine buzz put the most perfect pep in my step. Also on their coffee menu is drip coffee, americanos, cappuccinos, espresso, chai and matcha. They have a case full of other refreshments for when you're in the mood for a beer, wine, seltzer, sparkling water, juice and so on.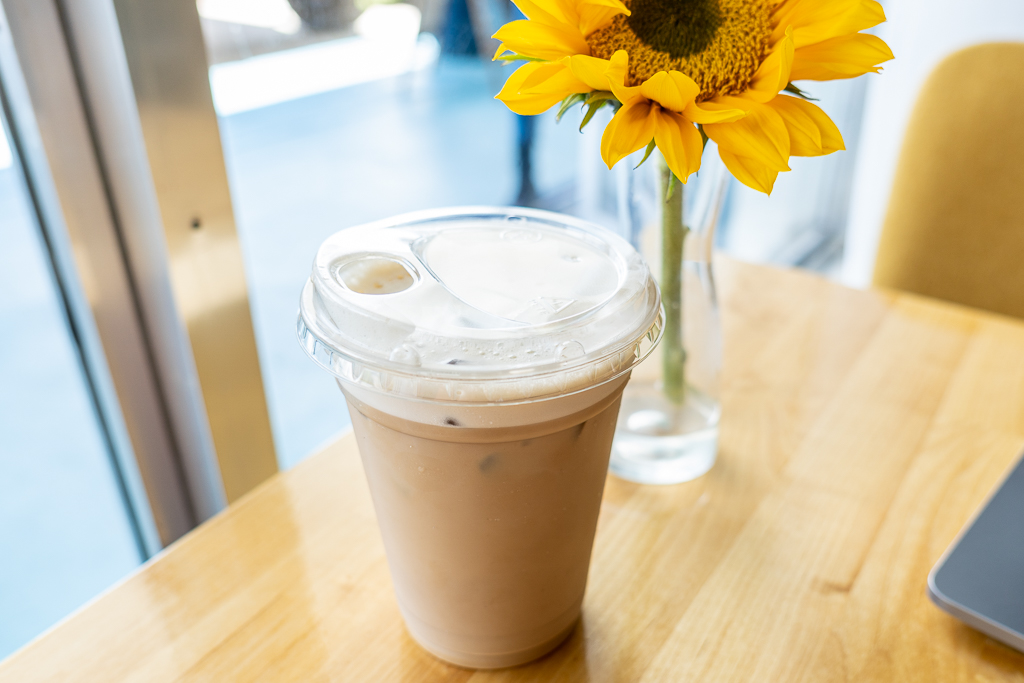 The classic bagel and lox is always a good breakfast choice in my eyes. Sammy + Paco's offer their own variation and it's easily a stand out menu item. The Bagel + Lox is built with beet house-cured salmon, whipped za'atar feta, chopped hard-boiled egg, tomato, caper-berry relish, and house-made Meg's everything bagels. This colorful breakfast is deserving of a crown for its uniqueness and incredible flavors in each bite. The beet house-cured salmon was perfectly salty and the bagel itself was seasoned great and was soft yet toasted just right. If you love savory breakfast items, you must consider ordering this!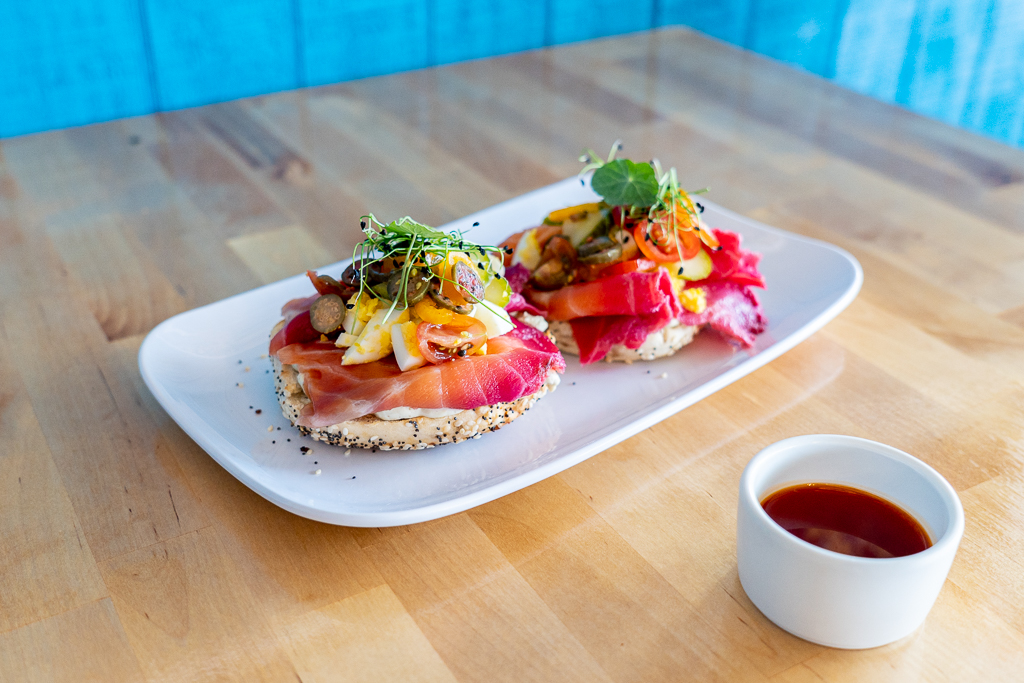 For lunch with Kevin and Lori, I ordered the Coffee Blackened Grouper Tacos with mango and jicama slaw, pickled red onion, poblanos and chipotle lime aioli on flour tortillas. These were excellent. The elevated seasoning really drew me in at first and I loved the combination of the sweet mango and jicama slaw paired with the spicy-ish chipotle lime aioli. 
You can swap out the grouper for Mojo shredded pork which is delicious, as described below.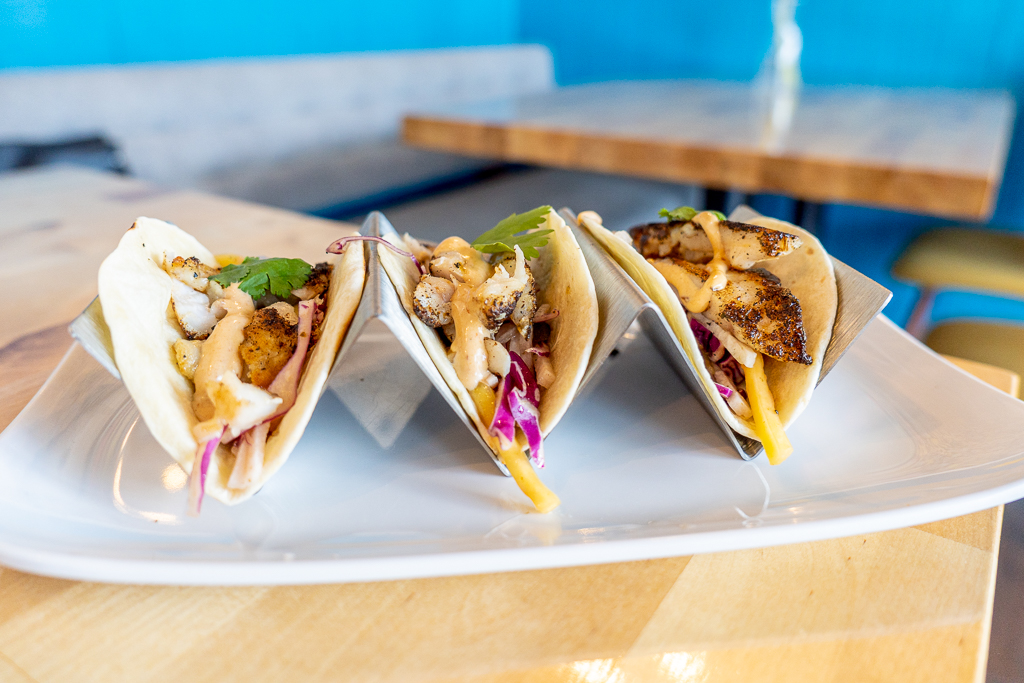 The lunch menu has a variety of sandwiches and you can't go wrong with any of them.
The Reuben El Cubanito is an amped up Cuban and Reuben. Think layers of mojo shredded pork, pastrami, sauerkraut, mustard, house-made thousand island dressing on Cuban bread. Two classics merged together for a simply delicious lunch. The chips were crunchy and a great side.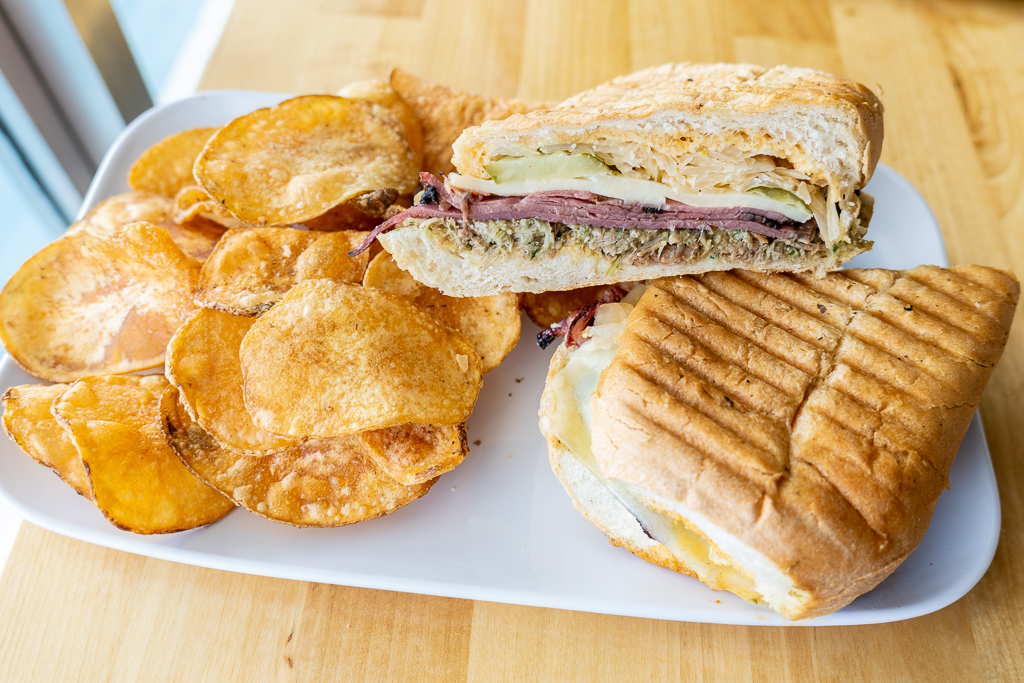 The Aristo Cat BLT(S) is a solid option for an exquisitely crafted sandwich. Lori ordered the Aristo Cat BLT(S) which was a party for your tastebuds with seared beet house-cured salmon, bacon, watercress, heirloom tomatoes, tzatziki on French country loaf. I tried a bite and was instantly impressed with the freshness and the variety of flavors. The tzatziki had a really nice zest and the beet house-cured salmon was wonderful.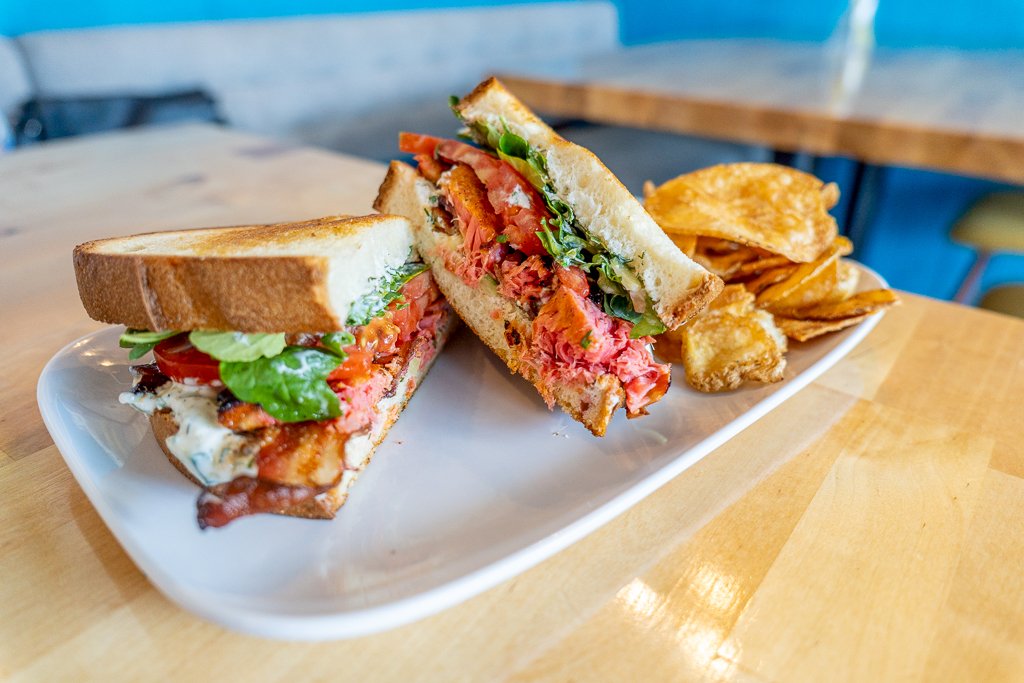 Love a good burger? Order the El Loco Burger. Kevin had this for lunch and loved it. The El Loco Burger is a short rib, brisket burger loaded with mojo shredded pork, muenster cheese, chimichurri, and pickled red onion all in between a brioche bun. Kevin described the burger as melt in your mouth and perfectly seasoned. From what I tried I'd definitely have to agree. Everything about this burger was just right.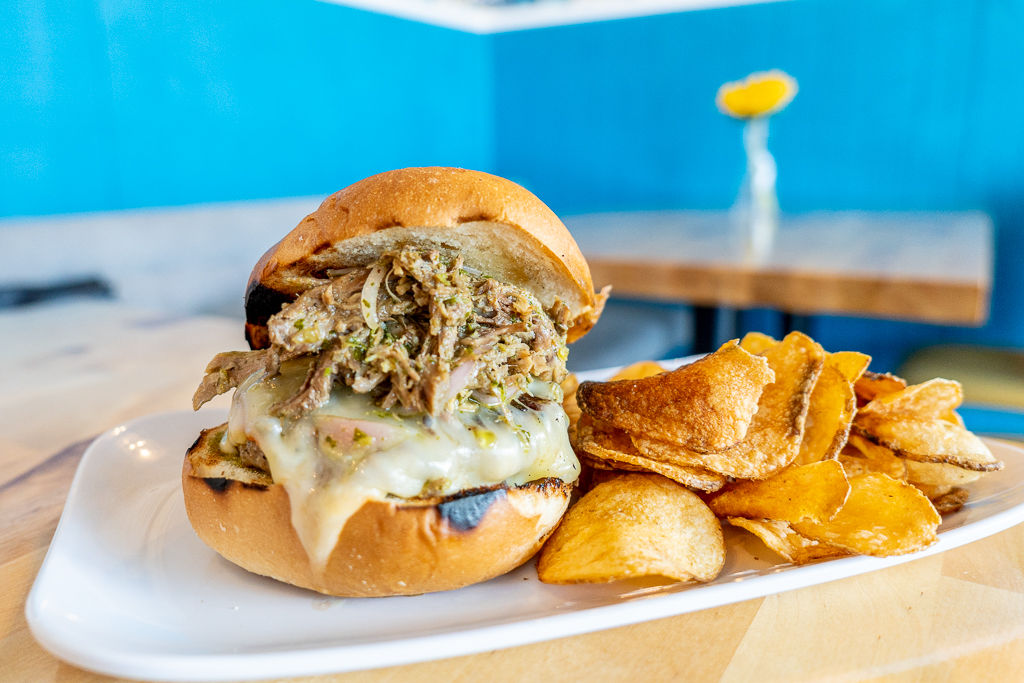 You should never fight the urge to order something sweet and luckily this case of baked goods has a variety of yummy options. I can't wait to dive into a dessert on my next visit, I mean, just look at those cupcakes!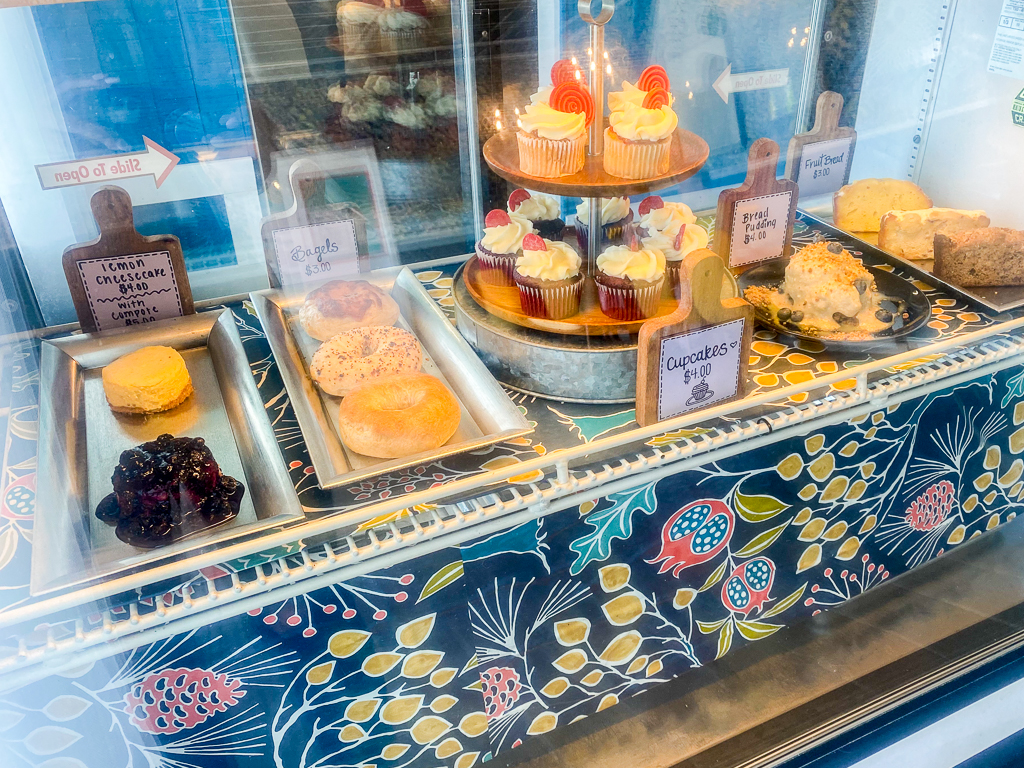 Sammy + Paco's has an impressive wine section, too. What more could you ask for?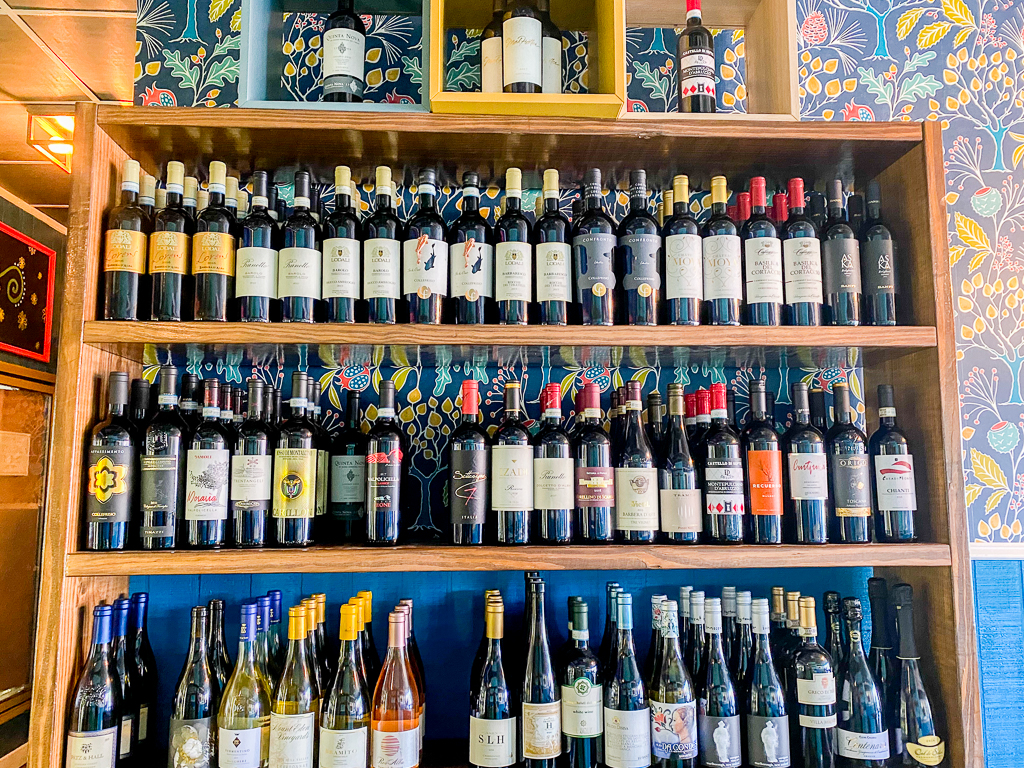 Can we talk about these smiling faces real quick!? The team at Sammy + Paco's is so friendly and welcoming. I felt an instant sense of community and connection from everyone here on each visit.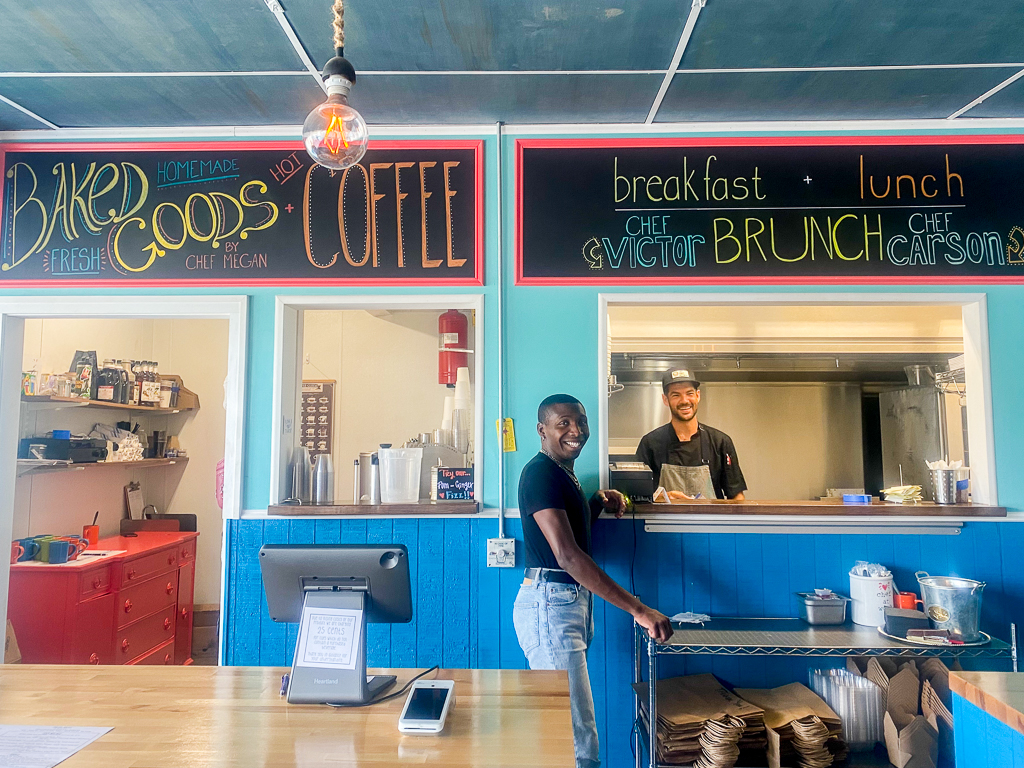 Finally, check out their gorgeous space. They did a great job at making the aesthetic trendy, welcoming and overall down-to-earth. I'm obsessed with the colors, patterns and sunflowers.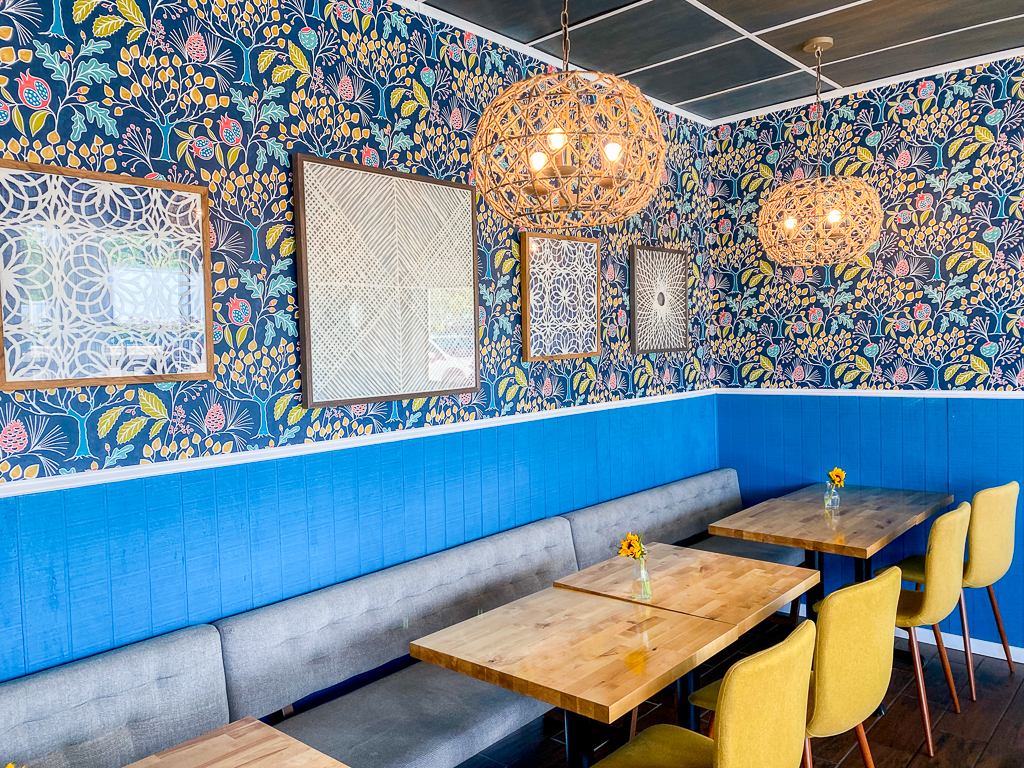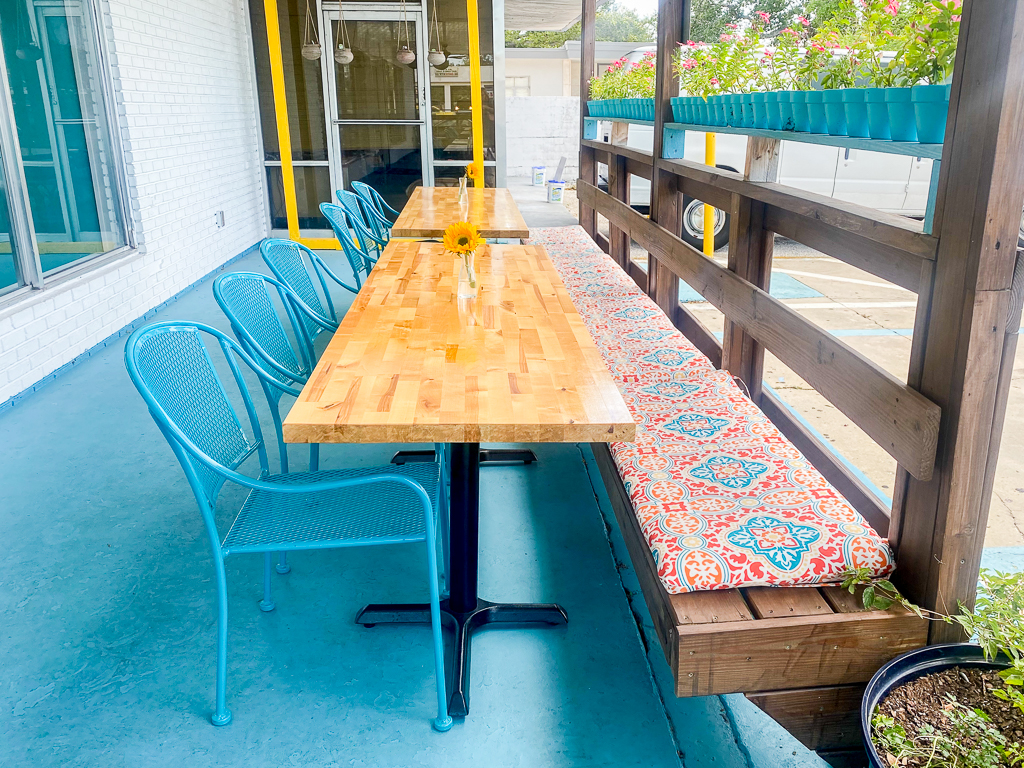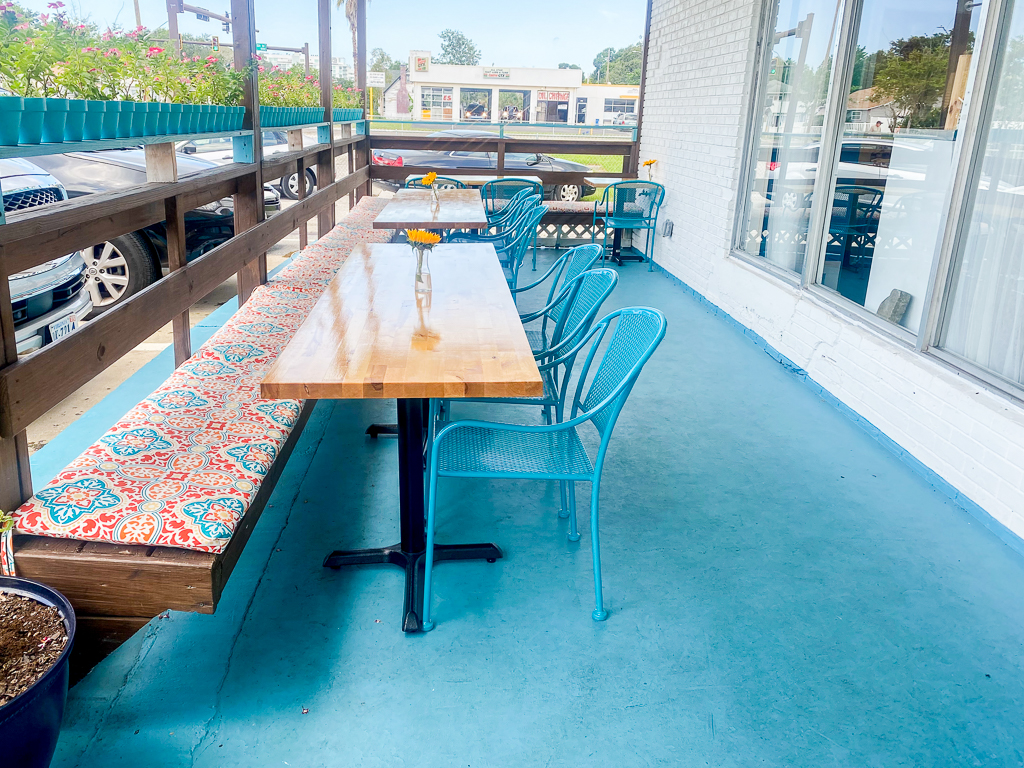 Sammy + Paco's is a charming neighborhood spot in Historic Kenwood. I was in awe at the attention to detail with the ingredients on the menu and can't wait to come back over and over again.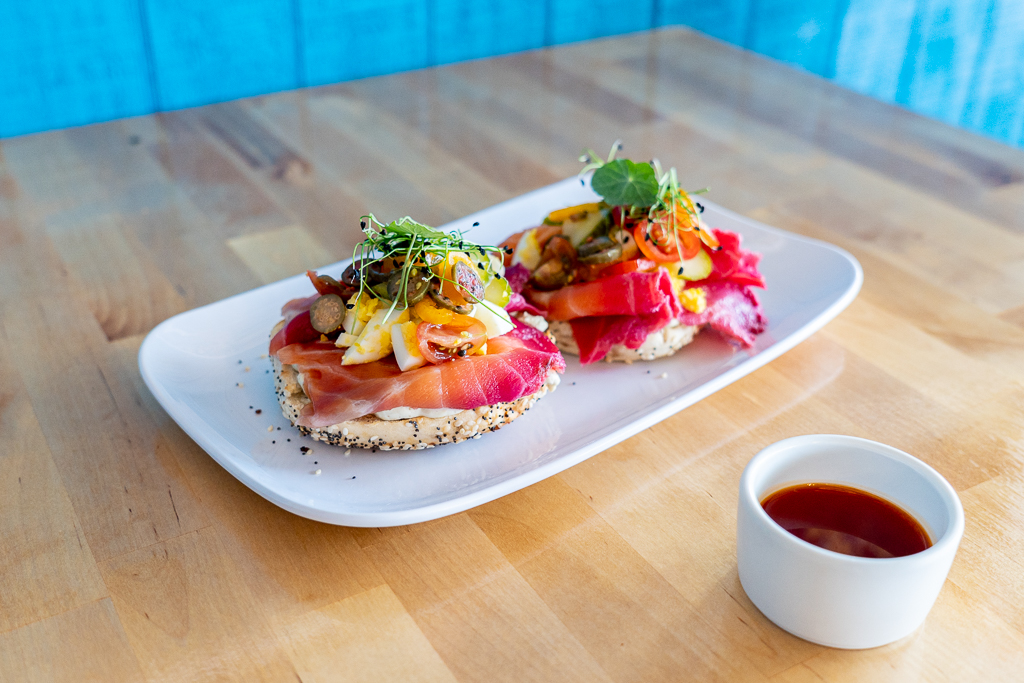 Readers Rating

Rated 4.7 stars




4.7

/ 5 (

17

Reviewers

)

Outstanding
---
Sammy + Paco's

(727)329-9783

Wed - Sun

8:00am - 3:00pm
2701 5th Ave N

,

St. Petersburg

,

FL

33713

,

US
---
A kitschy little cafe inspired by two traveling cats serving great vittles and baked goods for breakfast, lunch and brunch.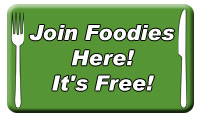 Baked Goods St Petersburg FL, Breakfast St Petersburg FL, Cafes in St Petersburg FL, Casual Breakfast St Petersburg FL, Casual Lunch St Petersburg FL, Coffee Historic Kenwood, Coffee St Petersburg FL, Historic Kenwood Cafe, Lolita's Catering + Events St Petersburg FL, Lunch St Petersburg FL, New Restaurants St. Pete 2021, Sammy + Paco's St Petersburg FL, Weekend Brunch St Petersburg FL
Written by Haley Haman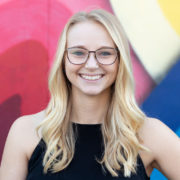 Born and raised in Chicago, I made my way to the sunshine state 3 years ago to explore a different lifestyle (without snow boots and sub zero temps!). I recently graduated from USFSP and currently work as a Marketing and Content Coordinator in this beautiful city. I like to start my day with a bike ride by the Bay and end it by visiting a local dessert, booze or coffee shop!
View all posts by: Haley Haman
More Foodies News, Reviews & Recipes
No comments yet.
#stpetersburgfoodies #stpetefoodies
Recent Posts
January 11, 2022

Harissa Cauliflower Steaks with Maple-Tahini and Herby Peanut Crunch

Another low effort/high reward weeknight meal is ready to be added to your regular rotation. For those unfamiliar with Harissa, it's a spicy chili paste that is frequently used in North African and Middle Eastern cooking. I love using it to add flair and flavor. You can find it in most grocery stores – usually in the International section. However, you probably won't find an array of options to choose from. One brand that I do see quite frequently though, including at Rollin' Oats, is the Mina brand which comes in two heat levels: mild and spicy. I typically opt for the mild rendition and then if I want to increase the heat I just add in some crushed red pepper flakes one pinch at a time. Trust me, you won't need much as Harissa in all forms is going to have plenty of spice. To balance out a spice-forward dish I often turn to tahini and something sweet like maple syrup or honey. Tahini is a simply toasted sesame that is basically ground to a paste-like substance that is similar to that of nut butters. When mixed with maple syrup, lemon juice, salt and a bit of water for thinning, this combination transforms into a savory-sweet drizzle that complements the heat. This maple-tahini mixture works well paired with many other dishes too, like grilled potatoes and also with medjool dates for an idyllic and luscious bite. These cauliflower steaks are satisfying enough to be enjoyed all on their own, yet even better when enjoyed with a side of crispy rice. Make sure not to leave out the herby peanut crunch. It's crucial for optimal texture and added brightness from the fresh herbs. Harissa Cauliflower Steaks with Maple-Tahini and Herby Peanut Crunch Spicy, savory and sweet with a slam of crunch and zest – this cauliflower number hits all of the right notes. For the Cauliflower1 Head of Cauliflower (Organic, if available. Leaves trimmed and discarded.)1 Red Onion (Peeled and cut into 8 similar sized wedges)3 tbsp Olive Oil1/4 cup Harissa (Found at most grocery stores)3 tsp SaltPepper (To taste)Maple-Tahini1/2 cup Tahini1.5 tbsp Maple Syrup1 Lemon (Juice only)1 tsp Salt (Plus more, to taste)1/2 cup WaterHerby Peanut Crunch1 cup Peanuts3/4 cup Olive Oil2 tsp Salt (Plus more, to taste)1 tsp Crushed Red Pepper1 tsp Garlic Powder1/2 cup Fresh Herbs (Like Dill and Cilantro, chopped)1 Shallot, minced Peanut CrunchAdd peanuts, minced shallot, oil and a couple pinches of salt to a small pot and heat over medium.Stir occasionally until shallots and peanuts begin to brown, about 20 minutes.While peanuts and shallots cook, add crushed red pepper, garlic powder and 2 tsp salt to a medium bowl and have a strainer/mesh sieve ready as well as an area on the counter with paper towels laid flat (our peanuts/shallots will be cooling on here).When shallots and peanuts are ready, remove pot from heat and carefully pour mixture through sieve/strainer over the bowl with the garlic powder and crushed red pepper. Slowly pour peanuts and shallots over paper towels in an even layer. Allow to cool for 20 minutes then mix nuts and shallots back into oil and spices and stir to combine.Maple-TahiniIn a medium bowl combine all ingredients except water. Mixture will thicken as you stir – add in water one tbsp at a time to loosen up mixture until desired consistency has been reached (you want to be able to drizzle it without being too watery). Taste and season as needed.Cauliflower & AssemblyPreheat oven to 425F. Carefully cut the cauliflower head in half directly througth the stem. Then cut a steak (approximately an inch or so thick) from each half. If your cauliflower is large enough you can of course cut additional steaks. Cut up remaining cauliflower and florets and arrange everything in a single layer on a parchment-lined baking sheet.Drizzle cauliflower with 2 tbsp olive oil and 1.5 tsp salt and pepperRoast cauliflower for 15 minutes.While cauliflower is roasting combine remaining tbsp olive oil with Harissa and remaining 1.5 tsp salt. Stir to combine.Remove cauliflower from oven and evenly brush with reserved Harissa mixture. Add onion wedges to pan and roast for an additional 20 minutes (until cauliflower begins to take on some color on the edges).To serve, spoon and swipe some maple-tahini onto a plate, top with a cauliflower steak and some roasted florets and spoon over plenty of herby peanut crunch. Main Course, Main DishMiddle EasternCauliflower Steak, Vegan Dinner Recipes

January 11, 2022

Dirty Laundry is a Cafe by Day and Lively Havana Speakeasy by Night

Have you heard about the new speakeasy in St. Pete? It was on the down low for a while but through Instagram and word of mouth, many locals have been spreading the buzz about Dirty Laundry. Owner Stephen Schrutt, who is also the mastermind behind No Vacancy, Park & Rec, The Avenue and Ballpark & Rec at Tropicana Field really knows how to grant St. Pete with what we love, which is an experience and a lot of picturesque spots. Forget your pile of dirty laundry at home and visit Dirty Laundry to discover a brilliant revelry. During the day the cafe serves delicious coffee, local baked goods, breakfast sandwiches and more. The hours for the cafe are 8am-5pm and then the speakeasy opens. On the weekend the speakeasy is open all day and they just announced a Sunday brunch that I can't wait to add to my Sunday Funday bucket list. If you're going for drinks and the speakeasy, the first thing you'll need to do is pick up the payphone in the cafe and listen for a code to punch into the dial which will then unlock a door. The speakeasy is literally behind a washing machine, how fun! Alluring Havana vibes are all around with disco balls, moody lighting, neon signs, club music and more. Make your way to the bar, outdoor patio or a cozy couch and you'll soon get a taste of some next-level mixology and delicious Cuban tapas and sandwiches. I wish doing laundry at home was this exciting. Those itching to enjoy these cooler nightly temps will love the outdoor back patio with plenty of comfortable seating and twinkle lights. For a more intimate experience, snag a table or a spot at the bar. I recommend ordering one of their flavored, shaken mojitos and a few tapas if you're in the mood for tasty Cuban bites. Their mojitos are strong and fruity with flavor options like strawberry jalapeño, mango guava, watermelon, banana coconut and pineapple ginger. If you're in the mood for something else, they have an exceptional cocktail list. I went with the mango guava mojito and it was really sweet and delicious.  The Roast Mojo Pork Tostones were incredible with roast pork, mojo aioli, cilantro and a sweet pineapple pico de Gallo. The flavors really made for the perfect combo of savory with a nice burst of sweetness. This was our favorite. I was surprised by the presentation of the Rice and Beans but man were they good! If you love a savory bite, you should absolutely order this. These little nuggets are made up of crispy yellow rice, black bean puree, pickled red onion, lime crema and avocado. I especially loved the cool, lime crema and warm and crunchy yellow rice. I admittedly had the Cuban Sandwich twice. I just really love a good sandwich, especially a Cuban as it's juicy, savory, flavorful and pressed all together perfectly. Dirty Laundry's Cuban sandwich is packed with mojo roast pork, salami, ham, pickles, mustard aioli, Swiss cheese, all in between La Segunda Cuban bread. It's really, really good to the point where I had it twice in one month. Here's a cleaner, daytime photo of the Cuban Sandwich so you can really see the ingredients. Whether you're going for breakfast, lunch or dinner, you really can't go wrong by ordering one. I don't know about you but I'm always on the lookout for the next best breakfast sandwich in St. Pete. I absolutely love a savory breakfast and the convenience of a quick and tasty sandwich really makes the difference. Grab an Egg & Cheese Sandwich from Dirty Laundry to fulfill your hungry mornings. It comes with scrambled eggs, American cheese, mojo mayo and you can add ham or chorizo for $1.50 extra. The chorizo really took this sandwich to the next level and I'd highly recommend adding it to yours if you like a salty flavorful taste. They also have Cafe con Leche Overnight Oats, Cuban Toast, a Lechon Sandwich or Empanadas to munch on at the cafe too. I tried all three empanadas, the Guava & Cheese, Chicken, and Beef and they were all excellent. The Guava & Cheese Empanada is best enjoyed at the cafe counter stool with a Cafe con Leche. It's the perfect pairing and your tastebuds will thank you. A warm and sweet pastry is always the way to go. If you're more of a savory empanada lover, the chicken and beef were both great. They're toasted just right with juicy meat on the inside. You all know I love my condiments and this lime crema was divine. Whether you're ordering a coffee or a cocktail, Dirty Laundry is the place to be. The ambiance is unique and just what St. Pete needs not to mention the food is incredible, too. Besides getting home to the actual dirty laundry that you ditched earlier for the experience here, it's very much worth it and I'm here to tell you that you can just do it another day.

Beer and pizza lovers will want to visit Category 36 Taphouse & Kitchen on St. Pete Beach right away. The craft beer list and menu will have your mouths watering as soon as you see it. There are 36 beers on tap with some familiar brews from 3 Daughters, Cigar City and Green Bench Brewing amongst many others. It's nice to have the option of enjoying a local beer or trying something new. The food menu has comfort classics from pizza, stromboli, subs, and more that are seriously so good. Category 36 first opened in 2017 but the new owners Craig and Ted took over this summer. Hailing from Ohio, Craig and Ted know how to bring the heat to the food scene in this foodie city. We chatted with them for a bit and they were excited to share that they handmake the dough, pizza sauce, ranch and other sauces daily. One bite in and we were oohing and aahing over the quality and taste. If you're looking for a creative sour, you should try the Wicked Weed Dragonfruit for a vivid and refreshing sip. They have a handful of other beers that I'm excited to try out on my next visit, but personally a light sour sounded too perfect to pass up on a hot day with comfort food on its way. The Weekday Lunch Special pulled us in and we ordered enough to put us into a major food coma, and yes it was worth it. We started with the Italian Fries which is fresh Italian dough that's deep-fried and dusted with Parmesan cheese and served with their delicious house made marinara.  No potatoes are involved with these fries but they are certainly great tasting and craveable. Go ahead and order these for a preview of their pizza and stromboli dough, you won't regret it. The Classic Stromboli was our unanimous favorite. It's cheesy, doughy and dreamy with pepperoni, sausage, and cheese served with their house-made marinara. The melted cheese paired with the fresh dough and savory meat was overall an impeccable combo. I can't recommend this enough, it's so good. I feel it's 100% necessary to try out some wings whenever I come across them. The wings at Category 36 come in either a batch of 5 or 10 with the choice of mild, medium, hot, BBQ, or garlic lemon pepper. The first time around I ordered the mild and the second I got them with BBQ. They know how to smother the wings in a tasty sauce but what's equally important is the preparation and let me just say the meat fell off the bones with each bite I took. How impressive. If I had to pick, I liked the mild wings slightly more but they were both amazing and I can't wait to try the medium sauce for a spicier kick next time. I mean, wings and beer, you can't go wrong. Category 36 serves small but mighty pizzas that truly change the pizza game on St. Pete Beach. This 8 inch personal pepperoni pizza was the best I've had in the area, ever. The homemade dough and sauce are what make it stand out from the others and the perfectly melted cheese and slightly charred pepperoni take it all the way to the next level. You can build your own pizza either 8 inches or 12 inches with an array of toppings to choose from. If you love watching the sunset on St. Pete Beach, grab a pizza to-go and catch the beautiful setting sun right around the corner. The Meatball Sub was a recommendation to me and might I say that it was divine. Italian meatballs with marinara and melted mozzarella are packed onto a homemade baguette with a side of your choice. The sandwich was really good, the only thing I would suggest is asking for a side of marinara to dip the sandwich in for a bit of a juicier bite. The fries were perfectly salted with a nice crisp to them and served hot, the best. If you're not a beer drinker, they have seltzers to quench your thirst as well. Everything from the food to the beers on tap, friendly owners and perfect location near the beach makes Category 36 Taphouse & Kitchen a must-visit before or after your next beach trip!

December 23, 2021

Love Food Central: Where Irresistible Eats are Vegan & Gluten Free

Vegan dining establishments are popping up in higher volumes all across the United States due to an uptick in those who are interested in or live a vegan lifestyle. For some, the mention of a vegan restaurant may make them roll them their eyes as most perceive a vegan diet to be comprised of lots of kale, tofu and lackluster dishes; however, vegan cuisine has come a long way. Plant-based meat options have been crafted to mimic the look, taste and texture of burgers, bacon, etc., melty cheese alternatives have been developed and we have learned how to make a spicy buffalo tempeh sandwich mimic a spicy buffalo chicken sandwich. Here in St. Pete we are also seeing a rise in vegan restaurants and food options. In fact, there are even a few vegan tasting menu offerings around town now. Of course, there are a few restaurants who have been in the vegan food game for a while now. Enter, Love Food Central located at 2057 Central Avenue. Love Food Central has been on the scene now for approximately five years. Not only is this spot plant-based, but they're also totally gluten free. You may assume that that would make their menu offerings somewhat limited but that couldn't be further from the truth. The incredible team at Love Food Central has successfully put a vegan spin on American classics, like cheeseburgers, buffalo chicken sandwiches and even key lime pie…but it doesn't stop there. The menu lineup is comprised of various snacks (think cheeseboard, lettuce wraps, toast, etc.), salads, soups (including a soup of the day), an array of sandwiches (from burgers to specials like pulled barbecue jackfruit), desserts and more. In fact, during this holiday season you can order various dishes for Christmas from the cafe like a Kale Caesar Salad, Quiche and various pies. Love Food was born out of the desire to establish a place where patrons could enjoy good food that also makes you feel good. A place where you can actually taste all of the love that is put into each individual menu item. Most everything offered at Love Food Central is made from scratch. That's right – from the burger patties and salad dressings to the limeades and desserts. The entire operation truly is a labor of love – one that Keisha (General Manager) and Gio (Kitchen Manager) have poured their whole selves into. That love translates beautifully through every plate that comes from the kitchen and every happy repeat visitor who walks through the door. One meal at the Love Food cafe and it will quickly become quite apparent why their family of familiar faces continues to grow. Not only is most of the food made from scratch but they also try to source local ingredients as much as possible. The most popular items from the menu include: The Awesome Burger (which has always been the biggest hit), Kale Caesar Salad, Cheez Burger (made with their insane house made cashew cheez sauce) and their Carmelita Bars (which happen to be the perfect sweet ending to any meal). In the midst of writing this review, Love Food became one of our new favorite go-to spots for a health-focused meal in a laid back environment. Every single thing that we have enjoyed from their cafe has been outstanding. My husband is still trying to wrap his brain around the fact that everything is vegan and gluten free. The starters section ranges from the cheeze plate to apples and caramel with plenty of finger foods for snacking. The G-Mash Lettuce Wraps are our personal favorite with smashed Garbanzo beans serve on Romaine lettuce leaves with lemon juice, sea salt and paprika. They're a great option for pre-meal sharing or perhaps for one as a main dish with a side of soup. The Kale Caesar may be the fan-favorite salad, but I am absolutely obsessed with the Chickpea Bakon Ranch Salad. I would eat that salad every single day for lunch if I could. Brick Street Farms lettuce is tossed with avocado slices, Garbanzos, grape tomatoes and coconut bacon topped with their new and improved ranch dressing. It is all of the things that you want a salad to be – fresh, flavorful, vibrant and filling. The Buffalo Tempeh Sandwich is hands down our favorite item on the menu. Roasted tempeh is tossed in buffalo sauce and then stacked on gluten free sourdough bread with Brick Street Farms lettuce, a slice of tomato, a drizzle of ranch and soy-free vegenaise. The thought of it alone is enough to make your mouth water. Enjoy this baby with a side salad for a refreshing bite to cool off a bit of the fire. On one particular Saturday a couple of weeks ago Love Food had a Pulled Jackfruit Sandwich as a special and we couldn't not order it. It may not be a regular menu item but I was made aware that it makes an appearance as a special from time-to-time. It's a total homerun with shreds of savory and delicious sauced up jackfruit. We enjoyed this with potato salad as a side and it was the vegan barbecue experience that we never knew we needed. There is nothing quite like a damn good burger. Love Food's beet and black bean patties for their burgers are made in house and you can actually buy a large order of these patties at the cafe to take home and make yourself. Love Food's Awesome Burger – the most popular item on the menu – starts with the beet and black bean patty and then arugula, roasted cremini mushrooms, avocado slices and a spicy "awesome sauce" join the party. All of this is piled onto two slices of toasted sourdough. Satisfaction guaranteed, in my opinion. One of the first things that you'll notice on a visit to Love Food's cafe is the case of goodies which almost greets you at the door. In there you'll find an array of sweets and desserts which […]

December 7, 2021

Bite Into Your New Favorite Sandwich at Gateway Subs

Gateway Subs is a new sandwich shop that takes the sandwich game to levels far beyond a typical pub sub. Think incredibly fresh meat and savory sauces created and served by the nicest guys in town. You'll find this casual spot tucked away on 3rd Ave N and 31st St N where Georgie's Alibi used to be. The menu includes sandwiches, salads, breakfast options, vegan milkshakes, and more. With a great menu variation for all sorts of eaters, everyone gets a taste of the deliciousness. One step inside Gateway Subs and you'll feel like family. The staff behind the counter is made up of longtime friends from Boca Raton, hailing great vibes and even better sandwiches. Grant, the owner, is incredibly friendly and has a big heart for serving the community and spreading positivity. He chatted with us for a bit and shared a beautiful story about his motivation. The menu has a special sandwich called The Brycer which is in honor of his brother and keeping his legacy alive. A visit to Gateway Subs will easily brighten your day from the complaisant service and the sandwiches of course. It's hard not to love a hearty sandwich. You can order yours full or half and can customize it just how you like it. The deli meat is of high quality and the toppings are all vibrantly fresh. The Spice Mélange comes with mayo, hot capicola, buffalo chicken breast, provolone, onion, hot peppers and the best part, crumbled jalapeño chips. I ordered mine with no onion, added banana peppers, lettuce, tomato and swapped out the hot for sweet peppers. Yes, the crushed jalapeño chips are a game changer and you need to order it for an extra crunch. Though it's messy, it's my favorite sandwich on the menu. If you love a spicy kick, you should try this one and top it with all of your favorites. Unashamedly, I ordered the same sandwich again because it's literally just that good. This time I opted for my chips on the side. The buffalo chicken meat adds a blazing bite to your already flavorful sandwich. I'm obsessed with this sandwich. The Spicy Italian is mandatory lunch grub with pepperoni, hot capicola, ham, provolone, hot peppers, onion, lettuce, and tomato. I ordered mine with light mayo and no onions. This meaty sandwich is filling, fresh and straight-up amazing. It's generously packed and overall incredible if you're a meat lover. Morning, noon or after work, there's never a wrong time for a breakfast sandwich and Gateways Subs has you covered with the best. They have sweet, savory and spicy combinations to keep the options open. The Famous breakfast croissant is an artisan sandwich you need to add to your morning routine now, with melted provolone, avocado spread, bacon and crumbled hard boiled egg tossed in B's spicy ranch in between a toasted croissant. I ordered this on a particularly ravenous morning and it fulfilled all of my cravings. The coffee at Gateway Subs is just as important as the sandwiches. It certainly deserves a gold star for being extremely fresh and strong. They have a cold drip coffee tower in the shop so you know it's legit. As if your experience here wasn't already enough, the icing on the cake is that they also have vegan milkshakes and they are delicious. The Espresso Milkshake is a magical blend of bananas, dates, almond milk, cinnamon, chocolate protein, and frozen cold brew ice cubes. If you love a smooth shake with a smooth caffeine buzz, then do yourself a favor and order this next time you're in. They also have a rotating fruity shake so be sure to ask about it. Bite into your new favorite sandwich at Gateway Subs the next time you're craving something delicious and fresh. I'm so happy to have met the crew here and can't wait to continue going back.
Recipes
January 11, 2022

Harissa Cauliflower Steaks with Maple-Tahini and Herby Peanut Crunch

Another low effort/high reward weeknight meal is ready to be added to your regular rotation. For those unfamiliar with Harissa, it's a spicy chili paste that is frequently used in North African and Middle Eastern cooking. I love using it to add flair and flavor. You can find it in most grocery stores – usually in the International section. However, you probably won't find an array of options to choose from. One brand that I do see quite frequently though, including at Rollin' Oats, is the Mina brand which comes in two heat levels: mild and spicy. I typically opt for the mild rendition and then if I want to increase the heat I just add in some crushed red pepper flakes one pinch at a time. Trust me, you won't need much as Harissa in all forms is going to have plenty of spice. To balance out a spice-forward dish I often turn to tahini and something sweet like maple syrup or honey. Tahini is a simply toasted sesame that is basically ground to a paste-like substance that is similar to that of nut butters. When mixed with maple syrup, lemon juice, salt and a bit of water for thinning, this combination transforms into a savory-sweet drizzle that complements the heat. This maple-tahini mixture works well paired with many other dishes too, like grilled potatoes and also with medjool dates for an idyllic and luscious bite. These cauliflower steaks are satisfying enough to be enjoyed all on their own, yet even better when enjoyed with a side of crispy rice. Make sure not to leave out the herby peanut crunch. It's crucial for optimal texture and added brightness from the fresh herbs. Harissa Cauliflower Steaks with Maple-Tahini and Herby Peanut Crunch Spicy, savory and sweet with a slam of crunch and zest – this cauliflower number hits all of the right notes. For the Cauliflower1 Head of Cauliflower (Organic, if available. Leaves trimmed and discarded.)1 Red Onion (Peeled and cut into 8 similar sized wedges)3 tbsp Olive Oil1/4 cup Harissa (Found at most grocery stores)3 tsp SaltPepper (To taste)Maple-Tahini1/2 cup Tahini1.5 tbsp Maple Syrup1 Lemon (Juice only)1 tsp Salt (Plus more, to taste)1/2 cup WaterHerby Peanut Crunch1 cup Peanuts3/4 cup Olive Oil2 tsp Salt (Plus more, to taste)1 tsp Crushed Red Pepper1 tsp Garlic Powder1/2 cup Fresh Herbs (Like Dill and Cilantro, chopped)1 Shallot, minced Peanut CrunchAdd peanuts, minced shallot, oil and a couple pinches of salt to a small pot and heat over medium.Stir occasionally until shallots and peanuts begin to brown, about 20 minutes.While peanuts and shallots cook, add crushed red pepper, garlic powder and 2 tsp salt to a medium bowl and have a strainer/mesh sieve ready as well as an area on the counter with paper towels laid flat (our peanuts/shallots will be cooling on here).When shallots and peanuts are ready, remove pot from heat and carefully pour mixture through sieve/strainer over the bowl with the garlic powder and crushed red pepper. Slowly pour peanuts and shallots over paper towels in an even layer. Allow to cool for 20 minutes then mix nuts and shallots back into oil and spices and stir to combine.Maple-TahiniIn a medium bowl combine all ingredients except water. Mixture will thicken as you stir – add in water one tbsp at a time to loosen up mixture until desired consistency has been reached (you want to be able to drizzle it without being too watery). Taste and season as needed.Cauliflower & AssemblyPreheat oven to 425F. Carefully cut the cauliflower head in half directly througth the stem. Then cut a steak (approximately an inch or so thick) from each half. If your cauliflower is large enough you can of course cut additional steaks. Cut up remaining cauliflower and florets and arrange everything in a single layer on a parchment-lined baking sheet.Drizzle cauliflower with 2 tbsp olive oil and 1.5 tsp salt and pepperRoast cauliflower for 15 minutes.While cauliflower is roasting combine remaining tbsp olive oil with Harissa and remaining 1.5 tsp salt. Stir to combine.Remove cauliflower from oven and evenly brush with reserved Harissa mixture. Add onion wedges to pan and roast for an additional 20 minutes (until cauliflower begins to take on some color on the edges).To serve, spoon and swipe some maple-tahini onto a plate, top with a cauliflower steak and some roasted florets and spoon over plenty of herby peanut crunch. Main Course, Main DishMiddle EasternCauliflower Steak, Vegan Dinner Recipes

December 6, 2021

Gochujang Salmon & Roasted Tamari Carrots Recipe

It might be the most wonderful time of the year, but it's also the busiest time of the year for many. Between holiday preparations and parties, time is definitely of the essence. Instead of allowing your well being to suffer on those nights you don't want to cook with quick alternatives like fast food, keep a few speedy weeknight recipes in your pocket. This meal of Gochujang Salmon & Roasted Tamari Carrots is not only health-forward, it's also an easy peasy one-pan-wonder. I know what you're thinking, "cooking fish stinks up my house." Well, we avoid that in this recipe by cooking a whole filet of salmon in the oven after a nice brush of the Gochujang mixture. After all was said and done, not a hint of salmon was left lingering. For this recipe I recommend using a whole filet of wild caught salmon to simplify the process even more. If you can't find a whole filet at your local grocer, no worries – you can use individually portioned filets. At Rollin' Oats in the freezer section they have whole frozen filets in various sizes at a very affordable price. As for the roasted carrots, the recipe calls for San-J Organic Umami Tamari Splash (also sold at Rollin' Oats) but if that is not accessible to you, any kind of Tamari will suffice in its place. Roasted carrots, in general, are like candy to me and they're usually my go-to when I need a vegetable side in a pinch.  Any carrots will work, as long as they are the larger variety. To round out this meal, I suggest serving it with some kind of rice. While strolling through the aisle of Rollin' Oats recently I discovered Organic Jade Pearl Rice by Lotus Foods. Intrigued by its green tint, I decided to give it a try and totally loved it. It's definitely a bit different than most rice, but not much. If you see this while you're out and about I recommend picking it up and giving it a try. Gochujang Salmon & Tamari Roasted Carrots This Korean/Asian inspired meal is a one-pan wonder that is both health-forward and easy enough for your busiest weeknight. Gochujang Salmon & Assembly1/2 lb Salmon Filet (Wild caught, frozen or fresh. )1/4 cup Gochujang2 tbsp Honey1 tbsp Lime Juice1 tsp Olive Oil1 tsp Salt4 Green Onions (Thinly sliced)2 cups Cooked Rice ((Optional))Sesame Seeds ((Optional))Tamari Roasted Carrots8 Large Carrots (Scrubbed, peeled, greens trimmed)1 tbsp Olive Oil1 tbsp San-J Organic Umami Tamari Splash1 tsp Salt Tamari Roasted CarrotsPreheat oven to 425F. Combine olive oil, Umami Tamari Splash and salt in a small bowl.Arrange carrots in a single layer on a parchment-lined baking sheet and brush with olive oil and tamari mixture. Roast for 30-35 minutes and remove from oven, turn and brush carrots with their oil/tamari from the sheet pan. Carrots will finish roasting with Salmon.Gochujang Salmon & AssemblyAfter carrots have been removed from the oven after the first 30-35 minutes add Salmon filet to the same pan skin side down and season with salt.Combine Gochujang, honey, lime juice and salt in a bowl and season accordingly. Brush mixture evenly over Salmon until it is well coated. Place carrots and salmon back into the oven for another 15-20 minutes until carrots begin to char and salmon edges are beginning to turn golden. Remove from the oven and garnish with green onion and sesame seeds (if using).Serve salmon and carrots with a side of rice and more Umami Tamari Splash as desired. Main DishJapanese, KoreanCarrot Recipes, Gochujang Recipes, Healthy Salmon Recipes

November 1, 2021

Maple-Bourbon Brussels Sprouts with Pomegranate Salsa Recipe

I love the holiday season and everything that it entails. The celebrating, the festive feel in the air, the chaos, and of course, the cooking. These holiday inspired Maple-Bourbon Brussels Sprouts with Pomegranate Salsa are just begging for a spot on your table this Thanksgiving or Christmas. Sweet, savory and loaded with flavor, this dish comes together in a cinch. And when it comes to cooking on or for a holiday, minimally involved recipes come in clutch. The pomegranate salsa is a totally optional component of the dish. However, I think it adds a bit of brightness by cutting through some of the richness that the brussells possess after being tossed in the maple-bourbon glaze. So, what is my opinion? Make it, of course! Especially during this time of year when pomegranates are easier to track down. Rollin' Oats has them on their shelves right now along with everything else you need for these brussels, except the bourbon. If you don't have any bourbon on hand, don't worry – it's not a game changer. Just use another spirit that you have on hand, like scotch or rum, or simply use 2 ounces of water. Maple-Bourbon Brussels Sprouts with Pomegranate Salsa Thanksgiving is rapidly approaching and these holiday-inspired Brussels deserve a spot on your menu. Maple-Bourbon Brussels2 lbs Brussels Sprouts (Approximately 2 bags/bunches, organic is always best! Washed, trimmed and cut in half.)6 Slices Bacon (Like Niman Ranch Applewood Smoked Bacon from Rollin' Oats. Roughly chopped into 1/2" pieces.)1/2 cup Slivered Almonds2 oz Bourbon (Whatever you have on hand will suffice! I used Ancient Age)1/2 cup Brown Sugar1/2 cup Maple Syrup2 tbsp Balsamic Vinegar2 tbsp Olive OilSalt and PepperPomegranate Salsa1 cup Pomegranate Seeds (From approximately 1 large Pomegranate)1/4 cup Chives (Minced)1/2 cup Red Onion (Diced)1 Lemon (We just need the juice here but feel free to add in some zest as well.)1 tbsp Olive OilSalt and Pepper Pomegranate SalsaIn a medium bowl combine all salsa ingredients. Season with salt and pepper as needed. Keep salsa in the refrigerator until ready to serve.Brussels and AssemblyPreheat oven to 425F. Line a baking sheet with parchment paper. In a large bowl toss brussels with olive oil, salt and pepper and add them to the baking sheet in a single layer.Bake until Brussels begin to brown on the edges – 20-25 minutes. Remove from oven and set aside.Heat a dutch oven or large skillet over medium heat and add in bacon. Cook, stirring occasionally, until bacon is fully cooked and crisp – 8-10 minutes.Using a slotted spoon, remove crisp bacon bits from pot/pan and allow to cool, until ready to use again, on a paper towel-lined plate. Pour balsamic and bourbon into the pot and scrape up the browned bits from the bottom of the pan. Bourbon and balsamic will bubble rapidly.Add in maple syrup and brown sugar. Stir occasionaly until the sauce has thickened, 5-7 minutes.Turn off the heat and add in cooked brussels, crisp bacon bits and slivered almonds. Stir well to combine. Season with salt and pepper as needed.When you're ready to serve, plate your brussels on a platter and top with heaping spoonfuls of pomegranate salsa. Side DishAmericanBrussels Sprouts Recipe, Maple Bourbon Brussels Sprouts with Pomegranate Salsa, Thanksgiving Recipe

Cooler Fall evenings in Florida are right around the corner (or at least I hope) and it's during this time of year that I really ramp up soup production in the kitchen. I know that everyone is still losing their minds over all things pumpkin spice right now, but it's really never been my thing. I, on the other hand, look forward to cooking up as much squash as possible. For this recipe, while I prefer a butternut squash from the produce section, frozen will also work just fine if your grocery story doesn't have any fresh available. Rollin' Oats has a handful of organic options available in ten ounce bags. If using frozen, just use two of the ten ounce bags. I know you've listened to us rave about Dave's Killer Bread before and you better believe that it is my preferred bread for this sandwich – specifically, the Good Seed. I love the texture that it takes on after spending some time turning crisp and golden brown in the skillet. You don't have to use Good Seed though, of course. A personal favorite of my husband's for a solid grilled cheese is Dave's White Bread Done Right. Both of which can also be found at Rollin' Oats, along with other killer options from Dave's. As far as the cheese for this sandwich is concerned, don't limit yourself to only cheddar. I encourage you to utilize any kind of good melty cheese that you prefer. The first time that I made this we actually used a mix of aged white and yellow cheddar and it was divine! If cheddar isn't your jam though, a luscious Brie would be a fine alternative, in my opinion. Grilled Cheddar Cheese, Apple & Onion Sandwich with Butternut Squash Soup An elevated spin on a classic duo – your new favorite soup and sandwich combination is here. If you can't find Butternut Squash in the produce section, check the freezer aisle. Two ten ounce bags will totally suffice. Blender Butternut Squash Soup1 Butternut Squash (Peeled and cubed. Or, 2 10oz bags of frozen Butternut Squash.)3/4 White Onion (Roughly Chopped.)1/2 Apple (Sliced.)1 cup Vegetable Stock1 tbsp Olive Oil2 tbsp Sage (Fresh – minced.)1 tsp Salt (Plus more, as needed.)1/2 tsp Pepper (Plus more, as needed.)Optional garnishes (chili crunch, sage, etc.)Grilled Cheddar Cheese, Apple & Onion Sandwich4 slices Bread (Like Dave's Killer Bread)1 cup Cheddar Cheese (Like Kerrygold, grated.)1/2 Apple (Thinly sliced.)1/4 White Onion (Thinly sliced.)2 tbsp Butter (Like Vital Farms.)1 tbsp Sage (Fresh – minced.)2 tsp Red Pepper Jelly (Like Bonnie's) Butternut Squash SoupPreheat the oven to 375. If using a whole Butternut Squash, peel and cube and add to a parchment-lined baking sheet with sliced onion and apple. Toss with olive oil, salt and pepper.Roast in the oven for 45 minutes to one hour (until everything has softened). If using frozen squash, heat according to package instructions and set aside until apple and onion have roasted.Add roasted vegetables (and prepared squash, if using frozen) to a high powered blender with one cup of vegetable broth. Blend until smooth and season with salt and pepper to taste.Pour soup into a medium dutch oven or pot and heat on low until ready to serve. Whilst serving, top with optional garnishments.Grilled Cheddar Cheese, Apple & Onion SandwichPreheat oven to 350. Evenly butter both sides of each slice of bread. Heat medium nonstick skillet over medium heat (we are going to make one sandwich at a time) and add one buttered slice of bread.Top with 1/4 cup grated cheese, half of the onion and apple slices, half of the minced Sage and another 1/4 cup of cheese. Add 1 tsp jelly to another piece of bread and place that on top of that in the skillet, jam side in the middle.Gently press together and cook until under side takes on a nice golden color – a few minutes. Carefully flip the sandwich onto the other side.Cook for another couple of minutes until sandwich is golden and crisp on both sides. Keep sandwich warm in preheated oven until you make your second sandwich. Assemble the other sandwich by repeating the same method. Cut sandwiches in half and serve along side a bowl of Butternut Squash Soup. Main Dish, Sandwich, SoupAmericanAbby Allen Recipes, Butternut Squash Soup Recipes, Grilled Cheese Recipes

September 9, 2021

Cast Iron Skillet Buffalo Chicken Pizza Recipe

Football season is back and let's face it, we're all excited. Chalk up a win during game day with a Cast Iron Skillet Buffalo Chicken Pizza that'll keep you wanting more. Why use a cast iron skillet, you ask? Well, why not. We all know that a well-seasoned cast iron skillet makes most everything that much better, so why not pizza? Break out your most seasoned skillet that is approximately 9-10″. If you don't have a cast iron skillet, no big deal – use a pizza stone or baking sheet as you normally would. Okay, let's talk ingredients. Everything needed to make this pizza can be picked up at Rollin' Oats. I especially love that their store is loaded with healthier options, even when it comes to pizza. For instance, Simple Mills Pizza Dough Mix and Primal Kitchen's Buffalo Sauce and Vegan Ranch. Regarding spice level, this ranks right around a four or five, so it really isn't a ton of heat. You can easily adjust the heat level of this 'za by adding more Buffalo Sauce to the base of the Pizza and or finishing the pizza with Buffalo Sauce as it comes out of the oven. Also, you don't have to use Mozzarella cheese. Feel free to use Cheddar instead, or perhaps a combination of both. Cast Iron Skillet Buffalo Chicken Pizza Cast iron skillet pizzas further support the argument that everyone should own a cast iron skillet. Make this pizza in your most seasoned skillet in order to yield ultimate flavor. Cast Iron Skillet 2 cups Chicken (Cooked and shredded)1/2 cup Buffalo Sauce (I use Primal Kitchen from Rollin' Oats. This is to be mixed with the shredded chicken.)1/4 cup Buffalo Sauce (To be used as the sauce)12 oz Pizza Dough (Homemade or store bought)1/4 cup Semolina Flour1/2 cup Shredded Mozzarella (Low moisture is recommended)1/3 cup Blue Cheese (Crumbled)1/4 cup Red Onion (Diced)1/4 cup Green Onion (Minced)1/4 cup Celery (Diced)1/4 cup Ranch (Like Primal Kitchen Vegan Ranch)1 tsp Olive Oil Place a 9-10" cast iron skillet into the oven on the middle rack and preheat oven to 500F. Combine cooked, shredded chicken with 1/2 cup of Buffalo Sauce.Rub Olive Oil all over dough. Add Semolina Flour to a clean work surface and carefully stretch dough out until you have roughly a 9-10" circle. Remove hot skillet from oven and carefully lay stretched dough inside the pan.Add remaining 1/4 cup of Buffalo sauce and carefully spread evenly over the surface of the dough with the back of a spoon. Sprinkle with a couple pinches of salt. Disperse half of the Mozzarella cheese over the sauce, followed by the shredded chicken in Buffalo sauce, onion, then the rest of the Mozzarella. Top with blue cheese crumbles.Place pizza into the preheated oven for 20-25 minutes or until crust is golden and prepared to your liking. Remove pizza from oven.Finish pizza by drizzling the Ranch evenly over the top, followed by the diced celery and minced green onions. Slice and serve with more Buffalo sauce and Ranch as desired. Main DishAmericanBuffalo Chicken Pizza, Cast Iron Skillet Pizza, Pizza