Ceviche Downtown St. Pete Provides
the Cheapest Trip to Spain Ever
Ceviche Downtown St. Pete Provides
the Cheapest Trip to Spain Ever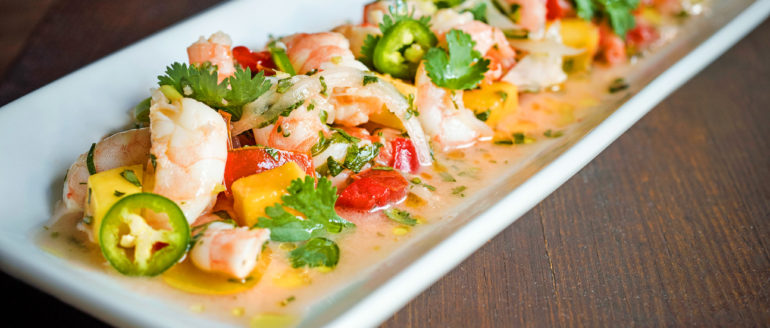 Food, Menu, and Décor
All Receive First Class Upgrades
Forget everything you know or have heard about Ceviche in Downtown St. Pete. It doesn't matter whether you loved it, or hated it, or somewhere in between. Put it out of your mind and get ready for a complete reset … in a very good way.
A ton of work, and a labor of love has gone into taking this 100-year old building to make it new again, while retaining it's old charm. Before it just looked old and tired … and to be honest, a little dirty. Have you ever run into an old friend that you haven't seen in awhile and they had a makeover? They lost weight, got a new hairstyle, new clothes, a tan, and sporting a great smile and confidence—and you're like; "Wow! What happened to you!?! You look great!
That's what it was like when Lori and I walked into Ceviche a couple of weeks ago. It looked so bright, clean, and cheerful, but I couldn't put my finger on what they had done. That's because they did a lot.
They redid the floors, walls, there are new tables and chairs, better lighting and the entire bar was replaced and made higher for more leg room.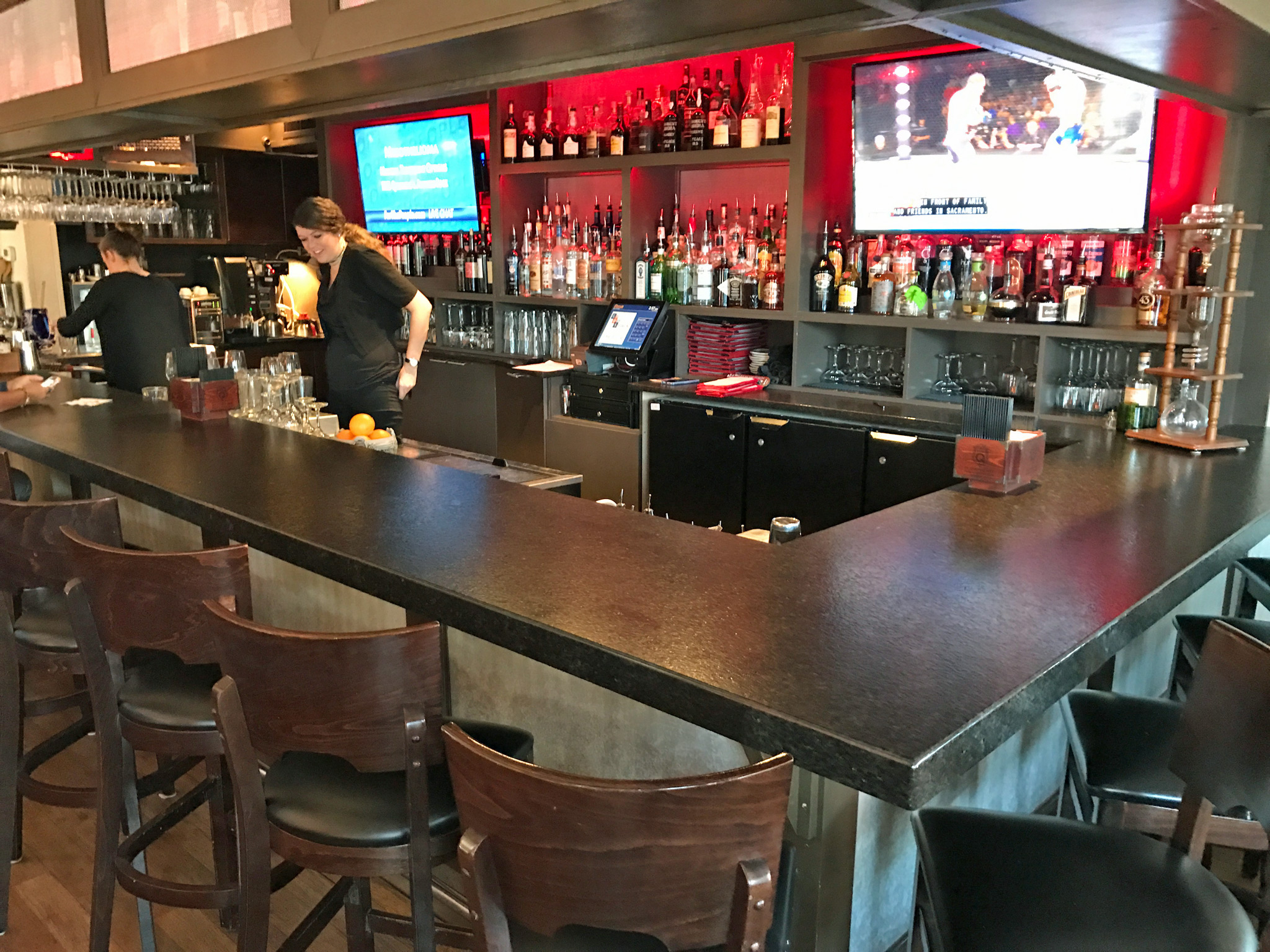 They have also re-branded and renovated the downstairs to be a Latin-themed lounge called Ché. The old floor was completely ripped up to reveal the beautiful original floor beneath, and the bar was totally remodelled as well. They have music and dancing five nights a week.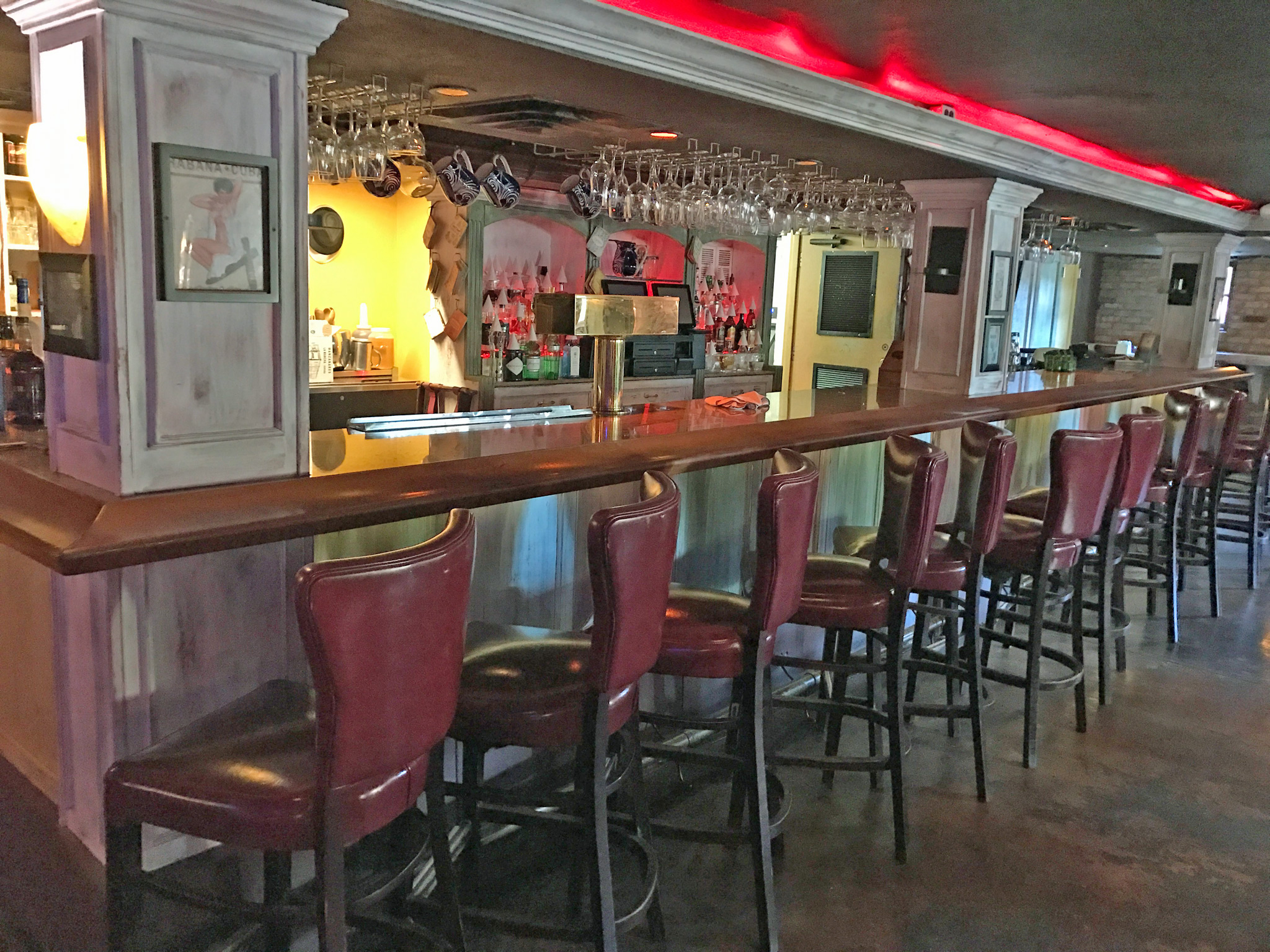 Chef Matt Rainey, who did a fantastic job making Rococo Steak (same ownership as Ceviche) a gastronomic delight, is now in charge of menus, recipes and food sourcing for all of Caledon Concepts restaurants—so all three Ceviches (Tampa, Orlando, and St. Pete) and Rococo Steak. As you read further, you'll see how he re-sourced the octopus to make it more authentic to what you would actually get in Spain.
Now, on to the food!
We started with the Gambas Ceviche – Shrimp, coconut citrus juice, cilantro, garlic, mango, Serrano chilies, onions, tomatoes and peppers. It was fantastic! It was quite fresh with a nice spicy bite from the serranos and sweetness from the coconut and mangoes.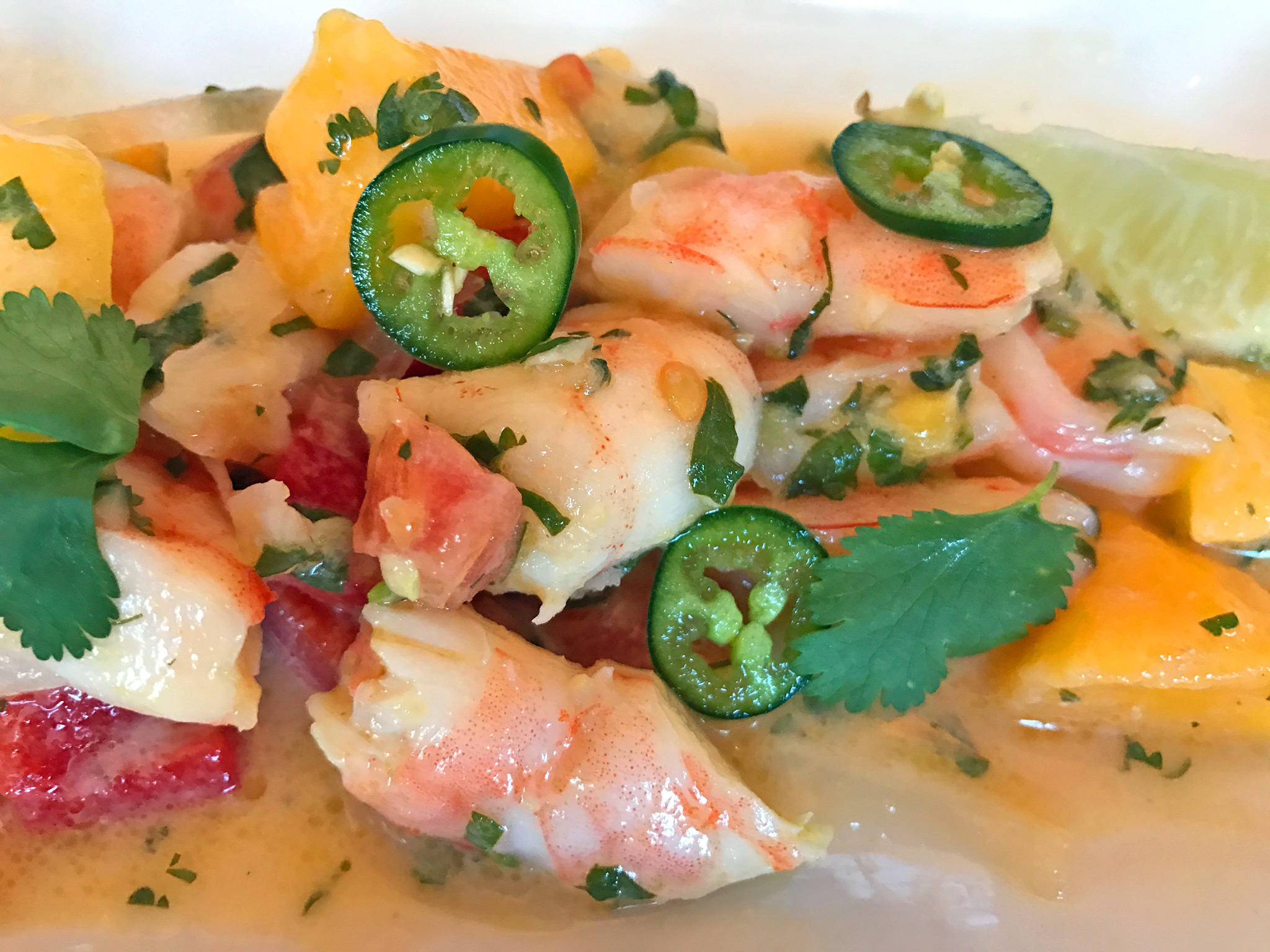 Chef Matt tells us; "We cook the shrimp in coconut milk, just parcook it to get the process started, and then we put it in the lime juice to cook it the rest of the way. They're big shrimp, so it would take it about 3-4 days to cook in just the lime juice."
"The coconut milk adds some perfume to the shrimp. This dish has a little bit of a Peruvian twist to it. In Spain, ceviches are lime juice and and an olive oil done a thousand different ways. We wanted to make this one a little more interesting for our guests to keep them coming back."
Next up was the Bikini Sandwich (lunch menu only) ham, chorizo, manchego, fig mustard jam, pickled serranos, fresno chilis and arugula. The sandwich is amazing. It's sort of like a very fancy Cuban sandwich. The fig mustard jam is really special. The Bikini comes with the Casera salad, which is a gem itself. It has mixed greens, cucumbers, olives, peppers, red onions, tomatoes, feta, with lemon honey vinaigrette.
The sandwich is lightly buttered and then put on the panini press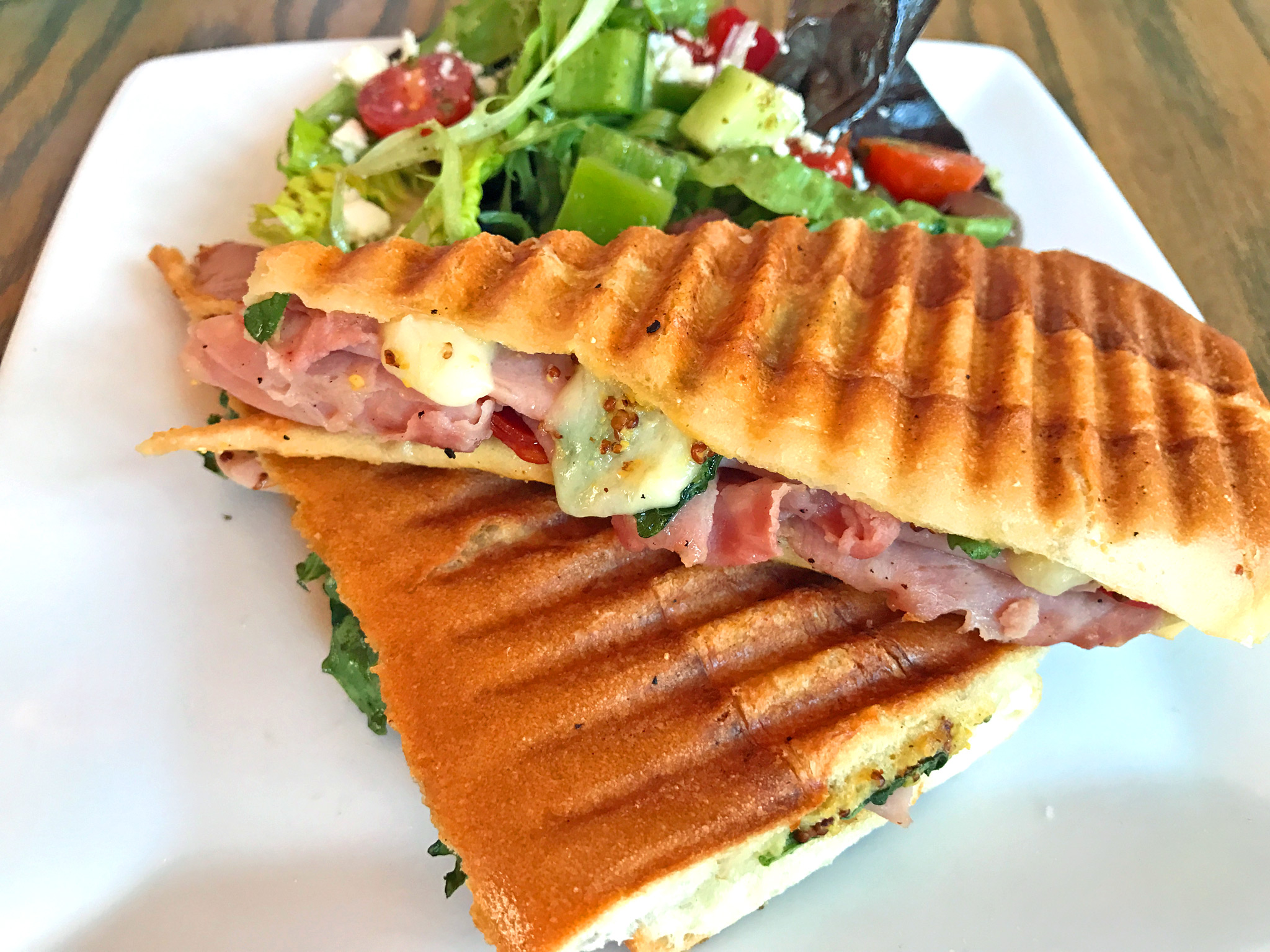 The Bikini Sandwich is named after the Bikini Concert Hall in Barcelona. When a concert lets out, street vendors offer up a pressed meat and cheese sandwich that got dubbed The Bikini Sandwich.
We loved the Baba Ganoush so much that we dug into it too fast and missed the photo opp. It is eggplant, garlic, yogurt, mint, walnuts, and evoo, with grilled flatbread. They grill the eggplant, scrape out the seeds and hang it over night to get the water out. (The water and seeds would make it bitter.) Then, walnuts are roasted and added along with red onions, olive oil, and vinegar. The onions are cooked down, puréed, then yogurt added and garnished with fresh mint, and served with grilled naan bread.
Next up was the super delicious Cabrales Salad with green apple, cabrales (a type of bleu cheese), Marcona almonds, arugula, and a sherry vinaigrette. I loved this one for having sweet, sour (green apples), bitter (arugula), and salty (cabrales cheese) all at the same time. It's a Spanish classic.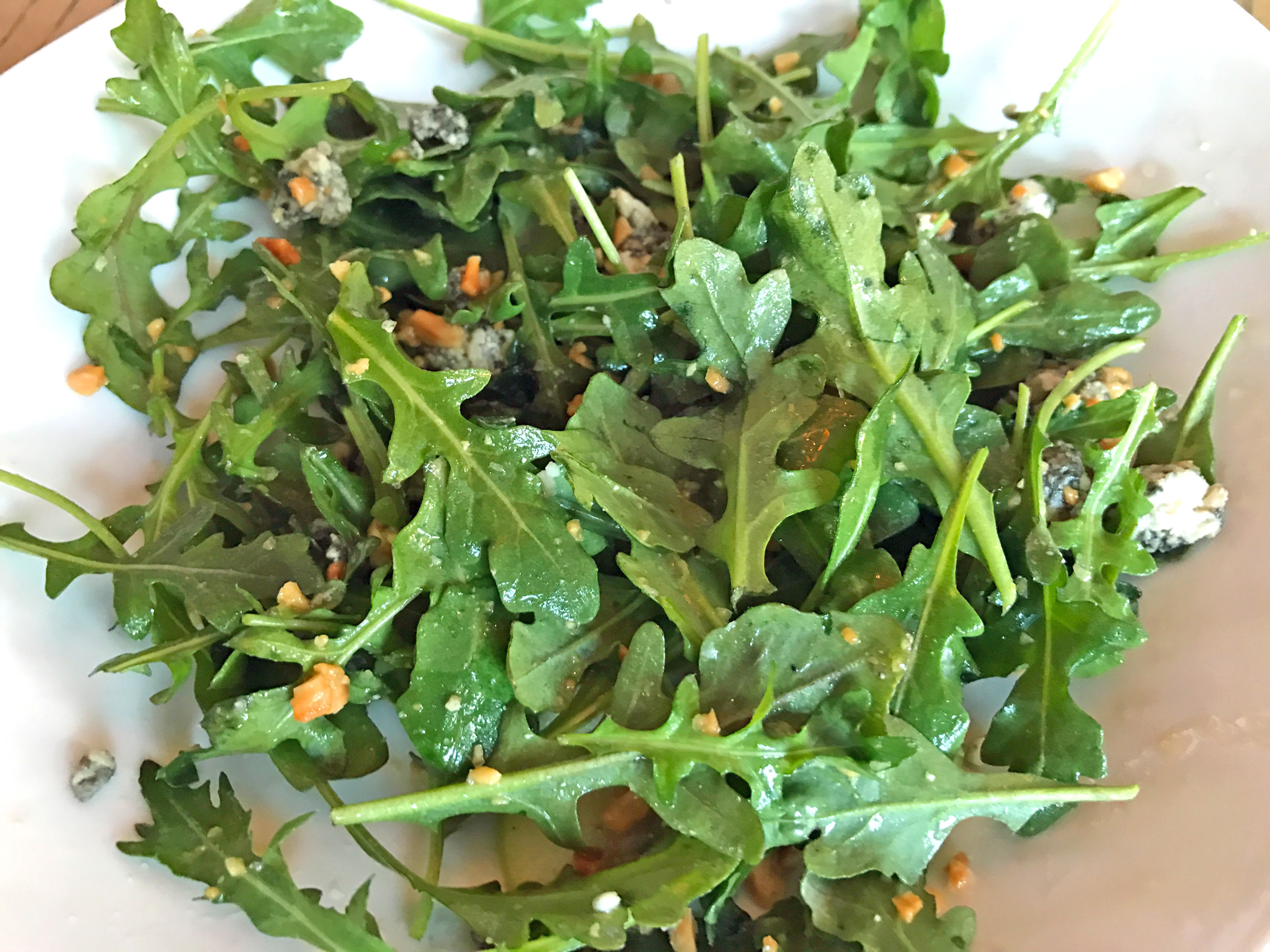 We continued with Gambas al Ajillo – Sautéed shrimp, garlic, onions, chilies, sherry, and brandy. They are large shrimp with the heads left on for authenticity—this is how they do it in Spain. Don't fret the heads. They come off easy, and it is not messy. I did it in a suit and tie and was fine. These are really delicious.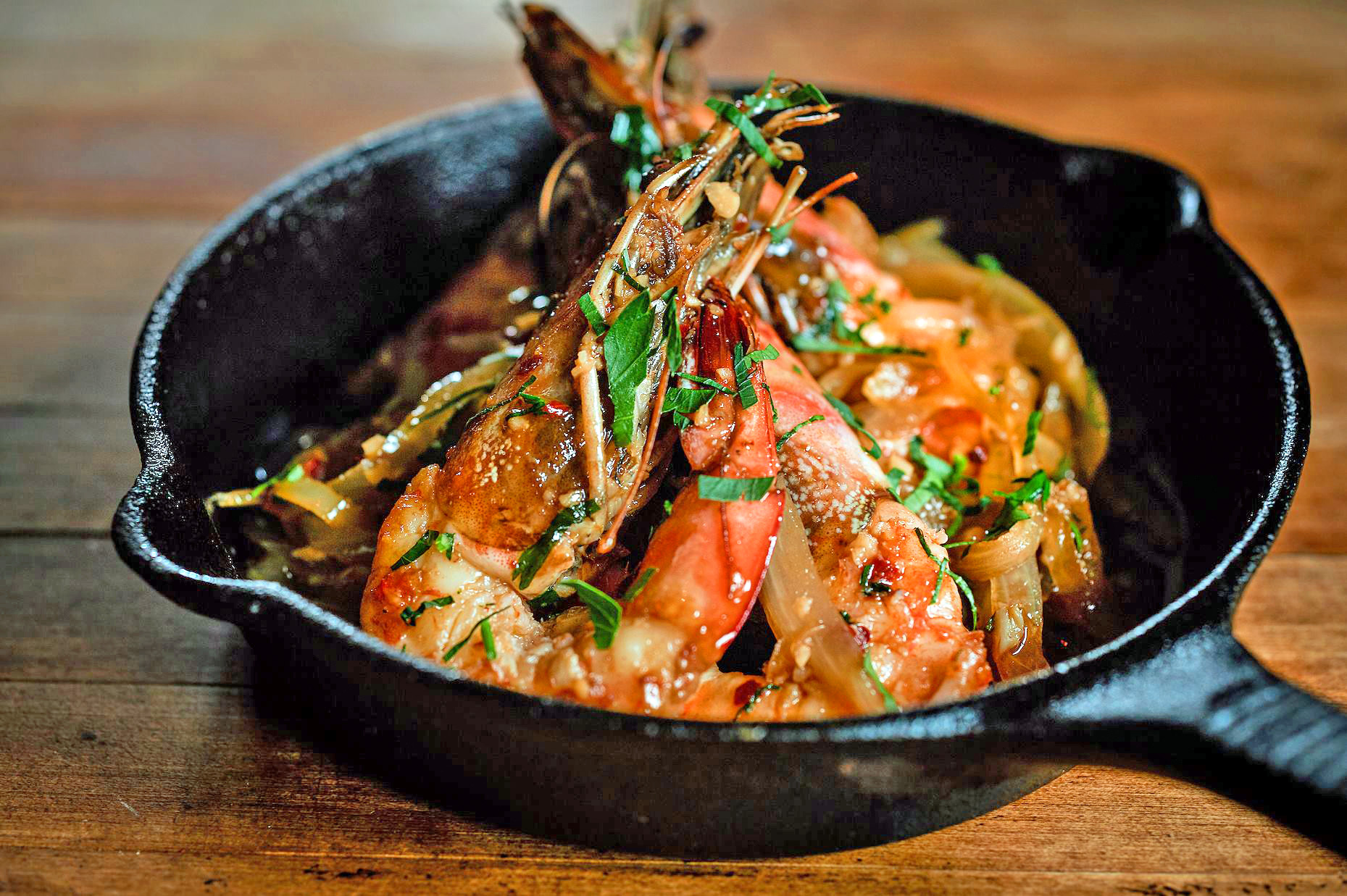 The Gambas al Ajillo are sautéed on one side, flipped, and then onions, garlic and chilies are added, and cooked in extra virgin olive oil, and then it's flambéed in a sherry and brandy mixture.
Staying with the "Pescados" we moved on to an extremely satisfying Branzino, a.k.a. loup de mer, or wolf fish, and a few other names. We're going to name it; "Holy crap! This tastes amazing!" The Branzino is sautéed and topped with arugula, pickled red onion, olives, capers, feta, lemon, olive oil.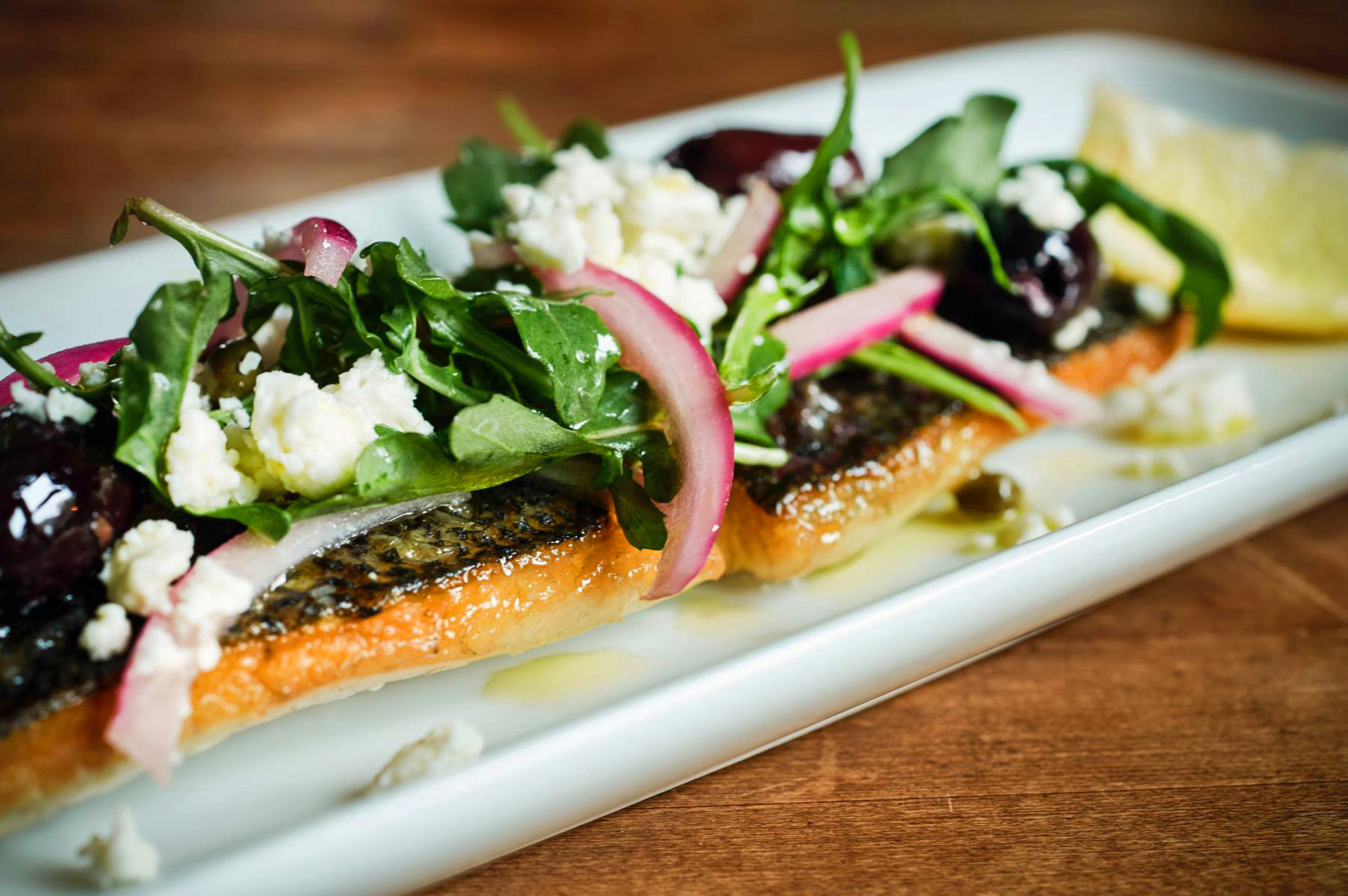 It is lightly pan-seared on the skin side to get nice and crispy. The feta cheese goes quite well with it, adding a creaminess and saltiness at the same time.
The octopus dish has both Spanish and Portuguese influences. They get a whole octopus weighing about 6 – 7 pounds. It is cooked in red wine vinegar and peppercorns in the oven for 35-minutes. Then it is grilled and basted with red wine vinegar and olive oil. It is served on top of saffron potatoes along with kalamata olives, paprika, arugula and pickled red onions.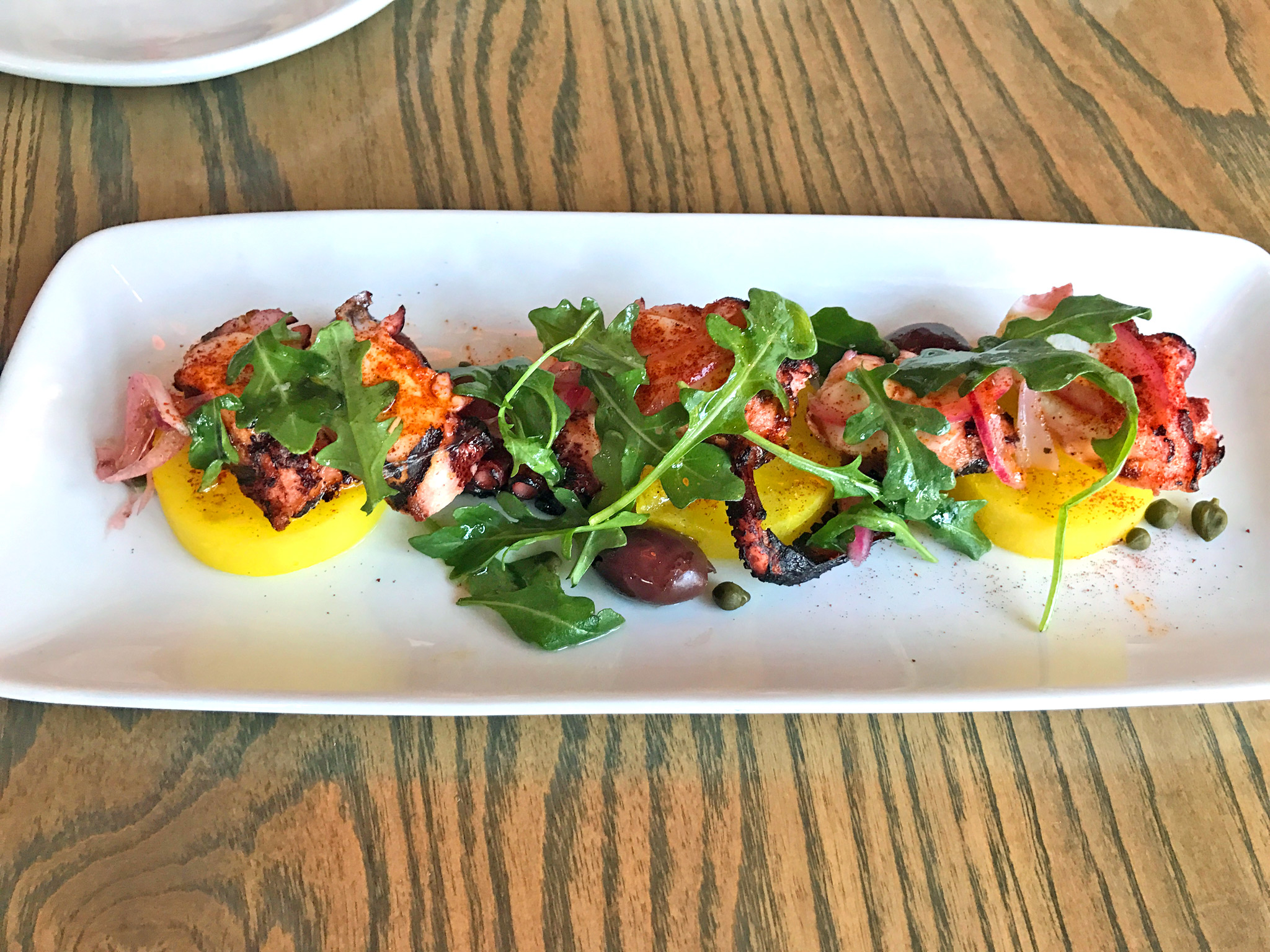 Chef Matt re-sourced the octopus to be more authentic. Previously, Ceviche's octopus came from the areas around China and Indonesia where there are warmer waters causing them to burn off their fat – making them muscular, and a little more tough. The octopus now comes from areas around Egypt, Portugal, and Spain. The waters there are deeper and colder, supplying a more plump, and meaty octopus like you would have in Spain. Chef Matt told us: "These are wild, not farmed, so sometimes we will get an octopus with seven legs …" As we bellowed laughing.
The Picanha was scrumptious! It is skirt steak with roasted mushrooms and chimichurri.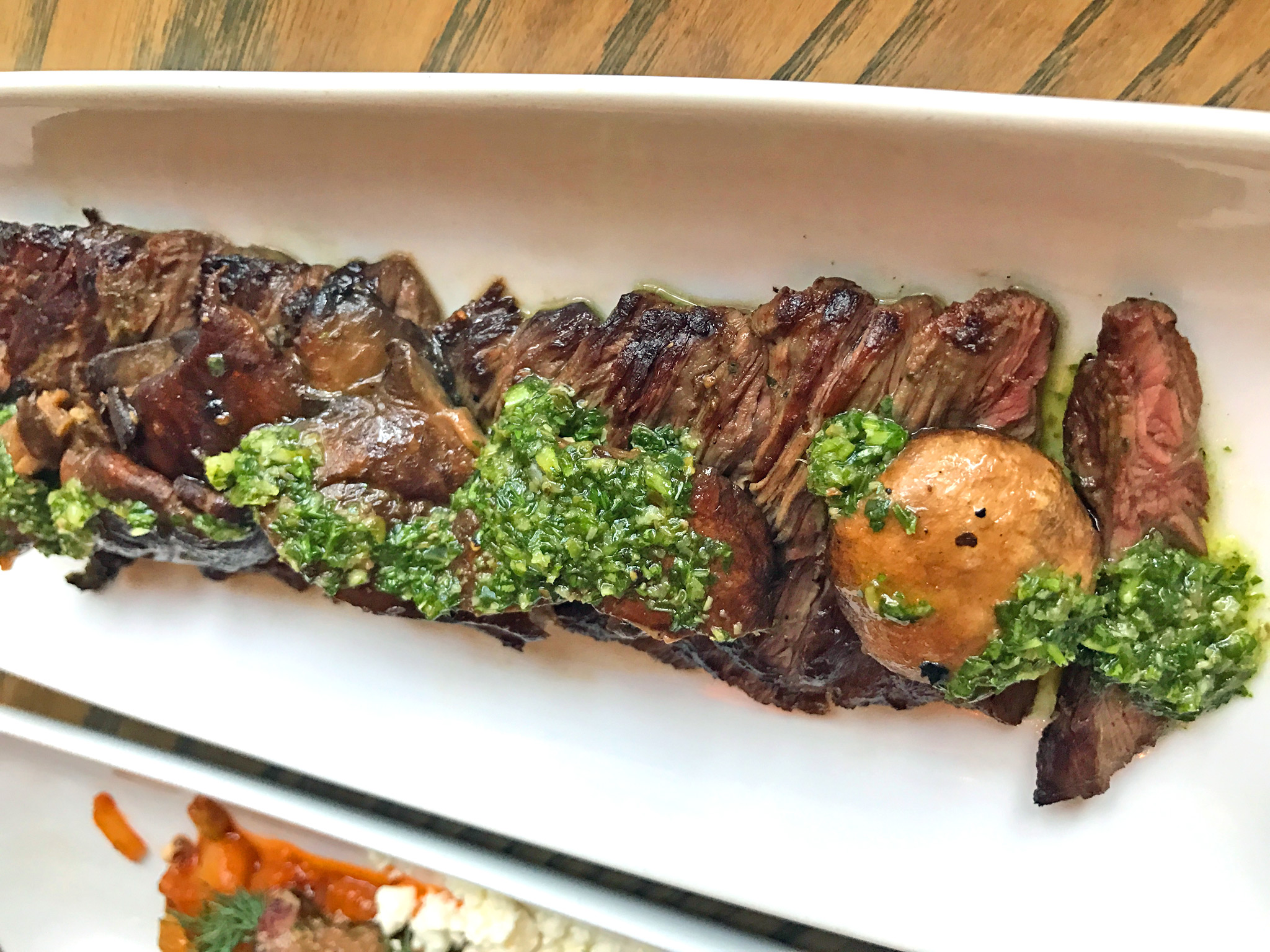 The Picanha is marinated in salsa verde overnight, then grilled to order. It is served with roasted sherry mushrooms and chimichurri on top. The mushrooms are put into the roasting pan with a little butter, covered and put in the oven for 10-minutes. Then, the cover is removed, mushrooms stirred and seasoned and put back in the oven for another 10-minutes. The mushrooms become steamed and produce a nice broth that can be used in other applications.
The Pollo al Jerez is some of the best chicken you will ever have. The chicken is marinated in the house pesto, then grilled and served with the sherry cream on the bottom, and then more pesto on top. It is super moist and juicy. It was on the menu before, but this is a much improved version with a lot more flavor.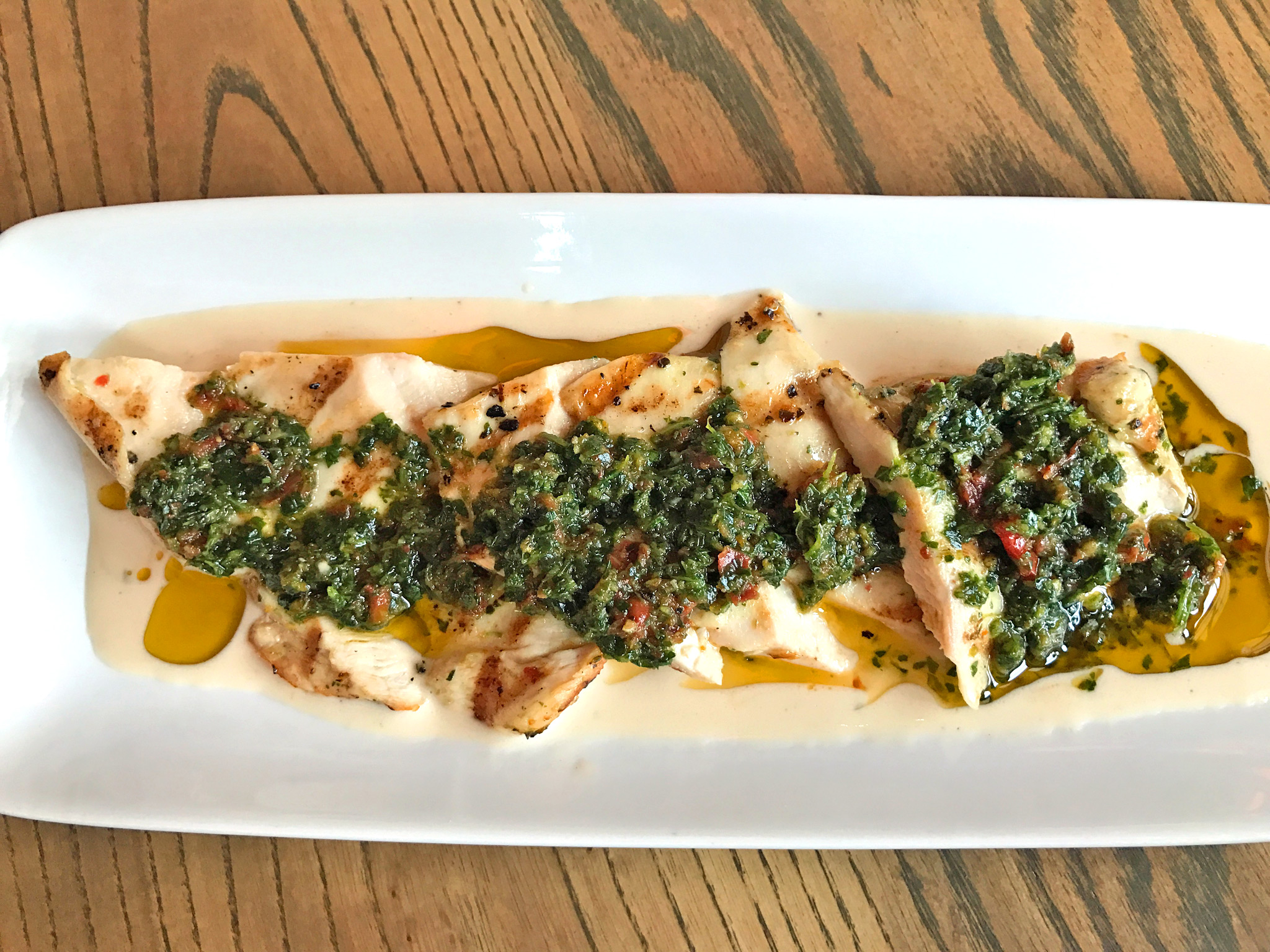 Another must-have is the Chuletas de Cordero – Baby lamb chops, eggplant caponata, dill, feta.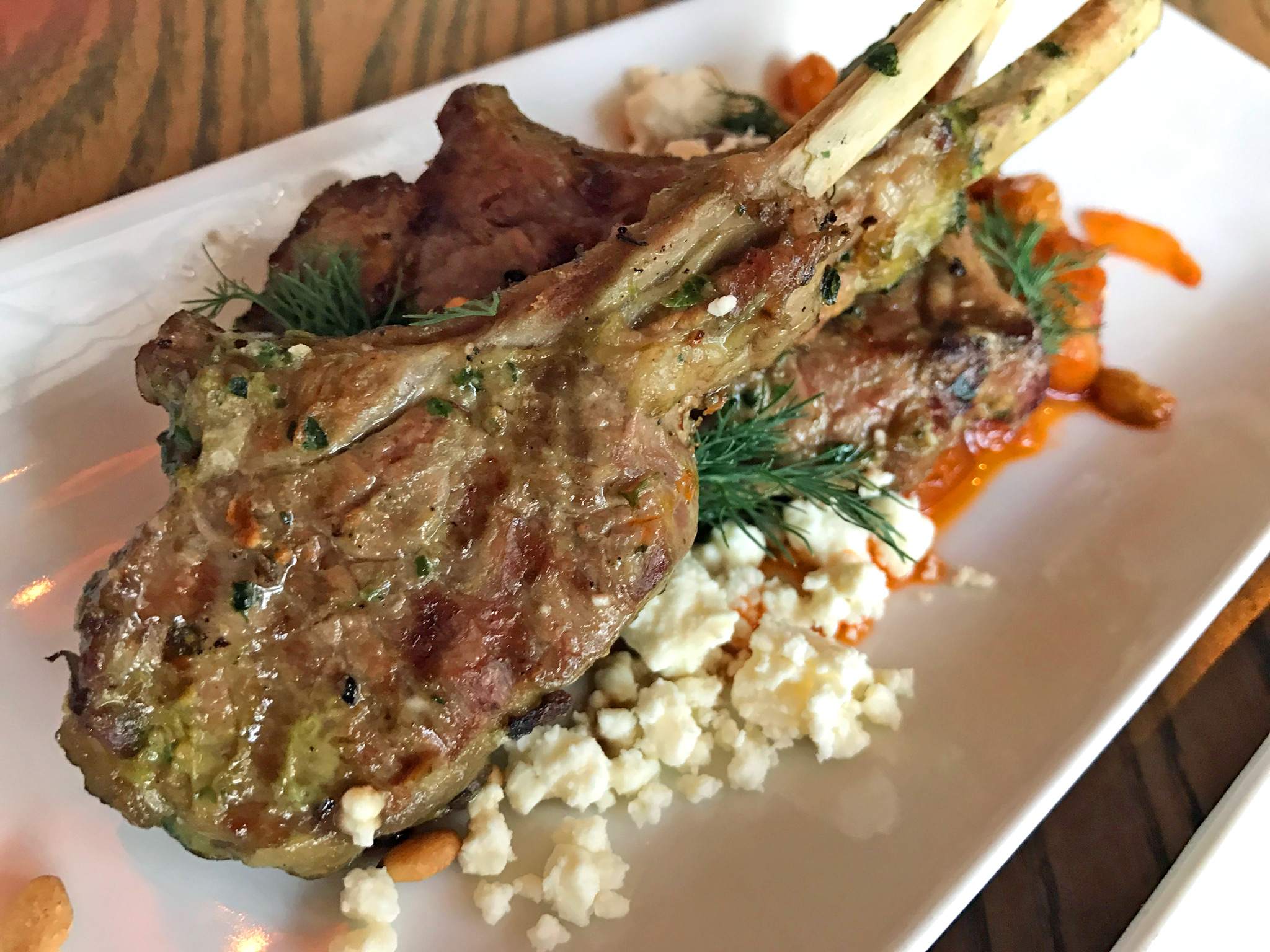 The lamb is marinated overnight in salsa verde, just like the skirt steak. The eggplant caponata is made with raisins, tomatoes, onions, deep-fried eggplant, then everything is stewed all together, a touch of cinnamon is added with salt and pepper, and then pinenuts and feta cheese are added to make this a delish dish.
For dessert – Pudin de Pan – White chocolate bread pudding, brandy, golden raisins. Scrumptious!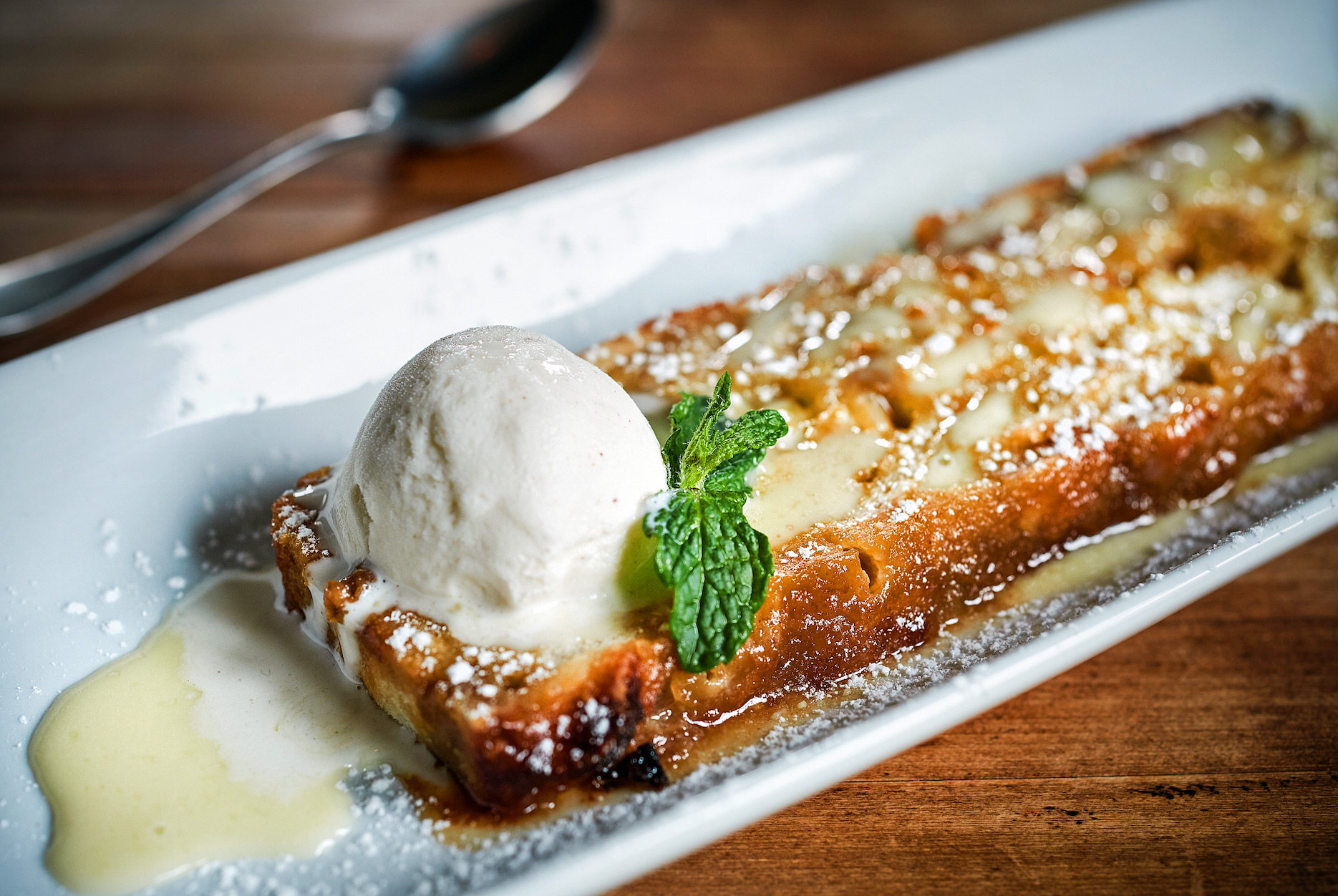 And Tres Leches – The famous meringue cake with fresh cream and nutmeg. Sinfully delicious!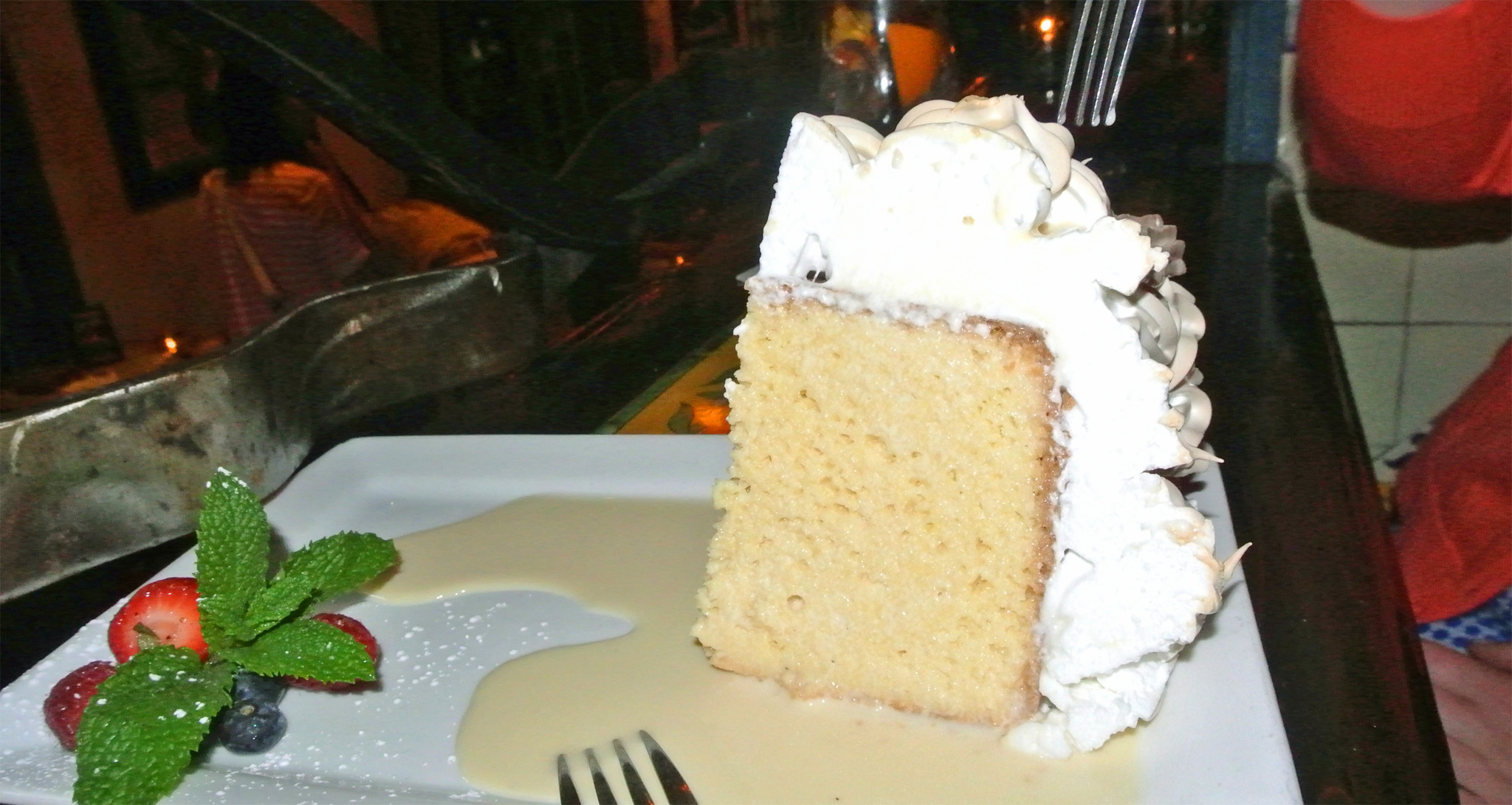 Check out the new Ceviche for dinner, and then dance the night away downstairs at Ché. It will be the most delicious, fastest, fun trip you've ever had to Spain.
Ceviche does total revamp to décor, menu, and food sourcing to become the most authentic Spanish restaurant and tapas bar in St. Petersburg, FL
DISCLAIMER: Kevin, Lori, Abby, Haley, & Lindsey do not dine anonymously (this would be impossible) and we sometimes get free food (though never expected). However, we dine with the locals and we support our own. You will always get honesty in a respectful manner. We do not include any large national or regional chains in our ratings and reviews. We focus on independent locally owned eateries exclusively.

PLEASE NOTE: Reviews reflect a certain moment in time. Some restaurants stay extremely consistent over many years, and some change for the better or worse. Some things that may change are: chefs, recipes, food suppliers, ingredients, philosophies, ownership, etc. We always hope that you have the same good, or great experience we had.
More Foodies News, Reviews & Recipes