Fresh Pastries at Café Soleil French Bakery and Deli
Fresh Pastries at Café Soleil French Bakery and Deli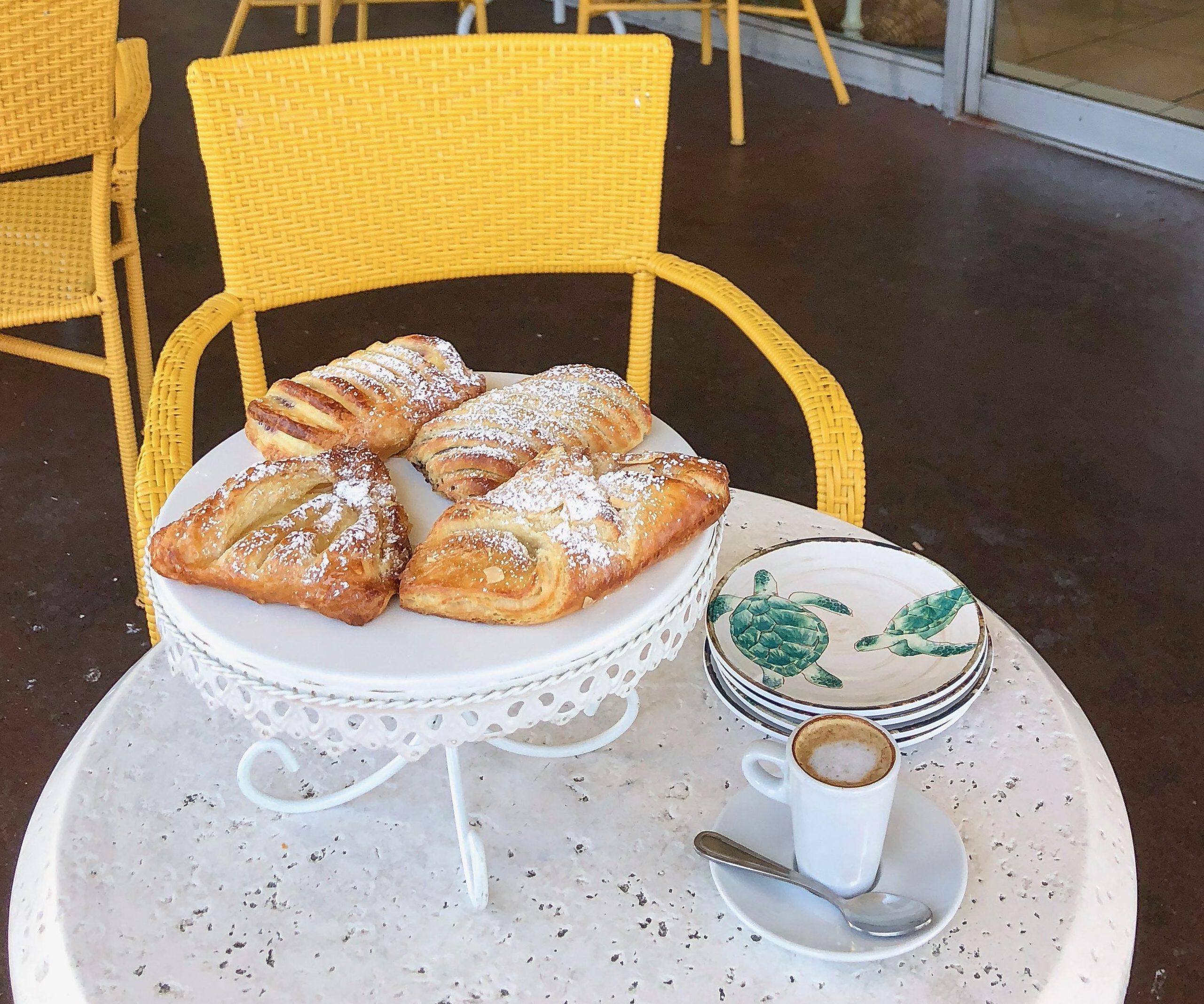 Beach towns are often associated with tourist traps, kitschy souvenir stores, and overpriced seafood restaurants. St. Pete Beach has its fair share of all that but there are several gems that exist among the more stereotypical establishments; you just have to find them. In particular, Café Solei, the French bakery and cafe is quite literally a hidden gem. It's tucked away in the corner of the busy Dolphin Village complex that houses Publix, CVS, and numerous other businesses. A large "Bakery • Deli" sign helps to decipher the location but once you look below at the bright yellow patio furniture you're immediately drawn in.
In French, "soleil" means sun. That's exactly what the café aims to represent. It's bright from the sunlight coming in through the floor to ceiling windows. As mentioned, yellow wicker chairs line the patio and the bright shade brings to mind sunshine and happiness. Which is all anyone on the beach really wants anyway, right? On the patio, you'll usually get a nice cross breeze coming through. If you peek around the corner, the back of the bakery is overlooking the water which is a nice surprise. As of now, no back patio exists but I'm hoping one day they'll take advantage of the view.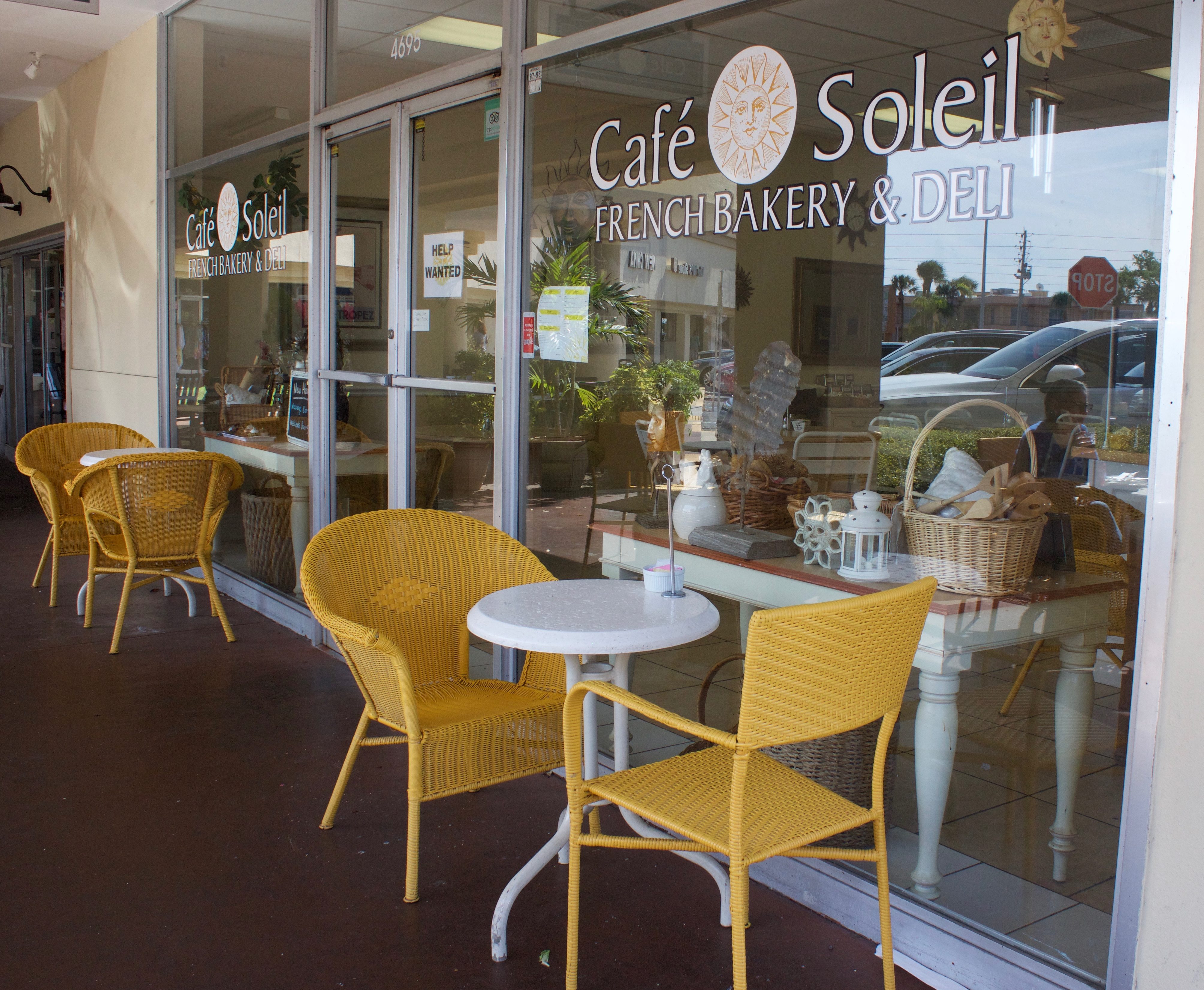 Around the café, you'll see décor items like a mini Eiffel Tower, a few picnic baskets (more on this later), and a variety of wooden spoons. All pastries are presented behind a glass countertop atop fancy or bejeweled cake stands. All baked goods are made in-house daily. During "season" when the snowbirds are down, they are constantly baking pastries, about every 15-20 minutes to keep up with demand. Depending on the time of day, you run the risk of waiting in line.
No matter which type of French pastry you prefer, expect some of the softest flakiest croissants you've ever had. I've never been to France but I suspect the ones at Café Soleil are in the realm of that deliciousness.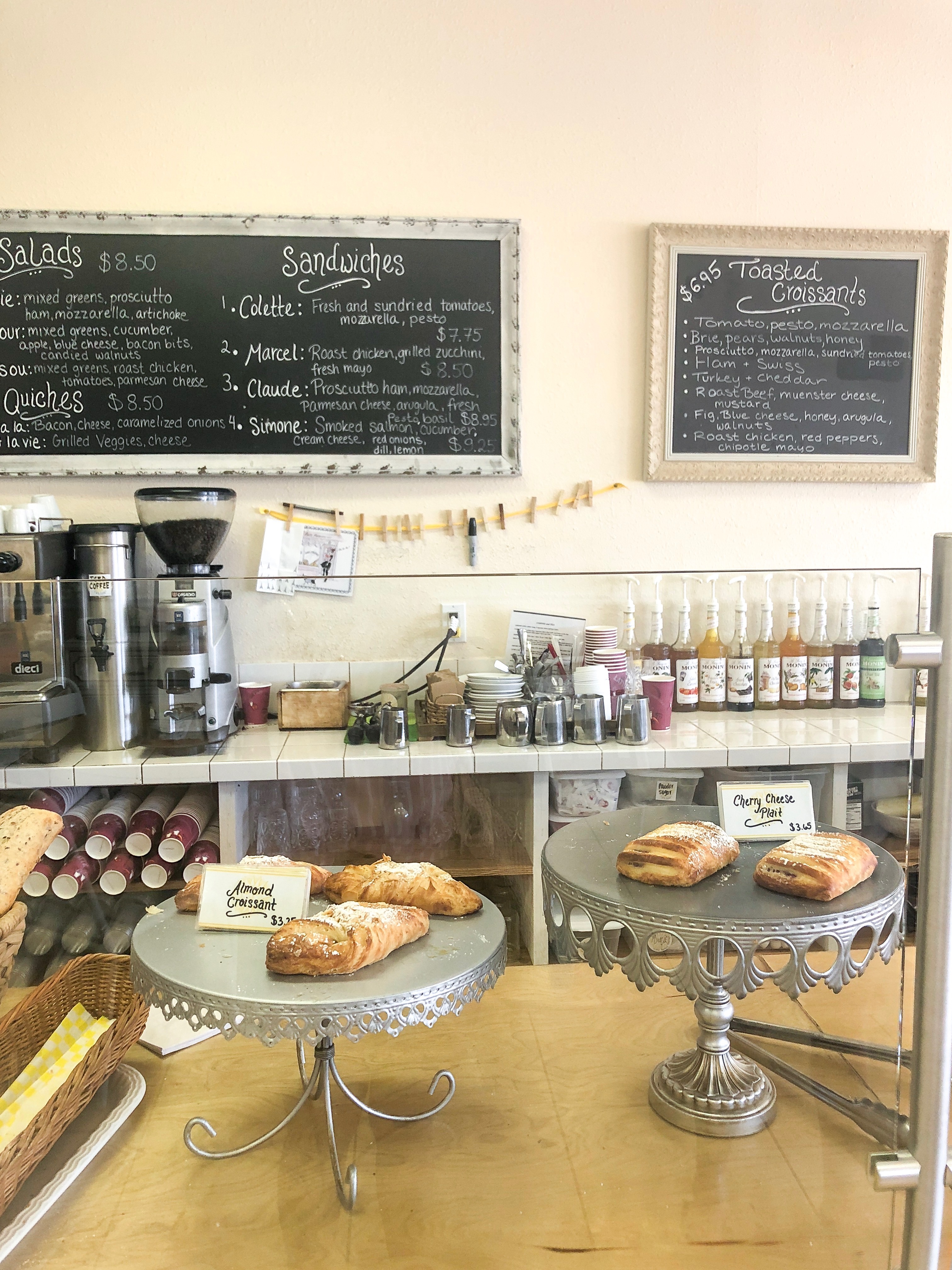 What I love about bakeries and pastries is that you can almost count eating a pastry as a meal and dessert. It's more filling than traditional dessert but has just succeeded in filling the need for sweet. Since the pastries are all around $3, I recommend getting a few to try. The chocolate hazelnut plait was probably my favorite because I'm a chocolate lover. Just the right amount of Nutella sits underneath of the diagonal cut lines of puffed pastry finished off with a sprinkle of powdered sugar (as they all are). Coming in at a close second is the almond croissant. I tend to enjoy almond and marzipan more than most fillings and this one is only mildly sweet in comparison to the others.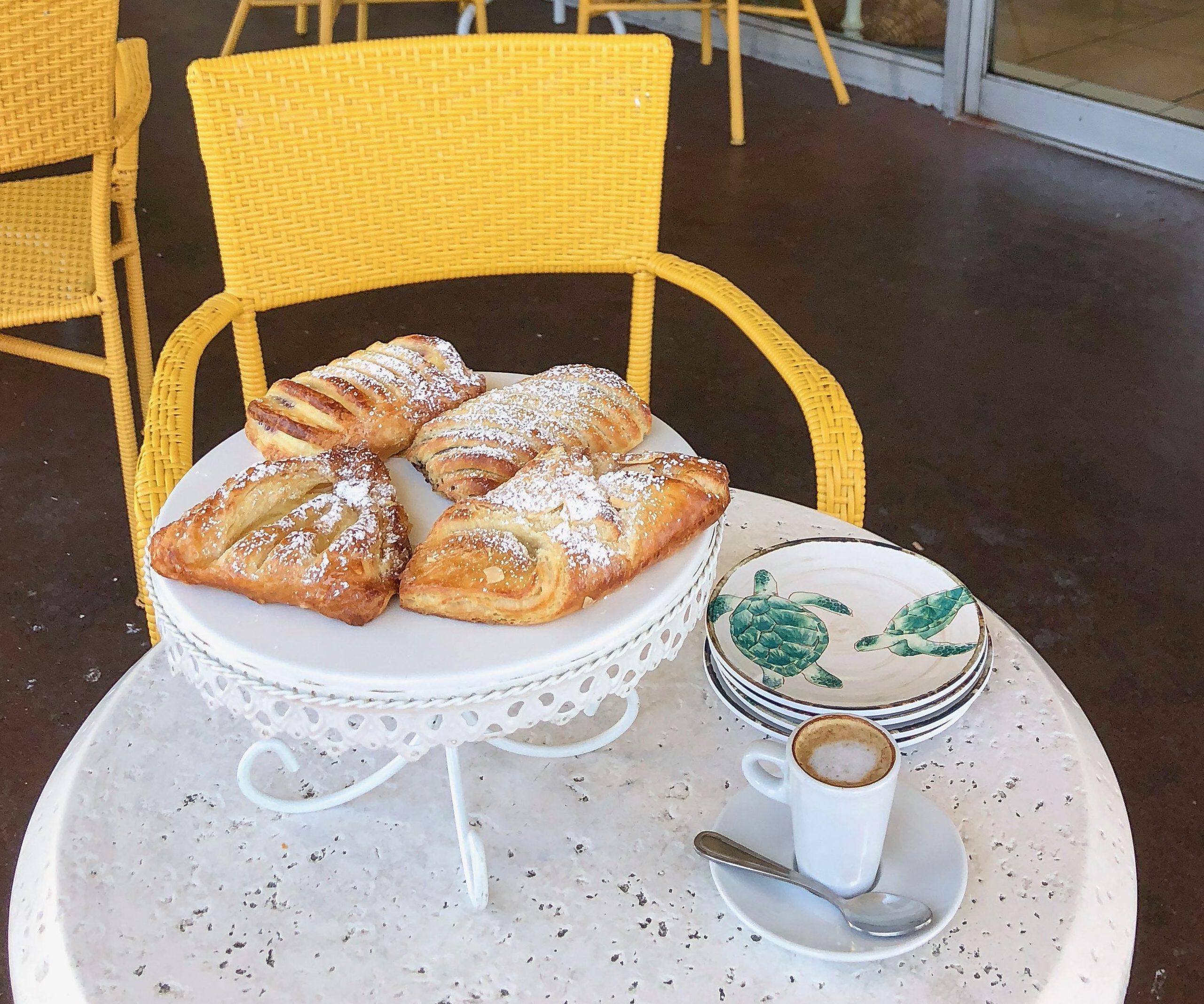 More options include the cherry cheese plait which was gooey and delicious. The lemon fan was perfectly sweet balancing out the tartness of the lemon. If I was visiting in the morning for breakfast, I'd likely go for the lemon fan over the chocolate. All the pastries pair very well their coffee selections made with local favorite, Kahwa coffee.
Overall, every one of the pastries was very fresh and flaky. In fact, the lemon fan was so fresh, we had to wait a few minutes for it to "set" because it had just come out of the kitchen. Worth the wait.
Keep in mind, they do also serve breakfast and lunch croissants. Since this a dessert piece, I focused my cravings on the pastries. However, I've been for breakfast croissants and they're wonderful (and pressed!)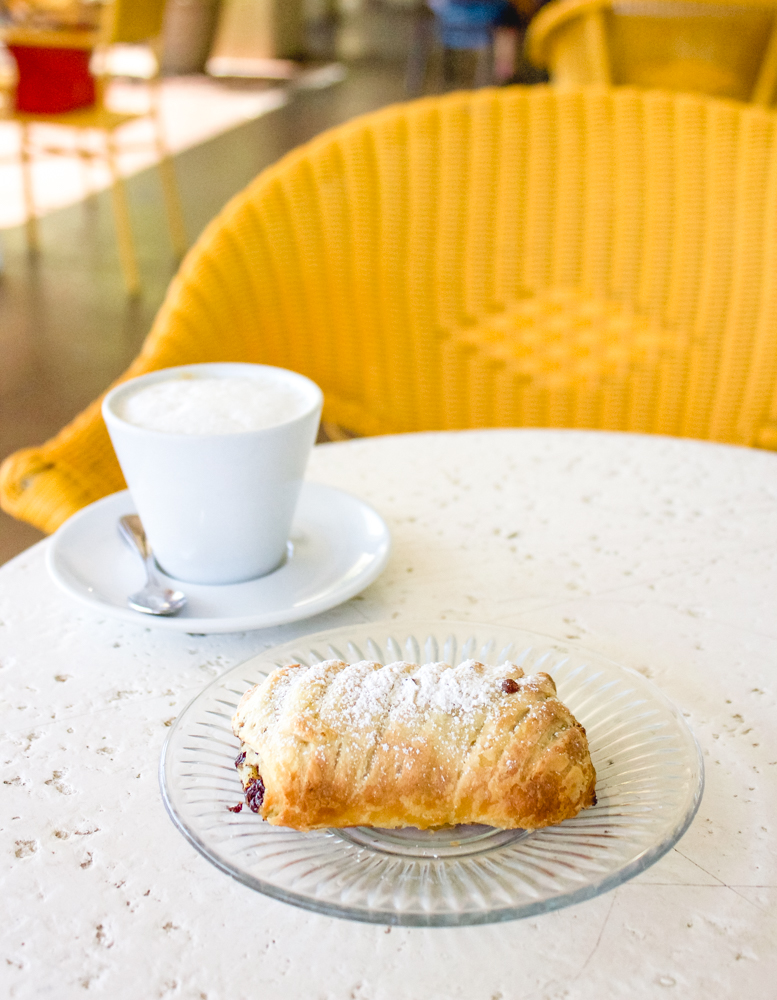 There's something really special about Café Soliel and being on the beach in general. As a local in St. Pete visiting the café, I feel as though I'm on vacation. Even if it's just for an hour. I love that. As with most Floridians, living 15 minutes from the beach is a prerequisite for never going to the beach. Sad to say I'm no exception. I'd say each time I make a visit to Café Soleil, it appears half the patrons are regulars and half are likely tourists. It's a great place to people watch while living vicariously through those bumming around the beach for a few days while on vacation.
The owner, Lauren, is from France and oftentimes you'll hear some French being spoken to her customers that speak the language. She shared with me that having a beach location is enjoyable for her as a bakery owner. Most people aren't worried about the number of calories they're likely to inhale. They're there to kick back and enjoy themselves and that's the best mindset to have while indulging in her sweet treats.
Before visiting, I peeked at the menu that's online and noticed a "picnic basket" so I, of course, had to ask. Lauren explained that they create curated picnic baskets that they'll style for special occasions. Many of the hotels look to her when guests want to do something special for their significant other. They're most popular for things like engagements and anniversaries when the guys need a little help in the romance department. They can also be taken to the beach but you'll want to call ahead of time to make arrangements as they don't typically have the time to prepare for a walk-in, especially during busy season.
People staying on the beach are likely to visit Dolphin Village for the necessities. While there are an overwhelming amount of storefronts, there is only one marked "Bakery•Deli". Those that that dismiss the rather ordinary looking sign above Café Soleil would be making a huge mistake. Don't let that be you.
Café Soleil has two locations: one on St. Pete Beach and the other on Tierra Verde. This review focuses on the St. Pete Beach location.
French bakery and café with freshly made croissants and pastries.
DISCLAIMER: Kevin, Lori, Abby, Haley, & Lindsey do not dine anonymously (this would be impossible) and we sometimes get free food (though never expected). However, we dine with the locals and we support our own. You will always get honesty in a respectful manner.

PLEASE NOTE: Reviews reflect a certain moment in time. Some restaurants stay extremely consistent over many years, and some change for the better or worse. Some things that may change are: chefs, recipes, food suppliers, ingredients, philosophies, ownership, etc. We always hope that you have the same good, or great experience we had.
More Foodies News, Reviews & Recipes