The Mill's 5 Year Anniversary Celebrated With A Totally Inspired New Mini Menu
The Mill's 5 Year Anniversary Celebrated With A Totally Inspired New Mini Menu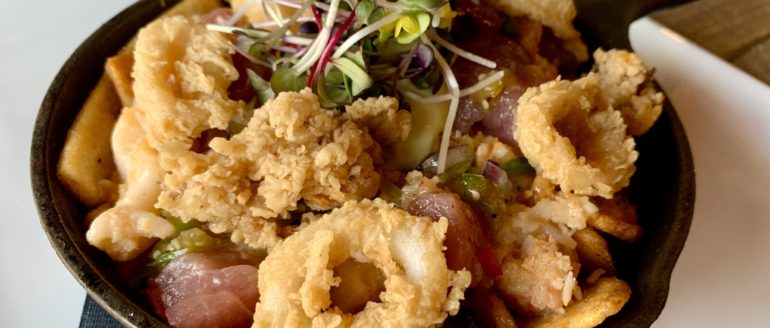 The Mill just celebrated their five year anniversary last week. Chef Ted Dorsey said that they originally had plans for a big celebration party before this pandemic hit. He woke up that morning and felt quite sad as it hit him that there would be no big party. We want you all to know that we certainly celebrate this milestone with you and your continued success.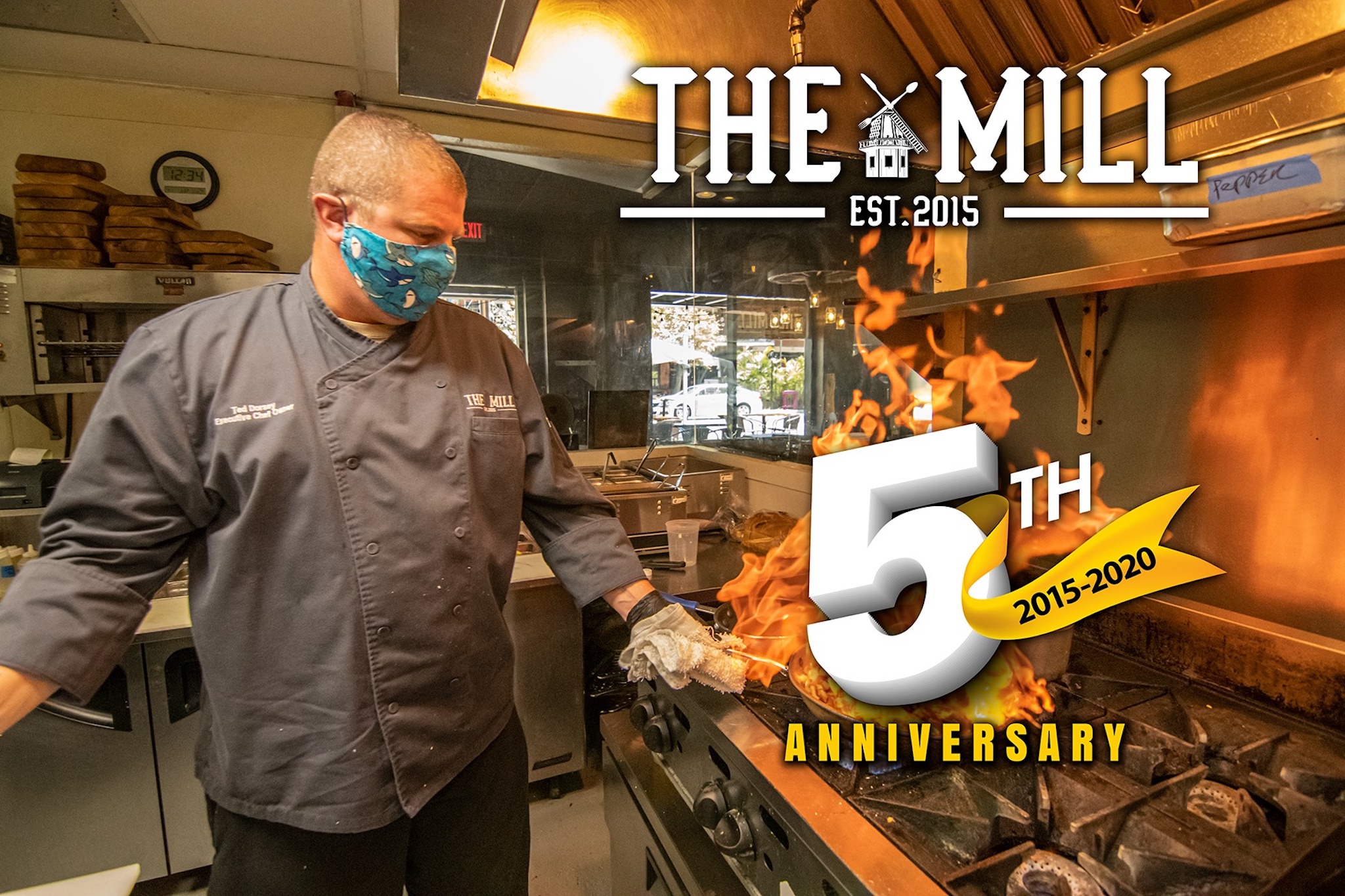 When the pandemic hit, The Mill was one of the first to close and one of the last to reopen. They took that time to make sure that when they did reopen, it would be in the safest environment possible for all of its customers and staff. The A/C unit has scrubbers to ensure clean air, all tables are socially distanced and all staff have been wearing masks the entire time.
They also took this time to revamp the menu with a new concept that they are calling the "mini" menu. The menu itself is not smaller, it actually offers more options, but the portion sizes have been scaled down so that guests can branch out and try more items at a lower price point. They did the same with their cocktail menu which actually has specialty cocktails that start at $6.00. That's nearly impossible to find in downtown St Pete.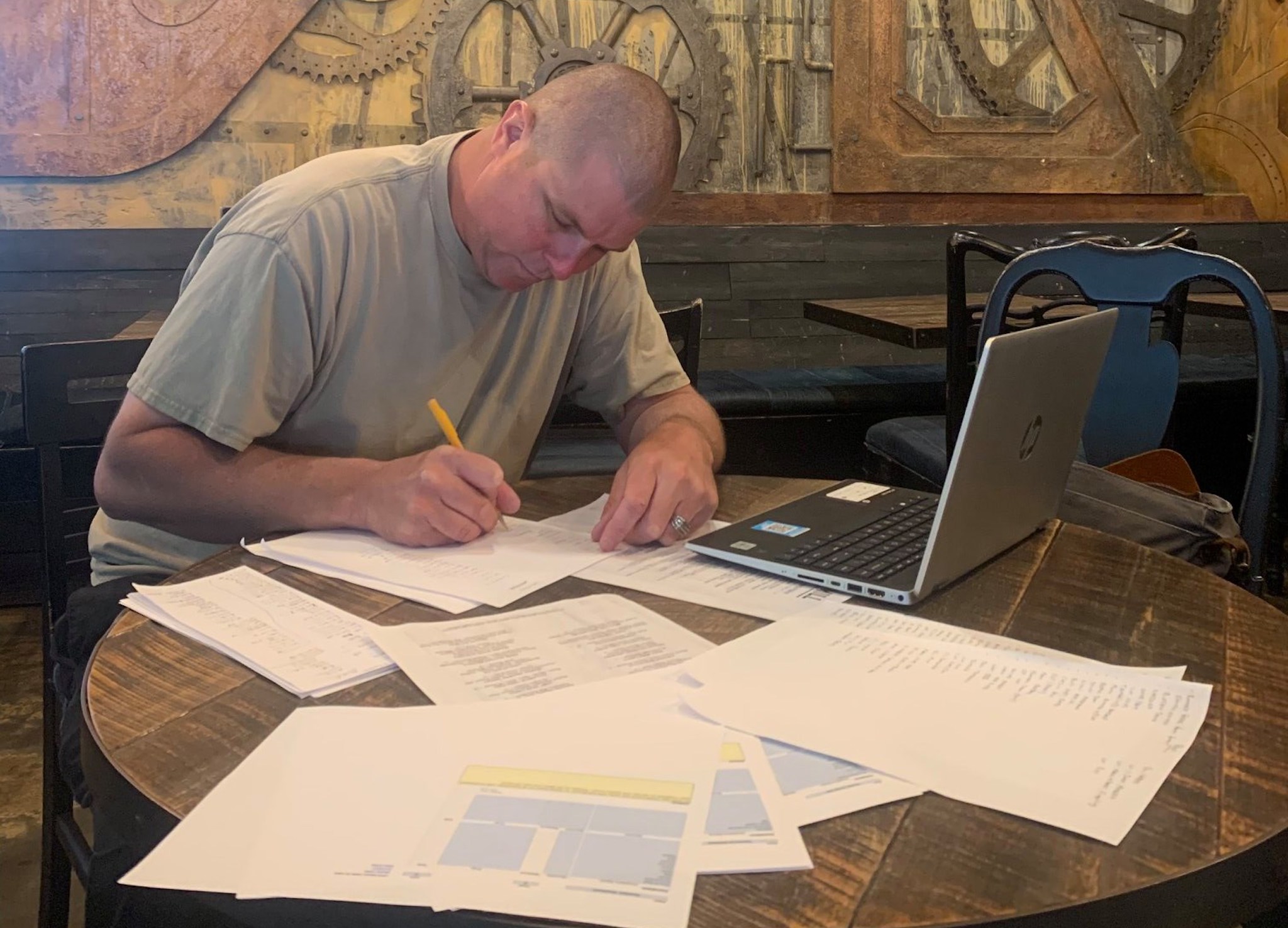 Besides the very first item below, which was prepandemic, we have made three trips to The Mill since they reopened to try as much as possible on the new menu to share with you. Overall, we are extremely impressed and believe you will be too. Be prepared for some jaw dropping food porn!
Back in January Kevin wrote a 10 Best Octopus article and The Mill's Grilled Octopus with pickled peach BBQ, smoked sweet pea puree, beet jam, watercress and a fig vinaigrette made the cut and is still on the new menu.
Here's what Kevin said about it, "This one has a sweet side and a salty umami side. The salty side is brought to you by the Smoked Sweet Pea Purée. The Peach BBQ and Beet Jam bring the sweet. Interestingly, I usually favor savory, and lean apathetically towards sweet. However, I loved the sweetness here. This was sweet, slightly smoky, and tender. It's lightly charred with the thinner bits having a nice crunchiness."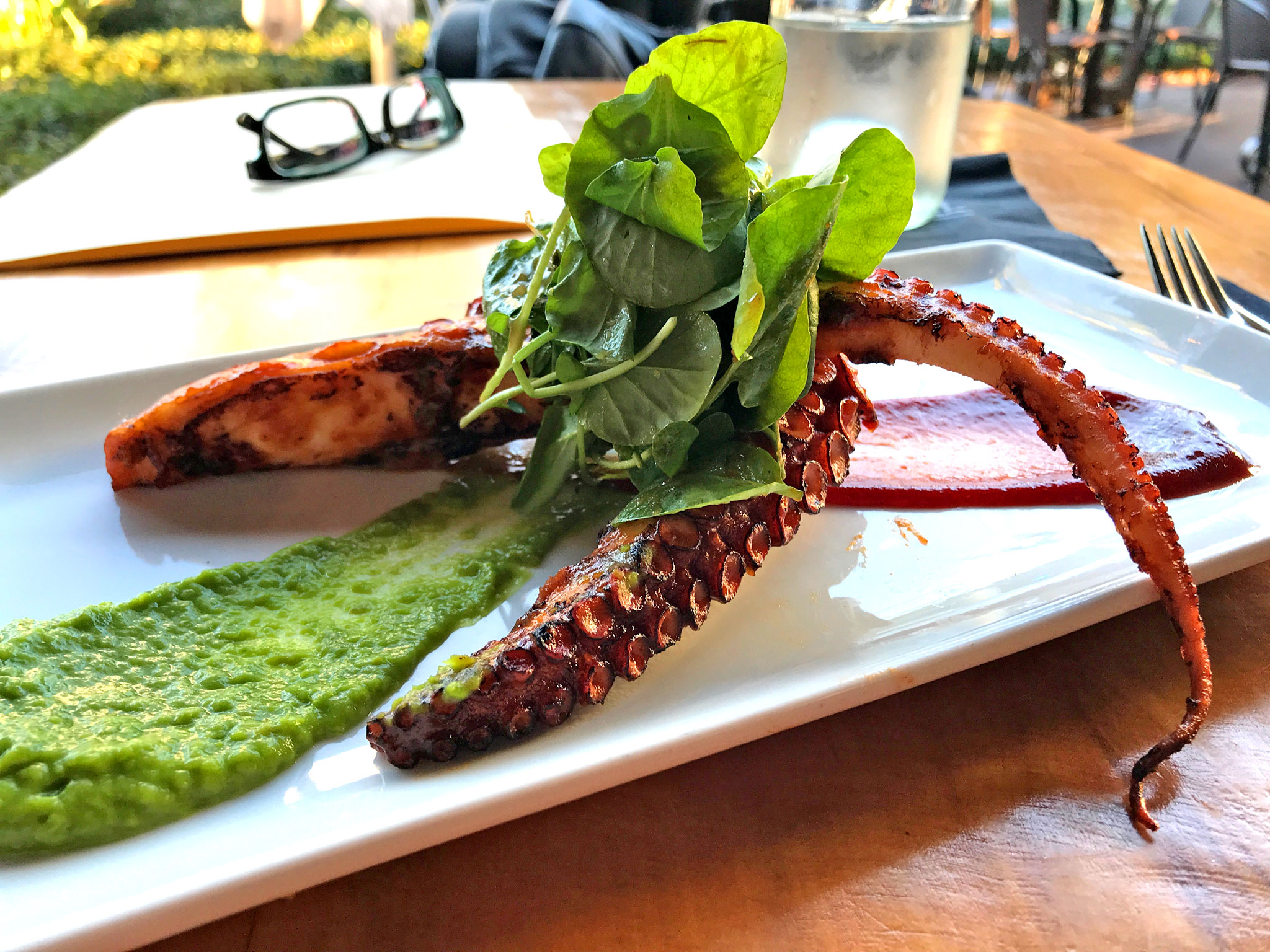 On our first trip back I ordered the St Pete Sparkle – Hayman's London Dry gin with fresh lemon, strawberries and a touch of lavender – from the new cocktail menu. Fantastic! Light, refreshing, not too sweet, just the perfect summer drink. My exact words were, "this drink could really get me in trouble."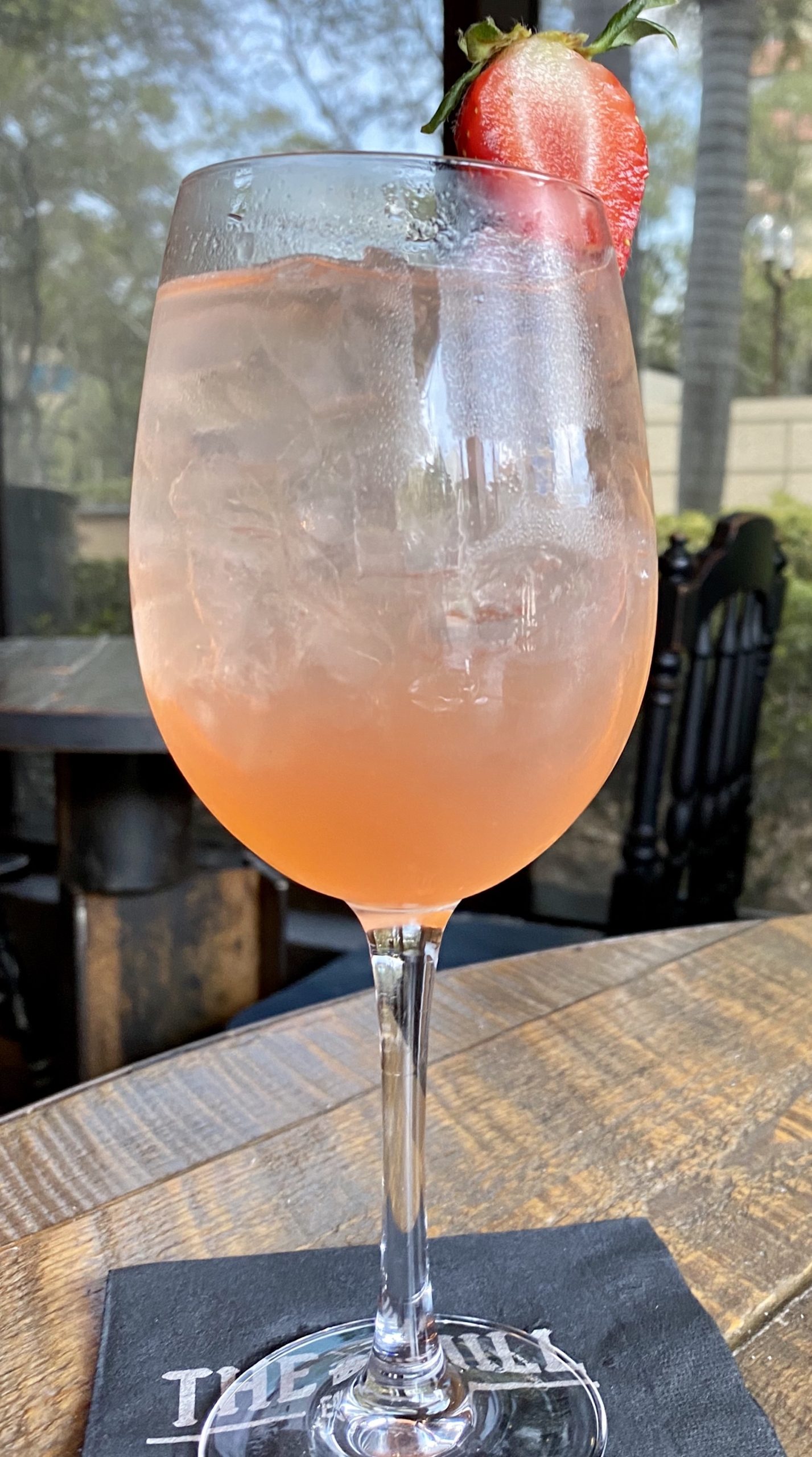 Brussels sprouts are all the rage these days and can be found on many a menu around town. But nobody is doing them like The Mill. They are Crispy Buffalo Sprouts with bacon and lemon zest. Buffalo zing with bacon? We couldn't stop eating them and they are just so pretty too!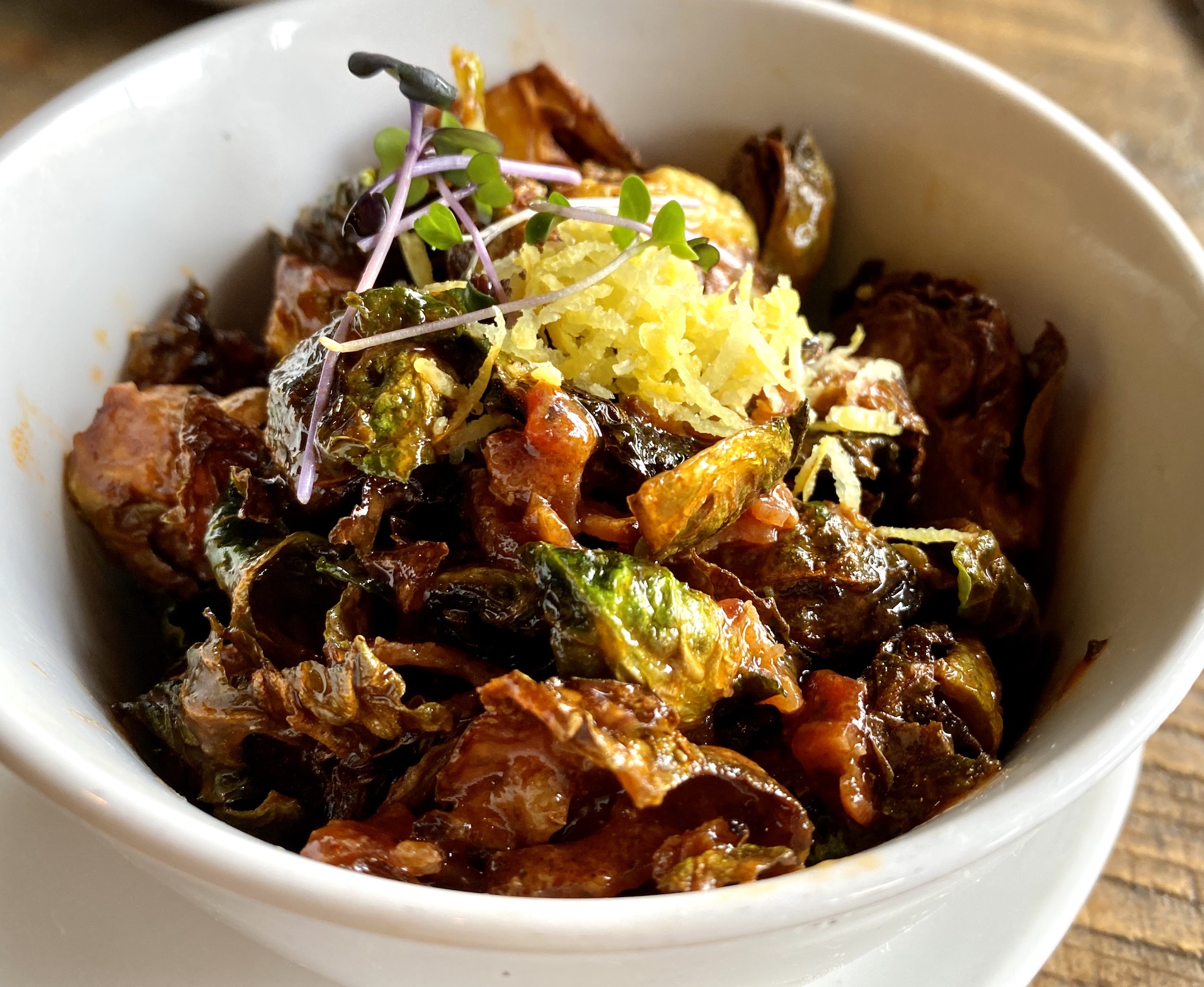 I can't recall the exact story chef shared with us on the Duck Fries, "French Fries Cooked in Duck Fat" with parmesan, herbs and tamarind ketchup, but I do know they are an homage to one of the past restaurants he opened in Tampa. They were so wildly popular there that he decided to put them on this new menu. I understand why, these fries are pure duck fat fried heaven and that tamarind ketchup is outstanding.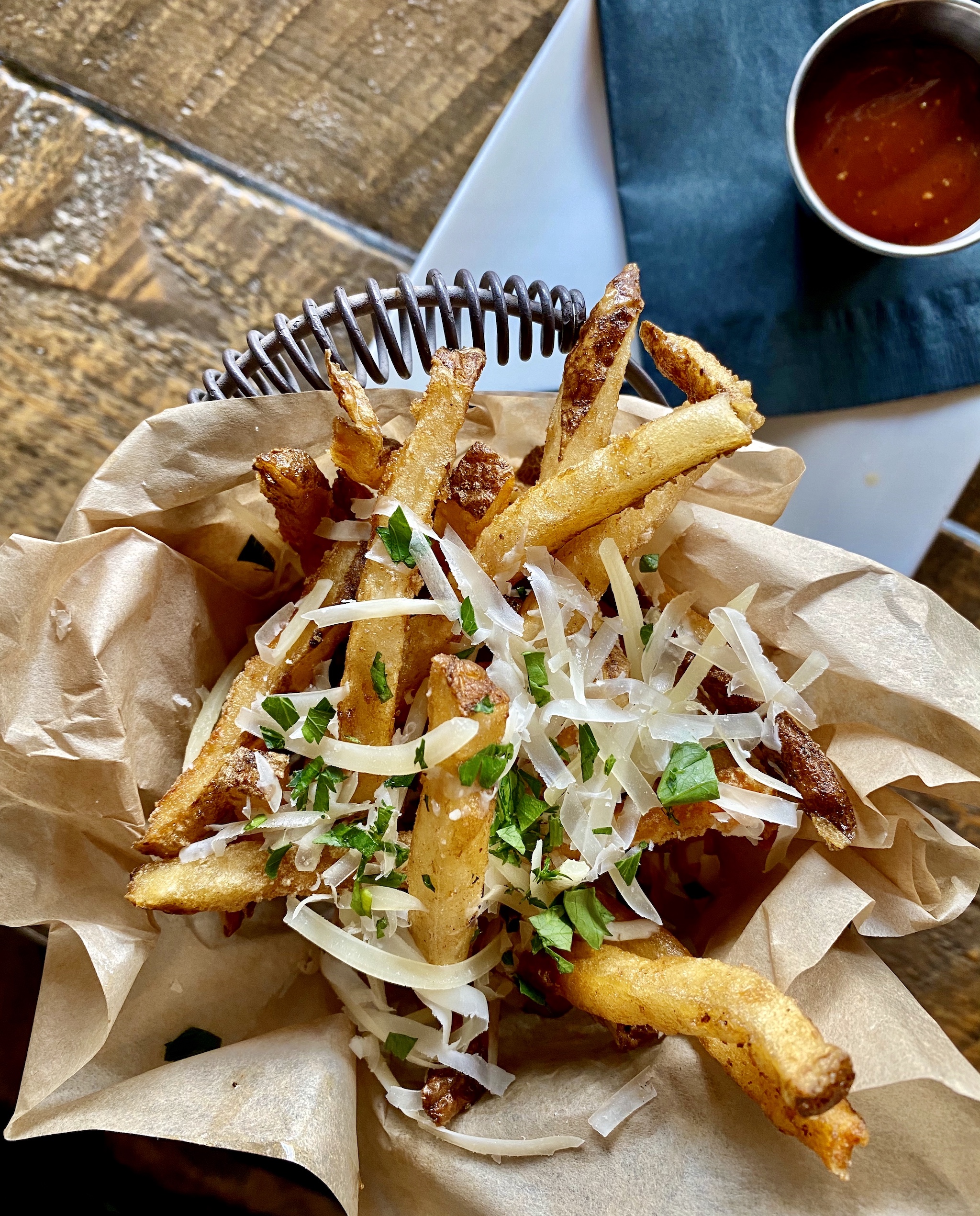 Kevin's eyes almost popped out of his head when he saw Swedish Meatballs with sherry cream sauce and grilled focaccia on the menu. He said he hadn't had them in years because you don't typically find them on restaurant menus anymore. He raved and I thought they were quite tasty. The sherry cream sauce really makes the flavor and with the grilled focaccia, just yum!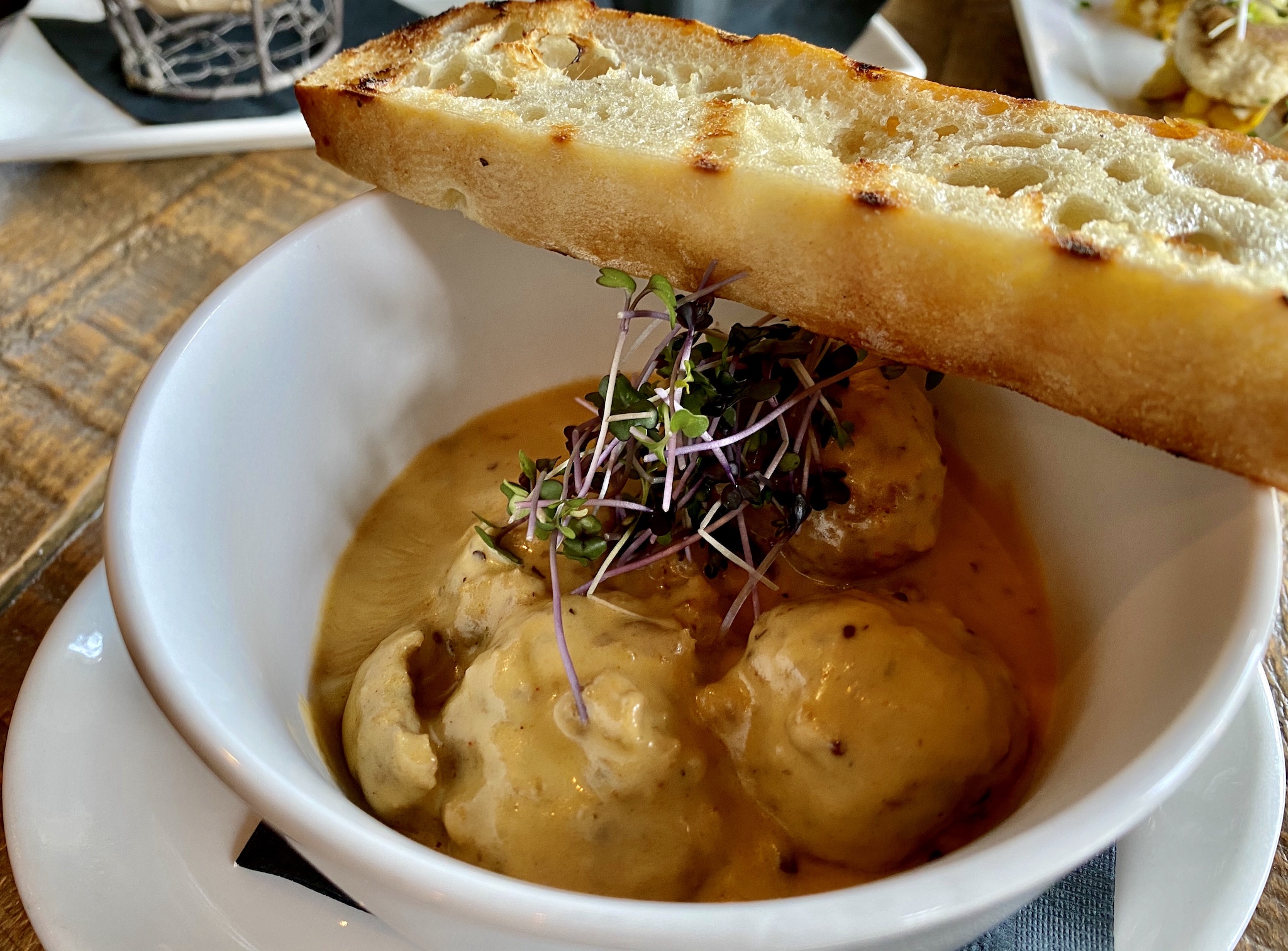 I was excited to try the Lump Crab Cakes with grilled pineapple, daikon, kimchi and avocado crema. As of the past few years, I have grown to love crab cakes and typically try them almost everywhere. These are so different with that combination of flavors. I found the flavors fantastic, but for me they were just a bit mushy. I like that lump crab to be a bit more firm. That's just personal preference. I would highly recommend trying these for the delicious flavor accompaniments that come with them.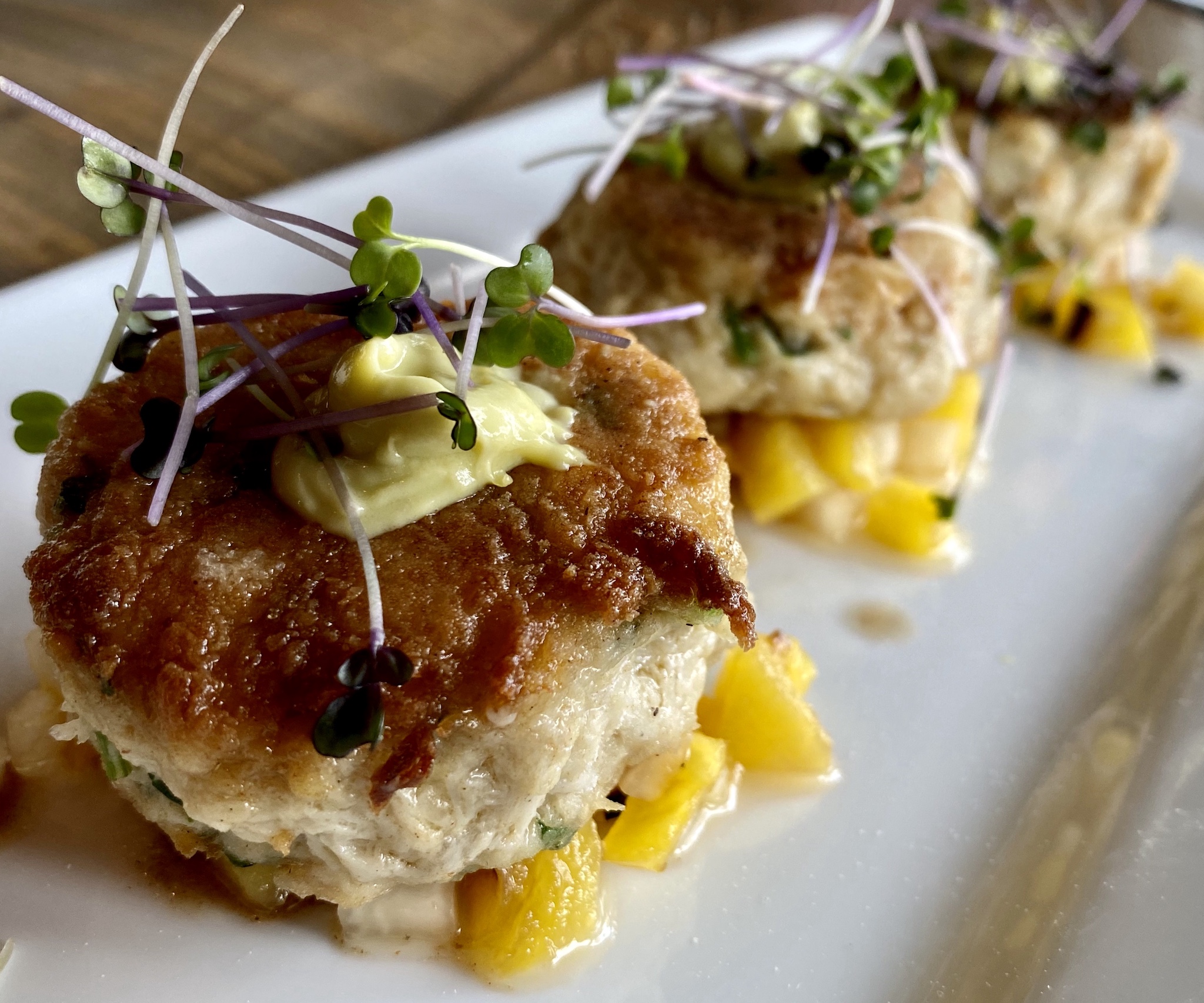 Our second menu order was this time a to-go order, so please note that the plating would be much better at the restaurant. I ordered the Pork Tomahawk with chipotle refried lentils, street corn succotash and Fresno yellow grape tomato chimichurri. I chose this dish because of the sides. I am such a sucker for corn anything. And it did not disappoint. The pork was cooked perfectly. I am excited to try this again in house.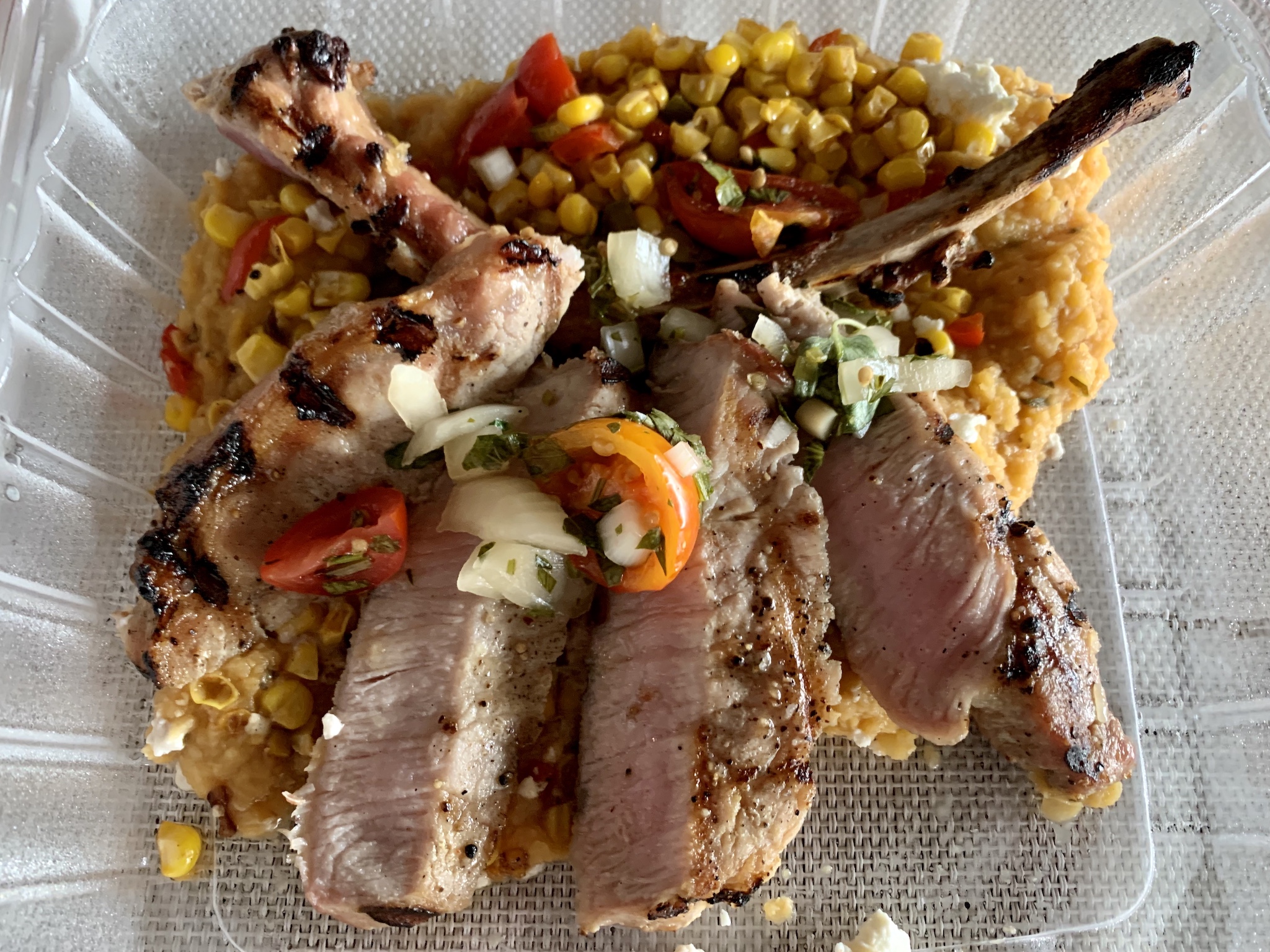 Kevin ordered the Lobster Pot Pie – bouillabaisse, grouper, scallop, lobster, fingerlings and mirepoix in a puff pastry – and here is the resulting home photo. Not so enticing. Skip down below for the gorgeous photo of how it is actually served.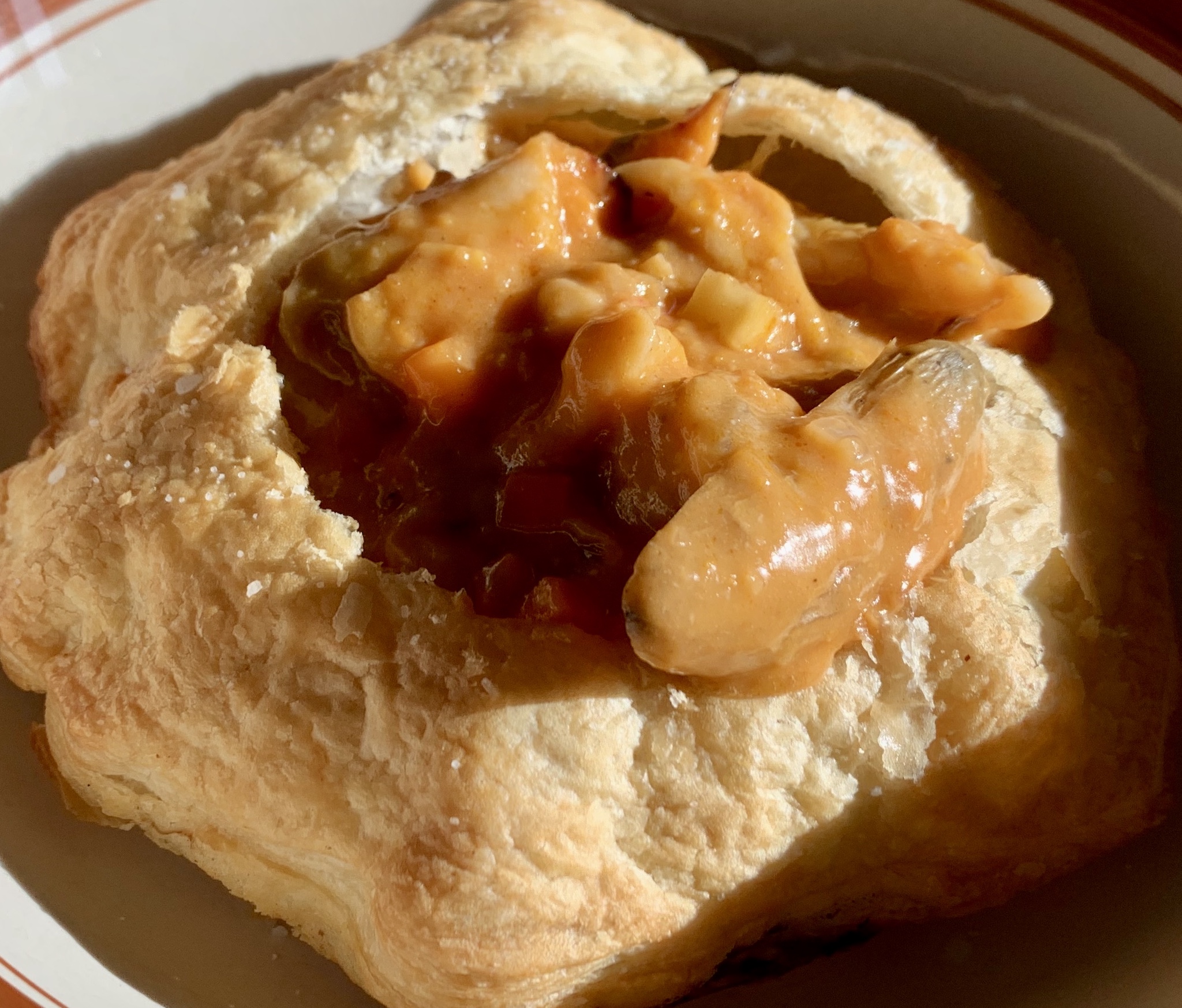 Kevin said the flavors were fantastic, the bouillabaisse flavor was spot on, he just felt it didn't have as much lobster as he expected and a better name for it would be a Seafood Pot Pie. Not that it would deter him from ordering it again. The pastry was completely mouthwatering. I believe Chef said that this dish too, is an homage to one of his past restaurant favorites.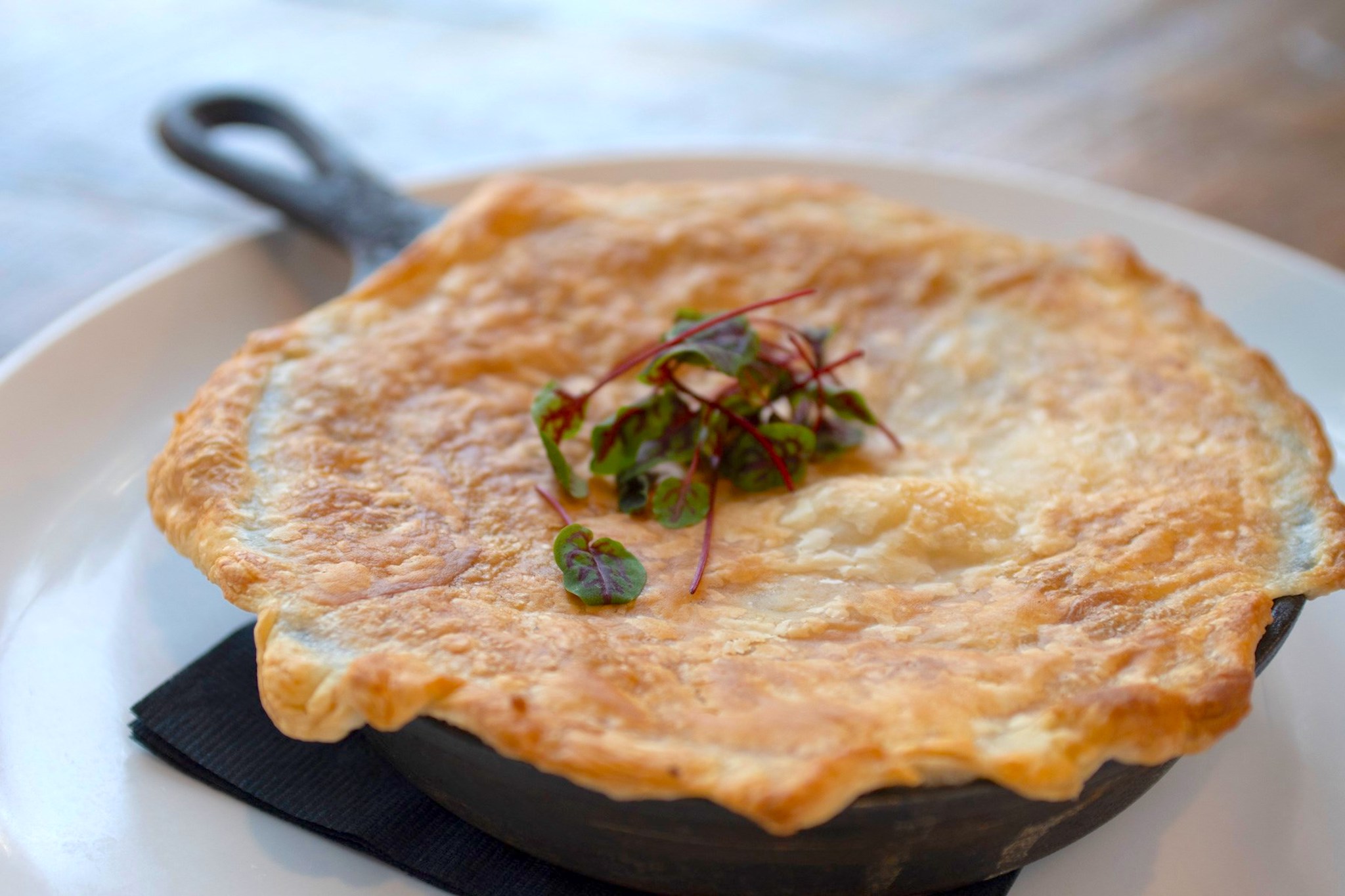 Now onto our last visit, last Thursday. We, of course, had to try some more new cocktails. Kevin started with the Carrot & Schtick made with fresh carrot & tarragon balanced with Wodka Vodka, Aperol & a spritz of Chartreuse. One might think, carrot? I certainly did but it was a great combination. Kevin loves Aperol and Chartruese so it was perfect for him.
I ordered the Day Shift – Four Roses Bourbon, peaches & fresh lemon. Our server recommended my drink, asking if I like bourbon. Four Roses is my favorite and this drink was very refreshing and not heavy as one might expect from a bourbon cocktail.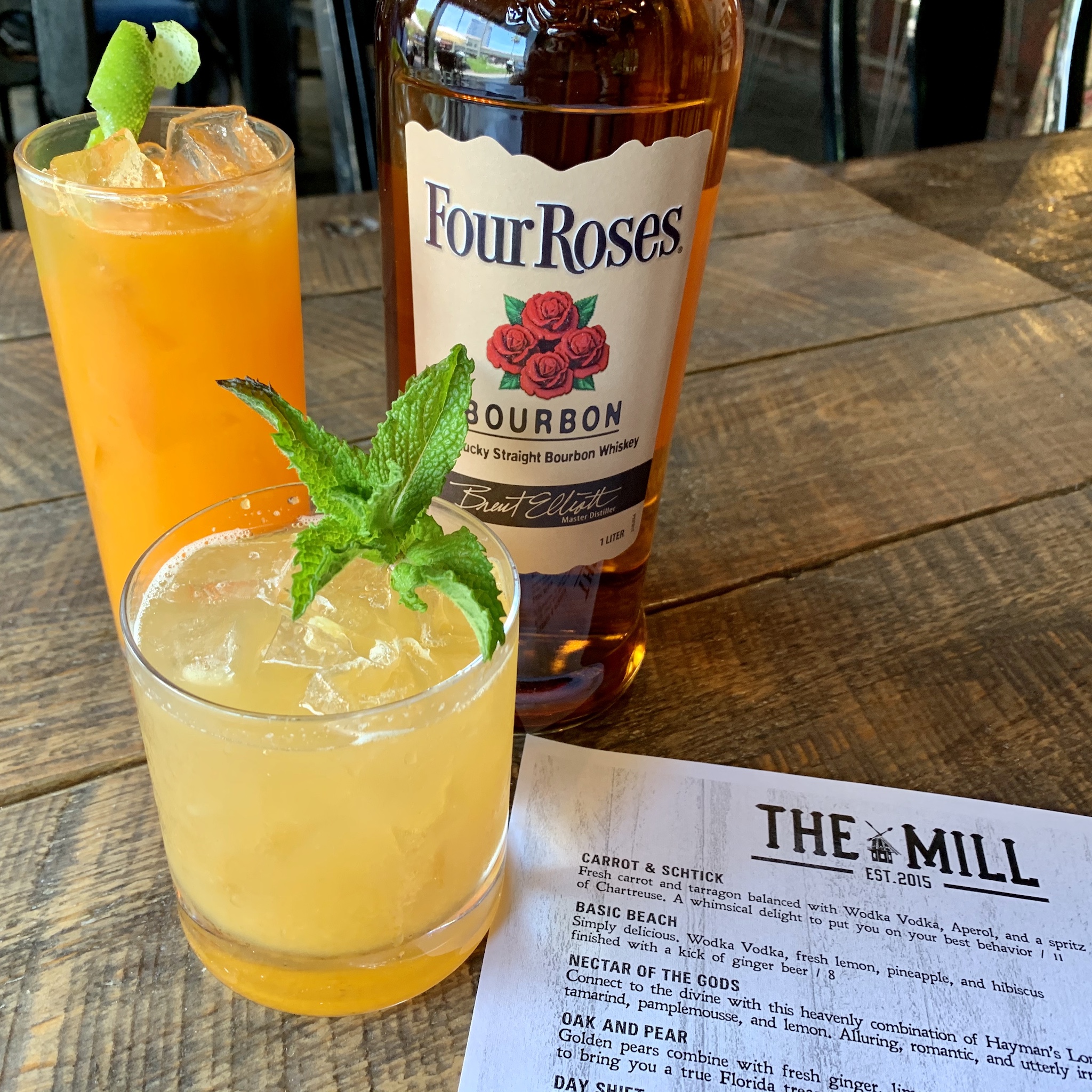 Now for the feast of food we ordered up. We started with the Stuffed Peppadews with citrus herbed goat cheese. Recently learning about peppadews and learning that we love them, we couldn't not order these. Light, refreshing, tangy and cheesy. I would order these again and again. My only regret is that we didn't eat more. We were ordering a ton of food, so we were trying to save room. We did box them up but when we got around to eating them again a few days later, they weren't the same…sadly.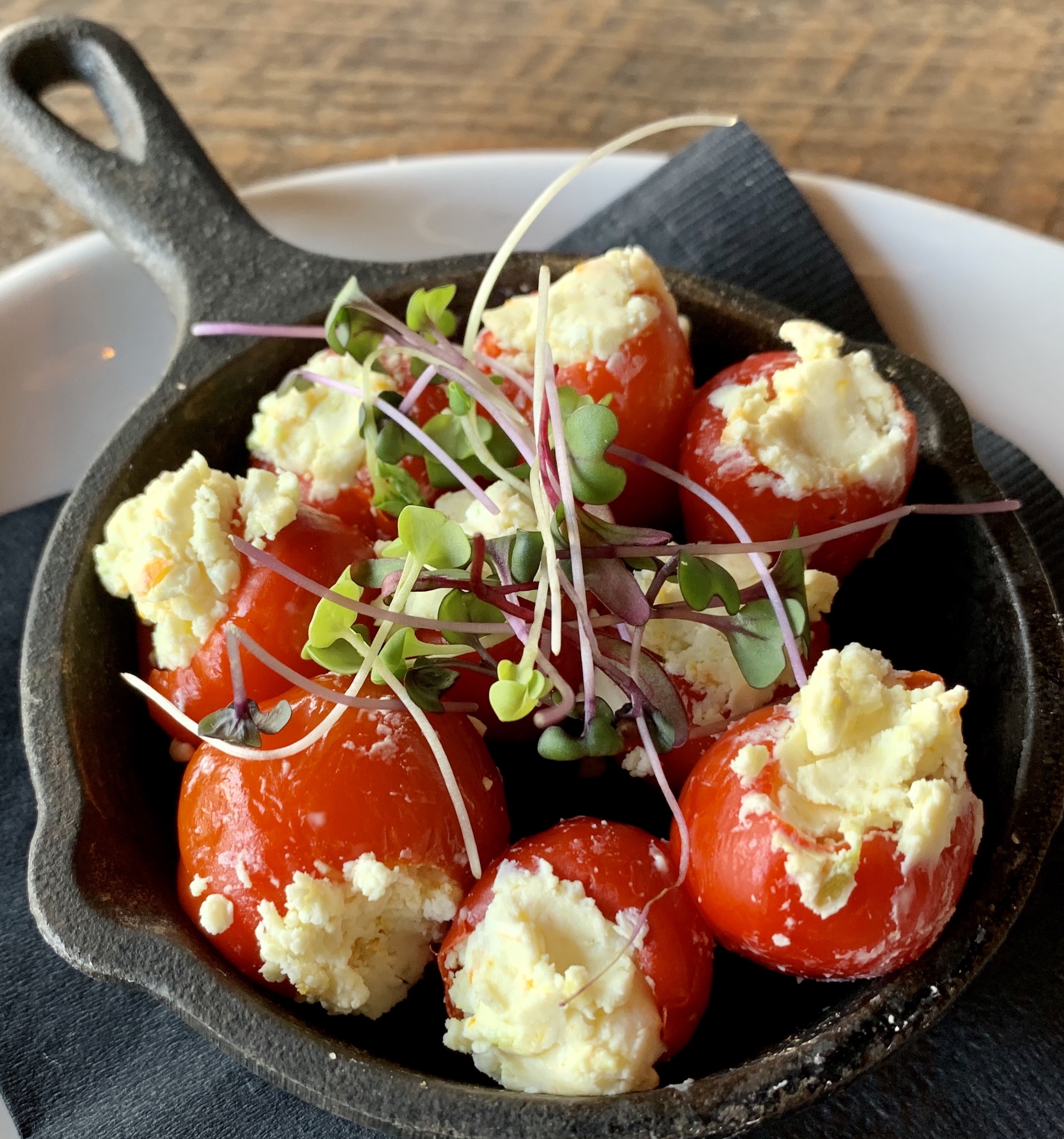 This next dish is definitely one of our favorites. The Parmesan Panko Crusted Long Stem Artichoke Hearts with sunflower aioli are absolutely out of this world. Crispy and delightful. The parmesan panko really makes the artichokes shine and I almost licked the sunflower aioli off the plate.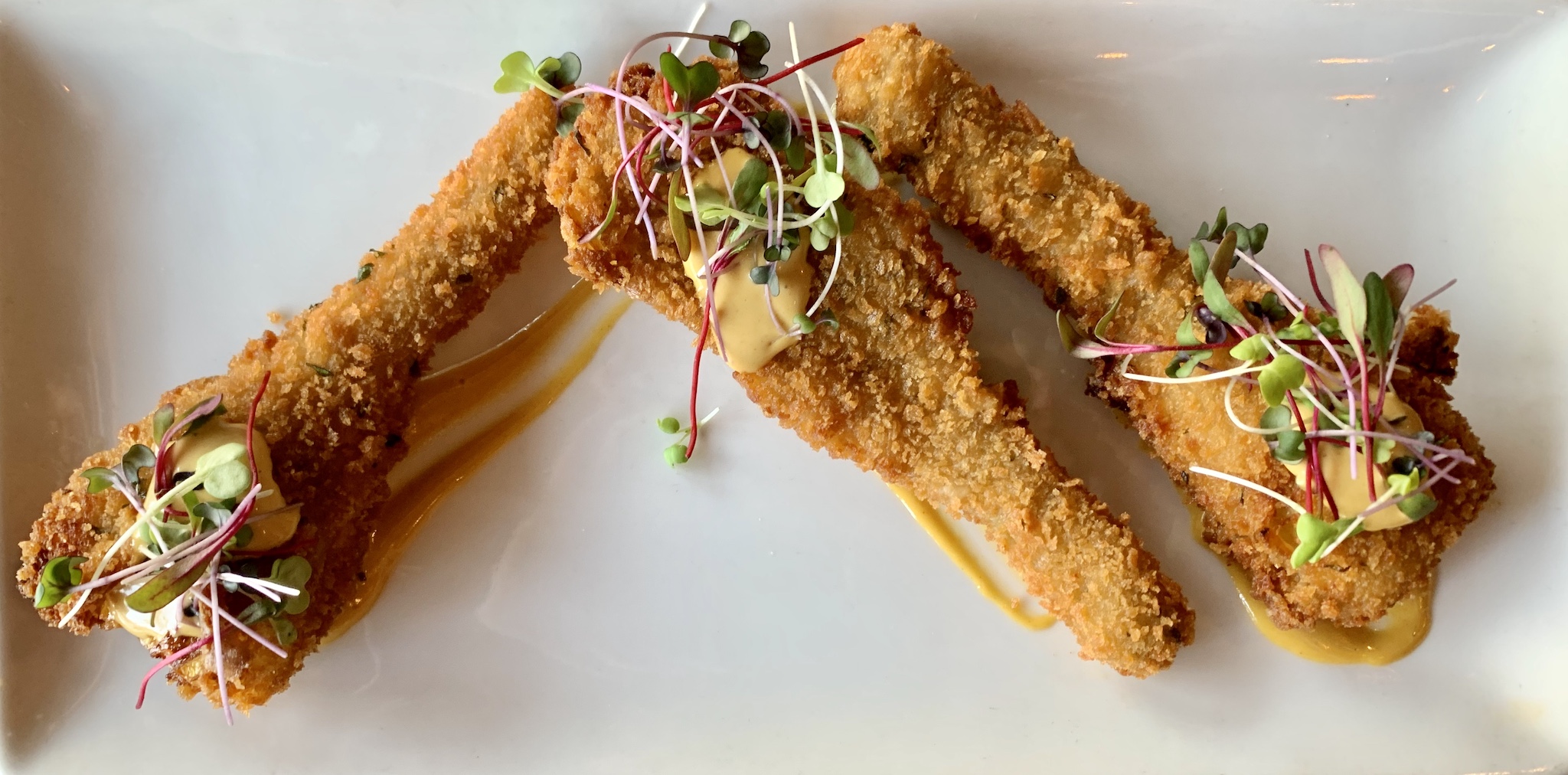 Another favorite and recommendation by Chef Ted was the Yellowfin Tuna Pokè with ponzu, gyoza, spicy aioli and wakame (seaweed salad). Pokè is all the rage these days, but I found the combination in this particular one to be tangy, rich, spicy and light all at the same time and the tuna super fresh.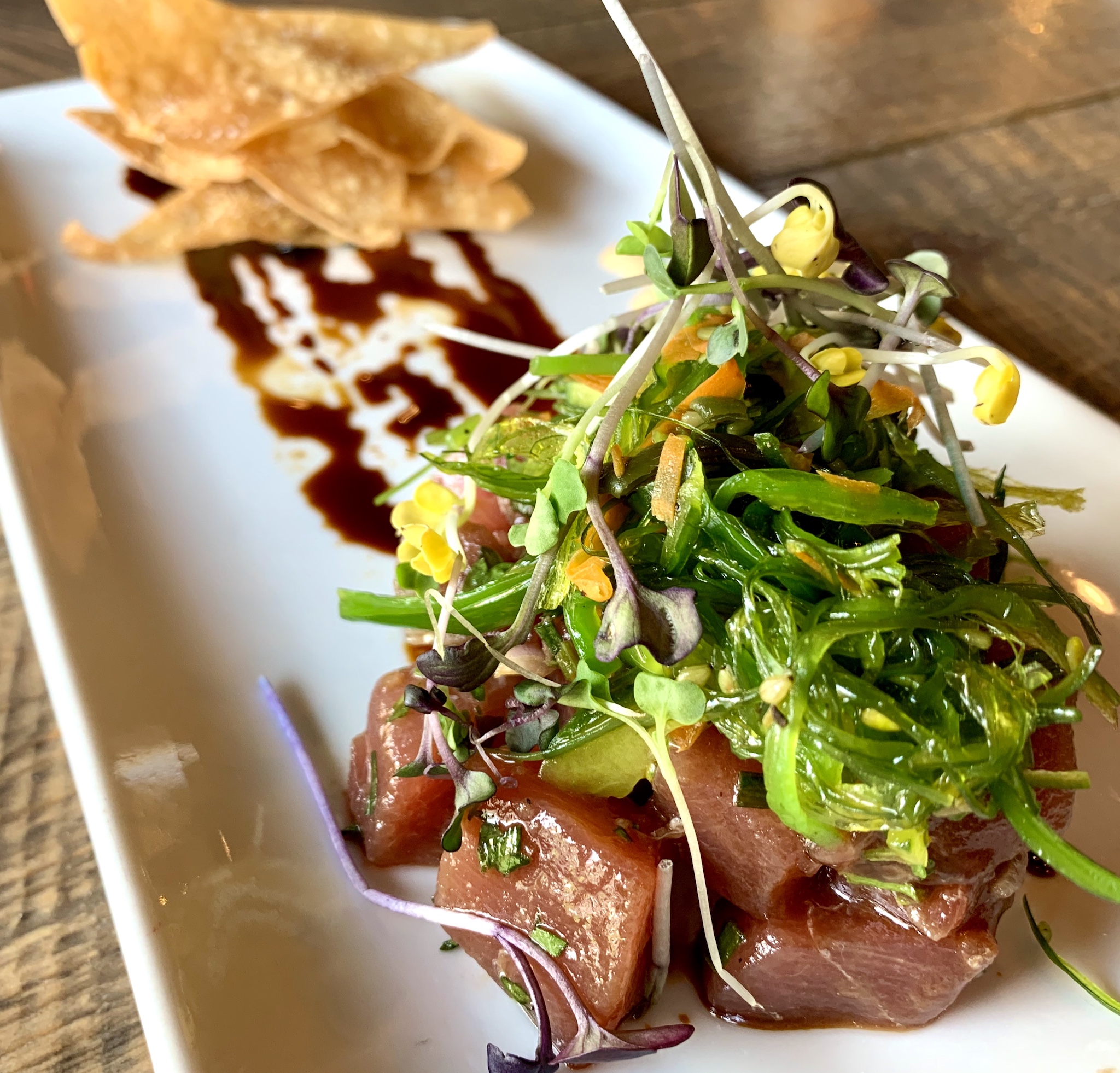 We felt we needed to add a salad to the mix so we chose the Heirloom Watercress Salad with red beet jam, sugar snap peas, watermelon, oven dried cherry tomatoes, watermelon radish, roasted cashews, honey goat cheese and watermelon vinaigrette. Being the watermelon lover that I am, this one was a no brainer when reading the description. When it arrived, it looked nothing like we expected. All of these ingredients marry perfectly together with crunchy, sweet (but not too sweet) and tangy harmony. There was nothing left on this plate.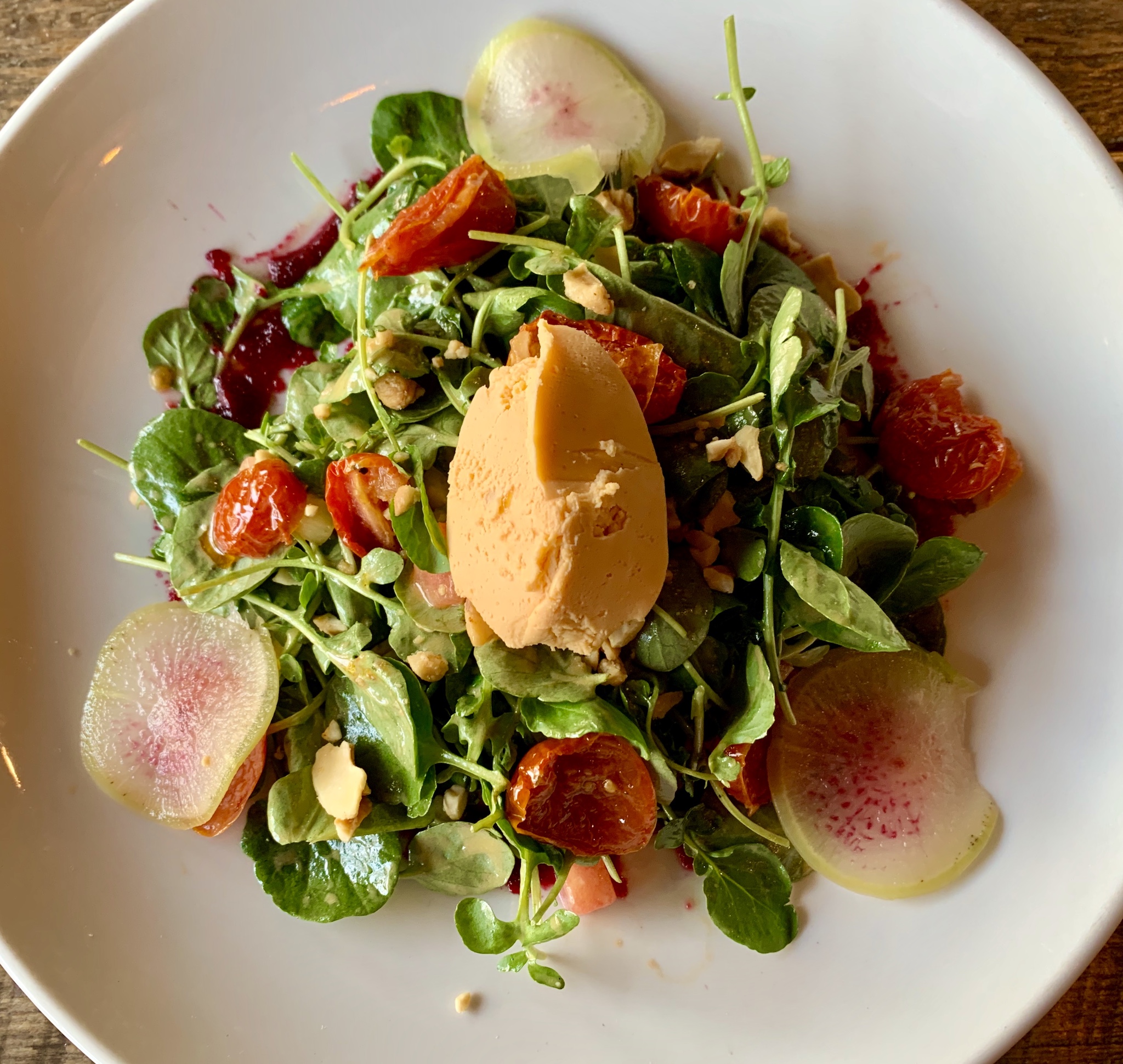 Time for another cocktail. Chef Ted popped up at our table when we were deciding and said "hold up" and asked them to make me the off the menu 5 Year Anniversary Signature cocktail. It is made with vodka, watermelon simple syrup, fresh juice from lime, grapefruit and watermelon, Aperol, Cynar (an Italian bitter liqueur of the amaro variety) and basil. Wow! What a combination! I am not a big fan of the bitter liqueurs, but with all of the other ingredients, I really liked it.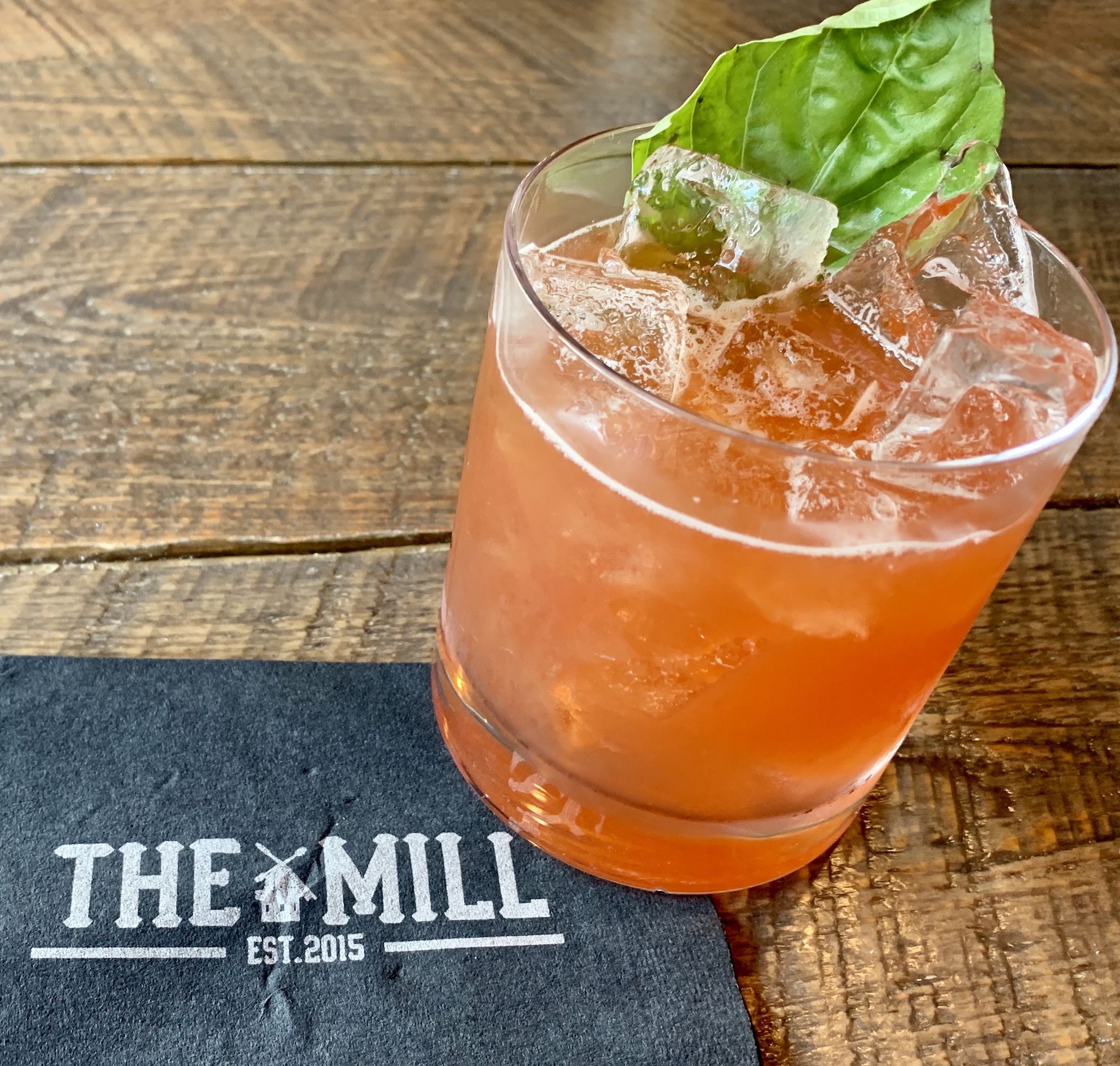 Kevin ordered from the menu the new Oak and Pear cocktail with golden pears, fresh ginger, lime and St Pete local spiced rum. Kevin really liked it. He thought it was smooth, delicious, and not too sweet. I found it refreshing as well.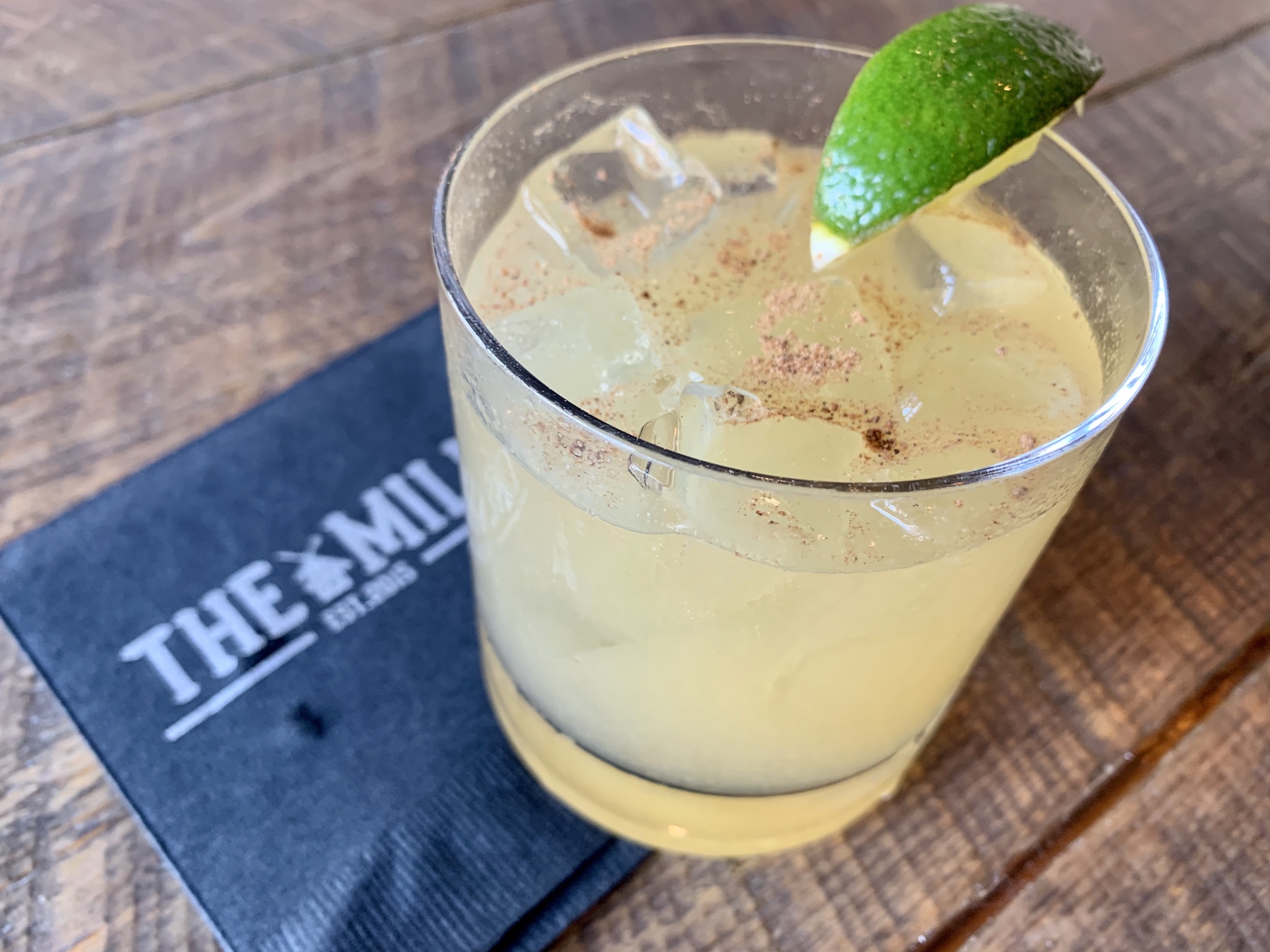 Now for the star of the show! This dish is like something you have never seen before and you absolutely must try. When we ordered the Seafood Nachos with yellowfin tuna, crispy calamari, lobster, crab queso, peppadews, tomatillo lychee salsa, avocado crema & potato crisps, this is not at all what we expected. I did not grasp from the description that the potato crisps are what serve as the "nacho chips". This dish is a party in a cast iron skillet that you just don't want to leave. We devoured it all! Definitely our favorite dish of the day.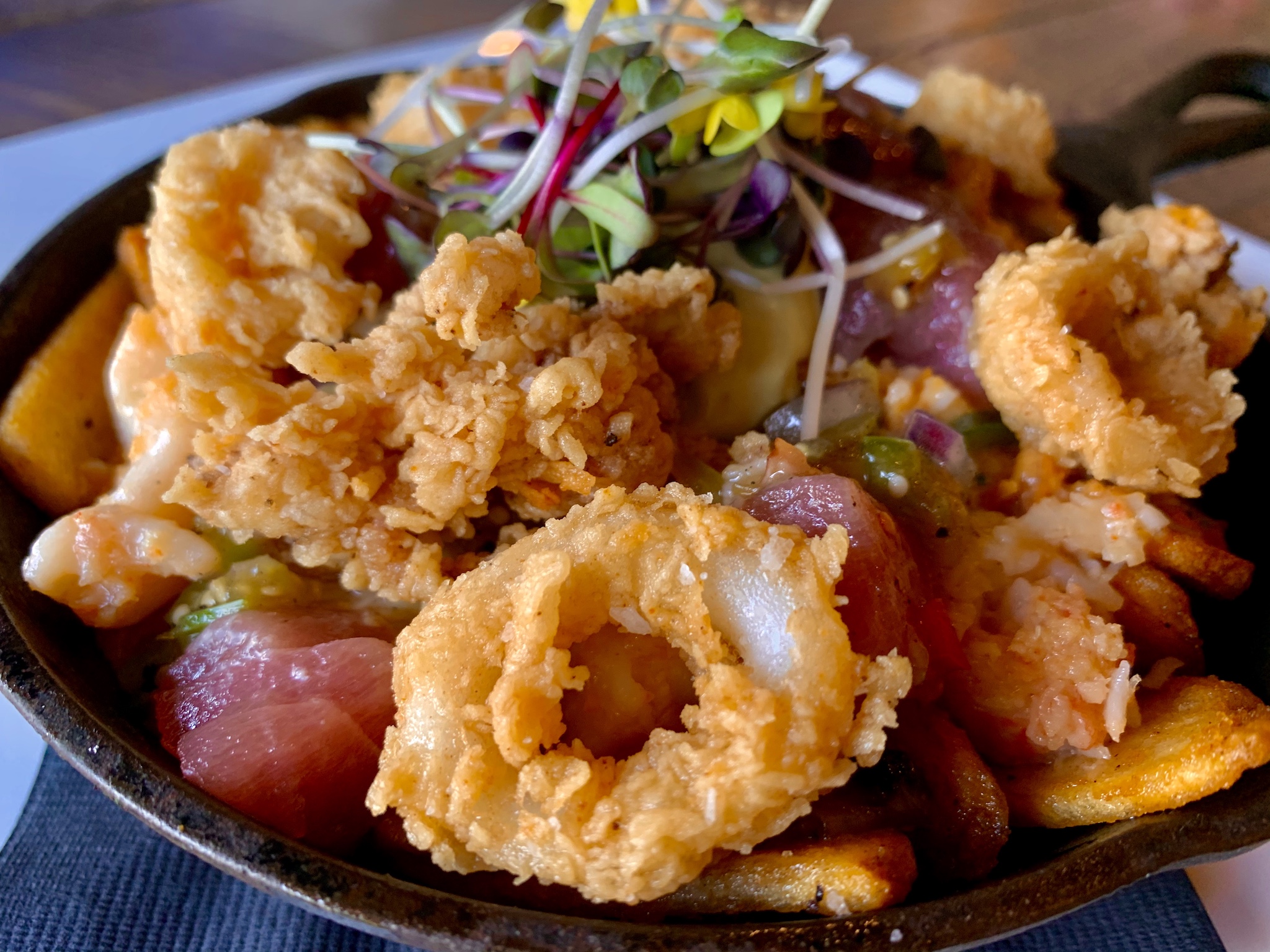 I just wrote that the Seafood Nachos were definitely our favorite, and then I got to this next dish. The "Pigs Can Fly" Pork Wings with Alabama white BBQ are a very close second. We actually did not order this, Chef just wanted us to try them and boy am I grateful.
We ate one while we were there, moaning as we did, and took the other three home. I air fried them a few days later as a snack and they were just as good!! So much easier and much less messy to eat than actual chicken wings.
For those wondering what Alabama white BBQ sauce is, it is a barbecue sauce made primarily of mayonnaise, vinegar, mustard, brown sugar and horseradish with a smattering of other flavor building ingredients. Chef does his own twist on this from a recipe by his mother.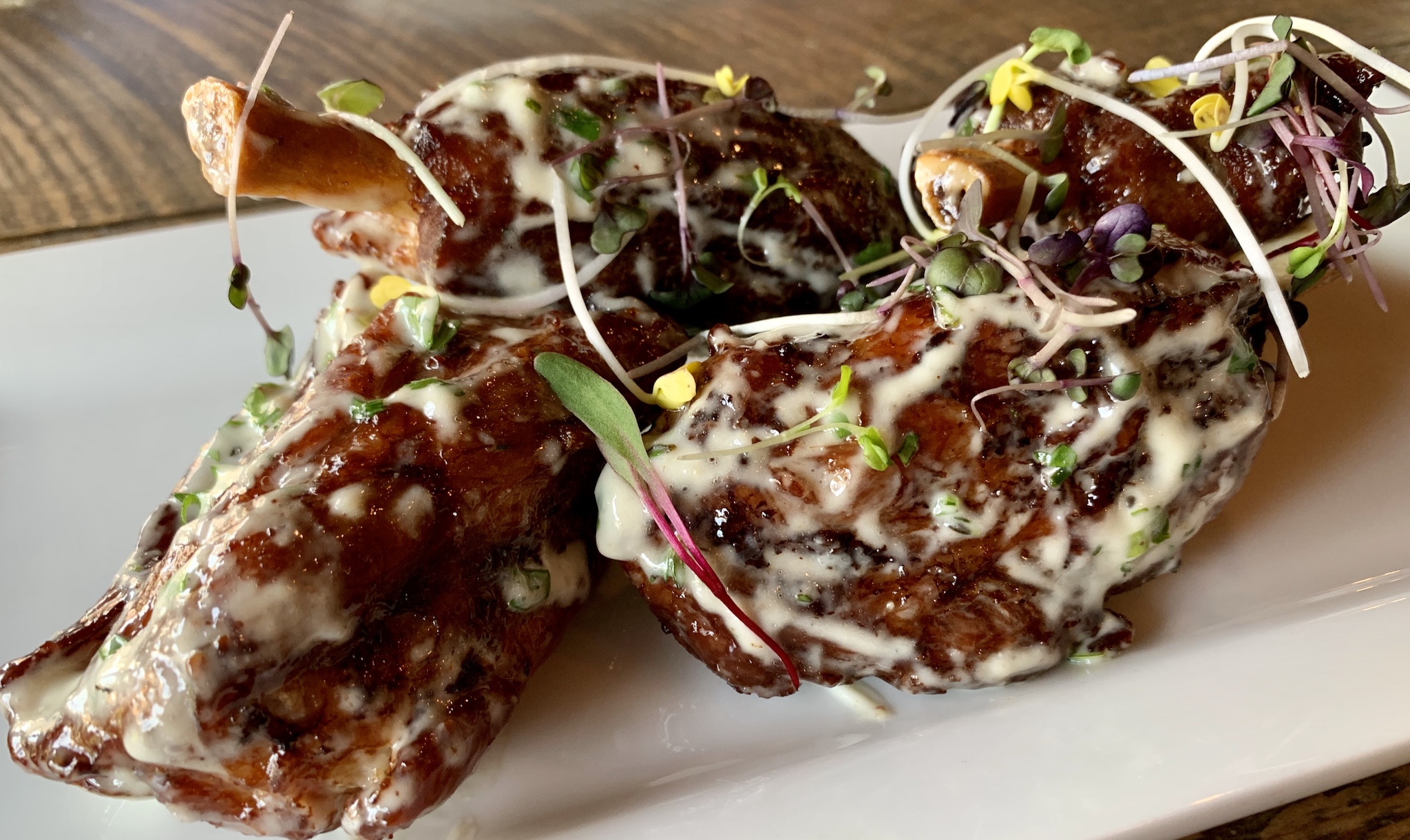 Instead of full fledged large burgers and sandwiches, this new menu offers a great selection of sliders including: Not Your Momma's Grillled Cheese, Pickled Peach BBQ Grilled Chicken Club, The Mill Burgers, BLT, and the Kimmelweck Beef. They kept many of the favorites and just converted them to sliders.
Who doesn't want to try BLT Sliders made with Cuban bread, gem lettuce, candied bacon, tomato, egg, avocado and basil garlic aioli? I know I couldn't resist. I am not sure how 'mini' they are, but sure was delicious, messy with the egg, but worth it. It will satisfy any bacon craving, that's for sure.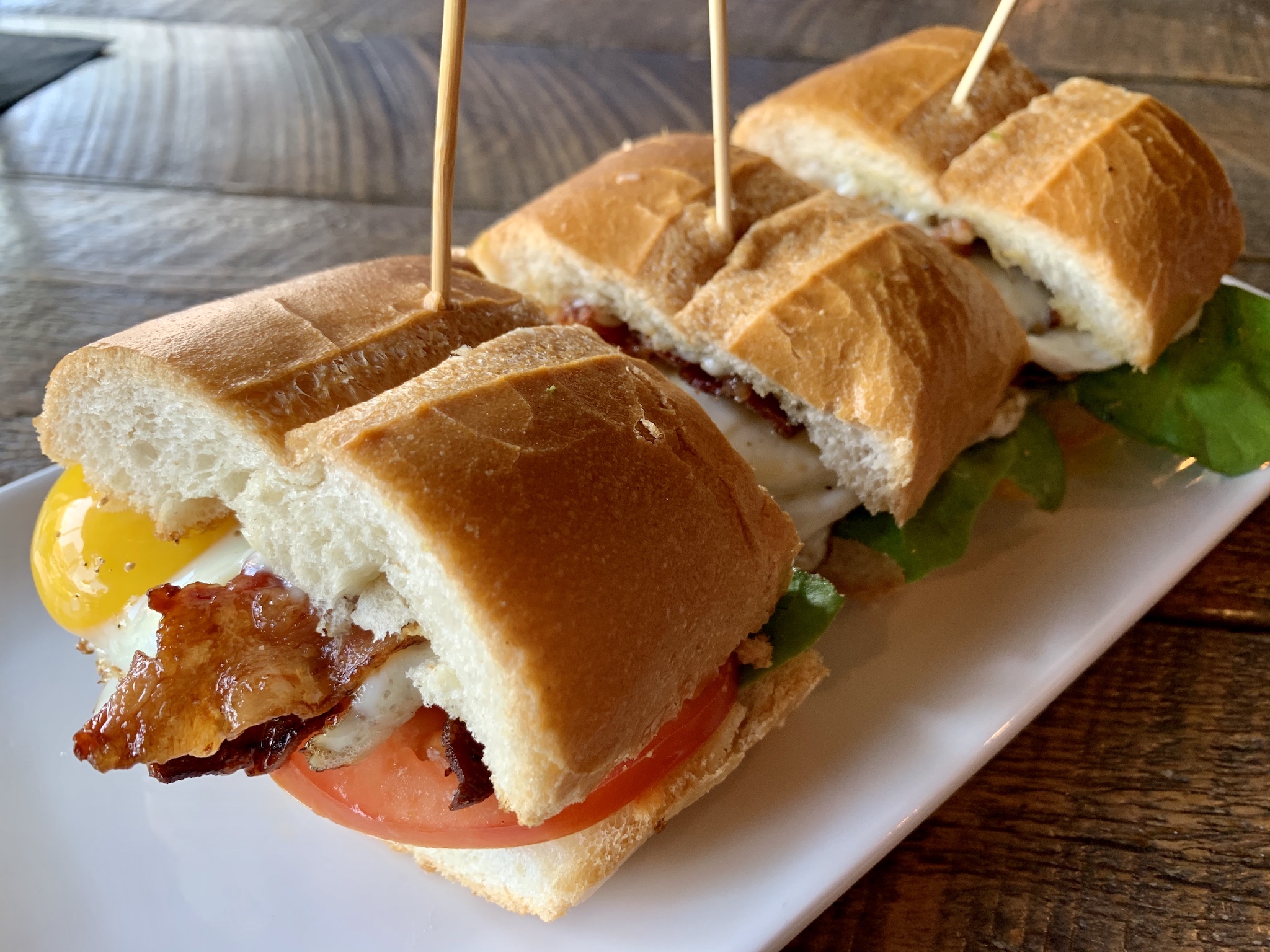 Kevin had been talking about ordering the Meatloaf Wellington with loaded potato casserole, braised collard greens and honey hot sauce gravy, since he first saw the new menu. Another homage to a recipe chef had on another restaurant menu in the past, you just don't see many Wellington's anymore.
The Meatloaf Wellington tops a scrumptious panko crusted potato wedge and some of the best braised collards I have had. This dish is very rich and a bit heavier than some of the others. Perfect for hungry and the hearty eaters.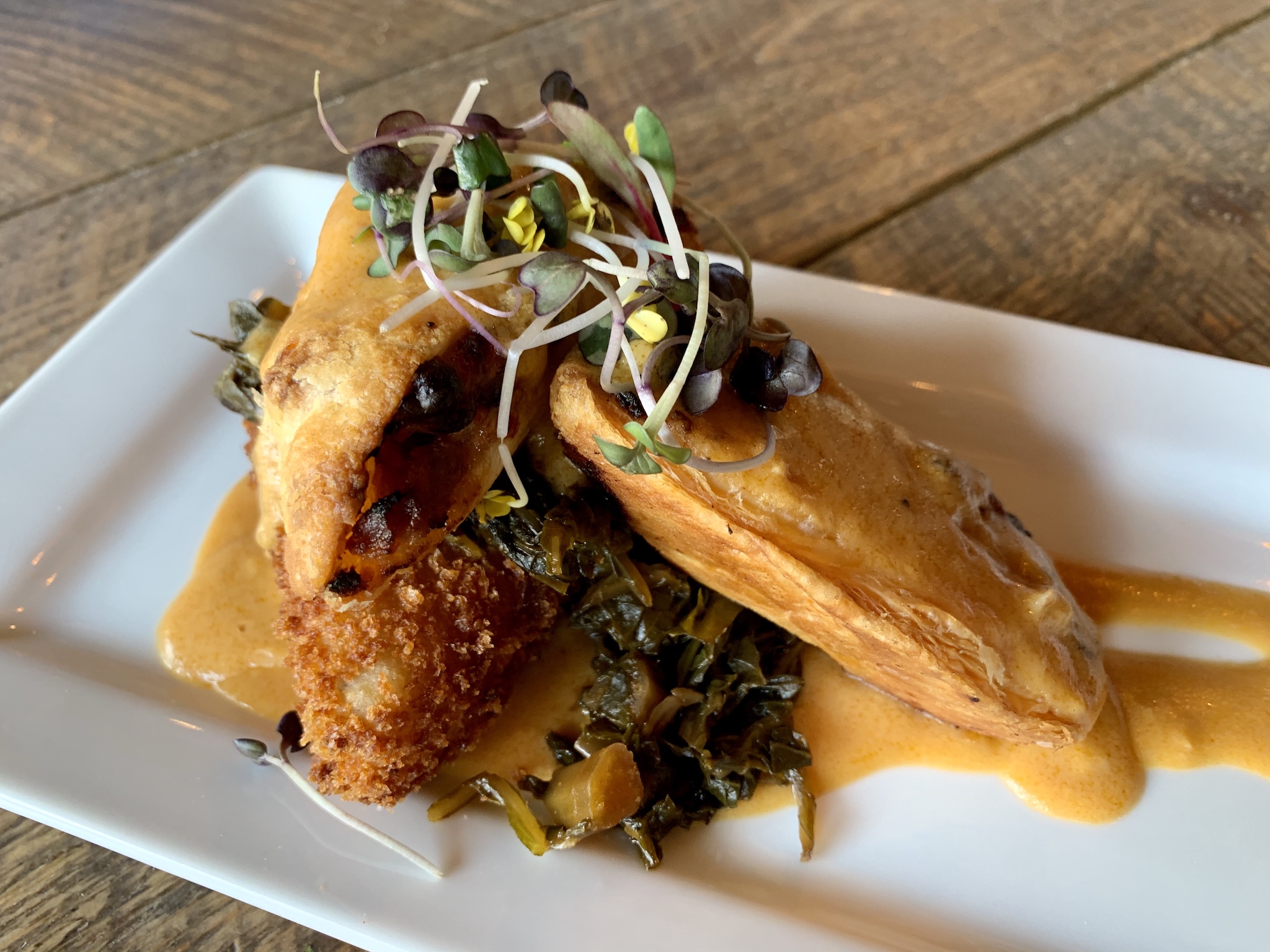 All in all, we are thrilled with the new menu. There's lots of options to share different smaller plates, and the ability to try lots of different Mill dishes. I didn't even come close to covering all of the offerings. Check out the menus below.
**Disclaimer, we ordered, ate and paid for every single dish and drink pictured here, except for the Anniversary drink and the "Pigs Can Fly" Pork Wings. All pictures by St Petersburg Foodies unless otherwise noted.**
UPDATE: July 29, 2020 – Kevin went back for a "Best Burgers" write-up, so we add this.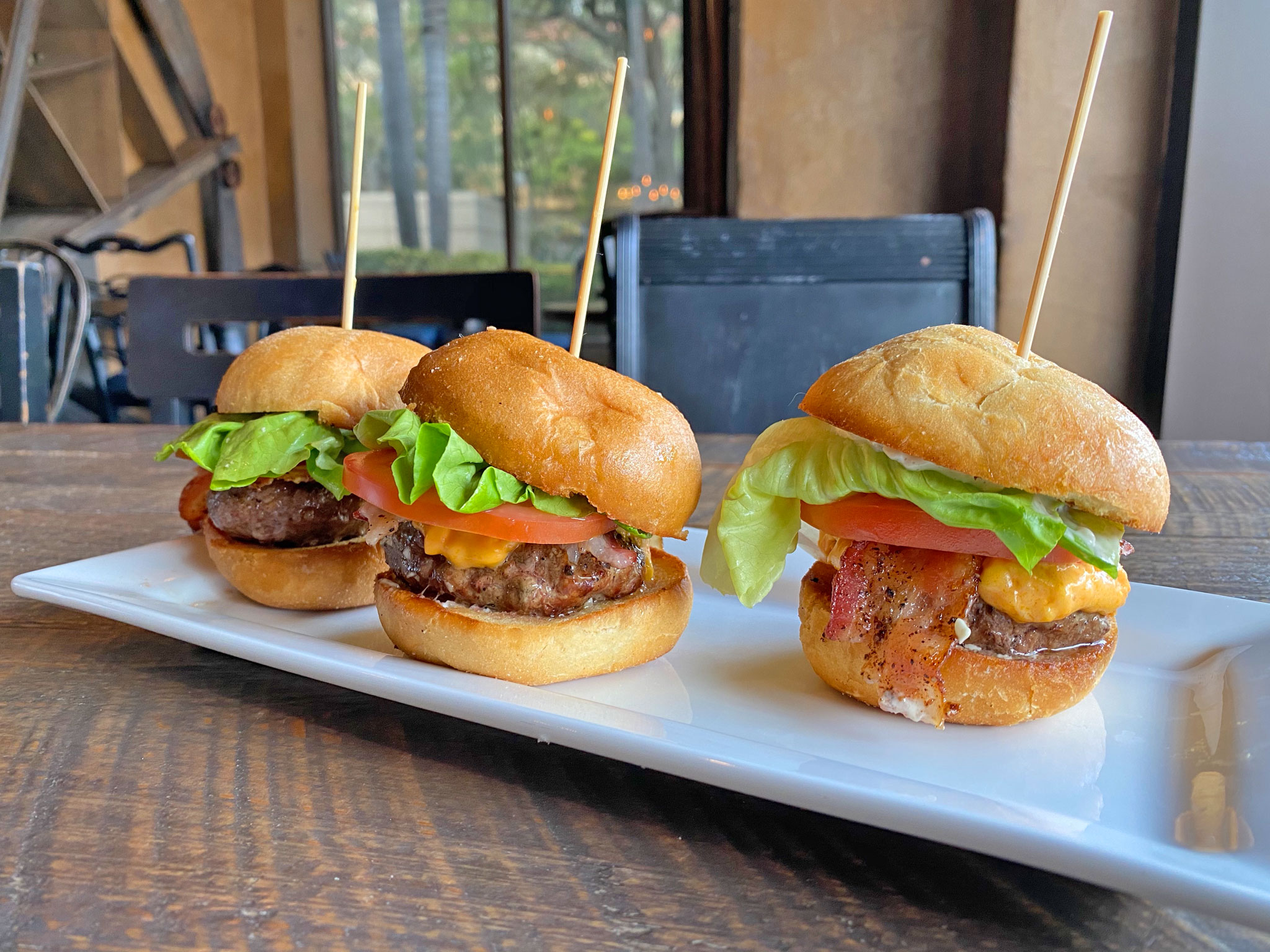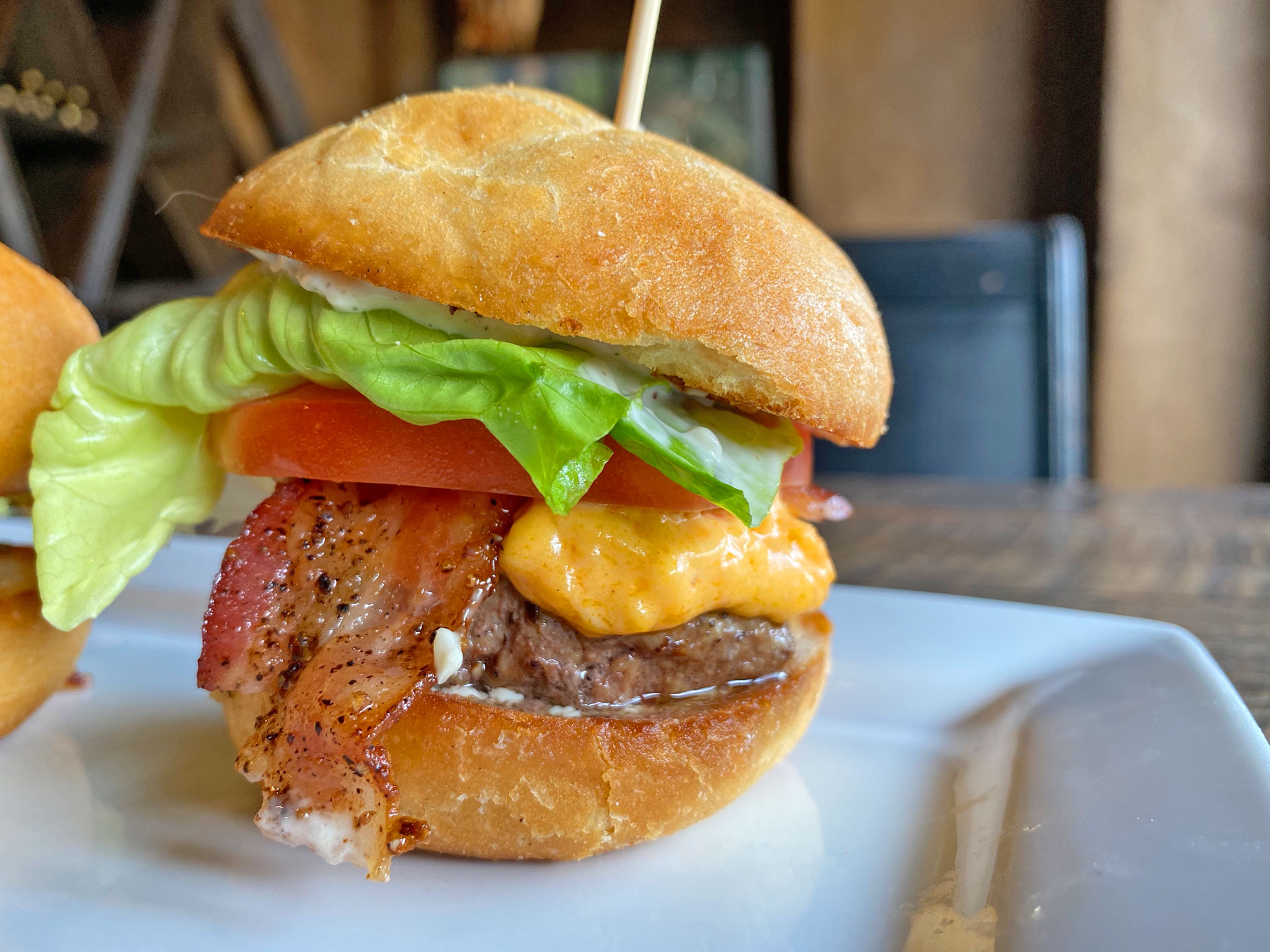 The Mill Burgers – Prime Beef, Pimento Cheese, Bacon, Bibb Lettuce, Tomato, Smoked Caramelized Onion Aioli.
The Mill is the only burger we know of that utilizes U.S. Prime, the highest in quality and intramuscular fat with a limited supply. [Currently, about 2.9% of carcasses grade as Prime. – Beef2Live.com (July 17, 2020)]
Prime beef is part of the magic of these burger sliders. Just look at the juices in the close-up shot. The Caramelized Onion Aioli is a nice touch as well. And of course, one of Chef Ted Dorsey's signature ingredients—Pimento Cheese makes for super delectable perfect bites.
During COVID times, The Mill revised their menu to make smaller, sharable plates. This used to be an 8 oz. burger, and now it is three sliders, but really the same delicious burger. Look for these in the Sliders section of the menu.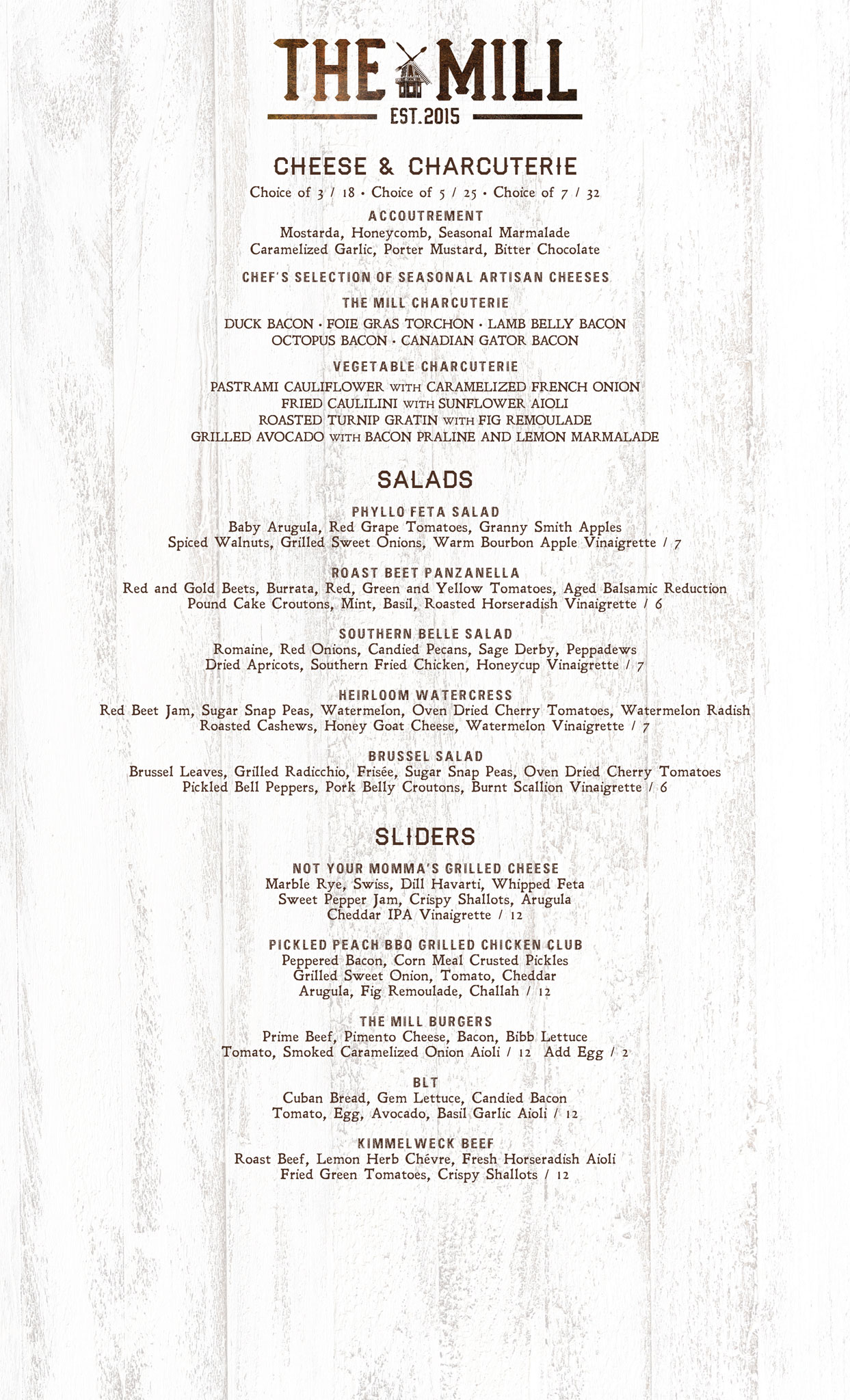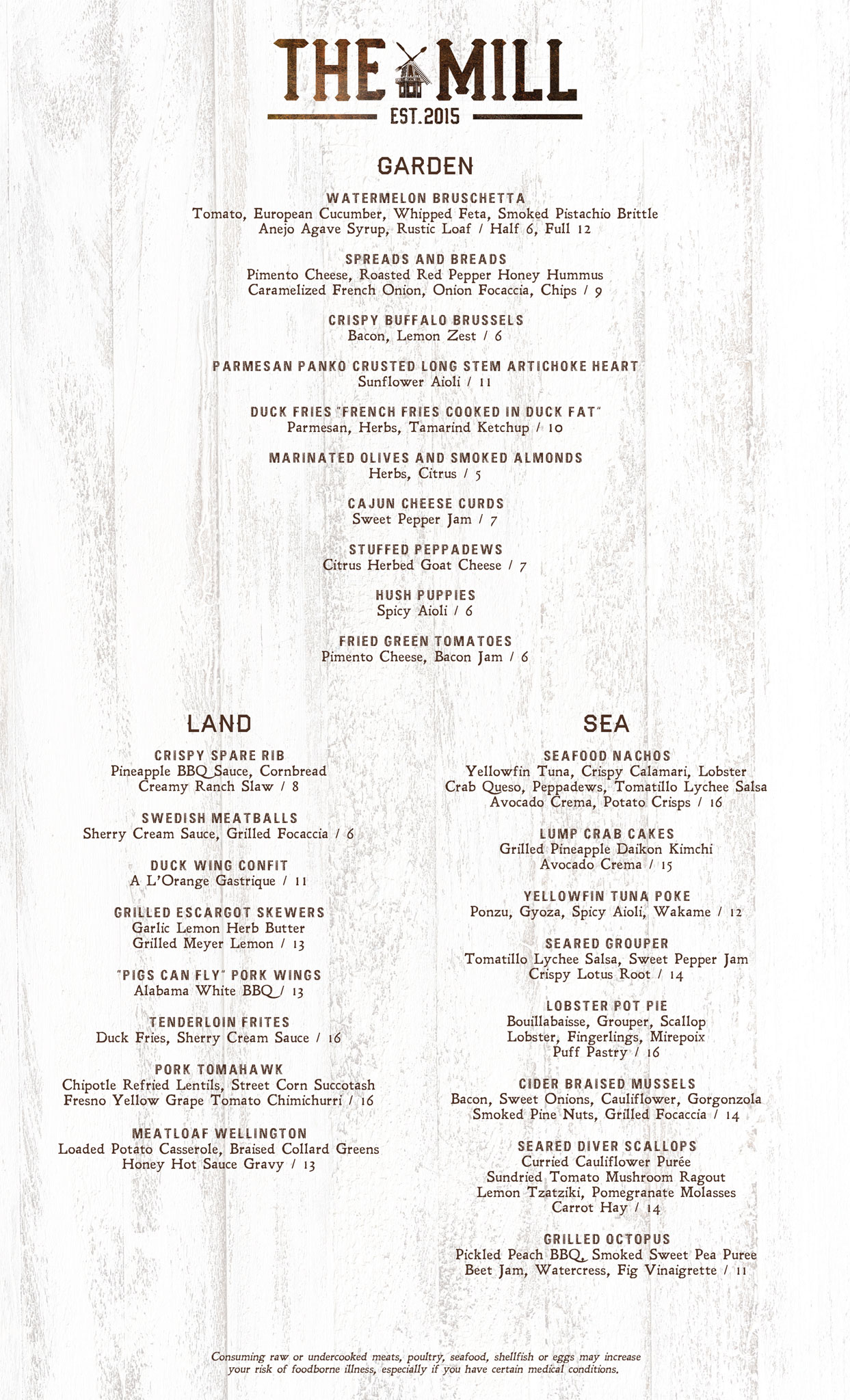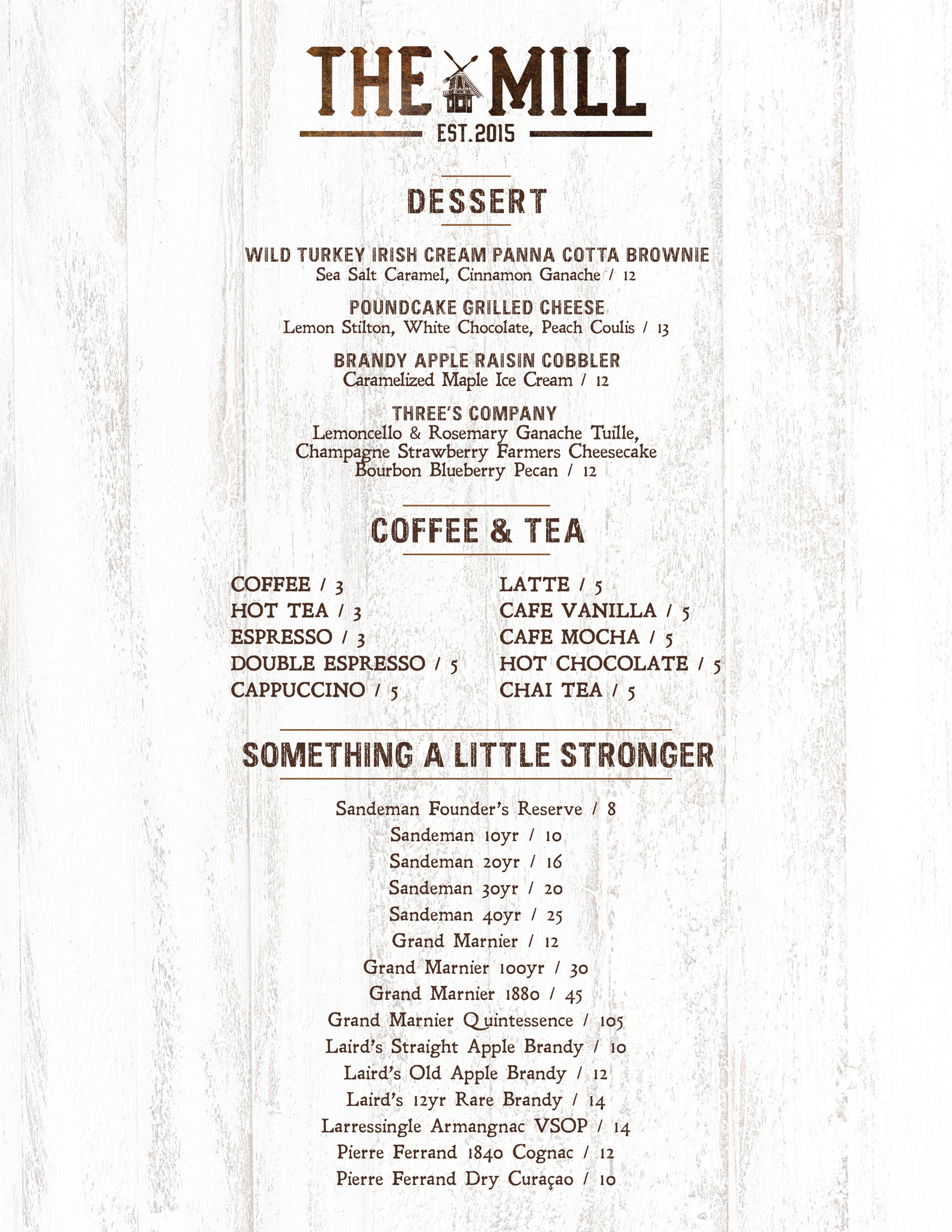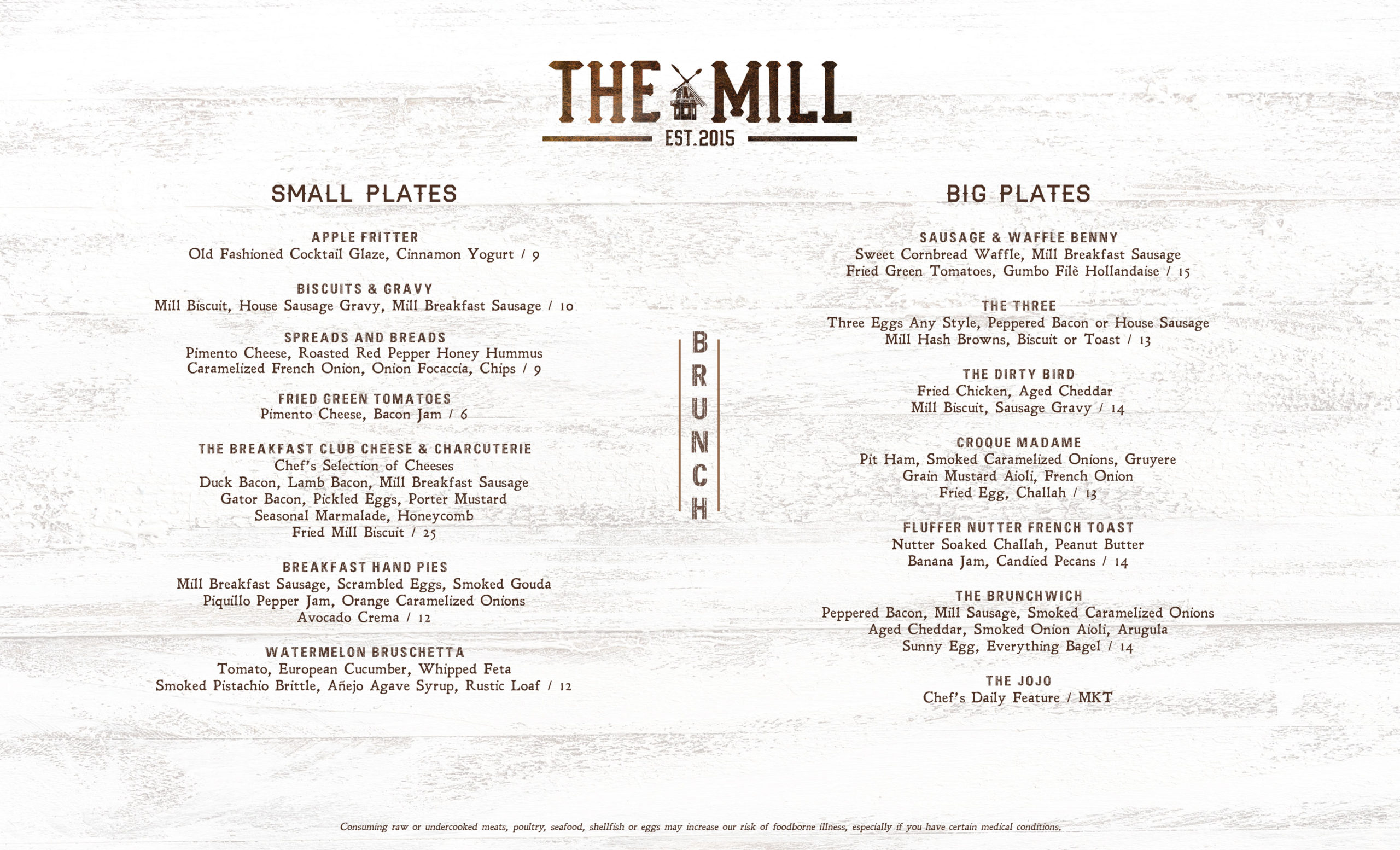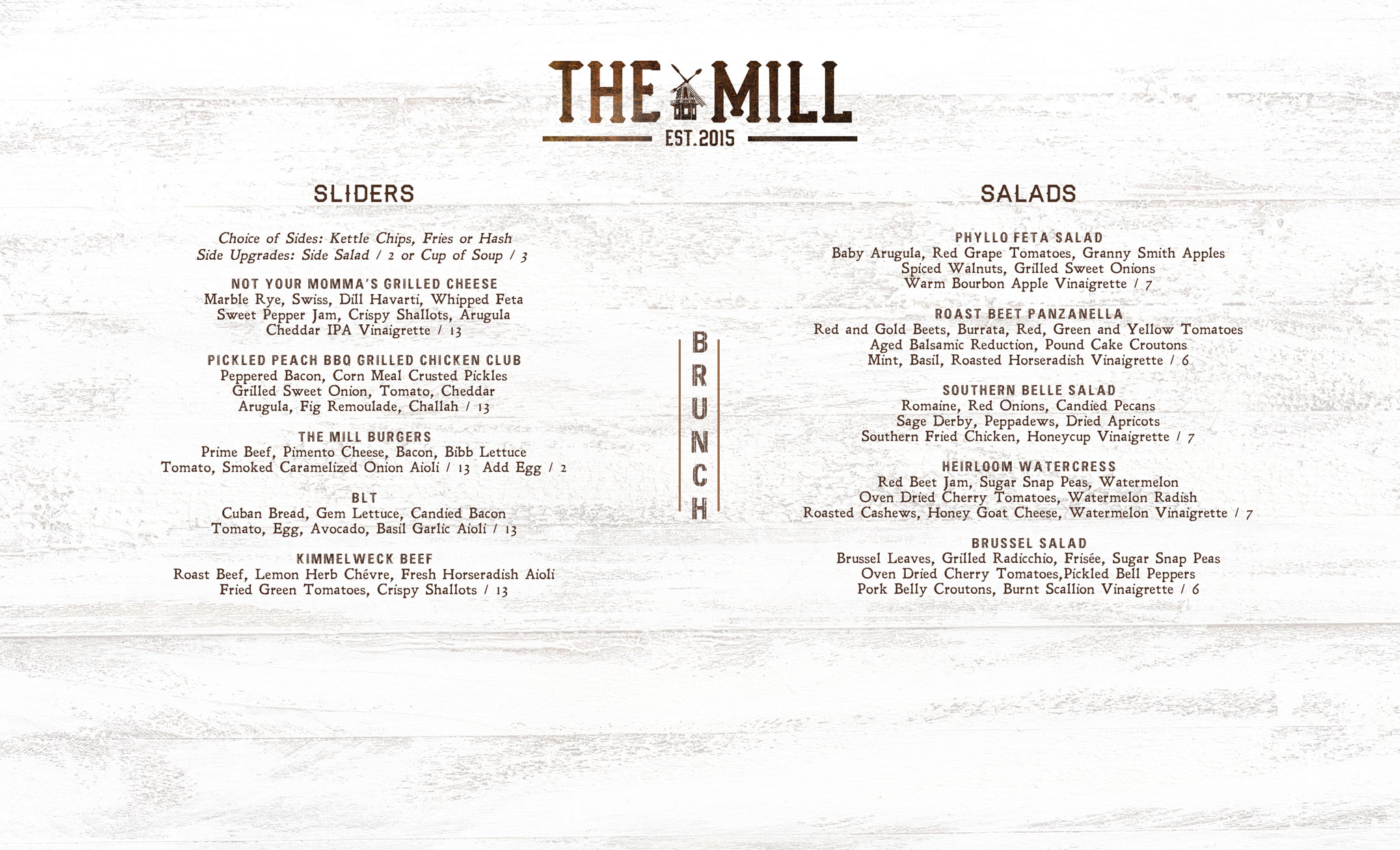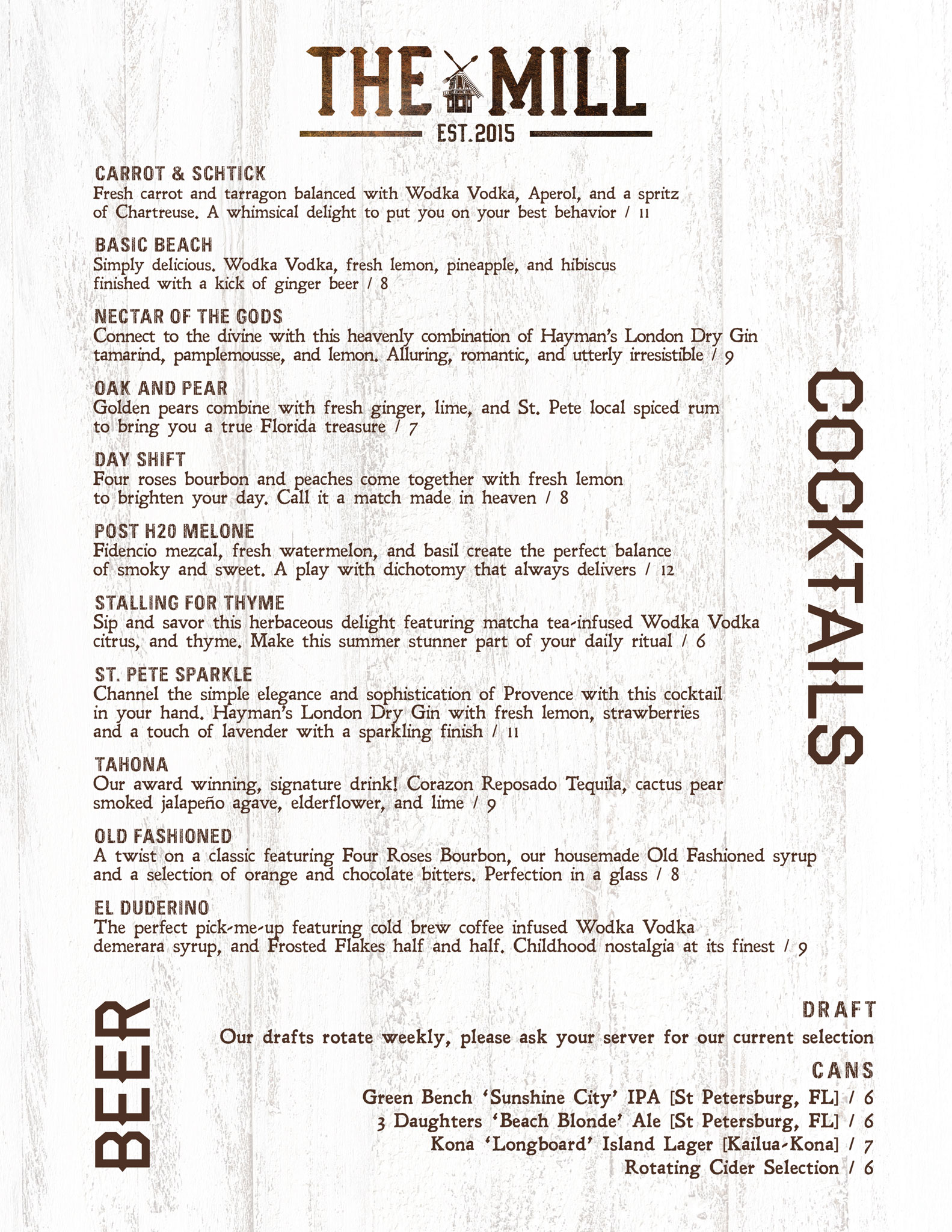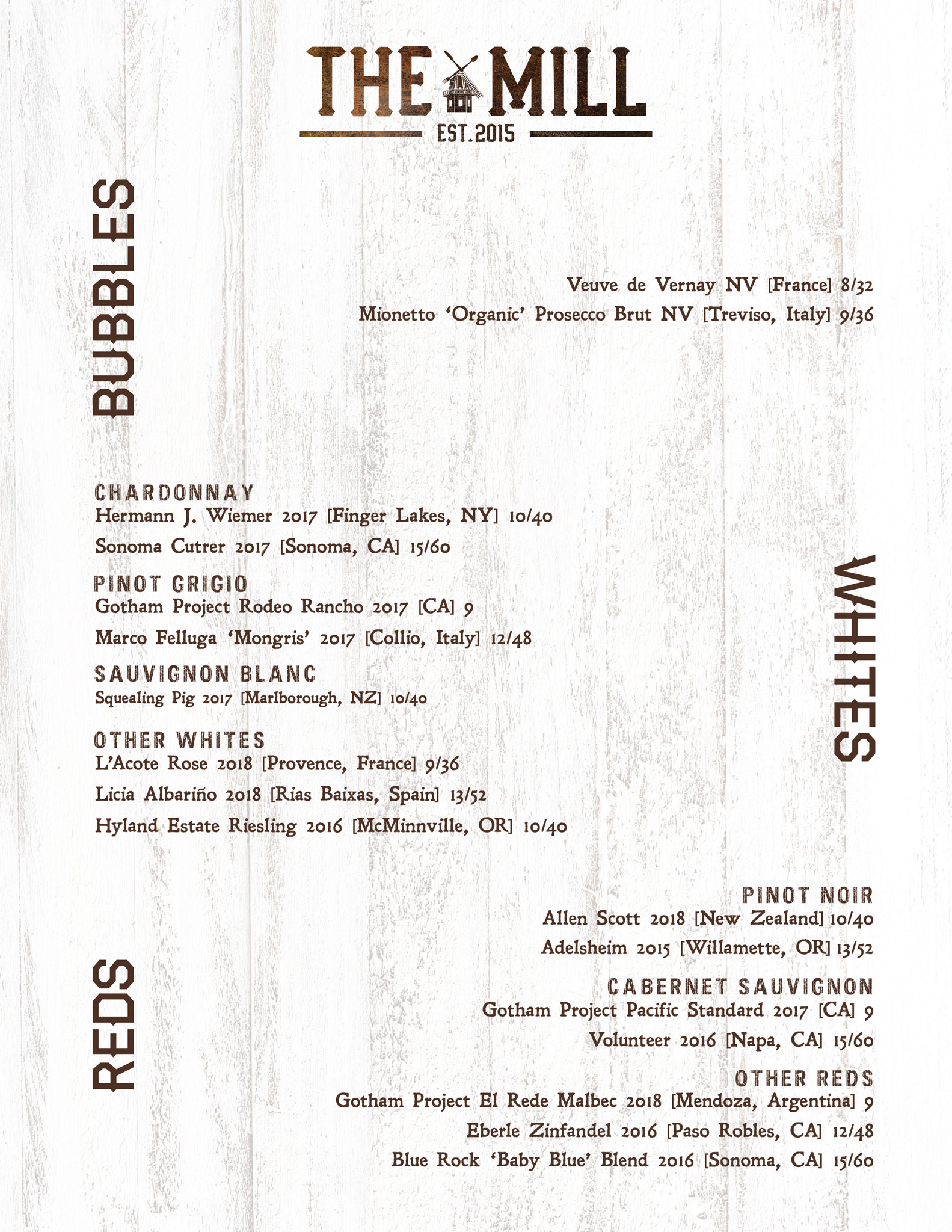 Contemporary American restaurant in an unbelievable rustic setting.
DISCLAIMER: Kevin, Lori, Abby, Haley, & Lindsey do not dine anonymously (this would be impossible) and we sometimes get free food (though never expected). However, we dine with the locals and we support our own. You will always get honesty in a respectful manner. We do not include any large national or regional chains in our ratings and reviews. We focus on independent locally owned eateries exclusively.

PLEASE NOTE: Reviews reflect a certain moment in time. Some restaurants stay extremely consistent over many years, and some change for the better or worse. Some things that may change are: chefs, recipes, food suppliers, ingredients, philosophies, ownership, etc. We always hope that you have the same good, or great experience we had.
More Foodies News, Reviews & Recipes