The Birch & Vine Revisited – Brunch, Lunch & Dinner
The Birch & Vine Revisited – Brunch, Lunch & Dinner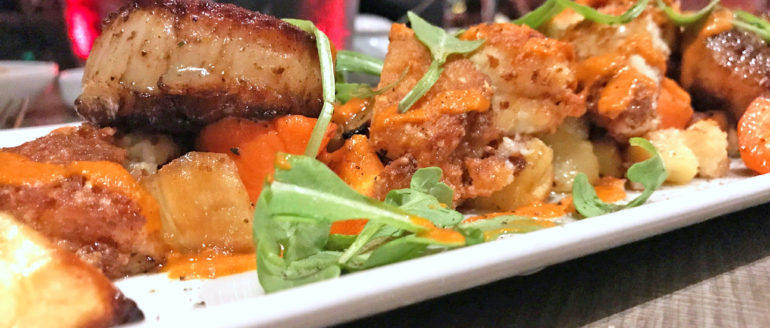 The Birch & Vine, and The Canopy rooftop bar, used to be one of my frequent hangouts when they opened in May 2013. In the summer of 2013, I was at The Canopy nearly every weekend (when I was footloose and fancy free), and ate dinner at The Birch & Vine on a regular basis. It actually became my favorite restaurant in St. Pete back then. It's where I learned about sous vide cooking, and that you could eat grits at dinnertime, and not just at breakfast.
After I found the best damn girlfriend of my life, The Birch & Vine was where Lori and I had our first dinner date. We would go at least once a month, and we loved it when the hostess duo would sing-song, "Hi Mr. & Mrs. Godbee!", even though we're not married.
We were steady customers through 2016.
Time goes by, things change, chef's come and go, new places open up, old friends fade away, and new friends get made—life happens.
We hadn't gone for a while as chefs came and went.
Finally, in April 2018, Lee Aquino was appointed Executive Chef at The Birch & Vine.
A year and half later, it seems that Lee isn't going anywhere, and we recently decided to have lunch, dinner, and then brunch—in that order—to bring you this review.
Check out our podcast interview with Lee here.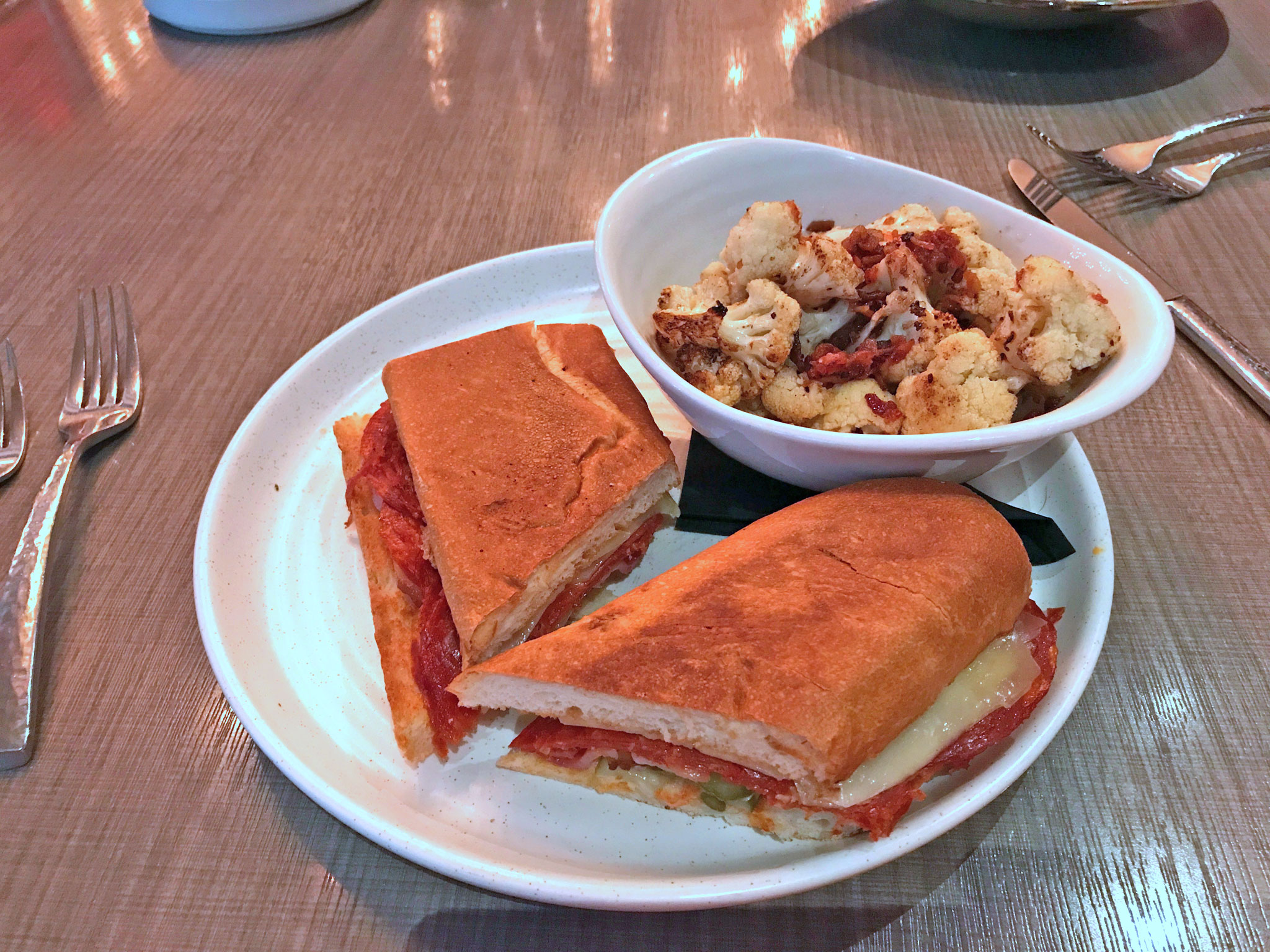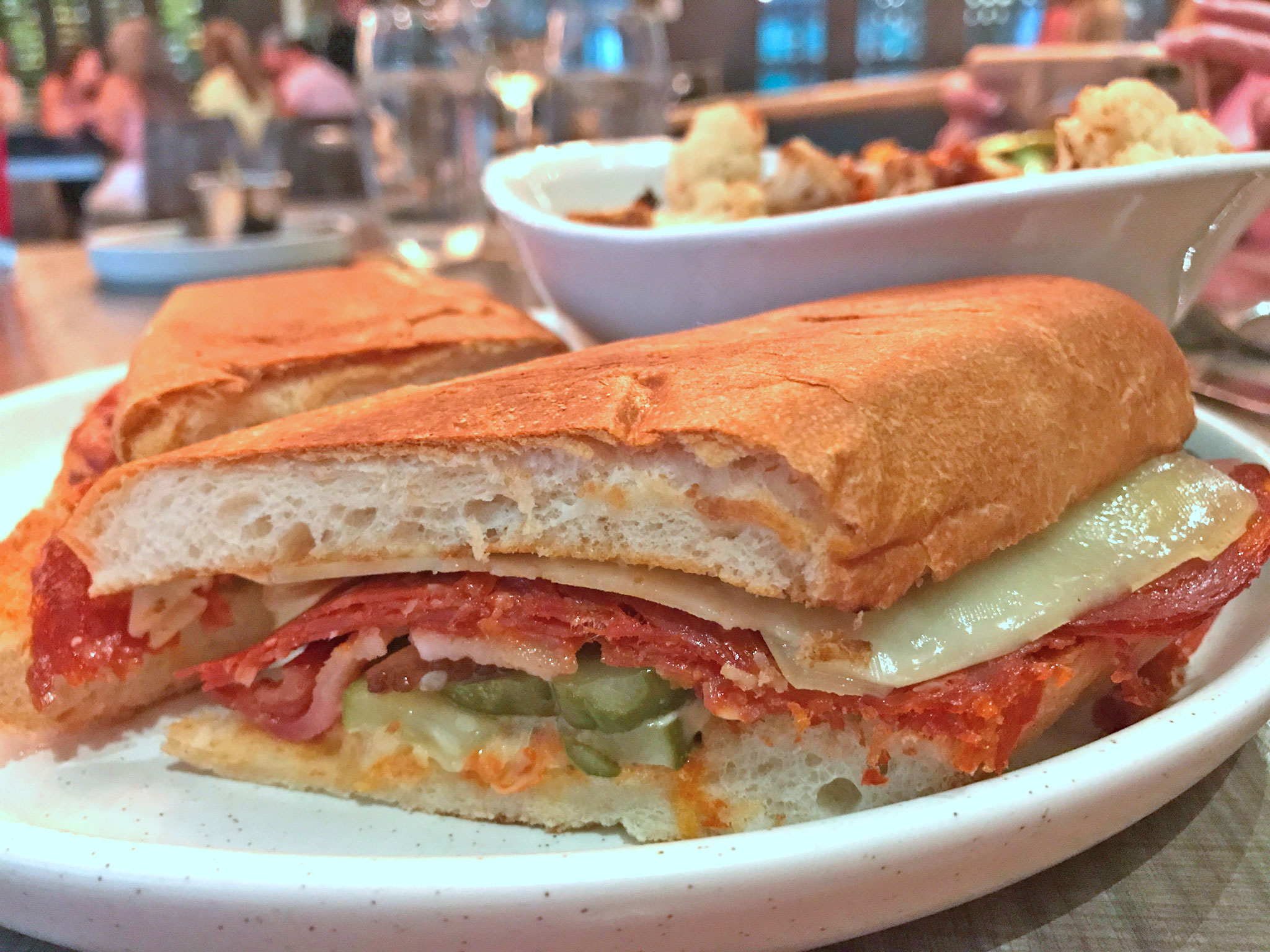 I like my vodka martinis with a twist, and sometimes, I like my Cuban sandwiches with a twist as well. Lee got creative with this one with Pressed Pan Cubano, Pickles, Braised Pork Belly, Dijonaise, Chorizo, Gruyere Cheese. The chorizo replaces the traditional ham and salami. Gruyere instead of Swiss, along with the Dijonaise gives a bit of a French twist. The house-made pickles are a nice touch as well.
It's a quite tasty Cuban sandwich, and the best non-traditional variation I've seen on a Cuban. The Cocoa Cauliflower was some of the best cauliflower I've had.
Lori went with the entrée feature of the day—Crab Salad on top of Black Bean Polenta.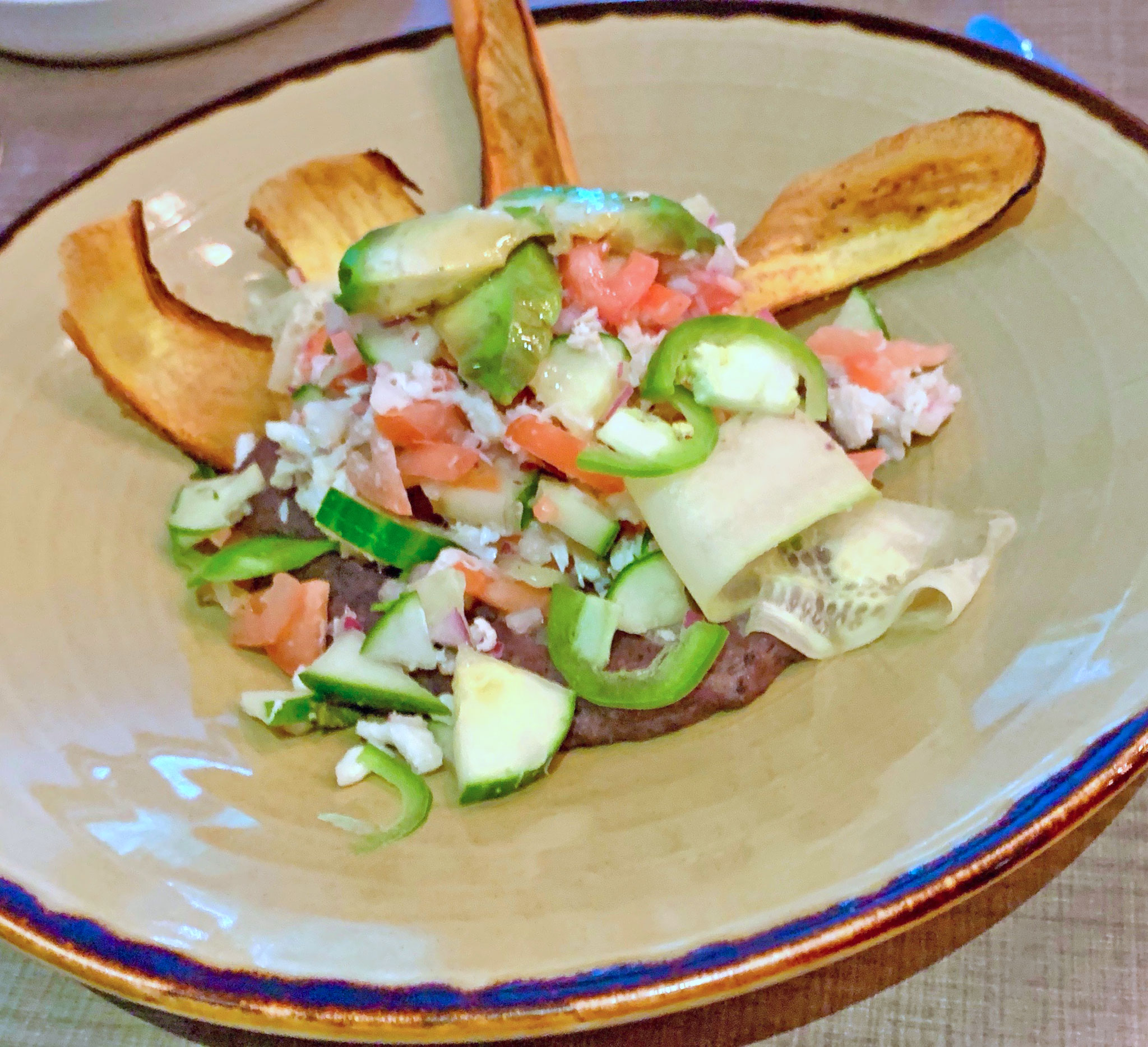 Chef Lee describes it as "a hot and cold – fire and ice type of thing". The base is a black bean polenta. A hole is put in that and filled with crab salad with cucumbers, tomatoes, avocado, grapefruit, fresh sliced jalapeños and cucumber / jalapeño vinaigrette. Accompanied by plantain chips. Yummmmeee!
Lori said "it had great salt, fat, acid, heat!"
A couple of days later, I returned to try the fish spread, and it earned a spot in our Best Fish Spreads in St. Pete.
Smoked Fish Dip – House Smoked Fish, Peruvian Paprika, Sofrito, Buttermilk Flatbread.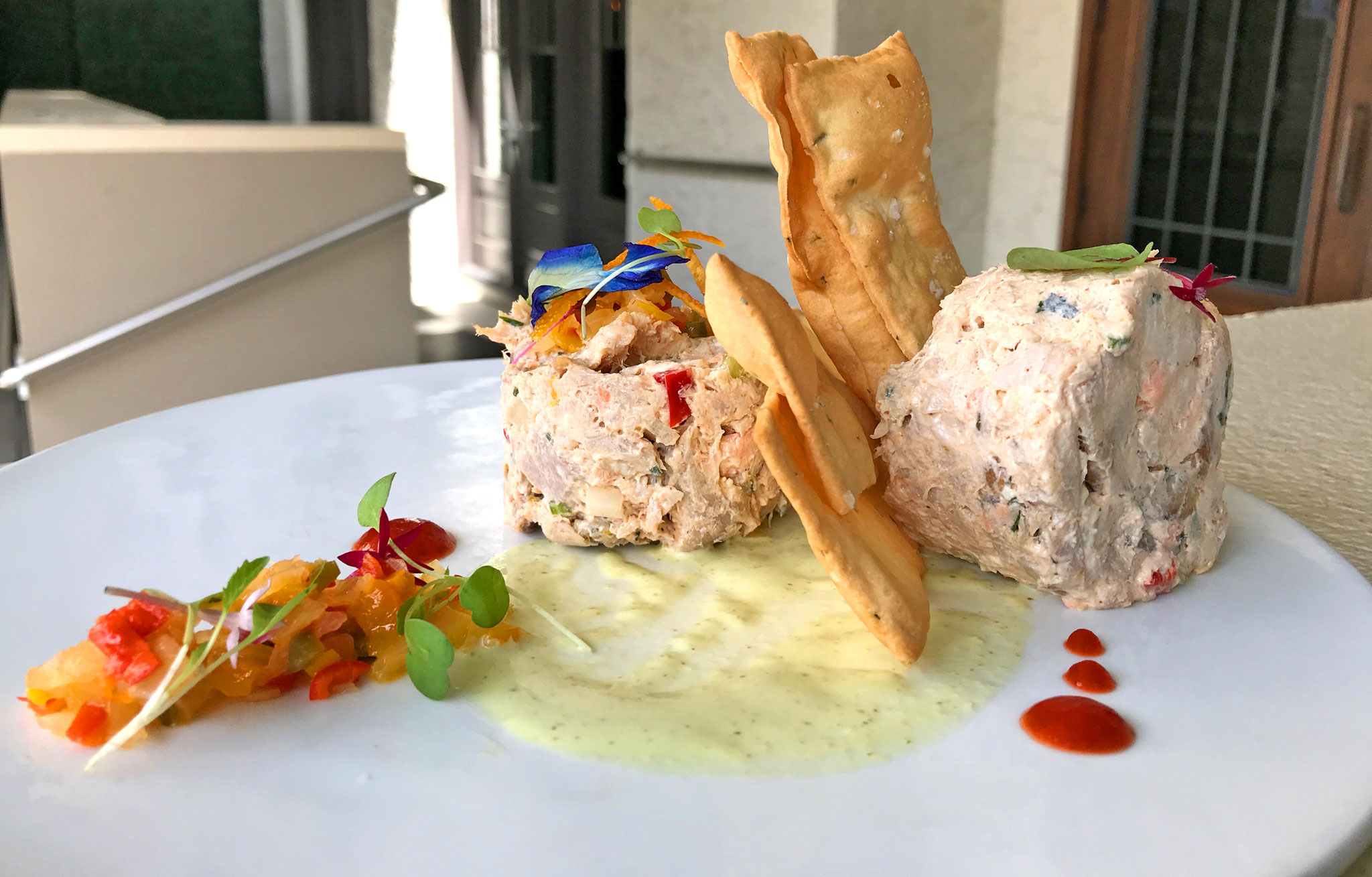 From Chef, Lee Aquino, "We have gulf-selected fish, salmon, tuna, sofrito relish, sofrito green, and the smoked wet-mix is sofrito-based as well. The Buttermilk Flatbread is made in-house."
I asked how they smoke the fish in-house, and Chef informed me that they use an Alto Shaam smoker.
The Birch & Vine's fish spread is the most unique. First, they win for the fanciest plating. Chef Lee's French-training likely comes into play here. Then there's the cylindrical shape. Lastly, it is unique because there are some large chunks of fish mixed in with the finely chopped fish. Some pieces are larger than a bite, and need to be cut with a knife. Interesting, but still quite tasty. The Peruvian Paprika and sofrito adds a nice little spice to it.
Next up was dinner with our friends, Ronnie and Bobbi.
We started with an Amuse Bouche that was delectable!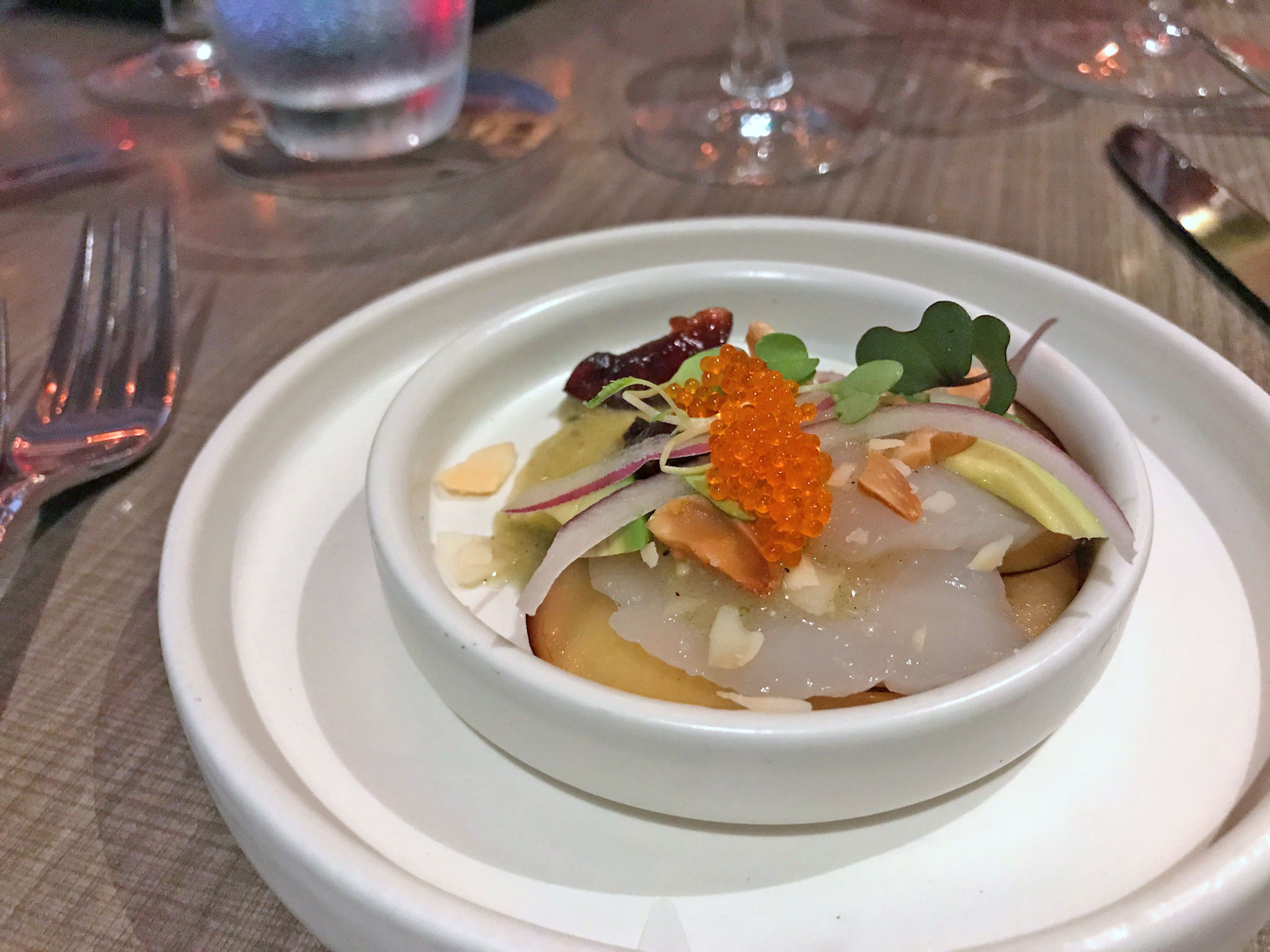 Scallop & Stone Fruit Mezcal Ceviche – Scallops, Black Plum, Avocado, Coconut, Tart Cherry, Salty Almonds and Caviar. Amazing!
It doesn't have to be just soup OR salad. I want both!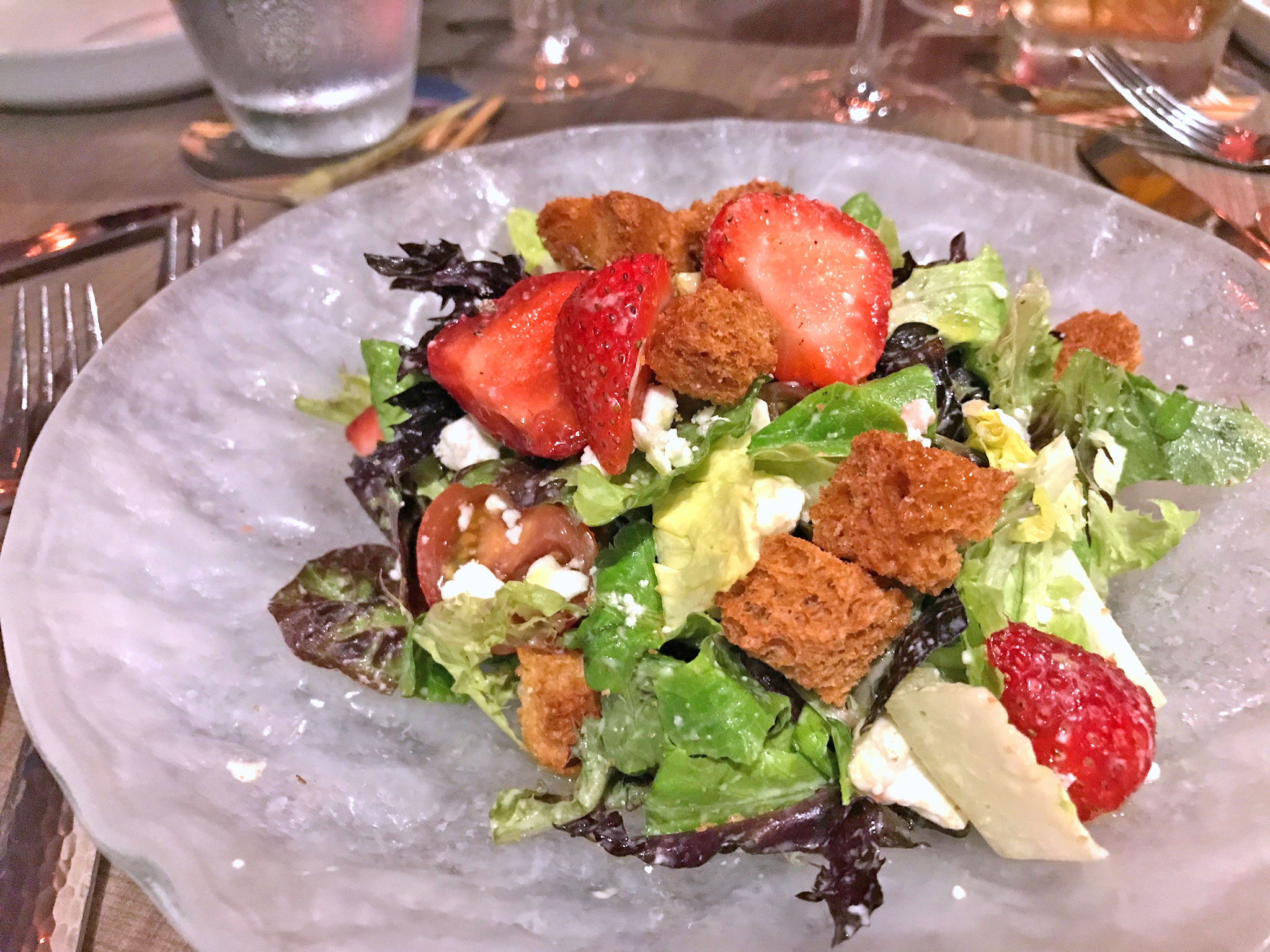 B&V House Salad – House Greens, Fresh Strawberries, Heirloom Cherry Tomatoes, Goat Cheese, Croutons, Birch & Vine Vinaigrette. I'm not usually a fan of sweet stuff in my salad, but this was fantastic with the strawberries. You could tell that the croutons were made in-house too. This is a great salad.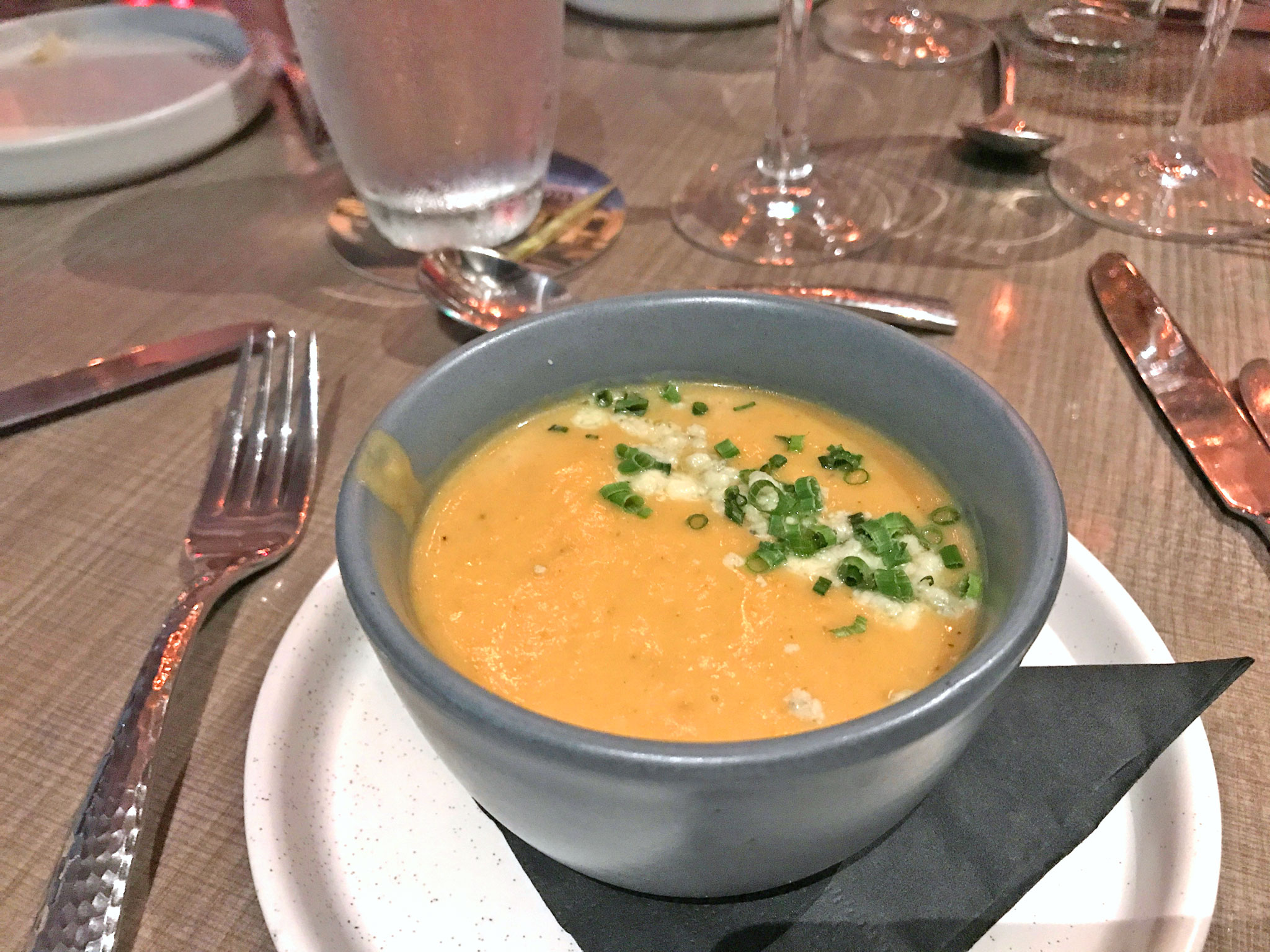 Cauliflower Bisque & Bleu – Roasted Cauliflower, Crumbled Bleu, Chives. THIS. IS. SO. GOOD.
I LOVE grits in general. As I said before, The Birch & Vine is the first time I had seen grits offered outside of breakfast. I loved those original dishes back then, so my entrée was a given. This one is actually with grit cakes, where they fry them up after simmering.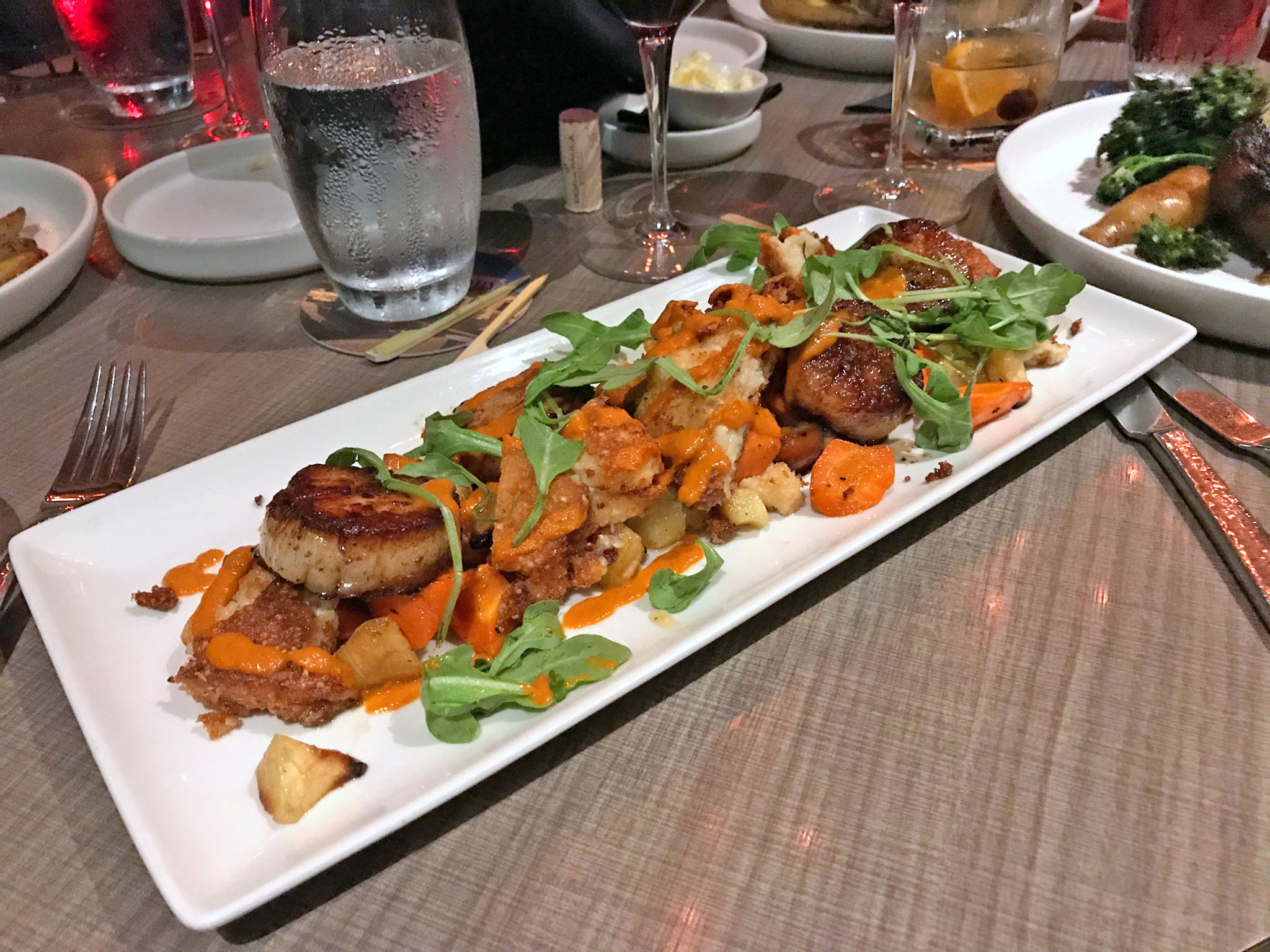 Scallops & Grits – Miso Glazed Scallops, Grit Cakes, Chorizo Veloute, Arugula, Honey Glazed Carrots & Parsnips. I would definitely order this one again. It's a hearty portion that I could barely finish. The scallops were perfect, and all of the ingredients played extremely well together.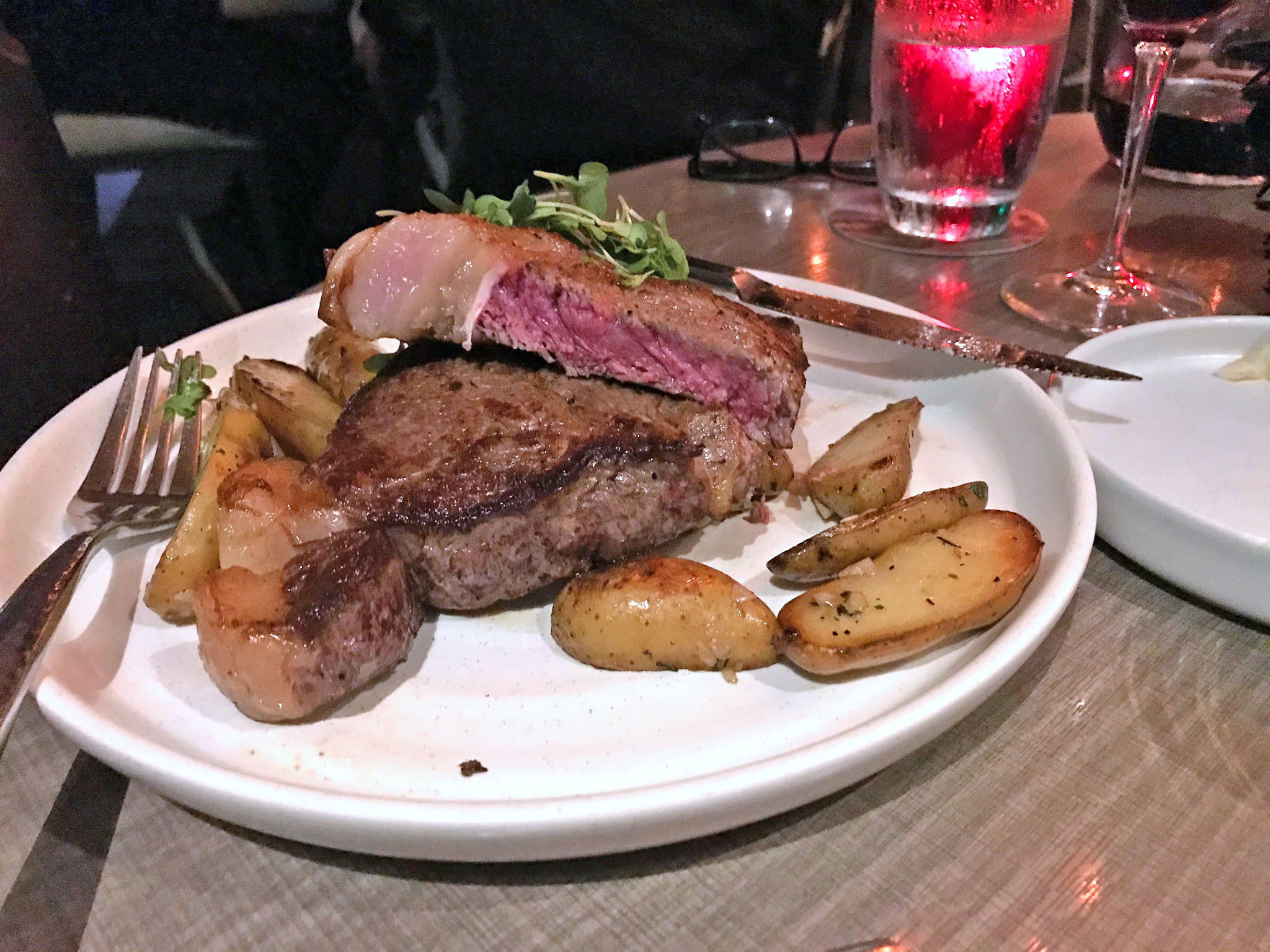 Ya gotta love a girl that's a carnivore, and Lori sure likes her steak. I don't think a week goes by that we don't have steak at least once, sometimes twice … three times is not out of the question for her.
The 16oz Delmonico is her favorite. This one was cooked perfect for her- medium-rare, closer to rare.
They have a few "Sets" for the steaks – Spicy Brussels, Oscar, Confit Fingerling Potato & Broccolini. They all come with a sauce, which Lori does not like on her steak, so she just got fingerling potatoes with hers.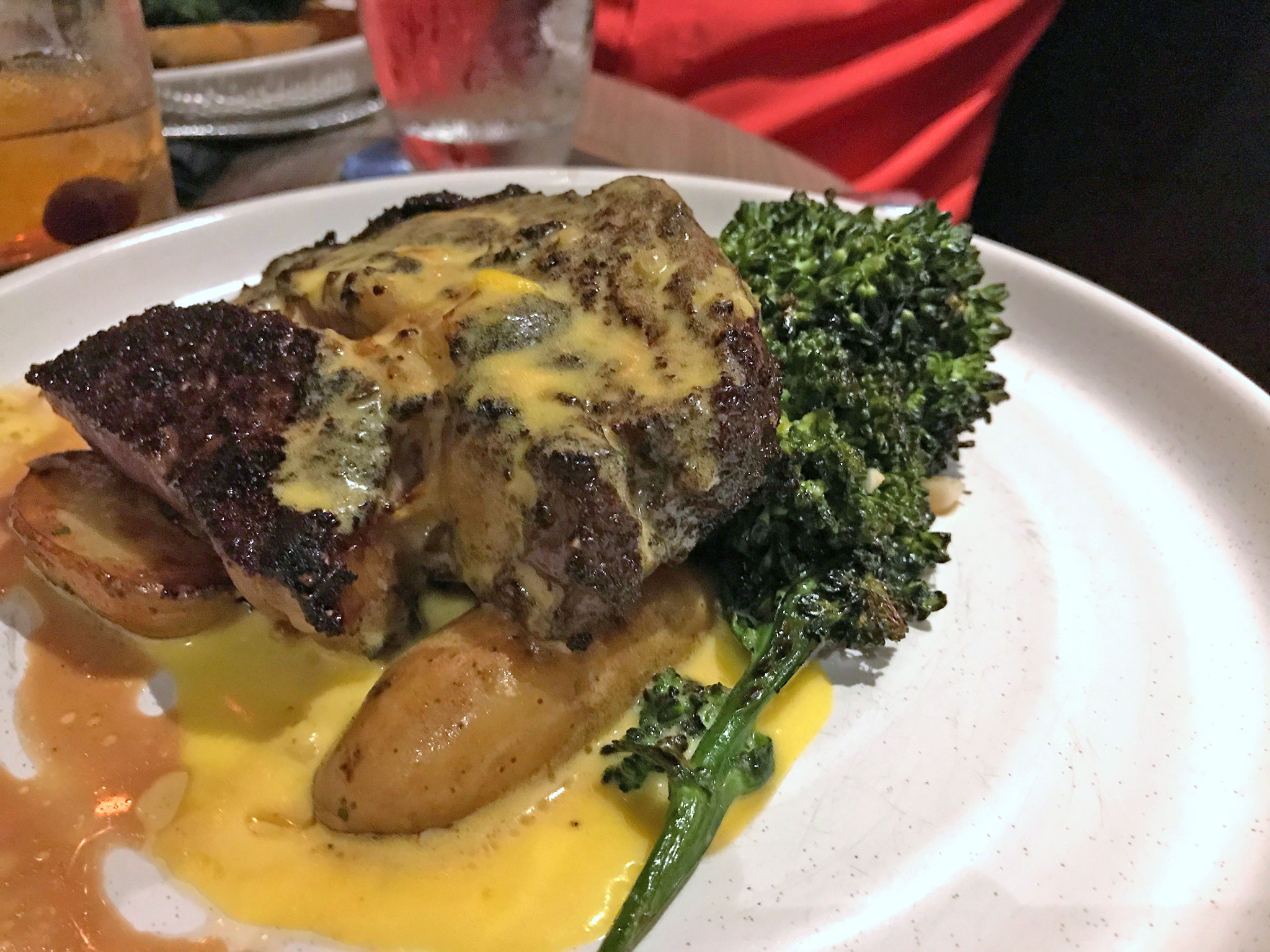 Ronnie and Bobbi split the 12oz NY Strip, and got The Standard Set – Char-Crust, Sauce Bearnaise, Confit Fingerling Potato & "Broccolini on Rye".
The steaks were all great, we were totally stuffed, and loved dinner.
Last Sunday, it was our friend Sonny's birthday, and he arranged for brunch at The Birch & Vine. It was a large party with lots of action, so I only got photos of my food. I did not get Lori's or the other guests.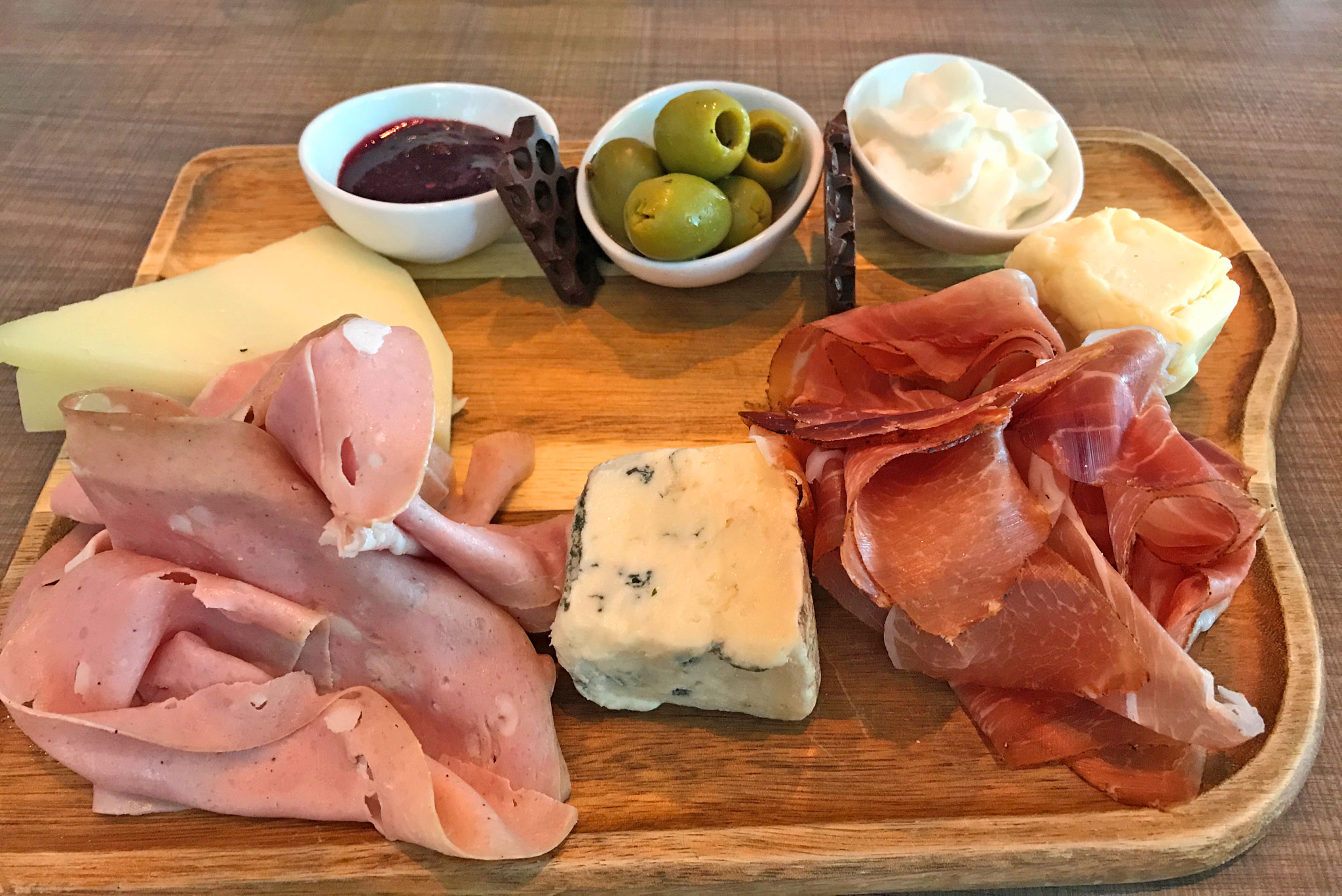 Cheese & Charcuterie – Chocolate Comb, Whipped Honey, Seasonal Jam, Marinated Olives, Breads. Includes Choice of Five Meats & Cheeses.
I loved dipping the chocolate in the whipped honey and jam. Everything on the board was great, but the cheese front and center was perfect for me. It was something in the bleu cheese family of taste, and as strong as can be in that area, but the texture was as creamy as brie. I'll have to find out what that was and get some soon.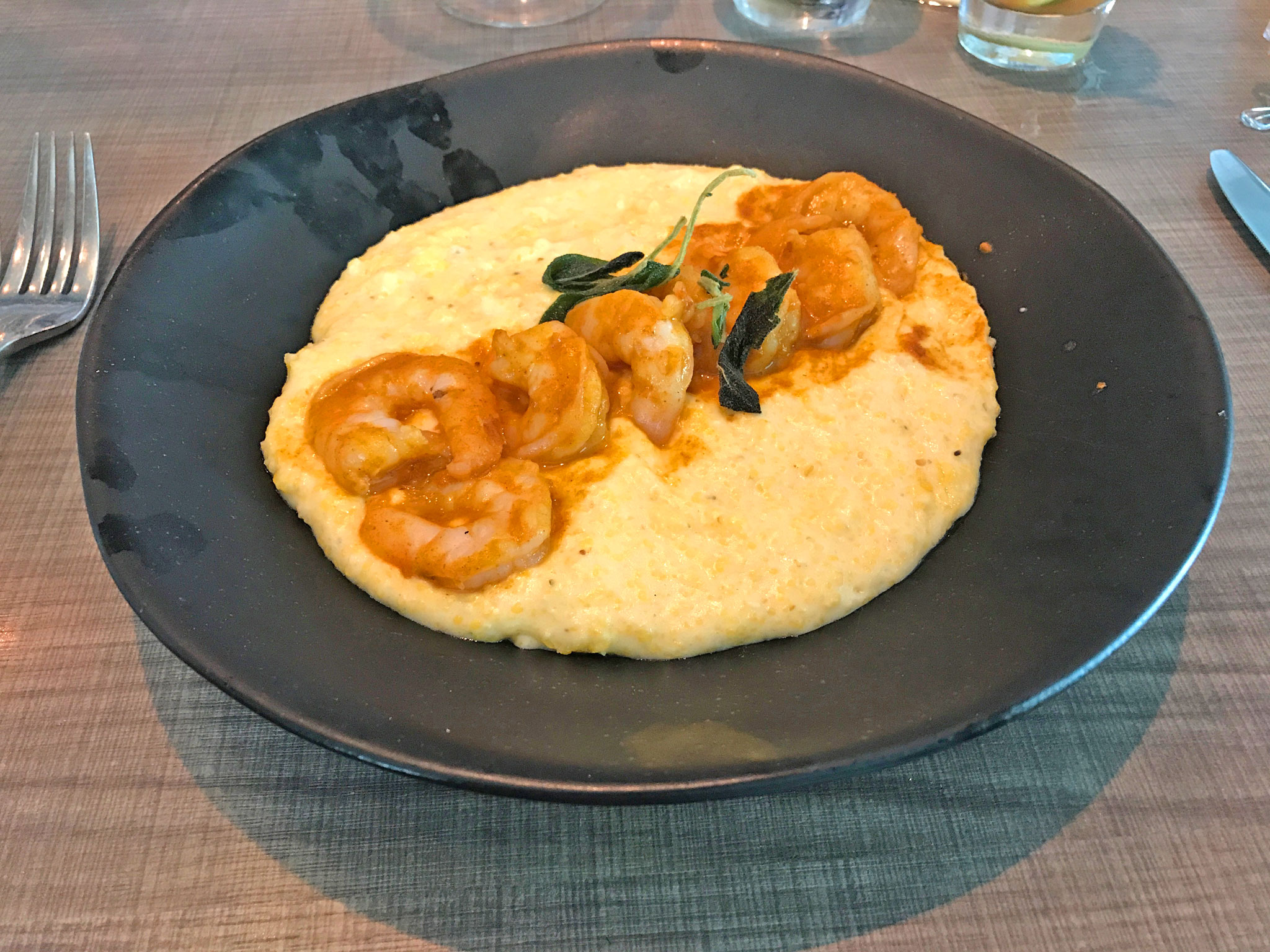 Chorizo Shrimp & Grits – Nora Mills Grits, Chorizo Spiced Shrimp, Crisp Sage, Chives.
Yes, you read that correctly, Chorizo Shrimp & Grits. Where's the chorizo?
It's Chorizo Spiced Shrimp. I was anticipating some sausage in there, so that was a disappointment. However, the flavors were good, the grits, and shrimp both perfectly cooked. (They should have the servers mention that there's no sausage.)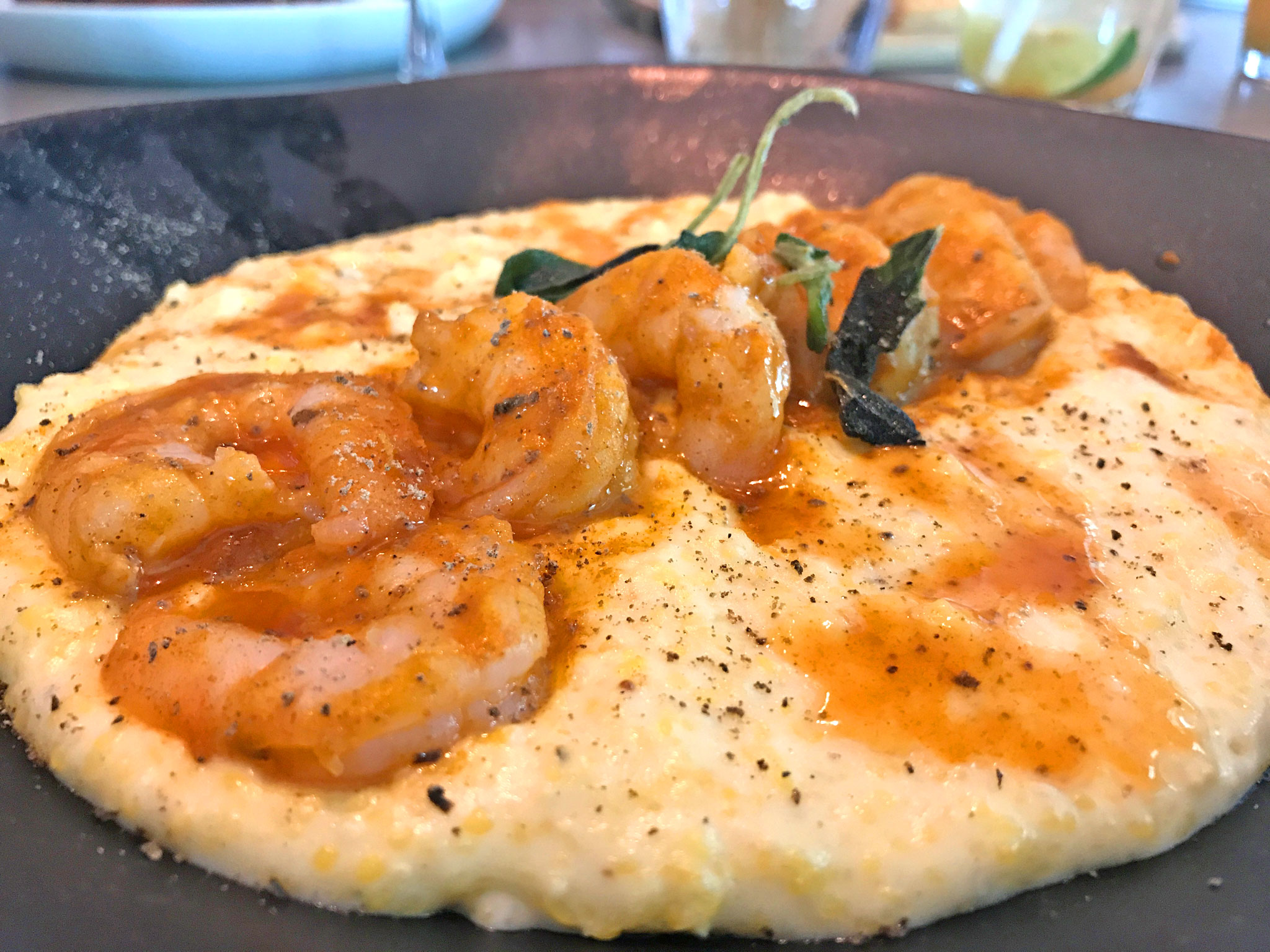 This was a quite good simpler version of shrimp & grits for when you don't want 49 different ingredients like a lot of places around here do.
Note to self: Remember to try the Lamb Bolognese next time. Lamb & Pork, Tomato Sauce, Burrata Cheese, Bucatini Noodles, Fresh Herbs, Touch of Cinnamon. Sounds really good.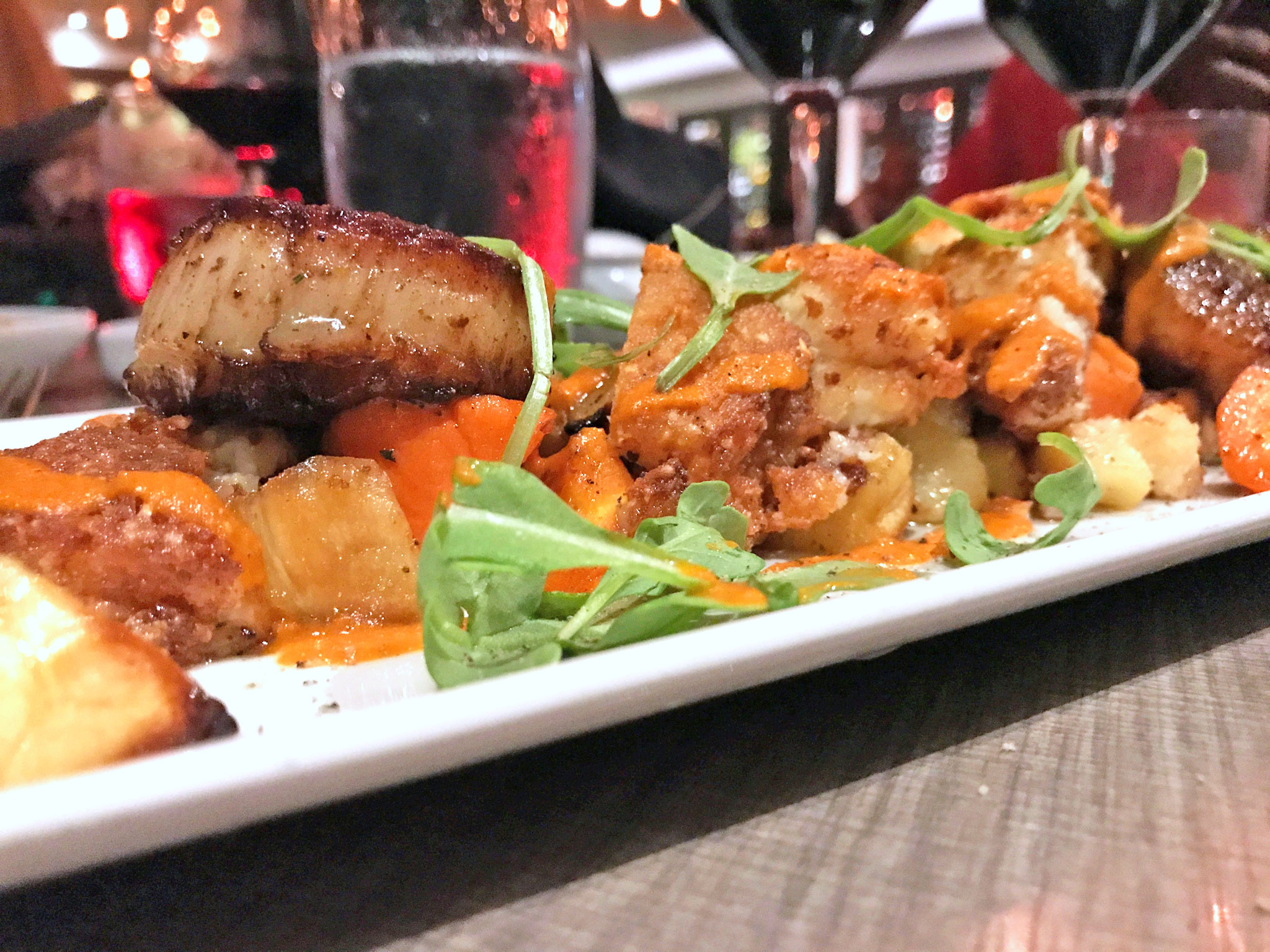 Readers Rating

Rated 5 stars




5

/ 5 (

Reviewers

)

Spectacular
---
The Birch & Vine

(727) 896-1080

New American

,

Fresh Seafood

,

Steaks

Mon - Thu

11:00am - 10:00pm

Fri -

11:00am - 11:00pm

Sat -

10:00am - 11:00pm

Sun -

10:00am - 10:00pm
340 Beach Drive

,

St. Petersburg

,

FL

33701

,

US
---
An eclectic, upscale-casual, creative eatery located inside of the quaint boutique hotel, The Birchwood on chic Beach Drive in downtown St. Petersburg. The rooftop bar, The Canopy, is a must-see for tourists, and a cool hangout for locals. The Lantern Lane Lounge, next to the restaurant is also a great hangout where locals and tourists mix.
DISCLAIMER: Kevin, Lori, Abby, Haley, & Lindsey do not dine anonymously (this would be impossible) and we sometimes get free food (though never expected). However, we dine with the locals and we support our own. You will always get honesty in a respectful manner. We do not include any large national or regional chains in our ratings and reviews. We focus on independent locally owned eateries exclusively.

PLEASE NOTE: Reviews reflect a certain moment in time. Some restaurants stay extremely consistent over many years, and some change for the better or worse. Some things that may change are: chefs, recipes, food suppliers, ingredients, philosophies, ownership, etc. We always hope that you have the same good, or great experience we had.
More Foodies News, Reviews & Recipes