Go Coco-Nuts For Coconut Charlie's Beach Bar on St. Pete Beach
Go Coco-Nuts For Coconut Charlie's Beach Bar on St. Pete Beach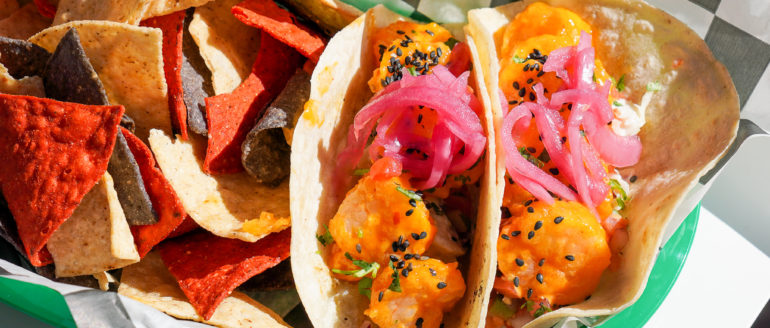 Gulp down boozy tropical drinks and enjoy fresh seafood all while catching the sunset at Coconut Charlie's Beach Bar on St. Pete Beach. With live music daily and an impressively tasty food and drink menu, you'll never want to leave. Coconut Charlie's Beach Bar evokes the tropics with stunning beach views and rum packed drinks.
The Hilton Garden Inn was recently renovated and is a must-visit whether you're a local looking for a stunning staycation or a tourist passing through. Coconut Charlie's has a beach bar and a grill and they're separate with two different vibes and menus. The grill is near the lobby with trendy indoor and outdoor seating and a bar. The menu at the grill is currently going through changes and I'll be circling back for a food review next month when it's finalized. From what I was told by Chef James and Sonya the hostess, the new menu will be a step above the beach bar menu with higher end entrees and elevated options to give people two different options.
The menu at the beach bar is more beach causal and don't worry, the taste and flavors are not compromised. I'd say this is one of the best beach bars in the area and it's certainly my new go-to spot when I have out of towners visiting. Heck, it's even my new go-to even for when I have an itch for a strong beach cocktail, which is more often than I'd like to admit these days.
Once the sun sets at Coconut Charlie's, a lively enthusiasm electrifies the bar with live music and packed tables. All I have to say is come hungry and thirsty, Charlie will not let you down.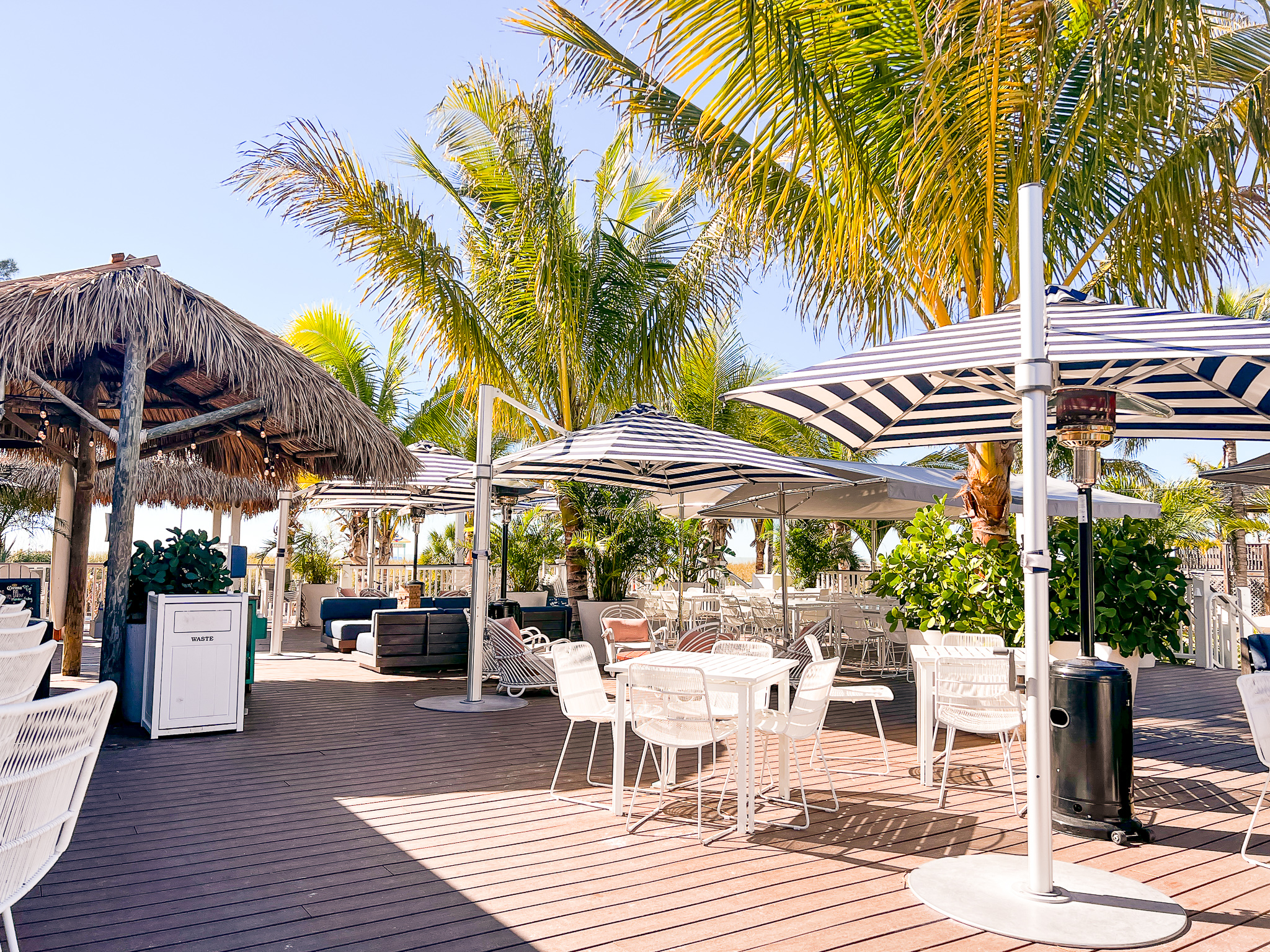 Chef James provided us with a wonderful foodie experience. His craft is something special and really makes for the best beach bar food in the area. He brought us out his top dishes which included tacos, quesadillas and pizza. I would have ordered all of the above even without his recommendation so I couldn't wait to try.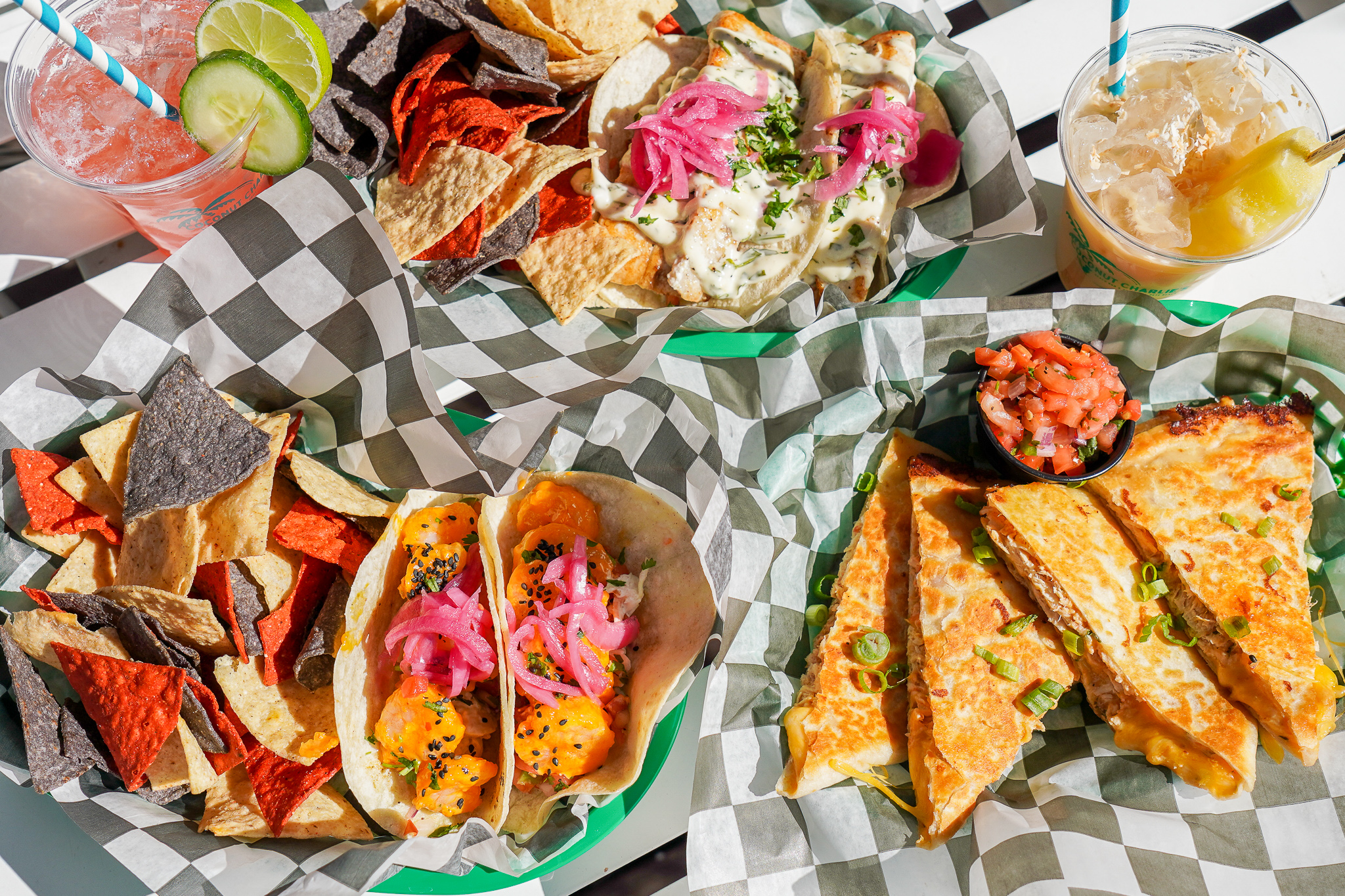 Every taco on the menu has tropical slaw, pickled onion, pico de Gallo and cilantro but the meat and sauces change for each one.
Starting with my absolute favorite, the Boom Boom Shrimp Tacos are seriously to die for with lightly dusted and fried shrimp, tropical slaw, pickled onion, pico de gallo, coconut sweet chili sauce, and cilantro. The shrimp had a little kick to them from the chili sauce which took the flavors to the next level. I especially loved the fresh pickled onion and pico de gallo toppings too. This is the dish I've told all my friends about already and I'll be ordering this every time I visit now.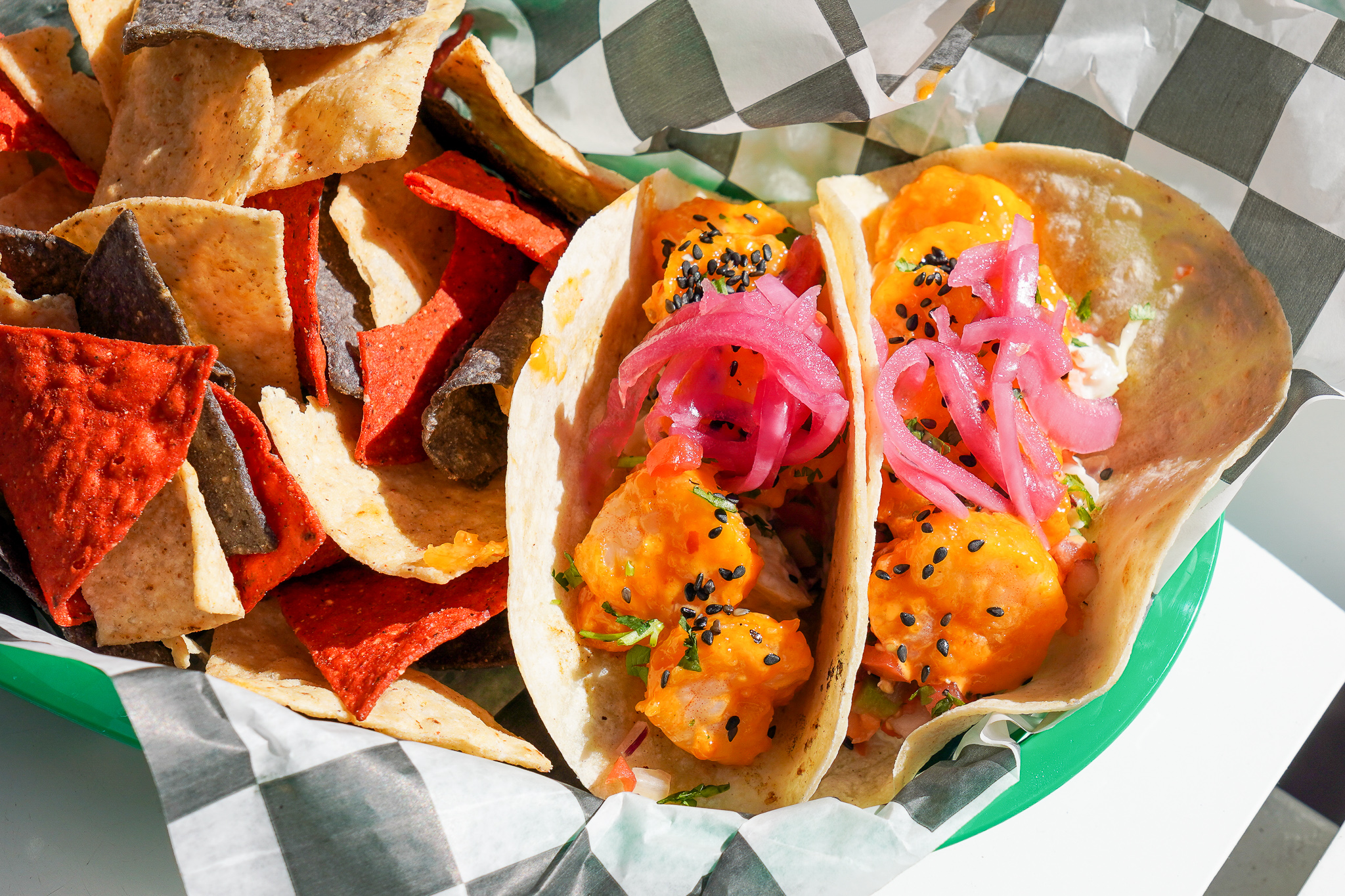 The Grilled Mahi Tacos were excellent with the same base, grilled mahi and lemon cilantro remoulade. The lemon cilantro remoulade kicks the excitement factor up a bit for a satisfying and fresh meal. Flavor wise, I'd still go for the Boom Boom Shrimp tacos, but if you love mahi, you should try these.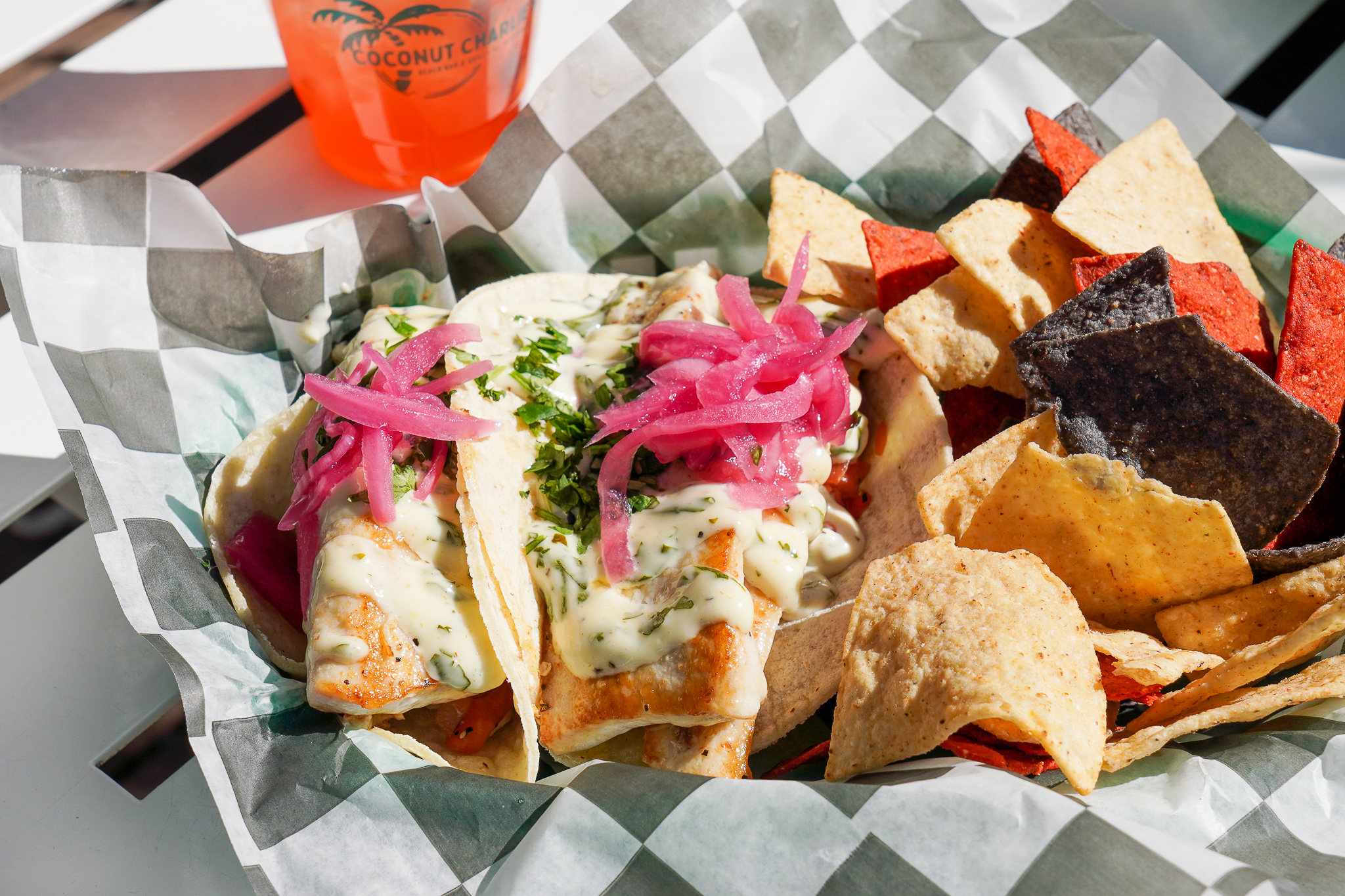 Catching the sunset with my girlfriends obviously lead to us munching on some more tacos. My friend Lauren ordered the Zesty Pulled Pork Tacos and loved them. These have the same base, juicy pulled pork and a Gochujang BBQ sauce to top it off. Without a bite left, I'd say these are good to order if you're not much of a seafood lover.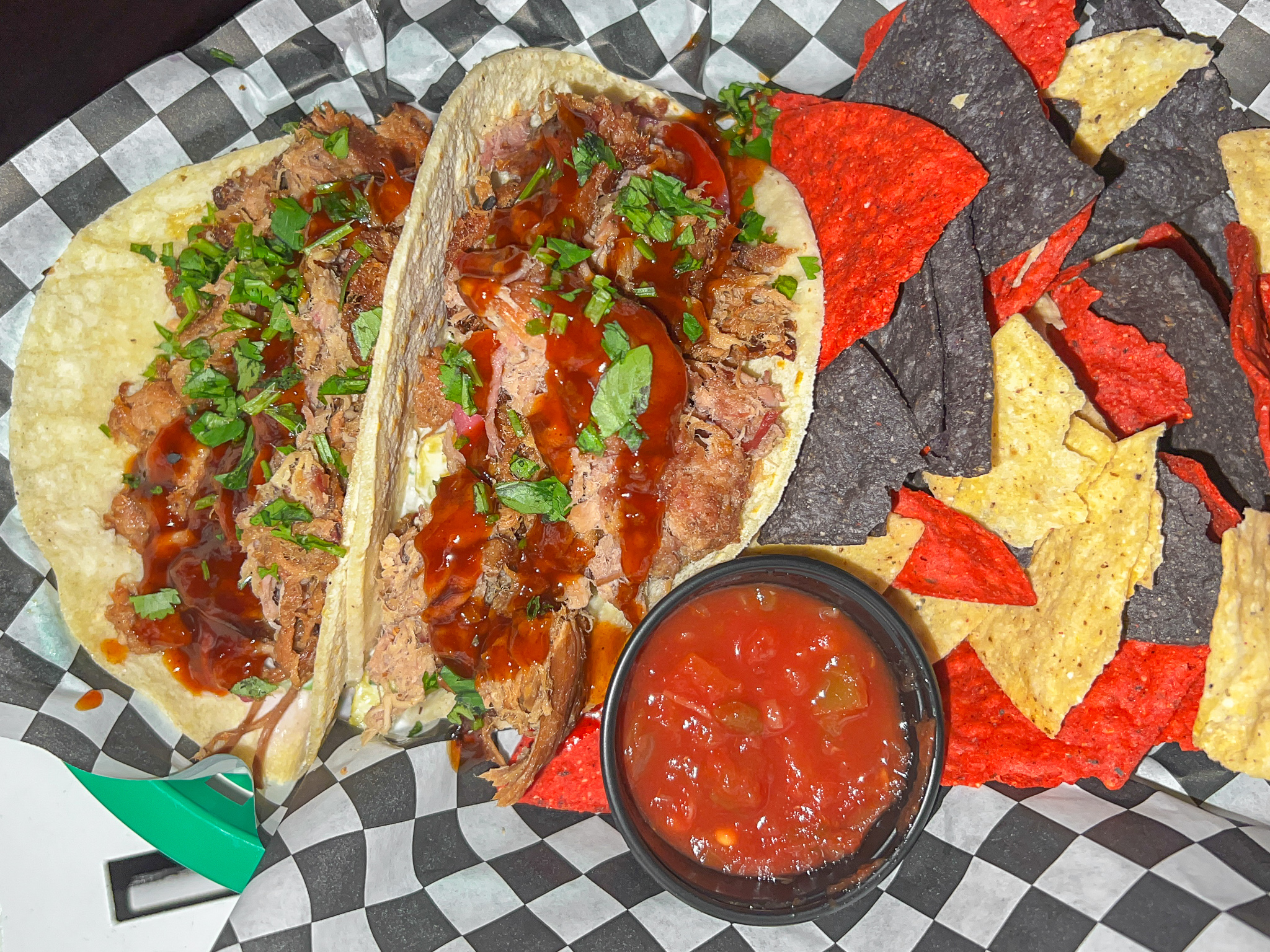 Chef James really wanted us to try his special and secret chicken. Though he recommended the Chicken Tacos at first, he said we should switch things up so he brought us a Chicken Quesadilla. I'm so glad he did. The Chicken Quesadilla with braised chicken oozed with cheese and adobo chipotle crema and was served with fresh pico de gallo, salsa and sour cream. I know my picky eating sister would rave about these. They're simple but the juicy chicken and vibrant pico de gallo combo is a true match made in heaven.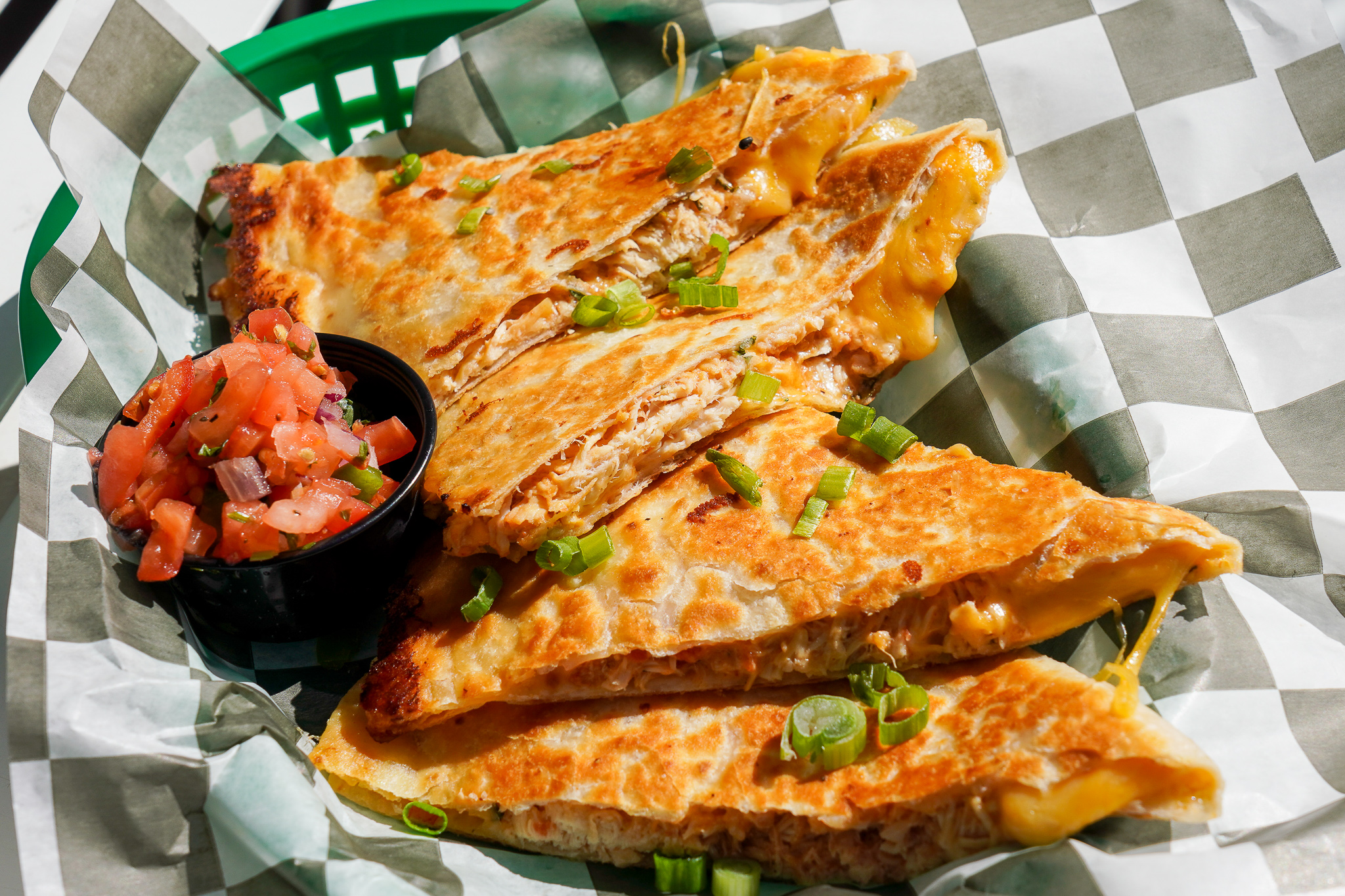 When tipsy Haley is hungry after a few cocktails, the first thing on her mind is pizza. Anyone else? If so, the next menu item will make you drool on your phone, laptop or computer. You've been warned.
Coconut Charlie's has five pizzas on their menu and I must say that they all sounded delicious. The Local Legend has pineapple on it so I'll be ordering it next time since that's my absolute favorite. Don't knock it till ya try it. Chef James brought us the Mac N Cheese N Bacon Ranch Pizza which is exactly what it sounds like. Little did I know that this pizza would be everything I needed and more. The crispy thin crust was perfect and didn't flop or get messy. The big pieces of mac and cheese were soft, the bacon was crunchy and salty, and the ranch was drizzled on just right to get some in every bite. I loved that it wasn't overly greasy and it was easy to share.
How perfect to grab a pizza and catch the sunset on the beach or enjoy it from a table with live music and friends around? Either way, I'd rank this a 10/10 for a quick, crisp bite.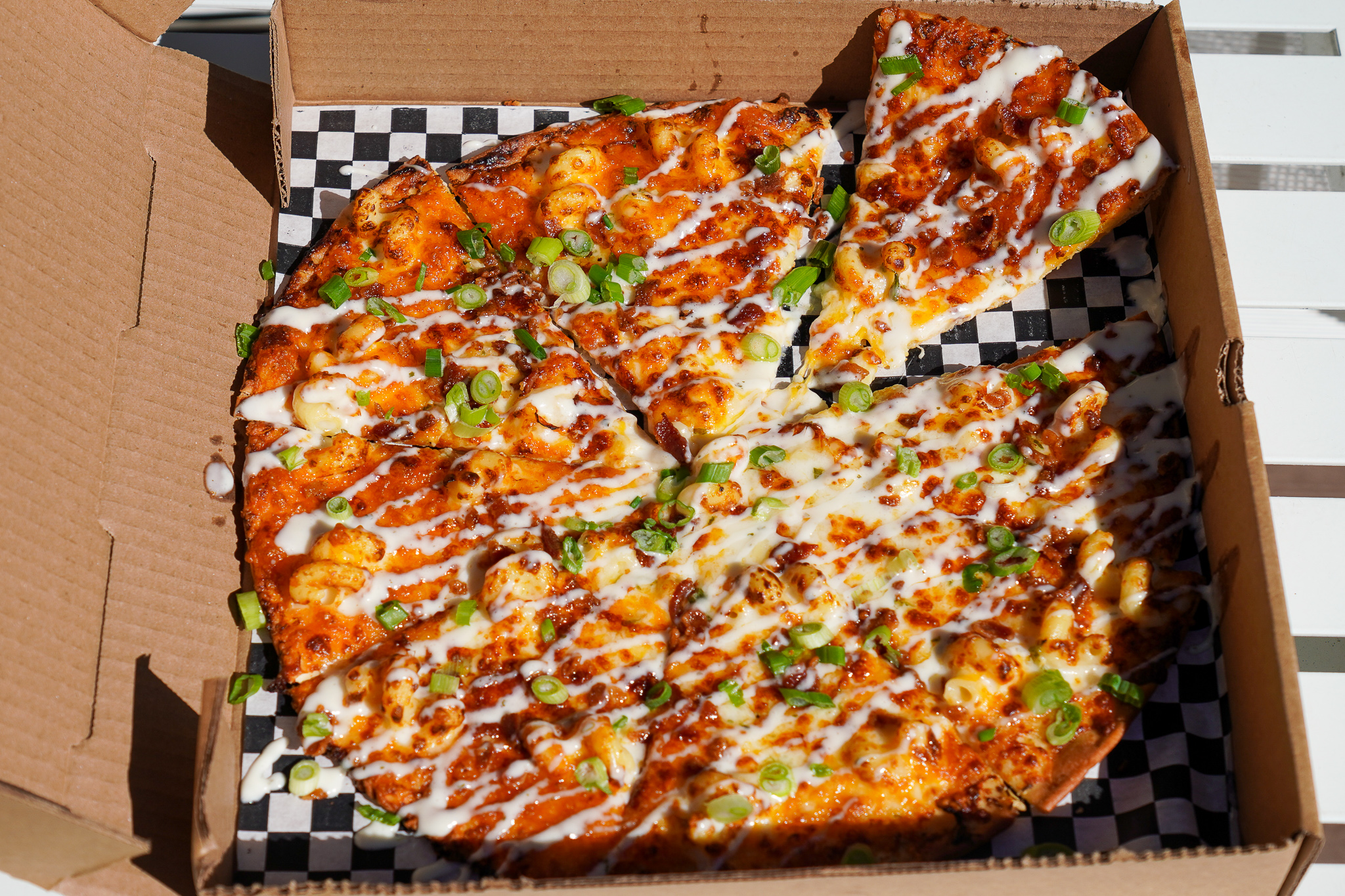 If you're looking for something light to munch on, go for the Queso Blanco Dip. It's creamy and delightful. They also have other starters like Chips & Salsa, Wings with a few flavor options, the delicious Chicken Quesadillas and Boom Boom Shrimp.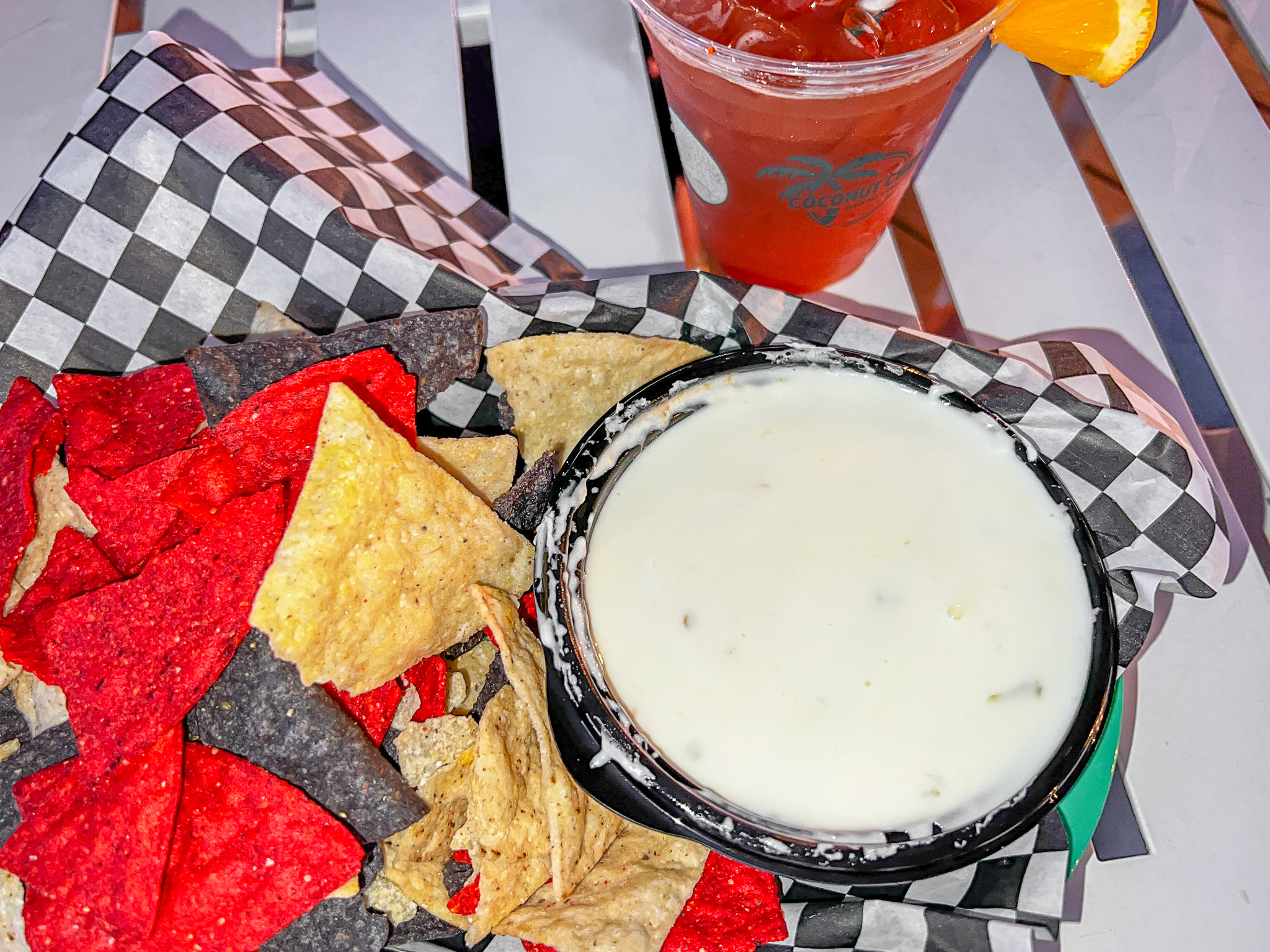 The 3 platters on the menu include Fish & Chips, Chicken Tenders and Coconut Shrimp and they're served with tropical slaw and fries. I had to try the Coconut Shrimp and it was so great. The crunch of the perfectly crispy outside and succulent shrimp on the inside makes this platter entirely irresistible. The sauce, which I believe is the coconut sweet chili sauce, really spiced things up. I'd highly recommend these if you also love fried coconut shrimp.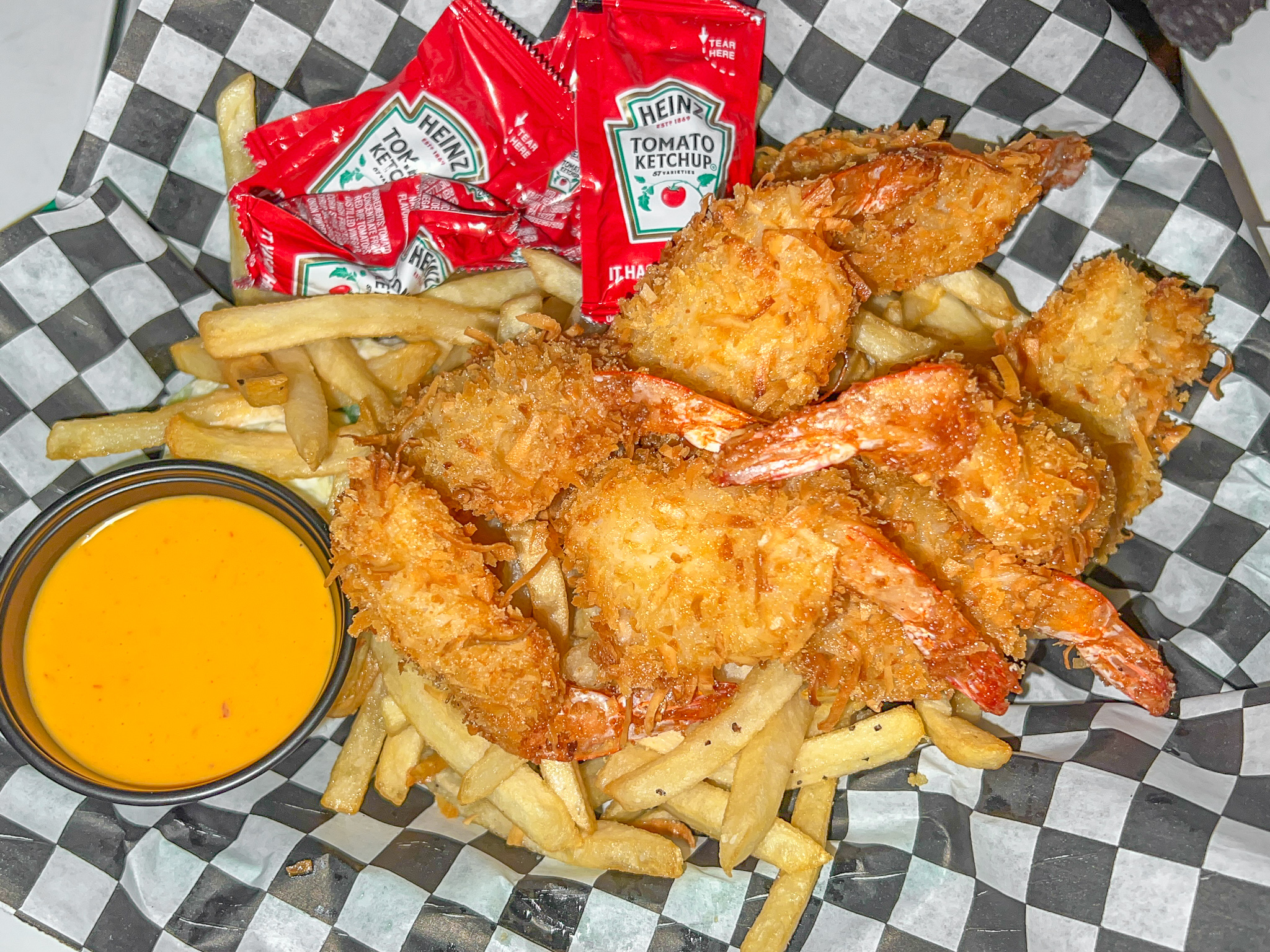 The hand crafted cocktails will seriously transport you to an island far far away. They're so beachy and boozy that you'll want to hang here all day just to sip on the sweet drinks. My favorite was the Pain in the Coconut and the Rum Runner. I'd also recommend adding an alcohol-infused popsicle for just $3 not only for a cool photo but also for the taste and extra buzz. They also have beer and wine. Did I mention that their weekend Mimosa and Bloody Mary are only $5? See you every weekend Charlie.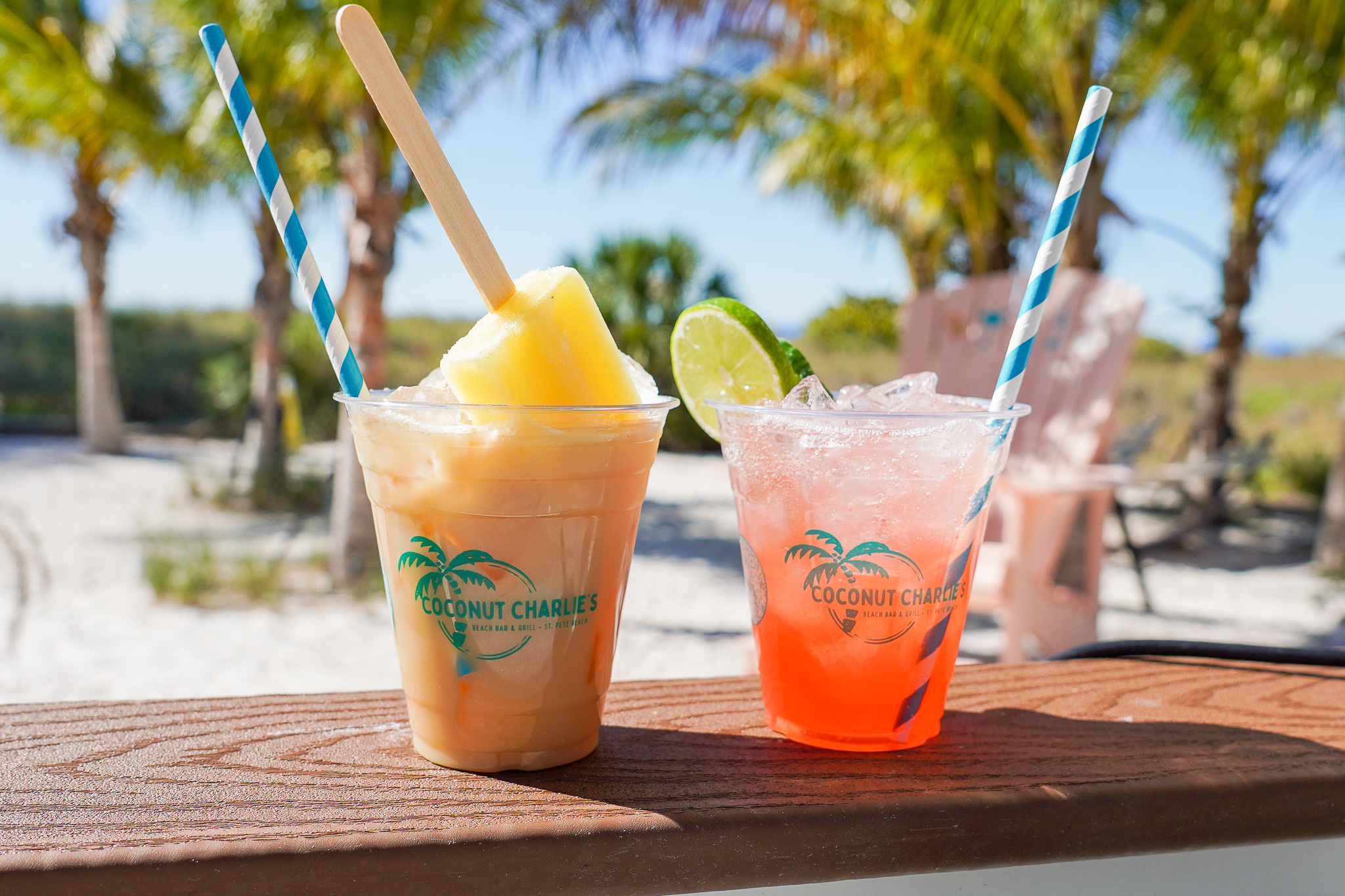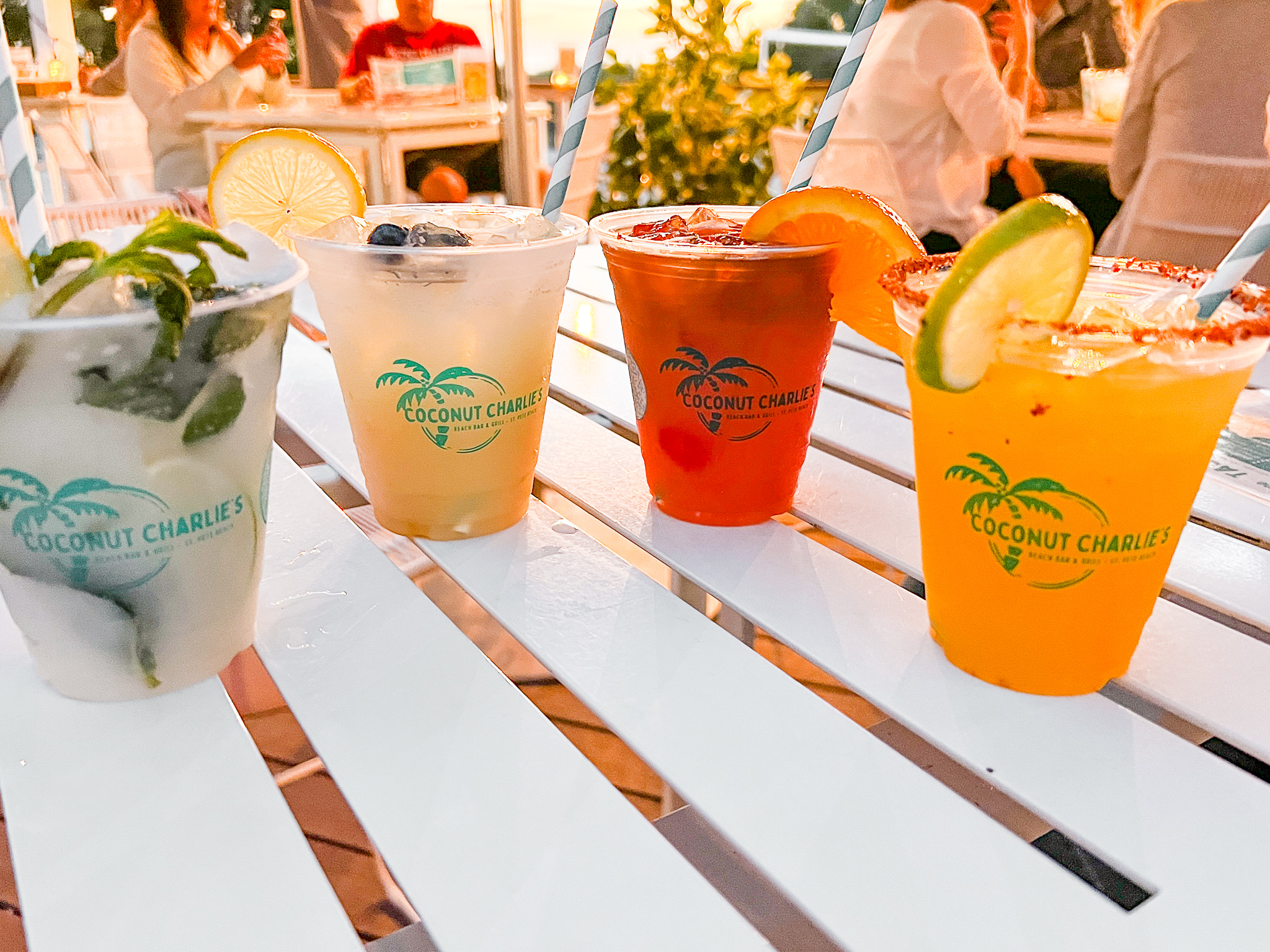 Speaking of the weekend, they have a Weekend Additions menu that has some eye catching items like Avocado Toast, Steak & Eggs, Blackened Gulf Shrimp Benedict and Crab Cake Sliders to name a few. They serve breakfast daily too which I can't wait to try.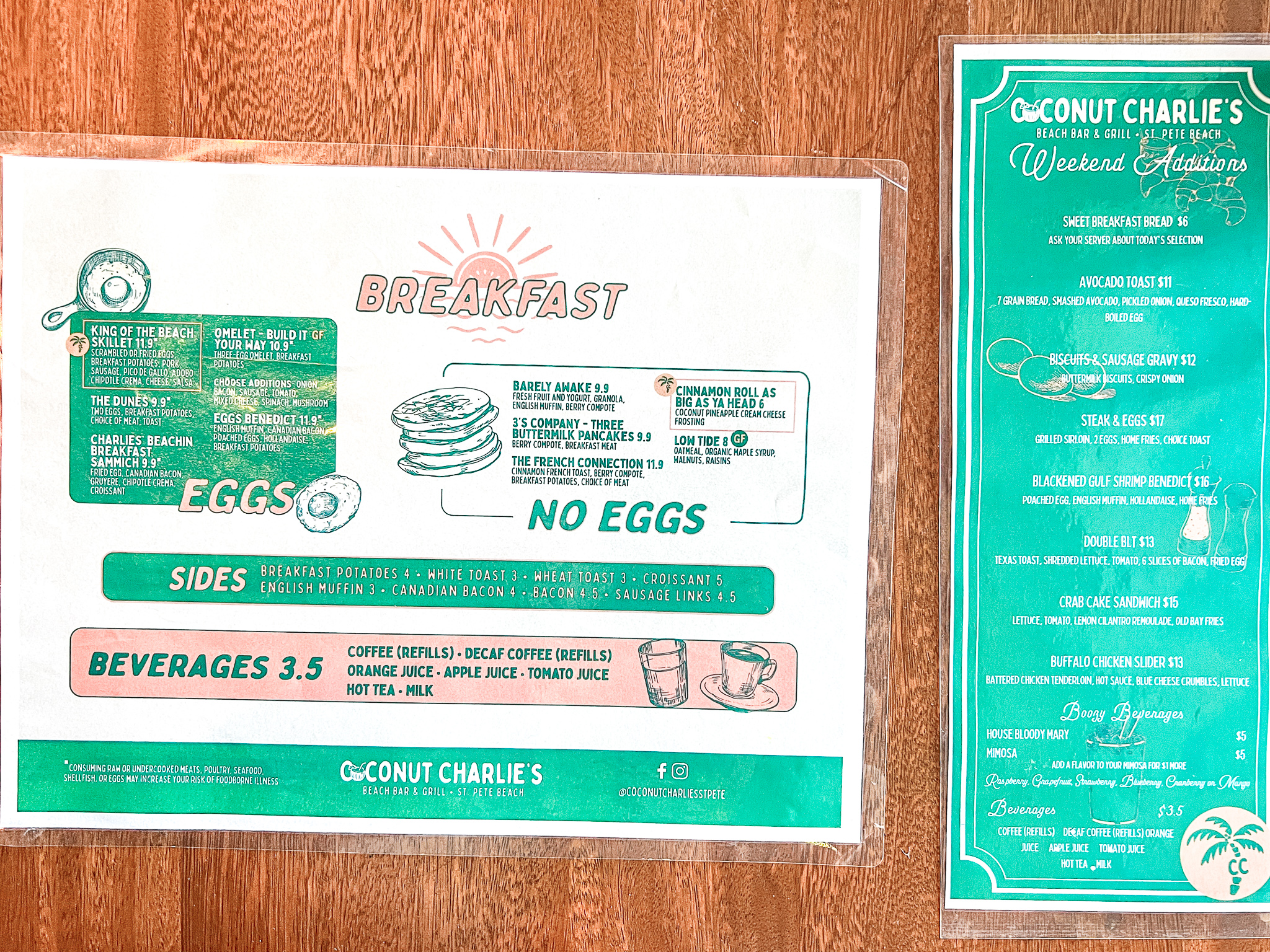 Their Happy Hour has made me want to run over here in between meetings. They also have daily specials which can be found here.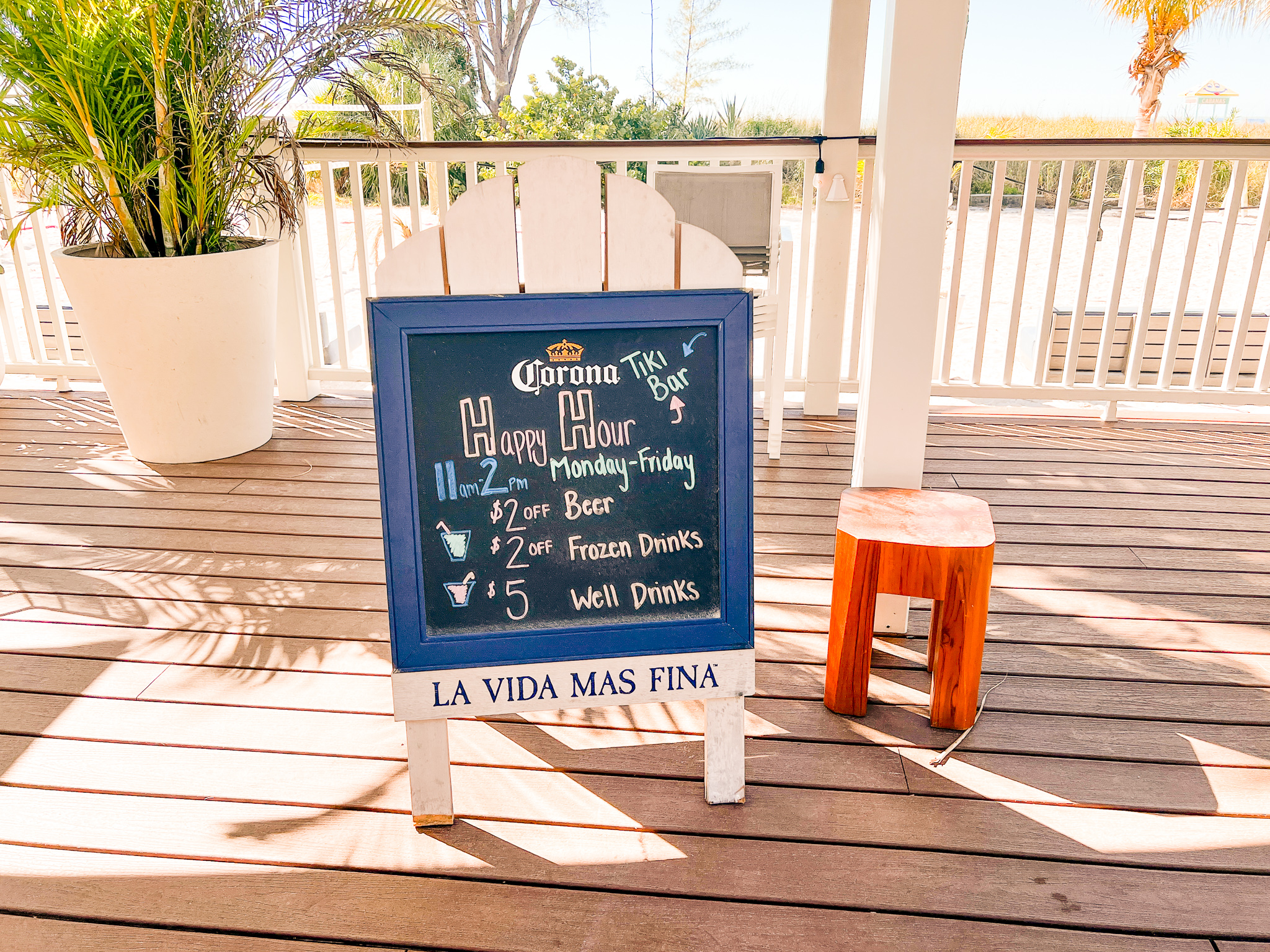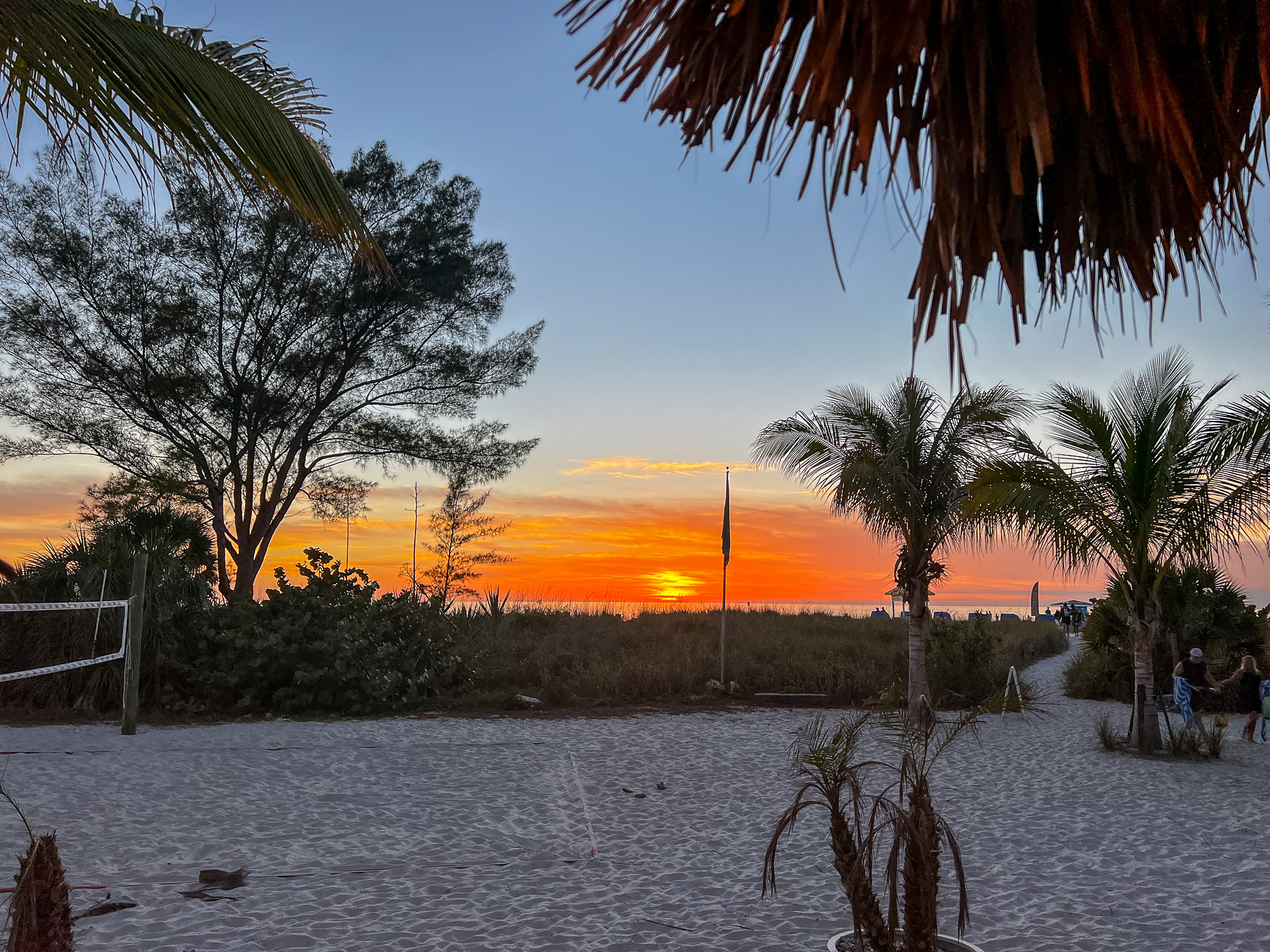 Coconut Charlie's Beach Bar has easily become my new favorite beach bar. I can't stop thinking about the Boom Boom Shrimp and Rum Runner, they're served with a view of the waves, sunshine and soft sand that we all love. I might need to book a staycation because Coconut Charlie's is the place to be and I know you'll all love it too.
Stay tuned for the Coconut Charlie's Grill review coming soon.
A coastal-American menu with fresh seafood and hand-crafted cocktails shoreside. Serving breakfast, lunch, and dinner. Happy hour specials and live music daily.
DISCLAIMER: Kevin, Lori, Abby, Haley, & Lindsey do not dine anonymously (this would be impossible) and we sometimes get free food (though never expected). However, we dine with the locals and we support our own. You will always get honesty in a respectful manner.

PLEASE NOTE: Reviews reflect a certain moment in time. Some restaurants stay extremely consistent over many years, and some change for the better or worse. Some things that may change are: chefs, recipes, food suppliers, ingredients, philosophies, ownership, etc. We always hope that you have the same good, or great experience we had.
More Foodies News, Reviews & Recipes