Pin On Cafe Brings Spot On Asian Fusion to the Edge District
Pin On Cafe Brings Spot On Asian Fusion to the Edge District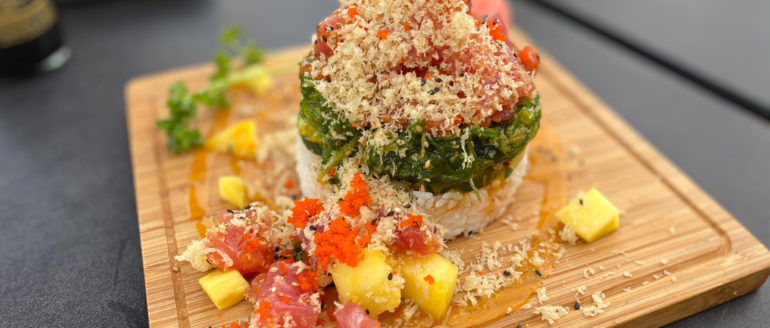 Even though we're still in the midst of unusual and often bizarre times, the restaurant scene here in St. Petersburg, FL appears to be budding and flourishing. Spring vibrations are in the air and new restaurants are popping up around town like wildflowers.
Pin On Cafe is one of the most recent restaurant newbies to open their doors in the ever-developing Edge District. The restaurant is brought to us by the fabulous team behind Pin, Wok & Bowl, which is located on the 400 block of Central. The owners were so passionate and inspired by their customers love for their cuisine and support for their restaurant that they knew a second location was the ultimate move. Pin On Cafe is located at 1100 Central Ave, in the former space that was occupied by Chang Mai.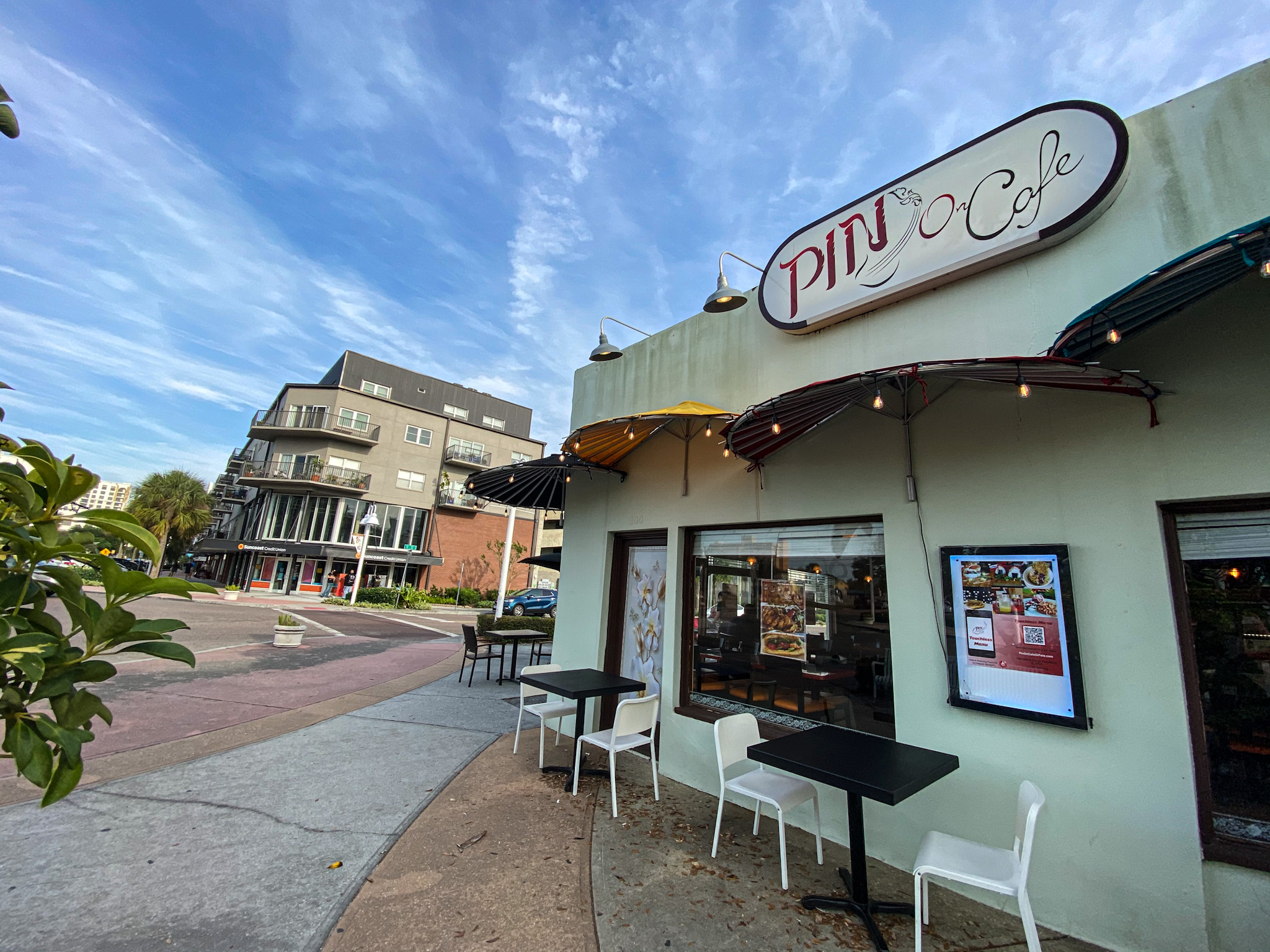 The overall atmosphere at Pin On Cafe is comfortably casual, both inside and out. In my humble opinion, opting to dine outside is the move, as the restaurant's location is idyllic and the people watching capabilities are optimal. Not to mention, it's nice and shaded in the late afternoon/early evening, which proves to make dining outdoors in Florida quite tolerable.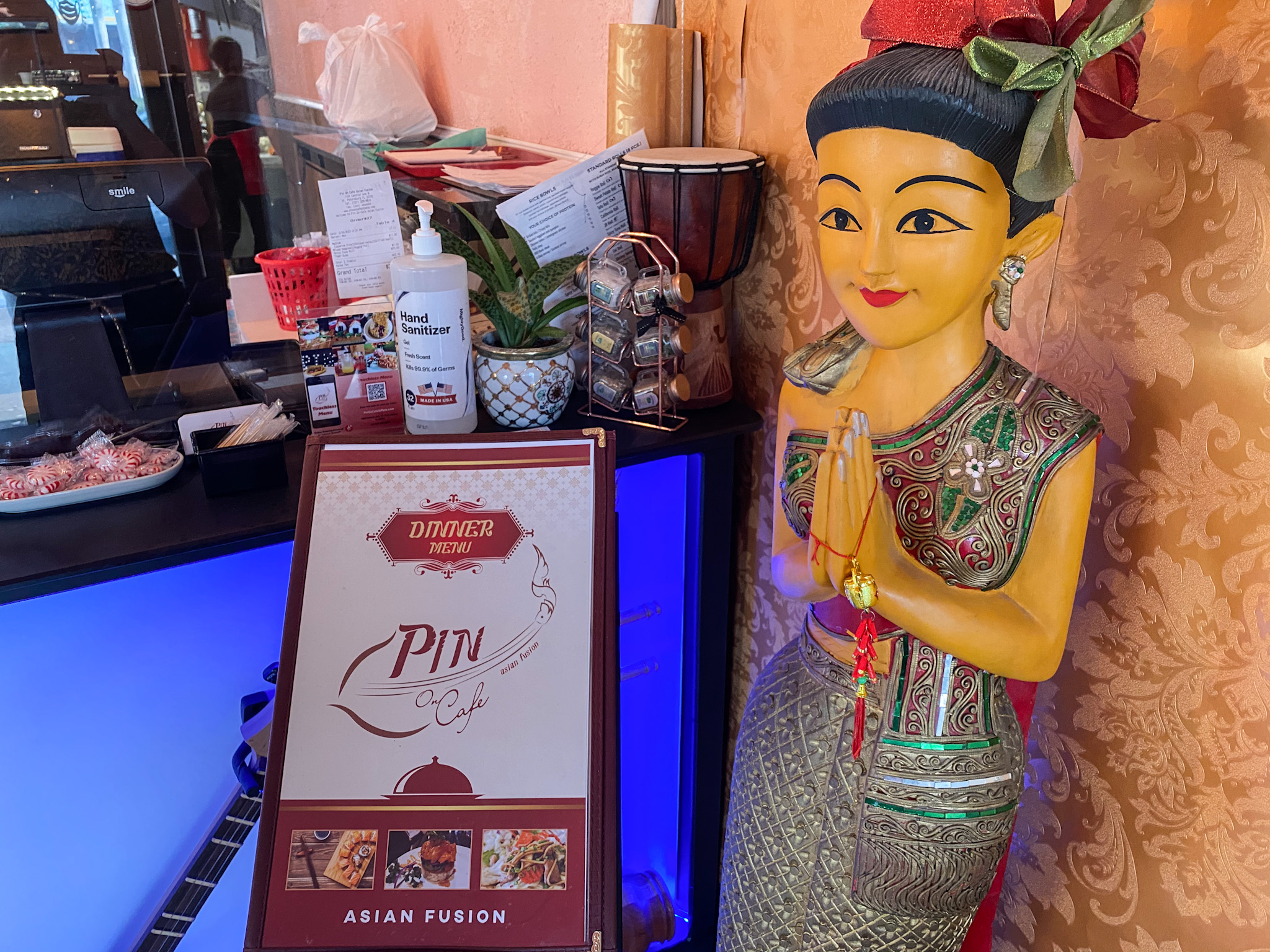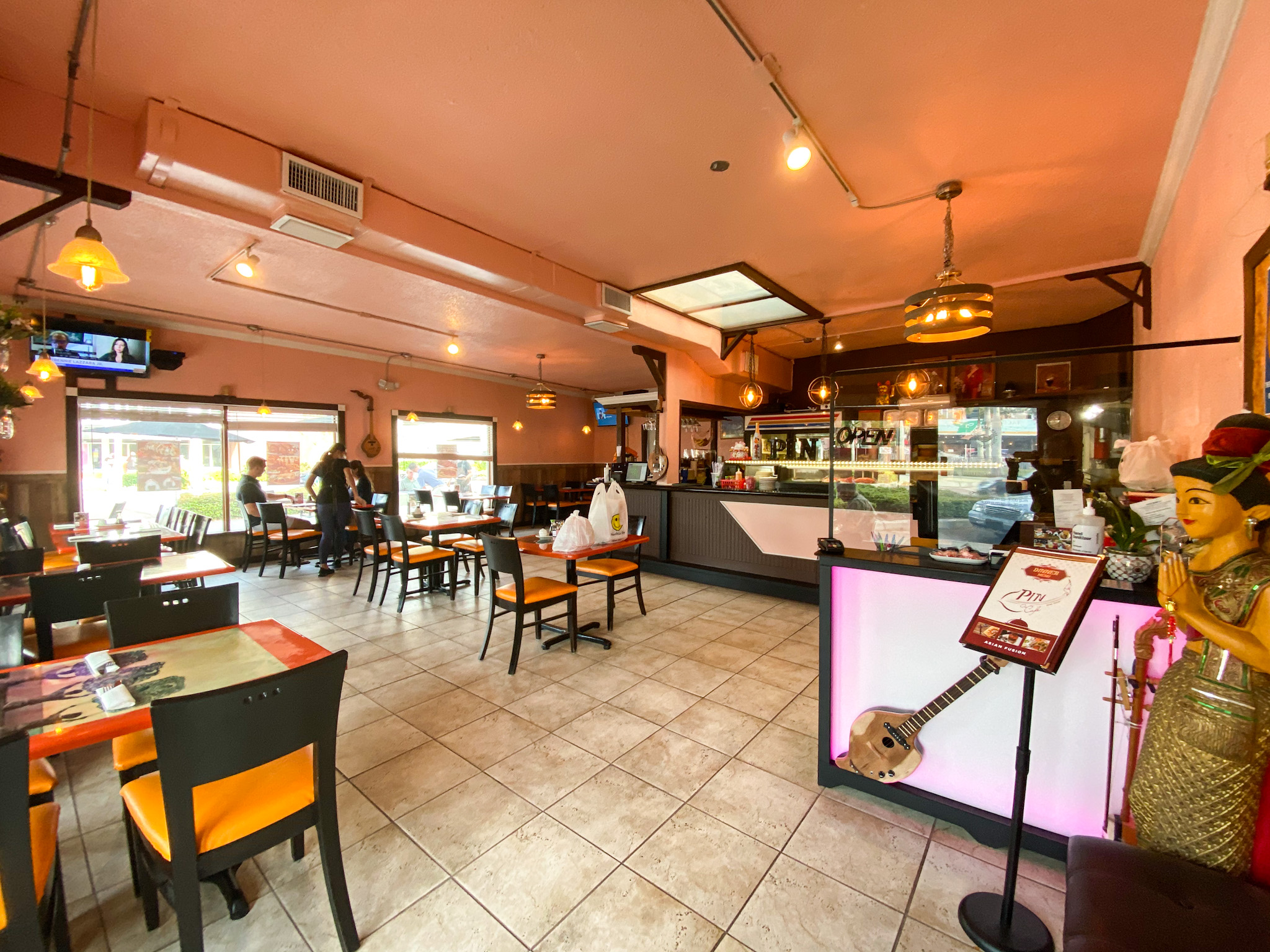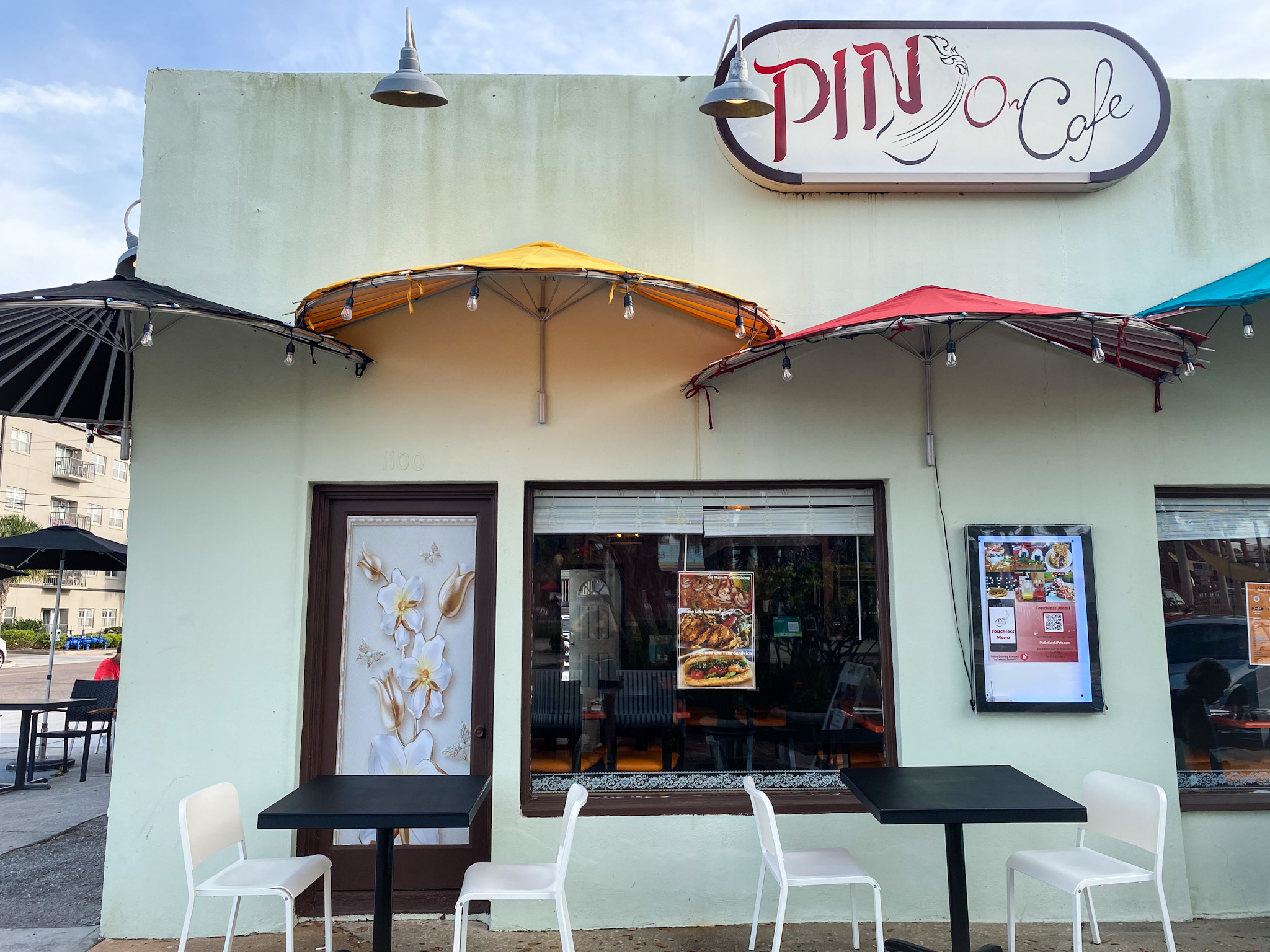 One glance at the menu and you're sure to note that it is indeed plentiful, loaded with a number of captivating Asian Fusion creations. Sections of the menu include, but are not limited to: Rice Bowls, Curry Bowls, Sushi Rolls & Stacks, Noodle Woks, Katsu Sandos (!!!) and more. Needless to say, there's a whole lot on that menu lineup to get excited about. Of course, I had to ask what some of the most popular items are, thus far. The response? Sushi Stacks, Sushi and the Noodle Woks. Lucky for you, we ordered one from each popular category (and a lot more, of course); therefore, expect me to divulge in a bit.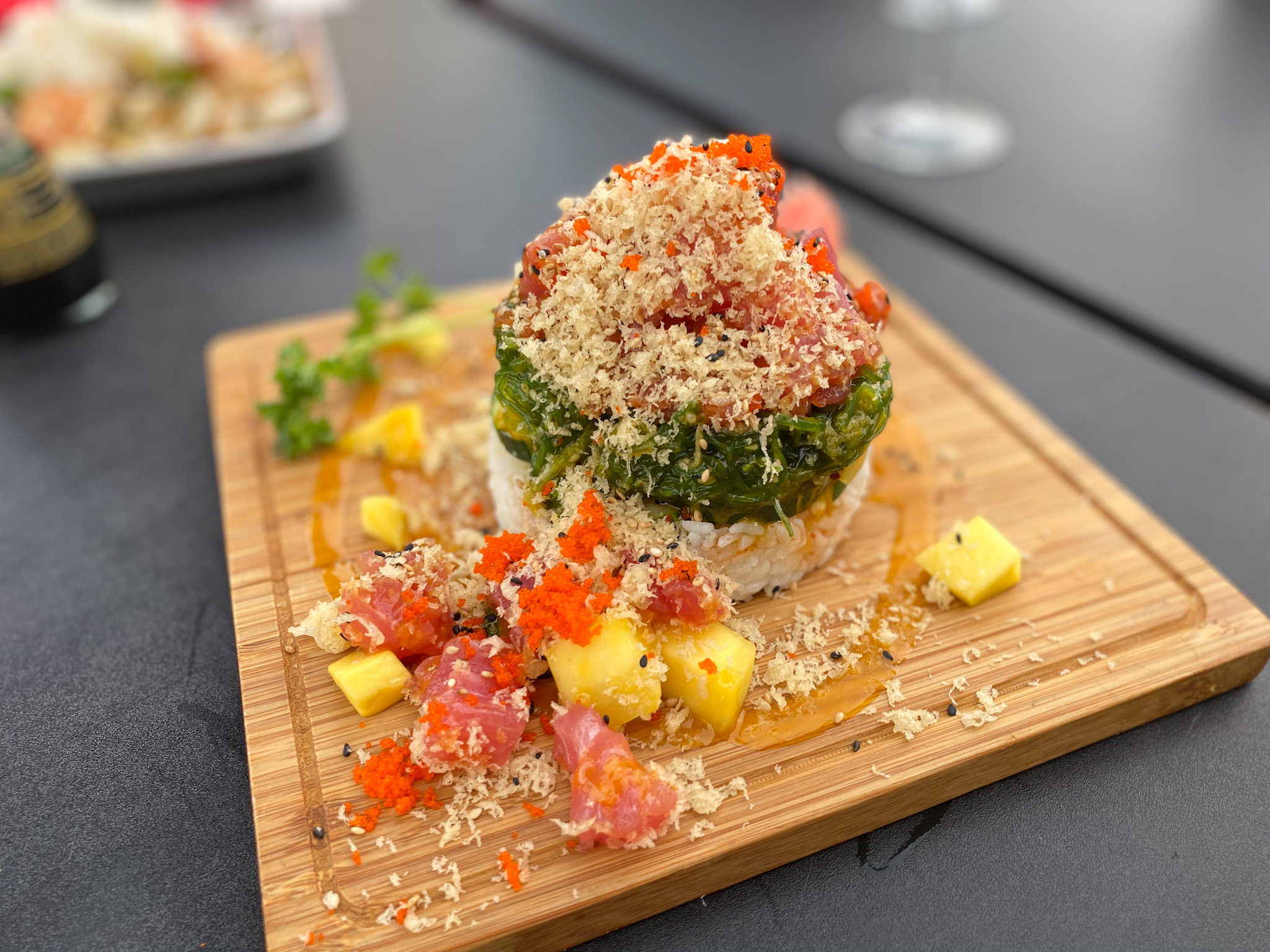 We started things off with an order of Krab Rangoon. Wontons stuffed full of krab meat, cream cheese, and…Curry! I got the utmost excited when I read that in the ingredient list. Initially, I didn't know how the curry would affect the rangoon – no need to fix what isn't broken, right? Oh, but I'm happy to report that the addition of the curry exalted the appetizer. These little pillows of pure perfection are oh, so easy to love.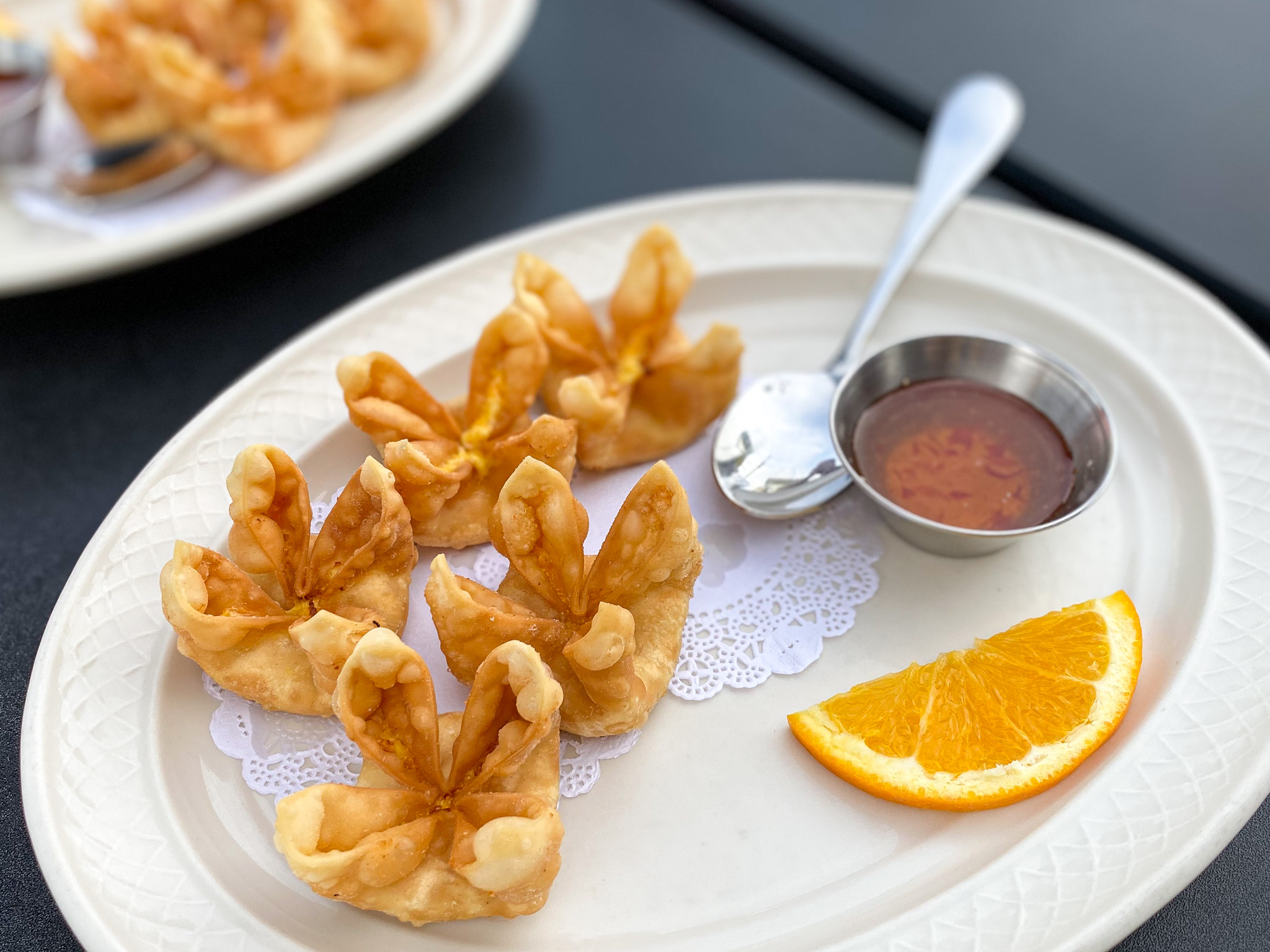 Also from the Appetizer section, we elected to order the Thai Original Wings. We order wings a lot when we eat out, but are often ever so slightly disappointed. You see, I'm one of those who just *needs* needs the wings to be crispy. Extra crispy. A lot of times, no matter how much I reiterate the "extra crispy, please," I'm left with a sad plate of chewy wings that, sadly, are just mediocre. However, the Thai Original Wings at Pin On Cafe are anything but mediocre. In fact, I didn't even request them to be crispy, by mistake, and after one bite, I deemed them the crispiest wings that I have had in St. Pete, period.
The wings are not spicy, in the slightest, and are coated in a pleasant batter. They are presented with a sweet and tangy sauce for dipping or drizzling. With each crunch, I enjoyed the wings more and more.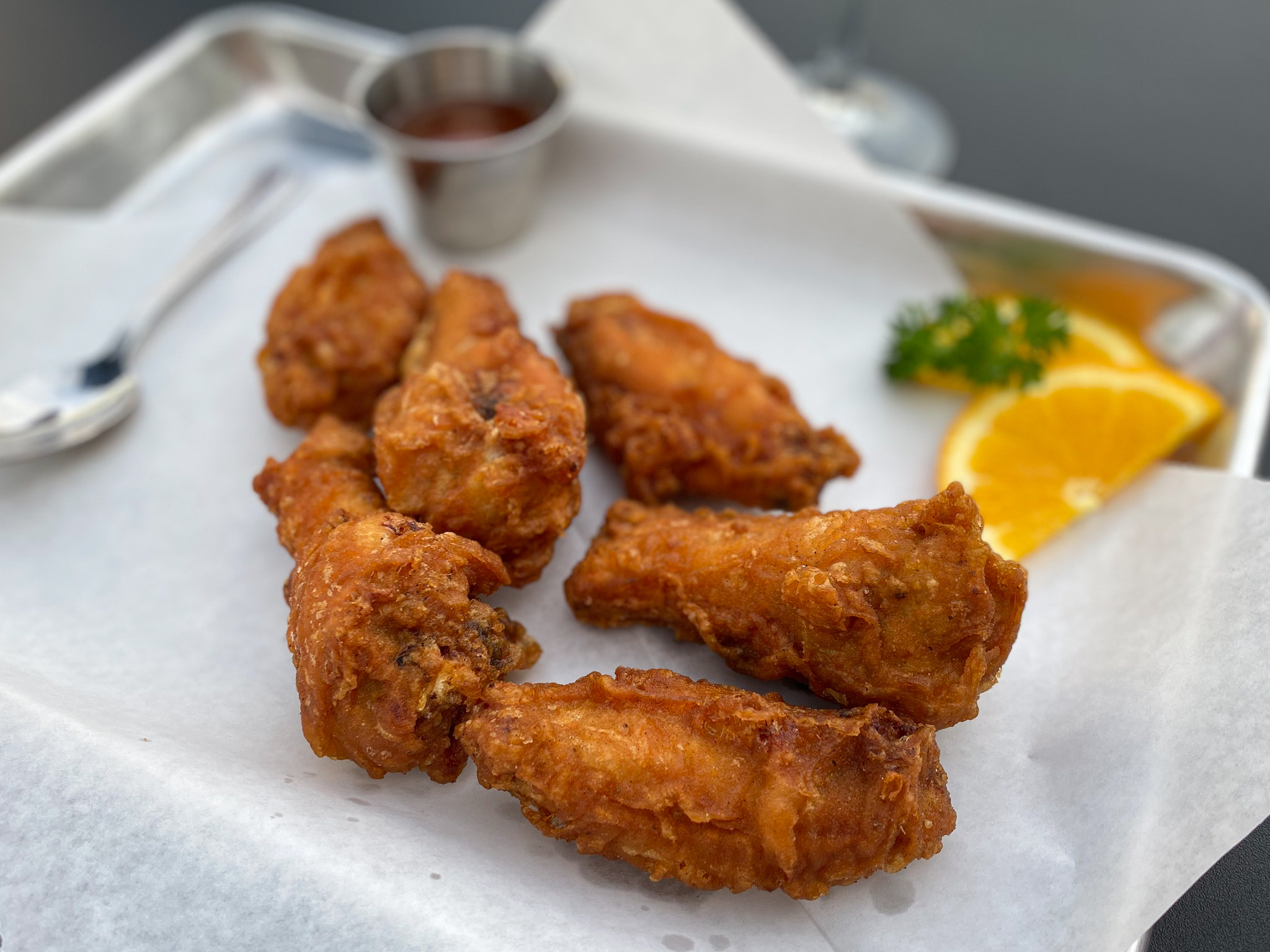 Next up, the Standard Spicy Tuna Roll. This roll is often a go-to of mine when I'm in the mood for a non-fussy sushi situation. Spicy Tuna, avocado and kimchi sauce. Simplistic, slightly spicy and utterly fresh. Splendid as an airy app to share among friends, but also superb as a meal for one – what's not to love?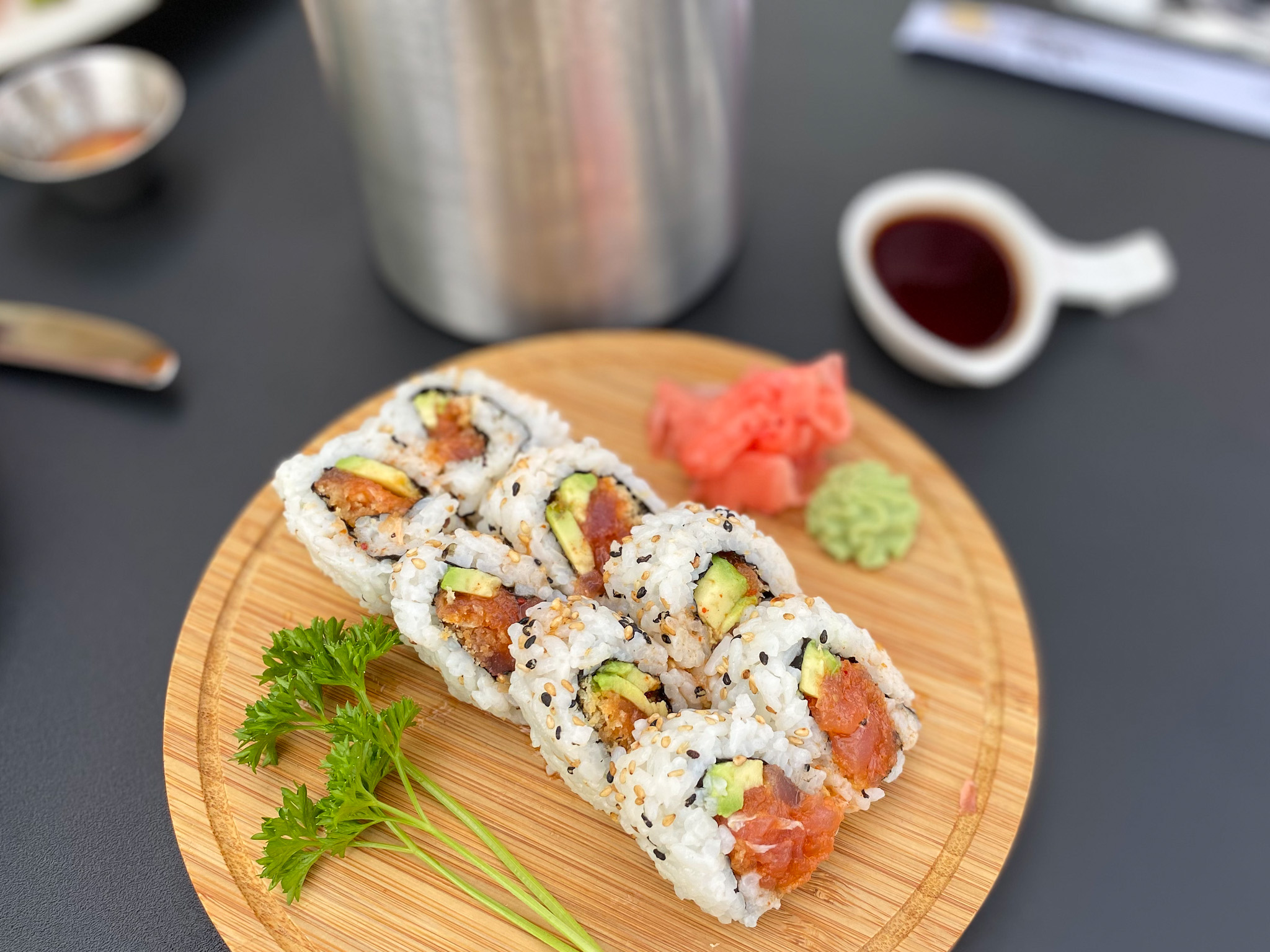 Of all of the treasures that we reveled in during the meal, the Sushi Stack was my favorite. They have a few different selections, though I decided on the Red Towel. Why the Red Towel? Well, here's the description: sushi rice, spicy tuna, tuna, cucumber, mango, jalapeño, seaweed salad, tempura flake, mango sauce, kimchi sauce, masago and sesame seed. I mean, come on! Not only is she beauty and grace, but she is delicious.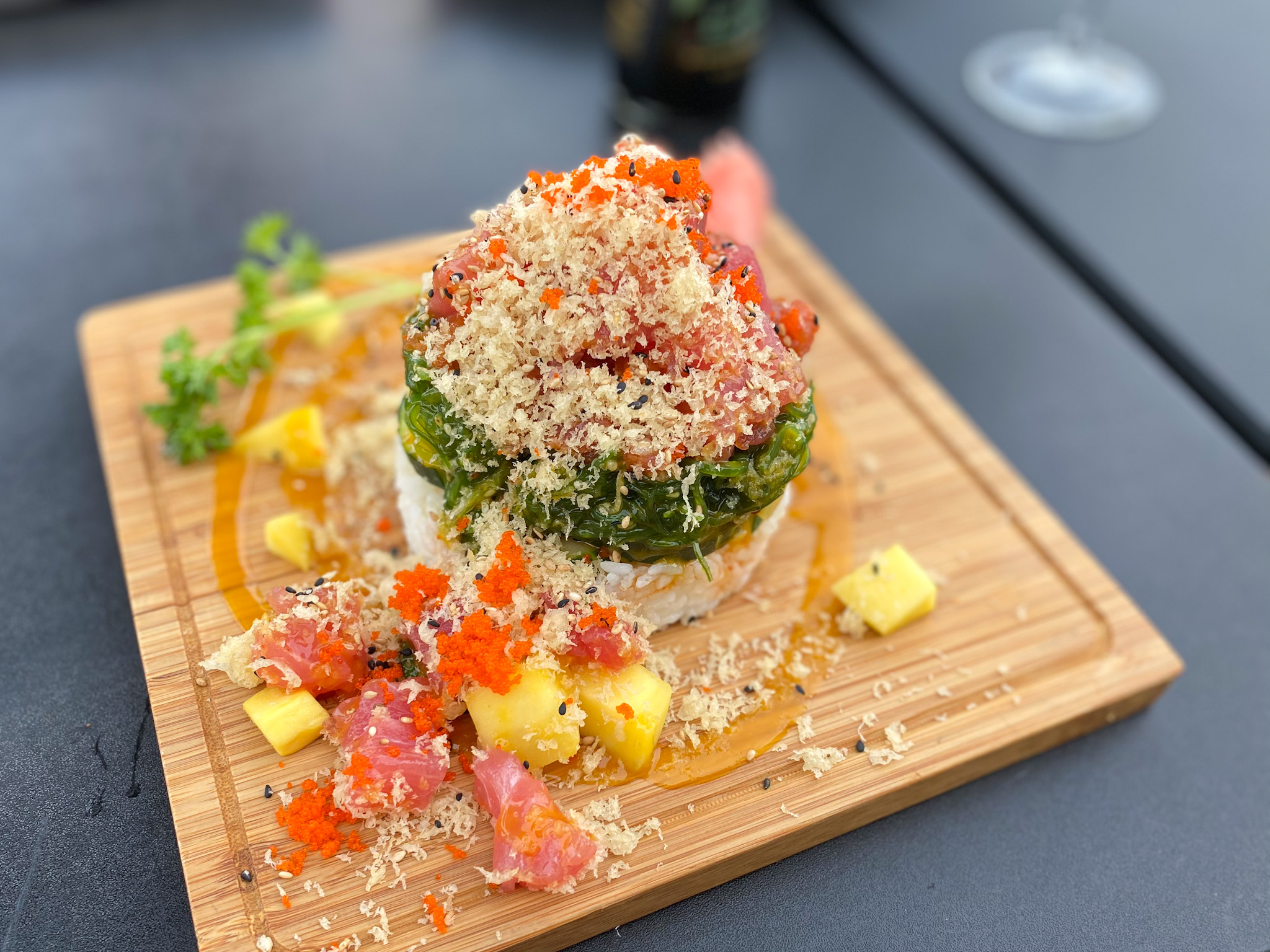 Perhaps you're overwhelmed by the menu, or maybe in search of something a bit more familiar? Pin On Cafe has something for that, too! Queue, the Rice Bowls. The regular Rice Bowls come with jasmine rice, sautéed mixed veggies, pickled red cabbage, Japanese omelet and your choice of protein. Or, there's also the Fried Rice Bowls – same ingredient gang and choice of protein as the regular bowls, but with fried rice, of course.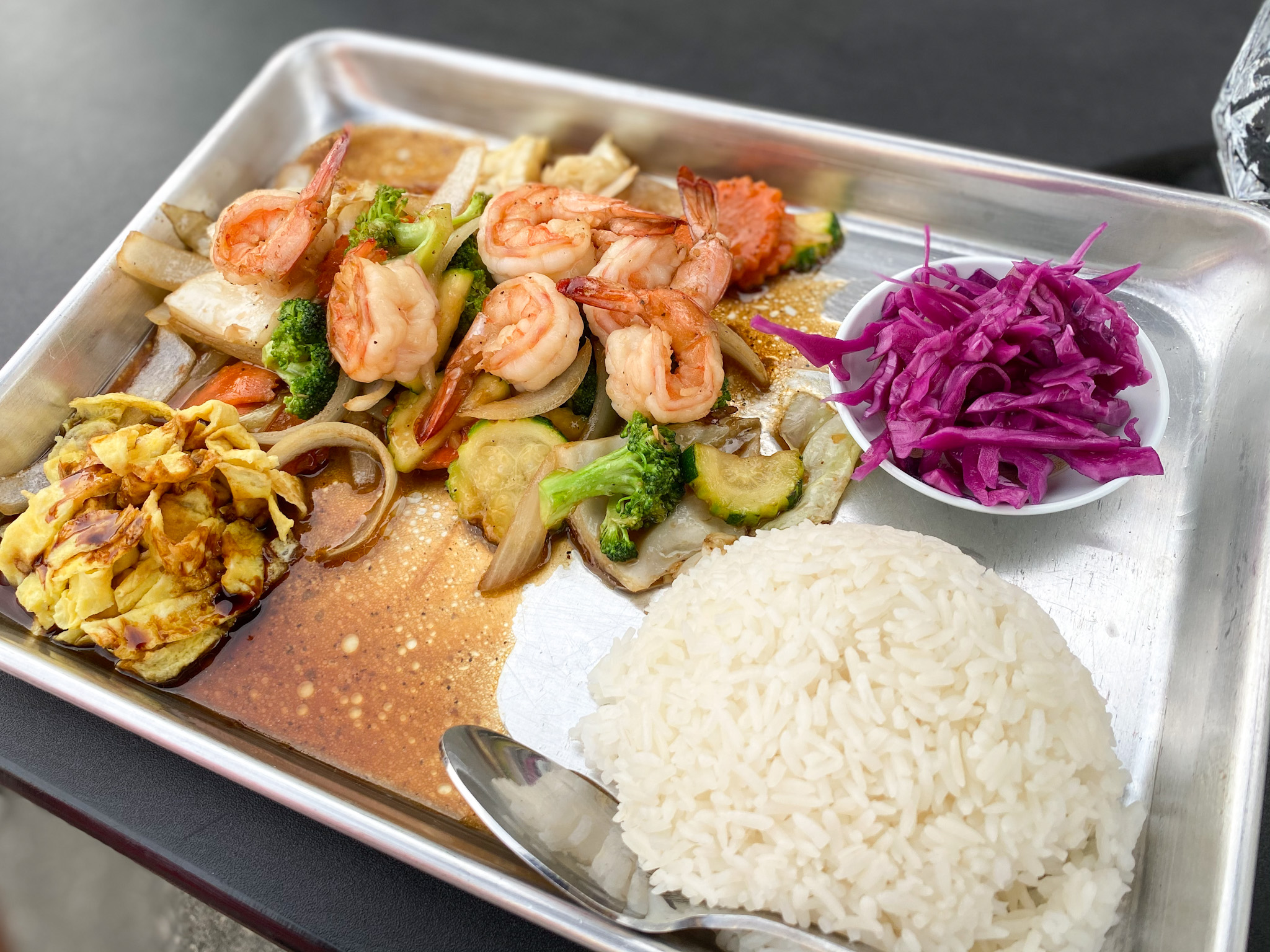 Since the Noodle Woks were mentioned as being quite popular amongst diners at Pin On, we had to order one up. This was my husband's main dish and he loves all things spicy…I mean, uncomfortably spicy; therefore, naturally, he chose the Kee Mao Ramen Noodle Wok (which also has a special notation about the side beside it with a pepper and a flame. This Wok includes ramen noodle sautéed with choice of protein (he chose Chicken Katsu), spicy house sauce, egg, basil, bell pepper, onion, green bean and carrot. Each bite provides a blast of flavor while notes of faint spice dance in the background. The heat level though is quite tolerable, so don't let that frighten you.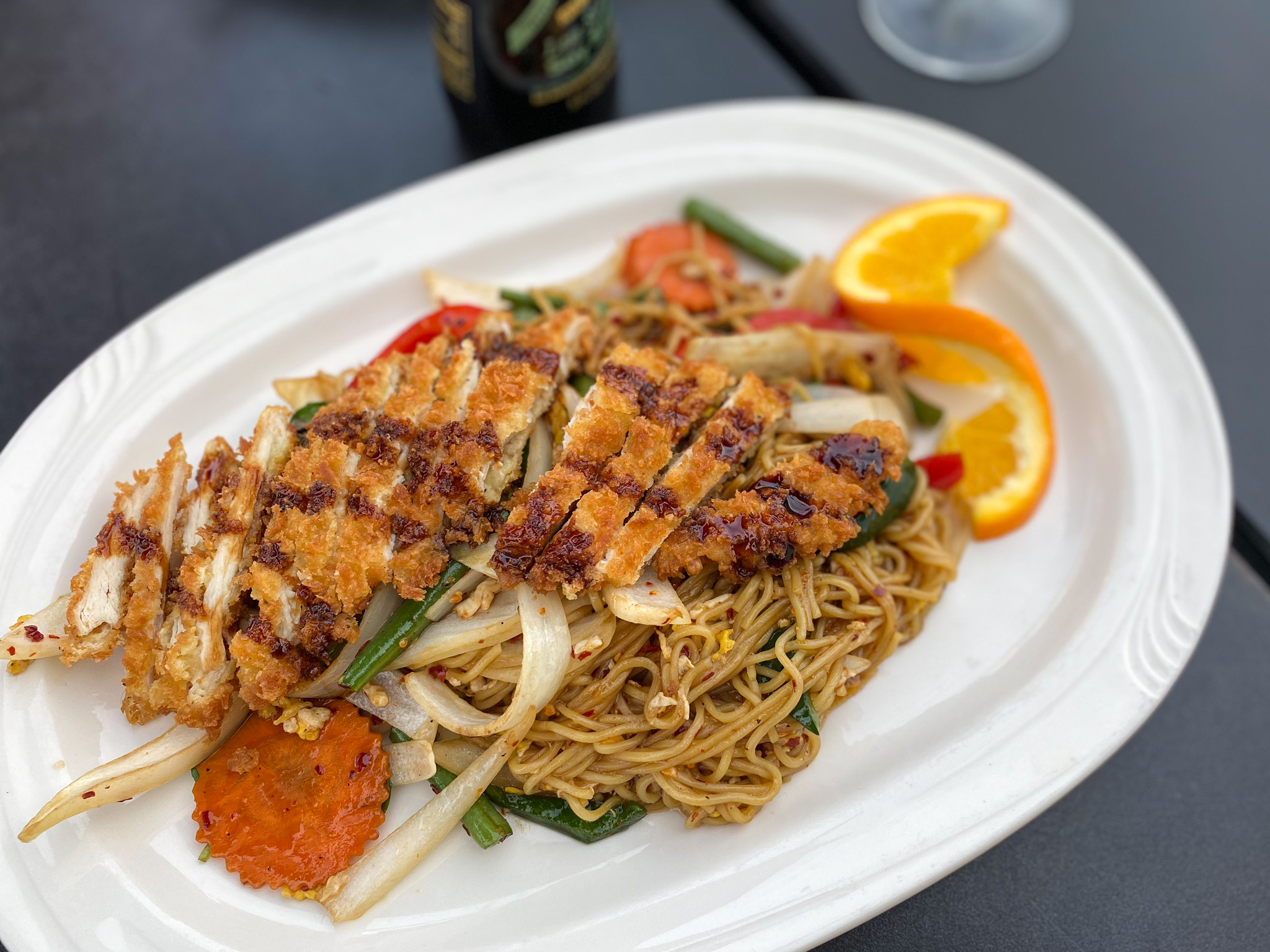 I saved one of the best for last! At last, I present to you: The Katsu Sando.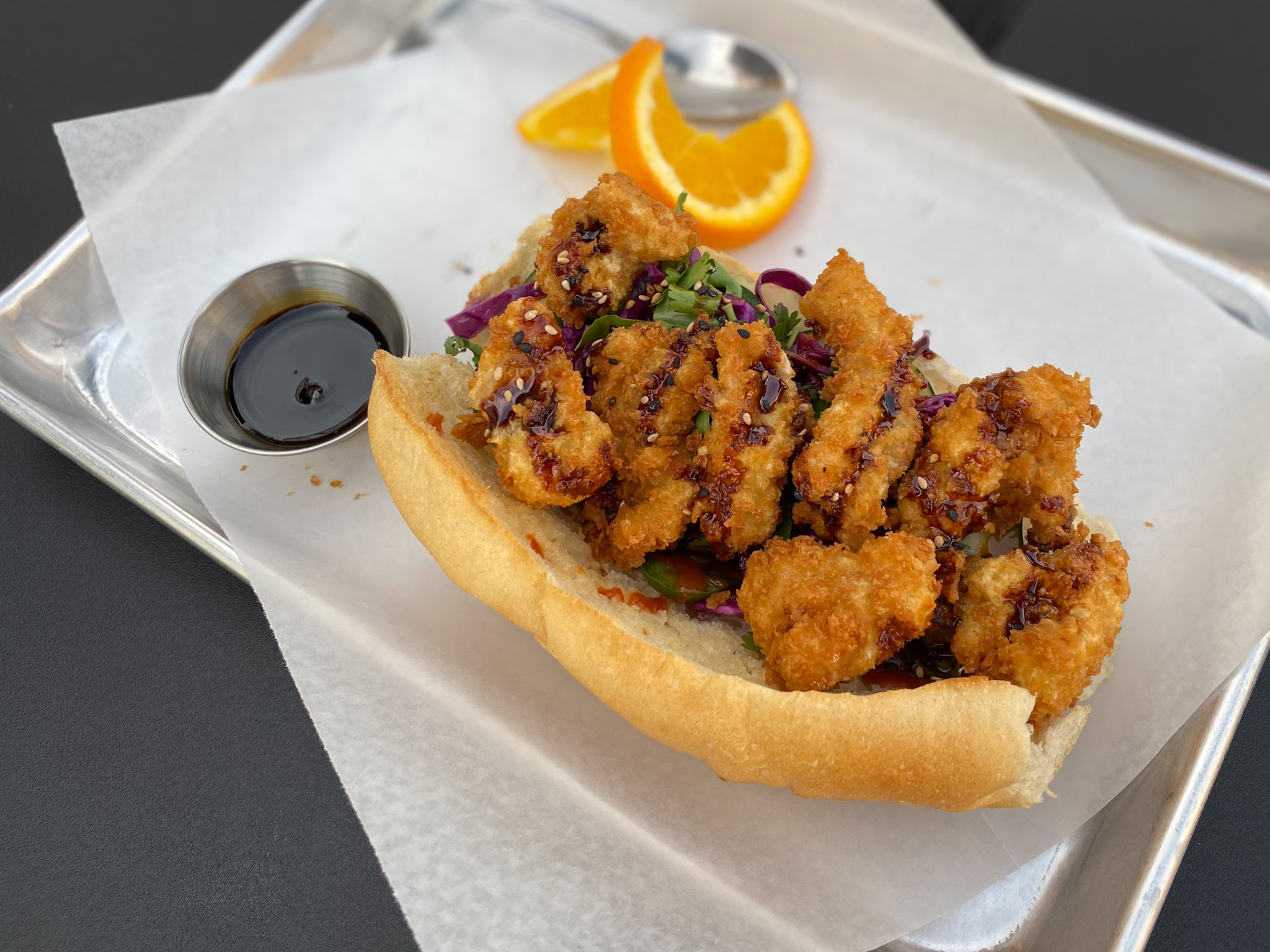 We made a last minute game time decision to order this bad boy. Fried Chicken Katsu pieces, lettuce, tomato, pickled cucumber and carrot with cats sauce and Japanese mayo stacked high on a sandwich roll of sorts. Initially, I was skeptical, as I had never seen a Katsu sandwich served as such. I have always eaten the Katsu (pork and chicken) sliced pounded thin and served on Milk bread, or something of the sort. Pin On Cafe's rendition is quite heftier than what I'm used to, and a little more difficult to eat, but it's worth your attention!
Overall, Pin On Cafe is another home run from the Pin, Wok & Bowl team. With an exciting, versatile menu, friendly service and prime outdoor seating for observing all of the happenings in the heart of The Edge District, look no further than Pin On Cafe for your next casual meal, or outdoor lunch.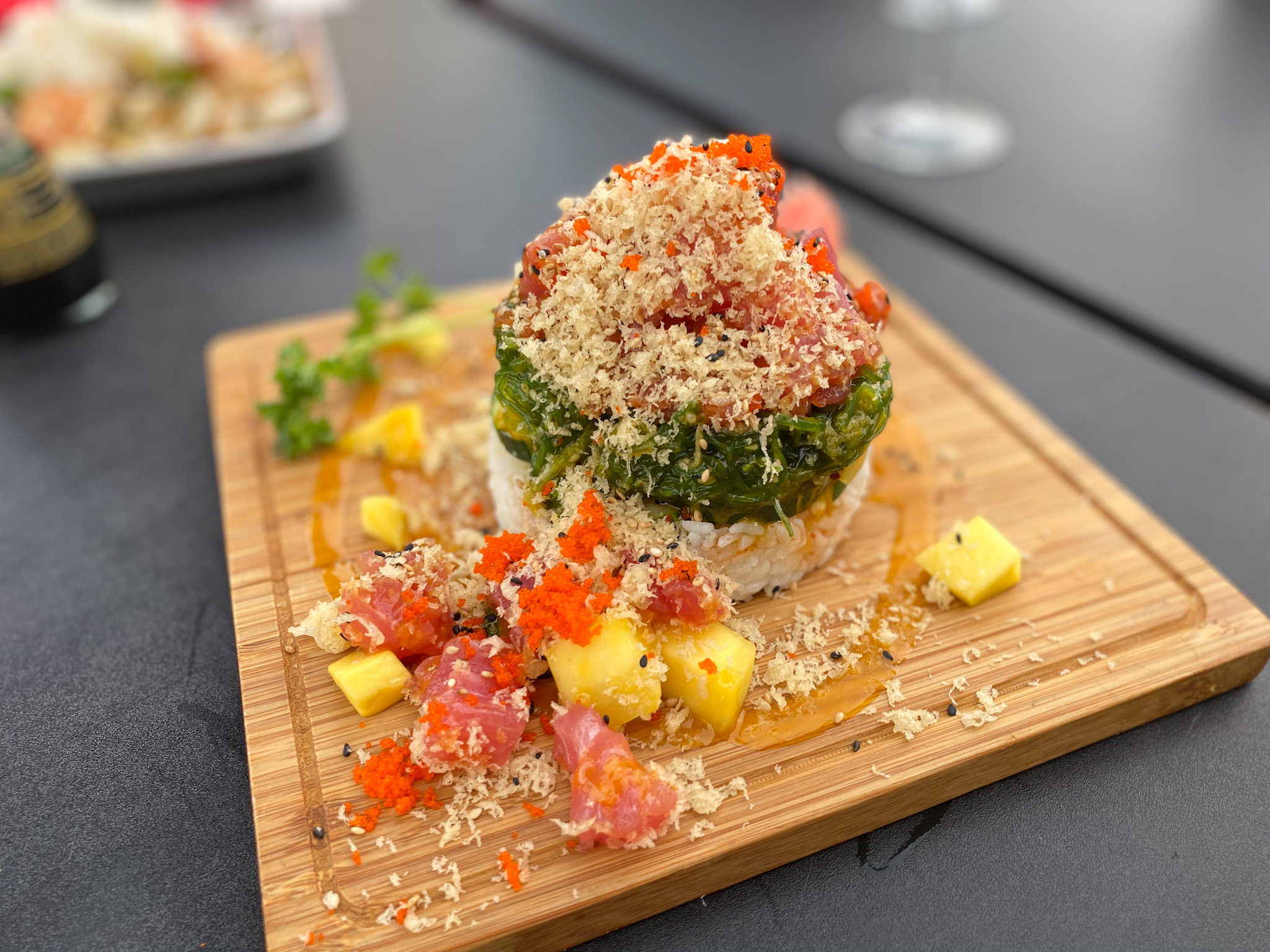 Readers Rating

Rated 4.9 stars




4.9

/ 5 (

Reviewers

)

Spectacular
---
Pin On Cafe

727-329-8910

Japanse

,

Thai

,

Asian Fusion

Mon - Thu

11:00am - 3:00pm

Mon - Thu

4:00pm - 9:30pm

Fri -

11:00am - 3:00pm

Fri -

4:00pm - 10:00pm

Sat -

12:00pm - 10:00pm

Sun -

12:00pm - 10:00pm
1100 Central Ave

,

St Petersburg

,

Florida

33705

,
---
An Asian Fusion Restaurant in St Pete Florida, offers many new twists on Thai and Japanese Food along with new authentic Thai dishes and many vegetarian-friendly options.
DISCLAIMER: Kevin, Lori, Abby, Haley, & Lindsey do not dine anonymously (this would be impossible) and we sometimes get free food (though never expected). However, we dine with the locals and we support our own. You will always get honesty in a respectful manner. We do not include any large national or regional chains in our ratings and reviews. We focus on independent locally owned eateries exclusively.

PLEASE NOTE: Reviews reflect a certain moment in time. Some restaurants stay extremely consistent over many years, and some change for the better or worse. Some things that may change are: chefs, recipes, food suppliers, ingredients, philosophies, ownership, etc. We always hope that you have the same good, or great experience we had.
More Foodies News, Reviews & Recipes