La Casa Del Pane is St. Pete's Bustling Bakeshop by the Beach
La Casa Del Pane is St. Pete's Bustling Bakeshop by the Beach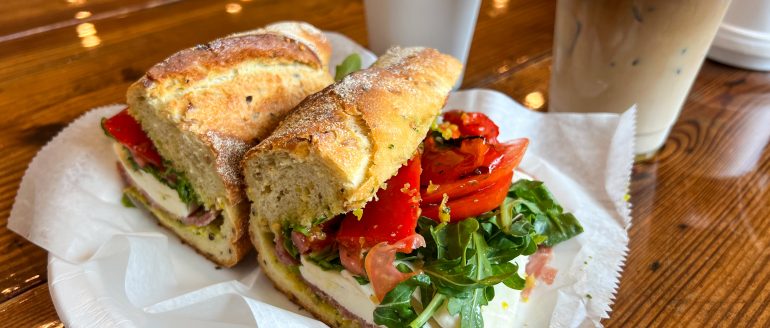 I have a thing for Italian bakeshops. On a Saturday morning, there's just nothing better than the aroma of hot coffee and fresh baked bread wafting through the air. Beautiful pastries lining the refrigerated cases, cappuccinos brewing one-by-one, and everything from eggs to sandwiches being enjoyed by content patrons –  that's precisely what you can expect the atmosphere at La Casa Del Pane to be like on any given morning.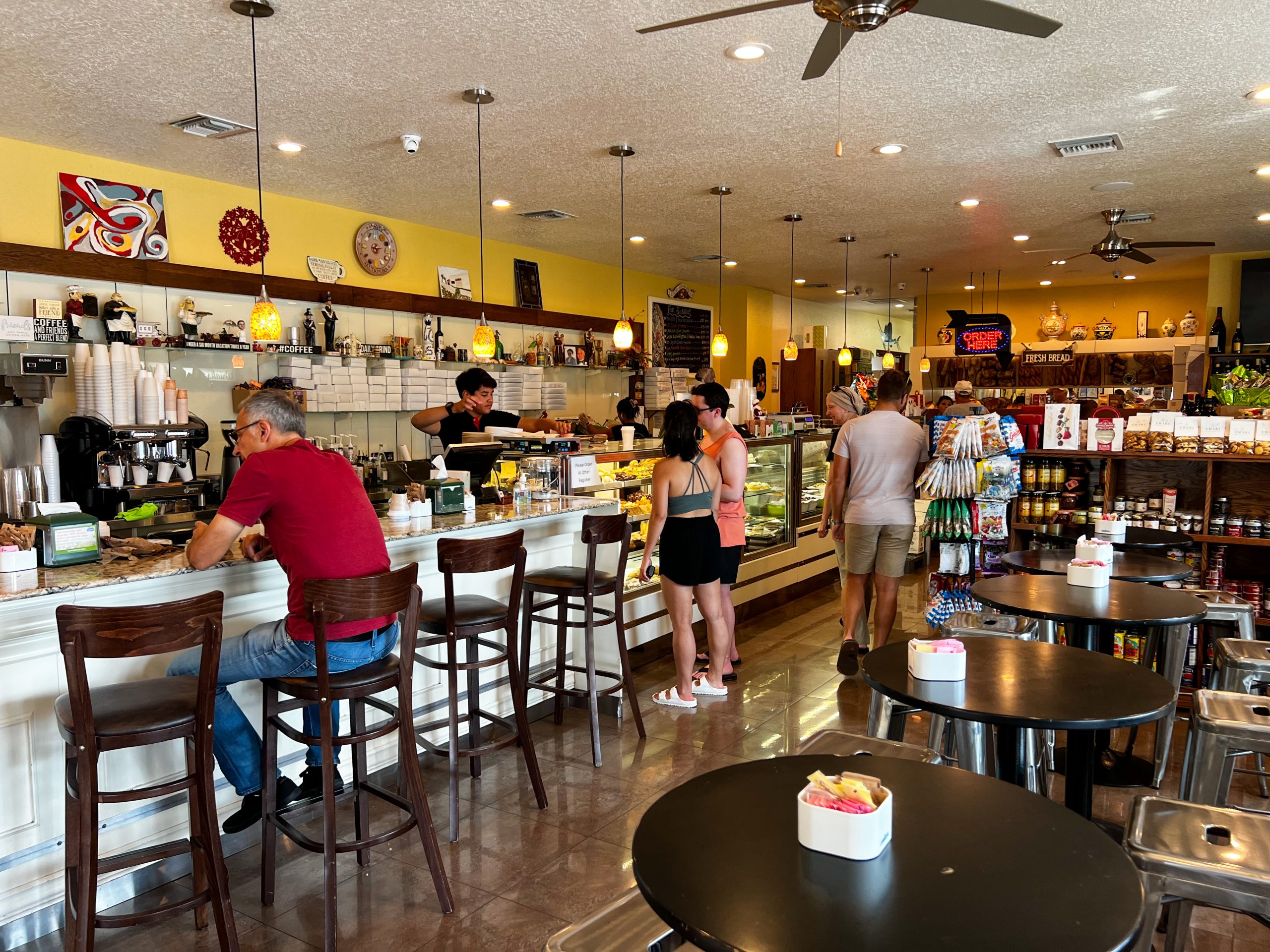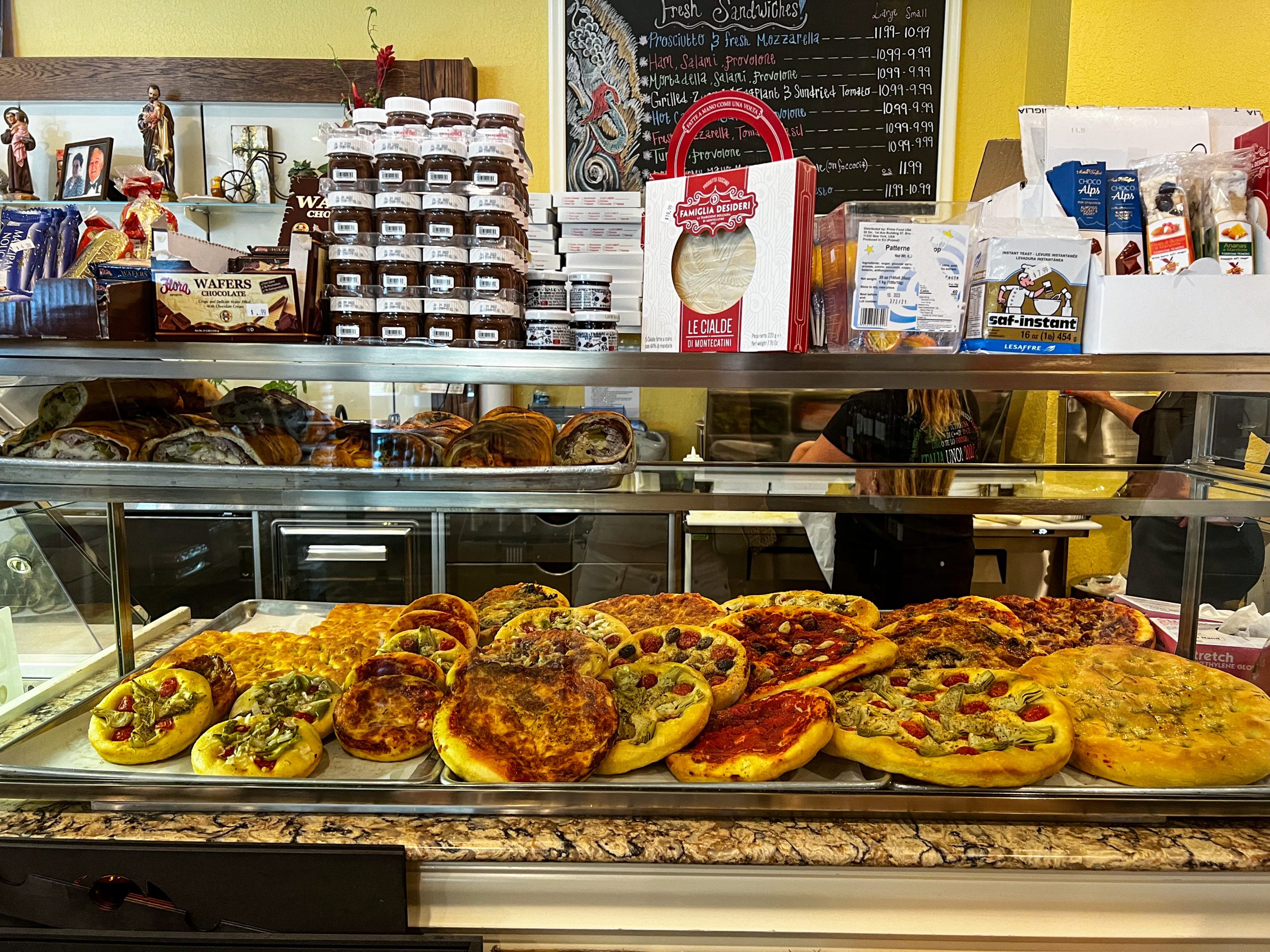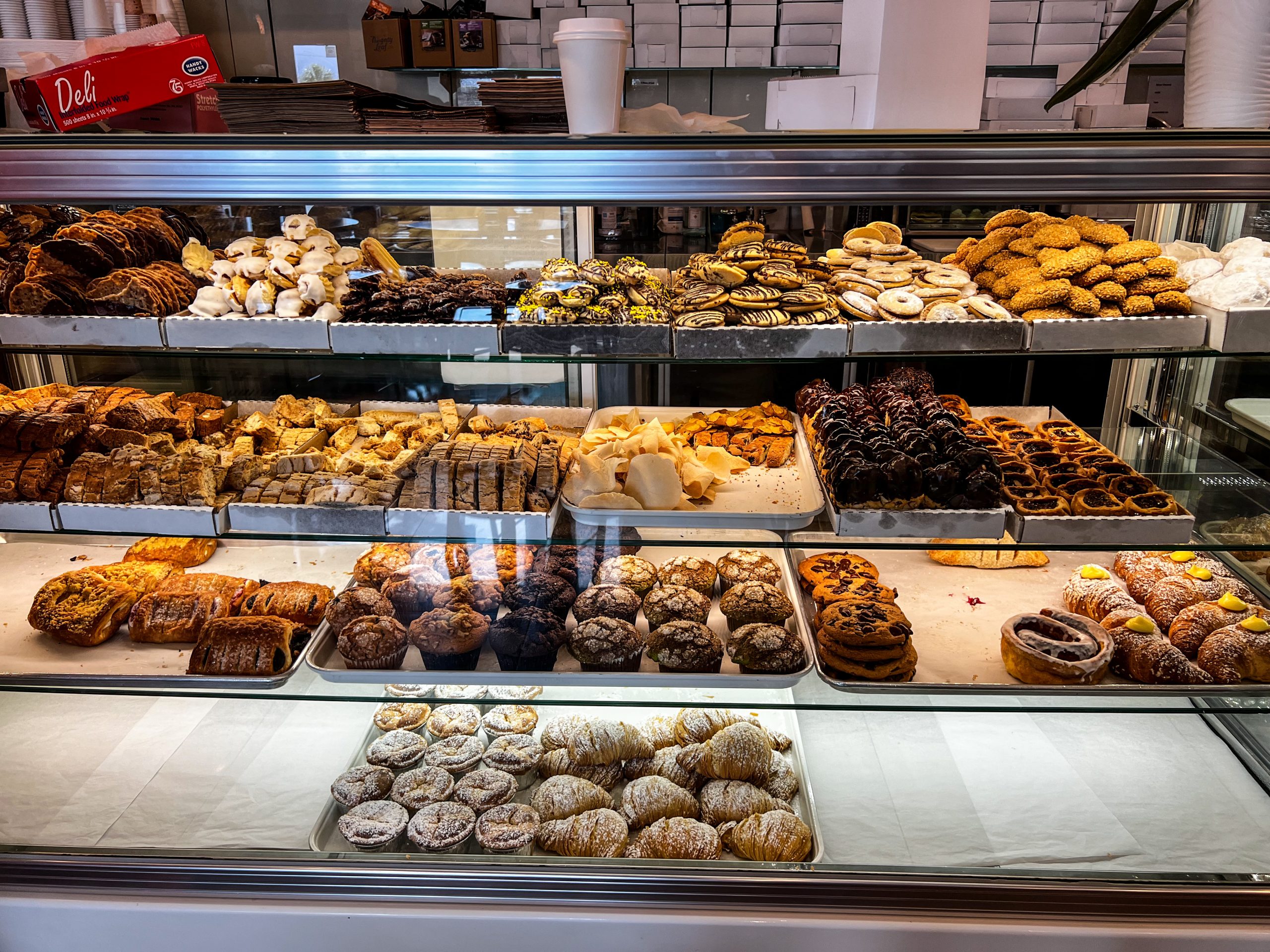 The humble bakery sits just off of Gulf Blvd in St. Pete Beach and offers parking in the back. It is a fast-casual establishment but food can be consumed both on premise (without table service) or to-go. It gets busy – quite busy – especially on a weekend for both the breakfast and lunch crowds. Therefore, I recommend planning your visit accordingly, especially if you're stopping in with a group. Lots of seating is offered – both outside and in. Seating is also available at the coffee bar. I definitely recommend ordering yourself some goods – like pizza, a pastry or perhaps focaccia – and then settle in at the cozy coffee bar while you wait. Don't forget to order a coffee too, of course.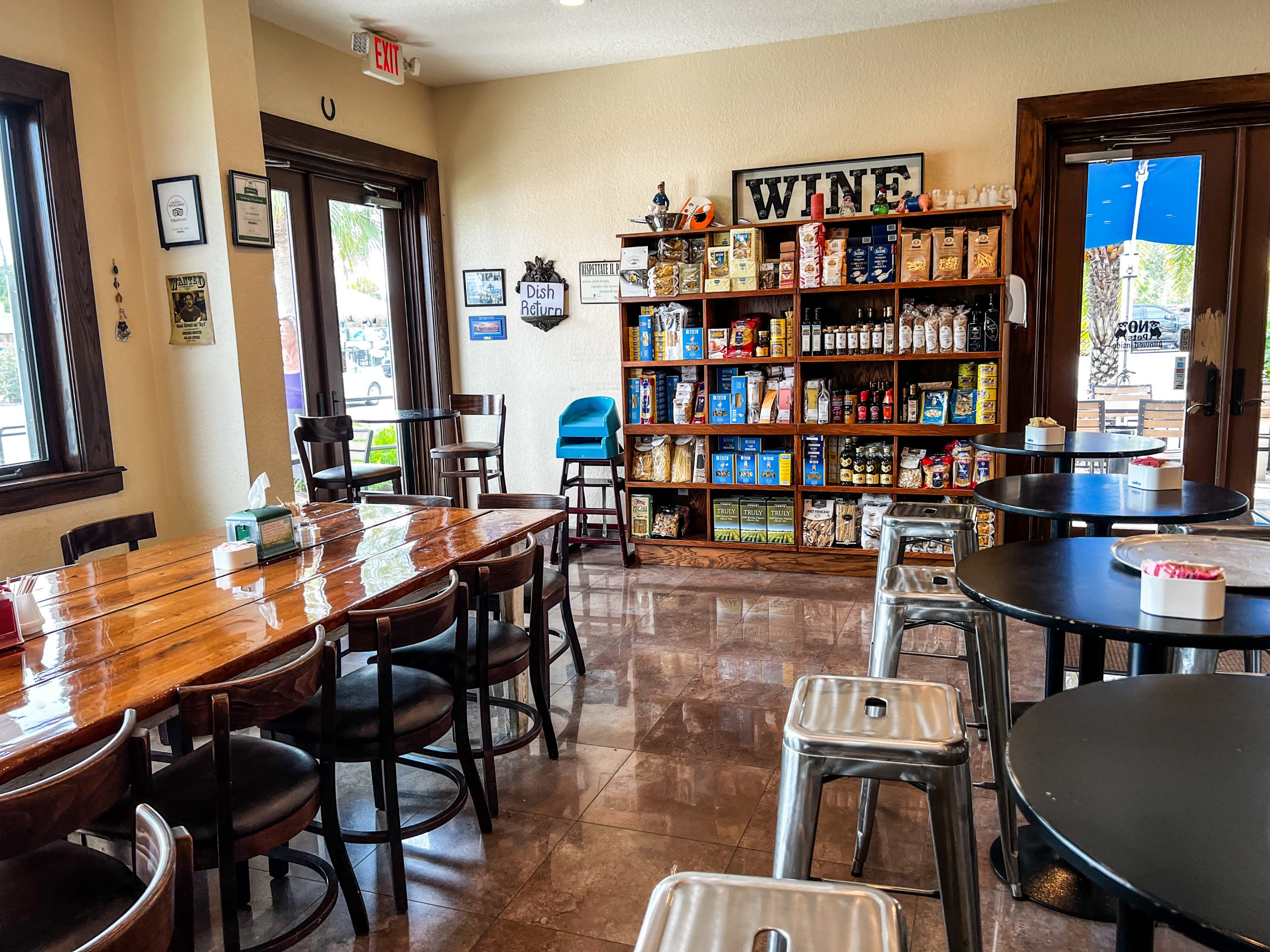 I had to wonder – how did it take me nearly six years to first visit this quaint bakery situated near St. Pete Beach? What a wonderfully kept secret. Not only is La Casa Del Pane an authentic Italian bakery, but I'd consider them to be quite the artisanal little grocer as well. They carry plenty of both everyday and fine wines, pantry ingredients galore, a number of dried pastas, desserts and so much more.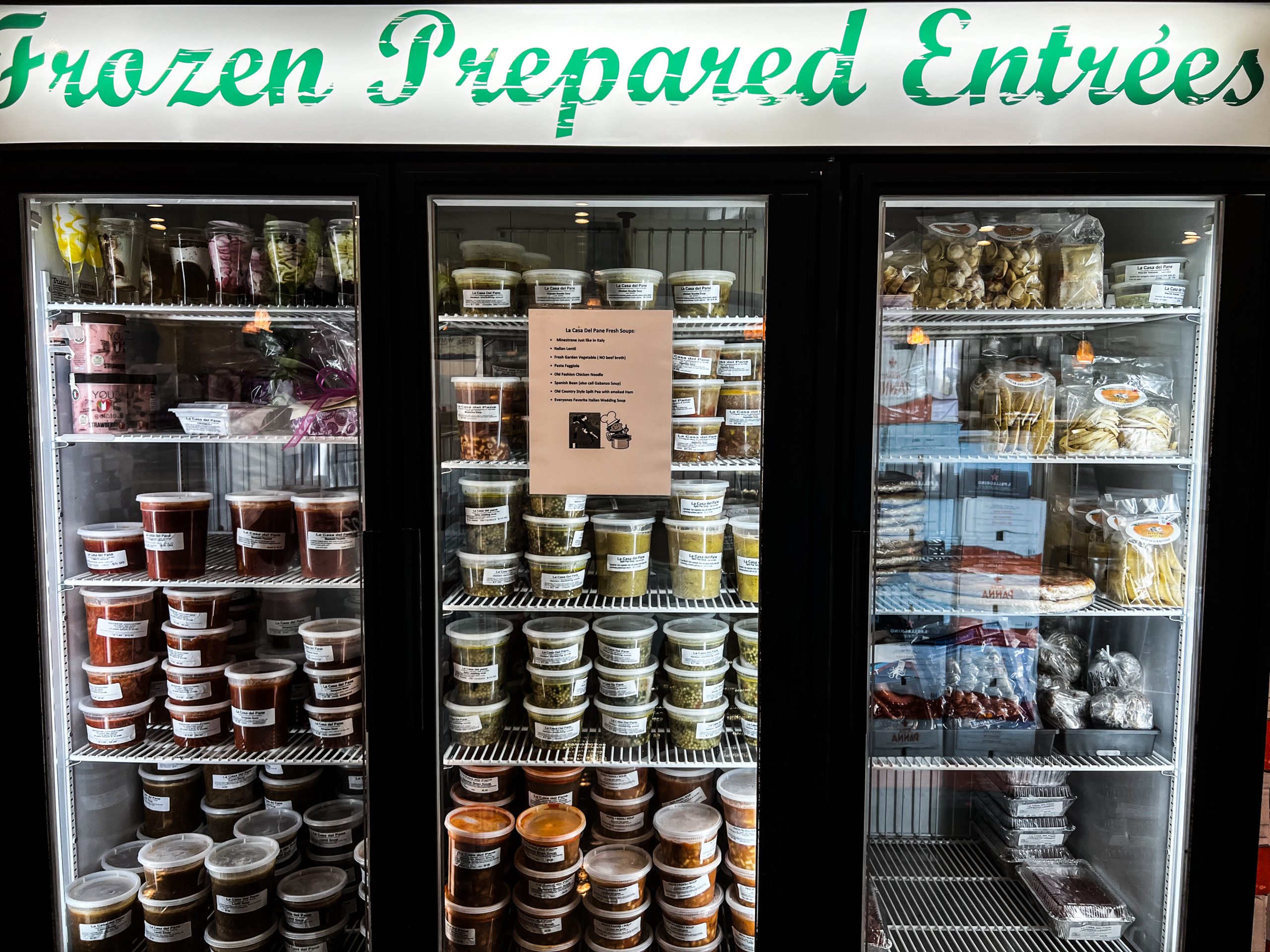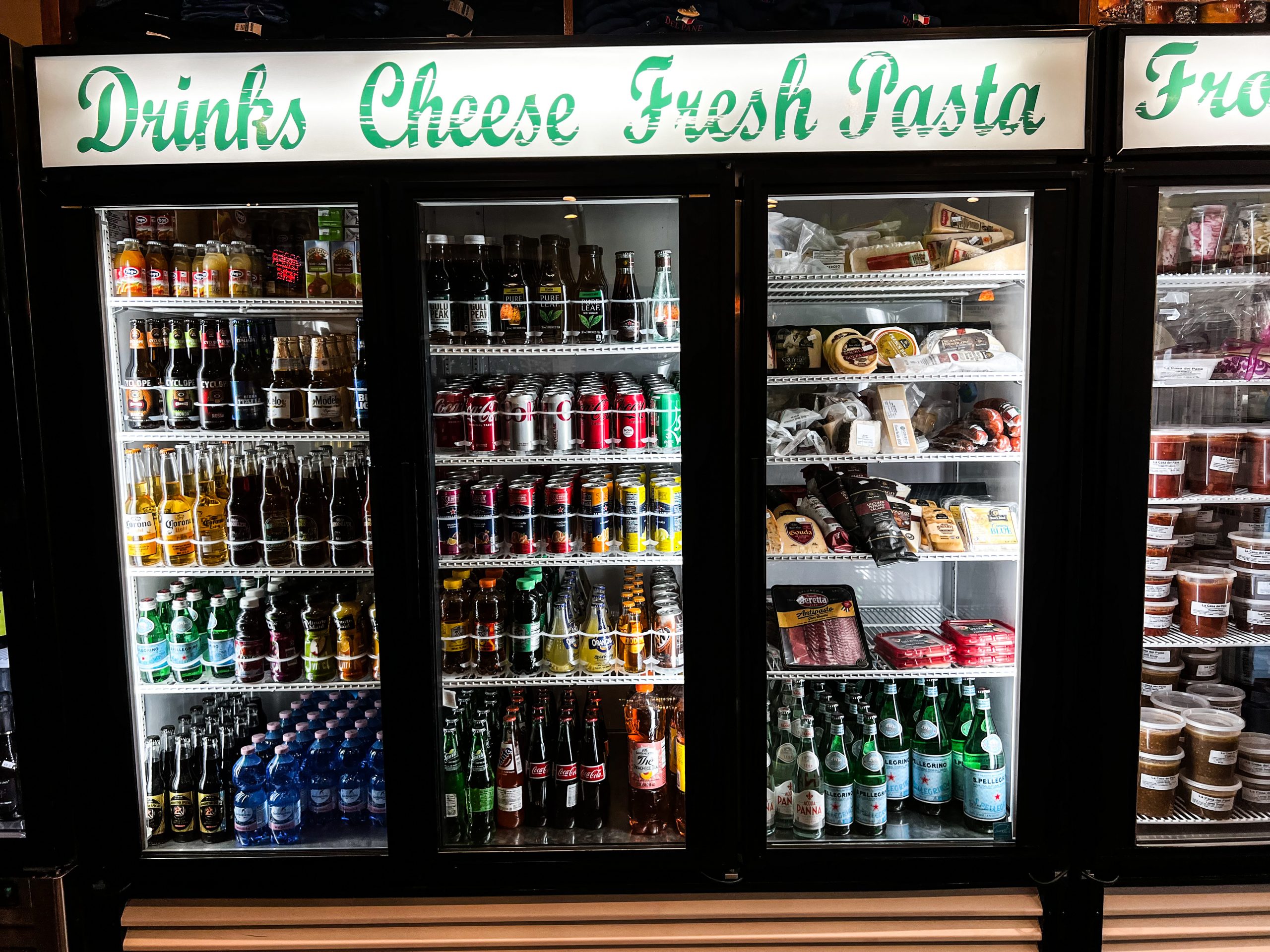 The grab and go section of La Casa Del Pane is quite impressive with everything from beverages and a variety of cheeses to prepared items like soups and sauces and frozen desserts. I love that the offerings available makes this bakeshop idyllic for both those entertaining at a moment's notice and anyone looking to prepare an elaborate meal from scratch. I'll tell you what, if I were visiting and staying on the beach, this is where I would be stocking up. Not only is their food impressive, but their wine selection holds its own as well. You're bound to find something suitable for poolside sips, evening sunsets and casual conversation alike. White, red, rosé and even a small selection of beer.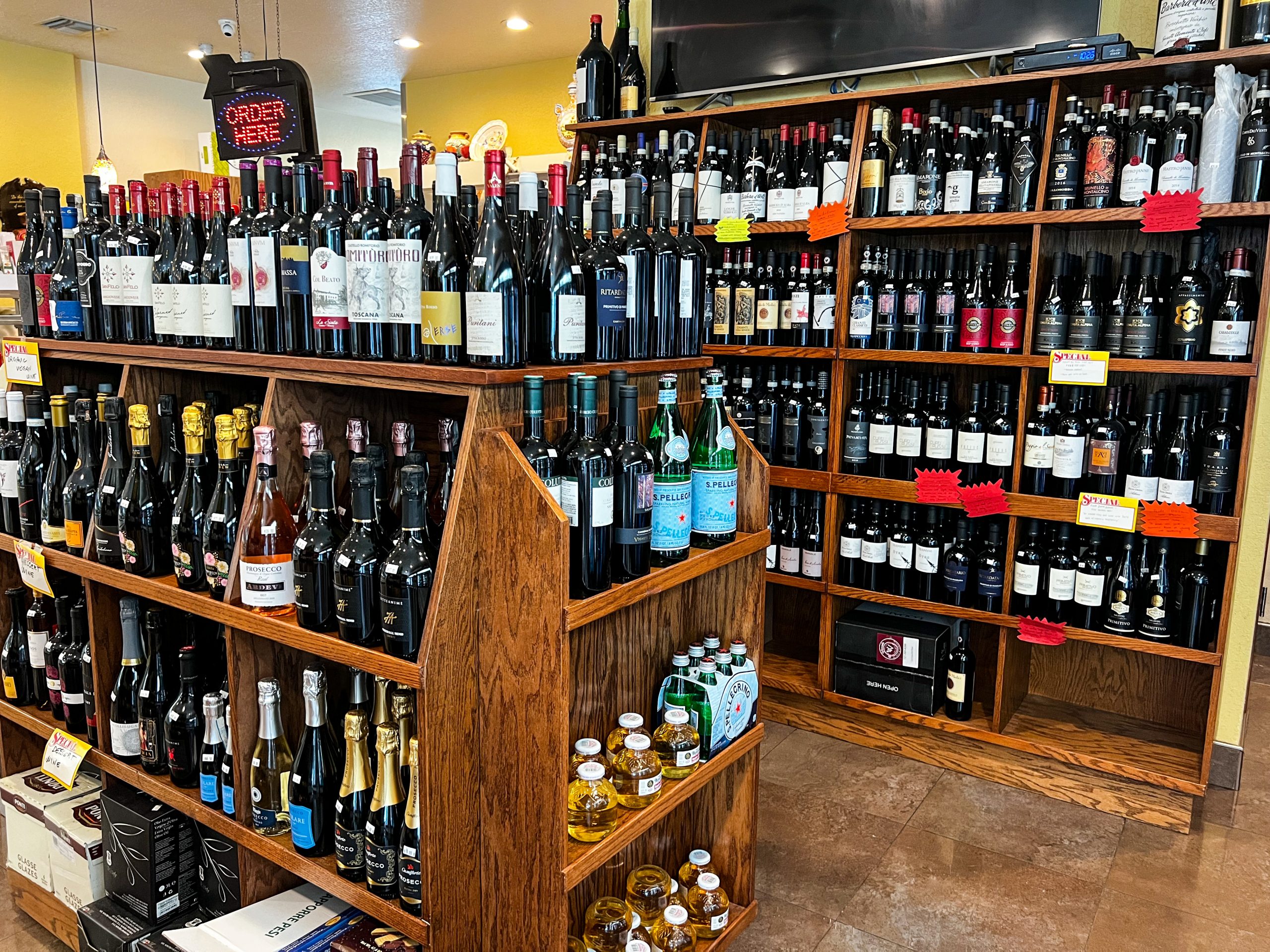 When we first visited La Casa Del Pane I was almost overwhelmed (in the best possible way) – I wanted one of everything. My husband shot those dreams down quickly so I agreed to settle on a few items to enjoy at the bakeshop as well as some items to enjoy at home at a later time – and wine, of course.
For my lunch I knew I wanted one of their sandwiches with their incredible fresh baked bread. The Casa Special "House Special," immediately grabbed my attention with Sopressata, fresh mozzarella, arugula, tomato and multi-grain bread with house sauce. The sandwich is available in two sizes. Pictured below is the smaller of the two and it was more than enough for me – I was able to have half for lunch and the other half the next day. The ingredients used are simple but they are of the utmost quality which truly makes a difference. The bread was ultra fresh, warm and crisp on the outside yet soft on the inside. I wouldn't change one single thing.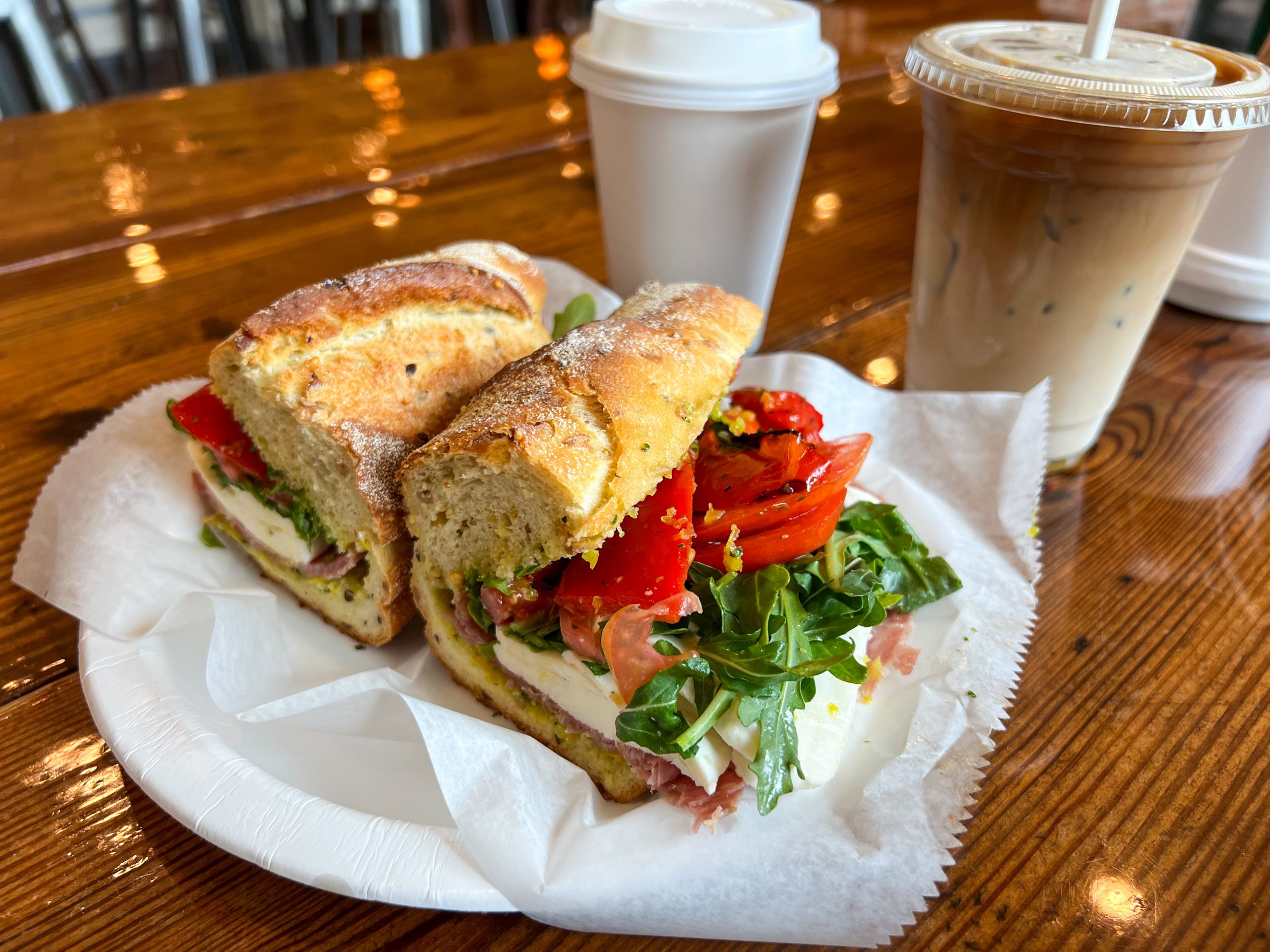 Brunch was on my husband's radar and he chose one of the specials too. The Maddalena special comes with two eggs, avocado, basil and tomato on bread with pesto served on the side. To me, this is their rendition of avocado toast – a much more sophisticated avocado toast, at that. Be sure not to skimp on the pesto drizzle as it really enhances this otherwise simplistic and light breakfast.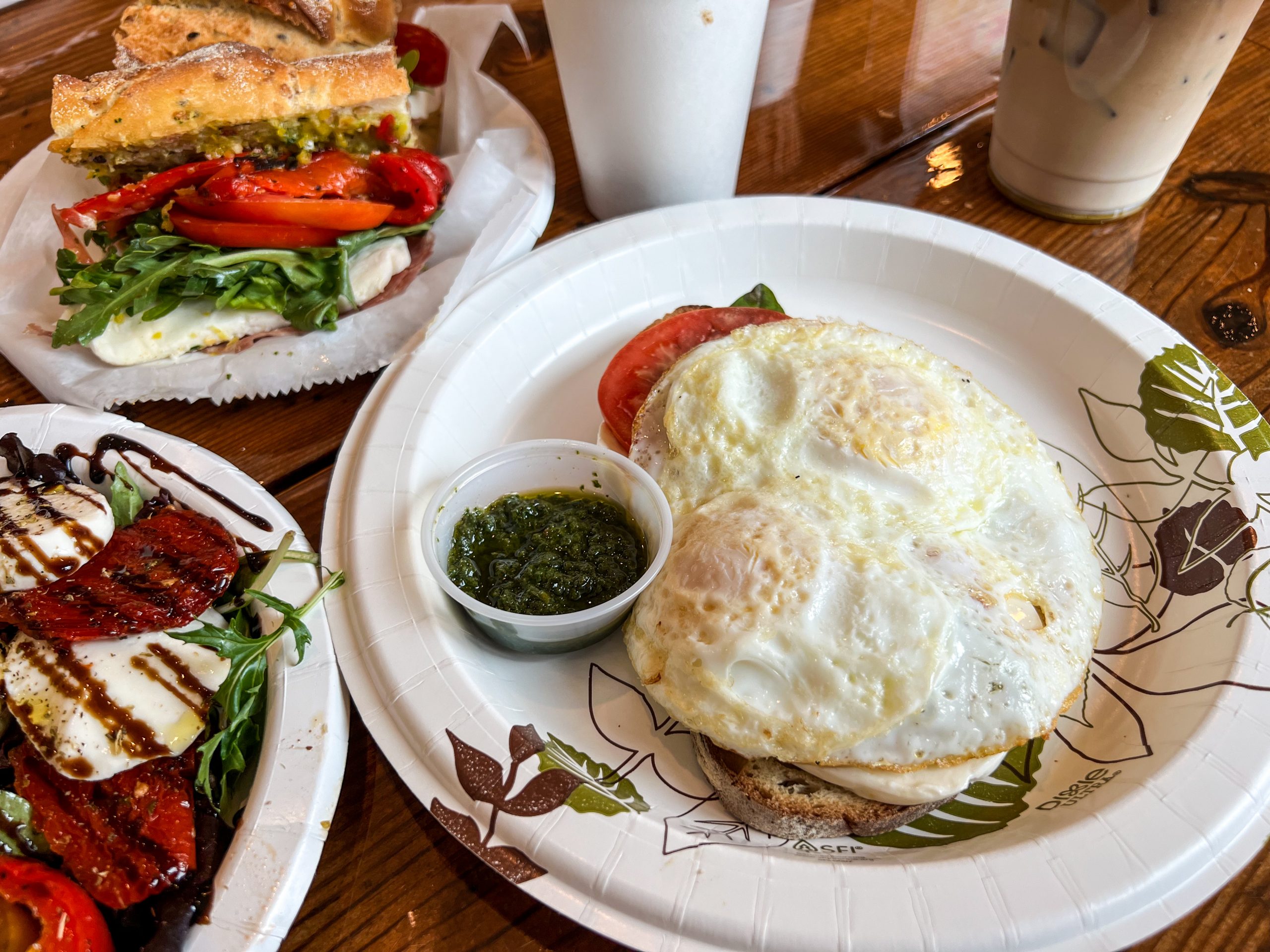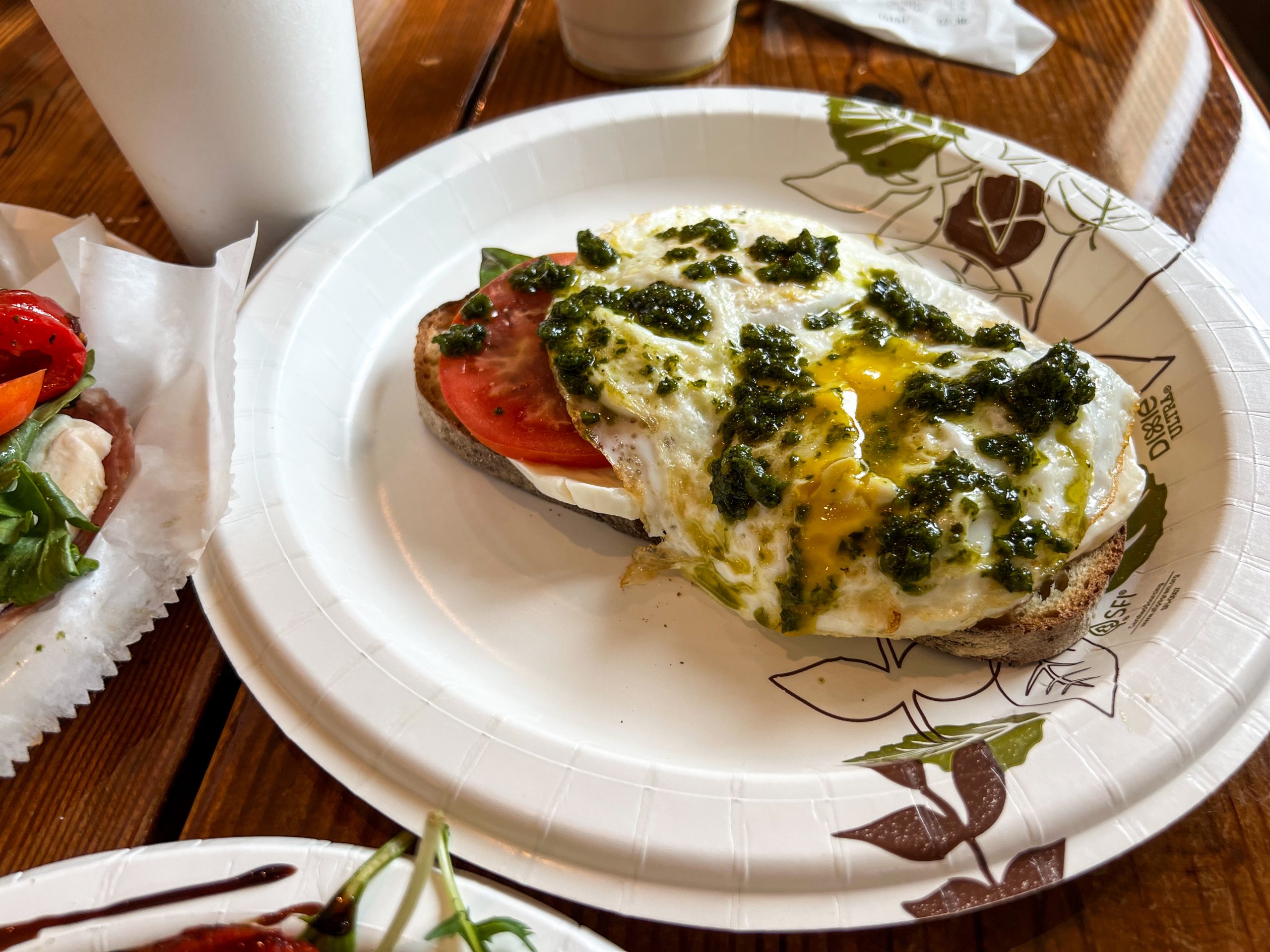 What's not to love about an antipasto salad? Ordering this from the menu was a no-brainer for me. Mixed lettuce, grilled eggplant, zucchini, artichoke, roasted peppers, sun dried tomatoes, and mozzarella with a healthy drizzling of both olive oil and balsamic vinegar. This plate could easily feed one as a light lunch or dinner but it's also great for sharing whilst waiting for the rest of your food to come up.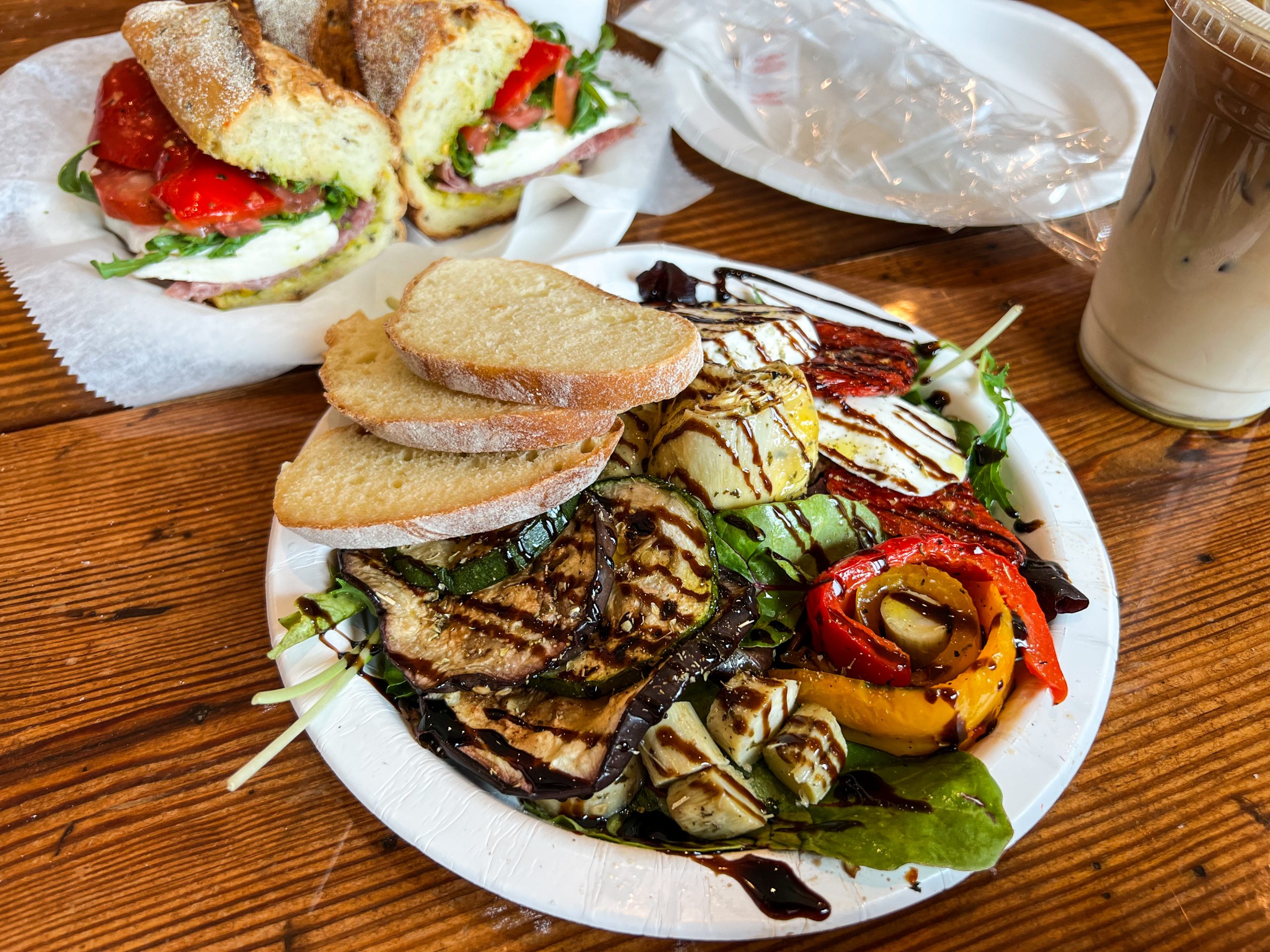 As I mentioned earlier, we bought some food to take home to pop in the freezer for another time. Well, that lasted all of one day with the incredible cheese pizza that we brought home. Sticking with the theme of everything else we ordered, the pizza again proved that it doesn't take an abundance of ingredients to transform food into something delicious – it just takes the right ones. This pizza is topped with mozzarella cheese and tomato sauce – that's it – and is named "La Originale."
We popped the pie into the oven and finished it with a touch of good olive oil. We were wowed by how much we loved it, especially because we're typically thin crust folks. The size was plentiful as it fed three adults for dinner with two pieces leftover. The next time we go back we have already said that we'll pick up a few more pizzas to keep on hand – you know, in case of emergencies.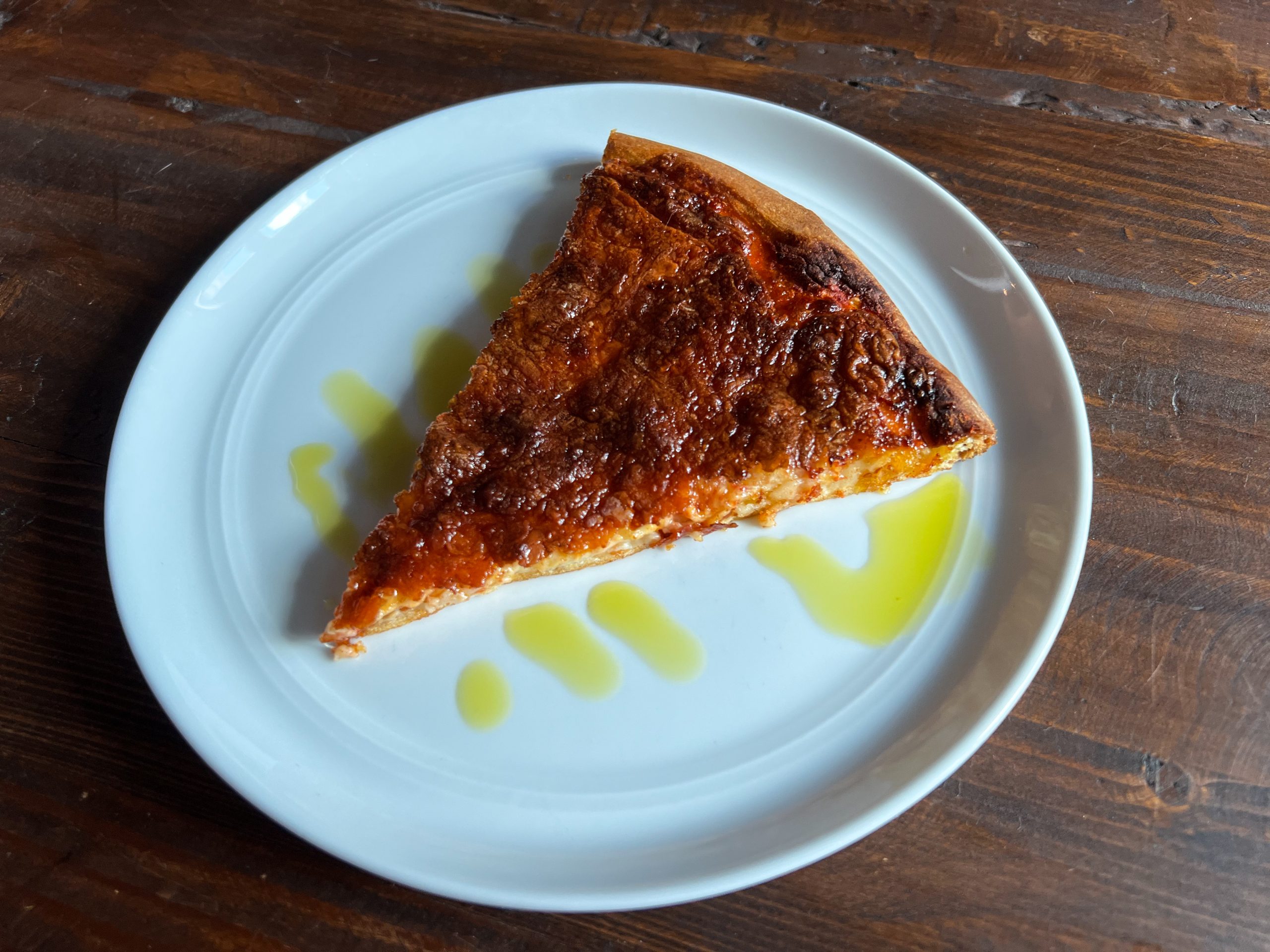 Of the two pastries that we brought home, the Lobster Tail (pictured top) was hands down our favorite! The exterior was light and flaky and the interior was perfectly sweet and custard-like – sinfully delicious. Don't get me wrong, the Sfogliatella was good too and it was similar but inside it has ricotta and citrus fruit. If I have to recommend one, it's definitely the Lobster Tail. The size of it in the picture is quite deceiving as this bad boy is big enough to be shared amongst a few folks.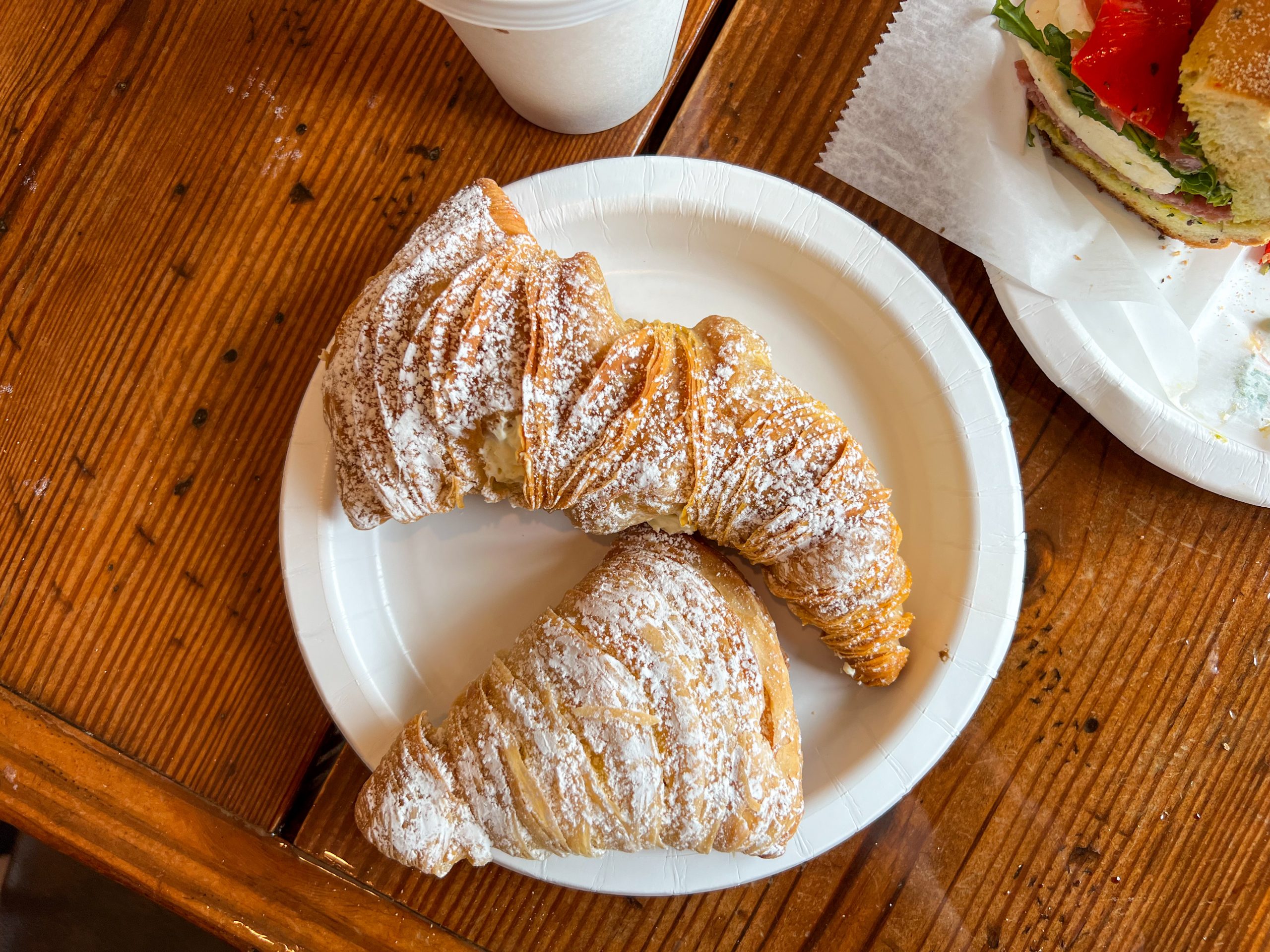 During your next free weekend morning when you're looking to get your coffee and brunch fix, head out to the beach and see what La Casa Del Pane is all about. It's like shopping at Target – you're bound to leave with much more than you originally came for.
La Casa Del Pane is an authentic Italian bakery on St. Pete Beach, located at 7110 Gulf Blvd, 33706.
DISCLAIMER: Kevin, Lori, Abby, Haley, & Lindsey do not dine anonymously (this would be impossible) and we sometimes get free food (though never expected). However, we dine with the locals and we support our own. You will always get honesty in a respectful manner. We do not include any large national or regional chains in our ratings and reviews. We focus on independent locally owned eateries exclusively.

PLEASE NOTE: Reviews reflect a certain moment in time. Some restaurants stay extremely consistent over many years, and some change for the better or worse. Some things that may change are: chefs, recipes, food suppliers, ingredients, philosophies, ownership, etc. We always hope that you have the same good, or great experience we had.
More Foodies News, Reviews & Recipes
2 Responses