Gourmet Burgers, Craft Beers & Buzzer Beaters: Engine No.9 is St. Pete's Ultimate Sports Bar
Gourmet Burgers, Craft Beers & Buzzer Beaters: Engine No.9 is St. Pete's Ultimate Sports Bar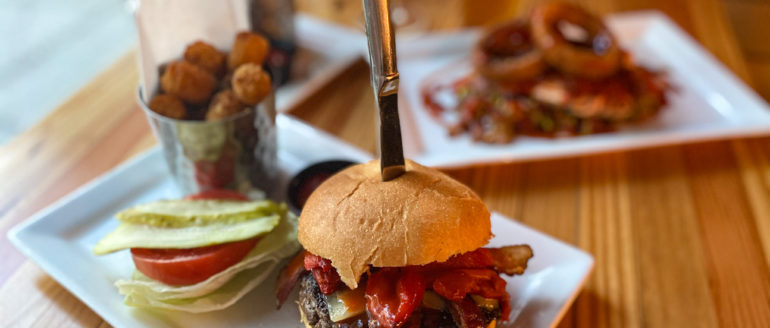 What comes to mind when you think of a standard sports bar? Perhaps a plethora of televisions, refrigerators loaded full of domestic brews, and a menu overflowing with standard bar bites. I imagine that you probably agree, and while there is nothing wrong with any of the above, there is something to be said for a sports bar that goes above and beyond the norm. If you've ever made it to Engine No.9, you are fully cognizant of the fact that their gourmet burger bar is anything but mediocre. Instead, owner and founder, Jason Esposito, created a successful contradiction if you will – a charming sports bar where epicureans, sports fans, beer geeks, wine lovers and couples on a first date can all happily exist under one roof.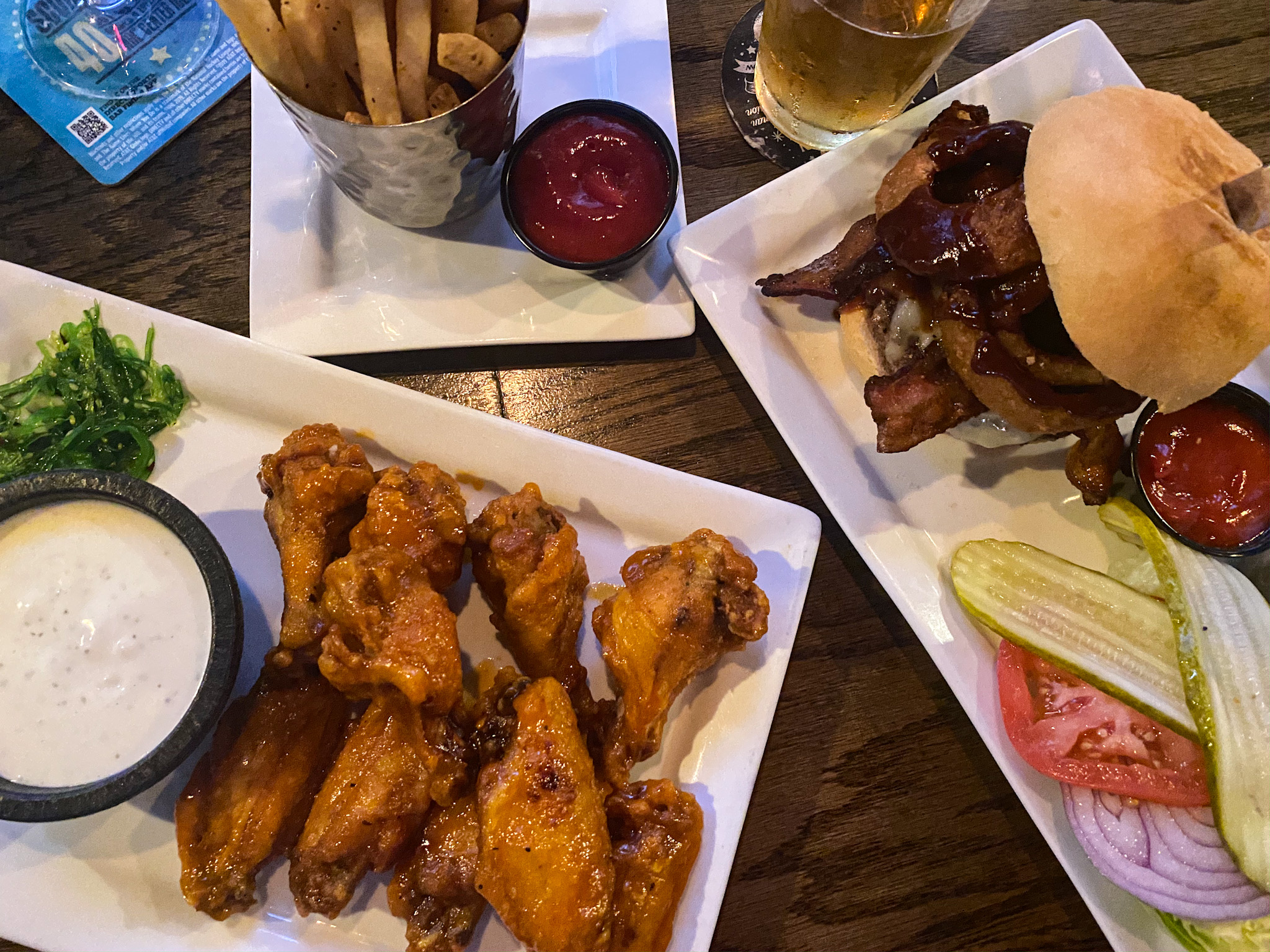 Jason Esposito (who had successful experience as a chef & attended culinary school) opened the doors of Engine No. 9 back in September of 2012 when he recognized a need for gourmet burgers in St. Pete, and more specifically, downtown. Where does a name like Engine No. 9 come from, you ask? Well, it took Jason nearly a year, but one day, he noted that the building of his new restaurant was red and reminded him of a firehouse. Additionally, he had just heard the song, "Engine Engine No. 9," and he thought that that sounded like a suitable name for a restaurant – the rest, as you know, is history.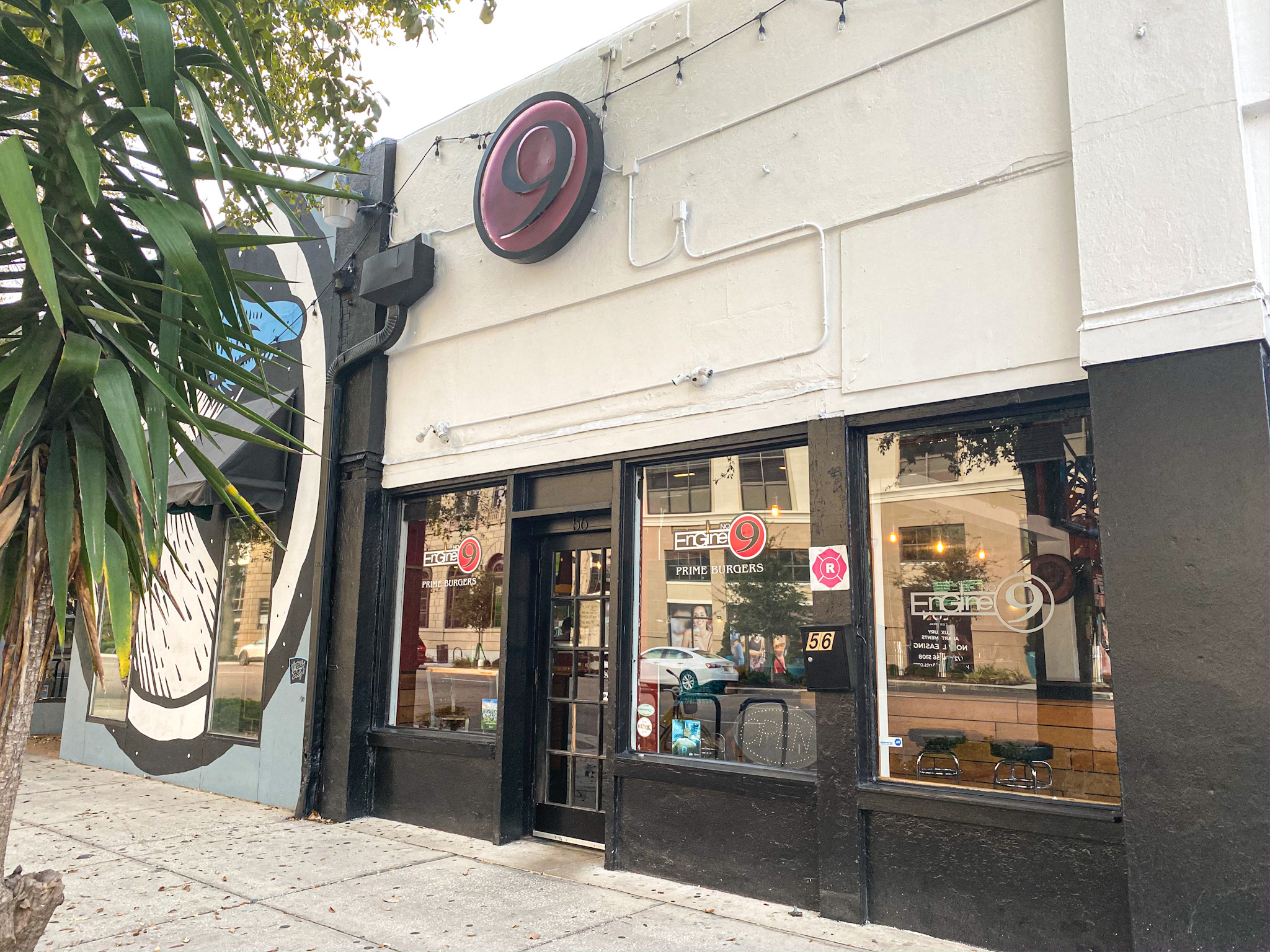 Engine No. 9 isn't just any sports bar, it's a sports bar with a hockey vibe. More specifically, it's an official Chicago Blackhawks bar – in fact, it's the only Chicago Blackhawks bar outside of the Chicago Metropolitan area. But, why hockey, and why the Blackhawks? Jason is from the greater Chicago area and grew up in a family of professional hockey players. His father, Tony, and uncle, Phil, are both a part of the NHL Hall of Fame and had a hand in bringing hockey to our area by establishing the Tampa Bay Lightning.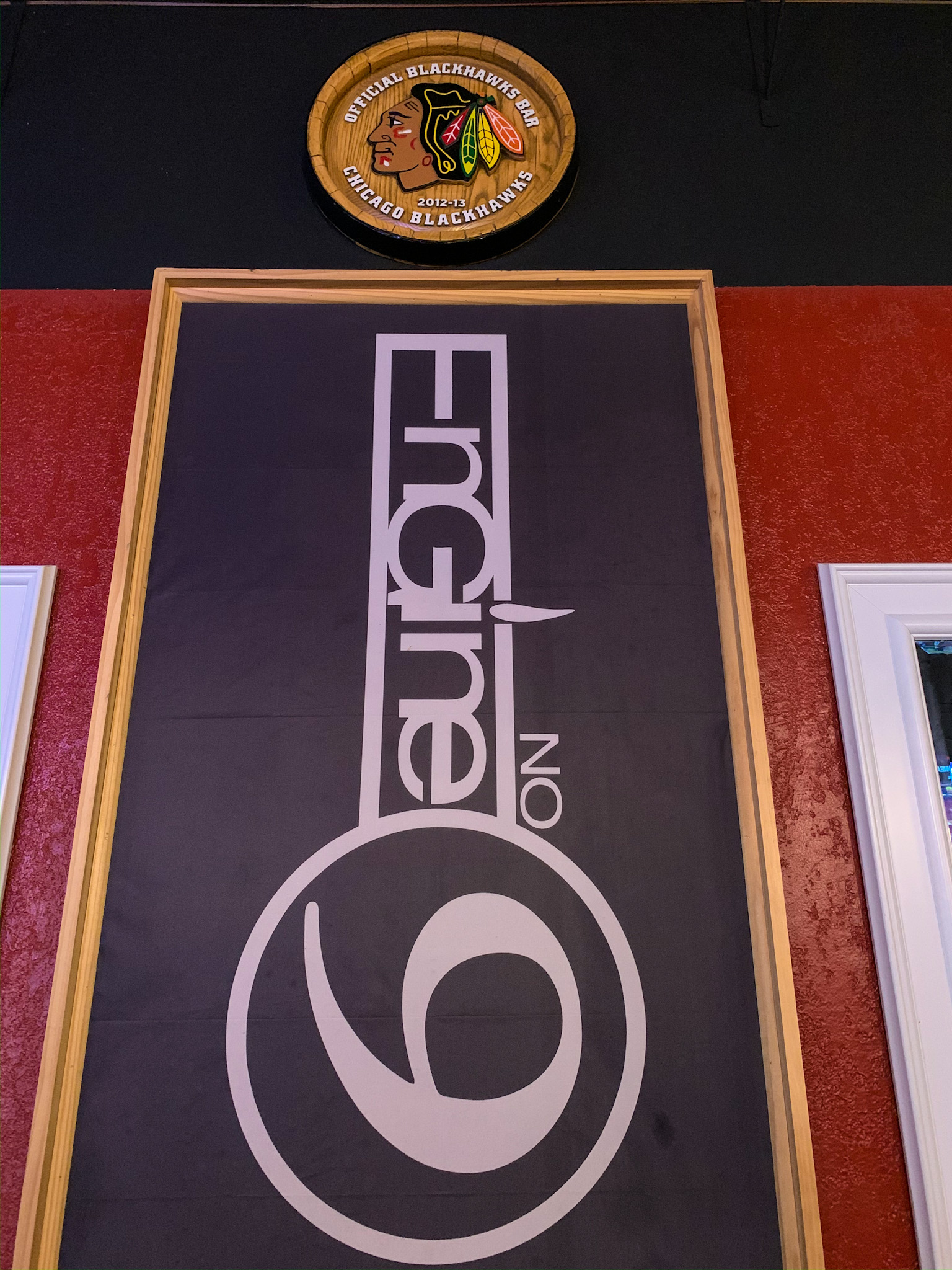 All throughout the establishment of Engine No. 9, you'll note an abundance of Blackhawks memorabilia. Nods to the Blackhawks and Chicago can also be found within the menu and on a slew of televisions to catch any and every sporting event. In fact, in the back seating area of the restaurant, each individual table has its very own TV, so patrons can select their sporting event of choice whilst dining. Even though Engine No. 9 is technically a designated Blackhawks bar, it's a paramount location to catch any game, no matter the team or sporting event (though it is worth noting, things do get a bit rowdy and fun when the Blackhawks are playing!).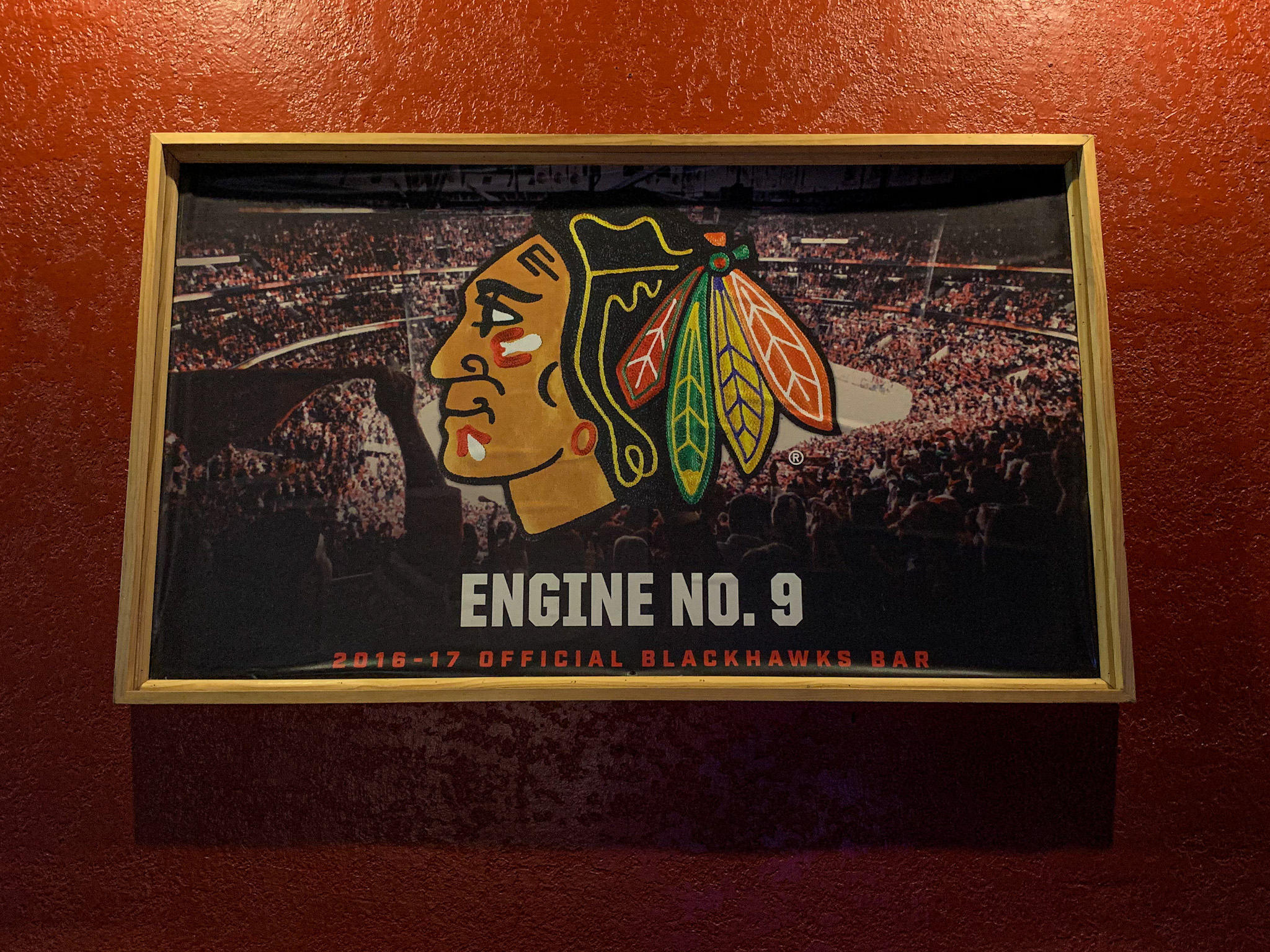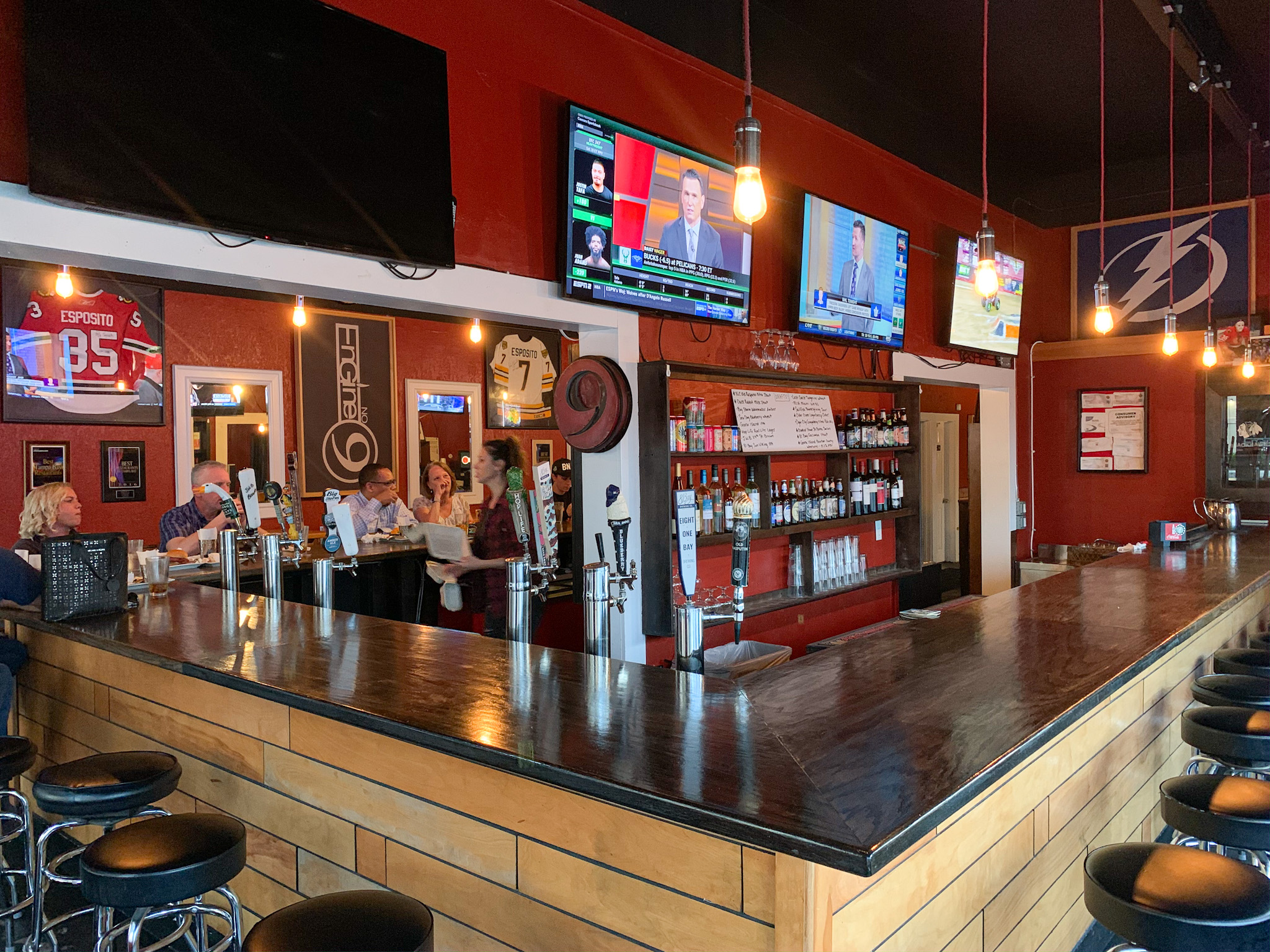 It's undeniable that gourmet burgers are what Engine No. 9 is most prominently known for. Their distinctive and innovative burger combinations are voted among the best in the area year after year. However, the rest of their menu deserves your attention too. In fact, one of the most popular items that Engine No. 9 offers is the Sriracha Salmon, which I assure you, is unlike any other salmon dish that you've ever experienced. Along with the salmon, the Fried Pickle Spears and Sweet Potato Fries are also shining stars on the menu according to most customers.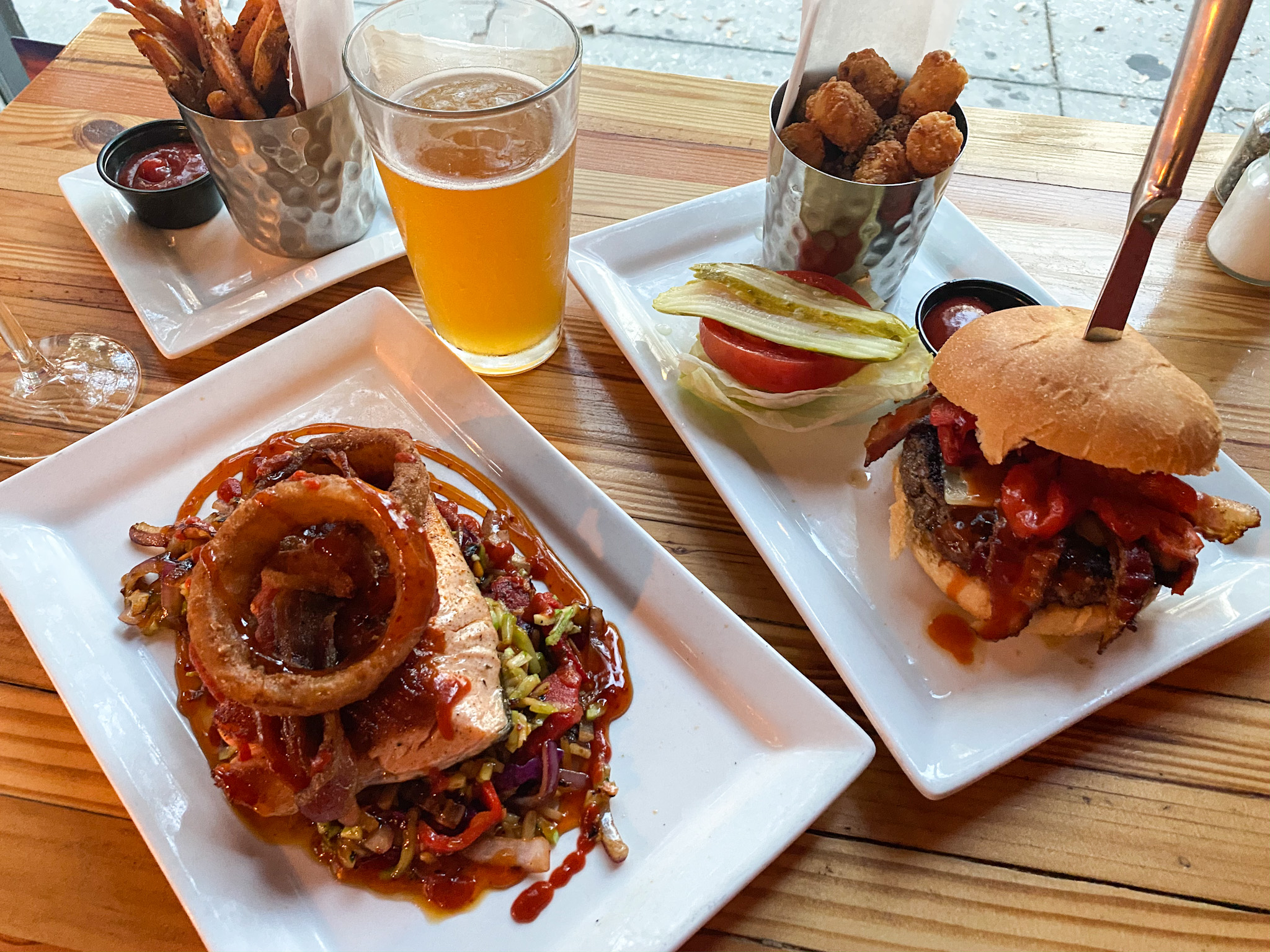 Let's dive a bit deeper into the burger offerings that Engine No. 9 has shall we? When it comes to burgers, Engine No. 9 doesn't do basic. There are 22 different burger variations on the menu. Each burger is made with 8oz of Prime Black Angus beef and comes with the choice of a side. For the most part, each burger on the menu is more enticing and ingenious than the last. The most basic of the burgers is the Bacon Cheeseburger, and perhaps one of the more adventurous is either The 504 (Creamy Peanut Butter, Crispy Apple Smoked Bacon, served fully dressed) or The Saint (short rib/brisket patty blend, Muenster cheese, bacon, beer battered chicken, crispy potato pancake, creole mustard and gravy). Regardless of where your taste buds lead you as far as burgers are concerned, you're bound to be more than content.
During a recent visit to Engine No. 9, my fiancé and I had a hard time deciding on a burger (as they all sounded mouth watering), so we decided to share one that night and then we returned a few days later for another. I have no shame in our burger eating game.
On night one we both agreed that The Wine-O was undoubtedly a top contender (if you know me, you know how fitting that is – wine is my love language). This beauty is loaded with red wine BBQ sauce, bacon, aged white cheddar & fried onions (just a few of my favorite things) and requested the items to fully dress on the side. Pardon my french, but to be frank, it's simply a damn delicious burger. A touch of sweetness from the BBQ, sultry notes from the gooey cheese, desirable added texture from the bacon, and a punch of flavor thanks to the fried onions. This burger gave me feelings. On the side, thin cut pencil fries for me and tater tots for mike. Fries and tots are maybe the only thing that we refuse to compromise on as a couple, so to keep all parties happy, we always order both (happy wife, happy life, am I right?!).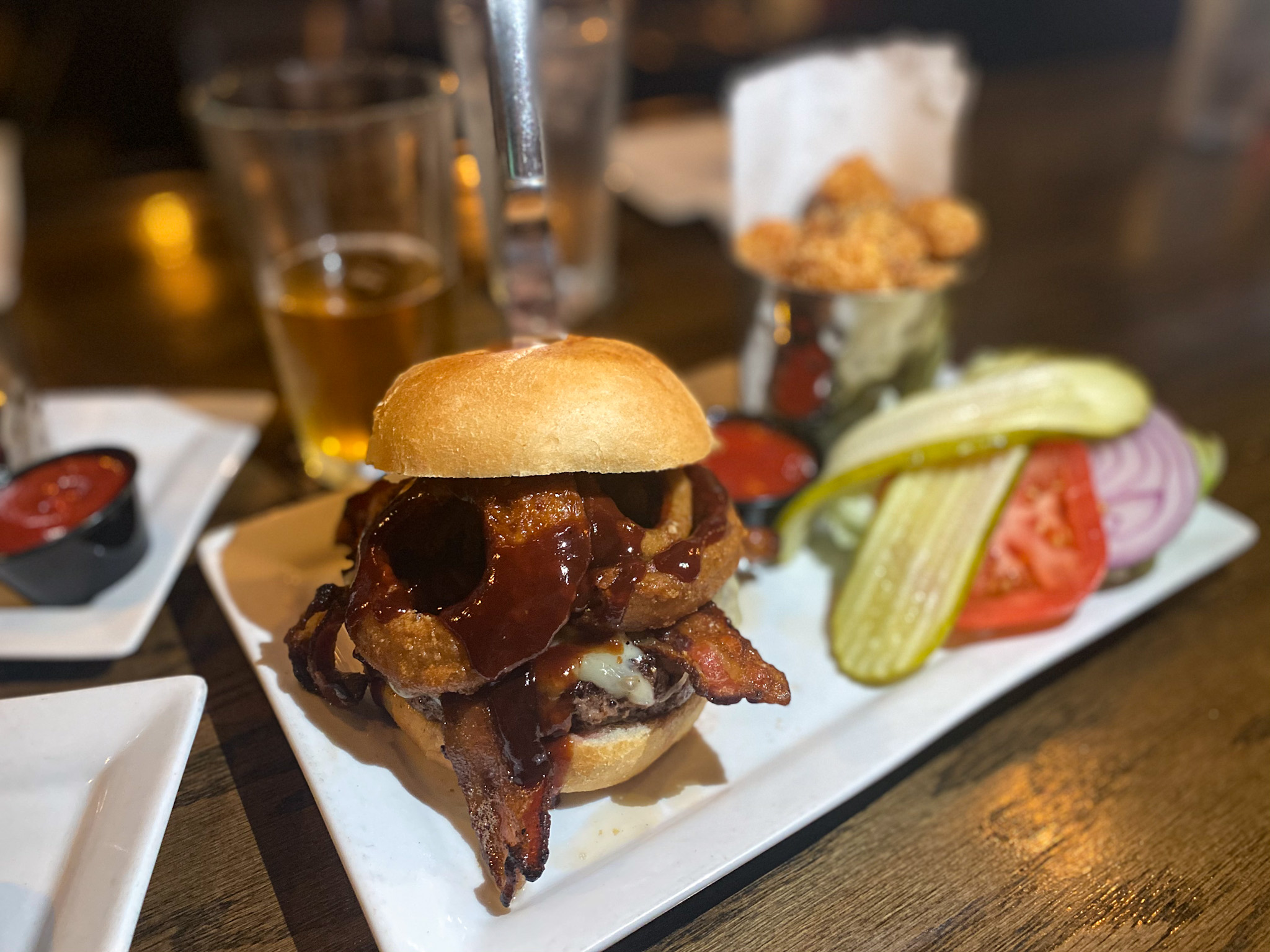 The burger that we agreed upon during our return trip was the Black Flag, which we learned is one of the most popular items on the menu. This baby is stacked high with cajun spices blackened & topped with pepperjack cheese, jalapeño bacon, fire roasted red peppers and Frank's Red Hot Sauce. Though it may sound like this burger is on the spicy side, I assure you, it's fairly mild – and I can be a bit of a baby when it comes to heat. It truly is an extremely well-balanced burger, and it's easy to see why it's gained such a bright reputation.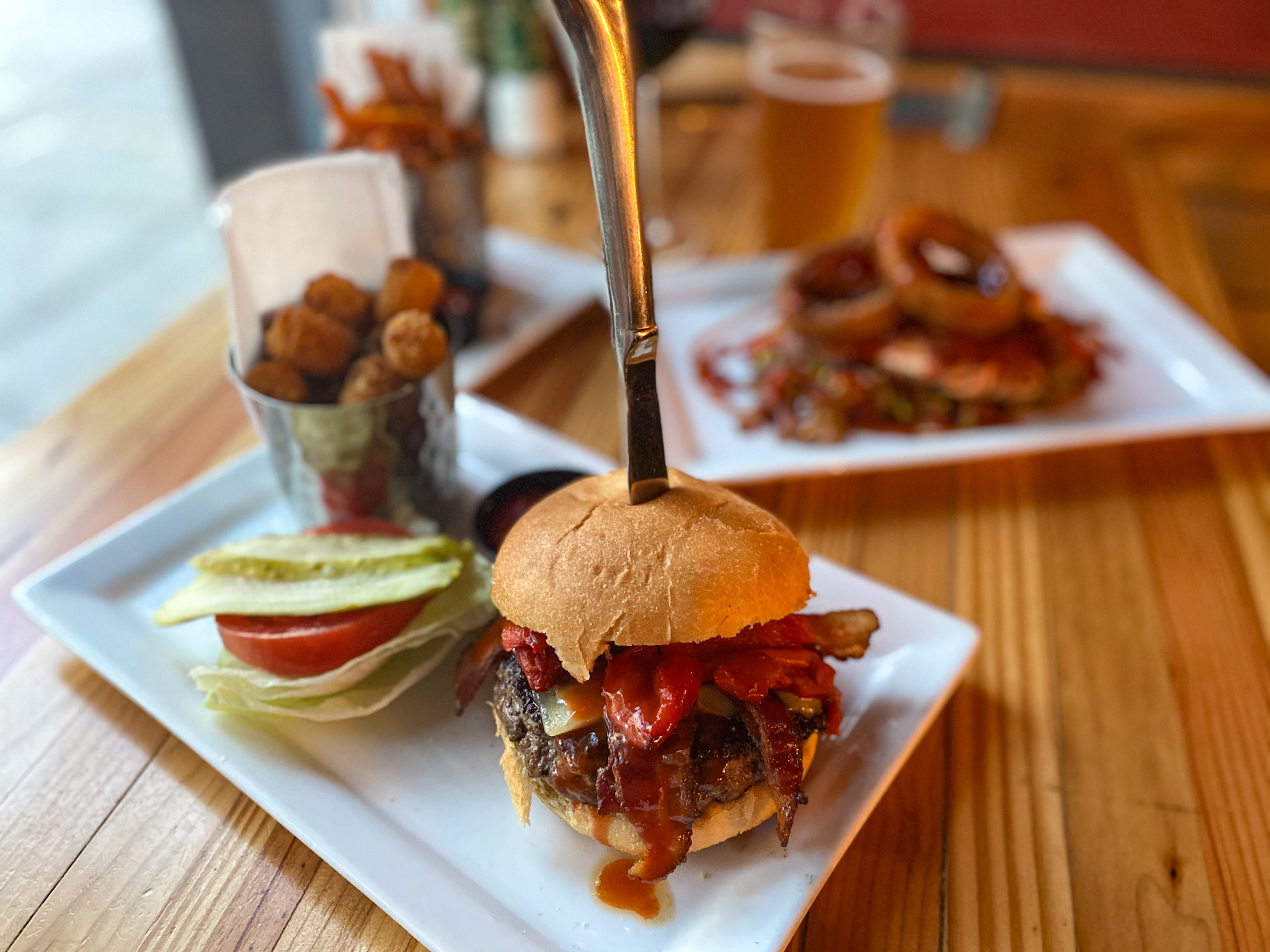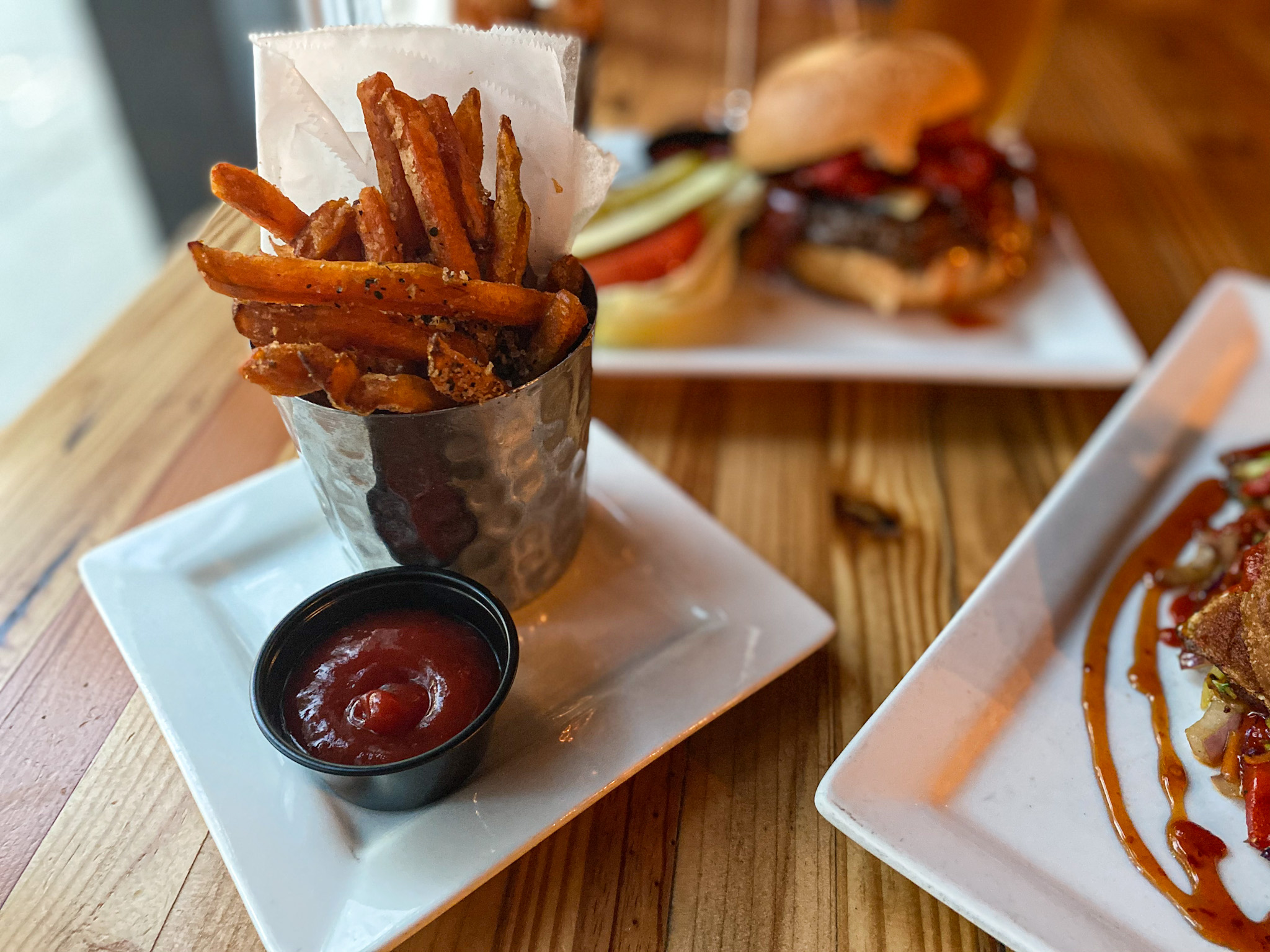 Heading up the popularity contest along side the burgers at Engine No. 9 are the Sriracha Crusted Hot Wings. Ten fresh jumbo chicken wings, marinated then golden fried & tossed with Sriracha & Voodoo Hot Sauce. We ordered them extra crispy, as always, and there's no better way for me to describe them than as perfect. These are, hands down, my favorite wings in the city. The right amount of spice without being overwhelming, luxuriously flavorful and utterly crisp with just enough crunch. Are you salivating yet?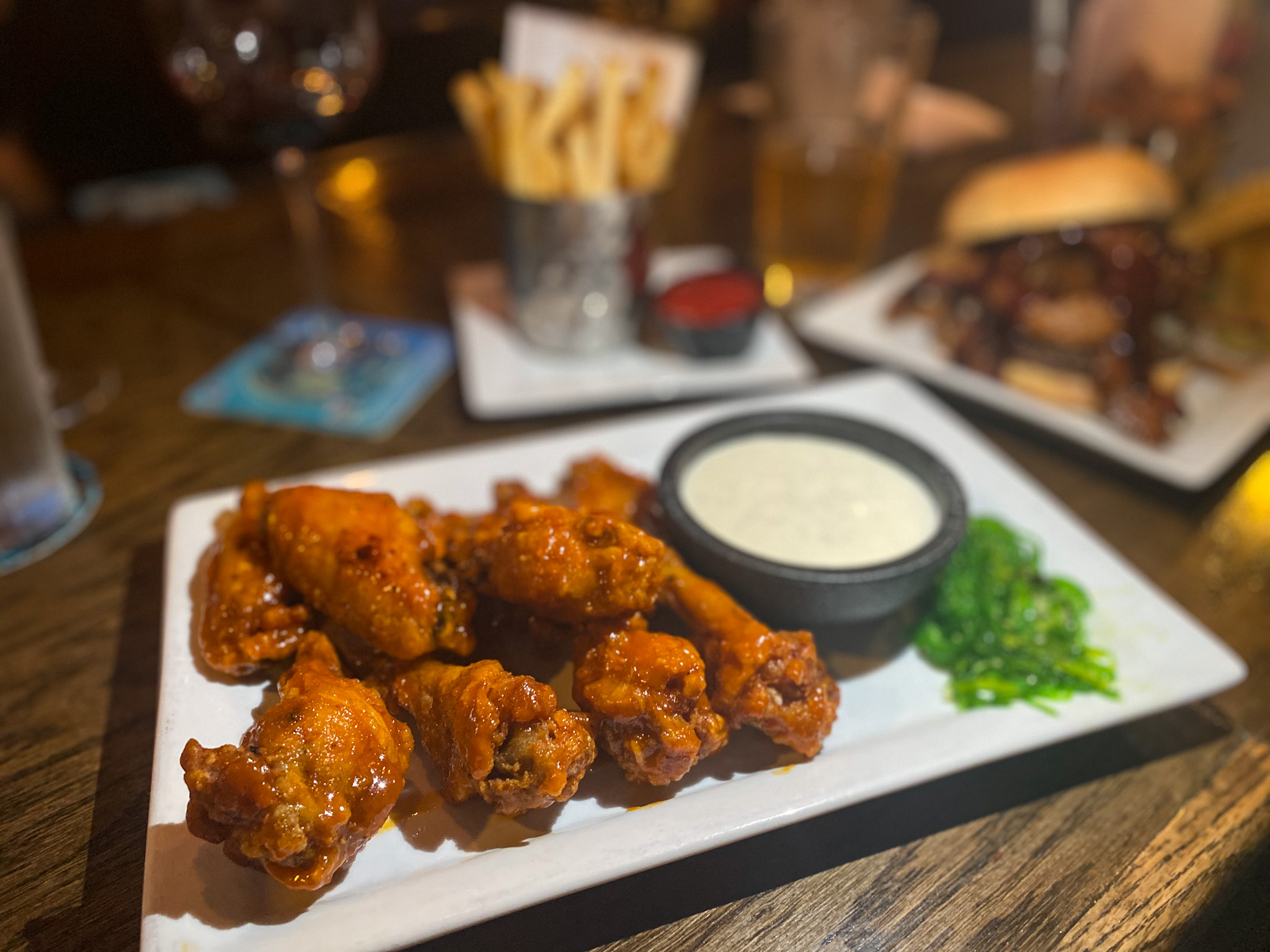 Remember that Sriracha Salmon that I mentioned earlier? After three different folks mentioned that it was a fan-favorite, we of course had to have it. This skillet seared salmon is served with apple wood smoked bacon, broccoli slaw & sweet thai chili and as an added bonus, two onion rings are served on top. What's not to love there? It is all so very unexpected and part of you wonders how all of these ingredients exist together in one dish, but I'll tell you one thing that's for certain: it's divine.
Engine No. 9 wouldn't be a sports bar if it didn't have an ample beer selection. Though, they aren't just serving Bud Light and Corona, oh no, they have a rather extensive craft beer list that rotates via TV in the front of the restaurant and on a screen in the back. If beer isn't your jam, they also offer a great selection of red and white wines by the glass. My go-to wine is Troublemaker Red Blend by Austin Hope (for those who are familiar), which I was happily surprised to see on their shelves.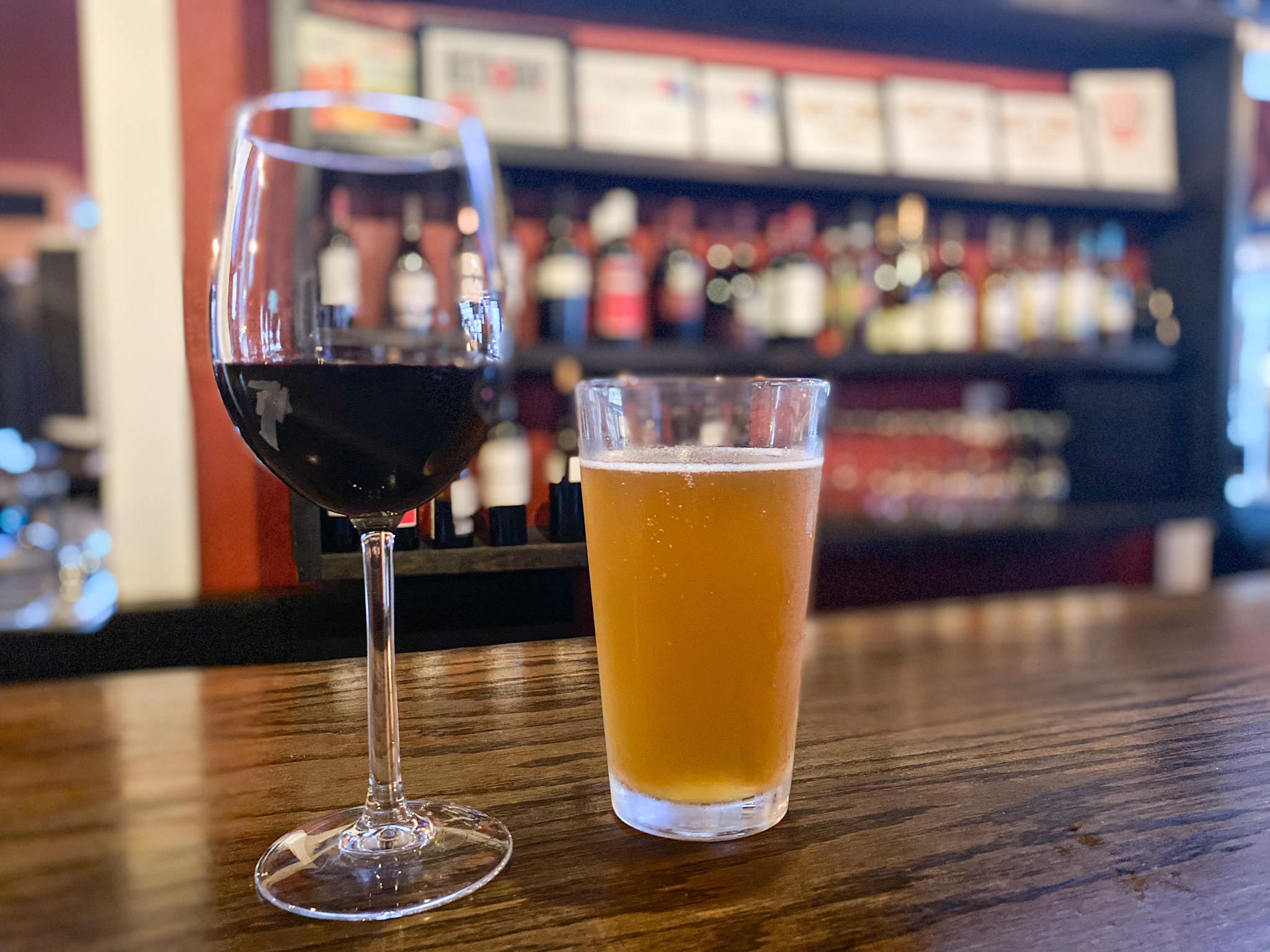 Whether you're looking for a non-fussy spot with plenty of TVs and cold beer, or if you're in pursuit of a quaint location for your next date night, Engine No. 9's diversified atmosphere and menu is your answer.
A prime burger sports bar in the heart of St. Petersburg's Edge District.
DISCLAIMER: Kevin, Lori, Abby, Haley, & Lindsey do not dine anonymously (this would be impossible) and we sometimes get free food (though never expected). However, we dine with the locals and we support our own. You will always get honesty in a respectful manner. We do not include any large national or regional chains in our ratings and reviews. We focus on independent locally owned eateries exclusively.

PLEASE NOTE: Reviews reflect a certain moment in time. Some restaurants stay extremely consistent over many years, and some change for the better or worse. Some things that may change are: chefs, recipes, food suppliers, ingredients, philosophies, ownership, etc. We always hope that you have the same good, or great experience we had.