New Menu Gist at Tryst
New Menu Gist at Tryst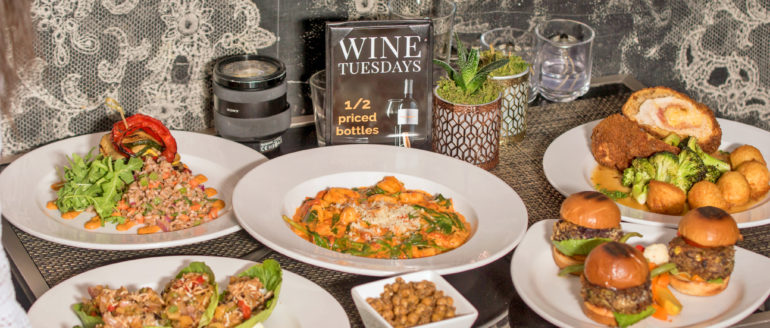 Tryst Releases Their New Summer Menu
Eddie Cochran and Roger Daltrey lamented, "There ain't no cure for the summertime blues…"
There was no cure for the summertime blues because there was no Tryst back then.
(For the Millennials out there, that was a Baby Boomer song reference.)  😉
There's never a dull moment when it comes to hanging out at 240 Beach Drive in downtown St. Pete, watching the tourists and locals go by while imbibing and treating yourself to some fresh, homemade gourmet eats.
Keeping up with the seasons, Tryst released their new summer menu last week and kindly invited St. Petersburg Foodies to taste everything.
Tryst is really a hidden gem when it comes to food. They go out of their way to make sure their eats are elevated to keep up with the many good restaurant choices in St. Pete.
We'll start with the Summer Dinner Menu, and then the Summer Brunch Menu, and drinks.
We have three new "Starters".
Salmon Pastrami Crostini – house cured and smoked, goat cheese, sweet tomato pepper sauce, on a baguette. These are a delicious, sweet and salty, crunchier, less bready, gourmet version of lox & bagels.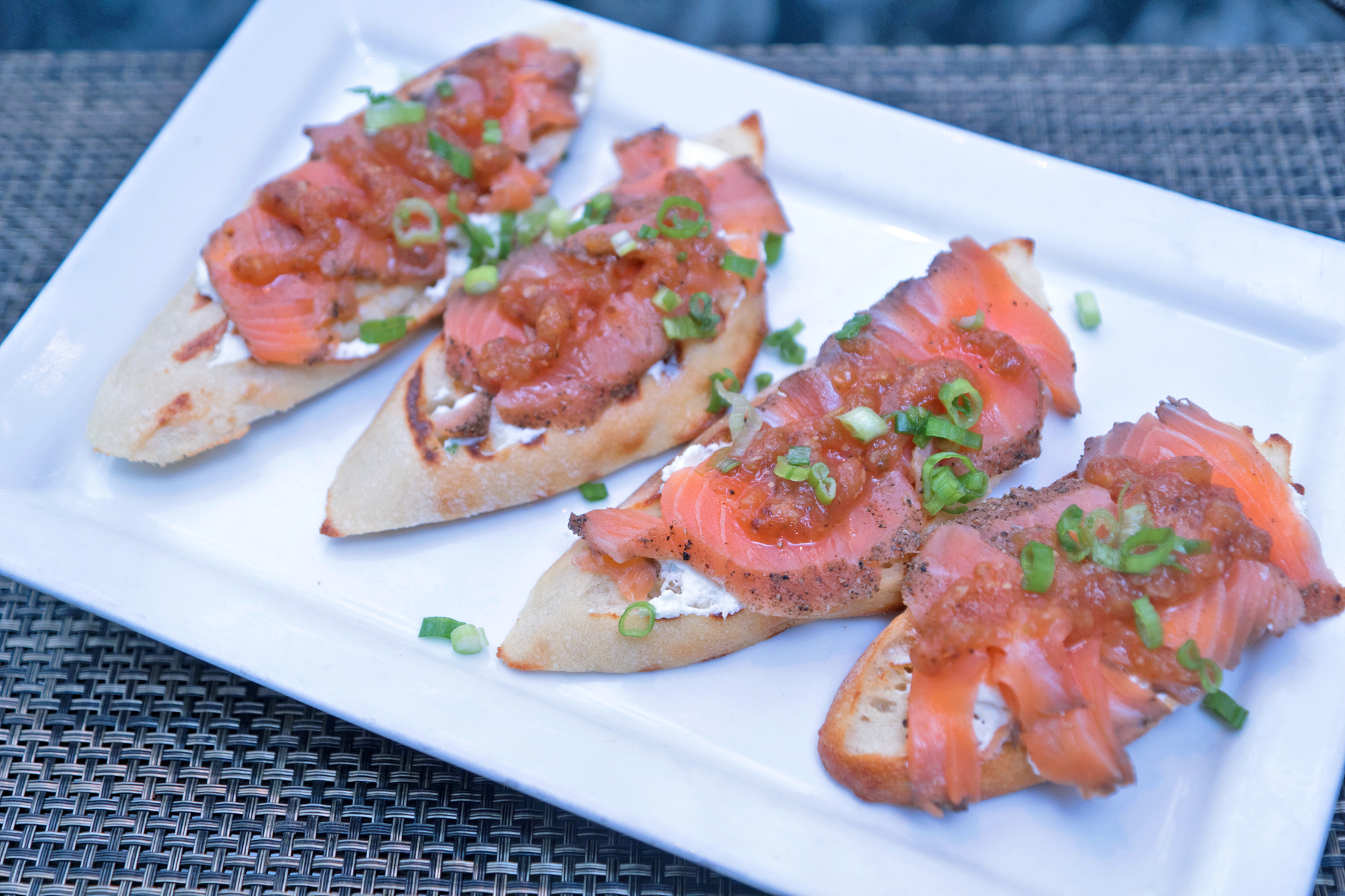 Grilled Chili Lime Shrimp Tacos – creamy broccoli slaw, grilled pineapple salsa, avocado. (Gluten-free). The shrimp tacos are fresh, plump, juicy and bursting with tangy, and slightly spicy flavors.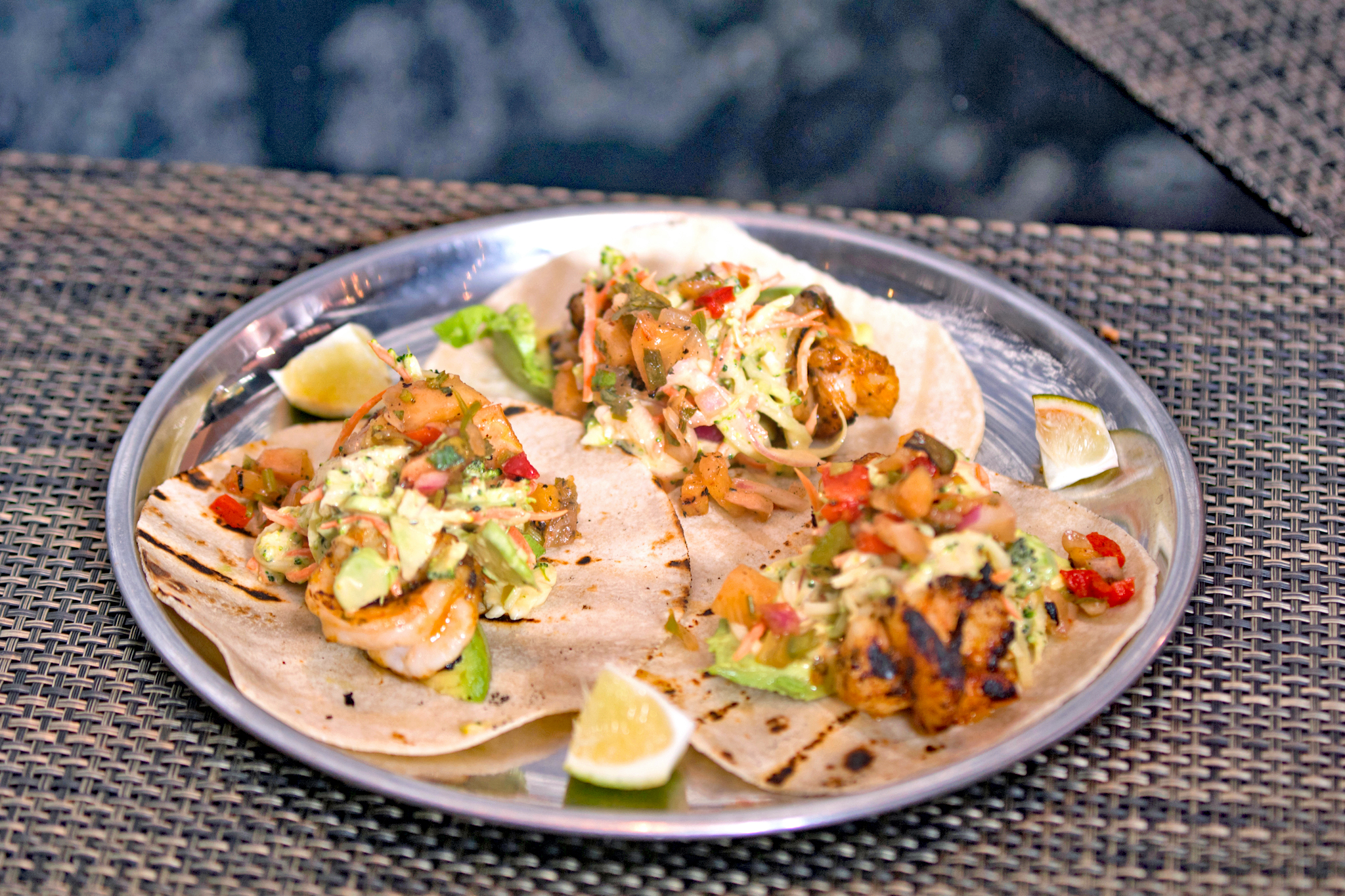 Flatbread of the Week – as the name states, this one changes to something different every week. The fresh baked bread and ingredients are quite satisfying. It's a generous portion too.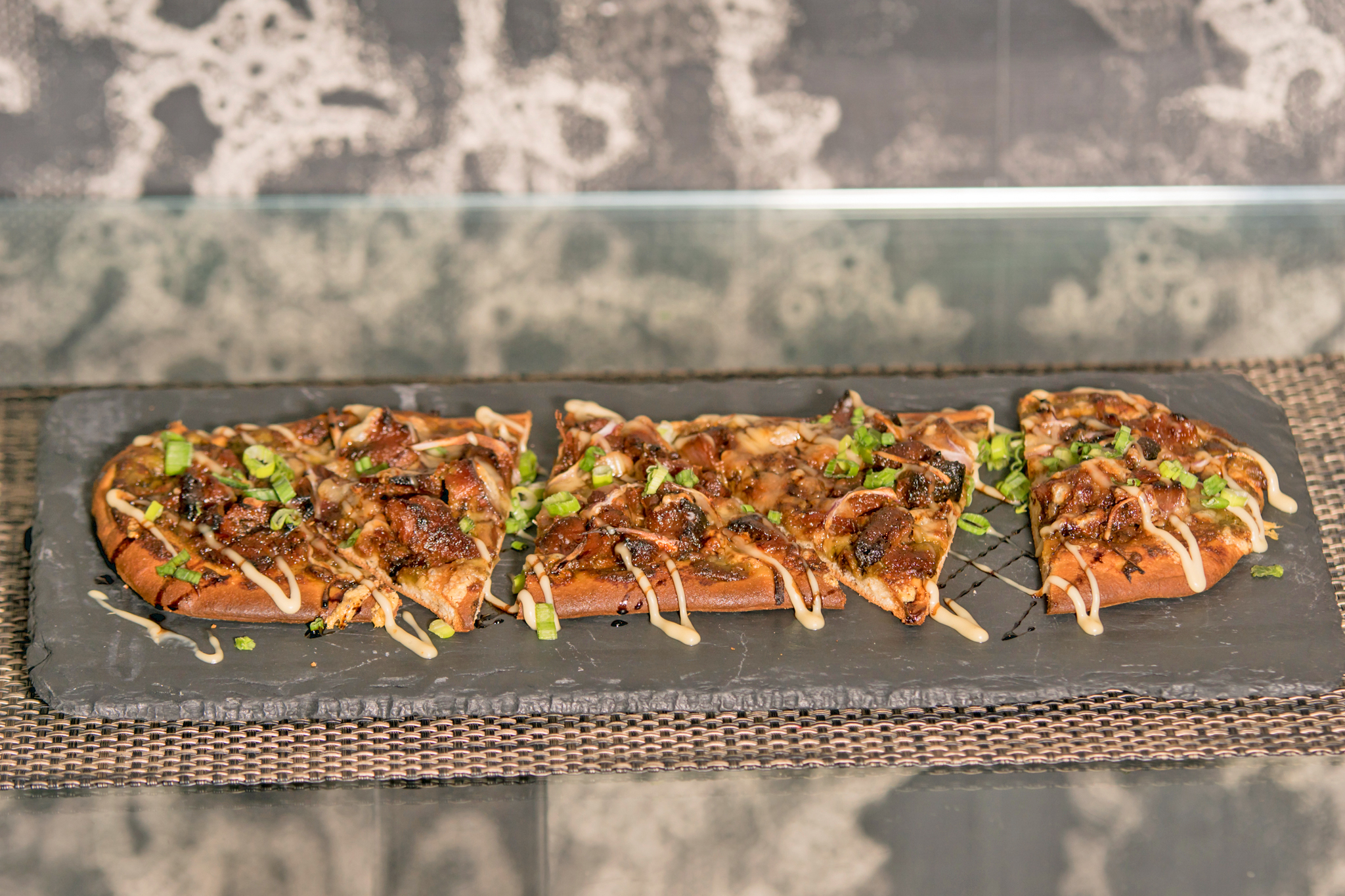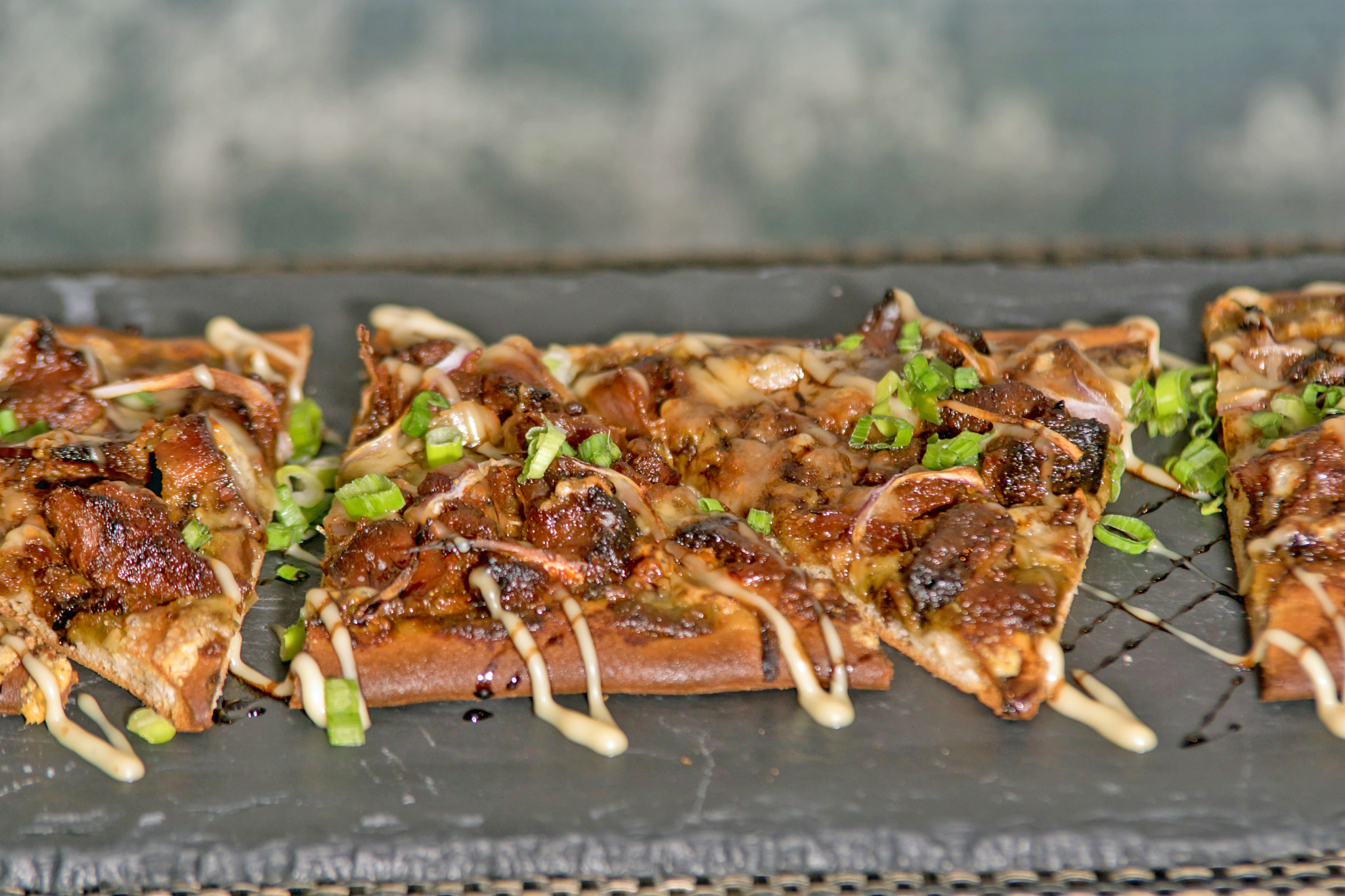 There are two new tasty salads. Both are excellent with the beets being our favorite.
Grilled Romaine – cucumber, tomato, shaved onion, shaved parm, cheddar shortbread, champagne vinaigrette.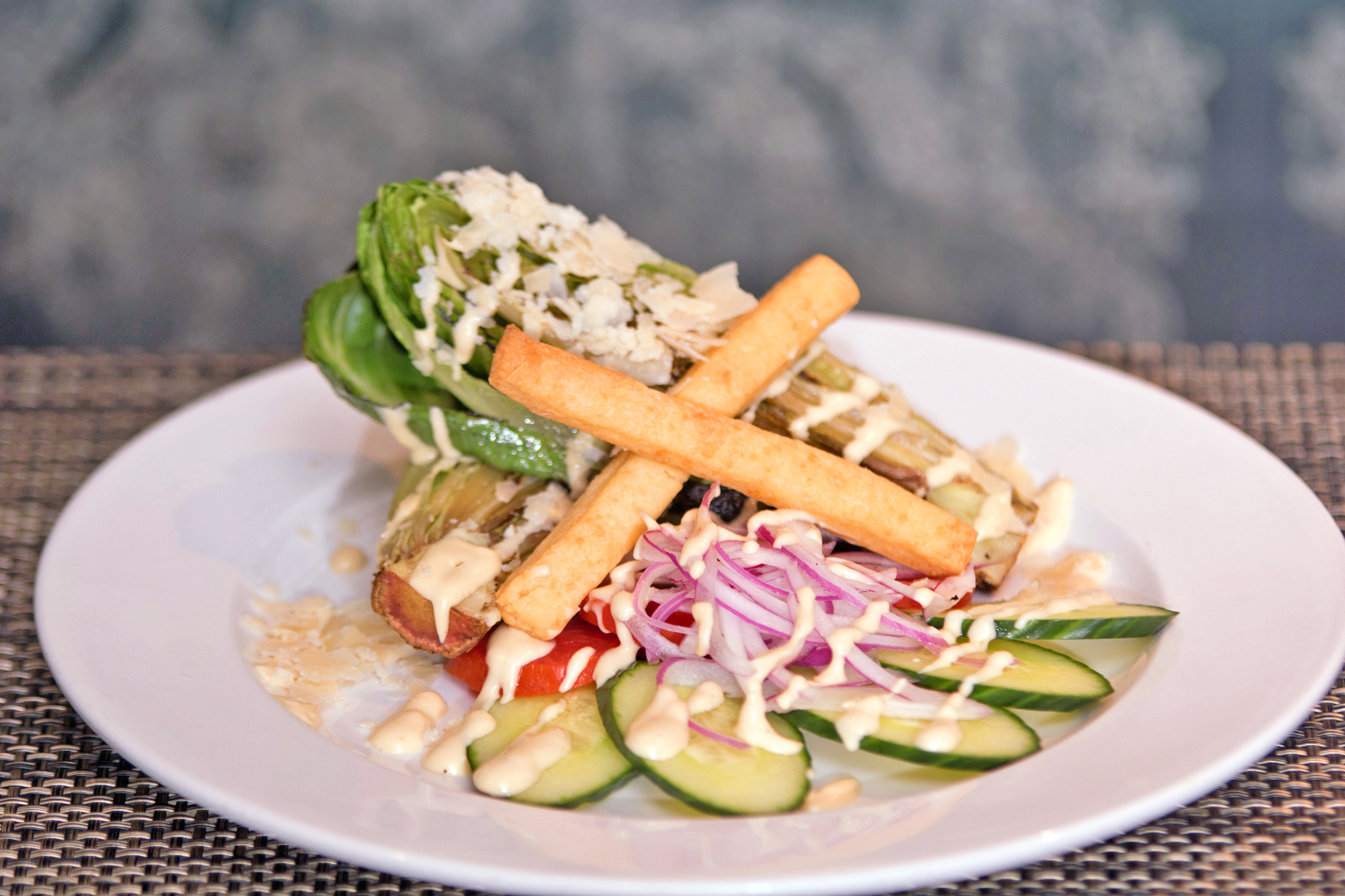 Roasted Beet & Arugula – whipped goat cheese, house pesto, toasted walnuts, citrus vinaigrette.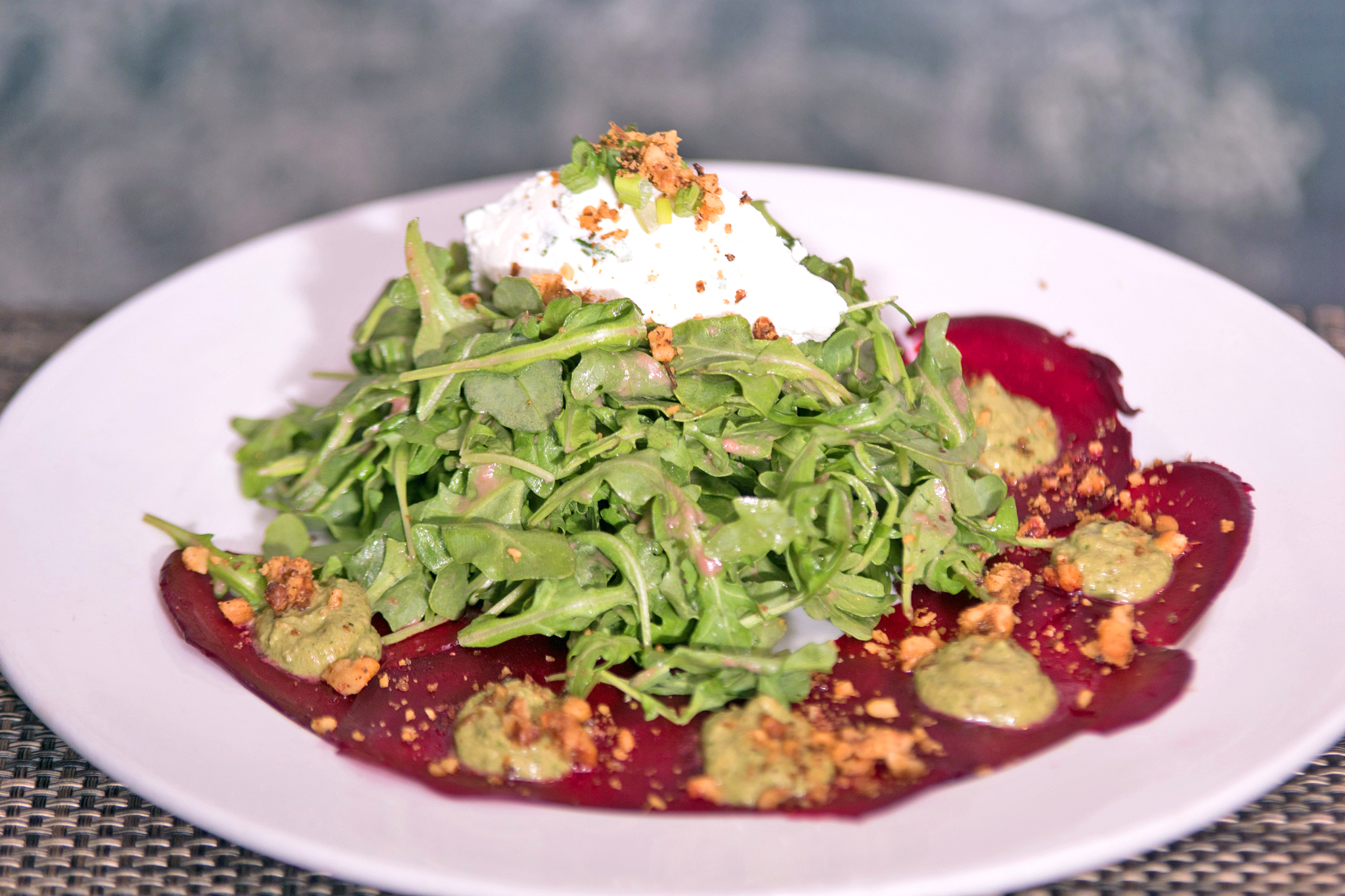 Sliders are fun, and we have a new vegetarian one, along with a carnivorous one.
Black Bean and Veg Slider – pickled vegetables, romesco sauce.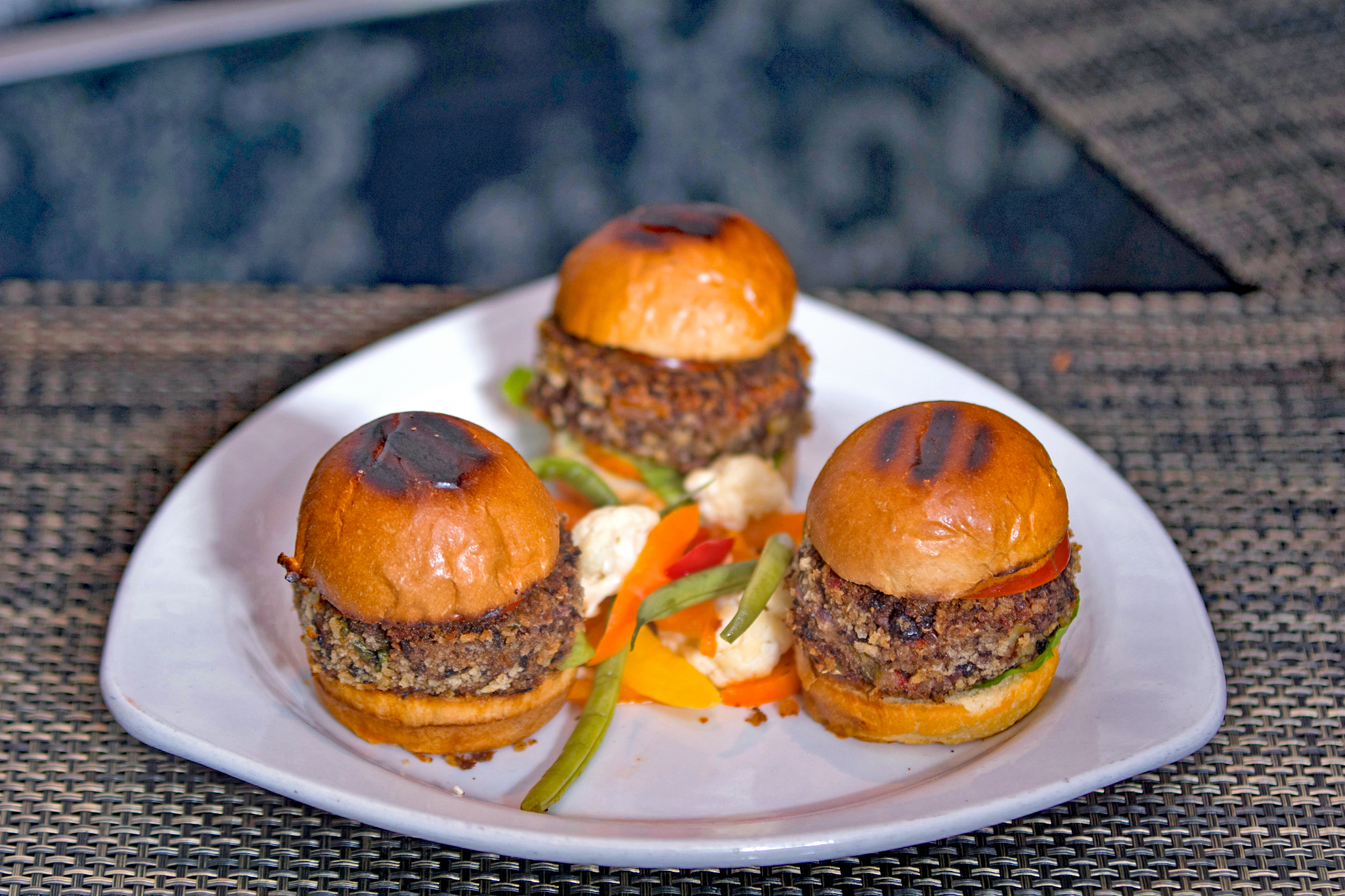 Short Rib Sloppy Joes Slider – broccoli and pineapple slaw, Tillamook cheddar.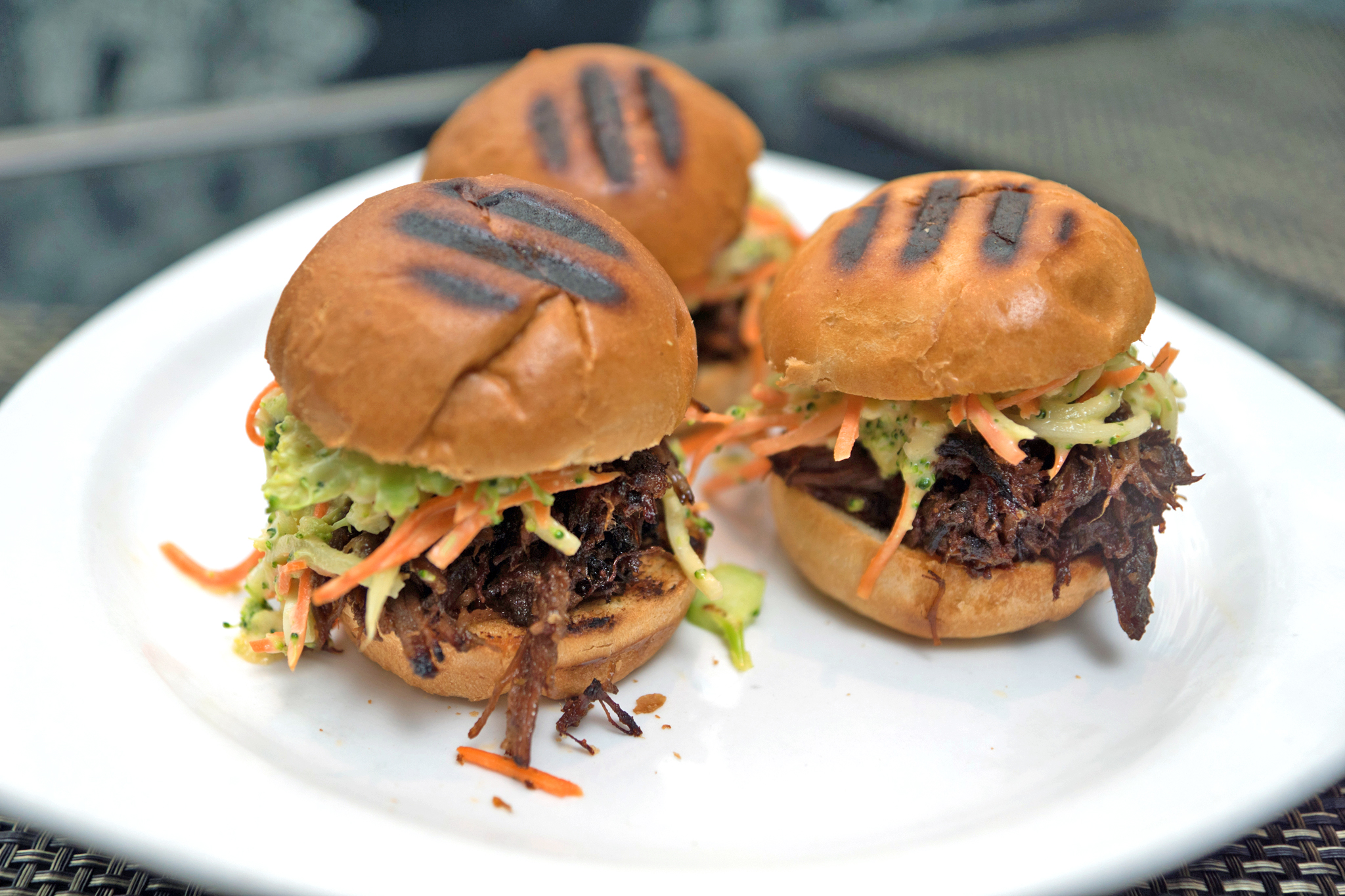 I was elated to see that the Shrimp Po Boy is back! That was one of my favorites from when Chef Jon first came to Tryst. In addition to that, there is one more new item in the sandwich section of the menu that is also quite delicious.
Shrimp Po Boy – blackened shrimp, house pickles, chopped lettuce tomato, crab remoulade, costanza roll.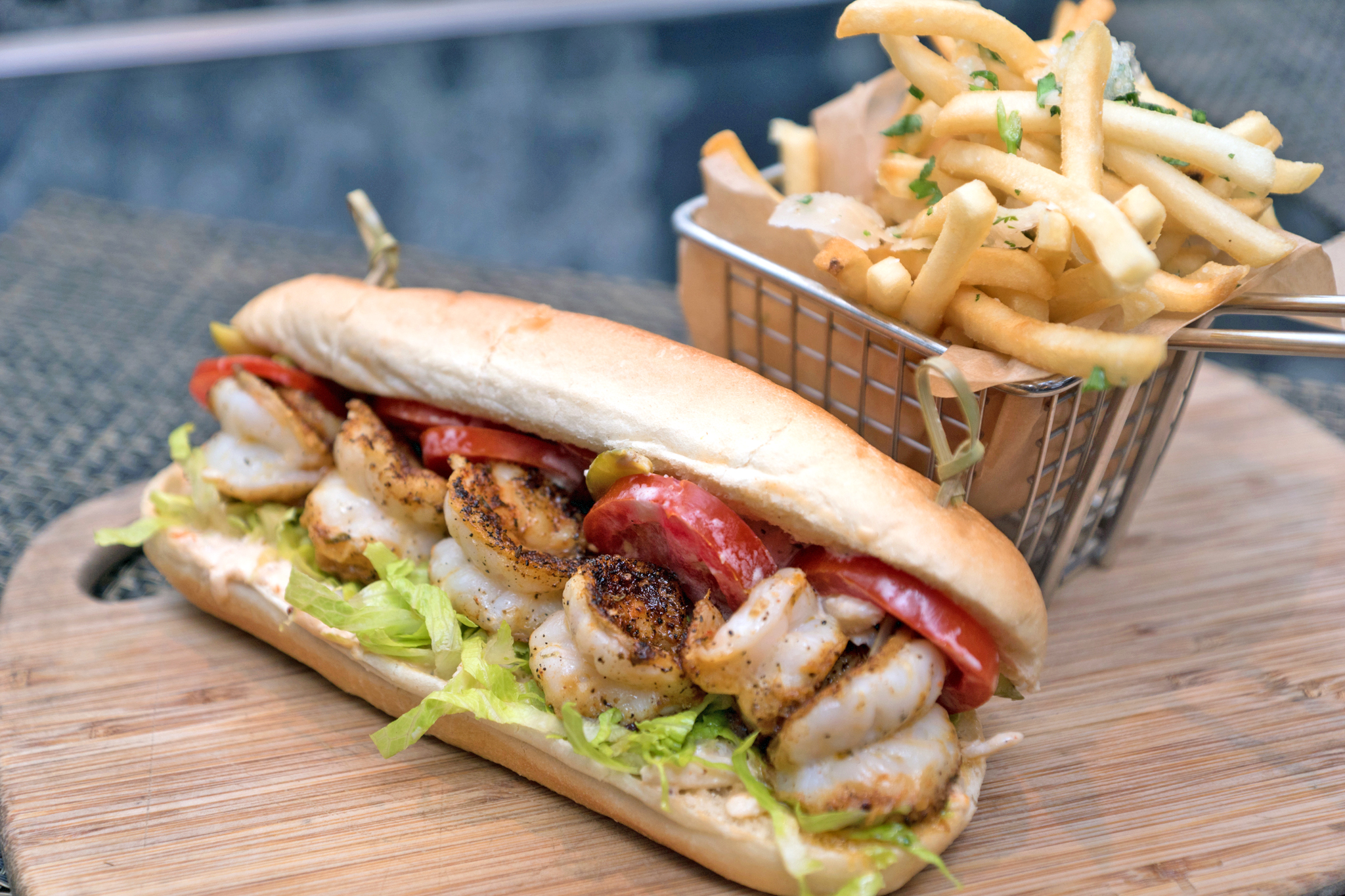 Grilled Chicken Caprese – herb marinated chicken breast, burrata cheese, roasted tomato jam, bibb lettuce, house pesto, ciabatta bun.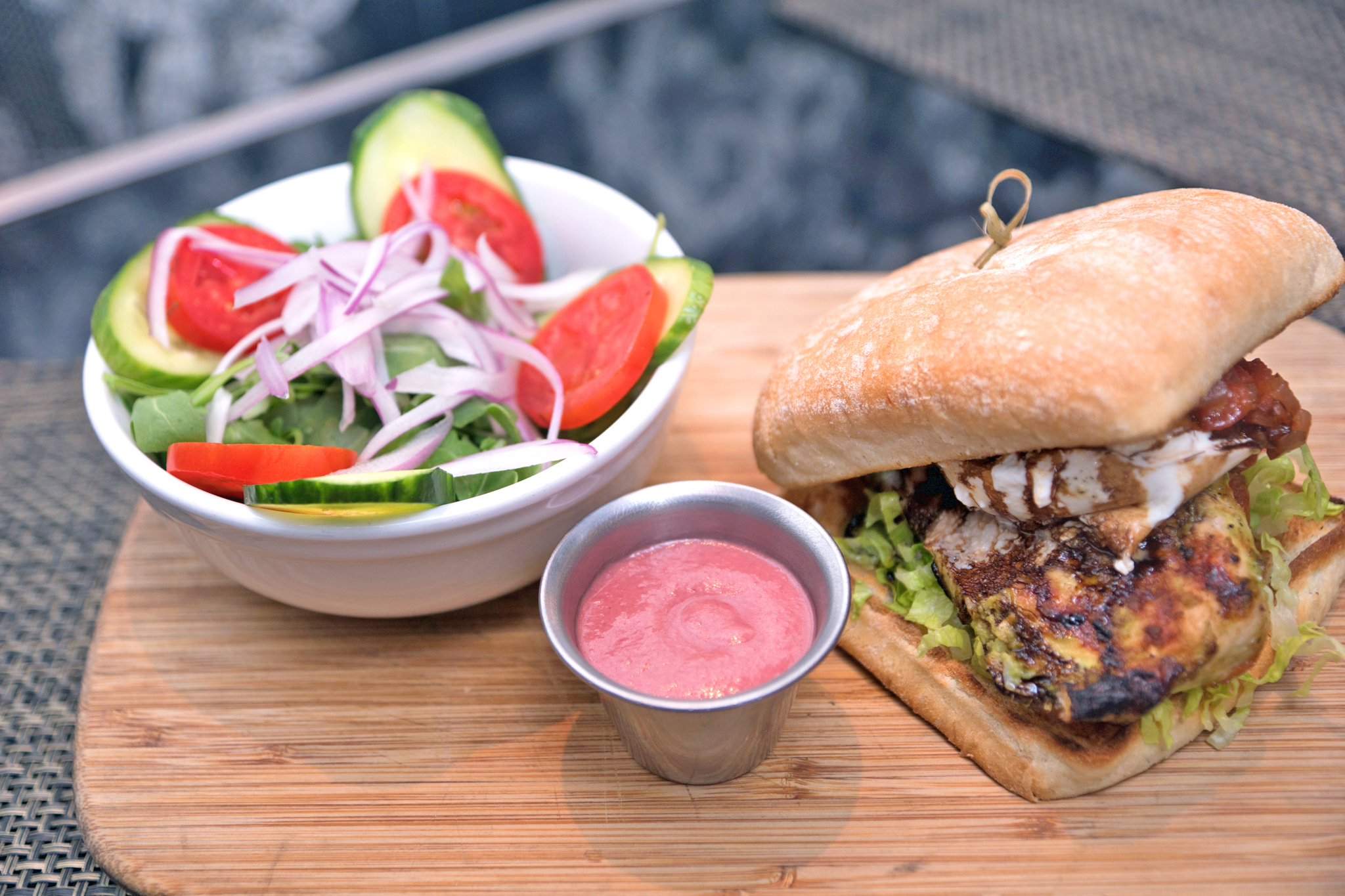 All of the five entrées on Tryst's summer menu are new. They are all super delicious with our two favorites being the steak, and the gnocchi, with the Cordon Bleu and snapper not far behind.
Creekstone Farms NY Strip – crispy puffed potatoes, roasted broccoli, marrow bordelaise.
Lori is a tough (no pun intended) customer when it comes to steak, and she exclaimed, "This is the best steak I've had in awhile!"
The puff potatoes were dreamy because they were so creamy inside—almost like custard!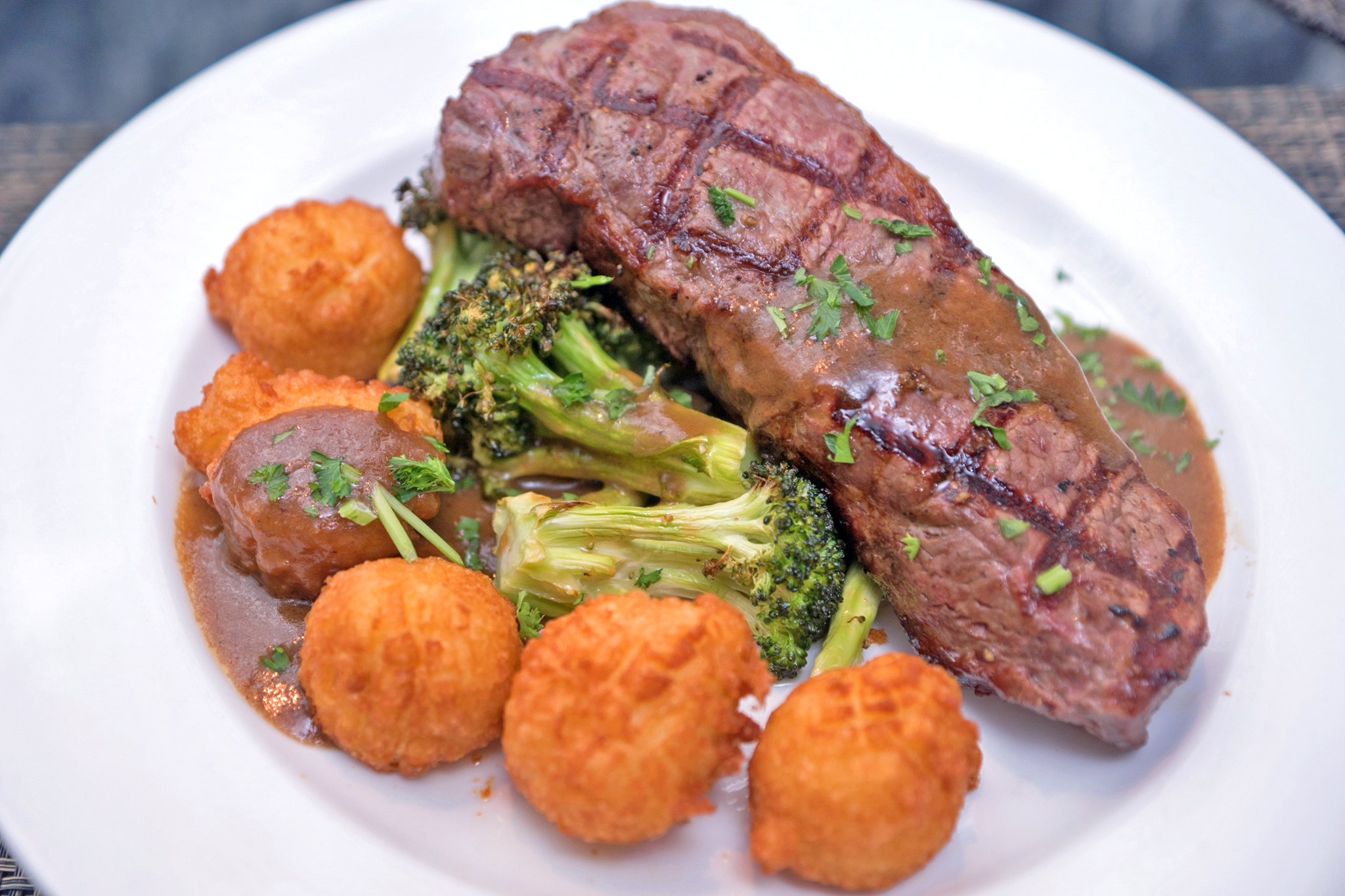 Pan Seared Snapper – coconut sticky rice, roasted brussels and redpeppers, romesco sauce. This was expertly done, crisp on the outside, and buttery and juicy on the inside. One thing to note is that the coconut sticky rice is served chilled. It is supposed to be like that as a summer item. Lori didn't like that aspect, but I devoured it.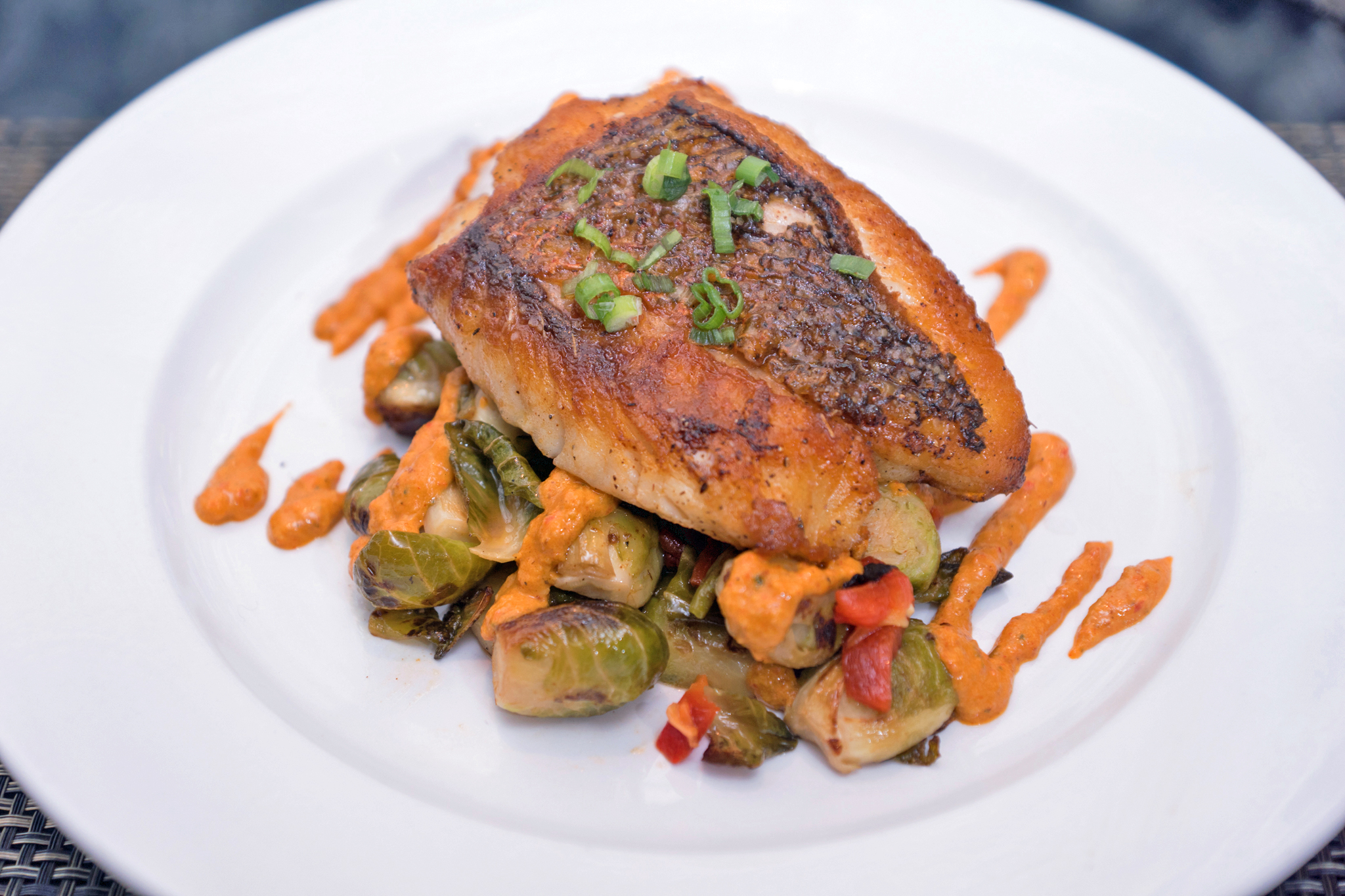 Ricotta & Potato Gnocchi – house vodka sauce, spinach, Romano cheese. The gnocchi is handmade in-house from scratch. It is not coming out of a box or bag, and you can tell. It tasted like pizza with oregano to me, which might sound weird, but I mean it in a good way. This was one of my favorites that I can't wait to have again.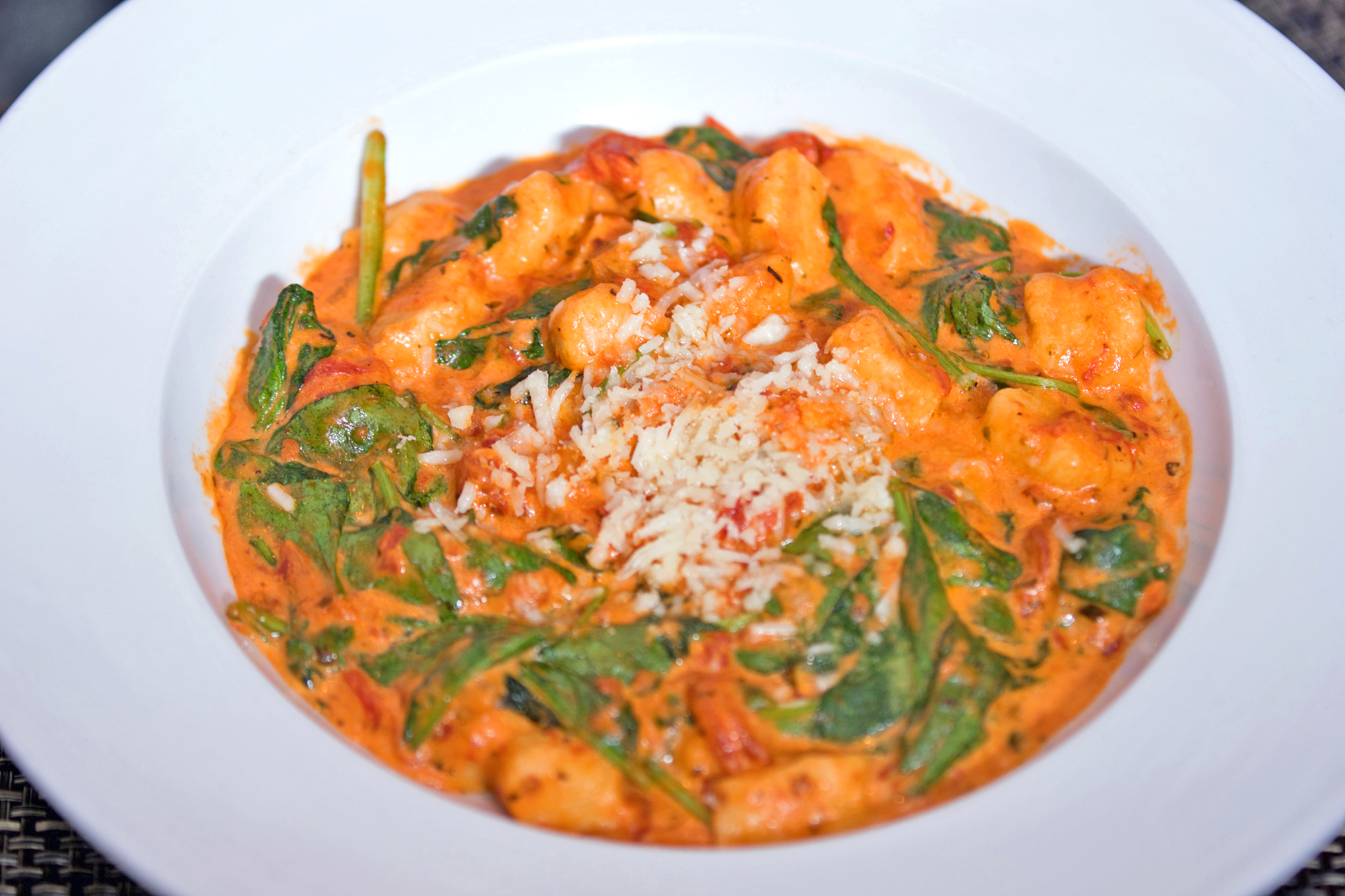 Chicken Cordon Bleu – stuffed with Jambon de Paris and Comté cheese, served with crispy puffed potatoes, roasted broccoli, chicken demi. This has always been one of my favorite dishes since I was a kid. I've made this one from scratch myself using one of Emeril's recipes, and Tryst's version is right up there. And the puff potatoes again! I could eat a whole bucket of these!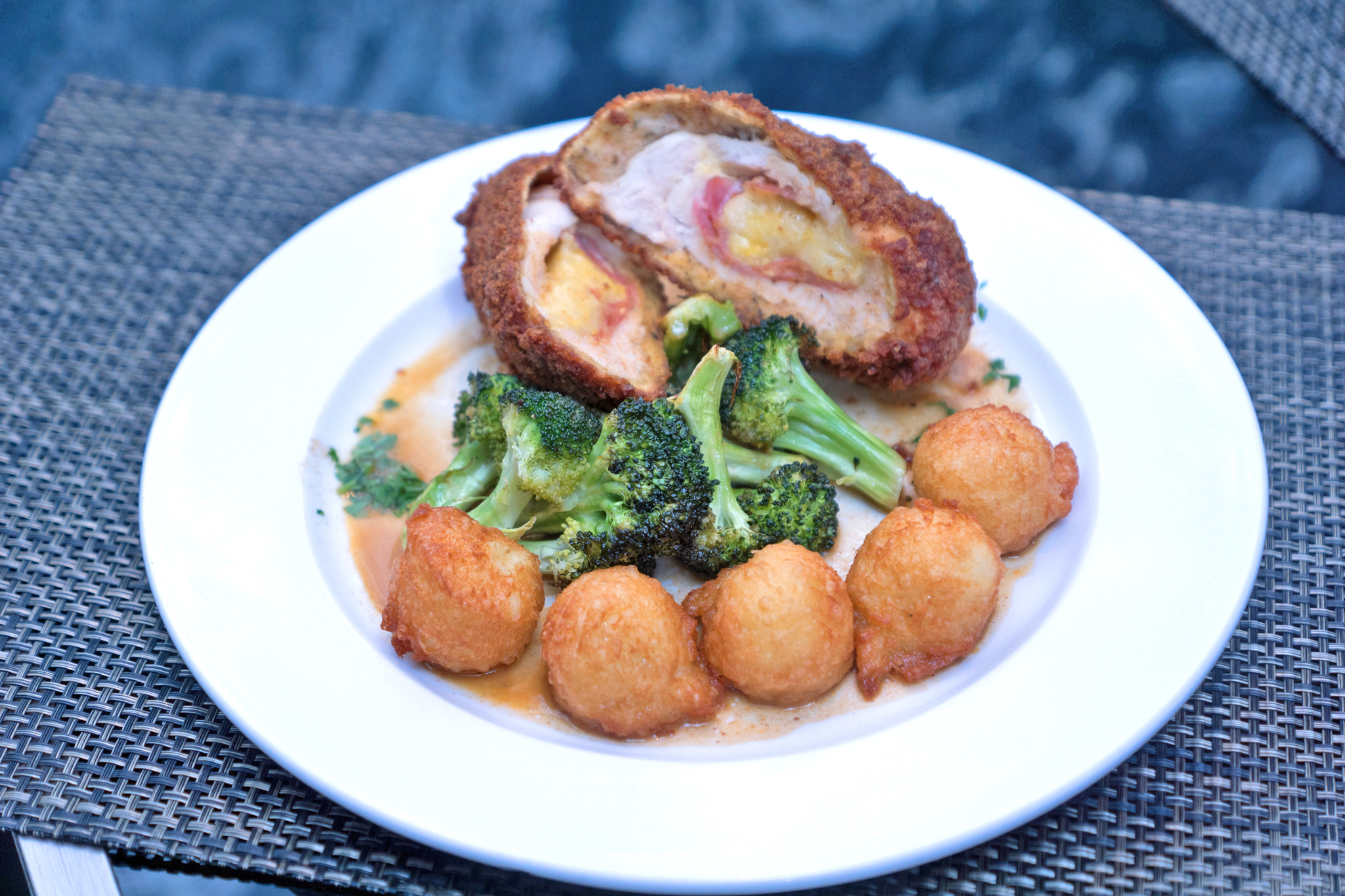 Grilled Veggie Stack – farro salad, romesco sauce. Our vegetarian friends should love this. It's nice and fresh, and the farro is so yummy.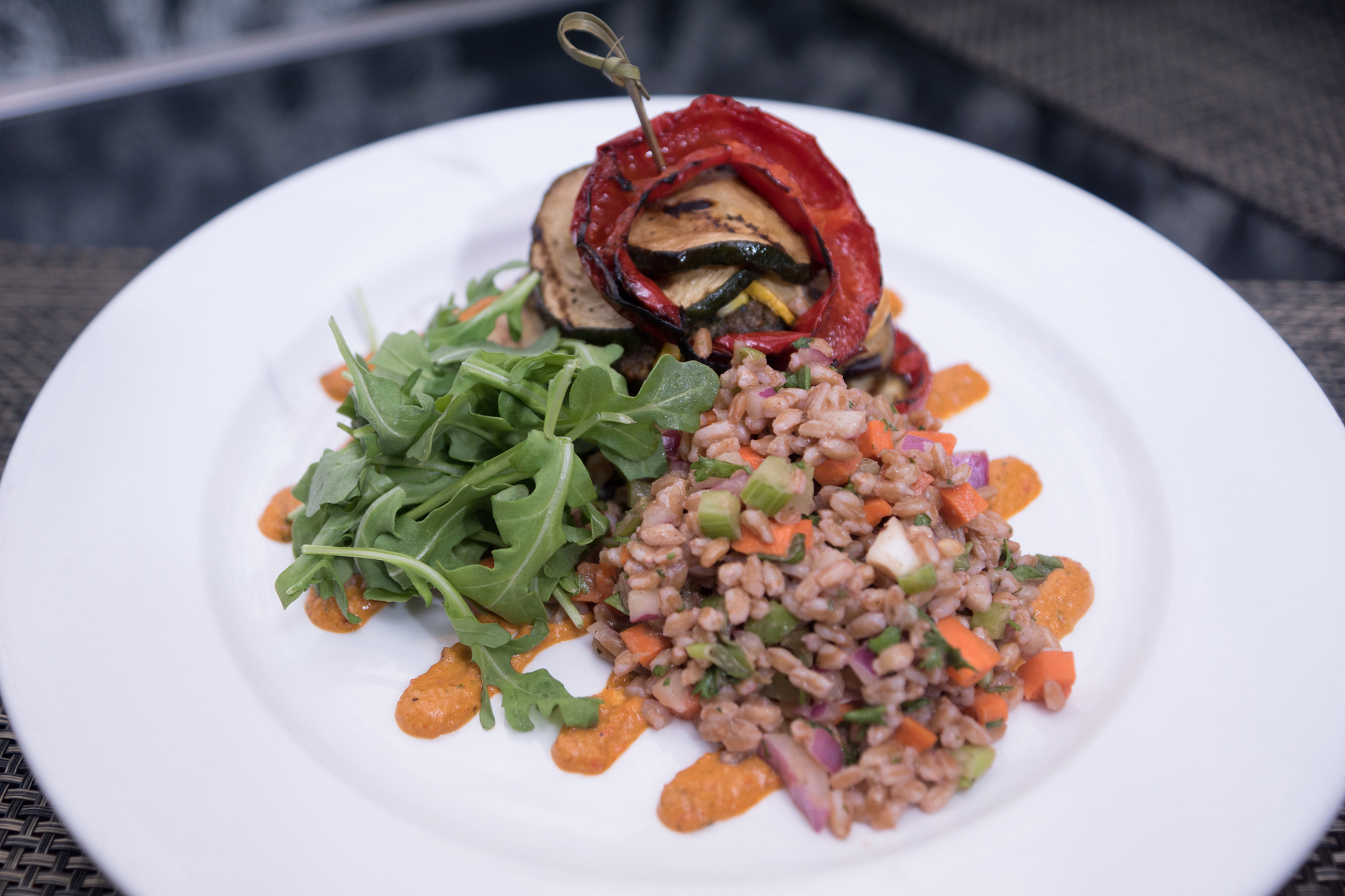 Tryst Summer 2018 Brunch Menu
The full menu is below, and here are the new items.
Eggs Benny of the Day – one of my all time favorite decadent brunch items.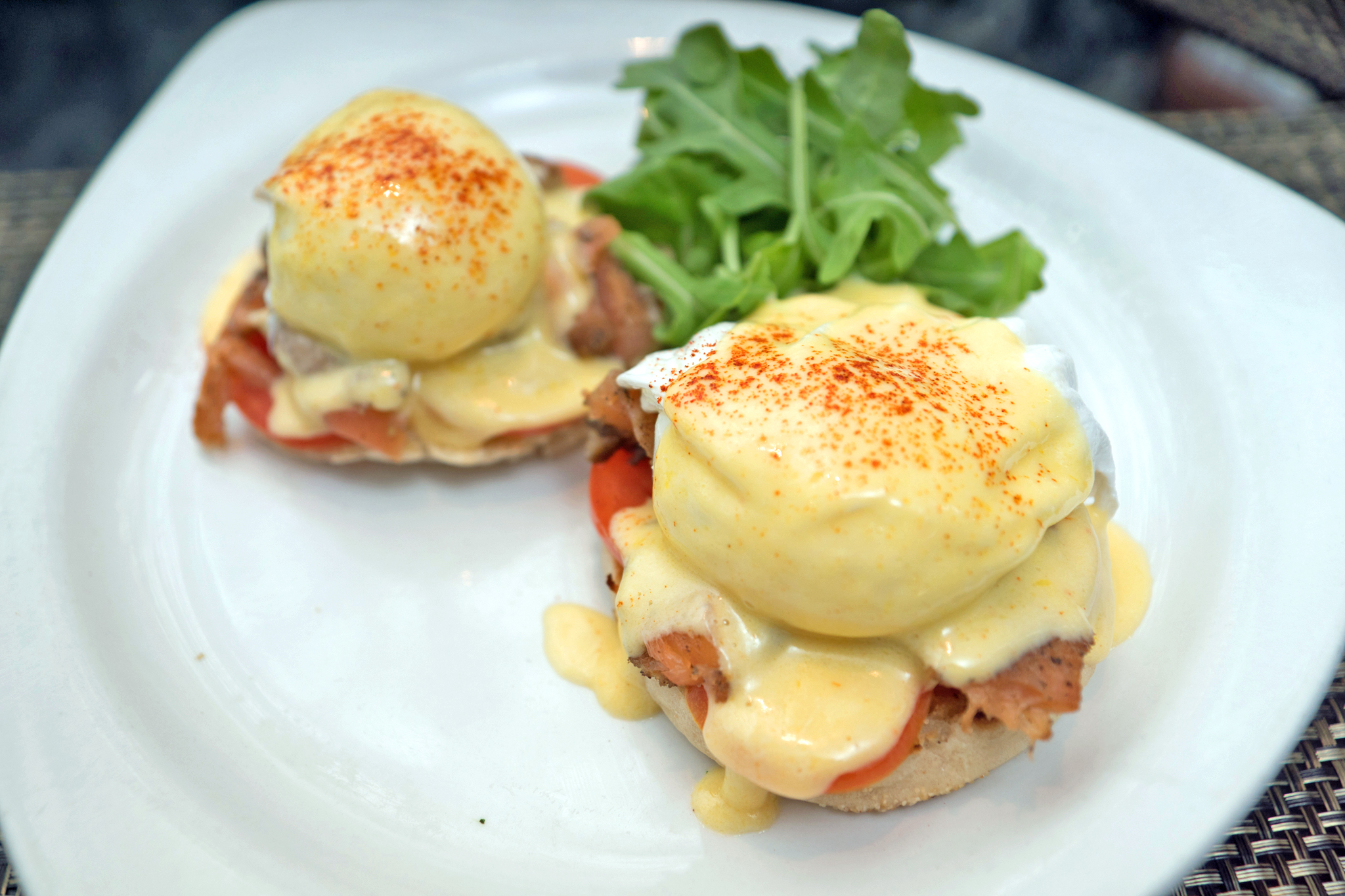 Strawberry Cheesecake Stuffed French Toast – maple pecan butter. We have mentioned several times in many past reviews that we are not lovers of sweets. I'm starting to wonder if I need to stop saying that. What a hedonistic treat this is.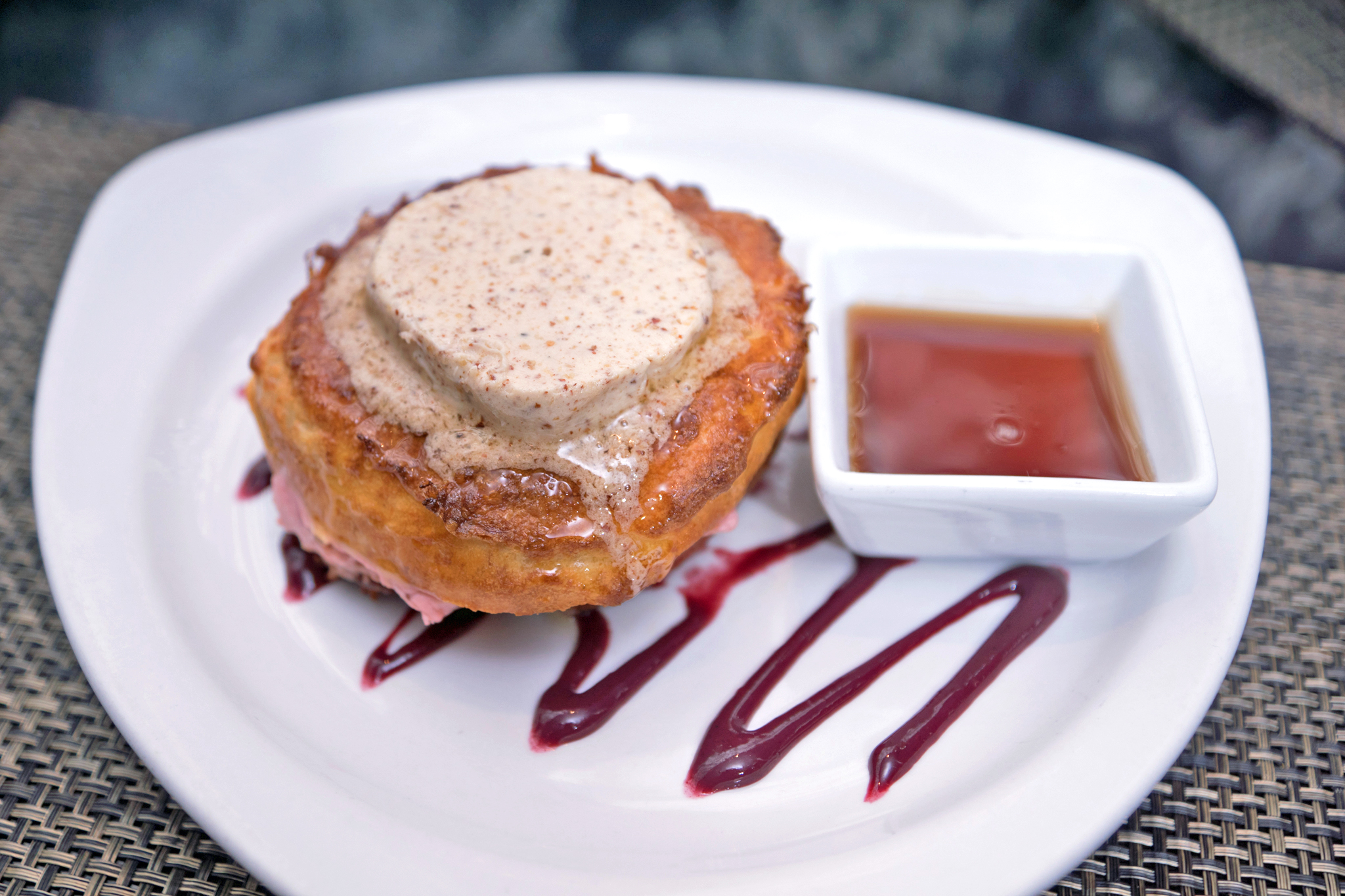 Caramelized Onion and Goat Cheese Frittata – seasonal veggies. Who doesn't love a frittata? This one's light, airy, and filling at the same time – and it's got goat cheese and caramelized onions – Yum!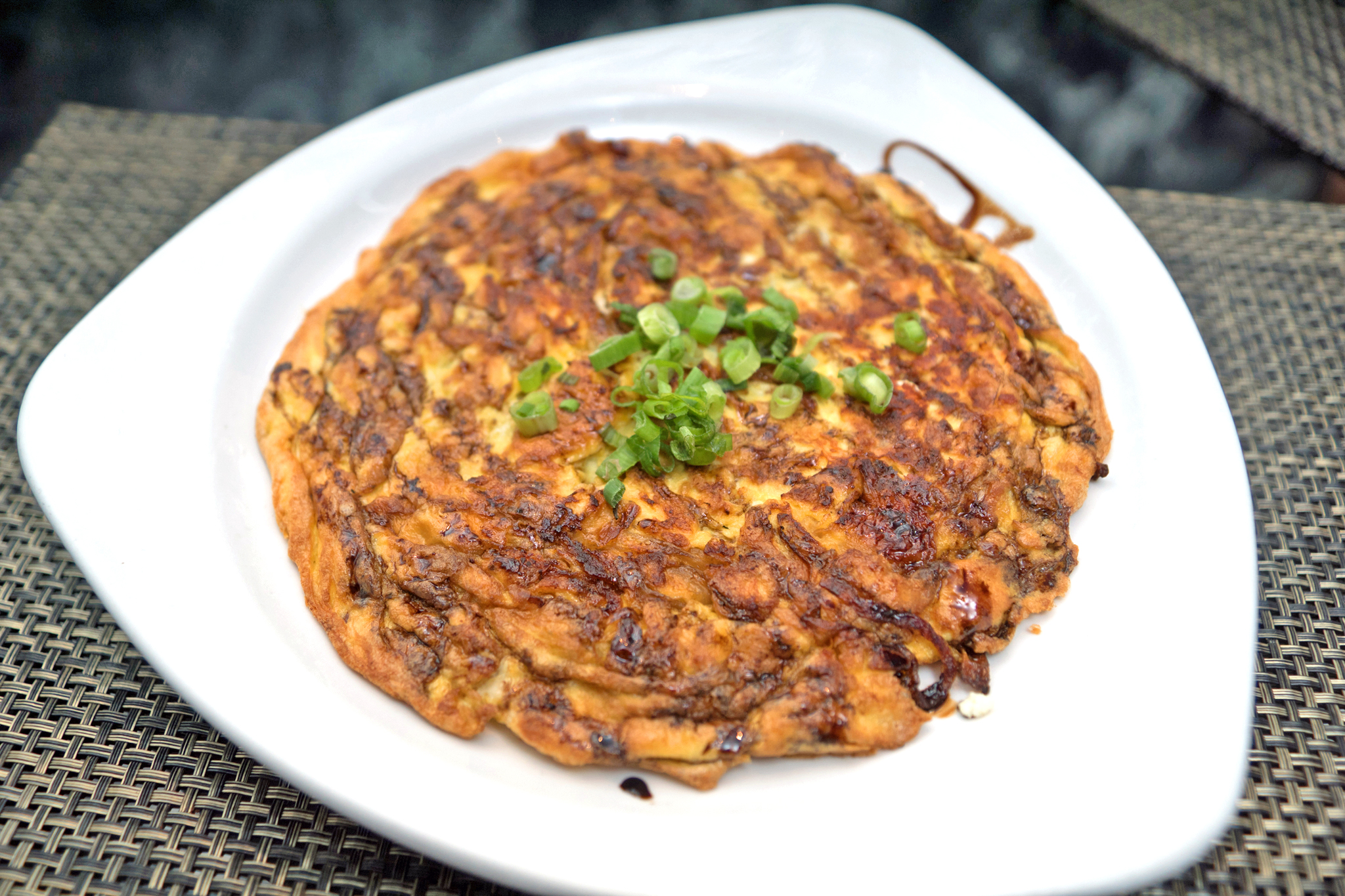 (All Photos by Barry Lively – Courtesy of Tryst – Edited by Kevin Godbee)
Click on the menus for a larger version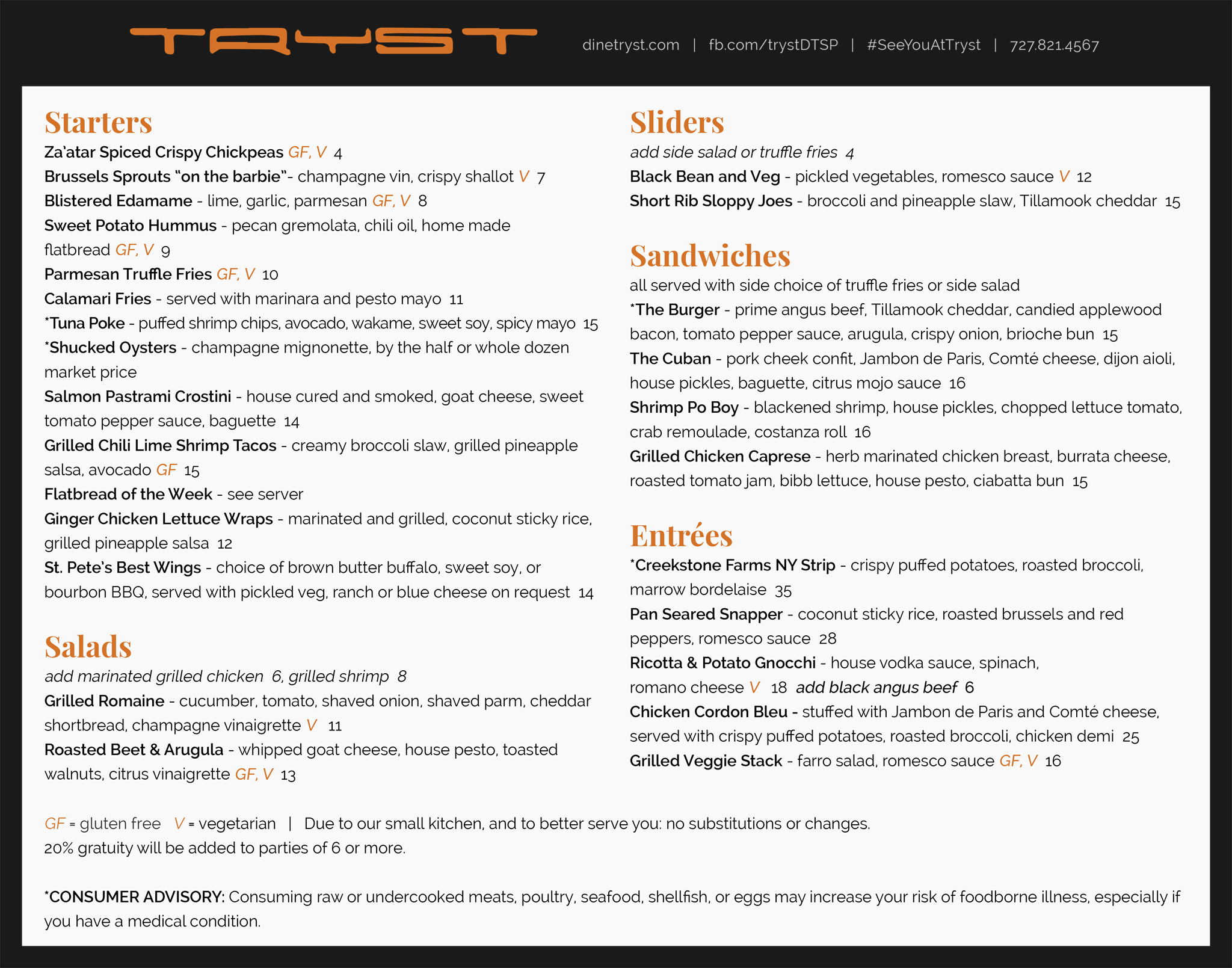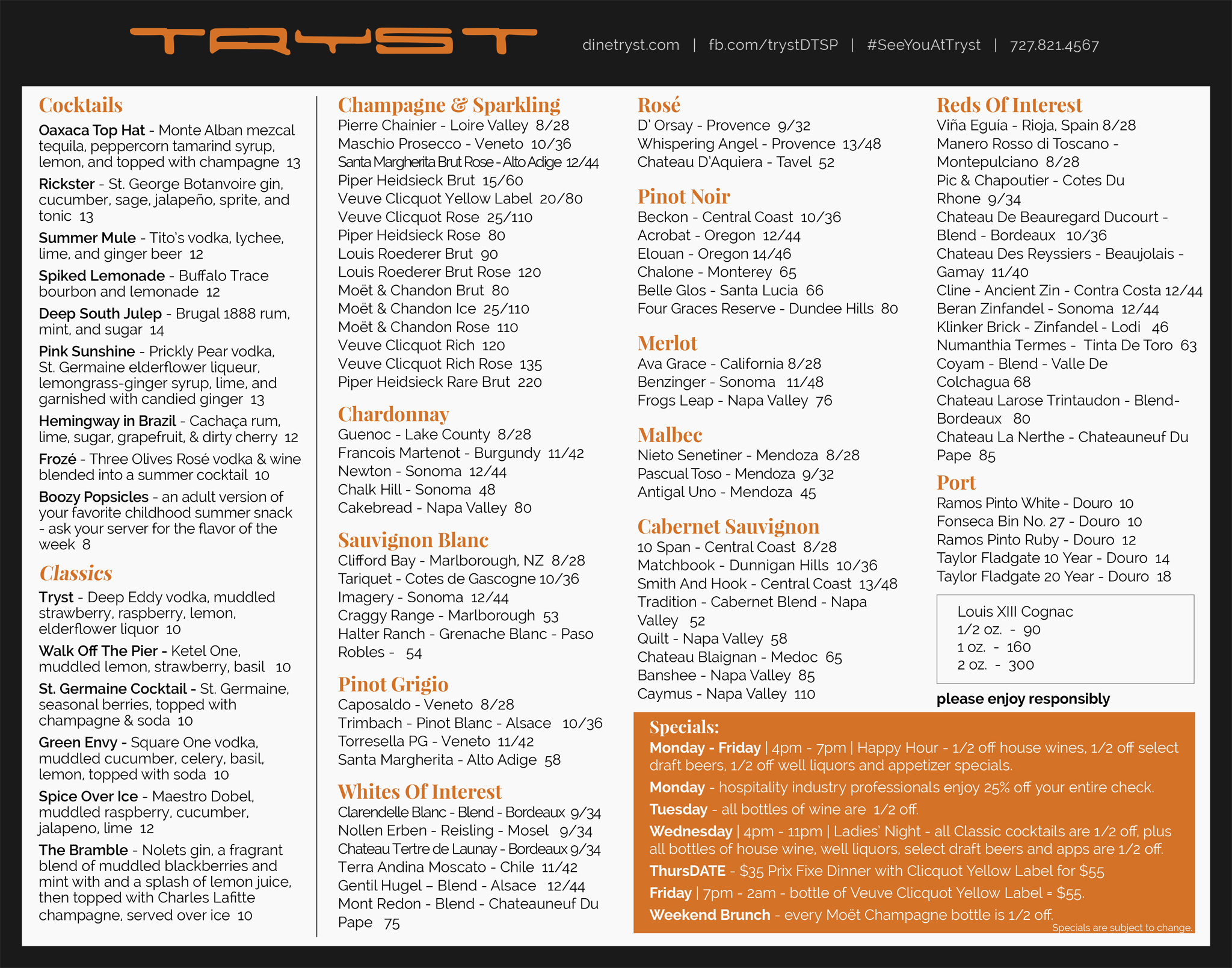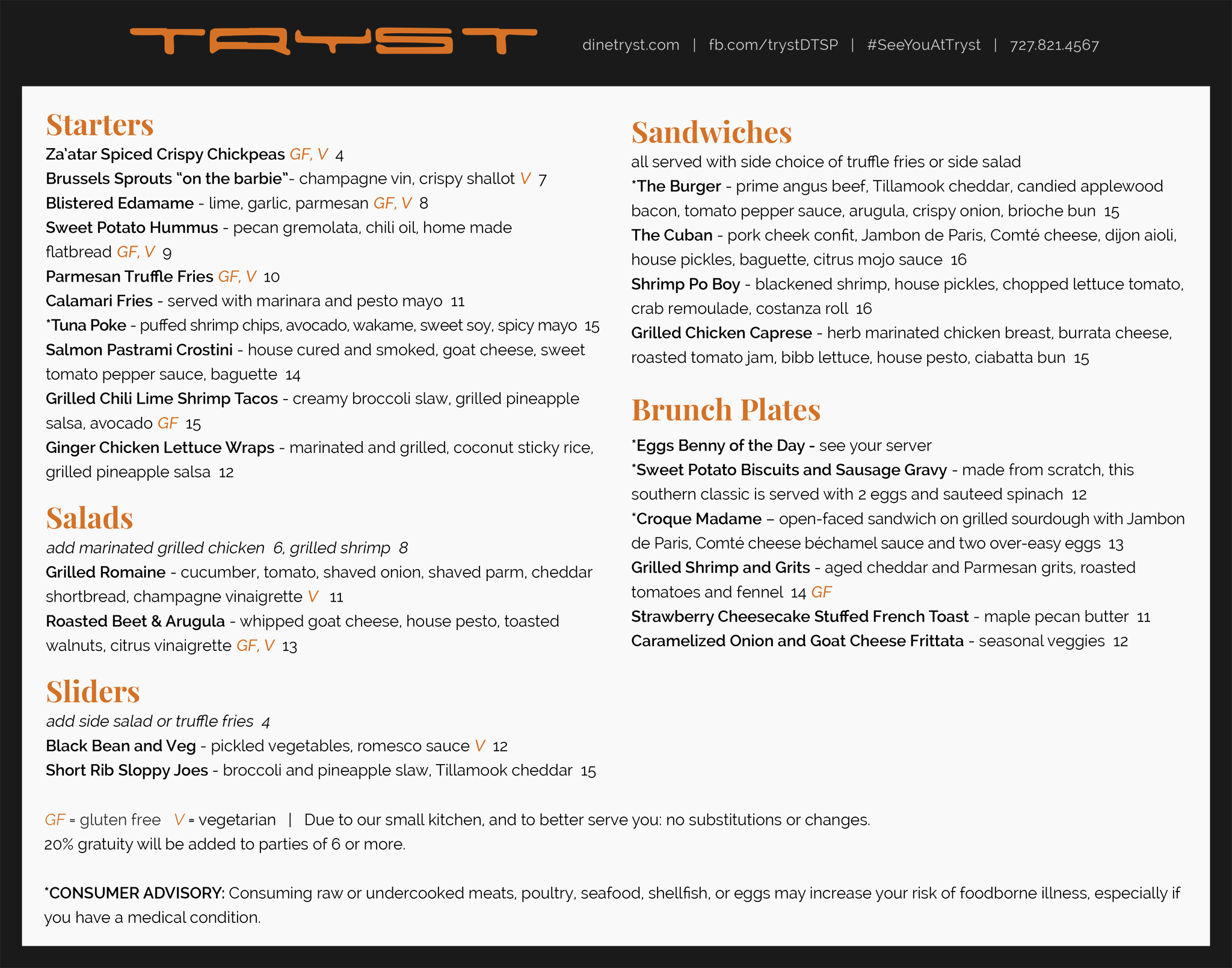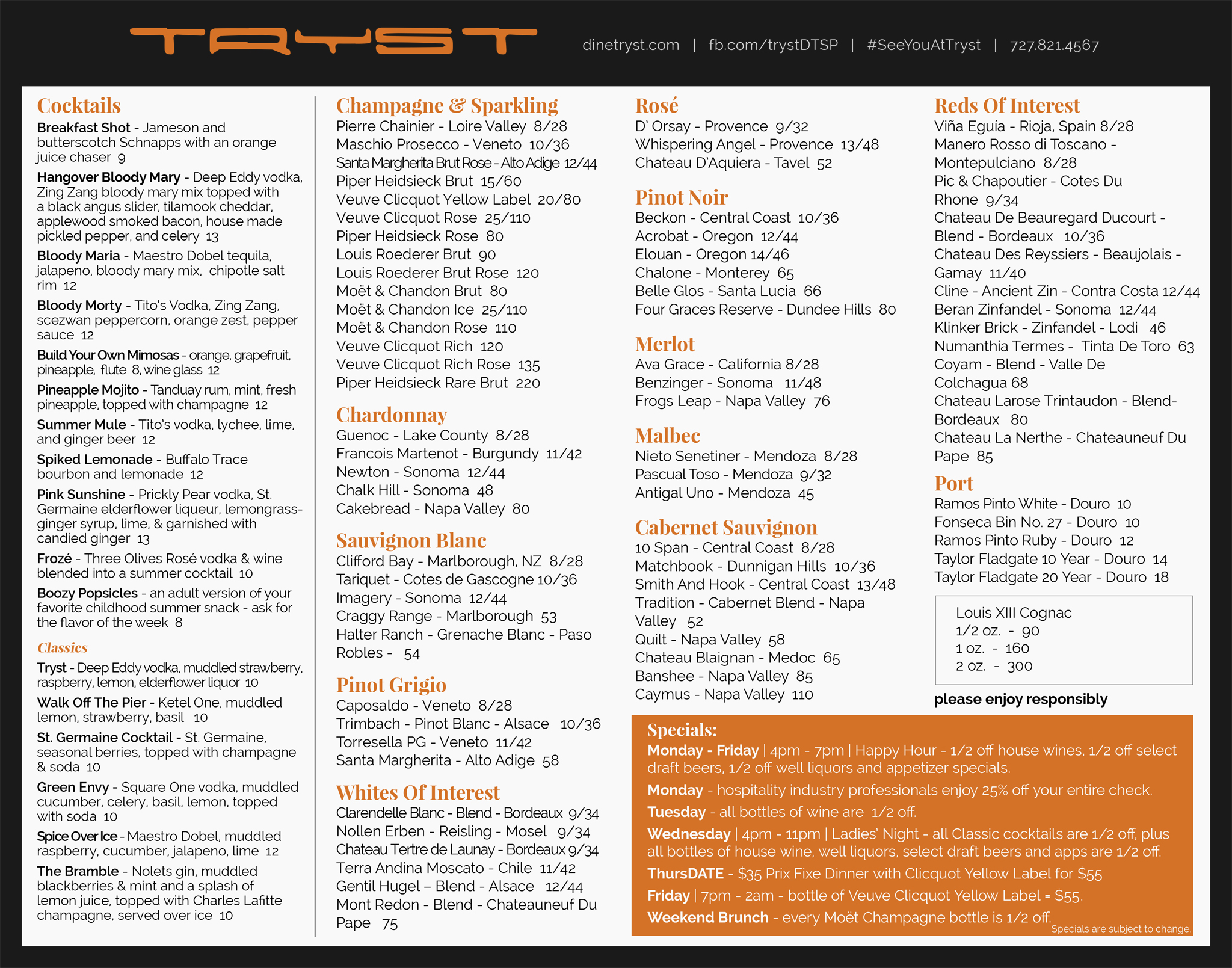 Make a reservation right now, and tell them that St. Petersburg Foodies sent you!
OpenTable Reservation
Make a reservation right now, and tell them that St. Petersburg Foodies sent you!
Tryst releases their new summer menus for dinner and brunch
DISCLAIMER: Kevin, Lori, Abby, Haley, & Lindsey do not dine anonymously (this would be impossible) and we sometimes get free food (though never expected). However, we dine with the locals and we support our own. You will always get honesty in a respectful manner.

PLEASE NOTE: Reviews reflect a certain moment in time. Some restaurants stay extremely consistent over many years, and some change for the better or worse. Some things that may change are: chefs, recipes, food suppliers, ingredients, philosophies, ownership, etc. We always hope that you have the same good, or great experience we had.
More Foodies News, Reviews & Recipes