Rum, Shrimp, and Amazing Views at Doc Ford's Rum Bar and Grille
Rum, Shrimp, and Amazing Views at Doc Ford's Rum Bar and Grille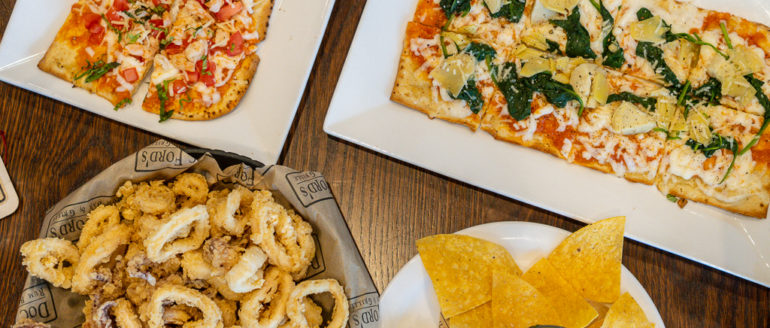 The St. Pete Pier is a grand attraction for many reasons like the exceptional views of the city, family-friendly activities, and of course, the restaurant scene. Doc Ford's Rum Bar and Grille at the St. Pete Pier is a great restaurant to stop in for boozy cocktails, mouthwatering apps, fresh seafood entrees, and more.
Although it may seem slightly touristy, Doc Ford's is a fun spot that I can imagine becoming a regular place for me to grab apps and drinks with friends, plus being on the pier is a huge plus. The St. Pete Pier is the fourth location for Doc Ford's. If you're taking a weekend getaway trip to Captiva Island, Ft. Myers Beach, or Sanibel Island, you can find the other three locations there. Be sure to call ahead and make a reservation!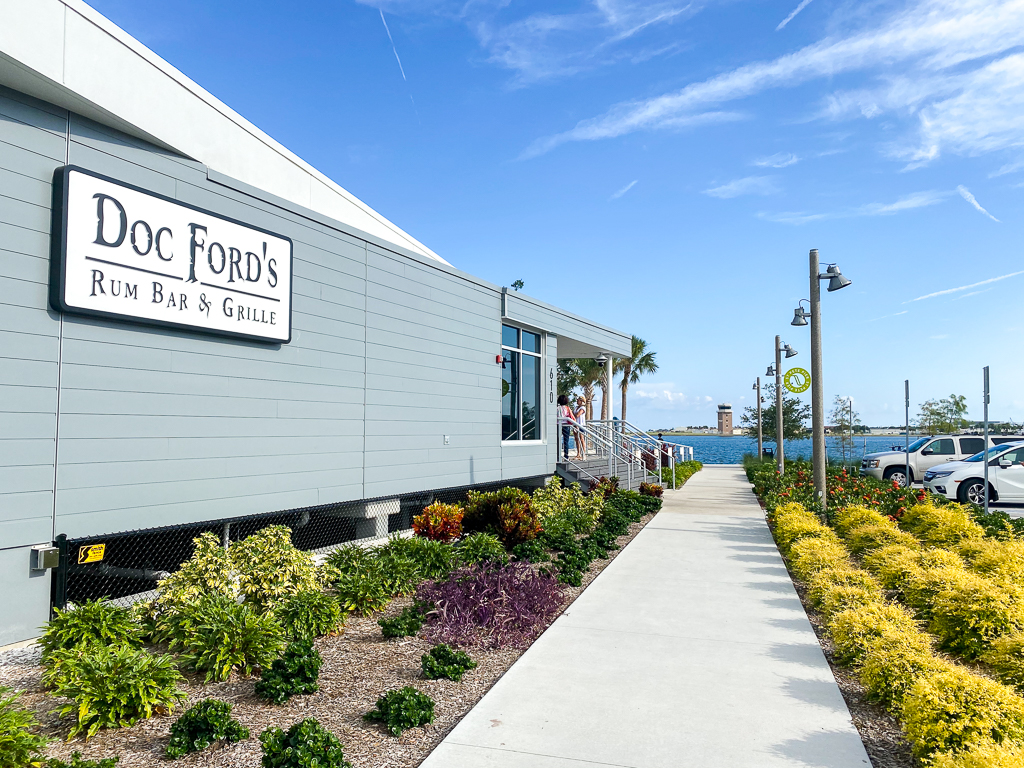 Don't worry too much about sitting inside and missing out on any views, as Doc Ford's has a picture-perfect vision of the St. Pete skyline one way, the end of the pier in the other direction, and the breathtaking Tampa Bay in between. Doc Ford's is a wonderful restaurant to cool off inside or enjoy the Bay breeze outside. The indoor atmosphere is oceanic and trendy with tables, booths, two bars, and even a fish tank that welcomes you in the lobby. The few times I visited Doc Ford's there was live music playing outside and I can imagine this will be a main attraction as soon as fall hits and it's not so brutally hot! But for me personally, I'm happy to stay inside with the AC blasting. Can anyone else relate?
Okay, so the food. The superb cuisine is inspired by South and Central American flavors with a strong focus on fresh, quality seafood and tropical characteristics.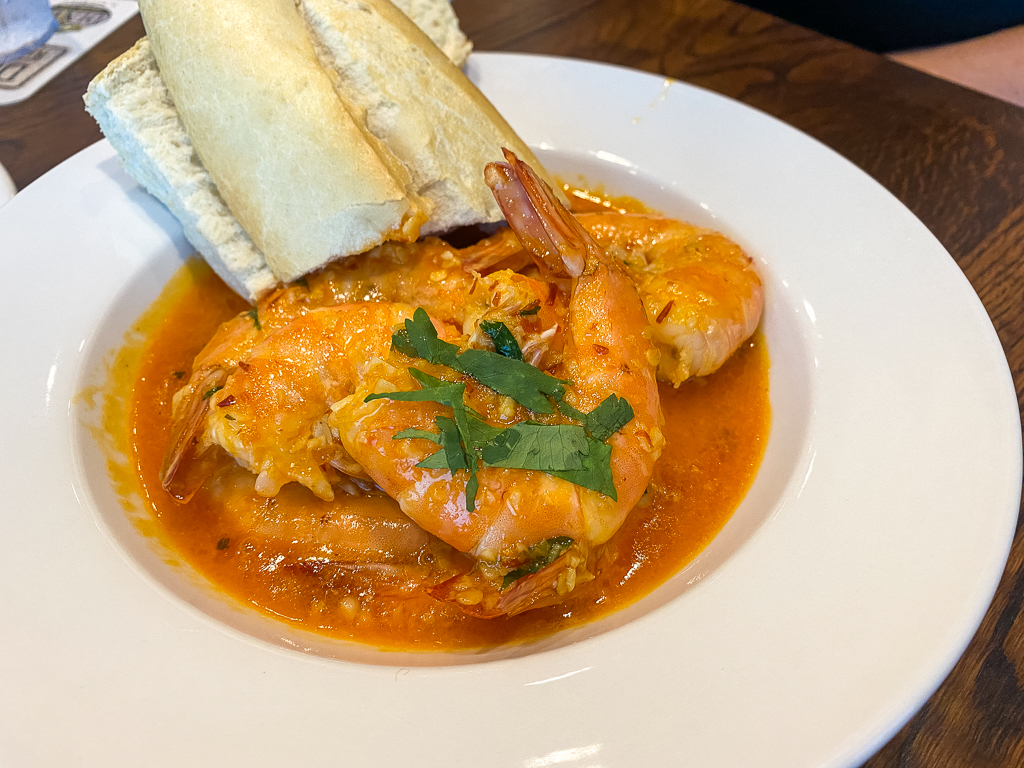 The Yucatan Shrimp is a MUST! This is one of Doc Ford's' signature dishes and I can assure you will not be disappointed. The Yucatan Shrimp is steamed peel-and-eat shrimp in a dressing of real butter, garlic, mild Colombian chilies, fresh cilantro, and Key lime juice. The shrimp is the freshest I've ever had, and don't even get me started on the dressing. It's light yet mighty with hints of sweetness and spice. The warm bread is great for soaking up every bit of the dressing once you're done with the shrimp.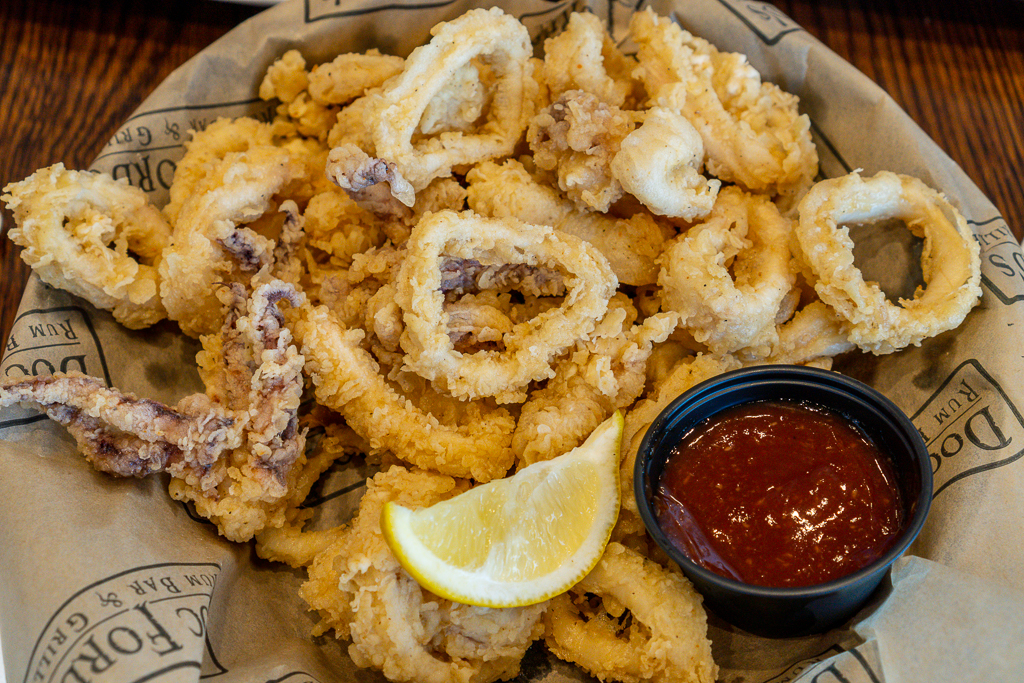 The Fried Calamari is another app that I highly recommend. It's lightly breaded, hand-cut tender calamari served with their house-made cocktail sauce. The calamari alone was incredible but the house-made cocktail sauce added so much flavor. The sauce was fresh and tangy which paired perfectly with the saltiness from the fried calamari.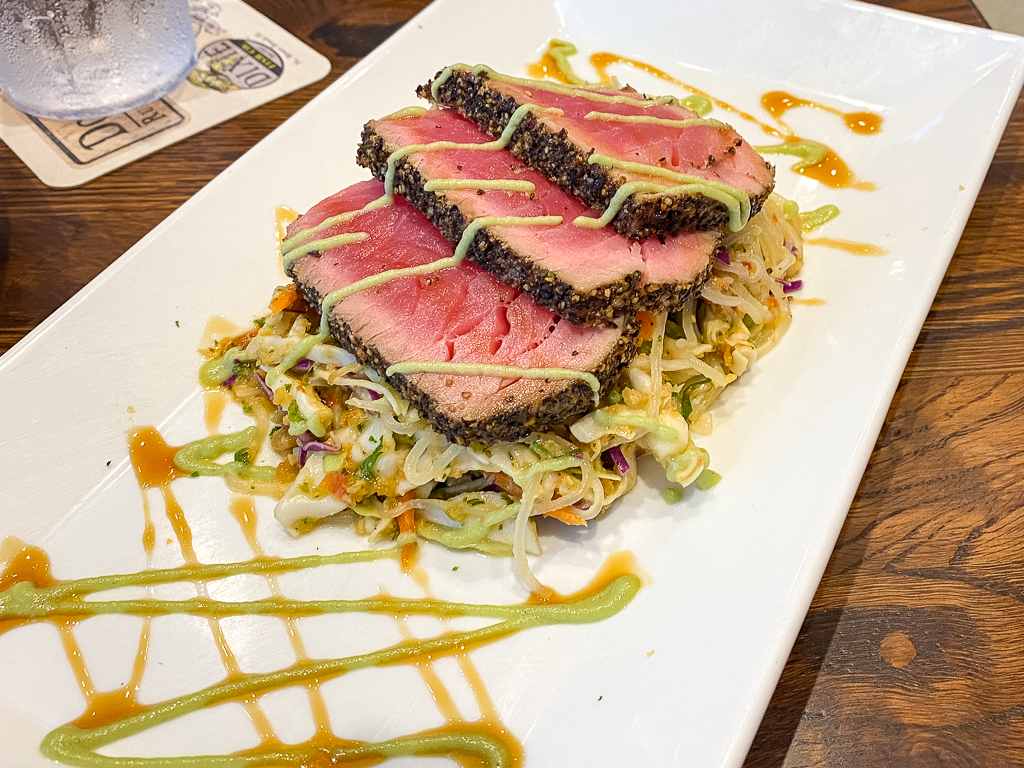 If you don't want to share, and we don't blame you, the Seared Tuna Appetizer makes for a delicious meal. Its served rare atop chilled rice noodles that have been tossed with crispy Asian veggies, fresh herbs, and a Thai peanut vinaigrette, topped it off with a sweet soy drizzle and wasabi coulis. The tuna has a great taste and is of high quality. The crunch from the crispy Asian veggies is a great combination of textures.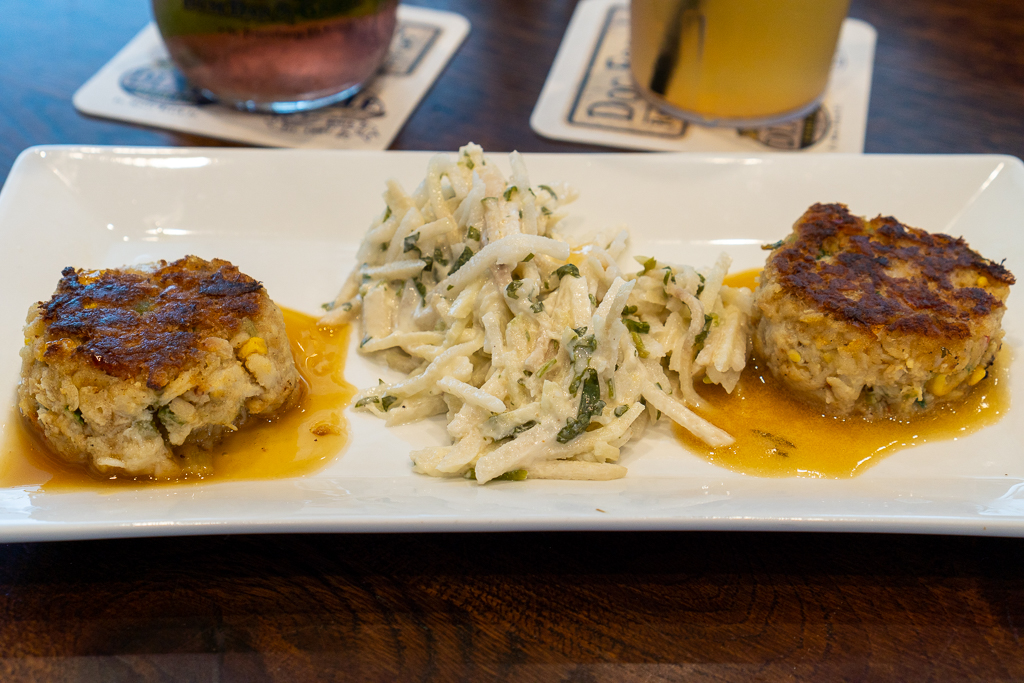 The Captiva Crab Cakes are outstanding. They're freshly made, pan-fried, beach-style, served with jicama coleslaw, and a key lime butter sauce. They came out warm and had a fluffy feel. The jicama coleslaw was crunchy like a water chestnut with a citrus burst of gusto. For such a simple app, I really loved the creativity put into the essence of this dish.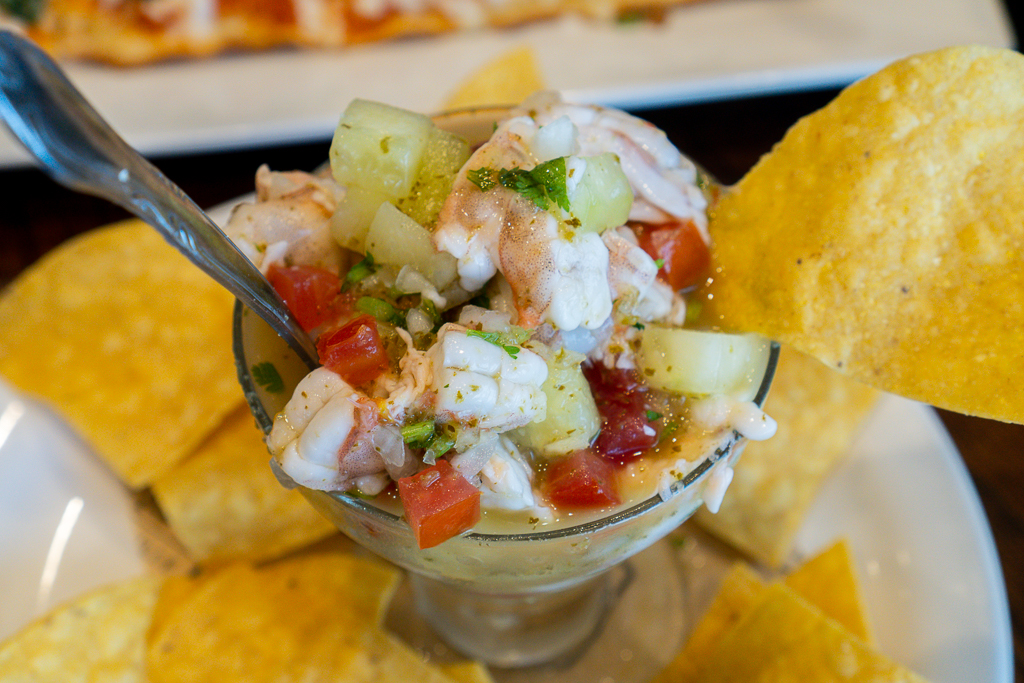 The Shrimp Ceviche Cocktail was pretty good with fresh shrimp in a Florida citrus marinade, tossed with fresh lime juice, cucumber, cilantro, jalapeños, onions, and tomatoes. The shrimp was delicious, but I was expecting more spice from the jalapeños. This is a good option for something lighter and refreshing, but I'd probably stick to the Yucatan Shrimp if I had to choose.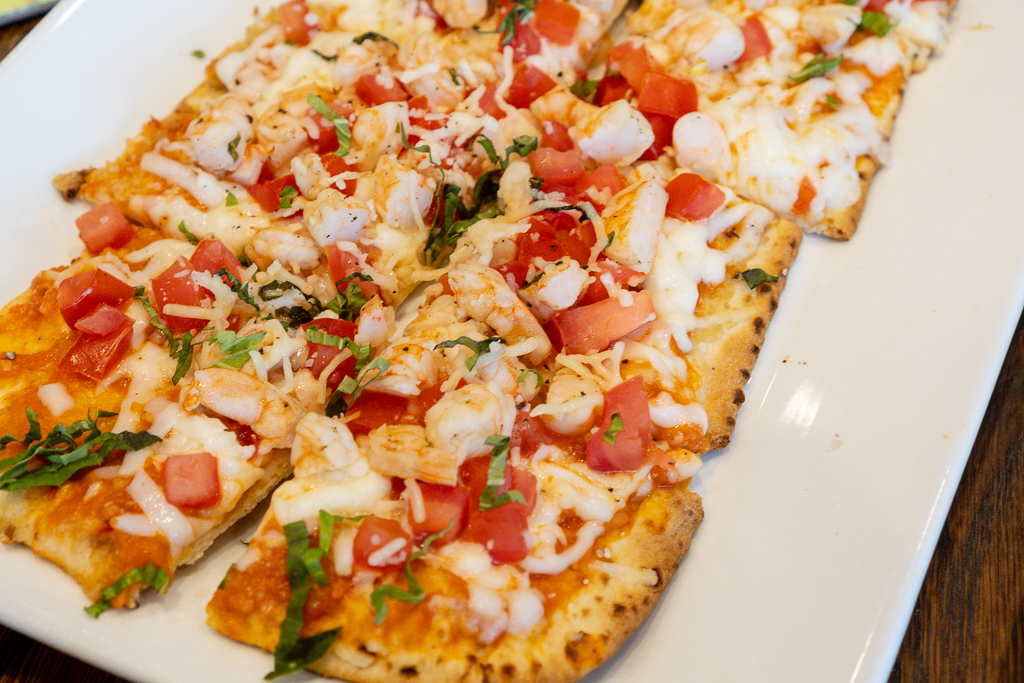 Doc Ford's has three flatbreads on the menu. These are perfect for sharing! The Shrimp Scampi Flatbread was my favorite with homemade Roma tomato sauce, roasted garlic, shrimp, tomato, mozzarella cheese, and basil. I really enjoyed how nearly every bite had a piece of shrimp on it and the tomatoes were sweet and juicy.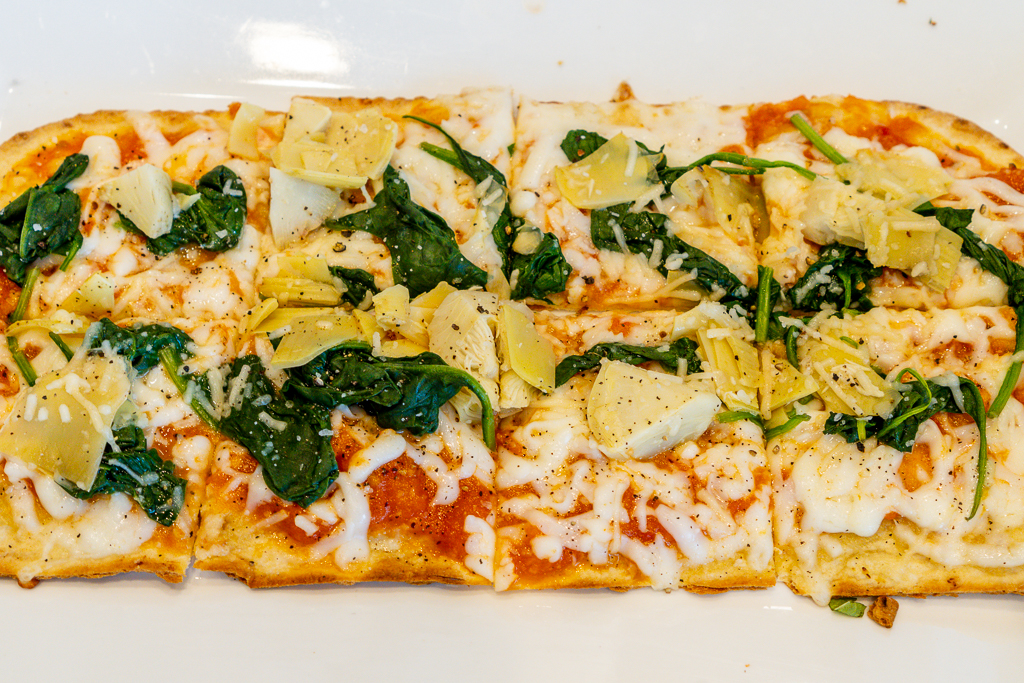 The Spinach & Artichoke Flatbread is a good option for a lite bite baked with homemade Roma tomato sauce, roasted garlic olive oil, topped with spinach, artichokes, and mozzarella cheese. The artichokes were very delicious. This flatbread is a safe call, but I enjoyed the Shrimp Scampi better because it had slightly more to it.
Doc Ford's offers sandwiches, salads, soups, and tacos, which make for a great lunch spot. If you haven't noticed a trend yet, most of what I've ordered has been seafood based. The shrimp is just so good and they offer it in so many unique ways!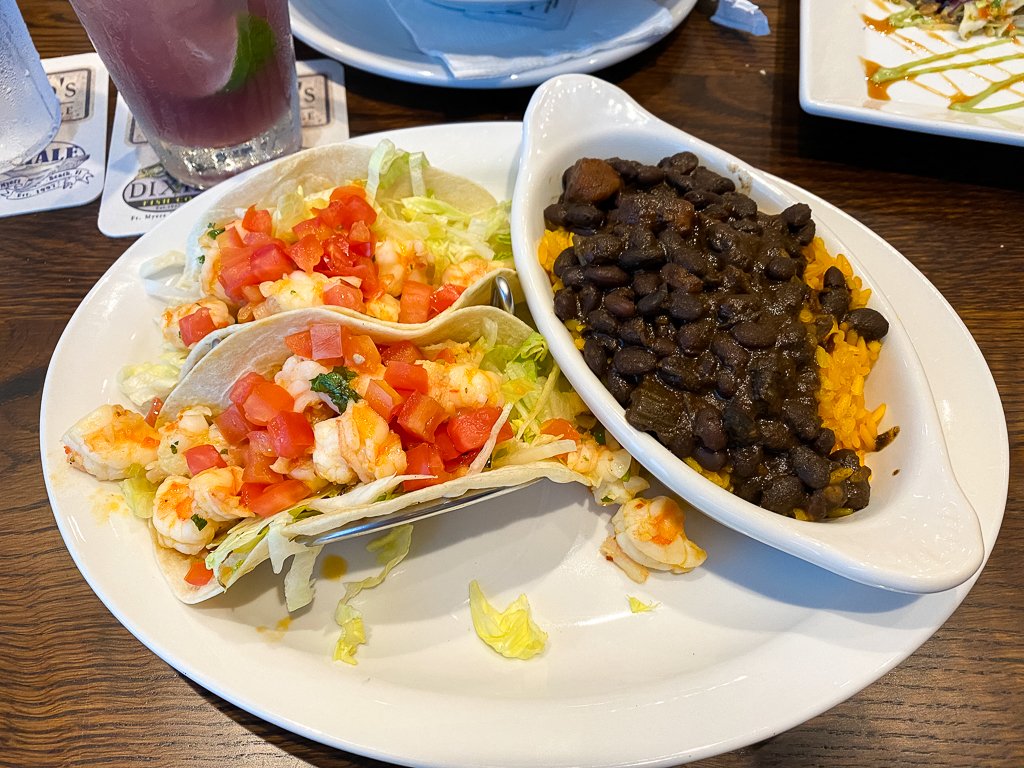 The Yucatan Shrimp Tacos consist of succulent steamed shrimp, shredded lettuce and tomatoes tossed in the one-of-a-kind Yucatan sauce made from cilantro, garlic, butter, lime juice, and Columbian chilis, served in a warm flour tortilla. These two tacos were jam-packed with shrimp, as you can clearly see in the image! I really enjoyed these and would have loved to sprinkle more of the Yucatan sauce over them, too.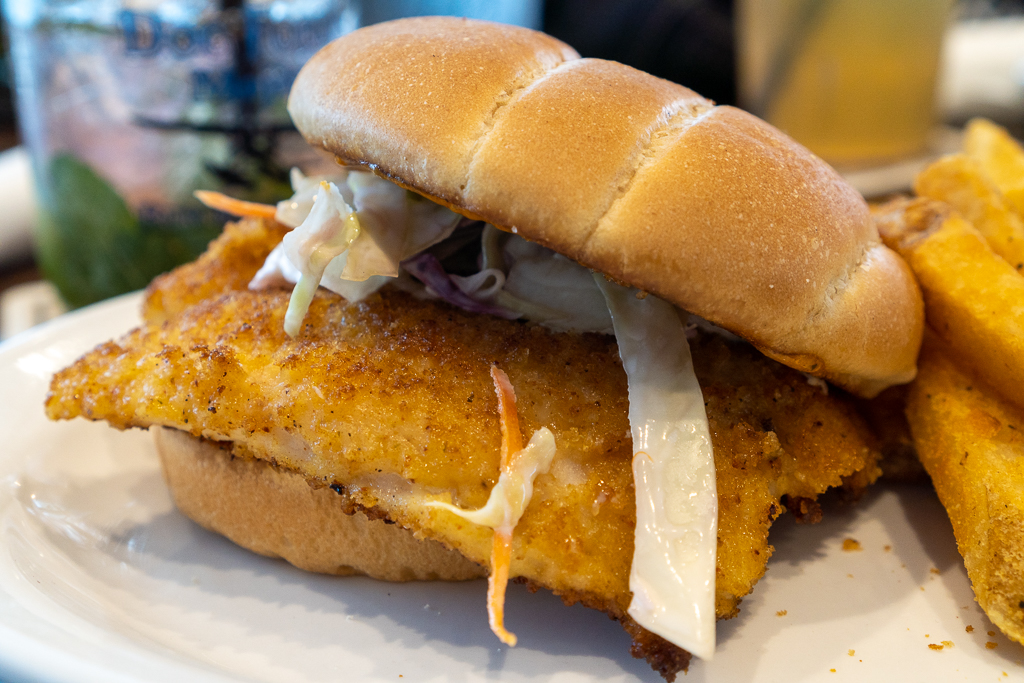 This fish sandwich is life. Doc Ford's Original Lime Panko Crusted Fish Sandwich seared, baked, and served on a fresh-baked roll, topped with house slaw and spicy remoulade. The fish was buttery and melt-in-your-mouth-good. The best part is that it didn't fall apart like many fish sandwiches seem to do. The house slaw was cold, crunchy and refreshing.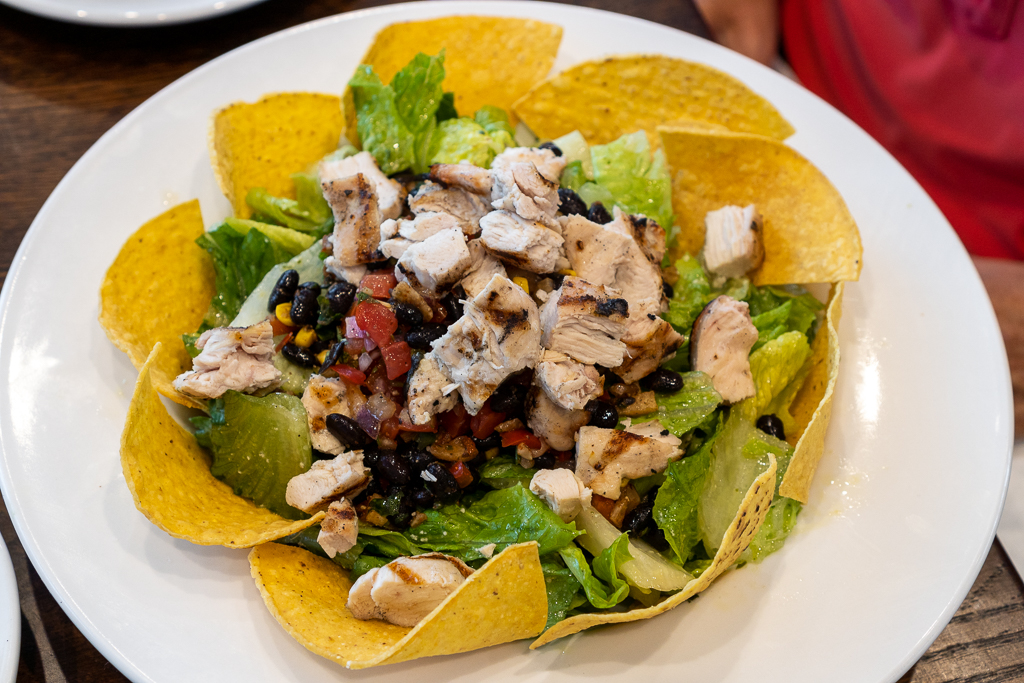 If you're looking for a lighter option that'll fill you up, the Chicken Taco Salad is a perfect choice with crisp romaine lettuce tossed in avocado feta vinaigrette and topped with Jack and cheddar cheeses, Cuban black bean salsa, grilled chicken and tomato pico de gallo, surrounded by corn tortilla chips. The salad is bright and beautiful and will leave you feeling good after! Doc Ford's has a ton of salad options like a Southwestern Cobb Salad, Tropical Salad, Steak Salad, and more.
The entrees range from ribs to ribeye to an array of seafood options, and much more!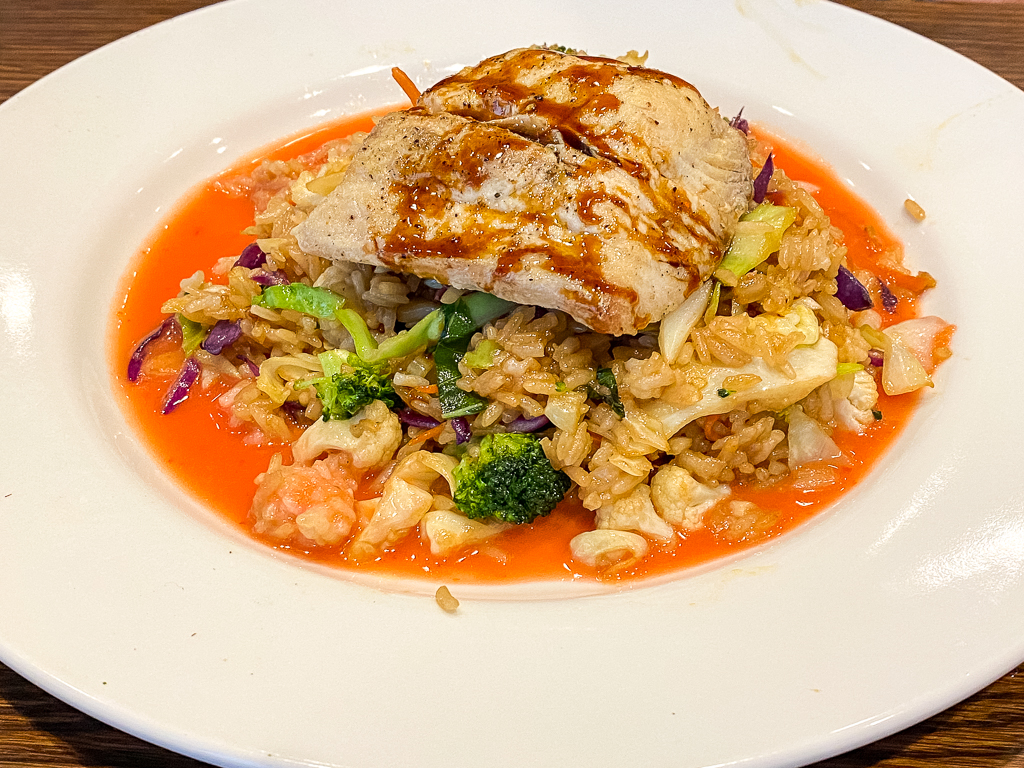 The Deep Water Mahi Mahi is a colorful dish with hand-cut mahi-mahi seared in sweet soy sauce, placed on a jasmine rice stir fry with a tropical vinaigrette. This entree is a prime example of how Doc Ford's uses tropical flavors from the islands!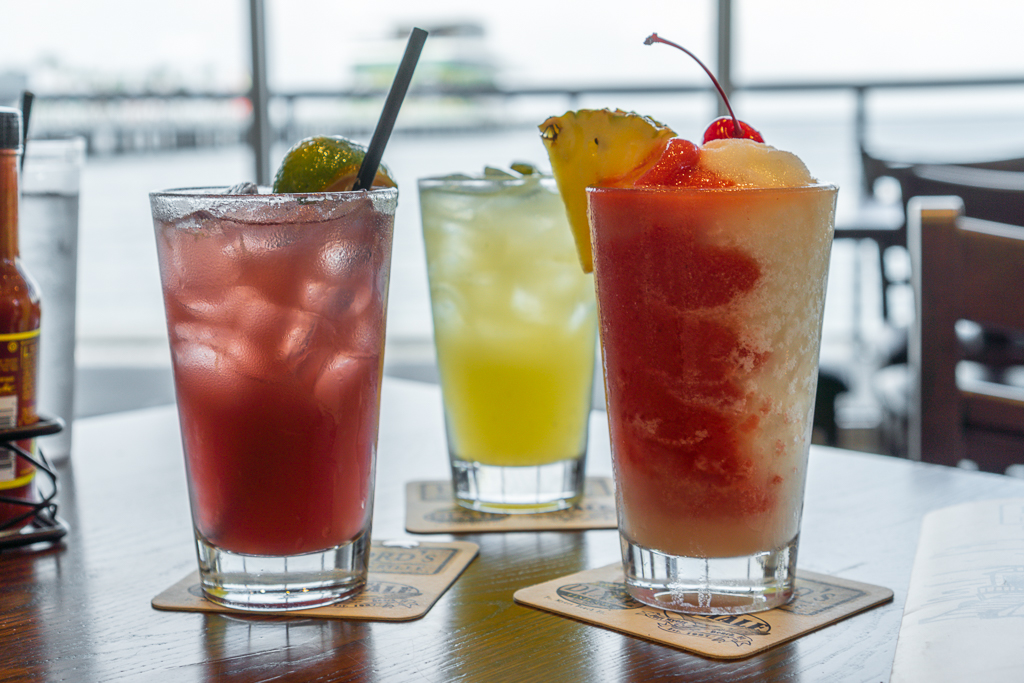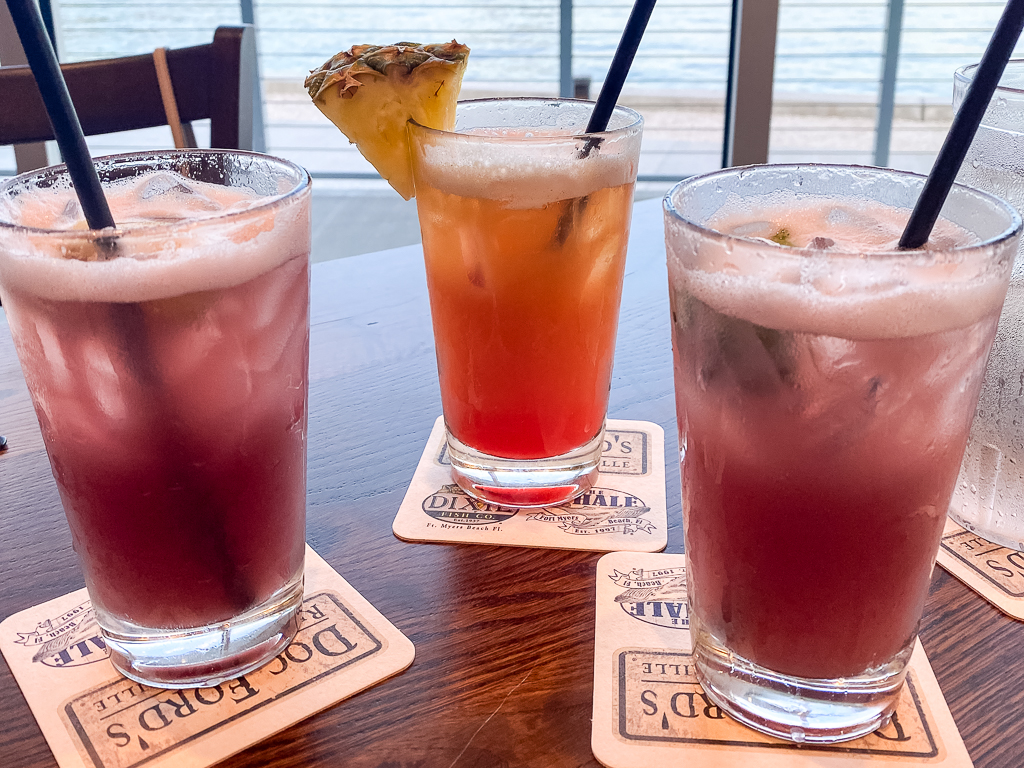 The cocktail menu is very impressive and somewhat overwhelming, in a good way. There are so many choices depending on what alcohol you're in the mood for. The premium rum list is quite grand. I encourage you to try a fruity, tiki-inspired rum drink for an all-time great buzz and to get your tastebuds dancing.
Doc Ford's is seriously a cool place to take out-of-towners or meet up with friends for drinks and apps. The vibe is lively and beachy!
The Doc Ford's book series that you'll notice in the lobby, written by Randy Wayne White is a mashup between Florida history, especially in Sanibel, Captiva, and Pine islands, and environmental debates, with a play on some adventure. Randy Wayne White is a well-known author and I'd definitely recommend purchasing a book on the way out as a unique souvenir. They also have tons of Doc Ford's swag from T-shirts, hats, magnets and all that jazz!
Located at the base of the downtown St. Pete Pier! Doc Ford's St. Pete is as stunning as it is delicious. With inside and outside views of both downtown St. Pete, and Tampa bay, there's a seat in the house for everybody. Enjoy the sea-breeze on the seawall while enjoying a couple Doc Ford's Mojitos and Yucatan Shrimp!
DISCLAIMER: Kevin, Lori, Abby, Haley, & Lindsey do not dine anonymously (this would be impossible) and we sometimes get free food (though never expected). However, we dine with the locals and we support our own. You will always get honesty in a respectful manner. We do not include any large national or regional chains in our ratings and reviews. We focus on independent locally owned eateries exclusively.

PLEASE NOTE: Reviews reflect a certain moment in time. Some restaurants stay extremely consistent over many years, and some change for the better or worse. Some things that may change are: chefs, recipes, food suppliers, ingredients, philosophies, ownership, etc. We always hope that you have the same good, or great experience we had.
More Foodies News, Reviews & Recipes