New Chef and New Menu Takes Sea Salt to New Heights
New Chef and New Menu Takes Sea Salt to New Heights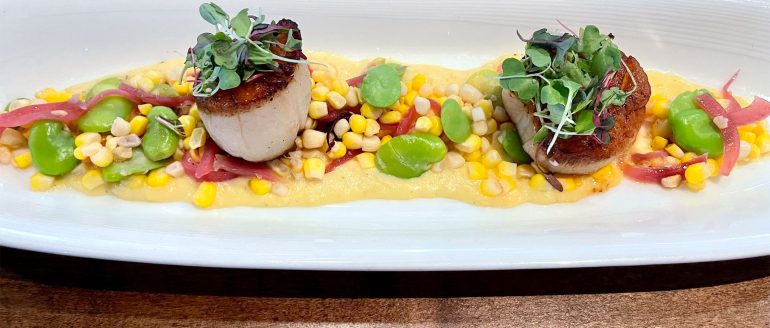 Sea Salt St. Pete's New Chef Margaret LaVetty's Enthusiasm Shines in Her Personality and the Food
If you're unfamiliar with Sea Salt, the restaurant is the baby of Chef Fabrizio Aielli and his wife, Ingrid Aielli. Opening in 2015 in the Sundial shopping complex in downtown St. Pete, it is a fine-dining restaurant, featuring an 80-foot long raw bar, 20-foot-tall wine tower, some of Florida's freshest seafood and 130 different salts from around the world. The original Sea Salt is located in Naples, FL where the Aielli's reside.
Upon learning of the highly touted new chef, we booked an early dinner at 5:30 so we would get a chance to meet and talk, and then we spent some time on the phone afterwards.
With a spring in her step and a smile on her face, Chef LaVetty is just bursting with enthusiasm for all things food, cooking of course, but also sourcing, growing, and harvesting.
We ordered drinks and the tuna tartare, and then Chef came out to meet us, and she asked if we minded if she just cooks for us, instead of us ordering. We LOVE that, so yes please. She also chose our oysters for us. We'll have more on Chef Margaret LaVetty at the end of the review.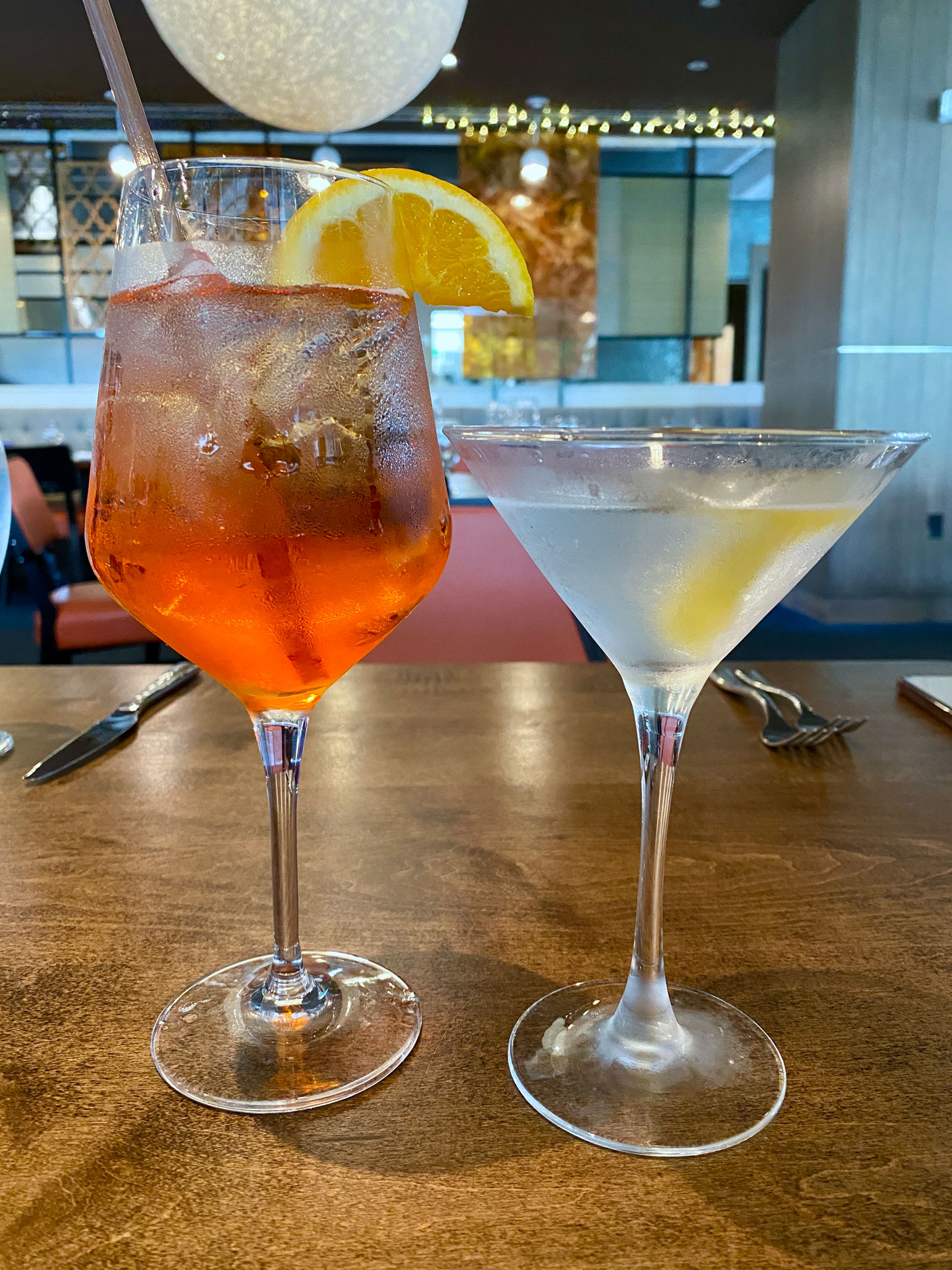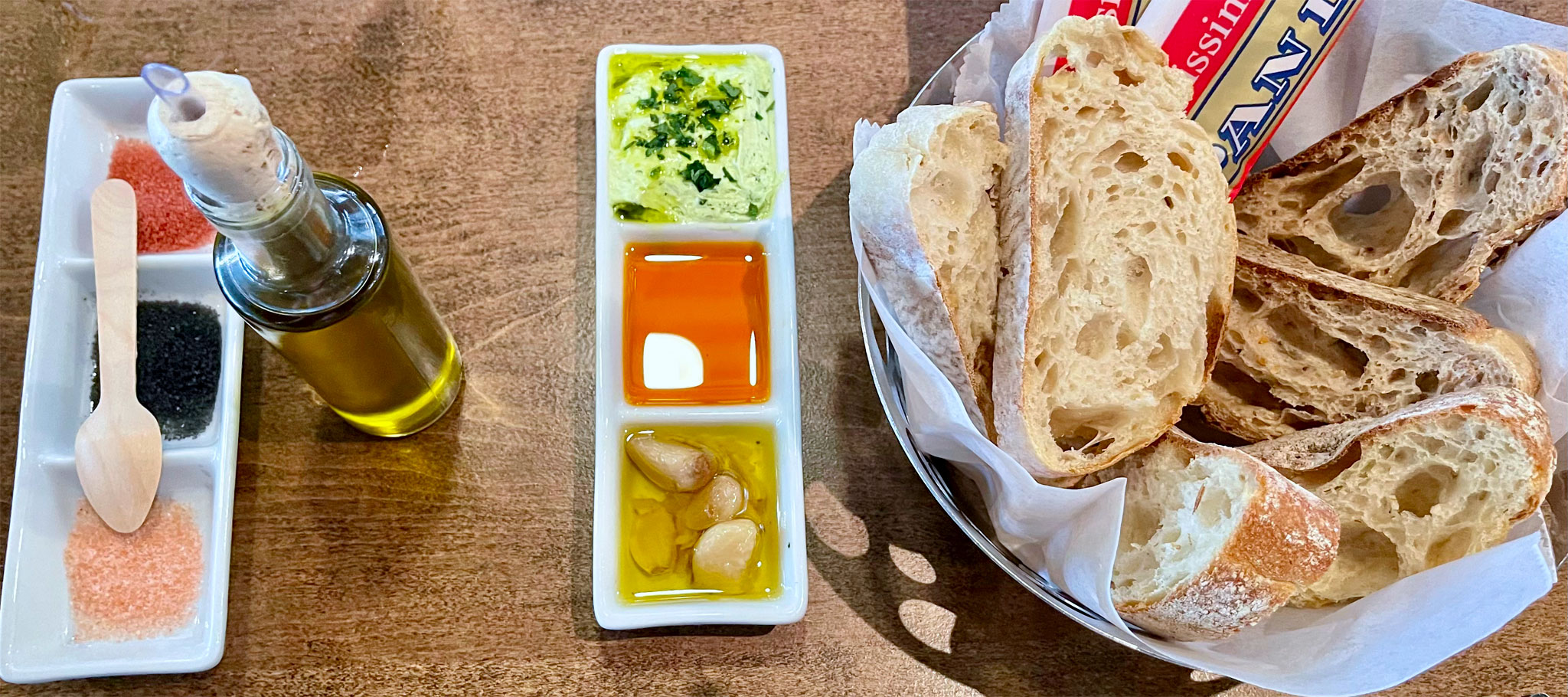 We started with an Aperol Spritz and a Martini, and the Artisan Bread Basket, which is accompanied by chimichurri butter, roasted garlic, and paprika oil. It is definitely artisan bread as it is everything you want bread to be – luxurious fermentation,  homey flavor and aroma, beautiful air pockets, great crumb and structure with a crunchy exterior and pillowy interior. You should definitely eat the bread.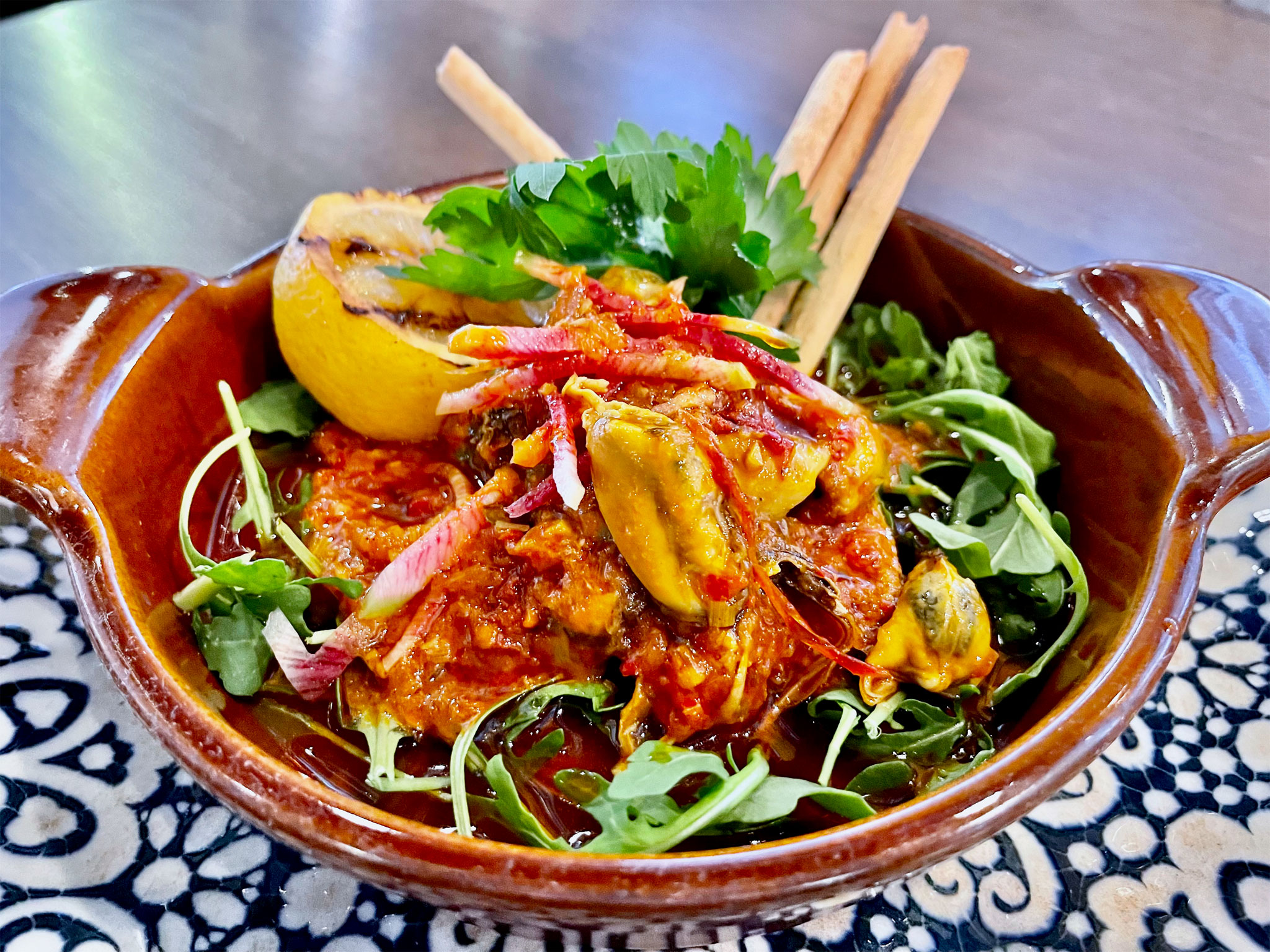 One of our biggest delights—one that we kept talking about the next day—was the Mussels Escabeche. What an epic joy, not only that it was a flavor explosion, but it surprised us that it was so good for a cold dish. We couldn't stop eating it. We didn't know that it was a cold dish, and when it came out Lori said, "stop eating the bread and eat this while it's hot", and then we got the surprise. Put this on your "must order list".
The Mussels Escabeche has radish, grissini, smokey tomato, and lemongrass. It has wonderful tangy and bright vinegar notes and just enough spiciness to keep you coming back for more. The secret ingredient here is house-made harissa. I checked six different online recipes for mussels escabeche, and none of them had harissa, although one had chili sauce. Sea Salt's Mussels Escabeche has ruined us for all others.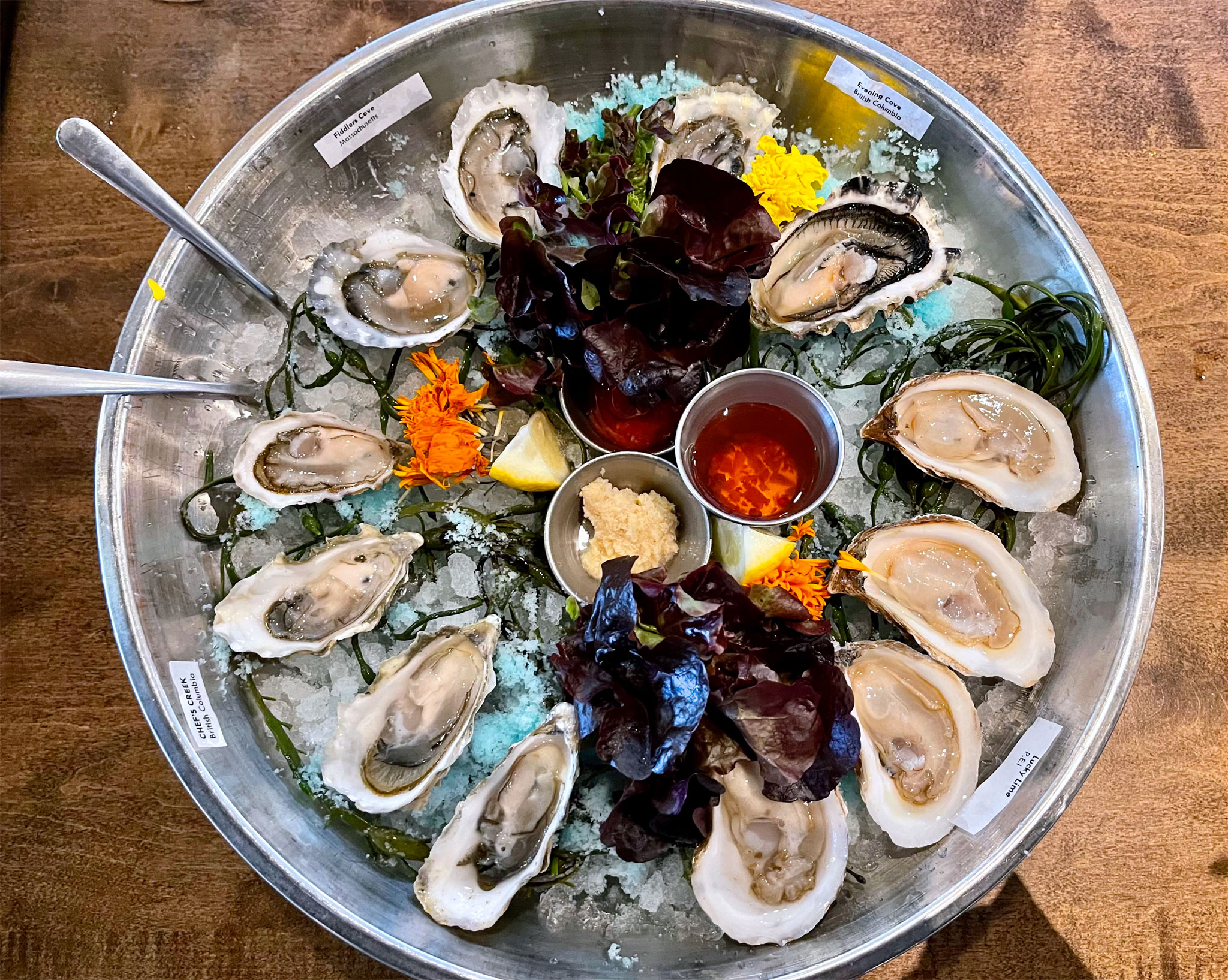 Next up were the oysters, which consisted of Chef's Creek (British Columbia), Fiddler's Cove (Massachusetts), Evening Cove (British Columbia) and Lucky Lime (P.E.I.). They were all sublime. The Chef's Creek were creamy with a high brininess and sweet flavor. The oysters from Fiddler's Cove had the perfect balance of salty and sweet, with a silky, buttery finish. The Evening Cove oysters had a fresh, clean, mildly briny flavor and a watermelon finish. Finally, the Lucky Lime bivalves had a balanced flavor of seaweed, with a silky citrus-tone finish.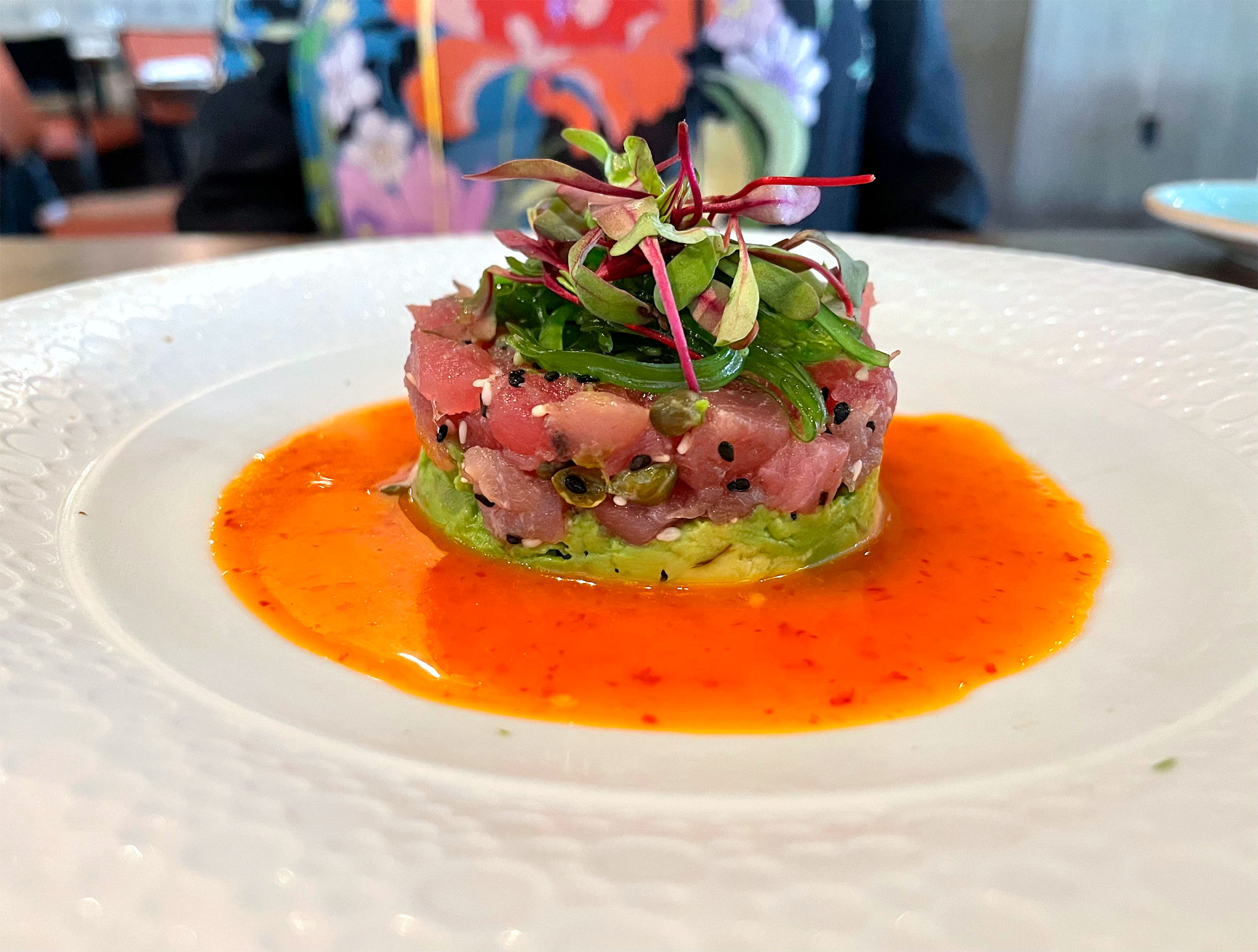 For the next course we had the Yellowfin Tuna Tartare with avocado, capers, and Thai chili sauce. There's also seaweed, sesame seeds and microgreens. The tuna had a sweet mild flavor with the avocado providing unctuousness, the capers gave the bright and briny notes, and I especially liked the chili sauce.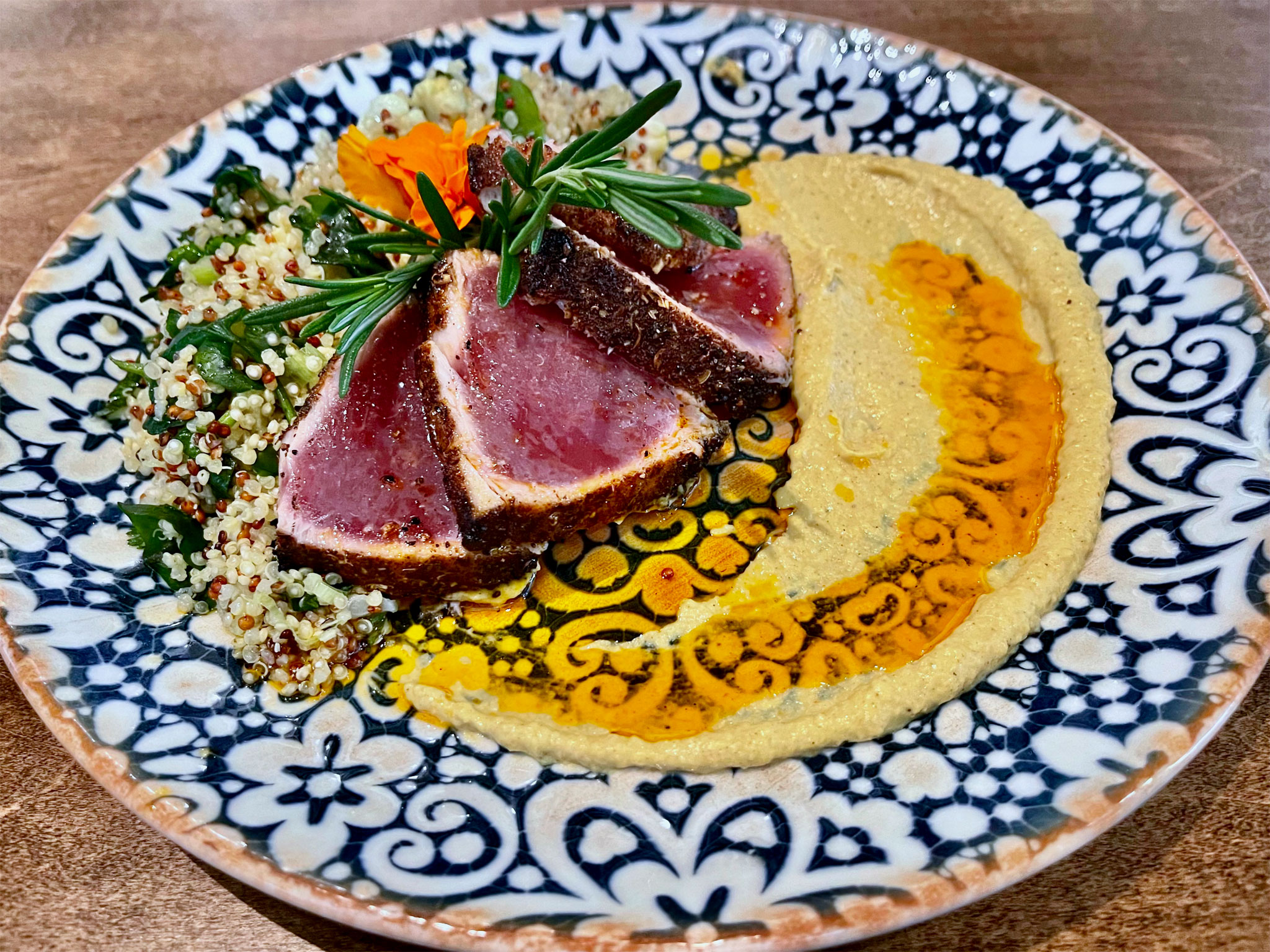 We had another tuna dish after this, and if you are only going to have one tuna item, this is the one. The Mediterranean Tuna with quinoa and hummus was my second favorite dish after the mussels. The hummus utilizes the Moroccan spice blend Ras-el-Hanout with Calabrian chili oil on top. It has such great flavor and is different than any other hummus I've had before.
The perfectly seared tuna has a rub of Szechuan peppercorns and paprika that is wonderful, and the quinoa with grain mustard was a delight. Some people think that Szechuan peppercorns are spicy since Szechuan cuisine is spicy, but they are not. They are floral in taste and aroma. There's not enough here to cause the numbing or tingling of your lips and tongue that they are famous for. They provide flavor and color on the tuna.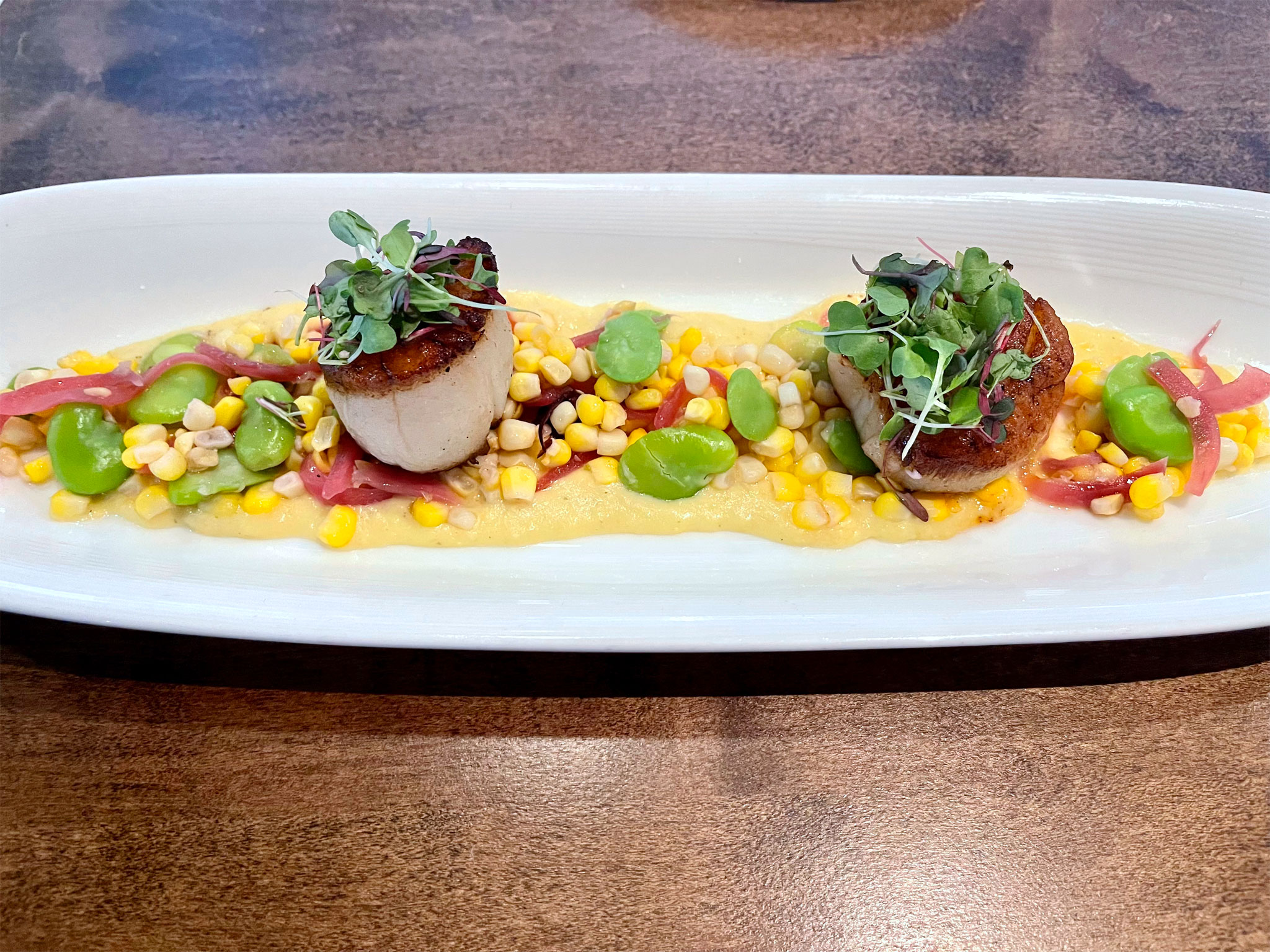 Diver Scallops – seared scallops, truffled corn, fava relish, truffle sea salt. The scallops are sourced from Rhode Island. As you can see, the scallops were perfectly seared. They were buttery and super tender with great contrasting notes and textures provided by the corn and fava beans and the pickled onions.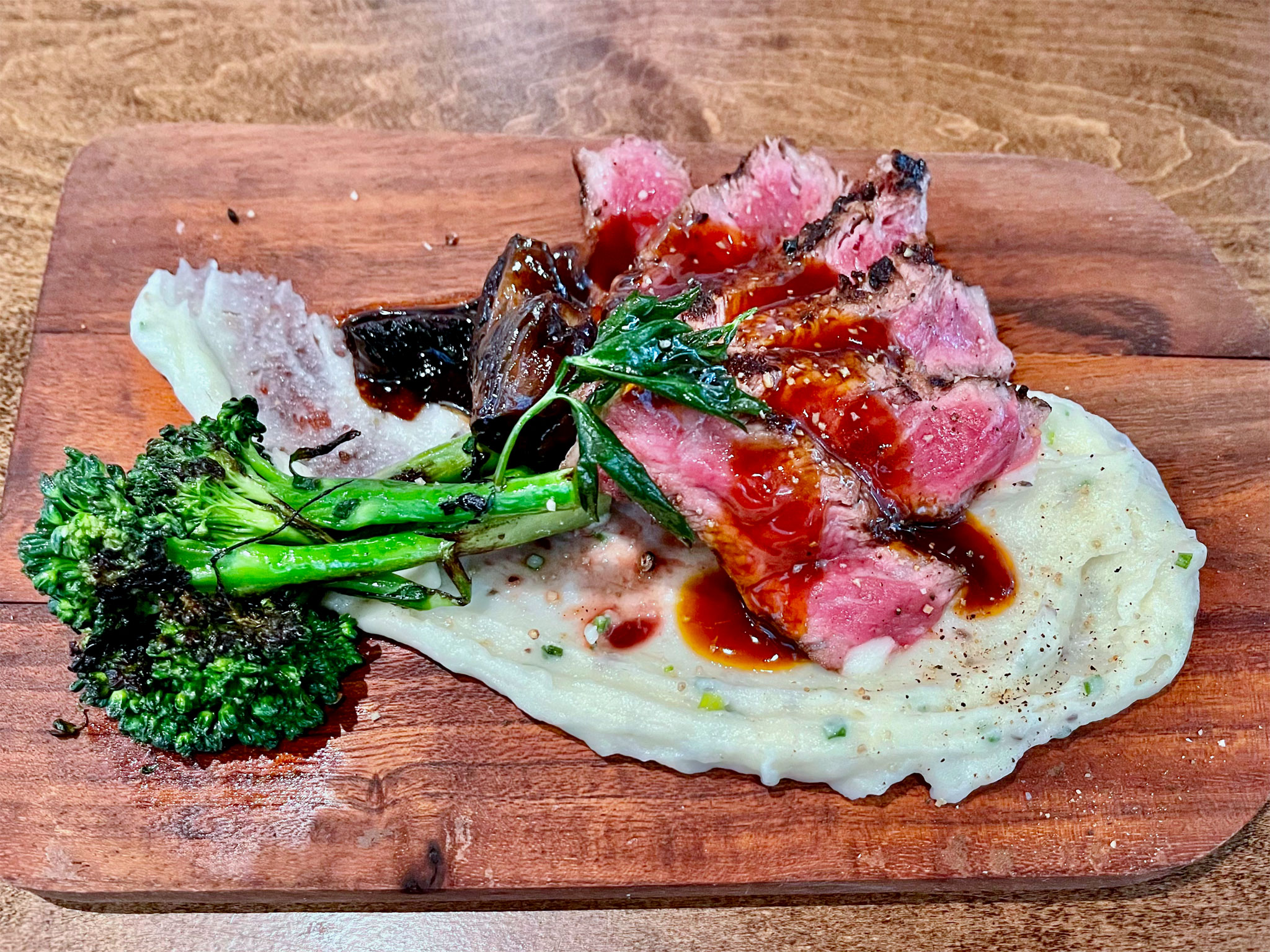 The prime ribeye was cooked perfectly and sauced with a red wine demi-glace with rosemary and peppercorn. The potatoes were creamy and tangy with great flavor provided by truffles and chives. It was the first time I ever had balsamic glazed cipollini onions and I loved what they provided to the dish, which was a contrasting sweetness and tartness to balance out the umami of the steak and creaminess of the mashed potatoes.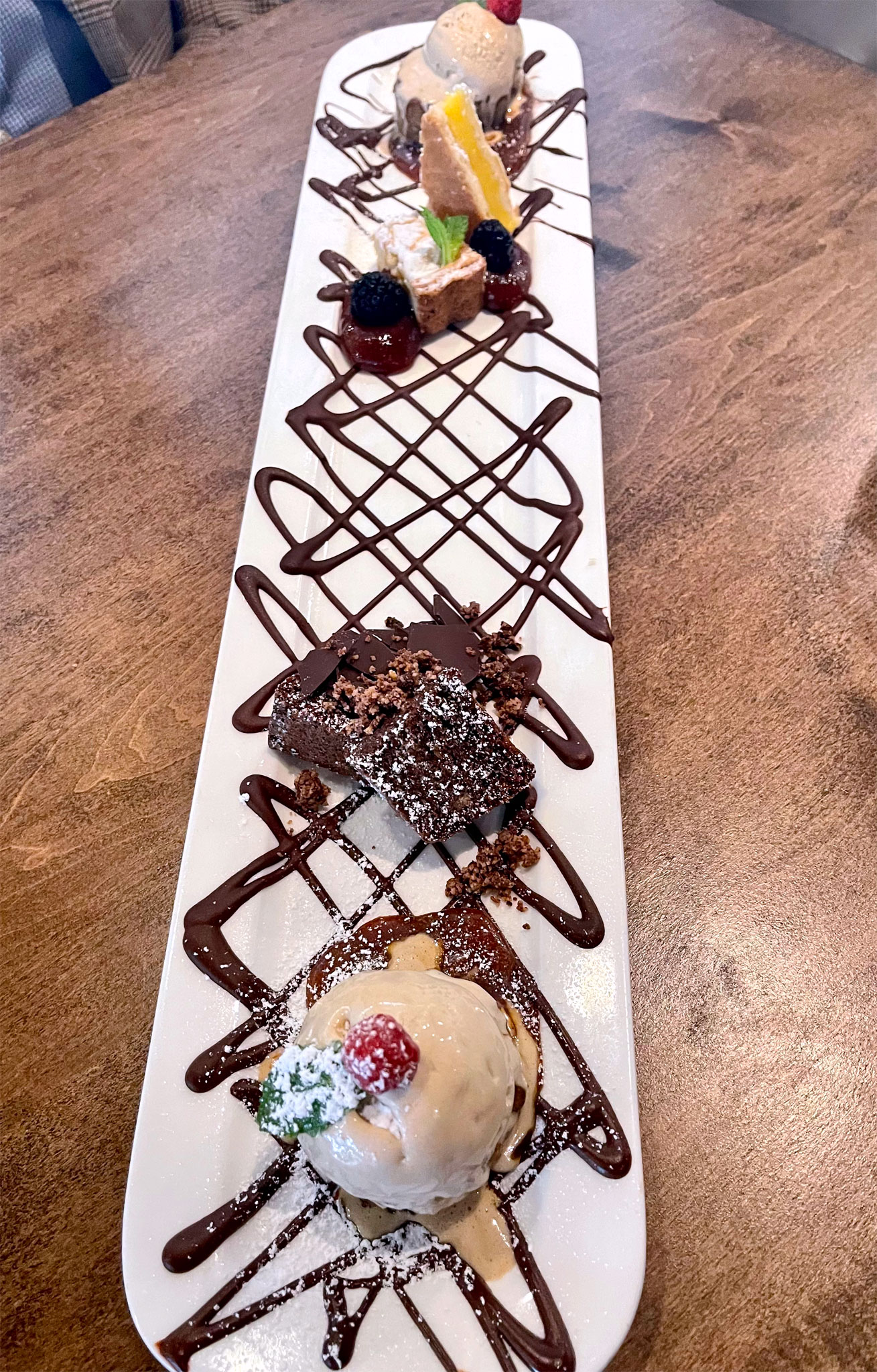 Dinner wouldn't be complete without dessert, and Sea Salt has a nice selection to choose from. We had an assortment (from top to bottom) of the Chef's Daily Bread Pudding (also shown at the bottom), Torta della Nonna al Limone (grandmother's lemon cake) and Flourless Chocolate Cake garnished with thin pieces of dark chocolate.
My grandmother used to make bread pudding all of the time, and I've always loved it. The daily bread pudding this day was pumpkin chocolate chip bread pudding made from pumpkin scones and topped with caramel gelato, raspberry and a mint leaf.
The grandmother's lemon cake was the perfect balance between sweet and sour. It was accompanied by fresh blackberries over guava. The flourless chocolate cake was moist, but firm and like a mix between a brownie, cake, and truffle.
If you haven't been to Sea Salt in a while, it's time to go. They also have a great happy hour with $1 gulf oysters. Currently happy hour is from 12-6.
Chef Margaret LaVetty
Pick a direction. Any direction – north, south, east or west and Chef Margaret LaVetty has helmed a restaurant kitchen there.
She's from New York, graduated from San Francisco's California Culinary Academy at the age of 19, and she first cooked in a professional kitchen at the age of 14.
From her beginnings as Saucier at the original China Grill in New York, to Sous Chef at Campanile in Los Angeles, to Chef De Cuisine at Nemo in Miami Beach, Executive Chef at Barcelona Nashville and Wild Fish in Pacific Grove, CA … and even Chef of St. Pete's beloved Mazarro's Italian market; LaVetty's comfort zone has always been the kitchen.
She has a robust enthusiasm for all things food and cooking, and loves to teach as well. As a matter of fact, Sea Salt is now having kids cooking classes on Saturdays – click here for details.
She likes to eat and cook every type of food, (just like me), and loves farm to table, ocean to table, etc., and even likes to get involved harvesting. While talking with her about the diver scallops we were enjoying at Sea Salt, she told us that earlier she was at Crystal River harvesting bay scallops herself.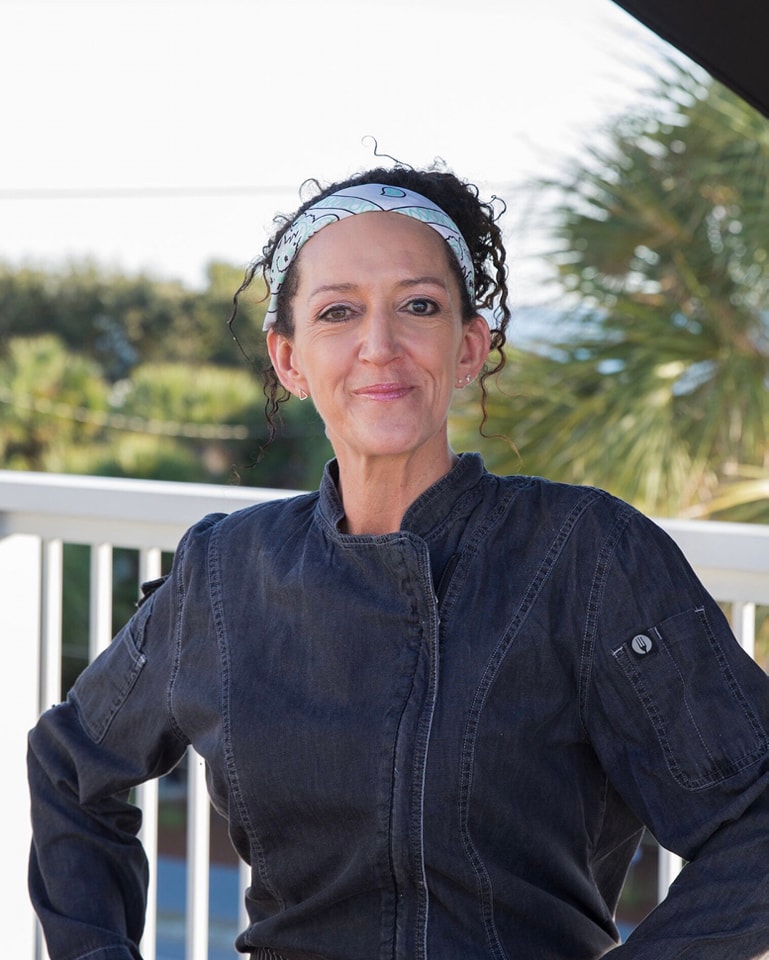 I had a little Q&A with the Chef and asked …
Who or what were your early culinary influences?
I had always wanted to be a chef since I was a kid. I'll never forget when I got the Easy Bake Oven and my mom forgot to get the lightbulb for it. I made such a big deal of it that she just let me use the real oven.
My mother was a fabulous cook. She had a boyfriend for 10 years, Bill Ram. He was half Chinese and half Irish. He was really inspiring. Having Bill, a person who was half Chinese in the house, I learned Asian cuisine very early on. Food has always been a very big part of my life. I'm Italian. We have a huge family and everybody cooks. Food and cooking has been the center of our family life forever.
What was the first thing you ever cooked, and how old were you?
The cake mixes from the Easy Bake Oven. [laughter] After that, I learned to make rice very young because Bill Ram had a certain way that he liked rice. You had to rinse it six times until the water was clear. Then you fill the water just up to the first knuckle on your finger. We always had rice on the stove.
What do you love most about being the Executive Chef at Sea Salt?
I'm the luckiest chef in town, I'm pretty sure. The best thing is the creative freedom. It's everything to me, especially at this stage of my career. I've had several corporate positions, which I always felt that coming up through the ranks that I would have arrived when I got that big corporate position [laughter]. It really limits your creativity.
The thing here is that the owners are old school. It's a chef-driven restaurant. I have total creative freedom. It doesn't work for everyone, or every situation, but for me it really works. I can be trusted to stay on-brand, but there's a lot of leeway.
Also, being in downtown St. Pete near my family is everything. Fabrizio and Ingrid, the owners are awesome. They treat me like family. I feel like this was a divine appointment.
My life mantra has always been to facilitate fellowship through food.
—————————————————————-
Note: The hours shown below reflect current operating hours, but check before you go to lunch as these hours may change due to pending construction.
Upscale dining with contemporary coastal cuisine, oysters, pasta, and steaks in downtown St Petersburg, FL.
DISCLAIMER: Kevin, Lori, Abby, Haley, & Lindsey do not dine anonymously (this would be impossible) and we sometimes get free food (though never expected). However, we dine with the locals and we support our own. You will always get honesty in a respectful manner. We do not include any large national or regional chains in our ratings and reviews. We focus on independent locally owned eateries exclusively.

PLEASE NOTE: Reviews reflect a certain moment in time. Some restaurants stay extremely consistent over many years, and some change for the better or worse. Some things that may change are: chefs, recipes, food suppliers, ingredients, philosophies, ownership, etc. We always hope that you have the same good, or great experience we had.
More Foodies News, Reviews & Recipes