Shrimpys Blues Bistro – A Hidden Treasure on St Pete Beach
Shrimpys Blues Bistro – A Hidden Treasure on St Pete Beach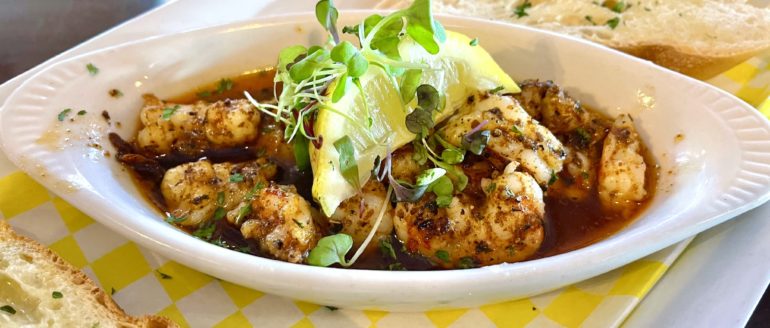 We had heard rave reviews for years about Shrimpys Blues Bistro but just never made it out there. I wish we hadn't waited so long because the raves are definitely warranted. Owner, Richard Briggs, invited us in to taste some food off their menu a few weeks back. We were so impressed with the food that we changed our minds about where to go for great seafood at the beach with my family (party of ten who all loved it) two days later. So this write up contains pictures from two trips in one week.
Shrimpys is on the water on St Pete Beach just before you cross over to Treasure Island in the corner of an unassuming strip mall. They offer indoor dining either at one of the two the full liquor bars or at a table or outdoor seating by the water.  You will find live music Thursday – Sunday evenings on the deck and quite honestly, you just can't go wrong here. It is a true locals hidden gem. Go early or expect a wait because they get extremely packed this time of year.
The menu consists of small plates, soups, salads, sandwiches and dinners and its offerings look to fuse the flare of New Orleans with the fun of beach life. They serve either wild caught or fresh local gulf seafood so you know you are getting the best around.
We decided to order a bunch of small plates and then a couple of other items so we could share more. Many of the small plates are also offered as full dinners.
We started with the Fish Cakes they are a fusion of three different fish and we just loved these. I have since learned that they have changed these to be all blue crab cakes now.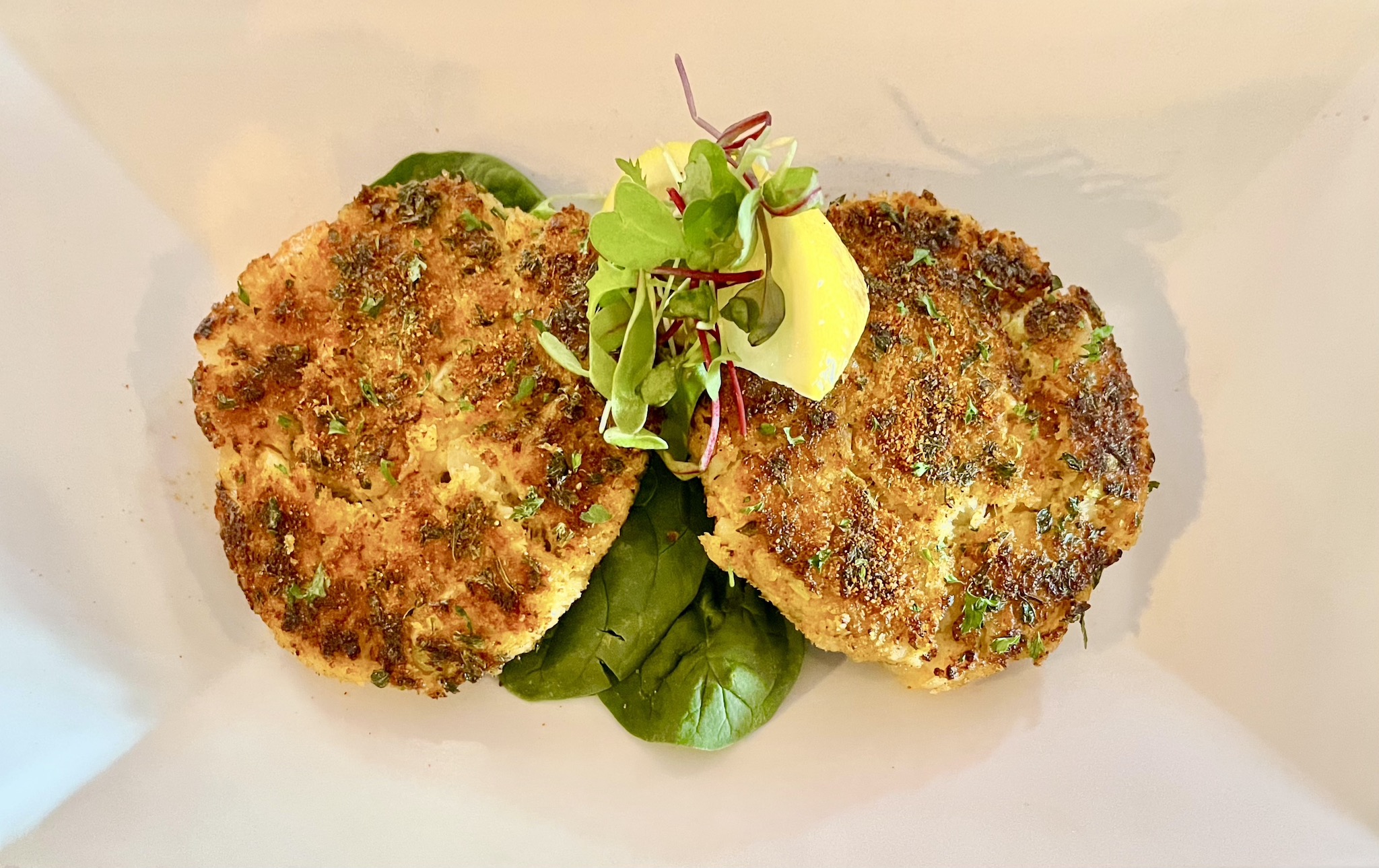 Next we had to try the Fish Spread, made from mullet, drum and smoked salmon, which they buy from a local purveyor and then add chopped veggies to it which is a delight both in flavor and in texture. I really enjoyed this especially with the peppers. I do prefer crackers over bread, but that's just personal preference.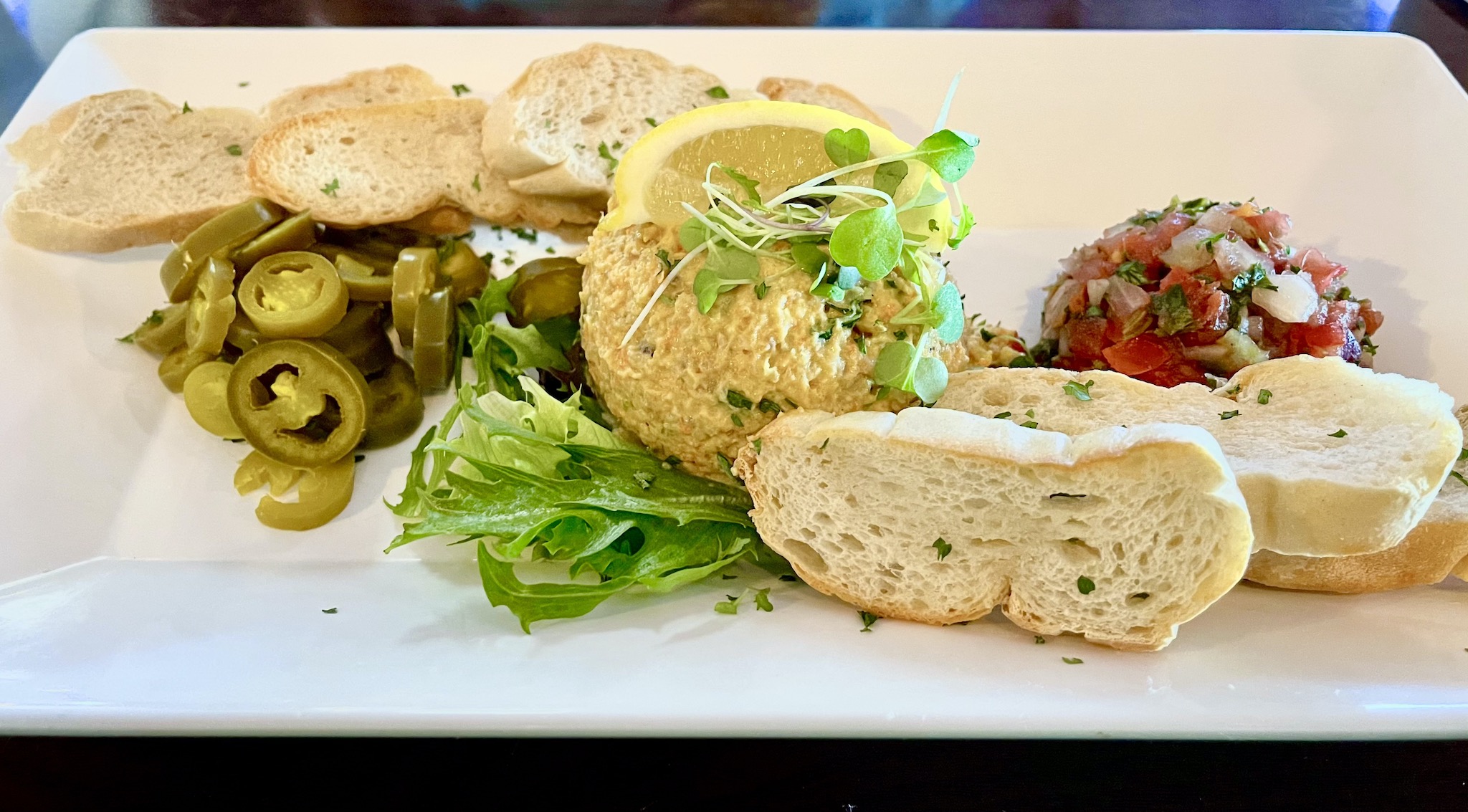 The Scallops Rockefeller – sea scallops sautéed in bacon over grilled spinach with hollandaise & parmesan cheese – caught our eye right away and it was absolutely delicious. I actually like this dish better than oysters rockefeller.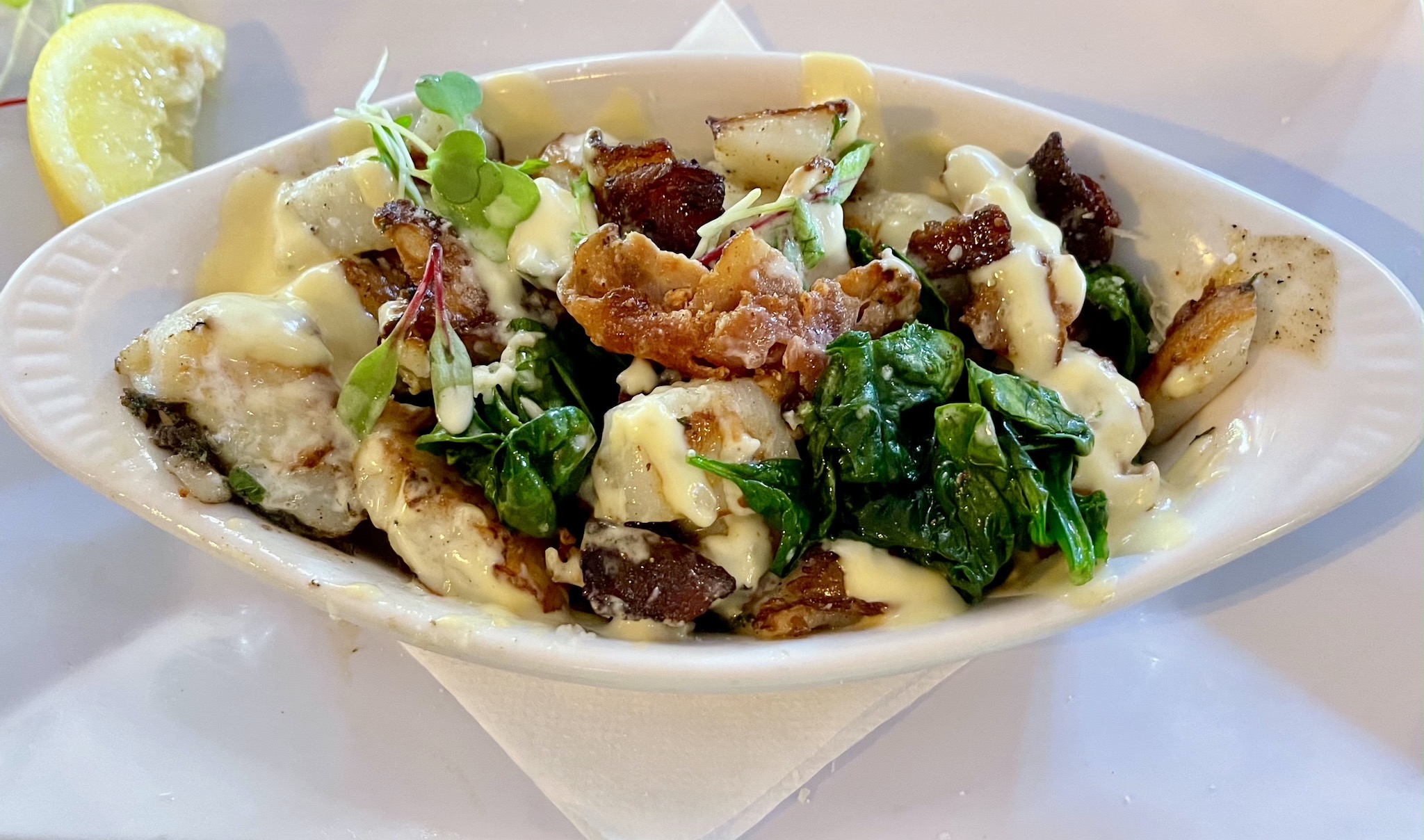 We were absolutely not going to order the NOLA BBQ Shrimp – Langostino sautéed in butter, roasted garlic, white and black pepper – mainly because of the name. But both our server and Richard said that we must get them. They are not actually BBQ sauce like you would think. I am so glad we listened. The butter and roasted garlic sauce that they are cooked and served in, is so scrumptious that I had to sop up every last bit with the bread they serve it with. SOOOOO amazing. A must have on every visit now.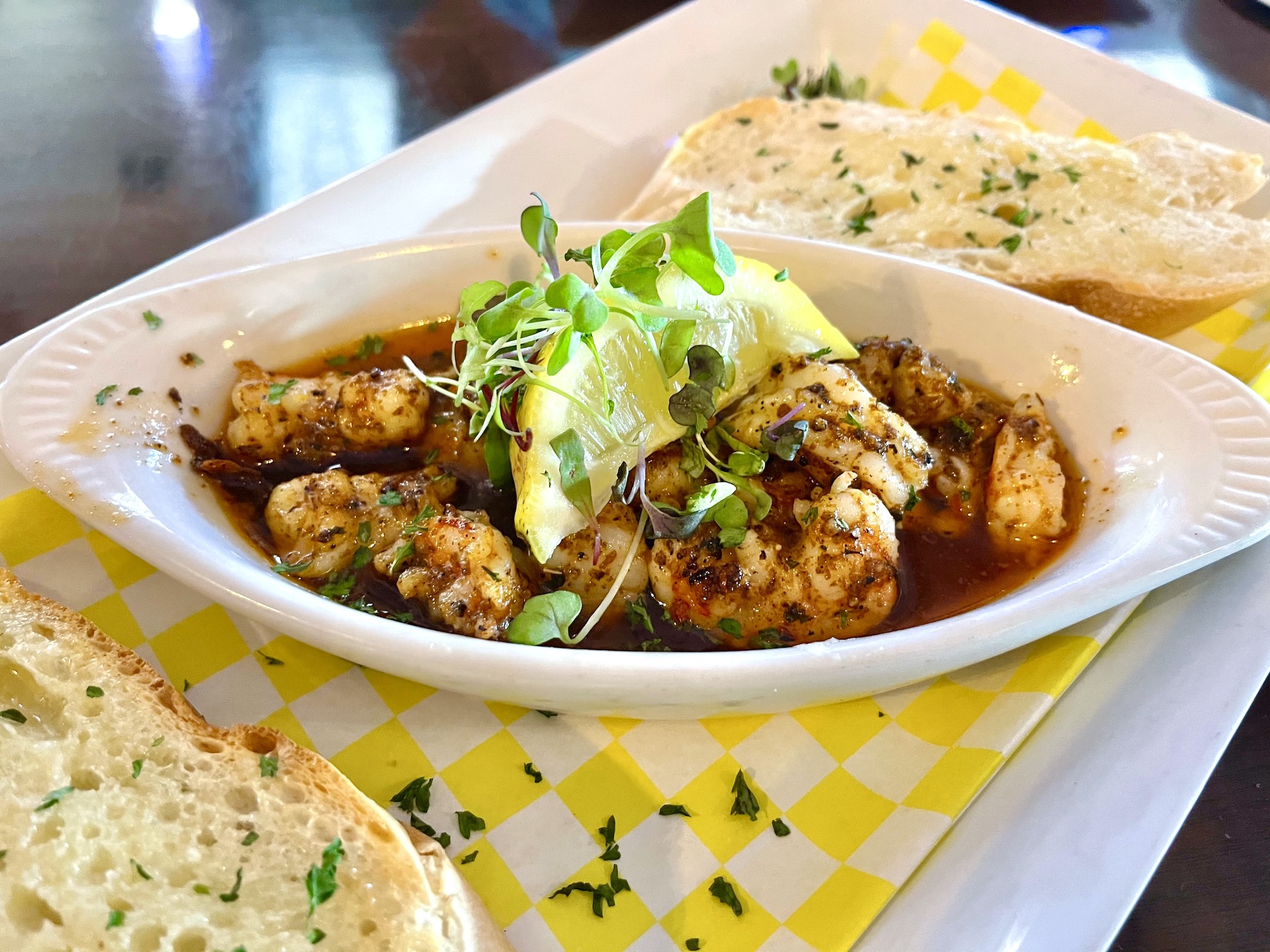 We ventured into the Bayou Classic Soup section of the menu for the Shrimp & Lobster Bisque and Louisiana Seafood Gumbo – Dark roux gumbo with crab, shrimp, scallops, cod, andouille okra and rice. Both of these soups were outright incredible. I actually don't think I can pick a favorite. The bisque was rich and creamy and so delicate and delectable. The gumbo is deceiving in this picture because under that rice, the bowl is chock full of fish, andouille and veggies. Great flavor in the roux.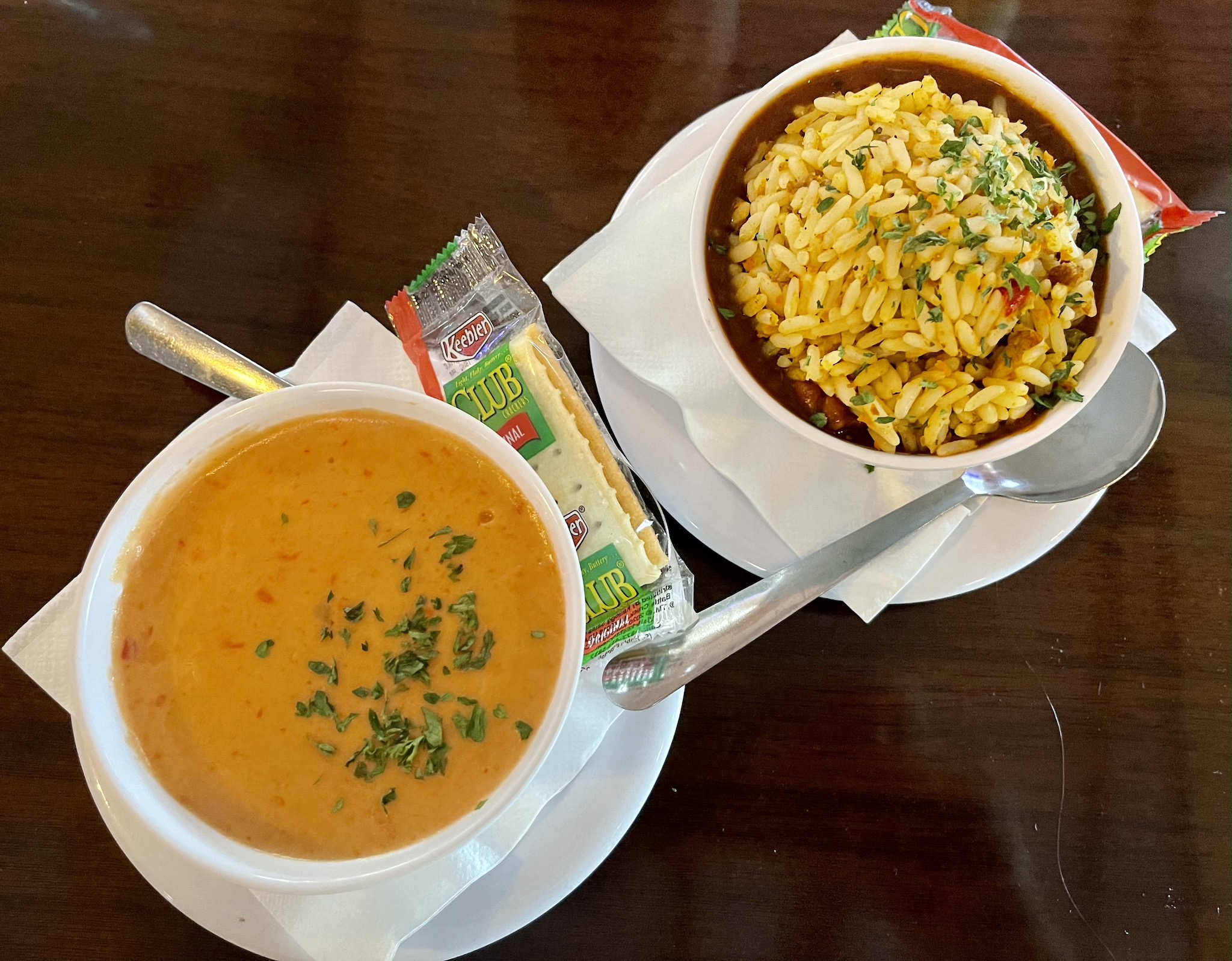 It was still happy hour when we were there and the Prime Rib Sliders are on the menu, so we decided to give them a try. When I read that they were served with horseradish mashed potatoes and bone marrow au jus I was very excited. We really liked the sliders, not our favorite thing we ordered, but they were quite good. The au jus really makes them. The shining star of the plate are those mashed potatoes. It is not always easy to find good mashed potatoes and these are outstanding.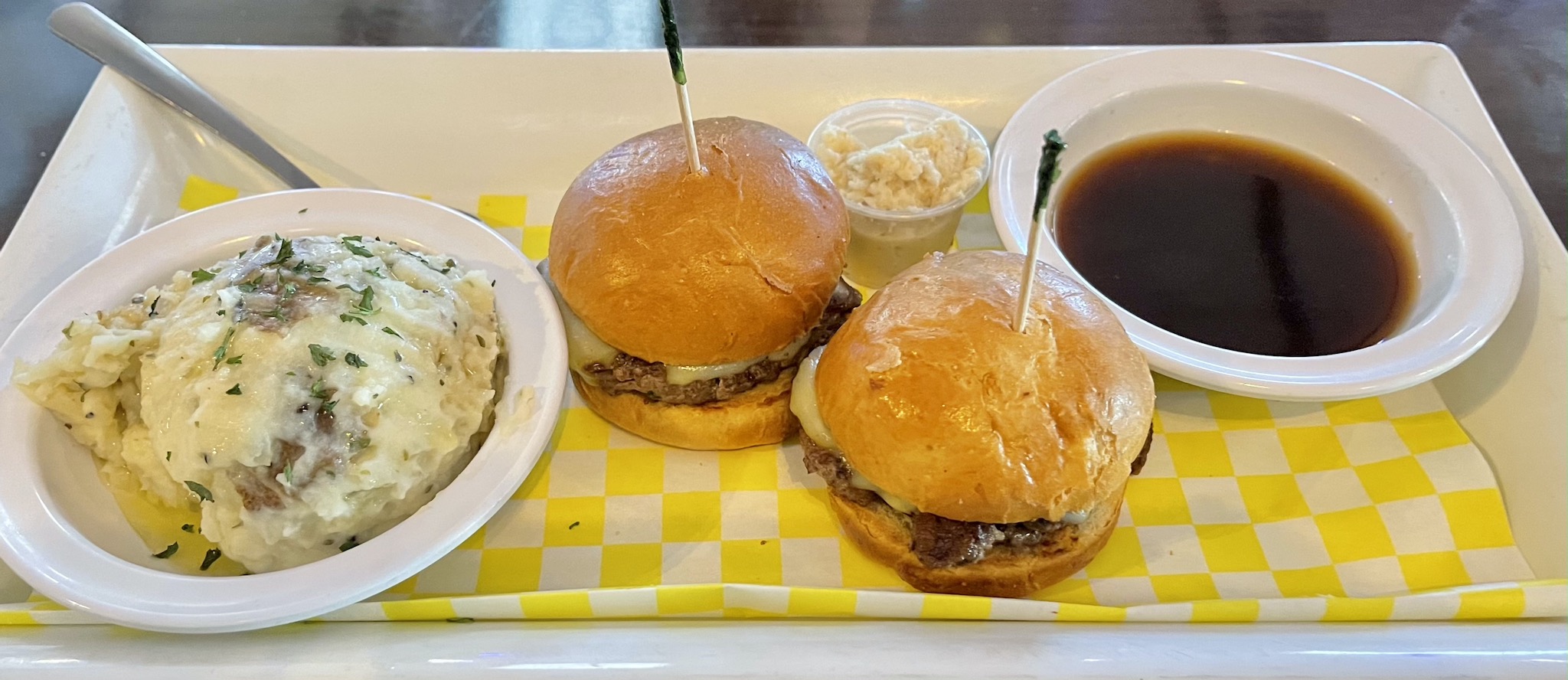 From the Sandwiches section we of course had to try a Blackened Grouper Sandwich. This one was delicious and fresh, just as we all like one. For my taste it could have used some more seasoning, but a great sandwich nonetheless.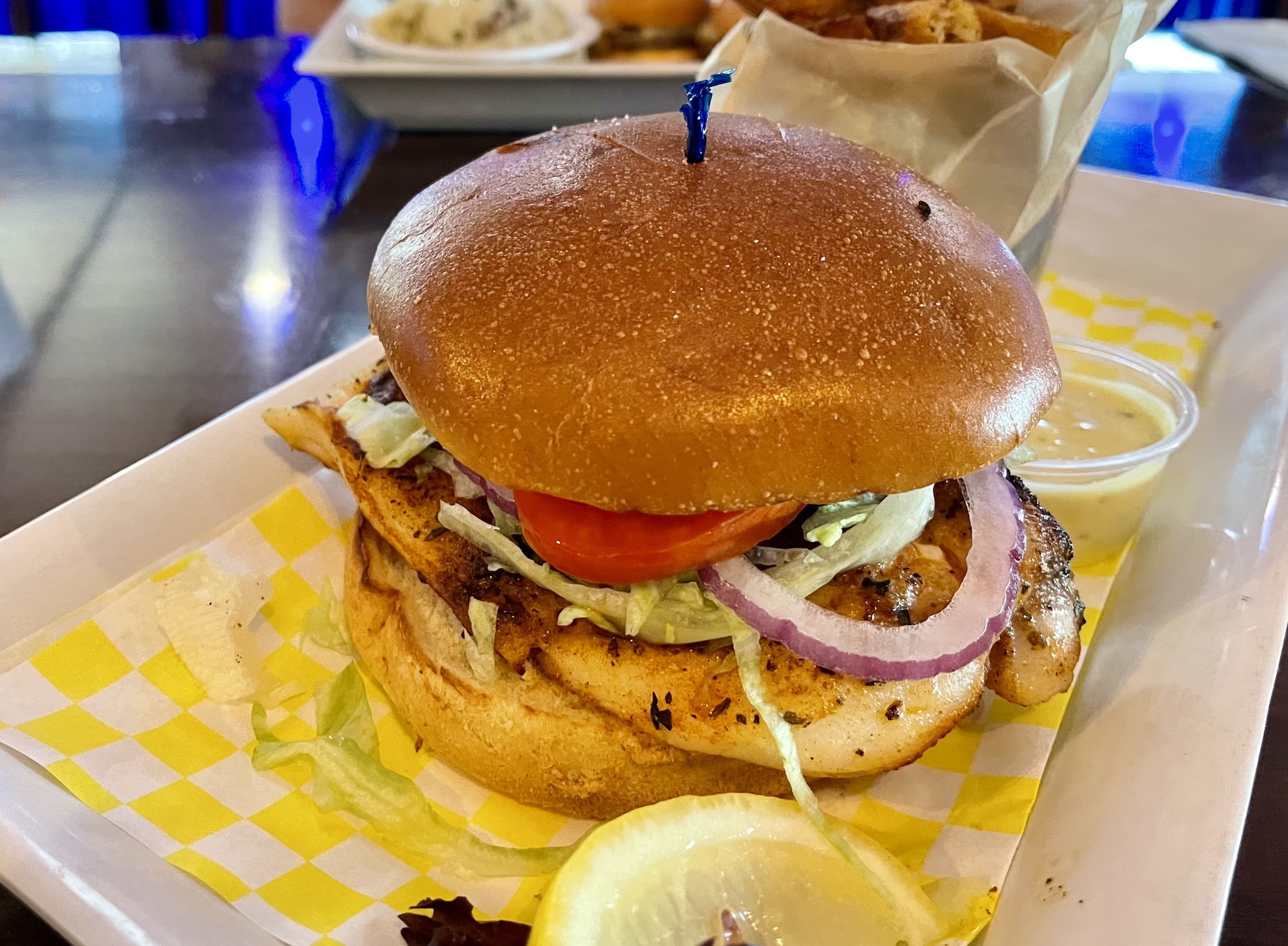 Whenever we go anywhere that has shrimp and grits, you can bet that Kevin will order it. Shrimpys Shrimp-n-Grits contains cheese grits with sautéed shrimp, bacon, andouille sausage, tomato, and scallion.
Kevin said, "Like all of the other 'shrimp' dishes here, the langostinos took it up a notch. It was like having little lobsters instead of shrimp. The bacon and andouille sausage add some heft, and tons of flavor with the tomatoes and scallions providing the high note counter-balance. Most importantly, the grits were rich and creamy and cooked perfectly with just the right consistency."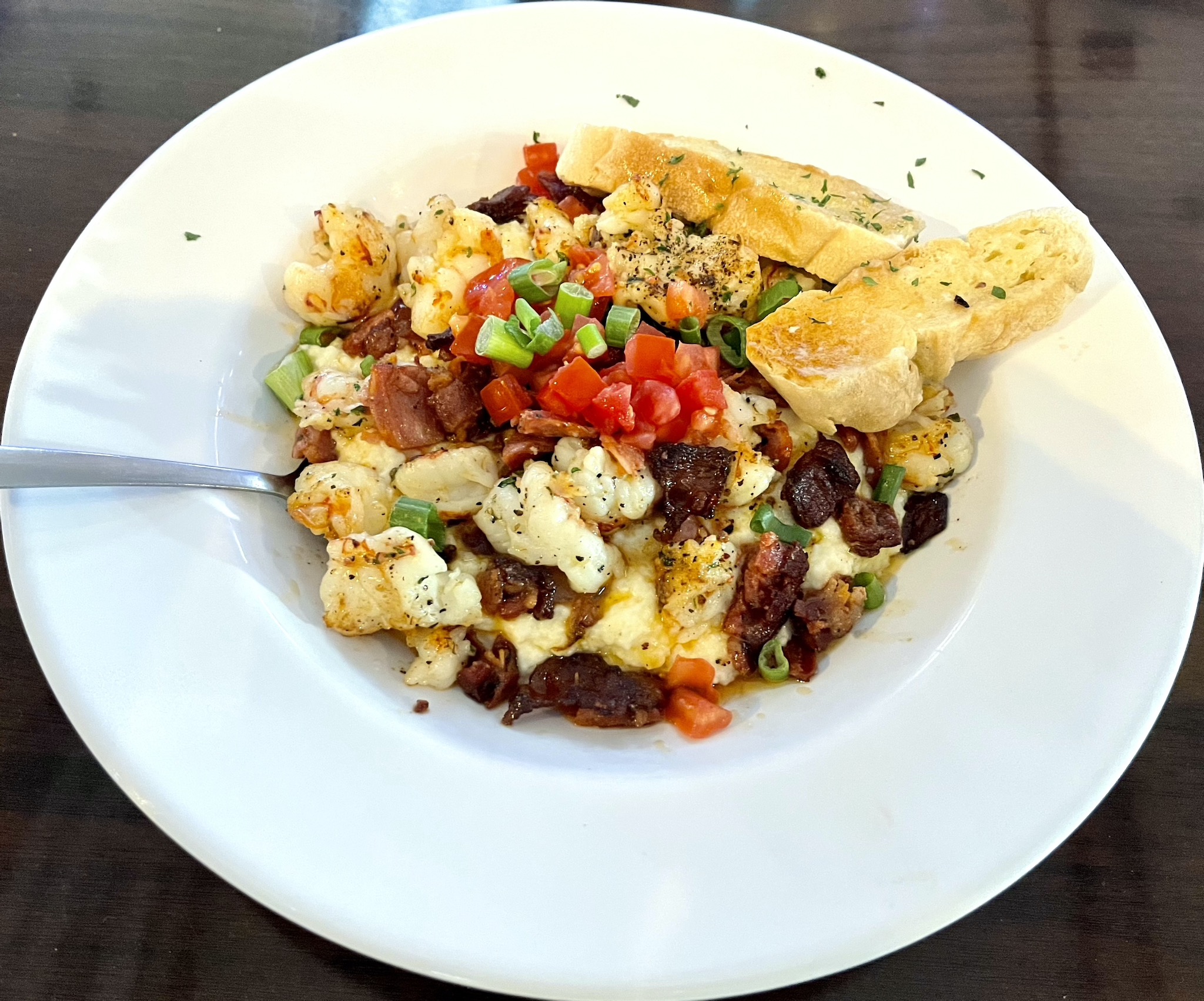 Now we are onto the dinner with my family.
Since we did not try the Chilled Shrimp Cocktail (also on the happy hour menu) on our first visit, we decided to give it a try. Delicious, fresh and the cocktail sauce was incredible.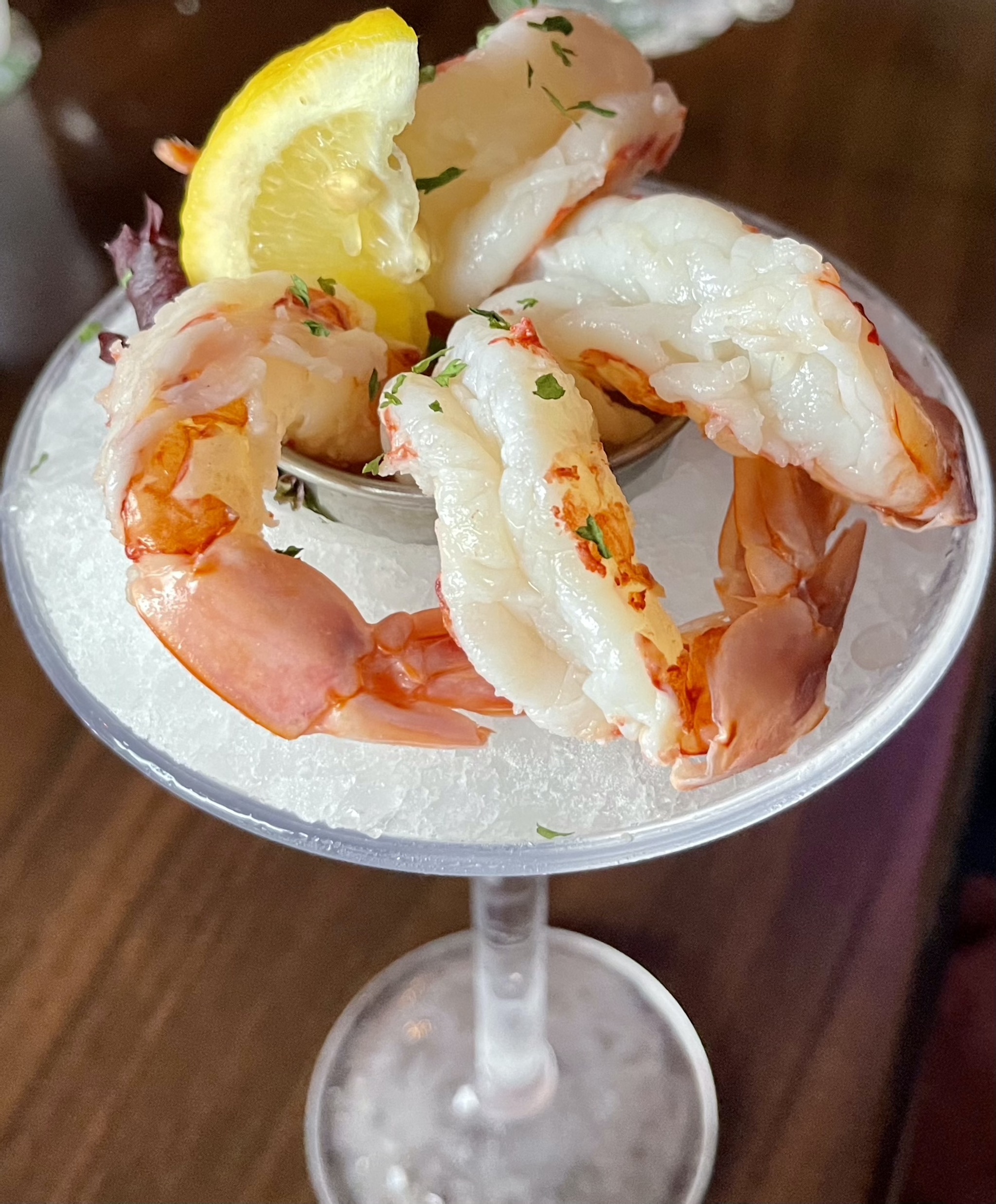 My cousin ordered the Hush Puppies which are served with a remoulade for dipping but not pictured. I thought they were good but not my favorite thing on the menu. The fry is good on them. Hush puppy fans will be happy.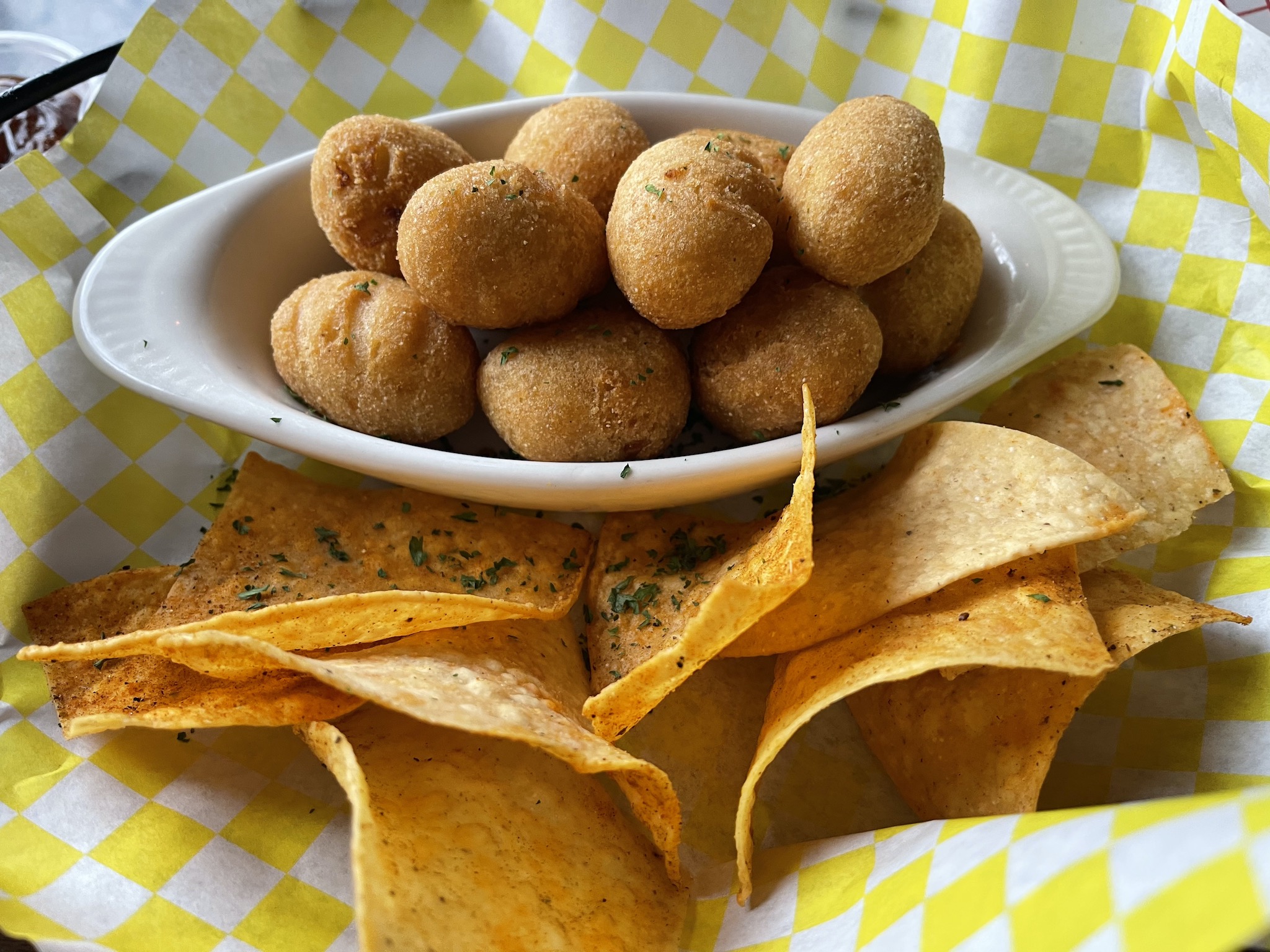 We shared the Classic Caesar salad as a small side. Kevin loves caesar salad and there was not a bite left on this plate.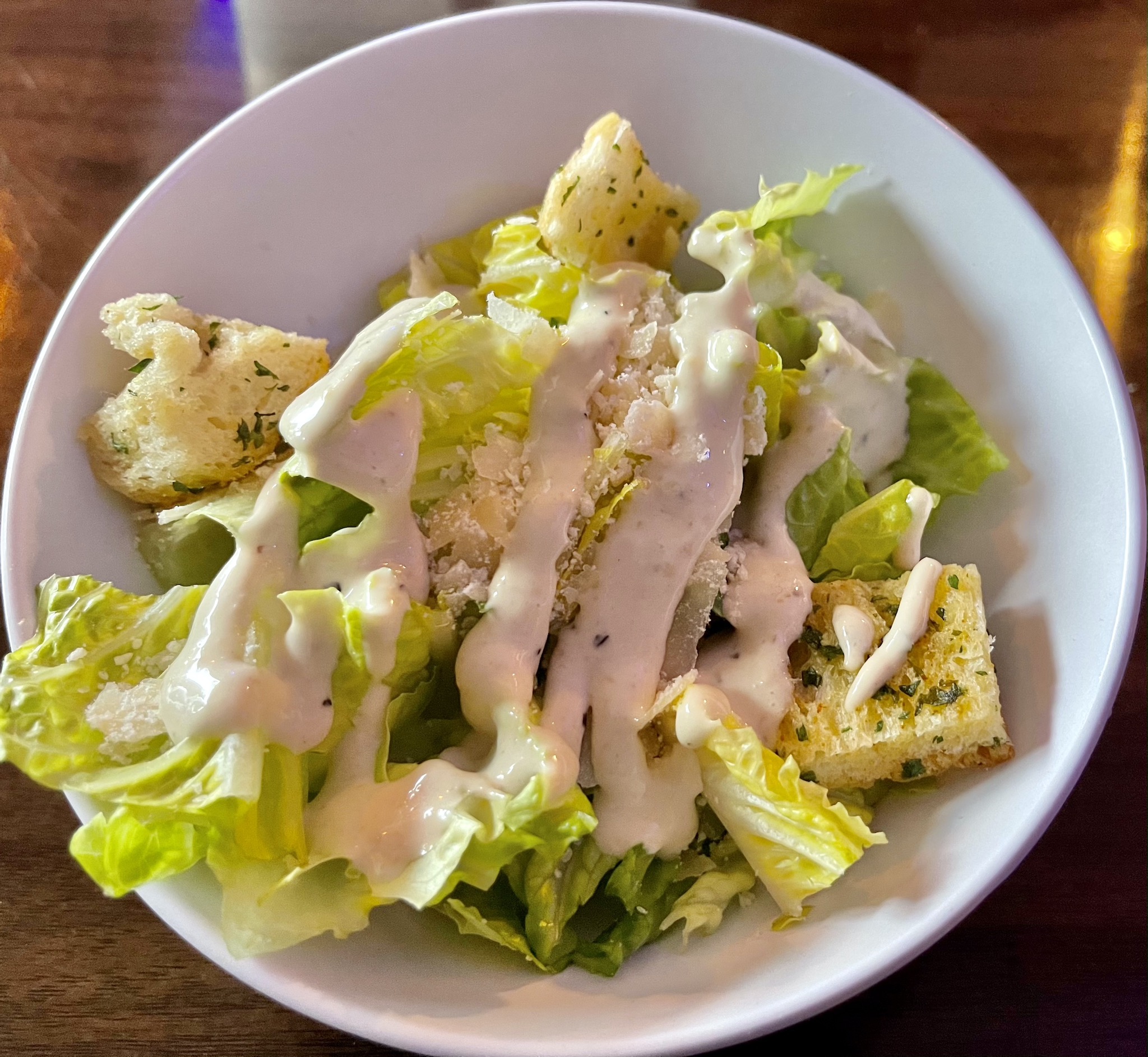 They offer a Smashburger on the menu so we had to give it a try. Kevin ordered this. The fries are hand cut and cooked nice and crispy just the way I like them and the burger was very good.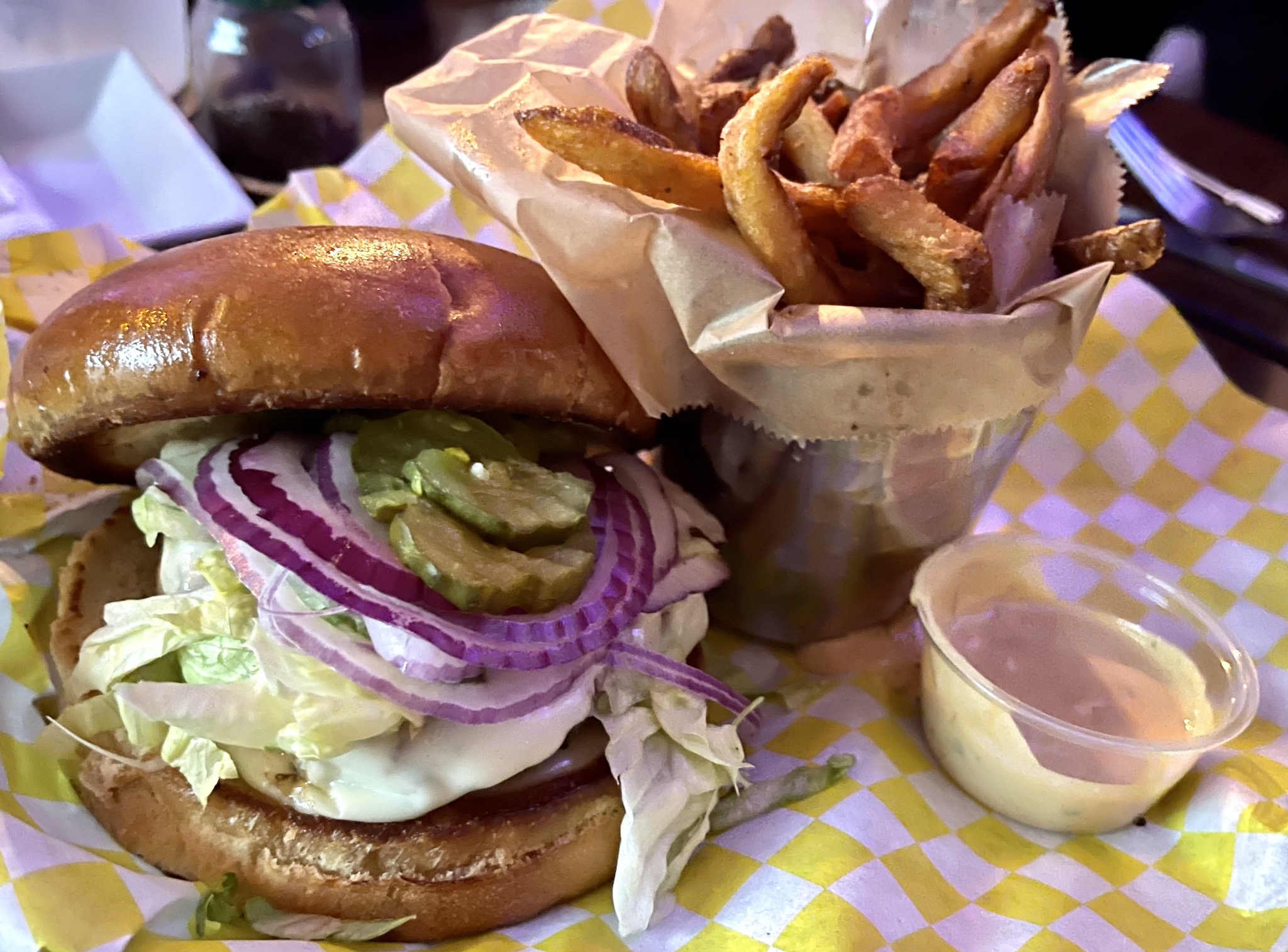 My cousin ordered the Chargrilled Salmon glazed with a pineapple ginger teriyaki sauce and absolutely raved about it and the mashed potatoes. Doesn't it look scrumptious?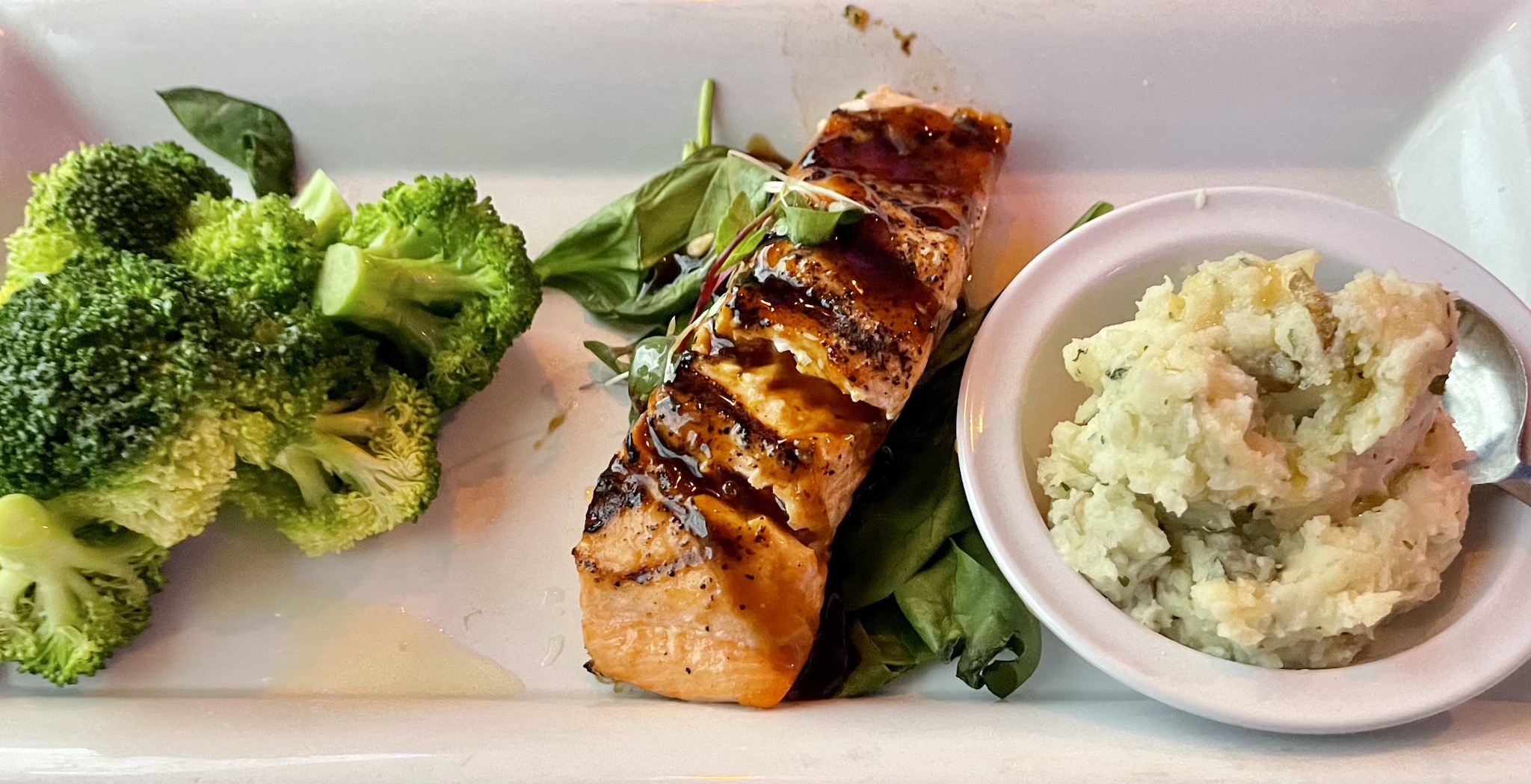 I ordered the Fresh Catch of the Day Special – Wahoo grilled. I love wahoo, unfortunately, this one was a little dry. It still had great flavor, so I did not send it back, but it could definitely had been cooked a few minutes less. The broccoli and mashed potatoes were fantastic, of course. If out of all of those items we had only one was not spectacular, that's amazing!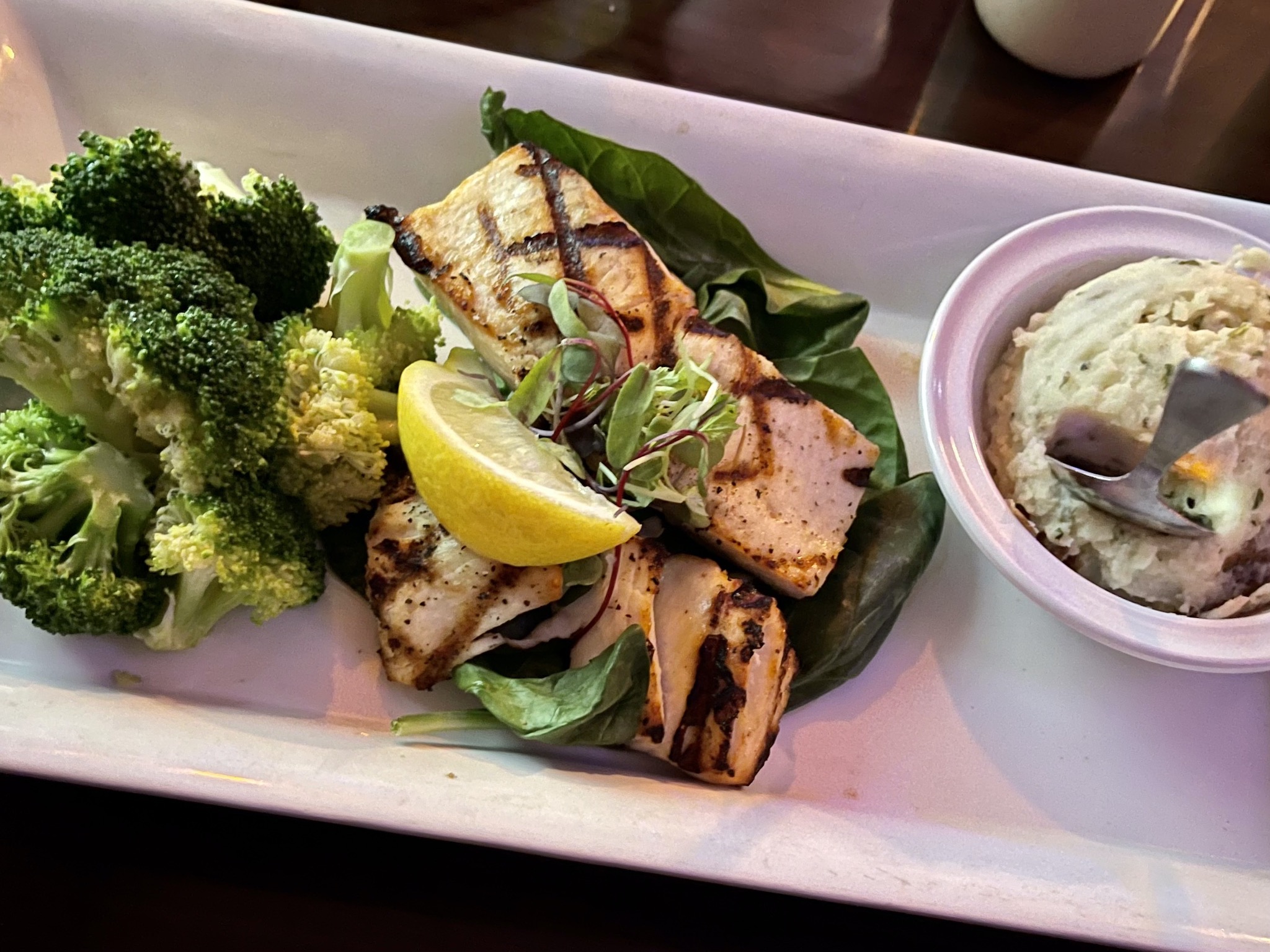 For a party in your mouth, with some food from the south, hurry on into Shrimpys Blues Bistro. This hidden gem is no secret to the locals around here.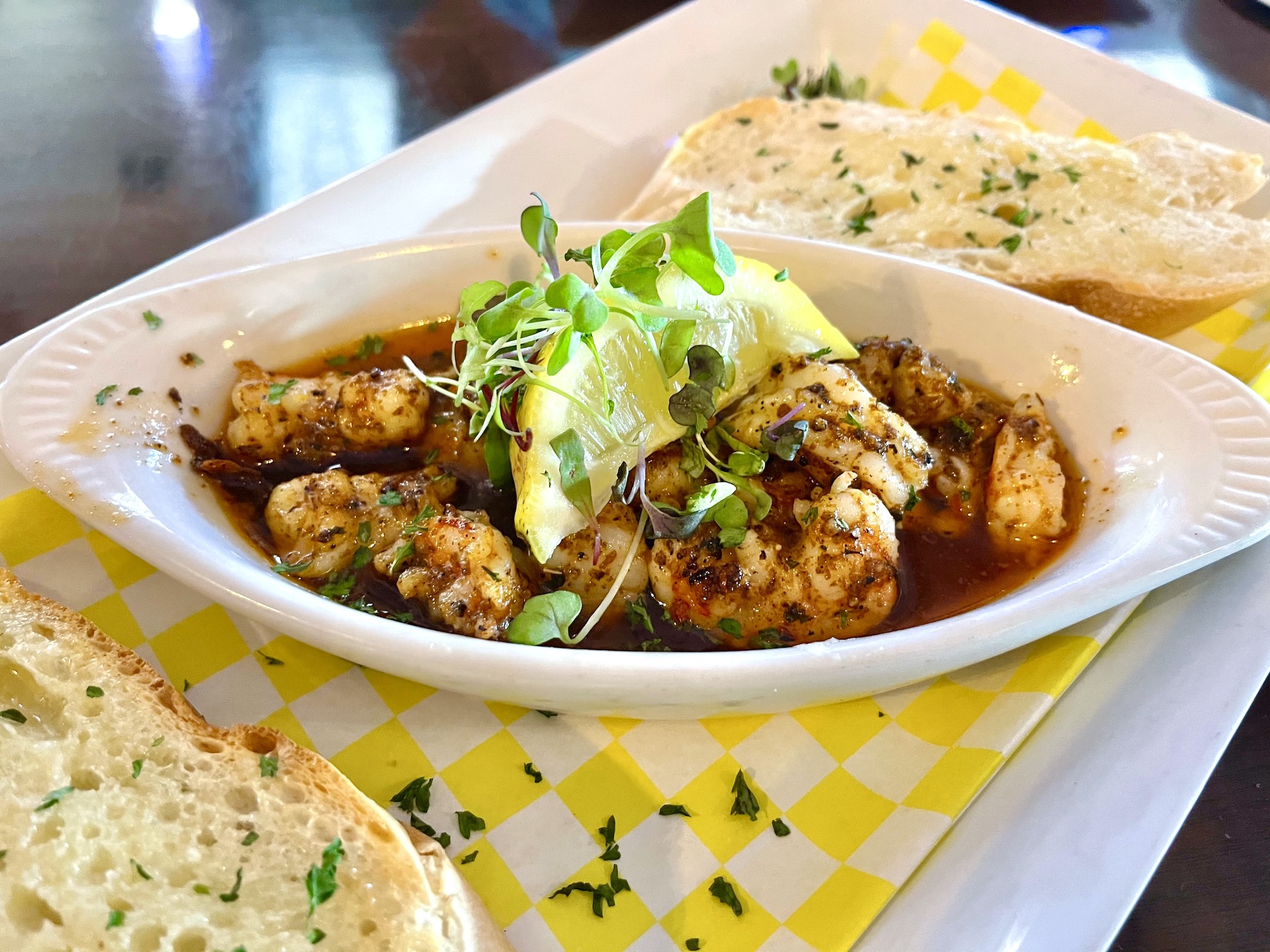 Readers Rating

Rated 4.8 stars




4.8

/ 5 (

Reviewers

)

Spectacular
---
Shrimpy's Blues Bistro

727-575-7222

Fresh Seafood

,

Waterfront Beach Dining

,

Live Music

Tue - Thu

11:30am - 10:00pm

Fri -

11:30am - 11:00pm

Sat -

10:00am - 11:00pm

Sun -

10:00am - 10:00pm
9524 Blind Pass Rd

,

St Pete Beach

,

FL

33706

,

US
---
New Orleans and Florida fusion fare with fresh and wild caught seafood offering indoor or outdoor waterfront dining. Live music on weekends and a full liquor bar.
DISCLAIMER: Kevin, Lori, Abby, Haley, & Lindsey do not dine anonymously (this would be impossible) and we sometimes get free food (though never expected). However, we dine with the locals and we support our own. You will always get honesty in a respectful manner. We do not include any large national or regional chains in our ratings and reviews. We focus on independent locally owned eateries exclusively.

PLEASE NOTE: Reviews reflect a certain moment in time. Some restaurants stay extremely consistent over many years, and some change for the better or worse. Some things that may change are: chefs, recipes, food suppliers, ingredients, philosophies, ownership, etc. We always hope that you have the same good, or great experience we had.
More Foodies News, Reviews & Recipes