Flûte & Dram: Where Champagne Wishes & Whiskey Dreams Come True
Flûte & Dram: Where Champagne Wishes & Whiskey Dreams Come True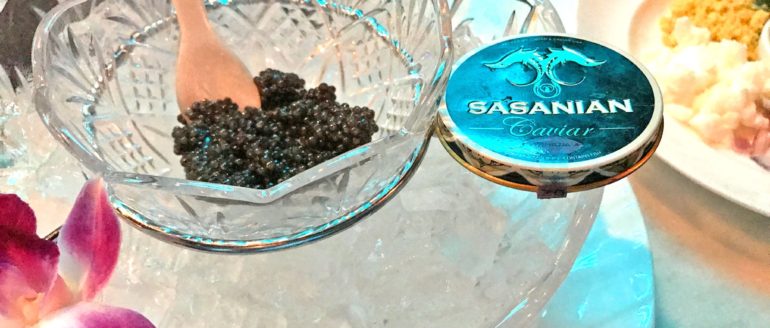 The moment that the famous Dom Pérignon first discovered champagne, he exclaimed, "come quickly, I am tasting the stars!" And Mark Twain bellowed that "too much of anything is bad, but too much good whiskey is barely enough." If Dom and Mark were still around today, I'd bet my bottom dollar that they'd both be spending a great deal of time at Flûte & Dram.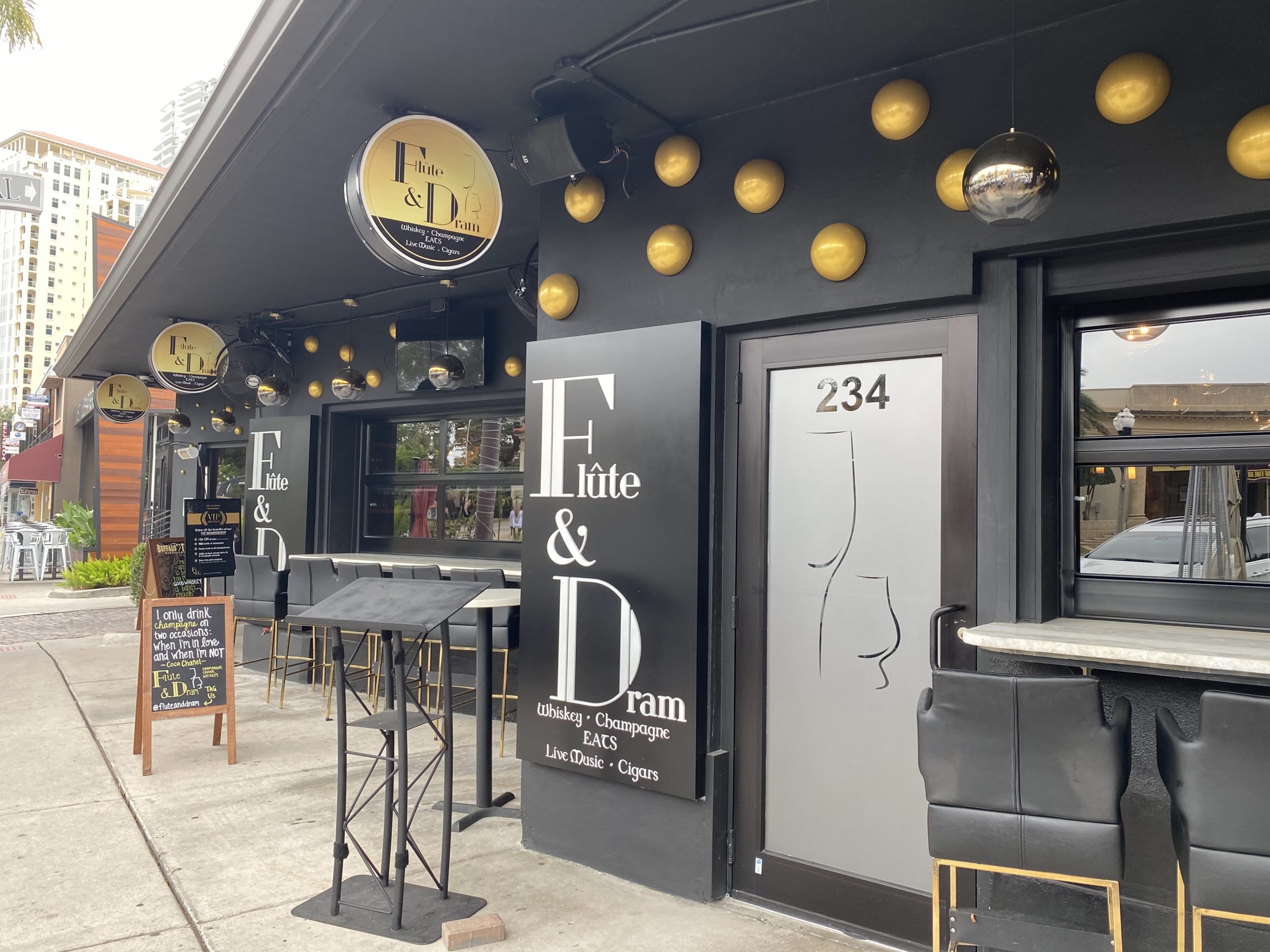 Comfortably situated in the heart of Beach Drive in downtown St. Petersburg, Flûte & Dram boasts an uncommon, yet desirable experience for patrons. The establishment has two separate sides: one, modern and edgy with contemporary lighting and an emphasis on champagne (the flûte side, if you will), and the other, with a vintage prohibition-esque vibe and whiskey galore (the dram side). Even though there are two sides to the restaurant, any item can be ordered from the menu, regardless of the side in which you choose to sit.
One of the most thrilling aspects of Flûte and Dram is that there isn't anything like it around – and I don't just mean in St. Pete, I'm talking the entire Tampa Bay region. In fact, we sat down with Storm, the manager at Flûte and Dram, and he stated that the closest thing to this concept is a spot called Flûte, which is located in New York.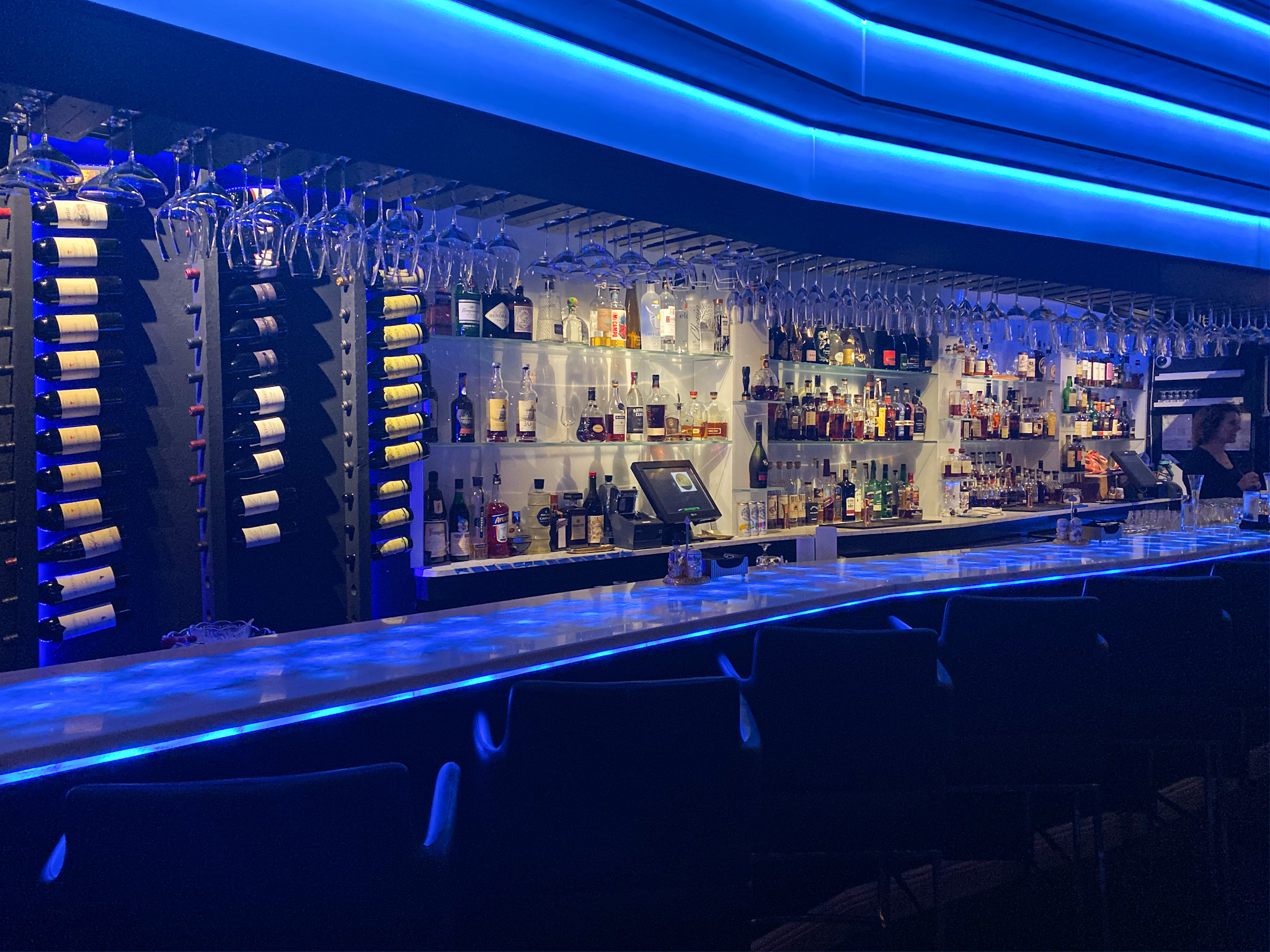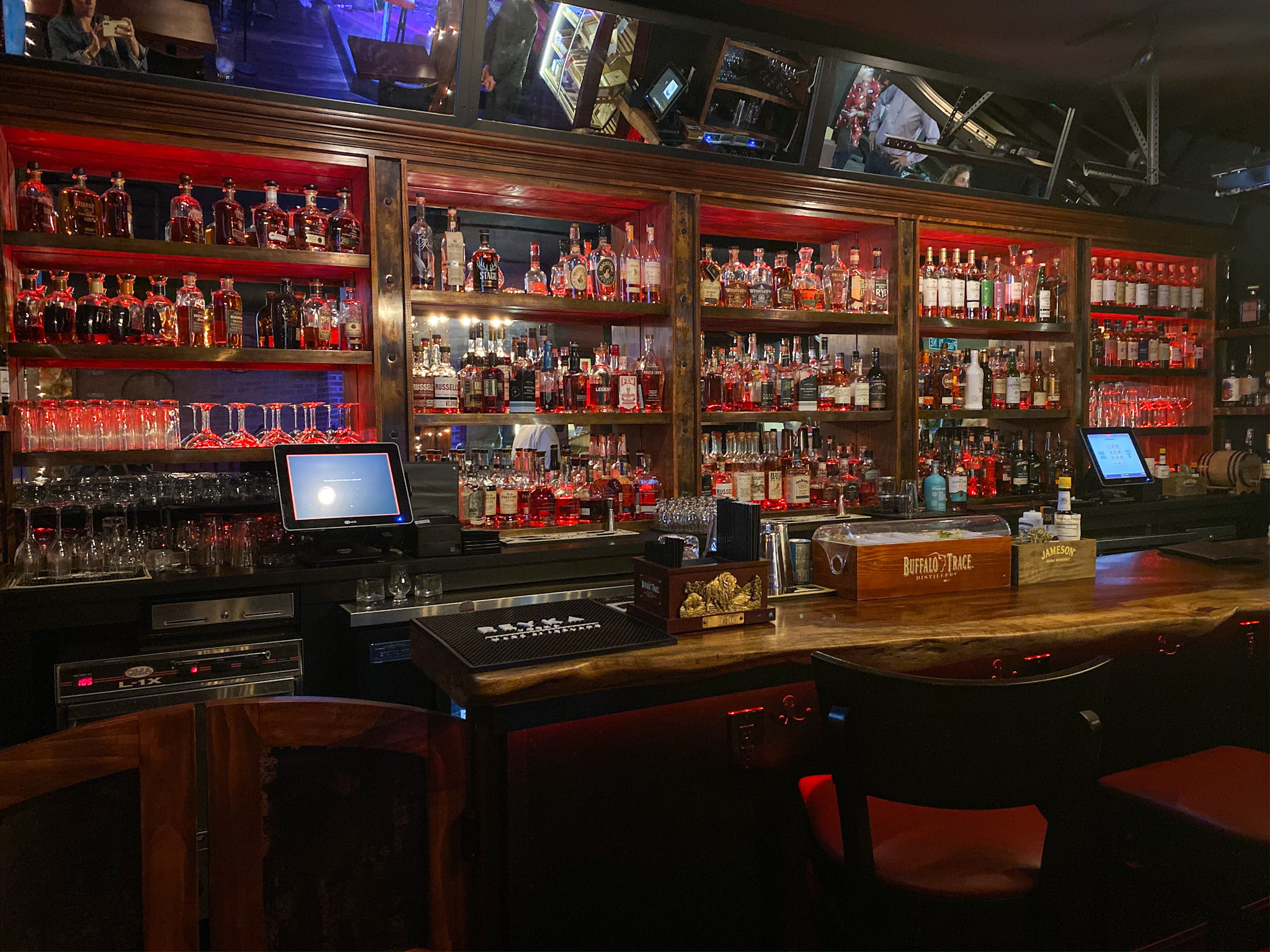 When Flûte and Dram initially opened in the spring of 2018, only the Flûte side existed. A number of the different offerings at the time included champagne, whiskey, scotch, caviar, and a few small plates, like Gulf Shrimp Cocktail and Norwegian Smoked Salmon. It was in October of this year that the Dram vision was brought to life, which in turn, propelled Flûte and Dram to the next level.
The expansion of the restaurant allowed for additional cold small plates (Flûte and Dram has a cold kitchen, meaning, all items served do not require heat to be served), live music seven nights a week, cigars available for purchase (that can be enjoyed outside), and of course, extra seating and more space for patrons. The most exciting of the above, being the recent addition of live music every single night. We visited on a bustling Thursday evening recently, and the place was jam packed full of folks enjoying some fantastic live musicians. Folks were dancing, clapping, cheering, and clearly having an overall fabulous time.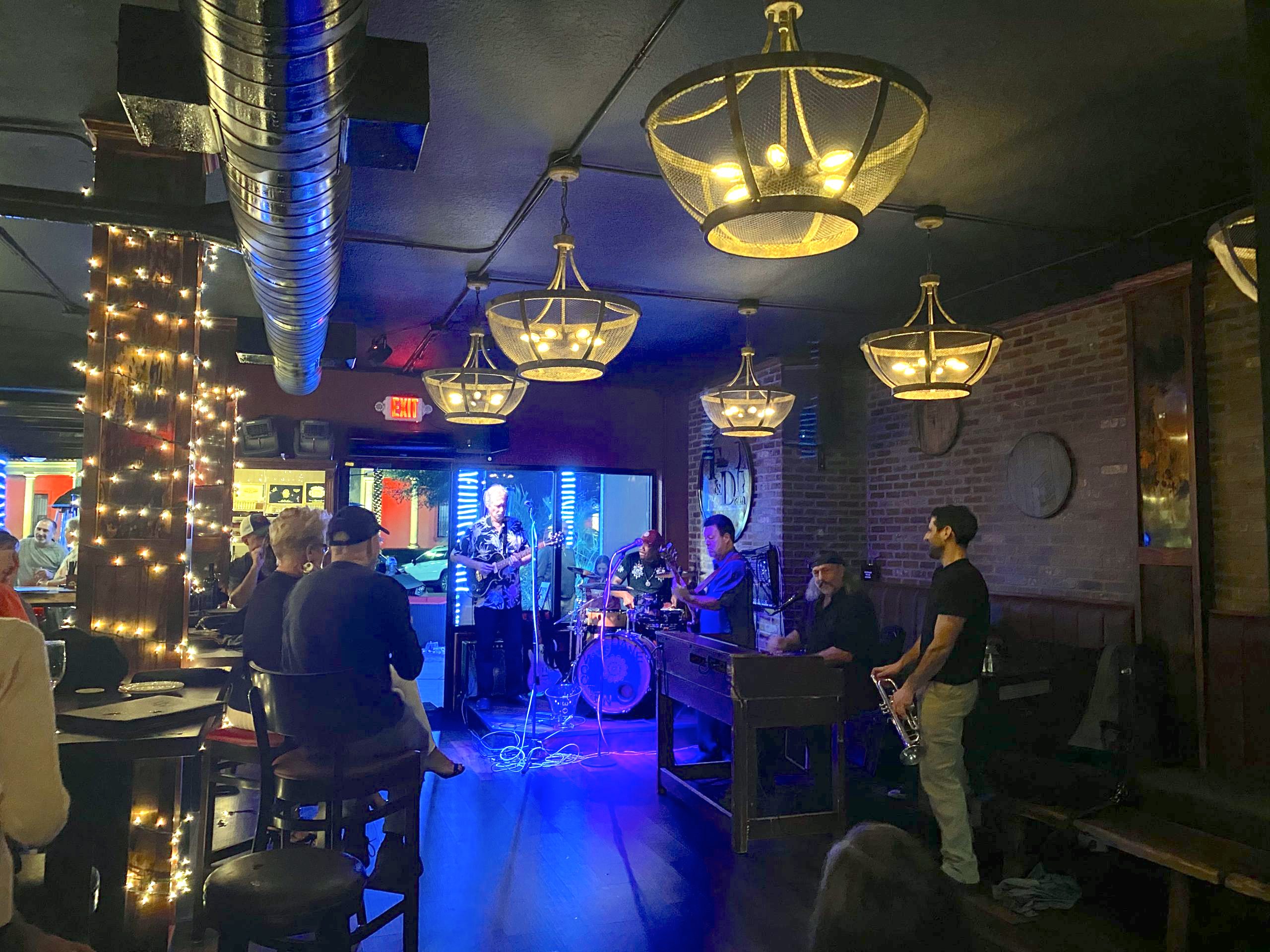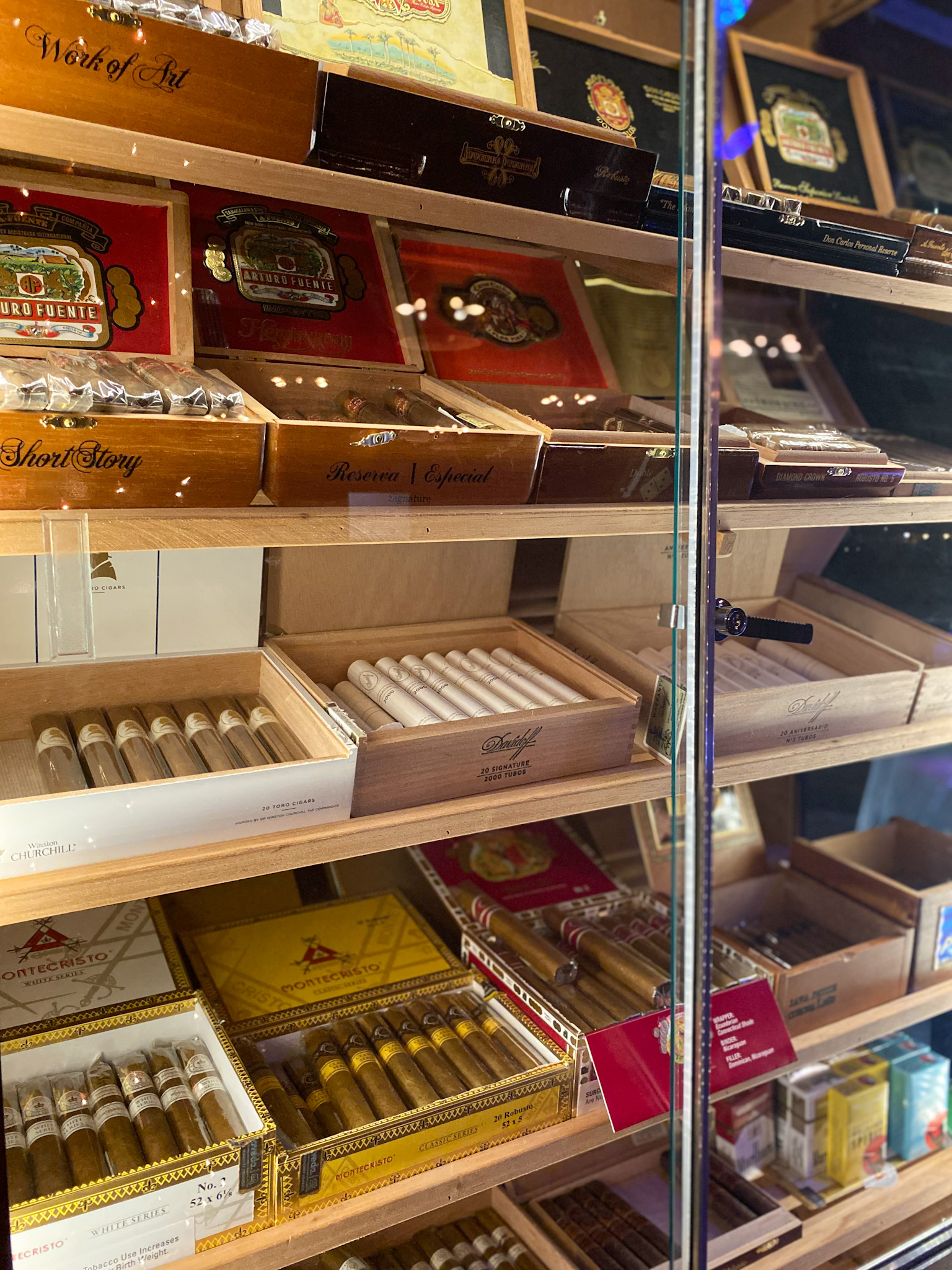 Though the concept of a restaurant whose focus is mainly on champagne, whiskey, and caviar may sound a bit intimidating to most, I assure you, Flûte and Dram has something for everyone. To elaborate, their caviar for example, can be enjoyed by folks with a range of pallets, from beginner to connoisseur.
Being that caviar can be quite expensive, Flûte and Dram does a fabulous job of providing an array of options to accommodate all budgets. For those just beginning to dip their toes into the vast world of caviar for the first time, the Truffle Pearl caviar and Smoked Trout are idyllic base steps, as they're quite inexpensive and mild ($25 and under).
For those with an exalted taste for caviar, Flûte and Dram has an impressive menu of Russian Caviar to appease experienced tastebuds, such as Sasanian Russian Osetra, which is a true premium Russian Sturgeon caviar and descendent from the Caspian Sea. Regardless of which caviar you opt for, all caviar is served with the traditional accompaniments, which include: crème fraîche, chopped red onion, chopped egg whites, chopped egg yolks, and a choice of French or Russian blinis.
Flute and Dram's á la carte cold small plates range from a thoughtfully arranged charcuterie board, to an elegant offering of Duck Foie Gras, served with cornichons, red onion, heirloom grape tomato, Dijon sauce, capers and infused EVOO. Though, Storm noted that the most popular of the small plates is the impressive Tuna Tartare.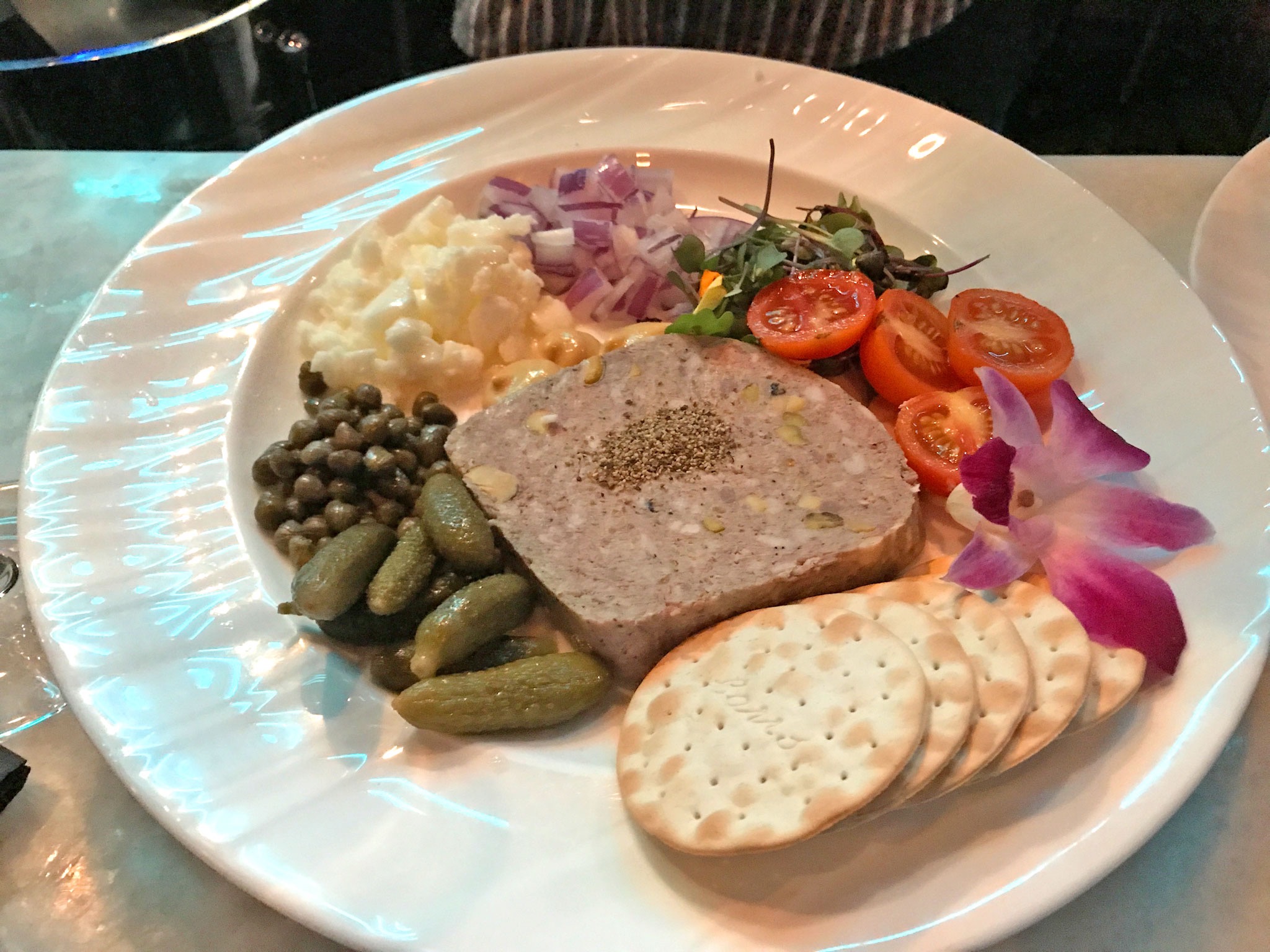 In terms of whiskey and champagne, again, Flûte and Dram has done an exceptional and attentive job of accomodating to the vast majority of the public – from libation novices, to full-blown professionals. Whether you're looking to spend a minimal amount, or splurge on Dom Pérignon, or a pour of Glenlivet 25 Year, Flûte and Dram unquestionably has you covered.
During our recent visit to Flûte and Dram, we dabbled in a bit of everything, and enjoyed the atmosphere that both sides of the restaurant have to offer.
To begin our night, we settled in on the Flûte side, where we ordered champagne and caviar. I enjoyed a glass of Veuve Clicquot, and my fiancé, Moët and Chandon. Both of which, are familiar and always delightful options, both priced at or under $18.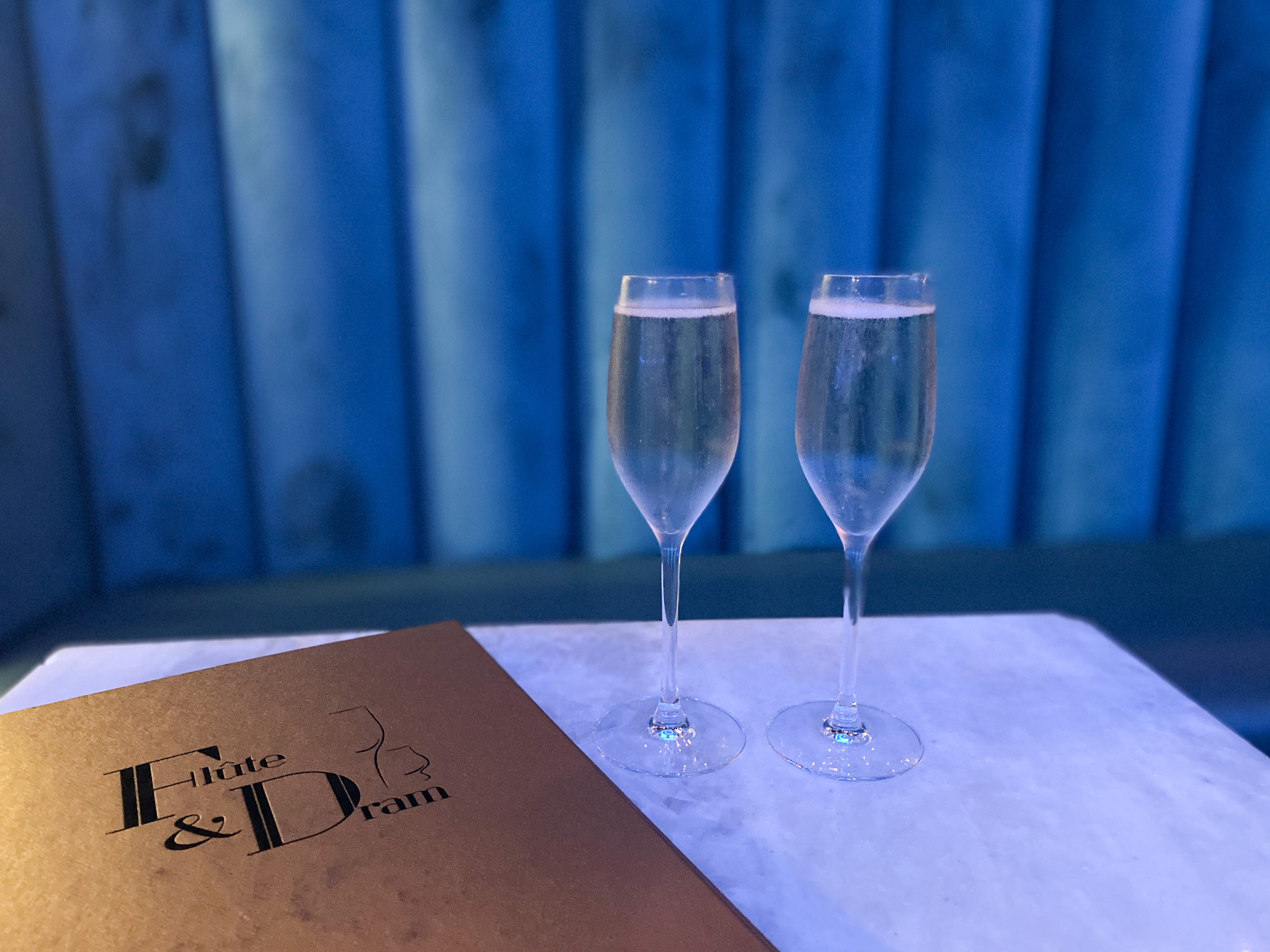 Storm noted that the Smoked Trout caviar, and the Wild American Hackleback Sturgeon are popular selections, so, that's what we opted for. The Smoked Trout has a vibrant orange hue with subtle, smokey notes, while the Hackleback Sturgeon delights with a dark and deep rich color and a pleasantly mild bite: both unique in identity, and sound selections for caviar enthusiasts of all levels. We devoured both with the traditional accessories and Russian blinis, and happily ingested every last exquisite bite.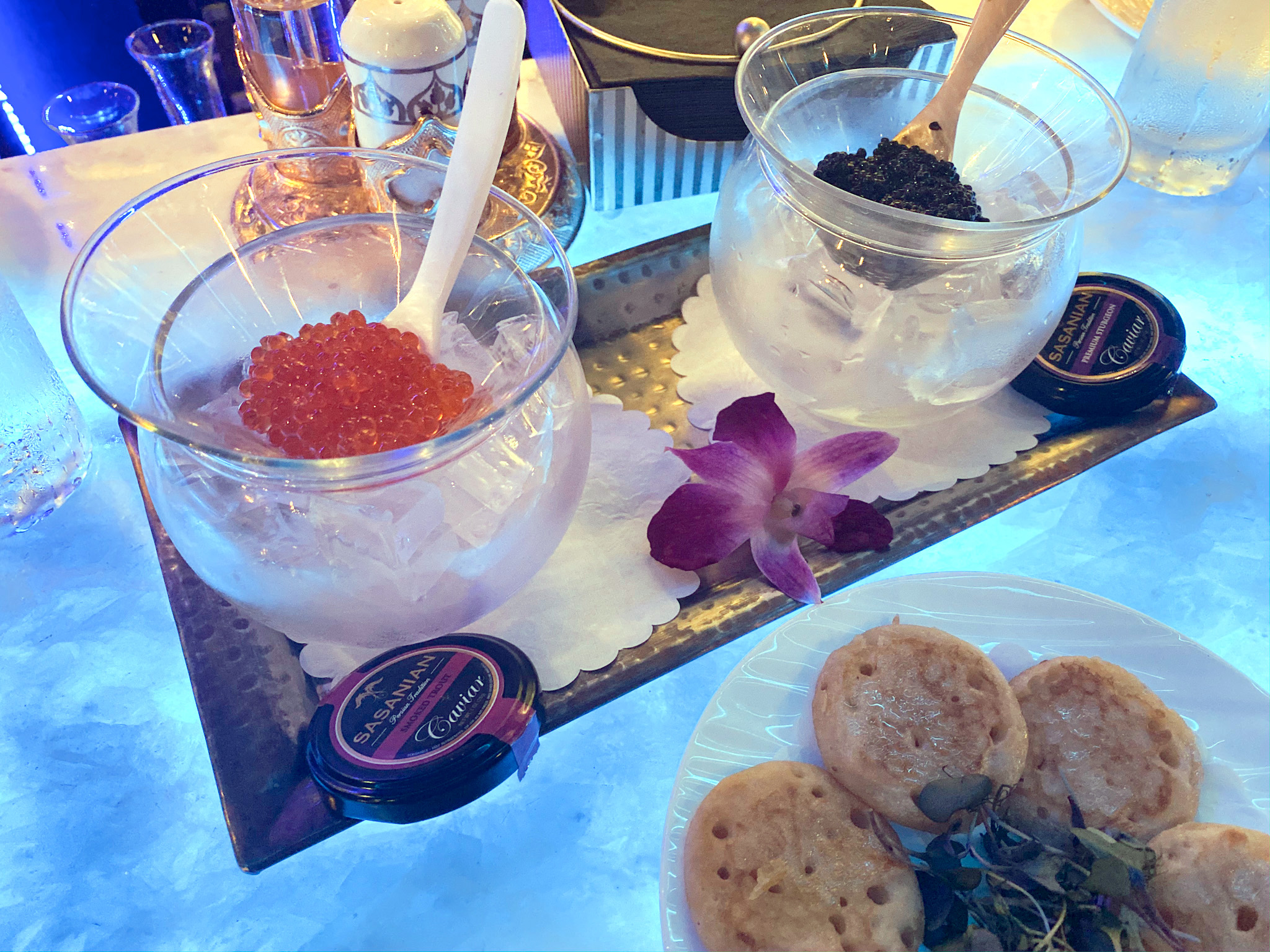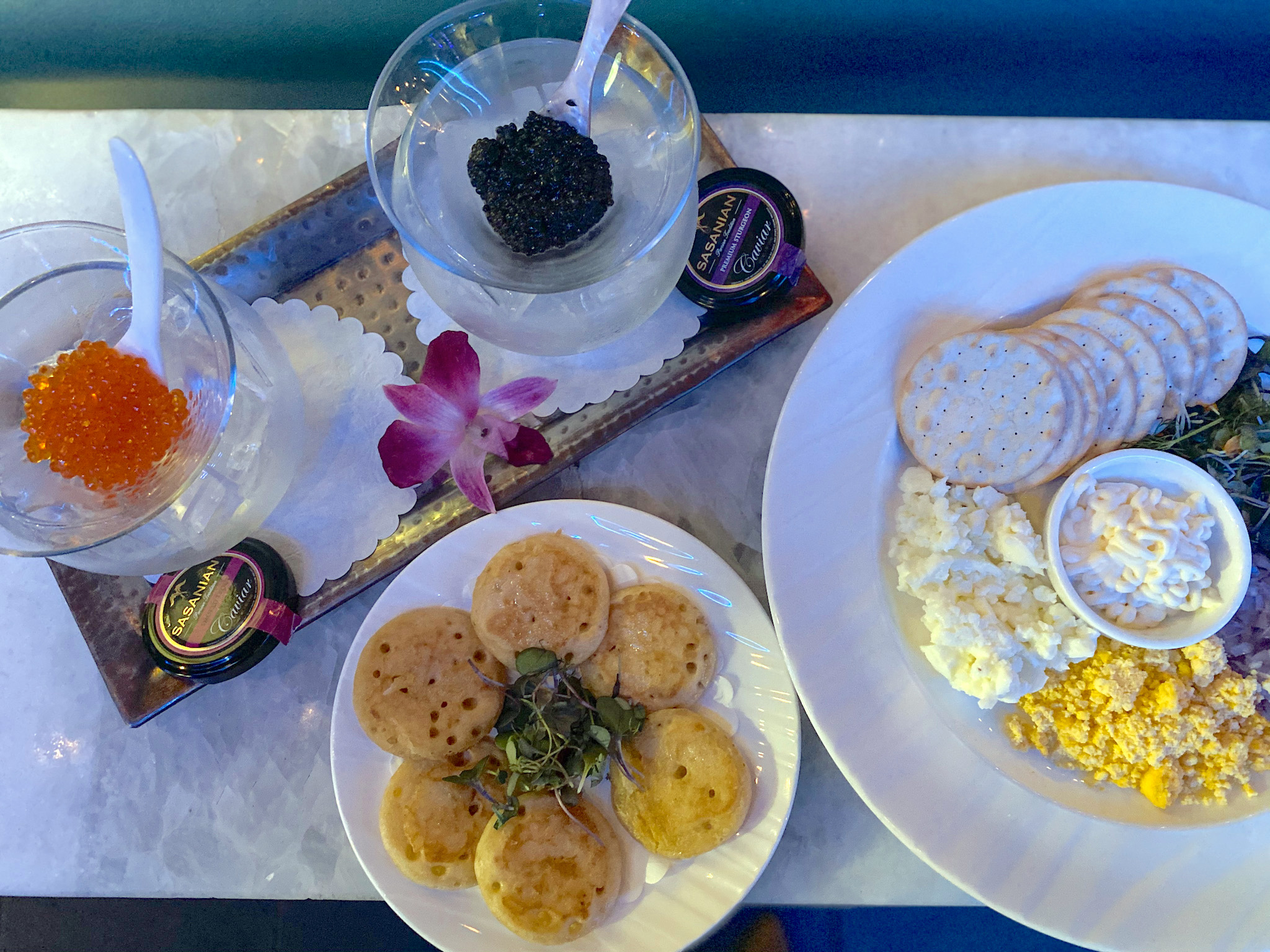 After our rendezvous with champagne and caviar, we made our way to the dram side. There, we sat belly-up to the bar, and got lost in the magnificent whirlwind of whiskey. We personally own a rather extensive selection of whiskey, so when we opened up the book of selections at Flûte and Dram, we were pleasantly surprised at their large quantity of spirits, and were eager to dive in.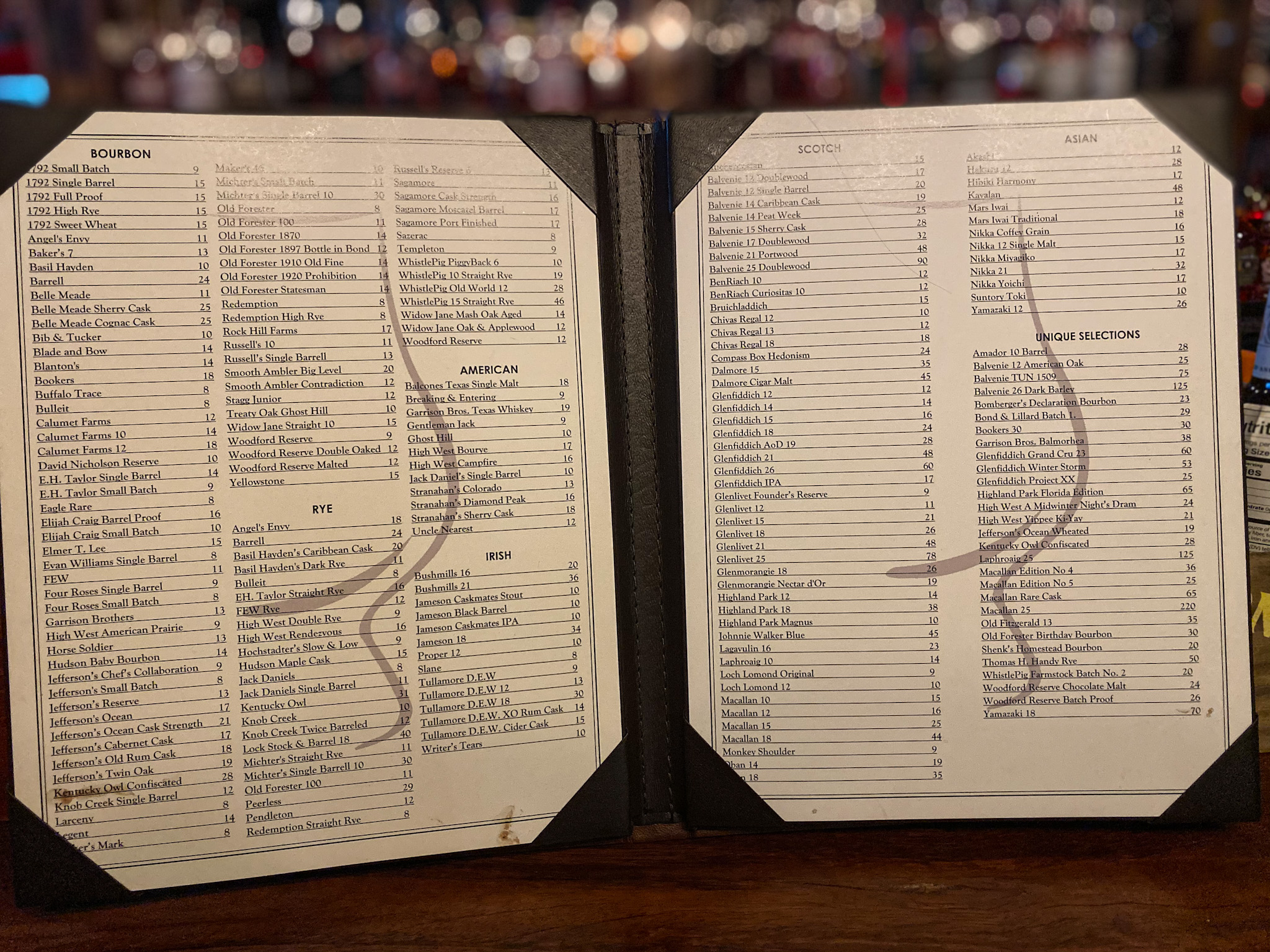 We each started off with two 1792 whiskeys that we had not had before – I, the Sweet Wheat, and my better half, the Full Proof. Neither option disappointed in the slightest, though, the Full Proof may not be for those just beginning their whiskey journey.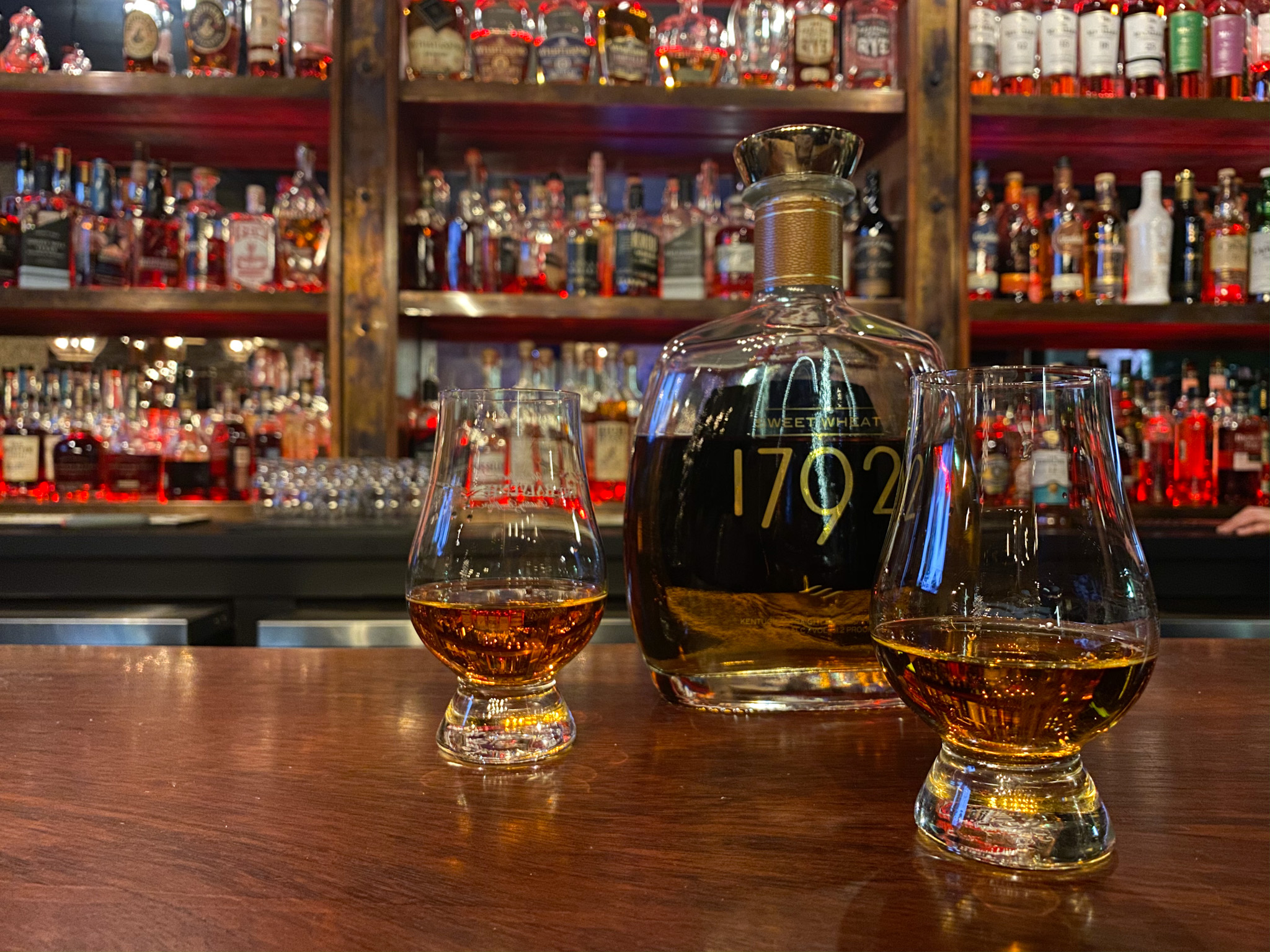 We then plunged into the cold small plates menu. Since it was mentioned that the Tuna Tartare is a fan favorite, we decided to see what the hype was all about. The element that we noted as soon as it was placed in front of us was the portion size – it was undoubtedly the largest serving of Tuna Tartare that I have ever received (this, is of course, a good thing), and could easily feed a few folks. The dish is comprised of sweet soy, red onion, wakame, ginger, sesame, wasabi cream, crème fraîche and garnished with Lumpfish caviar. The flavors were as amazing as the beauty of the dish, while still allowing for the tuna to remain the shining star.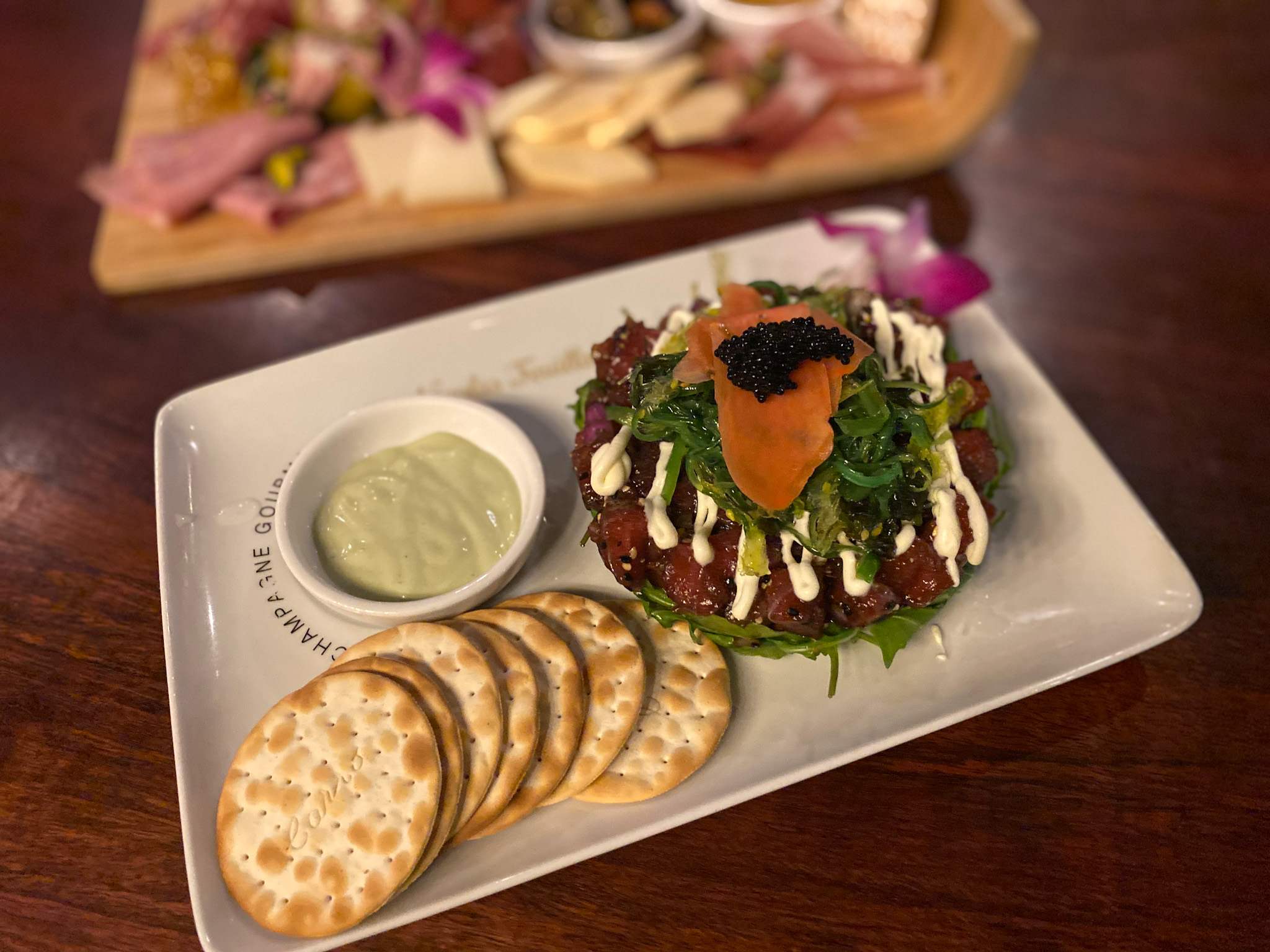 In addition to the Tartare, we ordered Dram's charcuterie. If you know me, you know that I'm a sucker for a divine charcuterie spread and could easily consume that as a meal seven nights out of seven. Dram's charcuterie is the perfect sharable plate, and contains cured meats, cheeses, and various assorted chef's pairings. The styling of this plate is exceptional, and sure to amuse the eyes and stomachs of all enjoying it.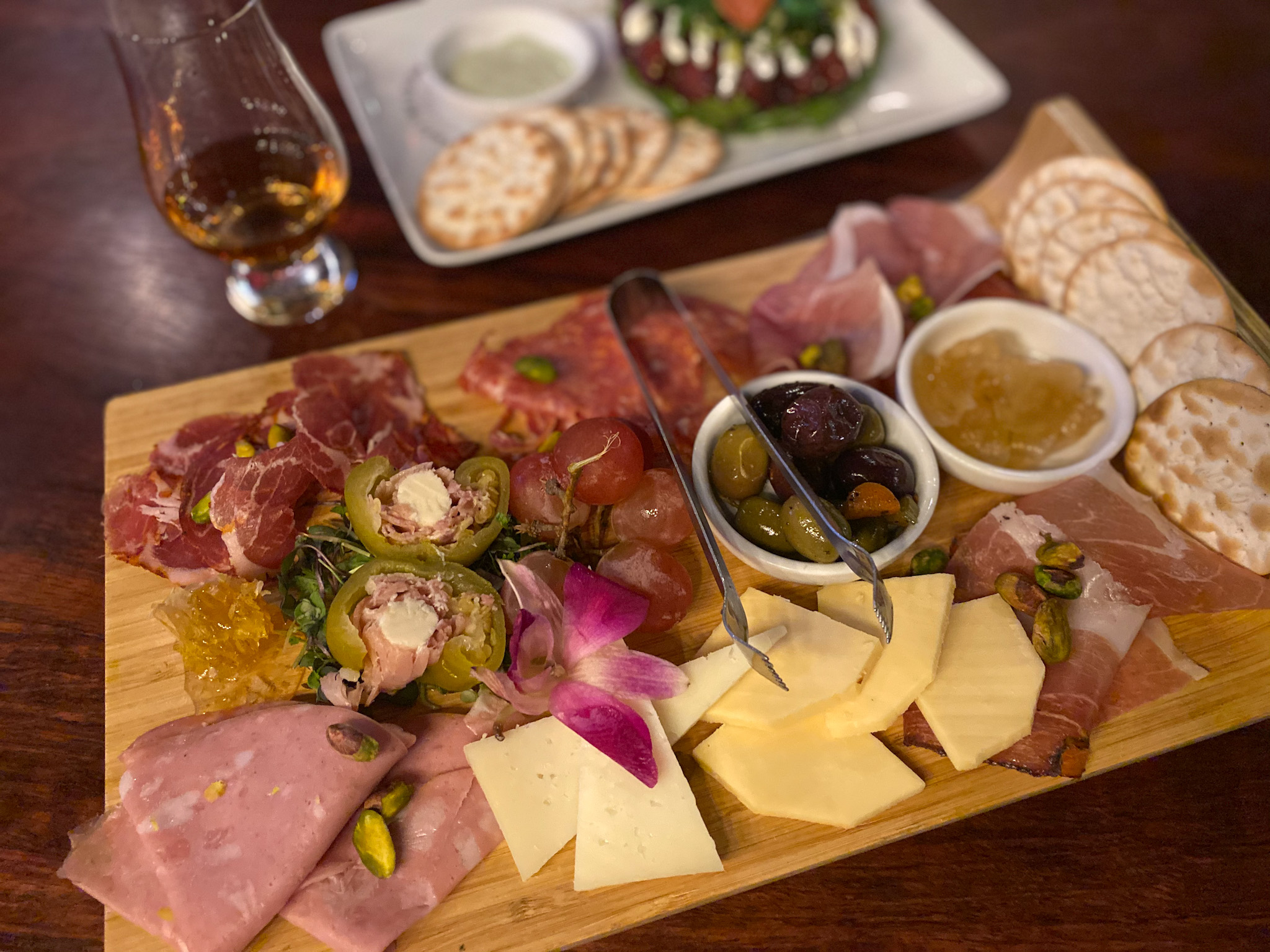 During our chat with Storm, he enthusiastically shared that they have a lot of exciting irons in the fire that they are working on for the future at Flûte and Dram. For example, the possibility of a cold brunch, and offering interactive trainings that range from caviar, champagne and drink pairings, are all something currently being discussed.
Stay tuned for all of the riveting endeavors that Flûte and Dram is embarking on, more importantly, pay them a visit sooner, rather than later! I'll guarantee that fun will be had by all, and it'll quickly become a frequent stop in your St. Pete rotation.
An exclusive, upscale bar in the heart of downtown St. Petersburg for connoisseurs of Champagne, Caviar, and Whiskey.
DISCLAIMER: Kevin, Lori, Abby, Haley, & Lindsey do not dine anonymously (this would be impossible) and we sometimes get free food (though never expected). However, we dine with the locals and we support our own. You will always get honesty in a respectful manner. We do not include any large national or regional chains in our ratings and reviews. We focus on independent locally owned eateries exclusively.

PLEASE NOTE: Reviews reflect a certain moment in time. Some restaurants stay extremely consistent over many years, and some change for the better or worse. Some things that may change are: chefs, recipes, food suppliers, ingredients, philosophies, ownership, etc. We always hope that you have the same good, or great experience we had.
More Foodies News, Reviews & Recipes