Sing and Eat Your Heart out at LALA St. Pete
Sing and Eat Your Heart out at LALA St. Pete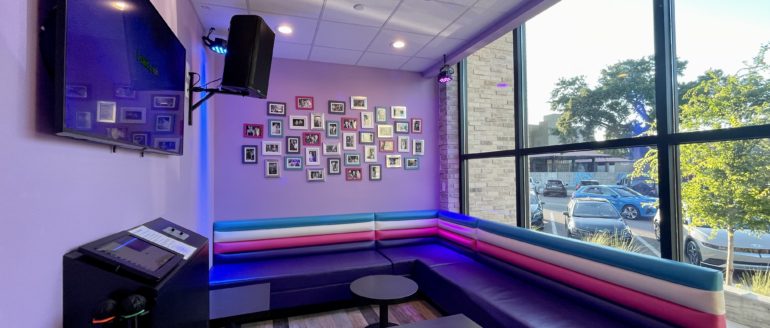 Over the last several years the Grand Central District in St. Pete has brought us so many gems. From craft cocktail lounges, breweries, arcade bars, top notch restaurants, coffee shops, and even a mini golf bar… and the list goes on and on. A few months ago, LALA St. Pete opened adding another unique concept to the area.
LALA has it all. With seven private karaoke rooms, a restaurant, rooftop bar and shared outdoor activity garden with Grand Central Brewhouse. Whether you're looking for the perfect spot to have a birthday party, a girls' night out, a late night (LALA is one of the few places in St. Pete that is open until 1am everyday) glass of wine and snack after a long day or a rooftop date night, LALA is the place for you.
The private karaoke rooms each have their own theme and have capacity ranging from 5-16 guests. Themes include Grammy awards, speakeasy, tropical and more. When booking a karaoke session at LALA, I highly recommend planning well ahead. We booked ours about a month in advance and several of the rooms were already taken for the time slot we were interested in. You also have to pay to reserve the room, the cost ranges from $80 – $384 + tax/room/2 hours. This averages out to about $16-$24 + tax/person if you have the room maxed out. The cost varies based on the time of day and the room you chose.
The shared outdoor activity garden has lawn games, frequent live music and a large projector screen for movie nights and the big games. Unfortunately, I have yet to make my way up to the rooftop bar, but from what I have heard from friends and seen in photos it is a large patio overlooking the activity garden and the Grand Central District with tasty libations pouring all day and night. I will be going next time I'm out on the town.
The restaurant features a Mediterranean, French and American inspired scratch menu with thoughtfully and locally sourced ingredients. Chef Kait uses inspiration from her love of music and food to create the perfect menu for LALA.
The first time I visited LALA was on a whim with some friends after a trivia night at a brewery down the street. We wanted "one more drink" and were having trouble finding a spot that was still open at 10pm on a Wednesday. After several Google searches and calling a few places, we realized LALA was our best, and only, bet. We sat at a table just outside the entrance and to our surprise they had a special for half off bottles of wine (Yay!). We decided to indulge and order a bottle of wine and the Artisan Veggie Board.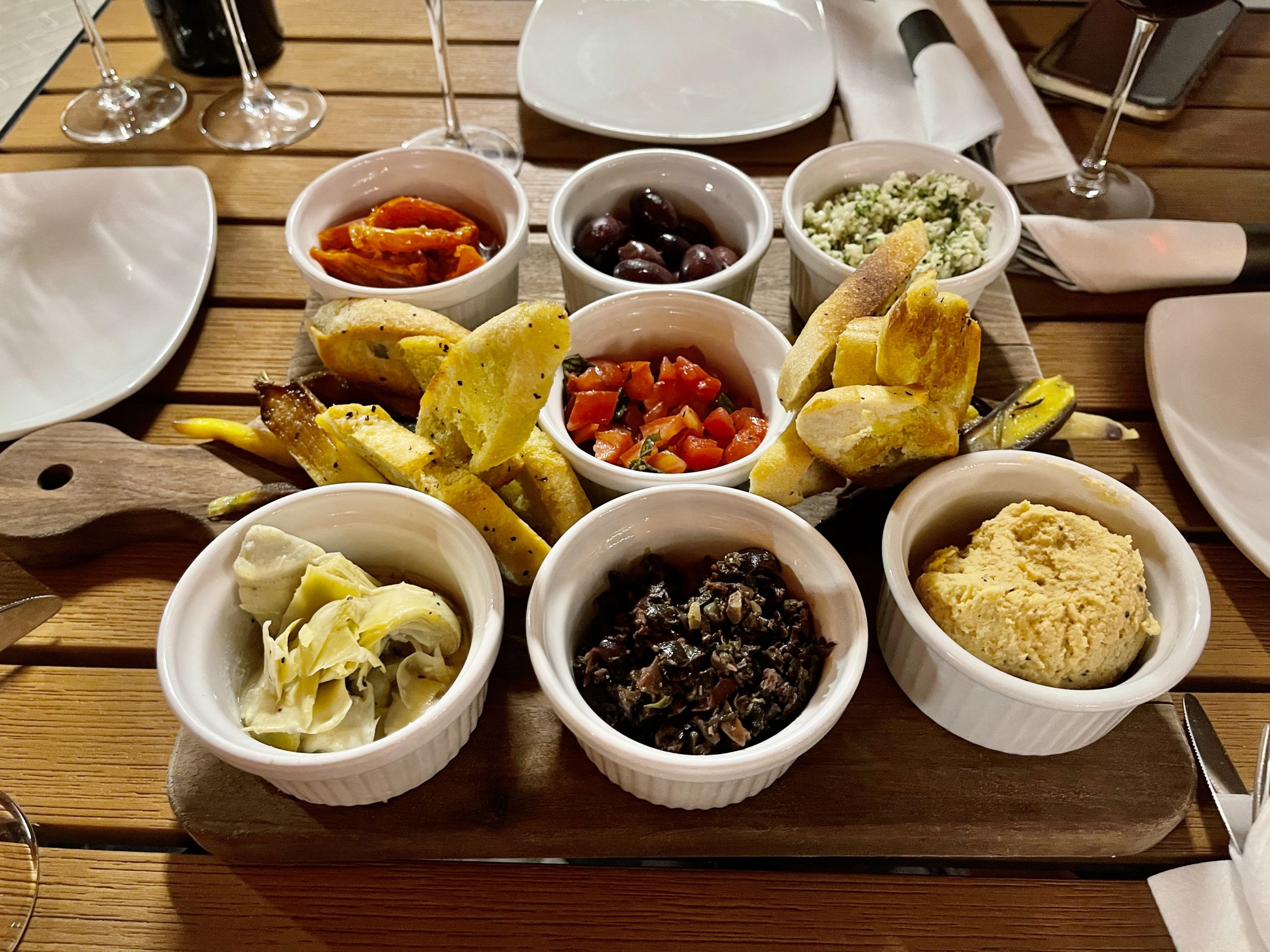 The Artisan Veggie Board consists of a variety of veggies and veggie dips including cauliflower tabbouleh, artichoke, marinated tomato, black olive tapenade, hummus, bruschetta, kalamata olive, served with crostinis and seasonal veggies.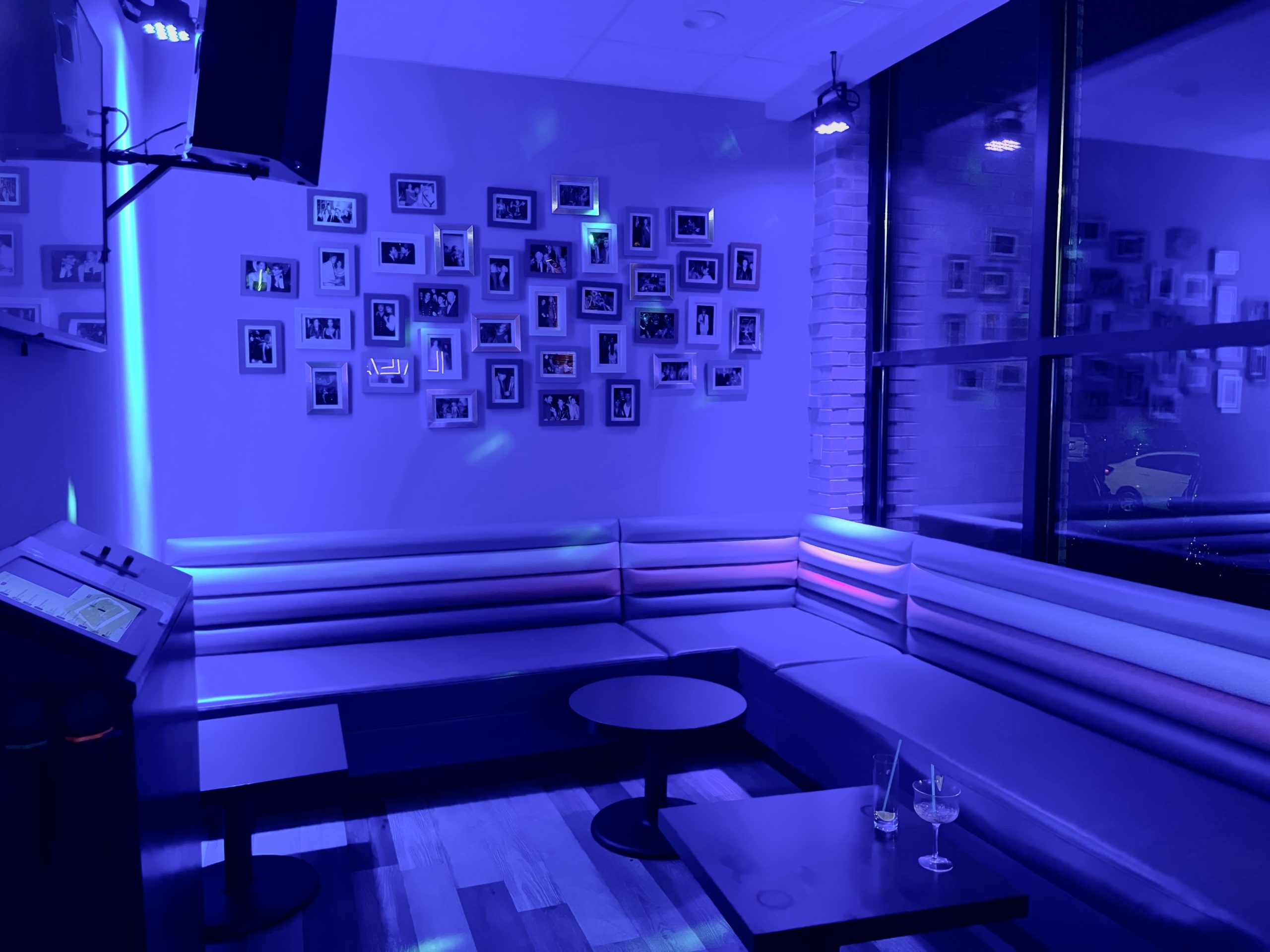 The second time I visited LALA, it was time to do it big. My friends and I reserved Studio LALA to sing our hearts out while drinking some delicious cocktails and eating some great food. Studio LALA holds up to 12 guests and makes you feel like you're in a pseudo-studio 54 complete with a neon sign, disco lights and bright pink and purple furniture. There is large floor to ceiling window along Central that may seem intimidating at first, but don't be shy the passersby love to join the party.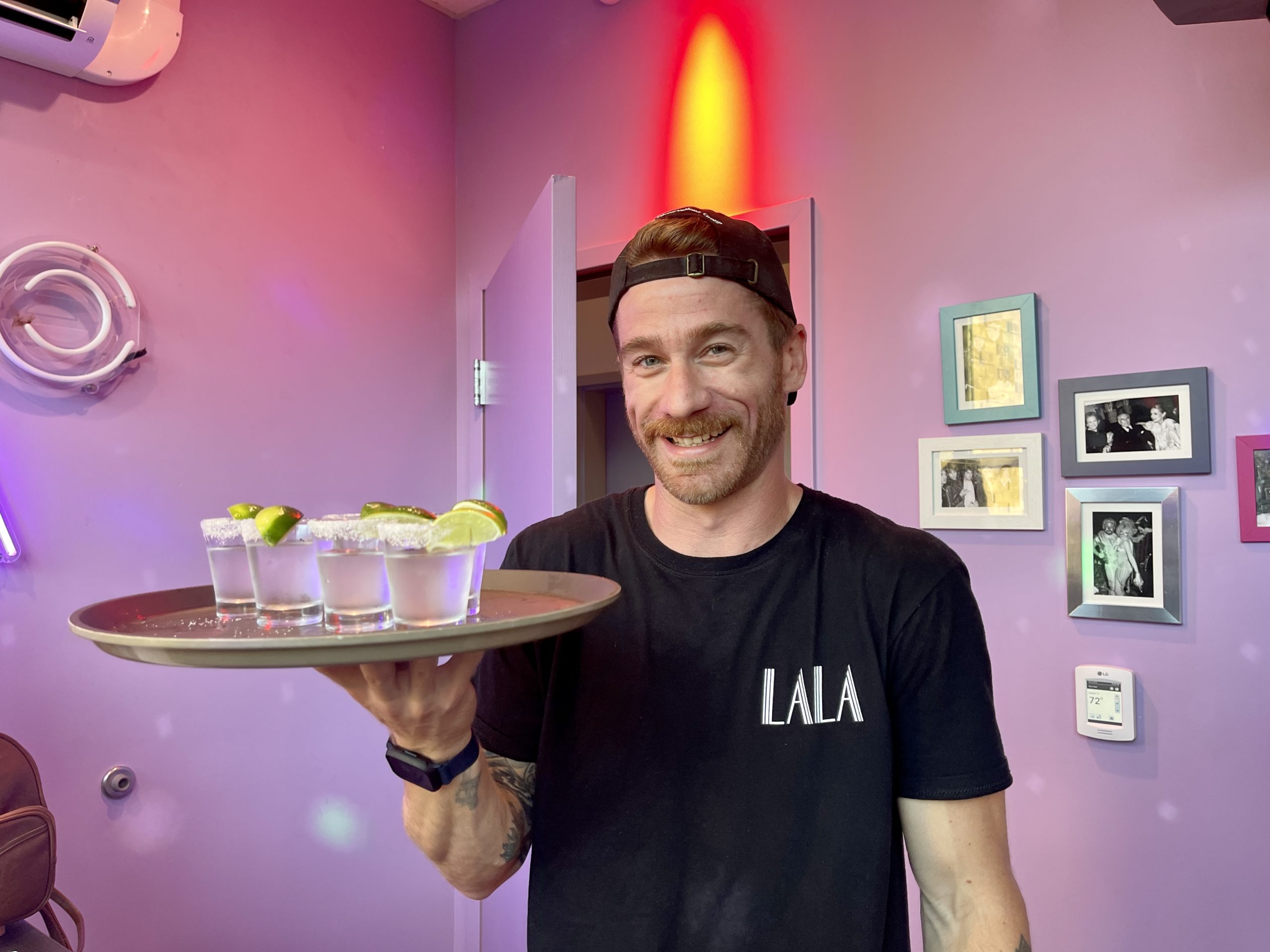 When we got settled in Studio LALA, we did the only thing we knew how to do before we started a karaoke session and ordered a round of tequila shots. As you can see our server was thrilled to have us.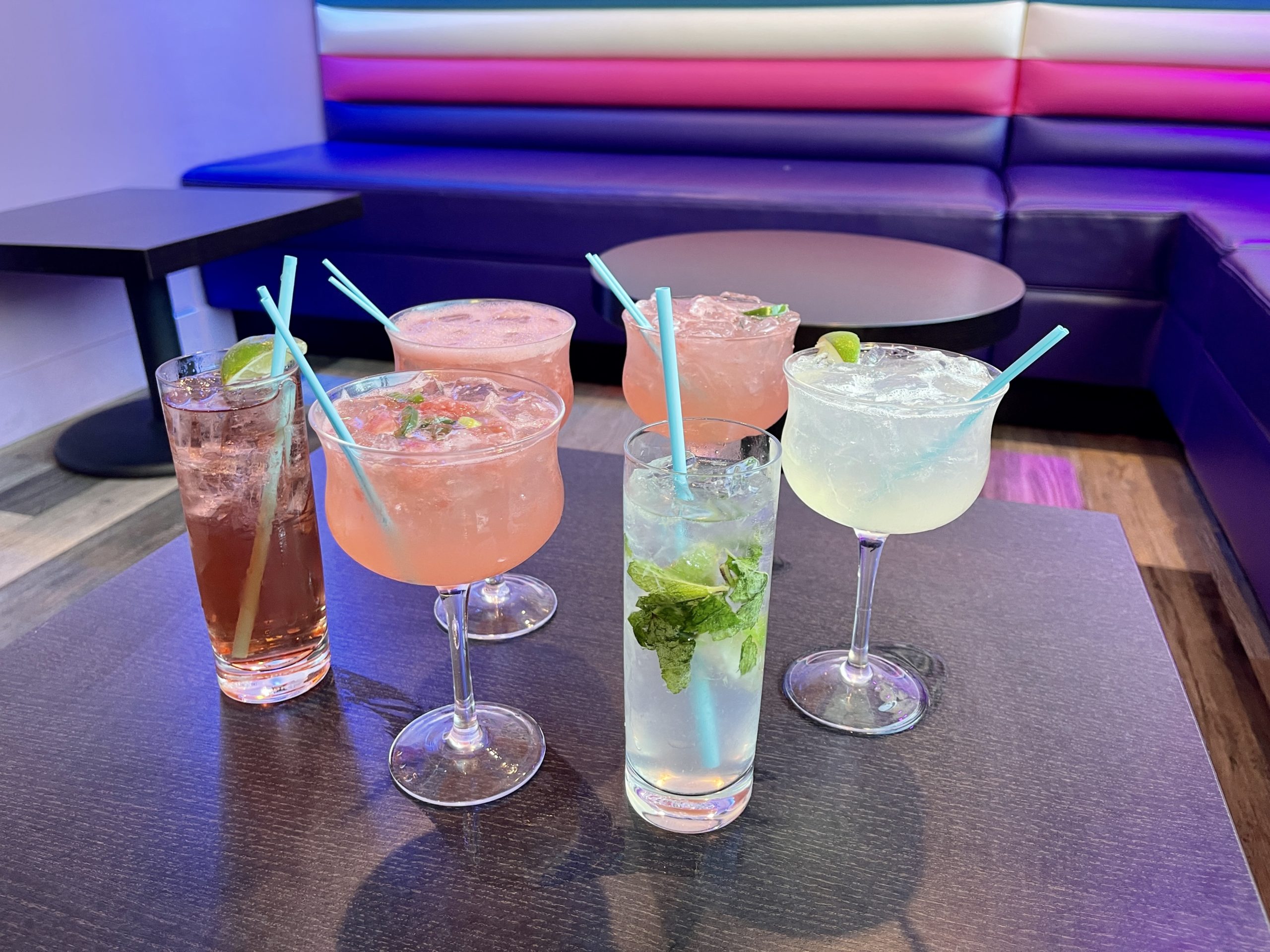 We also ordered a round of cocktails. Between the 6 of us there we ordered three spicy watermelon margaritas, a skinny margarita, a mojito and an Excitabull. All of the drinks were perfectly crafted.
The spicy watermelon margarita consists of tequila, orange liqueur, watermelon, lime, jalapeno and a sugar rim. We all opted for a salt rim. It was spicy without being too spicy (for me, my friends' opinion on the spice level may differ) and well balanced with the refreshing flavor of the watermelon.
The Excitabull mixed vodka, peach schnapps, Redbull and cranberry juice to put a spark in your day and fire you up for some karaoke.
Once we had some shots in us and started to sip on our cocktails, we were ready for some karaoke. While in the karaoke room you are more than welcome to order off their full food menu. I think it's great that they allow you to do that and do not limit you to ordering off a smaller menu while in the room.
After getting a couple songs in, we started ordering our meals. Across the group we ordered the Seacuterie Board to share, Niçoise Salad, Prosciutto Burrata Caprese Salad, Bruschetta Crositins, Mediterranean Pasta, and Duck Linguine.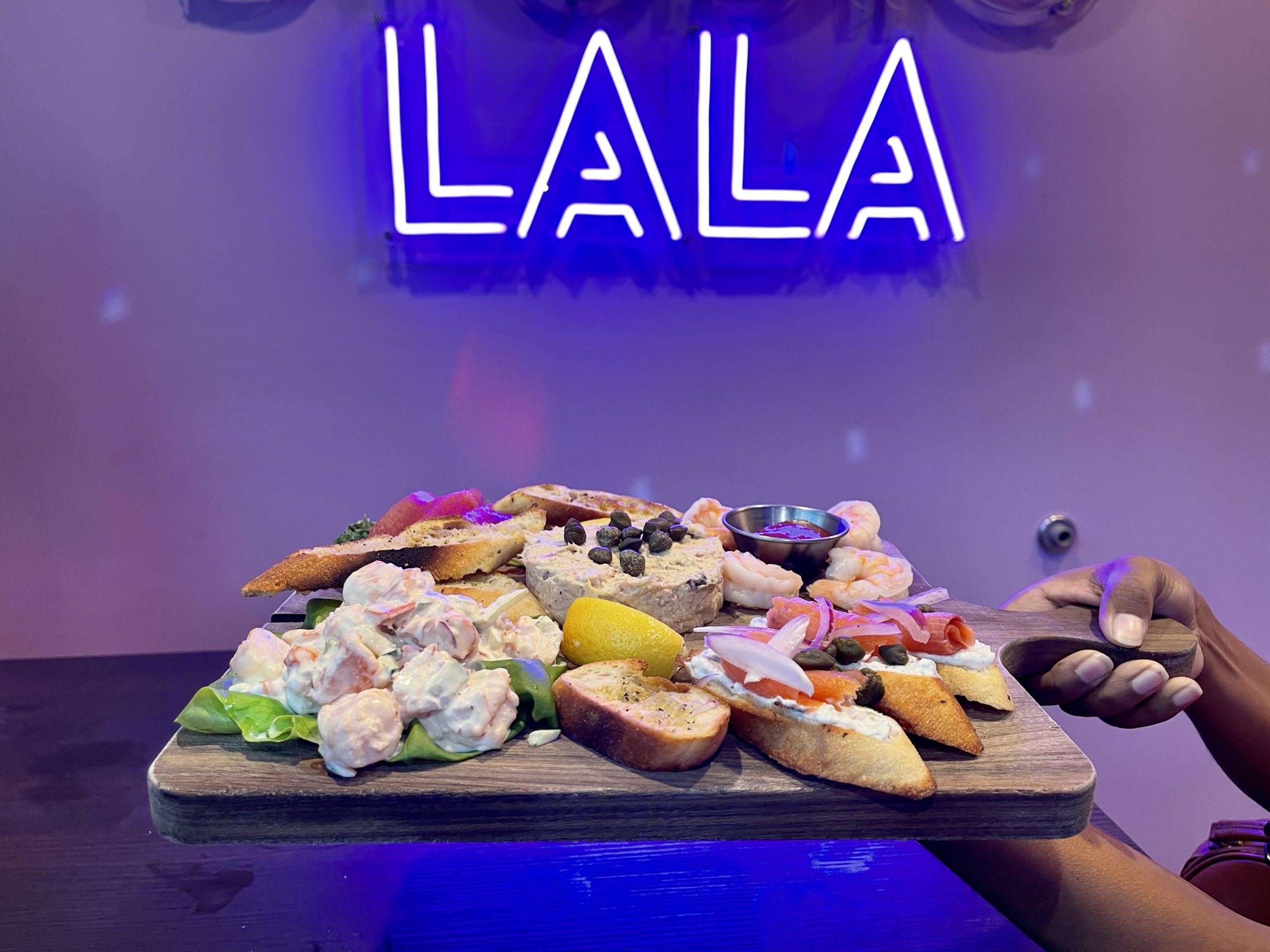 The Seacuterie Board was one of my favorite dishes we that evening. It was bursting at the seams with smoked salmon with capers and red onions, lobster & shrimp salad, smoked fish dip, shrimp cocktail, tuna sashimi with tamari sauce and served with crostinis. You could tell all of the seafood was very fresh and it was full of flavor. The lobster & shrimp salad had good size chunks of meat tossed in a mayonnaise-based sauce without being too overwhelming on the mayo. The smoked fish dip could stand up to some of the best in St. Pete. The tuna sashimi with tamari was so good that I may have left little for my friends to try.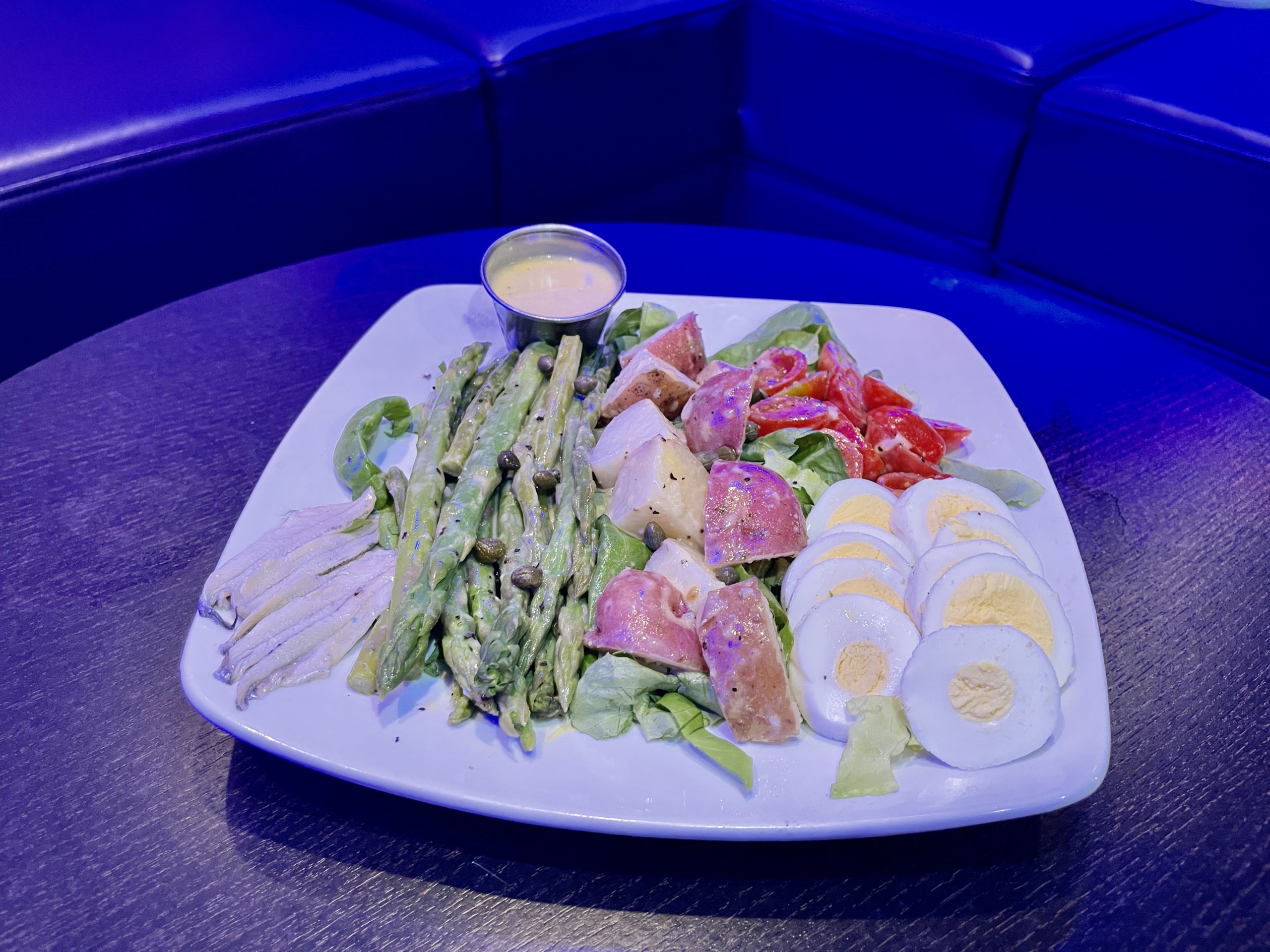 The Niçoise Salad was classically prepared with red potato, asparagus, cherry tomato, hardboiled egg, capers, chives, anchovies, dijon mustard vinaigrette. The presentation was just as beautiful as the taste was.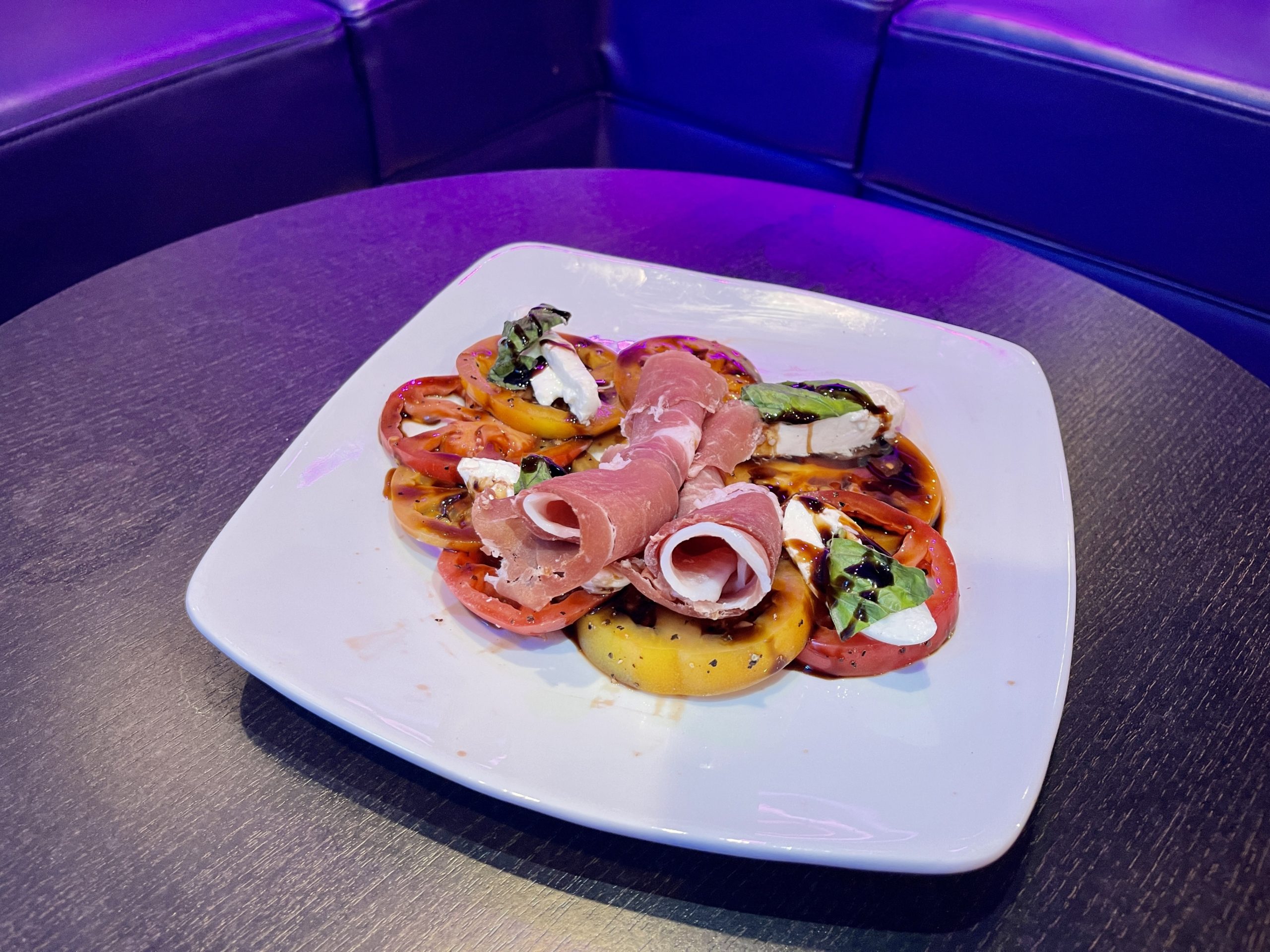 The Prosciutto Burrata Caprese Salad was your run of the mill caprese salad with prosciutto on top. It was nothing to write home about, but also nothing to complain about.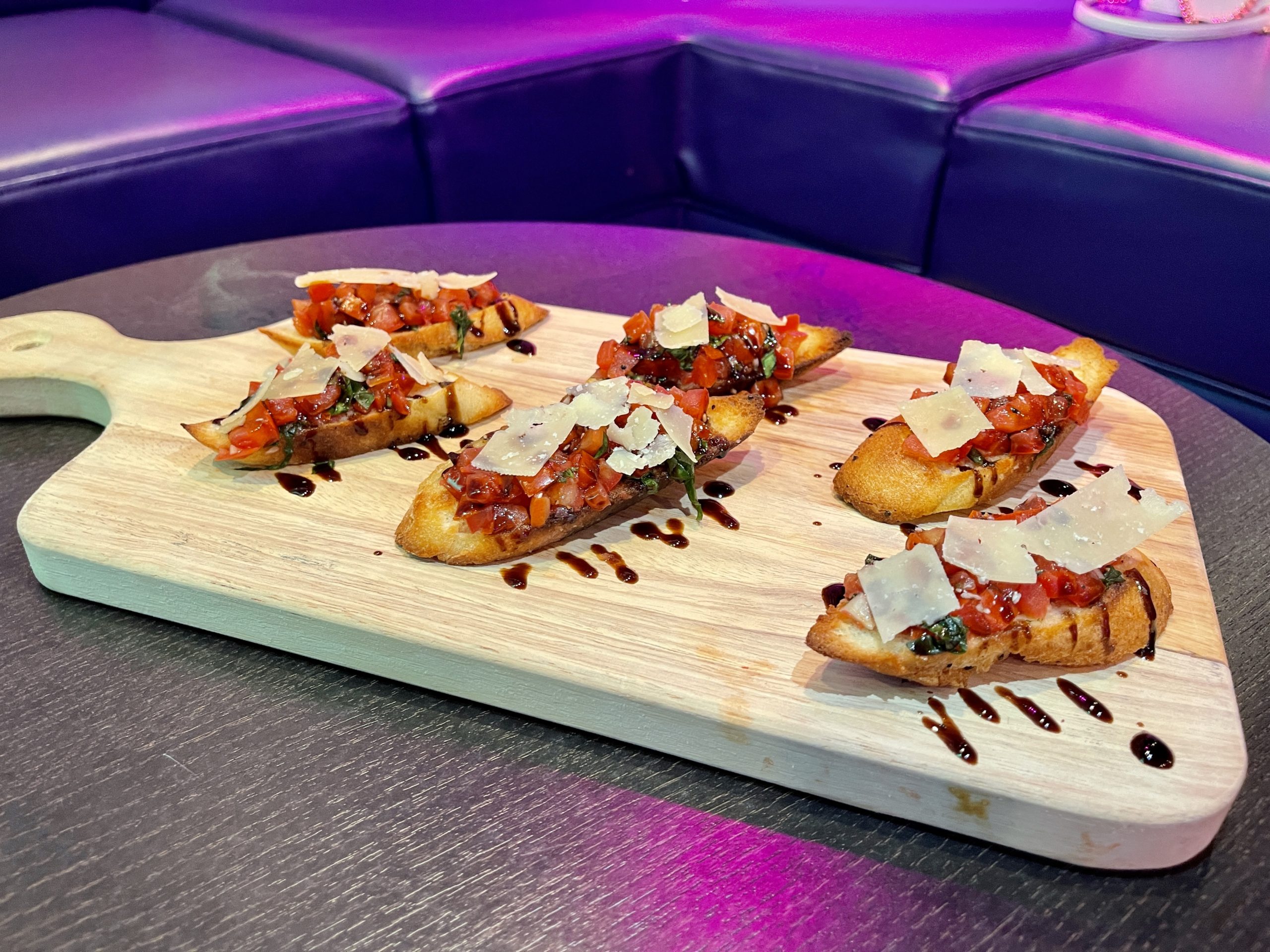 The Bruschetta Crostinis were made with your standard bruschetta ingredients – diced tomato, mixed with fresh garlic & basil, topped with balsamic glaze & parmesan. The key to making a great bruschetta is having the perfect ratio of each for the perfect bite, and LALA did it. These were executed perfectly.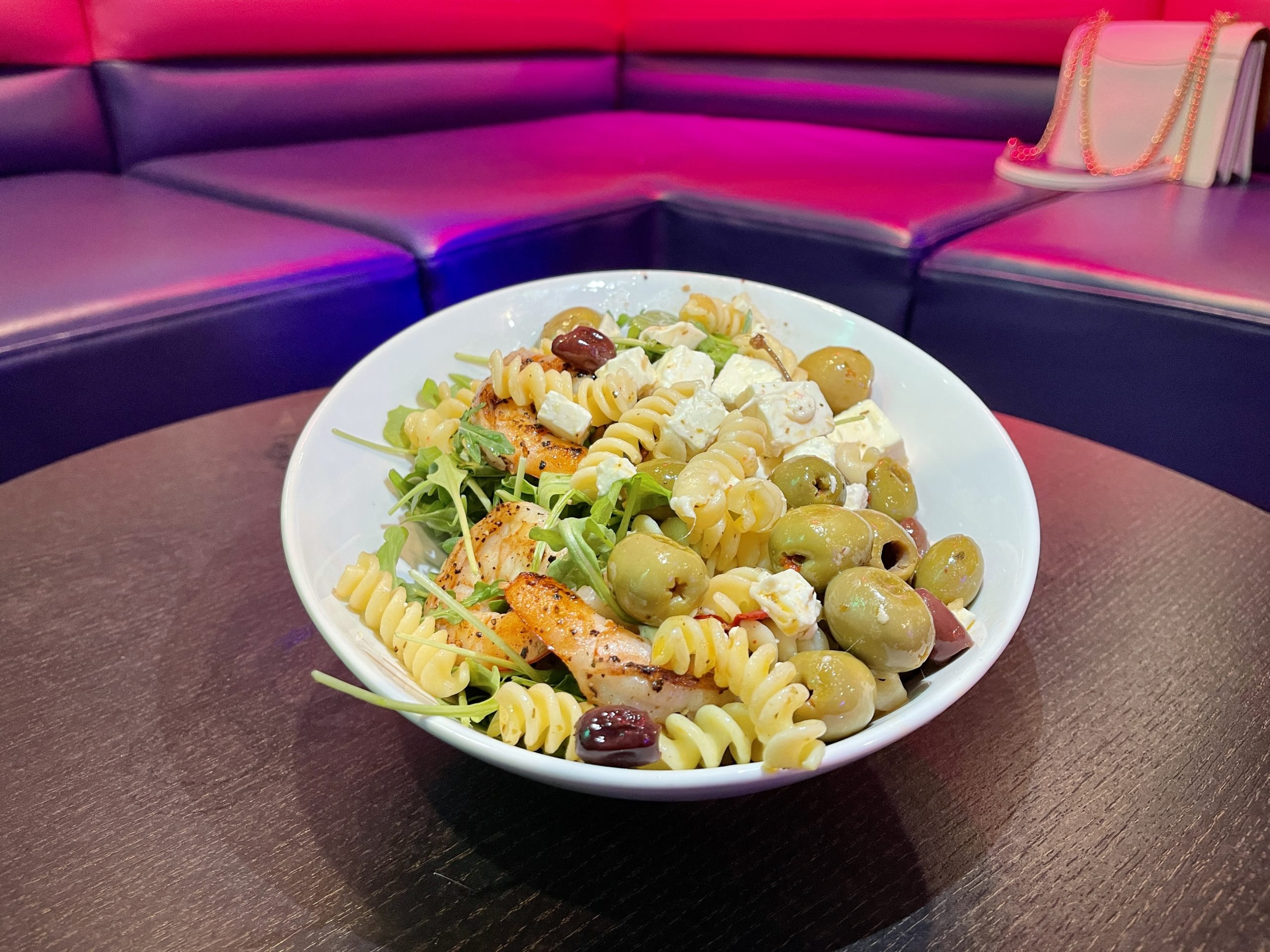 The Mediterranean Pasta is a combination of artichoke, marinated tomato, kalamata olive, extra virgin olive oil, feta, served with fusilli pasta. The mix of warm pasta and cool veggies along with the brininess from the olives and feta created a flavor explosion in your mouth.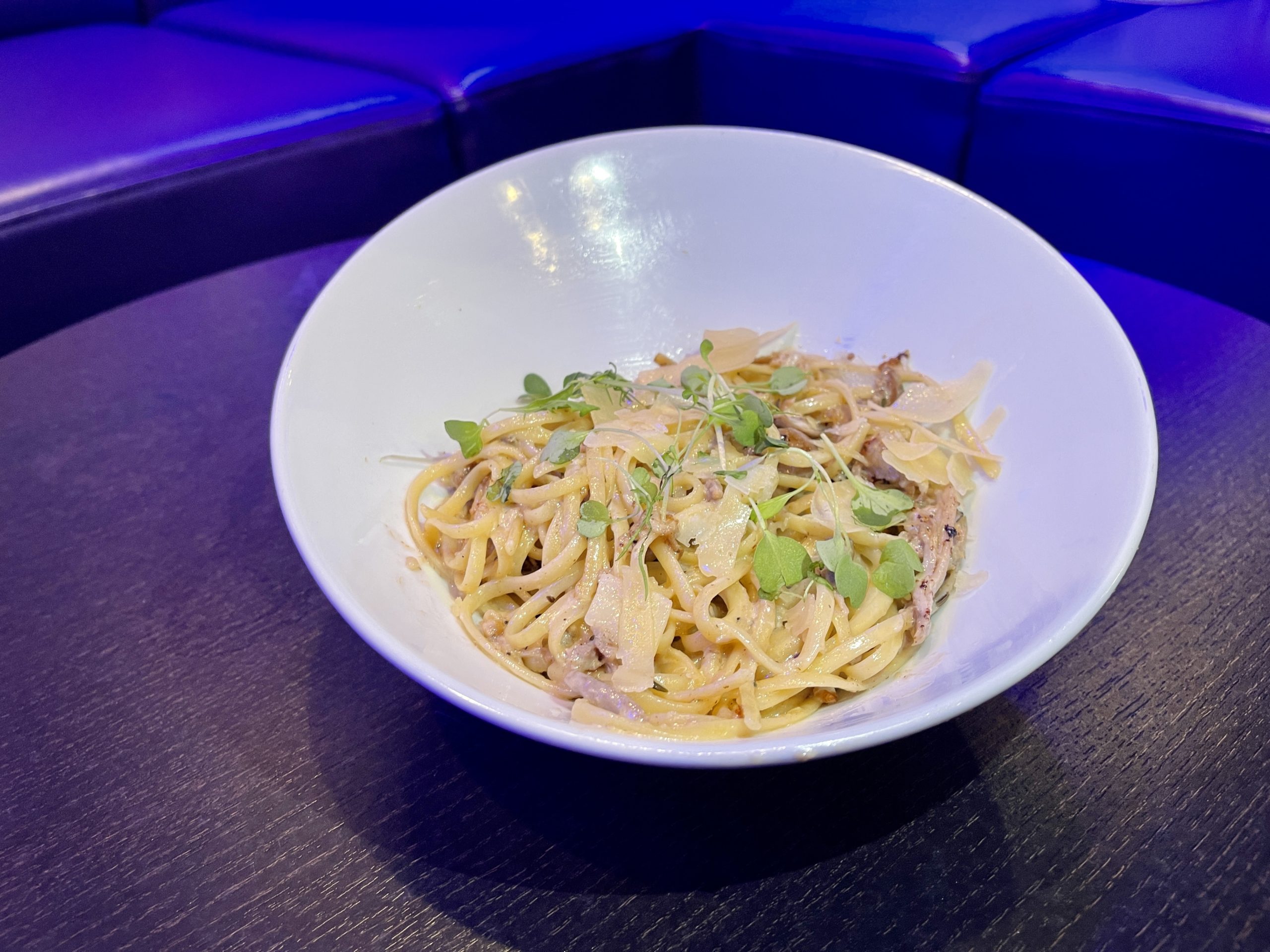 The Duck Linguini was my entrée of choice, which I later found out is one of Chef Kait's signature dishes. It consists of duck confit sauteed in a creamy mushroom port sauce, served with linguine pasta & topped with grated parmesan. At this point in the night, I was a couple drinks in and all I wanted to do was get on the mic and sing. But this dish was so good it was distracting. I ended up carrying the bowl around the room with me while singing and dancing with my friends. It was savory, rich and creamy. It may be one of the best dishes I have had in St. Pete. All hail Chef Kait.
LALA St. Pete was such a fun experience. The service was top notch, the food was delicious, the drinks were flowing, and the entertainment (by us) was unbeatable. My only complaint is that the two-hour window went by too fast.
LALA serves brunch, lunch, small bites from 3-5 and dinner. Coming soon will be a late-night menu for the night owls.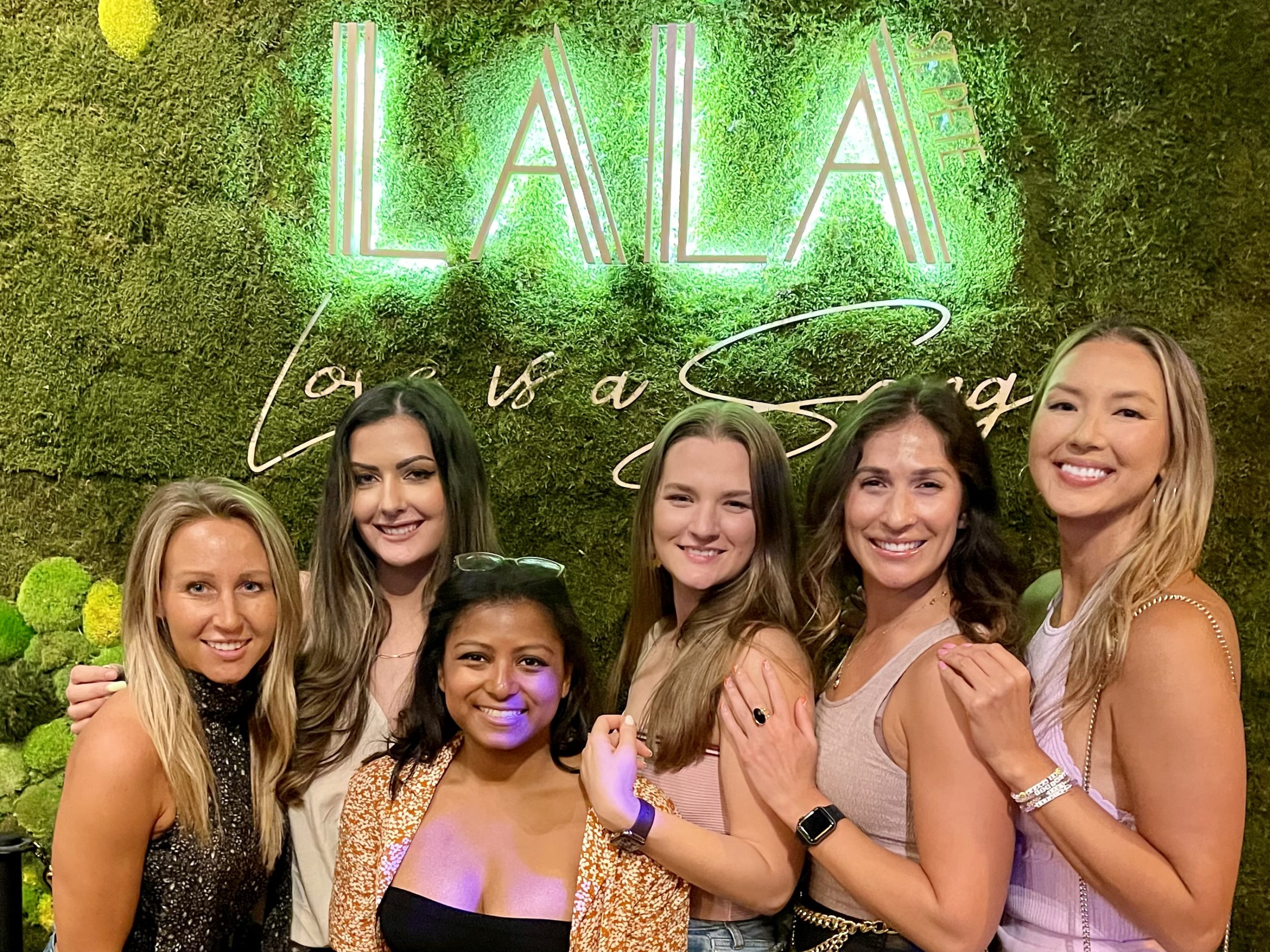 Karaoke, Rooftop Bar and Restaurant Dining in the Grand Central District, St. Pete
DISCLAIMER: Kevin, Lori, Abby, Haley, & Lindsey do not dine anonymously (this would be impossible) and we sometimes get free food (though never expected). However, we dine with the locals and we support our own. You will always get honesty in a respectful manner. We do not include any large national or regional chains in our ratings and reviews. We focus on independent locally owned eateries exclusively.

PLEASE NOTE: Reviews reflect a certain moment in time. Some restaurants stay extremely consistent over many years, and some change for the better or worse. Some things that may change are: chefs, recipes, food suppliers, ingredients, philosophies, ownership, etc. We always hope that you have the same good, or great experience we had.
More Foodies News, Reviews & Recipes