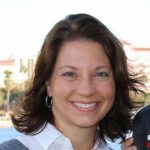 Michelle Ferrer · Oct 5, 2016 · 4 min read
A lone sweet potato. One pie crust. Half of an onion. Sad, wilted parsley.  Leftover tomato soup. These are the odds and ends I found while rummaging through the refrigerator last week. I admit--much to my chagrin--that I am the queen of wasting food. I stock my fridge with so many ideas: a week's worth of ideas. Inevitably things pop up, schedules change, life gets in the way; the food passes its prime and ends up in the garbage. I've cursed myself for the last time...
Now, what to make? Grilled cheese would have been the perfect complement to that tomato soup, but alas, we were nearly out of bread. Scratch that idea. What could I do with the other ingredients that would pair well with the soup? A Chopped challenge was on in my very own kitchen. And the result...Empanadas!
I can't think of a single thing that isn't made better by tucking it into a--portable--buttery crust? And in general, a good, hearty vegetarian empanada is hard to come by. The ones I typically find are cheese-filled and not very exciting: enter my sweet potato/black lentil creation. I sautéed that half onion with tiny, diced sweet potatoes. To keep these little bundles small, I used petite, caviar-sized black lentils to round out the mix; black beans were just too big. For a burst of herbaciousness, I refreshed that wilted parsley in ice water until it began to perk up.
There is nothing like the bubbled, crackling crust of a fried empanada. Since I don't fry at home, I baked these guys and, well, it turns out change is good. Reminiscent of a pocket pot-pie, the crust gets crisp and flaky, without needing to be submerged in oil. When it came time to serve, I knew they needed a little sauce--everything can use a bit of sauce. Some leftover plain yogurt, cumin, adobo seasoning, a squeeze of lime and my go-to smoked paprika created the perfect dip. It was creamy and smoky; the acidity cut through the richness of the filling. Both went perfectly alongside my tomato soup.
I roll the dice anytime I get creative in the kitchen. My husband is usually game for anything I concoct; the challenge lies with my seven year-old son. These empanadas turned out to be a hit; he ate them up and asked for more. The adage creativity loves constraint is so apropos when it comes to using up what's in the refrigerator; without that limitation, I just stand there staring into the abyss--doors wide open--for far too long. Despite my best intentions of becoming a better planner, perhaps I just need to embrace my inner procrastinator and plan a little less, shop a little less, and create a little more. A change is about to occur in my kitchen: from here on out, it's in with ingenuity and out with waste. Maybe less actually is more...