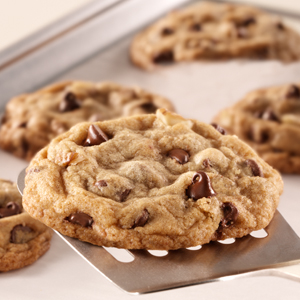 When I was growing up my grandma used to cook and bake all of the time.  I was the baker in the family along with Grandma.  Before she passed away, she hand wrote her recipes for me and I am going to share them with you.  Some of them are left up for interpretation so I will do my best.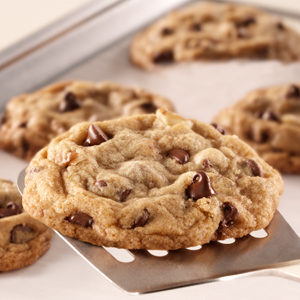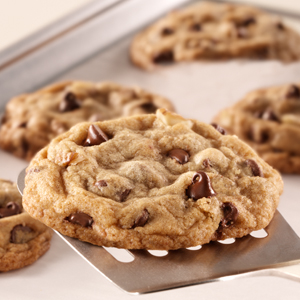 Grandma Brown's Chocolate Chip Cookies
Lori Brown
Grandma's cookies always came out perfect...every time we went to visit she always had them ready! She browned them a bit more than most cook there's so they were crunchy. I love them!!
Prep Time
15

minutes
mins
Cook Time
10

minutes
mins
Total Time
25

minutes
mins
Ingredients
1 cup

& 2 tbsps

all purpose flour

1/2

tsp

baking powder

1/2

tsp

Salt

1

large

egg

1/2

cup

sugar

1/2

cup

dark brown sugar

1

stick

butter

melted

1

cup

nuts

optional

1

package

chocolate chips

1/2

tsp

vanilla
Instructions
Nutrition Facts
Grandma Brown's Chocolate Chip Cookies
Amount Per Serving
Calories 116
Calories from Fat 45
% Daily Value*
Fat 5g8%
Cholesterol 12mg4%
Sodium 100mg4%
Potassium 72mg2%
Carbohydrates 16g5%
Protein 2g4%
Vitamin A 18IU0%
Calcium 23mg2%
Iron 1mg6%
* Percent Daily Values are based on a 2000 calorie diet.
Nutrition
Calories:
116
kcal
Carbohydrates:
16
g
Protein:
2
g
Fat:
5
g
Saturated Fat:
1
g
Cholesterol:
12
mg
Sodium:
100
mg
Potassium:
72
mg
Fiber:
1
g
Sugar:
14
g
Vitamin A:
18
IU
Calcium:
23
mg
Iron:
1
mg
DISCLAIMER: Kevin, Lori, Abby, Haley, & Lindsey do not dine anonymously (this would be impossible) and we sometimes get free food (though never expected). However, we dine with the locals and we support our own. You will always get honesty in a respectful manner. We do not include any large national or regional chains in our ratings and reviews. We focus on independent locally owned eateries exclusively.

PLEASE NOTE: Reviews reflect a certain moment in time. Some restaurants stay extremely consistent over many years, and some change for the better or worse. Some things that may change are: chefs, recipes, food suppliers, ingredients, philosophies, ownership, etc. We always hope that you have the same good, or great experience we had.
Written by Lori Brown
Co-Founder of St. Petersburg Foodies.
Founder of The Largest St. Petersburg Happy Hour List Ever.
Culinary Institute of America "DISH" Member.
Kansas City Barbeque Society Certified BBQ Judge
World Food Championships Certified Food Judge.
Certified Pizza Judge #13 by the Pizza Cookoff Association.
I have lived in the Tampa Bay area for most of my life. I would never want to live anywhere else besides St Petersburg. What an amazing thriving city we have!
I have owned my own businesses, and in my past careers I have set sales records in Pharmaceutical Sales and I'm a top performer in Real Estate.
I am a University of Florida graduate with a degree in Business Finance and love living in the Grand Central District of St. Petersburg. I am mom to a son in college (Noah), long-haired female chihuahua (Lola), and a leopard gecko (Leo).... I think he's a boy. (Kevin kind of stole my dog though. He calls her his "Puppy".)
I'm also a foodie that loves to cook, and eat out at great restaurants. Years ago, I even had my own food store (with my friend Lisa) in the location where Jimmy John's currently resides on 4th Street North just south of 9th Avenue North called Weekday Gourmet. I've also been to Napa and Sonoma on wine vacations eight times.
Kevin and I used to go out 4 - 5 nights a week and write reviews on our own timelines. Because of this, I am always asked by people where they should go, what they should order, etc. When we created the group it just seemed natural since we were already doing that. I love to write and take photos, so it just all works.
Life couldn't be better!
View all posts by: Lori Brown
More Foodies News, Reviews & Recipes
Comments are closed
#stpetersburgfoodies #stpetefoodies
Sponsors
Recent Posts
September 27, 2023

Italy Bottega Turns Up the Heat With a New Executive Chef and Menu

On June 3, 2020 Federico Fanelli bravely opened Italy Bottega in the midst of the beginning of the Covid-19 pandemic. Nobody really knew anything back then about this virus causing the pandemic, how long it would last, and how bad it would be. But he persevered. Born in Venice and raised in Rome, Federico believes that the rich Italian culture and cuisine represent a way of life meant to be experienced, tasted and enjoyed by everyone. So when he opened here, he aspired to bring a taste of Italy to St Pete. Federico recently reached out to us to invite us in for dinner, since we had not been when he was at the helm. The restaurant itself has a cozy, rustic, warm and inviting atmosphere. There are many bottles of wine for sale to take home, as well as other Italian market items. Federico had a management team running the business for about a year and he is now back at the helm since April of this year. Federico has now hired Chef Daniel Rabice, formerly of A Mano on 4th St N before it closed for a complete revamp. Chef Daniel has worked in and around St. Pete for many years and has a large following of clientele who come to eat his Utica, NY style of Italian cooking. The current menu features a few of his signature Utica dishes such as his Chicken Riggies and Rigatoni Carmine Rabice. While we were in for dinner on this occasion a table near us had driven from Sarasota for Chef Rabice's cooking. When we arrived Federico treated us to a lovely glass of Sicilian Catarrotto Insolia Chara. It is a refreshing white wine with notes of grapefruit and lemon zest. I really enjoyed this and would have it again. Up first for food we had the rustic, yet luscious Meatballs Ricotta – homemade marinara, parmigiana reggiano and basil with a fresh scoop of ricotta. If meatballs are on the menu, Kevin must get them. These received the Kevin Godbee stamp of approval and I would order these every time. The scoop of ricotta just takes them to the next level. A special featuring chunks of lobster in a scrumptious cream sauce with heirloom tomatoes and spaghetti? Yes, please. This was a no brainer. It tastes as good as it looks. The lobster was cooked to perfection – delicate and buttery. All of the flavors just sang in your mouth. I wouldn't normally order Shrimp Scampi, it's not really my thing, but we wanted to step out of our wheelhouse and our waiter suggested it. This one is made with garlic, lemon, white wine, butter, orange liqueur, fresh angel hair and topped with a blood orange. It's beautiful and the sauce had such a nice, light flavor combination but you could tell that the pasta water had not been salted (the pasta was missing that starchy, somewhat salty flavor) and was a tad overcooked and so were the shrimp. The red wine that Federico brought over for our next dishes was outstanding. It's a Valpolicella Ripasso Superiore. This was stunning with a rich, warming mouth feel, notes of red fruit, spices and cocoa on the nose, well rounded tannins and a slightly vanilla finish. It was so good, we bought a bottle to bring home. The wine paired beautifully with the Lasagna Bolognese – bolognese made with veal, pork and beef in a decadent besciamella sauce. Wow. Is all I have to say about this. How Kevin is with meatballs, I am with lasagna and I could eat this every day. It's rich and decadent with flavors that just marry perfectly together. In fact, I just finished the leftovers today for lunch. Amatriciana is just one of those dishes that I also crave and love to order wherever I go. This one is made with guanciale, san marzano tomatoes, pecorino romano and served with spaghetti or rigatoni. For us, it was a tad under seasoned and the spaghetti had the same issues of no salt in the pasta water and the pasta was not al dente. It was a very good dish besides those two things. Honestly we never knew about salting the pasta water to infuse the pasta as it cooks, until about five years ago. It really makes such a difference once you know. There are many people out there that this would not matter to at all. In closing, we thoroughly enjoyed our Italy Bottega experience. Federico will take great care of you. He was out on the floor with all of the customers while we were there. It's a place that makes you feel like home.
Recipes
September 6, 2023

Sausage and Egg Breakfast Sandwich with Pimento Cheese

Breakfast sandwiches and Pimento Cheese are arguably two of the greatest pleasures known to food. A breakfast sandwich on Saturday morning after an evening of libations always hits the spot. And pimento cheese is best enjoyed anytime, period. The two of them together make for the perfect savory marriage – a true sandwich delight. I've consumed plenty of pimento cheese in my life and never realized how simple it was to make until a few years ago. There are tons of pimento cheese renditions out there. Some use yellow cheddar, others use a mix of yellow and white, some call for cream cheese only, others call for a mix of cream cheese and mayonnaise, and so on. This recipe calls for a mix of cheddars, cream cheese and mayonnaise and instead of cayenne, I use hot paprika. I really love the hint of smokiness and faint note of heat that it brings to the table. The toughest part about this recipe is allowing it to chill in the fridge for a couple of hours without digging in. This not only cools the cheese, but it also encourages the ingredients to meld together nicely. If you don't have the time nor desire to make pimento cheese, Rollin' Oats has you covered. They carry a classic sharp cheddar pimento cheese by Red Clay that's ready to eat and ultra delicious. The sandwich ingredients are flexible. For example, you don't have to scramble the eggs. If you prefer to cook them sunny side up, over hard, etc., please feel free to do so. I just encourage you to just buy quality eggs, preferably cage free and/or organic. That's one of the best things about shopping at Rollin' Oats – they always have premium, quality ingredients and brands on their shelves. Like the eggs, the sausage and english muffins used can be whatever you prefer. For the muffins, I like to use Dave's killer whole wheat when they're available. If I can't find those, Rollin' Oats also carries Food for Life 7 Sprouted Grains organic english muffins and I typically use those in place of the Dave's Killer muffins. Regardless of your ingredient preferences, make this super simple sandwich next weekend and savor every delicious bite. Keep the leftover pimento cheese in the fridge up to a week for premium snacking purposes. Sausage and Egg Breakfast Sandwiches with Pimento Cheese Recipe Not only is this pimento cheese delicious on this sandwich, but it also makes for an ideal snack on its own. It's super simple to make – perhaps the only difficult part is resisting the urge to dive into the mixture while it's chilling. Pimento Cheese1 1/2 cups extra sharp yellow cheddar cheese (finely grated with a box grater)1 1/2 cups extra sharp white cheddar cheese (finely grated with a box grater)1/4 cup mayonnaise1/4 cup cream cheese1/4 tsp hot paprika (like simply organic)1/4 tsp salt (plus more, to taste)1/2 cup pimentons (minced)Sandwiches4 english muffinspimento cheese4 sausage patties (you can also buy ground breakfast sausage or uncooked sausages (casing removed) and form your own patties)4 eggs (preferably organic/cage free)2 tsp olive oil (divided)saltpepper Pimento CheeseCombine and mash all ingredients in a medium sized bowl with a fork until everything is well combined. Season with more salt as needed and chill in the refrigerator for at least two hours.Sandwich AssemblyHeat oven to 350F. Line a baking sheet with parchment paper. Heat 1 tsp oil over medium-high heat in a medium skillet and cook sausage patties for 3-4 minutes per side until they begin to brown.Place the patties on the baking sheet in a single layer along with the english muffins. Put those into the oven while you cook the eggs (5-6 minutes).Crack eggs into a bowl and whisk them to combine – season with a pinch of salt and pepper. Heat the same skillet that you cooked the sausage in over medium heat and add remaining oil. Pour in the eggs and cook for 2-3 minutes undisturbed. Carefully flip the eggs on to the other side and cook for another 1-2 minutes undisturbed. Remove from skillet and cut/divide eggs into 4 even segments.To assemble the sandwiches add the egg to the bottom part of the muffin, then sausage and top with egg. Slather the top of your muffin with pimento cheese.Close up the sandwich and enjoy! Appetizer, BreakfastAmericanPimento Cheese, Sausage And Egg Breakfast Sandwich

August 1, 2023

Smoked Salmon & Crispy Rice Bowl Recipe

Up your at-home brunch game with this smoked salmon & crispy rice bowl that is both impressive and easy to assemble. If you're familiar with standard caviar service, you'll note that this dish is composed using most all of the ingredients served alongside caviar. The only thing missing is a potato element and in its place, we're using the crispy rice as the vehicle for delivering the other components. The result is a delicious bite that is certain to please due to all of the different flavors and textures involved. This dish does not just have to be limited to brunch of course – it would be ideal most any time of day. Simple, yet luxurious, this would be the perfect meal to serve when guests are scheduled to come over. The cook time is minimal, but the end product is quite beautiful. The only detail that you'll have to plan for is having some cooked rice from the day before ready to go in the refrigerator. Additionally, because it is a light and vibrant recipe, it won't have you and your company feeling sluggish and overly stuffed. Making the crispy rice is incredibly easy as long as you can nail the inversion process, which is much more simple than you may think. I serve this crispy rice alongside a myriad of other items like roasted vegetables, grilled fish and meats and in soups and tangy broths. The overall texture is quite desirable because you get the best of both worlds – crispy bits that cooked on the bottom of the pan and also soft and semi-fluffy grains. As far as the salmon and the salmon roe are concerned, feel free to use your preference and/or whatever is available to you. Rollin' Oats sells quality wild caught smoked sockeye salmon by Spence & Co. which I recommend if Rollin' Oats is local to you. As for the salmon roe, you can find Romanoff red salmon caviar/roe on the shelves at Rollin' Oats as well. Salmon roe works great in this bowl and is also a bit more affordable than other types of caviar. However, if you have access to other variations of caviar and are wanting to spend a bit more money, absolutely go for it. Adding that bit of soy sauce at the end to each bowl is not necessary, but I do suggest drizzling just a touch to satisfy your tastebuds. It has a hand in rounding out the dish and adds a bit more of that umami that we all crave, in my opinion. Smoked Salmon & Crispy Rice Bowl Recipe In this brunch bowl, we have all of the ingredients for standard caviar service, but with crispy rice & smoked salmon adding main character energy. nonstick skillet 2 cups cooked white rice (any will do, preferably cooked the day before)4 oz smoked salmon (like Spence & Co. wild sockeye salmon)4.5 oz salmon caviar (Rollin' Oats has Romanoff which works great)1/2 ripe avocado (peeled and divided in equal halves)2 eggs (preferably organic and pasture raised )2 tbsp creme fraiche1 tbsp soy sauce (plus more for serving)1 tbsp mirin1 tbsp olive oil2 tbsp chives (minced)salt Jammy EggsAdd enough water to a medium saucepan to cover eggs (do not put eggs in yet) and bring to a boil. Carefully lower in eggs and set a timer for 6 minutes. Prepare an ice bath for eggs in a medium bowl using lots of ice and some cold water. When time is up, remove eggs and place in ice bath for 5 minutes to stop cooking. Remove eggs from bath, discard water and ice and carefully peel eggs. Cut eggs in half and set aside until ready to assemble bowls. Crispy RiceCombine 1 tbsp soy sauce and mirin with cooked rice. Heat a medium sized nonstick skillet half way between medium and medium-high heat and add oil. Pack rice evenly into skillet.Cook rice until edges begin to turn golden, 8-10 minutes. Carefully place a heatproof plate on top of skillet (topside of plate should be touching the skillet) and invert rice from skillet onto plate.Bowl AssemblyTo assemble bowls, spoon in some crispy rice, top with some salmon, creme fraiche, avocado, half of the eggs, fresh chives and top with a spoonful or two of salmon roe. Finish with a pinch of salt if you'd like and a another drizzle of soy sauce (use as much or as little as you'd like). Breakfast, Main CourseAmericanCrispy Rice, Crispy Rice Bowl, Smoked Salmon

Something about summertime just makes me want to fire up a grill on the regular. Balmy evenings, ice cold drinks, good company and the smell of delicious food cooking away on a blazing hot grill – I love everything about it. However, here in Florida during the summer months, the temperature, especially during the day, can be a bit too warm to spend a considerable amount of time outdoors. Therefore, quick and simple grilling recipes are always what I'm in search of. These easy and incredibly satisfying pork chops with jalapeño & peach puree are ideal for scratching that grilling itch on even the hottest of summer days. Make the puree indoors before heading out to grill the pork chops and then you're under 20 minutes (including grill heating time) from dinner. The ingredient list for this dish is minimal and you probably have the majority of the items on hand already. If not, Rollin' Oats is your one stop shop for grabbing everything you need, including quality pork loin chops. They carry Niman Ranch pork loin chops that never have any antibiotics or hormones added and they come in a convenient two-pack. When grilled, these pork chops are ultra juicy with smokey notes. In my opinion, all they need are a good brush of quality olive oil and some salt and pepper – that's it. If you want to level up these chops, you could cook them via sous vide for 1 hour prior to grilling. That's only a suggestion though – the pork chops are great enough without that step. To complete the meal, I suggest serving these pork chops along side a simply dressed, cool and crisp salad. Save any leftover charred jalapeño and peach puree for the next week or so and use it with other meals like tacos, sandwiches, rice bowls, chicken, etc. Pork Chops with Charred Jalapeño & Peach Puree Recipe This savory and sweet combination is best enjoyed outdoors with a cold beverage on a balmy summer evening. The puree is fantastic with a myriad of things – chicken, sandwiches, tacos, rice bowls, and so on. Blender Pork Chops4 pork loin chops1 tbsp olive oil1 tsp salt (plus more as needed)peppercilantro ((optional))Charred Jalapeño & Peach Puree2 peaches (make sure they are very ripe – remove/discard pit and cut peach into chunks)2 jalapeños1 shallot (medium in size, peeled and roughly chopped)1 lime (juice only)3 tbsp olive oil1 tsp honey1 tsp salt (plus more as needed) Charred Jalapeño & Peach PureeHeat oven to broil. Line a baking sheet with parchment paper and broil jalapeños until they begin to char at around 7-9 minutes (keep an eye on them as they will take on color quickly as they begin to char and you don't want to burn them).Set jalapeños aside until they're cool enough to handle. Carefully cut away seeds and stems and discard. Add jalapeño flesh to a small high powered blender or food processor with peeled and chopped shallot, peaches, lime juice, honey, olive oil and salt. Blend for 30-45 seconds or until puree is smooth. Season with more salt as needed.Pork ChopsPrepare grill by cleaning the grates and heating to medium-high heat – ideally 400-450F. Brush pork chops with olive oil and season with salt and a few cracks of black pepper.Grill pork chops directly over the heat, turning once halfway through, for about 10-12 minutes or until they reach 140F. They should have some beautiful grill marks on each side as well.Allow them to rest for a few minutes then slice and serve over peach puree and garnish with cilantro (optional). Condiment, Dinner, Main CourseAmericanCharred Jalapeño & Peach Puree, Pork Chop

June 1, 2023

Lamb Meatballs with Tzatziki & Mint Gremolata Recipe

Meatballs are typically something I associate with a rich red sauce like marinara and a giant plate of spaghetti. However, the temperatures are rising, spring is in the air and summer is around the corner and lately I've been craving lots of vibrancy in my meals. These lamb meatballs with tzatziki and mint gremolata are the perfect dish to enjoy during the warmer months. Bright, zingy and herbaceous – you'll be coming back to this satisfactory combination time and time again. I admittedly do not typically cook a ton of lamb – I find that it is easy to overcook which in turn, makes it a bit tough and gamey. The end product of this juicy meatball recipe though leaves for tender and delicious meatballs. The key is to not cook the meatballs for too long in the oven and also to not overwork them when forming them into their shape before baking. Additionally, buying quality ground lamb (and quality ingredients, in general) makes all the difference in the world. Rollin' Oats carries grass fed ground lamb by Thomas Farms, which I highly recommend. You don't have to make your own tzatziki if you don't want to; however, the process is actually quite simple. In the event that you're pressed for time, or would just simply like to skip crafting your own tzatziki, Rollin' Oats carries a few different options. For those avoiding dairy, may I suggest Kite Hill dairy-free, and for anyone else, perhaps reach for Cedar's Tzatziki. In my opinion, the mint gremolata is what really brings the dish together. Gremolata is traditionally made with parsley, lemon zest and garlic as its main ingredients. But, this rendition is made with mostly mint and a touch of fresh dill. It adds an extra lively zing that is really lovely. You could go the standard route though and opt for Parsley – in fact, feel free to use any kind of fresh herb that you'd like. Crafting gremolata with basil is one of my favorite ways to make it. Serve these meatballs alongside warm pita and lemon wedges and enjoy this with a group as an appetizer, or simply as your main course. Either way, you'll discover that these meatballs will be loved by all. Lamb Meatballs with Tzatziki & Mint Gremolata Recipe These meatballs are bright and herbaceous enough on their own, but tzatziki and zingy gremolata really liven up the party. Feel free to swap out the lamb for ground beef or turkey. Meatballs1 lb ground lamb (you can also use ground beef or turkey instead)1/2 cup panko 1/2 cup parsley1 egg3 garlic cloves (grated)1/2 medium white onion (grated)1 tbsp dried oregano1 tsp cumin1 tsp salt1/4 tsp black pepperpita and lemon wedges (optional – for serving)Tzatziki1 cup greek yogurt1/2 cup english cucumber (grated)2 garlic cloves (grated)1 tbsp olive oil1 tbsp lemon juice1/4 cup dill (chopped)1/2 tsp saltMint Gremolata3 tbsp mint (finely chopped)1 tbsp dill (finely chopped)1 lemon (zest of entire lemon and juice of 1/2 lemon)3 garlic cloves (grated)1 1/2 tbsp olive oilsalt (to taste) TzatzikiAdd grated cucumber to a clean dish cloth or cheese cloth and squeeze out as much liquid as you can.Add cucumber to bowl with remaining Tzatziki ingredients and mix well. Season with salt as needed and refrigerate until ready to use.MeatballsPreheat oven to 400F. In a medium bowl, combine ground lamb, panko, parsley, egg, grated garlic and onion, cumin, oregano, salt and pepper. Mix well.Line a baking sheet with parchment and form meat mixture into golfball-size meatballs. Place meatballs on prepared baking sheet.Bake for 18-20 minutes, flipping meatballs at 9-10 minute mark, until cooked through (meatballs will take on slight color). Be sure not to overcook them, as they will become tough.Mint GremolataWhile the meatballs bake, whisk all gremolata ingredients in a small bowl until well combined. Season with salt as needed.AssemblySpoon and smear Tzatziki on a plate, add a few meatballs, spoon over gremolata and serve with warm pita and lemon wedges. Appetizer, Dinner, Main CourseAmerican, GreekGreek Meatballs, Lamb Meatballs

May 1, 2023

Fish Tacos with Spicy Mango-Cabbage Slaw Recipe

Grilling hasn't always been my forte or preference when it comes to cooking, but I've learned to love it as of recent. In fact, this Spring, my husband and I have probably grilled more dinners than not. It has inspired my cooking and sparked my imagination. An added bonus has been spending even more time outdoors before the summer heat sets in. Tacos are a favorite of mine when it comes to grilling. I love getting nice smokey and charred notes on my protein of choice and intermingling that with bright toppings to balance things out. For an added bonus, I also enjoy letting the tortillas get some time in on the grill too in order to achieve some grill marks and warmth. It all just totally works. When it comes to tacos, I typically opt for the "less is more" philosophy. I've learned that too many toppings usually just leads to a mess of overstuffed tacos with too much going on. Because of this, I try to keep things simple with just a few different components. I like to have a distinctive filling/protein with either a salsa or slaw for vibrancy and some kind of crema or drizzle to bring it all together. Additionally, you can always find me serving tacos with lime wedges and fresh cilantro – that's it. These particular tacos stay consistent with that formula. Marinated, flakey, wild-caught cod, a spicy mango-cabbage slaw and an avocado crema to round things out. They're lively, zesty and full of flavor. You don't have to use cod – any white fish will work. Mahi Mahi or Halibut would also be quite nice here. Rollin' Oats has frozen wild caught filets with superb quality. When cooked, they're supremely flakey and mild in taste. They also absorb marinade ingredients well which complement the fish without overtaking its natural flavor. The spicy slaw adds a great bit of texture, level of freshness and also a subtle touch of fire from the jalapeno and tajin. If you don't have tajin (which is essentially a seasoning blend of peppers, lime and salt), chili powder will work just fine in its place. As far as tortillas are concerned, everyone always has their desired choice. Mine happens to be the smaller street style taco flour tortillas. To me, they're much less overwhelming and easier to consume. However, there are plenty of other great options out there. At Rollin' Oats, they have a plethora of options, including, but not limited to: hard shell, flour, corn, grain-free, etc. Stacey's organic white flour tortillas and Siete Foods almond flour tortillas are my favorite offerings of theirs, but again, choose your own journey. Fish Tacos with Spicy Mango-Cabbage Slaw Recipe These tacos are light and vibrant with a touch of zing. Grilling is the preferred method for preparation; however, air frying or searing in a skillet will work just as well. Spicy Mango-Cabbage Slaw1 cup red cabbage (chopped/shredded)1 cup green cabbage (chopped/shredded)1/2 red onion (sliced thin)1 jalapeno (seeds and stem discarded and minced)1 mango (peeled and cut into small cubes)1 lime (juice and zest)1/4 cup cilantro (chopped)2 tsp tajin (chili powder can be used as a substitute )2 tbsp olive oil1 tsp salt (plus more to taste)Avocado Crema1/2 avocado1/4 cup sour cream1 lime (juice only)1/4 cup water (as needed)1 tsp saltFish Taco Assembly8 flour tortillas (use whatever kind you like – we love smaller street taco tortillas, but any will do)1 lb cod (or other flakey white fish)2 limes (one for the fish marinade and one cut into wedges for serving)2 1/2 tbsp olive oil1/2 tsp cumin1/2 tsp paprika1/2 tsp salt1/4 tsp black peppercilantrohot sauce Spicy Mango-Cabbage SalwCombine all ingredients in a medium bowl. Season with salt as needed and refrigerate until ready to assemble tacos.Avocado CremaAdd all ingredients to a food processor and blend until mixture is smooth but semi-easy to drizzle. Add water 1 tbsp at a time and blend and repeat as needed. Season with salt to taste.Fish and Taco AssemblyIn a medium bowl, combine 2 tbsp olive oil, juice of 1 lime, paprika, cumin, salt and pepper. Add cod, coat in mixture and allow to sit and absorb marinade for at least 20 minutes. Heat grill to medium high and brush grates with remaining 1/2 tbsp of olive oil. Grill fish 3-4 minutes per side until cooked through. Remove from grill.Optional step: while fish cooks, add tortillas to grill and heat for 30 seconds or so.Break fish into smaller segments. For taco assembly, spoon in some slaw, add fish segments, top with a touch more slaw, drizzle with crema and top with cilantro. Serve with lime wedges and sides of choice, like grilled corn or rice and beans. Dinner, Main CourseAmerican, MexicanFish Taco Recipe, Mango-Cabbage Slaw