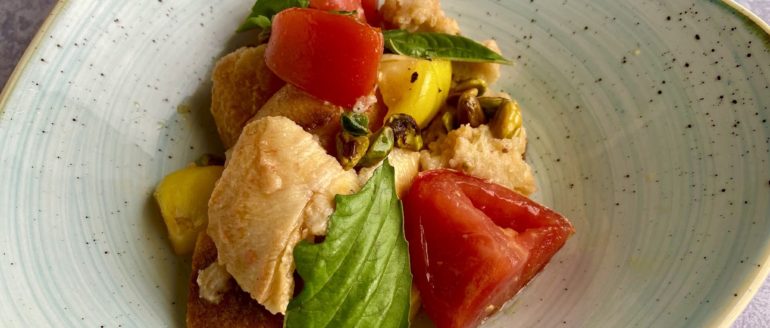 Every ounce of good news is certainly welcome this year, wouldn't you say? We caught wind of the possible opening of a second Grace Restaurant possibly near downtown St Pete, so we caught up with the dynamic husband and wife team, Chef Marlin Kaplan and Lisa Masterson, co-owners of Grace, for some answers.
And the answer is they are opening a second full service restaurant, but not downtown. The aptly named Two Graces, will be opening on Central Avenue in the parking lot of the freeFall Theatre where The Reading Room was formerly located. They don't want to state an actual date yet, so they are just saying before the end of the year.
The concept is something like you have never seen before. The plan is to utilize the outdoor patio that is already in place and to build covered pergolas, in the massive under utilized outdoor space by the gardens, that will feel elegant, cozy and incredibly inviting. Romantic lighting will also be provided by lighting up the big tree outside. Because of the amount of seating the outdoor space will provide, they will also be able to host a full liquor bar and are working on some delicious conceptions for their signature cocktails.
Below is a smaller version of what the pergolas are going to look like. Chef Marlin says, "it will have a roof and it won't have lattice in the back, it will all be open. We will have misters and lighting in the pergolas. Heaters will be out for the winter time. All of this to help the outdoor setting function for all seasons. We both believe that this is the future of dining. Even if there is a vaccine ready tomorrow, many people still won't want to dine inside, that's why we are investing all of this energy to the outside."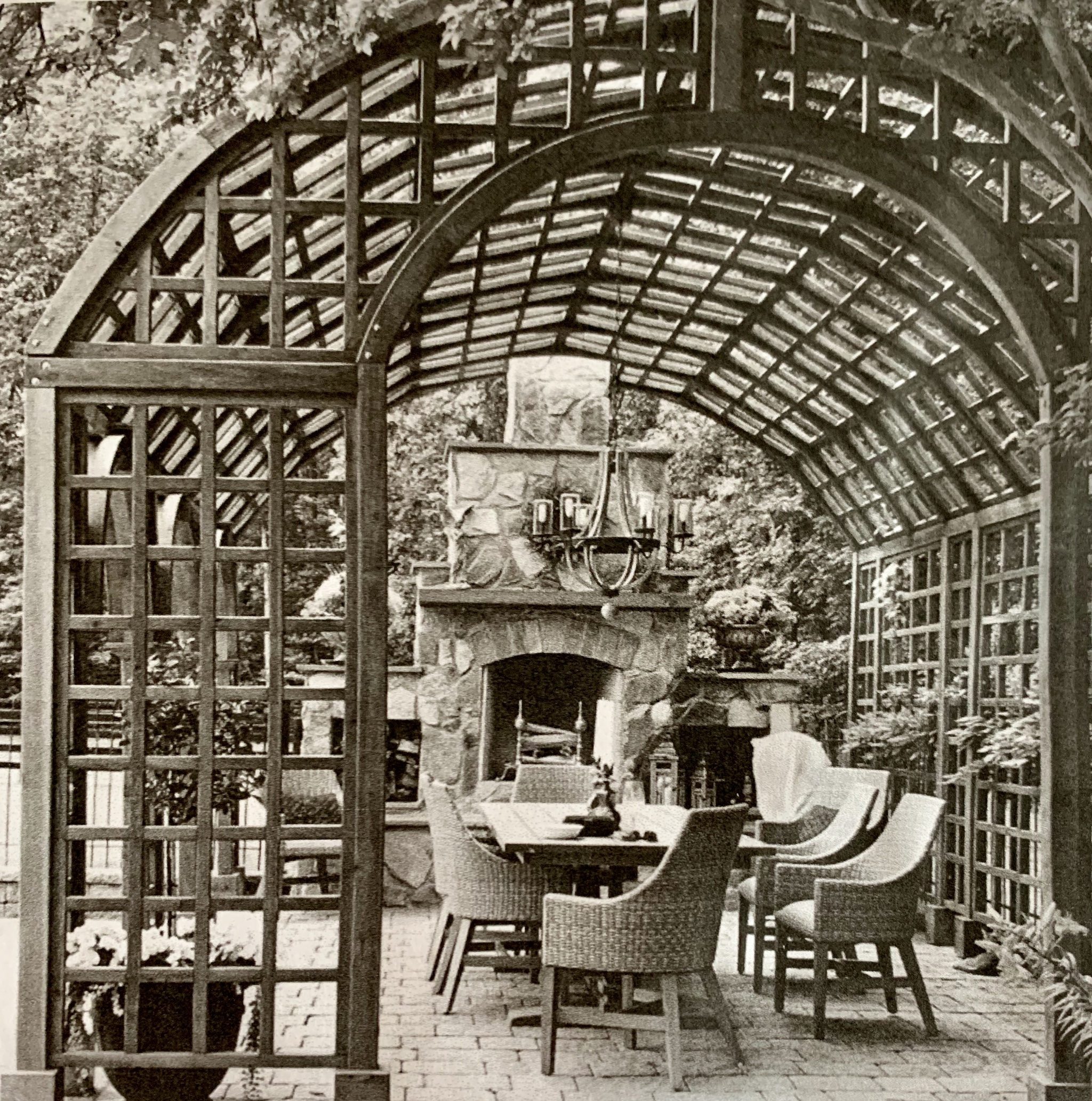 According to Wikipedia – A pergola is an outdoor garden feature forming a shaded walkway, passageway, or sitting area of vertical posts or pillars that usually support cross-beams and a sturdy open lattice…
Pergolas are sometimes confused with arbours (arbors in American English), and the terms are often used interchangeably. An arbour is generally regarded as a wooden bench seat with a roof, usually enclosed by lattice panels forming a framework for climbing plants. A pergola, on the other hand, is a much larger and more open structure and does not normally include integral seating.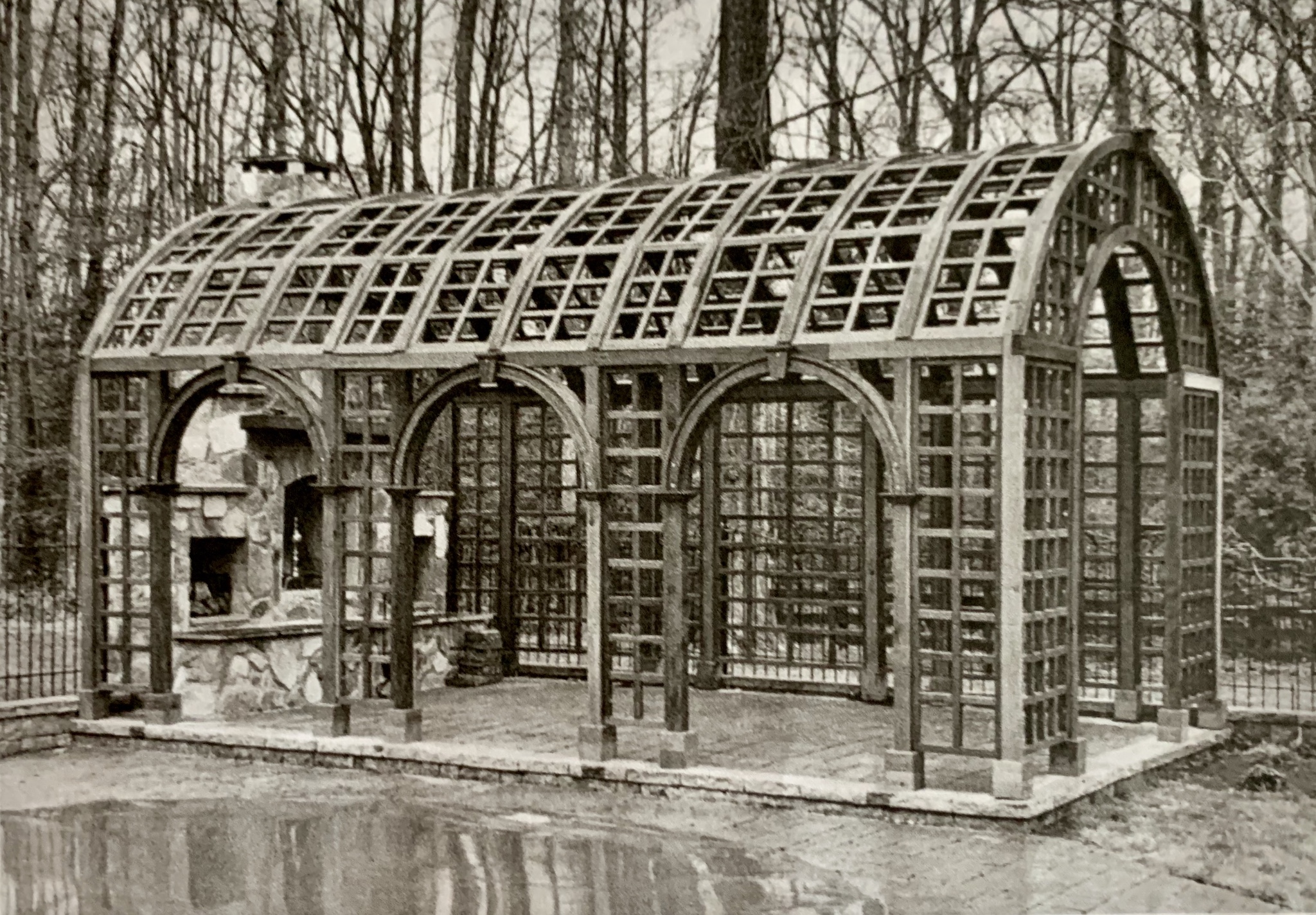 Of course, inside dining will be offered as well. They have plans to soften the interior by taking down the driftwood, upholstering the seats in velvet, draping velvet throughout the ceiling to help soak up noise in the room and they plan to use cloth table coverings to add that extra elegant touch both indoors and out.
The current pasta chef at Grace and Gracie Pasta & Provisions, Giuseppe De Lorenzo, will move over to be the Executive Chef of Two Graces. They have promoted their current Chef de Cuisine, Jedd Yudelson, to Executive Chef of Grace Restaurant. Marlin and Lisa will split their time up to be hands-on at both restaurants.
At this point, Two Graces is still a concept while waiting for permitting, however, a well thought out one with a menu already in place. It's not a menu we can publish at this time so Chef Marlin offered to make us a few dishes from the menu that we could share now.
Kevin went to Grace this past Wednesday to taste and photograph a few of the dishes. So what you will read below is mostly Kevin's commentary on the dishes. Anything he wrote will be in italics. All photo credit belongs to Kevin as well.
We will start with a couple of the starters on the menu the first is Glop made of parmesan, asiago, red chilis, extra virgin olive oil and served with seasonal vegetables and crackers. Glop I have had many times before, as they sell it at Gracie Pasta & Provisions next door. At home we glop it onto fresh baguette slices (fresh baked baguettes sold at Gracie daily as well) and toast it in the oven. The version for Two Graces is a healthier way to eat it for sure. But anyway you eat glop it is just a delicious concoction that one must have!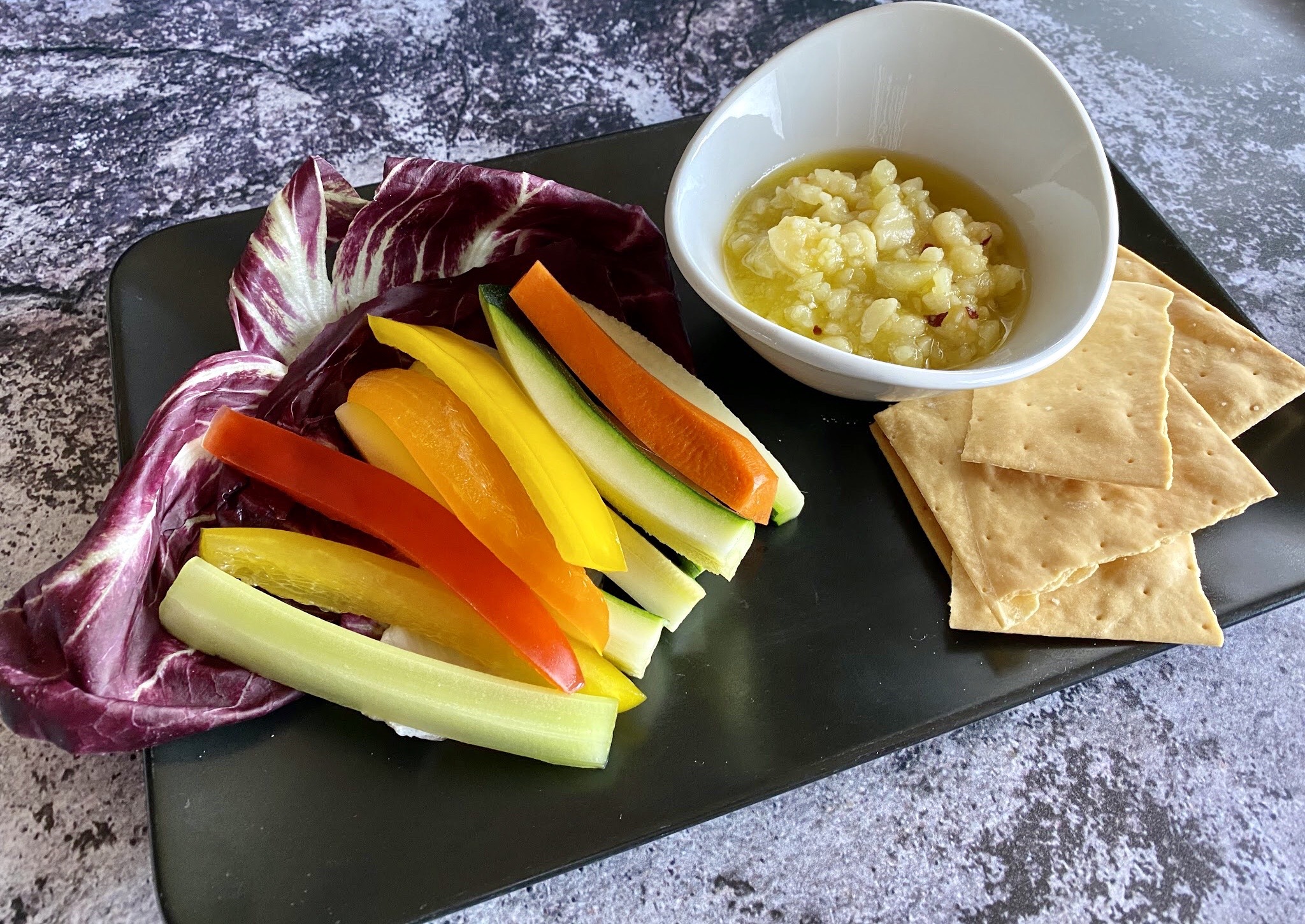 The next appetizer is Sardines with salted butter, radishes and Triscuits. We knew that radishes and butter were a great pair, and adding sardines to it gives the dish a whole new dimension. They are not really my thing, but Kevin enjoyed it. He said the triscuit crackers were a fun touch.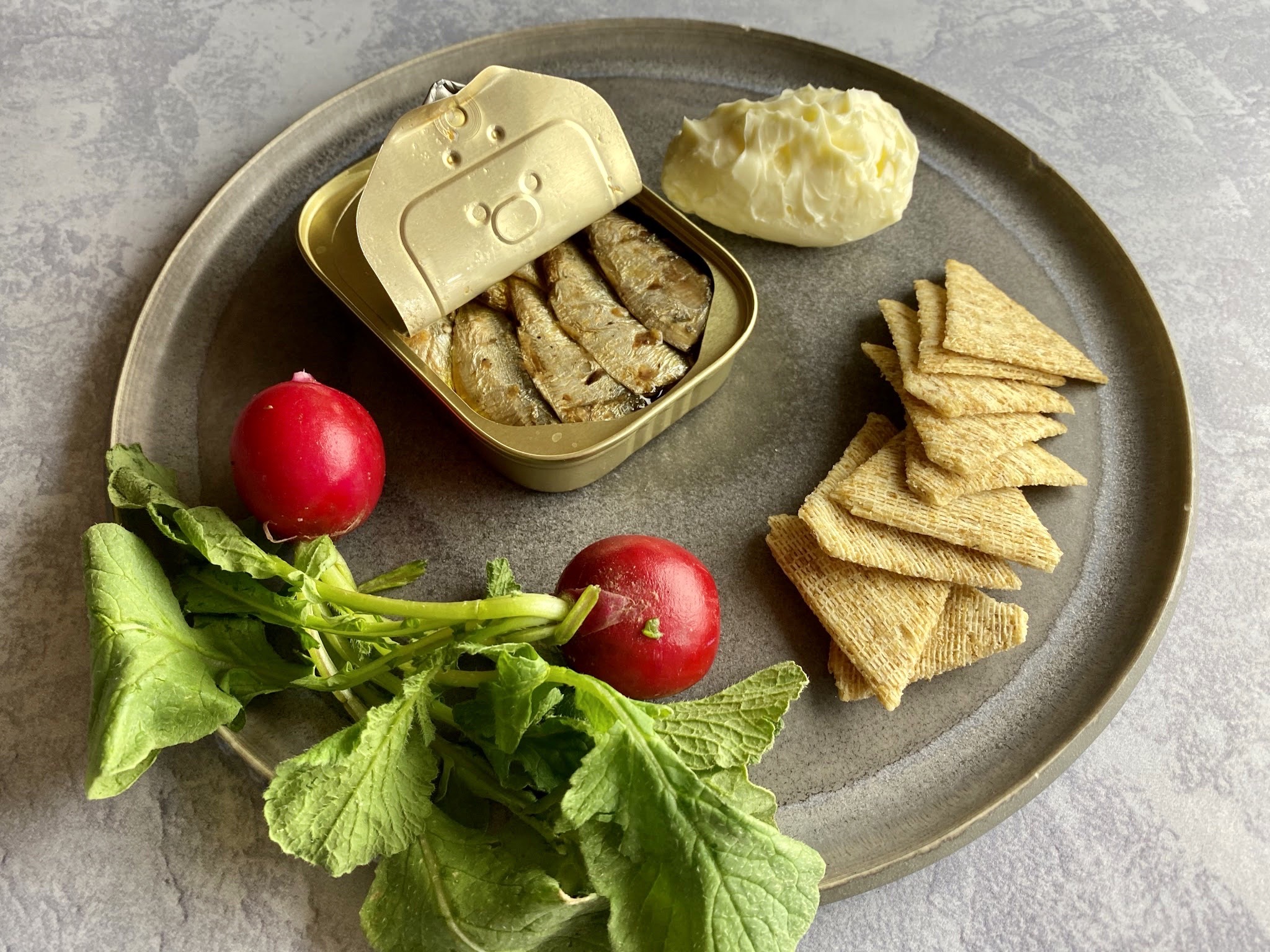 In the Salads section of the menu is the Heirloom Tomato Panzanella with fried pistachios and orange blossom water.
The Panzanella was great. The chewiness of the bread combined with super fresh and ripe tomatoes, along with pistachios really takes this humble Tuscan salad up a notch. The fresh basil adds a nice grassy high note to it too.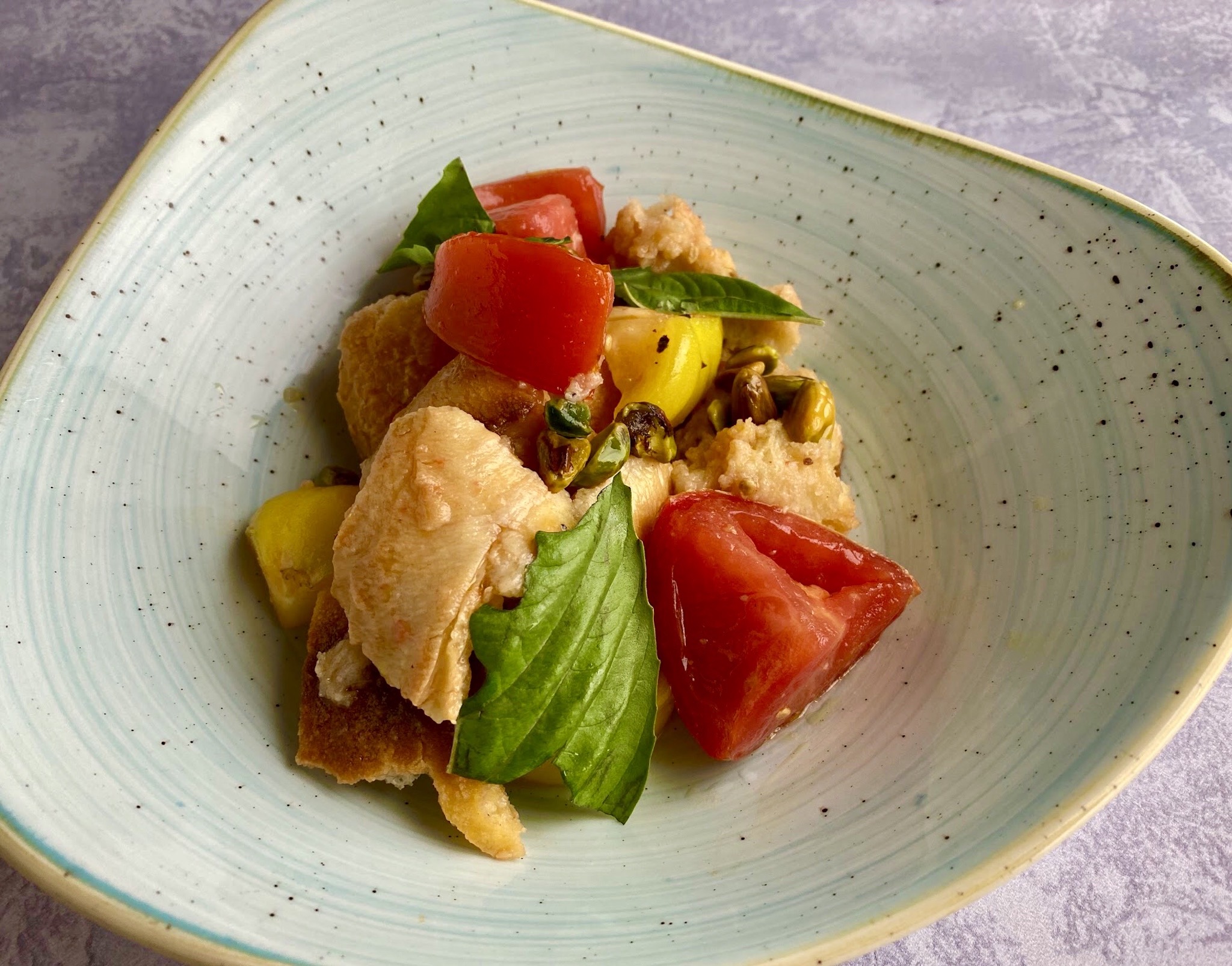 The first item from the Dinners section of the menu is the Roasted Baby Pumpkin stuffed with pumpkin risotto and parmesan tuile.
Risotto is always a winner. Who doesn't love the creamy, starchy, chewiness of it, and the rich comfort food flavor and mouthfeel? Leave it to Executive Chef Marlin Kaplan to combine it with pumpkin, and now it feels like a holiday in your mouth. This is my second favorite of the dishes I tried. The fettuccine and filet mignon were tied for first.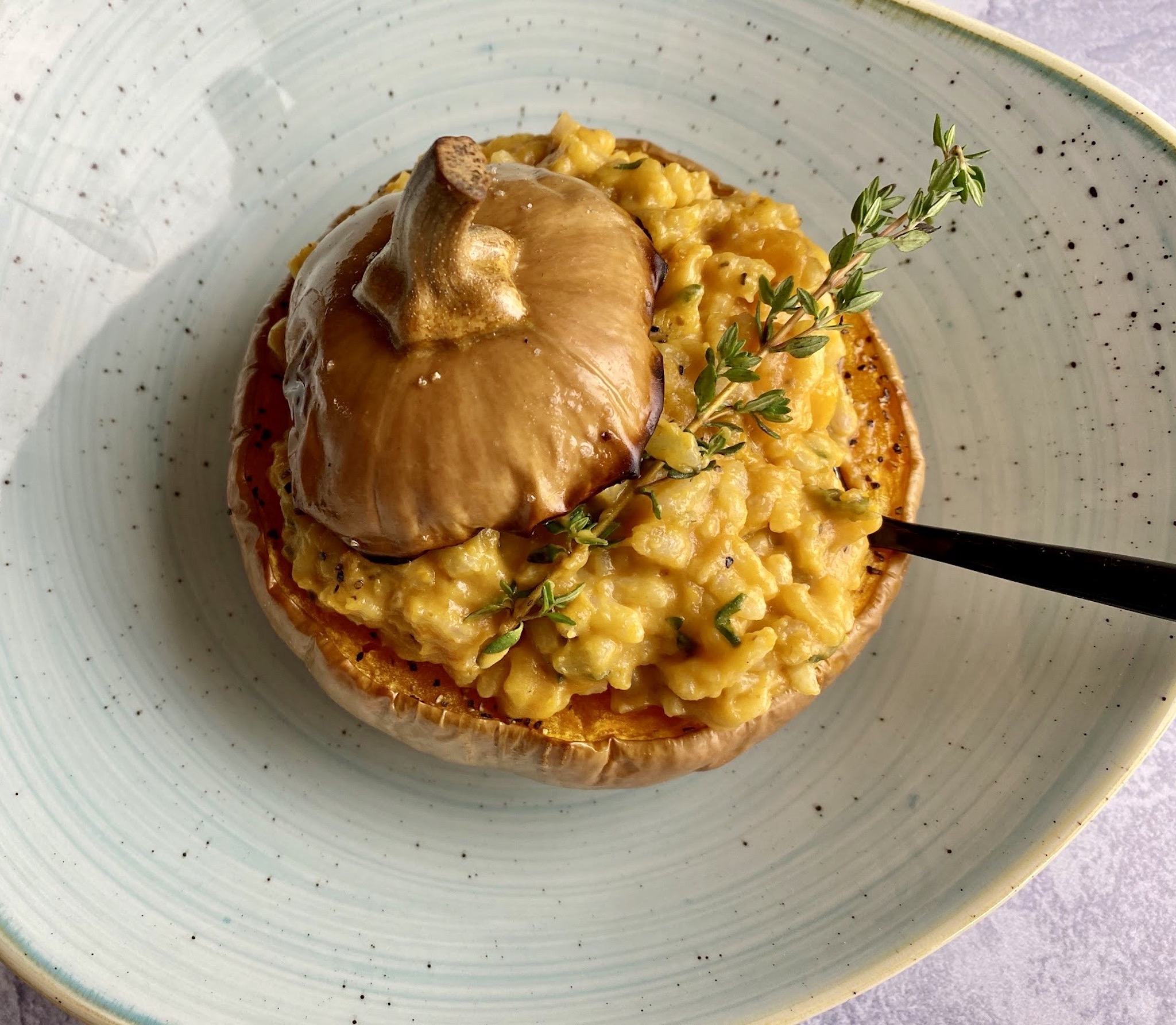 Next up is the Gracie Fettuccine with wild & tame mushrooms, goat cheese and herb butter.
The creamy sauce, earthy-chewy mushrooms, and the texture and perfect al dente on the pasta make this one addictive and craveable. I kept going back to it, and still want more. It's a great example of simpler is better.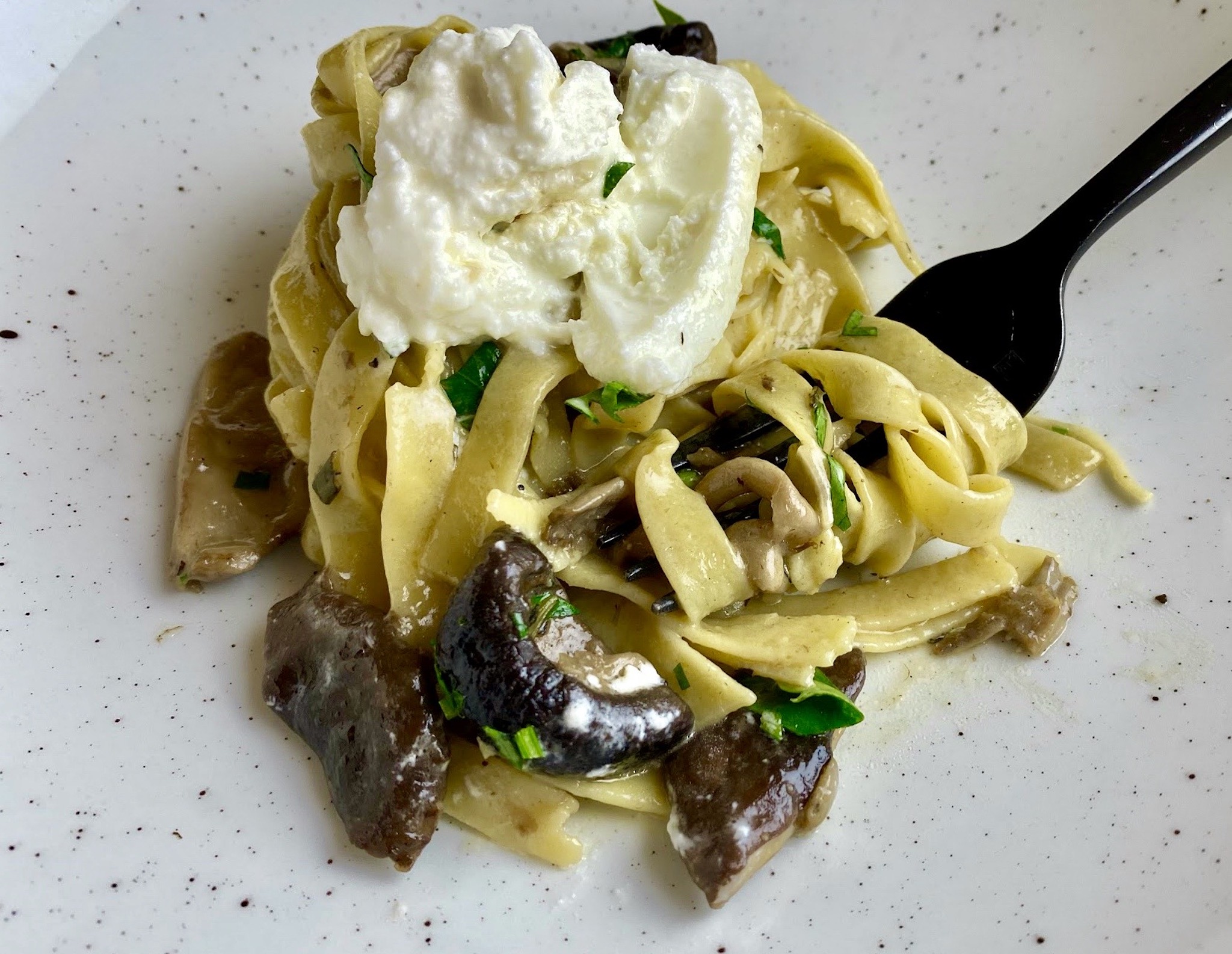 What would a dinner menu be without a steak? But not just any steak, they will be offering a USDA Prime 8oz Filet Mignon with an herbed breadcrumb crust, artichoke bacon and potato torte with demi glaze.
Grace, and Two Graces are the only places in this area that I would order a filet mignon from. Given a choice, ribeye is my go-to. Grace's filet mignon is USDA Prime, and it is moist, juicy and flavorful. The herbed breadcrumb crust added flavor and a nice texture contrast. It's one of the best steaks around, in my opinion. You can see the perfect cook on the steak too. The potato torte accompaniment was perfect – crunchy, chewy, moist and creamy all at the same time.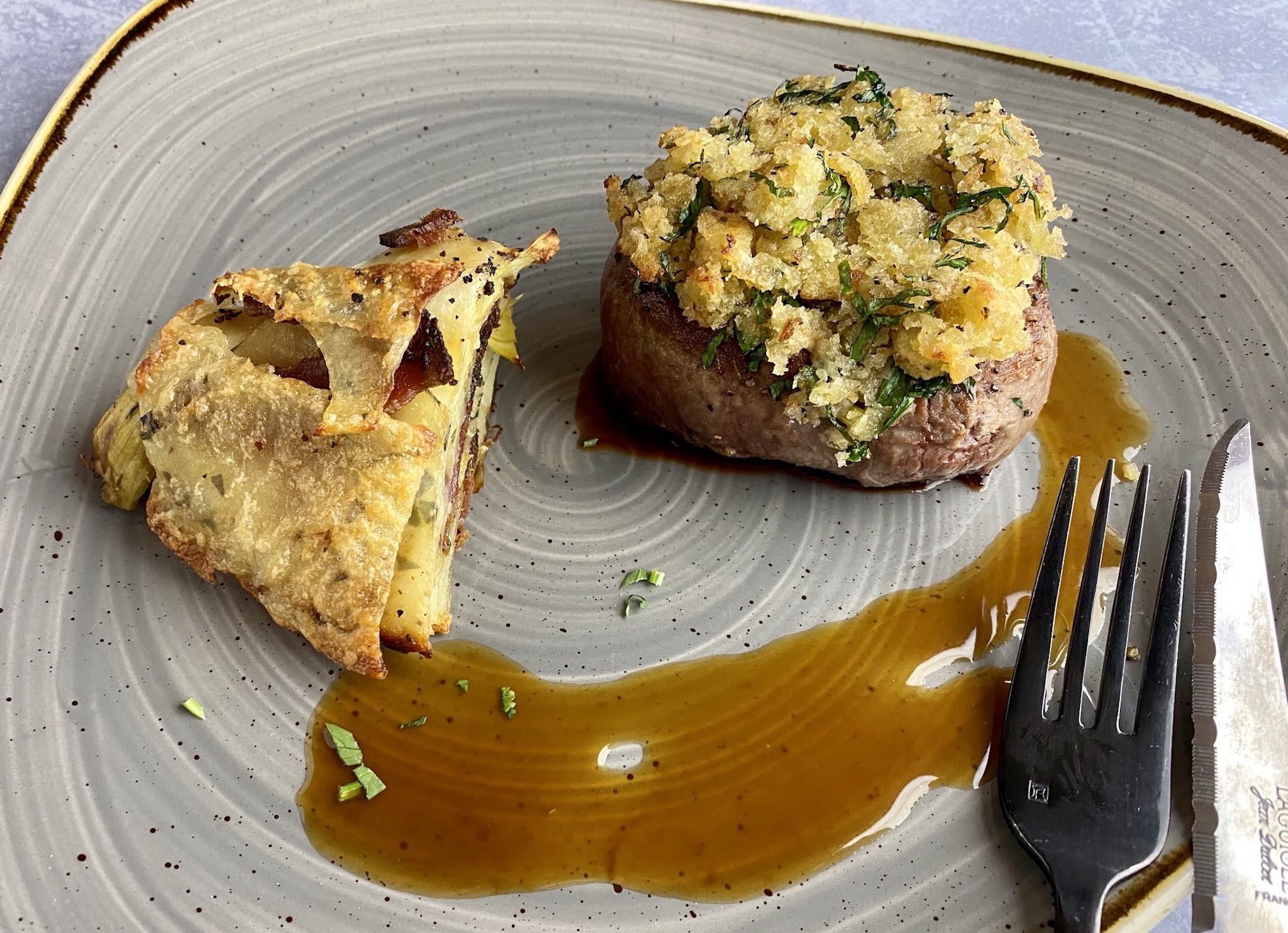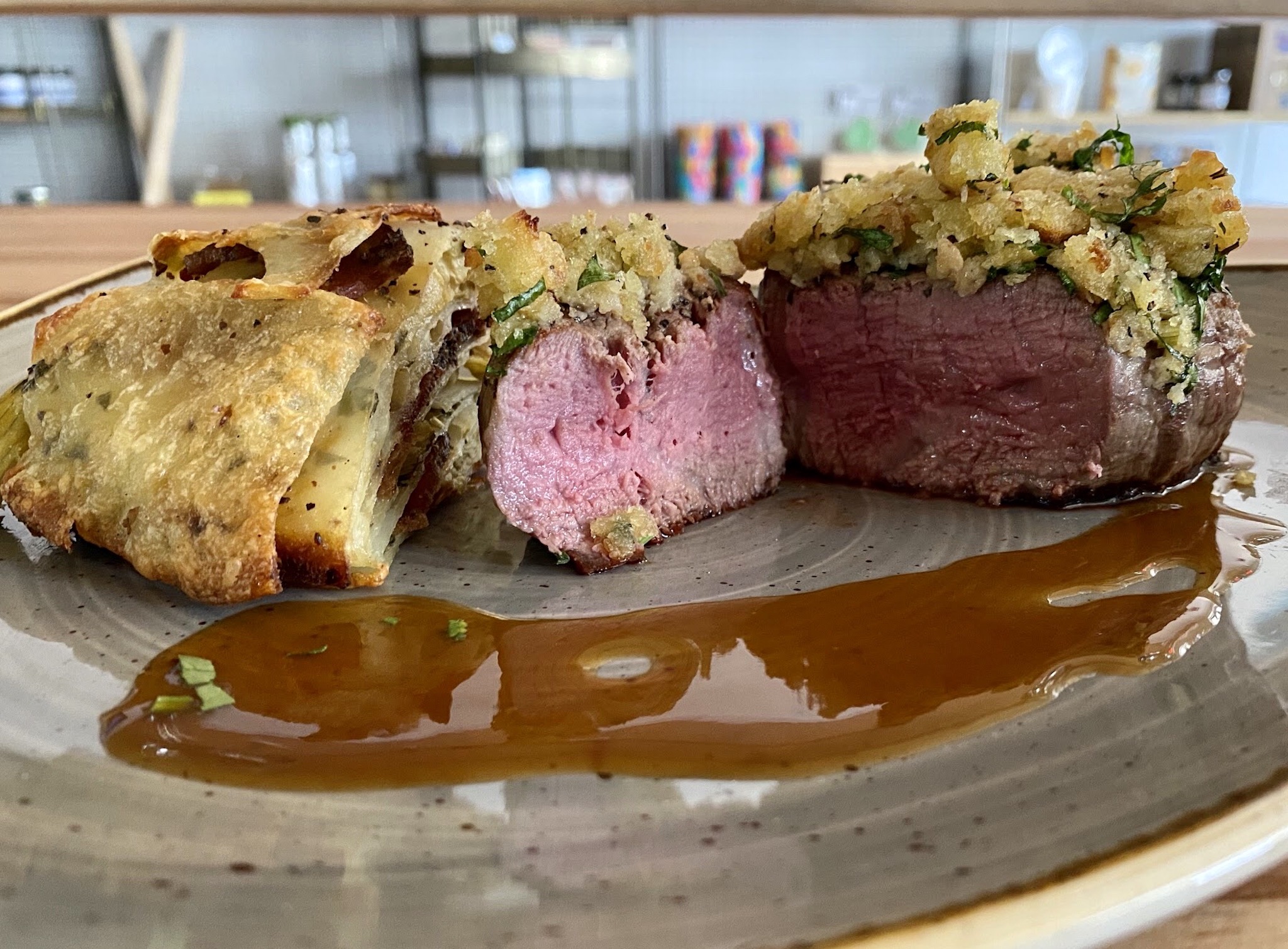 Next up are the Pan Roasted Sea Scallops with crispy polenta cake, micro salad and roasted beet sauce.
The scallops were perfectly cooked, moist and flavorful with a nice crunch on top. The polenta cake added a nice sweet corn taste and was more on the dense side than creamy.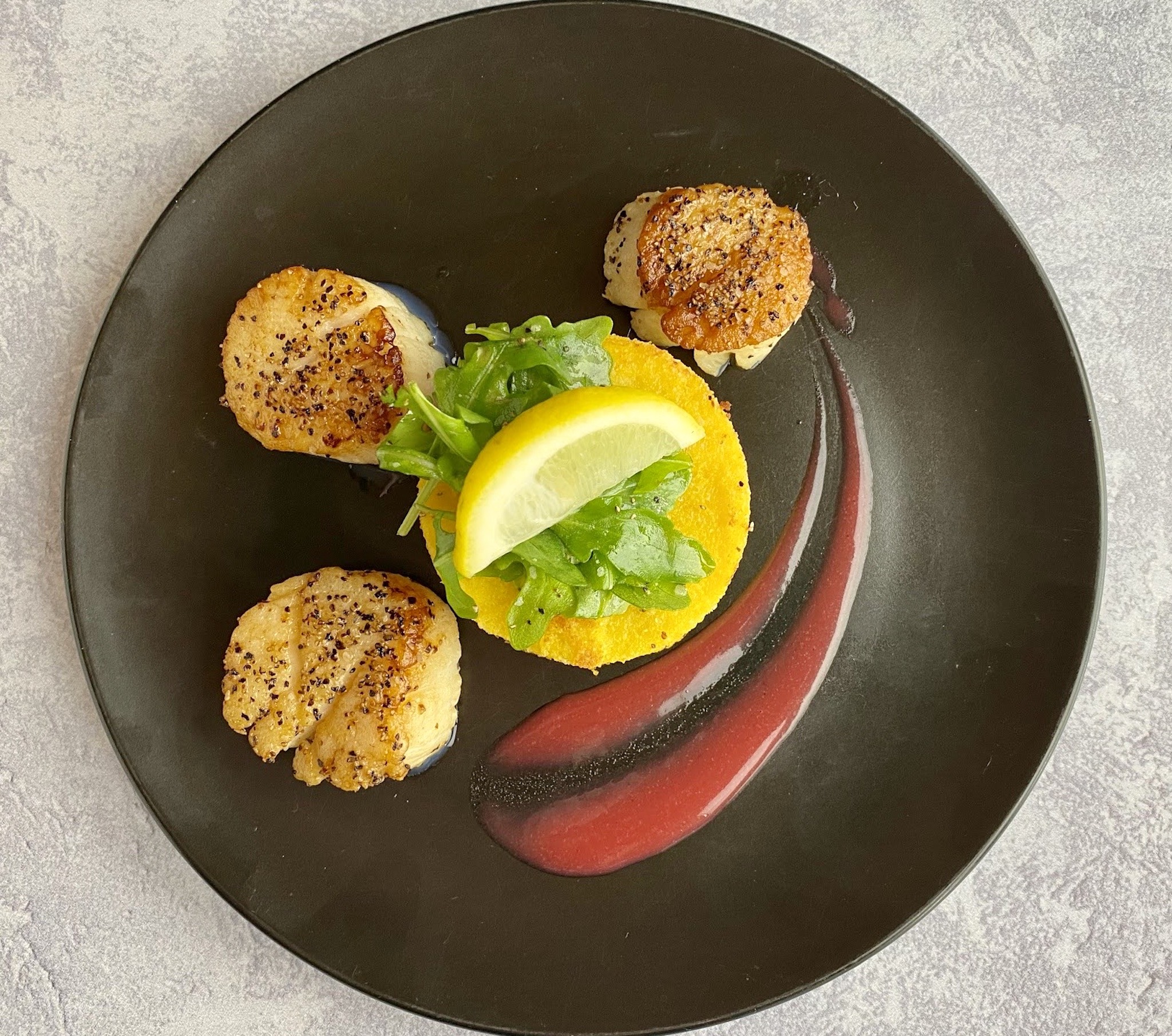 The kitchen at Two Graces comes complete with a large wood-fired oven that will be utilized to bring guests some delicious pizza offerings such as a classic Margherita, a pizza with Mushroom, brie and prosciutto, the Ortolana with pomodoro, cheese and grilled vegetables and the Quatro Formaggie with roasted garlic.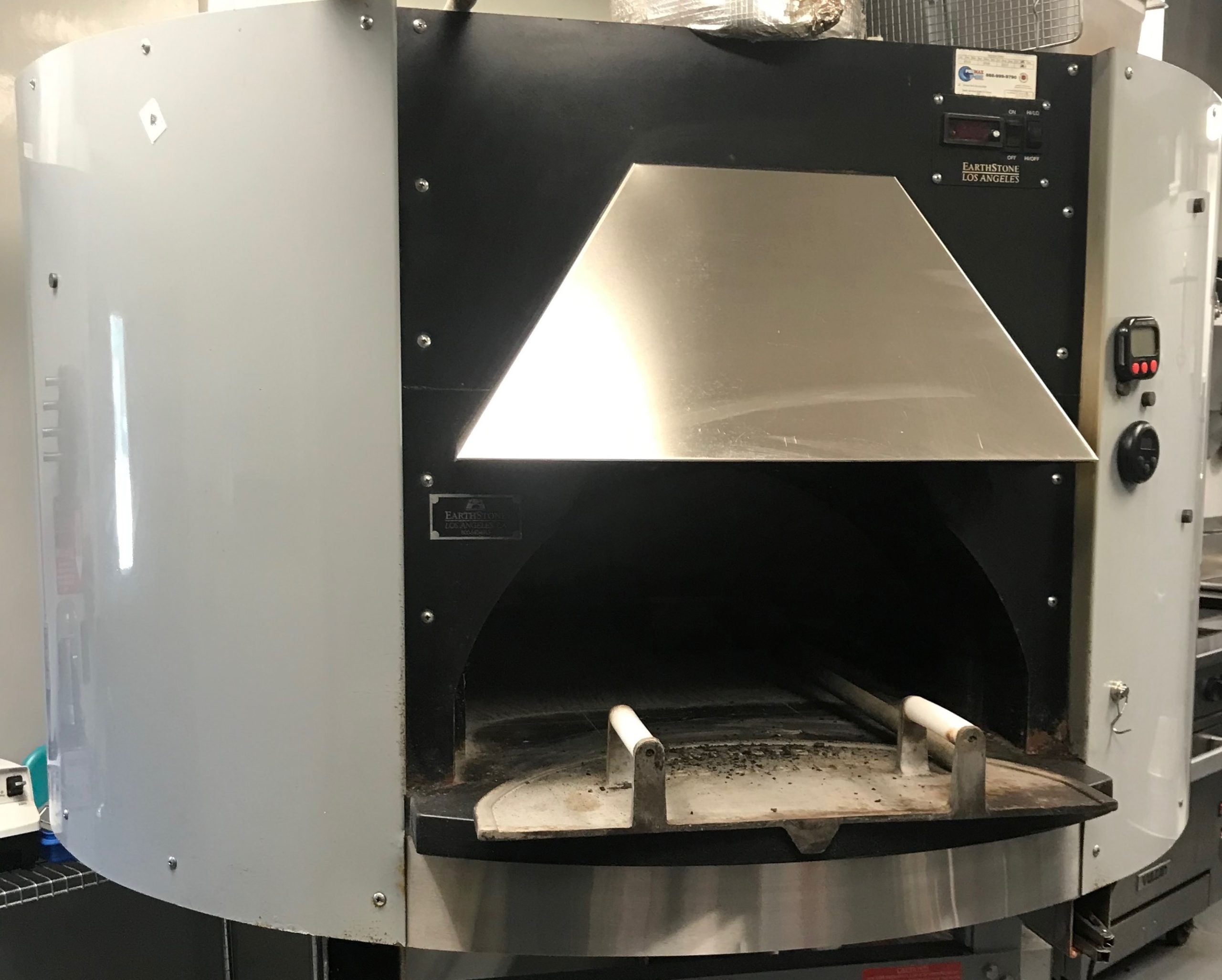 And last but not least, after the Pizzas section of the menu, of course comes Desserts. The Cookies & Milk is 5 assorted macarons with a mini vanilla milkshake. It is unlike any other dessert I have seen on a menu in St Petersburg.
This is the perfect dessert. Even the non-dessert person, me, loved it. I loved homemade vanilla shakes when I was a kid, and this one took me back in time. The macarons are to die for. They are in order from 12 o'clock, proceeding clockwise – peanut butter and jelly, 3 o'clock is salted caramel, next red velvet, then pistachio and finally birthday cake. Salted caramel was my favorite.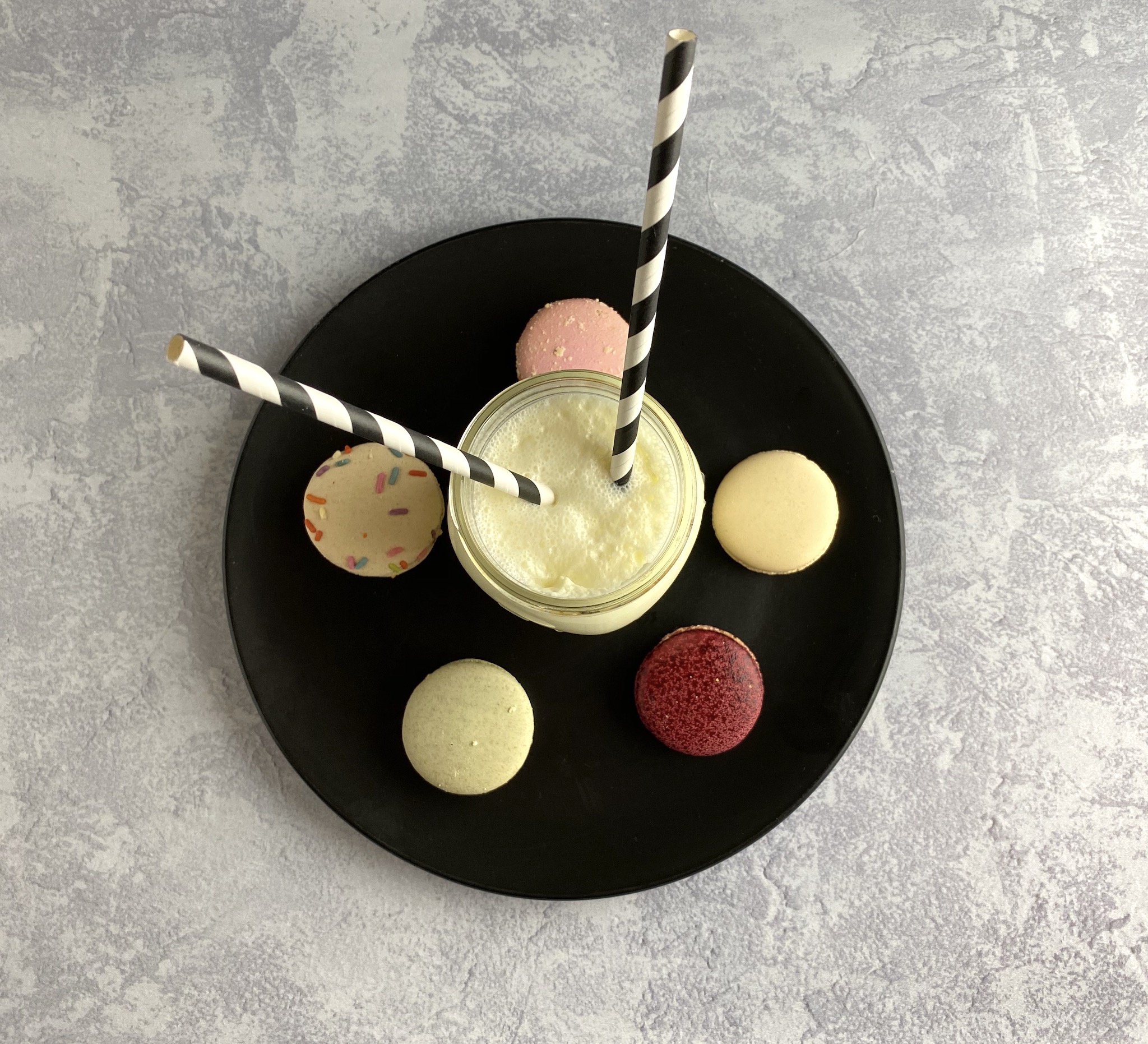 Two Graces is sure to be a smashing success with a concept unlike any other and a menu that is sure to please even the most discerning palate. It could well become a destination restaurant and that is exactly what Chef Marlin and Lisa are shooting for. So we say shoot for the stars as we certainly can't wait to enjoy this exquisite dining experience!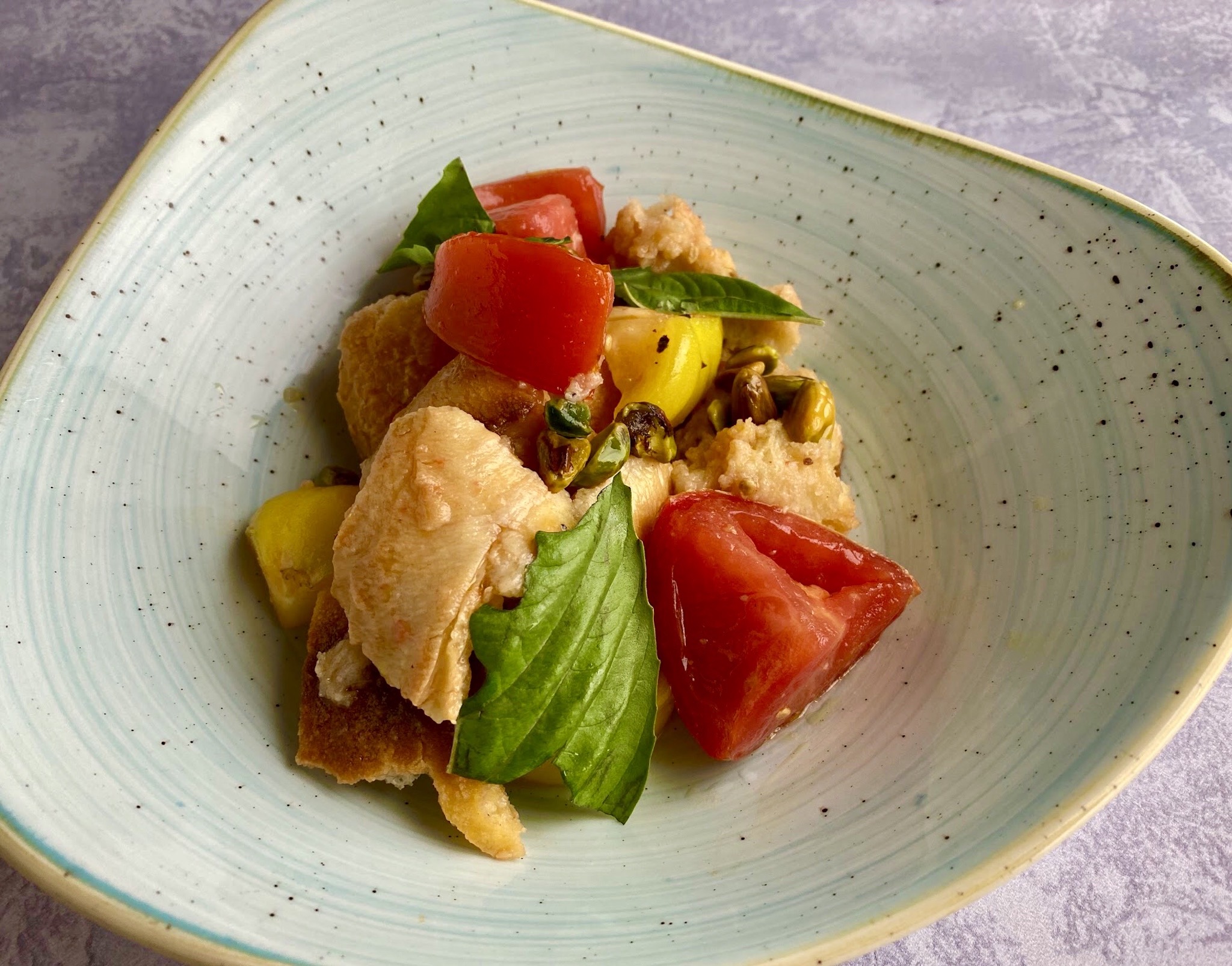 Readers Rating

Rated 4.7 stars




4.7

/ 5 (

Reviewers

)

Outstanding
---
Two Graces

Contemporary American Cuisine

,

Seafood

,

Steaks

Sun - Mon

4:00pm - 10:00pm

Wed - Thu

4:00pm - 10:00pm

Fri - Sat

4:00pm - 11:00pm
6001 Central Ave

,

St Petersburg

,

FL

33710

,

US
---
Two Graces in St. Petersburg is the sister restaurant of Grace in Pass-a-Grille. It will be opening near the end of 2020.
DISCLAIMER: Kevin, Lori, Abby, Haley, & Lindsey do not dine anonymously (this would be impossible) and we sometimes get free food (though never expected). However, we dine with the locals and we support our own. You will always get honesty in a respectful manner. We do not include any large national or regional chains in our ratings and reviews. We focus on independent locally owned eateries exclusively.

PLEASE NOTE: Reviews reflect a certain moment in time. Some restaurants stay extremely consistent over many years, and some change for the better or worse. Some things that may change are: chefs, recipes, food suppliers, ingredients, philosophies, ownership, etc. We always hope that you have the same good, or great experience we had.
More Foodies News, Reviews & Recipes