Find Your Happy Place at Grace
New Food and Drink Menus to Tantalize Your Tastebuds
Find Your Happy Place at Grace
New Food and Drink Menus to Tantalize Your Tastebuds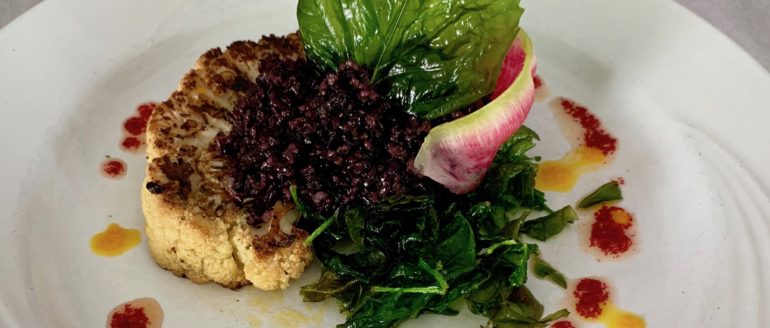 Ever since our first visit to Grace Restaurant, just after they opened in the summer of 2017, we have considered Grace to be an anomaly at the beach. Why? Because it has great food, great wine and great service in a beautiful, welcoming, non-pretentious atmosphere. Our first write up on Grace.
A locals favorite, Grace continues to impress with quality and consistency. Owners, Lisa Previte and her husband, Chef Marlin Kaplan are always looking for ways to improve upon their already spectacular restaurant. One example, not food related are the parasols that they added to the ceiling in both dining rooms in order to help absorb noise. How creative is that? May 2018 Grace Review.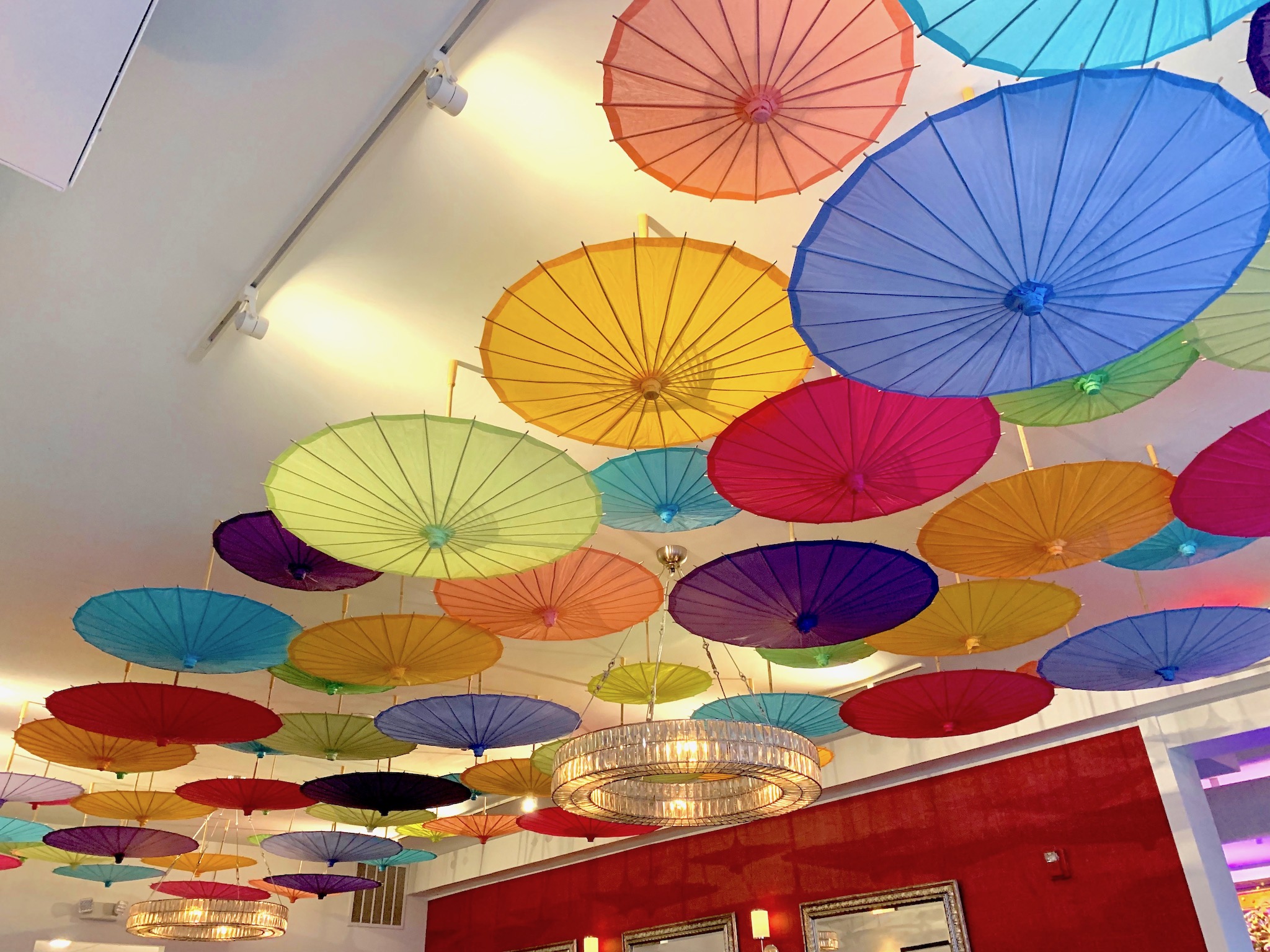 But then we learned of Marlin's decision to update the menu. A few of the staples are staying, but he really has produced, with some creative new menu items, wanting to create a missing staple around town these days…classic comfort foods, but with a bit of a modern twist. They invited us in on the day that they were photographing the new menu items, so that we could taste them as they came out and give them feedback…good or bad. We also got to try a few of the new cocktails on the menu and got a sneak peek at the new wine list. All new menus are at the bottom of this article.
So let's get to it. This beautiful bottle of wine, Exitus, is aged in bourbon barrels and was just excellent. As the label says, it is complex and toasty with just a hint of a bourbon note. A new favorite of mine, for sure.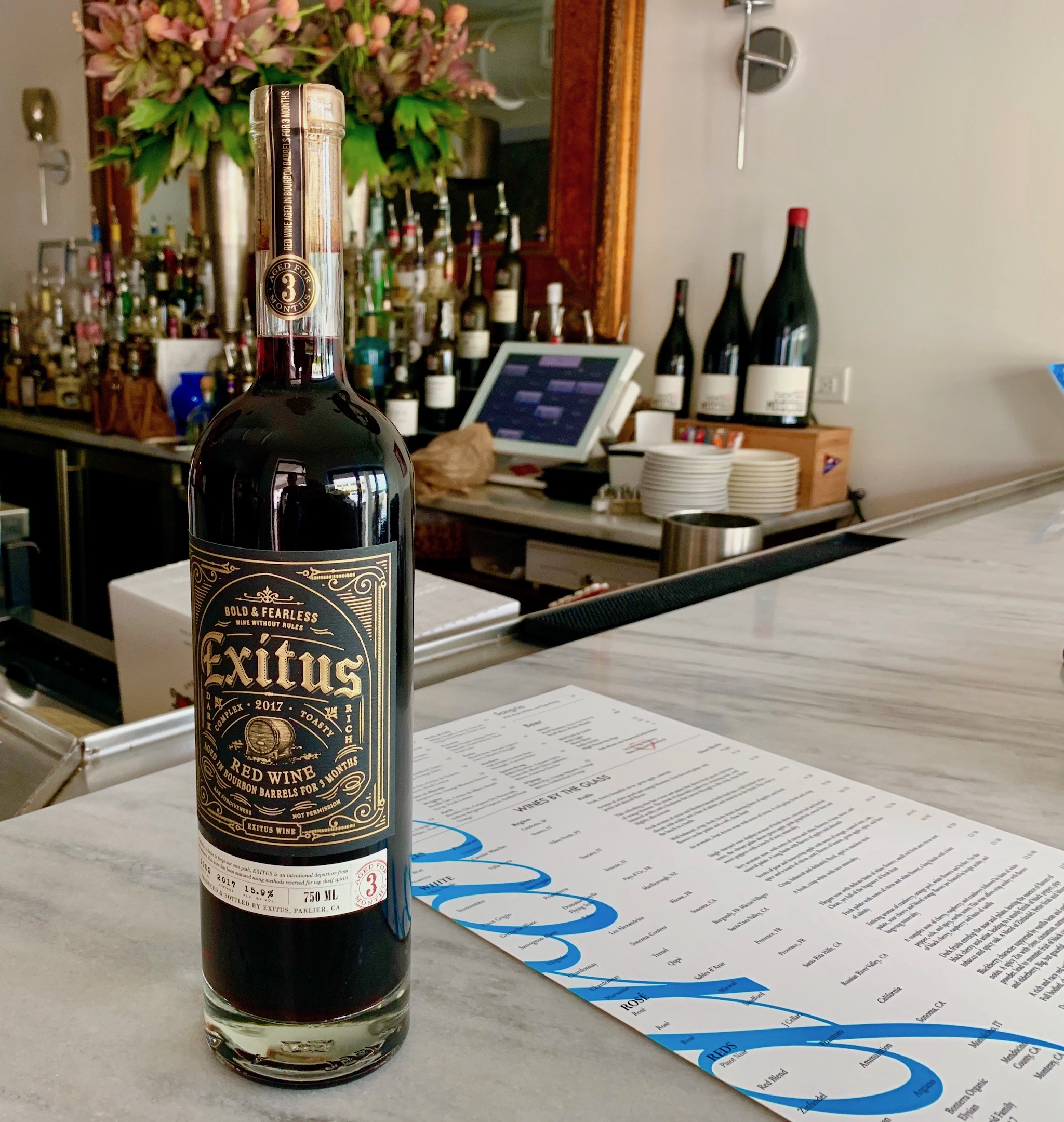 Octopus is definitely a staple on most menus these days, but rarely served like this…with a simple cucumber, vinegar salad. The octopus is marinated, poached, grilled and then warmed gently. It was fork tender and had just a soft almost creamy texture and flavor. One of my favorites. It's just simple and sometimes simple is better. To quote Kevin, "This is the best octopus that I have had in all of St Pete, including downtown and that is saying a lot!" He couldn't stop eating it. I only got two bites, but they were amazing bites.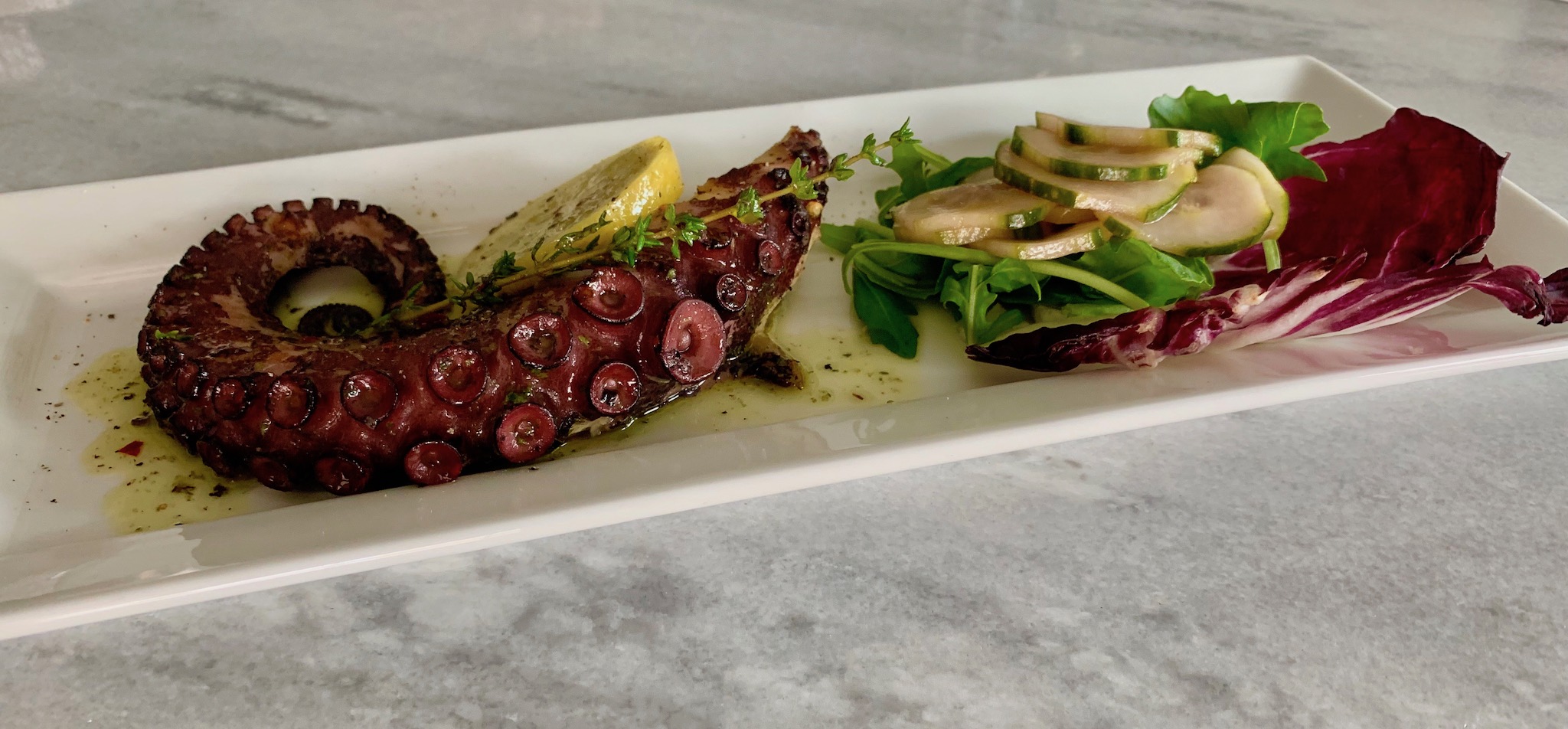 Next up mixologist extraordinaire, Stephanie, served us the LG & Adele from the new cocktail menu. It consists of Figenza vodka, with walnut bitters and is served with a charred orange slice. This was my favorite of the new cocktails. It was refreshing with just a tad of sweetness from the fig infused vodka and the orange.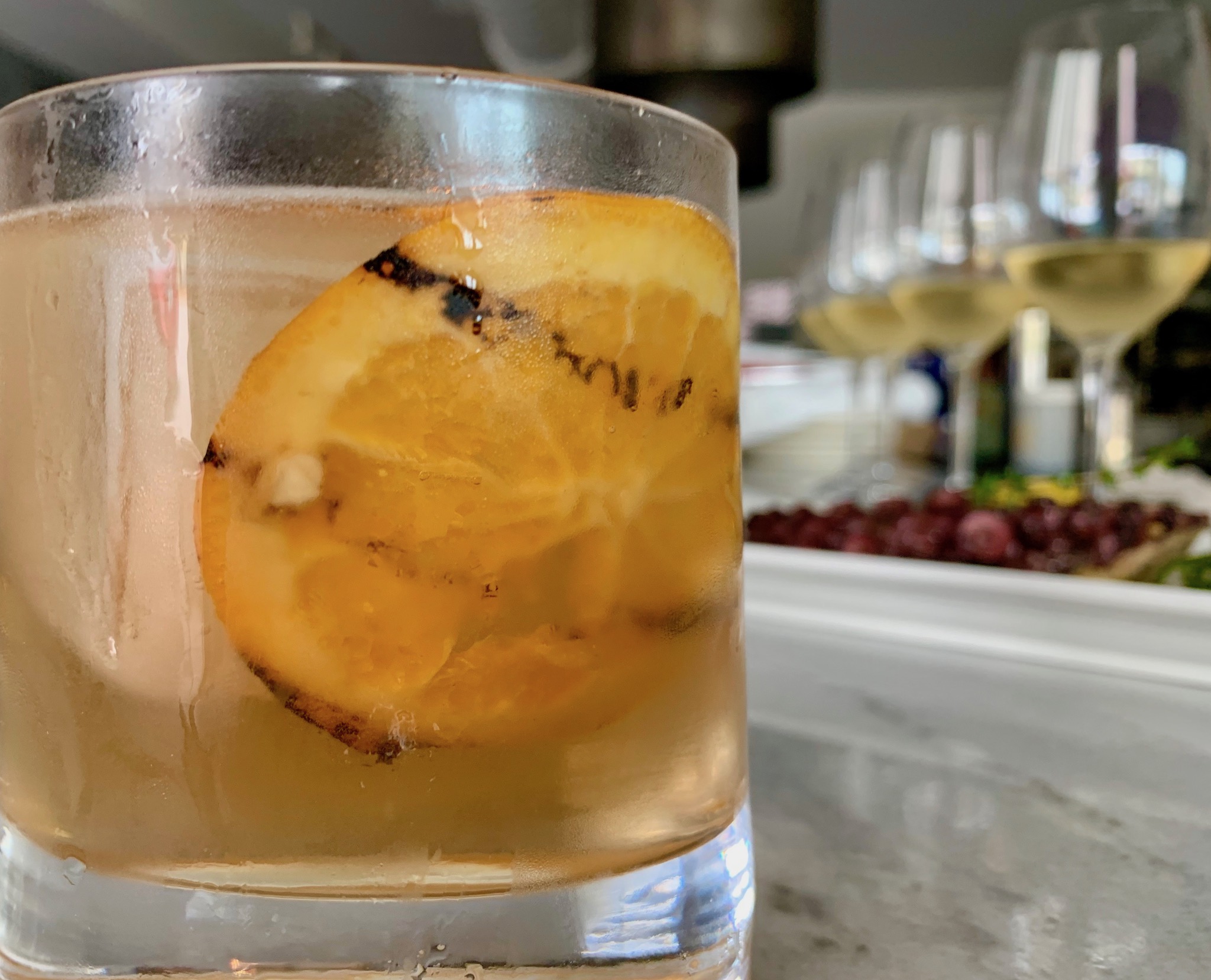 The second dish to come out was the Arugula salad with blueberry vinegarette – fresh blueberries, candied walnuts, feta cheese and watermelon radish. Quite honestly this one sat for a while because dishes were coming out at a quick pace and we wanted to eat the hot dishes first. But this is delicious! I have just really learned to appreciate the nuttiness and pepperiness of arugula and the combination of that with these ingredients is nothing short of spectacular.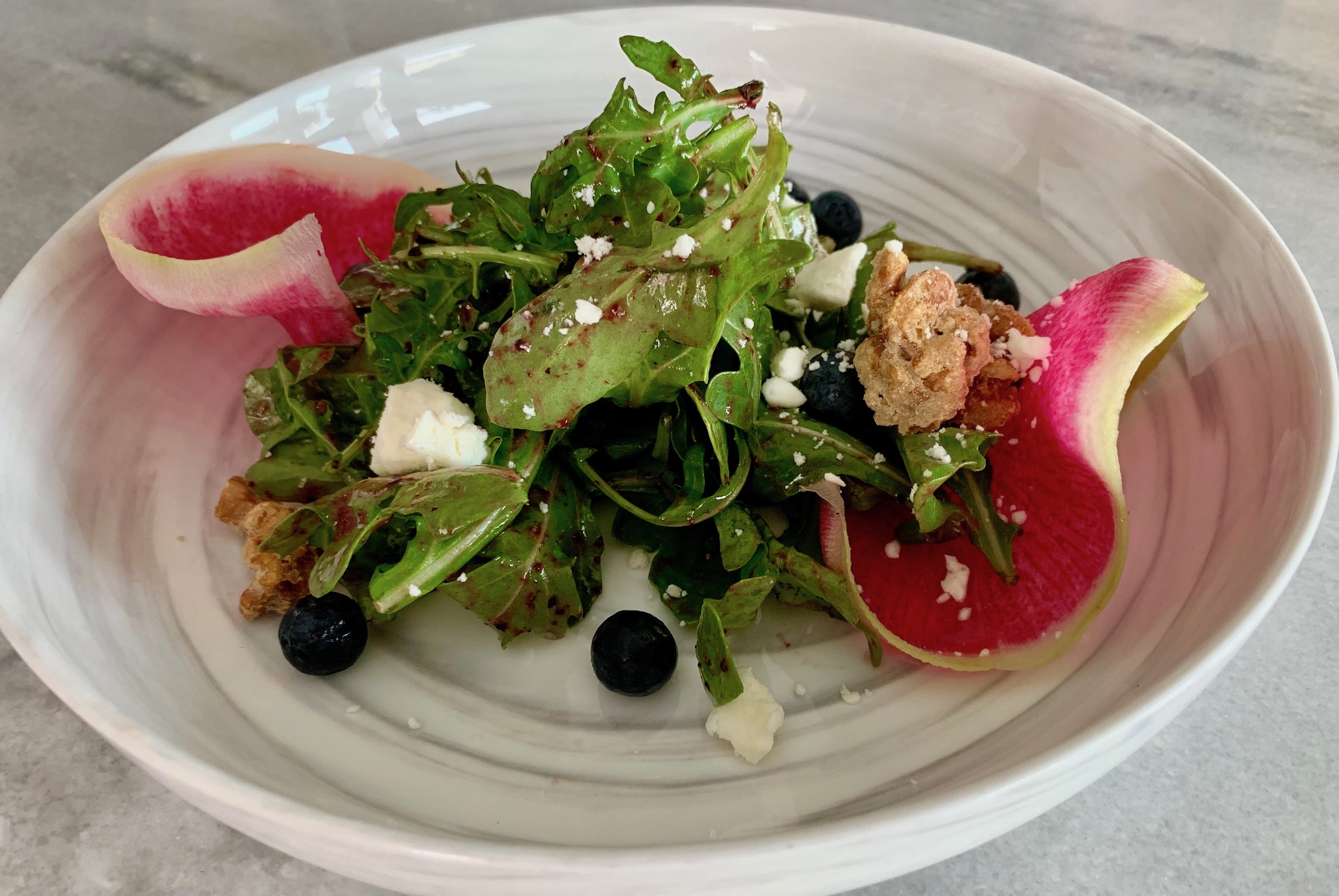 This next appetizer is complete eye candy! Just look at this cauliflower. It is crispy tri-colored cauliflower served with three sauces: Korean bbq (medium spicy), lemon aioli (mild), and spicy Sambal (as it says). I enjoyed the combo of the Korean bbq with the spicy Sambal. This dish has no breading on it so it is gluten free, except for the Korean bbq sauce which has egg yolks. They use salt and pepper, egg whites and corn starch on the cauliflower before frying it, which also means it is a vegetarian dish too. What an inventive, light appetizer which is absolutely perfect for summer.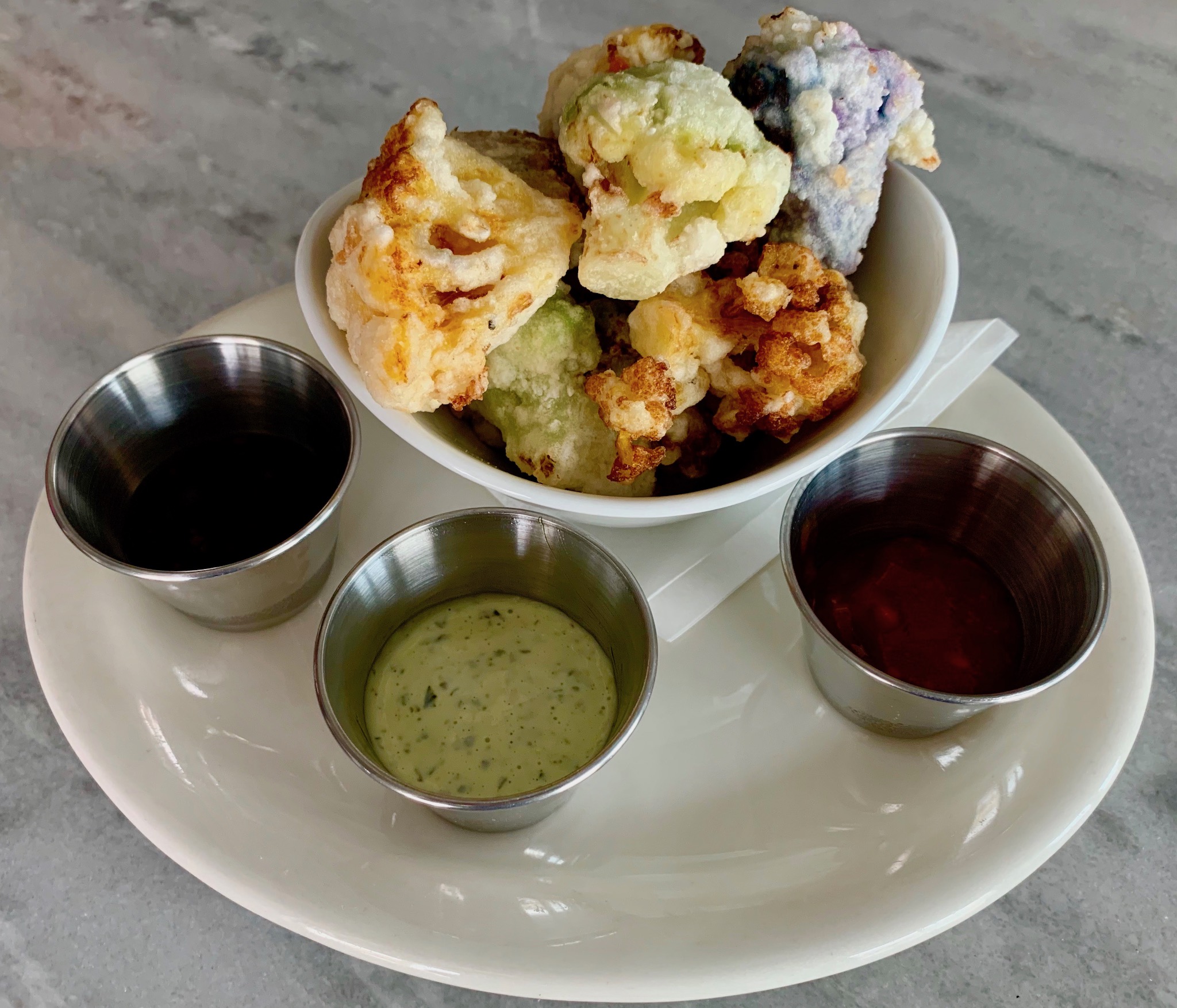 Our next new drink was Peaches (By The Beaches) – 360 Vodka, white peach puree with butterfly blossom syrup. This one was a tad on the sweet side for me. The syrup was designed to be super thick and somewhat gummy so that it would float at the top, but it ended up floating to the bottom. So you have to drink this one fairly quickly to get the desired affect. It sure is purty though.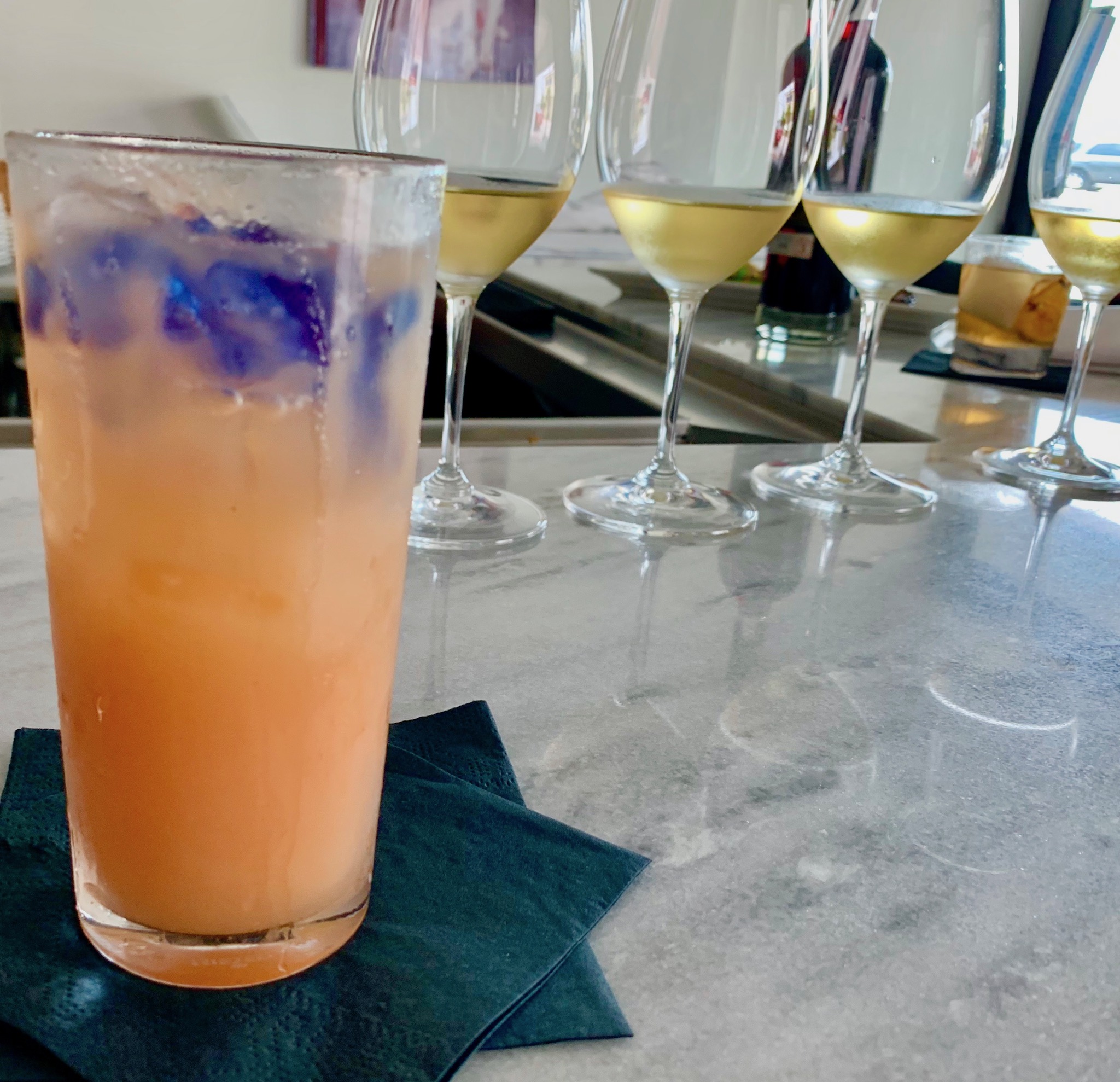 Try this next one on for size: Rattlesnake Mac n Cheese with crispy semolina crusted lobster tail. The cheese is called rattlesnake cheese, so NO there is not actually rattlesnake in it. To quote Chef Marlin, "no rattlesnakes have been harmed." But this cheese is tequila and habanero infused cheddar and is absolutely divine, with a bit of a bite (rattlesnake reference) and some heat.
Chef said, "I recently read where mac n cheese is the number one food in America. I mean, I was doing lobster mac n cheese in the 90's, seriously, when no one would even consider putting lobster in mac n cheese. So I walked away from that for a long time. So when we were rethinking this through, the rattlesnake mac n cheese grew out of a pork dish we were doing as an addition one night and at least four people that night told Lisa, this has to be on the menu, it has to be on the menu! So we talked it through and my sous chef said he had done this with the lobster pressed with semolina. This is totally another retro dish but completely different than anyone would ever expect."
The lobster tails separate from the shell with ease and are cooked delicately and to perfection. Combined with the cleverness of the other ingredients, this dish is a complete winner!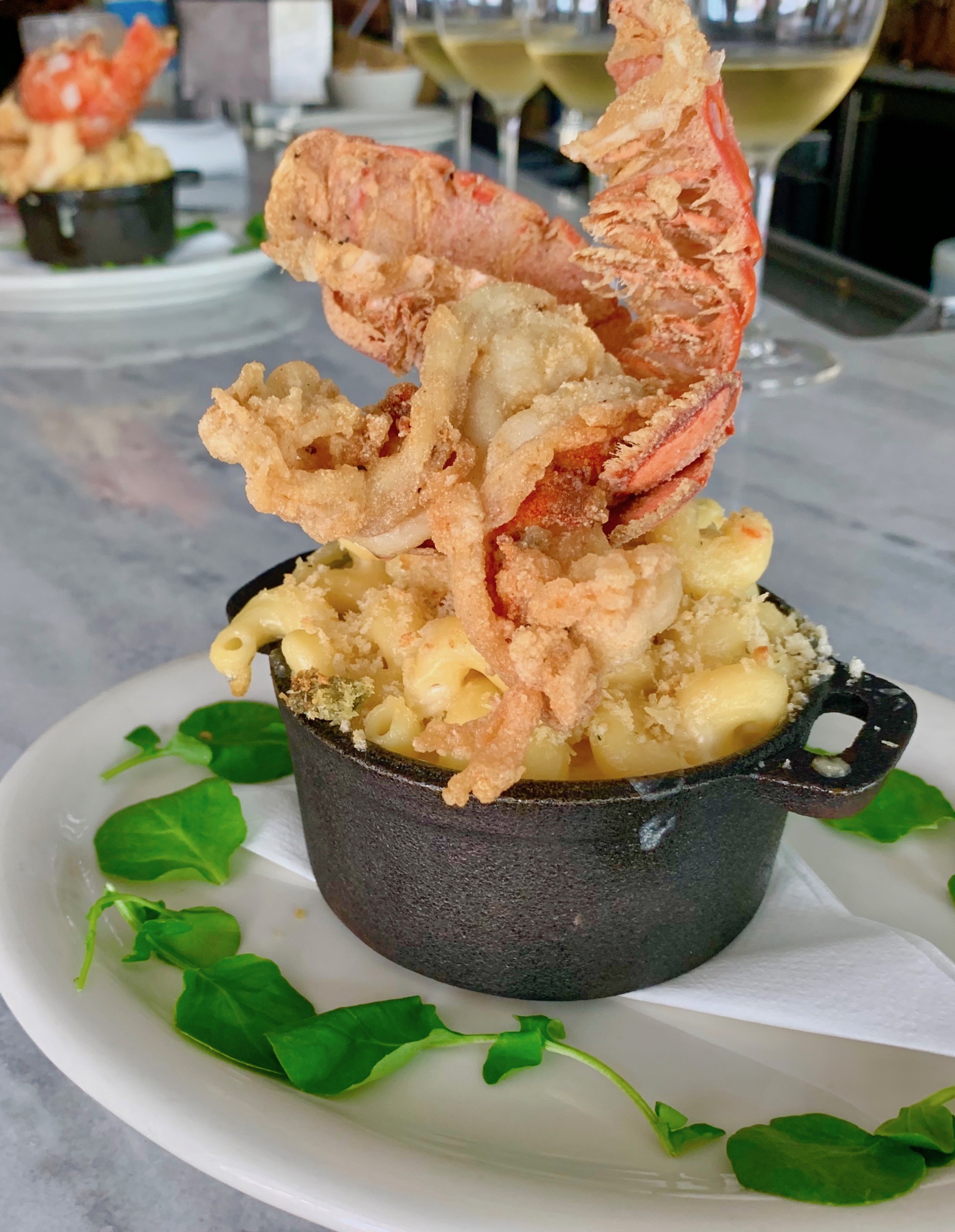 This next dish was definitely one of my favorites! I kept going back to it. It is Shrimp & Cavatelli – with Guancile, peas, basil sauce, and herbed ricotta. From wikipedia: "Guanciale is an Italian cured meat product prepared from pork jowl or cheeks. Its name is derived from guancia, the Italian word for 'cheek'."
This dish was savory and tart at the same time with great spices and seasoning. I loved it!! Oh and the shrimp were cooked perfectly, of course. Chef Marlin says, "I think for a pasta dish it's outside the box, but it's based off of a classic."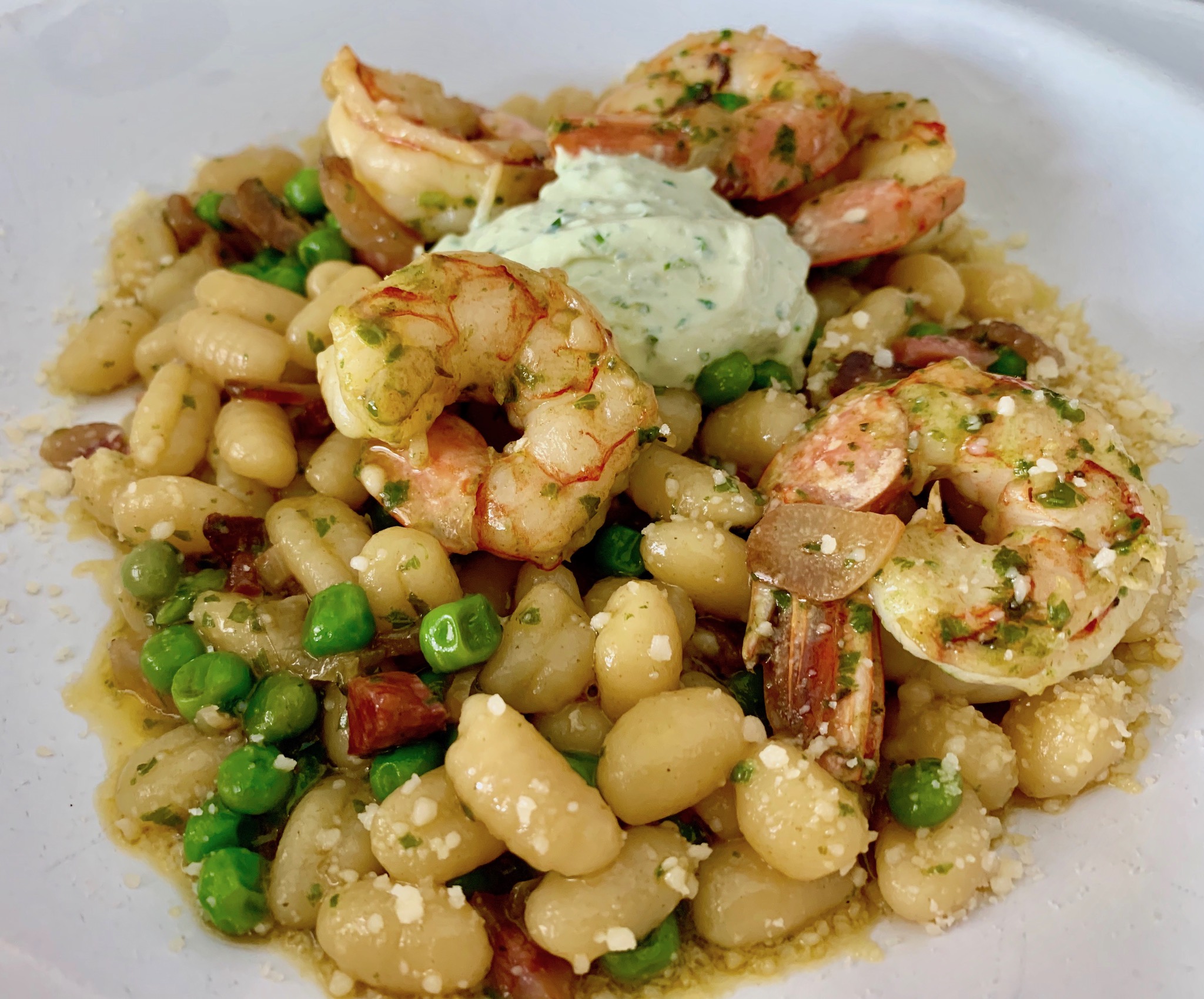 Another classic, jumbo sea scallops with a watercress Nicoise salad made of haricot verts, tomatoes, red bliss potatoes, hard cooked egg, olives and dijon vinaigrette. Large scallops cooked to perfection and a Nicoise salad that's light and easy to eat on a hot summer night.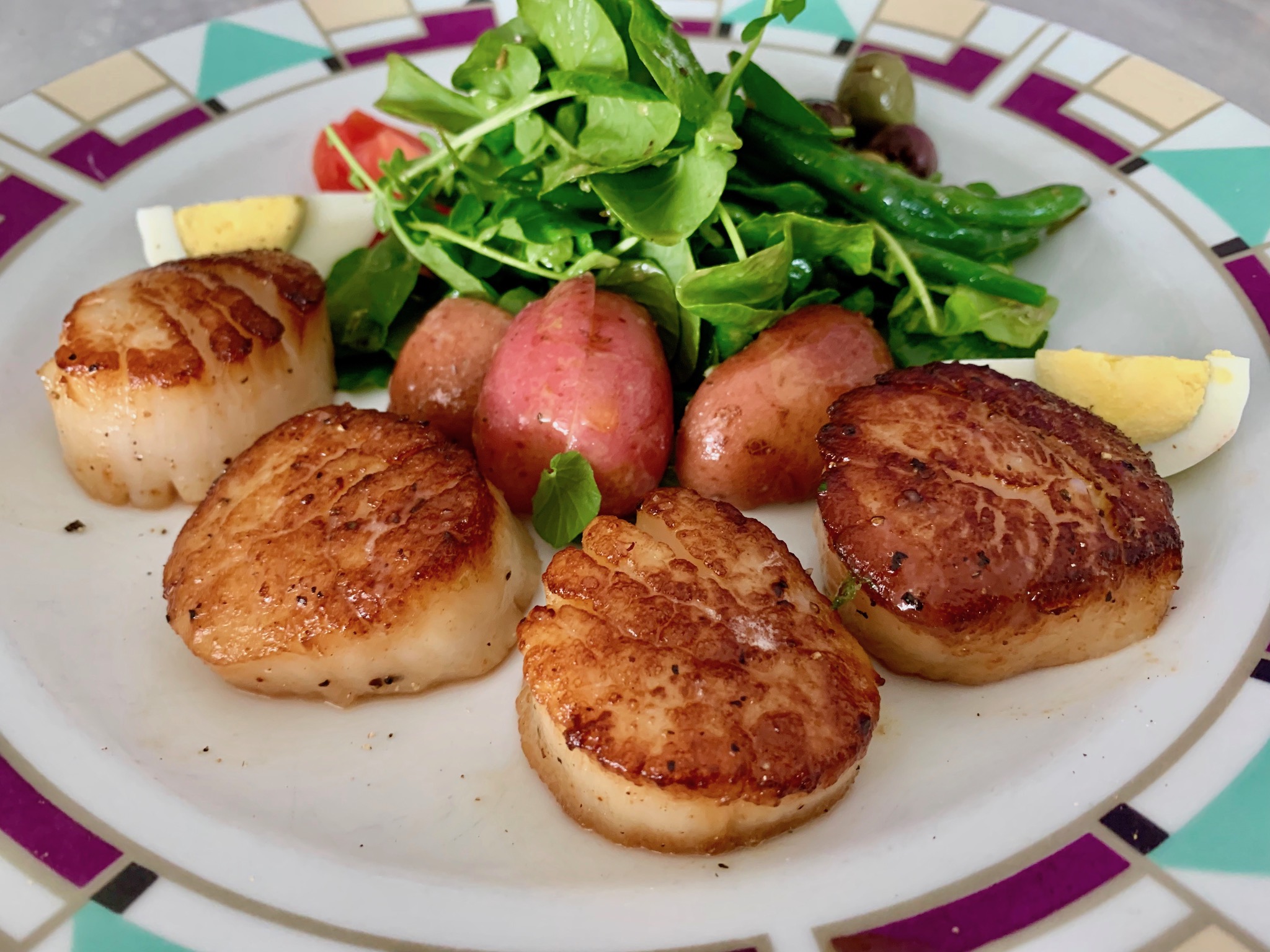 The third cocktail we tried was the Preciosa which is made with Milagro tequila, a mango puree, Limeade, a Grand Marnier float and is garnished with a fresh lime. I found this one to be very tasty but quite heavy. It would make for a great brunch drink but I would have a hard time having this with a meal.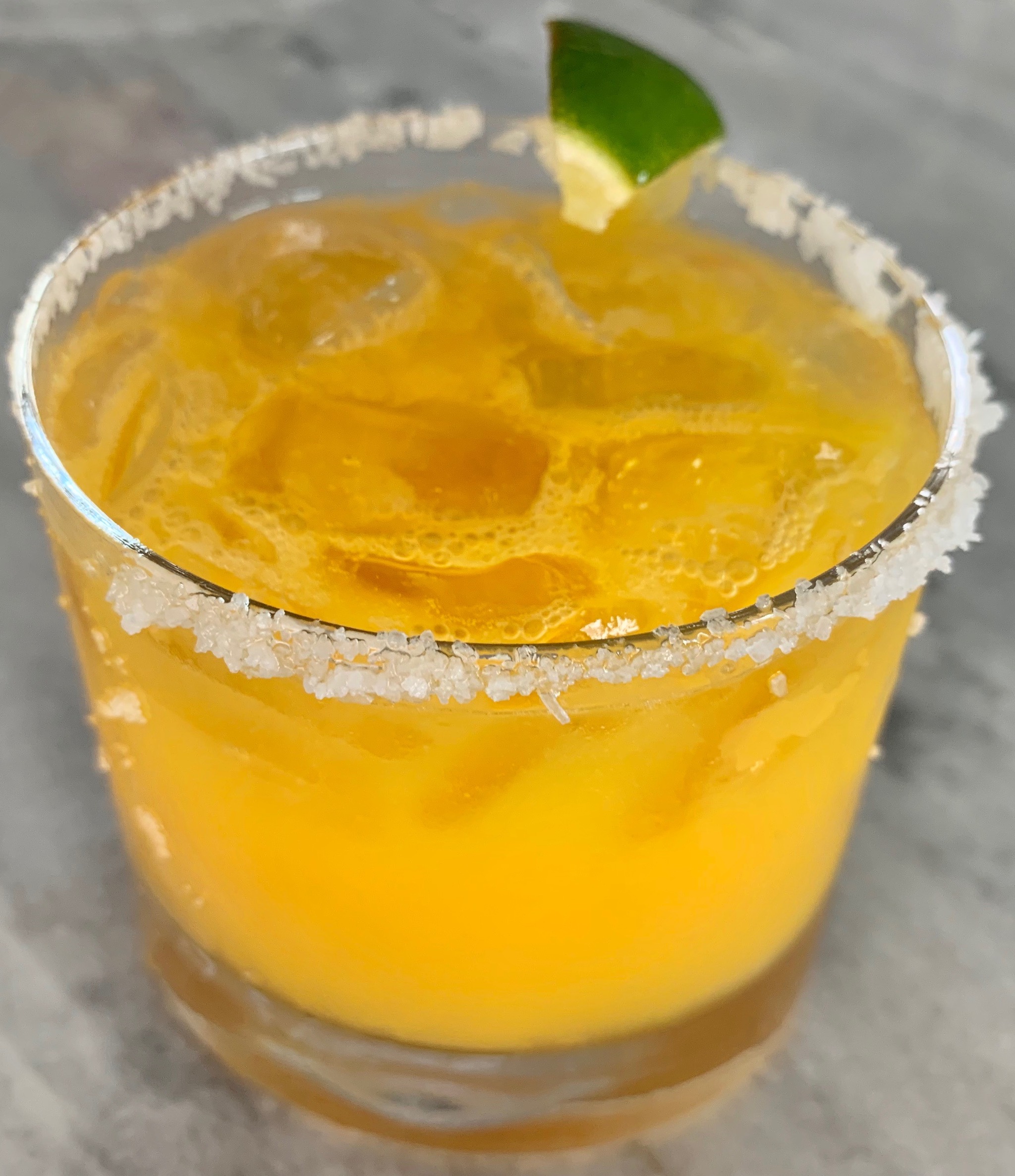 Another comfort, classic dish is the Chicken Milanese. It is served over spaghetti squash and fresh pomodoro and topped with an arugula citrus salad with mandarin oranges. To quote Chef Marlin, "I want to say, this may be the best eating dish on the menu. I had a customer that had it last night and he said that this is just like comfort food plus."
The chicken is lightly breaded with panko and herb and the spahetti squash just gives it that whole new level of freshness that is perfect for summer. It really is hard to stop eating this. I have had Chicken Milanese in other restaurants that always feel very heavy, this one is not like that at all.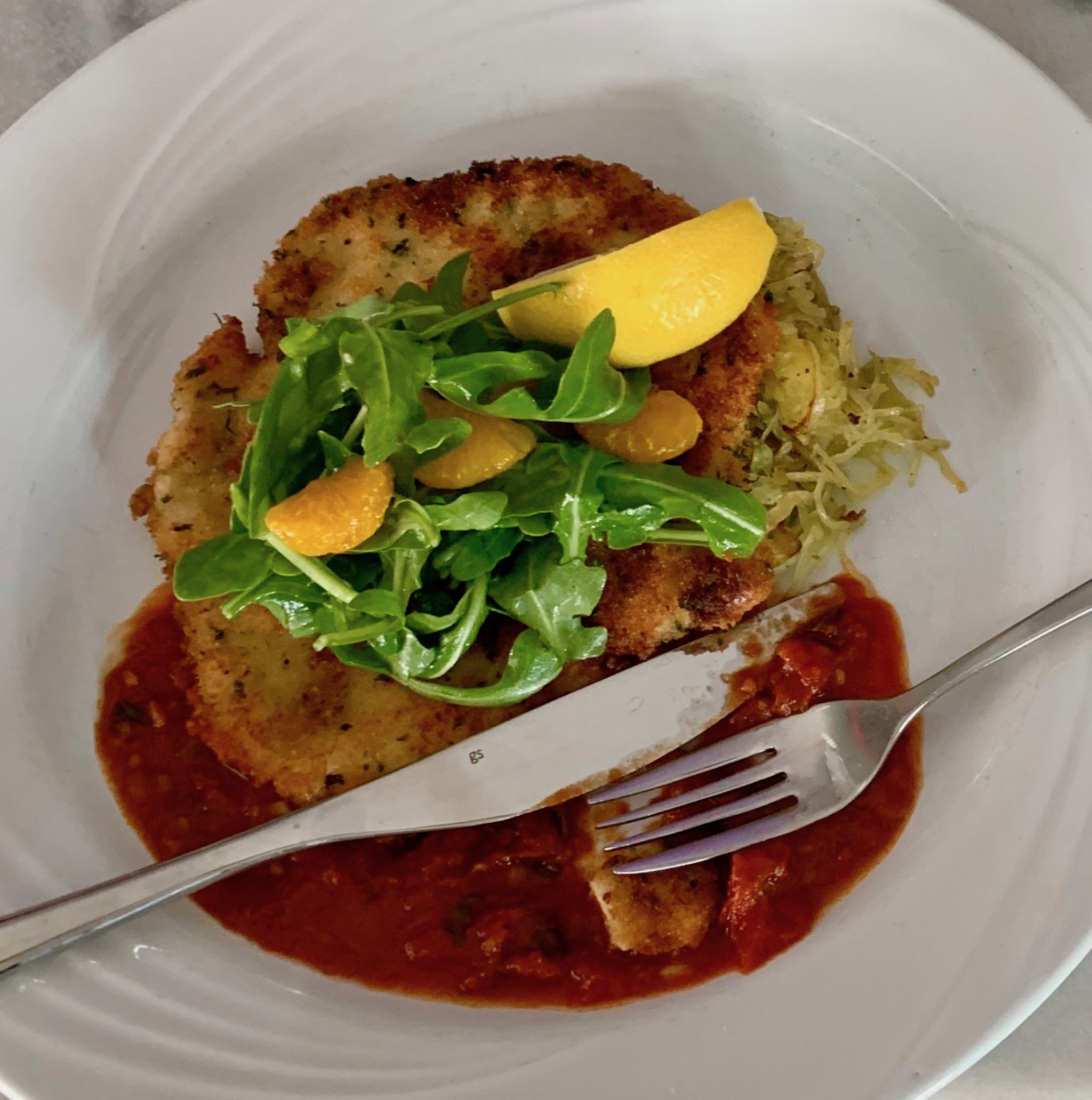 Our next dish is a classic USDA Prime filet mignon called the Chairman's Reserve Cut, served with creamed spinach and herbed roasted potatoes. This dish totally plays homage to the classic steakhouse with the preparation, the plating and the flavor. Though I must say that I have never tasted a filet mignon that was that incredibly tender. Chef Marlin told me I was going to be amazed by the quality of this meat and he was right.
In describing this dish he said, "I was trying to get more towards this retro look on food, because that's the direction it is going. I feel like people are wanting to revert back and get away from the fussiness of modern food. And so that filet is pretty classic in form but is a really high end steak." I tend to order ribeye steaks because of the tenderness and flavor but I would definitely order this again.
I also must comment on the creamed spinach. I typically never order it, it normally doesn't appeal to me tastewise – perhaps too much garlic. This one was fresh, delicious and not overly creamed or overly garlicky. Kevin said, "I have now been ruined for all other creamed spinach." It really was that good.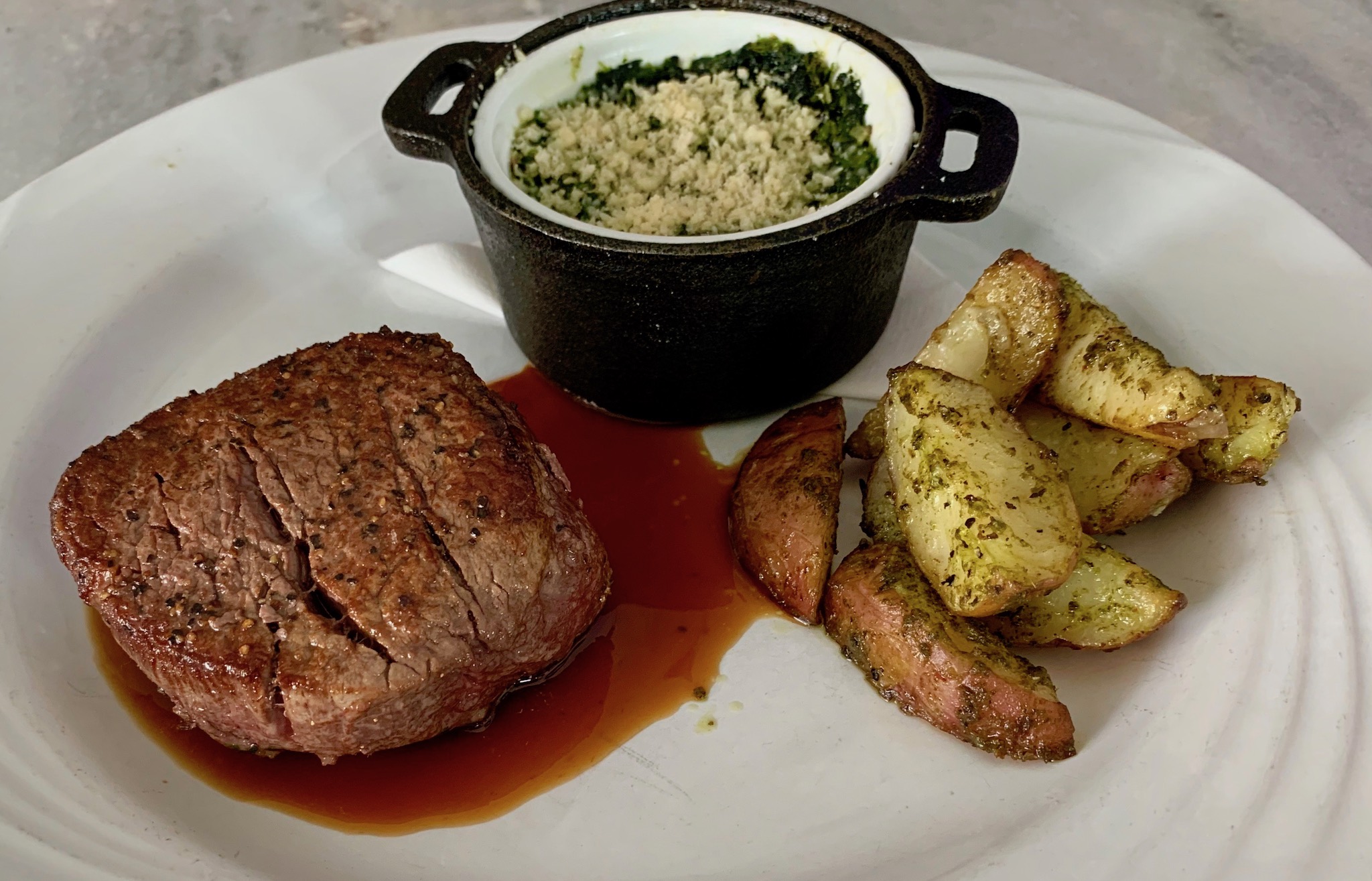 A perfect medium rare cook and I forgot to mention the delicious herb roasted red bliss potatoes. Also, not being a sauce fan on my steak, I did not find this demi glaze to be overpowering. It worked well without covering up the flavor of the meat.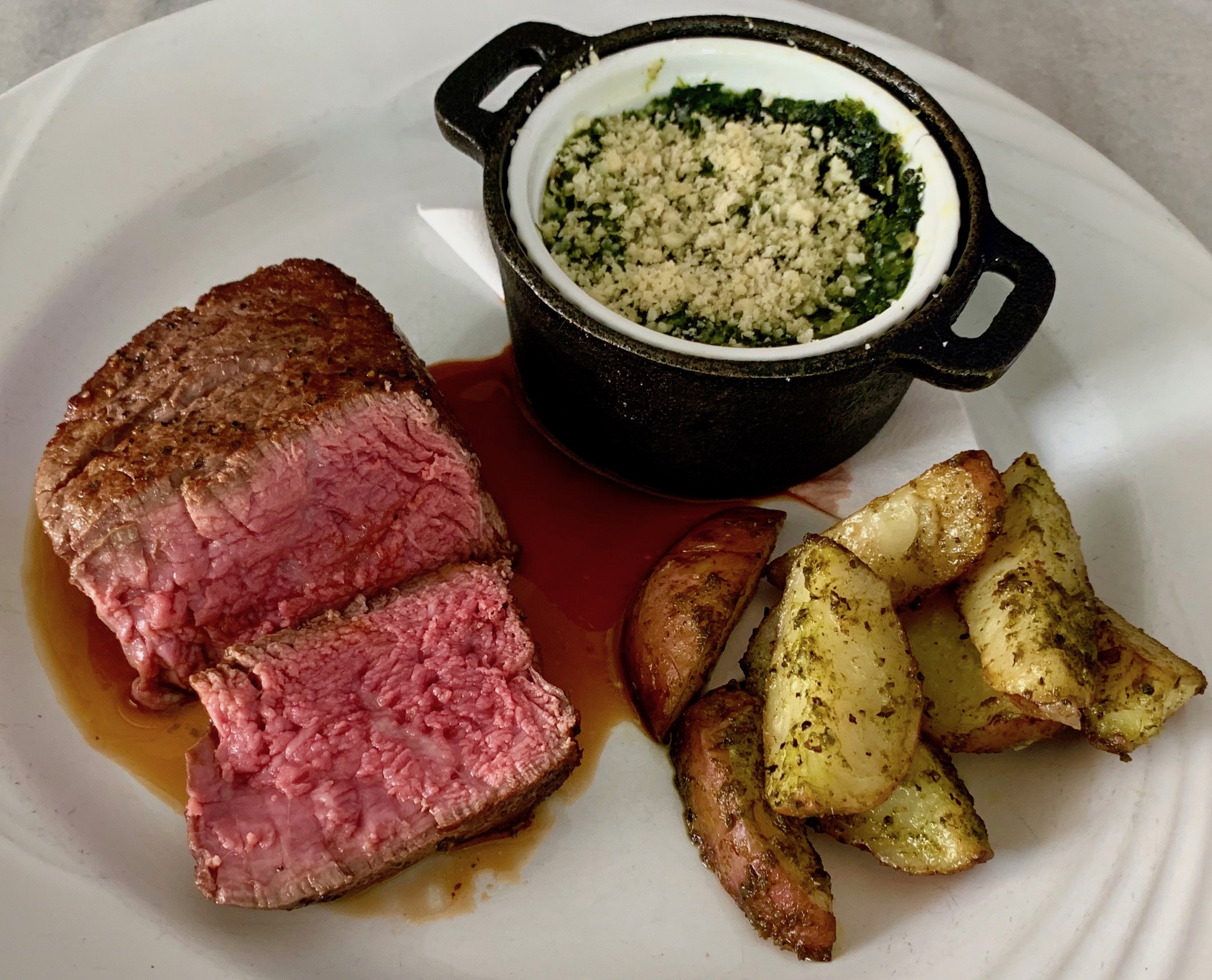 Grace does offer a thick ribeye steak on the menu, which we did not try. It is pictured below. It is a full 24 ounces and comes with parmesan cottage fries, grilled heirloom tomatoes and a grilled bermuda onion. Chef describes this as, "classic country club." We will be going back very soon for dinner to have this!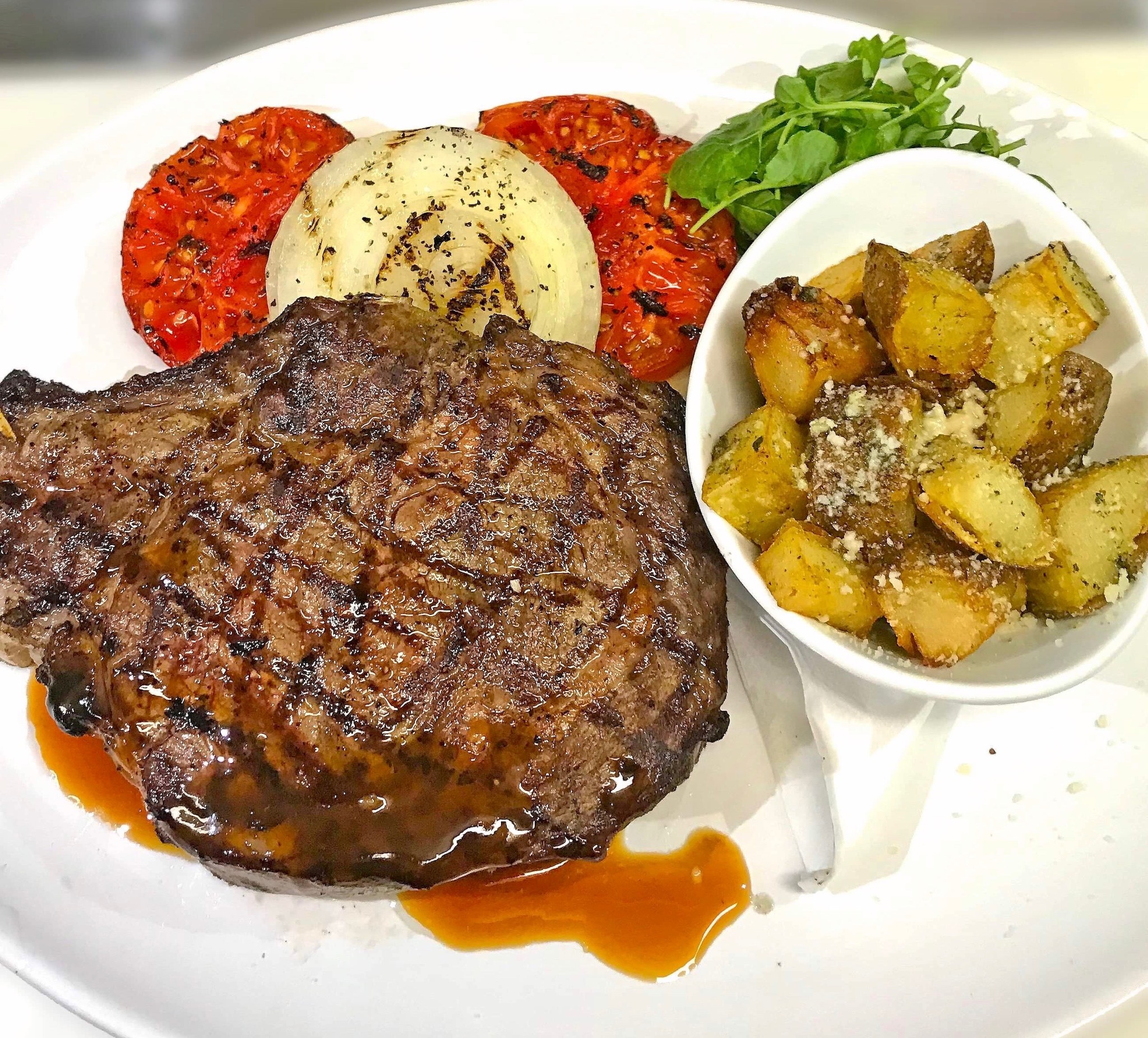 Their new wine list is spectacular. They have a couple of wines on their list that they are the only restaurant in Florida to carry. Below is Lisa, presenting another of their new wine additions – Juggernaut Cabernet Sauvignon. It was a definite favorite and one we plan to add to our home collection.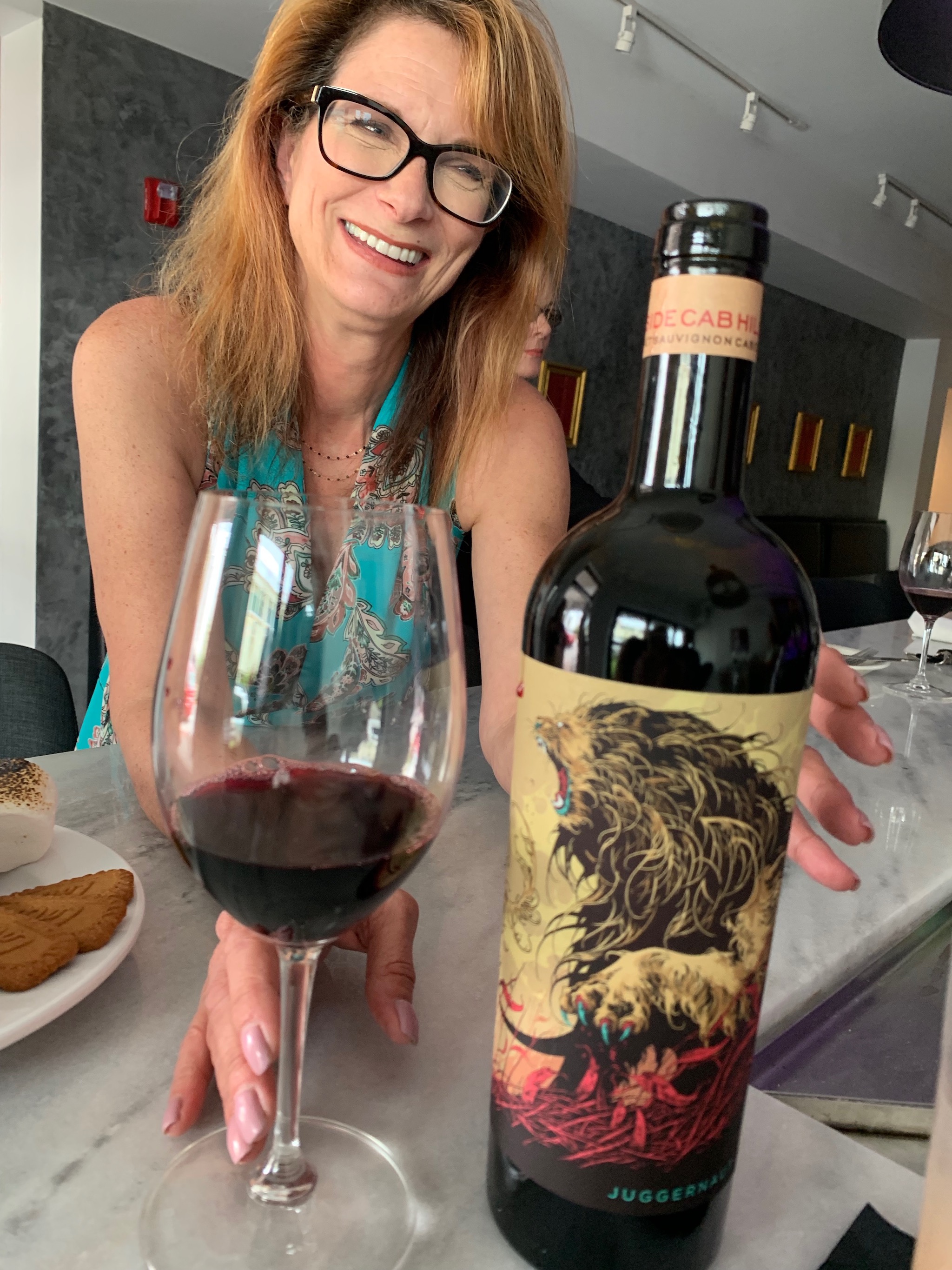 This next dish, for Chef Marlin has a special place in his heart as he is vegan. He works very hard to come up with dishes that will satisfy not just vegans but carnivores alike. It is definitely the most photogenic (not that they all weren't but just look at that color pop). It is a roasted cauliflower steak with salt, pepper, olive oil and balsamic then topped with sticky purple rice, a side of crispy spinach and watermelon radish then garnished with fried basil, beet oil and carrot oil.
Chef Marlin assures us that the cauliflower is humanely harvested and is totally grass fed, as Kevin so sillily asked him. Then he goes on to describe what it's like to eat this dish, "you have a crisp to it, the chariness of the cauliflower, the sticky rice has a little sweetness to it, the oils are just beautiful. It's just an overall satiating dish."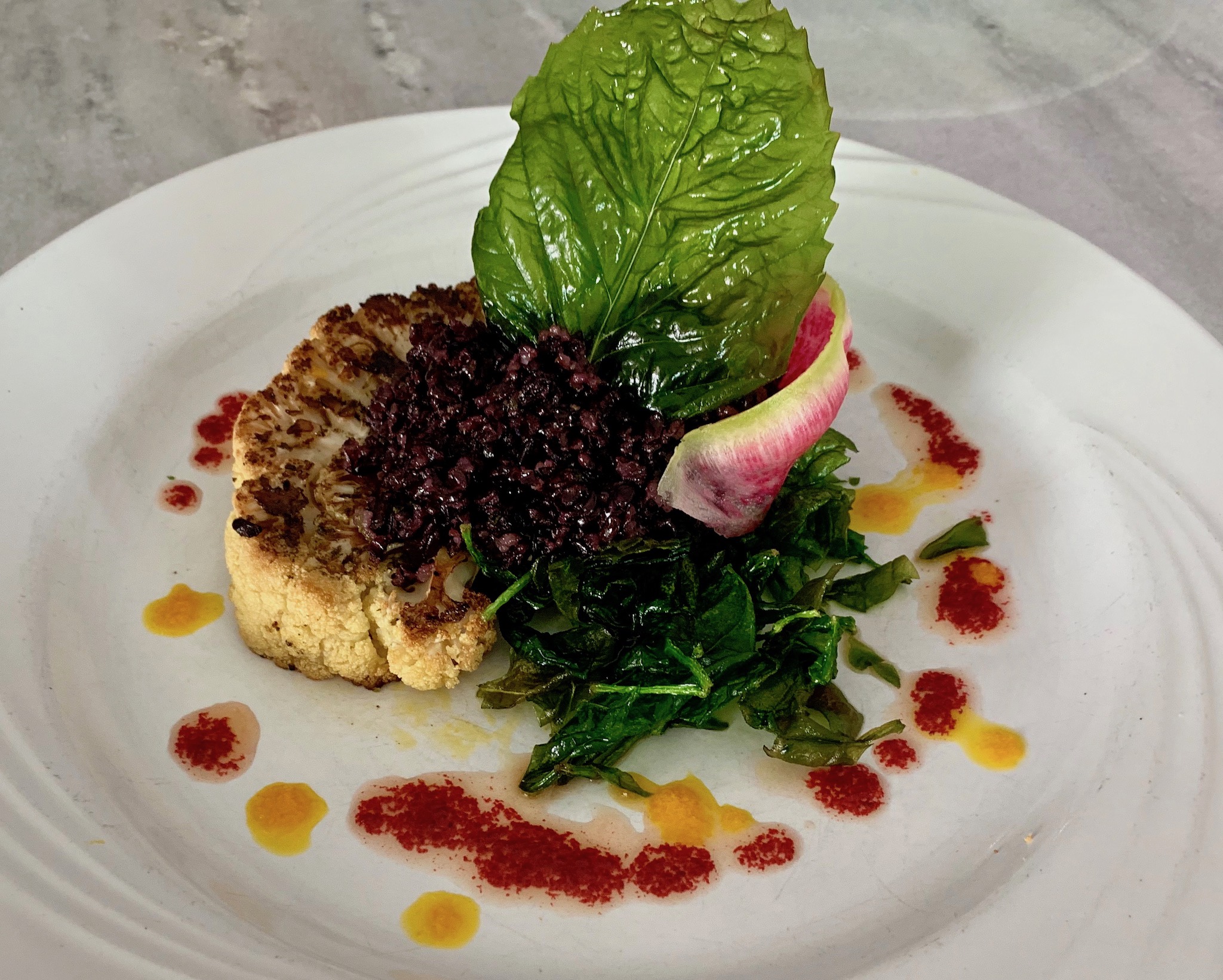 The dessert we tried was the Brownie Batter Dip. Kevin asked, "does it come with a joint?" It is very much like a deconstructed smore, which you can construct yourself however you like. I am not a huge marshmallow fan and we aren't big sweets eaters, but you won't find this dessert anywhere else that's for sure. The batter was yummy! Oh and the strawberries were luscious.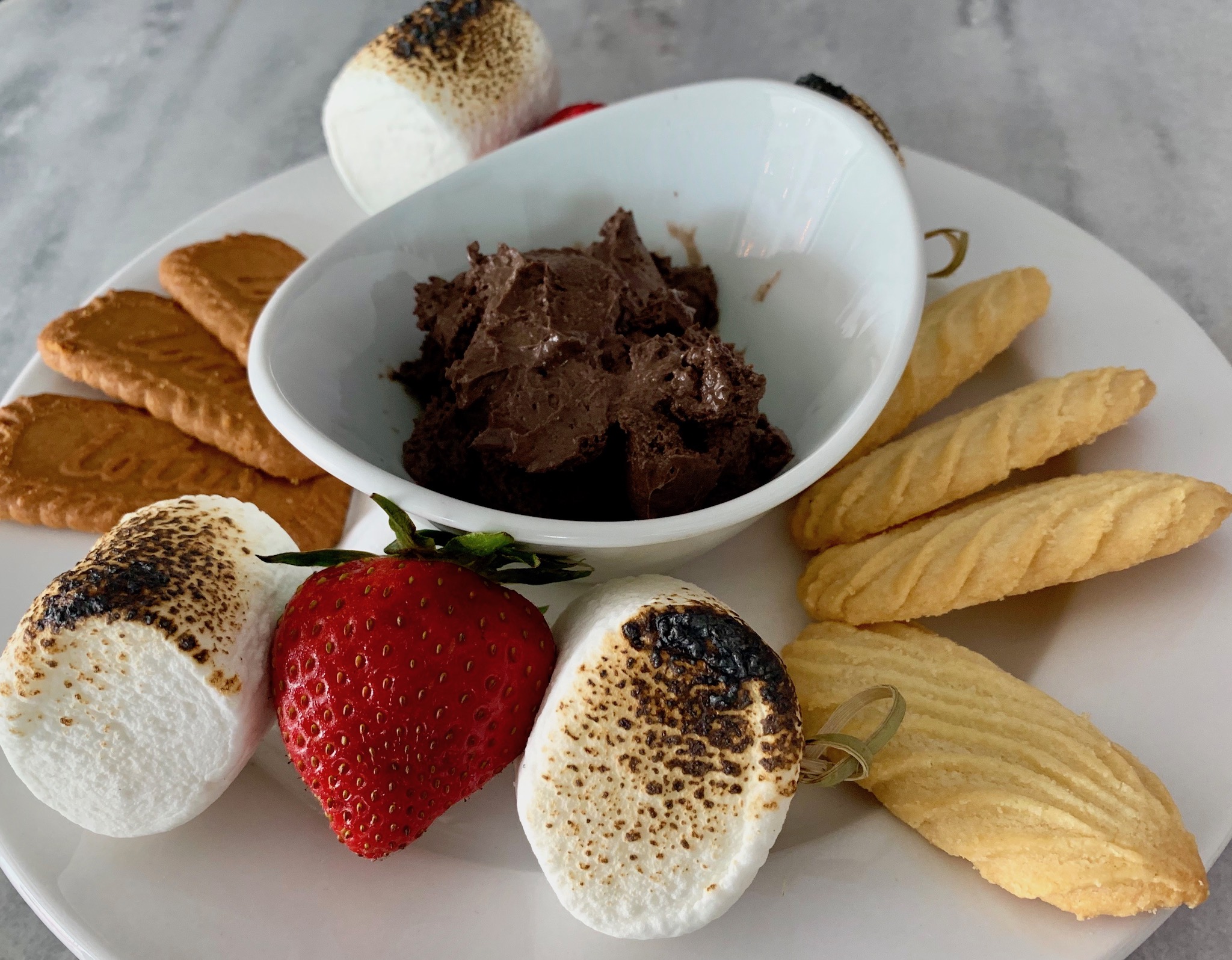 We were stuffed! As you can see, it was quite a feast and we all ate.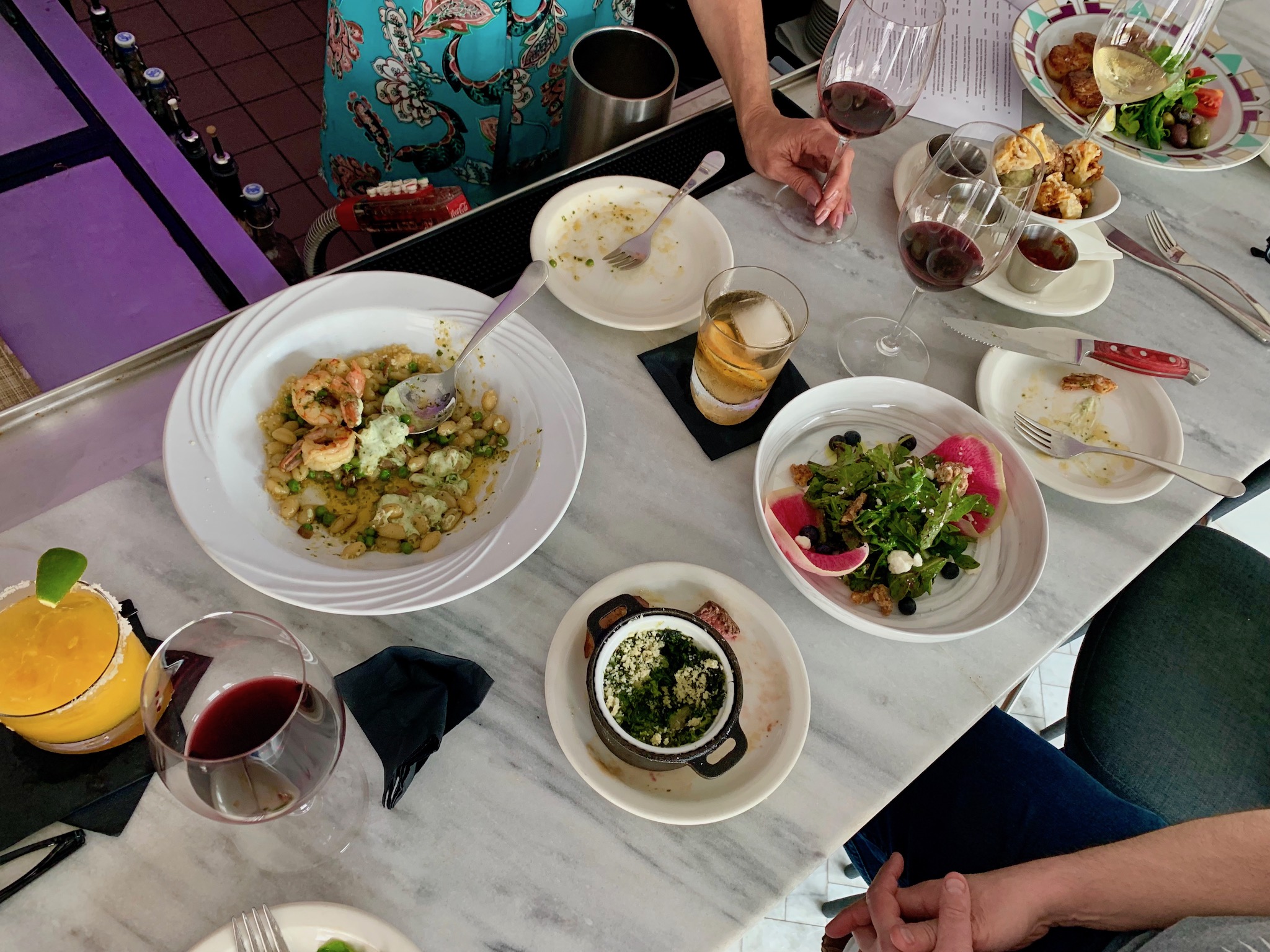 This menu is fantastic! We definitely had our favorites but truly enjoyed everything and would encourage you to get there soon and enjoy this spectacular new menu. I will close with another quote from Chef regarding the menu, "The menu is thematic throughout. Most of the food we make is simple, it says what it is, but yet it's always got some whimsy and a twist to it."
See all new menus below: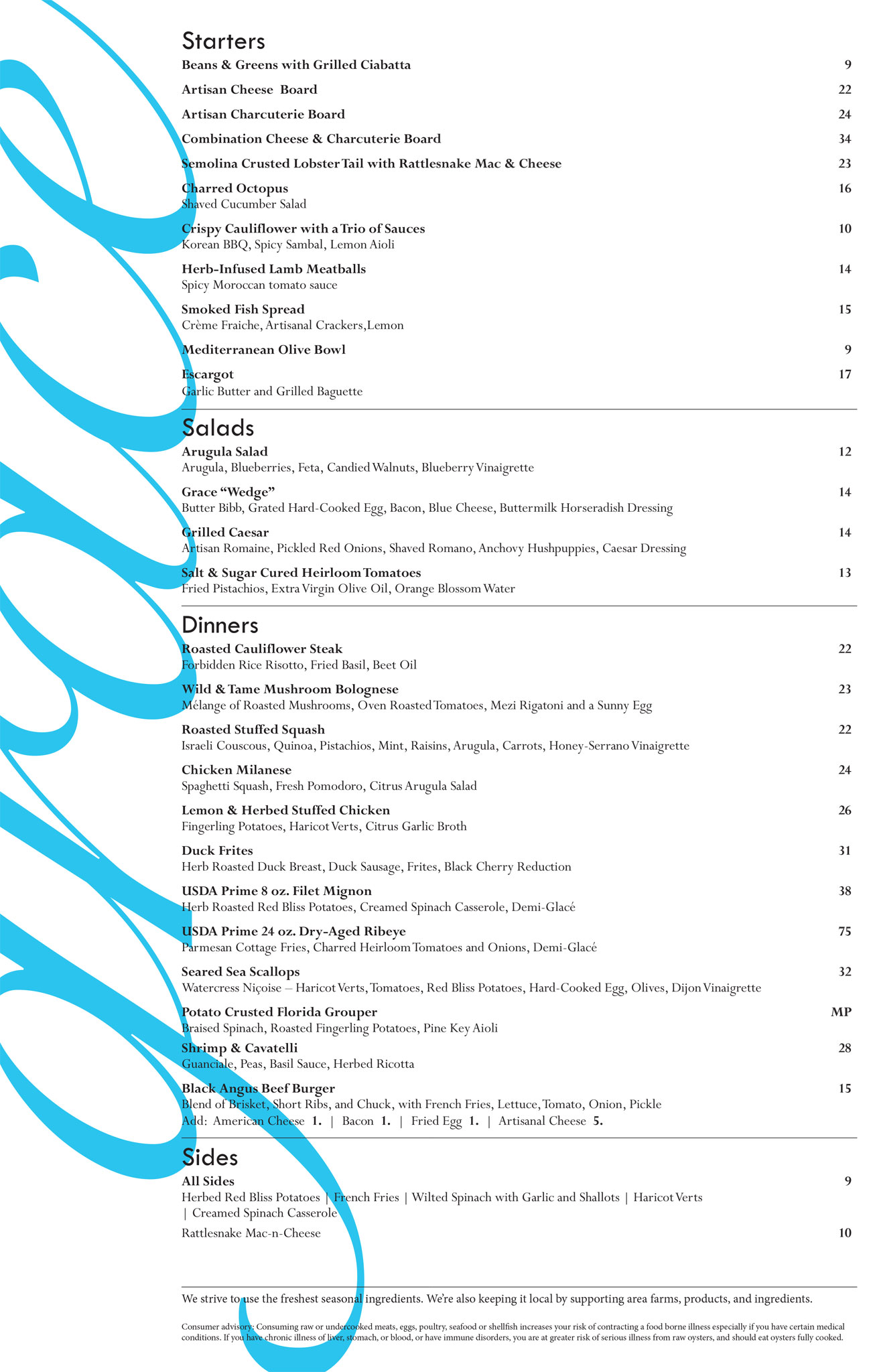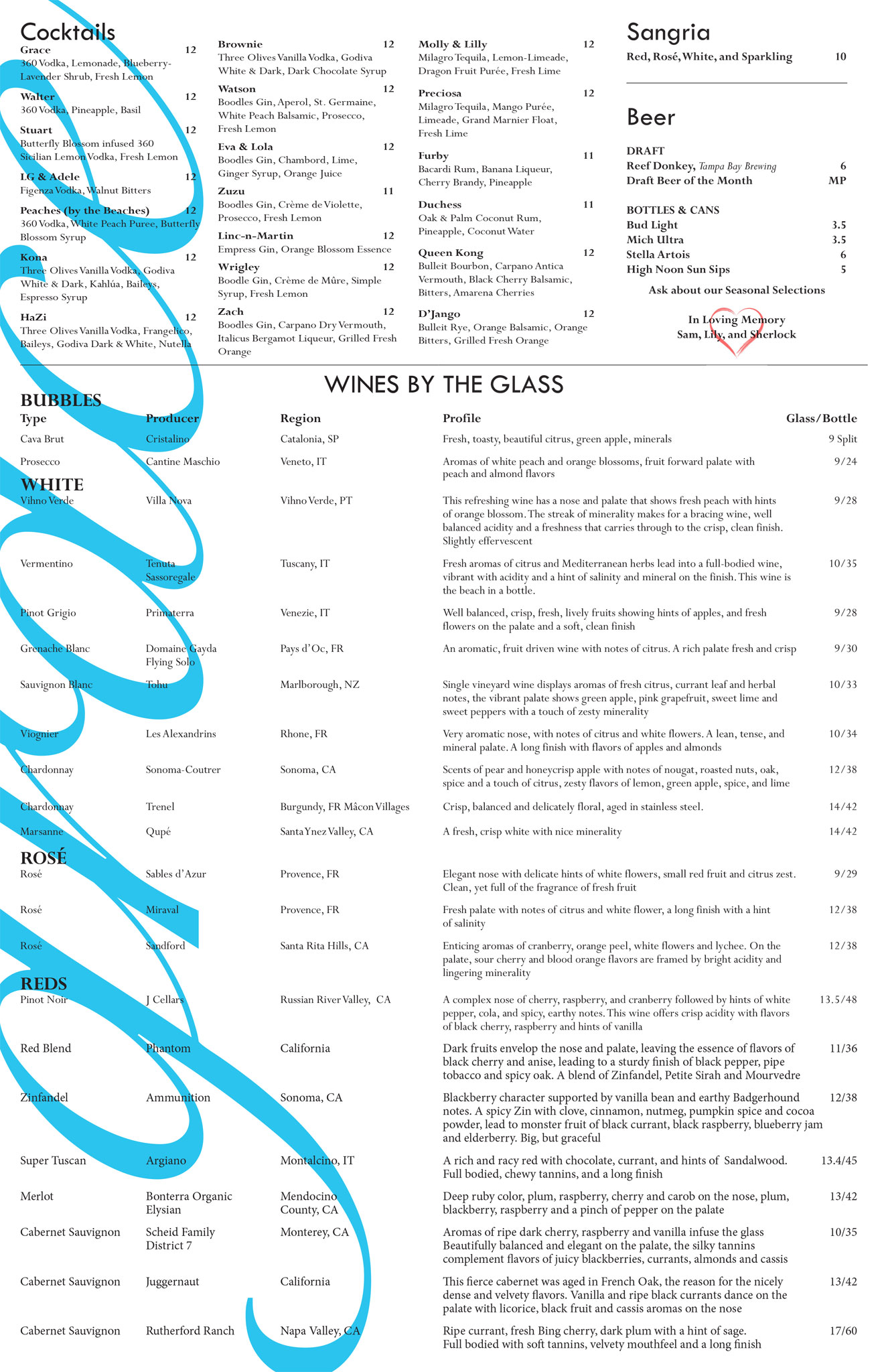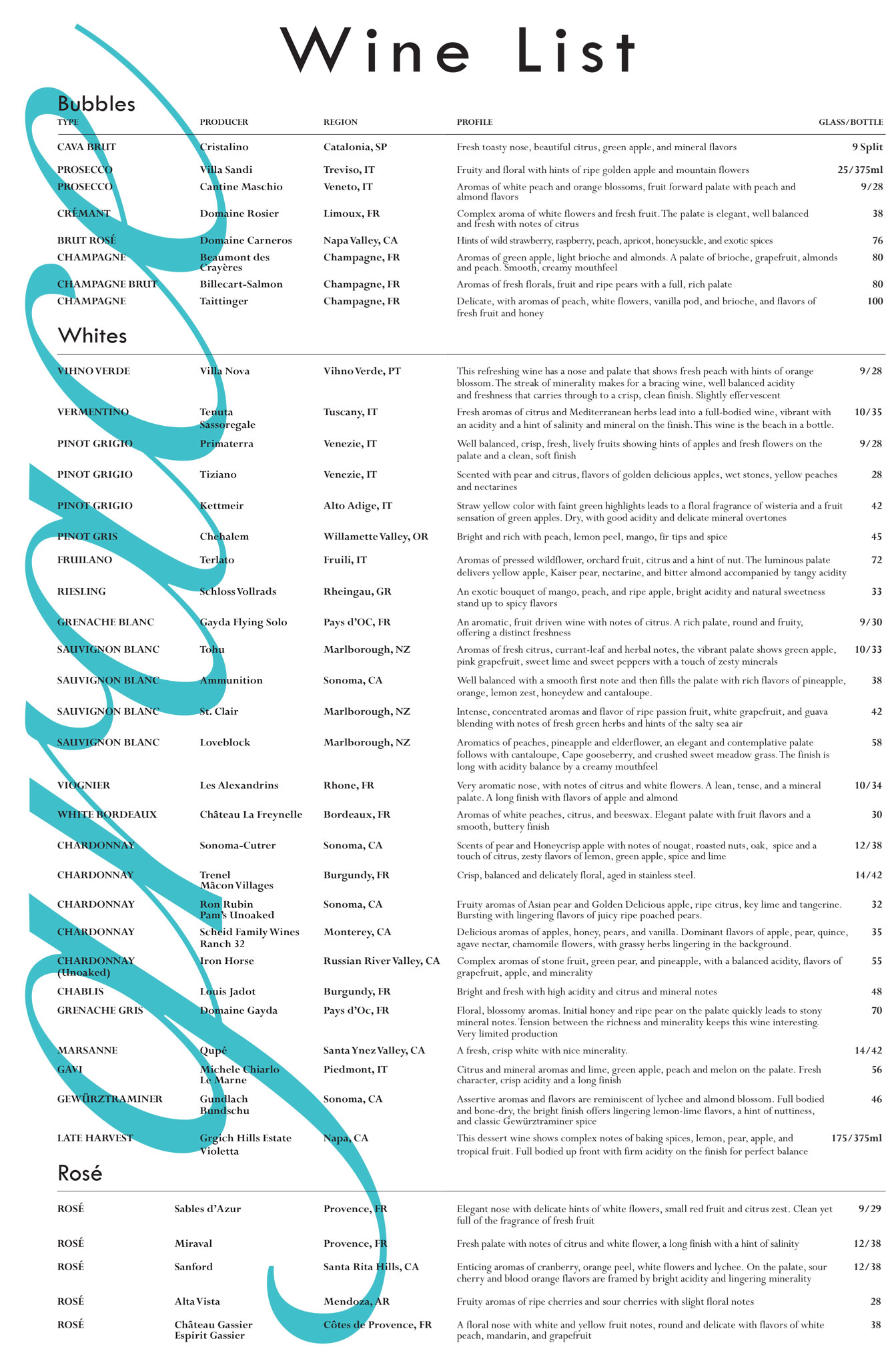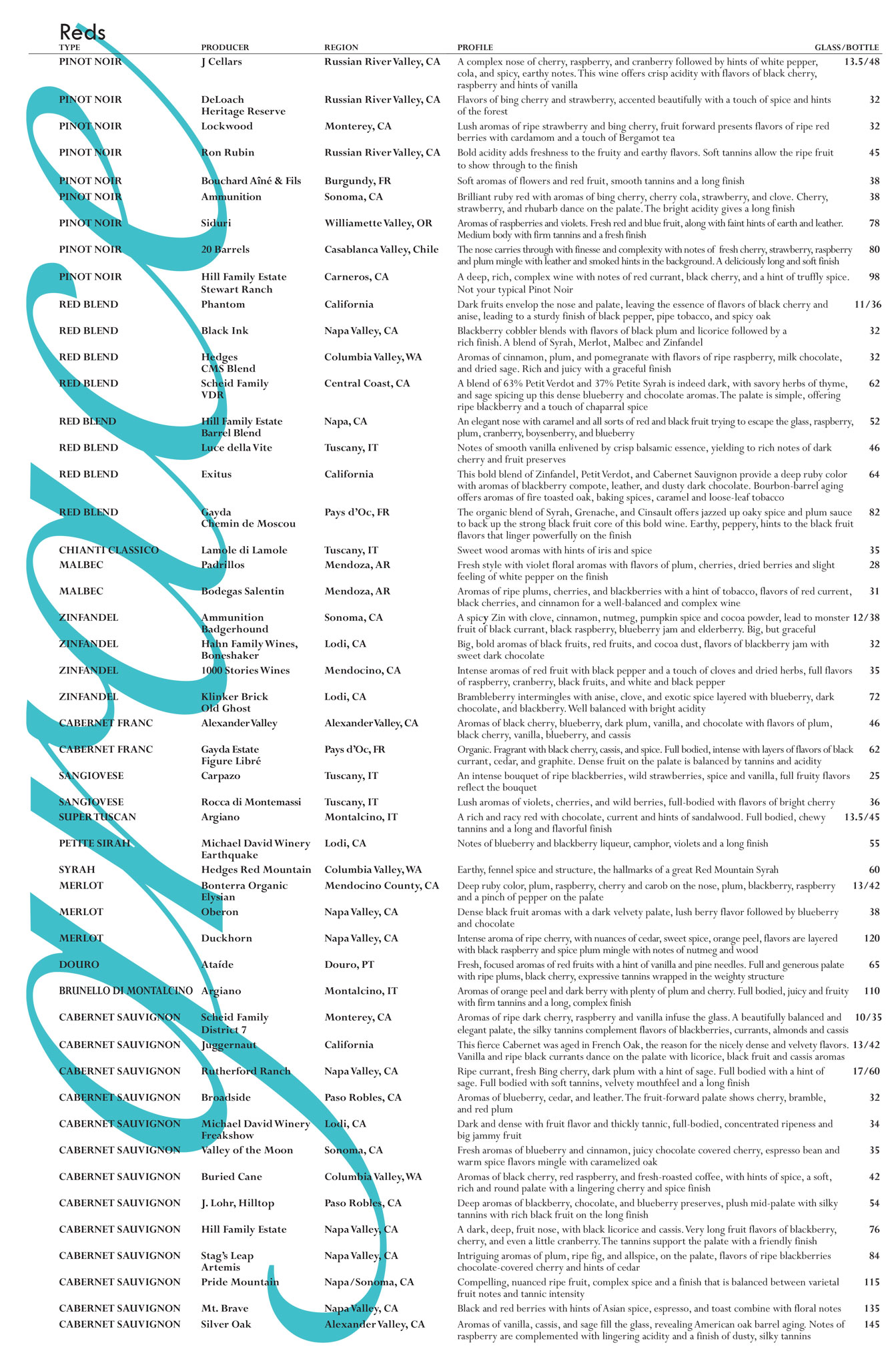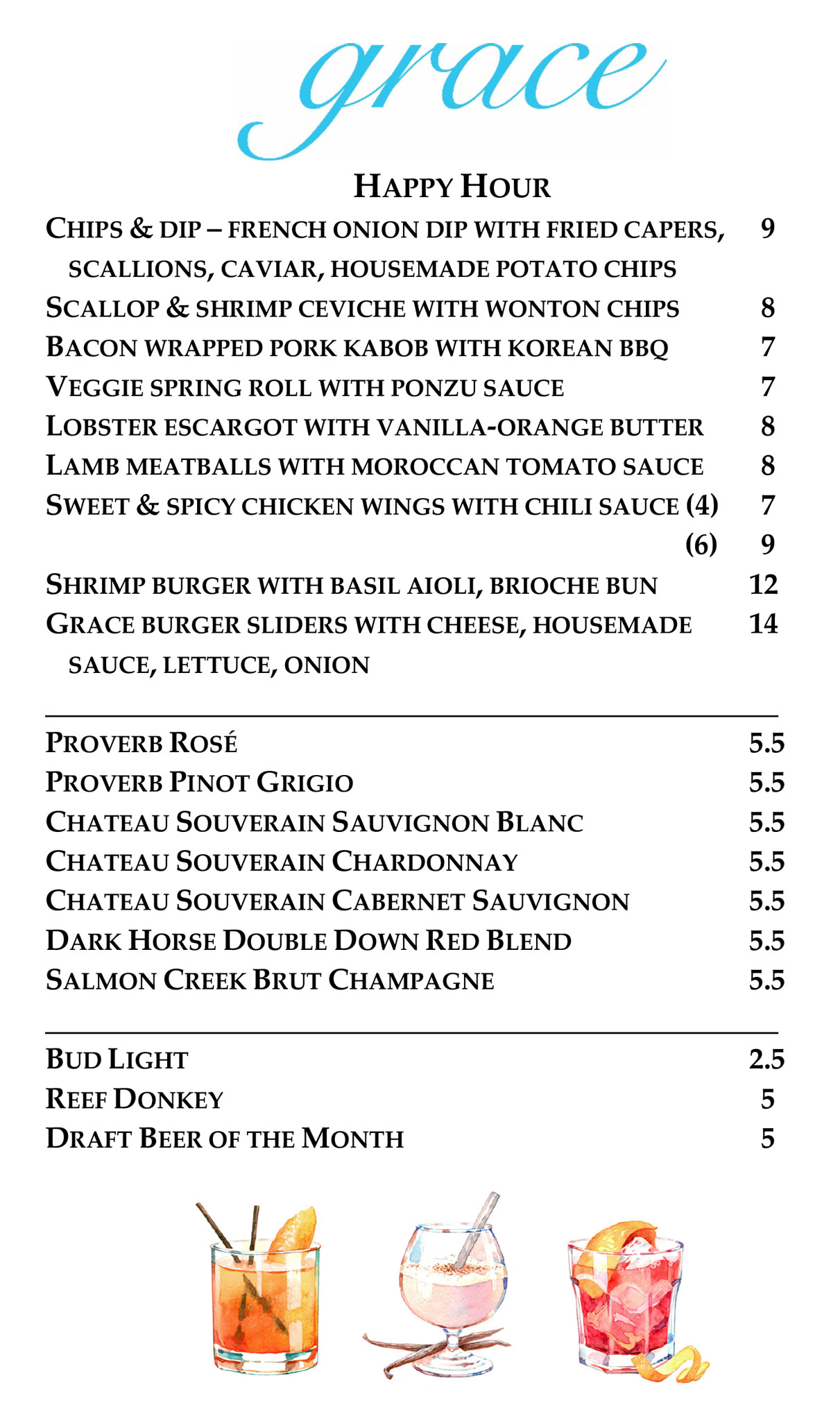 Grace offers modern American comfort cuisine, wine, and cocktails accompanied by impeccable service in a haven on the peaceful side of the beach. Locals and tourists alike can come and relax from their everyday demands in an environment that is elegant with out being intimidating. Grace is simplistic and timeless, and the food and service reflect how they would entertain in their own home.
DISCLAIMER: Kevin, Lori, Abby, Haley, & Lindsey do not dine anonymously (this would be impossible) and we sometimes get free food (though never expected). However, we dine with the locals and we support our own. You will always get honesty in a respectful manner. We do not include any large national or regional chains in our ratings and reviews. We focus on independent locally owned eateries exclusively.

PLEASE NOTE: Reviews reflect a certain moment in time. Some restaurants stay extremely consistent over many years, and some change for the better or worse. Some things that may change are: chefs, recipes, food suppliers, ingredients, philosophies, ownership, etc. We always hope that you have the same good, or great experience we had.
More Foodies News, Reviews & Recipes