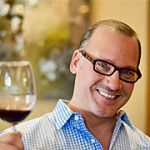 Kevin Godbee · Jun 27, 2017 · 3 min read
Sea Dog Brewing in St. Pete Area About to Open a Year Later
It was originally announced almost a year ago, in August 2016 in a Tampa Bay Times article that a Sea Dog Brewery would be opening on Treasure Island.
Now, with the help of Chris DiNeno, Broker/Owner of the EnterDine Group @ Main Street & Main, they are planning to open this August, (if everything goes perfectly). Mr. DiNeno's consultancy has been an integral part in the design and ongoing development.
UPDATE August 25: New Anticipated Opening date is mid-to-late September
**In addition to the update on the new opening date, we also have a first look at the final menu.
SDTIMenu7

Here is the original artist's rendering of the new Sea Dog on Treasure Island.
DOWNLOAD Sea Dog Renderings PDF with 14 Different Views
This location at 9610 Gulf Blvd. housed Captain Kosmakos Bar & Grill from 1987 to 2012, and had a short run as Blackwater Grille from December 2012 to April 2013. (That short run doesn't even have it mentioned in the Times article from a year ago.) The building was originally constructed in 1974 as the Treehouse Grill.
Interestingly, the Times article says; "Forsley said he doesn't expect to make any major structural changes to the building...". In actuality, we were shown how they completely gutted the entire building and made it 95% brand new.
"There is not a single pipe, wire, or anything from the original ... the only thing that's still here is concrete. If it's a concrete pillar, then it's still here.. and the metal beams", says DiNeno. The massive kitchen is completely new and shiny.
There is still some work to go, but they are hard at it.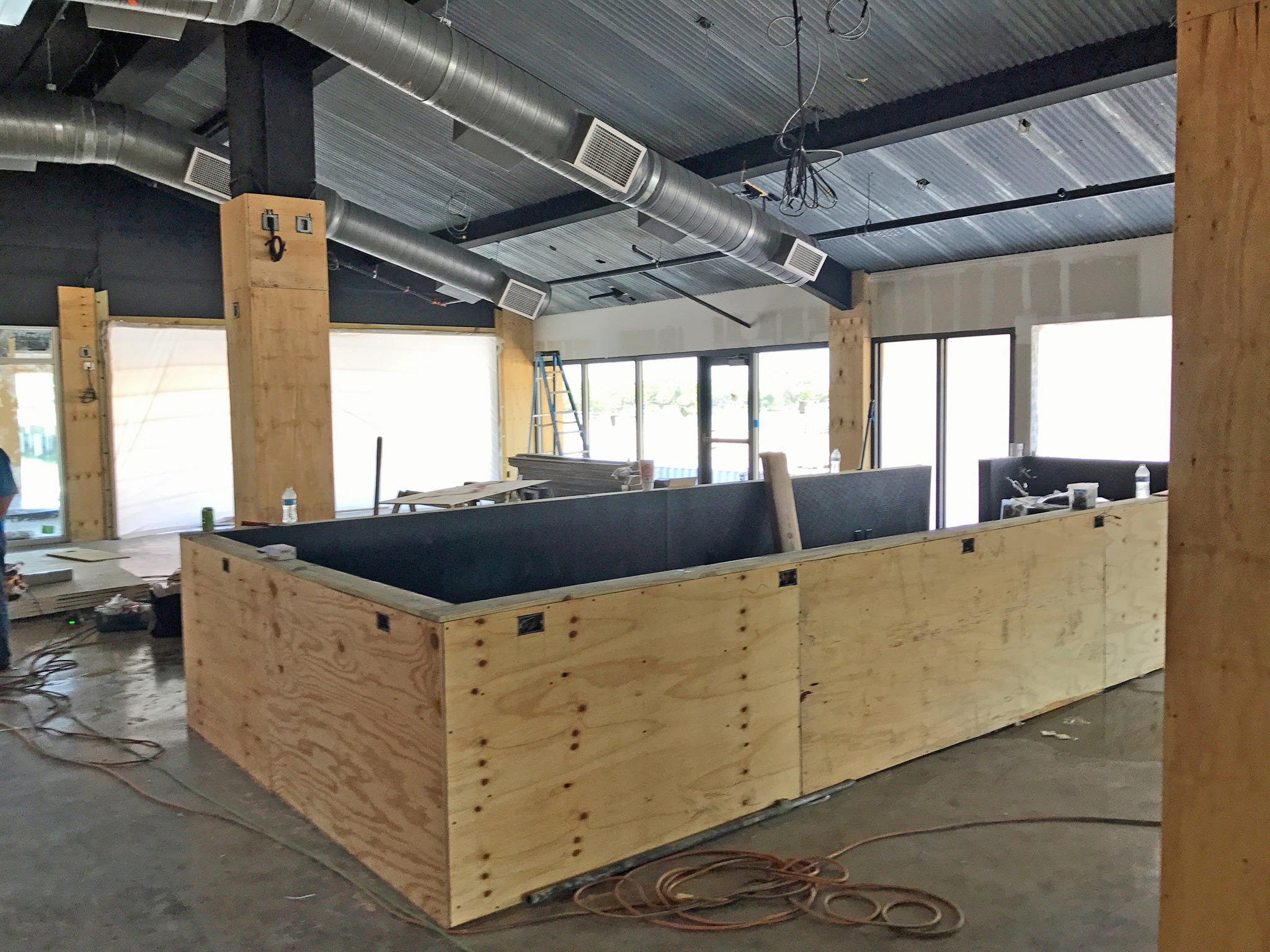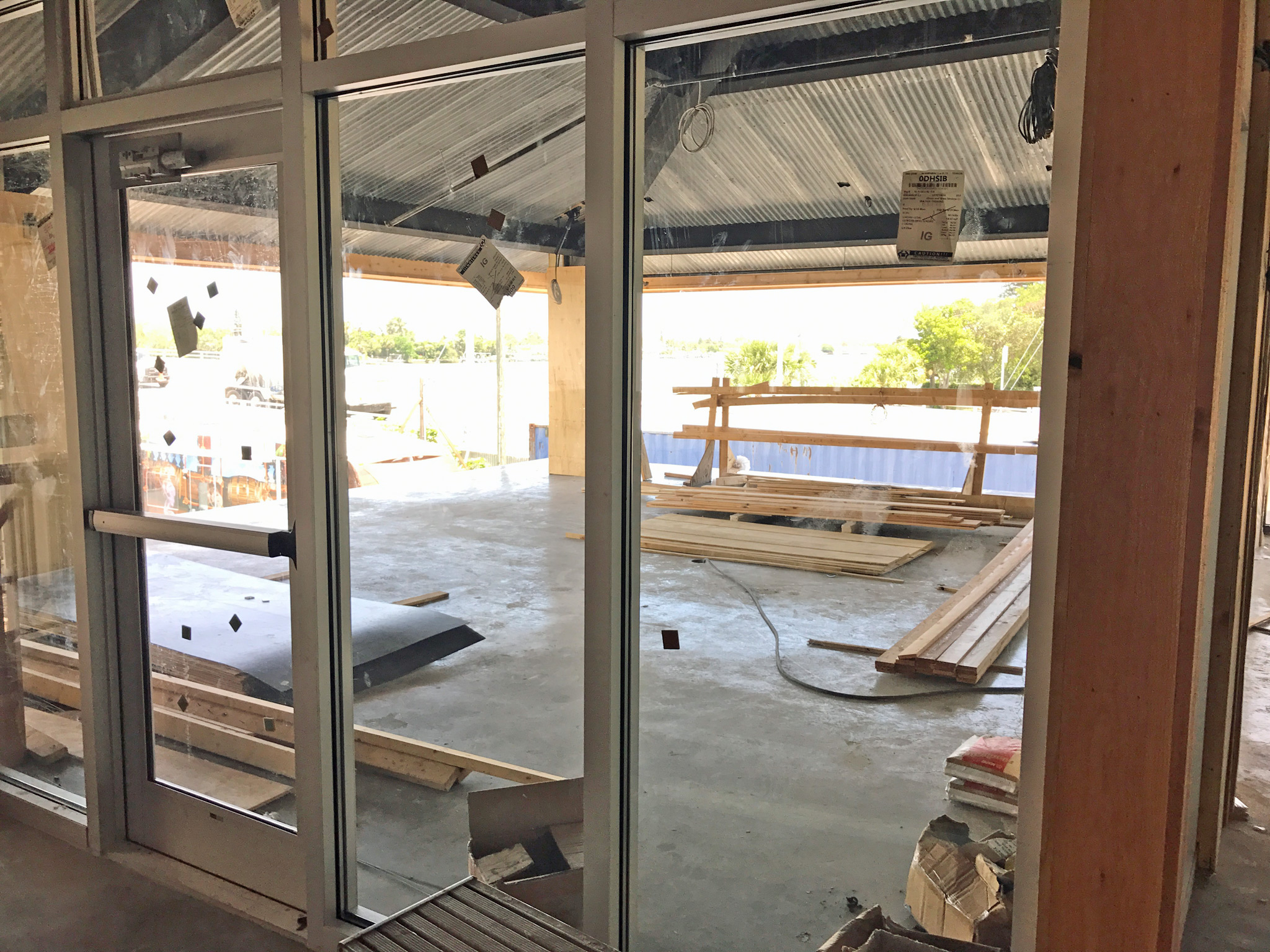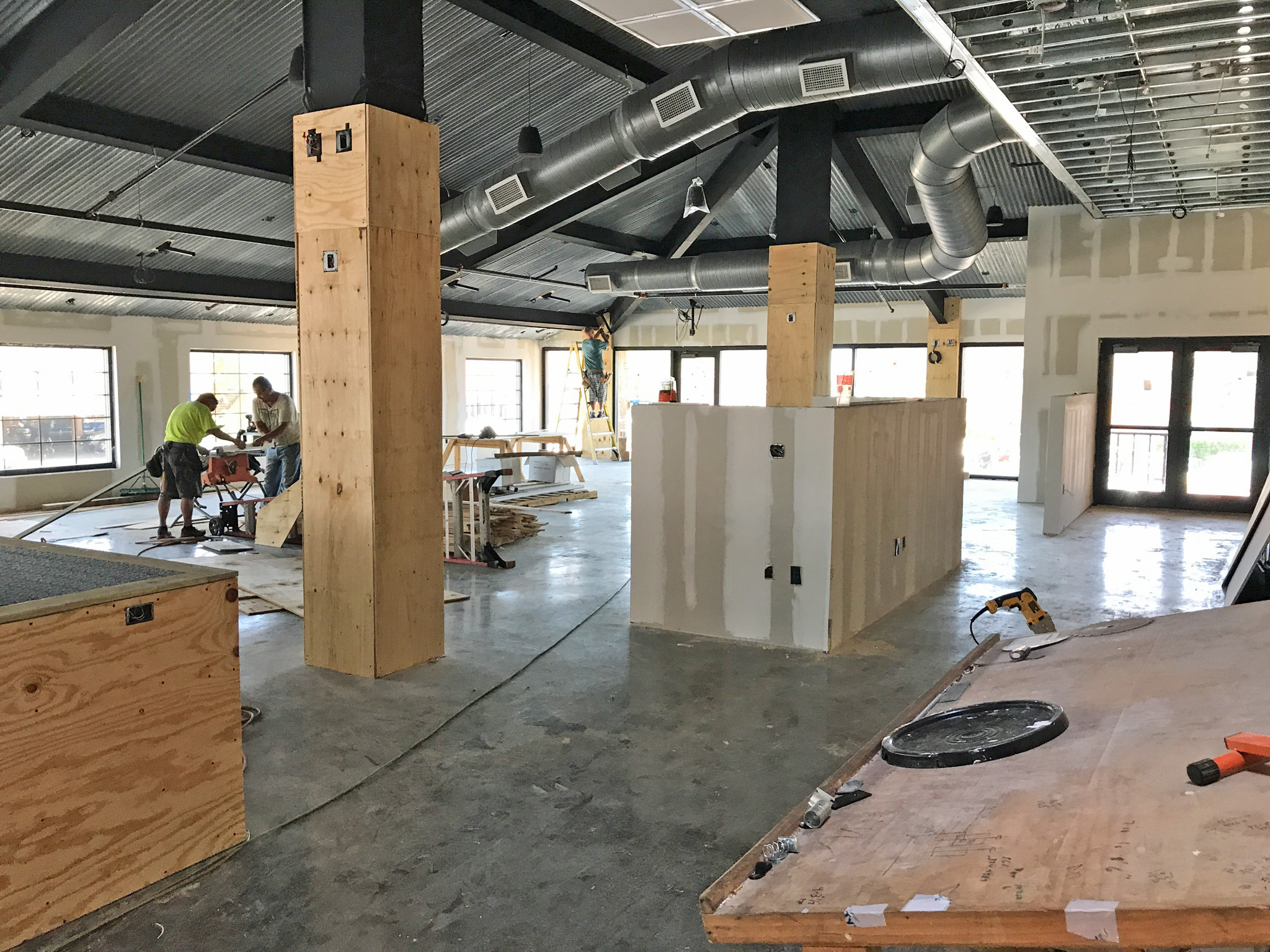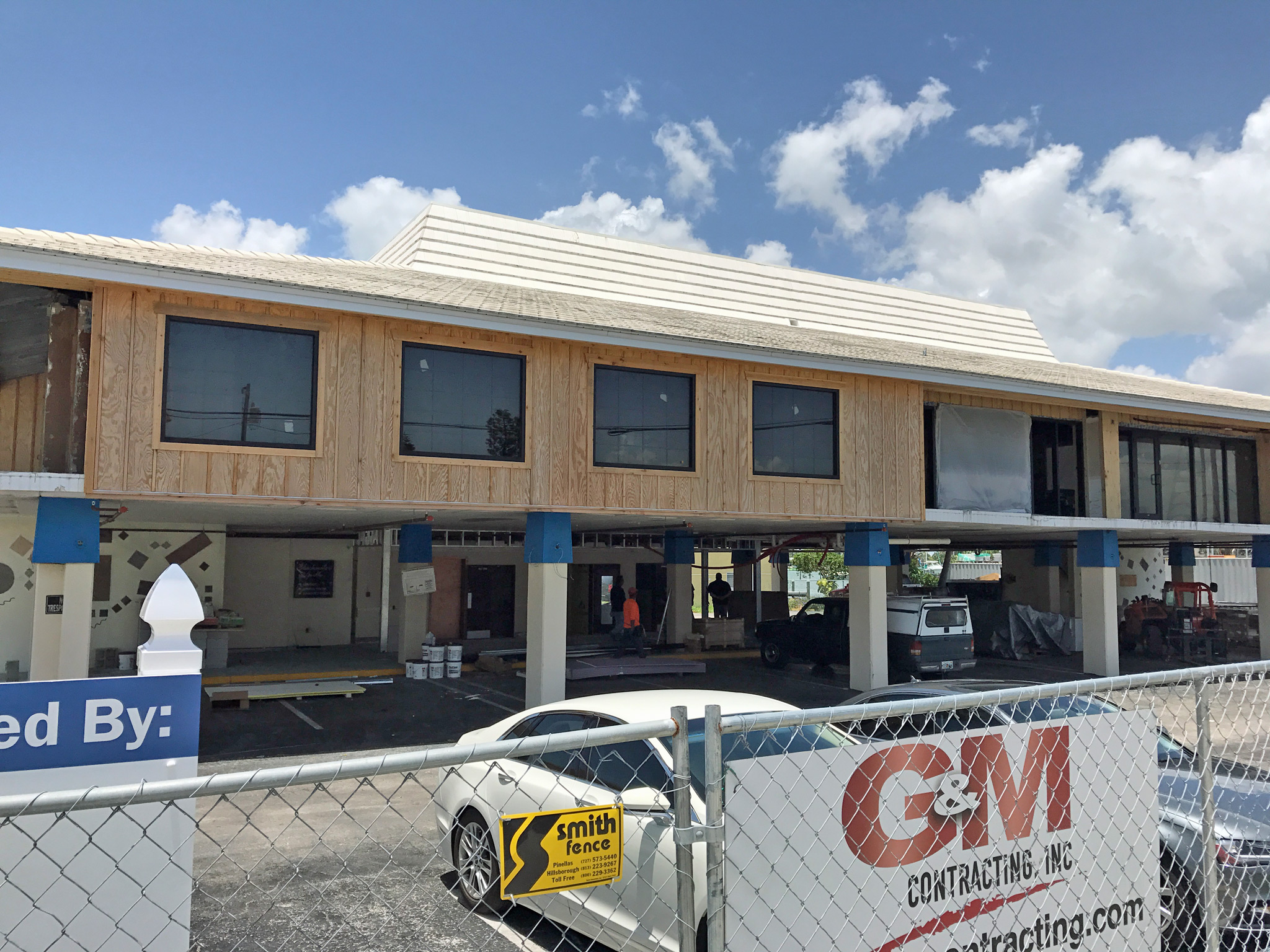 This is a huge indoor / outdoor space with a massive air-conditioning unit to keep it cool inside even though it is mostly open air. There are a few bars that are open to both the outside space, and inside where you can be inside looking out, or vice versa. There are beautiful views of the blue-green intracoastal waters.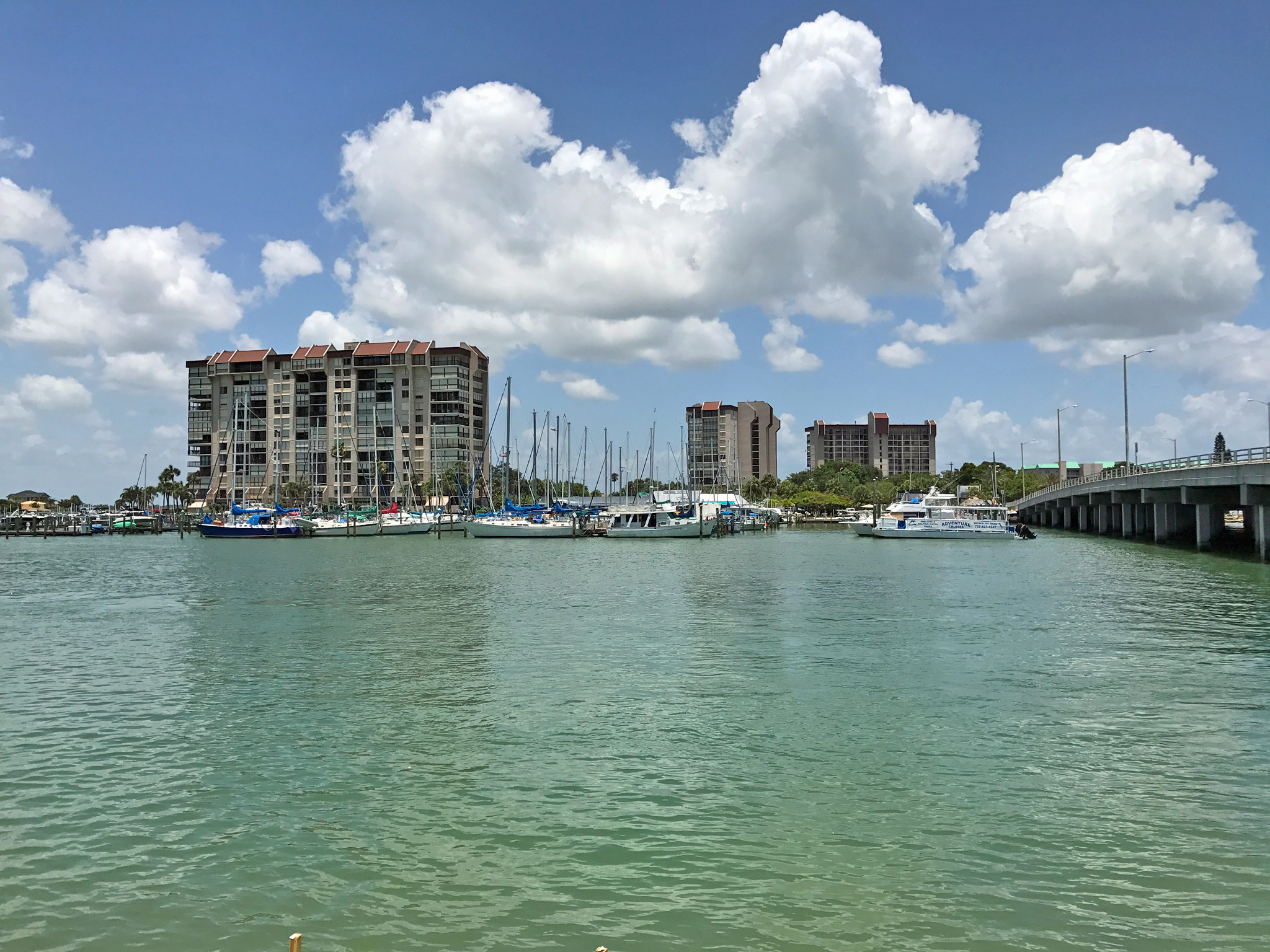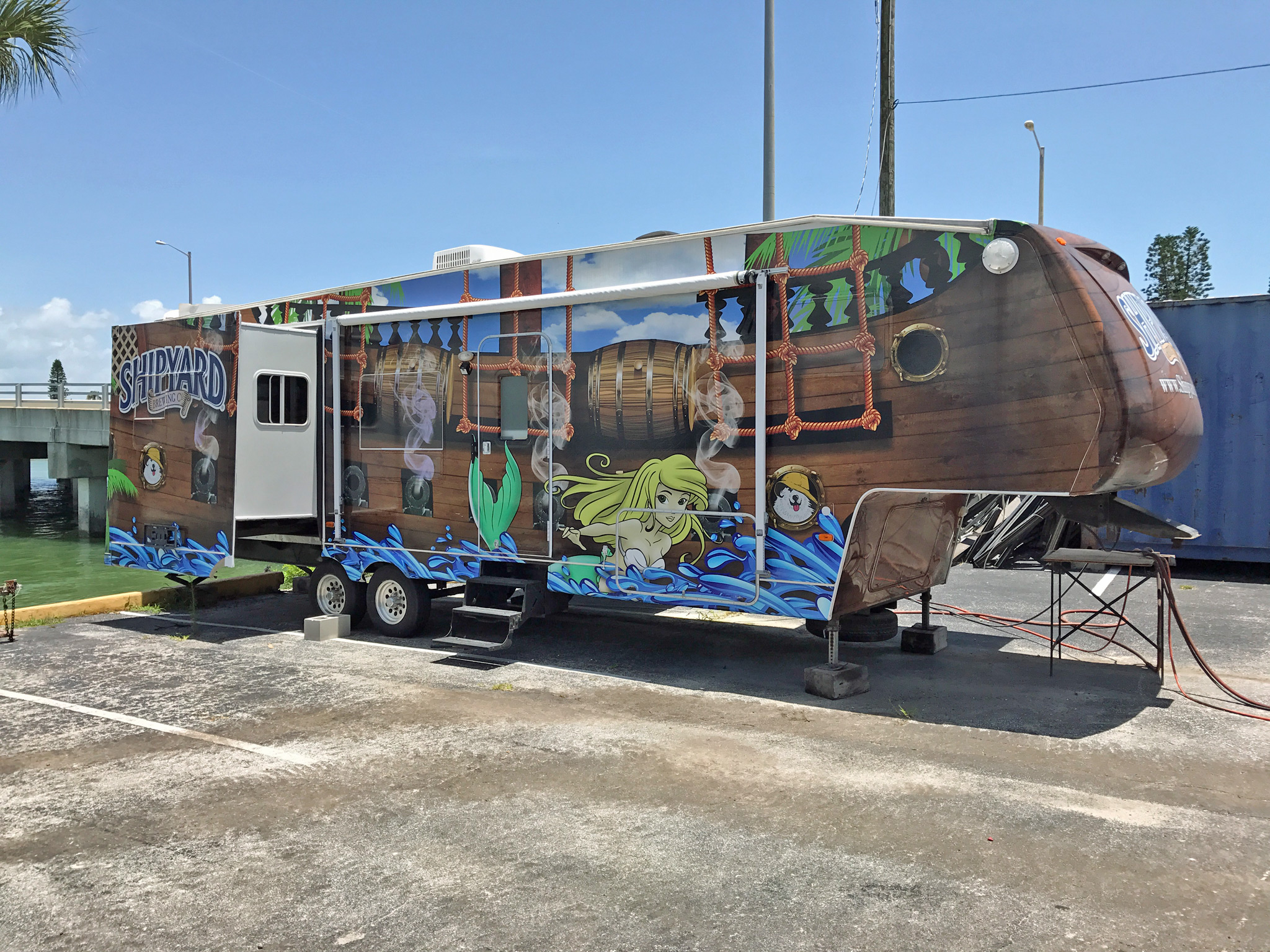 Sea Dog Brewing is based in Maine and is owned by Shipyard Brewing Co. You may have seen one or both of the beer brands in retailers nationwide. There are four Sea Dog restaurants in Maine, and one in New Hampshire. The Treasure Island location will be the third Florida spot after Orlando and Clearwater.
Although they are a regional chain, they use local and sustainable ingredients, and the Sea Dog beer will be brewed locally on site. General Manager, Charlie Breakiron (that's the coolest last name ever), told us that after they brew the beer, the mash goes back to the farm for the cows to eat. They are purchasing local beef, and are using Dakin Dairy Farms in Myakka City (Sarasota area) as one of their suppliers.
Pies are coming from The Pie Factory in Largo. "We're trying to keep everything as fresh and local as possible.", according to Breakiron.
Sorry Coke and Pepsi. You're out. Sea Dog has their own brand of craft soda, Capt'n Eli's, along with their own Ice Pik Vodka, which is gluten-free and distilled eight times.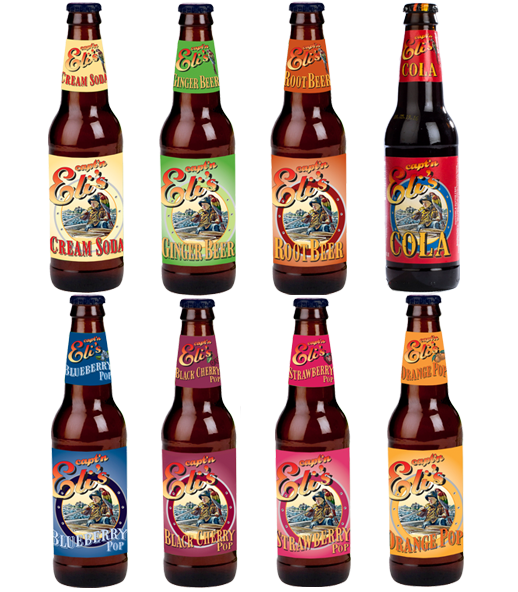 The menu will have 50+ items with an emphasis on seafood, but will of course, have the bar standards, like wings and burgers amongst others.
There will be a raw bar with oysters and shrimp. Some of the additional seafood items include:
Ahi Tuna Poké
Fish & Chips
Fried Shrimp Dinner
Lobster Mac & Cheese
Crab Cakes
Smothered Shrimp & Grits
Blood Orange Salmon
North Atlantic Scallop Risotto
Scampi with Mussels
Lobster Roll
Blackened Grouper Sandwich
Cajun Fried Shrimp Po' Boy
Blackened Mahi Tacos
There are also soups, salads, sandwiches, desserts ... and don't forget to try their famous Drunken Burger with bourbon bacon jam, IPA braised onions, Sea Dog beer mustard and Dakin white cheddar on a brioche bun.
The space sits on the intracoastal and will be accessible by boat. There are 12 boat slips. It's right at the bridge where Gulf Blvd turns into Blind Pass Road, across the intracoastal from Sea Hags Bar & Grill, and Salty Rim Grill. There will be additional parking across Gulf Blvd., (they bought that lot too) and also at the end of the block near Harrell Avenue where they made a deal with the owner of another parking lot.
Go check them out and tell them that St. Petersburg Foodies sent you.
Indoor / Outdoor brewery and restaurant accessible by boat.