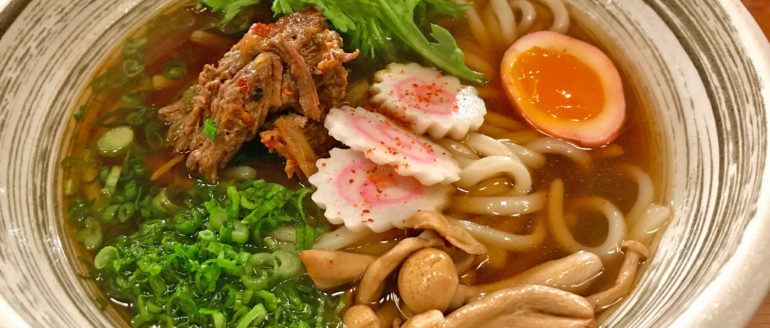 Ichicoro Ane in downtown St. Pete is permanently closed. They are still open in Seminole Heights.
This Sunday, December 10th is World Ramen Day, and the perfect day for the long anticipated grand opening of Ichicoro ANE at Station House in Downtown St. Pete. We were lucky, and oh-so-willing participants in last night's friends and family event, and Wednesday's cocktail party.
In short, the ramen—and all of the other Japanese food—is amazing, and you have to go!
The original Ichicoro Ramen opened in Seminole Heights about two years ago. It's a small place where there is usually a wait as the ramen is quite renowned. We went there for the first time on the invitation of Managing Partner, Kerem Koca, just a week ago. The food is so good, and the ramen portions are huge. We took half of our ramen home and ate it for breakfast the next morning. (There were a few appetizers involved too.)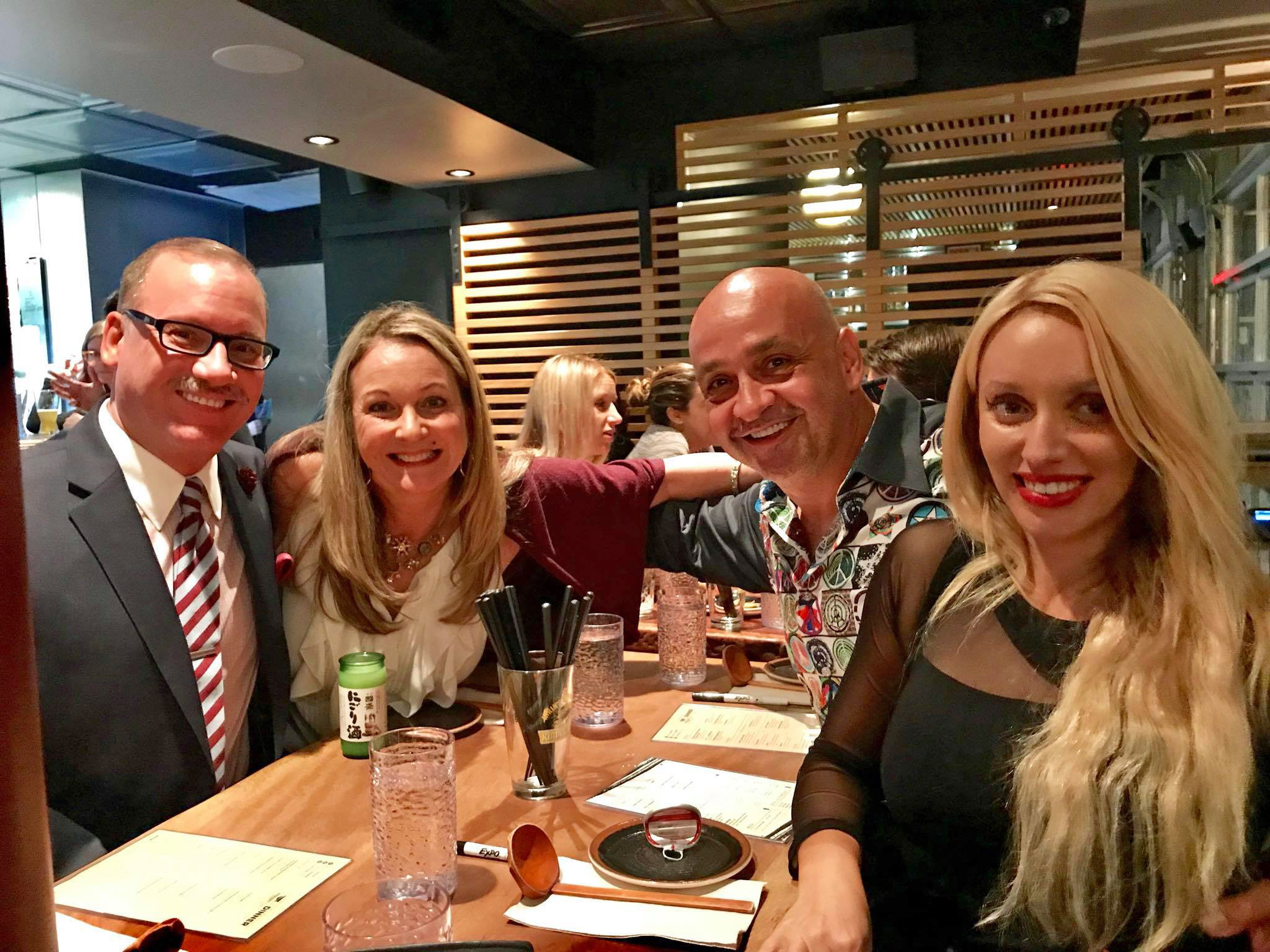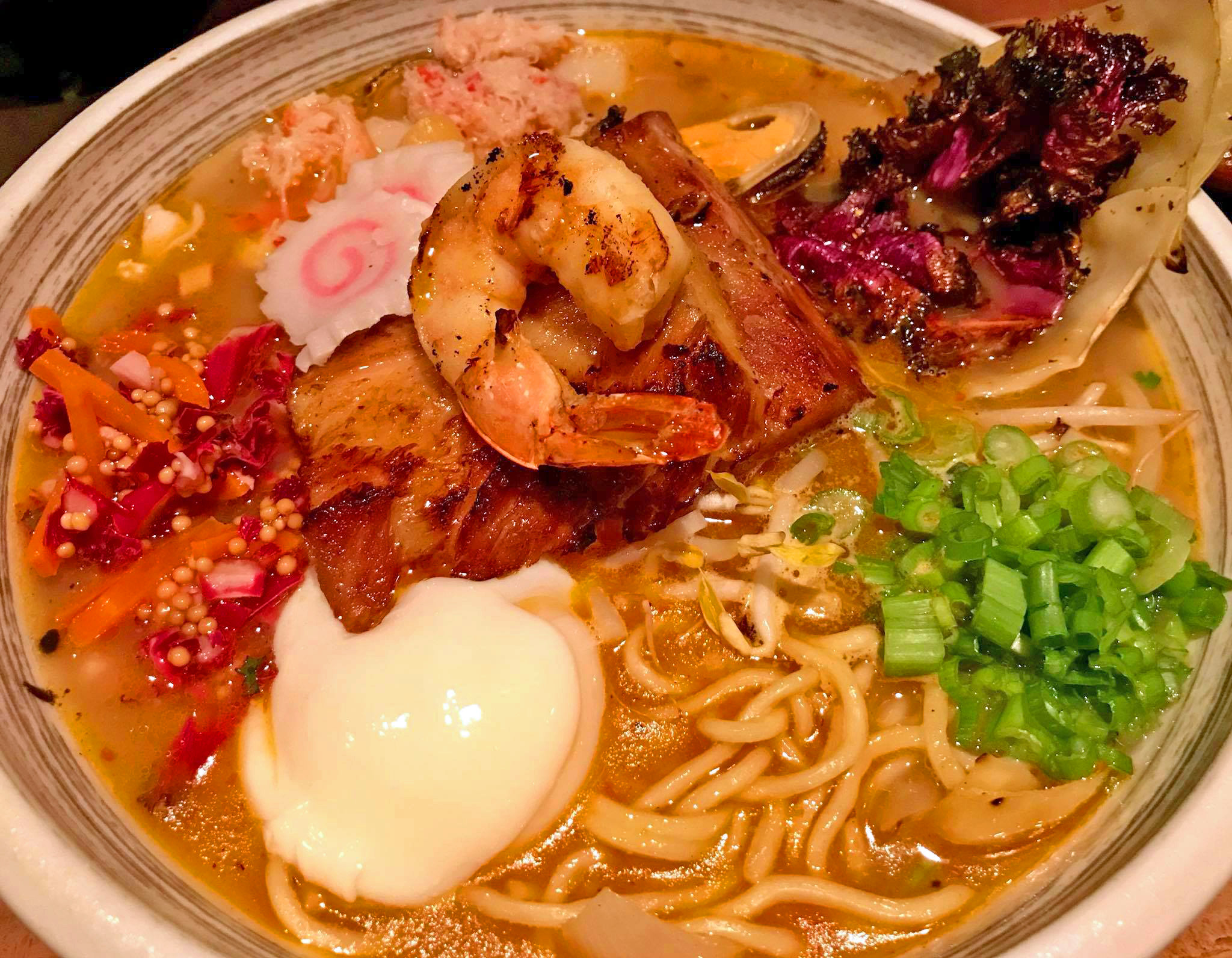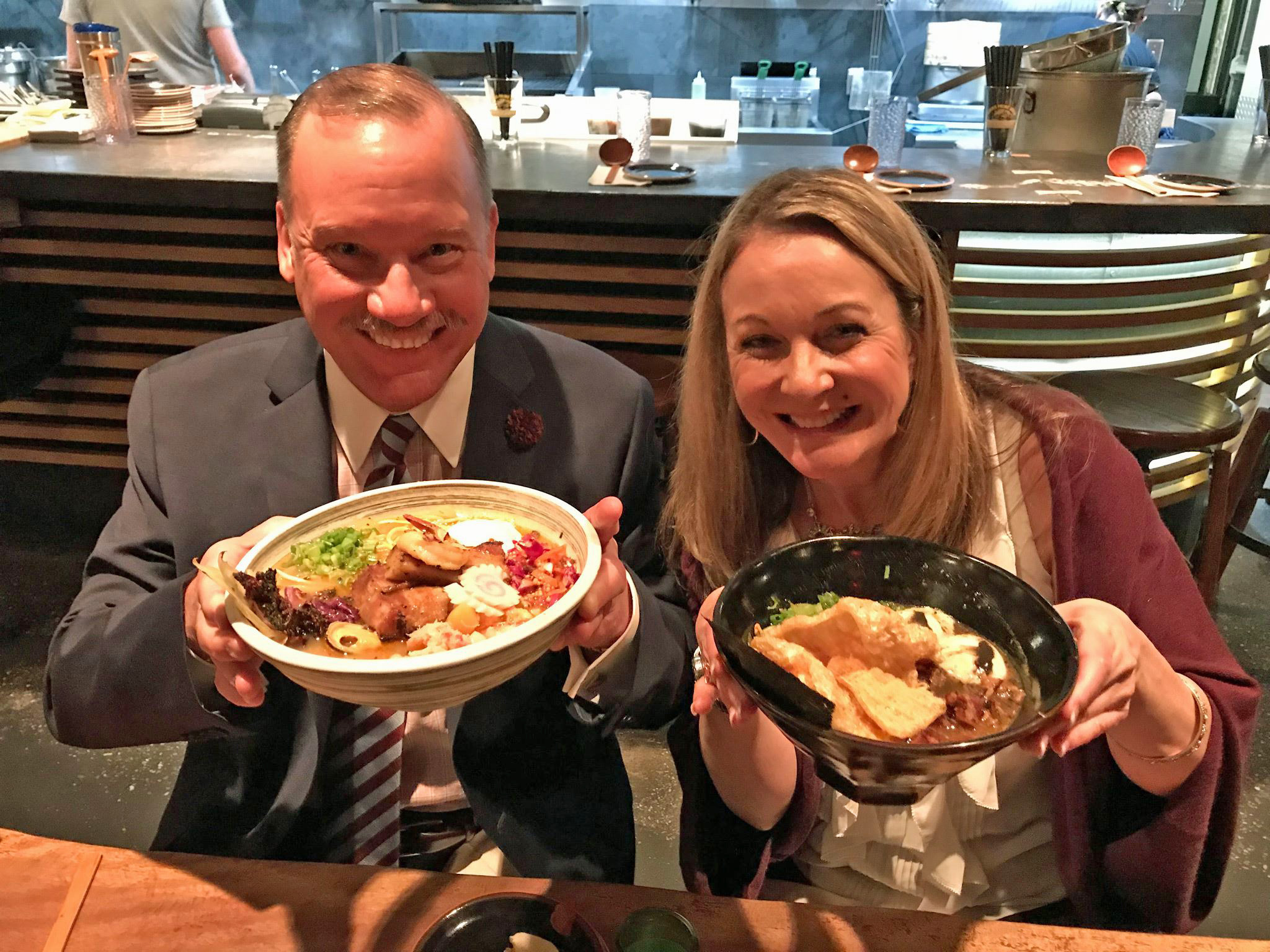 The location here in St. Pete has the word "Ane" (pronounced AH-NAY) added to it, as it means older sister, or in this case bigger sister, in Japanese. The location here at Station House is quite large (almost 6,000 sq ft.), and is designed as four separate spaces in one. They gutted the entire place, taking it all the way down to the dirt. "Everything is new—the plumbing, electrical, mechanical—everything." Chef Noel tells us.
Where the bar used to be at the former Station House and Café Alma restaurants is now the ramen kitchen. (There is a main kitchen as well.) The former entrance in that spot is closed, and the new entrance is a few yards away on 1st Ave South just below the main Station House Co-Work space.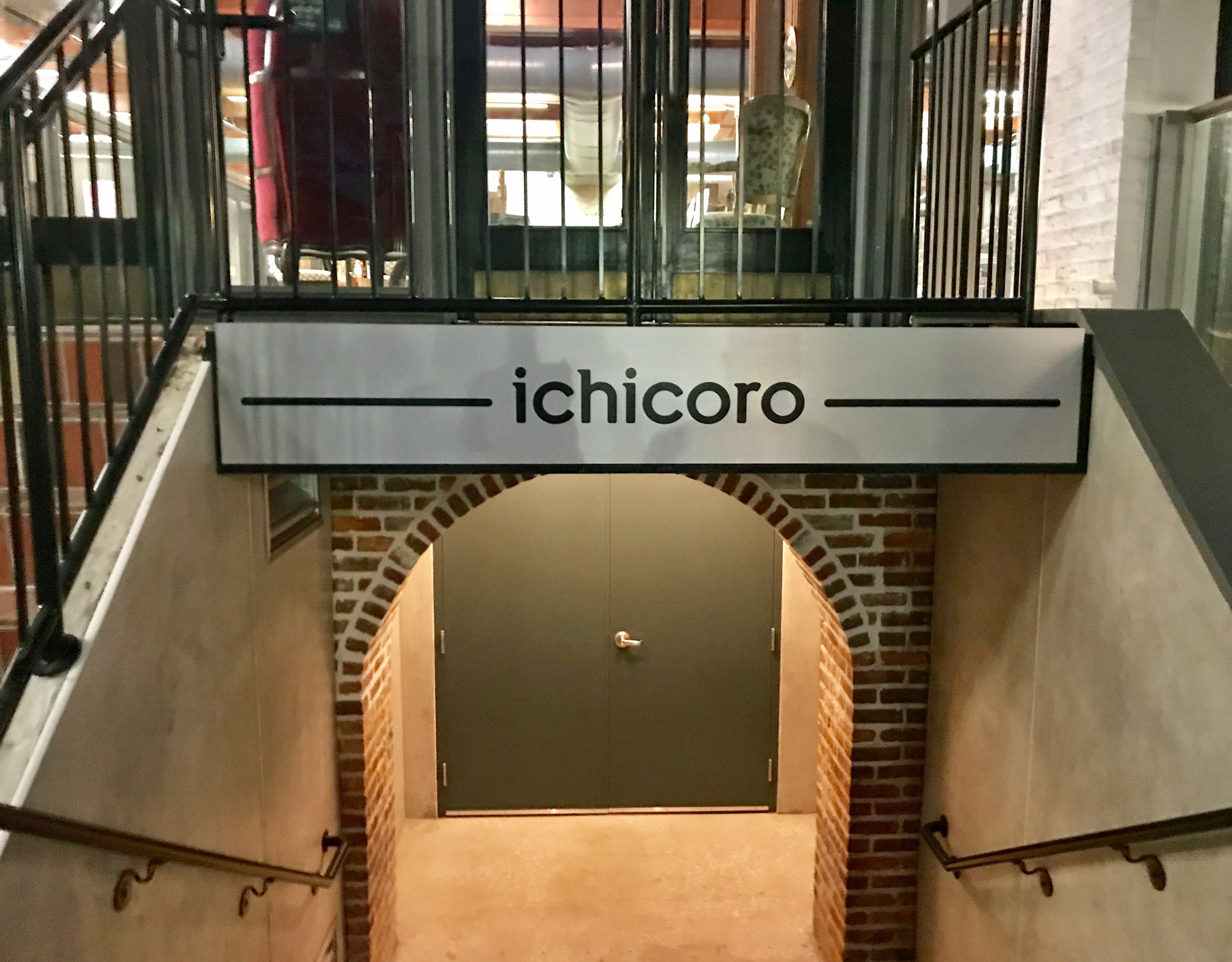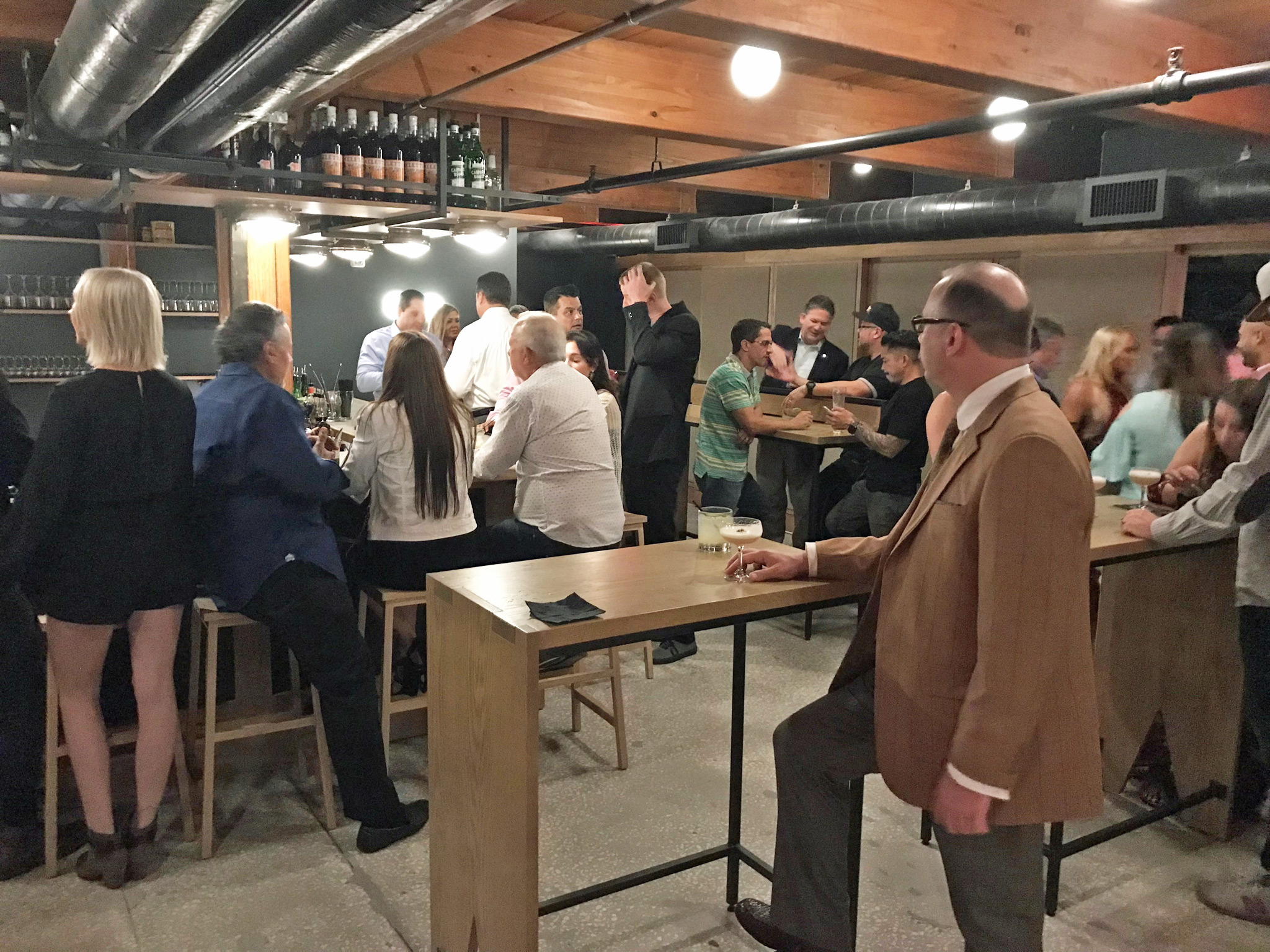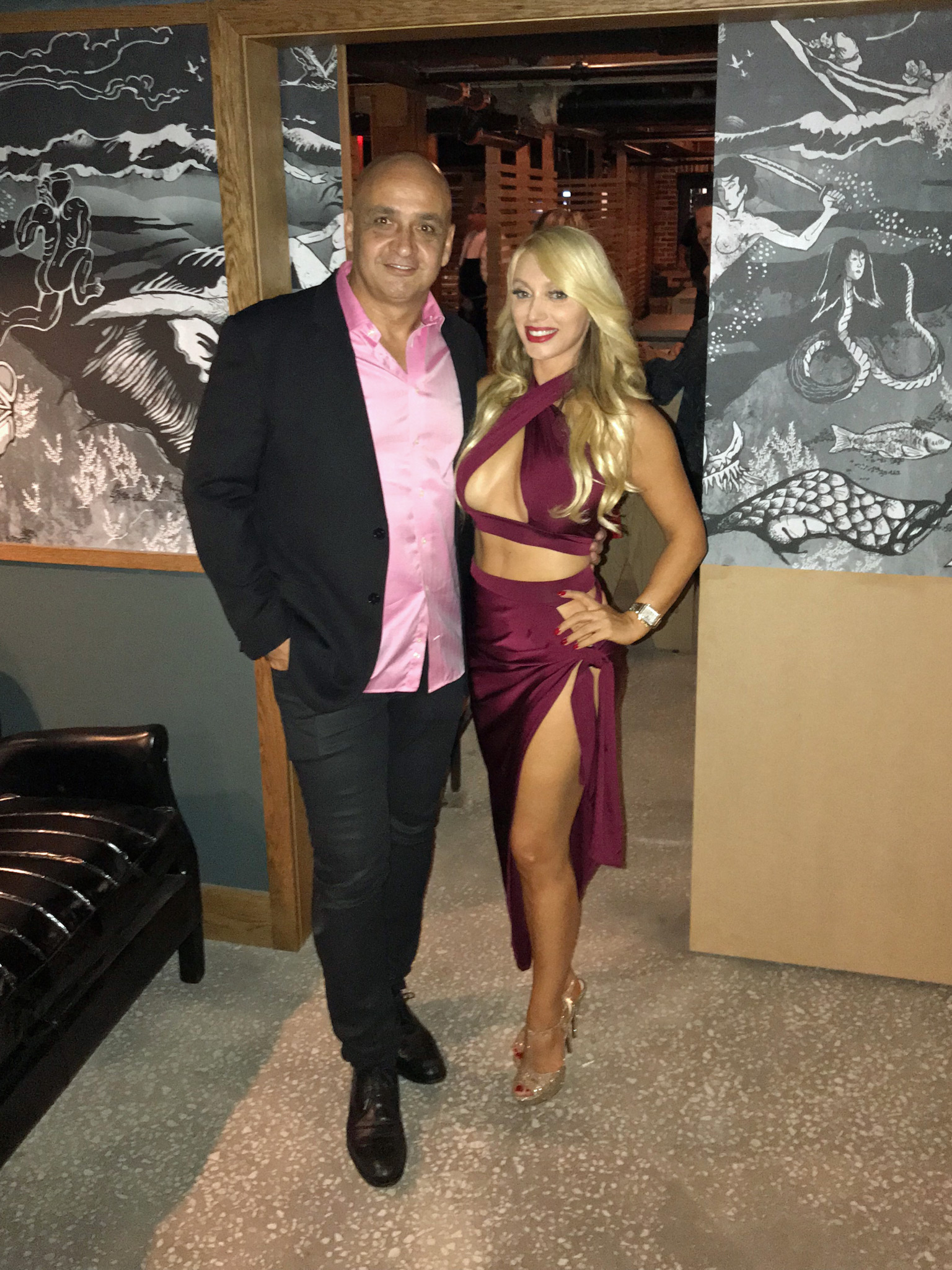 The Ramen Shop
Many ramen eateries are small shops. When Executive Chef & Partner Noel Cruz first looked at this location, he thought it was much too large. That's when they got the idea to make it a few different experiences in one. So, this is much more than just a new ramen shop opening. There are Japanese small plates in the main dining room, the main bar, private dining room, and the sipping lounge.
The décor is similar to Seminole Heights with wooden slats and partitions that make it feel quite Japanese.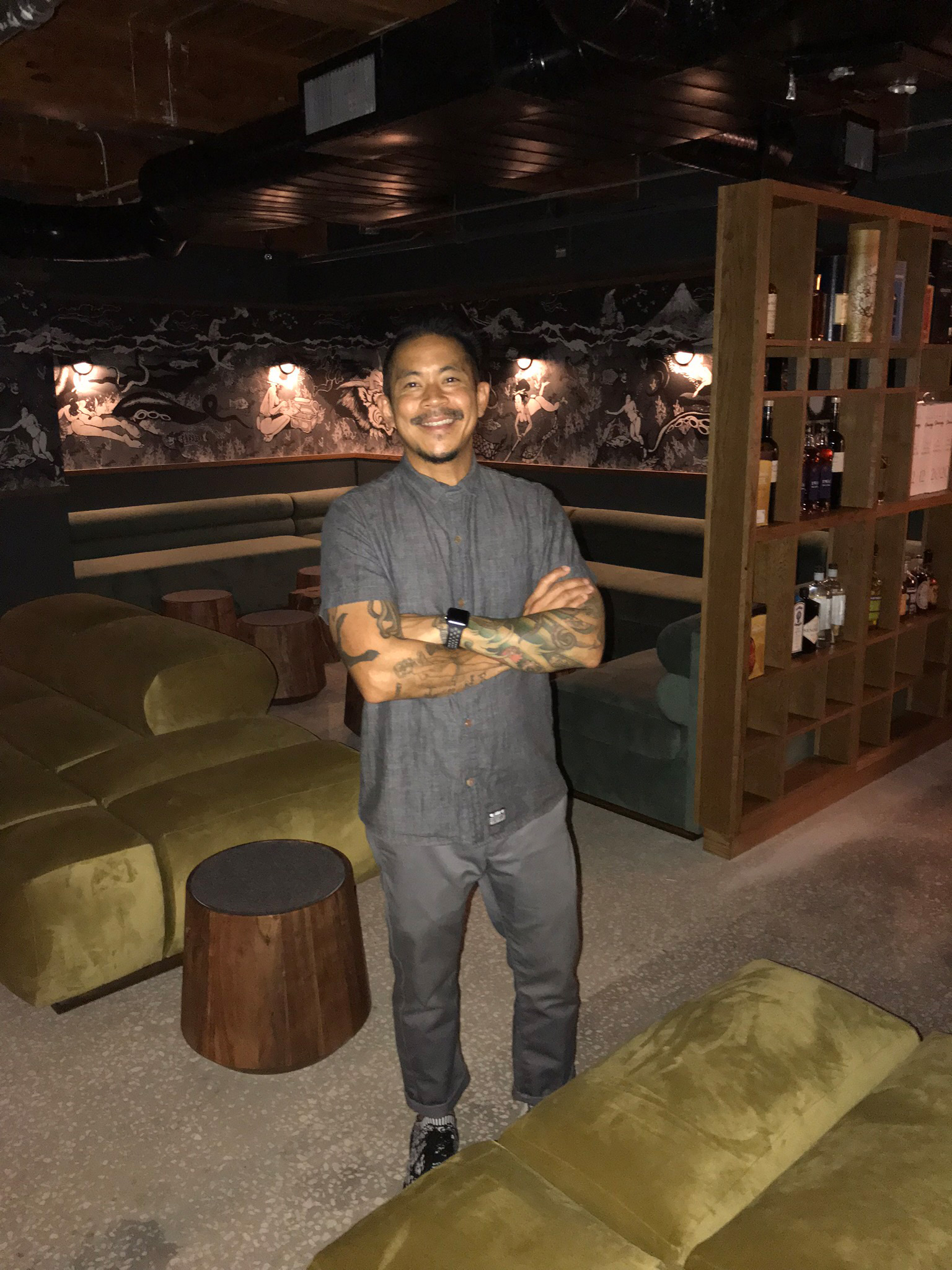 The ramen kitchen has an area partitioned off in front of it, and this section serves as the small ramen shop. Like a stand-alone shop, it has its own kitchen, menu, and is first come, first serve with no reservations. You are expected to eat, and move along to make room for the next ramen-hungry patron. Just like in Tokyo, it is waitlist only, but unlike Tokyo, you can wait at the bar here. UPDATE: Ramen is now served in all areas of the restaurant.
Reservations are accepted for the main dining room and the Sipping Lounge. They are using a sophisticated reservation system called Seven Rooms that is used by very high end venues.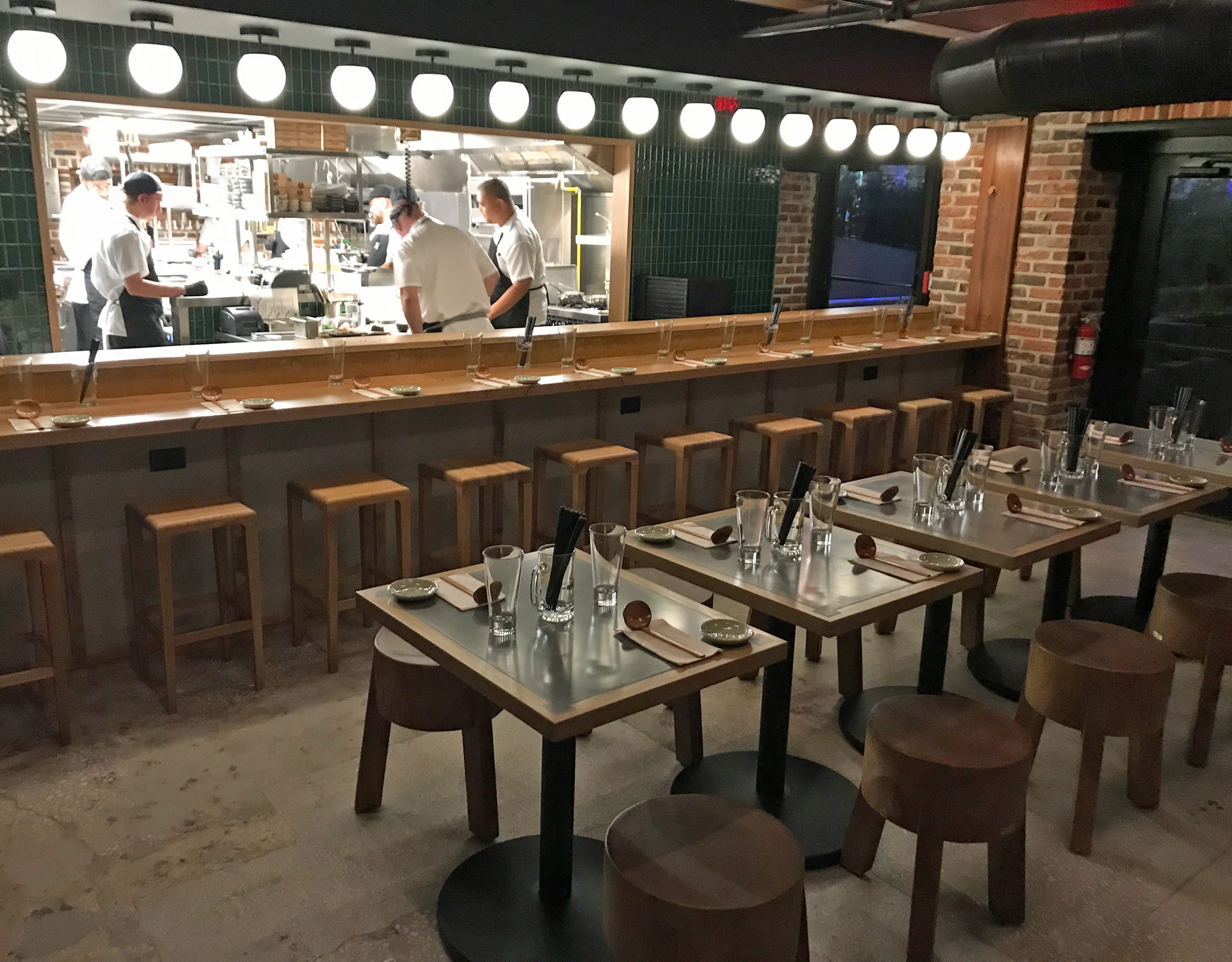 The ramen in St. Pete is different than the ramen in Seminole Heights, so you have to try both. We decided on udon noodles last night with the Niku Udon. (The noodles are a proprietary recipe made for Ichicoro by Sun Noodles in New York.)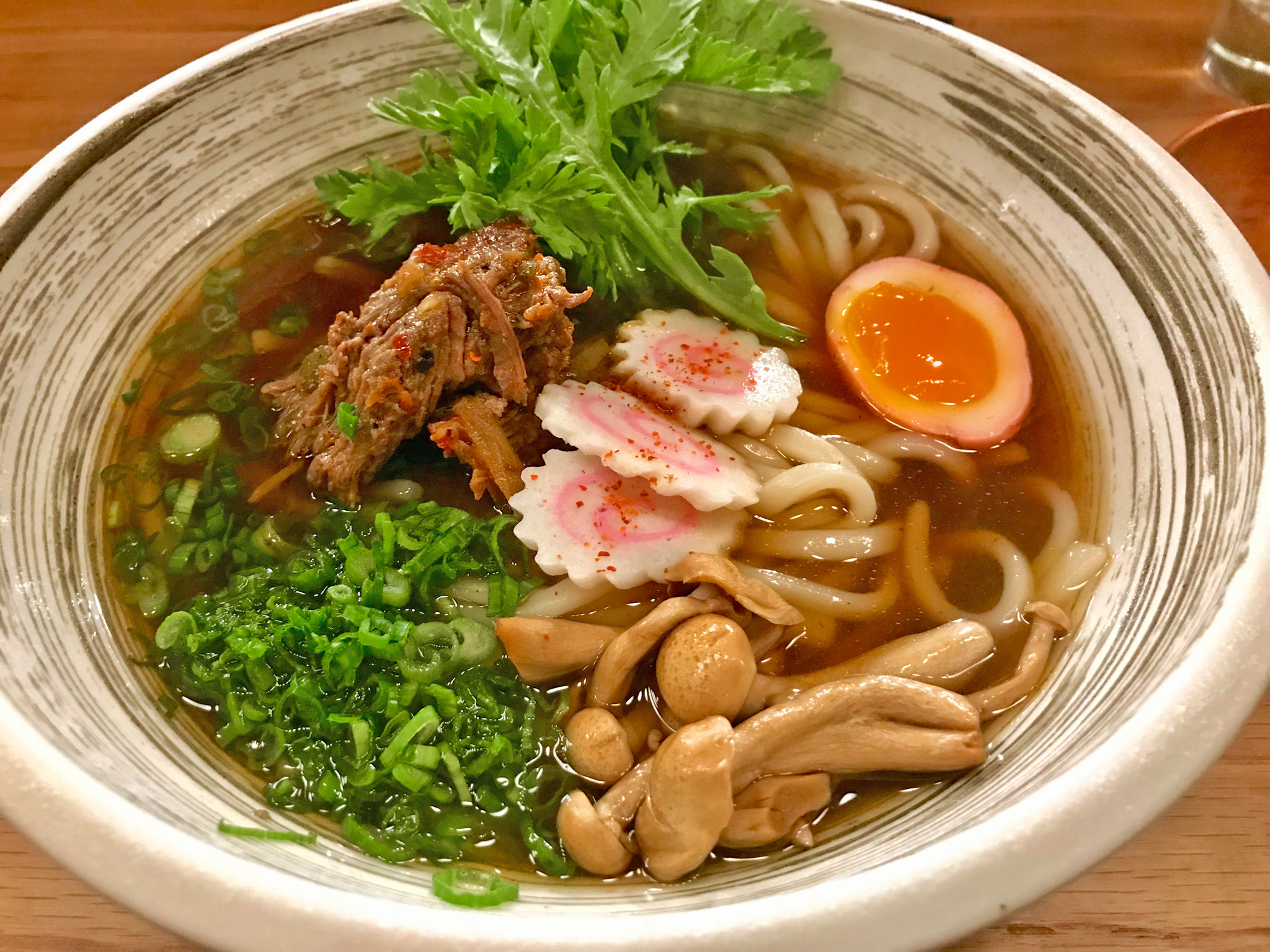 With the ramen, Ichicoro does something that we haven't found at any of the other restaurants in St. Pete. There are "extras" at the bottom of the menu which you can choose to add to customize your bowl. This not only adds more flavor fun, it also keeps the ramen bowl prices lower than most if you choose not to add extras. Last night we added the Ajitama – beni shoga seasoned egg, and Spicy Sauce 2 – Sichuan style. The spicy sauce comes on the side, and I just dumped the whole thing in to light my fire.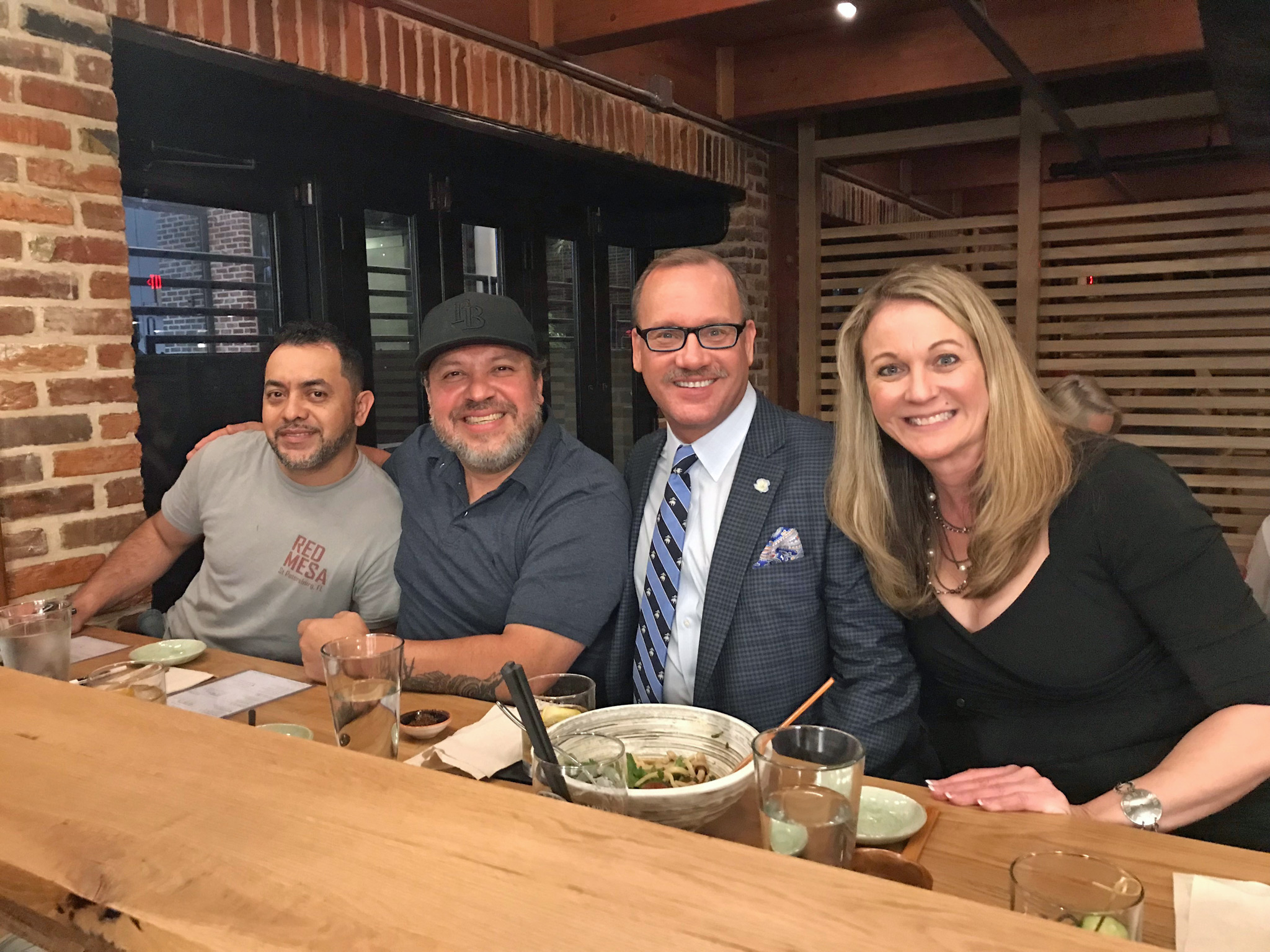 Main Dining Room
The main dining room is "Japanese-inspired, Izakaya-inspired" cuisine. Chef tells us that some people might think of it as Izakaya because it is mostly small plates, but it is technically not. He says that the word gets frequently misused, and that many places that call themselves Izakaya, are in fact not. We talked about over-used buzzwords, like "Farm-to-Table", "Gastro Lounge", and found that "Izakaya" is one as well.
We had a big table and tried lots of items from the main kitchen. Everything was so good, that it was almost impossible to pick favorites, but if forced to do so, here they are. Lori's favorite was the Yukke – a Japanese steak tartare with the official description being: Wagyu beef, gochujang, sesame, fuji apple, egg yolk, konbu chicharrones.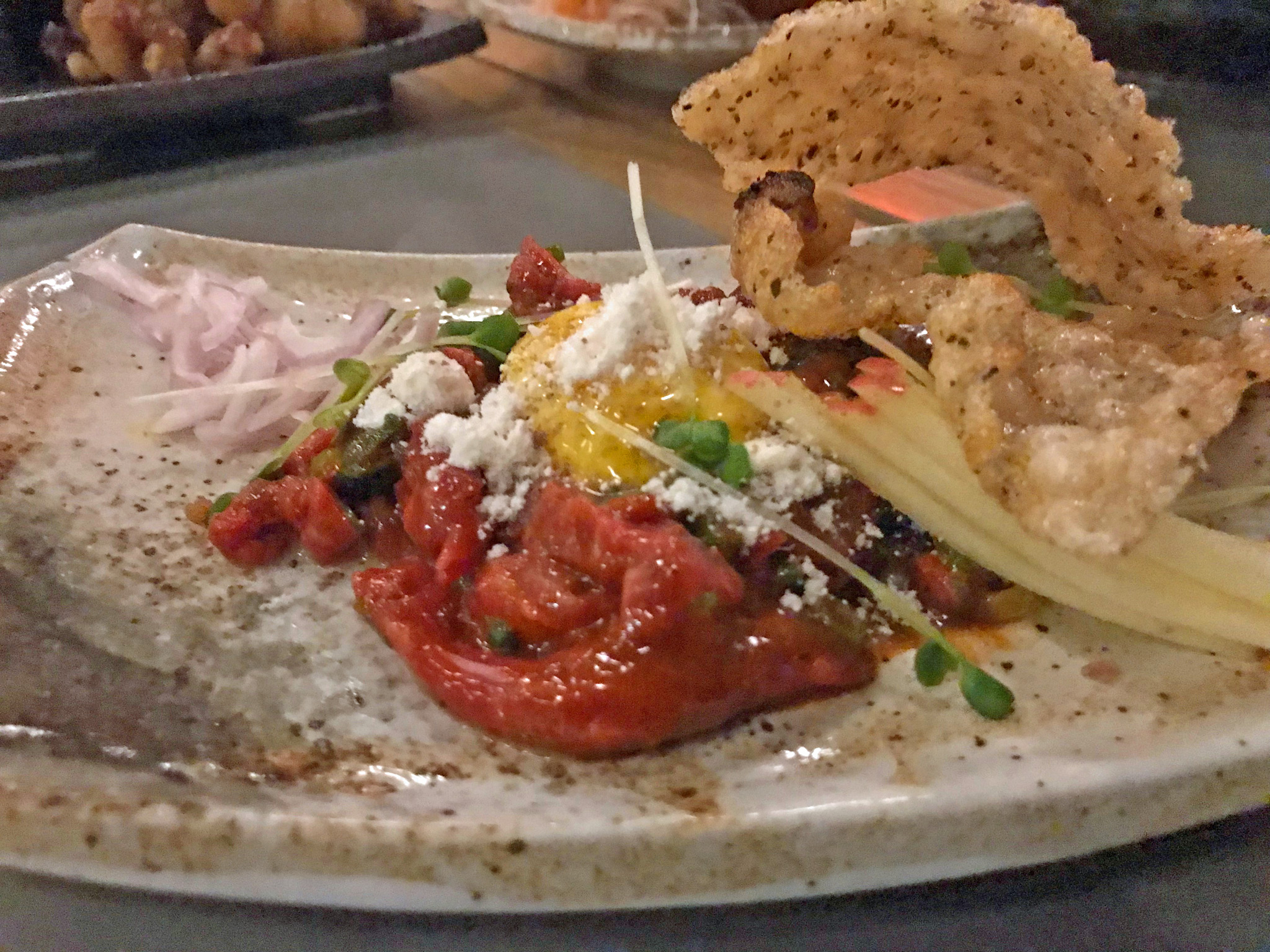 We both loved the Gyu Skewers – Wagyu beef, spring onion, teriyaki.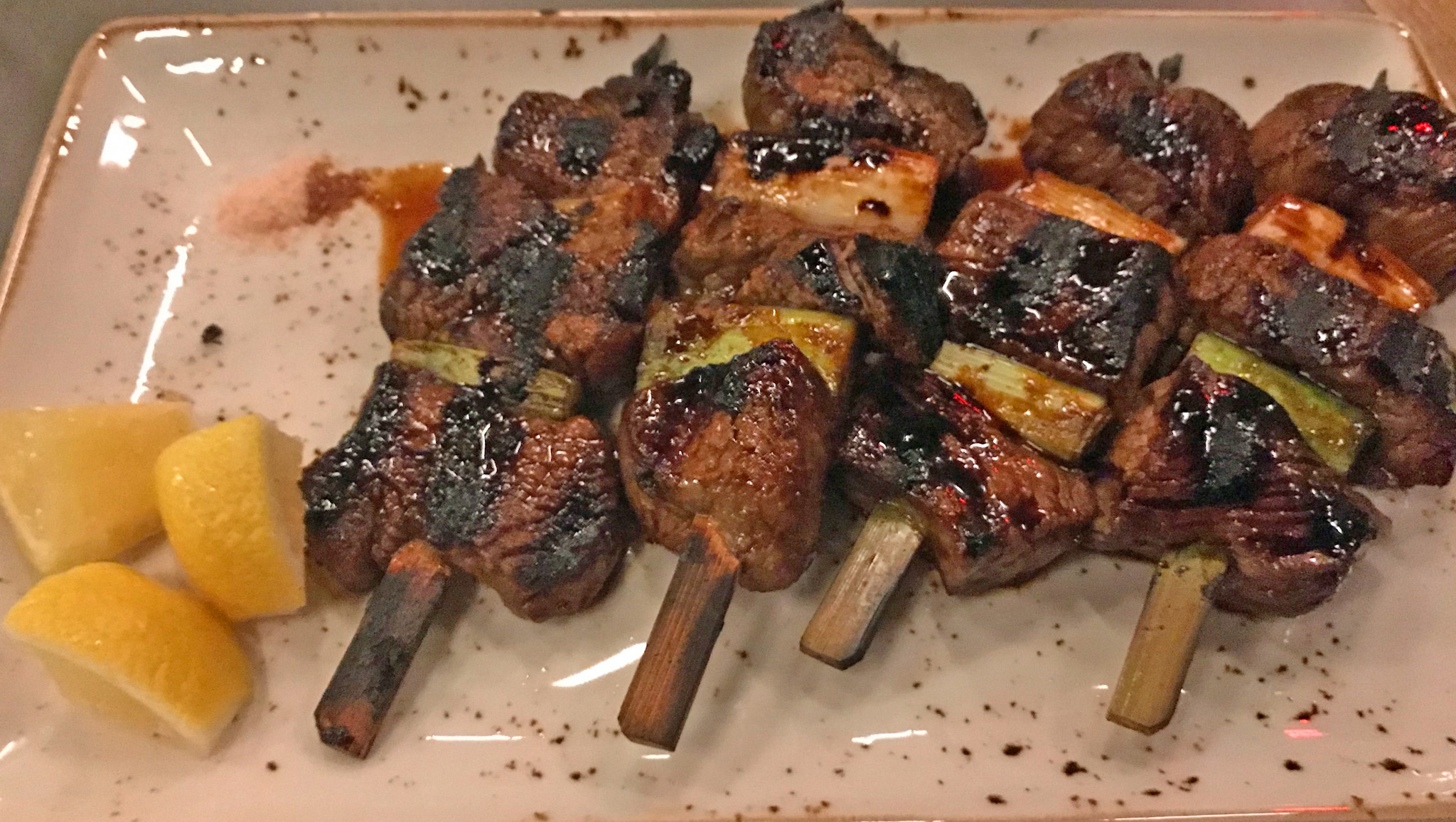 The salmon was the best we've ever had, and Lori really loved it as it was cooked perfectly medium rare. Divna agreed, saying, "It is so easy to overcook salmon." Lori won't even order salmon out, and will only eat it at home when she makes it herself. Not anymore! On the seafood menu, look for the Sake No Misozuke – broiled salmon, miso butterscotch (me so drooling), lime, shoji, furikake.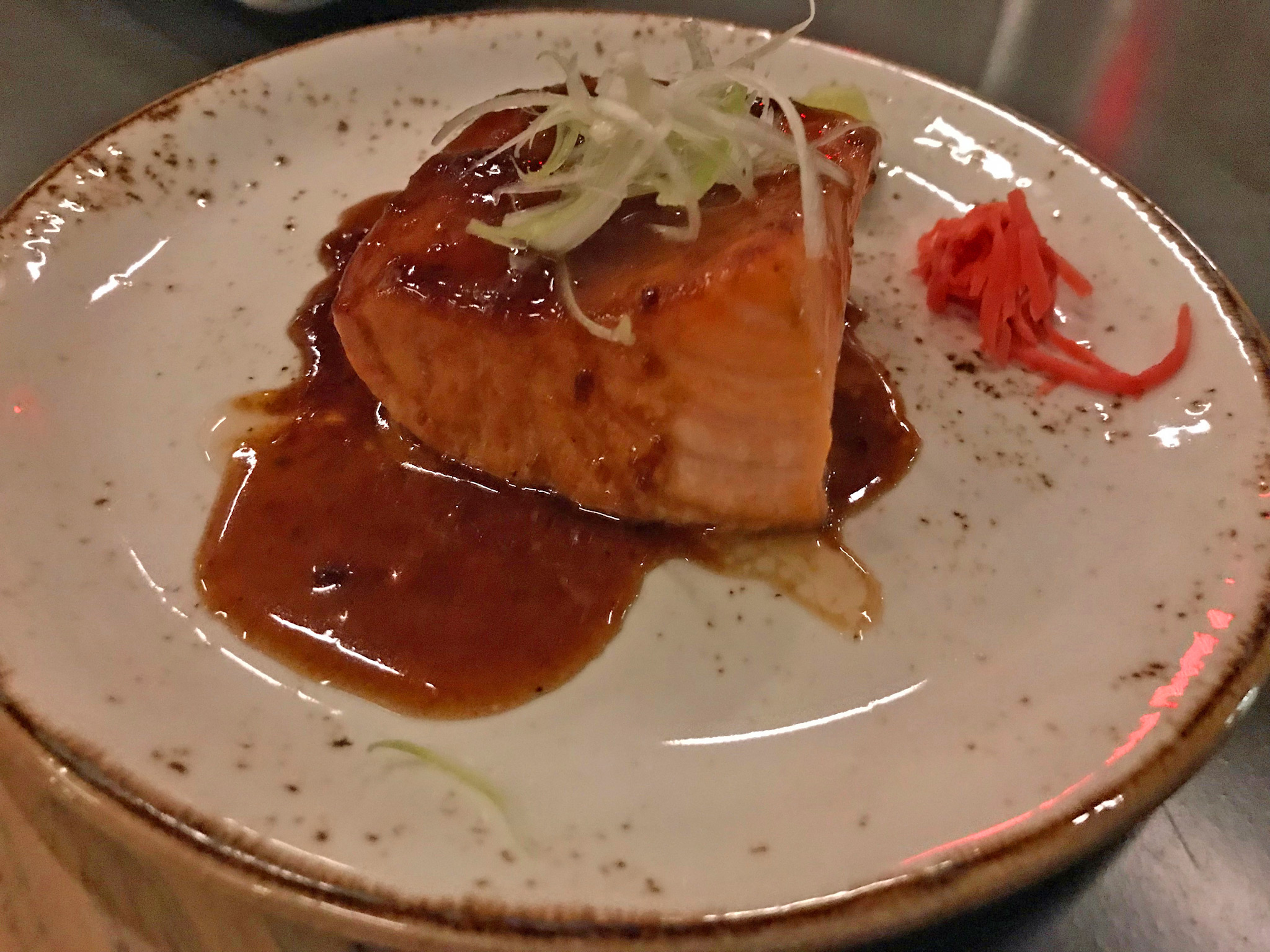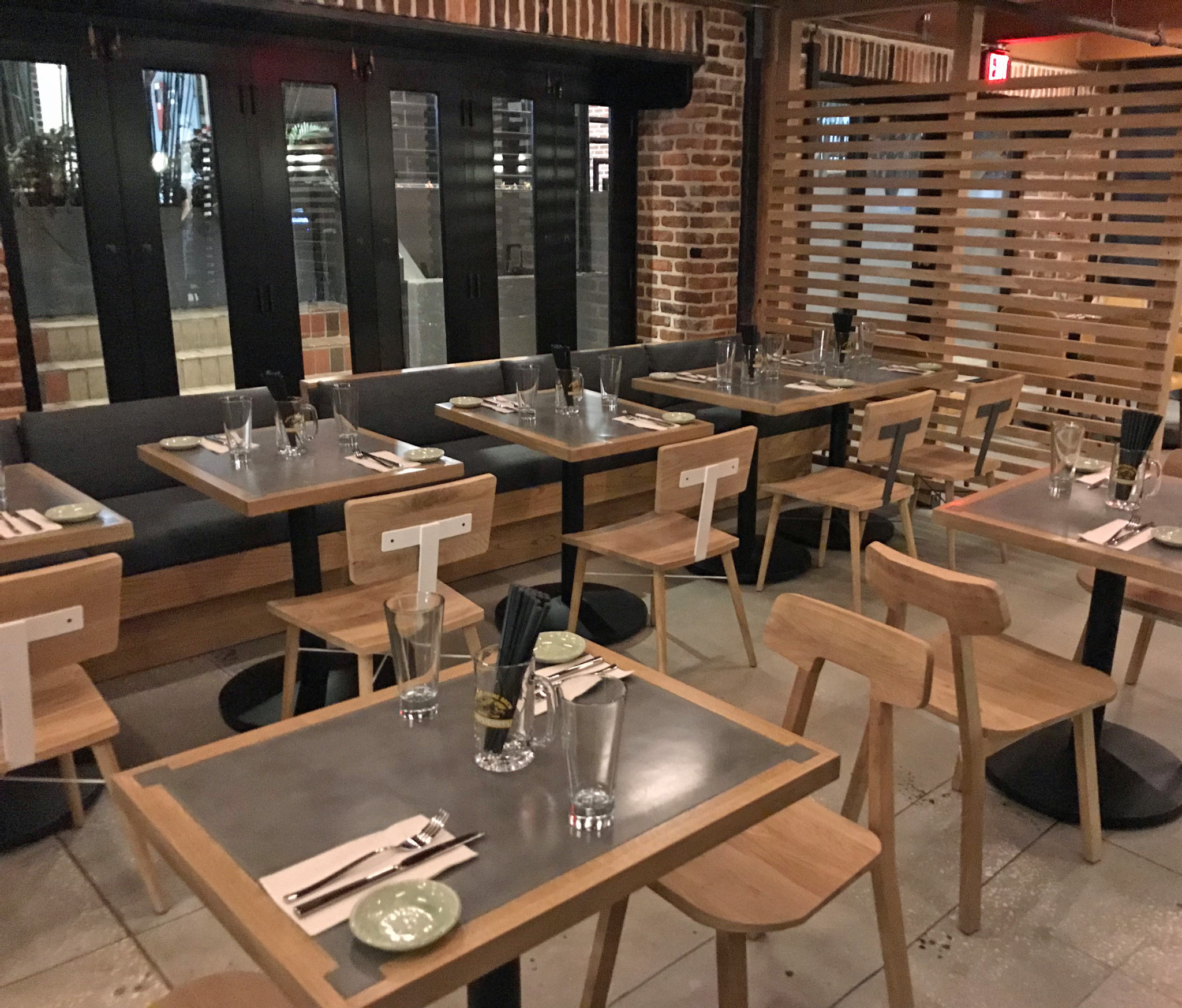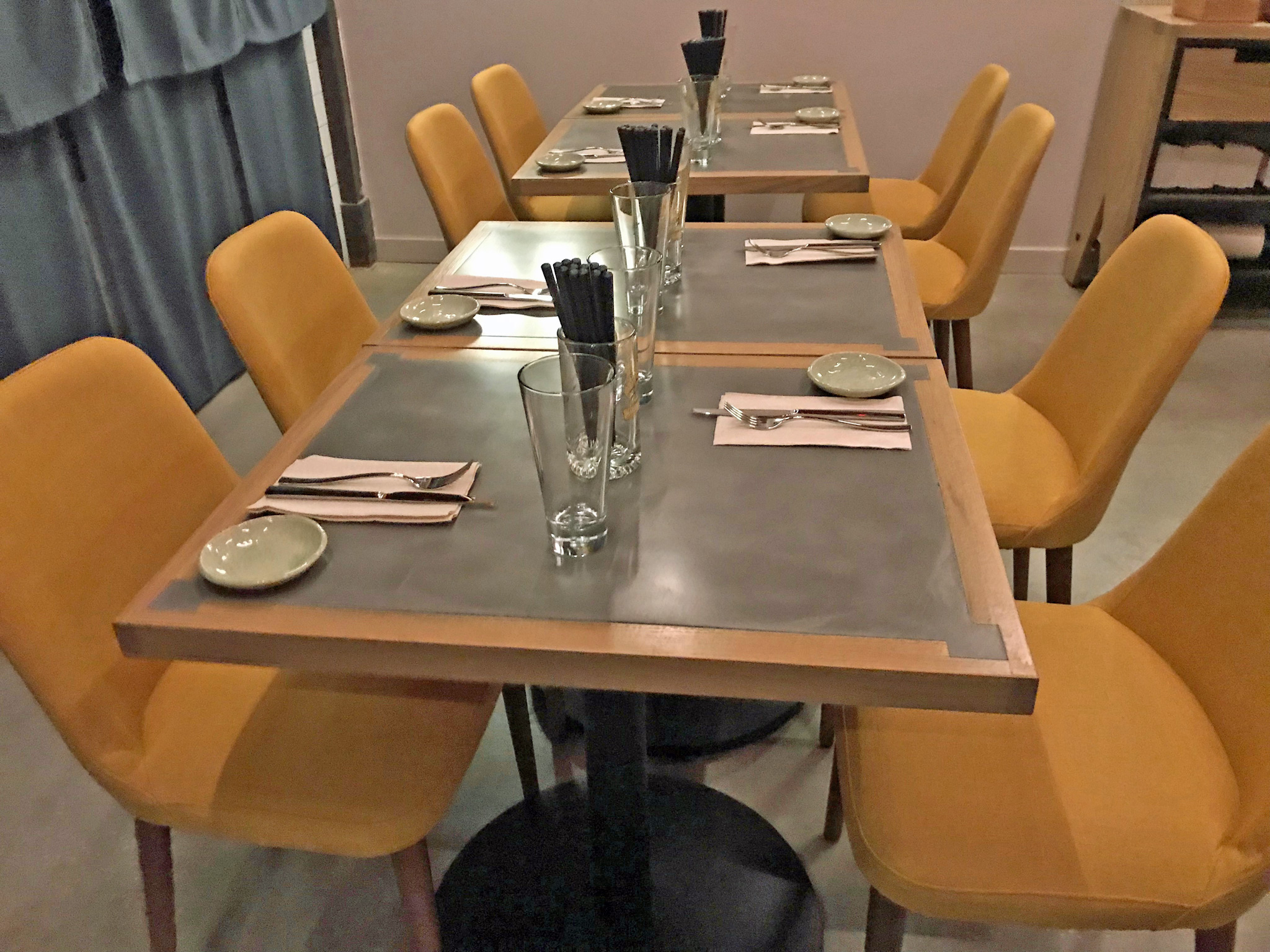 Three of my other favorites were the Tonkatsu, Kani Goyza, and the Okonomiyaki (Vegetable Pancake). We shared everything, and I noticed that on the Tonkatsu, nobody was eating what was under the meat. Don't make this mistake. It is a delicious combination of cabbage with pickled mustard seeds. On top is breaded pork loin and bulldog sauce.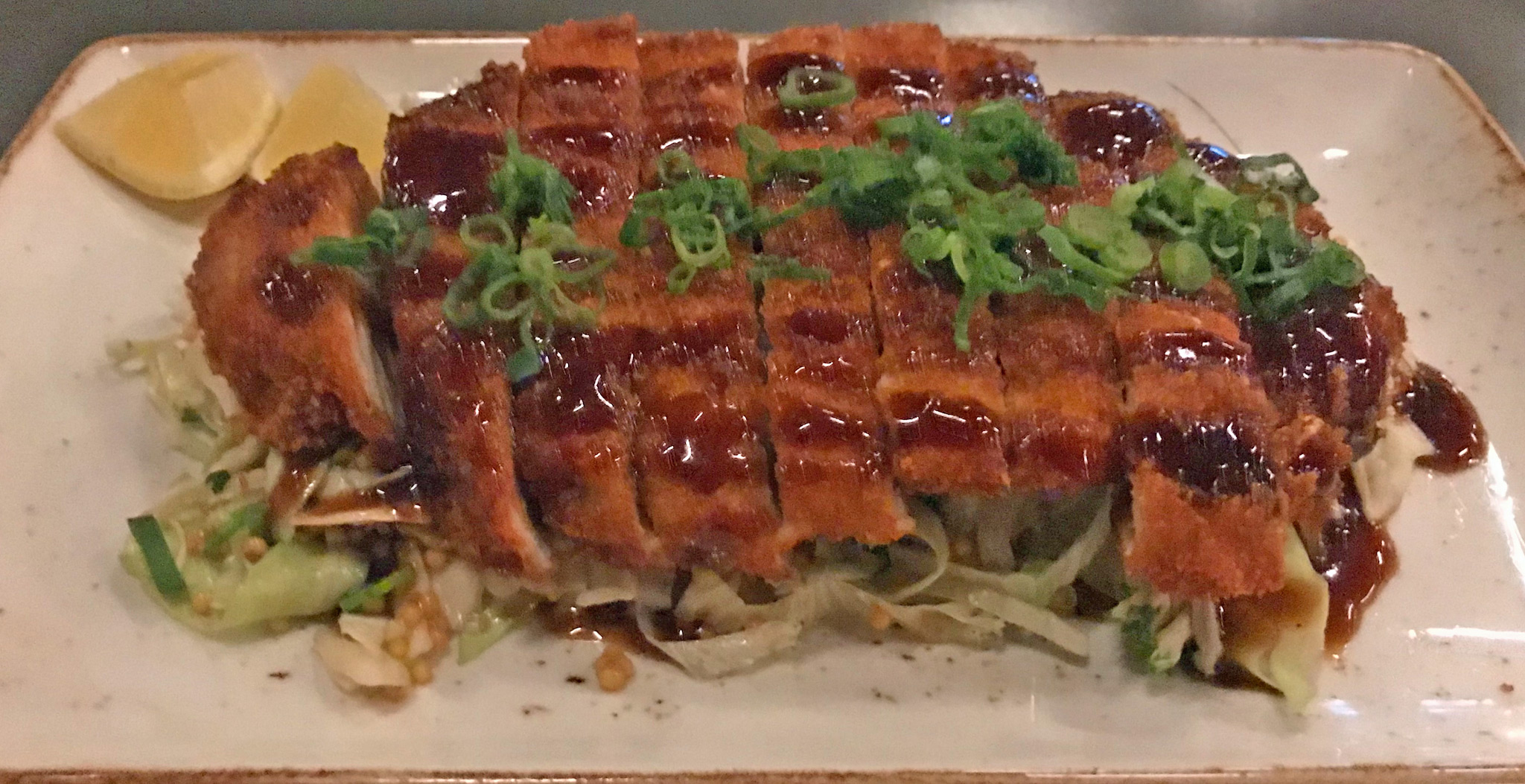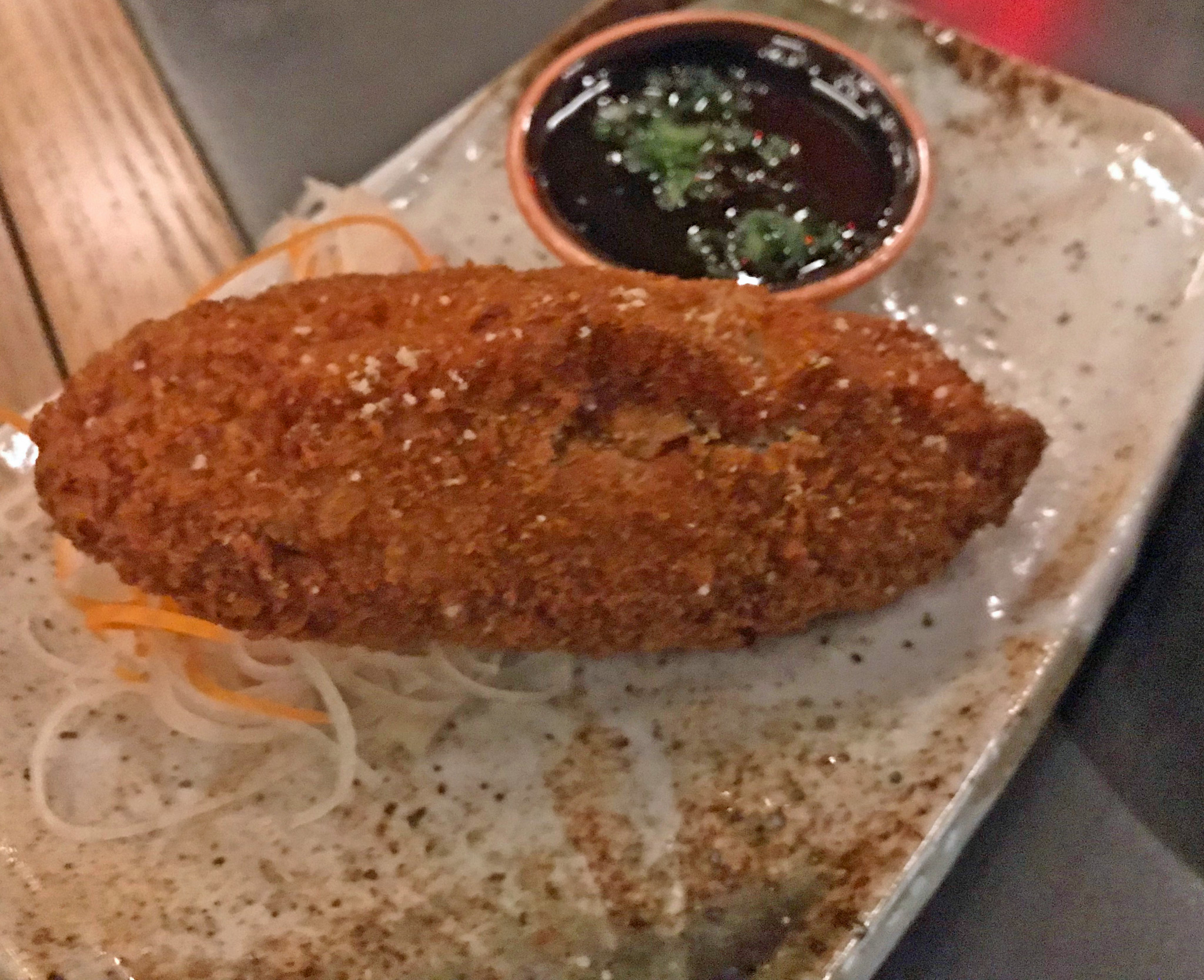 The Kani Gyoza was crispy on the outside and meaty on the inside. It is actually a deviled crab stuffed fried dumpling with Thai chili jelly on the side. Don't skip the jelly either. It's interesting. It is not sweet, but tangy with a tiny bit of spice.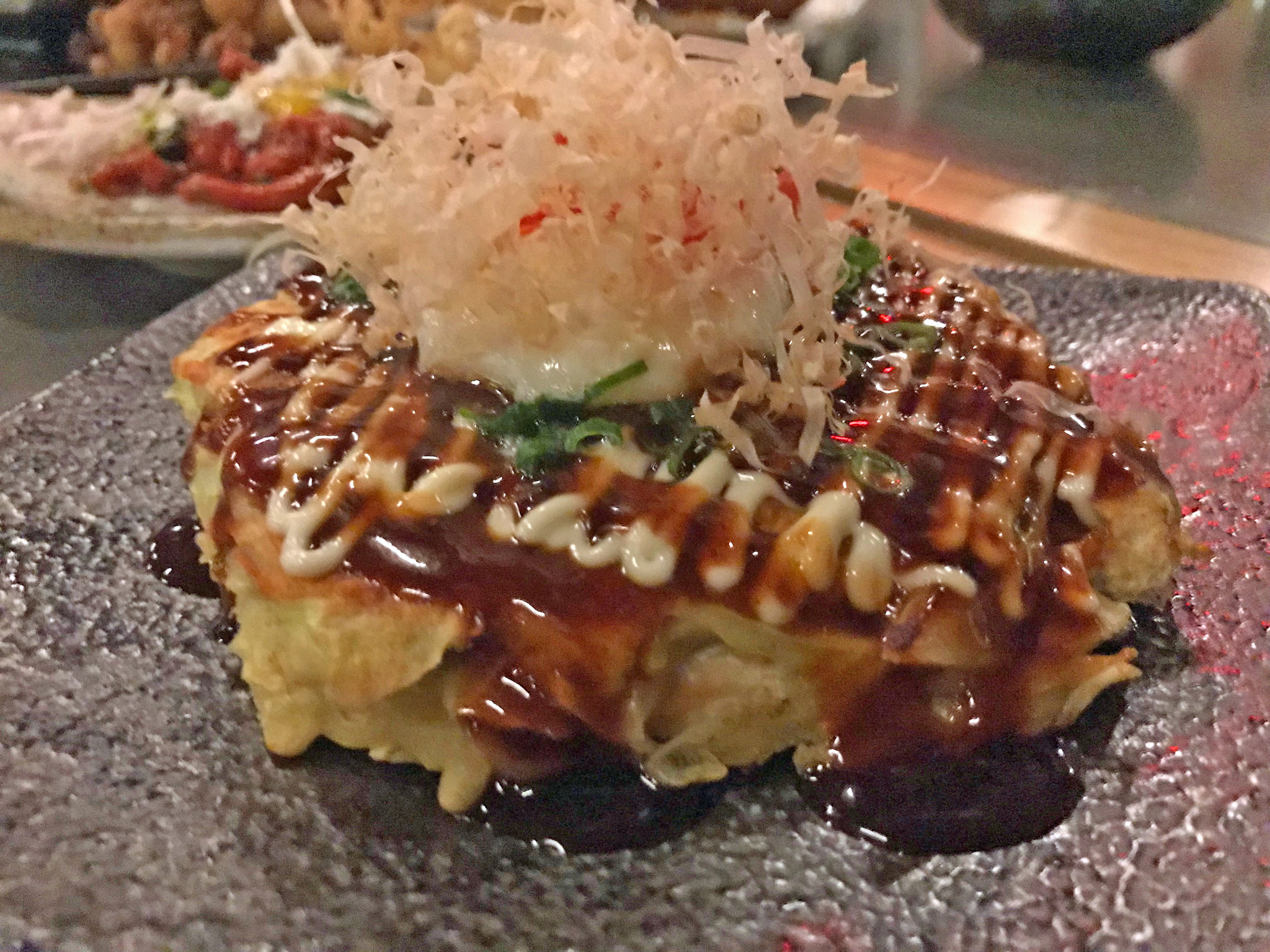 The Okonomiyaki – Oh so good!!! Vegetable pancake made with cabbage, Kewpie mayonnaise, Bulldog sauce, beni shoga, katsuobushi.
A couple of other items that were delicious are the Buta Gyoza, Gyu Steamed Bun, and the Hana Yasai which is the most delicious fried cauliflower. We couldn't get enough of those.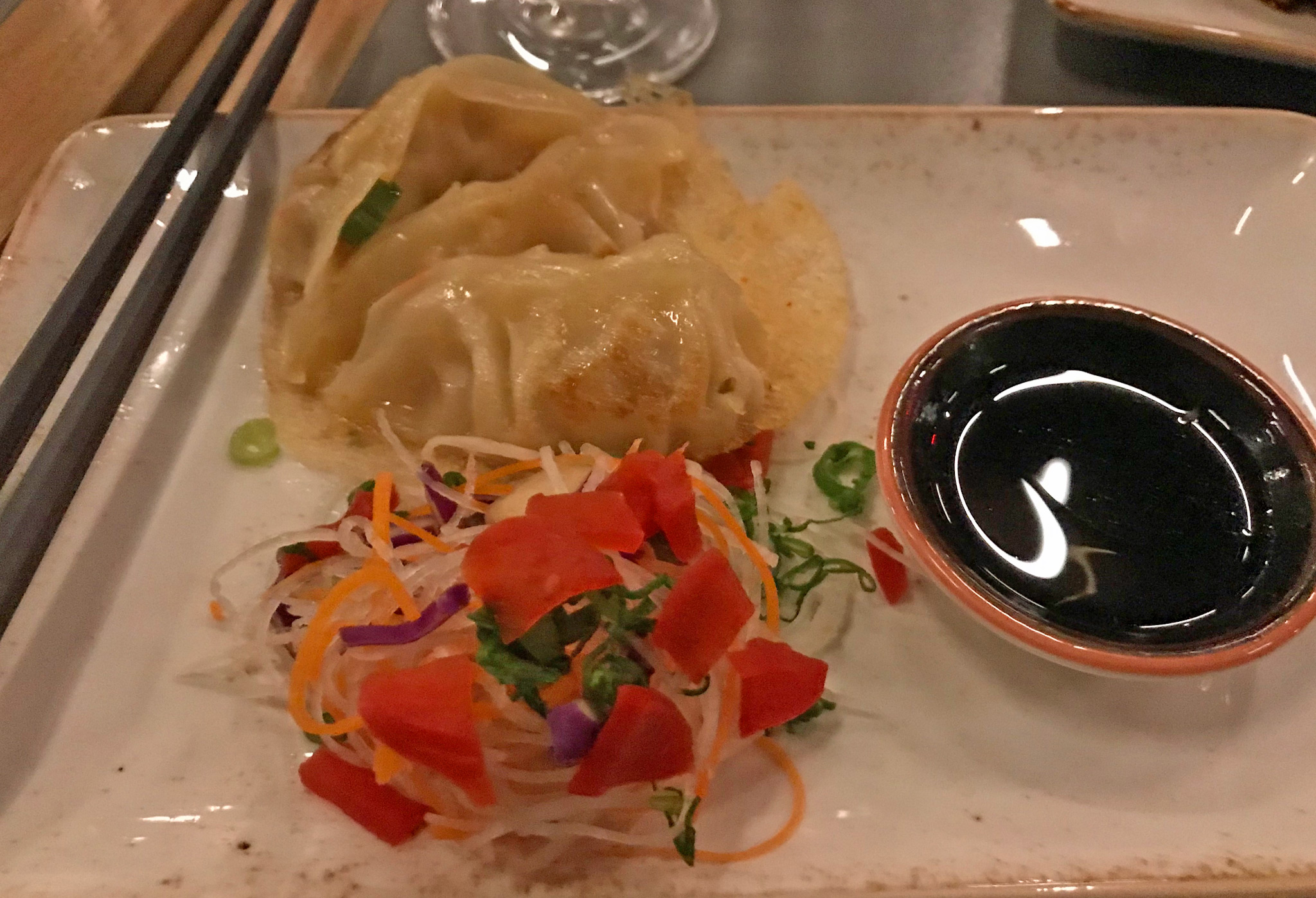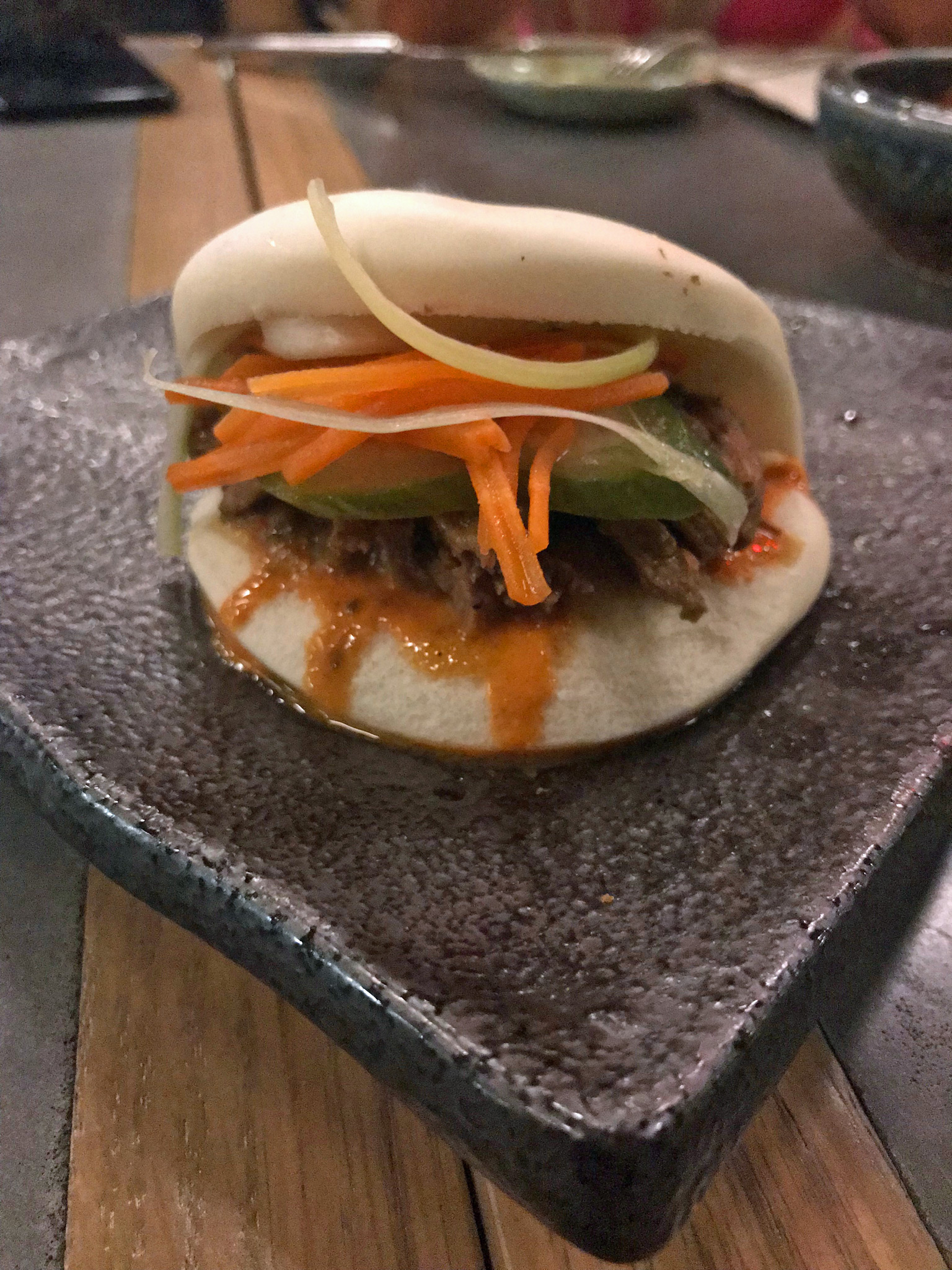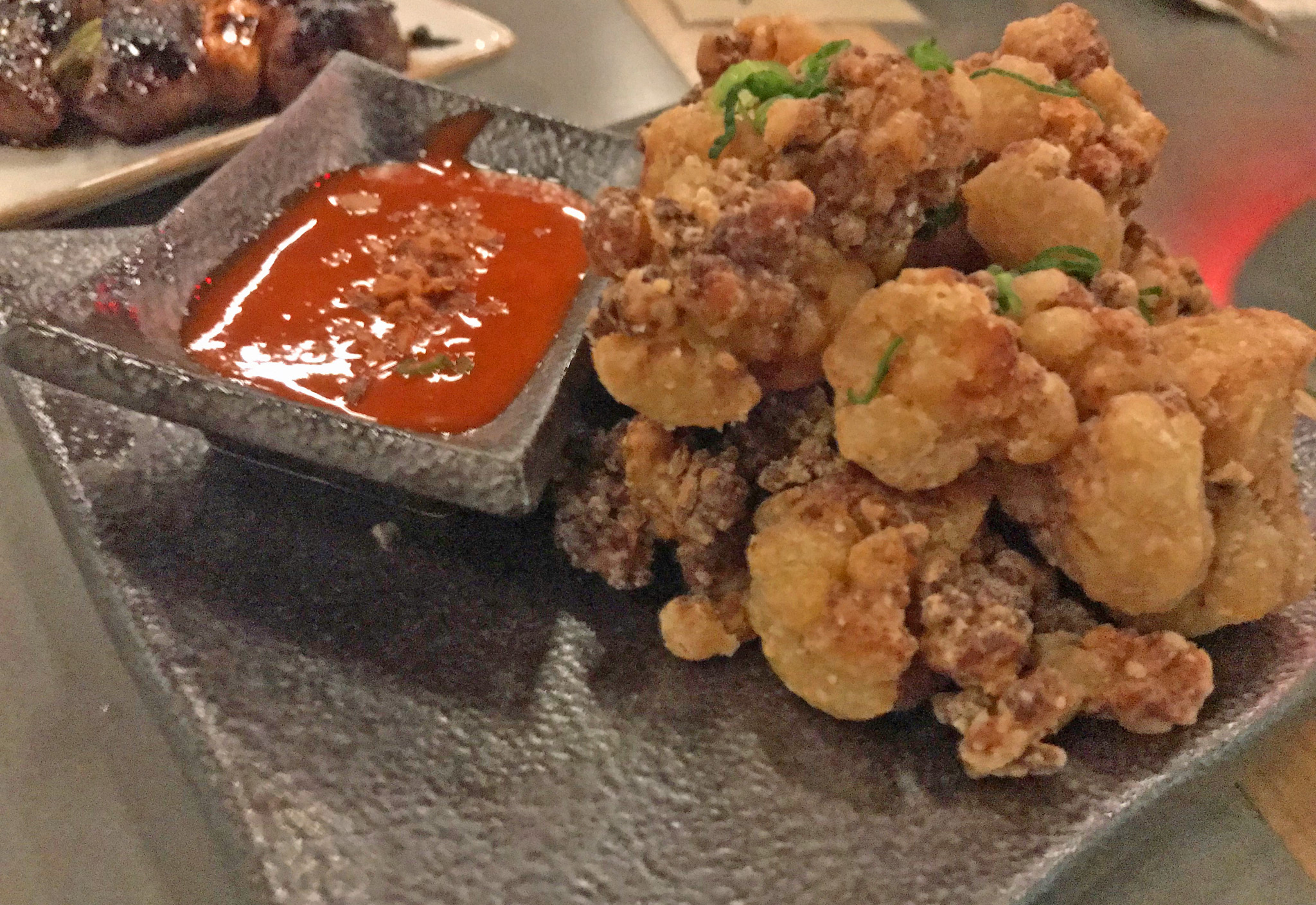 There are lots of great drinks as well. A few of our favorites are: The Fake Mustache (bourbon), Gin & Tonic (they make their own tonic in house), The Golden Saucer (gin), and The Black Mage made with activated charcoal.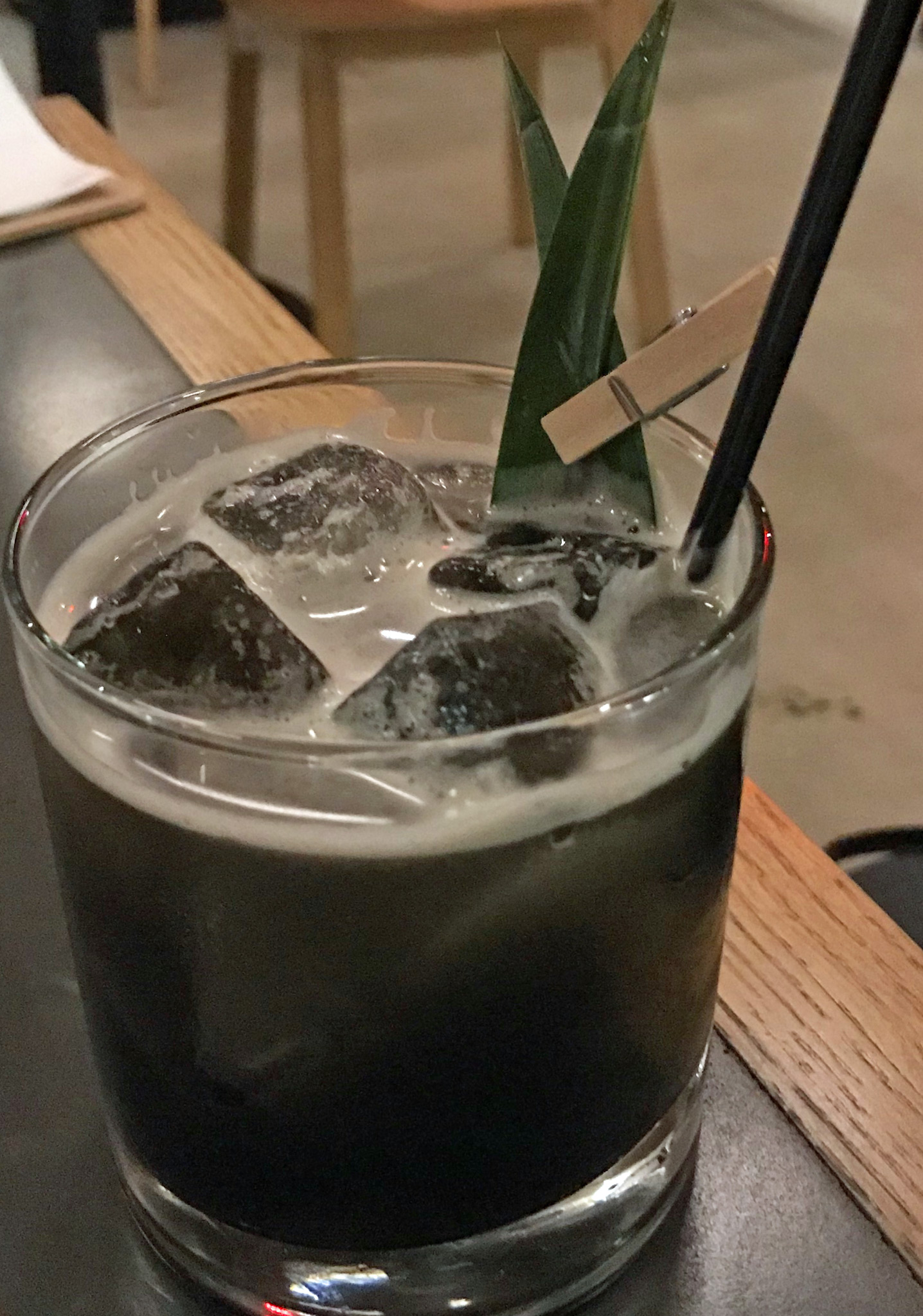 Here are a few items that we didn't get to try as they arrived after we were already way over-stuffed, but we can't wait to try them next time.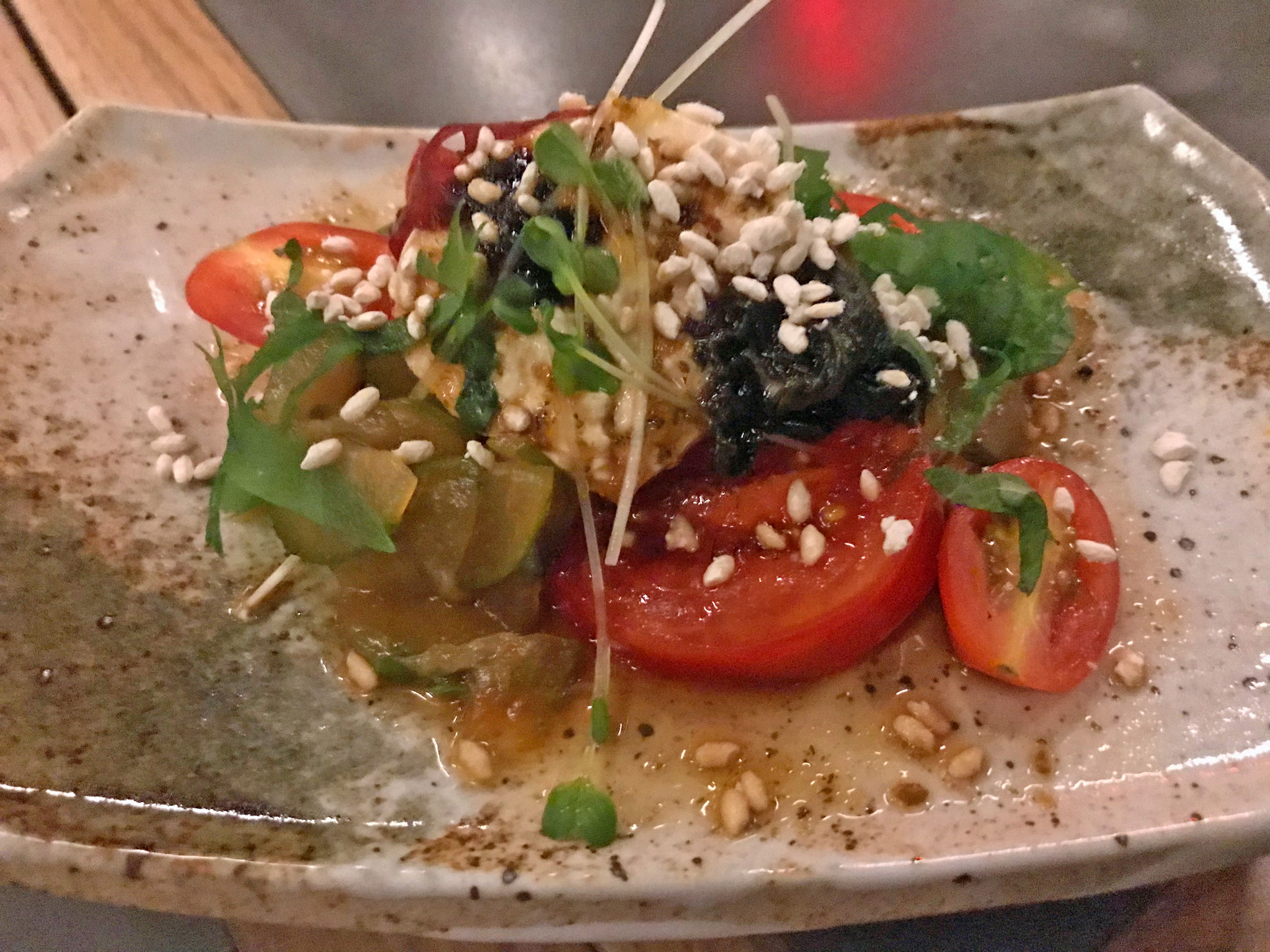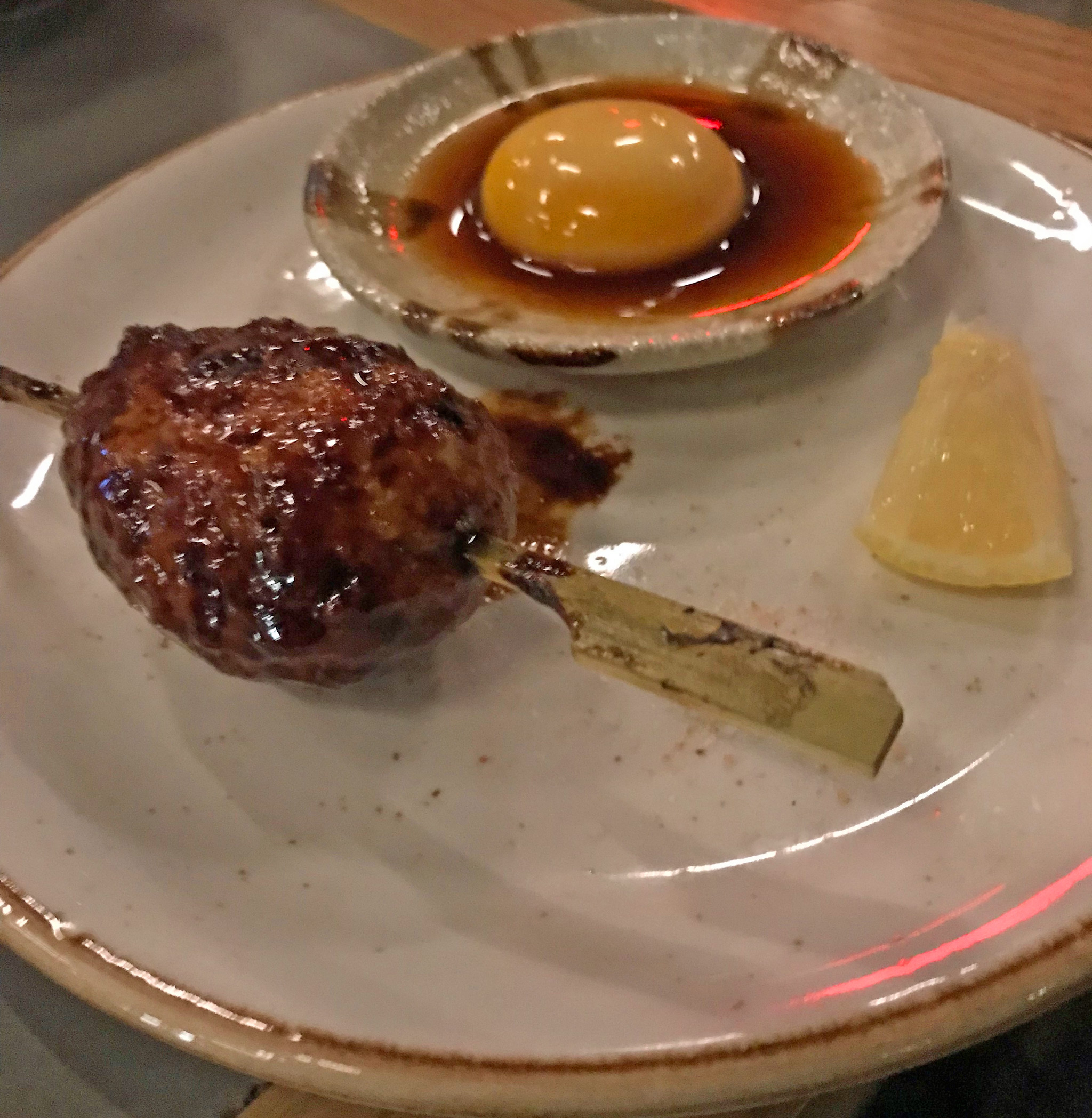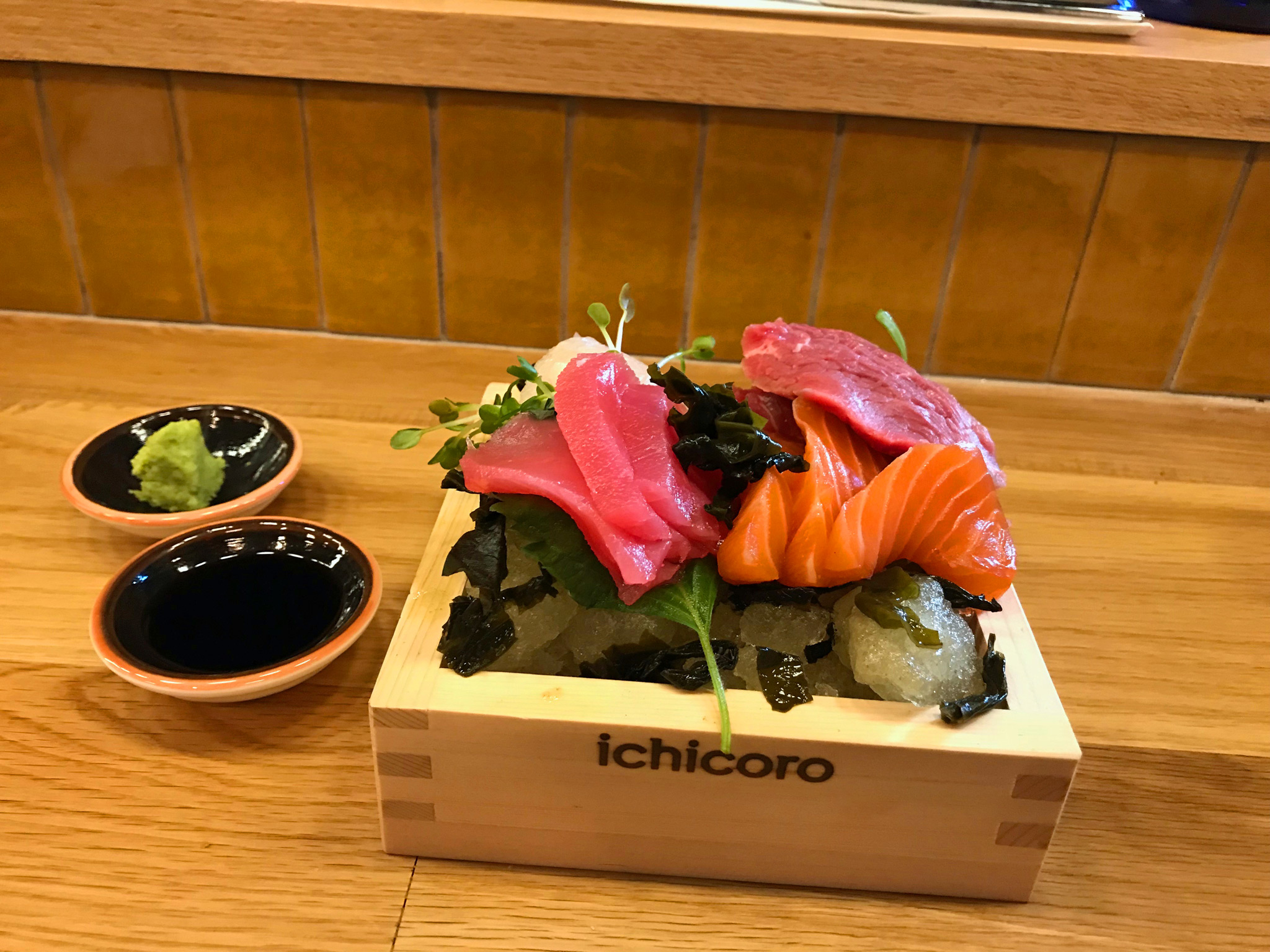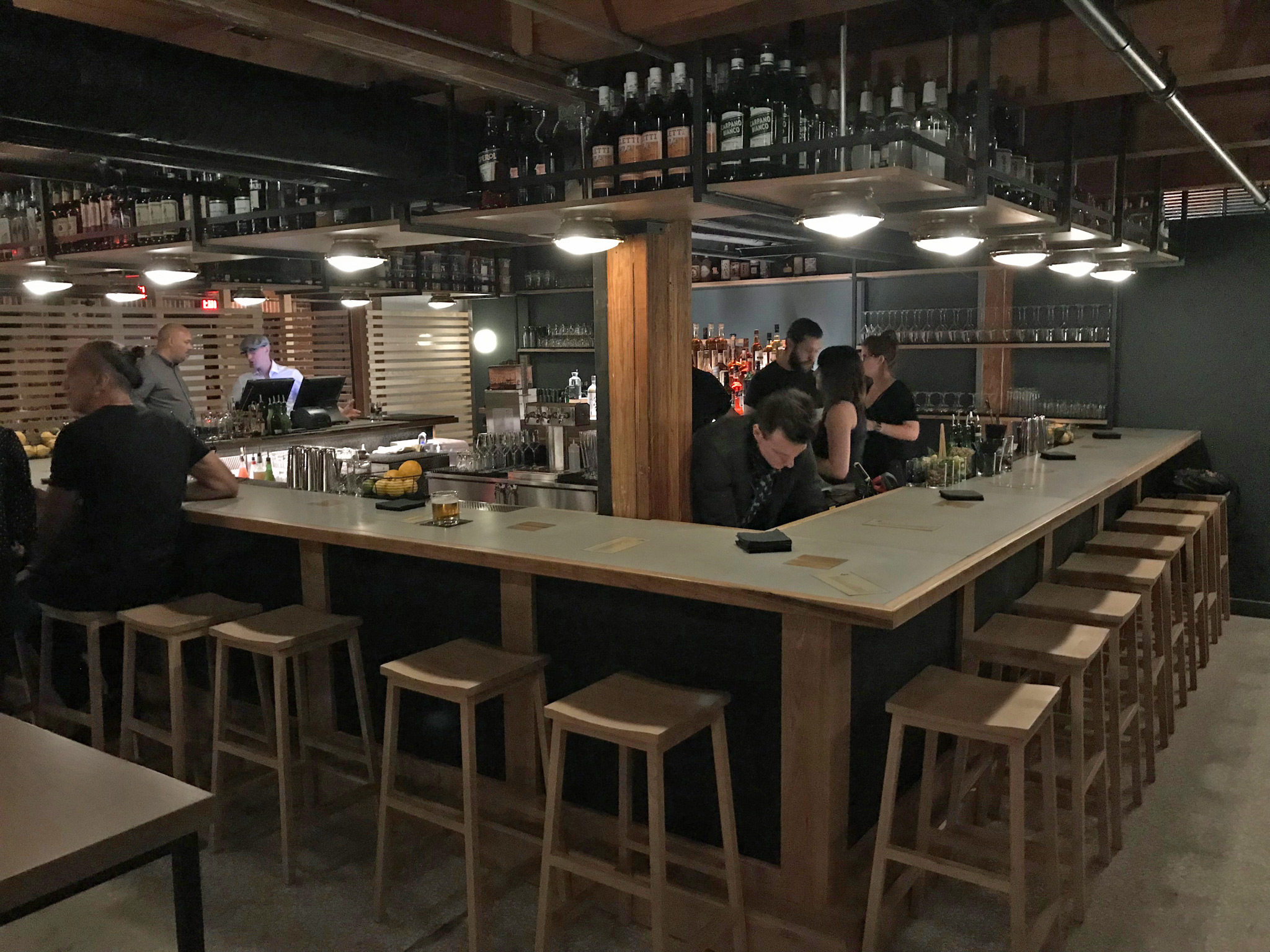 The Sipping Lounge
What used to be GWR (God's Waiting Room) in the former space is now the Sipping Lounge, which has been made much larger than before. They are doing something different with the whiskies. Instead of having them arranged by brand, or in alphabetical order, they are grouped by characteristics.
For example, all of the light & floral whiskies, regardless of brand or origin will be grouped together. As will fruity & spicy, rich & rounded, full bodied & smoky. They are looking to help educate the consumer on styles of whisky, so that you might try something different than you would normally order.
Look at the spectacular decor of the Sipping Lounge. The murals are by New York artists.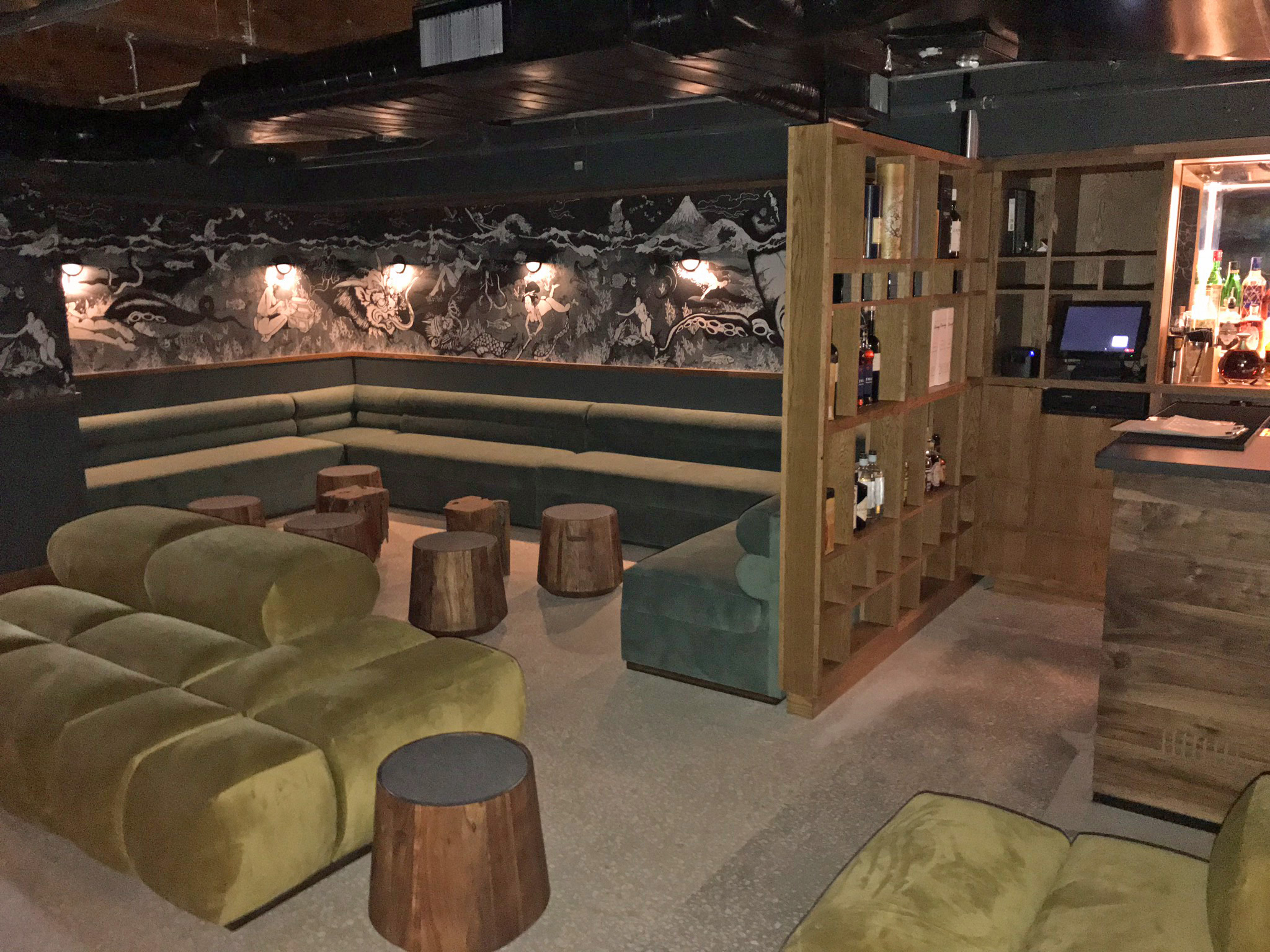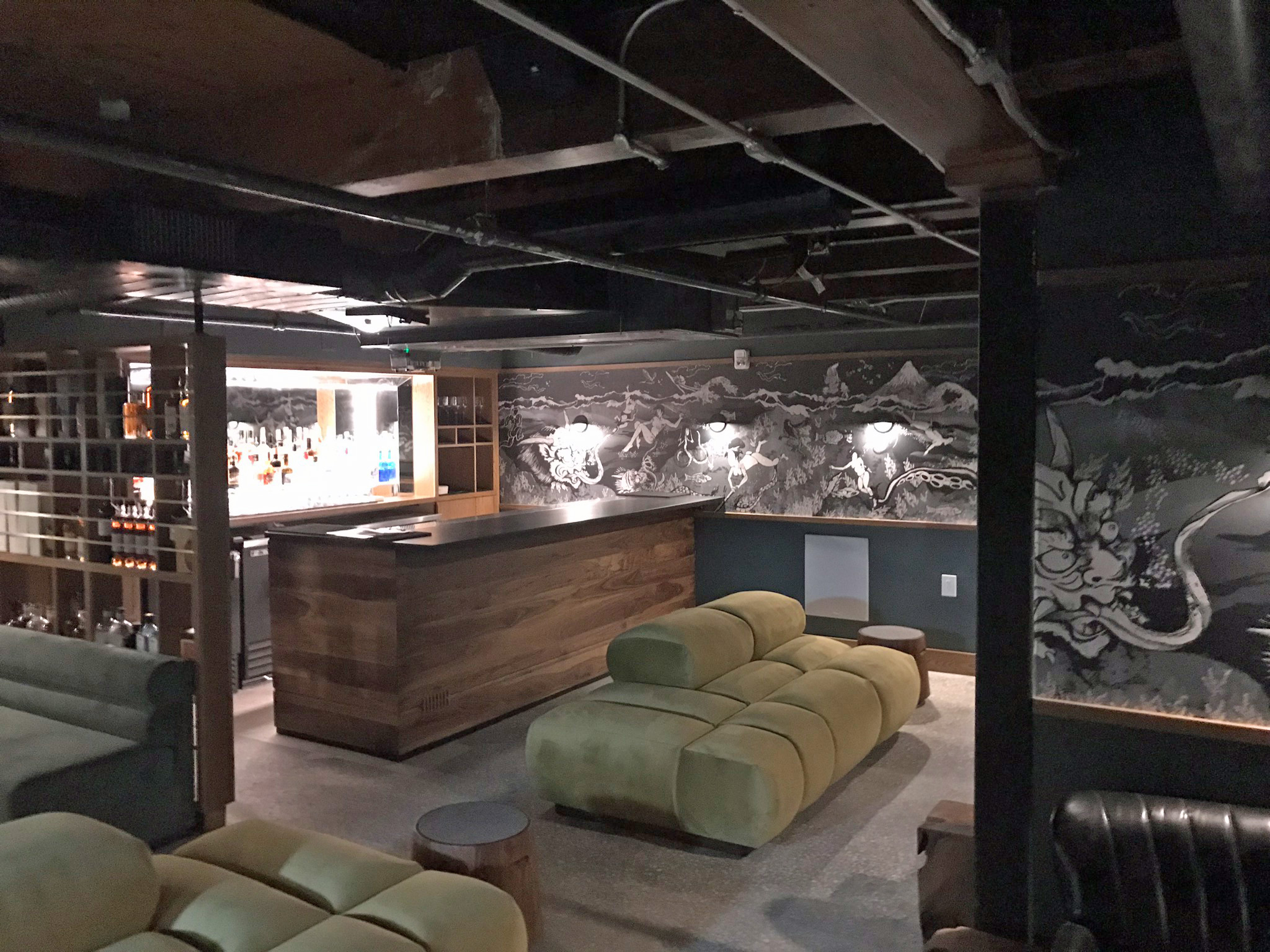 It's even fun to go to the restrooms as they have Japanese Cartoon Monsters with warnings about them as well.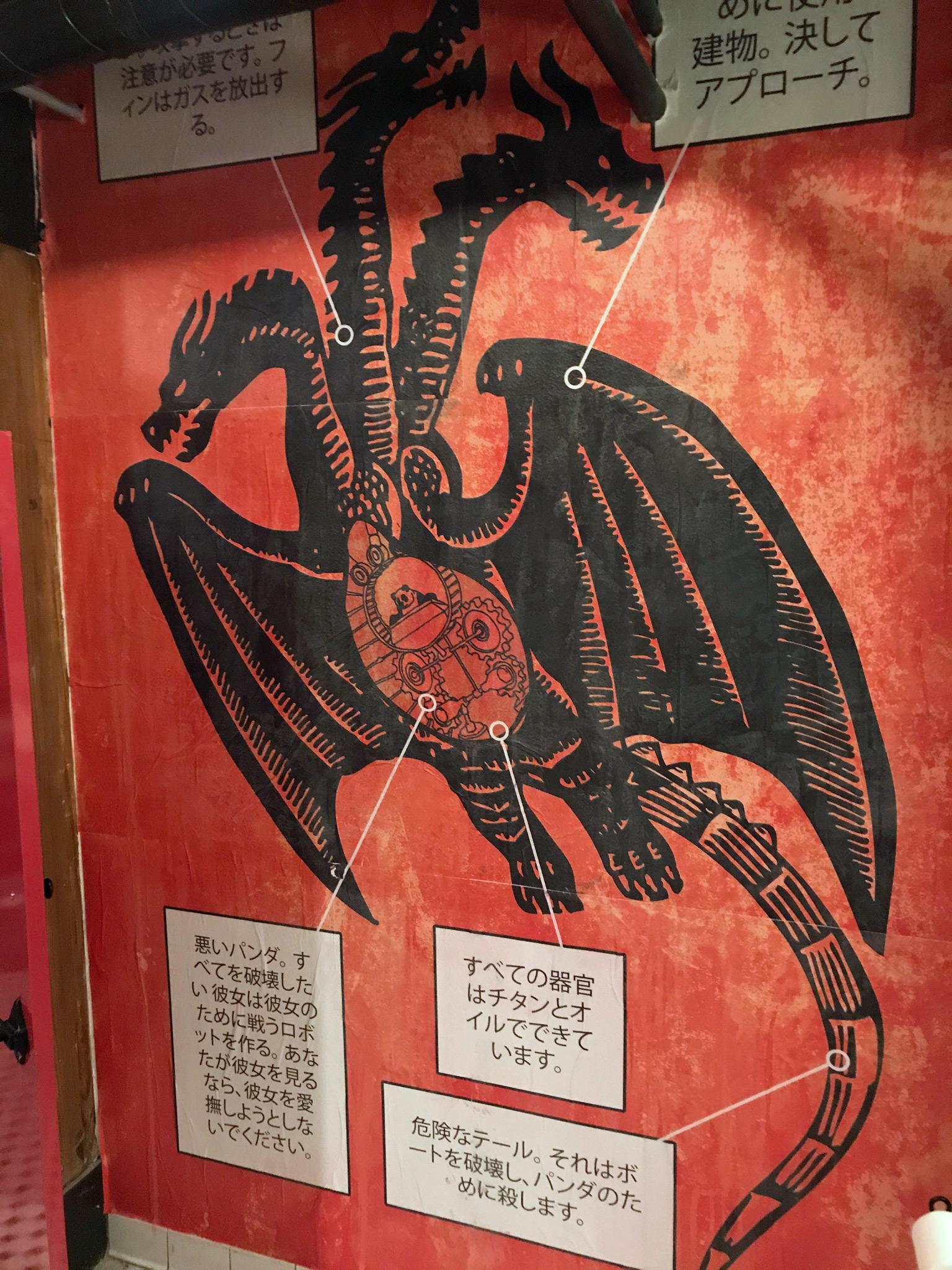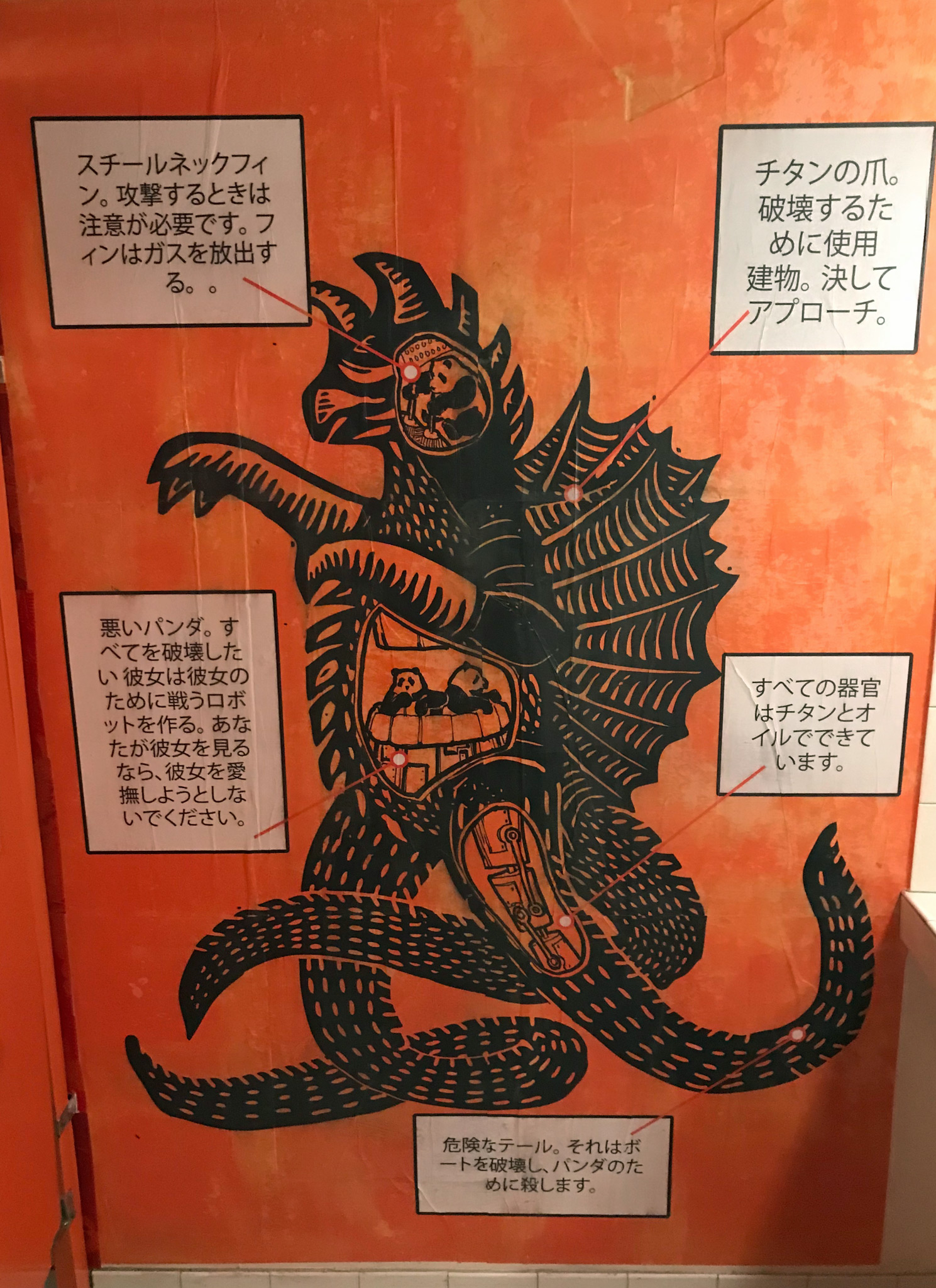 They employed the design teams of Warren Red and Dutch East from New York. (They designed the famed restaurant "Employees Only" in New York and Miami amongst many others.) The design team spent 24-hours in the space and came up with the design. Kerem tells us that not one thing changed from the original plan to final implementation. "One of the best investments I've ever made was to work with them", says Kerem.
They arranged not only the physical designs, but the murals in the Sipping Lounge, and the cartoon monsters in the restroom with Japanese writing.
Ichicoro Ane will open on Sunday, December 10 at 6:00 PM for dinner.
They will start with dinner only, then work into weekend brunch, and later, lunch in the ramen shop.
Hours of Operation for Ichicoro Ane
Ane Restaurant
Monday-Friday Open 4:00 PM
Sunday-Wednesday Close 1:00 AM
Thursday-Saturday 3:00 AM
Brunch Saturday & Sunday Open 11:00 AM, Close 4:00 PM
Kitchen Hours For Restaurant
Monday-Friday Open 5:00 PM
Saturday & Sunday Open 6:00 PM
Sunday-Wednesday Main Dining Close 11:00 PM
Sunday-Wednesday Ramen Close 12:00 AM (Midnight)
Sunday-Wednesday Late-Night Menu 1:00 AM
Thursday-Saturday Late-Night Menu Close 2:00 AM
Ane Lounge
Monday-Sunday Open 6:00 PM
Sunday- Wednesday Close 1:00 AM
Thursday- Saturday Close 3:00 AM
Photos by Downtown Lori Brown unless otherwise indicated
A Japanese inspired eating & drinking den.
DISCLAIMER: Kevin, Lori, Abby, Haley, & Lindsey do not dine anonymously (this would be impossible) and we sometimes get free food (though never expected). However, we dine with the locals and we support our own. You will always get honesty in a respectful manner. We do not include any large national or regional chains in our ratings and reviews. We focus on independent locally owned eateries exclusively.

PLEASE NOTE: Reviews reflect a certain moment in time. Some restaurants stay extremely consistent over many years, and some change for the better or worse. Some things that may change are: chefs, recipes, food suppliers, ingredients, philosophies, ownership, etc. We always hope that you have the same good, or great experience we had.
More Foodies News, Reviews & Recipes