Cassis American Brasserie New Menus 2017
Cassis American Brasserie New Menus 2017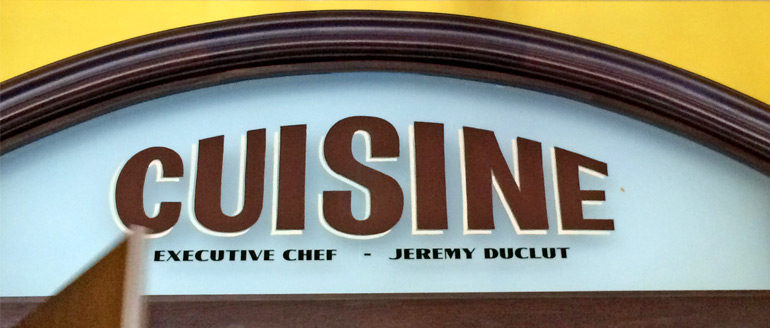 Cassis Introduces New Entrées
& First Time Bar Menu
Cassis American Brasserie arrived on the scene in Downtown St. Pete 7-years ago in their prestigious location below The Ovation on Beach Drive. They have really come a long way since then. In recent years, we would go on a regular basis for breakfast / brunch and for drinks at the bar. We were not in the habit of enjoying lunch or dinner there.
That just changed.
Last Friday, January 13th, Cassis released new menus for dinner, lunch and brunch, and introduced their first ever Bar Menu. St. Petersburg Foodies went for dinner and tried items from the Bar Menu, Dinner Menu, and dessert.
To be clear, the entire menu has not changed. Many of the favorites remain. The dinner menu has 13-new items (we think it's just a coincidence that the menus came out on the 13th).The lunch menu has four new items with a couple of them also being the new items on the dinner menu. Don't worry, the awesome Parisian Hot Dog on the lunch menu is still there. Read about it here.
The Brunch menu has just two new items; Blueberry Pancakes and Prime Rib Hash. I predict you will find us there next Sunday eating Prime Rib Hash. Here are some of our favorite perennial brunch items that we always order.
UPDATE February 2, 2017: We had the Prime Rib Hash – red bliss potatoes, red pepper, caramelized onions, baby arugula, two eggs your way. It is delicious and hearty with large chunks of Prime Rib. This large portion is a great item to share for breakfast, or to skip lunch or just have a small salad for lunch.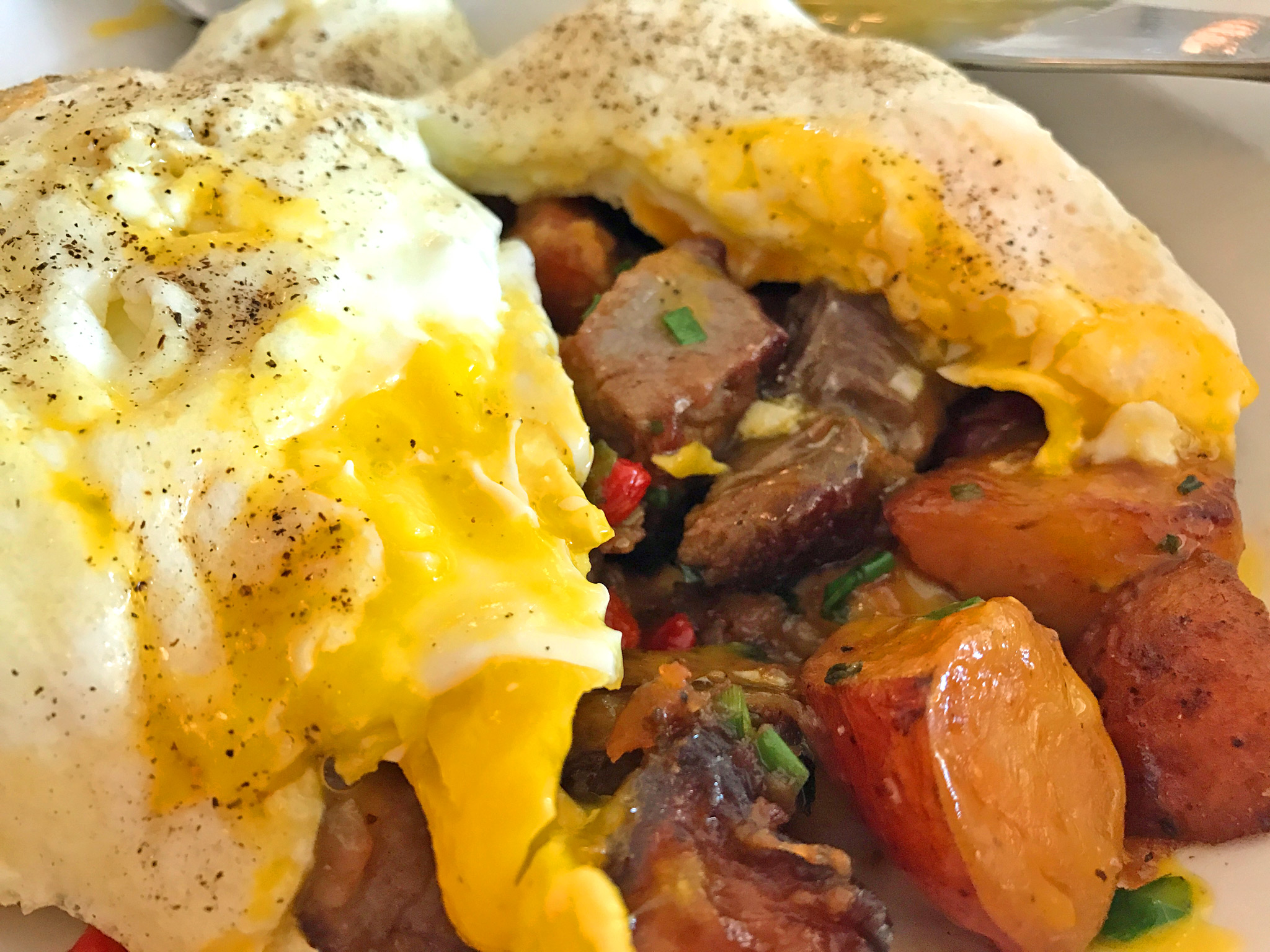 The new Bar Menu is available at the bar only, every day from 4 pm until the kitchen closes. It has 9 items, all of which are $4.99 each. We tried two that we really enjoyed.
The Reuben Spring Roll was delicious and clever. It's like a mini Reuben wrap, lightly fried that you dip in the traditional thousand island dressing. It tasted just like the regular sandwich. We loved it.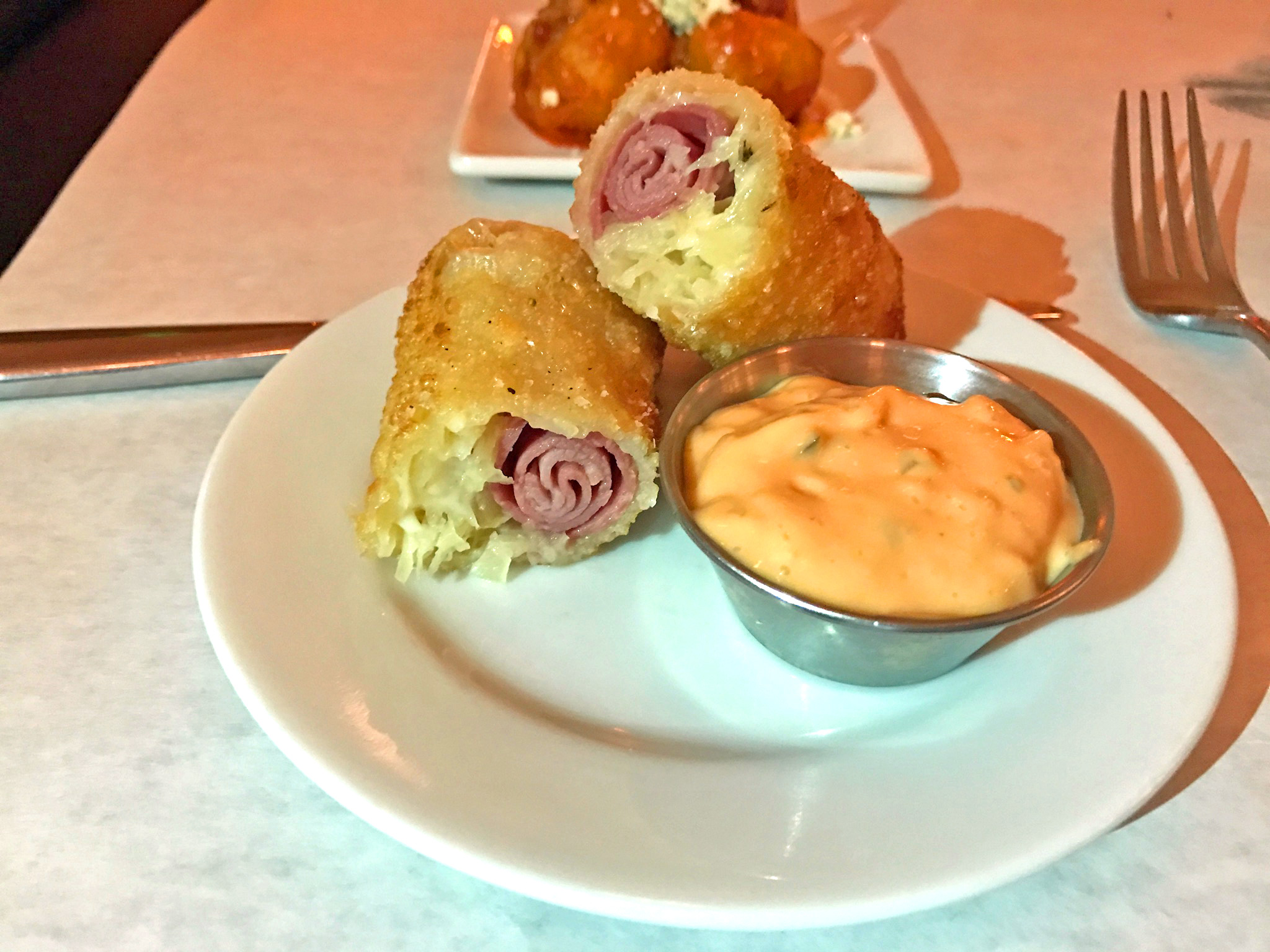 From the Bar Menu, we also had the Spicy Lollipop Chicken Wings with Blue Cheese, and definitely recommend them as well. In addition to being quite tasty, Lori also liked them since they are easy to eat without getting your hands too messy. I like extremely spicy food, and would classify these as mild-to-medium spicy—something everyone can enjoy without having to call 911.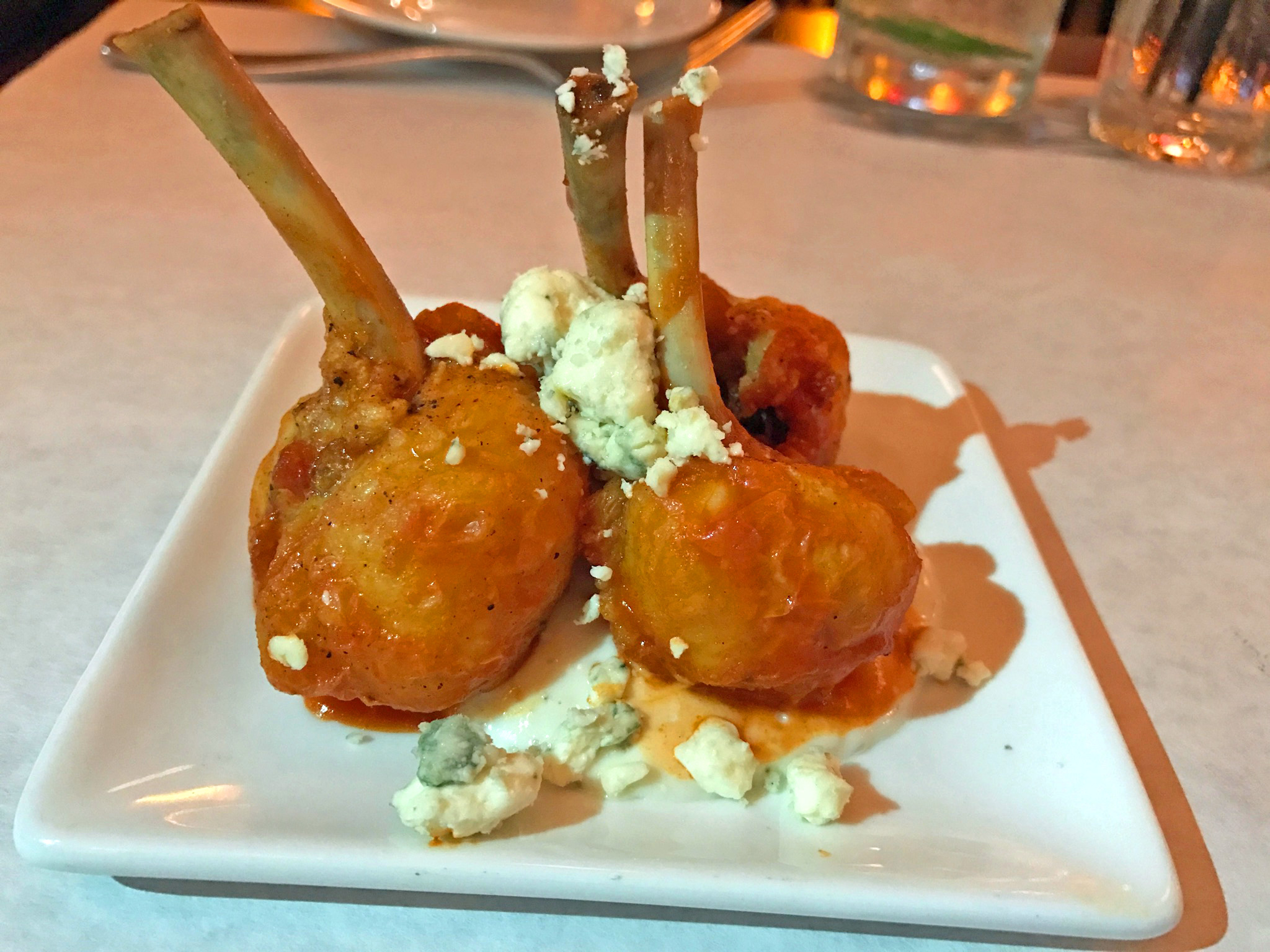 Here are some of the other Bar Menu Items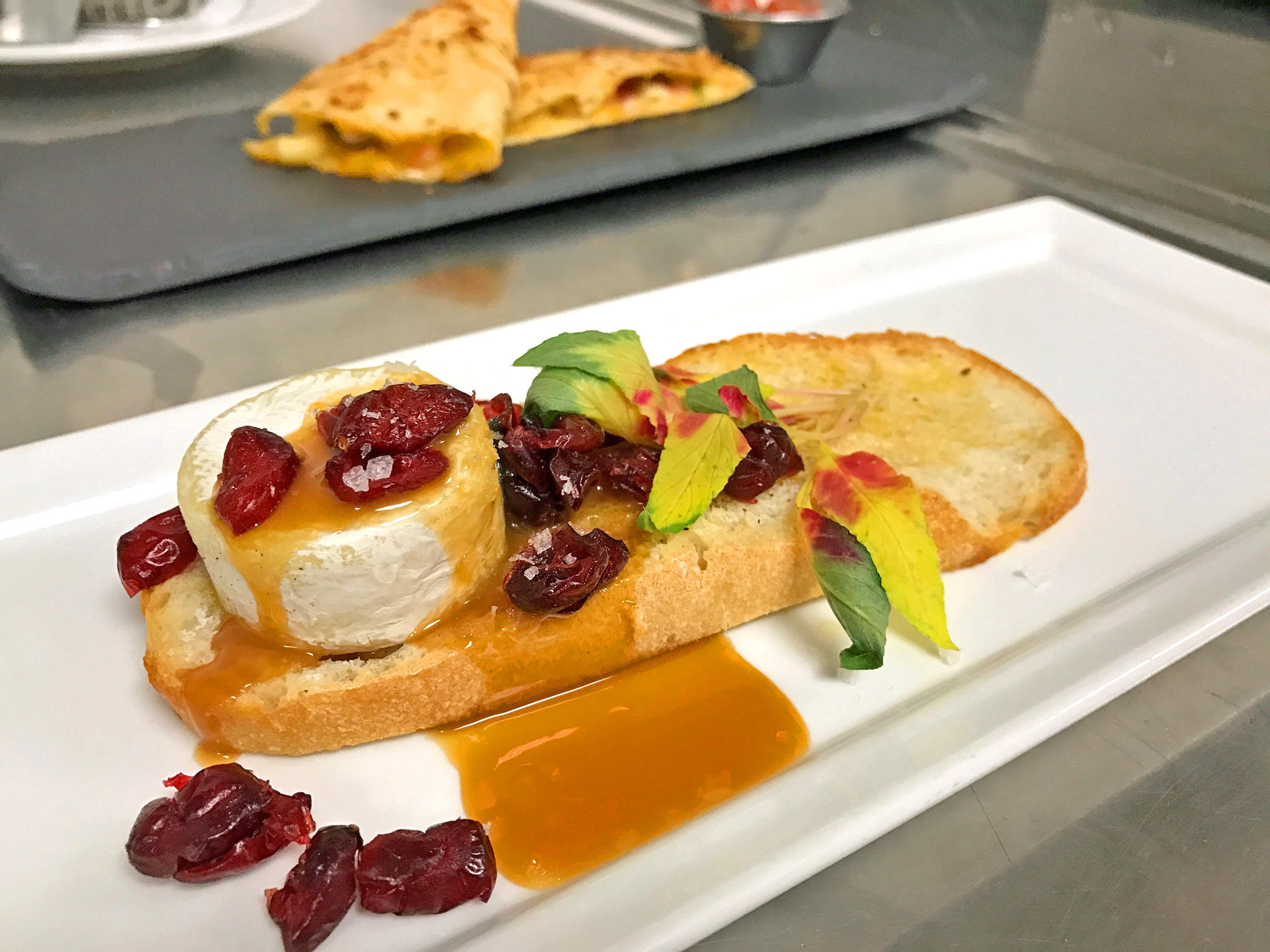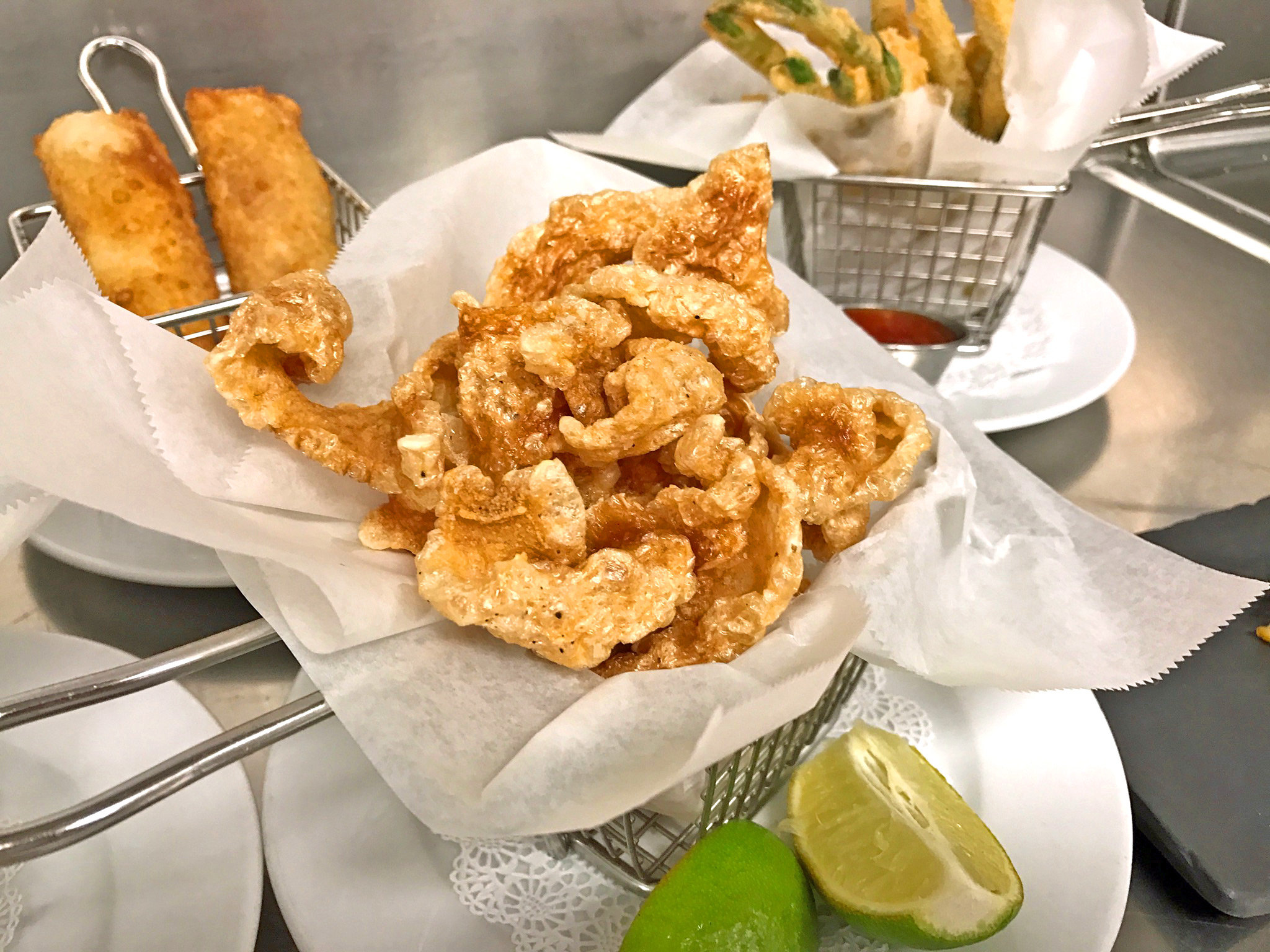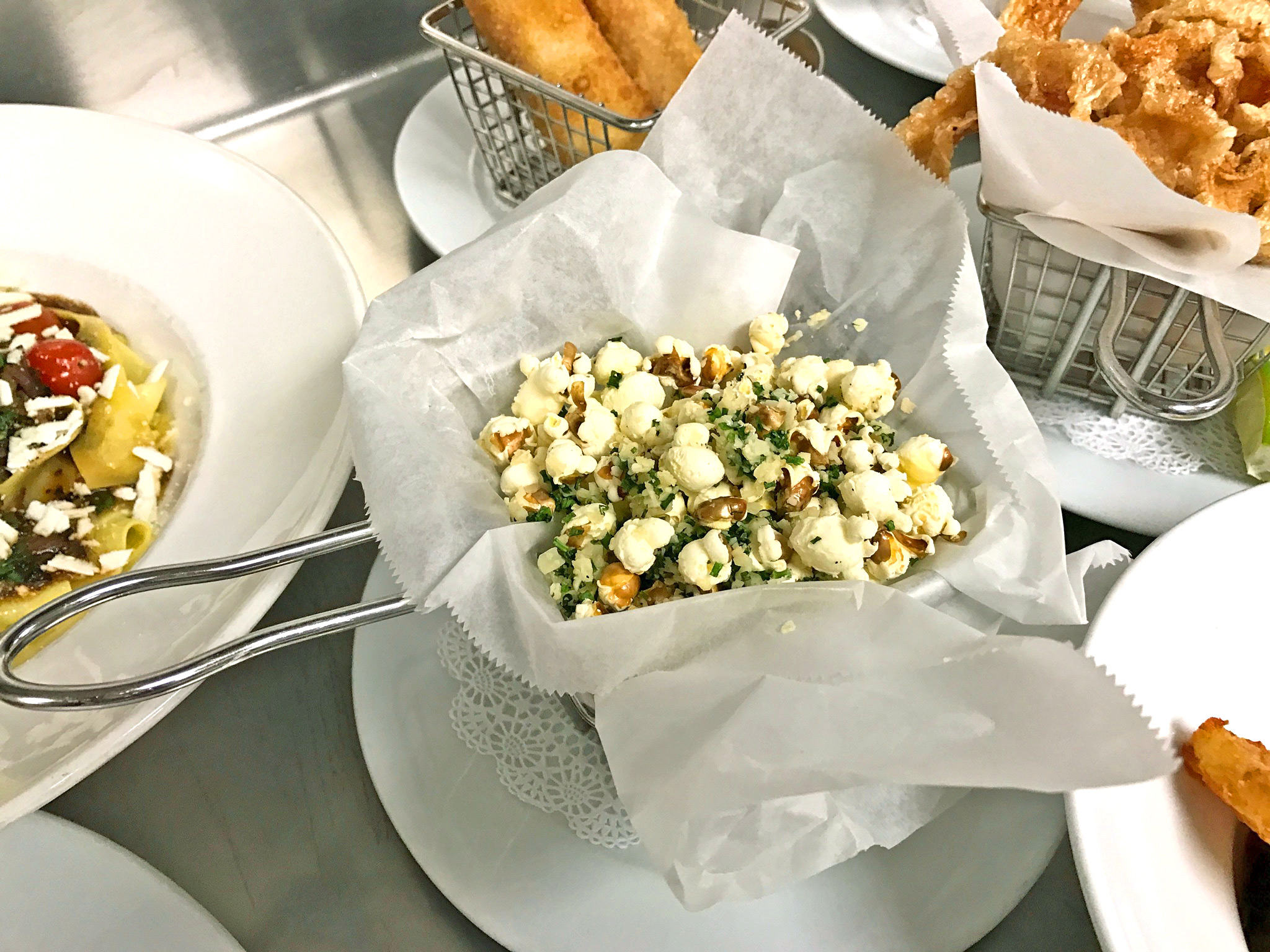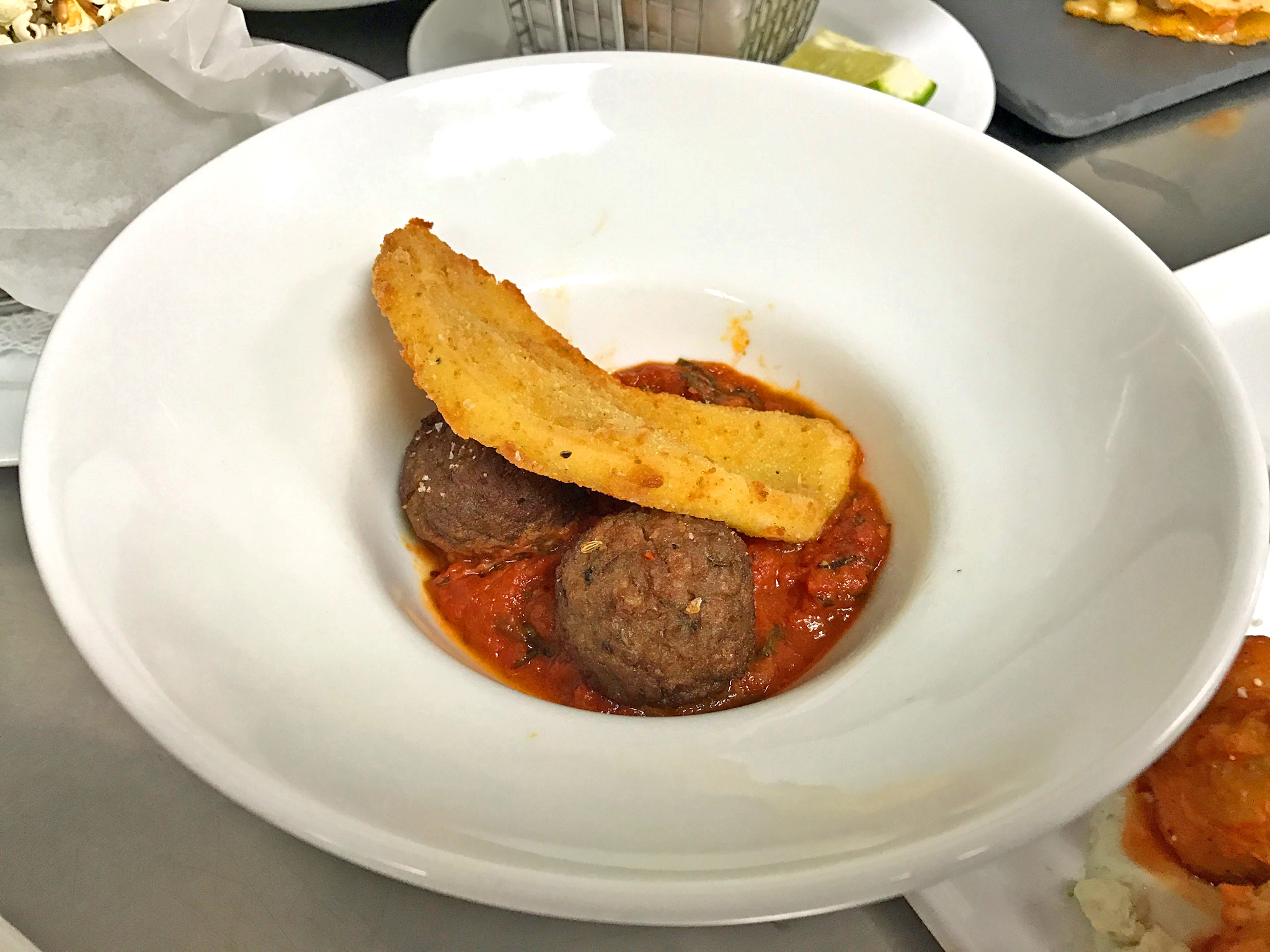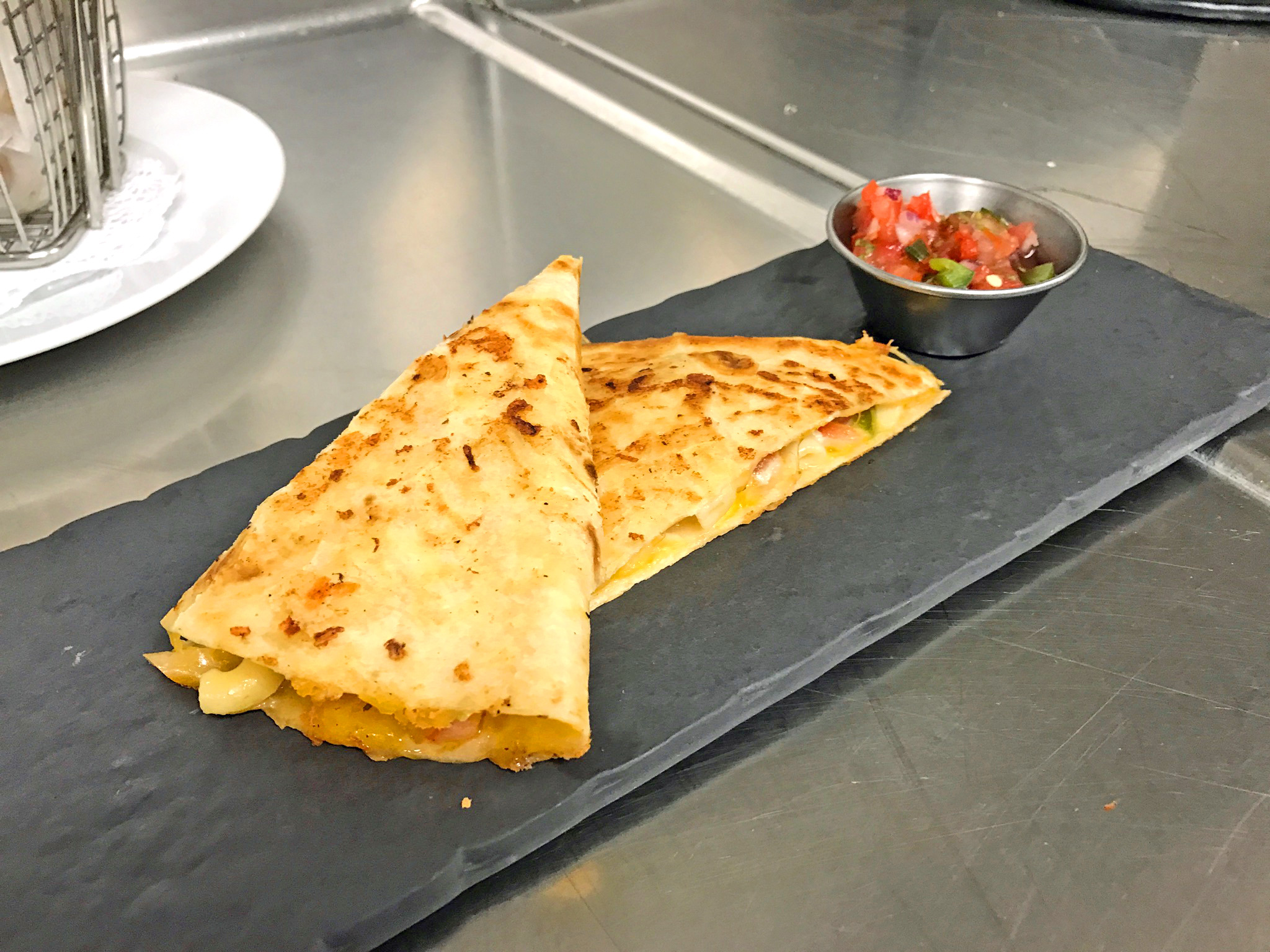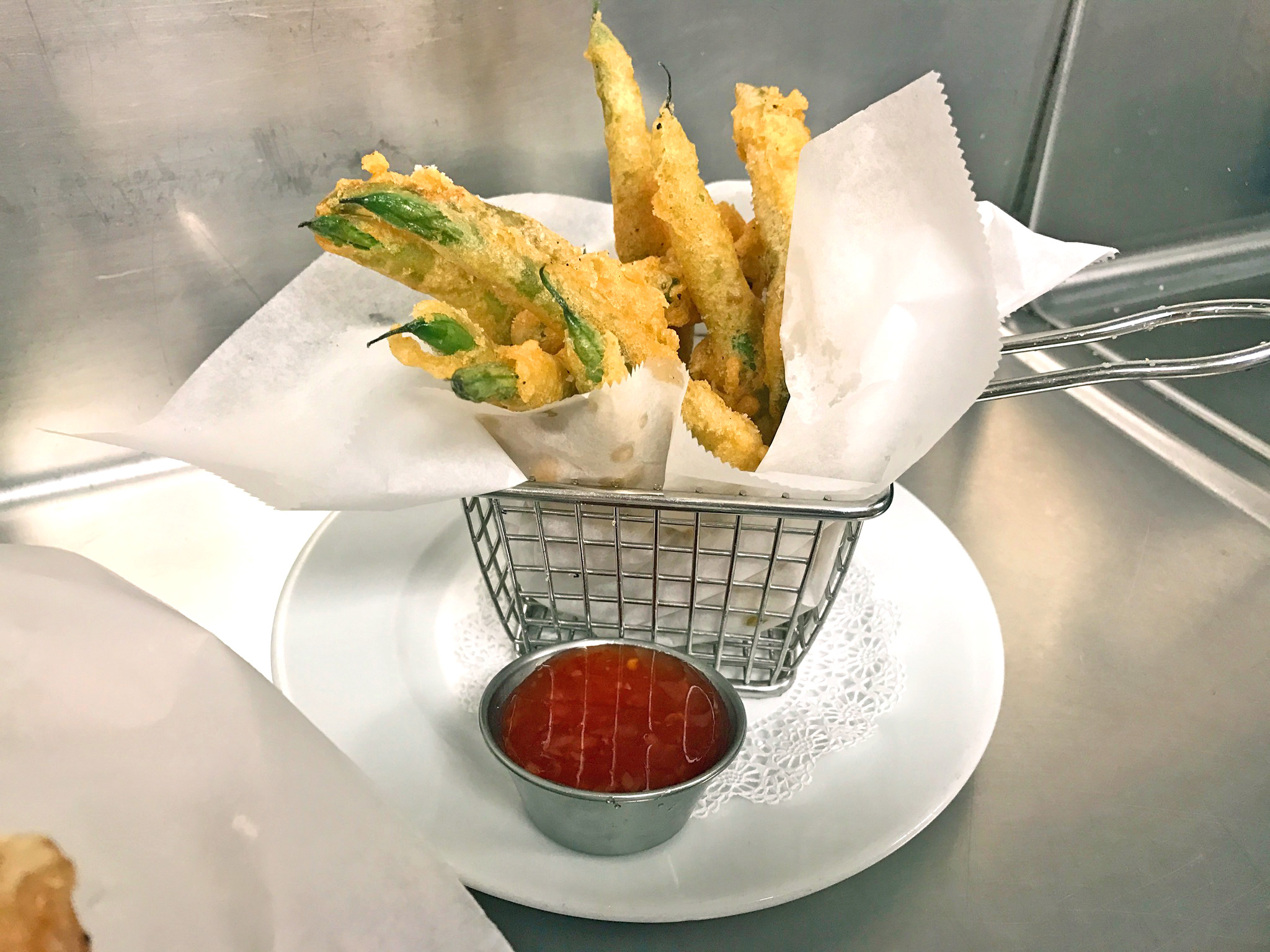 We had three of the new items on the Dinner Menu starting with the Classic Hand-Cut Steak Tartare w/house made potato chips.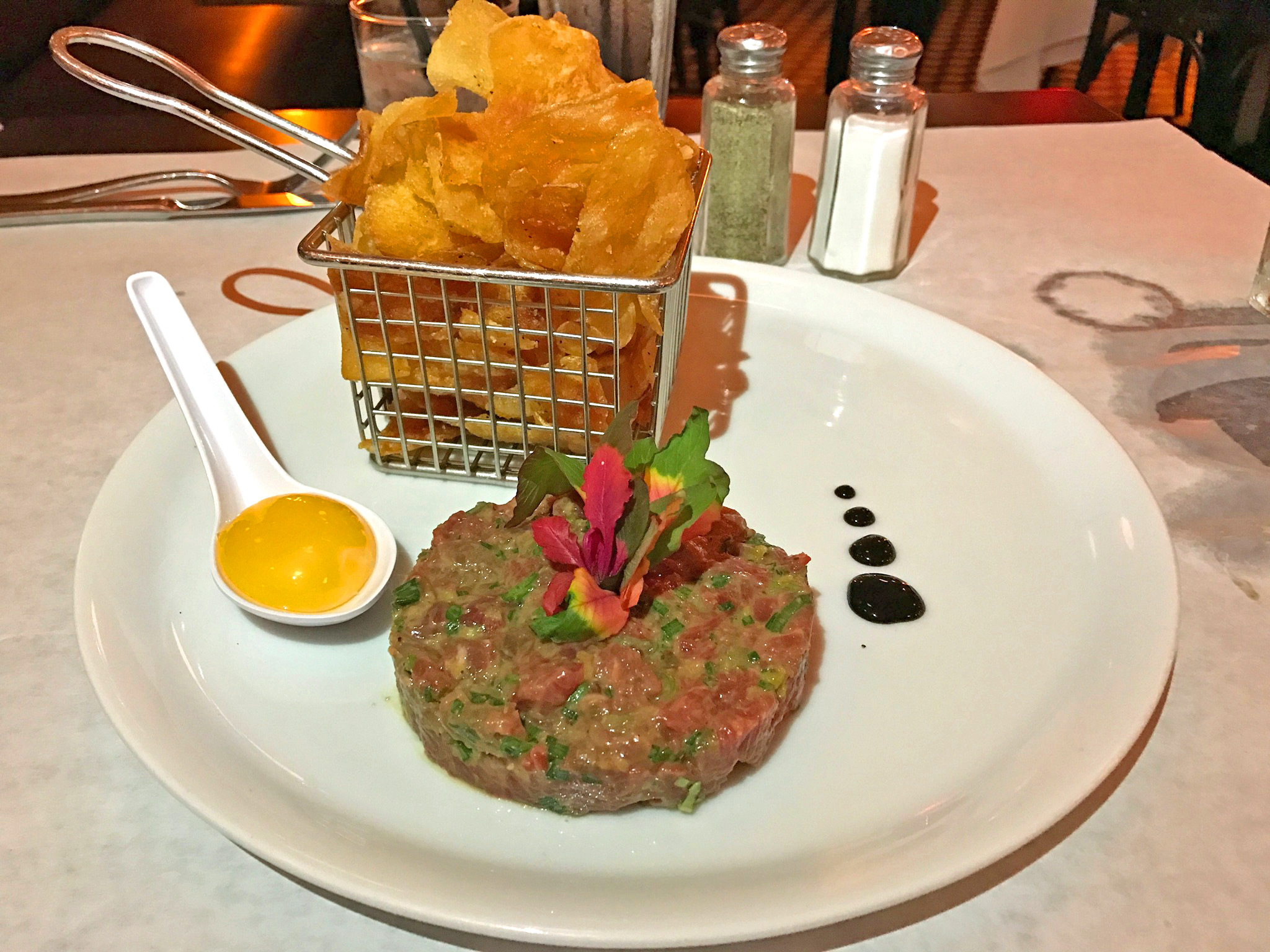 I like this one more than Lori. She didn't like that it was the size and shape of a raw hamburger as she's used to it being served in a cylindrical shape. General Manager Elliot Günther explained that the portion is so large, that when they used the cylinder mold, it was too heavy and bulged out on the sides … kind of like me after eating all of this food.
It was tasty and tangy with a nice spice as well. The house made potato chips were divine and the perfect accompaniment along with the raw egg yolk. Here goes the egg being integrated, and then Lori's plating of a bite size piece with all ingredients.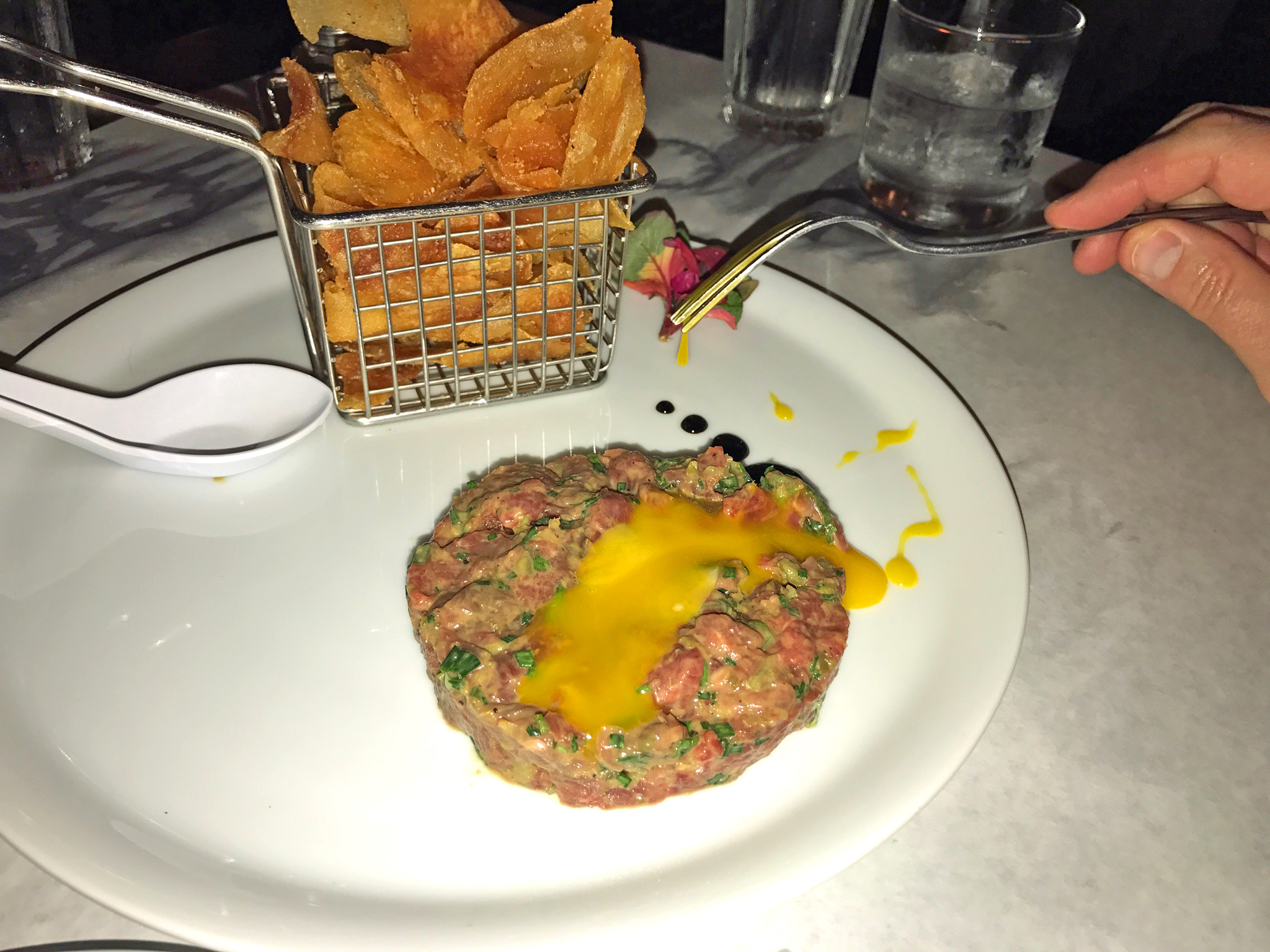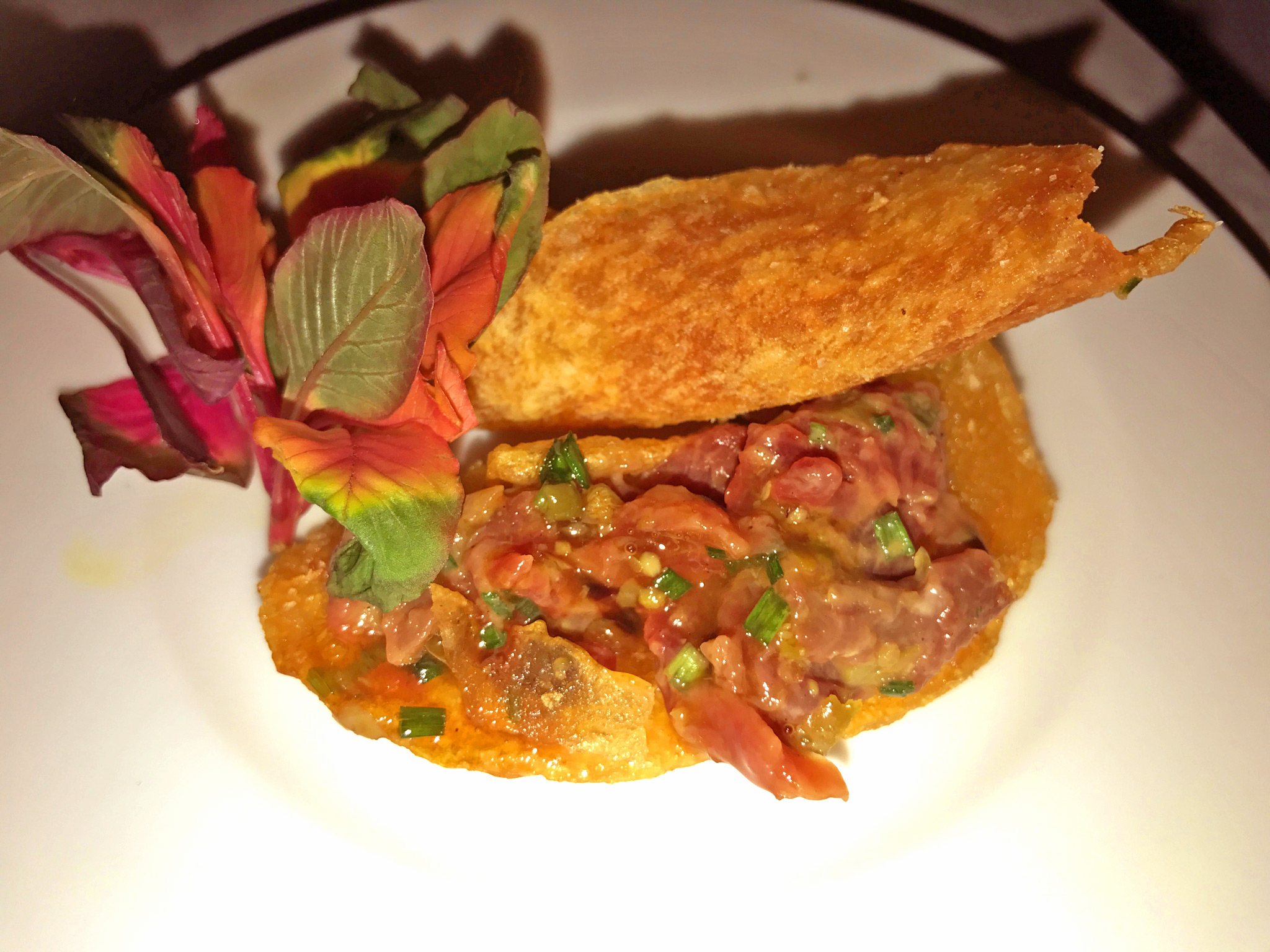 We really LOVED the next two items.
The Braised Lamb Shank Ragout was out of this world. This is our most favorite entrée we've ever had at Cassis. It's the best lamb ragout we've ever had as well. All of the flavors and components work perfectly together, from the grape tomatoes to the ricotta cheese and the pasta and spices in the lamb—it's magnificent. It melts in your mouth.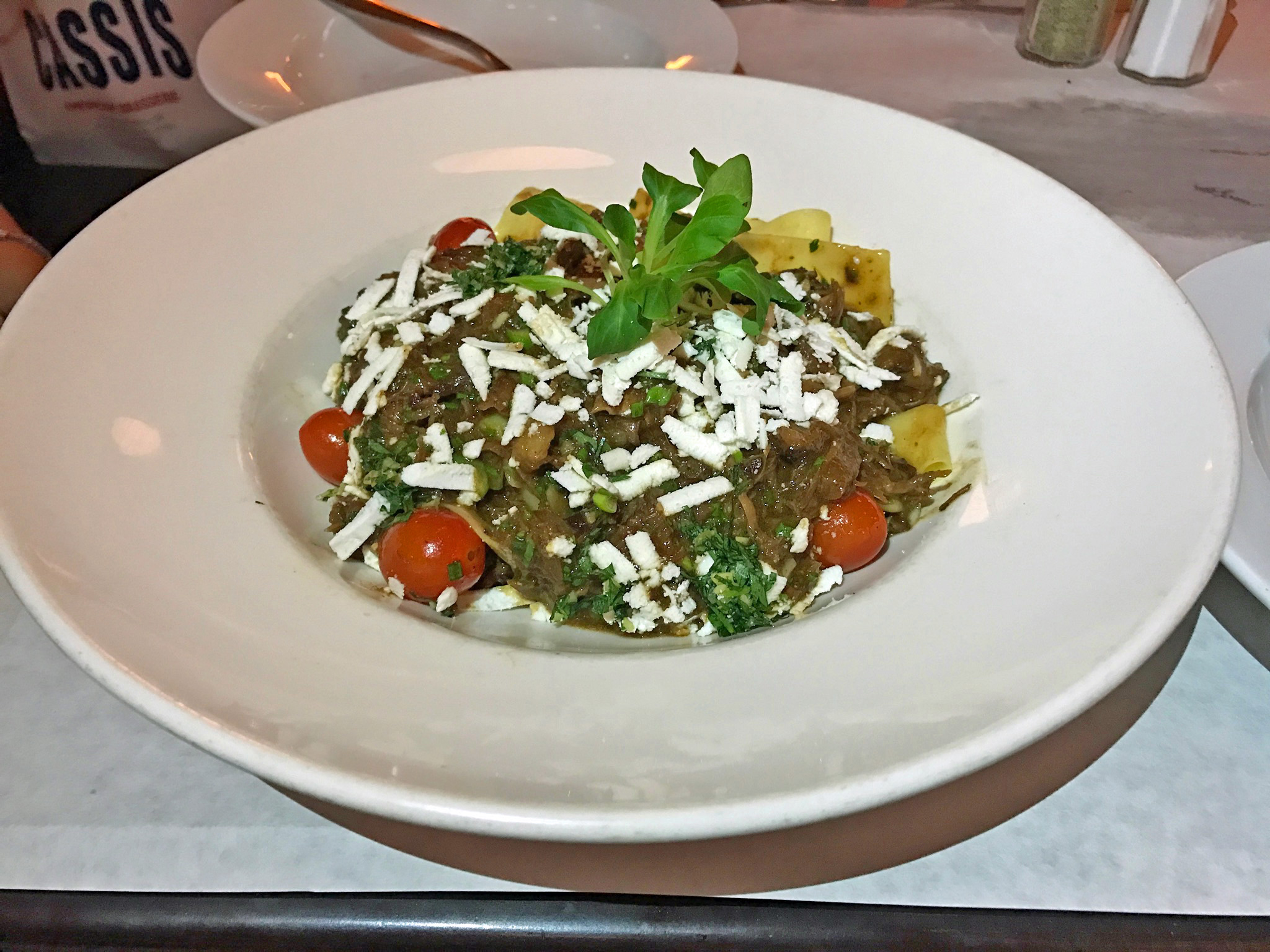 Of course, we could not resist ordering the Grilled Petite Filet. We don't often order filet mignon, as we prefer a Rib Eye, but Cassis' Grilled Petite Filet was excellent. It was perfectly juicy and rare-to-medium rare on the inside with a nice char on the outside.
The accompanying Blue Cheese Toasted Orzo was so flavorful that it could stand on its own as a dish, and is one of the new sides that can be ordered separately. Even if you don't get the steak, get the Blue Cheese Toasted Orzo. The blue cheese in this is extremely mild and creamy. Lori doesn't like Blue Cheese, but she loved this and didn't even realize it was blue cheese until we were reminded.
The Sautéed Broccoli Rabe was good, but quite sharp, earthy, and herb-tasting. It did have a nice amount of garlic, but was just a little too biting. I quipped that it's job is to "make everything else on the plate look (taste) better". It is also one of the new sides.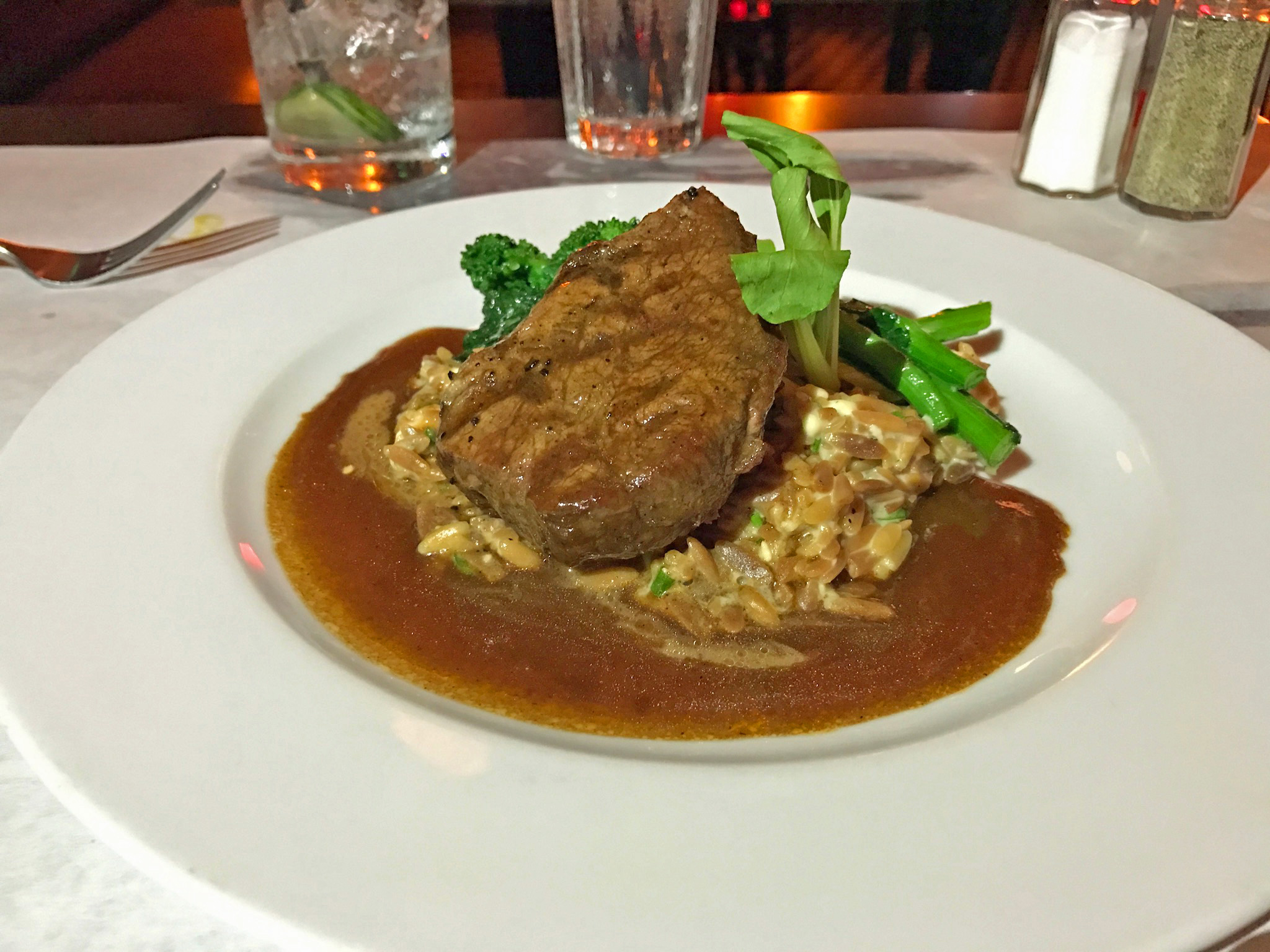 Here's the steak cut in half. It was perfectly cooked, very tender and with the bordelaise sauce it had a sweetness and a bitterness at the same time – bitterness in a good way for a nice contrast.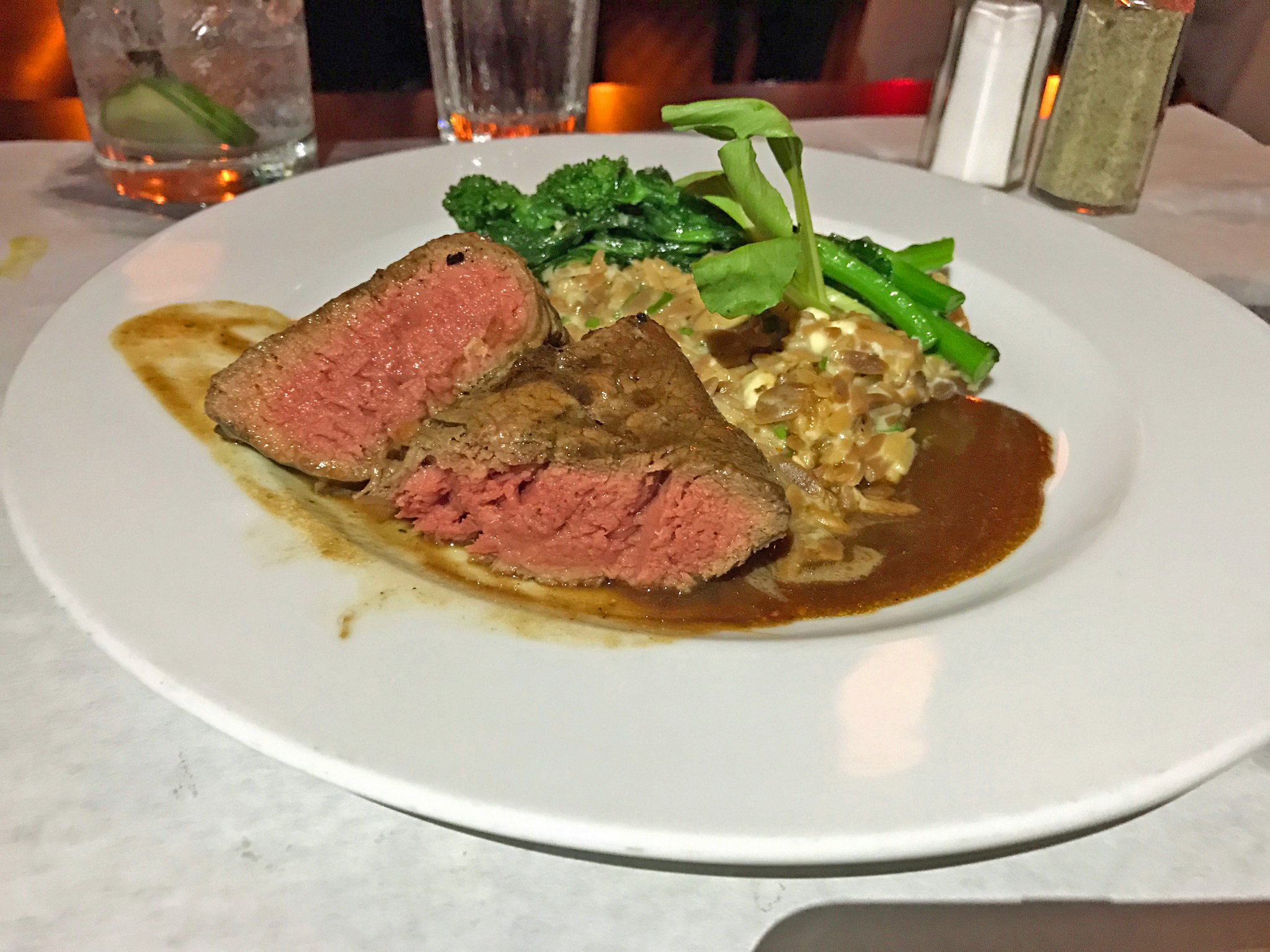 Here are a few more of the new dinner entrées.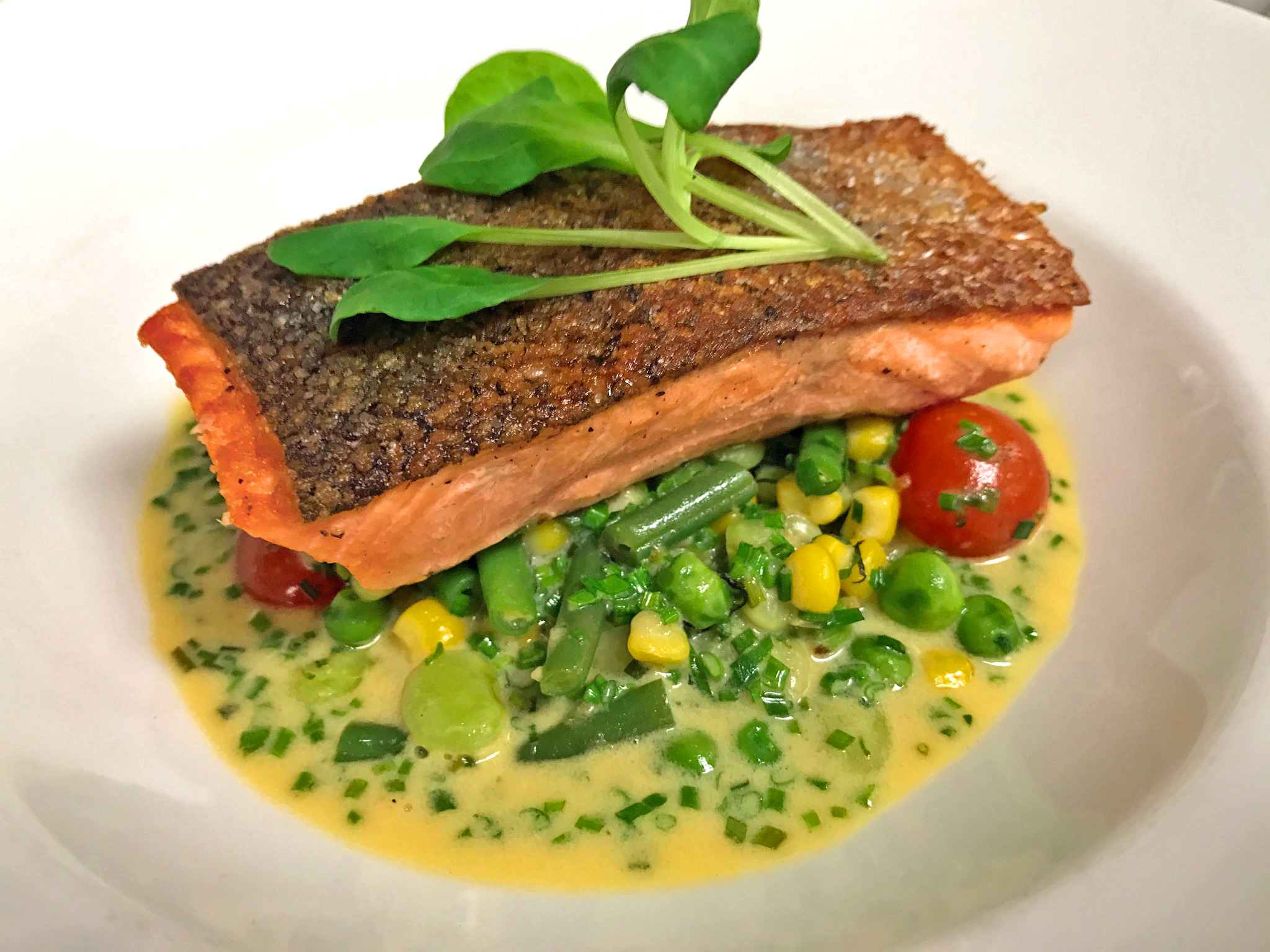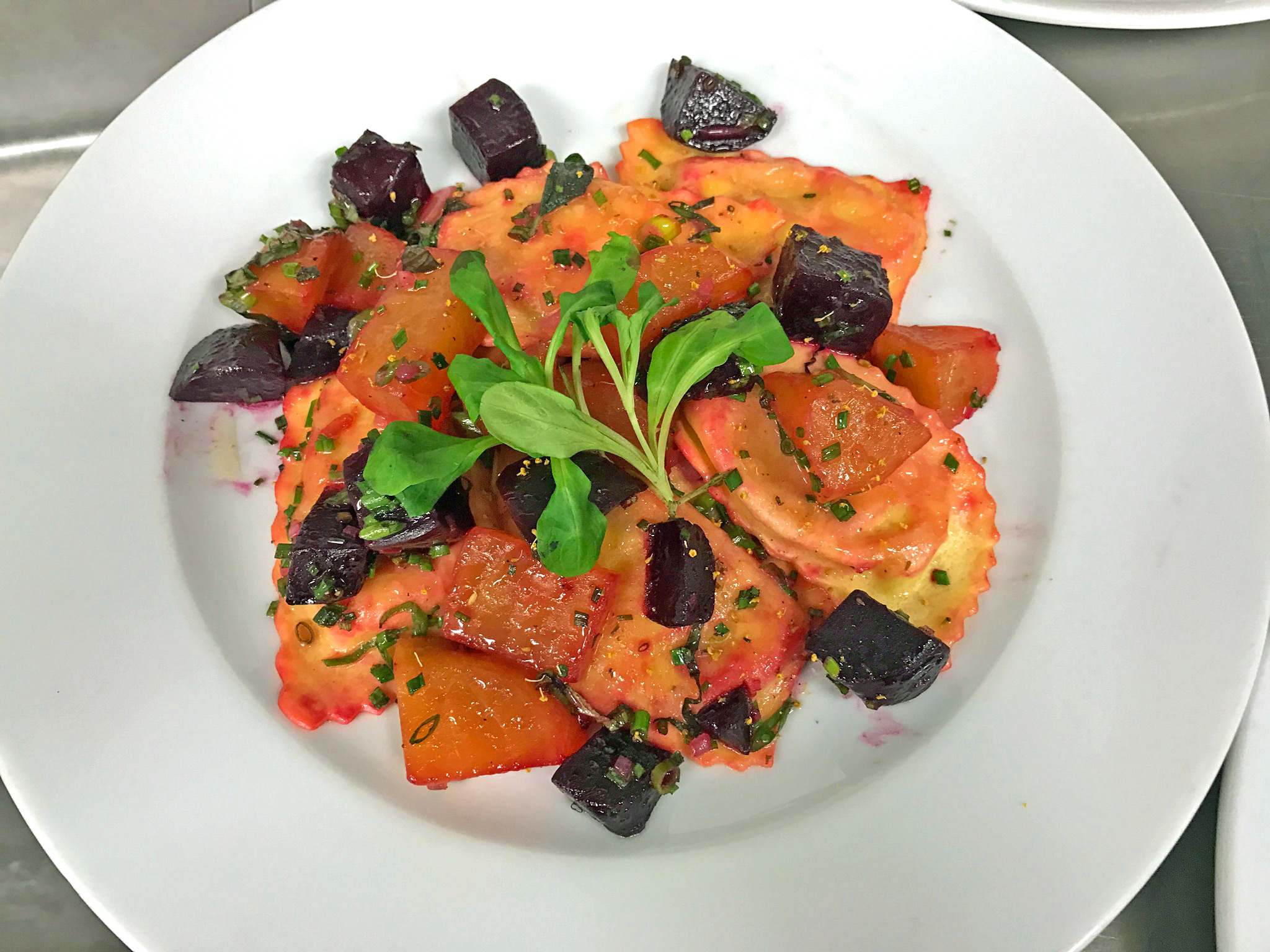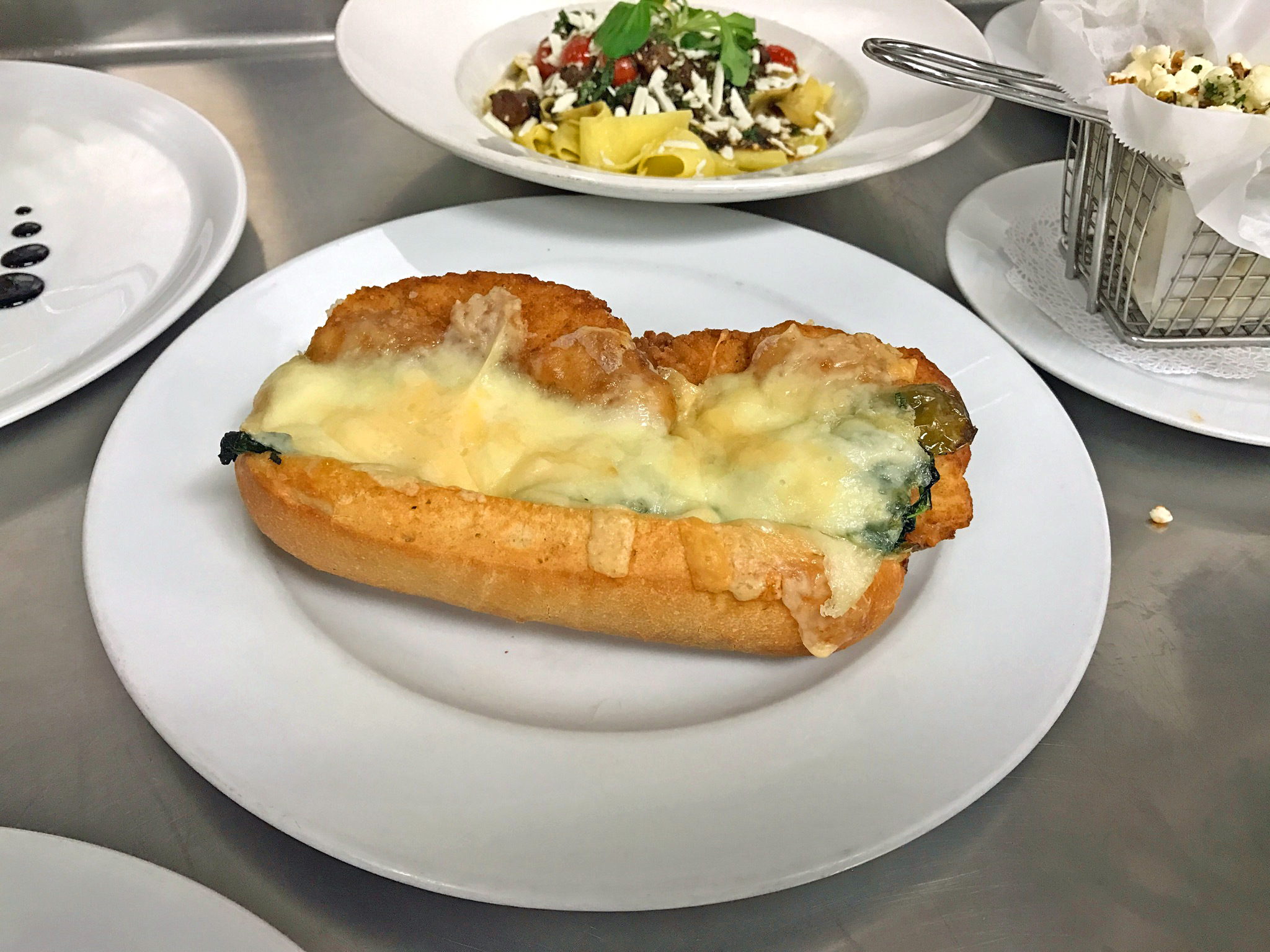 Here is the Cassis Dinner Menu with all of the new items circled.
We finished with a delectable trio of Cassis Desserts that are made fresh every day in their own on-premise bakery. So, so good!

We haven't had the chance to try the new lunch and brunch items yet, but we have the new menus for download and we have again circled all of the new items to make them easy to find.
We are looking forward to trying the new French Reuben on the lunch menu and the Prime Rib Hash on the Brunch menu.
Also, for those with furry friends that they think of as little humans (if you're as bad as me, then anthropomorphizing is likely one of your hobbies), there is a Dog Menu too! Leila says she doesn't care that there aren't any new items on the dog menu. She likes the Mutt Loaf, Hot Diggity Dog, and Pooched Egg.
Dog Menu is Here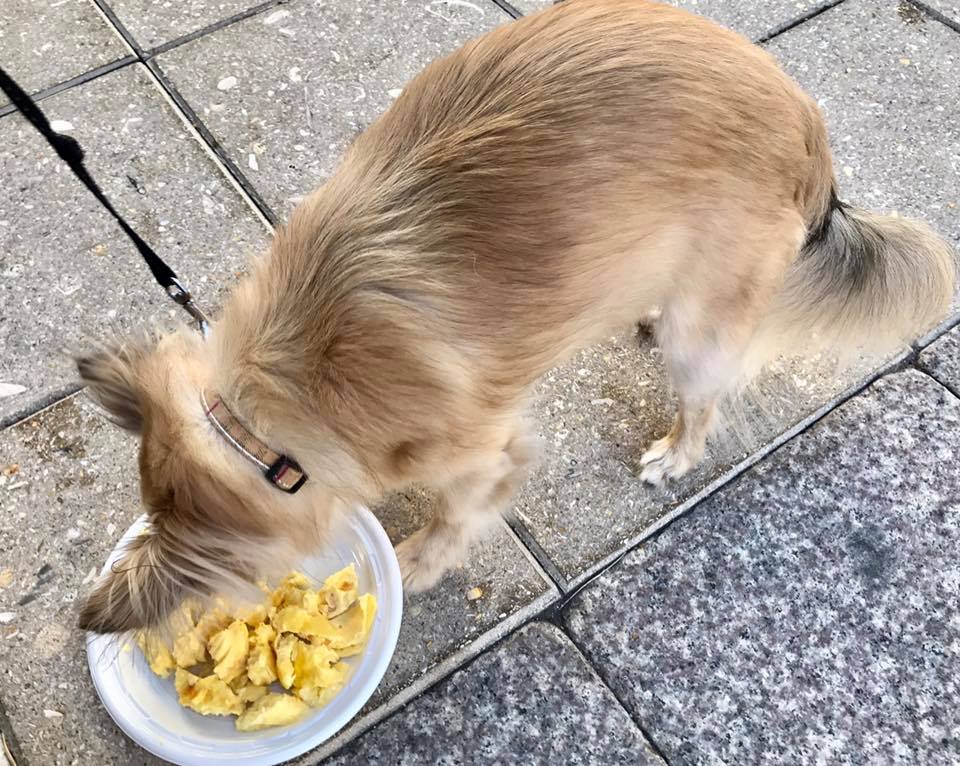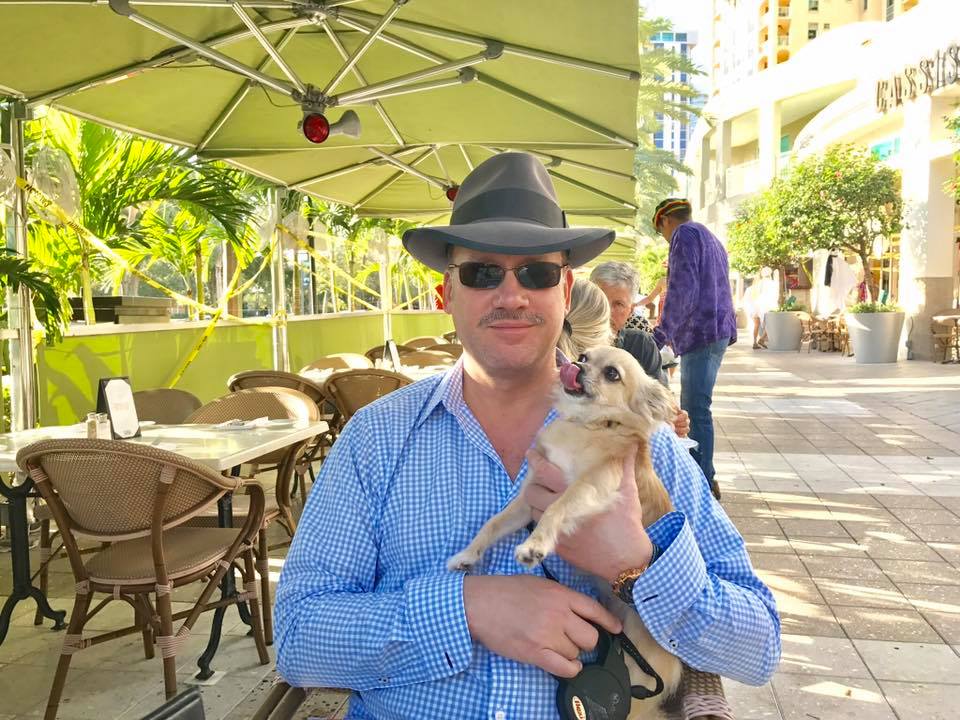 Cassis American Brasserie has some fantastic new menu items to kick off the new year in 2017.
DISCLAIMER: Kevin, Lori, Abby, Haley, & Lindsey do not dine anonymously (this would be impossible) and we sometimes get free food (though never expected). However, we dine with the locals and we support our own. You will always get honesty in a respectful manner. We do not include any large national or regional chains in our ratings and reviews. We focus on independent locally owned eateries exclusively.

PLEASE NOTE: Reviews reflect a certain moment in time. Some restaurants stay extremely consistent over many years, and some change for the better or worse. Some things that may change are: chefs, recipes, food suppliers, ingredients, philosophies, ownership, etc. We always hope that you have the same good, or great experience we had.
More Foodies News, Reviews & Recipes