Party Time! Mexican Style!
Party Time! Mexican Style!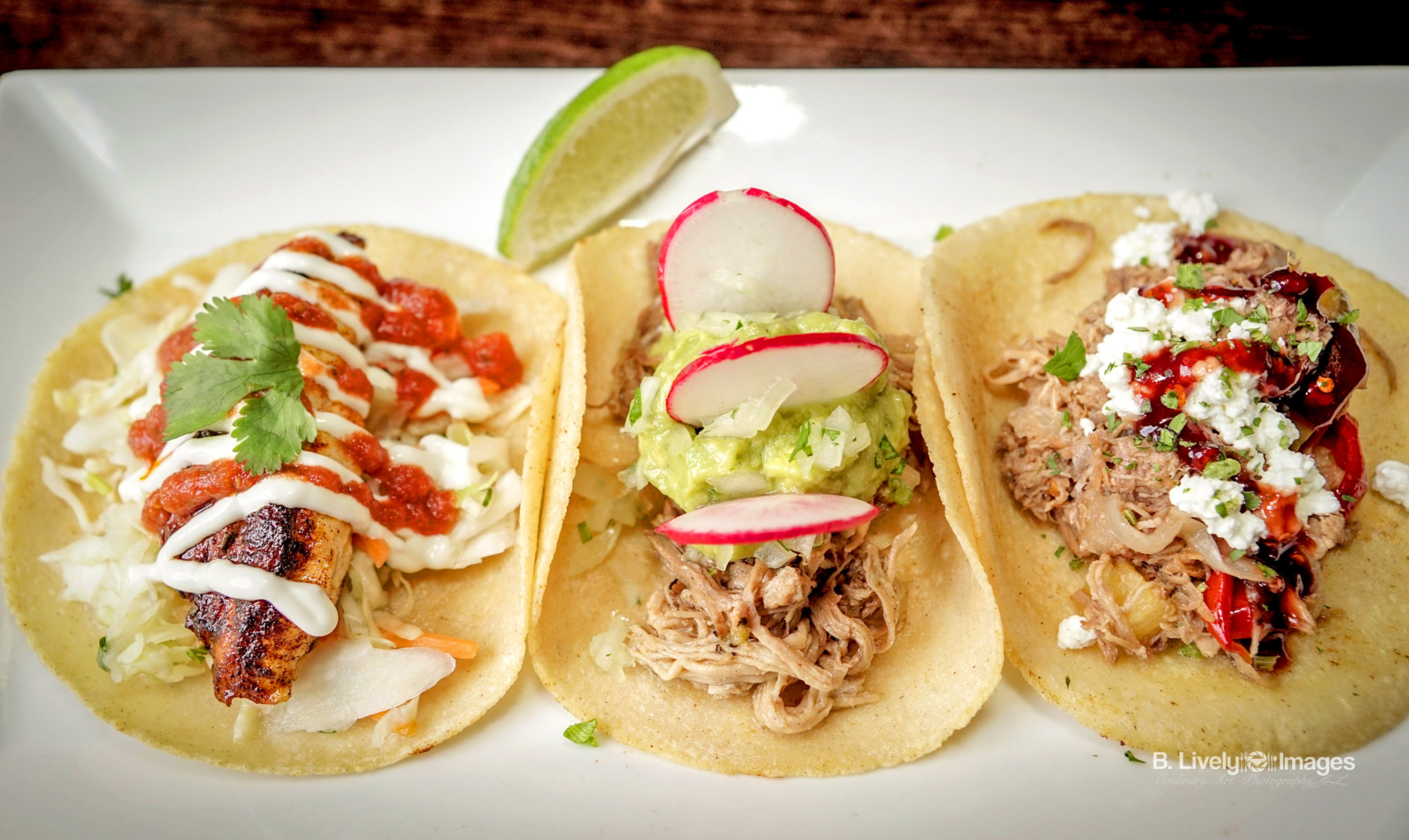 Red Mesa Cantina is the Wild Child in the Family
A couple of weeks ago, St. Petersburg Foodies, along with our photographer, Barry Lively, (and he lives up to his name, by the way) recently spent the day with Marketing Director Edgar Veytia, and Executive Chef Chris Fernandez exploring all three Red Mesa locations.
Our last stop was Red Mesa Cantina, as it is in Downtown St. Pete and I live right next door to it as part of the McNulty Station Complex that was originally a train station along with a firehouse. Red Mesa Cantina along with Push Ultra Lounge inhabit the former firehouse. We knew we were going to be sampling some margaritas and other drinks, so we put the car in the garage as we could just walk one block home.
"Cantina", as we like to call it, opened in early 2009 right around the same time that I moved here, and I have been a steady customer ever since. Cantina is also part of the story of how Lori and I got together in late 2013, which eventually led to us starting St. Petersburg Foodies, but that's another story. You can ask me about it if you see me out and about, but you might be sorry you asked. (Lori says I tell the long version.)
Red Mesa Cantina's vibe is of a more lively, party atmosphere. It is of course, still wholesome enough for families and children. The outside bar area and courtyard is festive and gorgeous with fountains, a brick bridge to walk over a little pond, colorful metal mariachi sculptures and bar high tops. There is live music at the outside bar on Friday and Saturday nights from 9:00pm until 1:00am.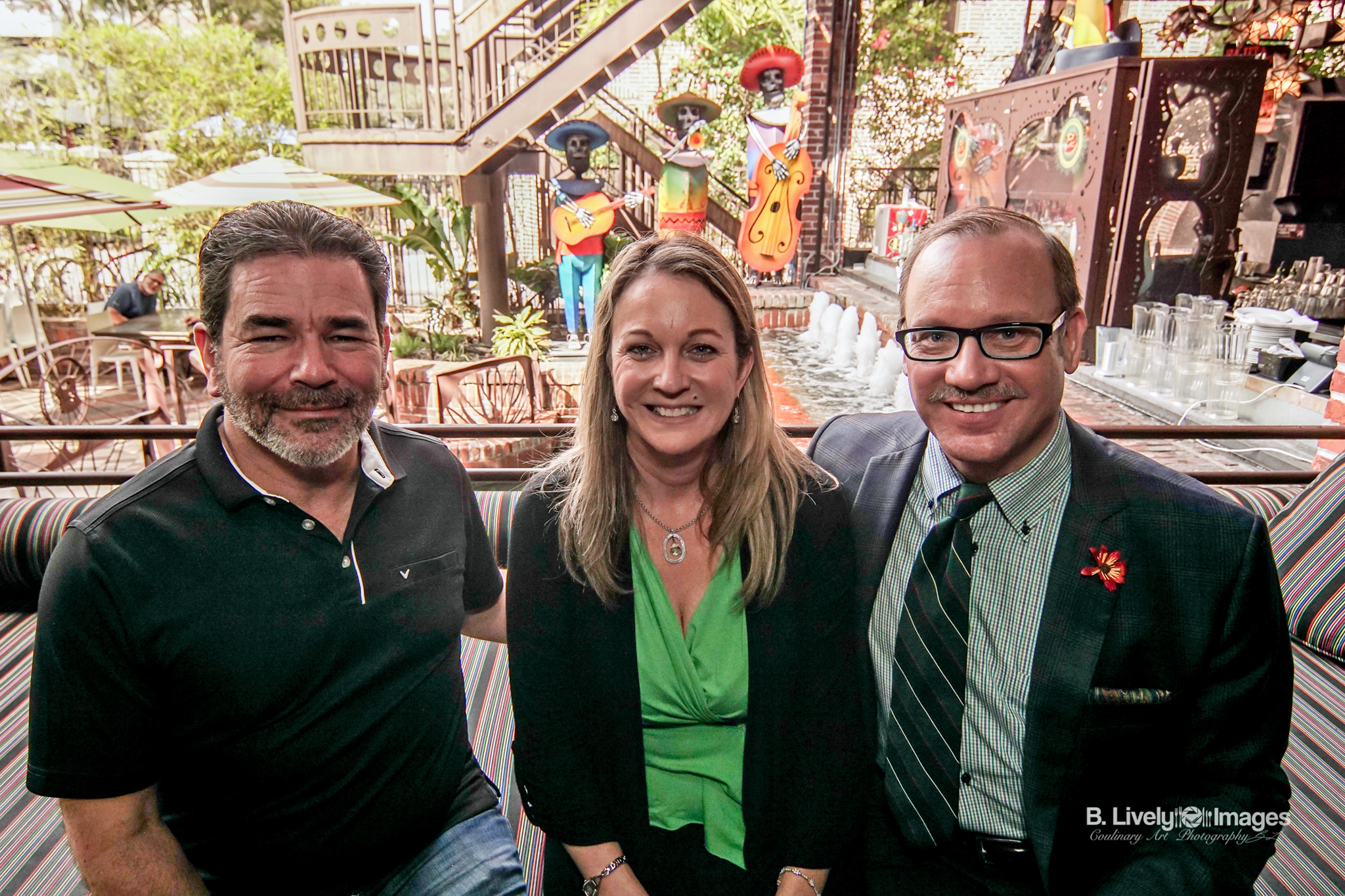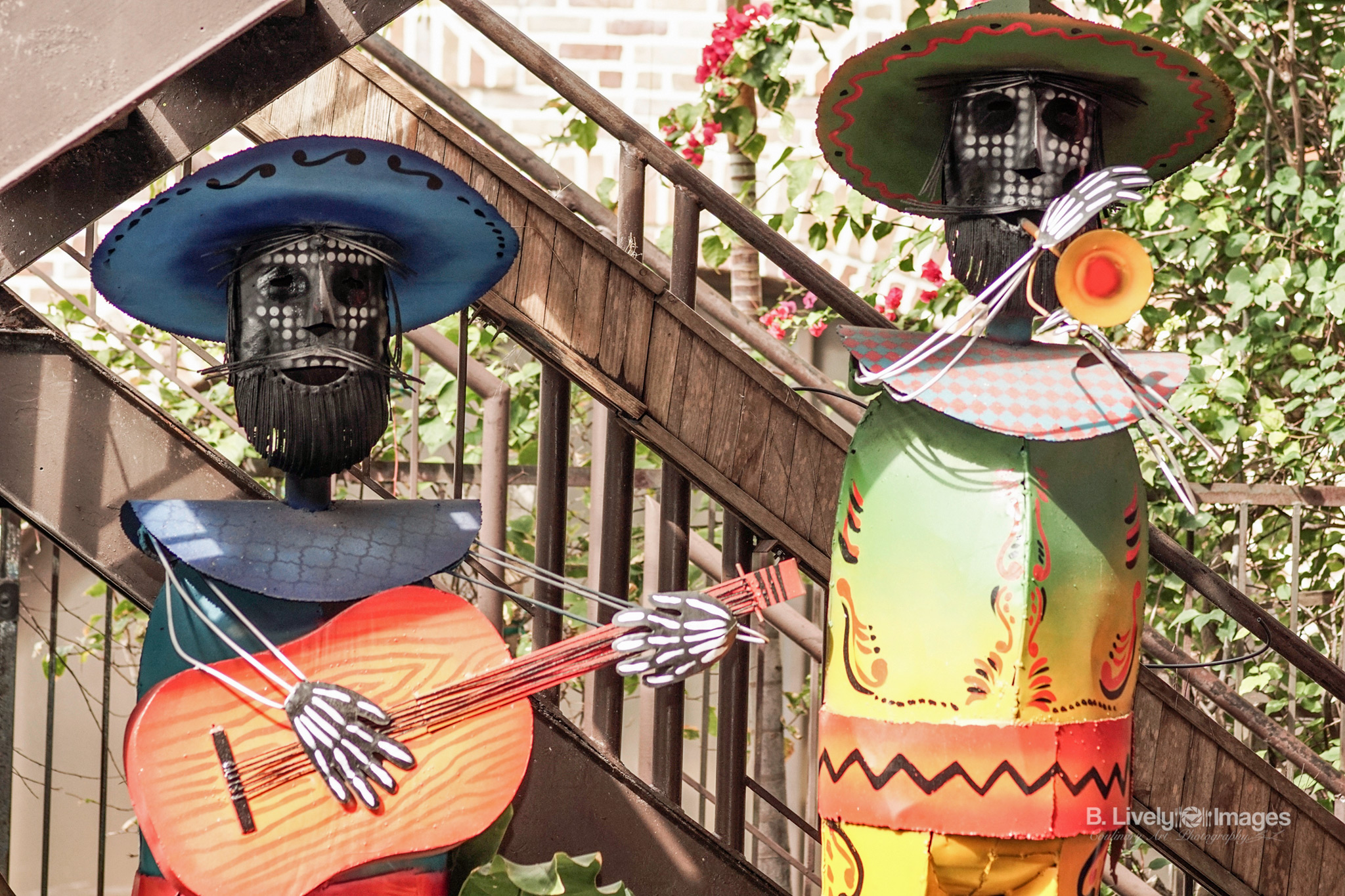 Red Mesa Cantina also has the largest collection of tequilas and mezcals in the Southern USA with over 400. ¡Guao! There are 66 mezcals alone. We also learned about sotol, which is another distilled spirit similar to mezcal and tequila, but made from a different type of agave plant from Northern Mexico found in the region of Chihuahua. Whereas, tequila has a whole set of different rules to be called tequila, including that the agave plants must be Blue Weber, and the tequila must be produced in the area of Jalisco and a few neighboring regions. You can learn more about this at Red Mesa Cantina.
They hold regular monthly tequila tastings that are free and educational. Learn while getting a buzz. ¡Perfecto!
Often, when people think of tequila, it's easy to picture a college dorm room with guys licking salt, pounding shots, and sucking limes.
The tequila tastings at Cantina are more like a wine tasting with sophisticated sipping tequilas, and a brand ambassador present to help you realize the subtle flavor and aroma nuances.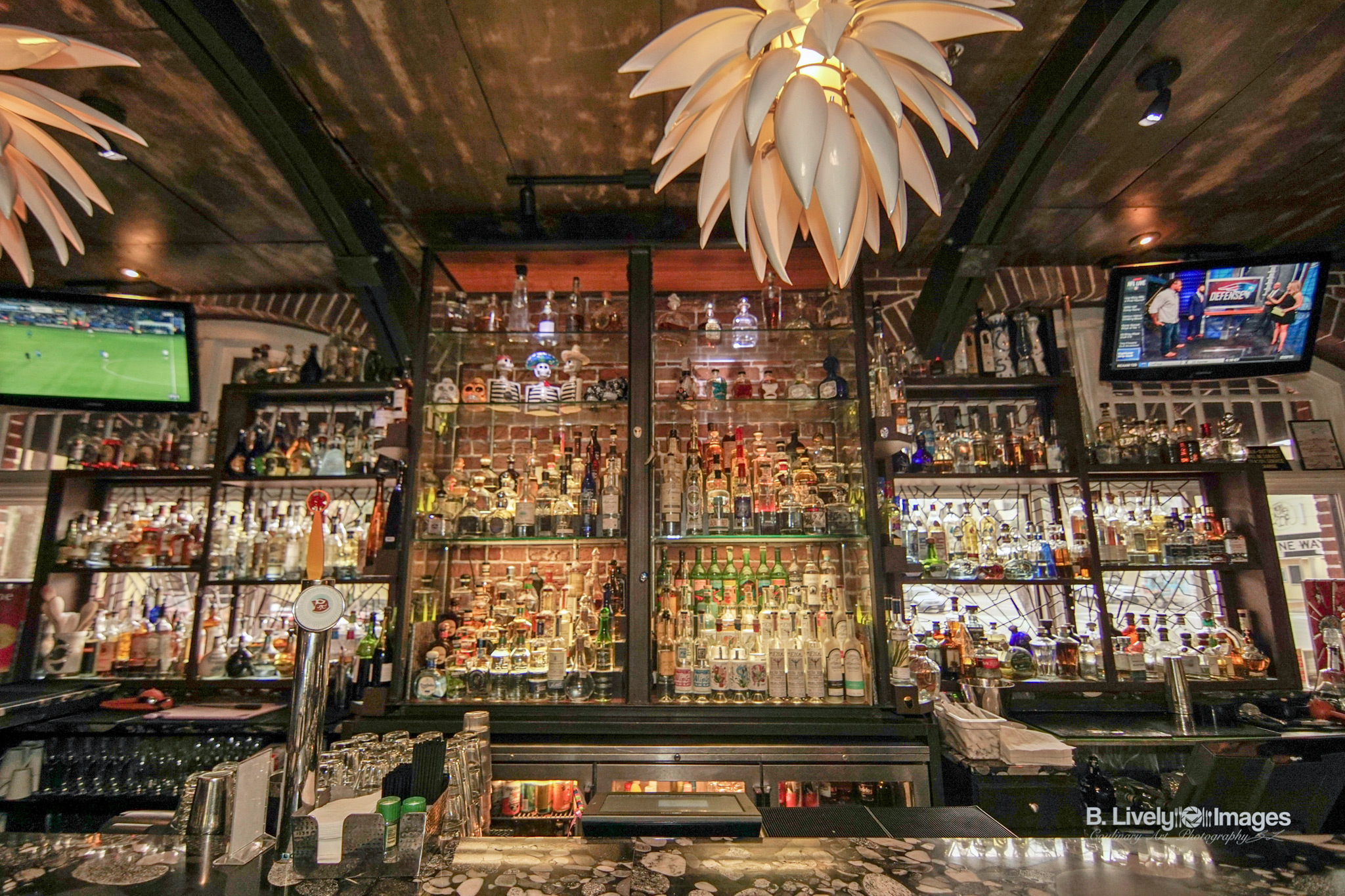 Red Mesa Cantina's food is excellent, high quality, fresh and flavorful. They have small plates if you just want a snack, such as the small four inch corn tortilla tacos where you can just order one by itself. Most Mexican restaurants make you order the small tacos in threes. Of course, they have large full blown dinners. If you like burritos and you're really hungry, try the El Gordo. Just the other day during the banter at The Shave Cave, one of the barbers was talking about how much he enjoys that burrito and found it funny when he learned that it translates literally to "The Fat", or really meaning "The Fat One".
With the food, Chef Chris likes to mix it up. There are traditional Mexican items and there are other latin fusion dishes. If you want what most Americans consider "just regular Mexican food, and not all that fancy stuff", try the Shredded Beef Tacos – Homemade crispy shell, lettuce, pico de gallo and jack cheese – served with salsa and gallo pinto. This is one of my favorites and will satisfy any Mexican craving. Any of the burritos will please you as well. Lori's favorite is the Filet Al Chipotle – Filet mignon tips, chipotle chile butter, tomato, jalapeño, rajas and jack cheese. It's nice and spicy!
If you enjoy changing things up from just Mexican, one of the current specials that is amazing is the Jíbaro. It refers to a peasant in Puerto Rico, but ¡Ay, caramba! – this could feed an entire peasant family!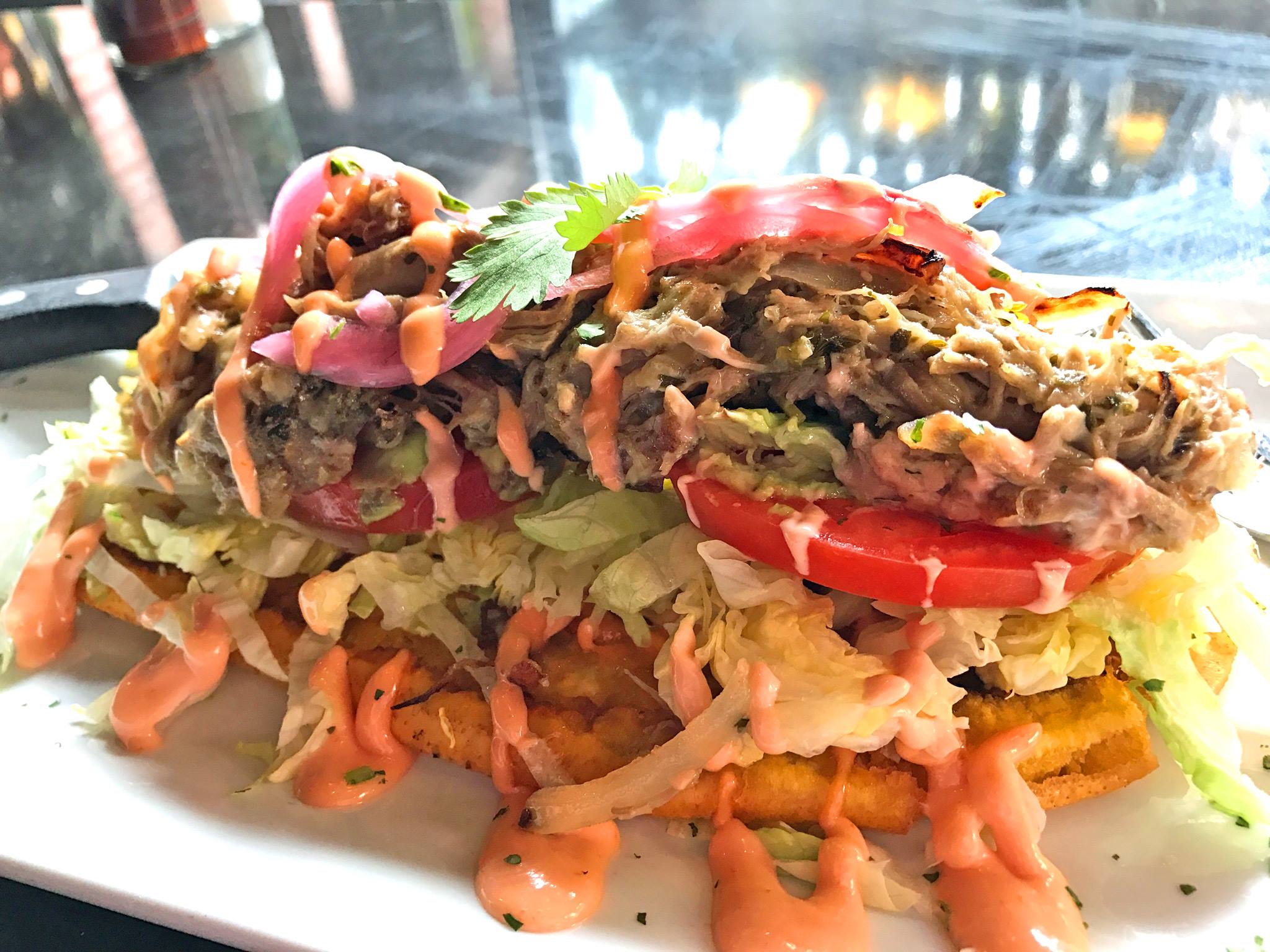 (Jibaro Photo by Kevin Godbee)
For this visit, we had several excellent dishes as follows.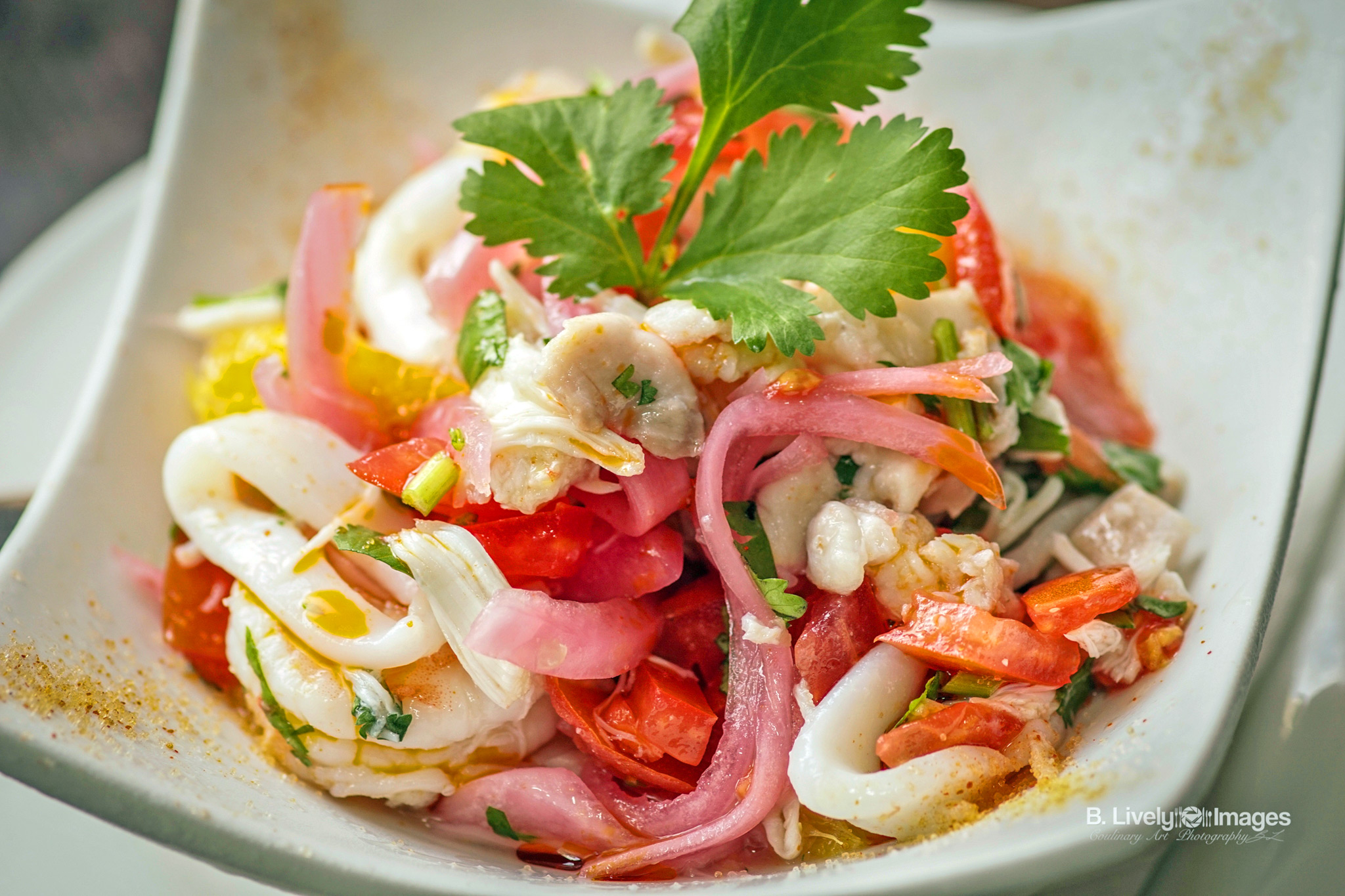 Cantinita Ceviche – Snapper, shrimp, calamari, blue crab, chile arbol oil, orange, tomato, onion and cilantro. Fresh, delicious and spicy.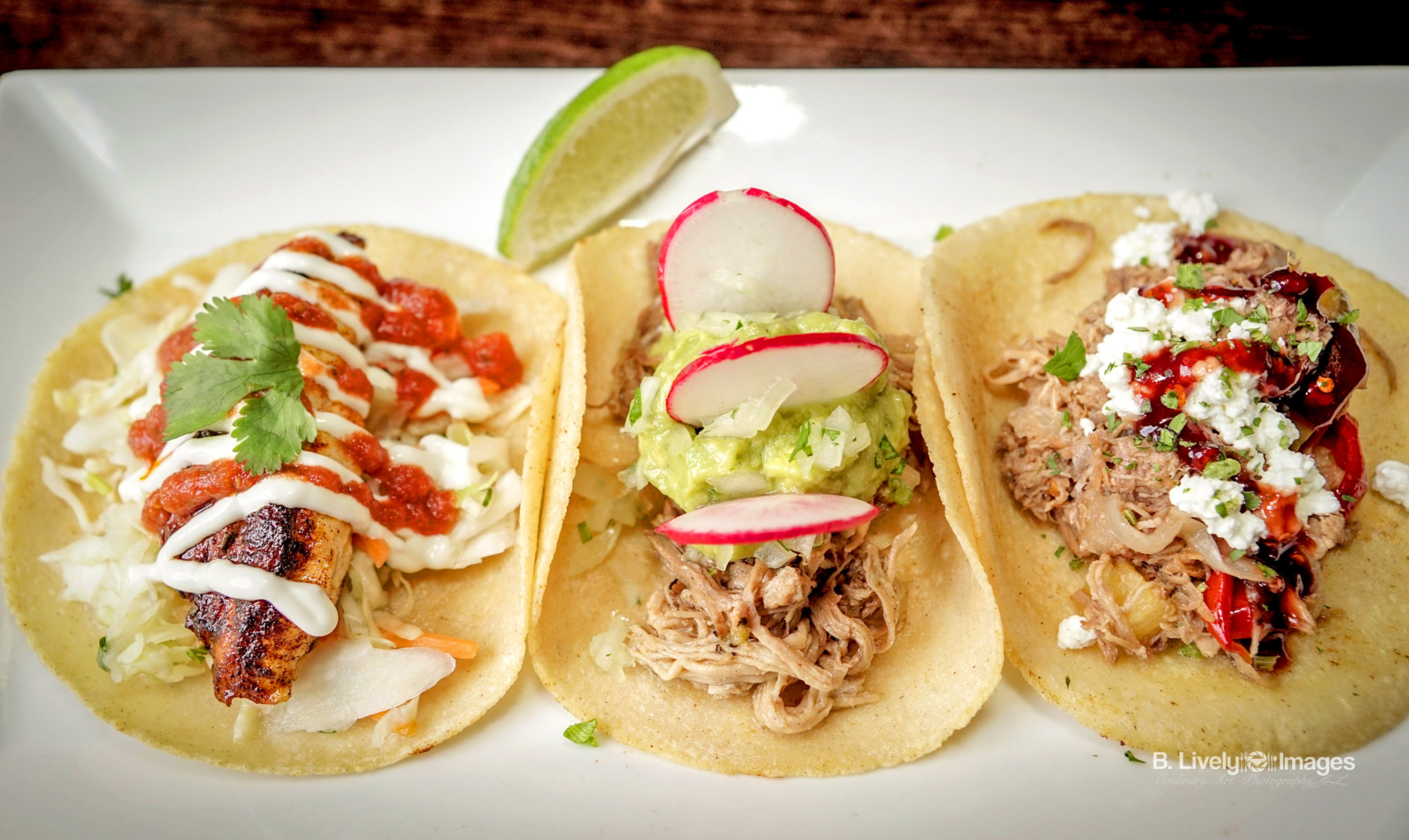 Tacos – Baja Fish – Grilled fresh fish, salsa roja, Mexican slaw and lime crema. Pulled Pork – Shredded roast pork, guacamole, cilantro, onion and radish. Duck – Orange braised duck confit, grilled pineapple, goat cheese, cilantro and red chile jelly.
I love these and eat them all the time. In the eight years that Cantina and I have been in DTSP, I have probably eaten 100 of these tacos pocitos.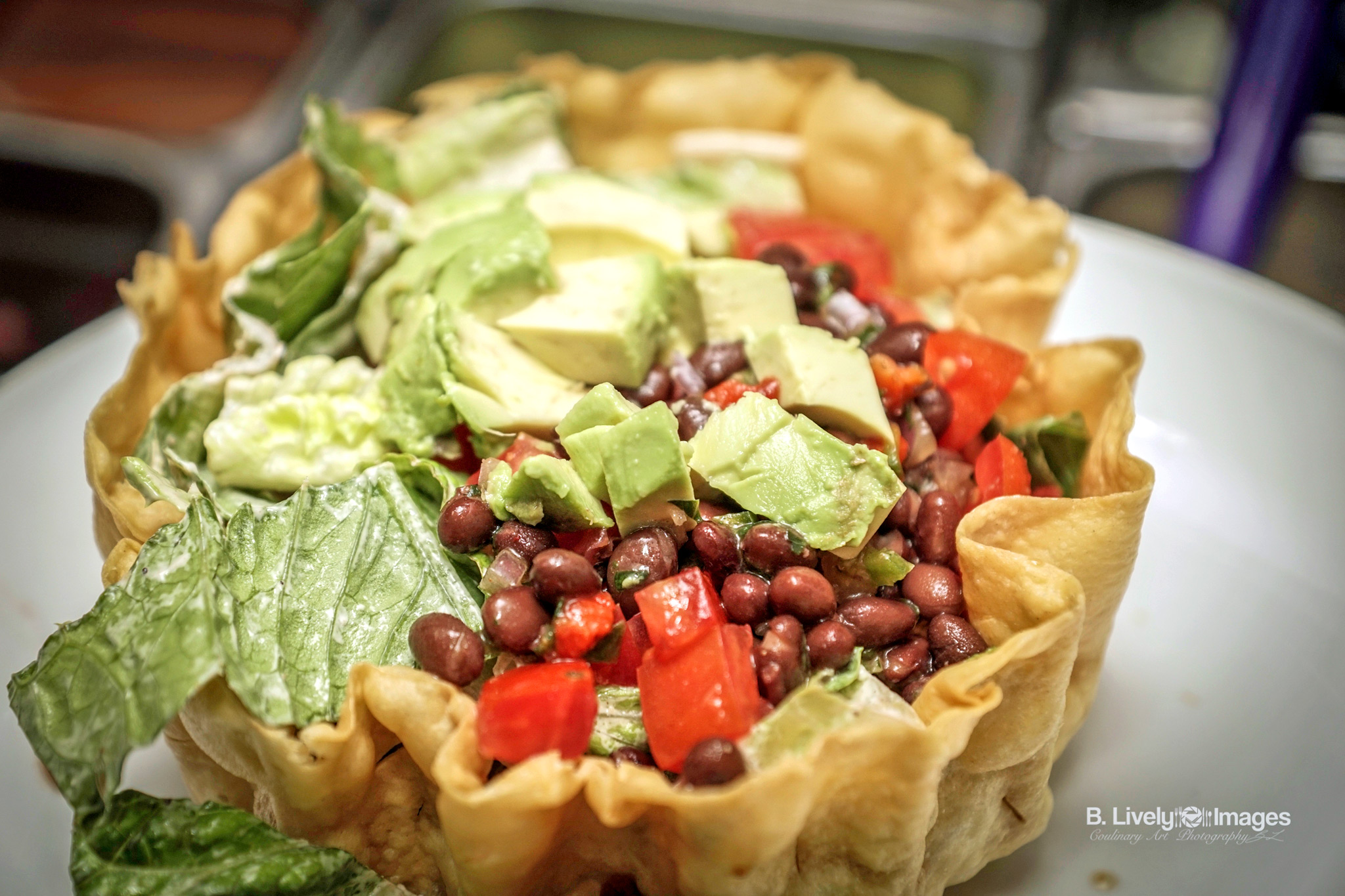 Taco Salad – Romaine lettuce, tomato, avocado, black bean salsa, queso fresco and chipotle caesar dressing – served in a crisp flour tortilla bowl.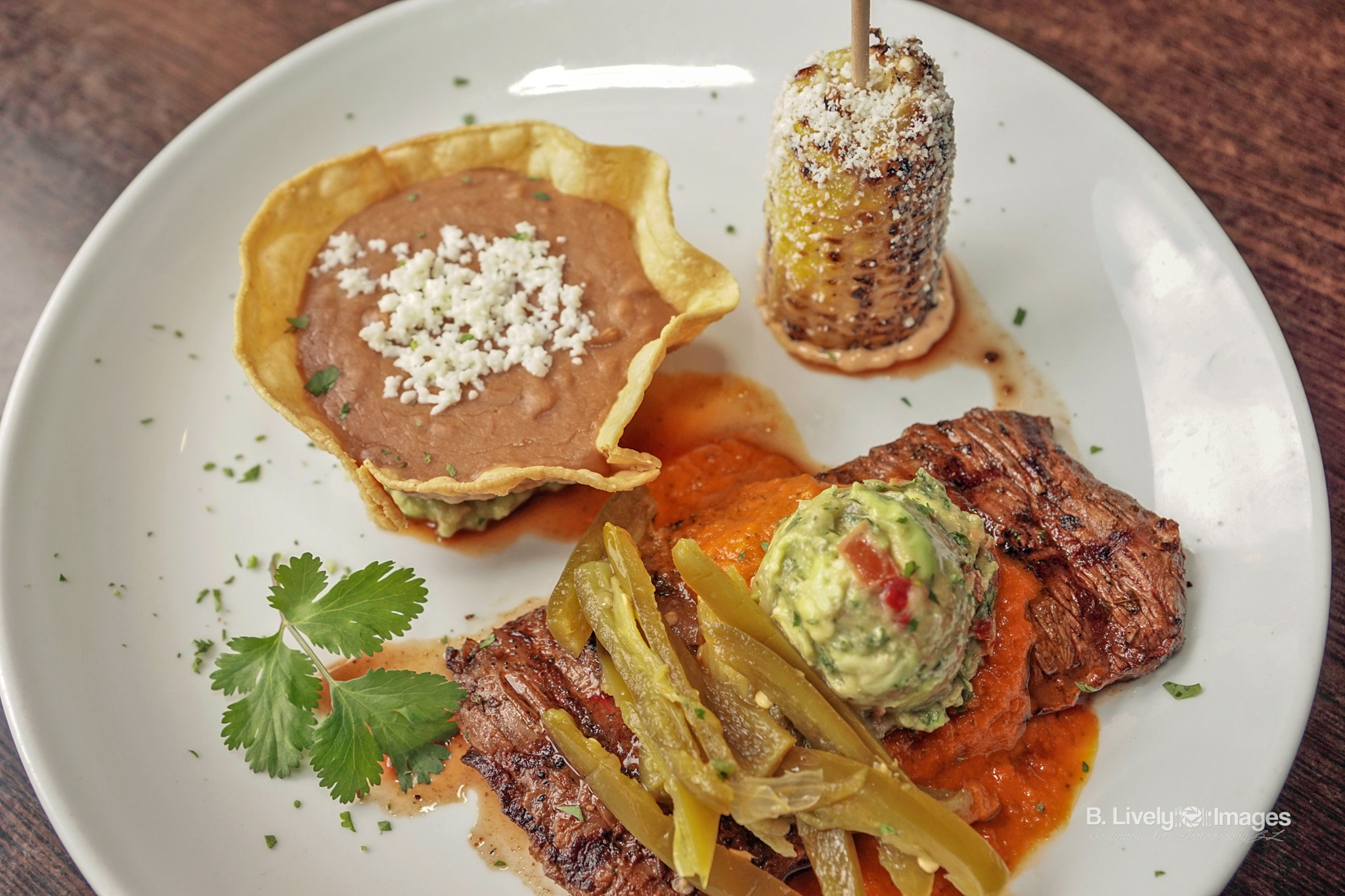 Carne Asada – Chargrilled skirt steak, chile arbol sauce, avocado tomato salsa with encurtido, refried beans, queso fresco and esquites (Mexican street corn).
The Carne Asada is another one of my favorites. I've probably had this about 25 times. It is nice and spicy, and the Mexican street corn is a sinful treat.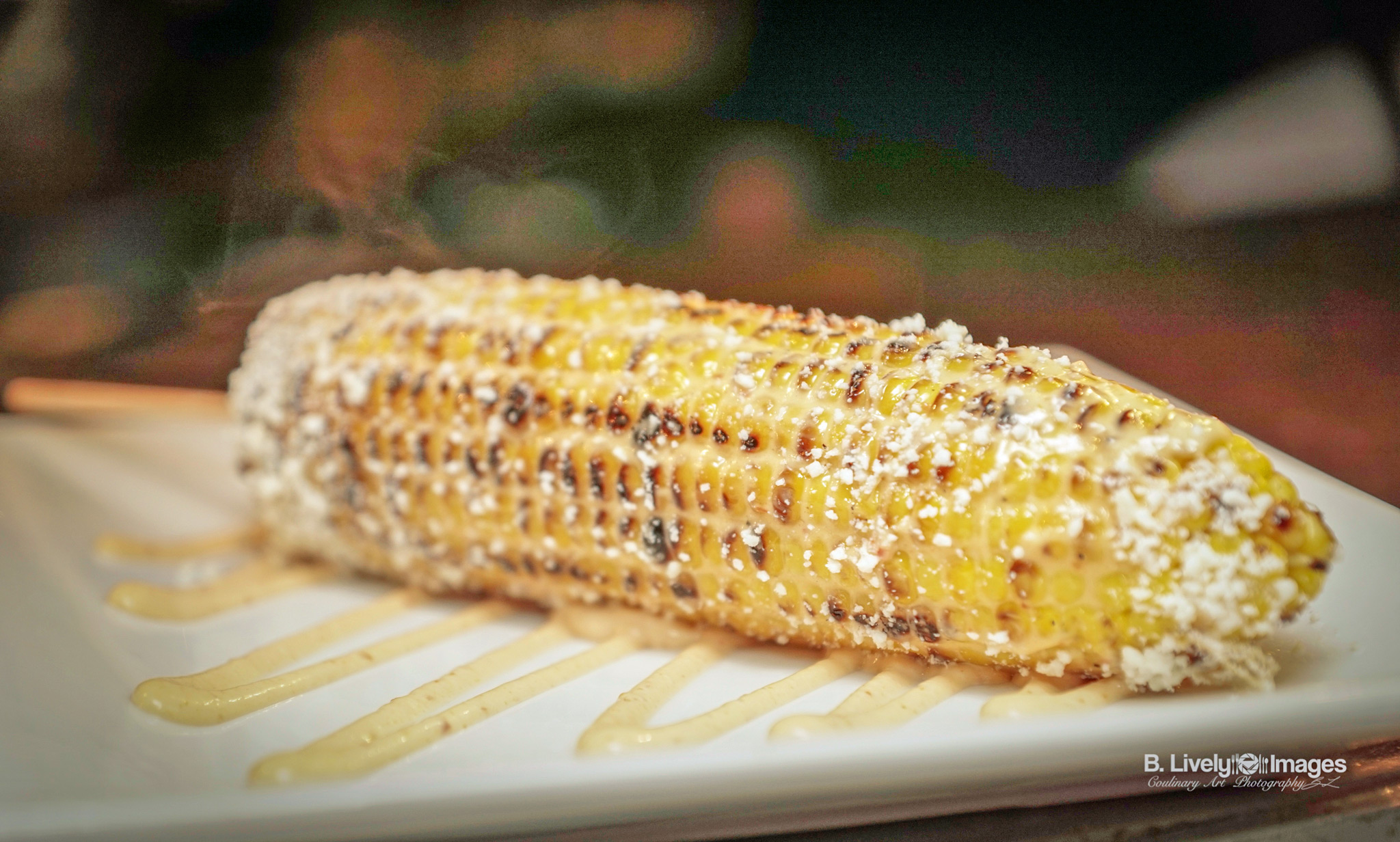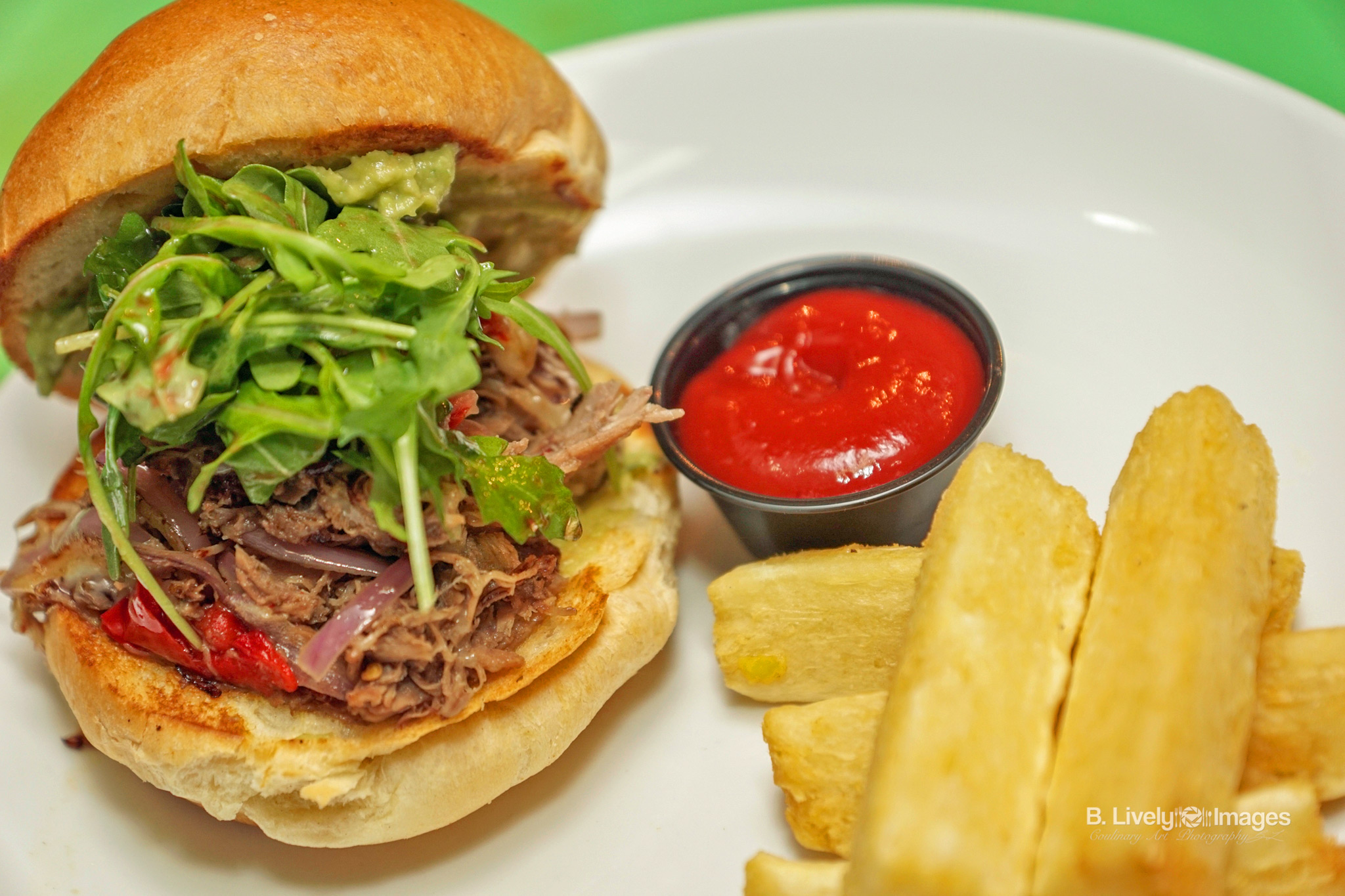 Duck torta – Orange braised duck confit with guacamole, arugula caramelized onions and jack cheese with yuca fries.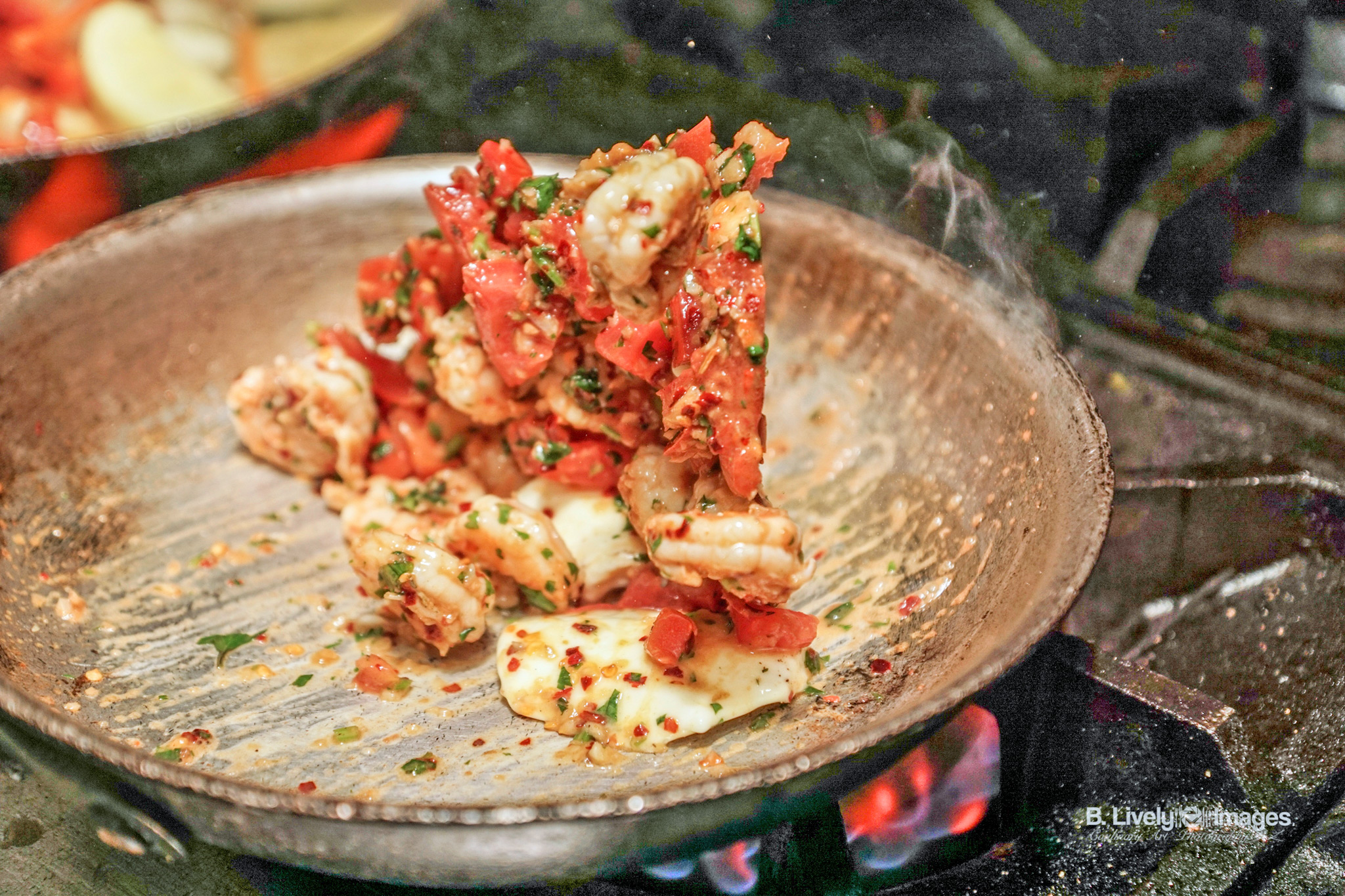 Shrimp al mojo de Ajo – Sautéed shrimp, garlic, tomato, cilantro, chile arbol and tequila served with seasonal vegetables and gallo pinto.
To wash everything down we tried three drinks, and really liked all of them quite a bit, but the winner was the El Bombero and we had a couple more of those.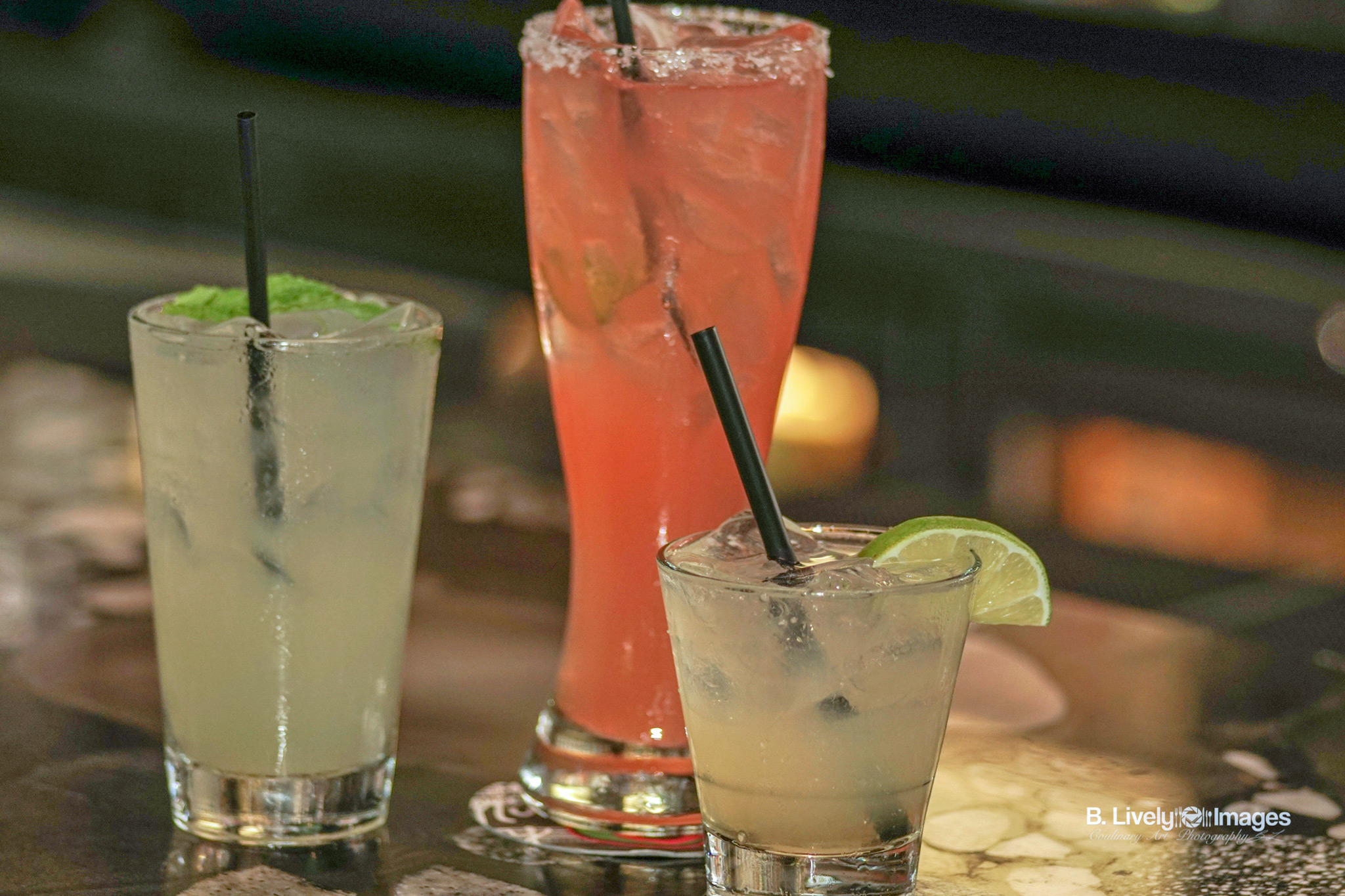 From left to right – Coconut Ginger Mojito is made with St. Petersburg Distillery Oak and Palm Coconut Rum.
El Bombero – means "The Fireman" in Spanish. Red Mesa Cantina sits inside of what was St. Pete's first firehouse. It has reposado tequila, Campari, jalapeño, fresh lime juice, and is topped with grapefruit seltzer.
Downtown Cadillac Margarita is a classic handmade margarita with St. Petersburg Distillery's Tippler's Orange Liquor.
Red Mesa Cantina is one of my favorite restaurants in Downtown St. Pete. If you don't find me there and I'm at home, I'll wave to you from my balcony.
(Photos by Barry Lively)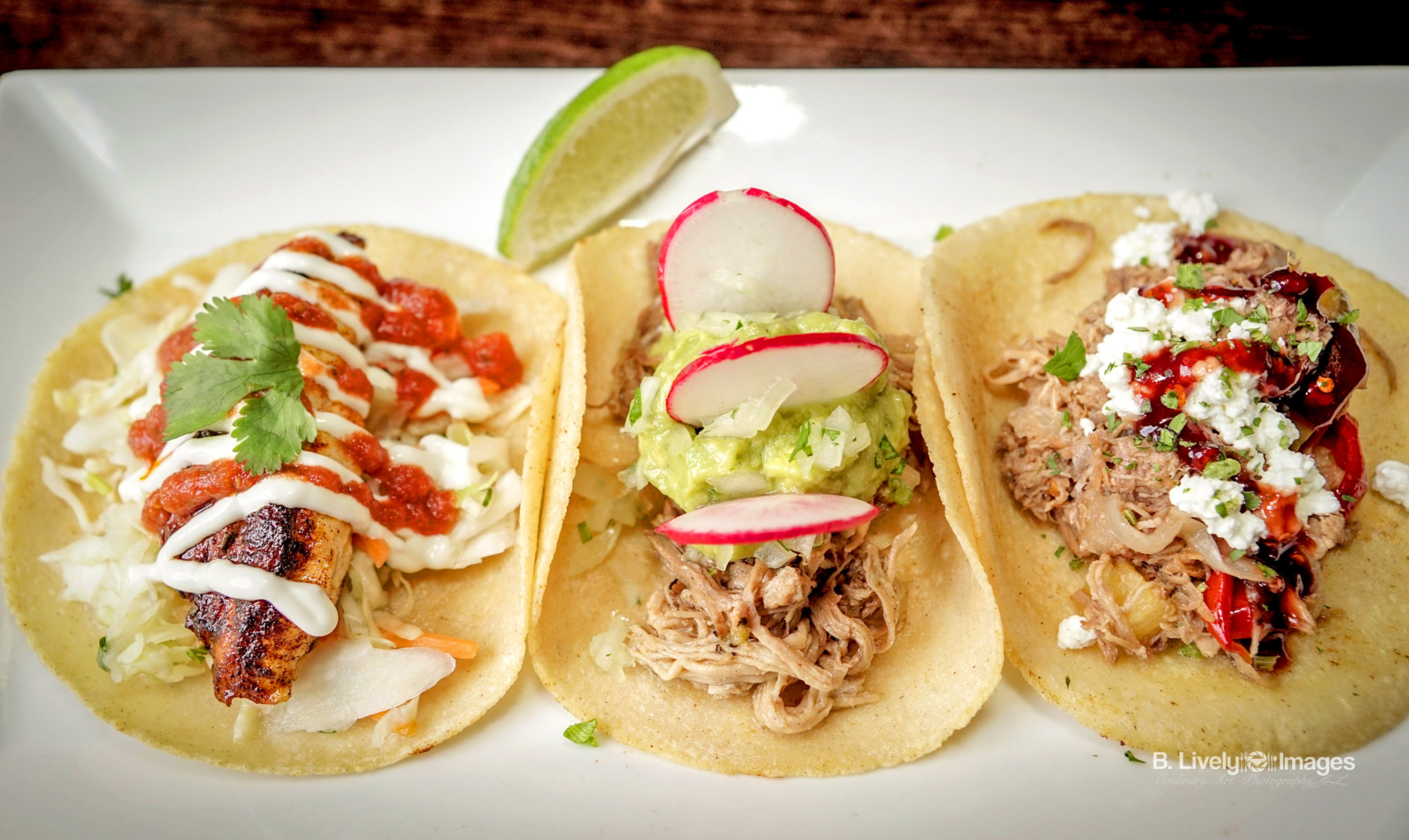 Readers Rating

Rated 5 stars




5

/ 5 (

Reviewers

)

Spectacular
---
Red Mesa Cantina

(727) 896-8226

Mexican

,

Southwestern

,

Latin Fusion

Sun - Wed

11:00am - 10:00pm

Thu - Sat

11:00am - 3:00am
128 3rd Street South

,

St. Petersburg

,

FL

33701

,

US
---
A MODERN MEXICAN TAQUERIA - Upscale decor and a celebratory vibe abound in the main Dining Room. Cool evenings and lazy weekend brunches in our garden courtyard. Fast paced weekday lunch great for office parties and entertaining clients.
TWO FULL BARS Relax inside for a handcrafted cocktail or venture outside to the lucha bar. Largest tequila and mezcal selection in the Southern USA.
DISCLAIMER: Kevin, Lori, Abby, Haley, & Lindsey do not dine anonymously (this would be impossible) and we sometimes get free food (though never expected). However, we dine with the locals and we support our own. You will always get honesty in a respectful manner. We do not include any large national or regional chains in our ratings and reviews. We focus on independent locally owned eateries exclusively.

PLEASE NOTE: Reviews reflect a certain moment in time. Some restaurants stay extremely consistent over many years, and some change for the better or worse. Some things that may change are: chefs, recipes, food suppliers, ingredients, philosophies, ownership, etc. We always hope that you have the same good, or great experience we had.
More Foodies News, Reviews & Recipes