Along with Cuban Sandwiches, and Grouper Sandwiches, Smoked Fish Spread is the epitome of local Florida eating, and definitely embedded in local St. Pete food culture.
Where & When Did Fish Spread Start? The popular history of smoke fish spread starts with Ted Peters. While it's unclear whether Ted Peters was the first local to turn smoked fish into a spread/dip, he's certainly one of its earliest (and most important) aficionados… Ted's original fish smoking location opened in the late 1940's. By 1951, the current Ted Peter's Famous Smoked Fish restaurant was up and running, and neither smoked fish nor Ted Peters ever looked back. – SplashyVentures.com – (Check the link for a great fish spread write-up.)
Ted Peters is definitely the most famous because of their long history, AND because it says so on their sign—and kudos to them, but they didn't make our best list.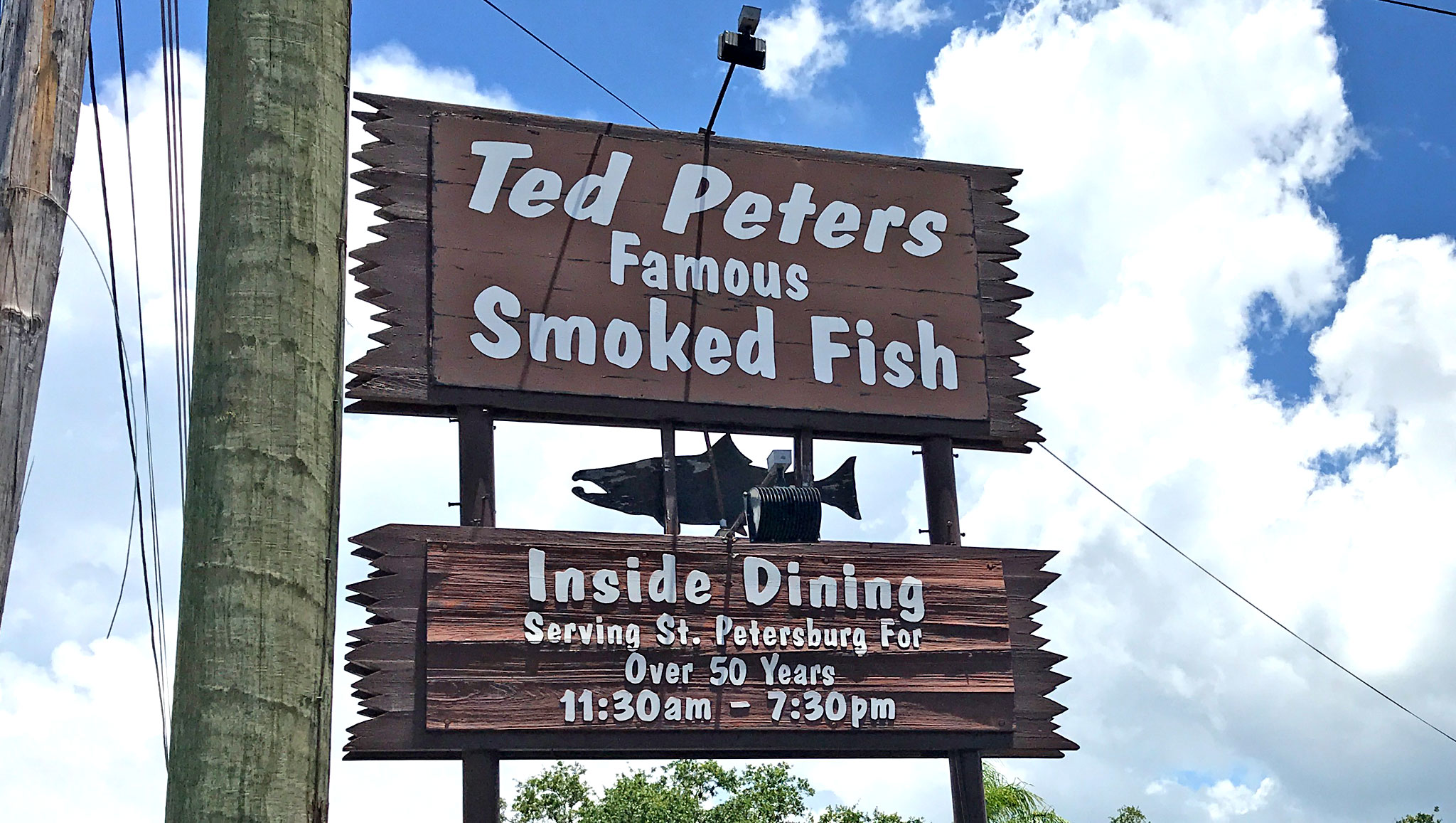 Just like Bodega with their Cuban Sandwich, Ted Peters seems to be the undisputed leader. Why? Because everyone says so, that's why. It's like in Game of Thrones when the Dothraki women mean to tell someone this is the truth no matter what, they say, "It is known". Period.
I did enjoy my visit to Ted Peters. You have to give them credit for their long history, and for smoking their own fish right on the premises. When you pull into the parking lot you can smell the smokers while still sealed inside your air-conditioned car.
The servers are all quite friendly, there's a log cabin, hunting lodge vibe, and you are encouraged to use the Crystal Hot Sauce.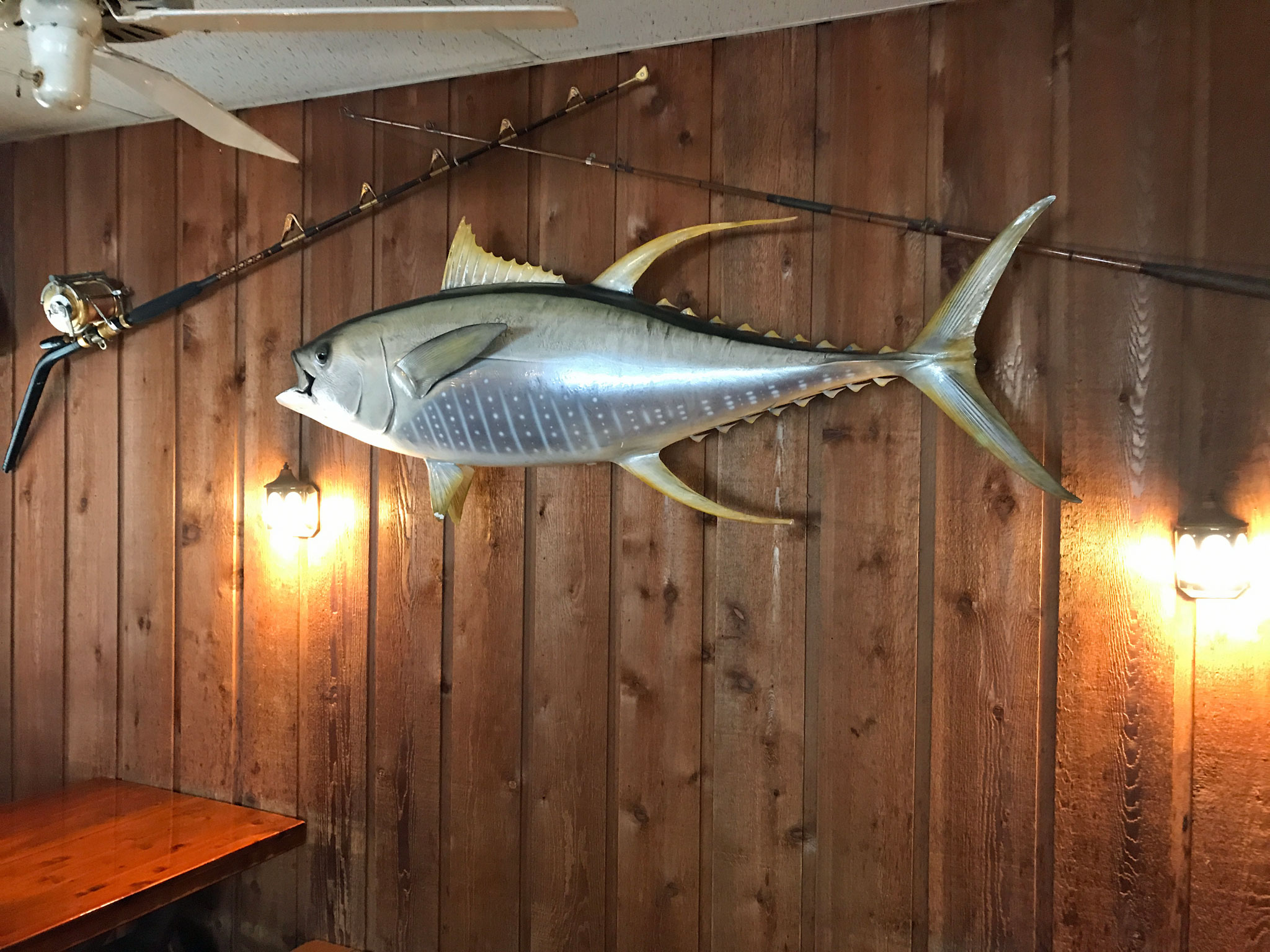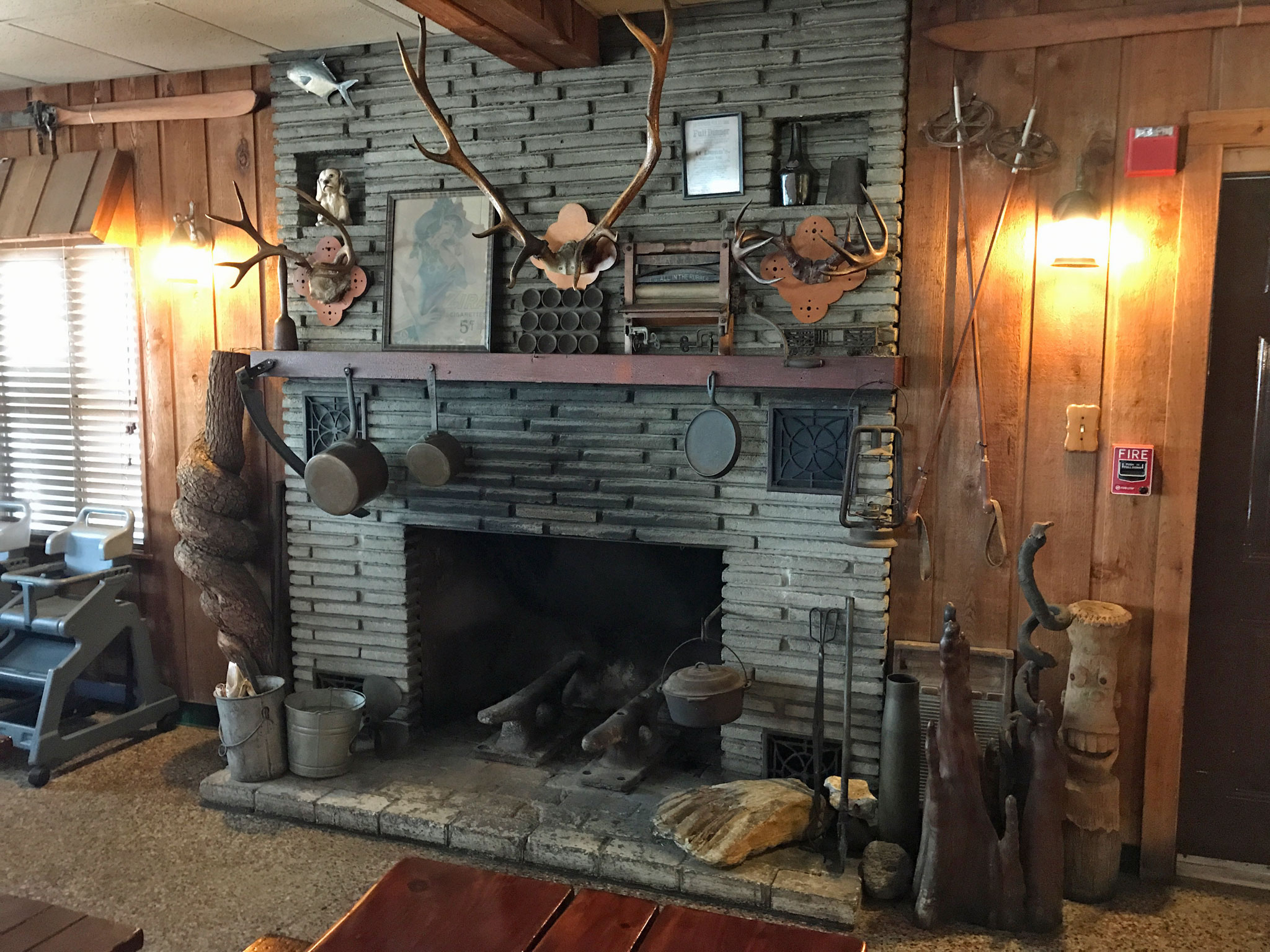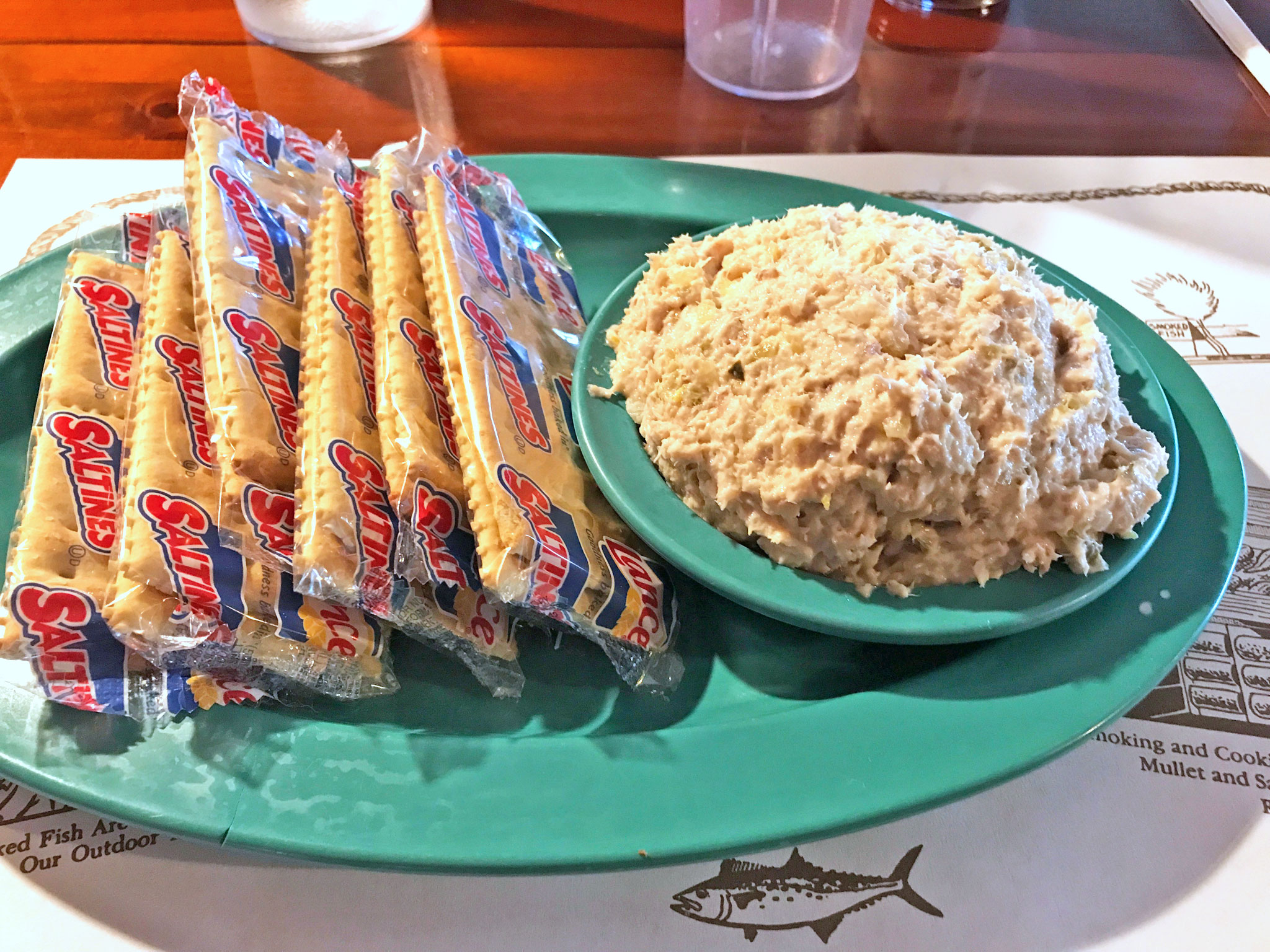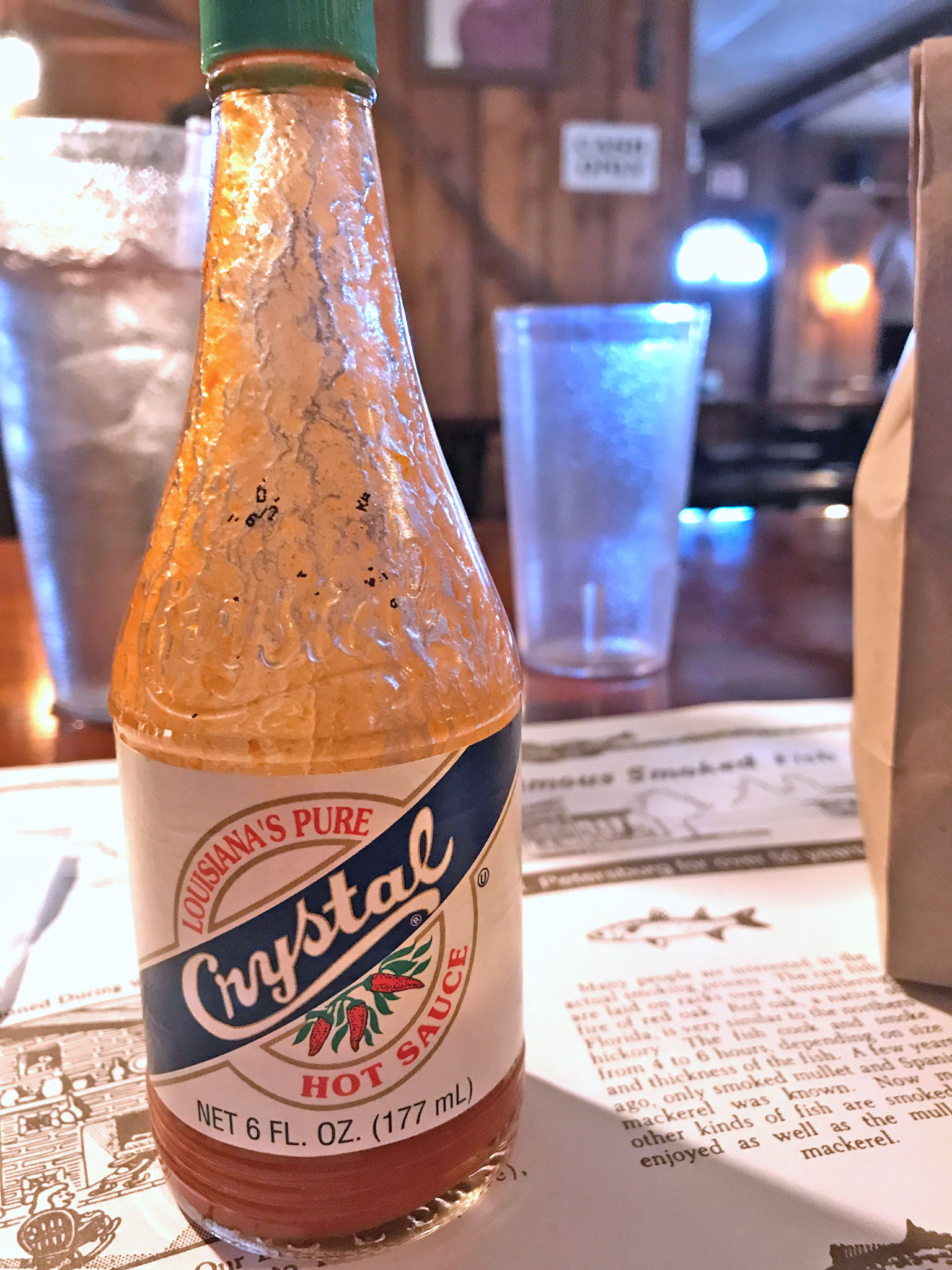 Ted Peters Fish Spread was good. It's made with Mullet, and Mahi-mahi always, and sometimes with Salmon too. It's mildly smoky, has a pronounced tanginess, and a little sweetness not found in the others, which I didn't care for. If you haven't been, you should check it out just for the experience.
NOTE: Almost EVERY restaurant in St. Pete has fish spread on their menu, and this is a Top 5 list, so chances are that YOUR favorite might not be on this short list. Please feel free to list them in the comments at the end.
Before we get into the list, an important thing you should be aware of is that there are other publishers of "best of lists" that do not actually go to the establishments, or actually eat the food. (Sounds ridiculous, right?) They just download photos from the internet, or embed Instagram posts from someone else. Instant "Best of …" list produced without having to leave the house, or even get dressed.
That's NOT how we do it.
We absolutely DO eat all of the food on all of our lists. (How can anyone recommend something they never experienced?)
Unfortunately, we've seen these junk lists a lot—from national and local publishers. We are also aware of a local publisher that offers paid placement in best-of-lists. There is no paid placement here.
I PERSONALLY ATE ALL OF THESE FISH SPREADS, AND WENT TO ALL OF THESE PLACES, AND THESE ARE ALL ST. PETE FOODIES PHOTOS. (All photos Kevin Godbee unless otherwise noted.)
The order is zip code, then alphabetical by restaurant name.
Best Fish Spreads in St. Pete

1. The Birch & Vine
340 Beach Dr NE
St. Petersburg, FL 33701
(727) 896-1080
The Birch & Vine Website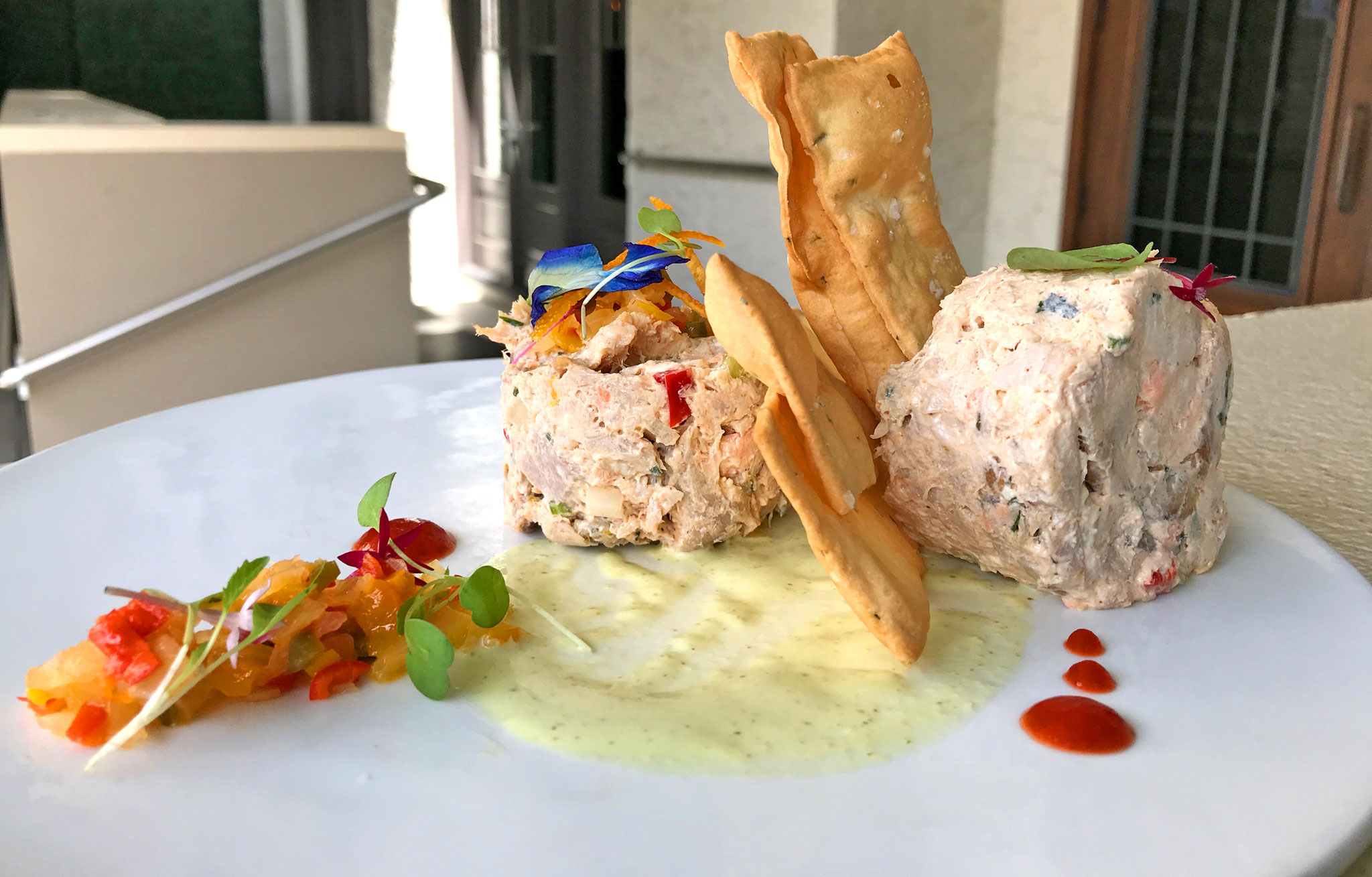 Smoked Fish Dip – House Smoked Fish, Peruvian Paprika, Sofrito, Buttermilk Flatbread.
From Chef, Lee Aquino, "We have gulf-selected fish, salmon, tuna, sofrito relish, sofrito green, and the smoked wet-mix is sofrito-based as well. The Buttermilk Flatbread is made in-house."
I asked how they smoke the fish in-house, and Chef informed me that they use an Alto Shaam smoker.
The Birch & Vine's fish spread is the most unique. First, they win for the fanciest plating. Chef Lee's French-training likely comes into play here. Then there's the cylindrical shape. Lastly, it is unique because there are some large chunks of fish mixed in with the finely chopped fish. Some pieces are larger than a bite, and need to be cut with a knife. Interesting, but still quite tasty. The Peruvian Paprika and sofrito adds a nice little spice to it. It is the most mild in smokiness in this group.
2. The Galley
27 4th St North
St. Petersburg, FL 33701
(727) 575-7071
The Galley Website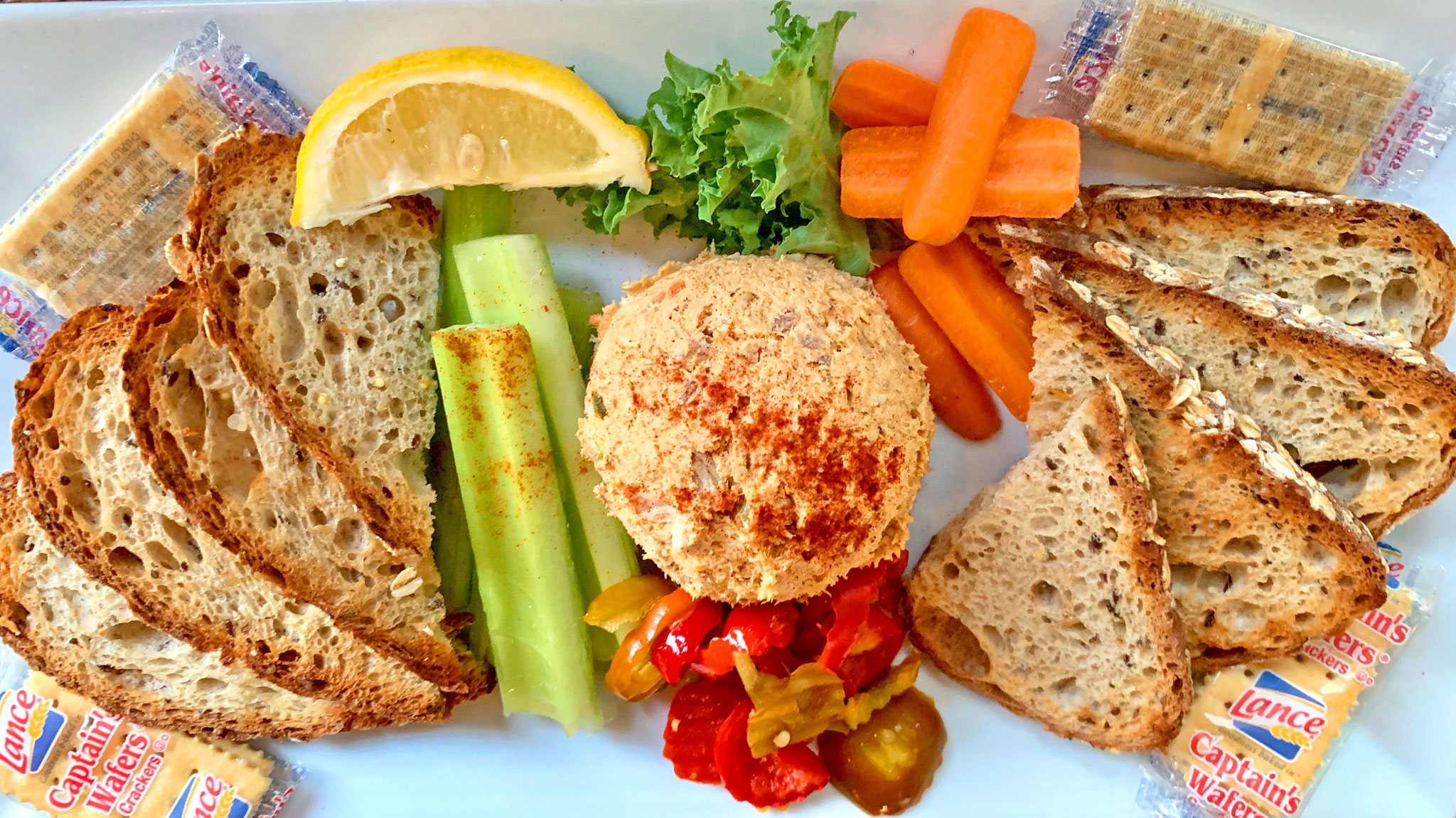 Gulfport Fish Spread – Local Catch, Smoked In-House.
From co-owner, Pete Boland, "Ours is always smoked in house, and rotates depending on the availability of local catch. As true Tampa Bay locals, we like to use Amberjack as much as possible, but today's spread is made with Swordfish."
We have had both the Amberjack and Swordfish versions and love them both. The multigrain bread and cherry peppers are great accompaniments. When it's cooler out, Lola, our long-haired Chihuahua comes along and enjoys the carrots.
3. Paul's Landing
501 5th Ave NE (Inside The Vinoy Resort)
St. Petersburg, FL 33701
(727) 824-8007
Paul's Landing Website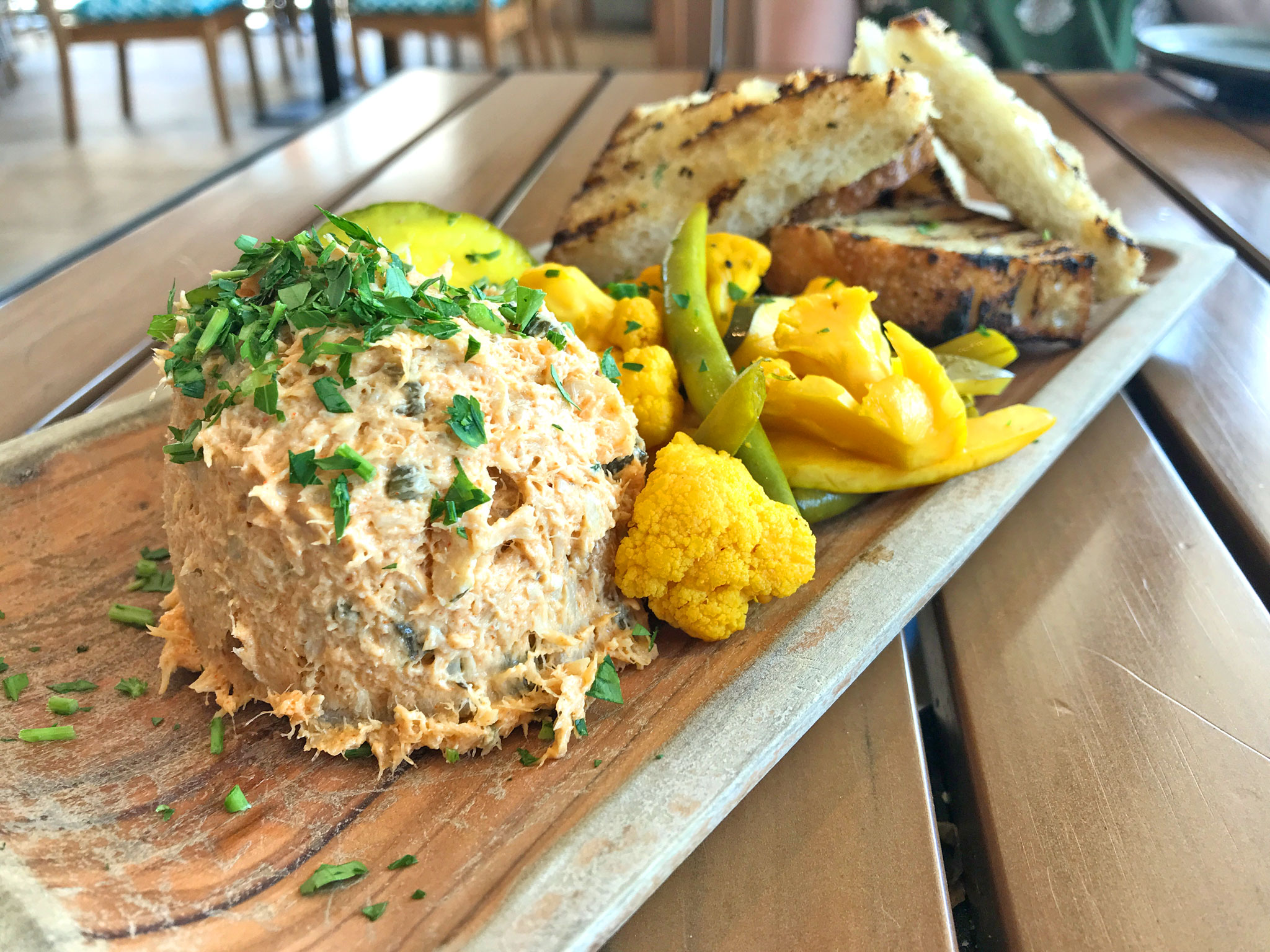 Smoked Fish Spread – Pickled Veggies, Grilled Bread.
From Chef Luke Decker, "The type of fish varies but it's always local, white fish—Grouper, snapper, etc. It is smoked in house with hickory and includes mayo, celery, capers, citrus zest and juice."
The flavors are outstanding, there's a good amount of smokiness, and the grilled bread is delightful with the char flavor from the grill, and great texture of light crunchiness on the outside, and soft and light on the inside. The house-pickled veggies are a nice high note counterpoint.
4. Dr. BBQ The Restaurant
1101 1st Ave South
St. Petersburg, FL 33705
(727) 443-7227
Dr. BBQ Website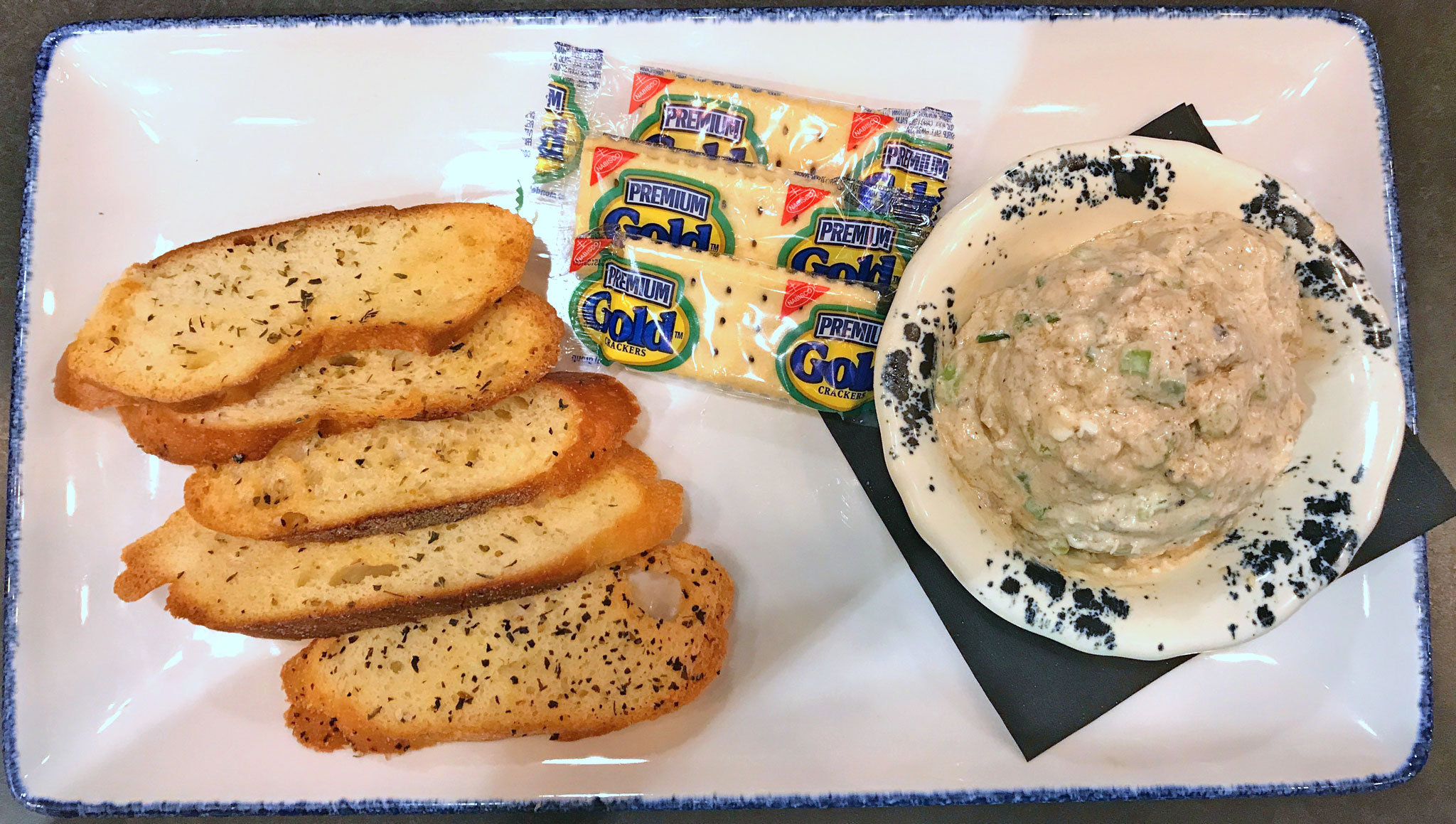 House-smoked grouper and gator, seasoned and served with both crackers and buttery garlic toast.
Dr. BBQ's comes in second for most unique, as it is the only one that includes alligator. When it first came out it was called "Taste Like Chicken Spread", but too many people didn't get the humor, so now it's the more obvious, "Gator Fish Spread".
I thought I detected Hungarian Paprika, and also cream cheese (which I later learned is a somewhat common ingredient for fish spread), so I checked with Ray "Dr. BBQ" Lampe.
He said, "It's a blackening spice. The grouper and alligator are both smoked on the Big Green Egg, and you are correct on the cream cheese."
This one is the most creamiest, and most moist of all of them. It's meaty, there's a nice crunch from the celery, it's tangy with a mild smokiness. The buttered toasted baguette slices are a great accompaniment.
5. Captain Bill's Gulfside Tavern
145 107th Ave
Treasure Island, FL 33706
(727) 317-3940
Captain Bill's Website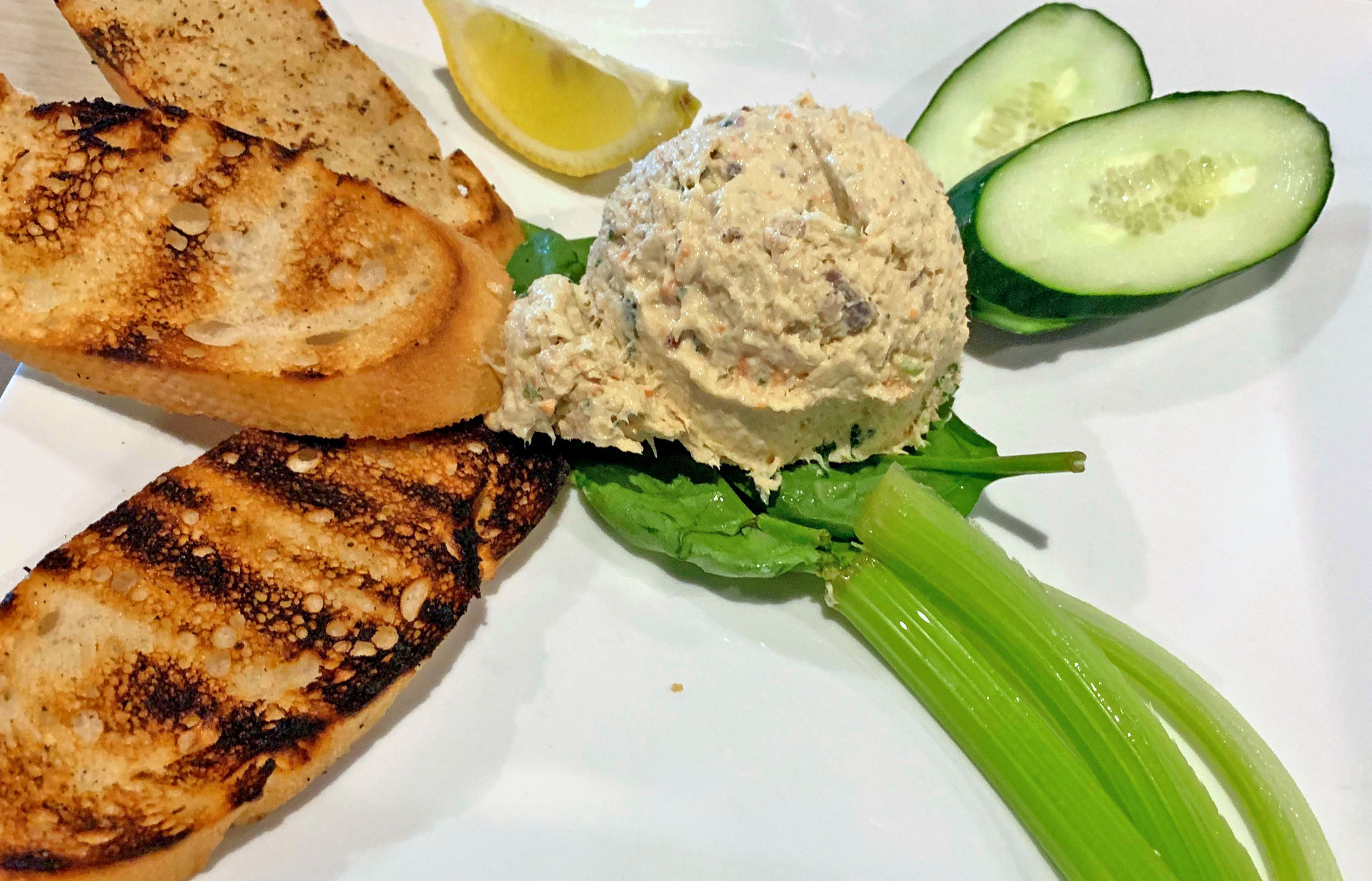 Fish Spread with Grilled Bread, Cucumbers & Celery.
Captain Bill's gets theirs from Chris Solven at John's Pass, and it is extremely delicious with a great consistency. The char from the bread is quite good, and the cucumbers are a bonus for Lori.
Tell us what your favorite fish spread is in the comments below!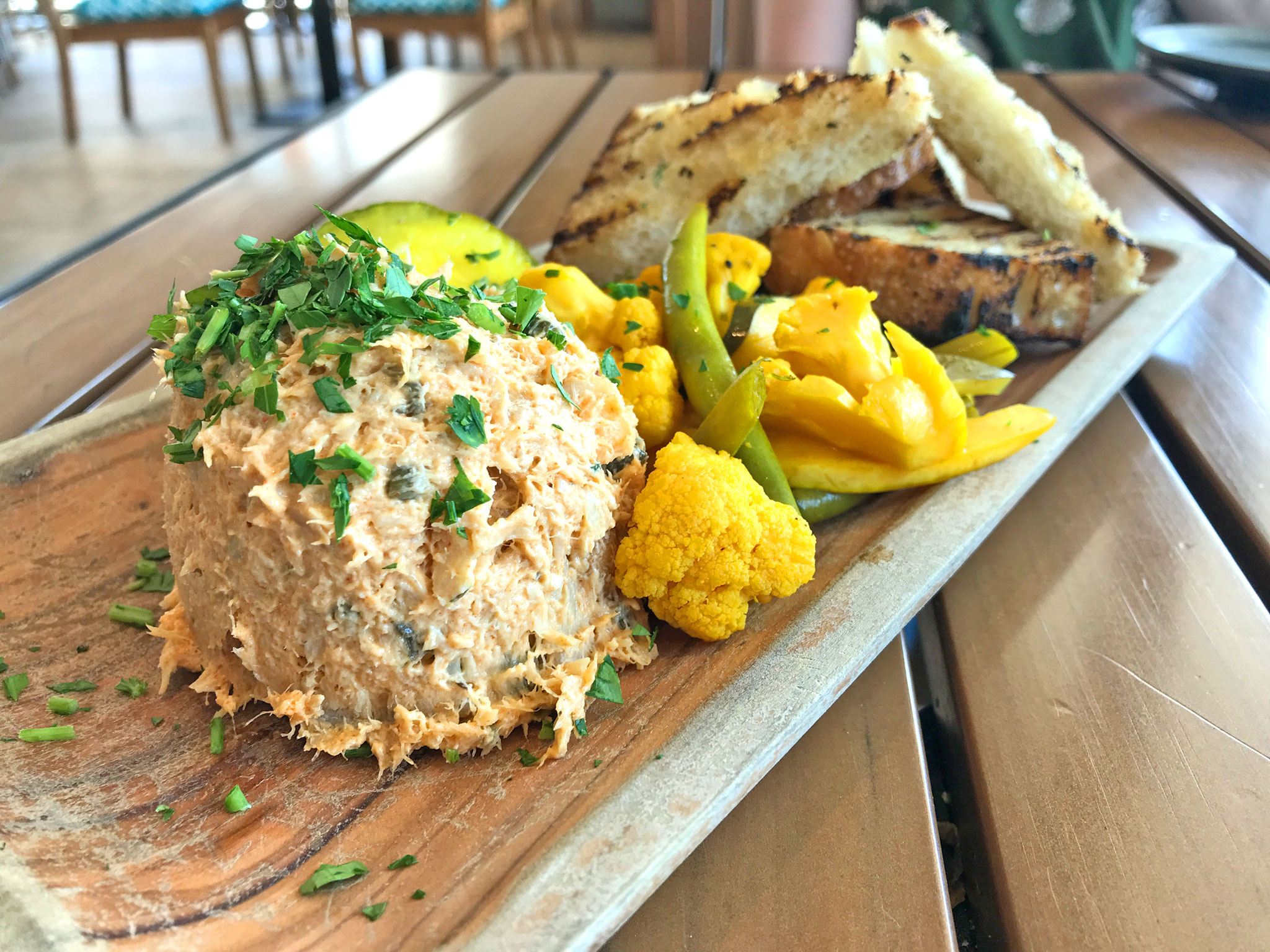 Readers Rating

Rated 5 stars




5

/ 5 (

Reviewers

)

Spectacular
---
The Best Fish Spreads in St. Petersburg FL, chosen by locals who actually ate the food, and not by an algorithm, or the magazine you found on the airplane.