The Best Hot Dogs to Eat in St. Pete
We recently published the 10 Best Burgers in St. Pete, and included a +1 with a vegan burger. For this one, we have five hot dogs, with kind of a plus one—two versions of the dog at one place, but no vegan hot dog. (Sorry vegans.)
The order is zip code, then alphabetical. I refuse to say that this hot dog is better than that one, and so on. In my opinion, that is wrong. There is no "apples-to-apples" comparison here. These are all excellent hot dogs, and you should try them all, which brings me to another point.
There are other publishers of "best of lists" that do not actually go to the establishment and actually eat the food. They just surf the web collecting information, and downloading photos, or emailing the restaurant for them. We think those types of lists are crap.
Unfortunately, we've seen it a lot—from national and local publishers. We are also aware of a local publisher that offers paid placement in best-of-lists. There is no paid placement here.
I ATE ALL OF THESE HOT DOGS, AND WENT TO ALL OF THESE PLACES, AND THESE ARE ALL MY PHOTOS.
Here are the 5 Best Hot Dogs in St. Pete for 2019
The order is zip code, then alphabetical by restaurant name.
The Galley Dog – 100% all beef dog with Jamaica Relish on a soft potato roll.
I skip the Jamaican Relish, and add Yellow Mustard. I just like it better that way, as the relish is a little sweet, and this dog is just so savory, that I don't want to hide any of it. You should try it the way it comes first though, as you may like it better like that.
The Galley
27 4th St N
St. Petersburg, FL 33701
(727) 575-7071
http://thegalleystpete.com
2. Three Birds Tavern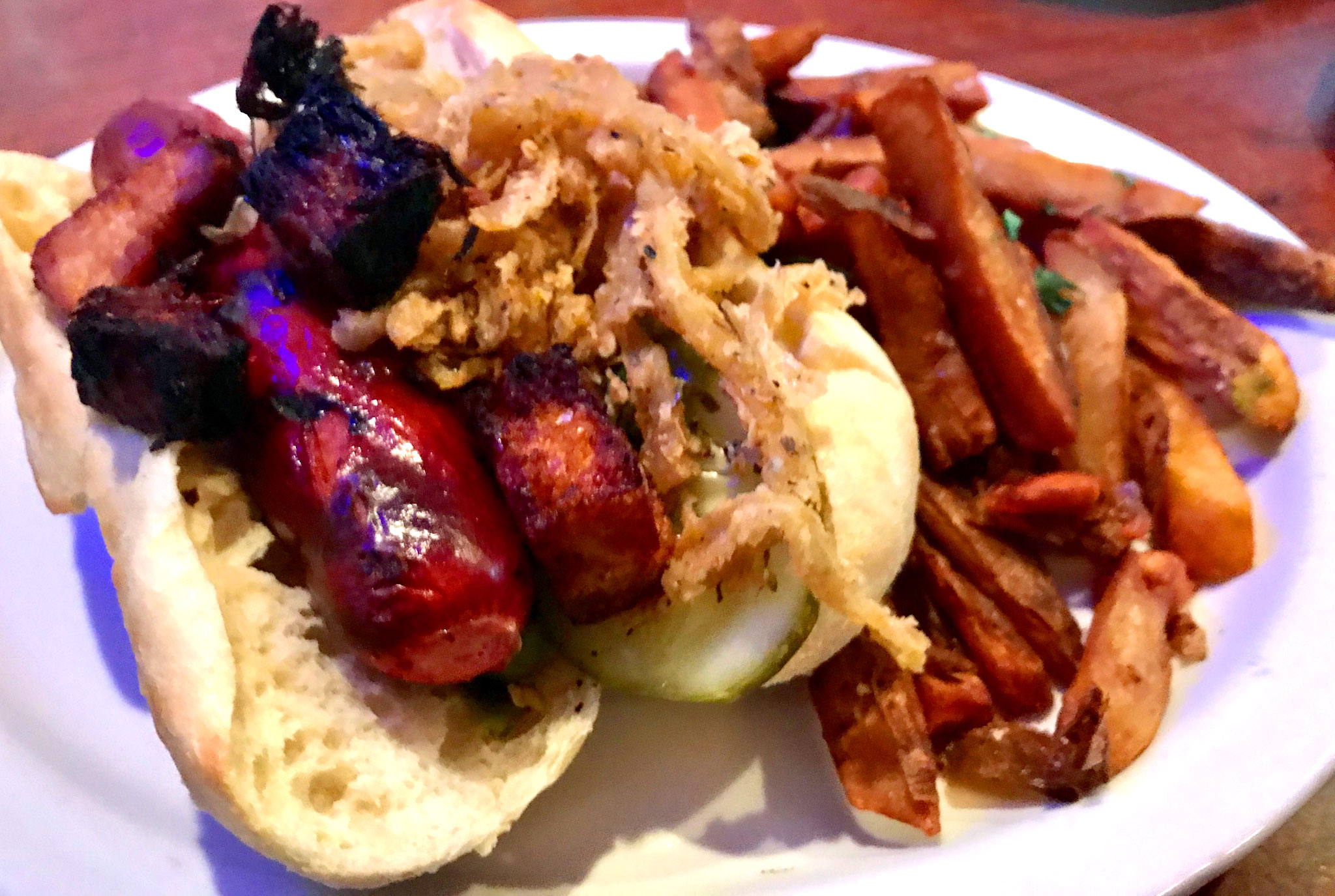 The Bird Dog – Grilled Wagyu all-beef hot dog, crispy pork belly, roasted shishito peppers, house-made pickles & tobacco onions.
There's a lot going here, and it's all extremely tasty. One of our favorite chefs invented this one for Three Birds—Chef Jason Cline. He was the first chef at The Birchwood, and for the last couple of years he has been operating his own place, Poké Rose.
Three Birds Tavern
1492 4th St N
St. Petersburg, FL 33701
(727) 895-2049
http://www.threebirdstavern.com
3. Coney Island Grill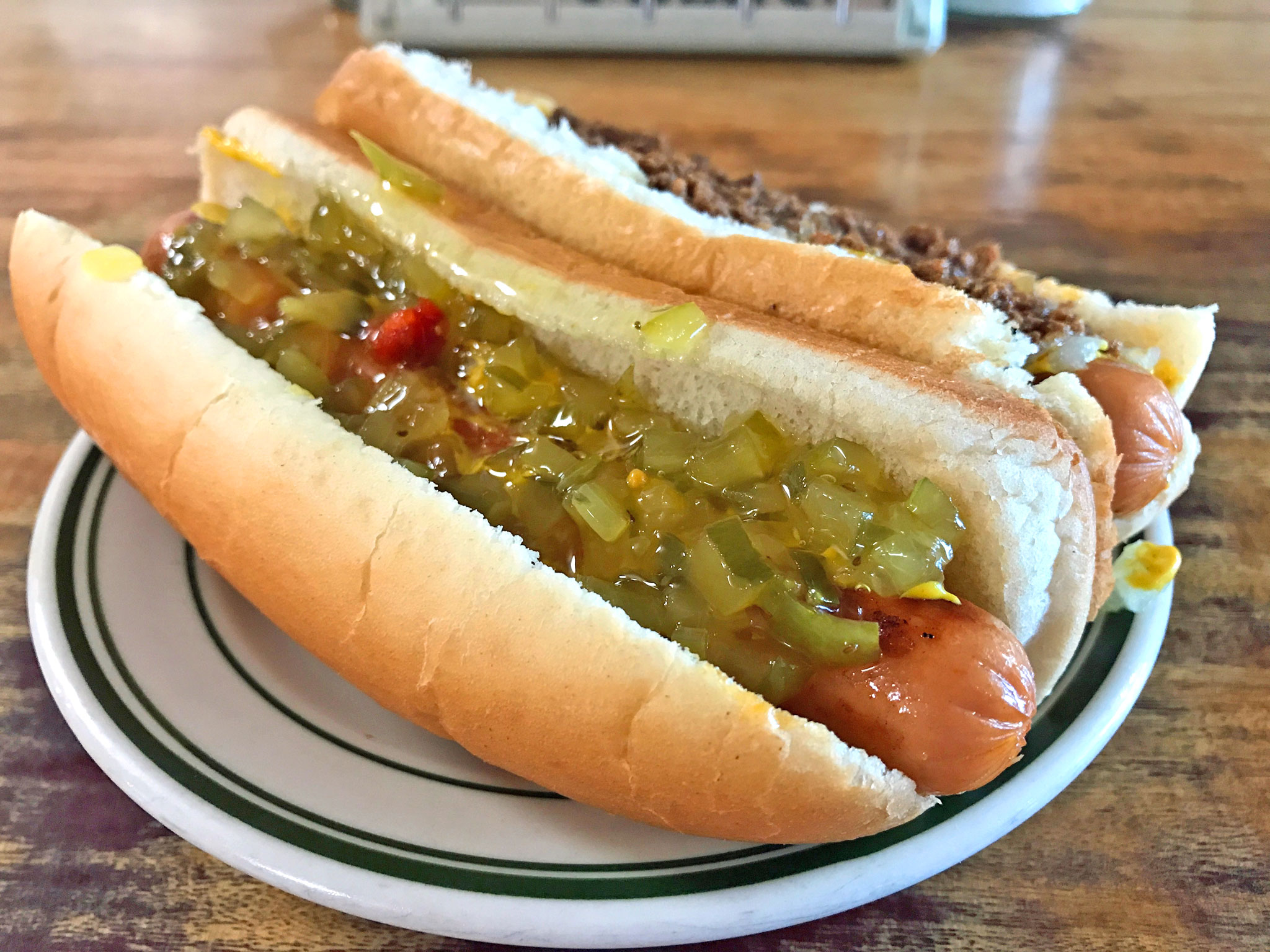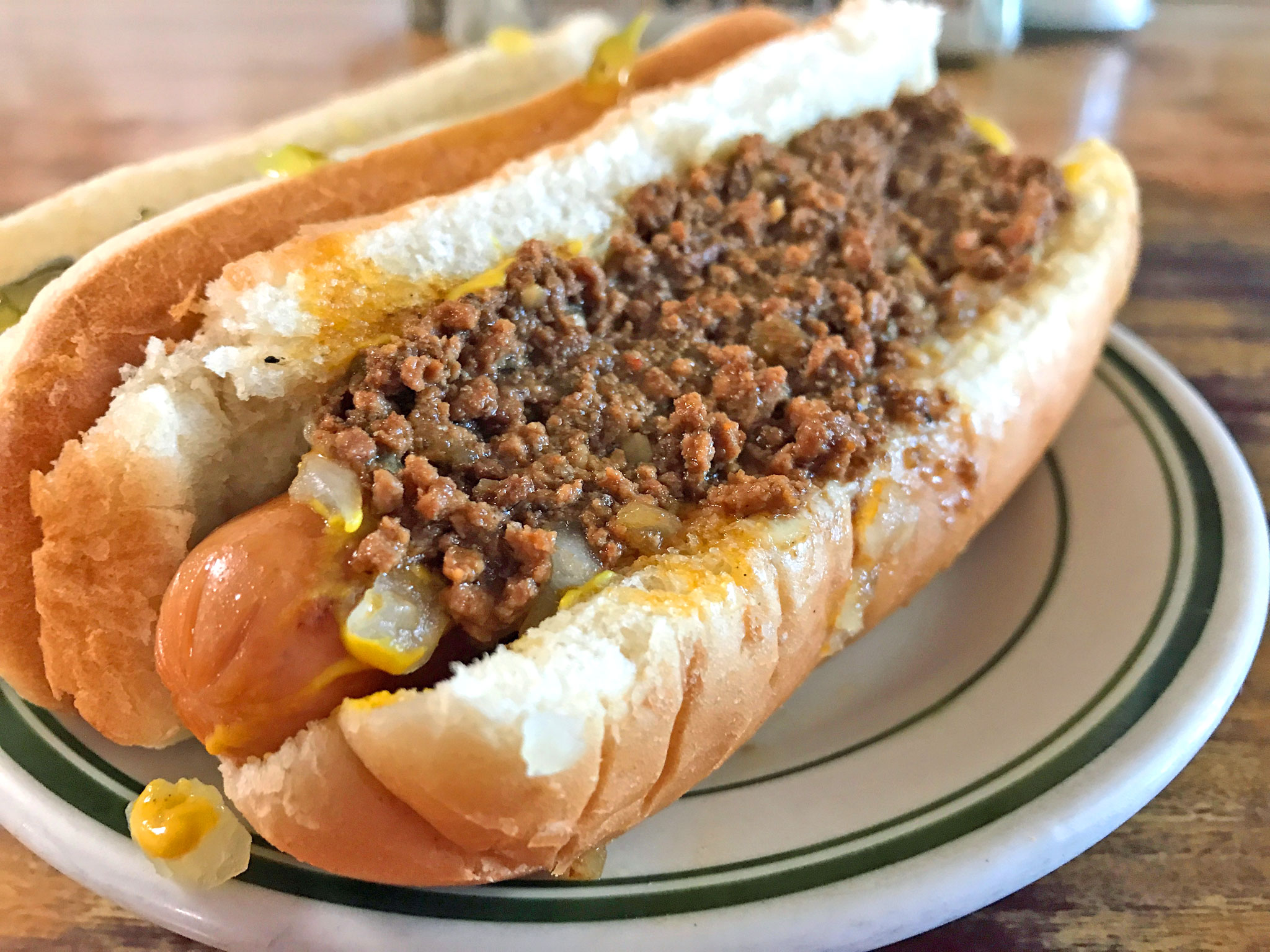 The Coney Island Grill / Sandwich Shop has been around since 1926, but I just got to them yesterday. There was no way I could write this piece without trying them. First of all, there's the name. Second, someone asked for hot dog recommendations in our Facebook group, and 90% of the answers were this place.
A note on the name: The Google Gods have dubbed them, The Coney Island Sandwich Shop. (The neon sign in the window says Coney Island Sandwiches.)
However, there is a much larger sign on the façade that reads, The Coney Island Grill.
The hanging sign just says Coney Island, as do the GM's business cards that are displayed at the payment counter.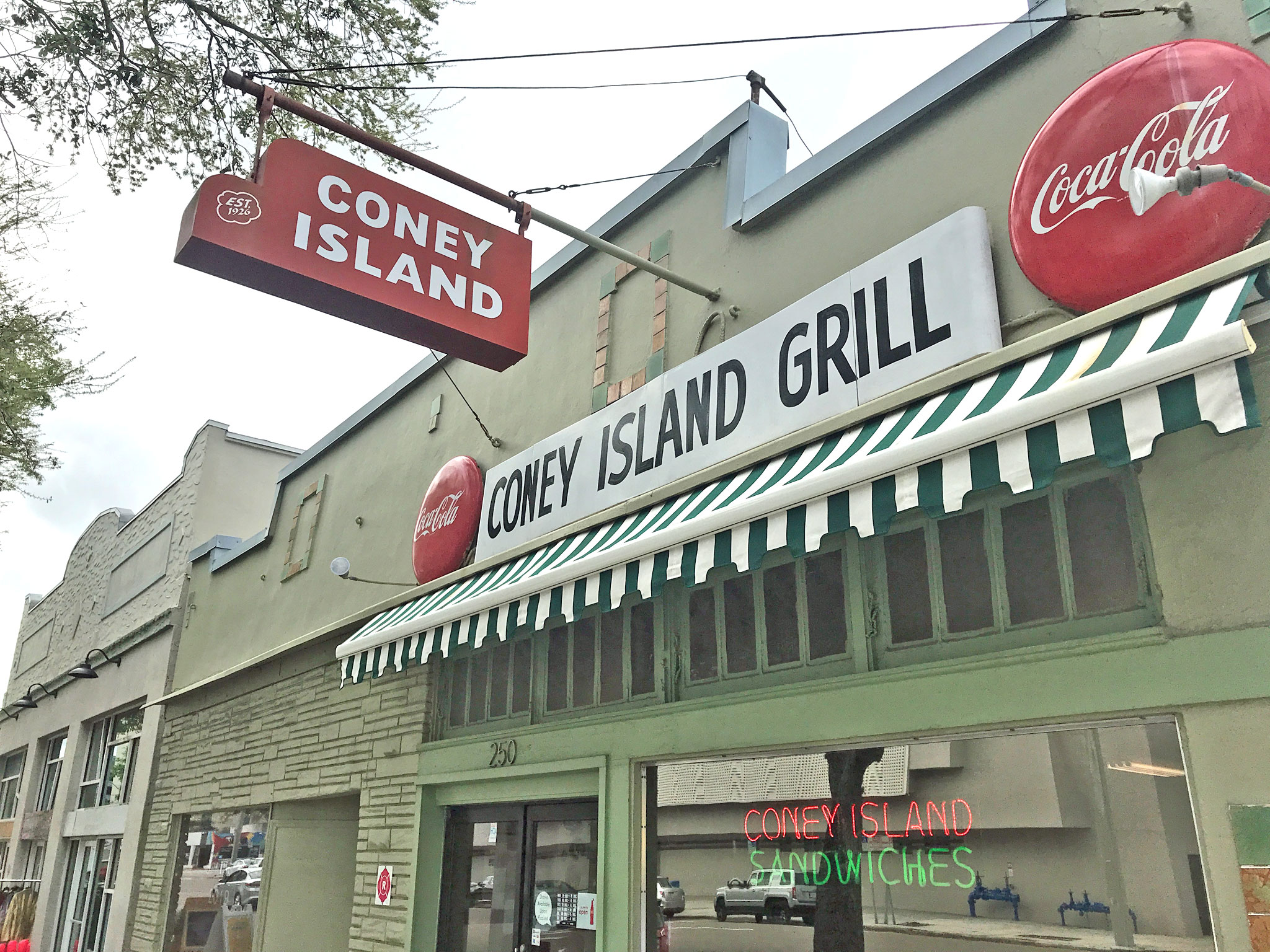 This is a really cool, old school, no frills, diner-style place where the hot dogs are cooked on a flat top right at the front window. They only cost $2.50 whether you get a plain one or a chili dog, so I got both. They keep a bunch of them on the grill at all times, so your order arrives in seconds, especially if you sit at the front of the bar like I did.
I couldn't stop thinking about them for the rest of the day, they were so good. They are just down home, old fashioned, comfort food. You can get them any way you want, but the suggested, and best way is this: Relish and yellow mustard on the plain, and onions and yellow mustard on the chili.
There's also the forever debated "beans or no beans" when it comes to chili. Coney Island Sandwich Shop's answer to this is "No Beans", and it is just fine.
Coney Island Grill
250 Dr M.L.K. Jr St N
St. Petersburg, FL 33705
(727) 822-4493
4. Engine No. 9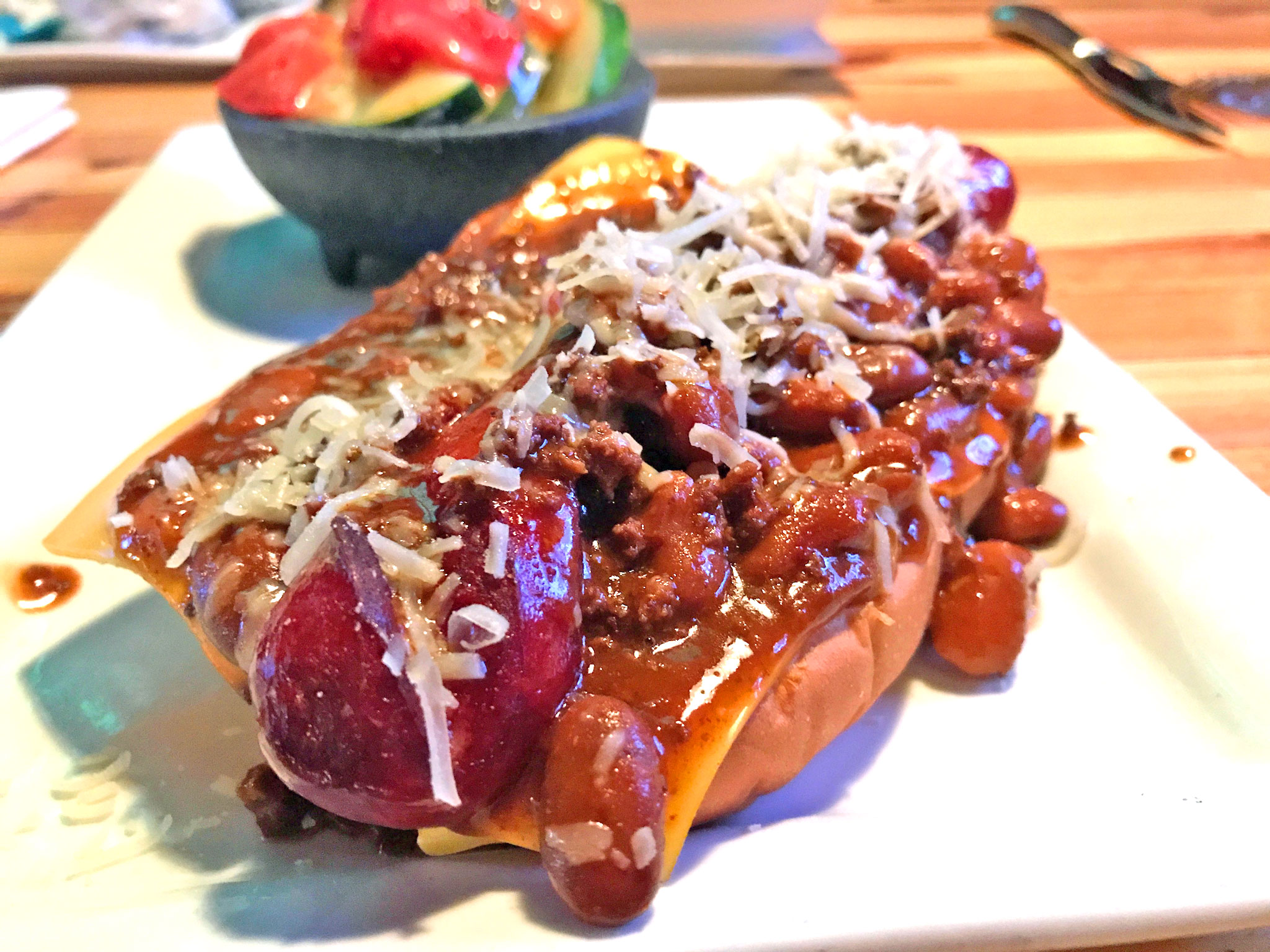 Engine No. 9 Chili Dog – Smothered in House Made Chili, and Sharp Cheddar Cheese.
I really love this one, and get it all the time. It is huge and hearty with a big juicy dog with a nice crisp skin. The chili with beans makes it a little messy, and even more filling, so I eat this one with a fork and knife. You will be quite full from this one.
Engine No. 9
56 Dr M.L.K. Jr St N
St. Petersburg, FL 33705
(727) 623-0938
http://www.no9burgers.com
5. The Burg Bar & Grill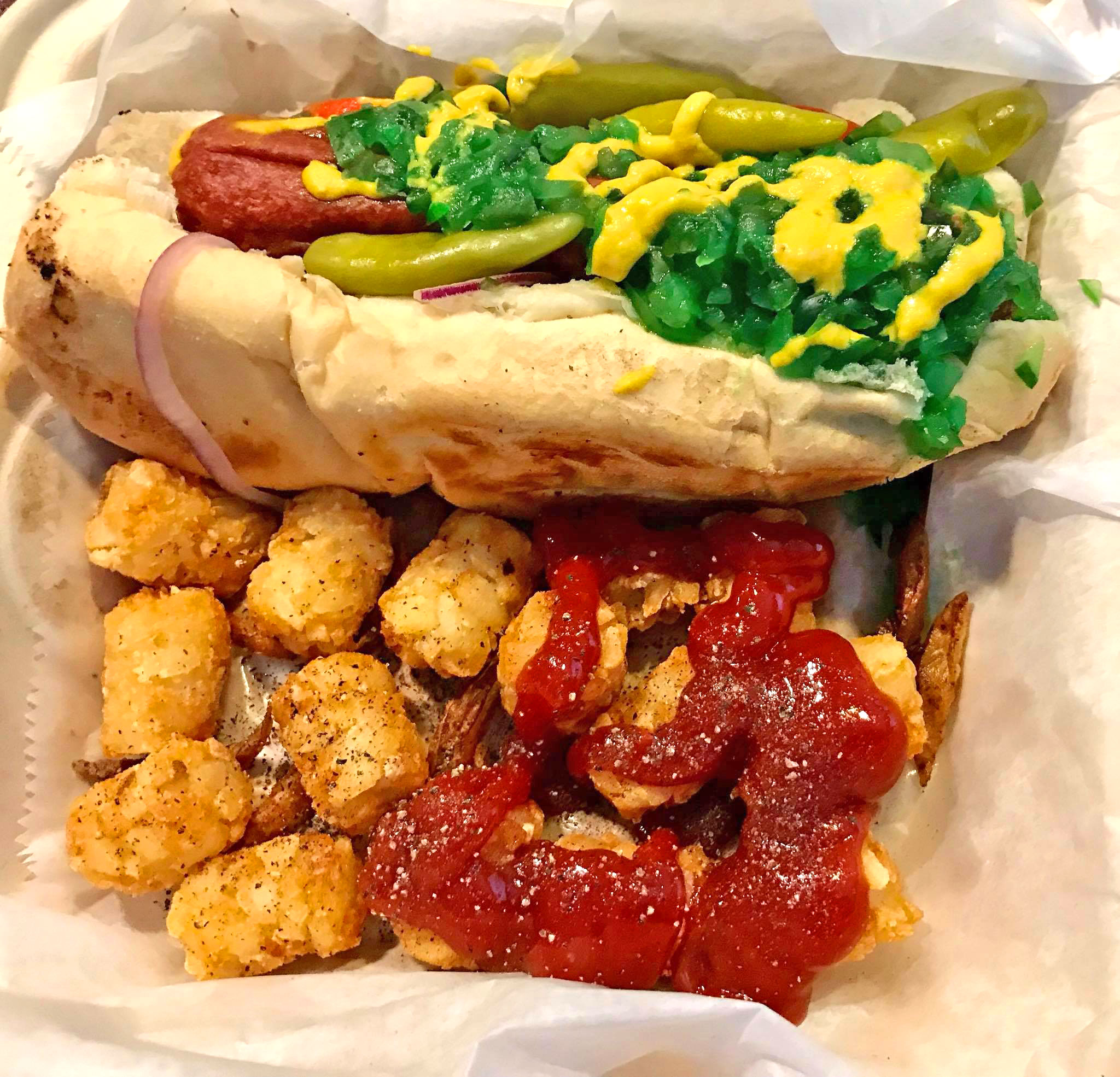 Chicago Style Hot Dog – Onion, Tomato, Sports Peppers, Pickles, Celery Salt, Yellow Mustard, Relish.
The Burg Bar & Grill does a great job at paying homage to the Chicago Dog. This is another quite hearty and tasty one. I got it to go, so please pardon the box.
The Burg Bar & Grill
1752 Central Ave
St. Petersburg, FL 33712
(727) 894-2874
http://theburgbar.com
I'm sure there are some readers favorite hot dogs that are not on the list. Please comment with them below so other readers can see them and check them out too.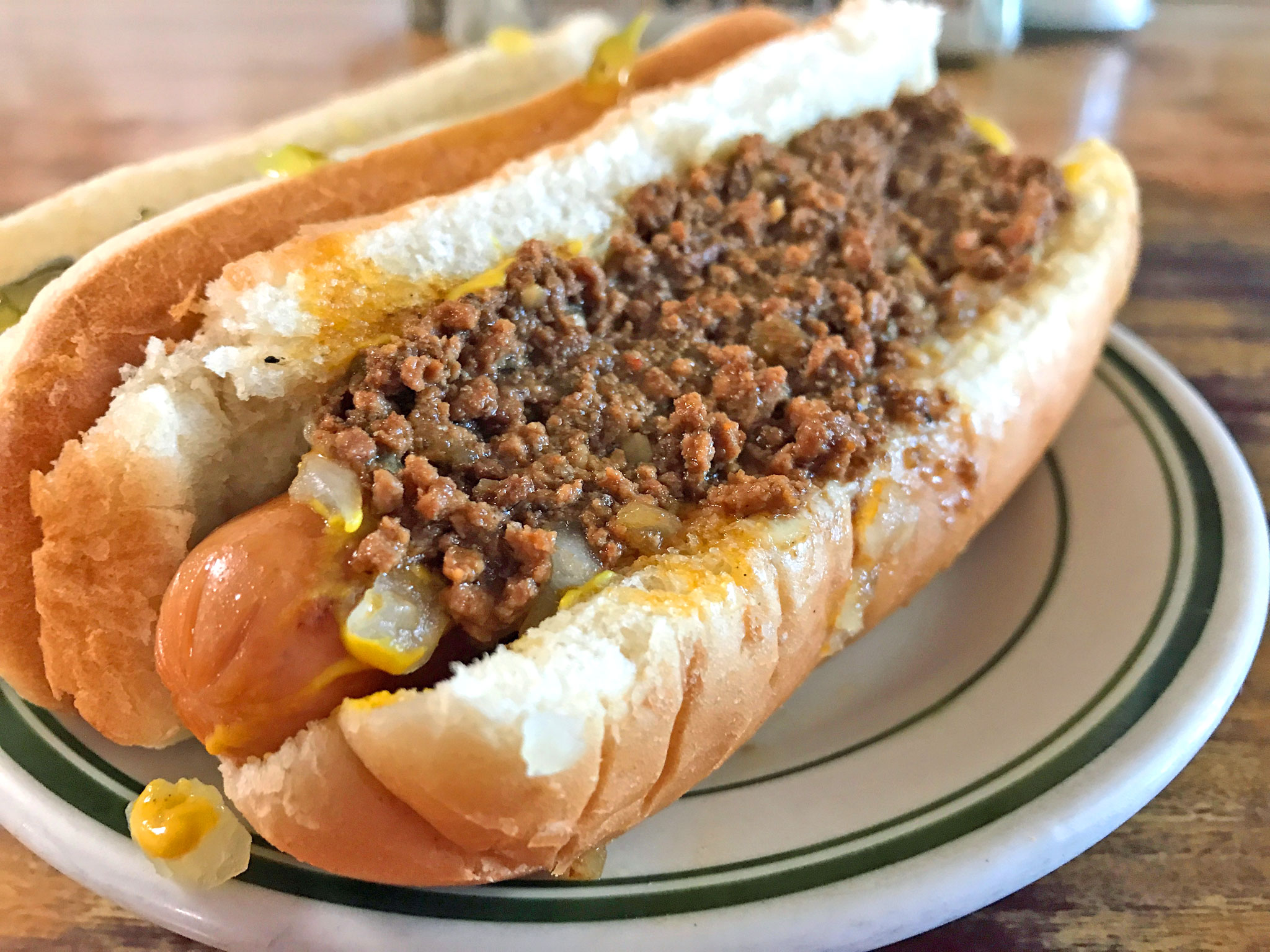 Readers Rating

Rated 4.5 stars




4.5

/ 5 (

Reviewers

)

Outstanding
---
Everyone loves hot dogs, and these are the must-try dogs in St. Petersburg, Florida.