Best Hamburgers / Cheeseburgers in St. Petersburg FL 2022
Hamburgers! Who doesn't get excited by hamburgers? I used to wonder why they were named this when there was no ham involved. It's because they get they their name from Hamburg, Germany, home of a dish called the Hamburg steak that eventually evolved into what we now consider hamburgers.
"the Hamburg steak was served raw or lightly cooked and was accompanied by a raw egg… A variant of Hamburg steak is Salisbury steak, which is usually served with a gravy similar in texture to brown sauce …" – Wikipedia
I also recently learned that there is a Japanese Hamburger Steak. (I'll have to add that to my list of things to try.)
It is actually disputed whether the hamburger was invented in Germany or the U.S.A. One thing that is not disputed is that they are definitely thought of as the quintessential "American food".
They almost always have cheese on them, so it's safe to say that a hamburger / cheeseburger is the epitome of almost everyone's favorite American food.
As with all of our lists, and unlike most other publishers, we personally went to all of these places, and ate all of these burgers, and took all of these photos.
For ALL of these – the burgers were moist, juicy, fresh and flavorful… so I don't have to repeat it a dozen times.
"It's really a lot like writing porn. After you've used the same adjectives over and over again, it's like the Penthouse Letters…"
– Anthony Bourdain, Parts Unknown, Budapest – Aired June 14, 2015
Here's our "Baker's Dozen" of the Best Burgers in St. Petersburg Florida for 2022.
These are listed in alphabetical order. 
1. 2nd & Second
201 2nd Ave North
St. Petersburg, FL 33701
(727) 440-4700
2nd & Second Website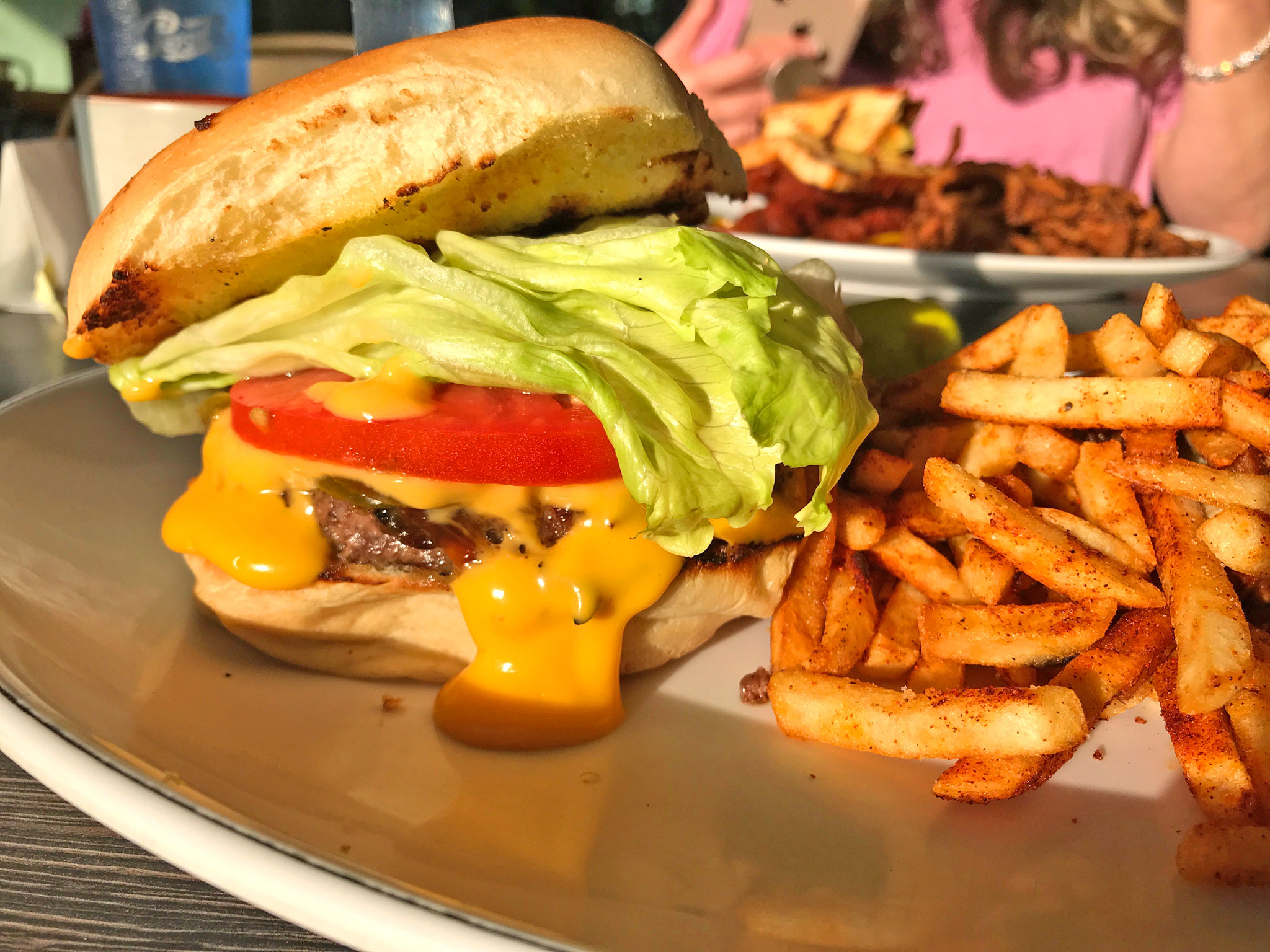 The 2nd & Second House Burger – lettuce, tomato, grilled onions, jalapeños, and cheddar cheese sauce is just pure comfort food. It's hard to see the grilled onions and jalapeños in the photo, but they're there under the cheese sauce. And that cheese sauce! It's just a damn good burger.
2. The Avenue
330 1st Ave S
St. Petersburg, FL 33701
(727) 851-9531
The Avenue Website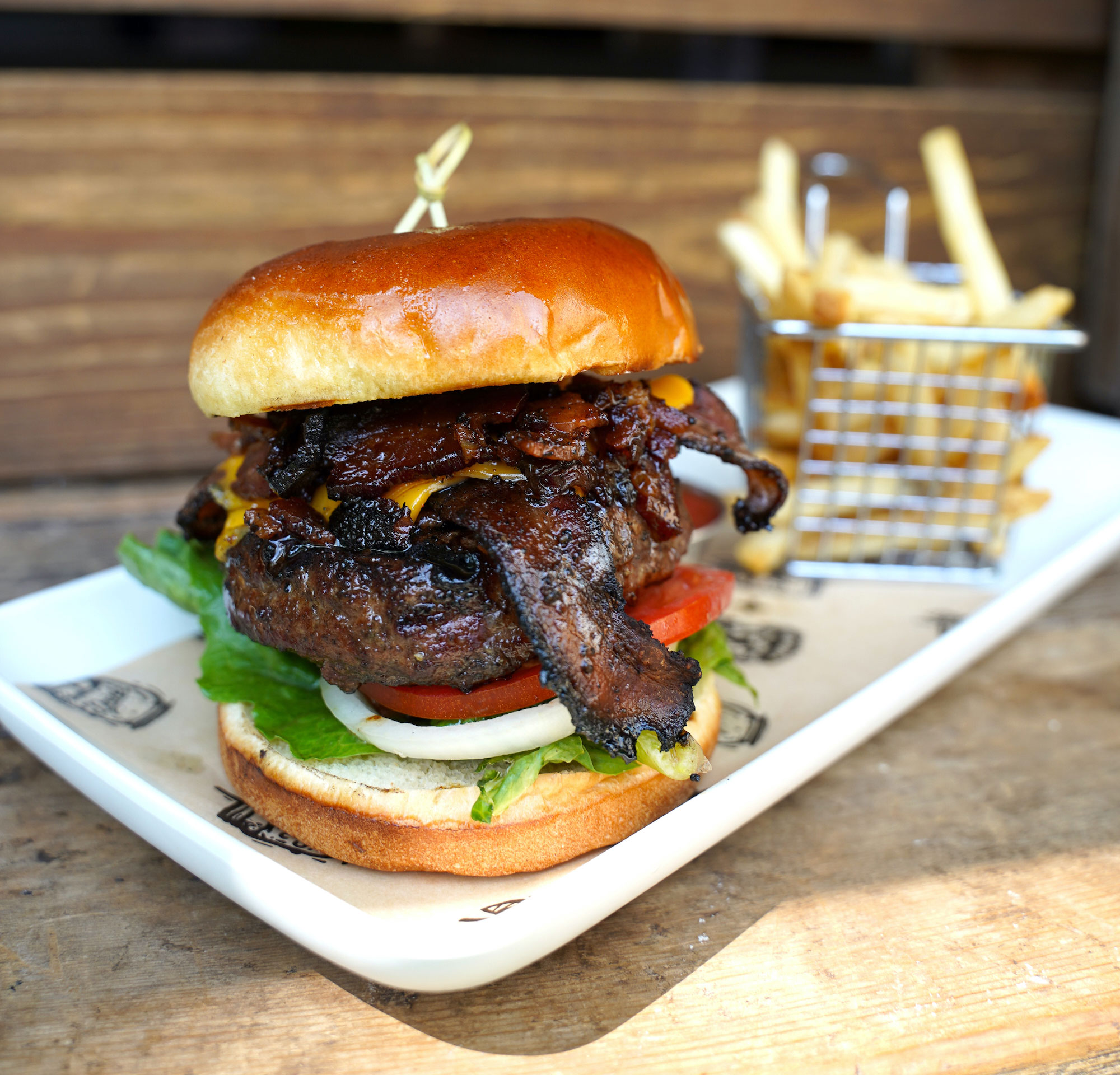 The DTSP Burger at The Avenue – yellow American, bourbon bacon onion jam, peppered bacon, lettuce, tomato, onion, pickles. Huge, delicious, and perfectly cooked.
3. The Bier Boutique
465 7th Ave North
St. Petersburg, FL 33701
(727) 827-2691
The Bier Boutique Website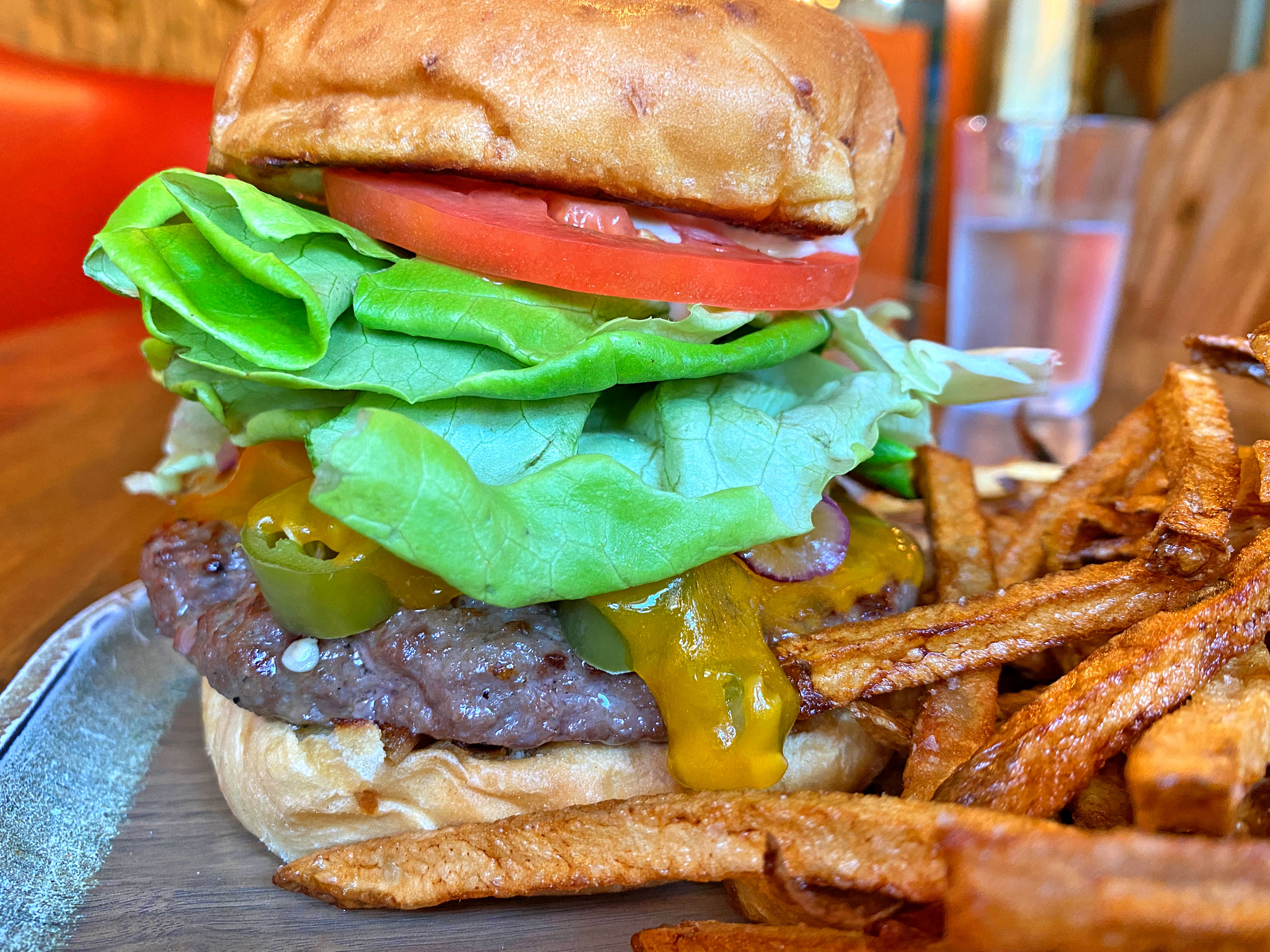 Bison bacon patty with some heat…sharp cheddar cheese, roasted Serranos and griddled onion with a smear of roasted garlic mayo and cooled with lettuce & tomato on a brioche bun. As soon as you bite into this burger, you'll be wondering where it's been all of your life. It pushes all the right buttons and checks all of the boxes as you chew this mouthwatering, tastebud tickling, unctuous, meaty, cheesy, and SPICY hunk of deliciousness while the grease drips through your fingers and down your arm. You'll be smiling so big that you have to be careful to not let any of this flavor-packed treat fall out of your mouth.
Some of you may recognize the name. Bob Chipeska was a character in the movie Bad Santa, played by John Ritter. I asked co-owner and chef, Scott Brookey how he decided to name it, and he said, "When John Ritter makes that face in Bernie Mac's office about the anal sex, the Serranos do the same thing to our guests!!!" It certainly helps to have a sense of humor when you're in the restaurant business. Since this burger is named for a movie character I will quote another movie character. Jules Winnfield (Samuel Jackson) in Pulp Fiction, "Mmmmm this IS a tasty burger!"
4. Brick & Mortar Kitchen & Wine Bar
539 Central Ave
St. Petersburg, FL 33701
(727) 822-6540
Brick & Mortar Facebook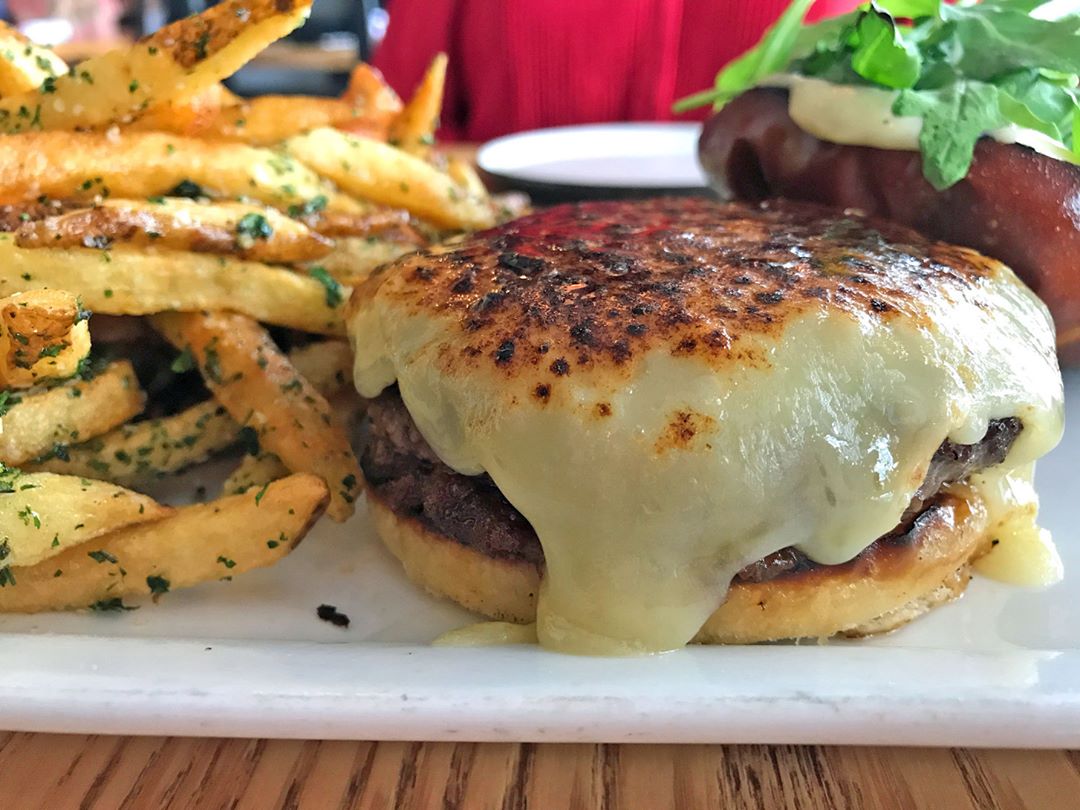 Brick & Mortar Burger – house ground tenderloin filet & short rib, bacon onion jam, aged white cheddar, arugula, roasted garlic aioli.
There is nothing like this burger anywhere. It's magical. They grind their meat fresh in house every day. Everyone raves about this one.
5. The Burg Bar & Grill
1752 Central Ave
St. Petersburg, FL 33712
(727) 894-2874
The Burg Bar & Grill Website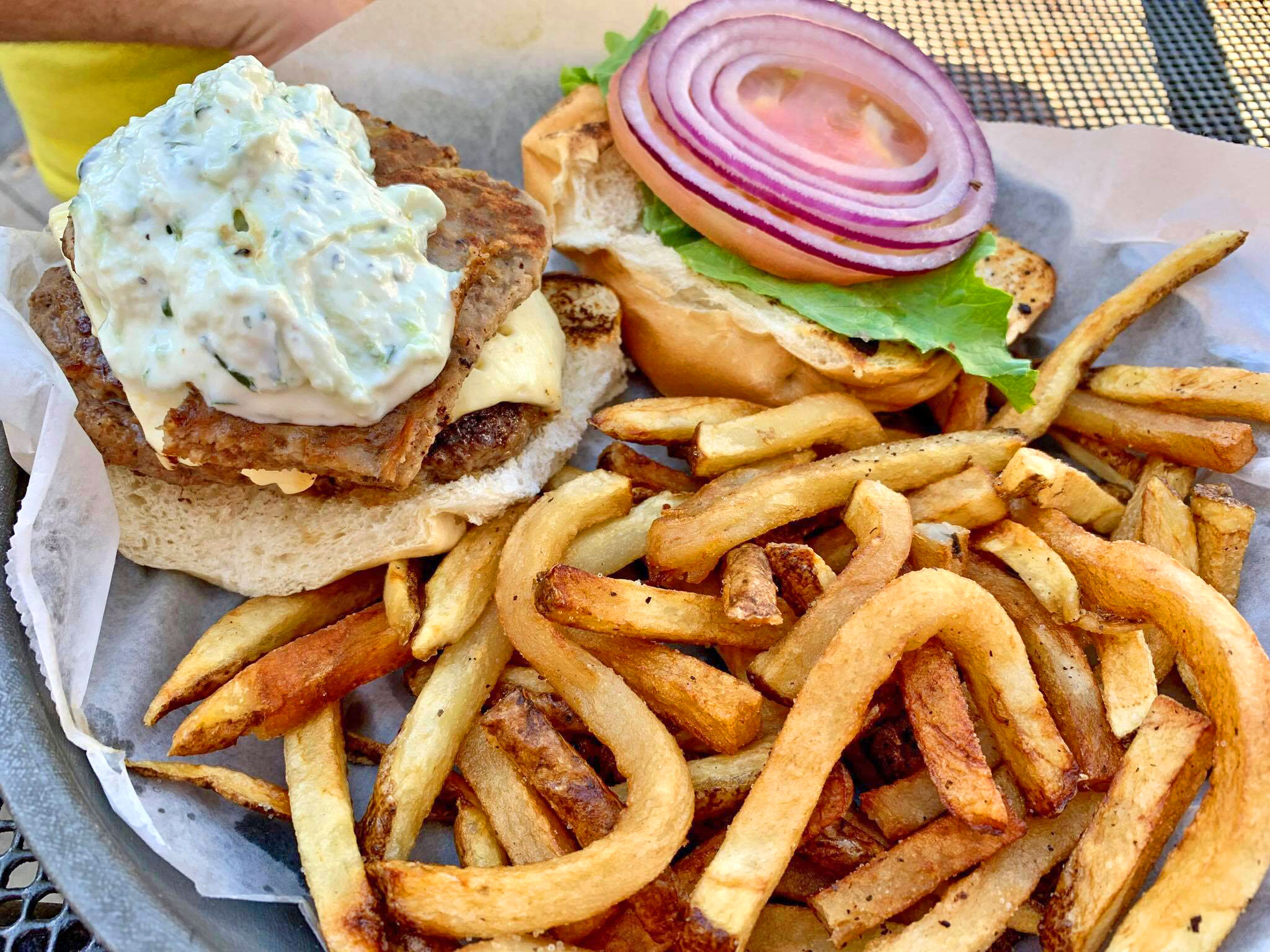 The Burg Gyro Feta Burger – topped with gyro meat, house-made tzatziki & grilled feta, along with lettuce, tomato, onion, and pickles. Who doesn't love gyro meat?!? Right? That along with the other ingredients on a burger are genius. This is a real palate pleaser.
6. Datz
180 Central Ave
St. Petersburg, FL 33701
(727) 202-1182
Datz Website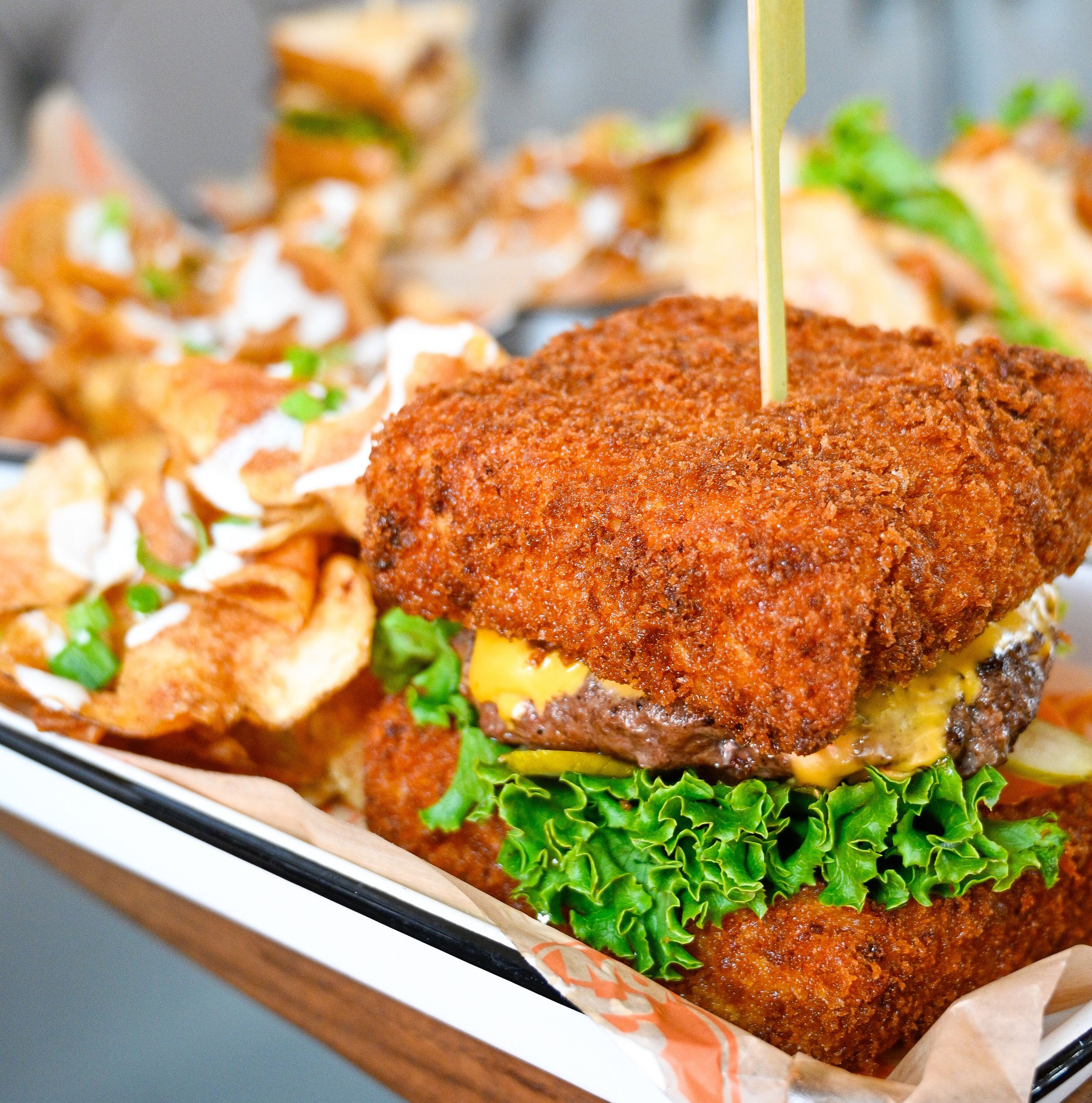 Datz has been an icon in South Tampa since they opened in 2009. Whenever we would have an occasion to be in the area in the morning, we would always go for breakfast or brunch. We were thrilled when they opened in downtown St. Pete in 2019. Datz has long been known not only for great food, and hearty concoctions, but also for some outlandish, attention getting items like the Cheesy Todd. It is comprised of ground brisket and short rib with American cheese, lettuce, tomato, red onion and pickle. Served on two bacon-jalapeño mac n' cheese "buns". Perfect for a hangover or an extreme case of the munchies while being fun, tasty, and needless to say, quite filling.
7. El Cap Restaurant
3500 4th St. N
St Petersburg, Florida 33704
(727) 521-1314
El Cap Restaurant Facebook Page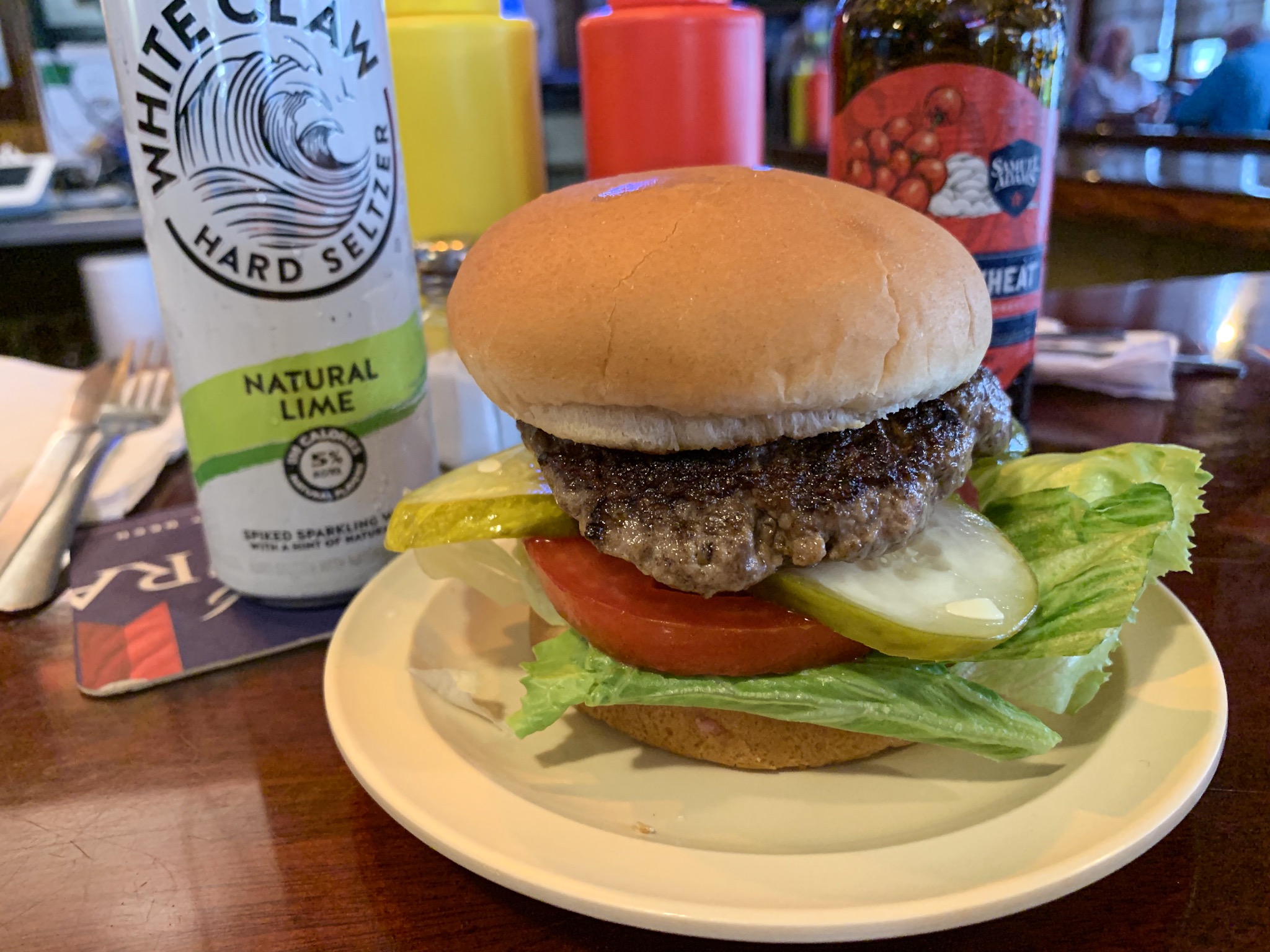 Speaking of icons, El Cap has been serving down-to-earth, delicious, no-fuss cuisine to hungry St. Pete patrons since 1964.
From Abby's review: "If you mention El Cap to most anyone who is familiar with it, odds are, you'll receive a rave review about everything, from the service and overall vibe of the restaurant, to the food- specifically, their burger. El Cap's burgers are a favorite among both frequent flyers and newbies, alike. Their World Champ Burger, which has been named by some as the best burger in town, is comprised of just the simple things- Lettuce, Tomato, Pickle and Onion (add cheese and bacon for an extra delicious rendition), which proves that in some cases, less is more."
8. Engine No. 9
56 Dr M.L.K. Jr St N
St. Petersburg, FL 33705
(727) 623-0938
Engine No.9 Website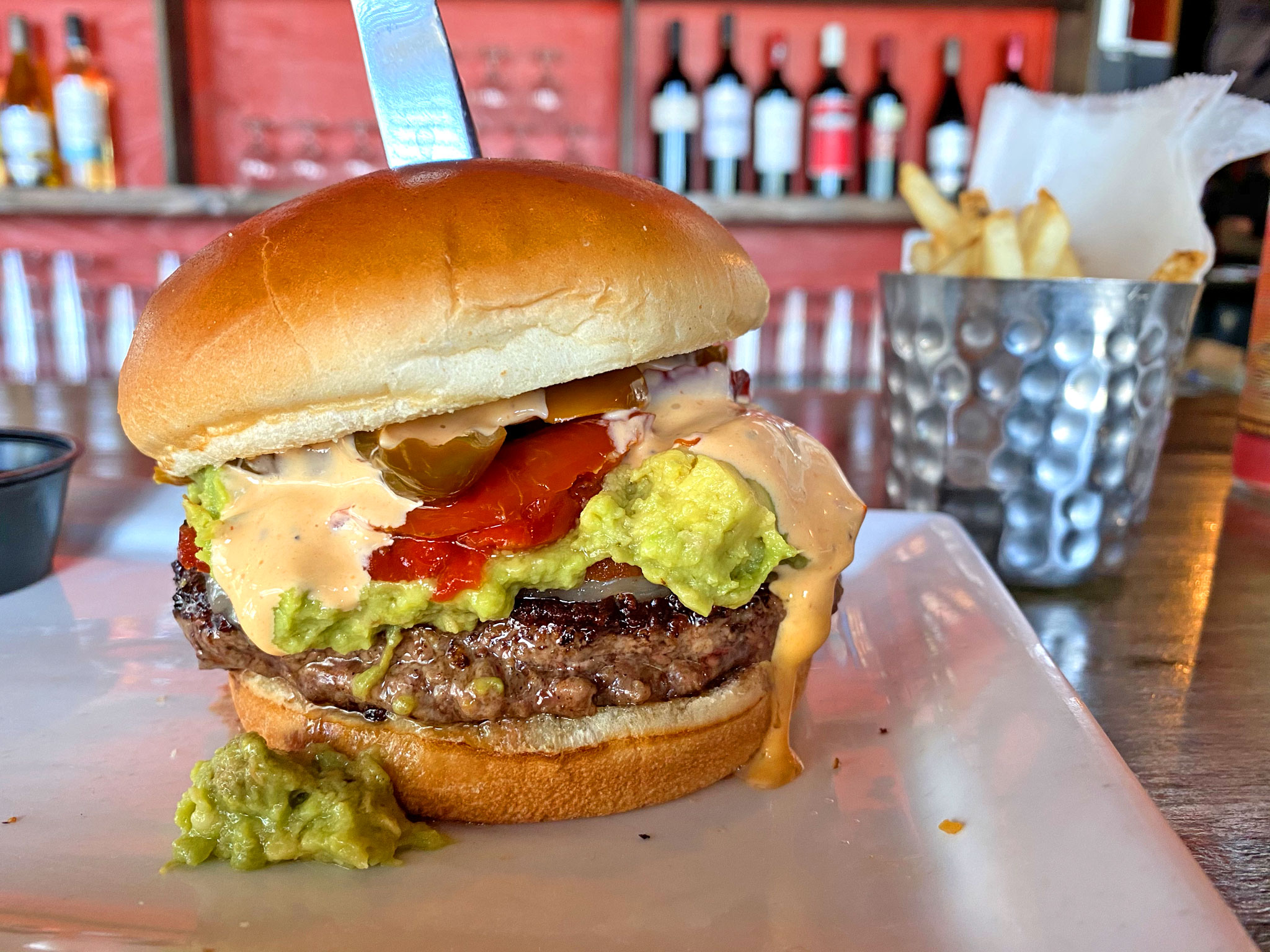 American Standard Burger at Ford's Garage – black angus with American cheese, lettuce, tomato, red onion, and dill pickle planks on a brioche bun. So delicious and satisfying! My other favorite burger here is the Mushroom Swiss Burger.
10. The Library
600 5th St S
St. Petersburg, FL 33701
(727) 369-9969
The Library Website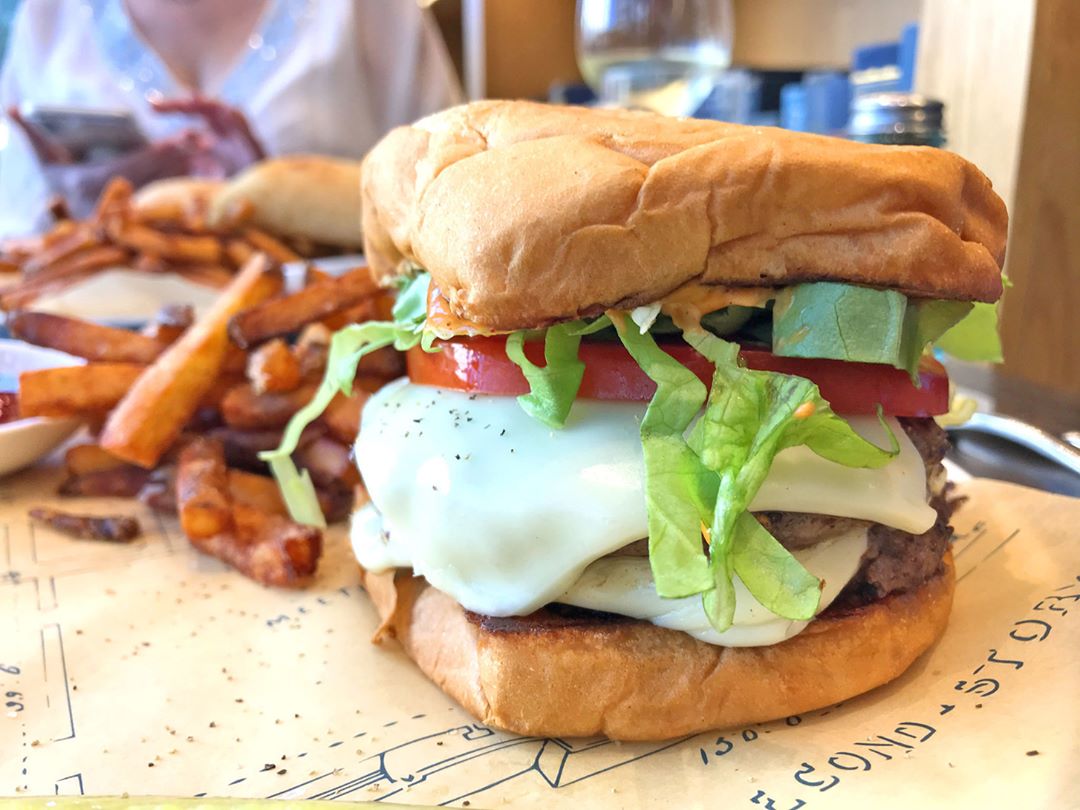 Burger – double patty, sliced white American cheese, lettuce, tomato, library sauce.
It's not the style that most places are putting out these days, but it is just damn good, old school comfort food. It actually reminded me of a Burger King Double Cheeseburger—in a very good way.
11. Mary Margaret's Olde Irish Tavern
29 3rd St North
St. Petersburg, FL 33701
(727) 873-6764
Mary Margaret's Website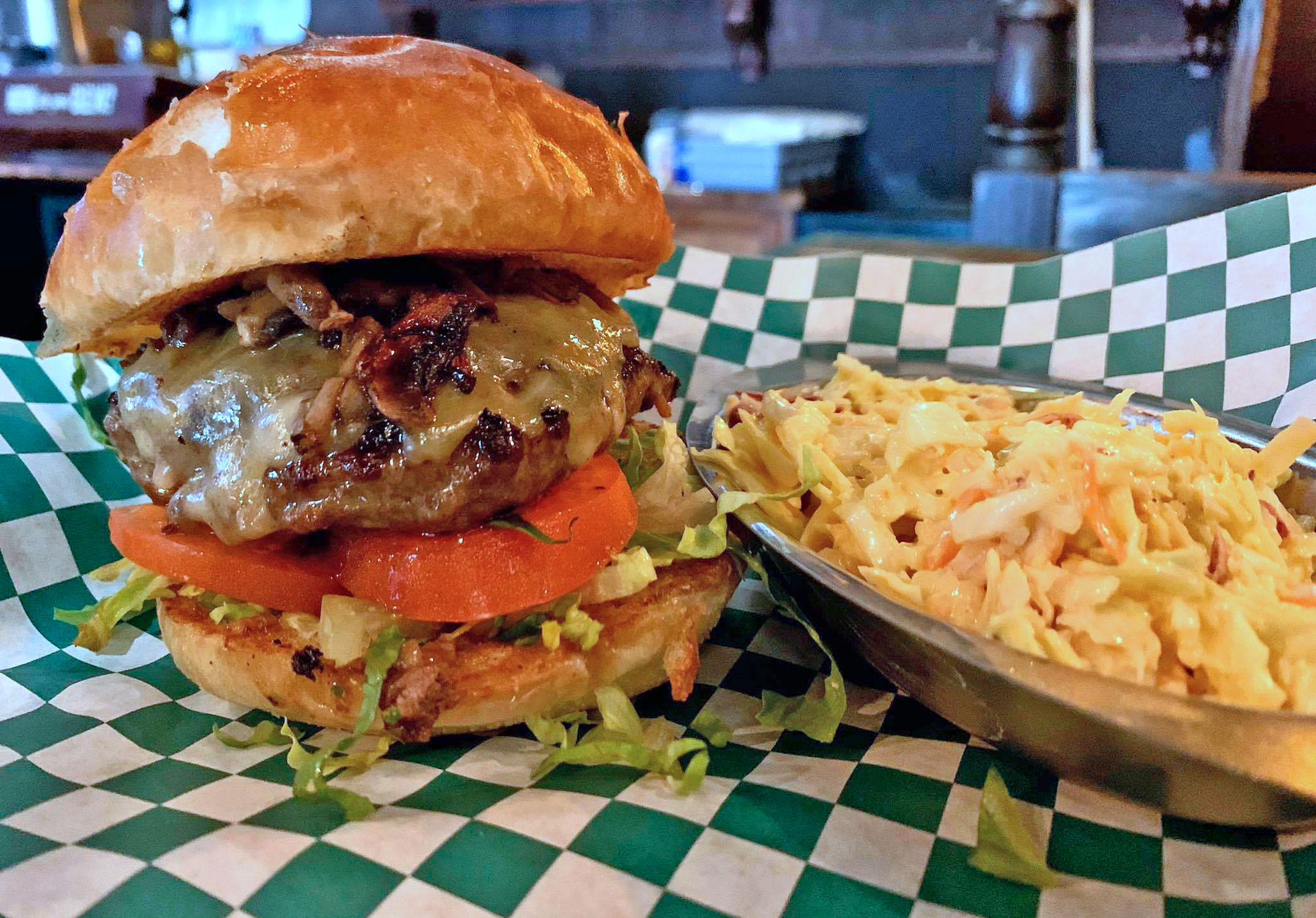 The Guinness Burger – Guinness infused black angus beef, with grilled shrooms, Irish cheddar, romaine lettuce & tomato on a flaky roll.
Mary Margaret's Guinness Burger has a unique richness and depth of flavor that interestingly reminds me of French Onion Soup, even though there are no onions here. I'll give this one the Umami Bomb Award.
12. Renzo's
104 2nd St S
St. Petersburg, FL 33701
(727) 851-9983
Renzo's Website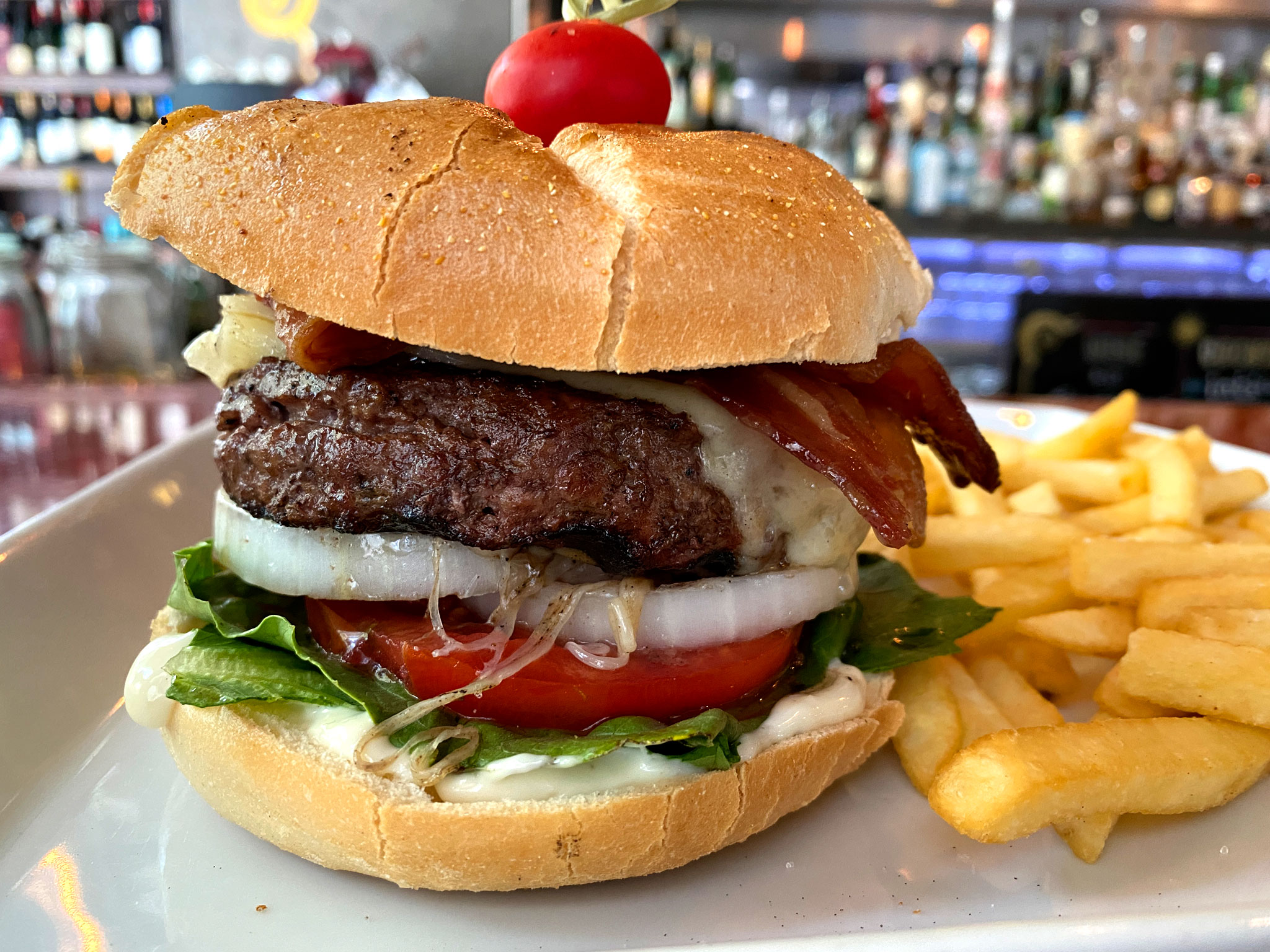 If you've had Renzo's Steak Burger before, then you know how good it is, and you may have been sad when it was taken off the menu. Well now you can be happy again as it has been added back on by popular demand. It's a 12oz house-ground sirloin burger with bacon, cheese, onion, lettuce and tomato, with garlic aioli. The garlic aioli gives it a wonderful creamy, unctuous, comforting mouthfeel and a little spice. This is a nice contrast and balances well with the burger's great char grilled flavor and texture. It has a crispy char on the outside and is moist and juicy on the inside. The fresh kaiser roll nicely brings it all together.
13. Stillwaters Tavern
224 Beach Dr NE
St. Petersburg, FL 33701
(727) 350-1019
Stillwaters Tavern Website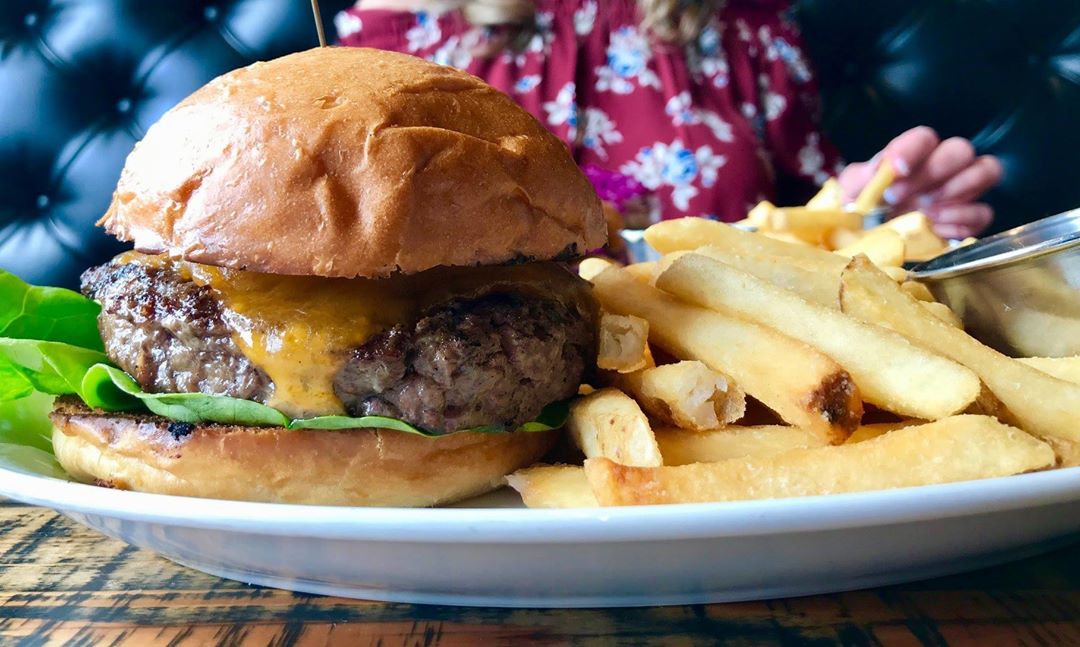 Tavern Burger – hand formed short rib, chuck, and brisket with sharp cheddar, thousand island, lettuce, caramelized onions, tomato, brioche bun.
This is another really good down-home burger that tastes great, has just the right amount of complexity, and easily fits in your mouth. It's a quite flavorful blend of beef, and seasonings.
BONUS HONORABLE MENTION
The Mill Restaurant
200 Central Ave #100
St. Petersburg, FL 33701
(727) 317-3930
The Mill Website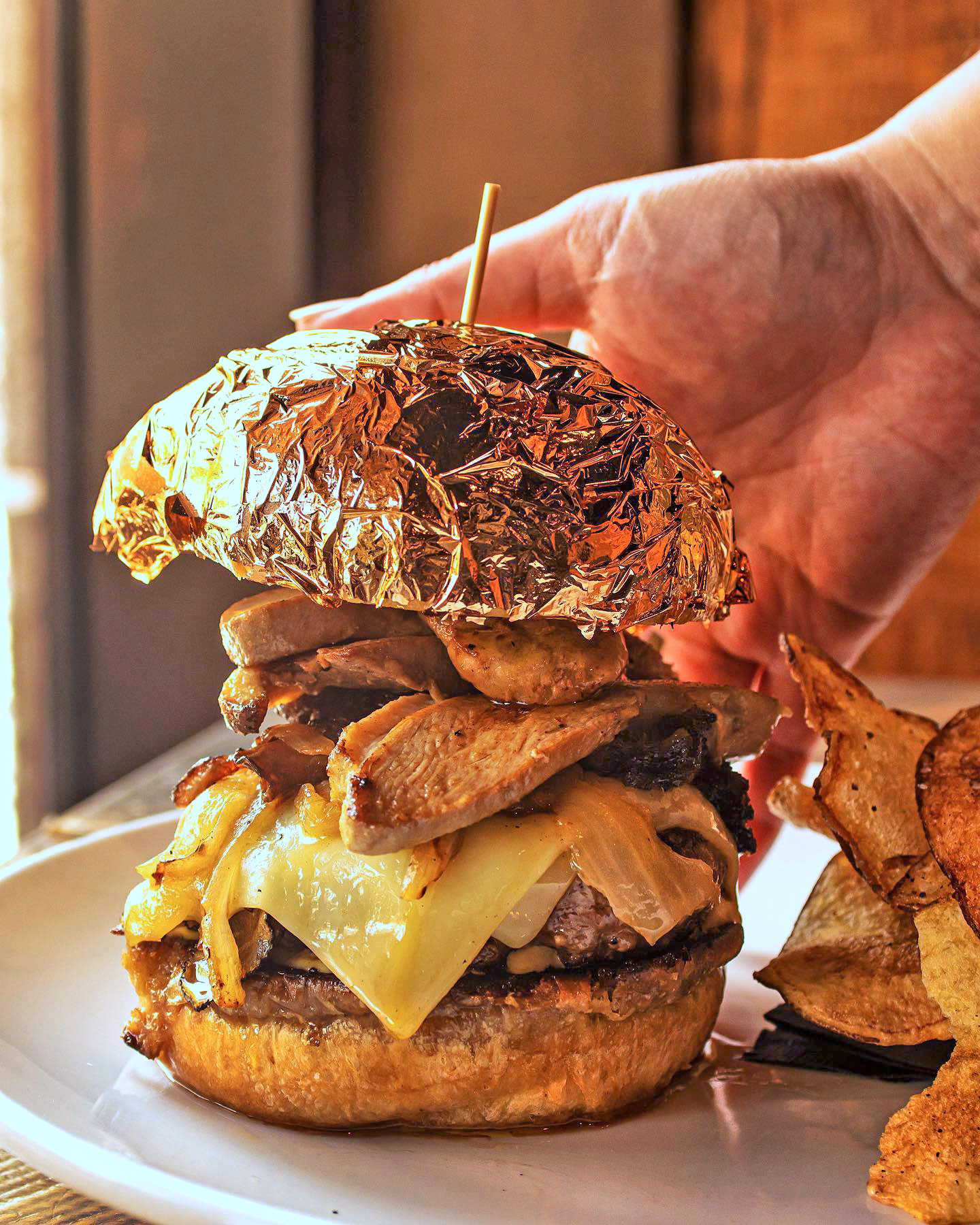 This one is a bonus as I haven't eaten it, but there's no way we could have a burger list without this amazing foodie feat. If you dare, for $100 you can get the The "Fonzworth Bentley" – Wagyu Beef Burger, Aged Gruyere, Caramelized Morrel Mushrooms & Vidalia Onions, Fresh Summer Truffles, Truffle Aioli, Seared Foie Gras, Duck Breast Bacon, Gold Leaf Wrapped Brioche Bun.
Friday Boyer, in our Facebook Group got the burger and posted this:
Last night we went to one of our favorites, The Mill. We've always loved the menu and service. My intent was to order a couple appetizers. And then, this happened…The Extravagance.
I never order a burger. I actually am not even a burger fan. But I was challenged to either eat this $100 burger or fill the gas tank.
Wagyu beef, foie gras, duck bacon, gruyere, onions and mushrooms. The brioche bun is covered in 24k edible gold.
This work of cholesterol is served on a little gold tray by the chef, who along with the staff, sings some sort of song to draw attention to you eating a 2k calorie burger.
I did it. I ate the entire thing. It was juicy and delicious. It was pure decadence. My face and hands glistened with golden evidence.
I was vegetarian for a year. Vegan for 1.5 years. Cauliflower never satisfied like this.
Would I do it again? Are gas prices going to get higher?
By the way, The Mill also has a great lamb burger.
I'm sure there are some readers' favorite burgers that are not on the list. Please comment with them below so other readers can see them and check them out too.
Just for fun, check out my article on Burger Stacking too!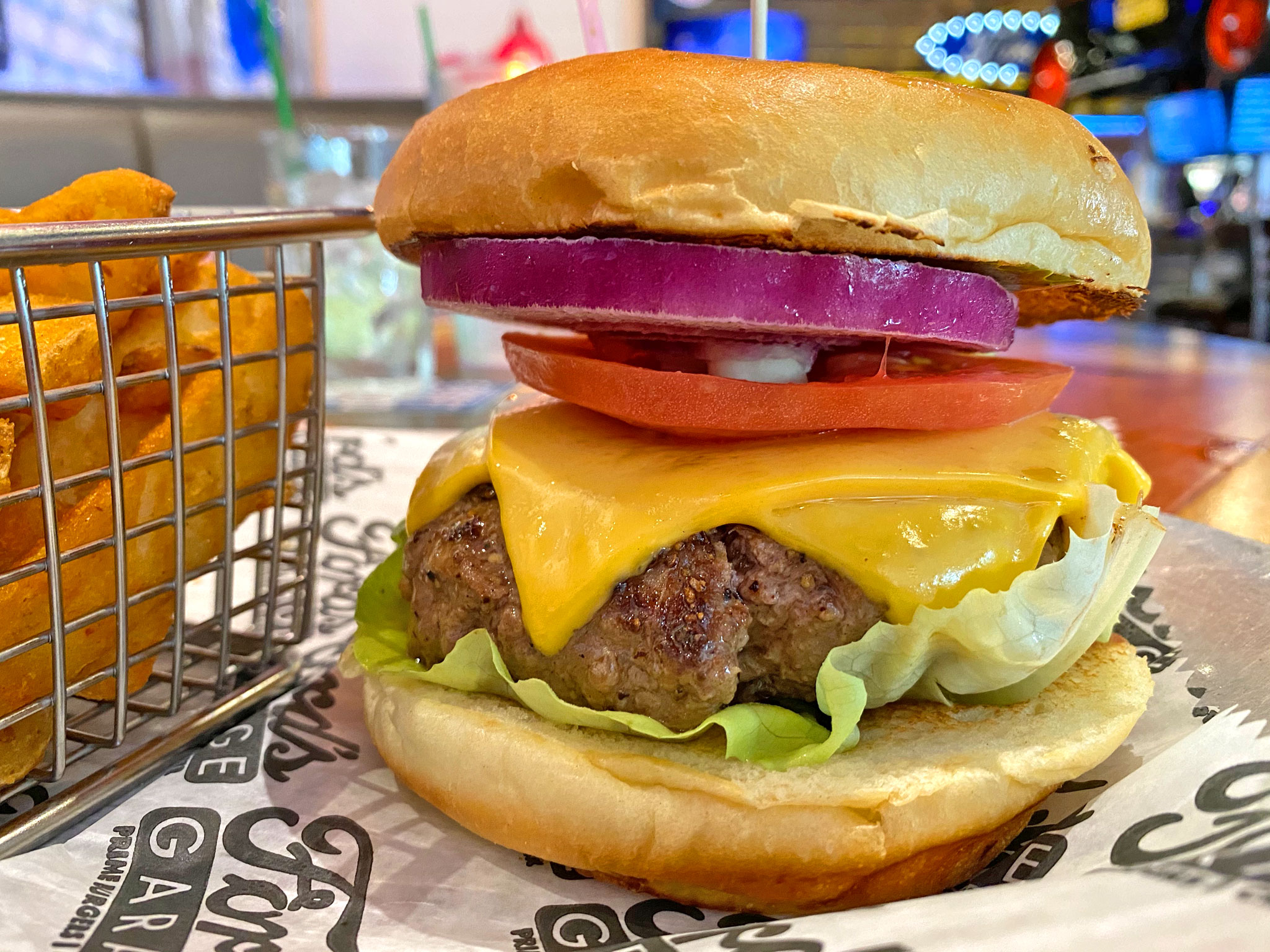 Readers Rating

Rated 4.4 stars




4.4

/ 5 (

Reviewers

)

Outstanding
---
Everyone loves hamburgers! A cheese burger is the epitome of American food, and here are some of the best local eateries with great burgers.