Best Italian Meatballs in St. Pete for 2021
There are all kinds of meatballs in different cuisines, and regions, but the Italian meatball is what we're talking about here. There's tons of places to get good meatballs in St. Pete, but these seven really standout above the rest.
Before we get into the list, an important thing you should be aware of is that there are other publishers of "best of lists" that do not actually go to the establishments, or actually eat the food. (Sounds ridiculous, right?) They just download photos from the internet, or embed Instagram posts from someone else. Instant "Best of …" list produced without having to leave the house, or even get dressed.
That's NOT how we do it.
We absolutely DO eat all of the food on all of our lists. (How can anyone recommend something they never experienced?)
Unfortunately, we've seen these junk lists a lot—from national and local publishers. We are also aware of a local publisher that offers paid placement in best-of-lists. There is no paid placement here.
I PERSONALLY ATE ALL OF THESE MEATBALLS, AND WENT TO ALL OF THESE PLACES, AND THESE ARE ALL ST. PETERSBURG FOODIES PHOTOS.
These are listed in alphabetical order. <—— Look
1. Annata Restaurant & Wine Bar
300 Beach Dr NE #128
St. Petersburg, FL 33701
(727) 851-9582
Annata Website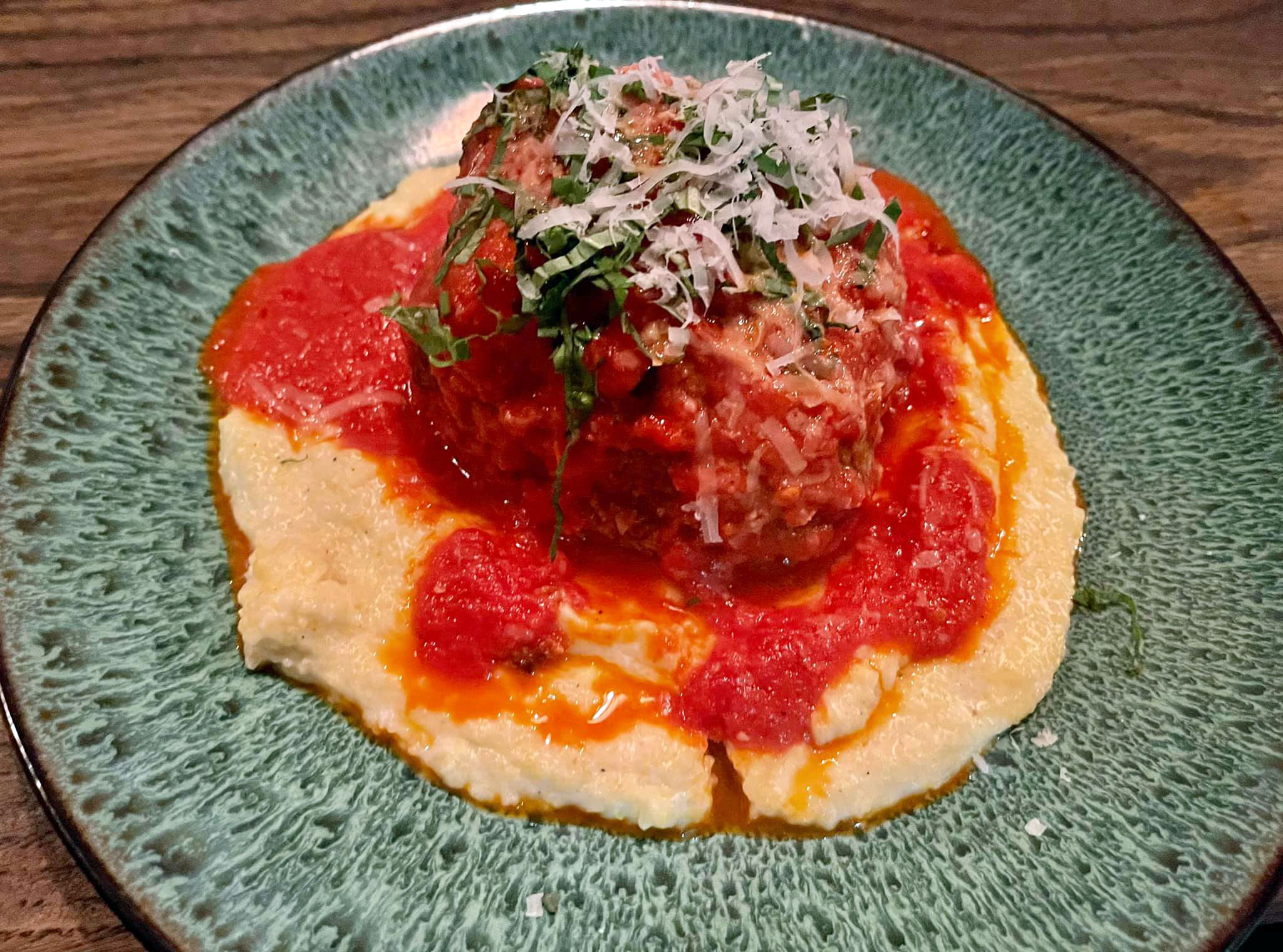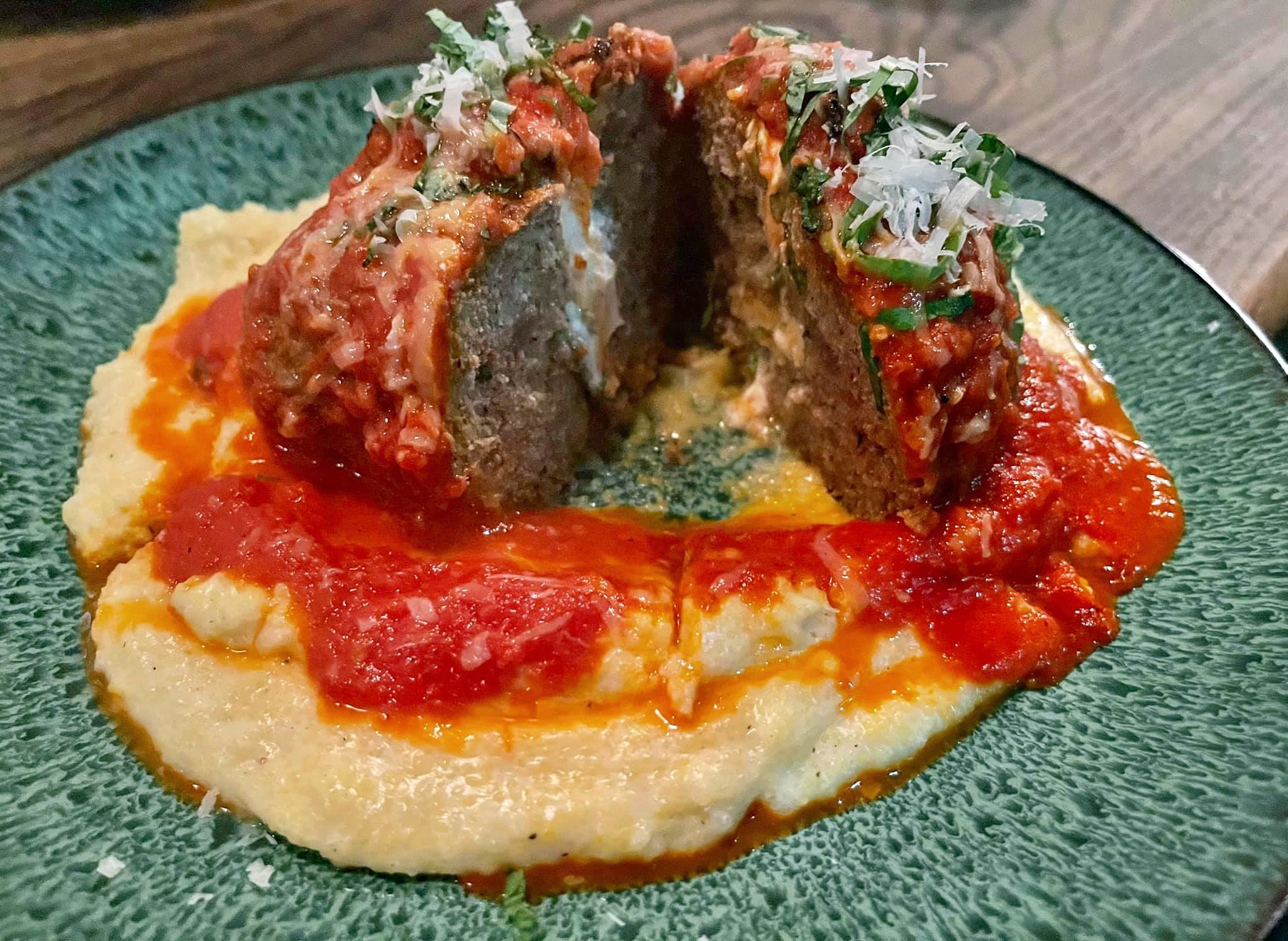 Meatball Gigantica – whipped ricotta, creamy polenta, herbs, Grana Padano, tomato sauce, basil chiffonade.
THIS. IS. A. PERFECT. MEATBALL!
Everything about the Meatball Gigantica is just right – the flavors, the texture, the density all just make you go mmm and shut your eyes in delight. It's the little details too, such as the herbs. Herbs are not the first thought that come to mind when thinking of meatballs. This perfect meatball wouldn't be what it is without them.
You can see the fresh, house-made ricotta in the middle. The creamy polenta, and tomato sauce are just right. Come hungry as this meatball lives up to it's name.
2. Fabrica Pizza
101 7th St S
St. Petersburg, FL 33701
(727) 290-9643
Fabrica Pizza Website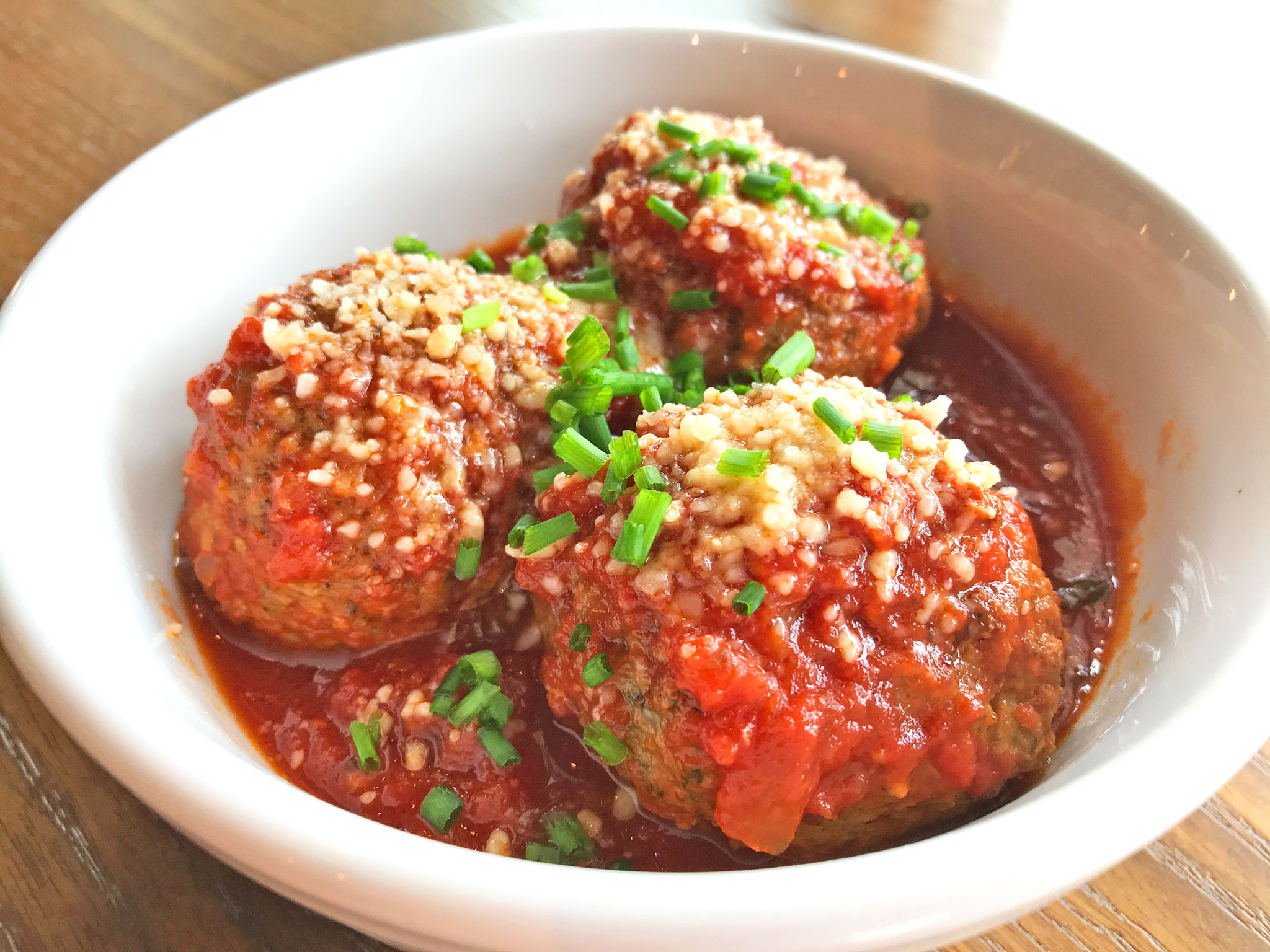 Oven Roasted Meatballs – In warm house-made tomato sauce, parmigiano, chives.
Everything just comes together perfectly here. The sauce, the seasoning, flavor, and texture. There have been times that we eat these 2-3 times in a week.
Fabrica's pizza is also excellent. They made our top 10 pizzas list.
3. Gratzzi Italian Grille
211 2nd St. South
Saint Petersburg, FL 33701
727-579-1570
Gratzzi Website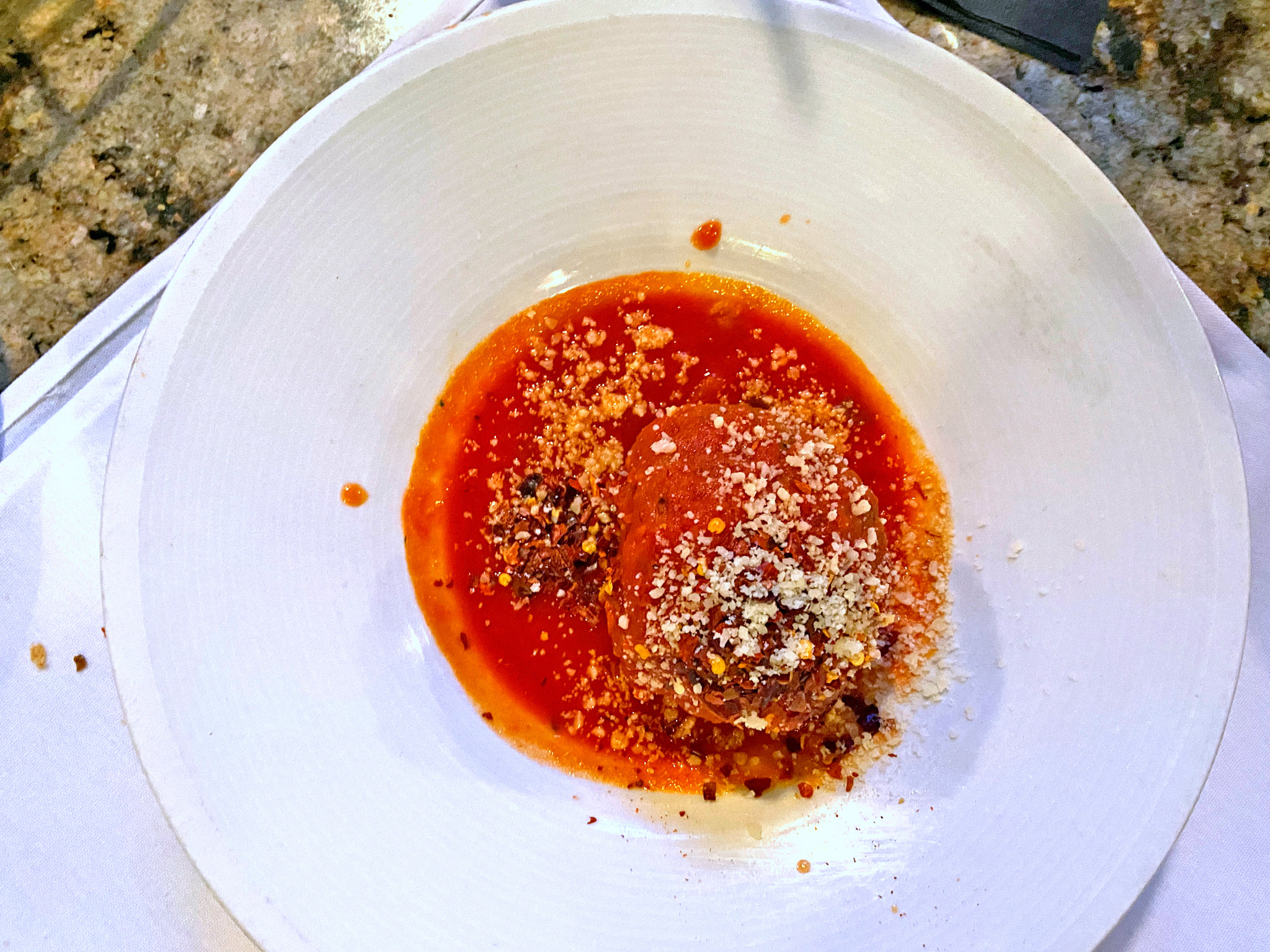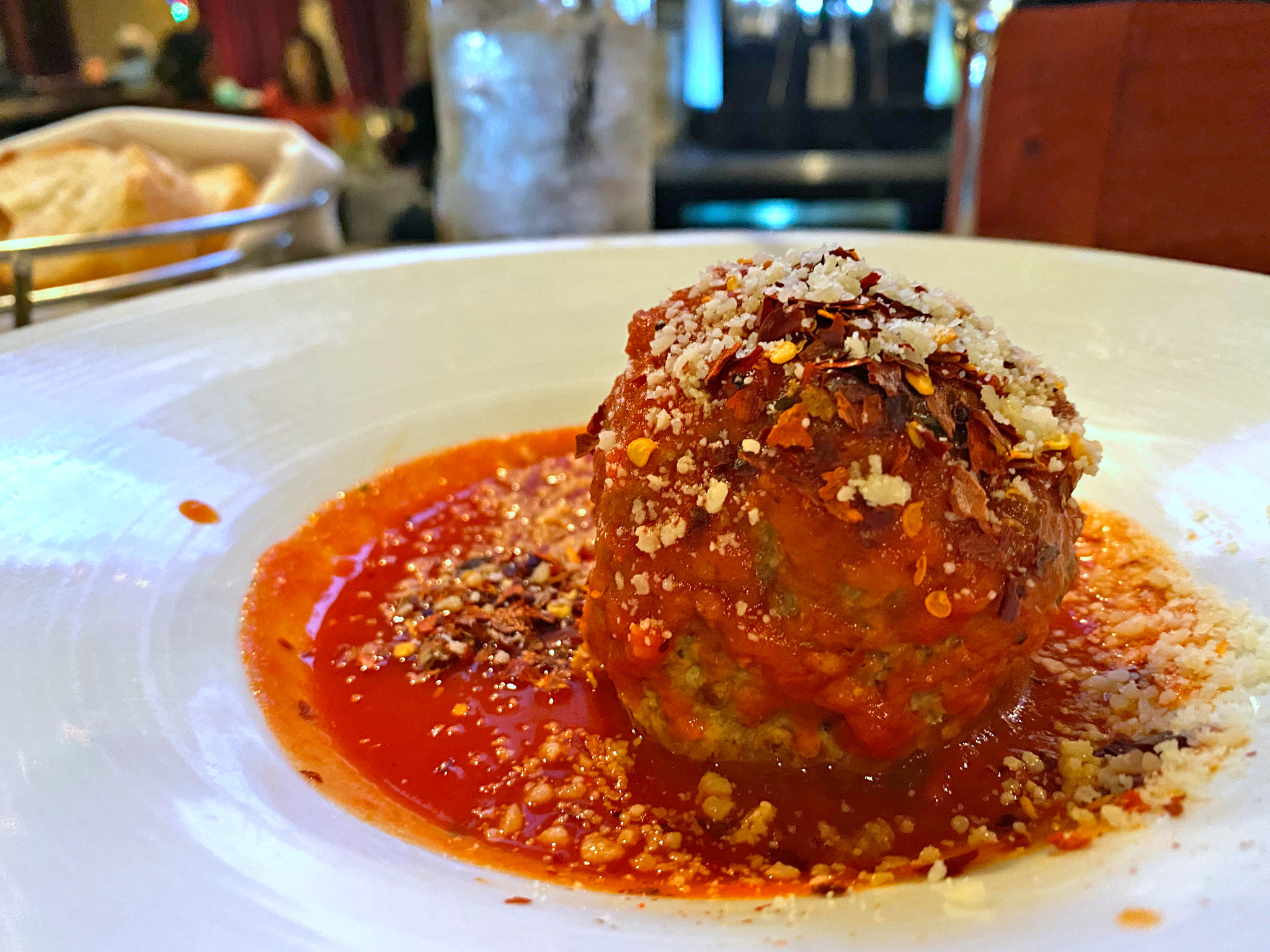 Gratzzi Italian Grille has been a local's favorite in downtown St. Pete for over 20 years. They are always busy, and always have a large crowd of locals. At any given time, it's likely that 1/4th to 1/3rd of the patrons know each other.
Their meatballs use ribeye, chuck, and other cuts of beef, and unlike many other restaurants, and much to my delight, they actually char the meatballs in a pan. I was actually lucky enough to get back in the kitchen one day after bugging Chef Tony to show me how he makes one of his sauces, and got this shot of the meatballs simmering in the sauce where you can see the nice char on them.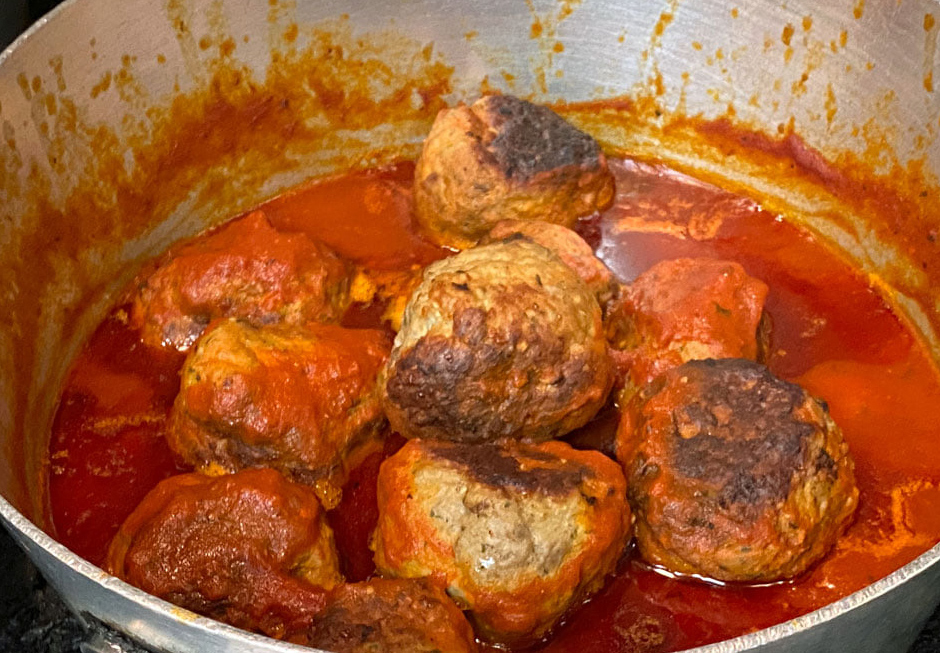 4. IL Ritorno
449 Central Ave North #101
St. Petersburg, FL 33701
(727) 897-5900
IL Ritorno Website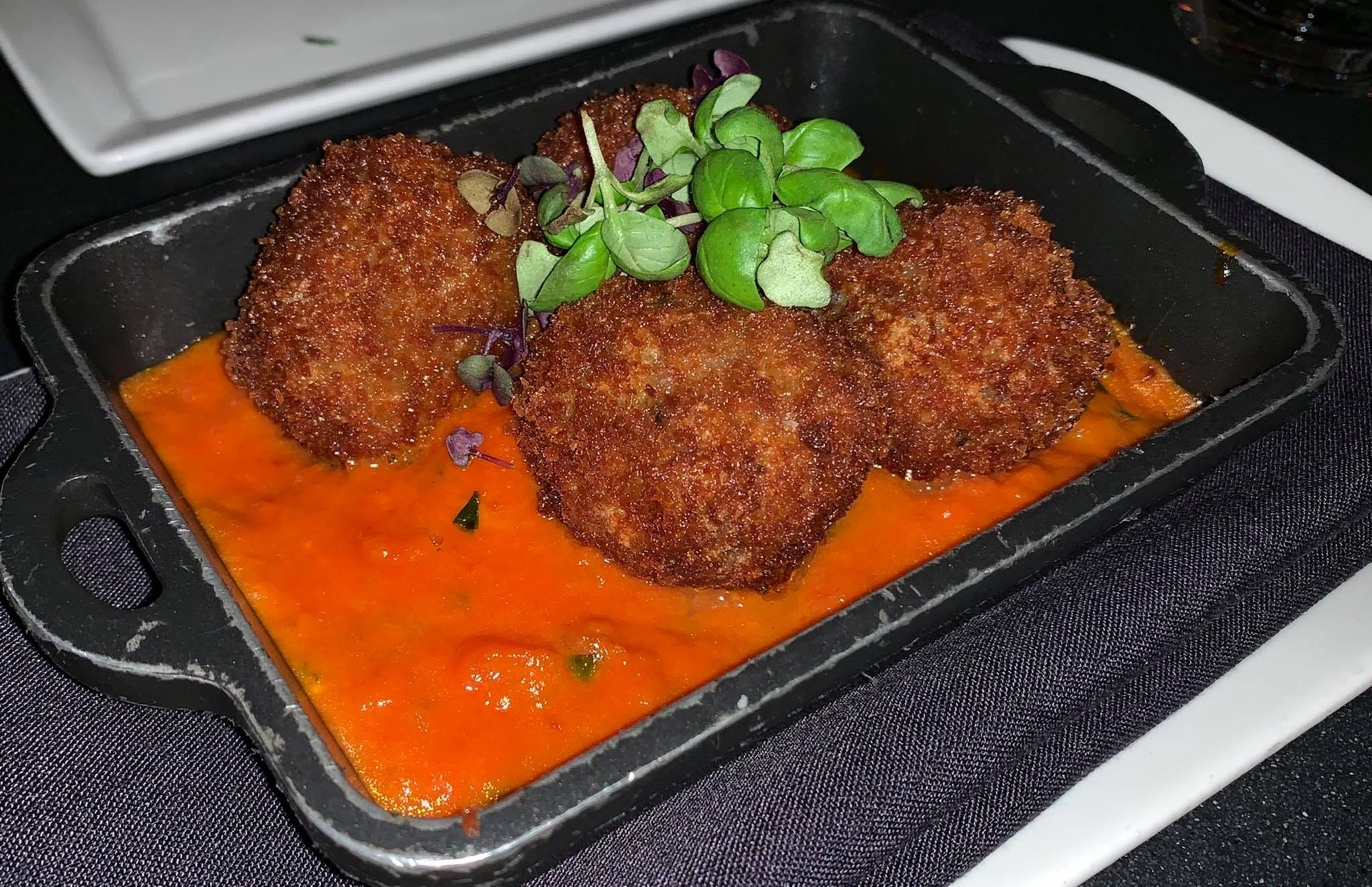 Smoked Meatballs – smoked pomodoro, piave, chianti, fresh basil.
(Piave is an Italian cow's milk cheese, that is named after the Piave river. As Piave has a Protected Designation of Origin, the only "official" Piave is produced in the Dolomites area, province of Belluno, in the northernmost tip of the Veneto region. Wikipedia)
IL Ritorno's meatballs have been one of our favorites since they hit the menu four years ago. The flavors, texture and sauce all harmoniously arouse you into a new experience that you've never had before. These are unique—there's a light breading on the outside that creates a nice texture, the meatballs are smoked, and the meat and the sauce have that wonderful Italian Piave Cheese.
5. Noble Crust
8300 4th St N.
St. Petersburg, FL 33702
(727) 329-6041
Noble Crust Website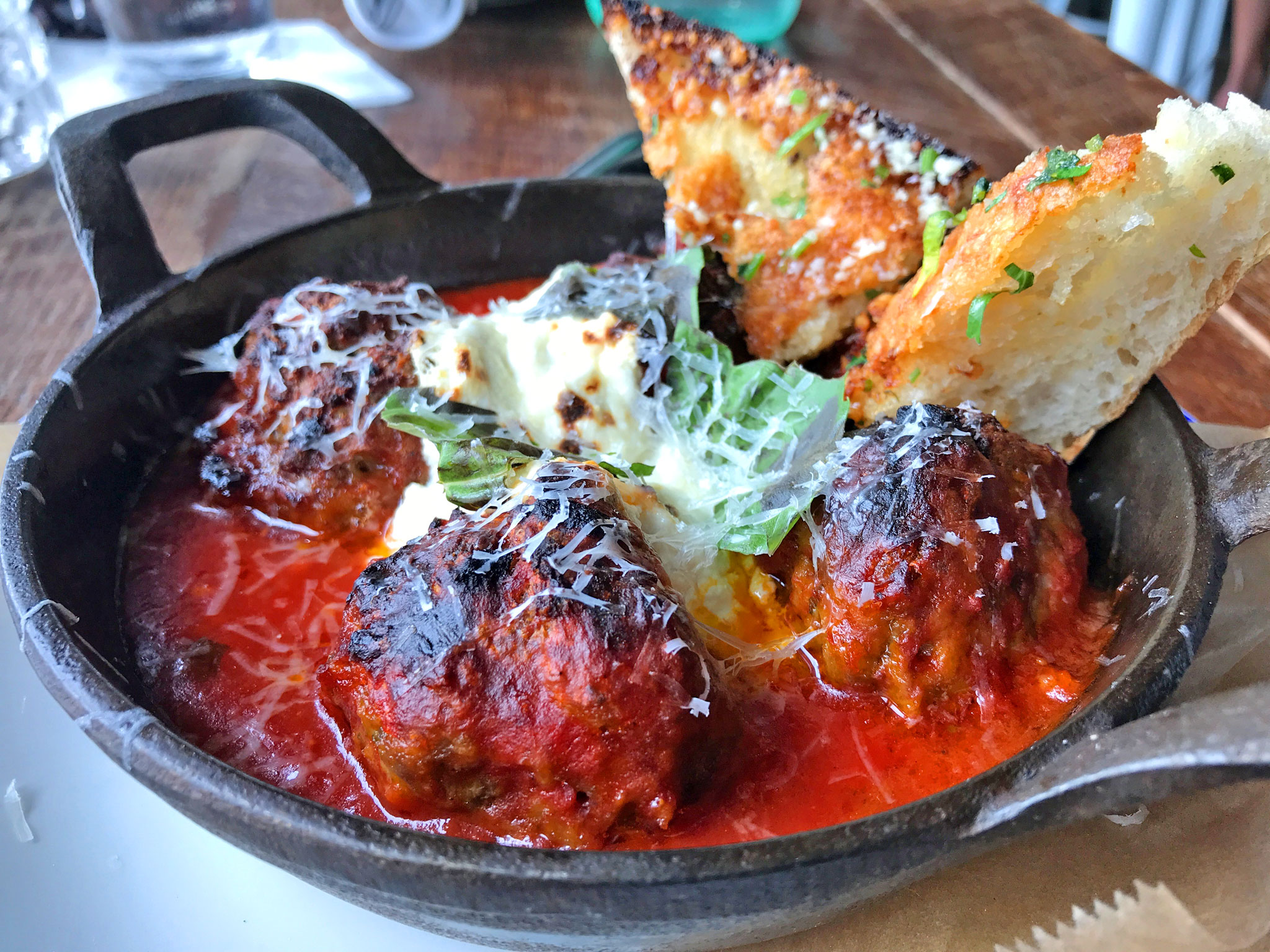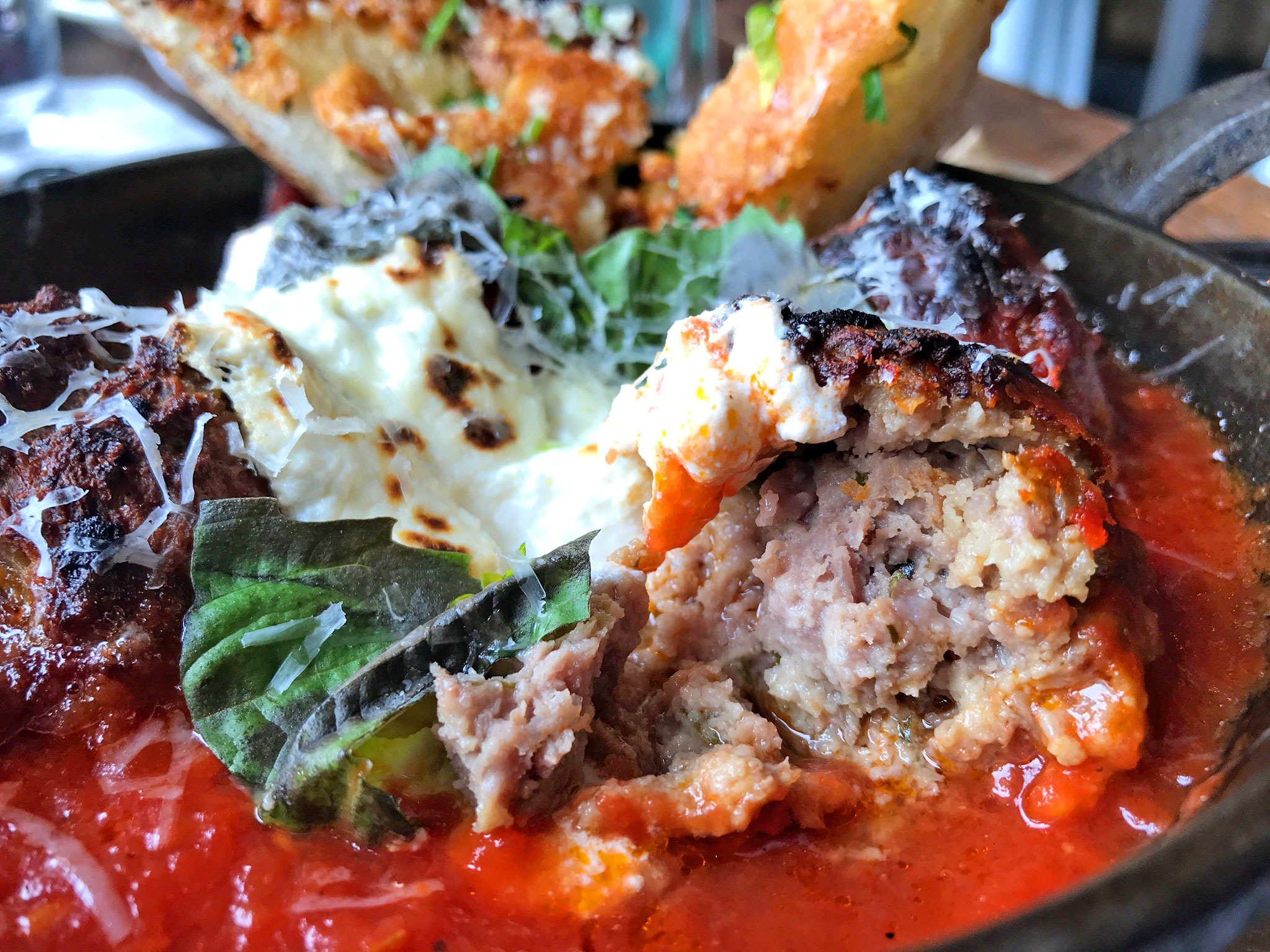 Meatballs – beef + pork, tomato sauce, ricotta, parm, basil.
Noble Crust's meatballs are fantastic—bursting with flavor, rustic in texture, with a nice char on top from a last minute in the broiler, and they come with a delicious parmesan, and let's not forget the basil. What could be an afterthought, wonderfully perfumes your senses just before your teeth sink into the land of umami, tang and spice. The basil of course also adds a nice green brightness to the mix.
Just like Fabrica, Noble Crust also made the top 10 pizzas list.
6. Pizza Box
923 Central Ave
St. Petersburg, FL 33705
(727) 623-0444
Pizza Box Website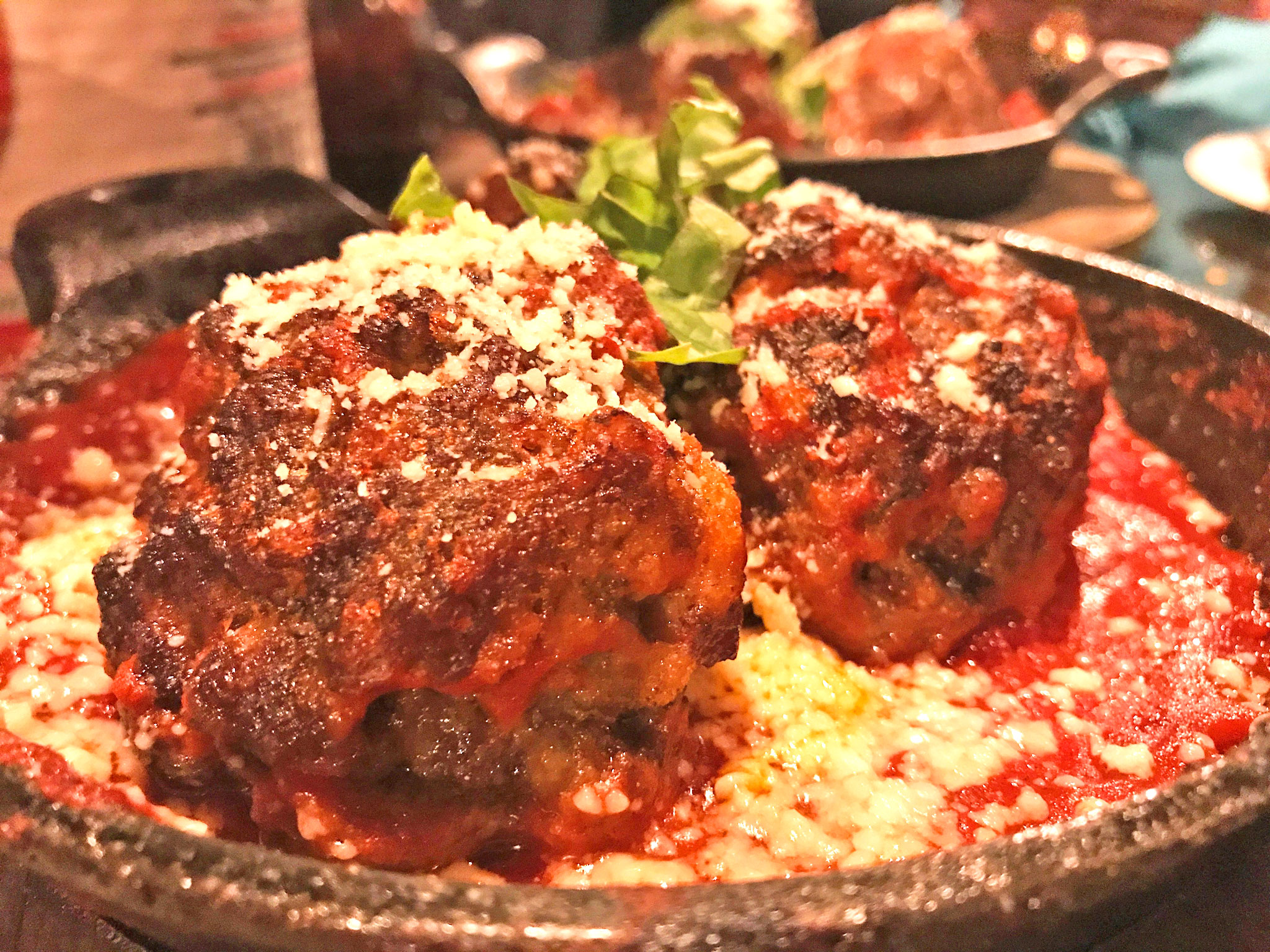 Meatballs – Made with Angus brisket and short rib with garlic, onions and bread crumbs.
Just like IL Ritorno, Pizza Box has been one of our favorites for over four years now.
The flavors and textures are phenomenal, and unique. The sole cooking implement at Pizza Box is the wood-fired oven that Adam (Chef & Co-Owner) made himself. So, the meatballs are cooked and smoked at 700 degrees. They have a smokey flavor, and an excellent hard char on the outside.
Pizza Box is also on the top 10 pizzas list.
7. The Urban Stillhouse
2232 5th Ave S
St. Petersburg, FL 33712
(727) 440-8040
Urban Stillhouse Website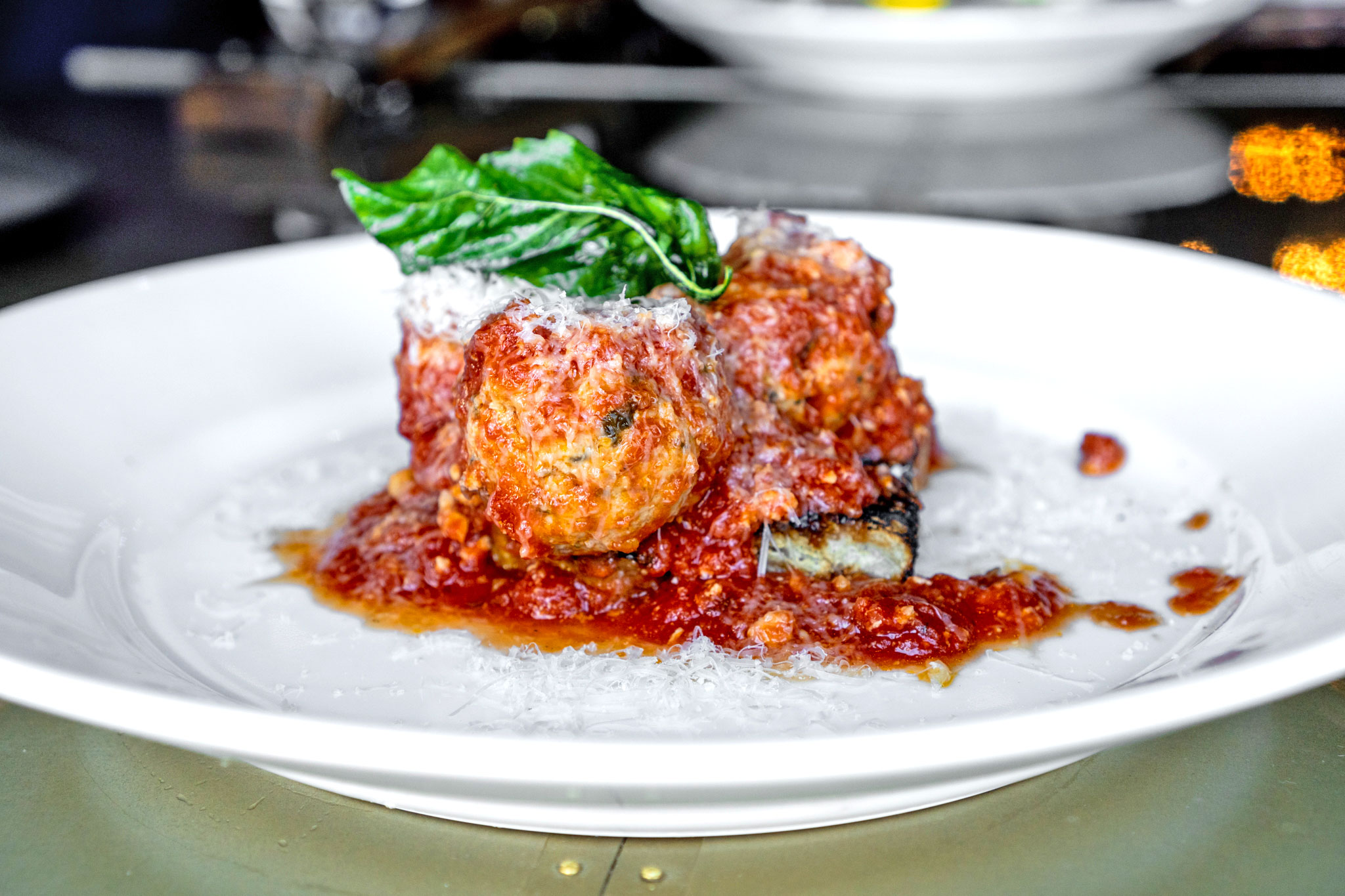 Urban Stillhouse just opened in August 2020. It is a 16,000 square foot space with two floors with great food by Chef Kenny Tufo, formerly of Sea Salt St. Pete. (Full review here.)
The three veal meatballs are made with pine nuts, cherries and San Marzano tomato sauce and then placed atop a plank of fried eggplant. They were extremely delicious, moist, hearty and comforting, and the eggplant is an extra bonus.
Tell us what your favorite meatballs are in the comments below!
Love this post? Save it to your foodie Pinterest board!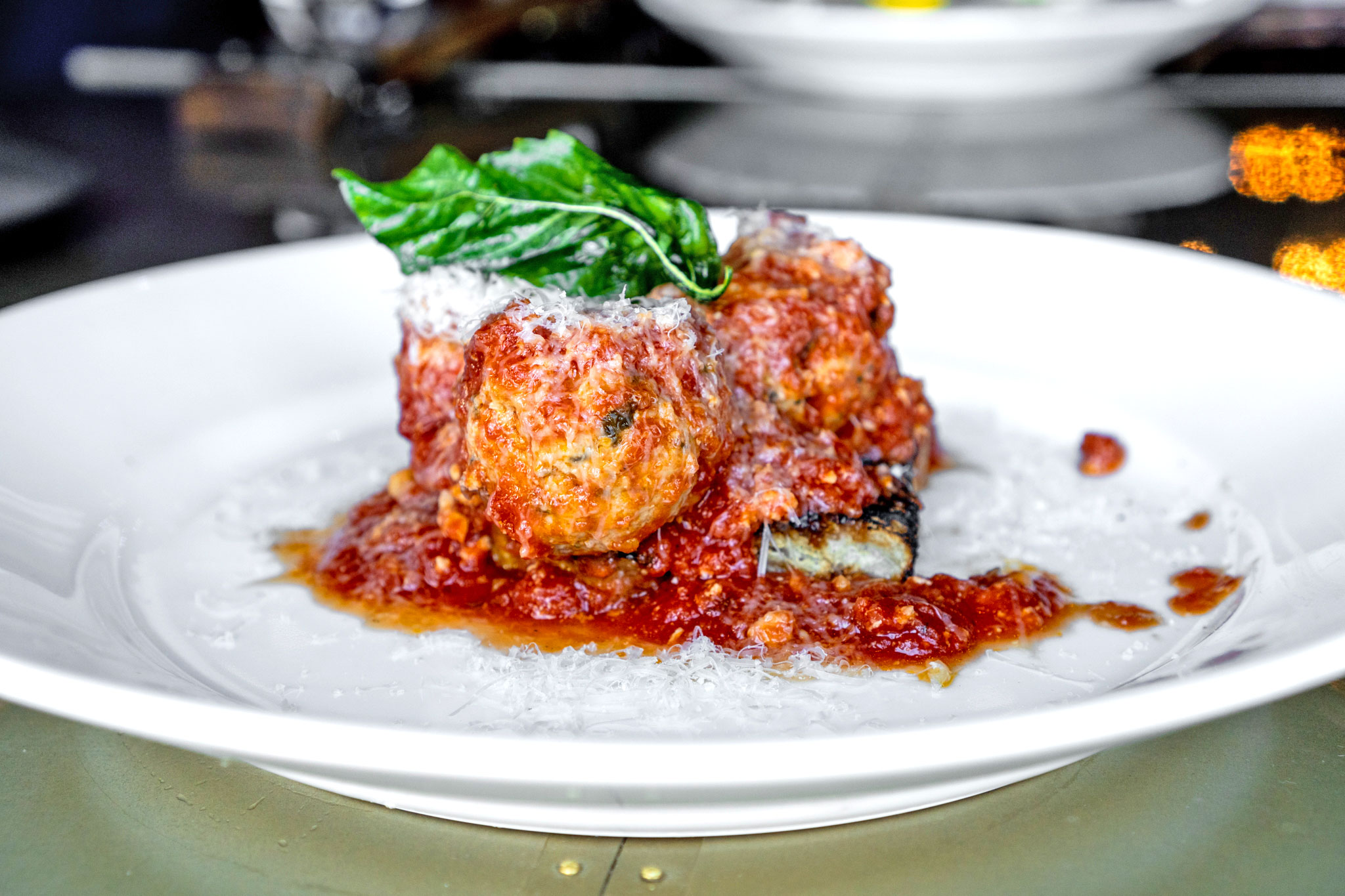 Readers Rating

Rated 5 stars




5

/ 5 (

Reviewers

)

Spectacular
---
Here are the most outstanding Italian meatballs in St. Petersburg, Florida