The Urban Stillhouse Bestows Legendary Food and Drink Upon St Pete
The Urban Stillhouse Bestows Legendary Food and Drink Upon St Pete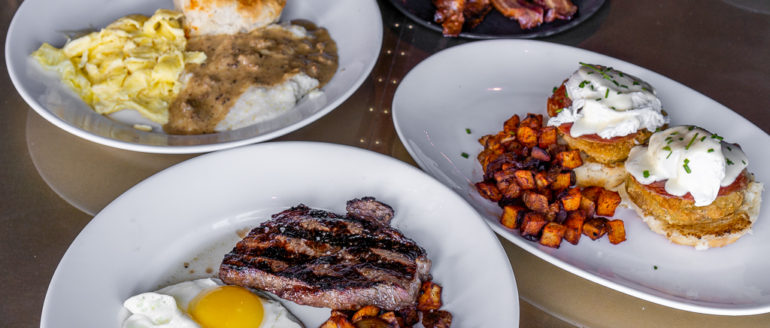 For an ultimate, all-American, gustatory experience, visit The Urban Stillhouse in the Warehouse Arts District in St. Pete. The Urban Stillhouse offers a completely immersive adventure for your tastebuds and senses.
This extraordinary restaurant is influenced by the history of Horse Soldier Bourbon and offers a wonderful space to enjoy great food by Chef Kenny Tufo. The 16,000 sq. ft restaurant houses an extensive restaurant on two levels, two stunning bars, intimate private event spaces and more. The atmosphere is charming with a rustic and modern twist from the leather couches, bourbon barrels, a beautiful fireplace and striking decor every which way you look.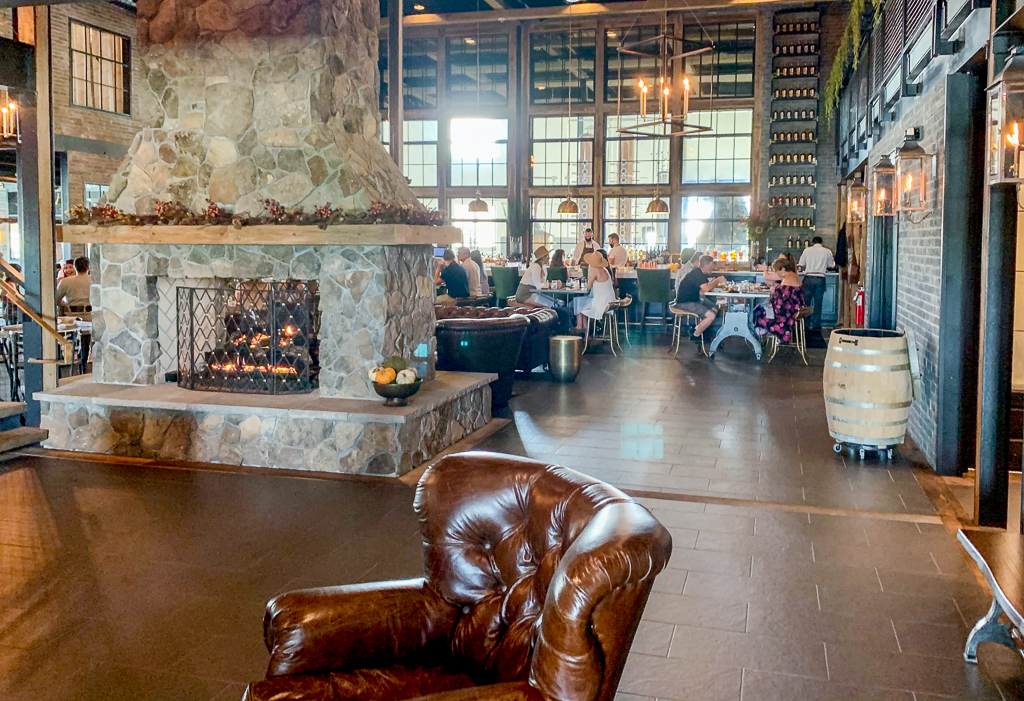 The bar on the first floor has an incredible view of the distillery machinery and a First Responder Monument that honors a group of ex-Special Forces veterans, noted both in the annals of military history and also a movie for being among the first on the ground in Afghanistan post-9/11.
Horse Soldier Bourbon and the monument for these Special Forces is so named for the mode of transport they used to get around Afghanistan—wild Afghan horses. They also happen to be the founders of American Freedom Distillery and The Urban Stillhouse.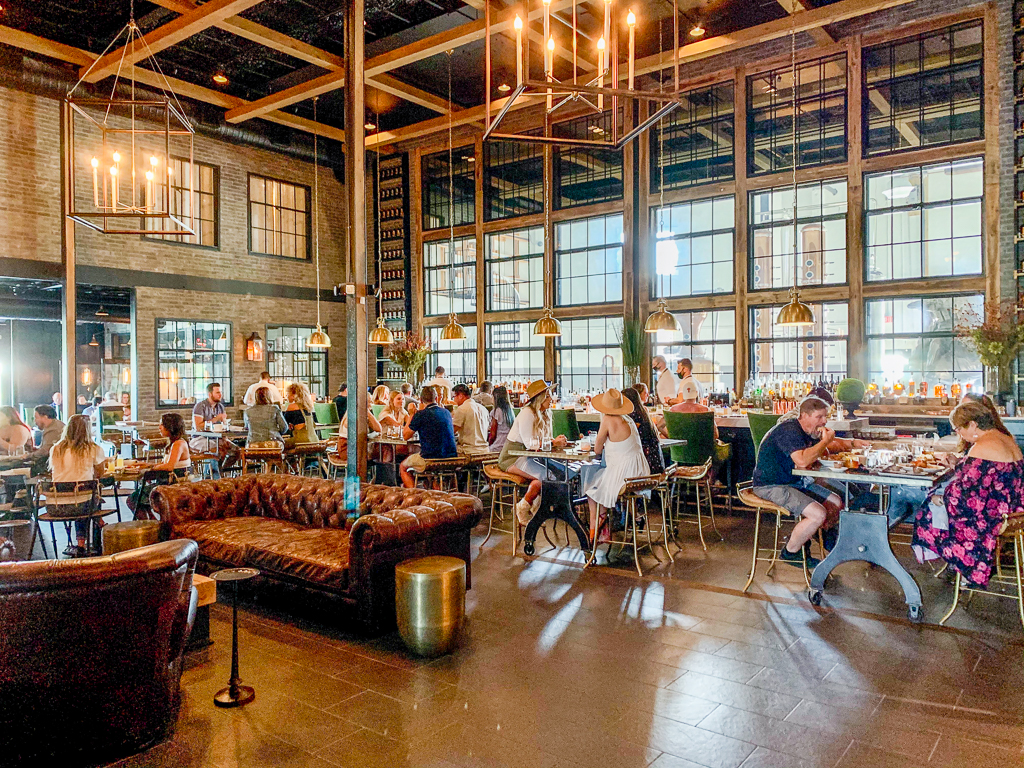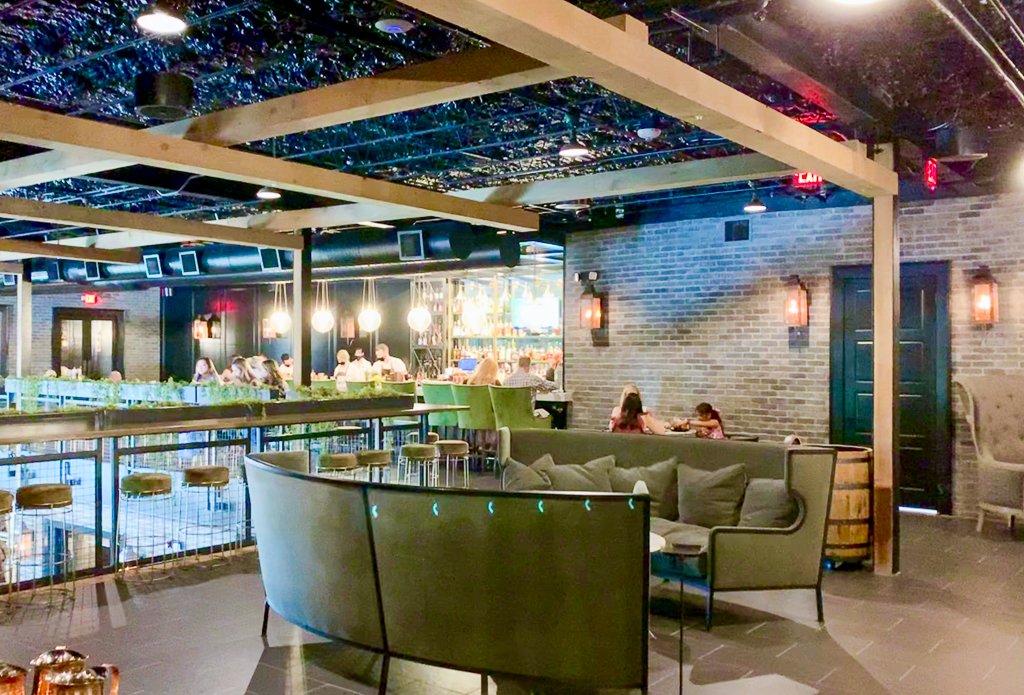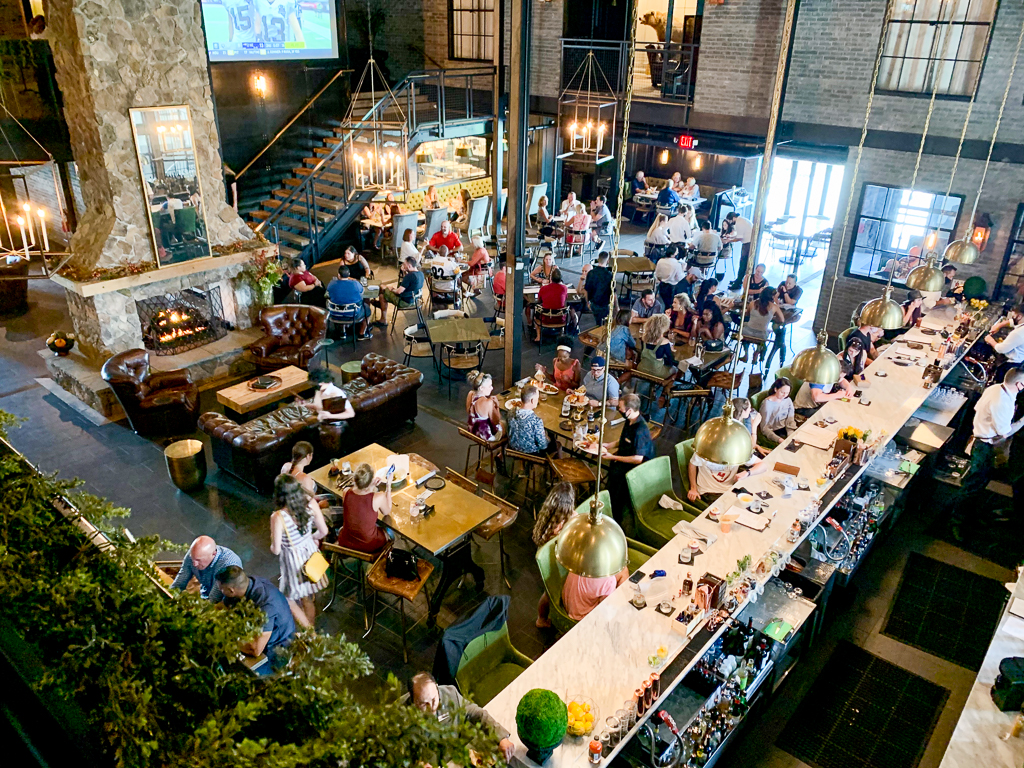 The Urban Stillhouse and Horse Soldier Bourbon have an incredibly moving back story which you can learn all about in their tasting room by one of the educated distillers, whiskey stewards, or if you're lucky like Kevin, Lori, and me, you might stumble upon a lovely history lesson from General Manager, Joey Ledet. You'll instantly learn to appreciate this unique spirit and the actual true heart and dedication that goes into each and every bottle very quickly.
Interested in learning some fun-facts about Horse Soldier and sampling this spirit? The Urban Stillhouse offers tours and tastings on a reservation basis. Be sure to call ahead and make sure to bring your mask.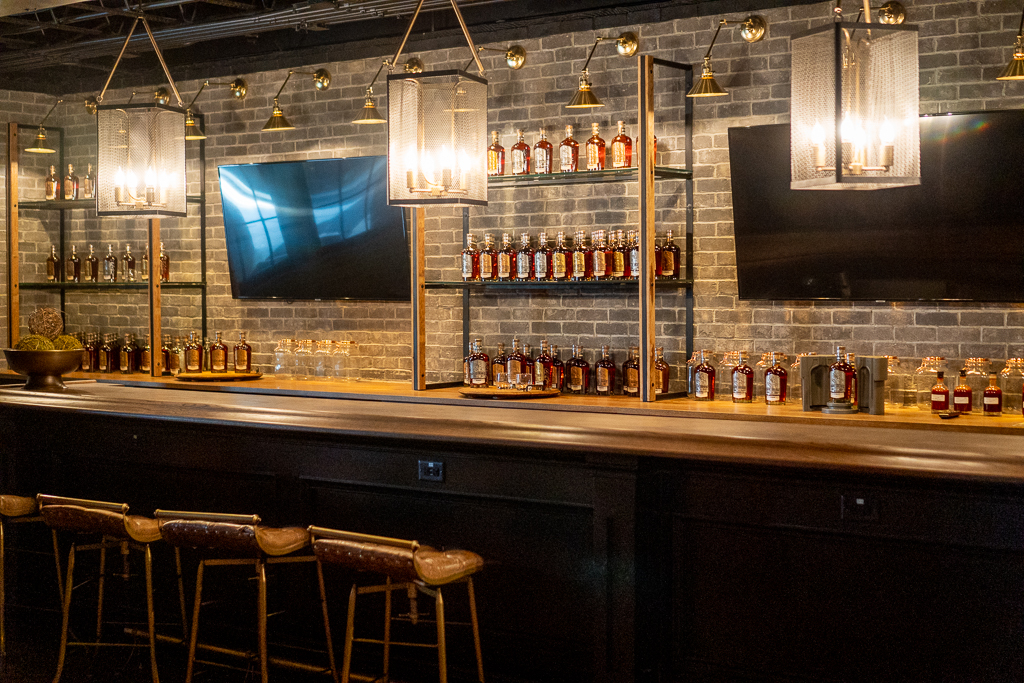 The food menu is excellent with noble staples from locally sourced oysters to comforting pasta dishes and some of the best deviled eggs I've ever had (sorry Grandma Marilyn). Chef Kenny uses only fresh ingredients and local sources of meat, fish, and produce when possible.
For dinner, my Aunt Karen and I had ourselves such an astonishing array of delicious food, drinks and conversation, per usual! The service was top-notch and everyone was very friendly and informative.
To start, we ordered two recommended drinks by our bartender. My Aunt got the Sand & Sea cocktail and I ordered the Split Decision cocktail.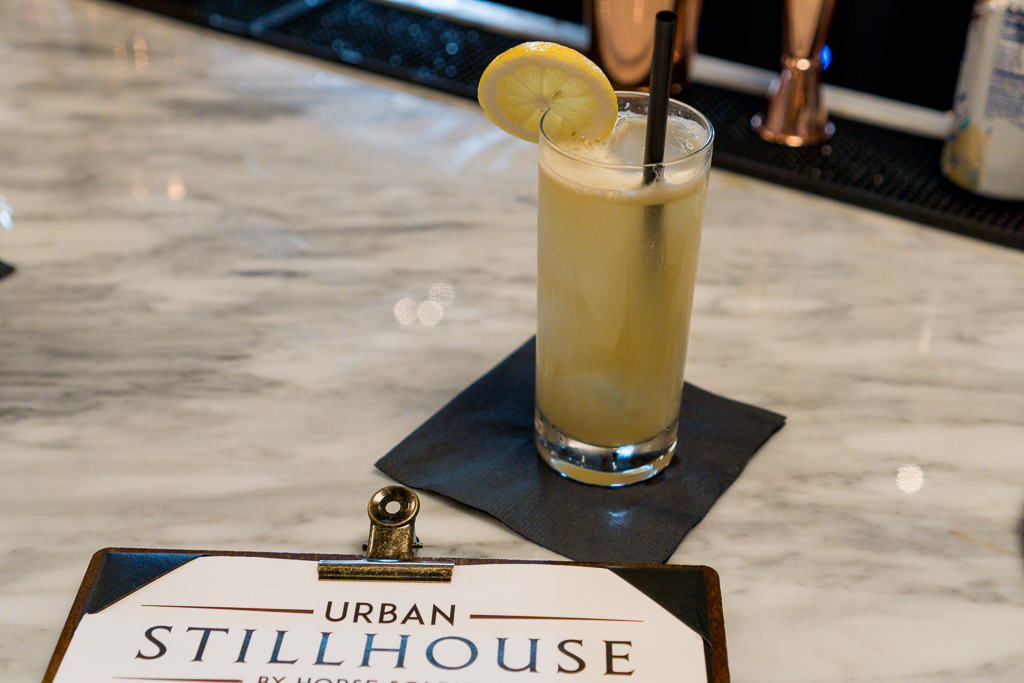 The Sand & Sea cocktail has a mix of Horse Soldier bourbon, cinnamon syrup, lemon, orange and coconut soda. My Aunt ordered hers without cinnamon syrup. She enjoyed it and said it was quite refreshing.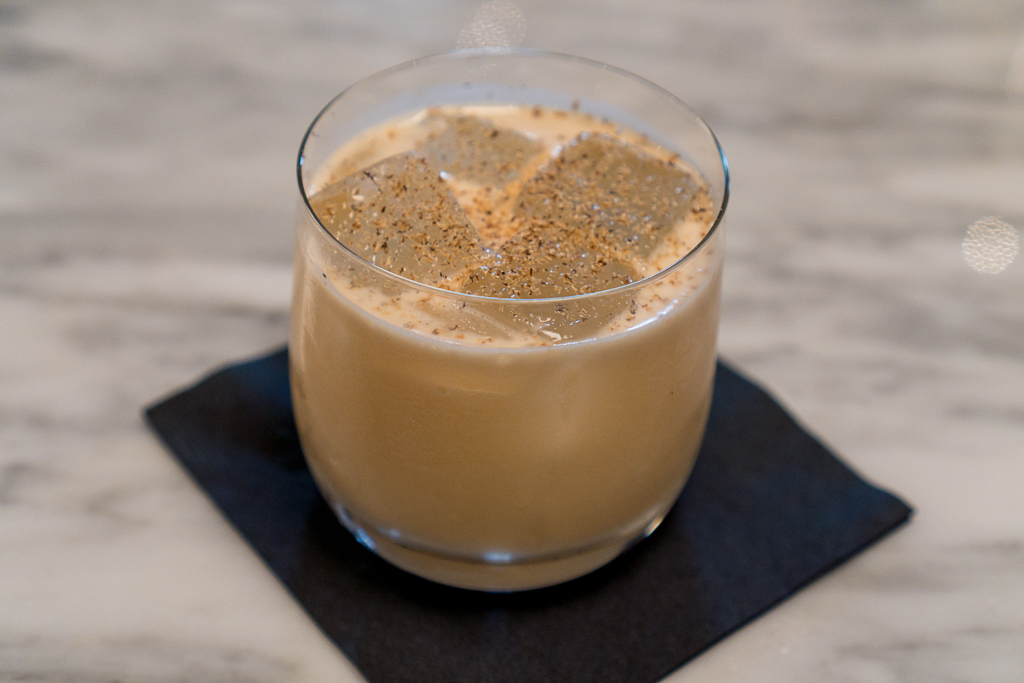 The Split Decision was very smooth and a perfect drink to sip on with Horse Soldier bourbon, sugar, lemon, peach liqueur, Greek yogurt and nutmeg.
To start off on the food side of things, we ordered a few shareable snacks that were recommended to us.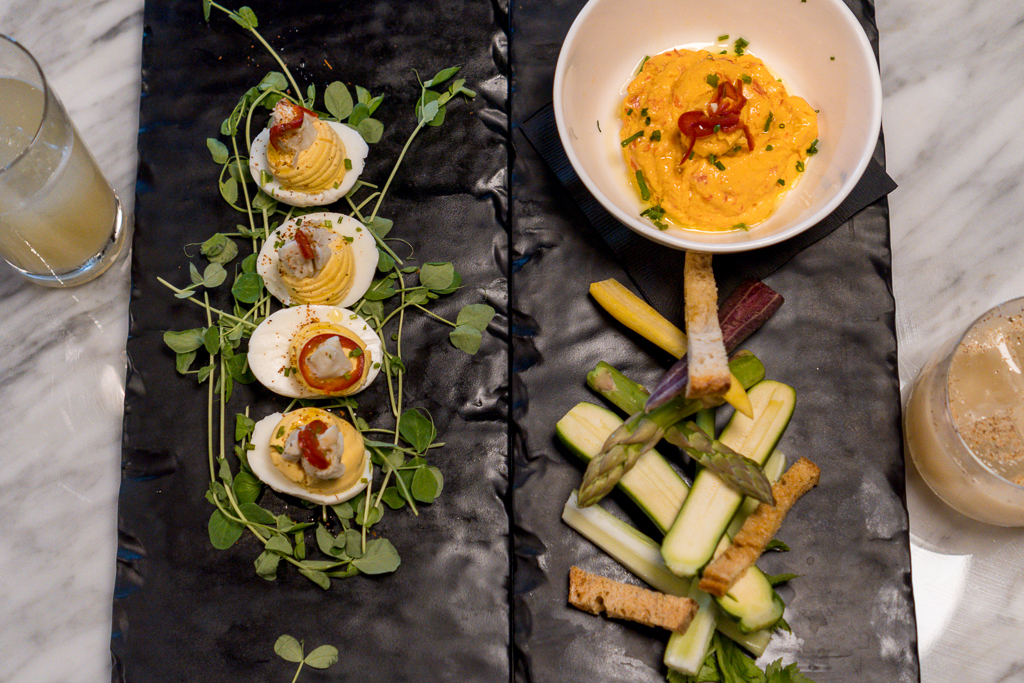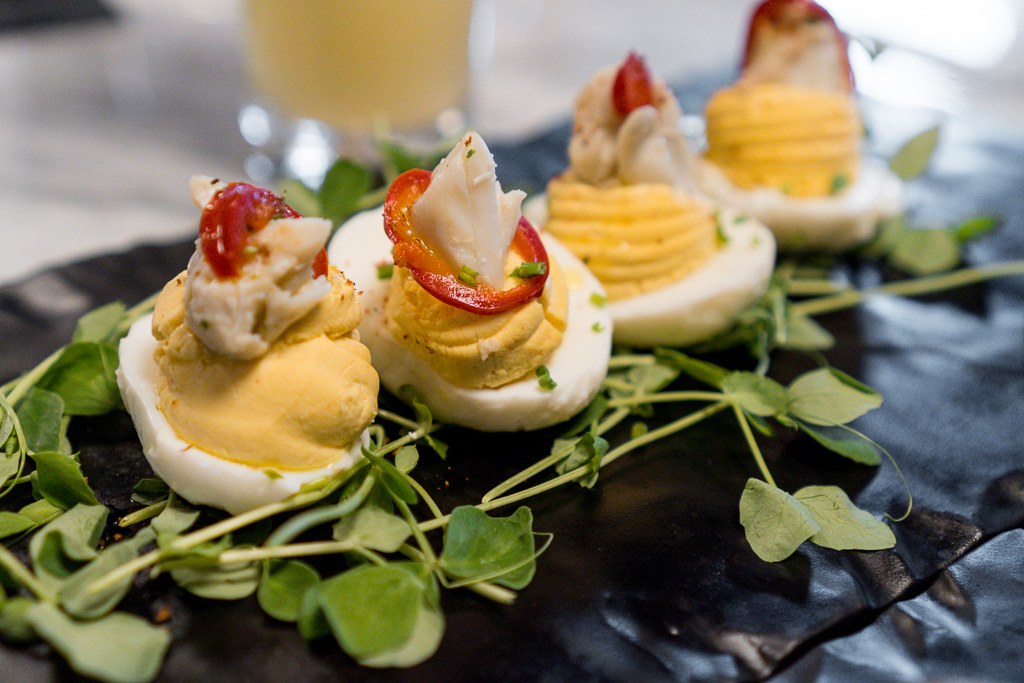 The Deviled Crab Stuffed Eggs are out of this world with cajun season, lump crab meat, and pickled fresno chili. Do yourself a favor and order these no matter what! For such a simple appetizer, I can rave about the flavor in each bite forever. The crab on top added so much personality and taste, as well.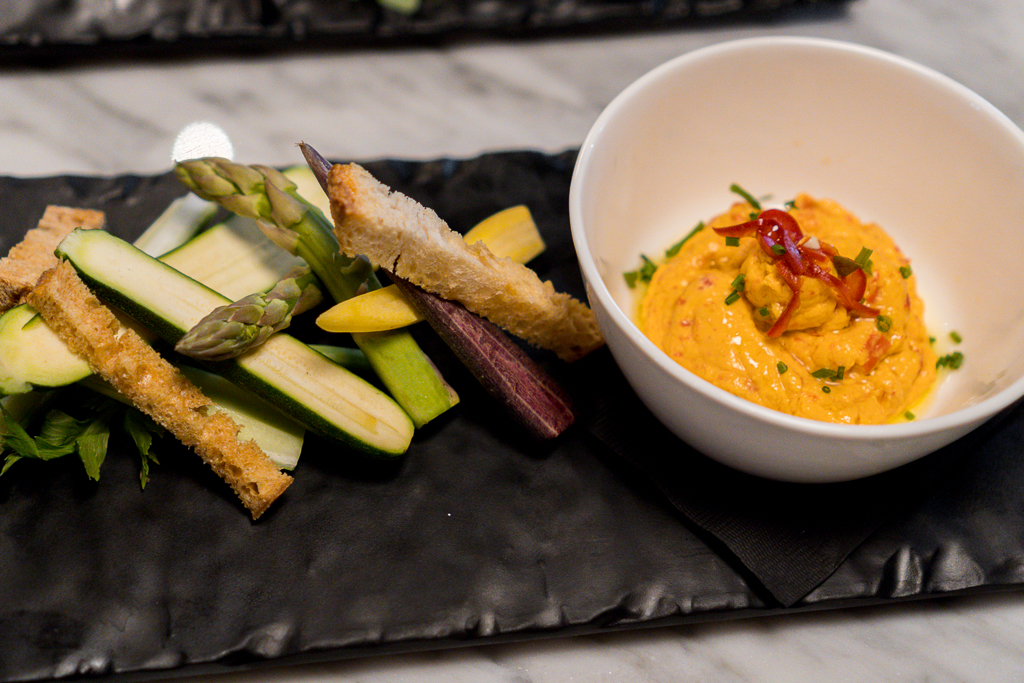 Everyone behind the bar was raving about the House Made Pimento Cheese, and I'll never turn down cheese, so of course, we ordered it. The pimento cheese was creamy with a little spicy kick to it. The crudité market veggies and sourdough toast made for perfectly crunchy pairings that scooped up a good amount of cheese for each bite.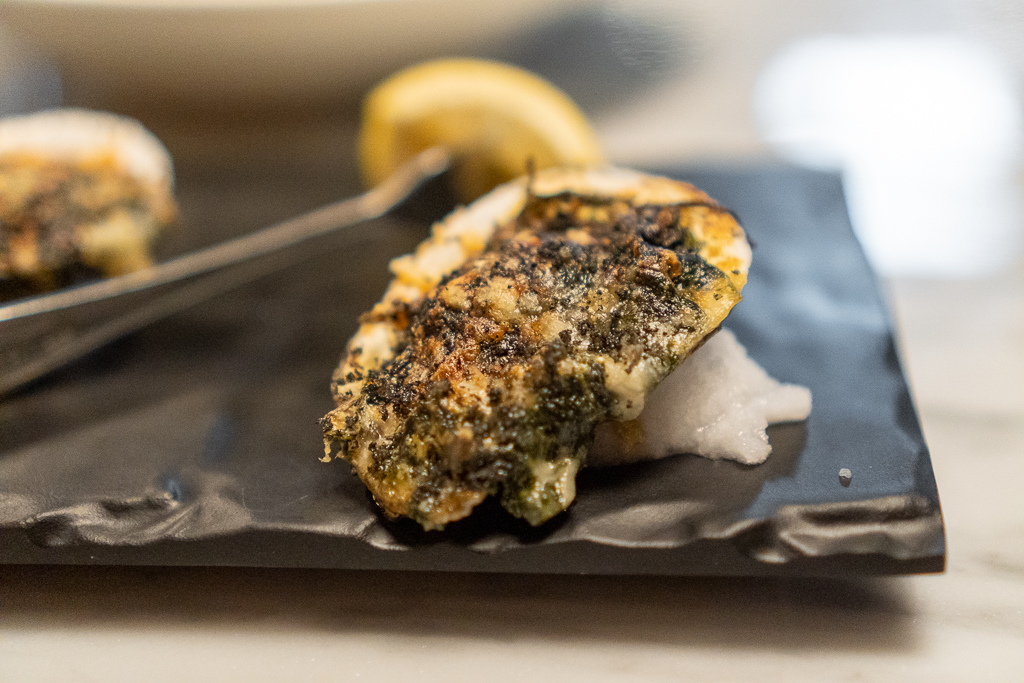 The Broiled Gulf Oysters were calling our name and we're so glad we answered. This starter comes with three oysters and they are jam-packed with savory flavors from the spinach parmesan cream and squid ink breadcrumbs. The saltiness was just right and the squeeze of the lemon really made my tastebuds happy.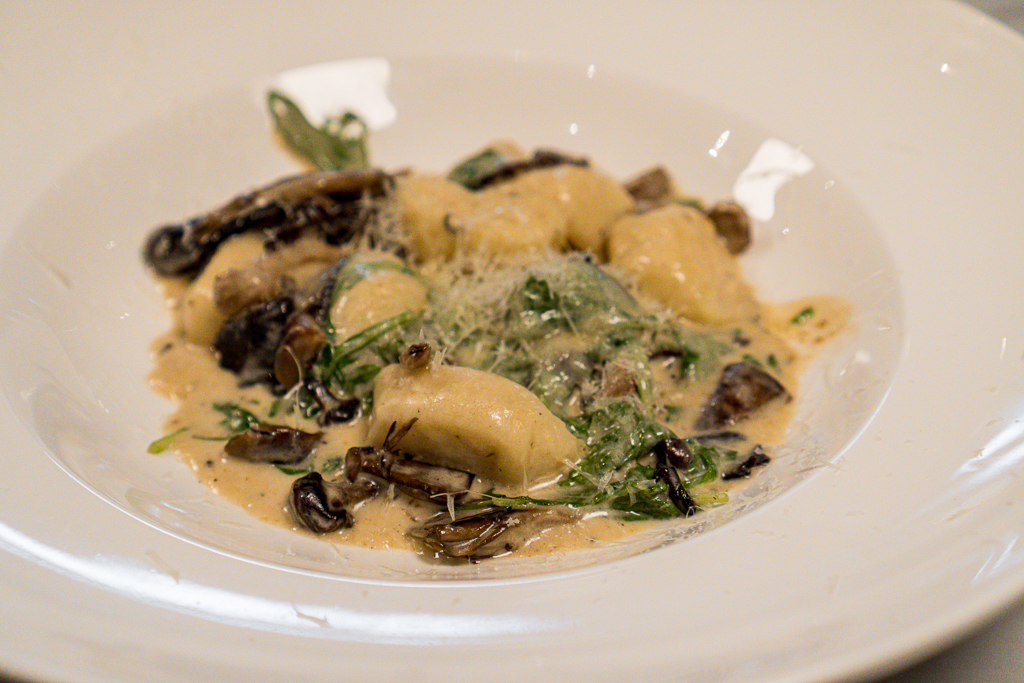 I would highly, highly recommend the Ricotta Gnocchi if you love a cheesy and comforting dish. The taleggio cheese sauce is an ideal creamy sauce for a decadent dish, also tossed with wild mushrooms, arugula and watercress. The gnocchi was flawless with a soft and warm bite that you don't ever want to end.
On my second visit with Kevin and Lori, we had ourselves an enjoyable Sunday Funday brunch outing. The brunch menu at The Urban Stillhouse is only available on Sundays and the majority of the menu is exclusive to brunch with a few exceptions like the Ricotta Gnocchi, Oysters and a few others. They had live music with an acoustic musician singing covers of a variety of genres that was spot-on with the vibe. The food and drinks exceeded my expectations and I cannot wait to go back for more!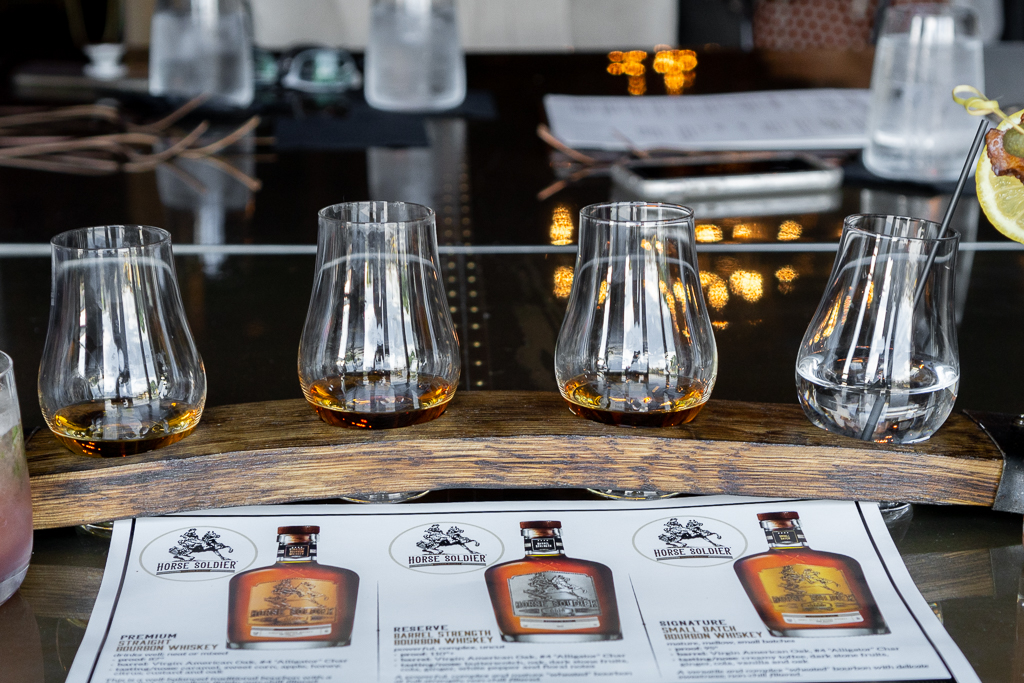 Lori, a nightly bourbon drinker, got the Horse Soldier Bourbon Tasting Flight. For more information on each pour, check out the image below. The glasses are placed in the same order as you read left to right across the menu. I also learned from the Bourbon enthusiasts (Kevin and Lori) that the glasses in the flight are specifically designed for Bourbon and Scotch. Just like champagne and wine have dedicated glasses, so does whiskey. These Glencairn Whisky Glasses are made to really let the drinker savor the taste and aroma. The tapered mouth allows your nose to inhale as the whiskey approaches your lips which makes for an overall better experience.
Kevin said he liked them best in this order: Barrel Strength Reserve – 110 proof, Premium Straight – 87 proof, Signature Small Batch – 95 proof. In contrast, Lori liked them best in this order: Signature Small Batch, Premium Straight and Reserve Barrel Strength.
The bourbon is what you would expect from a premium distillery. Lori says, "I like to describe bourbon like a warm blanket that coats my tongue with a slight sweetness and gently rocks me to sleep with its velvety finish. Hence my nightly nightcap."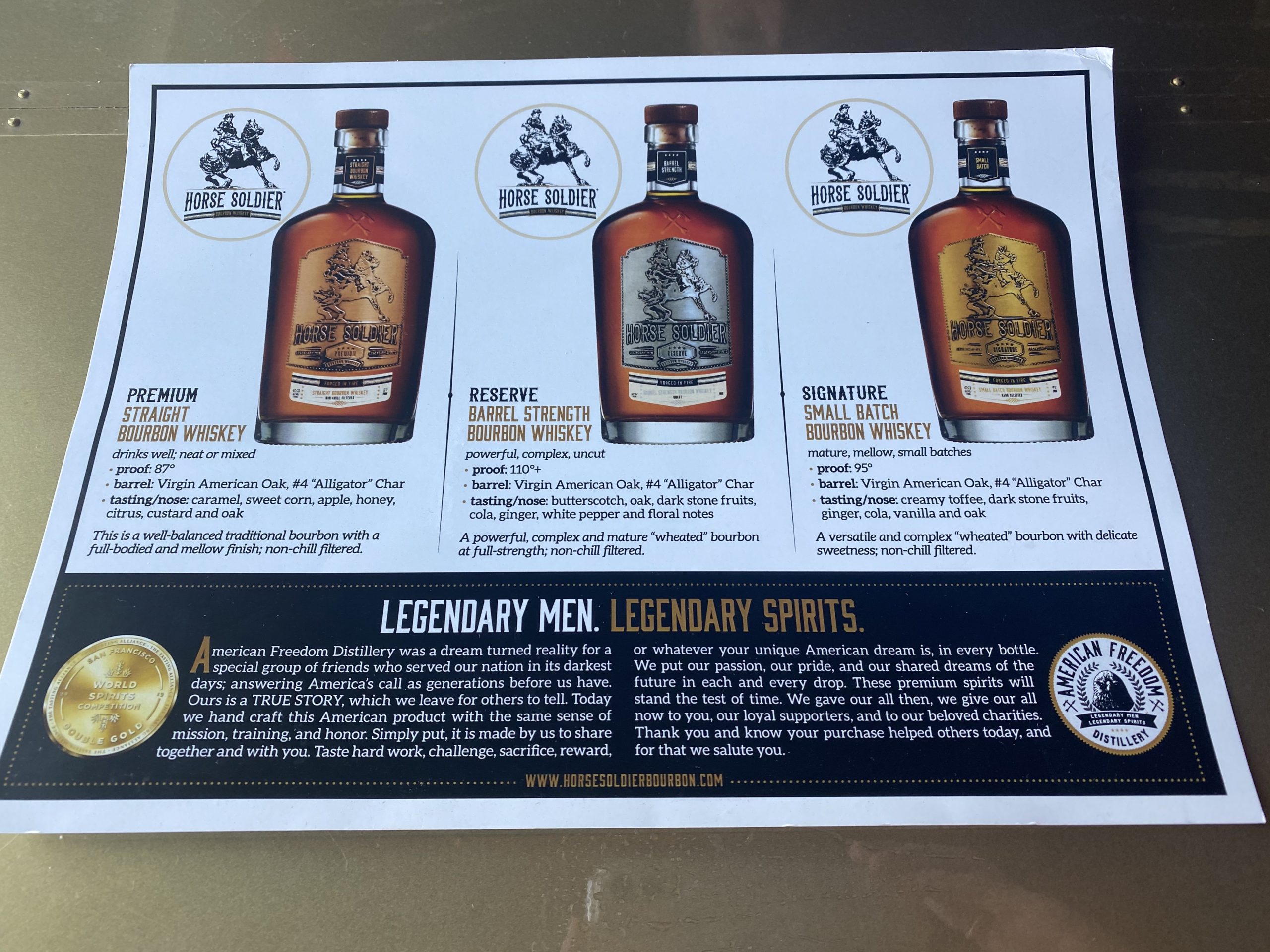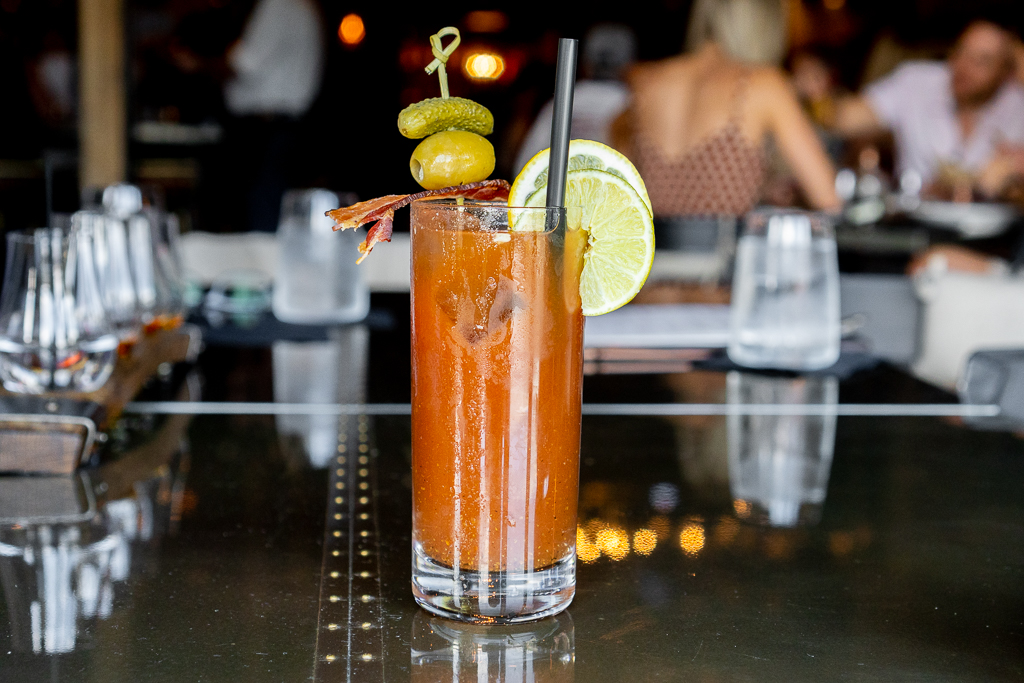 If you like bacon and Bloody Mary's, this one is for you. The Hair of the Dog cocktail is a mix of bacon fat-washed Horse Soldier Bourbon, house blended bloody mix, topped with bacon. Kevin stated that this Bloody Mary deserves a spot on our Top Bloody Mary List. At first, he was skeptical that bourbon would work in this drink, thinking it would overpower the flavor, but at the same time couldn't resist bacon fat-washed bourbon. But he said it actually worked splendidly and the house blended bloody mix was superb. Win-win.
The infused bacon fat whiskey has a whole process that Kevin knows very well. It goes something like this: prepare bacon, pour the bacon fat into a jar with whiskey and mix it up, then freeze the mixture in which the fat separates from the whiskey leaving behind the flavor. You then ditch the separated fat, pour the whiskey into a new glass and enjoy.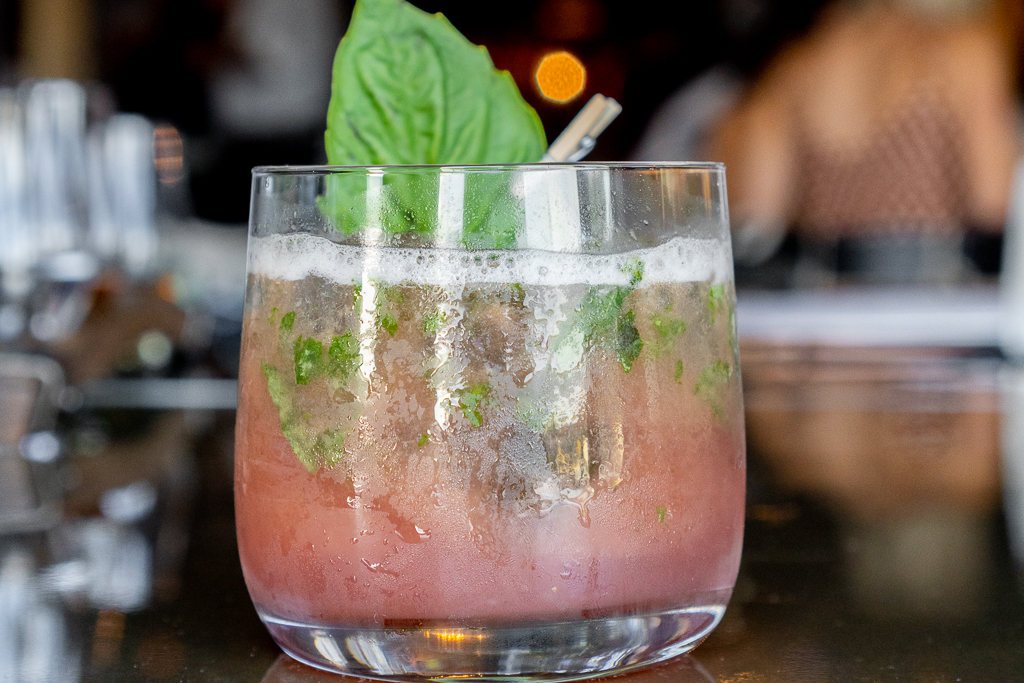 A completely opposite drink from Kevin's Bloody Mary, the Sunday Smashed Cocktail was sweet, light and very refreshing with a mix of Horse Soldier Bourbon, lemon, sugar, raspberry and basil. I definitely prefer my bourbon mixed with something sweet. This cocktail was rich and fruity, just how I like it.
Now let's get to talking about brunch food…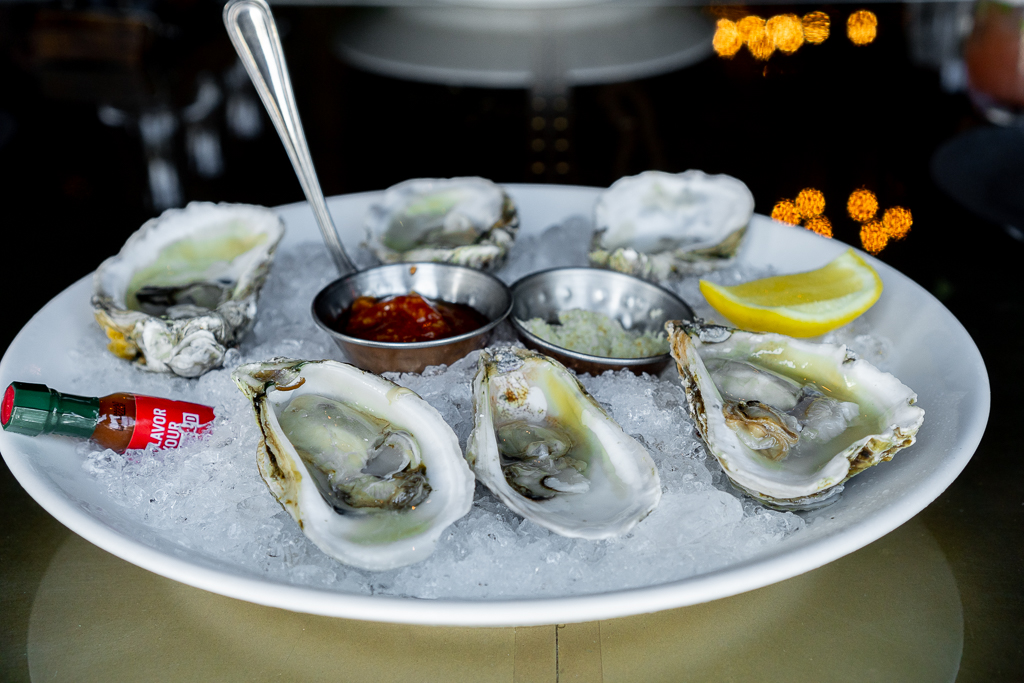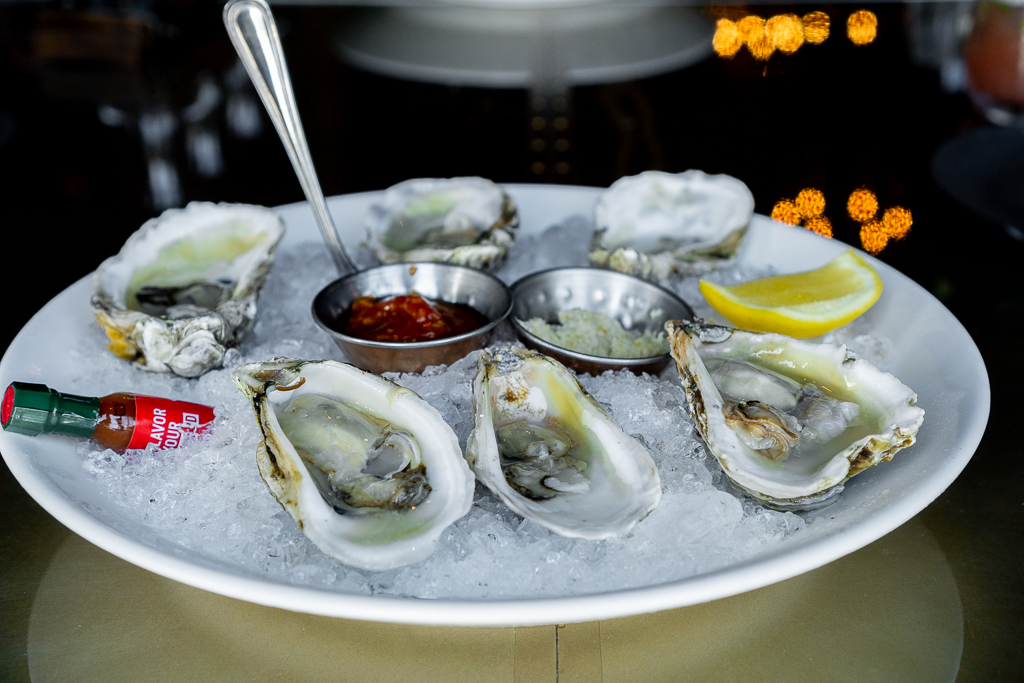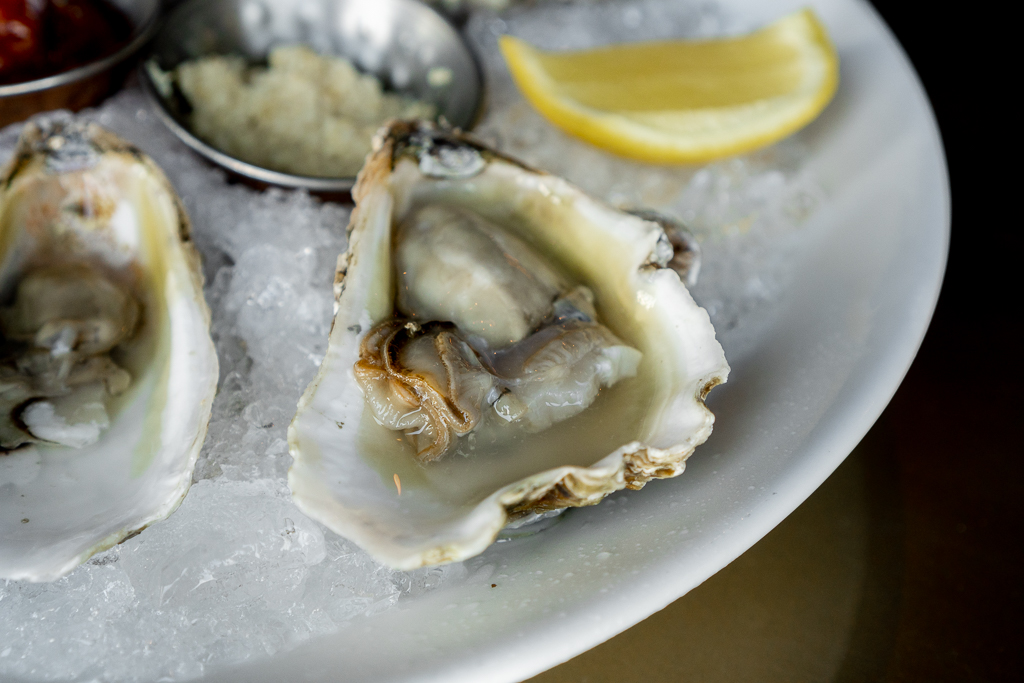 Yes. 100% yes, you should order the raw oysters. These were hands-down, the best oysters I've ever had and that was the consensus around the table. They came with fresh horseradish, Pernod spiked cocktail sauce and apple cider mignonette. To be clear, they typically are served with three oysters from the west coast of the US and three oysters from the east coast (which were the Lost Coast oysters this week). We asked for them all to be the Lost Coast oysters.
These local oysters grow on a farm right here in Palma Ceia Bay. They are locally farmed on the "Floating Bag System" from The Lost Coast Oyster Company. Kevin and Lori actually have a very thorough write-up on their experience at the oyster farm that dives deeper into the process and education of these remarkable oysters. It's pretty incredible that they were able to see these oysters as infants out in the water and then taste them all grown up right here in a local St. Pete restaurant!
I definitely recommend reading the Lost Coast Oyster Company's story here.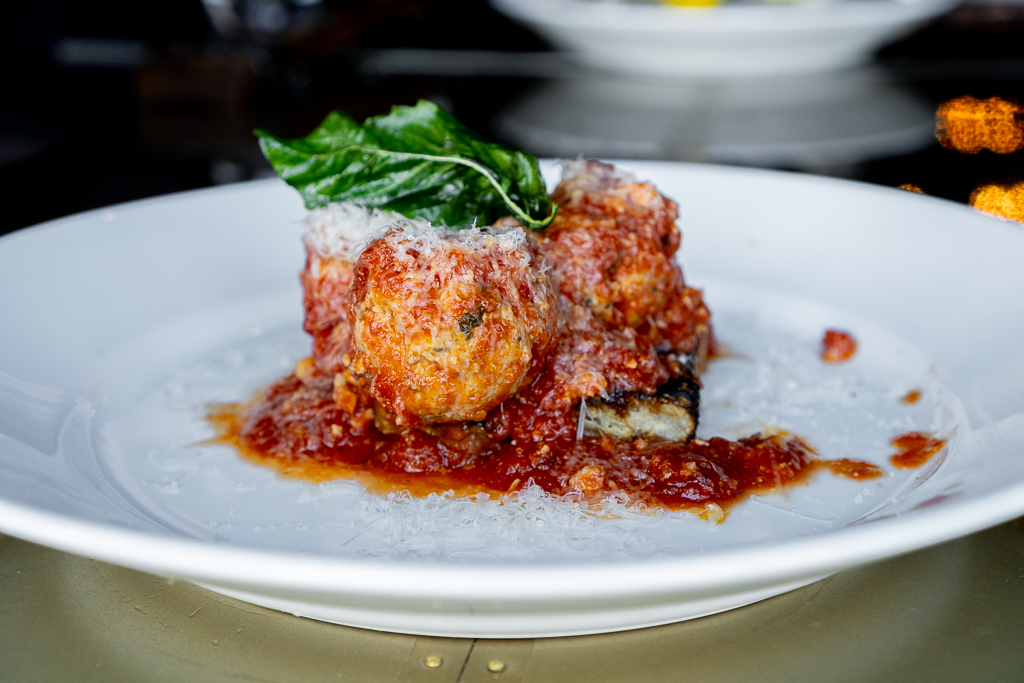 Another great appetizer, the Veal Meatballs were fresh with quality ingredients. The three veal meatballs were made with pine nuts, cherries and San Marzano tomato sauce and then placed atop a plank of fried eggplant. I thought they were moist, hearty and comforting and Kevin raved about the eggplant, and the meatballs.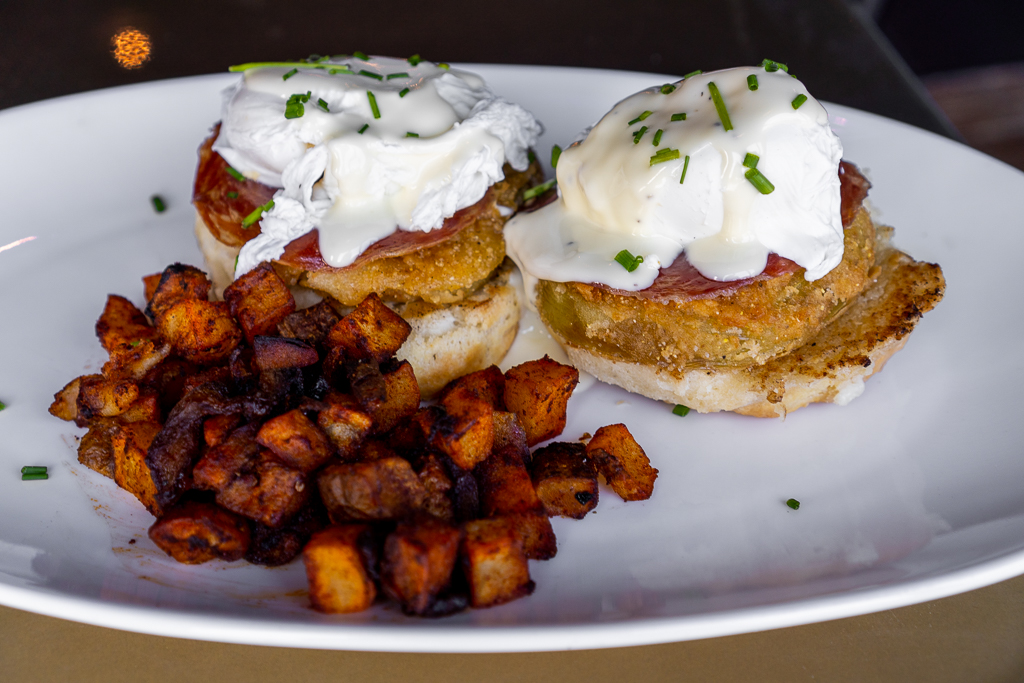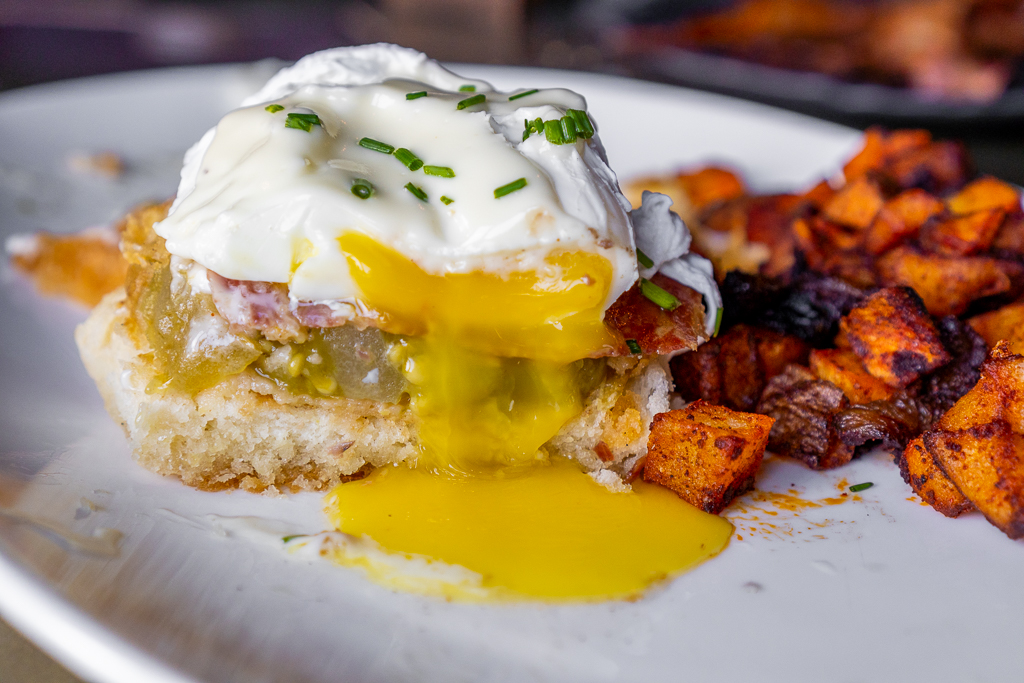 Pretty much anytime I go out for breakfast or brunch, my eyes immediately look for the eggs benedict. The Stillhouse Eggs Benedict is now my favorite in all of St. Pete with biscuits, fried green tomato, porchetta, chive and hollandaise served with home fried potatoes.
The base of the benny was their house-made biscuits which were soft and fluffy but not to the point that they crumbled apart. The fried green tomato was an excellent idea that added a sweet, tartness to this savory dish and, not to mention, the eggs were perfectly poached. The thinly sliced porchetta added a slight amount of saltiness to round out the flavors. The home fried potatoes were great, soft and warm on the inside and crisp and salty on the outside.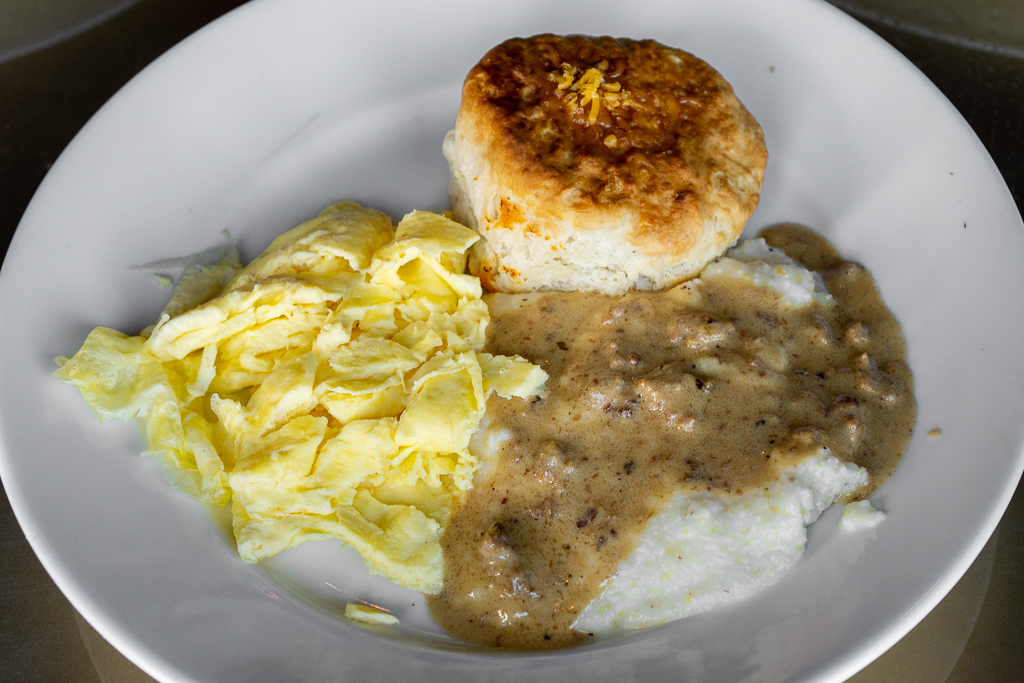 Kevin ordered the Biscuits & Gravy which he enjoyed. The Biscuits & Gravy come with a cheddar biscuit, scrambled eggs, sawmill gravy and heirloom corn grits. He said that his personal preference for grits is a medium to coarse grind, and that these were a fine grind. However, they passed the taste test. You can see the little bit of grits peeking out, untouched by the gravy. Getting a taste of them alone to put them to the test, Kevin thinks they used cream or milk, which is a great way to kick them up to gourmet level.
The Sawmill Gravy was quite good. The biscuit was too, but he said it could have used a little something extra like a little smother of gravy or even some butter. Next time he is putting the grits and gravy on top of it. The "scrambled" eggs were done in an interesting way where they were cooked flat, like an omelette, and then instead of being folded like an omelette, they were sliced like homemade pasta. Pretty neat.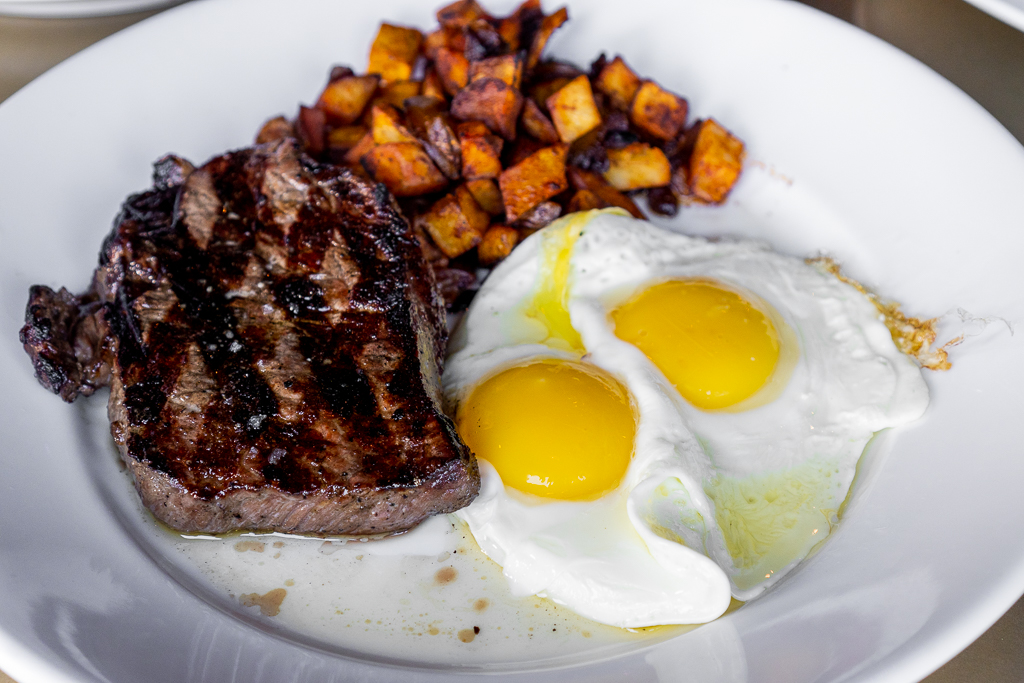 Lori kept it simple and ordered the Steak and Eggs with two sunny side up eggs, a medium-rare steak, and home fried potatoes. This all-American dish paired great with her all-American Bourbon flight.
At first the steak came out over done. No problem, they promptly took it back and replaced it with a perfect medium rare sirloin that she said was perfectly savory in its seasoning. The sunny side up eggs, not they way Lori normally would order them but wanted to try something new, were a little runny on the whites, but tasted delicious. And once again, she gave a big shout out to those potatoes. They tasted like they are fried in bacon grease or duck fat. The flavor on the potatoes was incredible.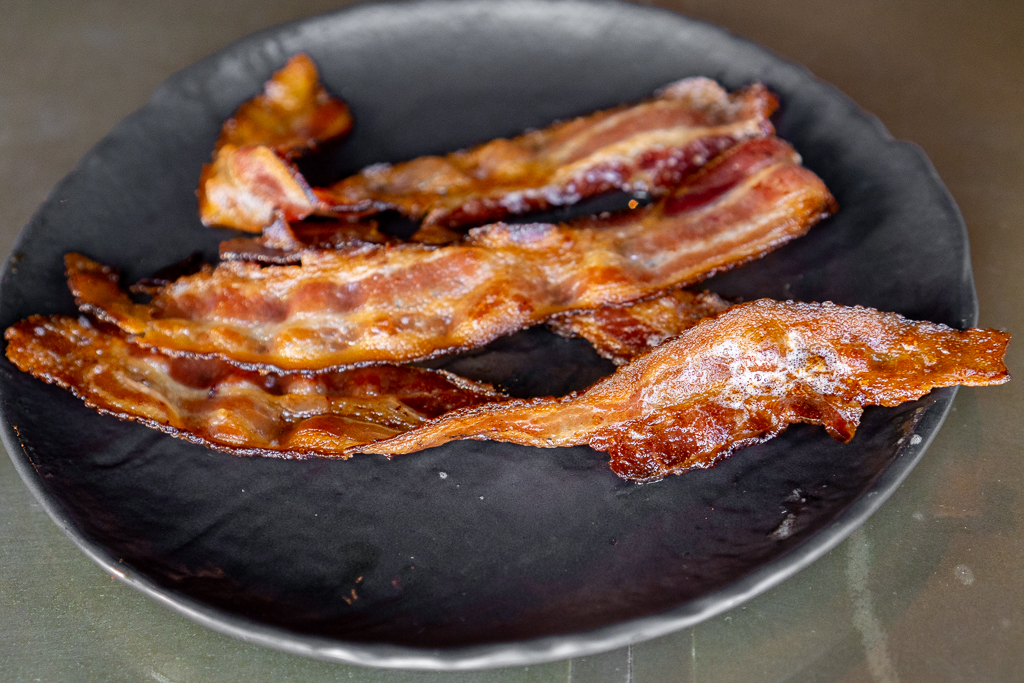 Since I can never manage to make good bacon at home, I always looking forward to ordering some when I'm out. This applewood smoked bacon was perfection in every crunchy and greasy bite. No regrets here!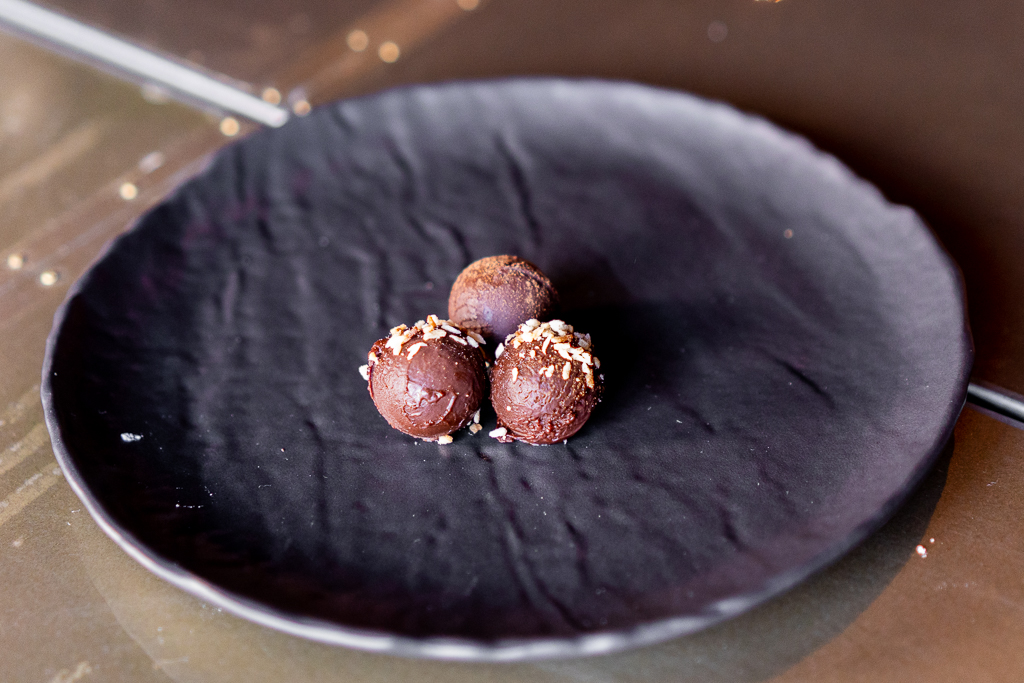 Though our server William tried to tempt us with dessert and we kindly declined because we were all so full, they still brought us these delicious whiskey-infused chocolate truffles. These little balls of chocolate bliss were absolutely dreamy and creamy, which really tied my food experience at The Urban Stillhouse all together.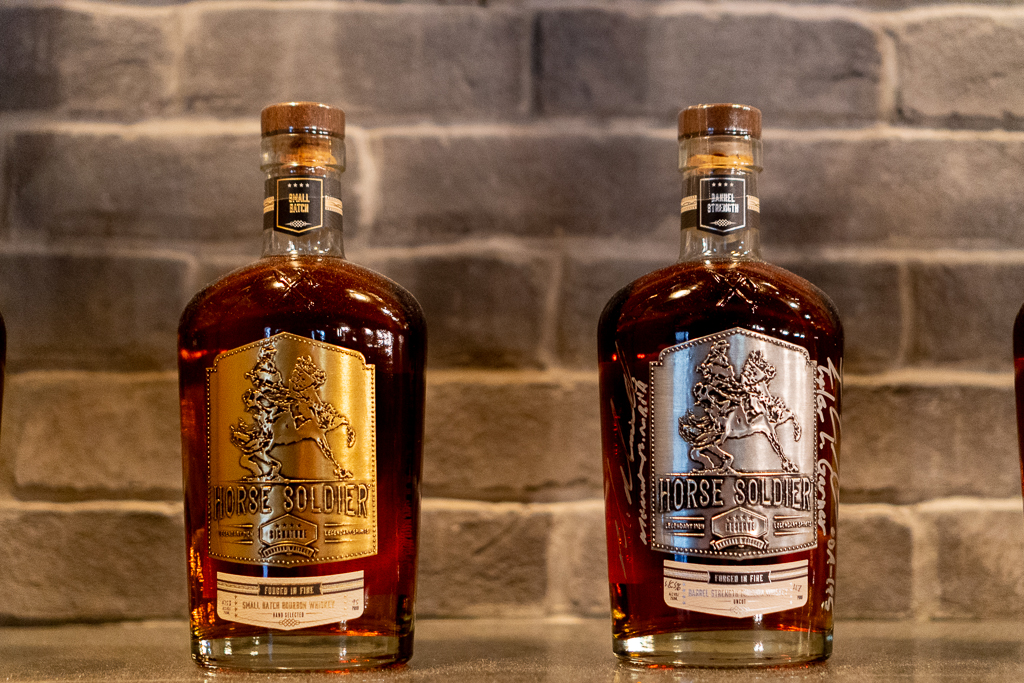 If you made it this far, I have a few facts about Horse Soldier Bourbon to wrap up this review.
The name Horse Soldier came from a brave Special Operations team (ODA595) serving an extremely dangerous mission in Afghanistan immediately following the 9/11 attacks where they rode to war on wild Afghan horses.
The America's Response monument located at the National September 11th Memorial in New York City honors the brave team of Green Berets. Also, the movie 12 Strong depicts their story.
The steel marking on each bottle is donated from the World Trade Center after 9/11 from the New York City Port Authority. The steel honors the spirit of resilience and service after this egregious attack on our country.
American Freedom Distillery launched Horse Soldier in Columbus, Ohio and is now made in Kentucky and will eventually also be distilled in St. Pete. The small-batch distillery location here in St. Pete will offer a unique training facility to educate people on how to make their own bourbon that they can take home with them.
One of the highest-proof versions of Horse Soldier comes packaged in a special box with a military challenge coin and is even signed by Special Forces Commander, Captain Mark Nutsch, and Deputy Commander of Operational Detachment Alpha, Chief Warrant Officer, Bob Pennington. The package also includes a signed military dispatch that the Commander sent from the battlefield. This bottle is $595 honoring the Special Operations team (ODA595) and the majority of the profits are donated back to helping American veteran programs like the Wounded Warrior Project, Supporting American Veterans, and more.
Thank you for making it this far. After reading up on the history of Horse Soldier bourbon, I'm left feeling extremely thankful for the brave men and women who have served, continue to serve, and those we've lost in battle serving. A special thank you to my brother, Philip, and Uncle Paul for their service and now it's only right that I buy them this bourbon and bring them to The Urban Stillhouse next time they're in town.
The Urban Stillhouse by Horse Soldier Bourbon is a unique entertainment space featuring American cuisine centered around a wood-fired grill, innovative craft cocktails, and bourbon education.
DISCLAIMER: Kevin, Lori, Abby, Haley, & Lindsey do not dine anonymously (this would be impossible) and we sometimes get free food (though never expected). However, we dine with the locals and we support our own. You will always get honesty in a respectful manner. We do not include any large national or regional chains in our ratings and reviews. We focus on independent locally owned eateries exclusively.

PLEASE NOTE: Reviews reflect a certain moment in time. Some restaurants stay extremely consistent over many years, and some change for the better or worse. Some things that may change are: chefs, recipes, food suppliers, ingredients, philosophies, ownership, etc. We always hope that you have the same good, or great experience we had.
More Foodies News, Reviews & Recipes
1 Response