Bacchus St Pete – An Experience Unlike Any Other – New Brunch and Traditional Raclette
Bacchus St Pete – An Experience Unlike Any Other – New Brunch and Traditional Raclette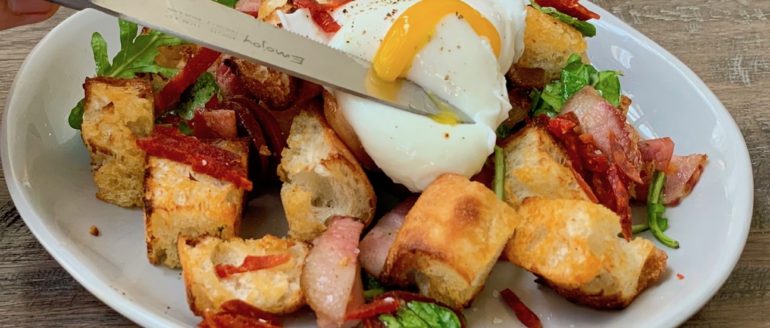 In January 2019, Bacchus St Pete quietly opened its doors offering a European inspired market complete with wine, cheese and charcuterie. Bacchus is not just a market, but a lovely place to eat, drink and unwind. Read our original article on the inspiration of Bacchus before they opened here.
Upon first entering, the decor is bright and airy with a cozy rustic feel. Wooden tables with matching chairs fill the room, some of them in the shape of wine barrels.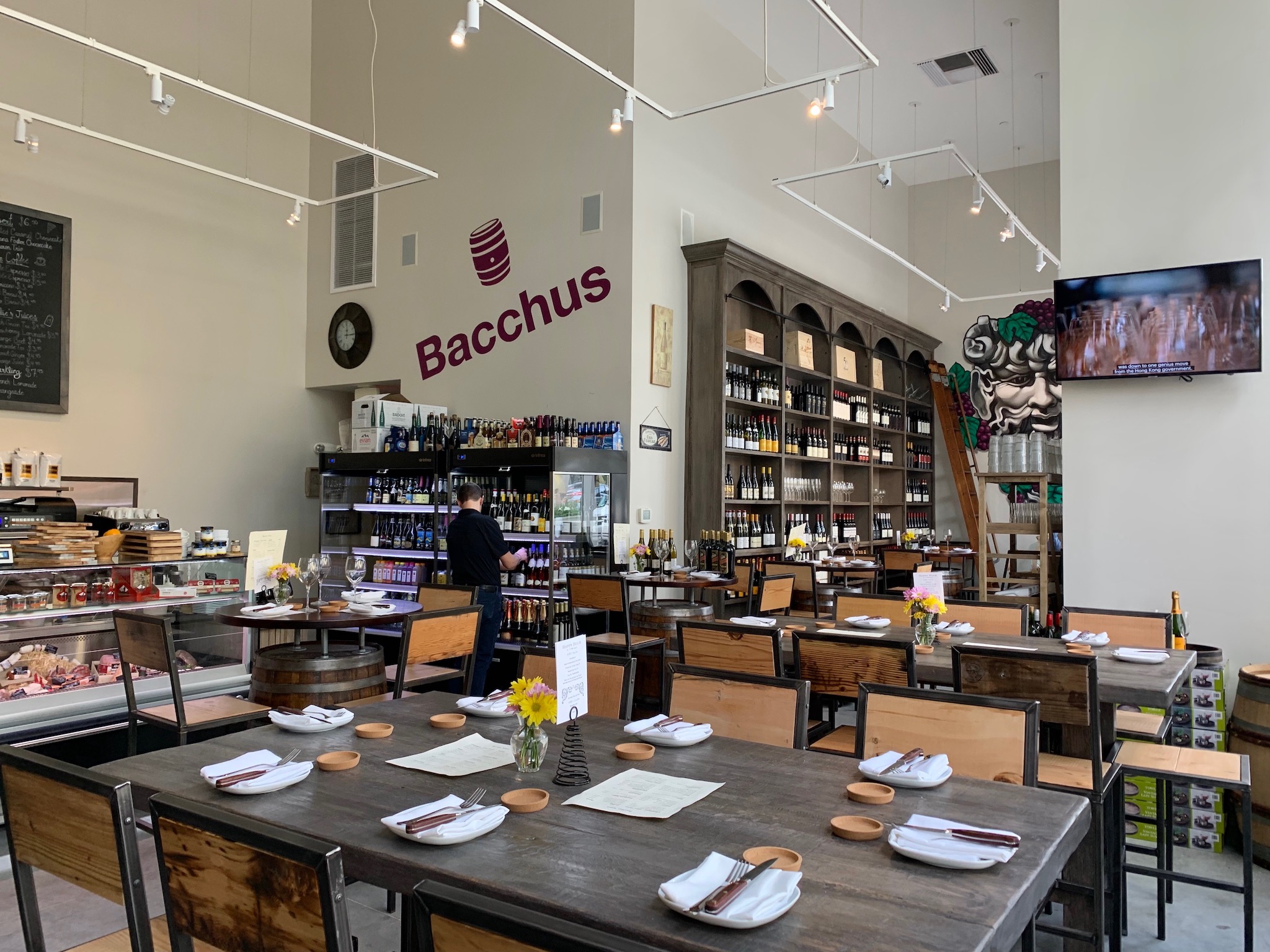 Along the front wall are shelves filled with European delicacies to bring home and create your own creations.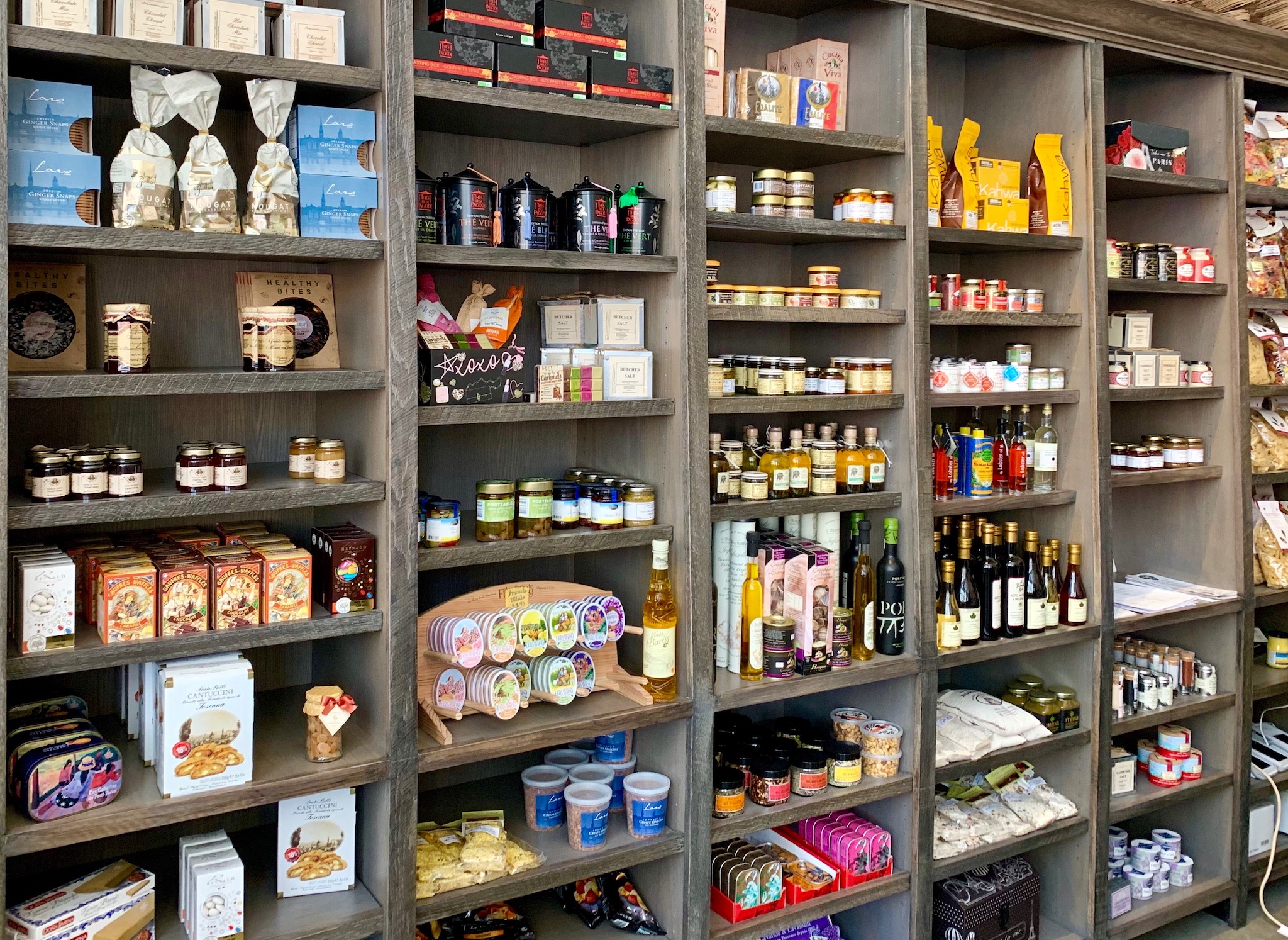 Along the back wall, are many bottles of wine to either drink while you are there or take home to enjoy. There is also a cold case for wine and drinks and a cheese and charcuterie counter for take home goodies.
They offer beautiful customizable gift baskets, as well.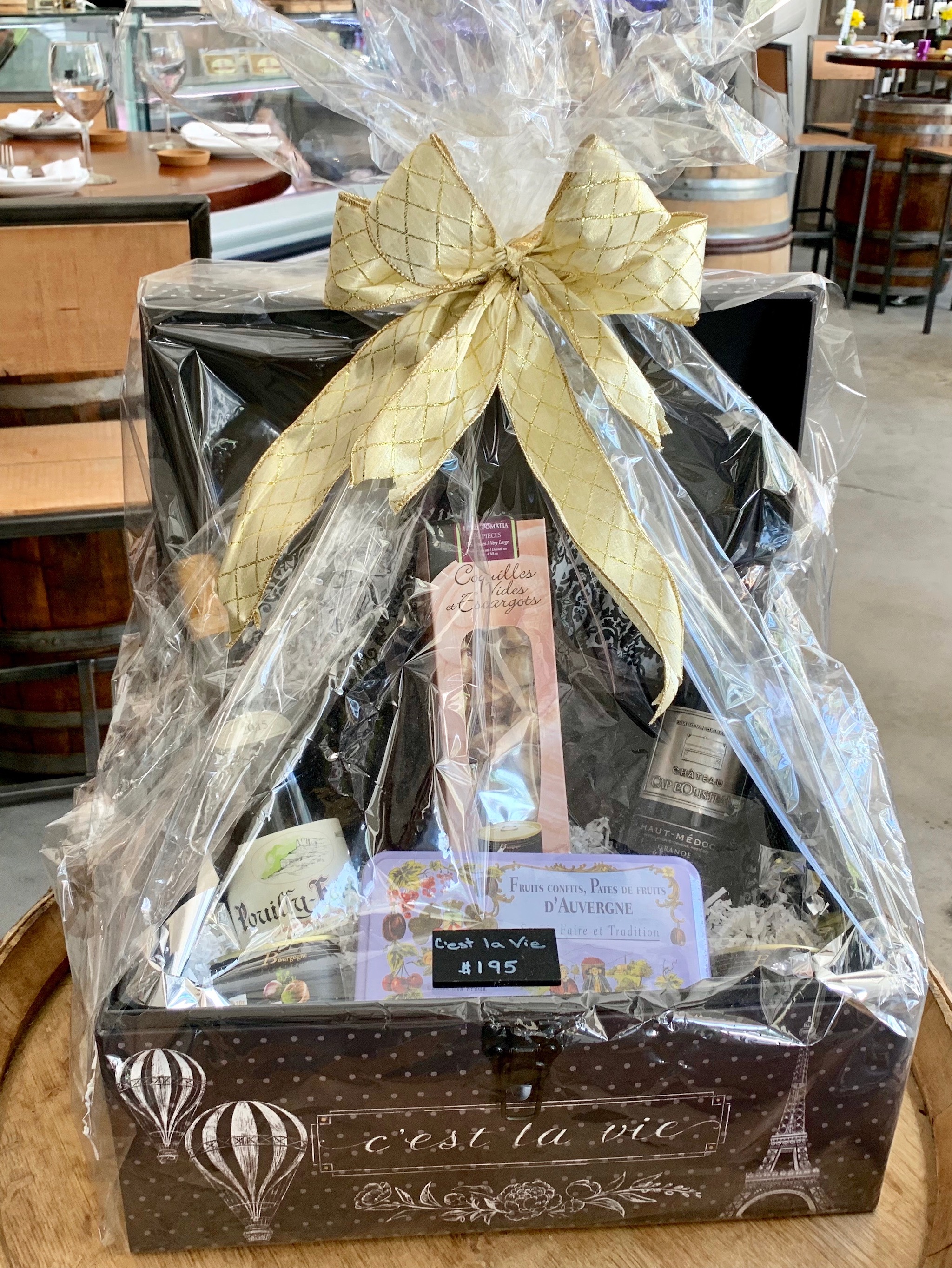 Our first visit to Bacchus was during their soft opening stage at the end of January. We went for lunch and ordered a lovely bottle of Malbec. It is actually less expensive to order by the bottle because you only pay market price for the wine (the same price you would pay if you were to buy a bottle to bring home). If you don't finish it, well, just stick the cork back in and take it home with you. This bottle was absolutely delicious. It did not make it home.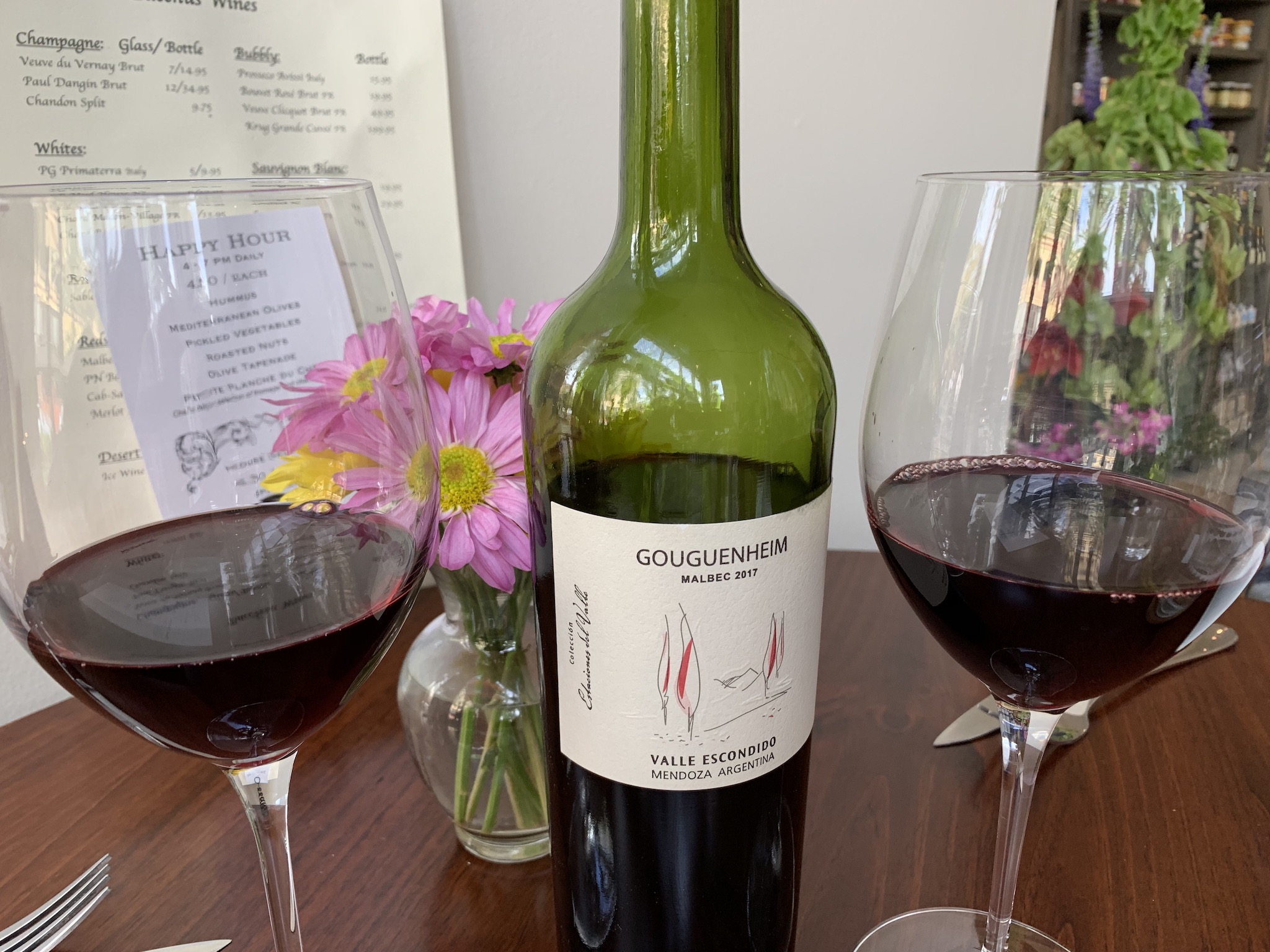 We ordered the French Country Salad to share – Roasted asparagus, beets, arugula, goat cheese, toasted walnuts, lemon-dijon vinaigrette. They split it for us before serving, which was terrific, and please note this picture is half of a serving. It's huge! The combination of the roasted asparagus, beets and goat cheese make this salad a winner. One of my favorite salads that I have had in St Pete.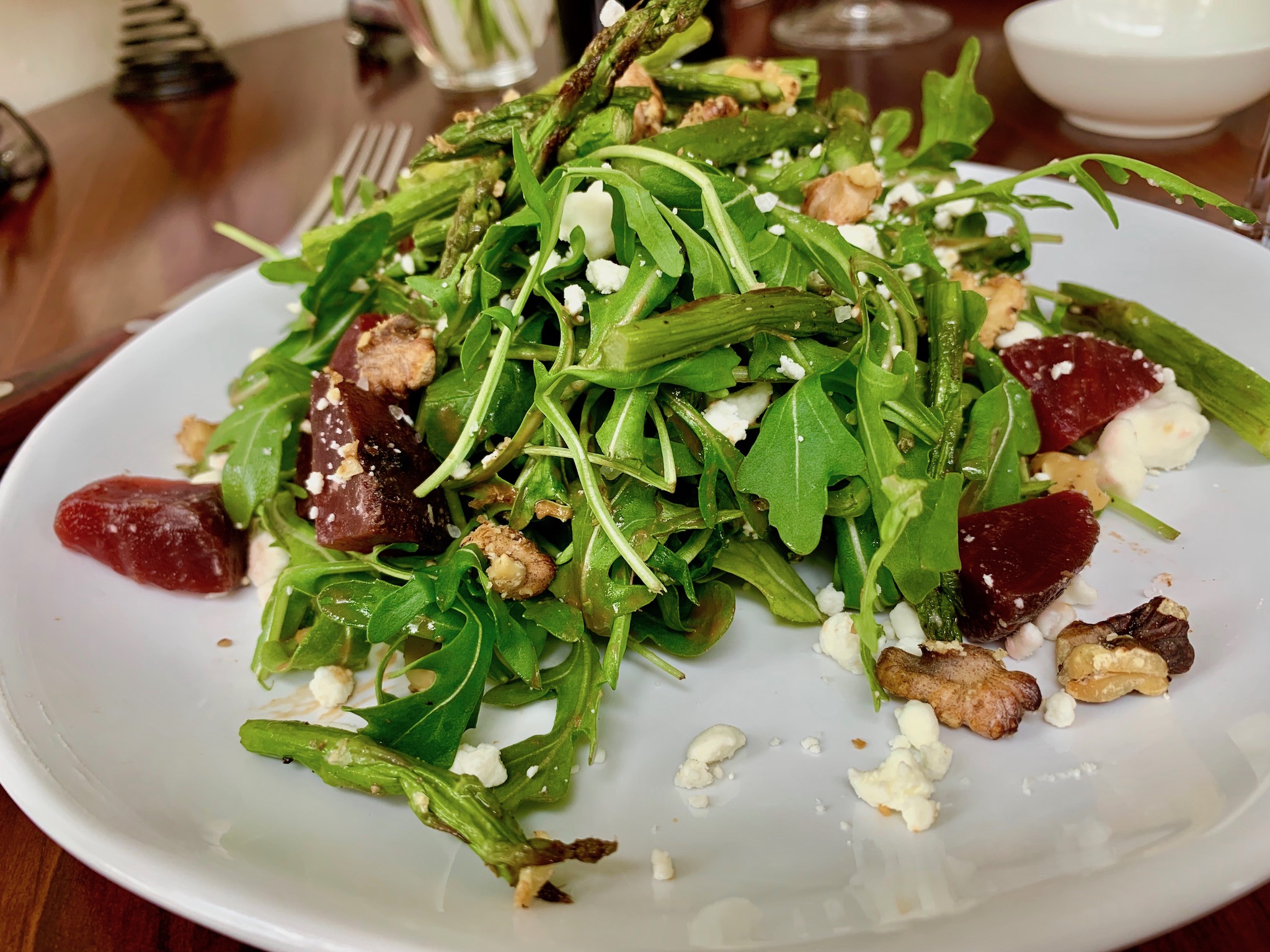 Next, I ordered the Jambon Blanc sandwich – Ham, butter, cornichon. The menu back then was more limited than it is now. I wasn't really sure what to order. This was not my favorite meal I have ever had, but the ham was fresh and it stays true to its French roots. The bread is hard to eat with it and tore up the roof of my mouth. Just not easy to eat. I probably wouldn't order it again with so many other great options.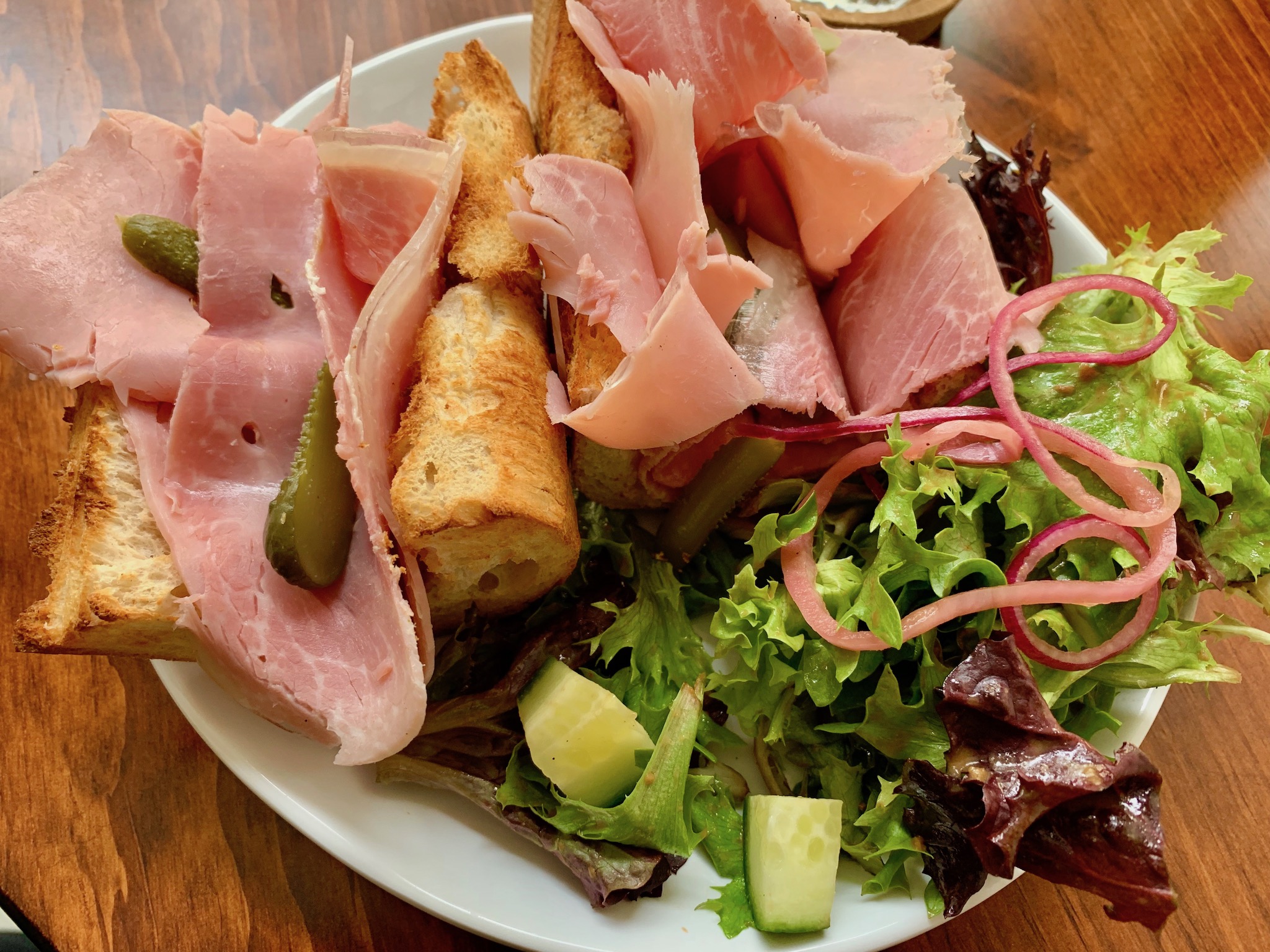 Kevin ordered the Bacchus Grilled Cheese sandwich – Beet pesto, avocado, red onion, mozzarella, gouda. He really enjoyed this. I did not taste it, but there was not much left. Talk about a really interesting twist on a grilled cheese!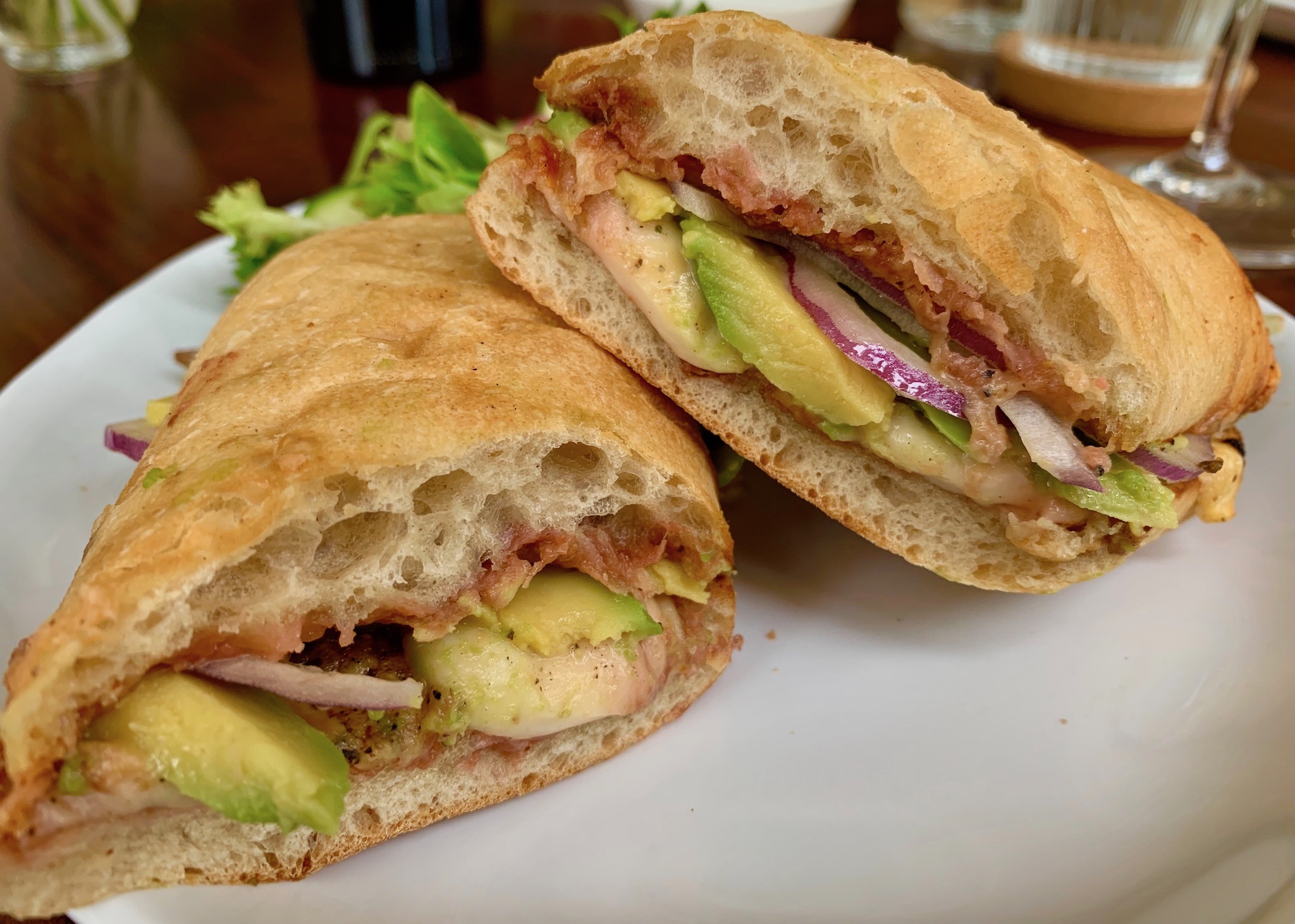 All in all, we really enjoyed our first visit but we were really excited to learn about their new brunch specials. We had Christophe and one of his partners, Chad Dropik, on our podcast. They were planning some professional photography of their new brunch menu and invited us to join and taste the food and photograph it ourselves, so we could share it with you. This is an amazing menu!
Chad described this first brunch menu item to us during the podcast and my mouth was watering then. It is even better than is sounds. The Hashbrown Nest – Ham, spinach, gruyére, sunny egg, side salad. Just as the name sounds. The actual cup is the hash browns. They are crispy and delicious!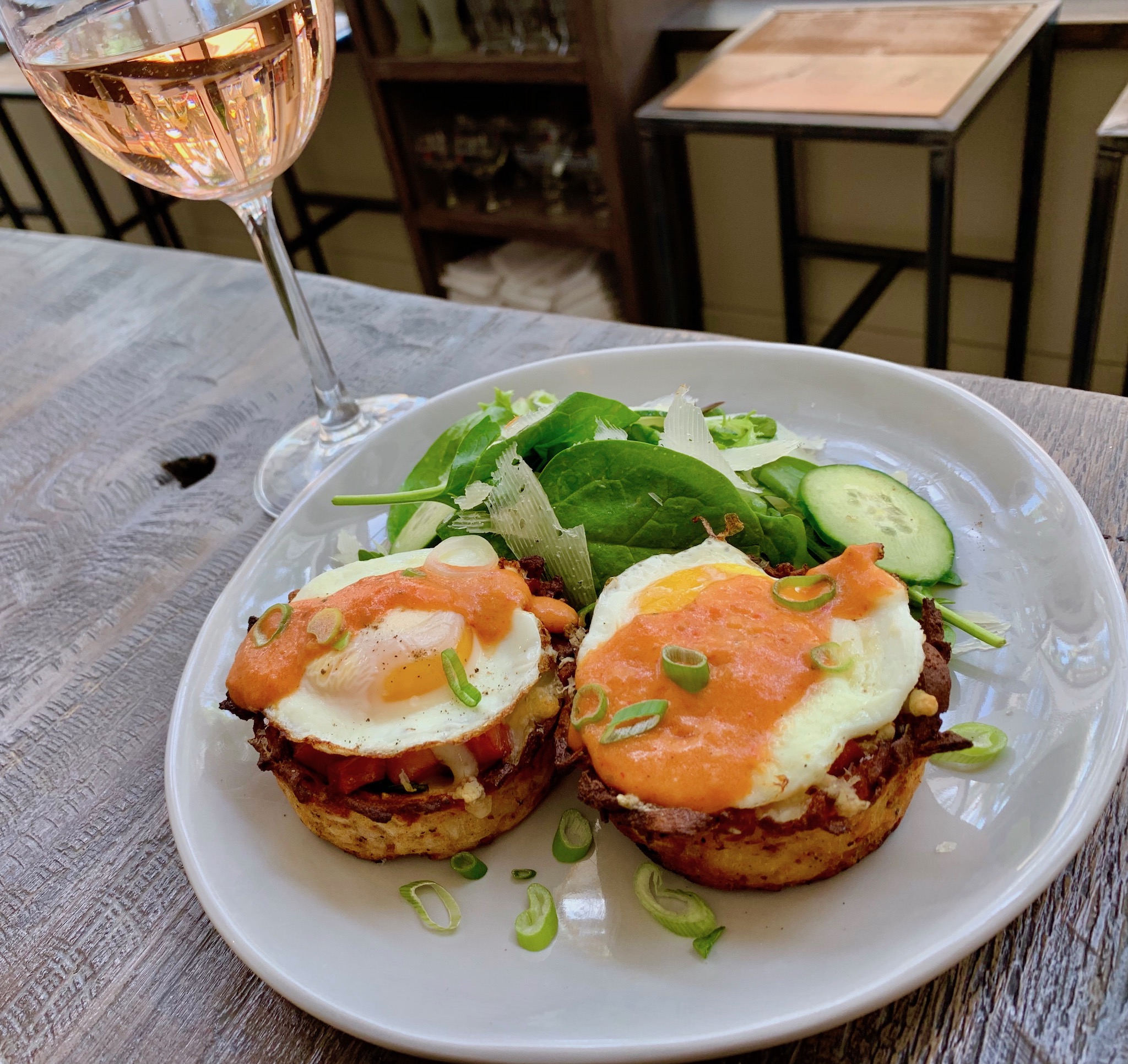 The egg was cooked perfectly sunny, as you can see, and the ham, spinach and gruyere in the hashbrown nest a delightful combination! We loved this dish.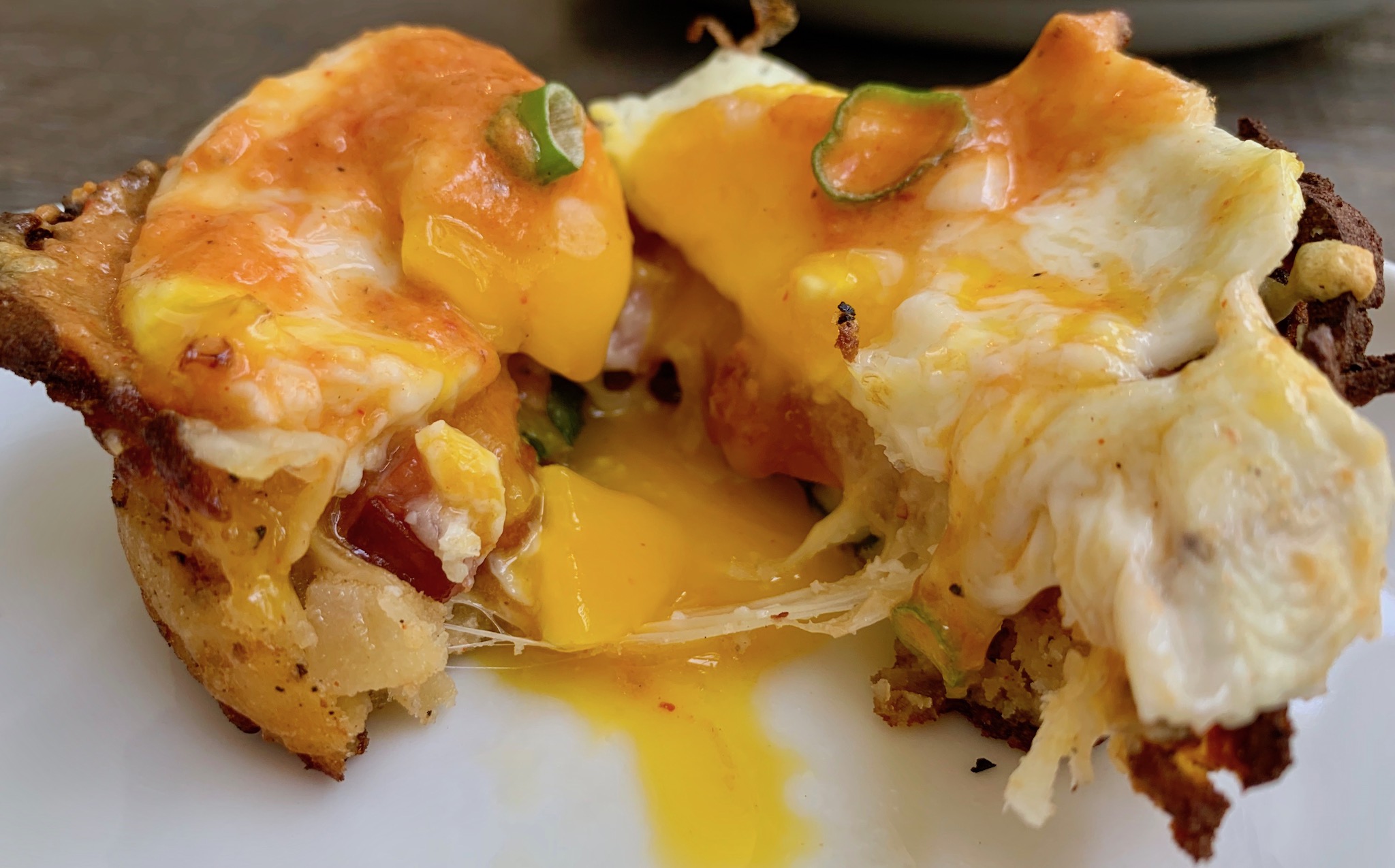 Did someone say eggplant caponata? Oh yes, they did. This brunch focaccia is not only drool worthy but a complete party in your mouth with these simple but tangy, with just a tad of sweetness, ingredients. Focaccia avec des Oeufs – Fried egg, eggplant caponata, roasted red tomatoes.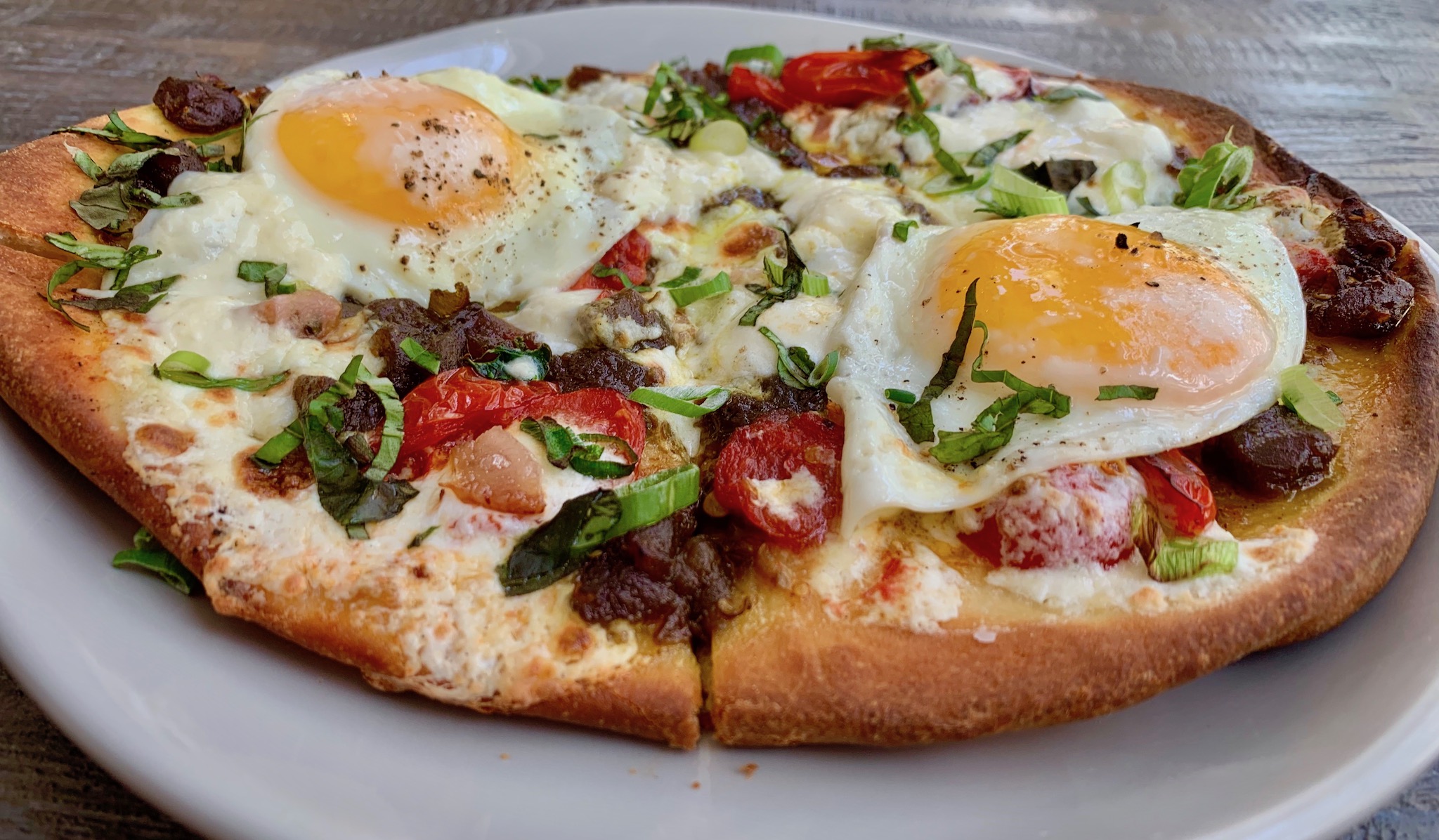 Next up was the Salade Panzanella – Chorizo, porchetta lardon, frisée, arugula, spinach, poached egg, toasted focaccia. Panzanella salad is not found frequently on menus in St Pete, so this was a wonderful surprise. Very tasty and delicious but I suggested lighter on the house made toasted focaccia cubes, more greens and I recommended adding some heirloom tomatoes for a softer mouth feel and to give it a bit of mild sweetness that it could use. But I would definitely order this again. It just needs some tweaking.
The egg, again, was poached to perfection. They definitely have their egg preparation down to a tee.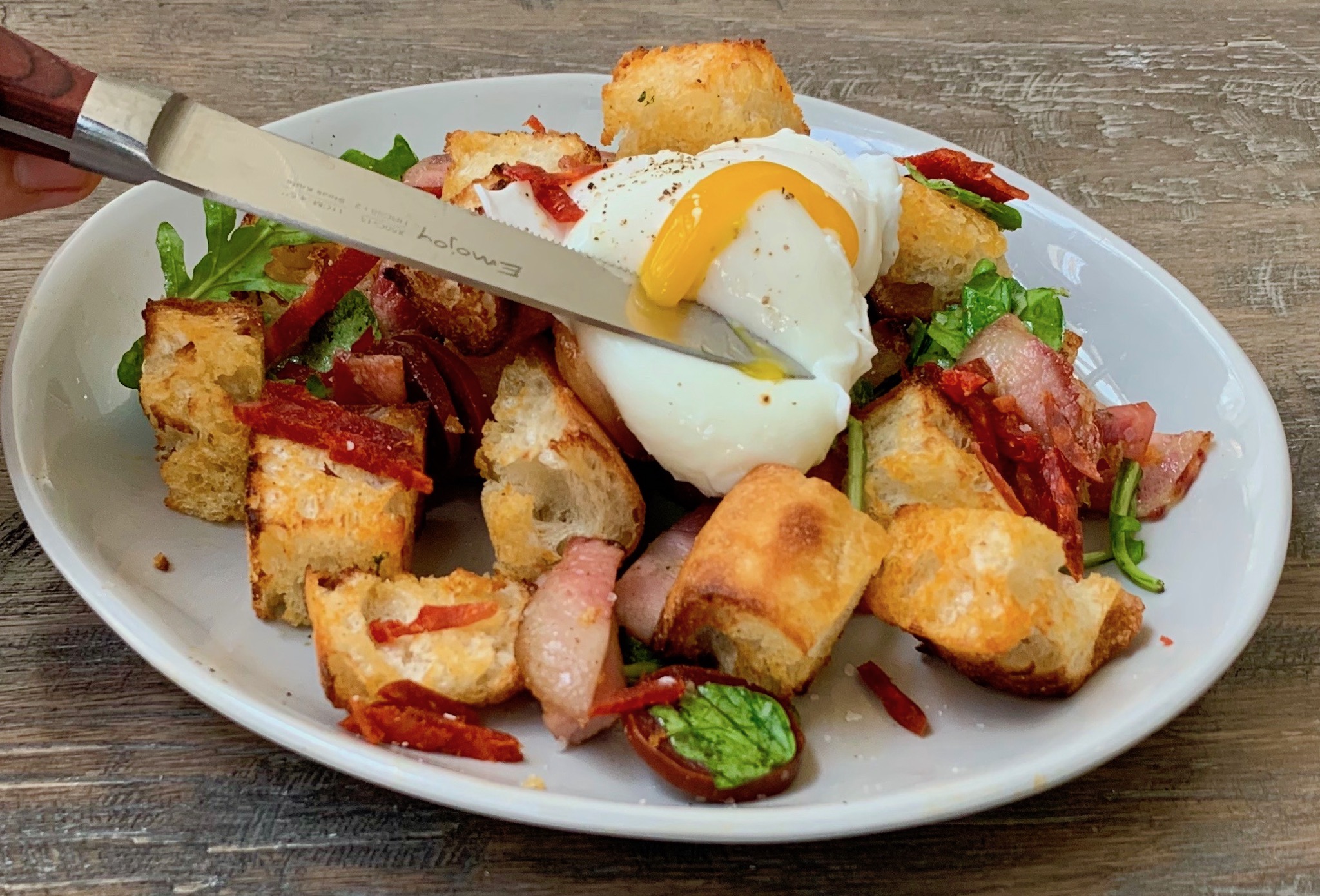 And then they also offer a vegetarian version of the salad which does include heirloom tomatoes. The Panzanella Vegetarienne – Peppers, onion, heirloom tomatoes, white beans, basil, toasted focaccia – was actually, in my opinion, better than the first because of all of the veggies. It was fresh and lively. Fantastic on a hot day, which is basically every day in Florida.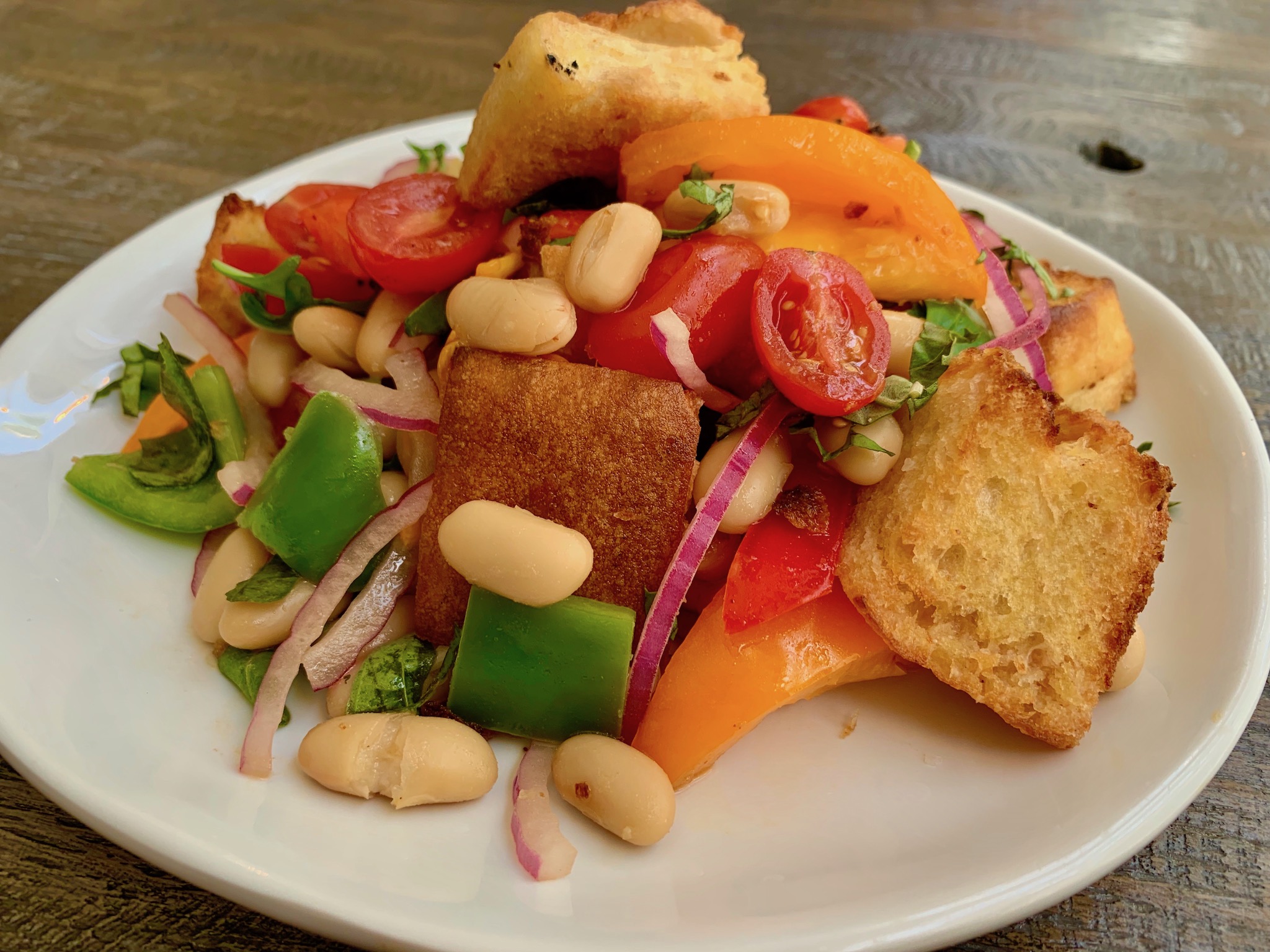 What is brunch without a frittata? First the Frittata de Legume – Zucchini, potato, cherry tomatoes, side salad. I love the texture of frittatas and these were done perfectly with a great combination of ingredients. Delicious!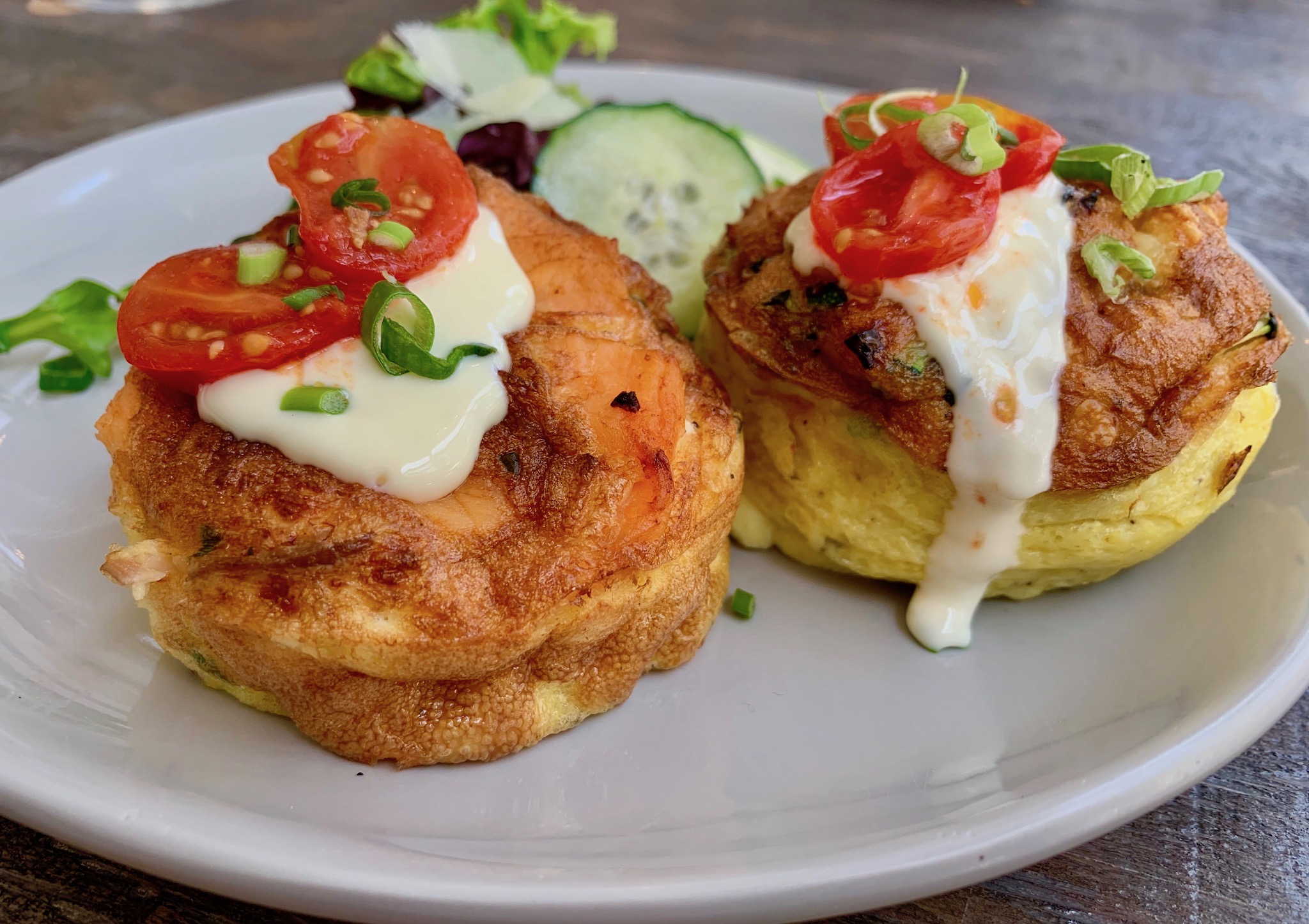 And then the next frittata came along and blew us away too. The Frittata de Smoked Salmon – goat cheese, chives, side salad – was perfection with that combination of goat cheese and smoked salmon. Yum!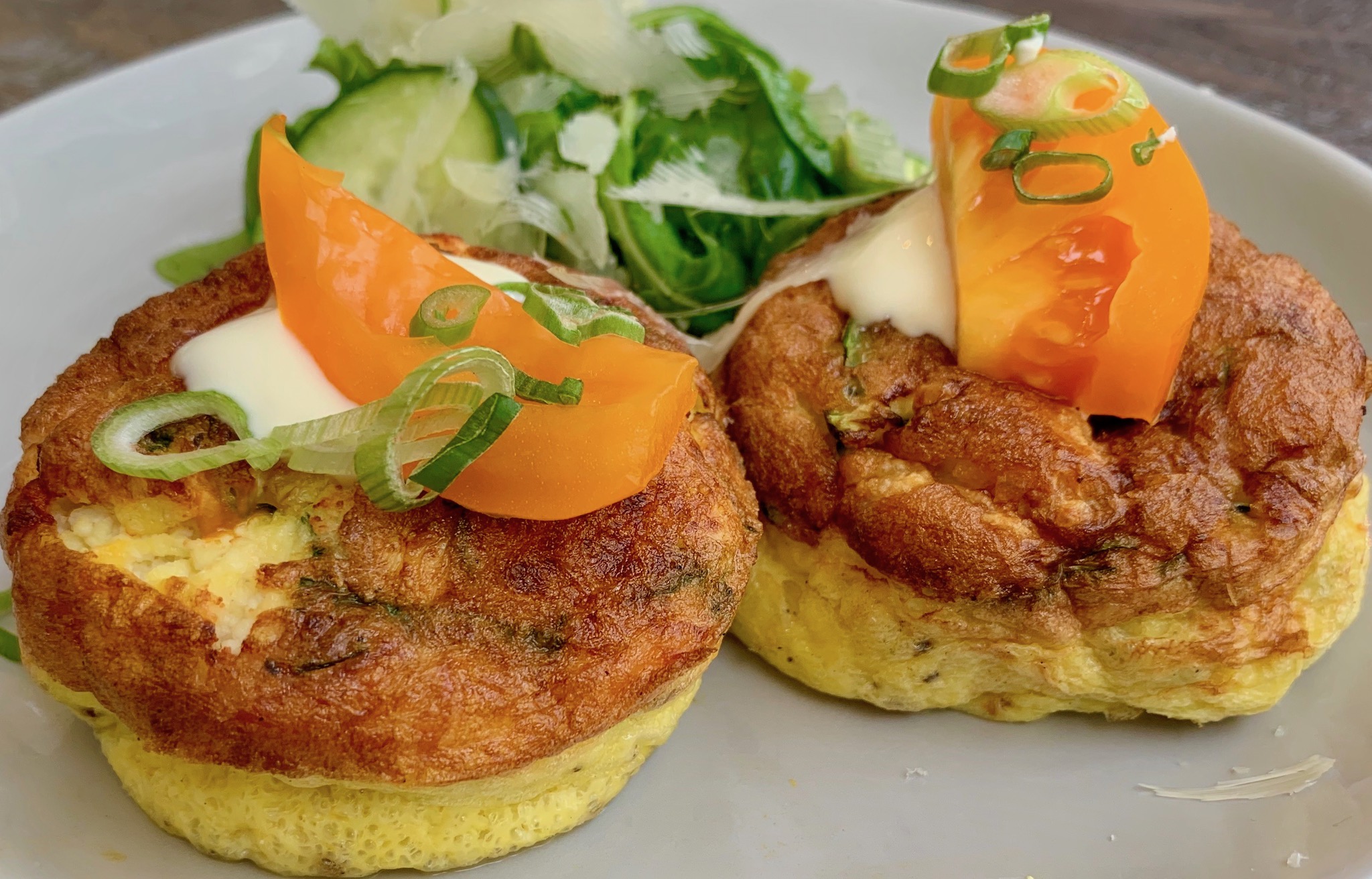 Before our next dish, I mentioned to Christophe how much I loved the mediterranean influences of the entire brunch menu. He said, "you just wait." And out came the Mezze Planche. This mediterranean breath of fresh air is a platter with hummus, tzatziki, feta cheese, stuffed grape leaves, kalamata olives, sun dried tomatoes, roasted peppers, marinated artichoke. Wow, just wow!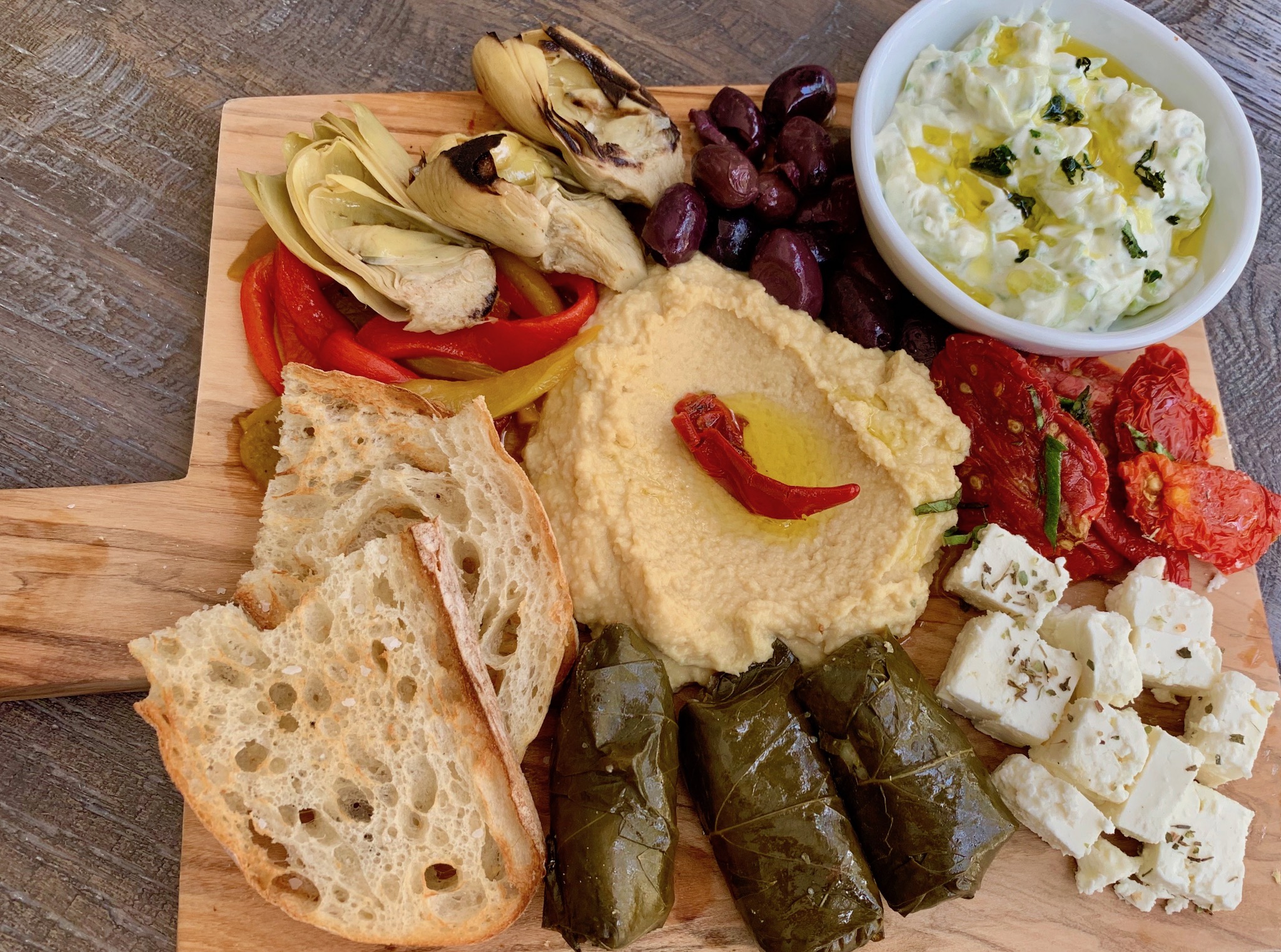 Another new addition to Bacchus is the introduction of traditional Raclette. I had no idea what this was until Christophe showed us. On the menu it says that Raclette is semi-hard cheese, heated and served with potatoes, cornichon, pickled pearl onions, and selected charcuterie. But I did some more digging to give you its history which actually dates back to the middle ages.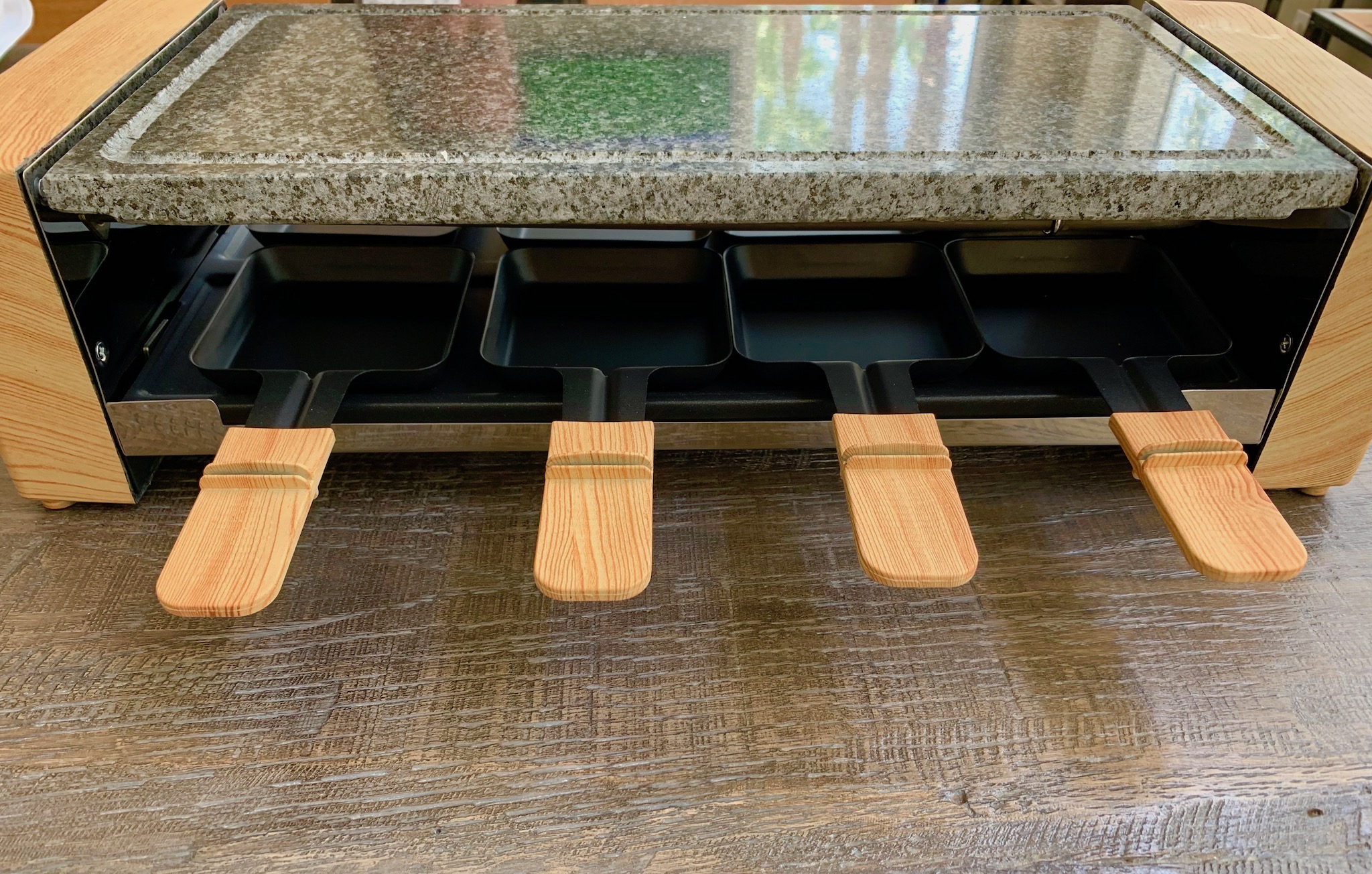 I found this info on cheese.com, "Raclette is a semi-hard cheese made on both sides of the French and Swiss Alps. Valais Raclette or Fromage a Raclette, as they are traditionally called, are made using ancestral methods with unpasteurised milk of cows grazing on the alpine meadows. The name Raclette comes from the French word 'racler', which means 'to scrape'. The cheese has got a thin, brownish-orange coloured rind and a pale yellow pate with a few and scattered open holes. It is has a very distinctive pleasant, aromatic smell with a creamy texture, similar to Gruyere cheeses, which does not separate even when melted. The flavour can vary from nutty, slightly acidic to milky.
While Switzerland supplies 80% of Raclettes, French Raclettes are slightly softer with a smooth and creamy flavour. Raclette is also the name of a Swiss dish where the cheese is melted in front of a fire or a special machine and the melted parts are scraped onto diner's plates. It is then served with small potatoes, gherkins, pickled onions and air dried meat called Viande des Grisons. Raclette comes in round and square shapes and can be served with Vin de Savoie."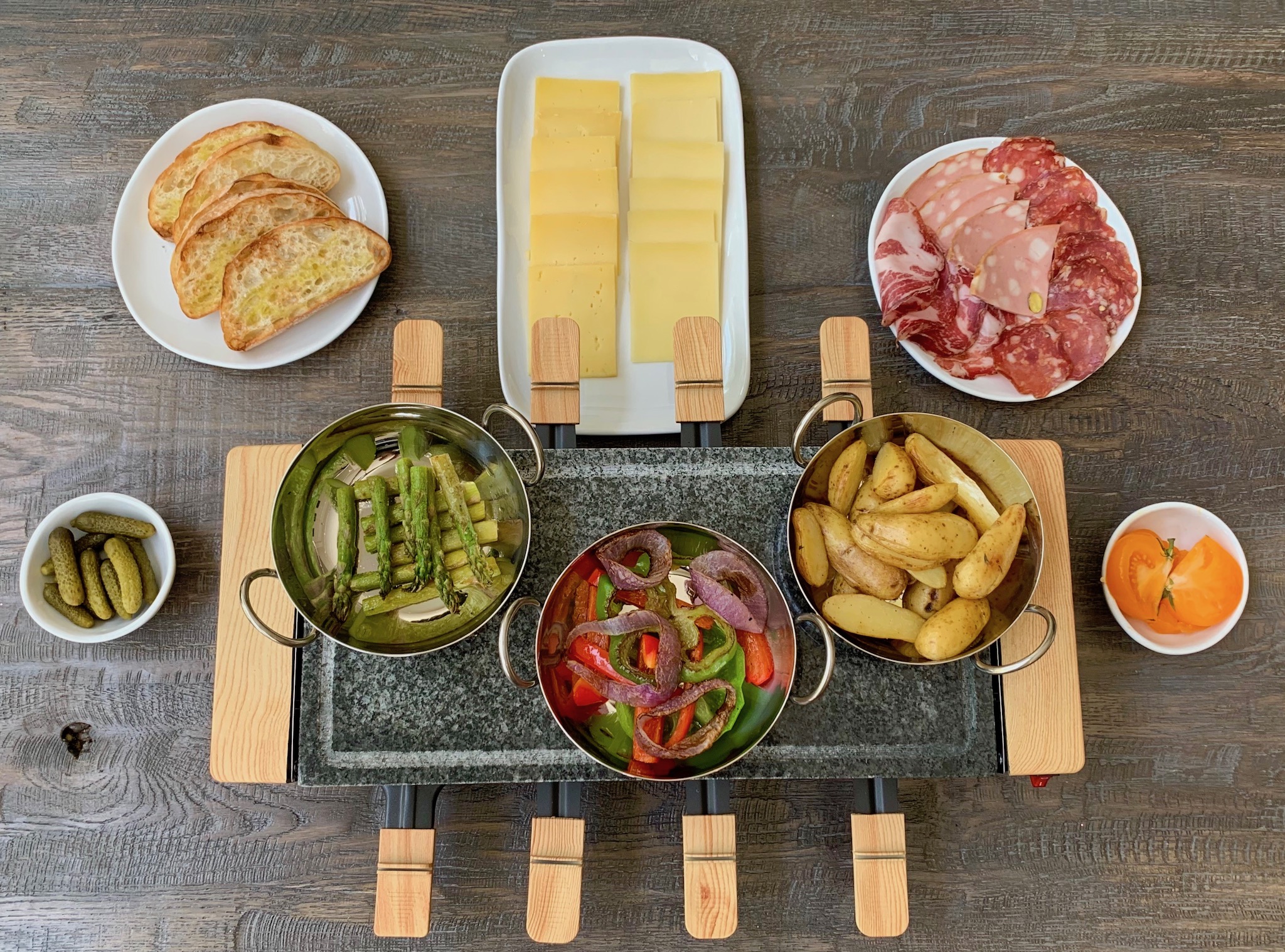 This info comes from emmiusa.com, "Raclette comes from the French word that means "to scrape" and refers to both the type of cheese and the traditional Swiss dish it is served with. Cheese legend says the dish originated hundreds of years ago when farmers would heat up a piece of cheese over the open fire for a hearty and filling meal.
Popular since the Middle Ages, Raclette is still produced with milk from cows that are fed fresh grass in the summer and meadow hay in the winter, resulting in an aromatic cheese ranging in flavor from mild and milky to piquant, depending on the wheel. Typically, it is melted either in a Raclette Grill or using a professional melter and then poured or scraped onto each individual dish…Any way you melt it, it is the quintessential cheese for sharing."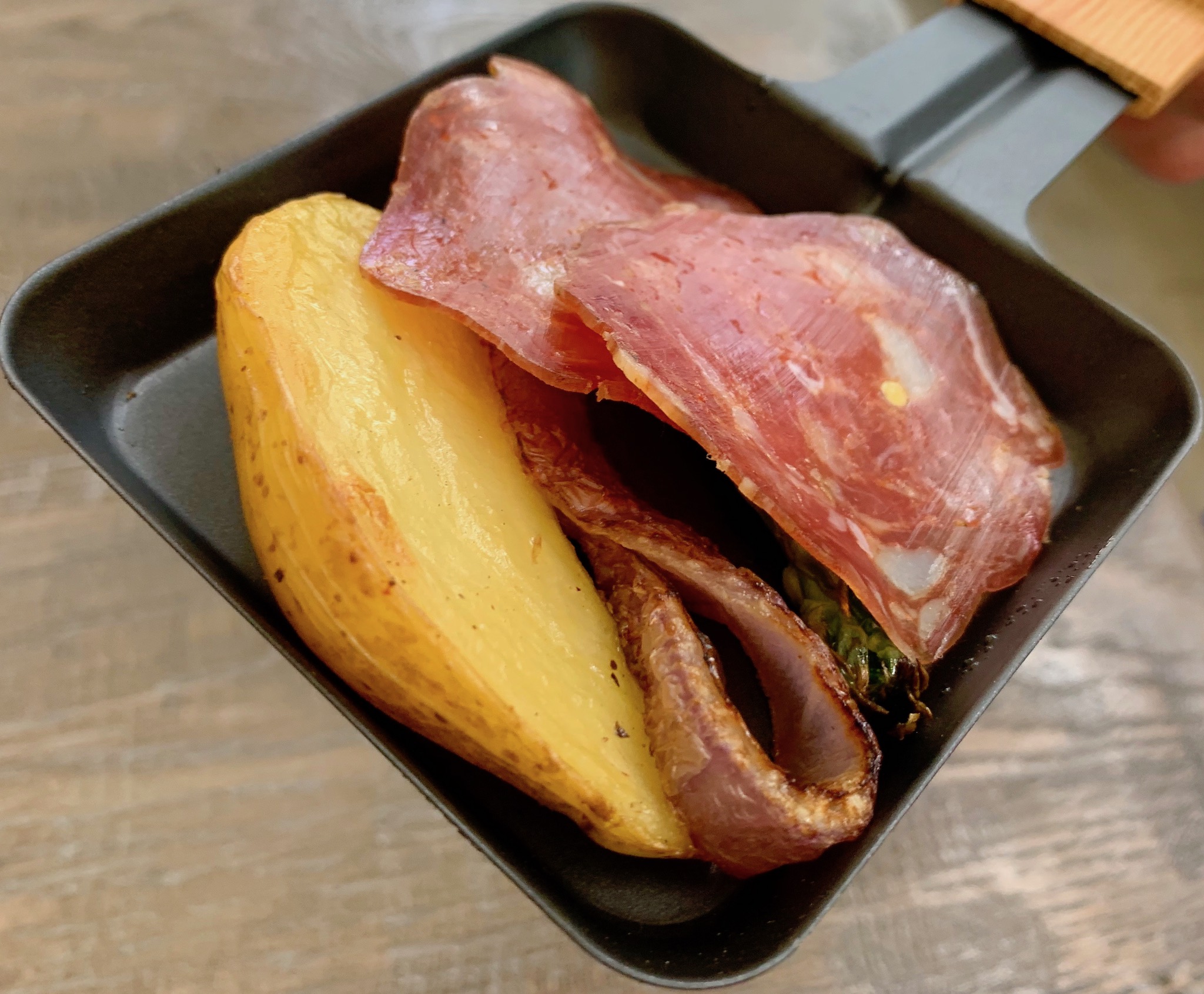 At Bacchus, slices of raclette are placed into small nonstick pans, called coupelles, which are placed underneath the broiler on the raclette pan right at your table. This Bacchus Raclette pan has eight coupelles, making it an ideal fun time for a group where each customer can cook their own cheese to their liking. Meats and vegetables can be grilled on the griddle on top or put under the cheese and cooked inside, as pictured below. They also offer a smaller Raclette pan with four coupelles.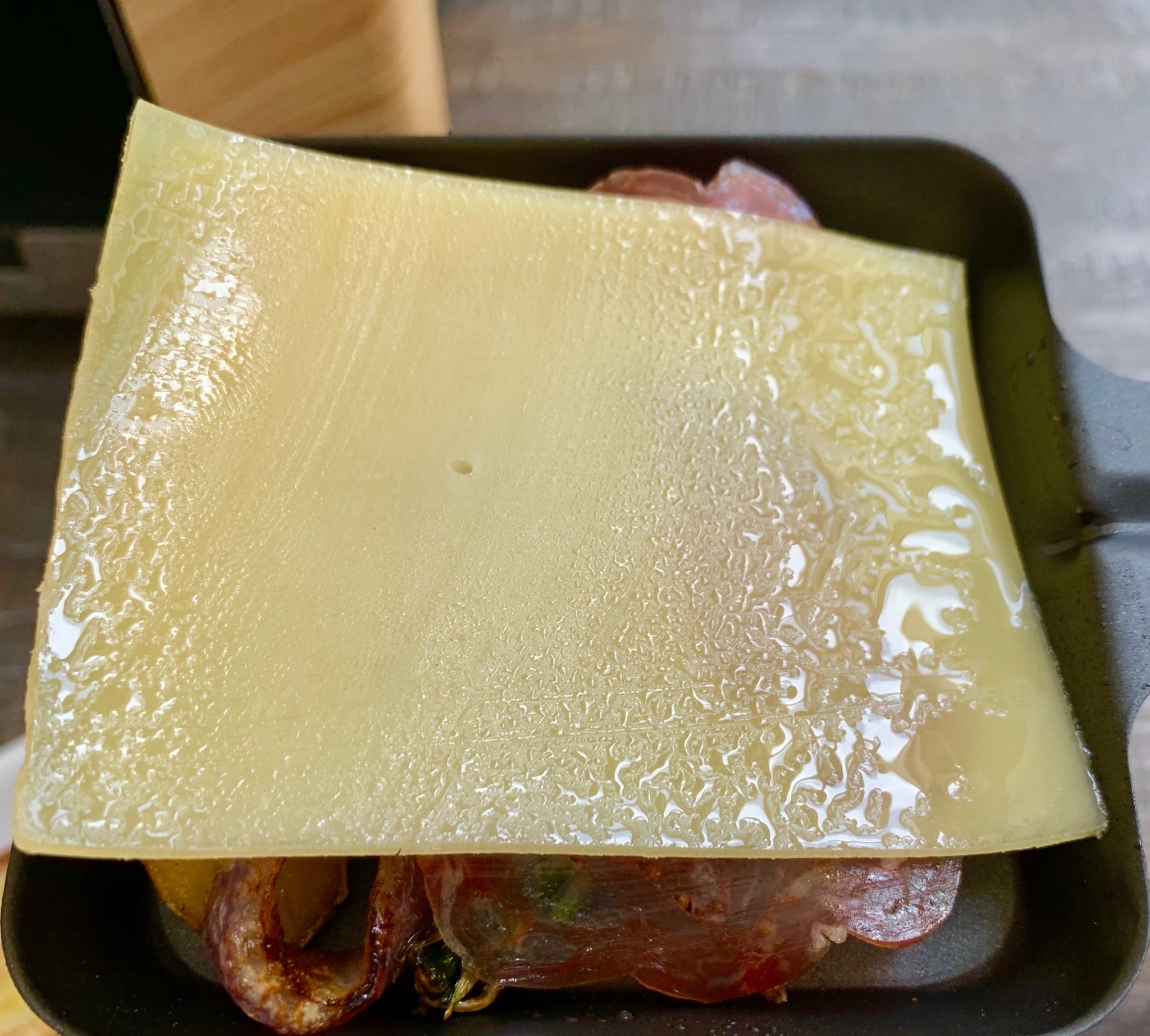 As far as I know, Bacchus St Pete is the only place to offer this traditional, simple, humble and filling meal. Fun for all!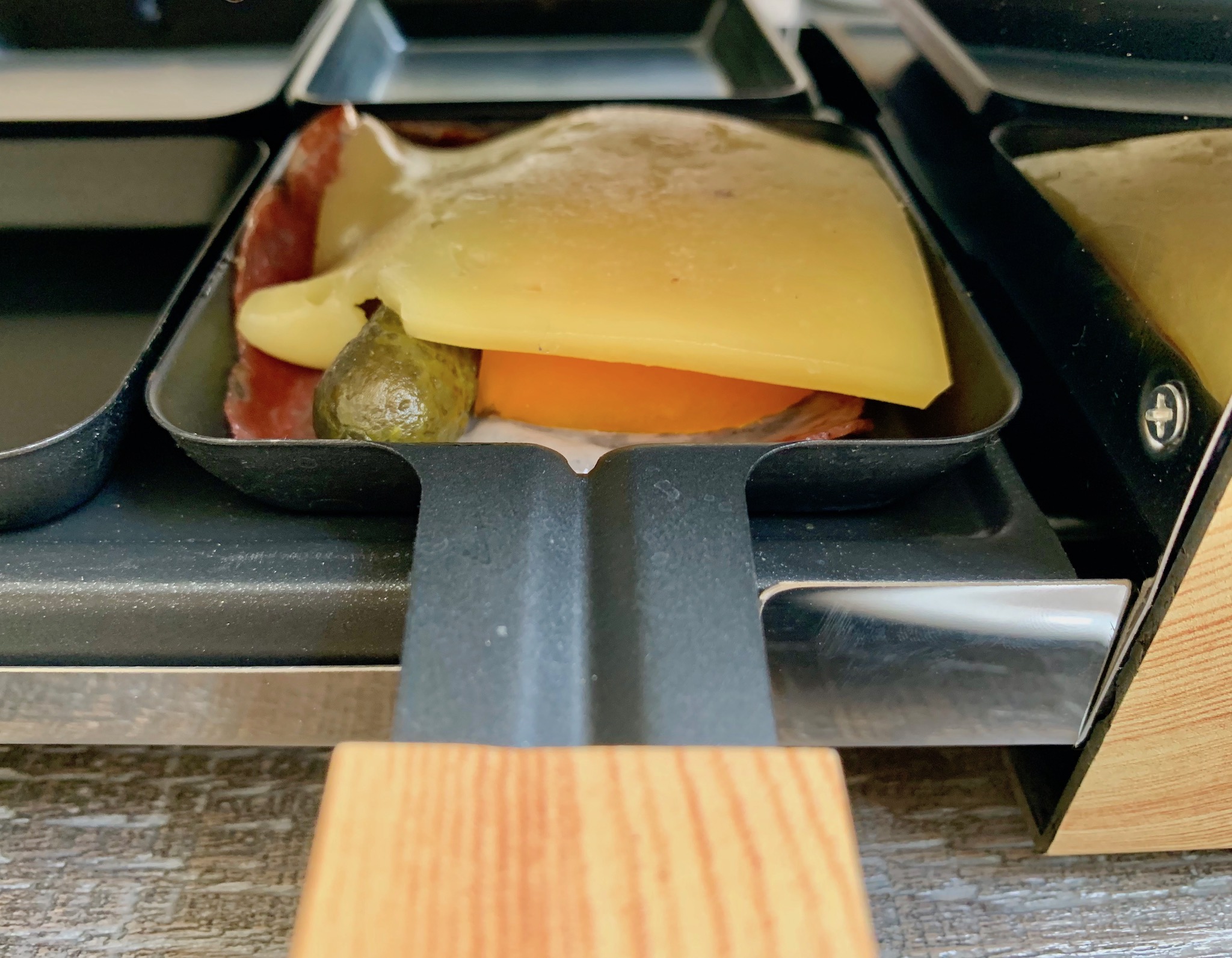 Get to Bacchus St Pete for a beautiful experience unlike any other, whether it be brunch, lunch, a mid-day snack or dinner. It's all about the experience, right?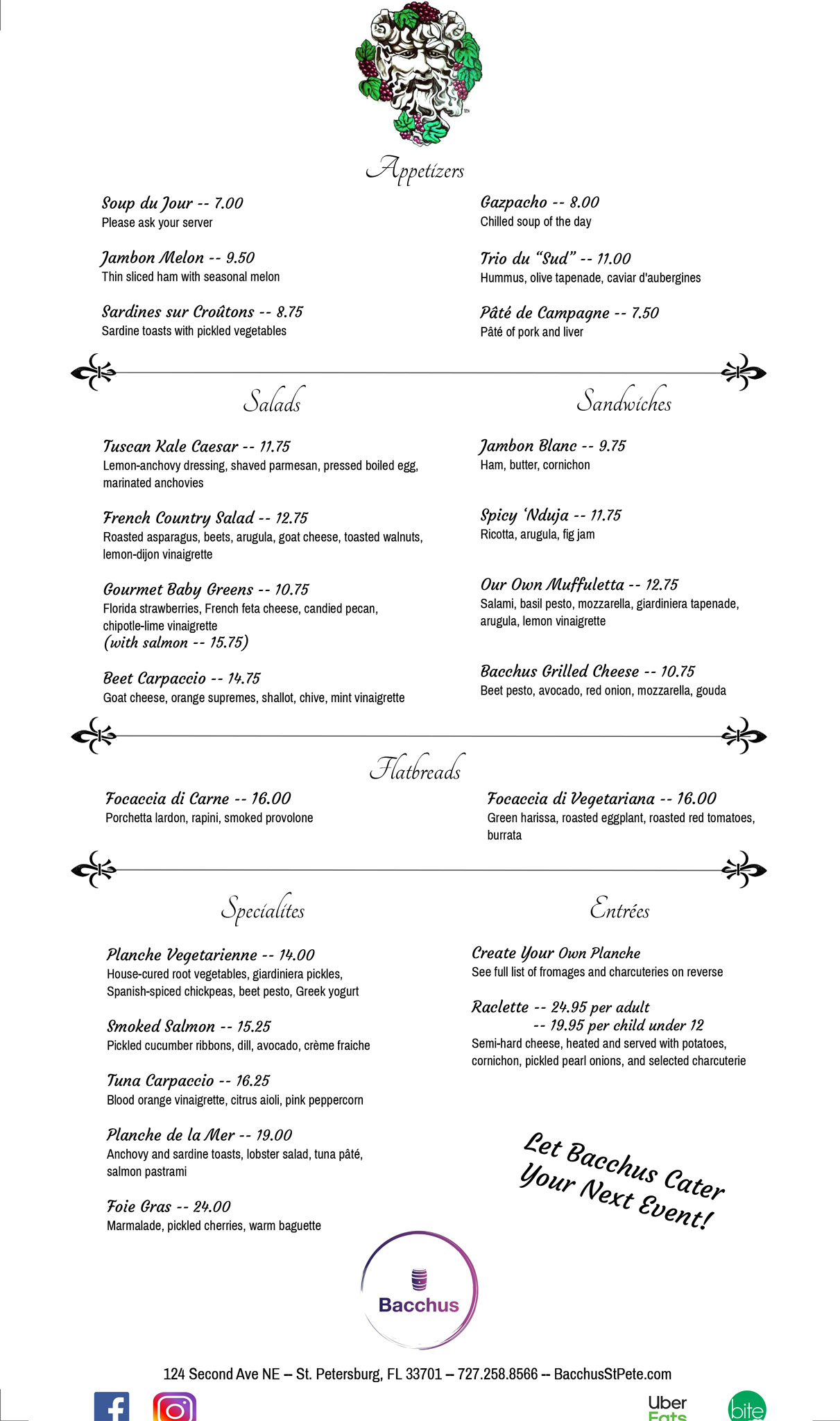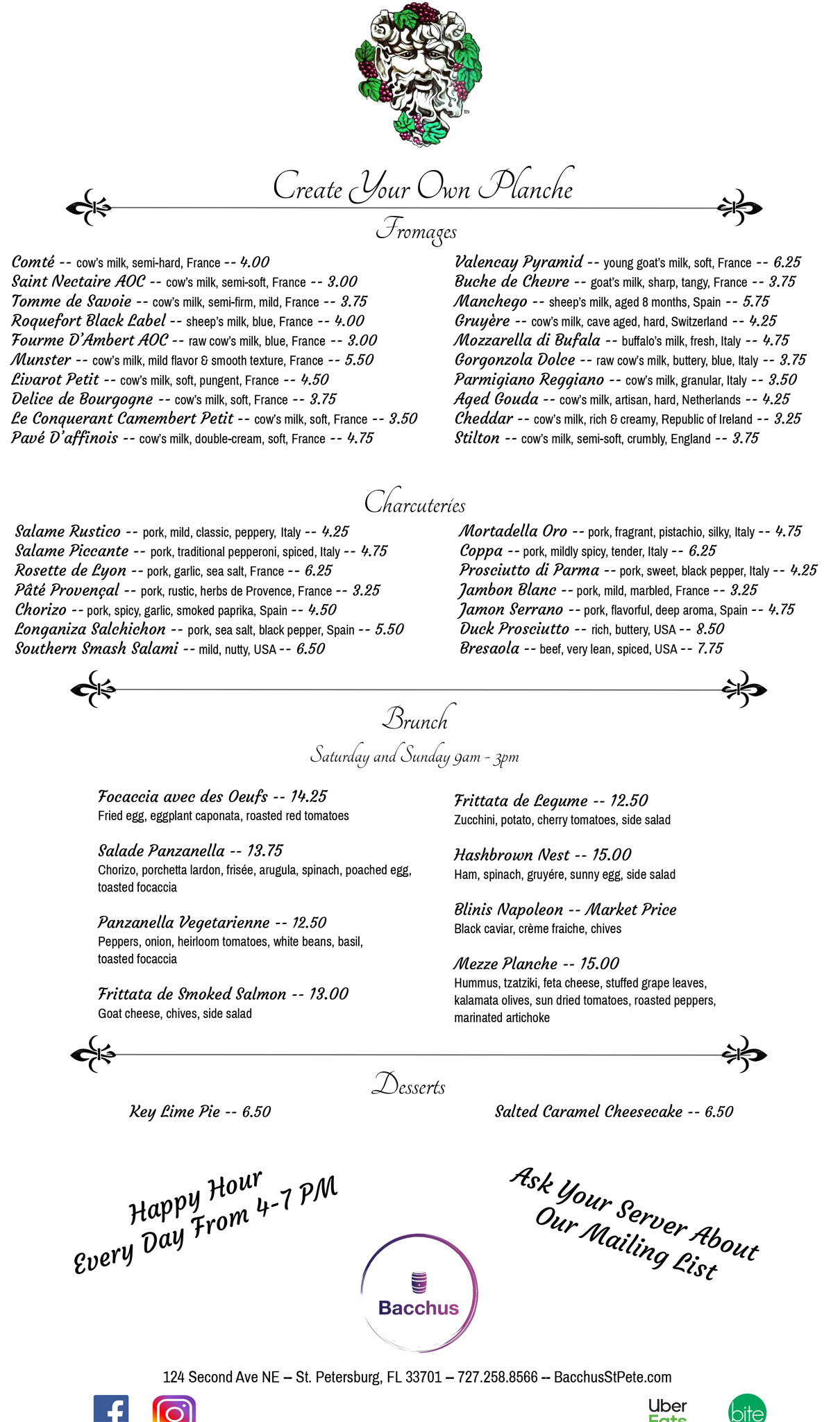 Bacchus is a local gourmet market offering a great selection of European products from wine, beer, sodas, fresh bread, charcuterie, soups, salads, sandwiches and cheese boards. Bacchus is where France meets your palate. Everything you eat in the store is available for purchase. On the shelves, they offer a selection of gourmet items like pate, foie gras, fruit preserves, condiments, candies and more.
DISCLAIMER: Kevin, Lori, Abby, Haley, & Lindsey do not dine anonymously (this would be impossible) and we sometimes get free food (though never expected). However, we dine with the locals and we support our own. You will always get honesty in a respectful manner. We do not include any large national or regional chains in our ratings and reviews. We focus on independent locally owned eateries exclusively.

PLEASE NOTE: Reviews reflect a certain moment in time. Some restaurants stay extremely consistent over many years, and some change for the better or worse. Some things that may change are: chefs, recipes, food suppliers, ingredients, philosophies, ownership, etc. We always hope that you have the same good, or great experience we had.
More Foodies News, Reviews & Recipes