Best Pizza Joints in St. Pete
For the past few years we've been able to make a top ten pizza list. Last year we expanded the list to 13, and this year it is still 13, but with a few changes. Two came off, and two new ones were added. The Ohio Pizza Parlor came off as they closed. Toby's was disqualified for the use of canned mushrooms. Tuttorosso and Bonu Taverna have been added.
In the past couple of years, I've learned more about pizza than ever, and I continue to study and make about 100 pizzas a year myself. Lori and I are also Certified Pizza Judges with the Pizza Cook-off Association.
We've also eaten at the top three NY Pizza places ranked by Bon Appétit Magazine in Manhattan, Brooklyn, and Queens.
For many of the pizzas here, we topped them with pepperoni, mushrooms, jalapeños and bacon, but not all. About half of the places have more than one location. We list the local St. Pete location that we went to.
Before we get into the list, an important thing you should be aware of is that there are other publishers of "best of lists" that do not actually go to the establishments, or actually eat the food. (Sounds ridiculous, right?) They just download photos from the internet, or embed Instagram posts from someone else. Instant top 10 list produced without having to leave the house.
That's NOT how we do it.
We absolutely DO eat all of the food on all of our lists. (How can anyone recommend something they never experienced?)
Unfortunately, we've seen these junk lists a lot—from national and local publishers. We are also aware of a local publisher that offers paid placement in best-of-lists. There is no paid placement here.
WE PERSONALLY ATE ALL OF THESE PIZZAS, AND WENT TO ALL OF THESE PLACES, AND THESE ARE ALL ST. PETE FOODIES PHOTOS. (All photos by Kevin Godbee unless otherwise noted.)
The list includes locations in St. Petersburg, and St. Pete Beach.
Here are the Best Pizzas in St. Pete for 2023
These are listed in RANDOM order.
Nicko's Pizza and Subs
1239 4th St S
St. Petersburg, FL 33701
(727) 416-1200
Nicko's Website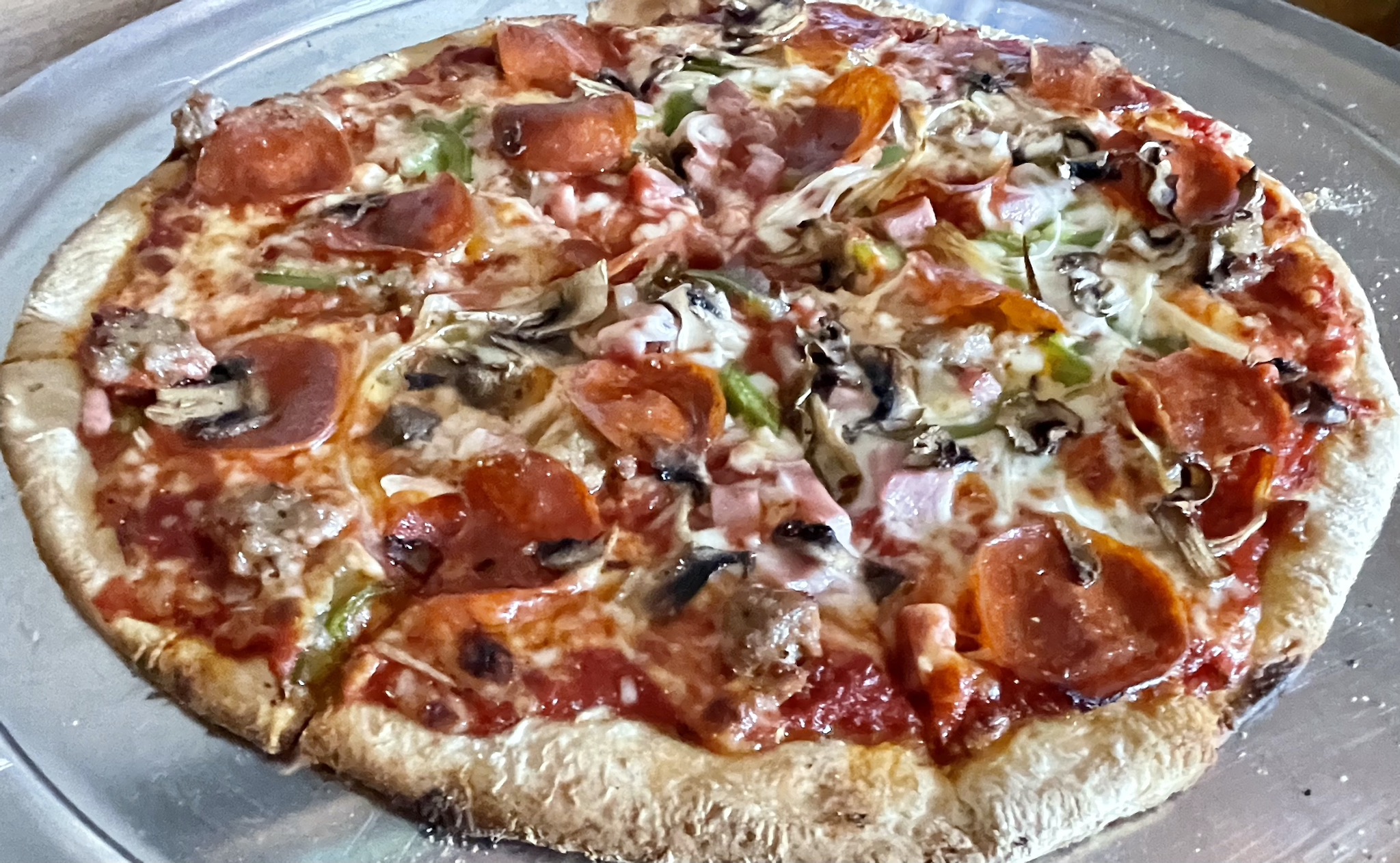 Of all of the NY-style pizzas on this list, Nicko's is the best replication. They nailed it. This one would be hard to discern from an actual NY pizza in a blind taste test. Lori said, "we ordered a whole Supreme Pizza topped with onion, mushroom, green pepper, pepperoni, sausage, ham, mozzarella and pizza sauce and all of their pizzas can be made gluten free in the 12″ size. It is topped with the freshest of ingredients and was just as delicious when we reheated our leftovers the next day. Anyone who says crust doesn't make a pizza, is just wrong. However, the sauce and the cheese ratio was also perfection as well as the even disbursement of the tasty toppings."
Noble Crust
8300 4th St North
St. Petersburg, FL 33702
(727) 329-6041
Noble Crust Website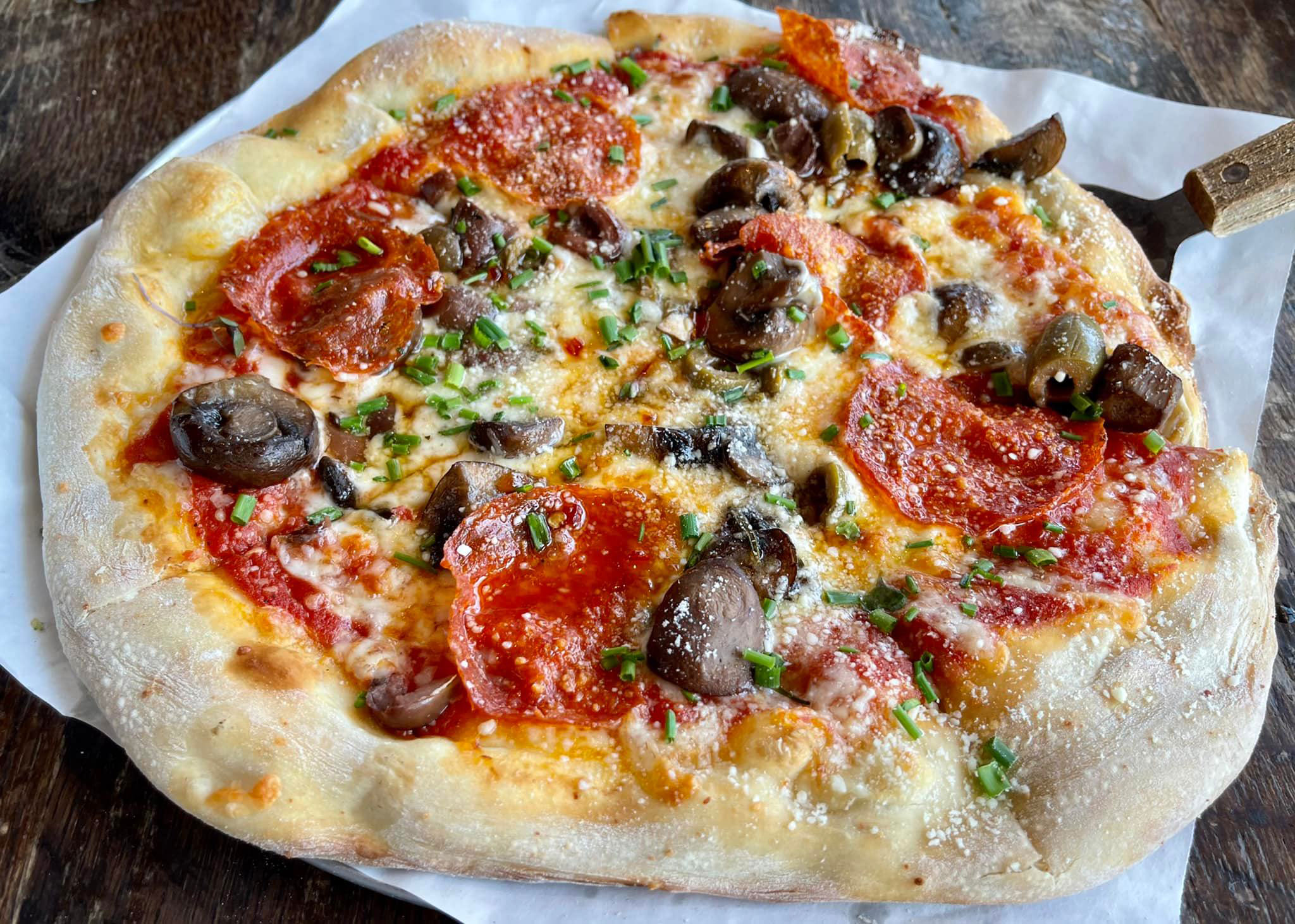 The Works pizza – tomato sauce, mozzarella + fontina, pepperoni, crimini mushrooms, crushed olives, spicy Calabrian chili -honey.
Noble Crust has excellent food, all of it with their unique twists of Italian and American Southern-inspired cooking and ingredients.
Pizza Box
923 Central Avenue
St. Petersburg, FL 33705
(727) 623-0444
Pizza Box Website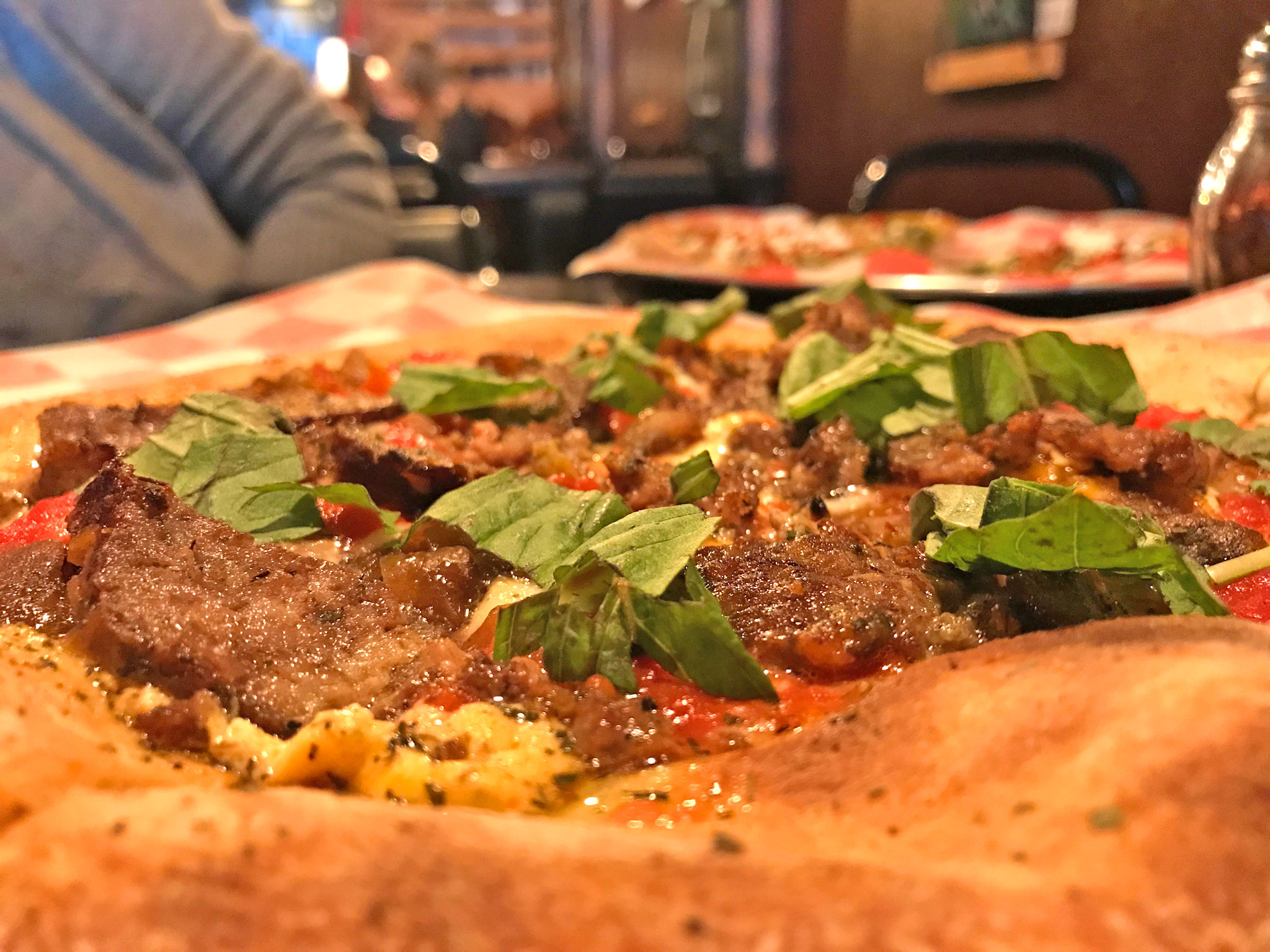 Lover Boy Pizza – Housemade San Marzano Tomato Sauce, Mozzarella, Housemade Meatballs, Herb Whipped Ricotta, Cherry Peppers, Caramelized Onions and Fresh Basil.
Pizza Box, just a few doors east of Bavaro's, is also wood-fired, but it is completely unique and different. I promise you that you've never had pizza like this. It's like nothing else, and it is amazing.
Matteo Trattoria & Pizzeria St Pete
2363 Central Ave
St. Petersburg, FL 33713
(727) 851-9114
Matteo Website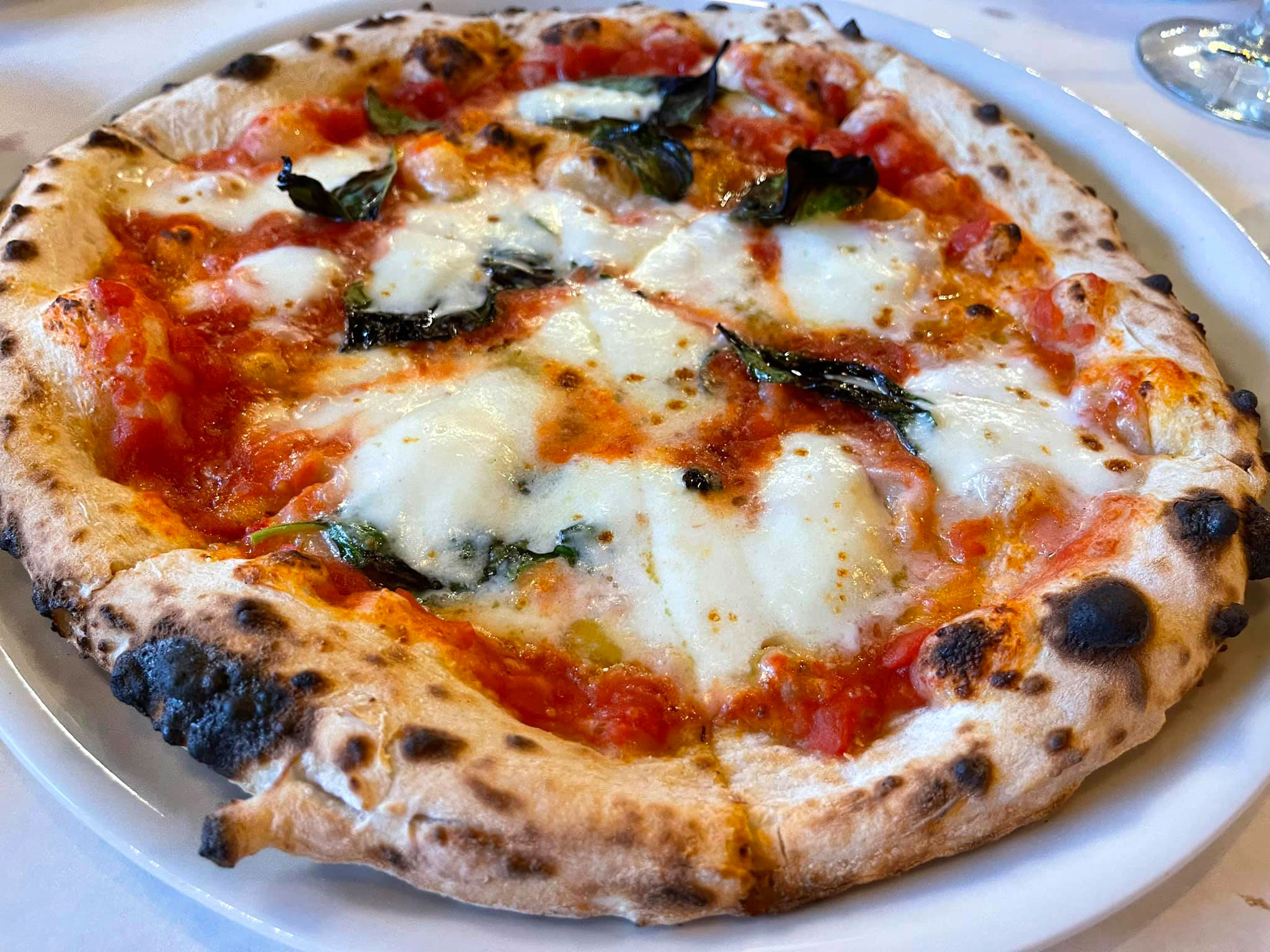 Like Bavaro's and Fabrica, Matteo has the traditional wood fired oven from Naples, Italy and creates classic Neapolitan pizzas.
On the above pizza Lori said,"Regina Margherita Pizza – San Marzano tomato sauce, basil, bufala mozzarella cheese & EVOO. So fresh and delicious and that dough. Phenomenal Neapolitan pizza!"
Jay Luigi
3201 4th St N
St. Petersburg, FL 33704
(727) 390-8883
Jay Luigi Website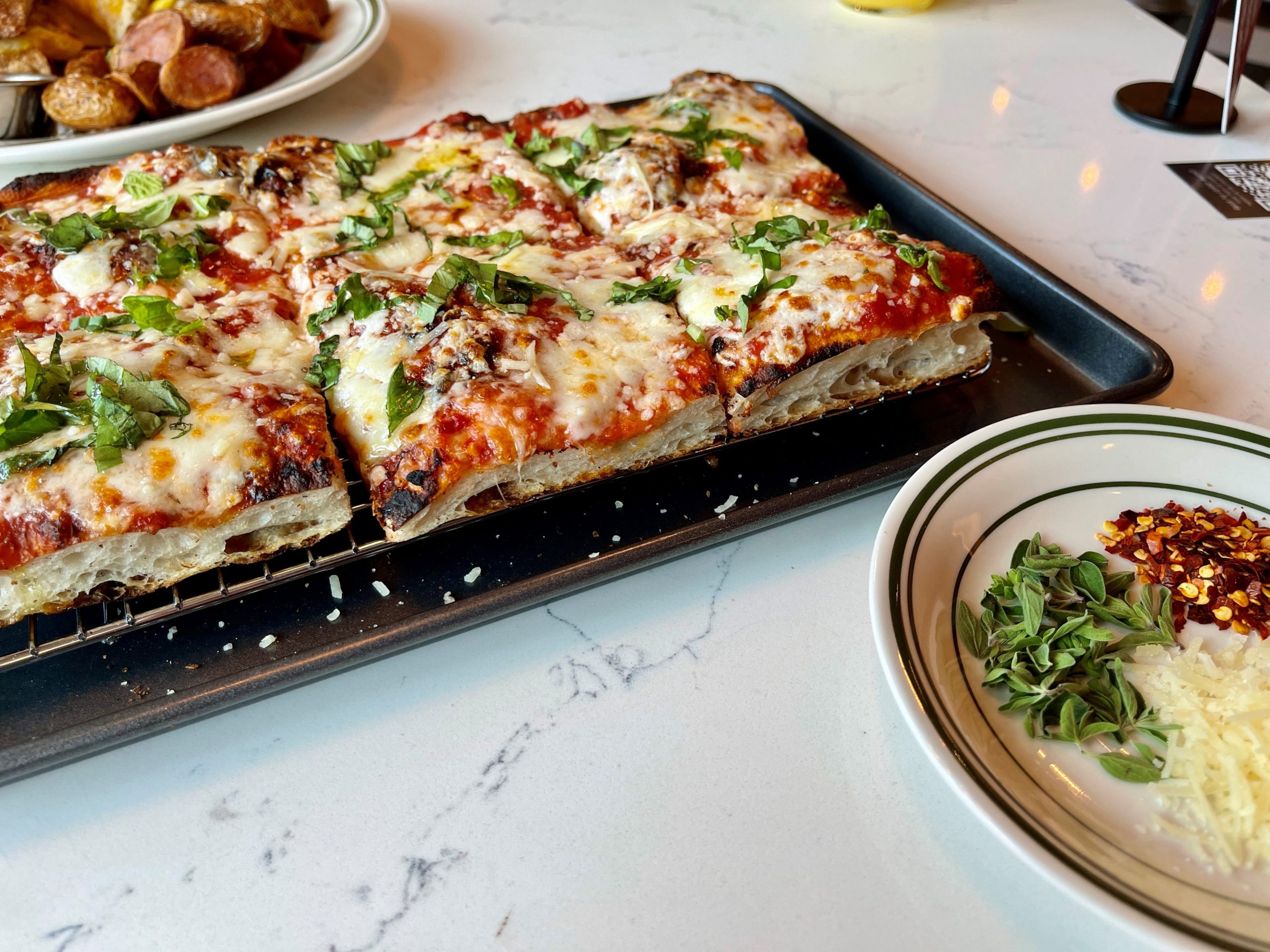 From Lindsey's review:
We mulled over which pizza to choose… do we go simple? Or do we do one with several toppings? Do we go Romana-style? Or do we go NY-apolitan? We settled on the Stella Pizza Romana. Stella is their most simple of Romana-style pizzas with tomato sauce, house-made mozzarella, basil and grana padano. While the pizza was more on the simple side, it truly let you enjoy the authentic flavors. The pizza was served with a small plate holding fresh grated grana padano, red pepper flakes and fresh oregano. I sprinkled a little bit of each on my slices and it was the perfect addition to step the pizza up another notch.
While we were dining, we enjoyed a couple of visits to our table by one of the partners at Jay Luigi, Jay Brunetti, who explained the process of how they create their pizza. And while I can't remember all the scientific details, I can tell you they use the best of ingredients and techniques… including importing wild yeast from Italy (dubbed "NIKI"), using 00 flour, creating a crispy, fluffy crust by using 80% water in their dough and whipping up house made mozzarella.
Gianni's NY Pizza
936 58th St North
St. Petersburg, FL 33710
(727) 381-3209
Gianni's Website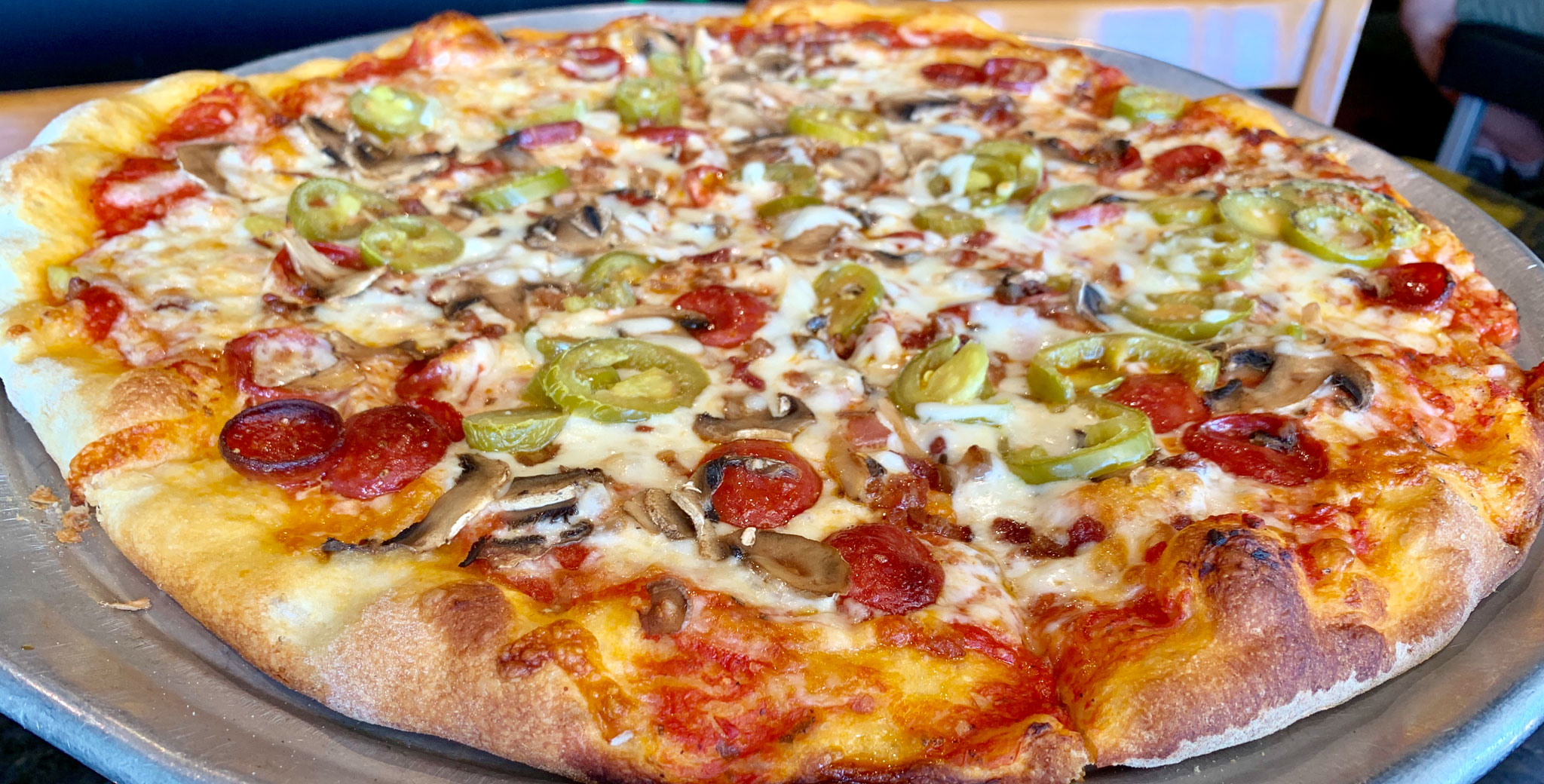 Gianni's Large with Pepperoni, Mushrooms, Bacon and Jalapeños.
Gianni's was originally recommended to us by former St. Petersburg Mayor, Rick Kriseman, when he came to visit as a guest on our podcast. The former Mayor knows his pizza. Gianni's won the 2021 Best Pizza in the People's Choice St. Pete Foodies Awards. You could still pick out the actual NY pizza, but this one comes as close as as it gets in St. Pete with one exception, Nicko's.
Bavaro's Pizza Napoletana & Pastaria
945 Central Avenue
St. Petersburg, FL 33705
(727) 258-7517
Bavaro's Website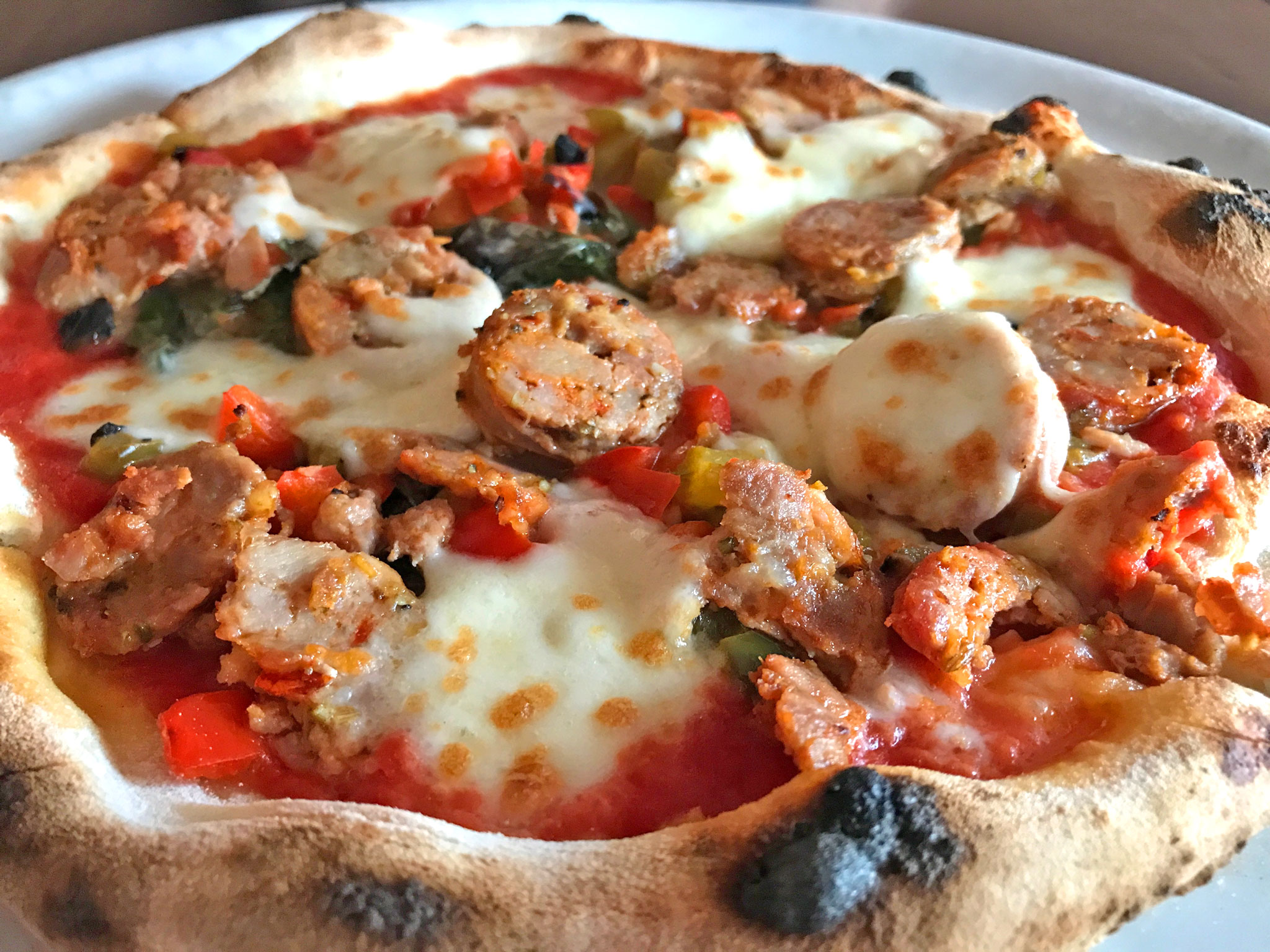 Diavola Neapolitan Pizza – San Marzano Tomato, Fior De Latte, Mixed Peppers, Spicy Home-Made Sausage, Parmigiano Reggiano, Basil, Extra-Virgin Hot Olive Oil.
Like Fabrica, Bavaro's is super-good Neapolitan Woodfired pizza, but instead of fast-casual, Bavaro's has table service. Owner, Dan Bavaro says, "this is fork and knife pizza", but I still eat it with my hands. (You can take the boy out of New Jersey, but you can't take New Jersey out of the boy.)
Cappy's Pizzeria
2900 1st Ave North
St. Petersburg, FL 33713
(727) 321-3020
Cappy's Website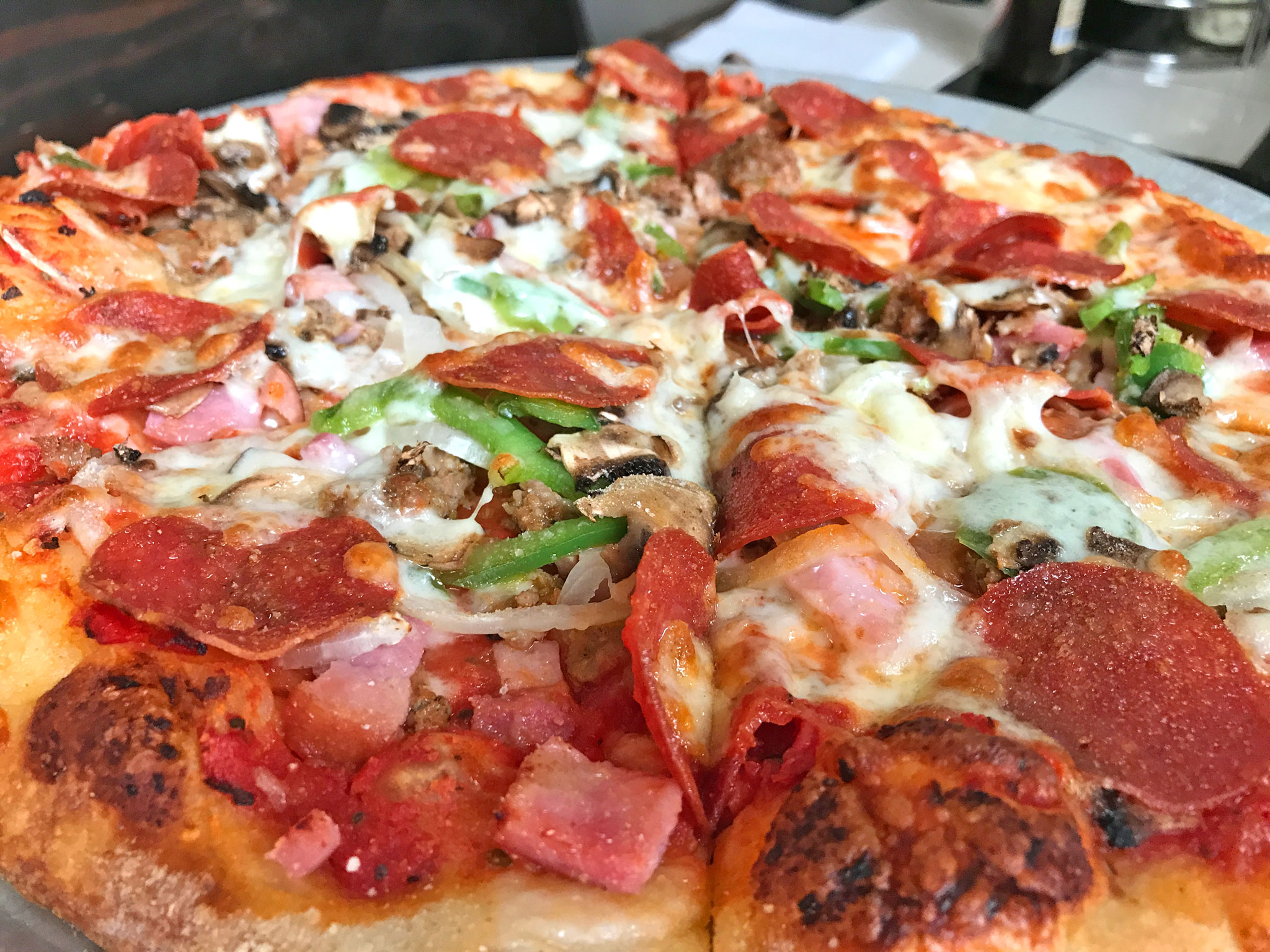 The Cappy – Sausage, Ham, Pepperoni, Green Bell Pepper, Onions, Mushrooms.
Cappy's is another one that executes NY style pizza excellently. In a blind taste test, you could still pick out the actual NY pizza, but they come quite close.
Cappy's also has excellent Chicago Deep Dish.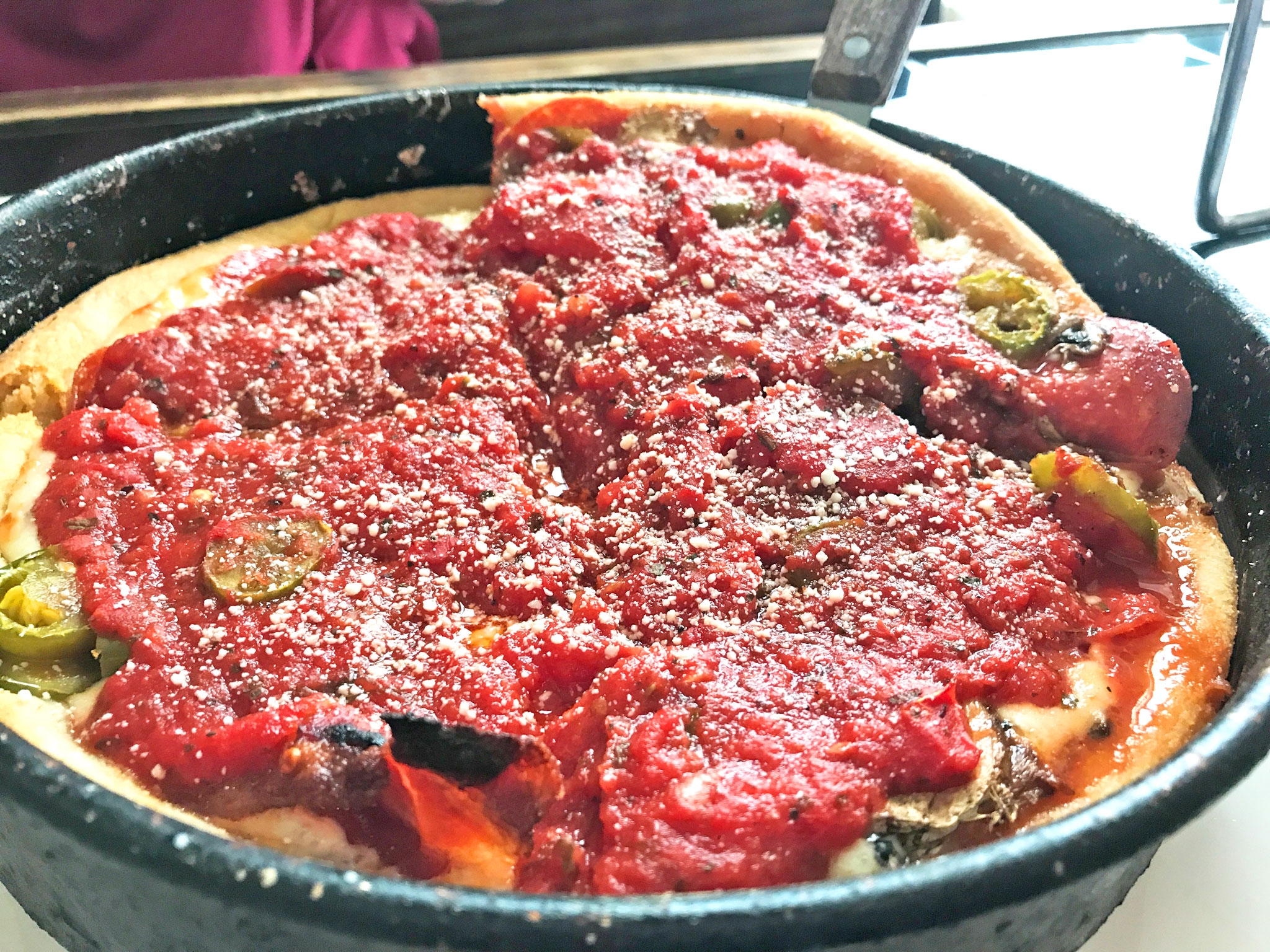 Fabrica Pizza
101 7th St. South
St. Petersburg, FL 33701
(727) 290-9643
Fabrica Pizza Website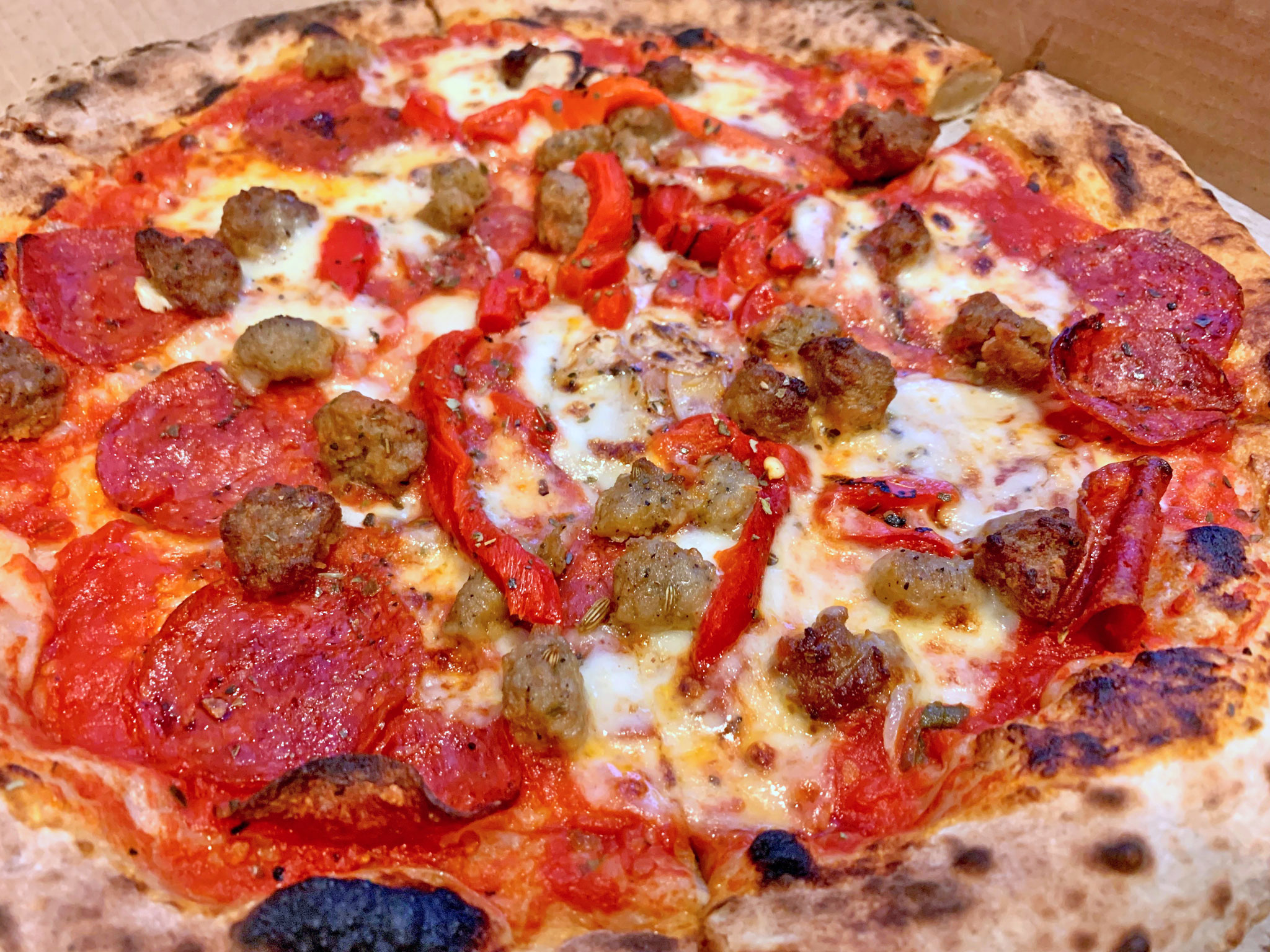 Fabrica Carni Pizza – San Marzano tomato sauce, fresh mozzarella, oven roasted peppers, Italian sausage, beef and pork meatballs, pepperoni, fresh garlic, oregano.
This is just super-good Neapolitan Woodfired pizza in a fast-casual atmosphere.
Paul's Chicago Pizza
11002 4th St N
St. Petersburg, FL 33716
(727) 346-5180
Paul's Website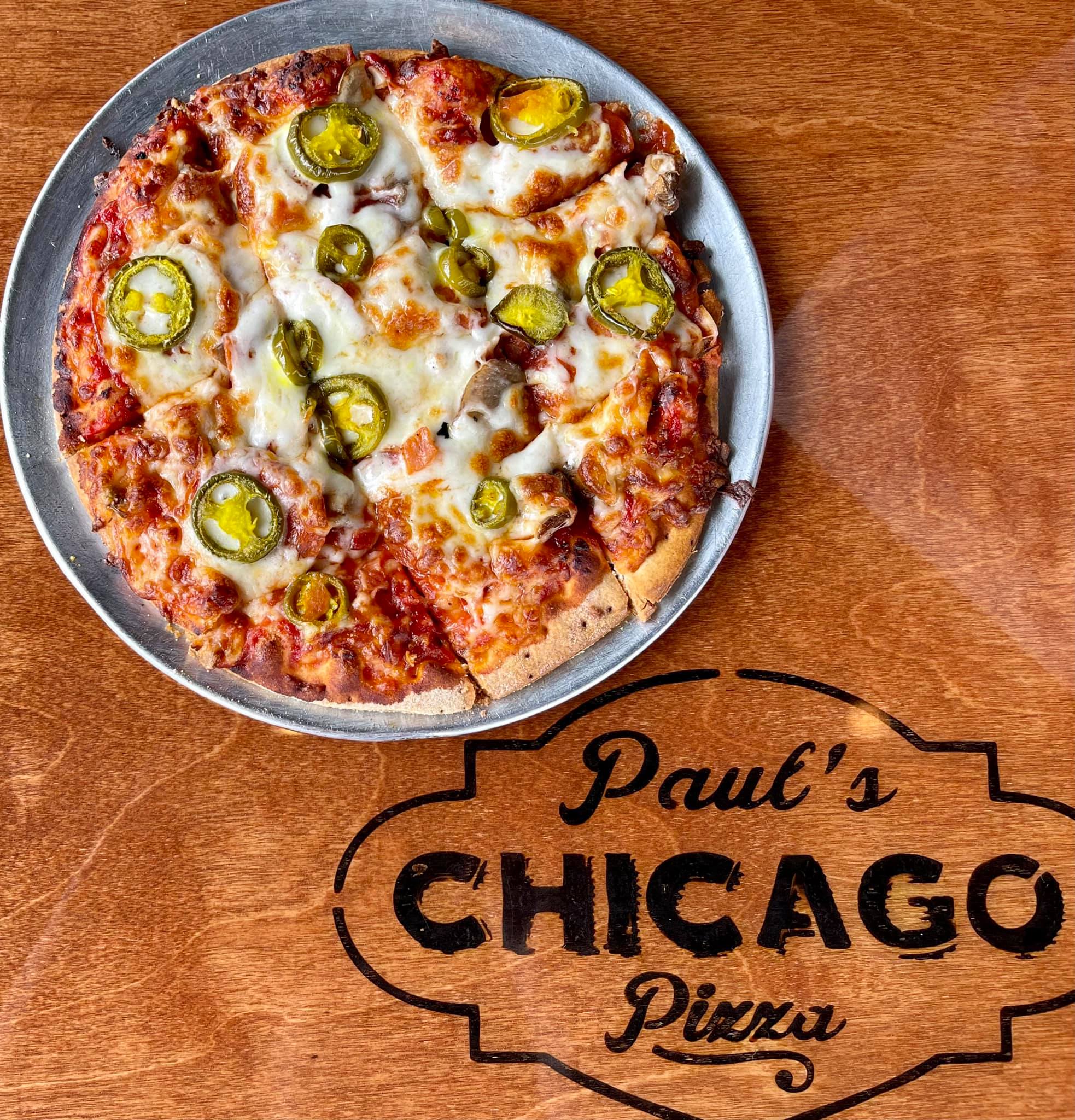 When someone says "Chicago Style Pizza", the uninitiated think of only deep dish pizza, and people from New York / New Jersey think "that's not pizza!" Well, this Jersey boy sure found out that Chicago Style Pizza, while quite different than New York style, is seriously delectable! There are actually three main types of Chicago style pizza, and one of them is a thin crust. Surprisingly, in Chicago, the thin crust is more popular than the Deep Dish or Stuffed. (Chicago Deep Dish was actually invented for the tourists.) Locals rarely eat it. The thin crust can be made round, square, or rectangular, and then it is cut into small squares that are two to three bites each. These are often served at parties and get-togethers. The Deep Dish and Stuffed are almost the same. They are both more like a pie than a flatbread, and have the ingredients added onto the crust in reverse order with the sauce being last, covering everything else. The difference is that Stuffed pizzas have a second crust, like a covered pie with sauce on top of that. Paul's discontinued the stuffed pizza at the St. Pete location, but you can still get it in Clearwater.
Tuttorosso Restaurant & Pizzeria
7863 Blind Pass Rd,
St Pete Beach, FL 33706
(727) 800-9864
Tuttorosso Website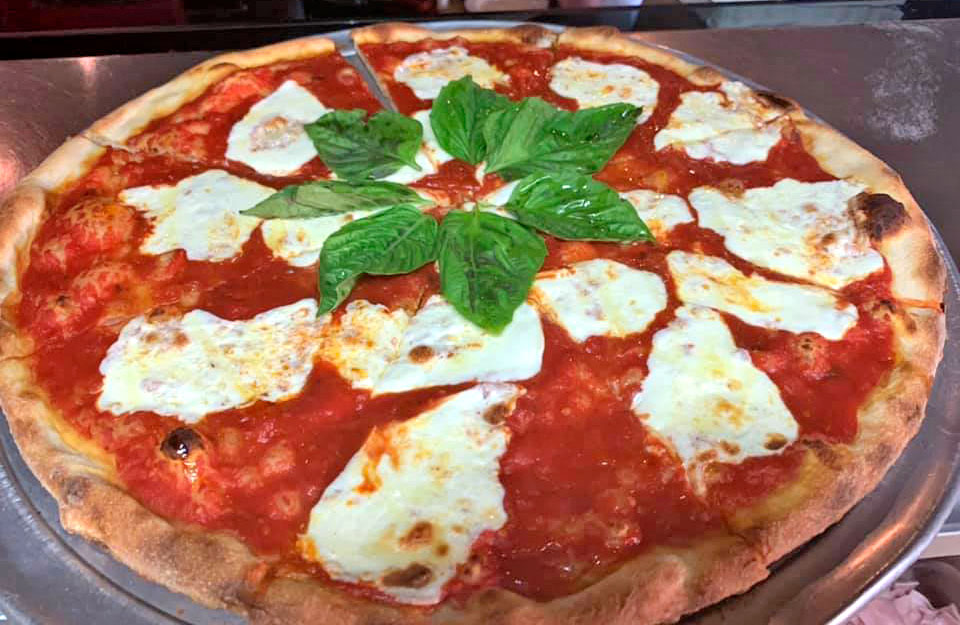 From Haley's review:
Once the aroma of hand tossed pizzas and pasta hits you, you'll understand why Tuttorosso on St. Pete Beach is the go-to casual Italian restaurant and pizzeria that everyone raves about. Tuttorosso is family owned with a comforting menu packed with Italian classics like pizzas, calzones, pasta, salads, desserts and more, like a lot more, the menu is massive. Everything I had, came with good levels of warmth and sharpness and I can't wait to continue going back to try more. Tuttorosso is very much a neighborhood spot with pizza boxes flying out the door just as often as people meander in for a table.
When you walk in, you'll either see pizzas being tossed in the air and prepped for the oven or the giant case of Italian goodies like pizza by the slice, calzones, garlic knots, vegetables, and desserts. If you're taking a seat and staying a while, you'll walk into their casual dining area and peruse the menu while munching on focaccia bread and garlic knots. If you're grabbing a takeout order, you'll talk to the crew behind the display case and they'll take care of your order.
Bonu' Taverna Italiana
601 Central Ave
St. Petersburg, FL 33701
(727) 623-4505
Bonu' Taverna Website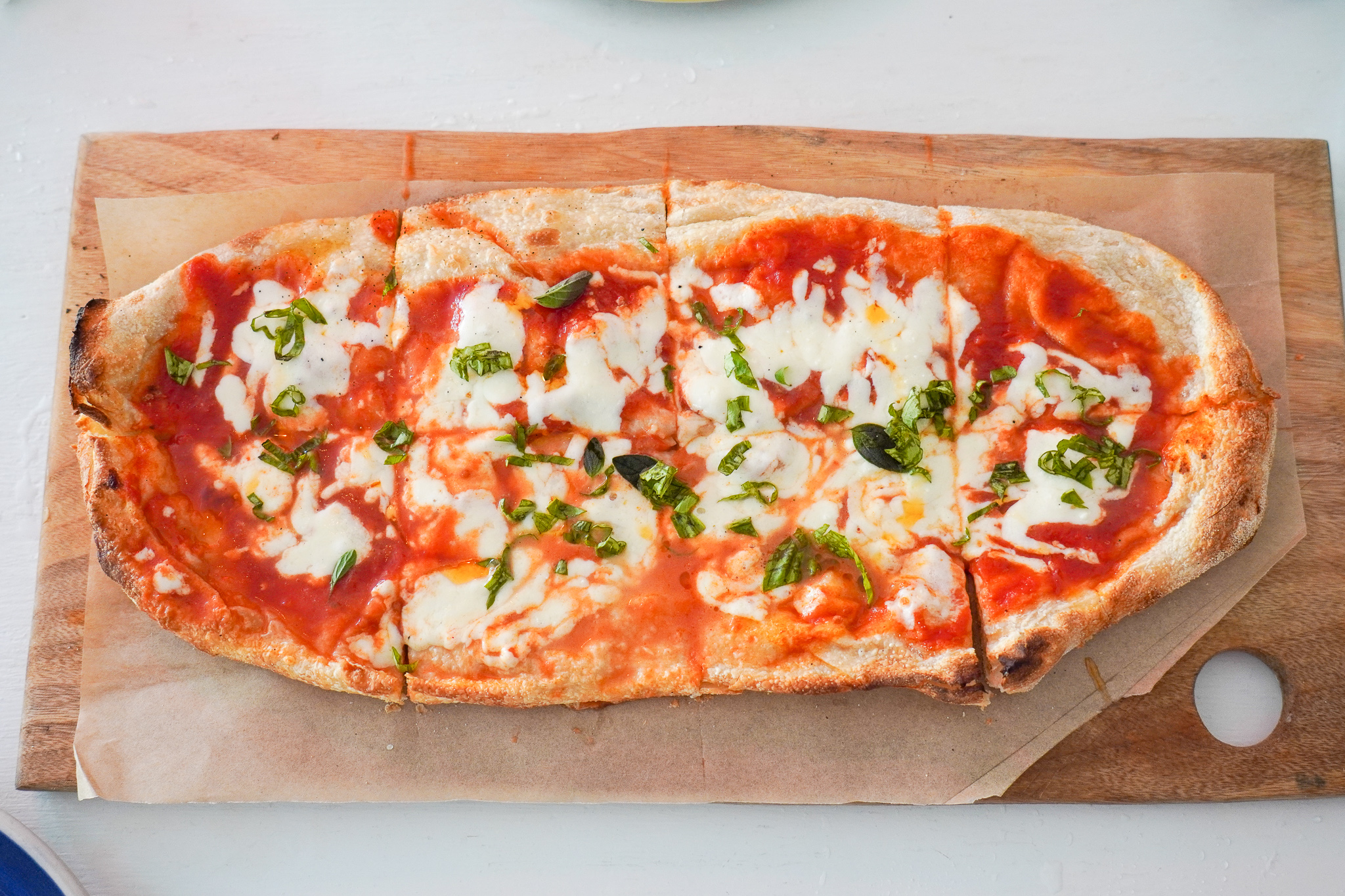 Bonu' Taverna offers Roman-style pizzas like Jay Luigi, but a specific style named "Pinsa". It is served in an oval shape with the dough formed only by hand. It is not tossed or stretched in the air like NY or Neapolitan pizzas. The pinsa dough has 80% hydration. Compared to Neapolitan pizza that has a hydration of 55.5-62.5% (According to The True Neapolitan Pizza Association's (AVPN) International Regulation.) NY pizza dough hydration is usually 65-70%.
From Haley's review:
There's something unique about the pizza at Bonu Taverna. They call it Pinsa which I learned is a style of Roman baking and cooking where they hand press the pizza dough. Pinsa translates to "push the dough by hand" which makes sense. They have four pinsas to choose from and we went with a basic, Regina with fior di latte mozzarella, tomato sauce, and basil. I'm a big believer in not overcomplicating recipes, and this is a fine example of how with just four fresh ingredients, you can have a glorious meal.
If there's one thing to take away from my review at Bonu Taverna, let it be that they use simple and fresh ingredients to create magnificent Italian dishes. Everything exceeded my expectations and I can't wait to go back for more. Thank goodness I could walk here from my apartment to not only try to burn off some of the calories but also just crawl right into bed for a food coma nap.
Lori Brown, Abby Allen, Haley Haman and Lindsey Harris contributed to this article.
Please tell us your favorite pizza in the comments below.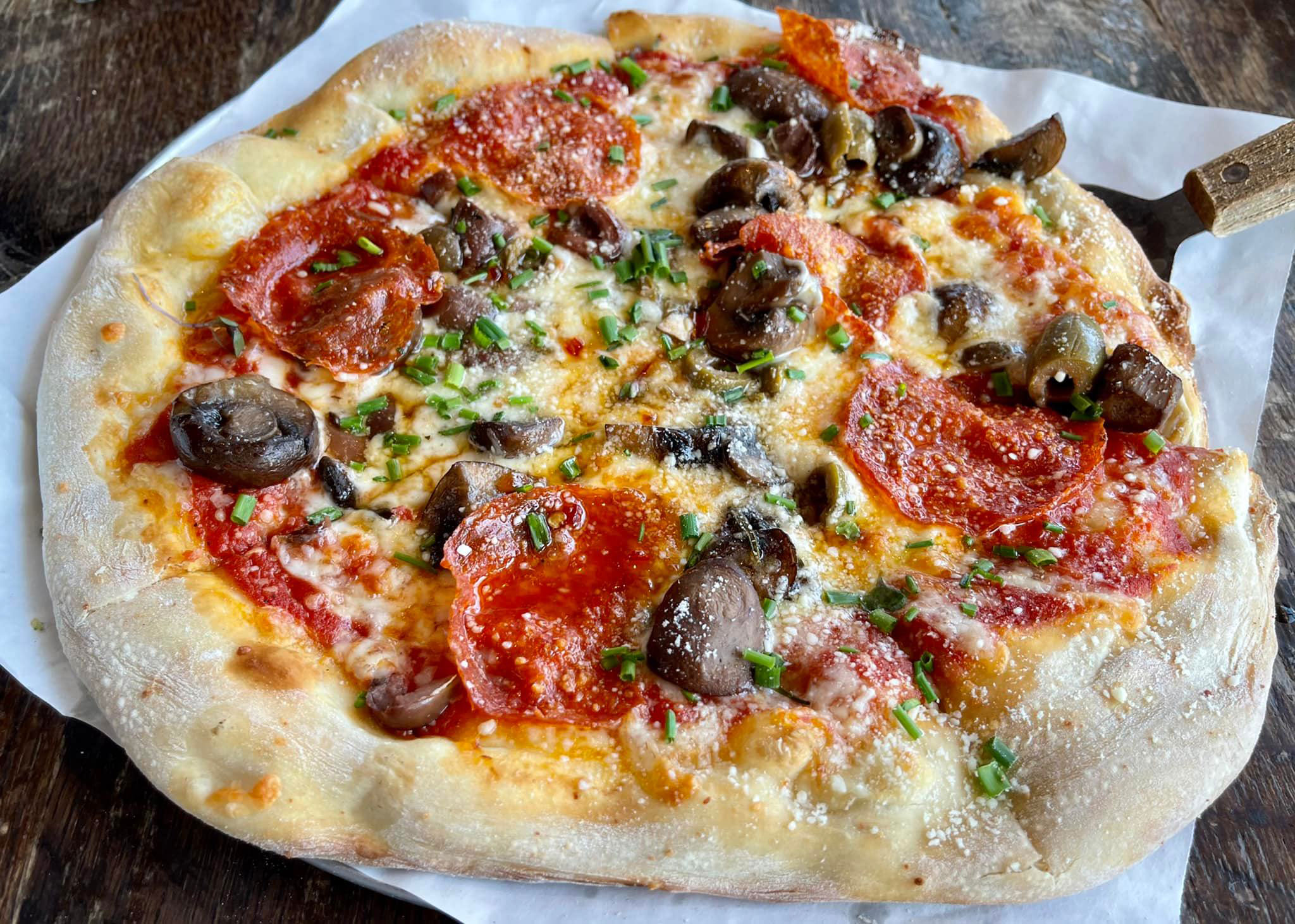 Readers Rating

Rated 4.7 stars




4.7

/ 5 (

Reviewers

)

Outstanding
---
There's a ton of pizza places in St. Petersburg. Some are just ok, and others are really bad. Here are the best pizza joints in St. Petersburg, Florida!