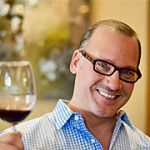 Kevin Godbee · Aug 15, 2016 · 1 min read
Last night Lori and I had dinner at Alesia and it was delicious! Everything tasted great, and the prices are quite reasonable. One bottle of wine ($29) with two appetizers and two entrees = $56 before tip.
For apps, we had - Summer Rolls ($3.70) - fresh rolls in rice paper with shrimp, rice vermicelli, mint & choice of chicken or pork served with hoisin peanut sauce, and Egg Rolls ($3.50) - crispy fried rolls with shrimp, ground pork, wood ear mushrooms & glass noodles, served with house dipping sauce.
Lori had the Asian Style Beef Stew ($8.50) - tender beef & carrots with a flavorful broth over rice vermicelli, topped with fresh herbs & served with a french baguette.
I had the Traditional (lean beef & brisket) Pho ($8.50) - vietnamese rice noodle soup served with fresh herbs.
Like I said, we loved it and definitely recommend it. However, the beef pho at La V - Vietnamese Fusion has more meat and comes with a plate of crispy, fresh Culantro, basil, Jalapeño, and bean sprouts that you do not get at Alesia. Granted, La V's is costs a little more, I think $10 or $11.
Tell us what you think in the comments below, or follow the link to the listing in the restaurant guide to make your own review.
There are several Alesia Reviews on TripAdvisor.
Alesia Restaurant
7204 Central Ave
St. Petersburg, FL 33707
(727) 345-9701
http://www.alesiarestaurant.com/