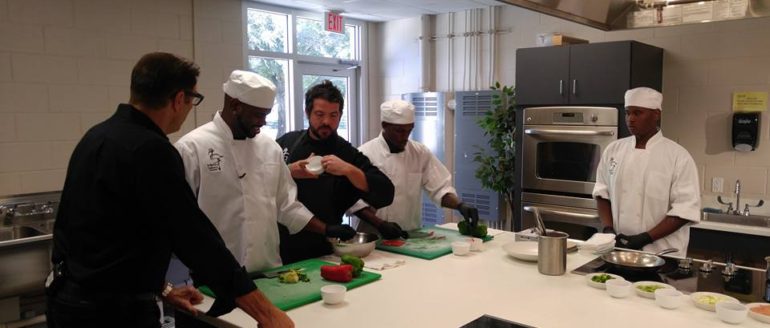 In short, the mission statement for the The St. Pete Culinary Center is "a not-for-profit organization created to provide at-risk youth and young adults with top-notch culinary training, thereby empowering them to build successful careers and lead rewarding lives."
The project, which has been months in the making, was spearheaded by Chef Ted Dorsey and Jason Griffin, owners of The Mill Restaurant. However, it is a completely independent project outside of the restaurant. Chef Ted's passion for teaching and helping others better themselves is contagious. He and Griffin love to train and promote their employees from within. They have proven that by giving of their time and knowledge they groom dedicated and passionate employees. He has helped dishwashers move to sous-chefs in his career and it is what drives him.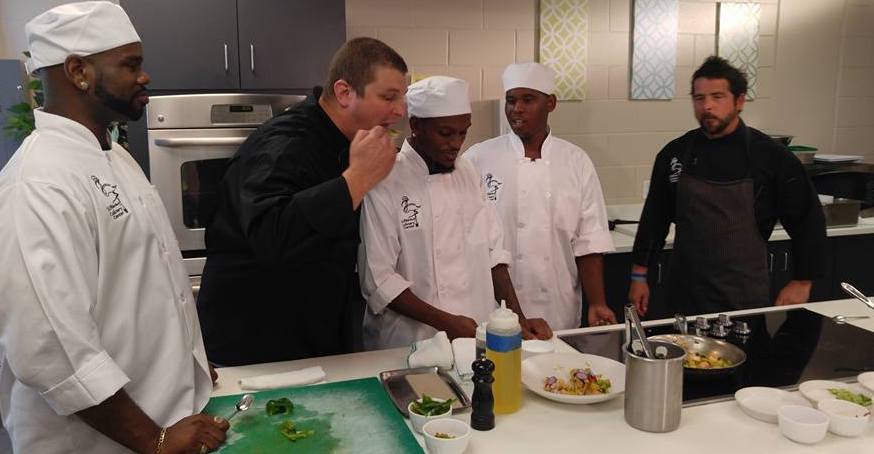 To quote Chef Ted, "Everyone makes bad choices and we want to give people a shot and at the same time create jobs for South side residents. Teaching and giving back to the community is what it is all about."
Frank Wells, of The Venture House project, was invited for a sneak peek a couple of weeks ago and here is what he had to say, "These students' stories are heartbreaking – and so inspiring: 13 years in prison, now coming back to turn life around and help others; in with the wrong crowd at a young age, but "no major trouble, just in and out of jail a couple times" – but these young people have so much hope and opportunity now: they're an incredible inspiration and validation for this program already!"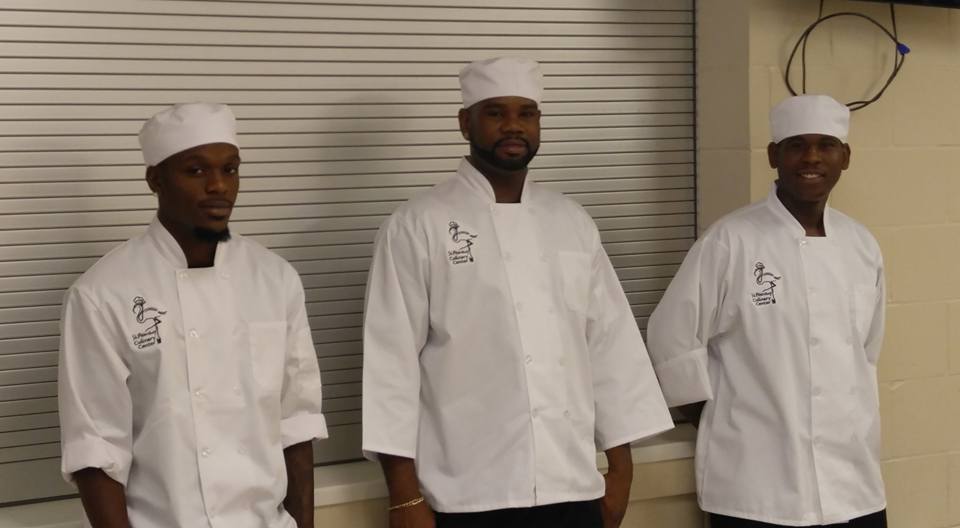 The program will be completely free for all enrollees. It is 16 weeks, with a curriculum put together by Dr. Michael Lynch who also serves on the Board of Directors. They are looking to hire a day to day chef that will handle most of the classroom activities, however he and several other popular chefs in St Petersburg, will choose a specific area of the curriculum in which they will work hands on with the students. For instance, Chef Ted loves to teach about creating soups and sauces and Chef Tony Mangiafico, of Grattzi Italian Grill, may choose to handle the pasta portion of the course, etc. The other chefs involved with the Center are Chef Jason Cline (formerly of the Birch & Vine, opening his own venture Poké Rose which is coming soon), Chef Tyson Grant (Parkshore Grill), Chef Jason Esposito (Engine No. 9 and Engine Rose) and Chef Jeffrey Hileman (FarmTable Kitchen).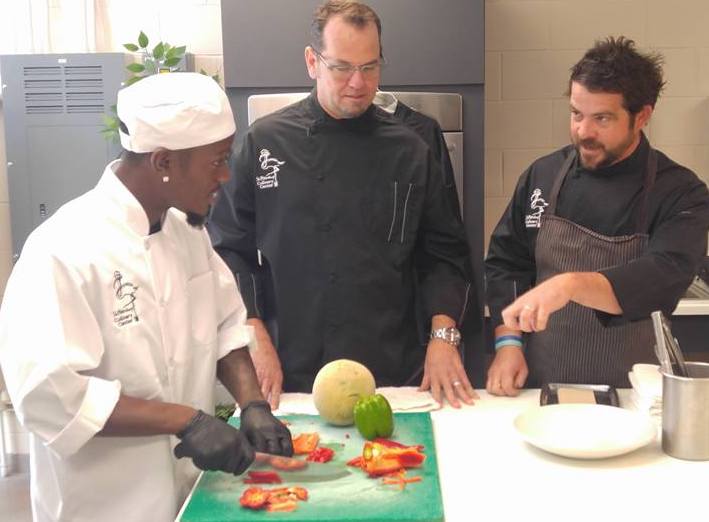 The City of St Pete is also giving their support by adding into the curriculum a program that they already have in place to teach soft skills such as résumé writing, how to interview, how to tie a tie, etc and they have a health and nutrition aspect built into it as well.
HSN is also pitching in and will take the students in to the studio for one week of the curriculum to teach them how to prepare food for video and picture photography.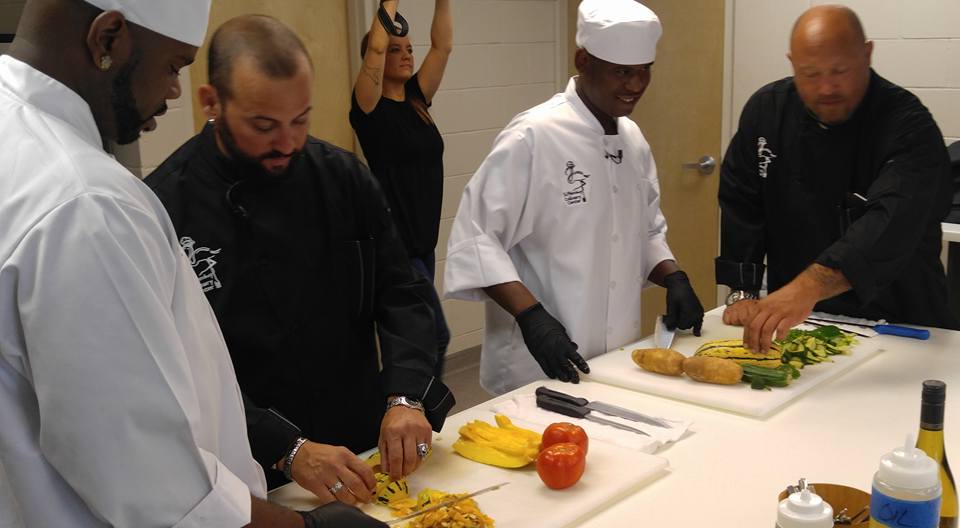 According to Chef Ted, most graduates of the Center will have a built in job waiting for them. Not all will be cut out for a fast paced, high end restaurant, but there is plenty of other support from the community and other options that will be waiting for them. We have heard many times that it is difficult to find and retain quality chefs in our area, so this will help everyone. It seems to be a complete win-win situation.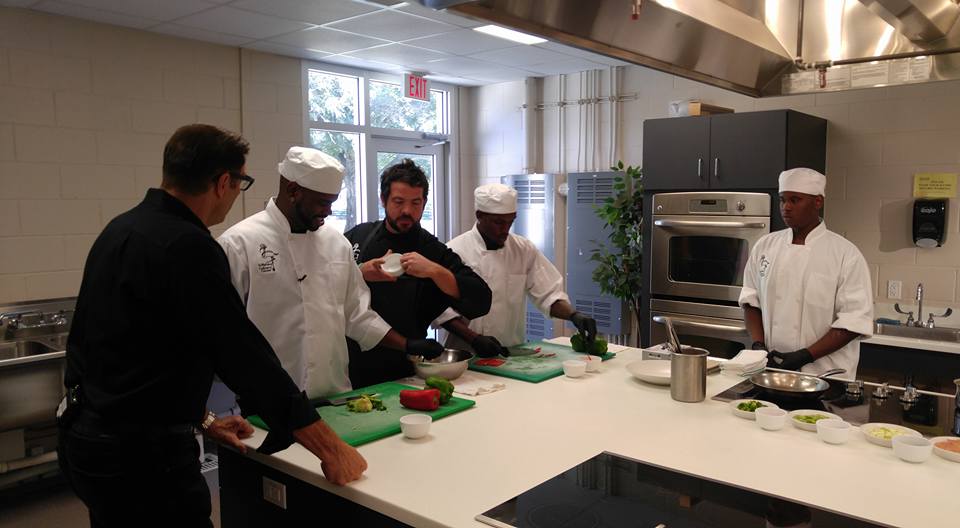 The community support has been great but all of this can't be free without donations and volunteer help from others. Below is the information on their first fundraising gala which is so important so that they can hire the right chef for the day to day operations. Kevin and I will be there and we hope this inspires you to support this great project as well.
Next Thursday, November 17th SPCC is hosting its first fundraising event, A Chef's Tale held at The Mahaffey Theatre to kick off their first classes which will start on January 8th, 2017.  The support from the community is necessary to the success of this great project and this great evening is sure to not disappoint.  Please click here for all of the information.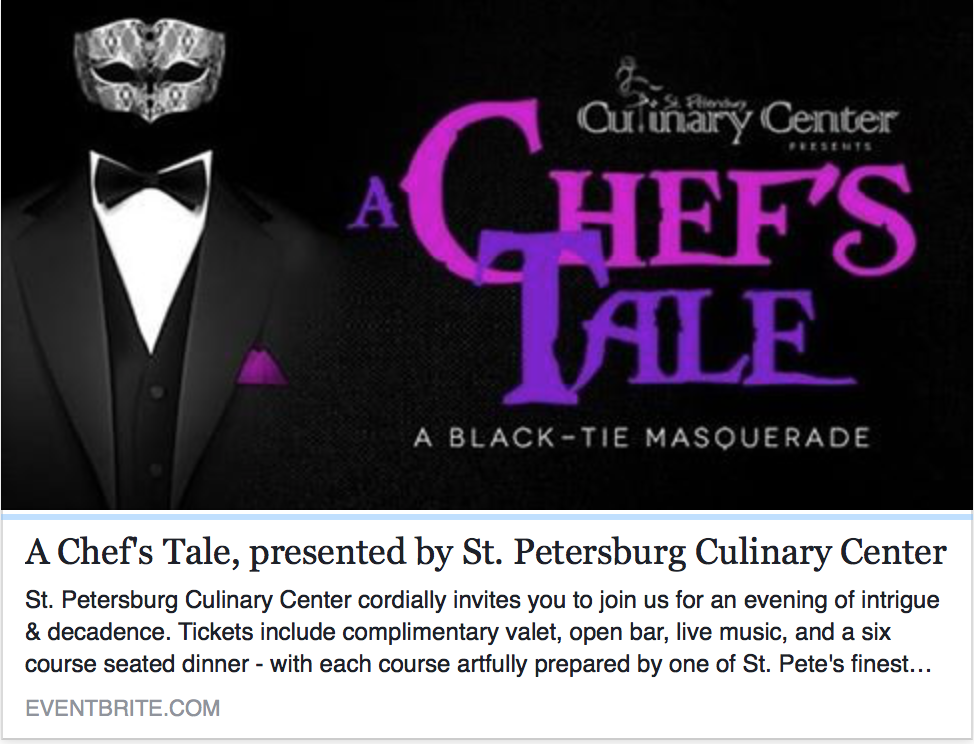 (All photos by Frank Wells)
The St. Pete Culinary Center is a not-for-profit organization created to provide at-risk youth and young adults with top-notch culinary training, thereby empowering them to build successful careers and lead rewarding lives.
DISCLAIMER: Kevin, Lori, Abby, Haley, & Lindsey do not dine anonymously (this would be impossible) and we sometimes get free food (though never expected). However, we dine with the locals and we support our own. You will always get honesty in a respectful manner. We do not include any large national or regional chains in our ratings and reviews. We focus on independent locally owned eateries exclusively.

PLEASE NOTE: Reviews reflect a certain moment in time. Some restaurants stay extremely consistent over many years, and some change for the better or worse. Some things that may change are: chefs, recipes, food suppliers, ingredients, philosophies, ownership, etc. We always hope that you have the same good, or great experience we had.
A Chef's Tale Fundraising Gala, Engine No. 9, Engine Rose, FarmTable Kitchen, Grattzi Italian Grill, Not for profit St Pete Culinary Center, Parkshore Grill, Poke Rose, St Pete Culinary Center, St Pete Foodies, St Petersburg Culinary Center, St Petersburg Events, St Petersburg Foodies, St Petersburg Foodies News, The Mill Restaurant
Written by Lori Brown
Co-Founder of St. Petersburg Foodies.
Founder of The Largest St. Petersburg Happy Hour List Ever.
Culinary Institute of America "DISH" Member.
Kansas City Barbeque Society Certified BBQ Judge
World Food Championships Certified Food Judge.
Certified Pizza Judge #13 by the Pizza Cookoff Association.
I have lived in the Tampa Bay area for most of my life. I would never want to live anywhere else besides St Petersburg. What an amazing thriving city we have!
I have owned my own businesses, and in my past careers I have set sales records in Pharmaceutical Sales and I'm a top performer in Real Estate.
I am a University of Florida graduate with a degree in Business Finance and love living in the Grand Central District of St. Petersburg. I am mom to a son in college (Noah), long-haired female chihuahua (Lola), and a leopard gecko (Leo).... I think he's a boy. (Kevin kind of stole my dog though. He calls her his "Puppy".)
I'm also a foodie that loves to cook, and eat out at great restaurants. Years ago, I even had my own food store (with my friend Lisa) in the location where Jimmy John's currently resides on 4th Street North just south of 9th Avenue North called Weekday Gourmet. I've also been to Napa and Sonoma on wine vacations eight times.
Kevin and I used to go out 4 - 5 nights a week and write reviews on our own timelines. Because of this, I am always asked by people where they should go, what they should order, etc. When we created the group it just seemed natural since we were already doing that. I love to write and take photos, so it just all works.
Life couldn't be better!
View all posts by: Lori Brown
More Foodies News, Reviews & Recipes
Comments are closed
#stpetersburgfoodies #stpetefoodies
Sponsors
Recent Posts
December 4, 2023

Mortadella & Beef Meatballs with Roasted Red Pepper Sauce Recipe

Meatballs are almost like a universal love language. In fact, throughout my thirty something years on this planet, I cannot recall a single time when I encountered a human who shared their distaste for this food. A mashup of ground meat, cheese, eggs, herbs, garlic, breadcrumbs (and sometimes additional ingredients) formed into individual bite size spheres swimming in a bath of luscious sauce, typically red. They're quite hard not to love. What sets these meatballs apart from most others is the addition of mortadella. Mortadella's popularity has been growing for some time now and I don't see that slowing down anytime soon. Mortadella originated in Italy and in essence, is an emulsified large format pork sausage. The pork meat is minced into a smooth paste, stuffed into a casing and then steamed. The complexion of the mortadella is created by a combination of fat, peppercorns and often pistachios and the texture is quite smooth. It's enjoyed in a number of ways – sandwiched between bread, on charcuterie boards, draped over pizzas, and so on. The inspiration to lace meatballs with mortadella was sparked during a recent trip of mine to New York City while reading a restaurant menu. This particular restaurant had a veal and mortadella meatball appetizer offering and it piqued my interest immediately, as I have a love affair with mortadella. While I did not try the veal and mortadella meatballs, I knew I had to experiment with the concept when I got home. I used an abbreviated version of the beef meatballs that I usually make and added in a healthy amount of diced mortadella. The result was marvelous – just fatty enough, packed with flavor and rich without being too over the top. I decided to go with a roasted red pepper sauce instead of marinara as I thought that the marinara would overpower the beautiful savory and succulent notes that the meatballs project. Additionally, bell peppers are in season in Florida in December, so I figured this was an ideal time to utilize them. You can use jarred roasted red peppers instead of the fresh ones in this recipe to speed things up a bit. Rollin' Oats carries Jeff's Naturals organic roasted bell pepper strips and they would work as a great substitute. You can find the rest of the ingredients for these meatballs also at Rollin' Oats with the exception of the mortadella. That you can usually find at most specialty grocers. The ground beef that I used for these meatballs from Rollin' Oats was the Dakota organic grassfed 85/15 blend, which proved to be perfect. These meatballs and the roasted red pepper sauce are wonderful on their own as a pre-dinner appetizer, delightful tossed with spaghetti and satisfying while tucked into a split top roll with lots of parmesan cheese and fresh basil. Mortadella & Beef Meatballs with Roasted Red Pepper Sauce Recipe These mortadella spiked meatballs in roasted red pepper sauce are packed with flavor. Serve them as an appetizer, or toss them with your favorite pasta. Make sure you have some toasted bread handy for scooping up the delicious sauce. Meatballs1 lb ground beef (grass-fed and/or organic preferred)1/2 lb mortadella (diced into small pieces)1/2 cup parmesan (grated)1/2 cup breadcrumbs1/4 cup basil (chopped – plus more for serving)2 eggs (whisked)2 garlic cloves (minced)2 tsp saltRoasted Red Pepper Sauce2 red bell peppers (cut in half – stem and seeds removed)2 vine ripe tomatoes (medium in size)1/2 white onion (medium in size, diced)1/2 cup heavy cream3 garlic cloves (minced)1 tbsp dried oregano2 tsp salt (plus more, to taste)1/2 cup parmesan cheese (grated – plus more for serving) Roasted Red Pepper SauceHeat oven to 450F and line a baking sheet with foil. Place bell pepper halves on sheet and roast for 18-20 minutes, or until peppers begin to take on some color. Remove peppers from oven, place in a medium bowl, cover with plastic wrap and allow to steam for 10 minutes (this will make it easier to remove the skin). Once cool enough to handle, remove and discard pepper skins – you'll have about 1 1/2 cups of roasted peppers.Bring a medium pot of water to a boil and prepare an ice bath in a bowl. Cut a shallow x into the bottoms of each tomato. Carefully drop tomatoes into boiling water for one minute then place the tomatoes in the ice bath. Remove tomatoes from ice bath and the skin should peel off with ease – discard skins.Place tomatoes and peppers into a blender and blend for 30 seconds until you have a semi-smooth puree. Heat olive oil in a dutch oven or large pot over medium heat. Add in onion and cook, stirring occasionally, until softening begins – 6-7 minutes.Stir in minced garlic and cook for about 1-2 minutes until very fragrant. Then, mix in dried oregano.Pour in pepper and tomato mixture and season with salt. Bring mixture to a gentle simmer for 30 minutes (reduce the heat if the sauce begins to boil). Season with more salt as needed. Pour in heavy cream and 1/2 cup grated parmesan and stir to combine. Continue to gently simmer sauce until meatballs are finished in the oven.MeatballsHeat oven to 350 F Combine all ingredients in a large bowl with your hands. Gently form into golfball sized meatballs – mixture should yield about 16 meatballs. Evenly space them apart on the baking sheet and put them into the oven for 20 minutes.After meatballs have baked in the oven, carefully nestle them into the pot with the sauce, reduce heat to medium low and cover the pot with a lid. Simmer meatballs in the sauce for 30 minutes. If you find that the sauce is too thin, add in some more grated parmesan until you've reached the desired thickness.To serve, spoon meatballs into a dish with some sauce, top with grated parmesan and garnish with fresh torn basil. Appetizer, Main CourseAmerican, ItalianMortadella & Beef Meatballs, Roasted Red Pepper Sauce
Recipes
December 4, 2023

Mortadella & Beef Meatballs with Roasted Red Pepper Sauce Recipe

Meatballs are almost like a universal love language. In fact, throughout my thirty something years on this planet, I cannot recall a single time when I encountered a human who shared their distaste for this food. A mashup of ground meat, cheese, eggs, herbs, garlic, breadcrumbs (and sometimes additional ingredients) formed into individual bite size spheres swimming in a bath of luscious sauce, typically red. They're quite hard not to love. What sets these meatballs apart from most others is the addition of mortadella. Mortadella's popularity has been growing for some time now and I don't see that slowing down anytime soon. Mortadella originated in Italy and in essence, is an emulsified large format pork sausage. The pork meat is minced into a smooth paste, stuffed into a casing and then steamed. The complexion of the mortadella is created by a combination of fat, peppercorns and often pistachios and the texture is quite smooth. It's enjoyed in a number of ways – sandwiched between bread, on charcuterie boards, draped over pizzas, and so on. The inspiration to lace meatballs with mortadella was sparked during a recent trip of mine to New York City while reading a restaurant menu. This particular restaurant had a veal and mortadella meatball appetizer offering and it piqued my interest immediately, as I have a love affair with mortadella. While I did not try the veal and mortadella meatballs, I knew I had to experiment with the concept when I got home. I used an abbreviated version of the beef meatballs that I usually make and added in a healthy amount of diced mortadella. The result was marvelous – just fatty enough, packed with flavor and rich without being too over the top. I decided to go with a roasted red pepper sauce instead of marinara as I thought that the marinara would overpower the beautiful savory and succulent notes that the meatballs project. Additionally, bell peppers are in season in Florida in December, so I figured this was an ideal time to utilize them. You can use jarred roasted red peppers instead of the fresh ones in this recipe to speed things up a bit. Rollin' Oats carries Jeff's Naturals organic roasted bell pepper strips and they would work as a great substitute. You can find the rest of the ingredients for these meatballs also at Rollin' Oats with the exception of the mortadella. That you can usually find at most specialty grocers. The ground beef that I used for these meatballs from Rollin' Oats was the Dakota organic grassfed 85/15 blend, which proved to be perfect. These meatballs and the roasted red pepper sauce are wonderful on their own as a pre-dinner appetizer, delightful tossed with spaghetti and satisfying while tucked into a split top roll with lots of parmesan cheese and fresh basil. Mortadella & Beef Meatballs with Roasted Red Pepper Sauce Recipe These mortadella spiked meatballs in roasted red pepper sauce are packed with flavor. Serve them as an appetizer, or toss them with your favorite pasta. Make sure you have some toasted bread handy for scooping up the delicious sauce. Meatballs1 lb ground beef (grass-fed and/or organic preferred)1/2 lb mortadella (diced into small pieces)1/2 cup parmesan (grated)1/2 cup breadcrumbs1/4 cup basil (chopped – plus more for serving)2 eggs (whisked)2 garlic cloves (minced)2 tsp saltRoasted Red Pepper Sauce2 red bell peppers (cut in half – stem and seeds removed)2 vine ripe tomatoes (medium in size)1/2 white onion (medium in size, diced)1/2 cup heavy cream3 garlic cloves (minced)1 tbsp dried oregano2 tsp salt (plus more, to taste)1/2 cup parmesan cheese (grated – plus more for serving) Roasted Red Pepper SauceHeat oven to 450F and line a baking sheet with foil. Place bell pepper halves on sheet and roast for 18-20 minutes, or until peppers begin to take on some color. Remove peppers from oven, place in a medium bowl, cover with plastic wrap and allow to steam for 10 minutes (this will make it easier to remove the skin). Once cool enough to handle, remove and discard pepper skins – you'll have about 1 1/2 cups of roasted peppers.Bring a medium pot of water to a boil and prepare an ice bath in a bowl. Cut a shallow x into the bottoms of each tomato. Carefully drop tomatoes into boiling water for one minute then place the tomatoes in the ice bath. Remove tomatoes from ice bath and the skin should peel off with ease – discard skins.Place tomatoes and peppers into a blender and blend for 30 seconds until you have a semi-smooth puree. Heat olive oil in a dutch oven or large pot over medium heat. Add in onion and cook, stirring occasionally, until softening begins – 6-7 minutes.Stir in minced garlic and cook for about 1-2 minutes until very fragrant. Then, mix in dried oregano.Pour in pepper and tomato mixture and season with salt. Bring mixture to a gentle simmer for 30 minutes (reduce the heat if the sauce begins to boil). Season with more salt as needed. Pour in heavy cream and 1/2 cup grated parmesan and stir to combine. Continue to gently simmer sauce until meatballs are finished in the oven.MeatballsHeat oven to 350 F Combine all ingredients in a large bowl with your hands. Gently form into golfball sized meatballs – mixture should yield about 16 meatballs. Evenly space them apart on the baking sheet and put them into the oven for 20 minutes.After meatballs have baked in the oven, carefully nestle them into the pot with the sauce, reduce heat to medium low and cover the pot with a lid. Simmer meatballs in the sauce for 30 minutes. If you find that the sauce is too thin, add in some more grated parmesan until you've reached the desired thickness.To serve, spoon meatballs into a dish with some sauce, top with grated parmesan and garnish with fresh torn basil. Appetizer, Main CourseAmerican, ItalianMortadella & Beef Meatballs, Roasted Red Pepper Sauce

November 6, 2023

Miso-Maple Glazed Squash with Burrata & Chili Crisp Recipe

When November rolls around, I love to really to hone in on cooking recipes that project comfort. For me, that entails a strong focus on in-season ingredients and recipes that remind me of the holidays. Squash is always something that I have on hand this time of year – winter squash varietals, specifically. Some favorites of mine include, but are not limited to kabocha, delicata and honeynut. For the most part, they're all rather interchangeable and can be cooked in a number of ways. For this recipe, we're playing up kabocha squash's taste profile (which is basically a cross between the taste of pumpkin and sweet potatoes) with a miso-maple glaze, creamy burrata cheese, spicy chili crisp, a bright squeeze of lime and pungent cilantro (you could also use basil in place of cilantro). When all of these components come together, they create a profile of flavors and textures that awaken the tastebuds. Kabocha isn't a must-use here. Other squash varieties that I would suggest using are: delicata, honeynut, red kuri or carnival. Burrata cheese isn't a must-use either. Feel free to substitute this cheese out for similar semi-soft and mild selections like mozzarella or even ricotta. Additionally, don't feel like you *have* to make chili crisp, though it is easier than you may think. There are lots of jars of chili crisp on the shelves these days that will serve the same purpose. Miso-Maple Glazed Squash with Burrata & Chili Crisp Recipe This squash dish has it all – heat, sweetness, acid, creaminess, texture and savory notes. It works as a solid side dish and would work perfect at your Thanksgiving gathering. Squash & Assembly1 squash (skin on, washed, seeds removed and cut into half moons (kabocha, honeynut & delicata will work best))1 tbsp olive oil4 ounces burrata (torn into smaller pieces)lime (juice only)cilantro (for garnish)Chili Crisp1/2 cup vegetable oil1/4 cup crushed red pepper flakes1 shallot (larger in size – peeled, cut in half and sliced very thin)6 garlic cloves (minced)1 tbsp soy sauce1/2 tsp saltMiso-Maple Glaze1 tbsp white miso paste1 tbsp maple syrup2 1/2 tbsp olive oilsalt Chili CrispPour soy sauce, crushed red pepper and salt into a mixing bowl. Add shallot, garlic and oil to a small sauce pan over medium heat. When mixture begins to sizzle, reduce heat to medium-low and cook, stirring occasionally, until shallot and garlic turn golden – 20-25 minutes. Strain hot oil into mixing bowl with soy, salt and crushed red pepper and place garlic and shallots onto a paper towel-lined plate. Allow to cool for 5 minutes and add into oil mixture. Stir to combine and set aside until ready to plate.Miso-Maple GlazeWhisk all ingredients together until smooth in a small bowl. Set aside until ready to brush onto squash.Squash & AssemblyHeat oven to 400F and line a baking sheet with parchment paper. Toss squash with 1 tbsp olive oil in a large bowl. Arrange on baking sheet in a single layer. Make sure that they are well spaced out and not touching – this will encourage the squash slices to crisp up a bit. Roast for 40 minutes, flipping halfway through, until edges begin to take on some color.Remove squash from oven, brush with miso-maple glaze and increase heat to 450F. Roast for another 2-3 minutes or until squash begins to caramelize a bit. Remove from oven, add to a plate with torn burrata, drizzle with chili crisp, garnish with cilantro, squeeze over juice of one lime and season with salt to taste. Appetizer, Side DishAmericanChili Crisp Recipe, Miso-Maple Glazed Squash, Miso-Maple Glazed Squash with Burrata & Chili Crisp

October 3, 2023

Spicy Tomato Soup with Basil Cream Recipe

Tomato Soup is perhaps one of the more simplistic soups to throw together and undoubtedly one of the tastiest. A handful of ingredients and a little bit of patience is all you need to whip up a piping hot pot of comforting tomato soup. The most important aspect of this recipe, of course, is the tomatoes. A lot of recipes call for canned tomatoes, which of course is the easiest of routes. However, I prefer the utilization of beautiful, ripe and in-season tomatoes whenever they're available. Tomatoes are in season here in Florida and I fully took advantage of that for this recipe. In fact, these juicy jewels were my inspiration after noticing an abundance of them at the grocery store recently. Rollin' Oats, my favorite health market, specifically has a beautiful array of Roma and beefsteak tomatoes that are organic of course. Basically any tomatoes will work for this recipe as long as they're ripe. Roma, vine ripe and beefsteak are my recommendations. Prepping the tomatoes for the soup is easier than you may think. All you need to do is cut an "X" into the stem end of each tomato, drop the tomatoes into boiling water for one minute, transfer them to an ice bath and then easily remove the tomato skin. Aside from the tomatoes, the only other components needed for the soup are garlic, onions, vegetable broth and heavy cream; however, this isn't just your standard tomato soup – this version has some spice. For the spice element, I used jarred chopped Calabrian chilies, but if you can't find those, one teaspoon or so of crushed red pepper flakes will suffice. The spice is certainly present in this soup, but it isn't overpowering and should be tolerable for most all palates. Serving tomato soup with some basil and some cream is a must in my opinion, so, why not combine the two? I recommend throwing the two ingredients into a small blender, like a NutriBullet, and giving them a quick blend. This will of course thicken the cream mixture a bit which is great for dolloping into a steamy, hot bowl of soup. But wait, there's more. What's tomato soup without a crispy and cheese-topped bread element? I like to make this tomato soup with a side of what I refer to as mozzarella sourdough dippers. I cut sourdough bread into rectangles that are about 1″ thick, drizzle them with olive oil and top with shredded mozzarella. Pop them into the oven until the cheese is melted and the bread begins to crisp and dunk them into your bowl of soup. Rollin' Oats sells one of my favorite sourdough brands – Gulf Coast Sourdough. They have a few variations of their bread on their shelves like rosemary garlic and asiago, but I always opt for the classic, the simply sourdough. As for the cheese, I always reach for Organic Valley shreds which Rollin' Oats also carries. This spicy tomato soup recipe is great for all occasions and days of the week and it's just what you need to get yourself into the fall mode. Spicy Tomato Soup with Basil Cream Recipe Fall is here and so is tomato season. What better way to kickoff the season than by whipping up a comforting pot of spicy tomato soup? Spicy Tomato Soup2 tbsp olive oil1 white onion (medium in size, halved and sliced)4 garlic cloves (peeled and minced)3 lbs tomatoes (roma, vine ripe or beefsteak – make sure they're ripe)1/2 tbsp jarred chopped Calabrian chilies (or 1 1/2 tsp crushed red pepper)4 cups vegetable stock1/2 cup heavy creamsaltBasil (for serving)Basil Cream1 cup basil (fresh, loosely packed)1 cup heavy cream1/2 tsp saltSourdough Dipperssourdough bread (cut into rectangles 1" thick)1 tbsp olive oil1/2 cup mozzarella (shredded) Basil CreamAdd basil, salt and 1/2 cup of heavy cream to a small blender like a NutriBullet and pulse for a few seconds. The mixture will become thick, but that's okay. Pour in the remaining heavy cream and stir – the cream mixture will thin out a bit. Set aside until ready to serve soup.Sourdough DippersHeat oven to 400F. Line a baking sheet with parchment paper. Toss sourdough rectangles with olive oil and arrange in a single layer on the baking sheet. Evenly distribute shredded mozzarella onto rectangles and bake in the oven until cheese is melted and bread is toasted around 7-9 minutes.Remove from oven and set aside until ready to serve with spicy tomato soupSpicy Tomato SoupBring a large pot of water to a boil. Prepare a large ice bath in a separate bowl. Cut an "x" into the stem end of each tomato and boil the tomatoes for one minute. Carefully remove and place in the prepared ice bath. When tomatoes are cool, remove the skins from the tomatoes and discard (this should be quite simple to do because of the boiling process). Heat olive oil in a dutch oven or large pot over medium heat. Add in the onion and cook, stirring occasionally, until onion begins to soften – 4-5 minutes. Season with salt.Add garlic to the pot and cook for another 1-2 minutes until it's fragrant.Mix in Calabrian chilies or crushed red pepper and cook for another 1-2 minutes.Turn the heat up to medium high, add in in the peeled tomatoes, pour in the vegetable stock and bring the mixture to a boil. Reduce the heat to medium low and simmer for 40 minutes. Season with a few more pinches of salt.Blend the mixture with an immersion blender or carefully add the soup contents to a high powered blender like a Vitamix to puree and return to the pot.Stir in the heavy cream and heat the soup over medium low for 15 more minutes. Season with more salt as needed.Ladle soup into bowls, top with basil cream and basil and serve with sourdough dippers along side. Dinner, Main CourseAmerican

September 6, 2023

Sausage and Egg Breakfast Sandwich with Pimento Cheese

Breakfast sandwiches and Pimento Cheese are arguably two of the greatest pleasures known to food. A breakfast sandwich on Saturday morning after an evening of libations always hits the spot. And pimento cheese is best enjoyed anytime, period. The two of them together make for the perfect savory marriage – a true sandwich delight. I've consumed plenty of pimento cheese in my life and never realized how simple it was to make until a few years ago. There are tons of pimento cheese renditions out there. Some use yellow cheddar, others use a mix of yellow and white, some call for cream cheese only, others call for a mix of cream cheese and mayonnaise, and so on. This recipe calls for a mix of cheddars, cream cheese and mayonnaise and instead of cayenne, I use hot paprika. I really love the hint of smokiness and faint note of heat that it brings to the table. The toughest part about this recipe is allowing it to chill in the fridge for a couple of hours without digging in. This not only cools the cheese, but it also encourages the ingredients to meld together nicely. If you don't have the time nor desire to make pimento cheese, Rollin' Oats has you covered. They carry a classic sharp cheddar pimento cheese by Red Clay that's ready to eat and ultra delicious. The sandwich ingredients are flexible. For example, you don't have to scramble the eggs. If you prefer to cook them sunny side up, over hard, etc., please feel free to do so. I just encourage you to just buy quality eggs, preferably cage free and/or organic. That's one of the best things about shopping at Rollin' Oats – they always have premium, quality ingredients and brands on their shelves. Like the eggs, the sausage and english muffins used can be whatever you prefer. For the muffins, I like to use Dave's killer whole wheat when they're available. If I can't find those, Rollin' Oats also carries Food for Life 7 Sprouted Grains organic english muffins and I typically use those in place of the Dave's Killer muffins. Regardless of your ingredient preferences, make this super simple sandwich next weekend and savor every delicious bite. Keep the leftover pimento cheese in the fridge up to a week for premium snacking purposes. Sausage and Egg Breakfast Sandwiches with Pimento Cheese Recipe Not only is this pimento cheese delicious on this sandwich, but it also makes for an ideal snack on its own. It's super simple to make – perhaps the only difficult part is resisting the urge to dive into the mixture while it's chilling. Pimento Cheese1 1/2 cups extra sharp yellow cheddar cheese (finely grated with a box grater)1 1/2 cups extra sharp white cheddar cheese (finely grated with a box grater)1/4 cup mayonnaise1/4 cup cream cheese1/4 tsp hot paprika (like simply organic)1/4 tsp salt (plus more, to taste)1/2 cup pimentons (minced)Sandwiches4 english muffinspimento cheese4 sausage patties (you can also buy ground breakfast sausage or uncooked sausages (casing removed) and form your own patties)4 eggs (preferably organic/cage free)2 tsp olive oil (divided)saltpepper Pimento CheeseCombine and mash all ingredients in a medium sized bowl with a fork until everything is well combined. Season with more salt as needed and chill in the refrigerator for at least two hours.Sandwich AssemblyHeat oven to 350F. Line a baking sheet with parchment paper. Heat 1 tsp oil over medium-high heat in a medium skillet and cook sausage patties for 3-4 minutes per side until they begin to brown.Place the patties on the baking sheet in a single layer along with the english muffins. Put those into the oven while you cook the eggs (5-6 minutes).Crack eggs into a bowl and whisk them to combine – season with a pinch of salt and pepper. Heat the same skillet that you cooked the sausage in over medium heat and add remaining oil. Pour in the eggs and cook for 2-3 minutes undisturbed. Carefully flip the eggs on to the other side and cook for another 1-2 minutes undisturbed. Remove from skillet and cut/divide eggs into 4 even segments.To assemble the sandwiches add the egg to the bottom part of the muffin, then sausage and top with egg. Slather the top of your muffin with pimento cheese.Close up the sandwich and enjoy! Appetizer, BreakfastAmericanPimento Cheese, Sausage And Egg Breakfast Sandwich

August 1, 2023

Smoked Salmon & Crispy Rice Bowl Recipe

Up your at-home brunch game with this smoked salmon & crispy rice bowl that is both impressive and easy to assemble. If you're familiar with standard caviar service, you'll note that this dish is composed using most all of the ingredients served alongside caviar. The only thing missing is a potato element and in its place, we're using the crispy rice as the vehicle for delivering the other components. The result is a delicious bite that is certain to please due to all of the different flavors and textures involved. This dish does not just have to be limited to brunch of course – it would be ideal most any time of day. Simple, yet luxurious, this would be the perfect meal to serve when guests are scheduled to come over. The cook time is minimal, but the end product is quite beautiful. The only detail that you'll have to plan for is having some cooked rice from the day before ready to go in the refrigerator. Additionally, because it is a light and vibrant recipe, it won't have you and your company feeling sluggish and overly stuffed. Making the crispy rice is incredibly easy as long as you can nail the inversion process, which is much more simple than you may think. I serve this crispy rice alongside a myriad of other items like roasted vegetables, grilled fish and meats and in soups and tangy broths. The overall texture is quite desirable because you get the best of both worlds – crispy bits that cooked on the bottom of the pan and also soft and semi-fluffy grains. As far as the salmon and the salmon roe are concerned, feel free to use your preference and/or whatever is available to you. Rollin' Oats sells quality wild caught smoked sockeye salmon by Spence & Co. which I recommend if Rollin' Oats is local to you. As for the salmon roe, you can find Romanoff red salmon caviar/roe on the shelves at Rollin' Oats as well. Salmon roe works great in this bowl and is also a bit more affordable than other types of caviar. However, if you have access to other variations of caviar and are wanting to spend a bit more money, absolutely go for it. Adding that bit of soy sauce at the end to each bowl is not necessary, but I do suggest drizzling just a touch to satisfy your tastebuds. It has a hand in rounding out the dish and adds a bit more of that umami that we all crave, in my opinion. Smoked Salmon & Crispy Rice Bowl Recipe In this brunch bowl, we have all of the ingredients for standard caviar service, but with crispy rice & smoked salmon adding main character energy. nonstick skillet 2 cups cooked white rice (any will do, preferably cooked the day before)4 oz smoked salmon (like Spence & Co. wild sockeye salmon)4.5 oz salmon caviar (Rollin' Oats has Romanoff which works great)1/2 ripe avocado (peeled and divided in equal halves)2 eggs (preferably organic and pasture raised )2 tbsp creme fraiche1 tbsp soy sauce (plus more for serving)1 tbsp mirin1 tbsp olive oil2 tbsp chives (minced)salt Jammy EggsAdd enough water to a medium saucepan to cover eggs (do not put eggs in yet) and bring to a boil. Carefully lower in eggs and set a timer for 6 minutes. Prepare an ice bath for eggs in a medium bowl using lots of ice and some cold water. When time is up, remove eggs and place in ice bath for 5 minutes to stop cooking. Remove eggs from bath, discard water and ice and carefully peel eggs. Cut eggs in half and set aside until ready to assemble bowls. Crispy RiceCombine 1 tbsp soy sauce and mirin with cooked rice. Heat a medium sized nonstick skillet half way between medium and medium-high heat and add oil. Pack rice evenly into skillet.Cook rice until edges begin to turn golden, 8-10 minutes. Carefully place a heatproof plate on top of skillet (topside of plate should be touching the skillet) and invert rice from skillet onto plate.Bowl AssemblyTo assemble bowls, spoon in some crispy rice, top with some salmon, creme fraiche, avocado, half of the eggs, fresh chives and top with a spoonful or two of salmon roe. Finish with a pinch of salt if you'd like and a another drizzle of soy sauce (use as much or as little as you'd like). Breakfast, Main CourseAmericanCrispy Rice, Crispy Rice Bowl, Smoked Salmon