Datz the Way uh-huh, uh-huh, I like it, uh-huh, uh-huh …
Datz the Way uh-huh, uh-huh, I like it, uh-huh, uh-huh …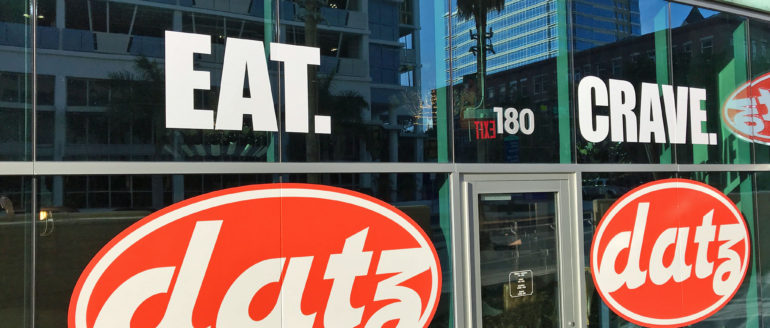 Datz Opens in Downtown St. Petersburg, FL
Datz is HUGE—literally and figuratively!
They are huge on the local food scene …
… and the new location in downtown St. Pete is freakin' humongous!
Both the dining area, and the kitchen can accommodate a large crowd, and it's a good thing with how popular they are, and because of the huge anticipation for this opening.
The official advertised opening date is Monday, June 17, 2019 … but if you walk by sooner, try the door and see if it's open. You might get lucky. 😉
Here's a look at part of the kitchen.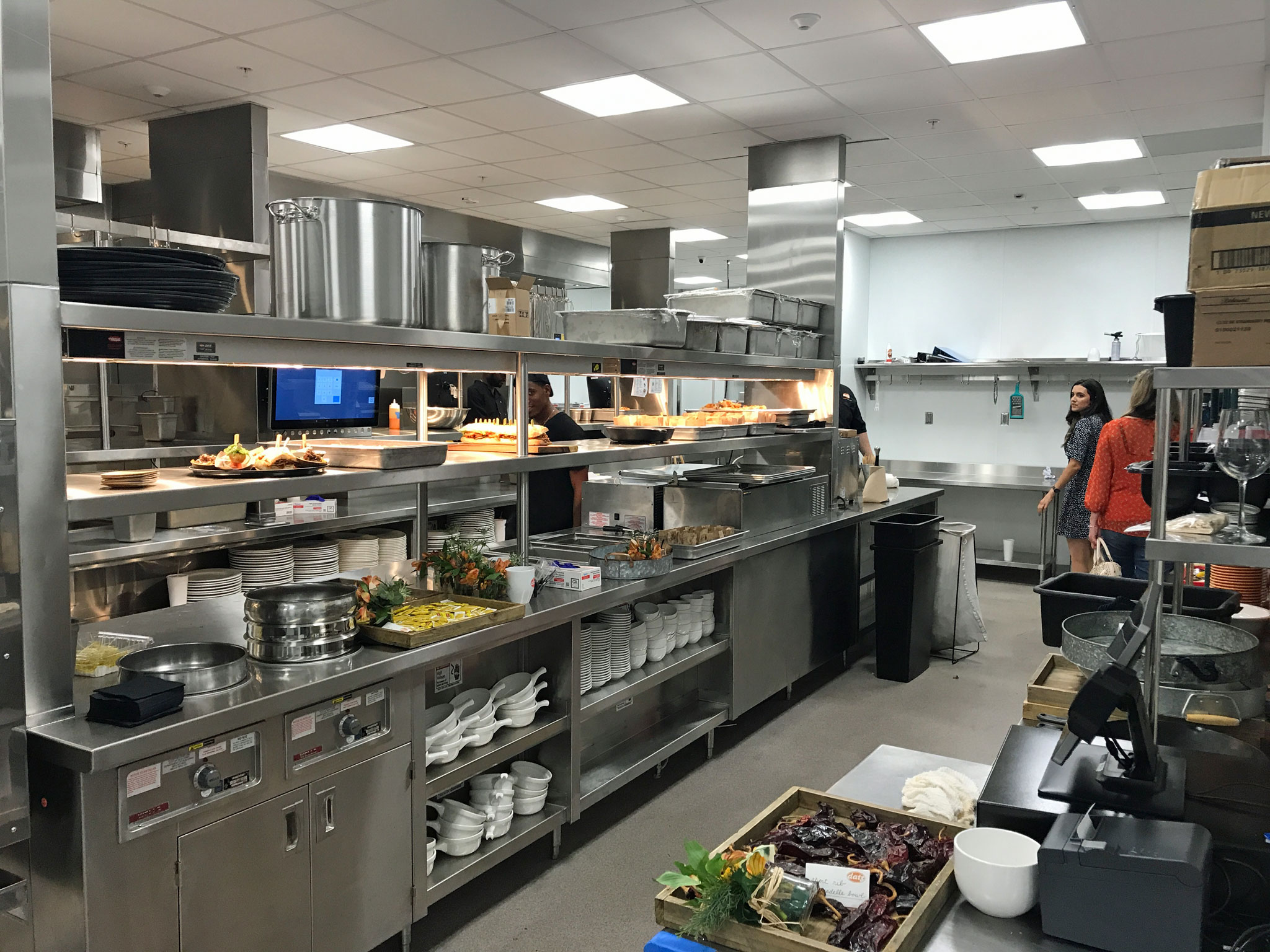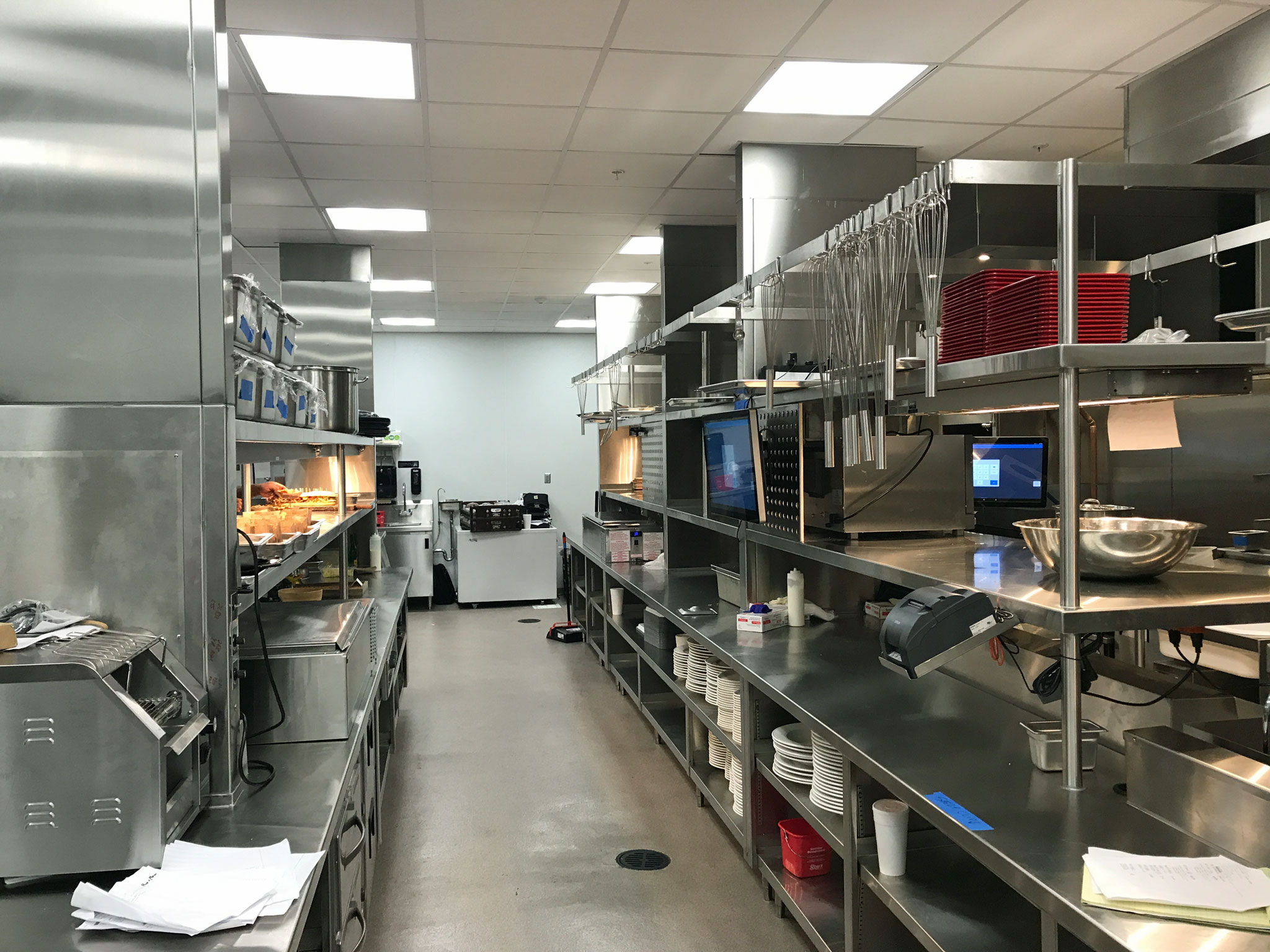 These two photos aren't even half of the kitchen.
While we were in the kitchen, we were pleased to find Zach West as the Chef. He's worked at several esteemed establishments, but we know him from The Mill in St. Pete. The kitchen is in good hands with Zach.
Here's the main dining area. Outside the window in the background there are several sidewalk seating tables. Looking out that window, across the street is Kraft Café, and the intersection of 2nd Street & Central Avenue – to give you an idea of the location.
There's a door there, but the main entrance is around the corner on Central Avenue.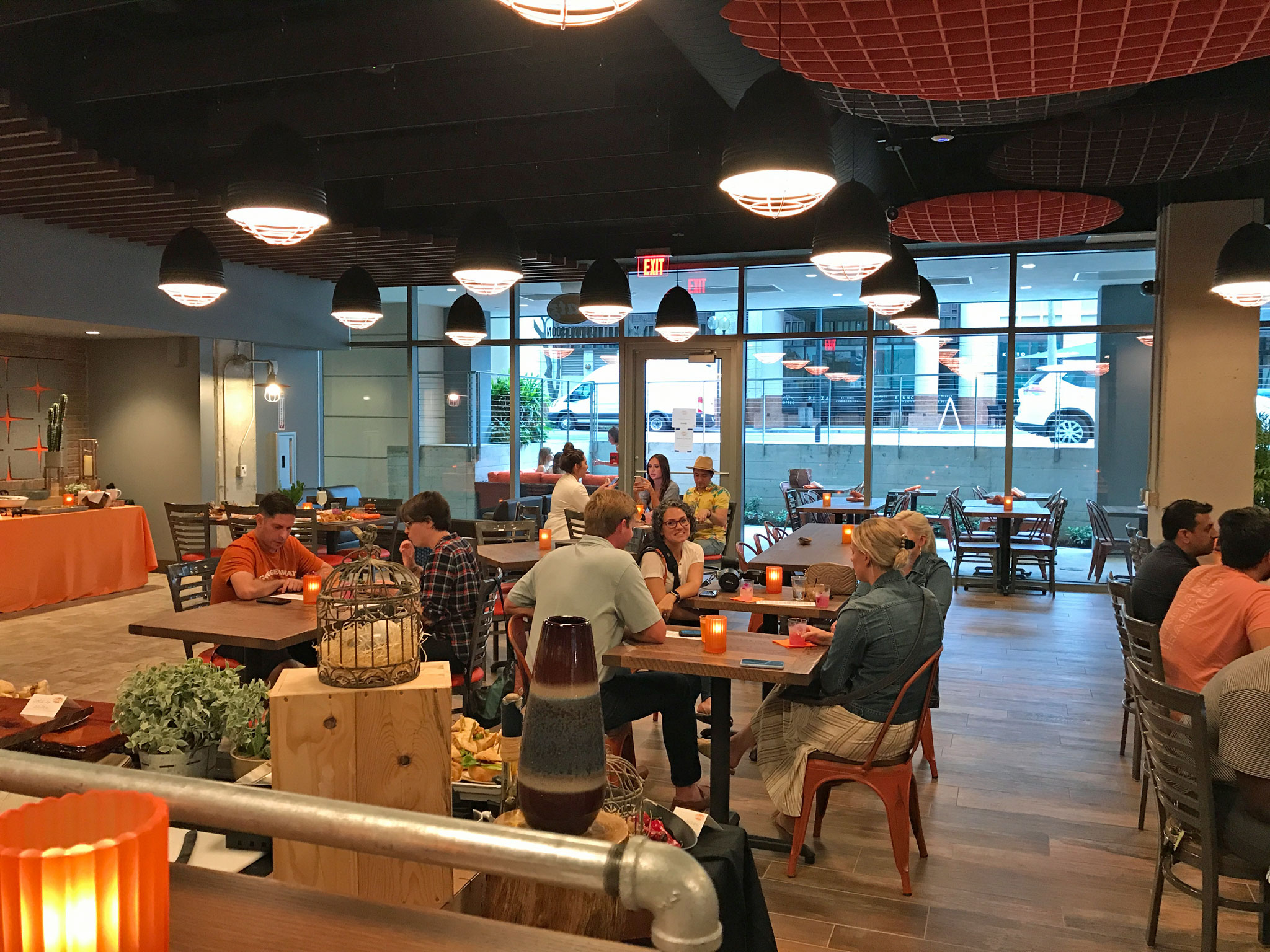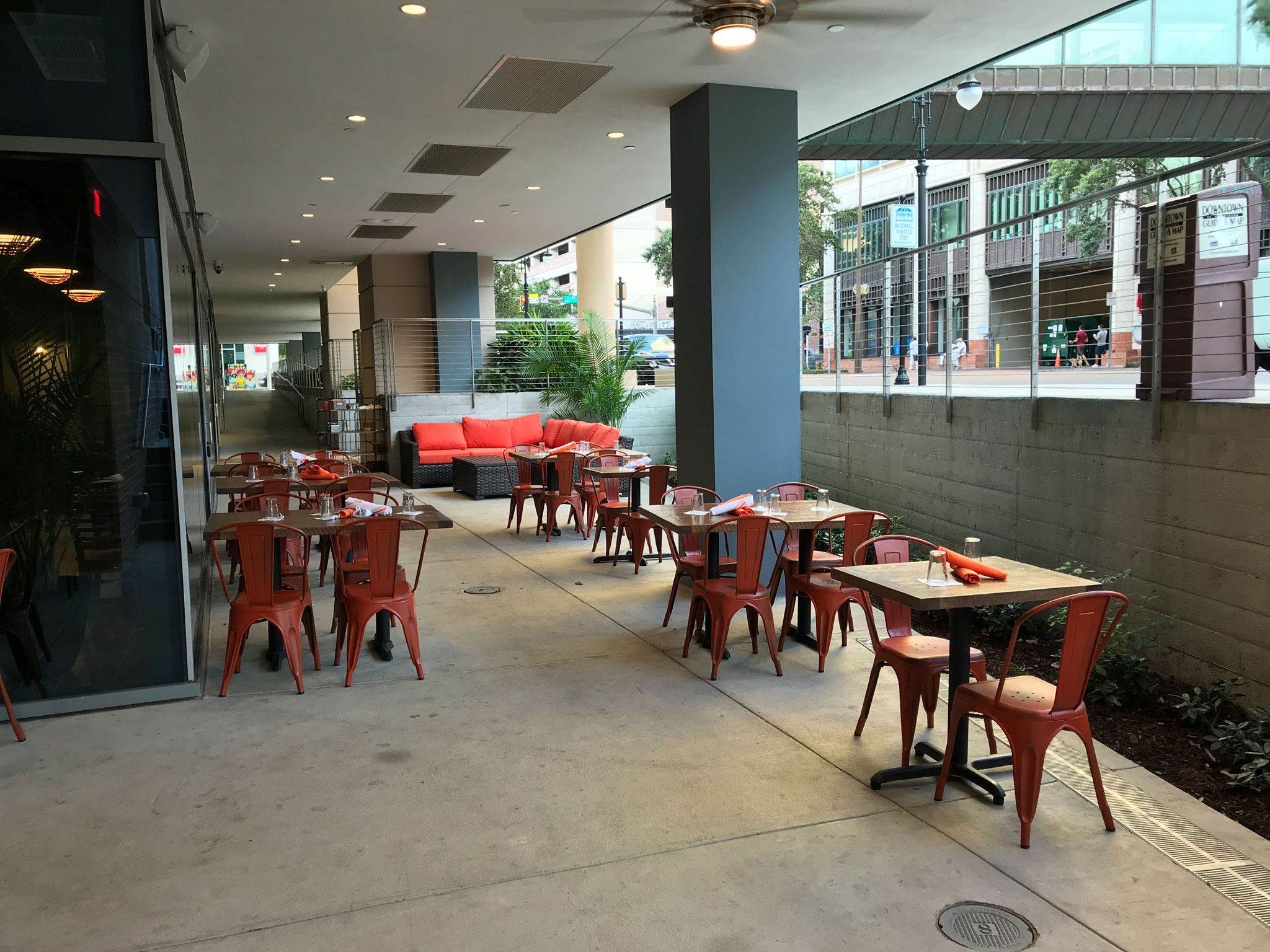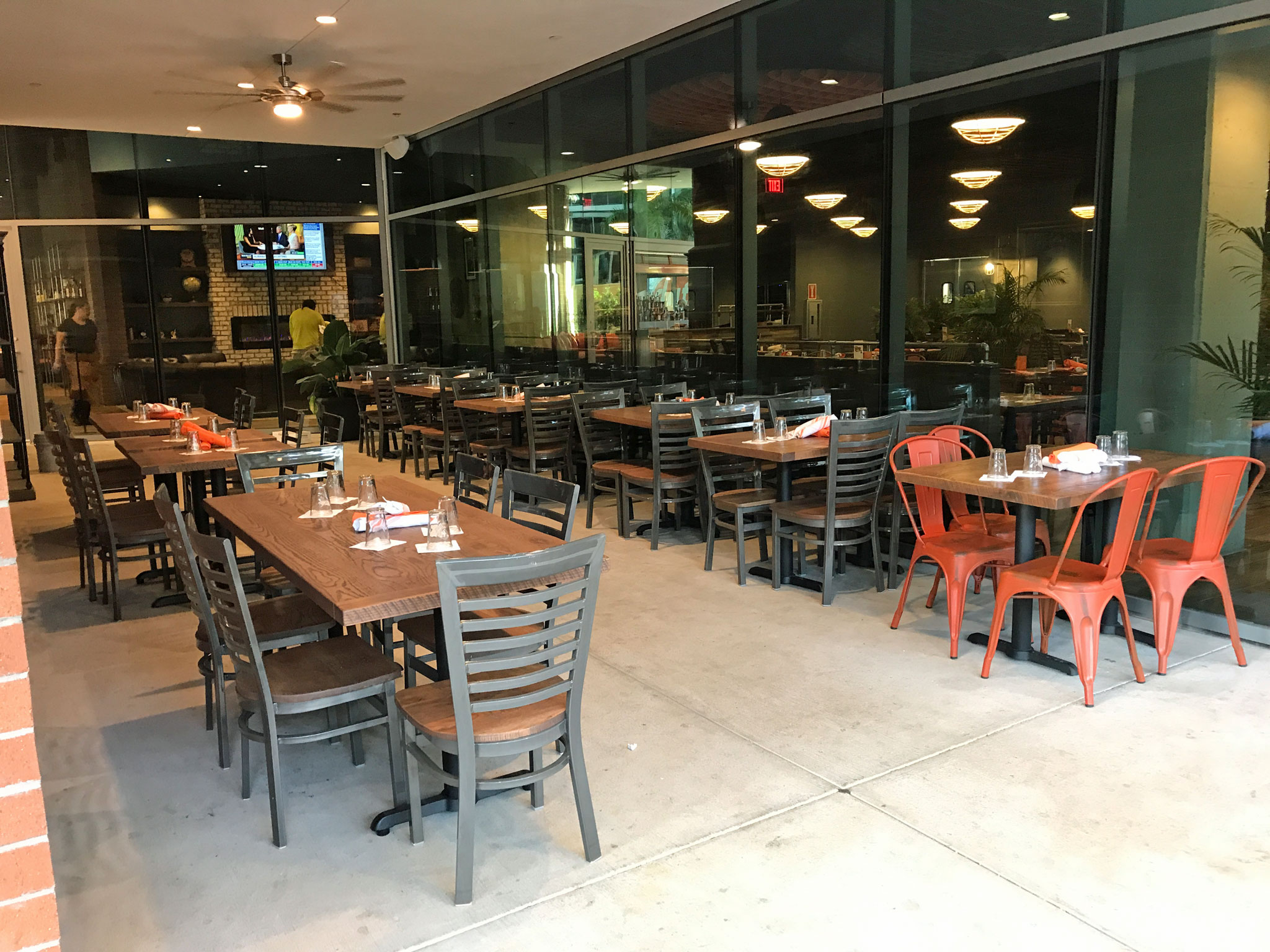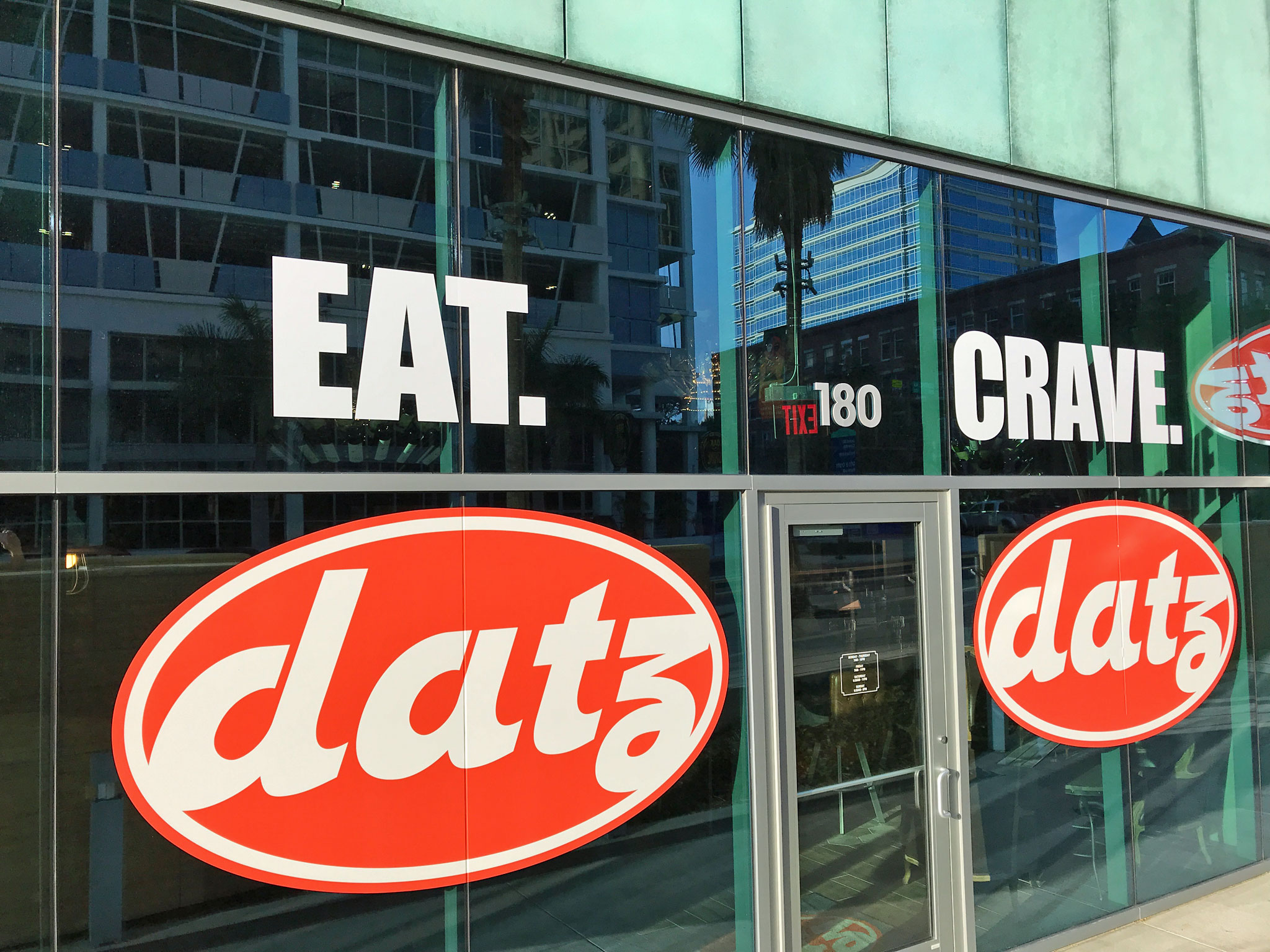 Here's the bar at the main entrance.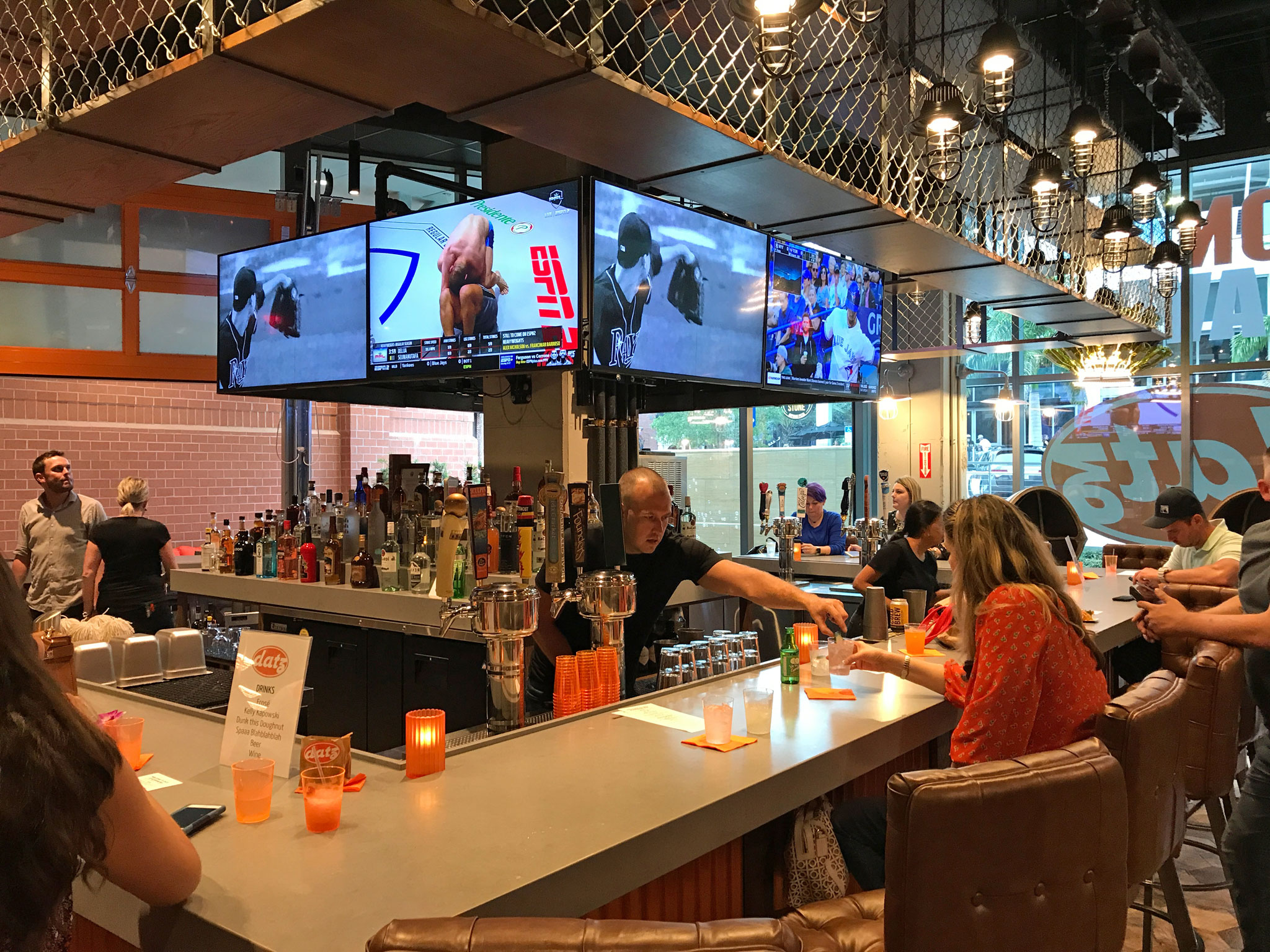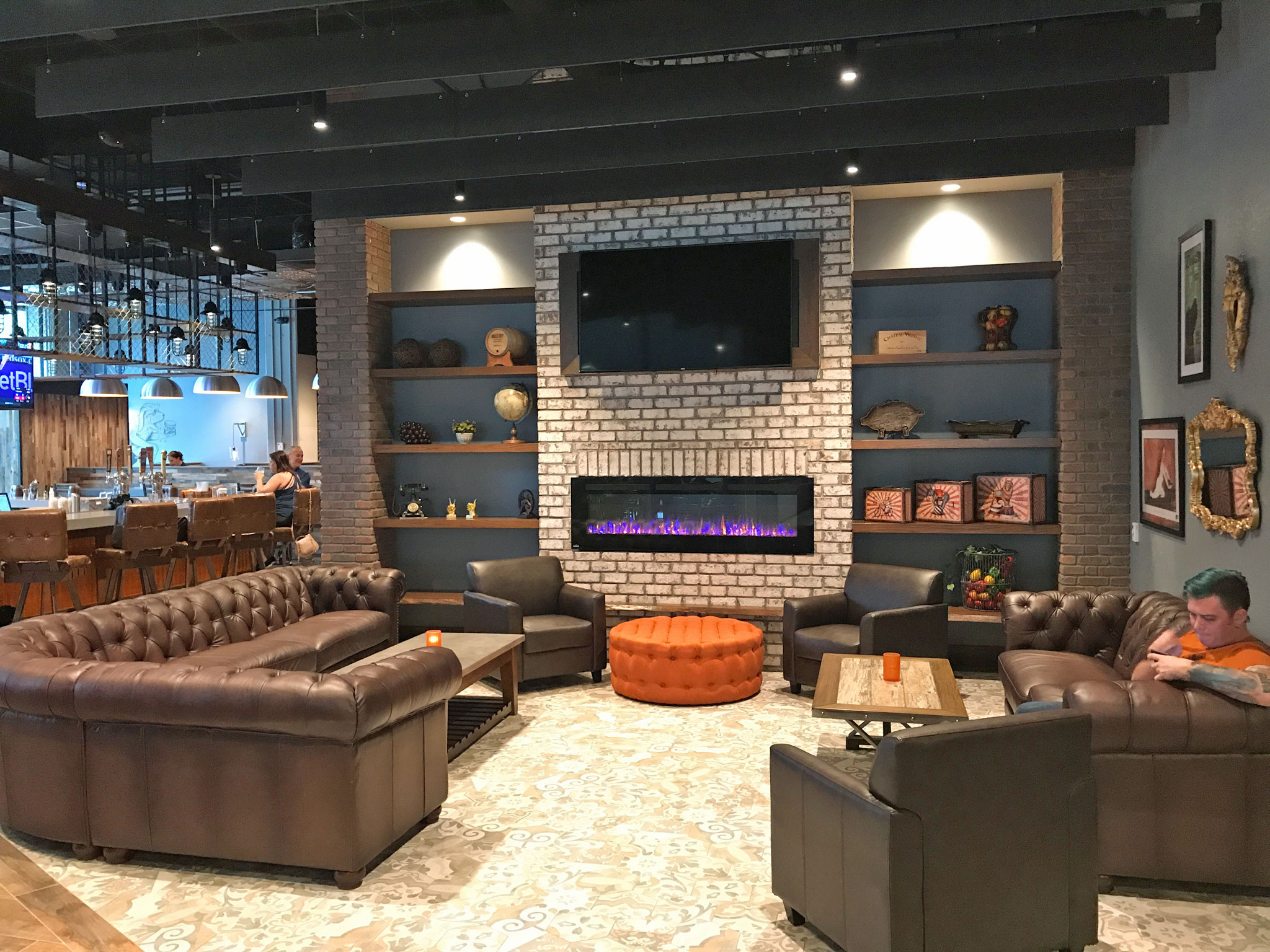 If there's a wait for your table you can chill here. It's the nicest waiting area we've ever seen.
The bar is actually indoor / outdoor with a window opening up to the outside bar with bar stools, and this plush seating too.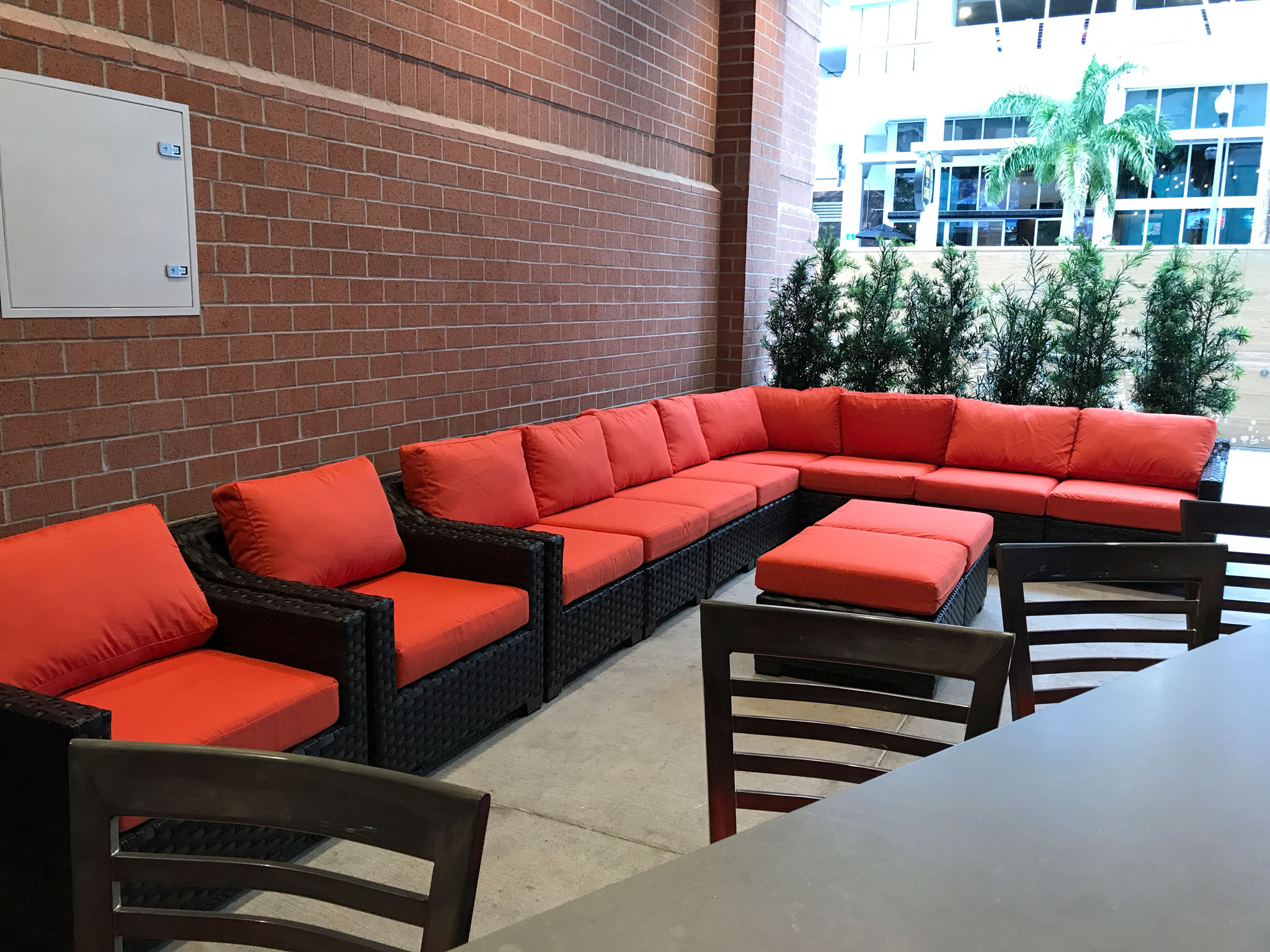 By the way, the indoor bar seats are the best we've ever seen. They are thick, plush leather, riveted, with high backs. (They may have to start charging Lori rent when she gets into one of these. She loved them.)
Now, onto the food!
Datz is known for having great, hearty, comfort food, crazy concoctions, and fun food item names.
Definitely go hungry.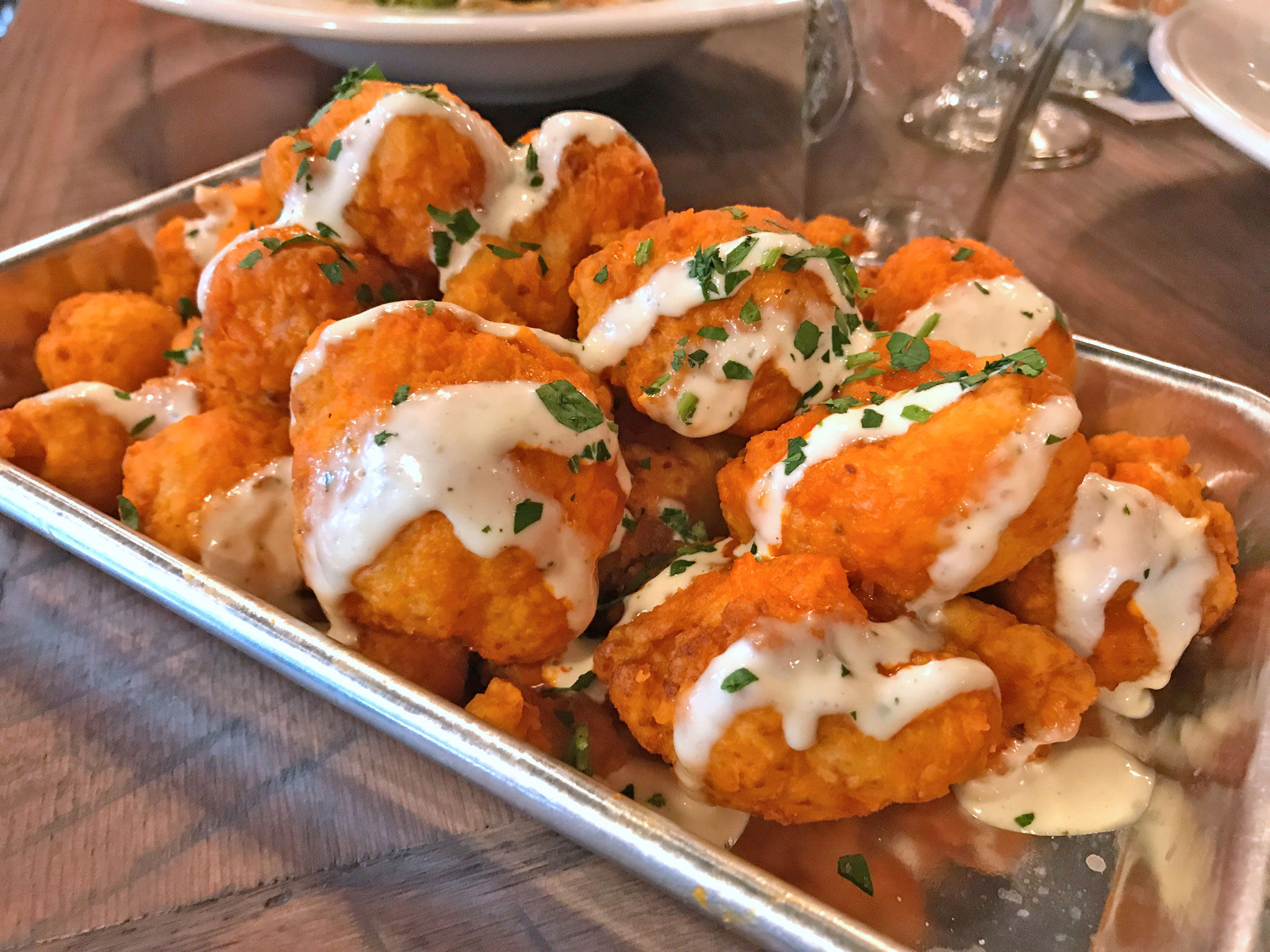 Buffalo Cauliflower Popcorn -Roasted cauliflower bites, fried and tossed in buffalo sauce, drizzled with ranch.
We've had several Buffalo-style cauliflower items at different places, and their good because, you know – Buffalo sauce – but just good because, you know – Cauliflower. However, Datz are the best we've ever had.
If anyone can figure out how to make cauliflower hearty, it's Datz. These are really good.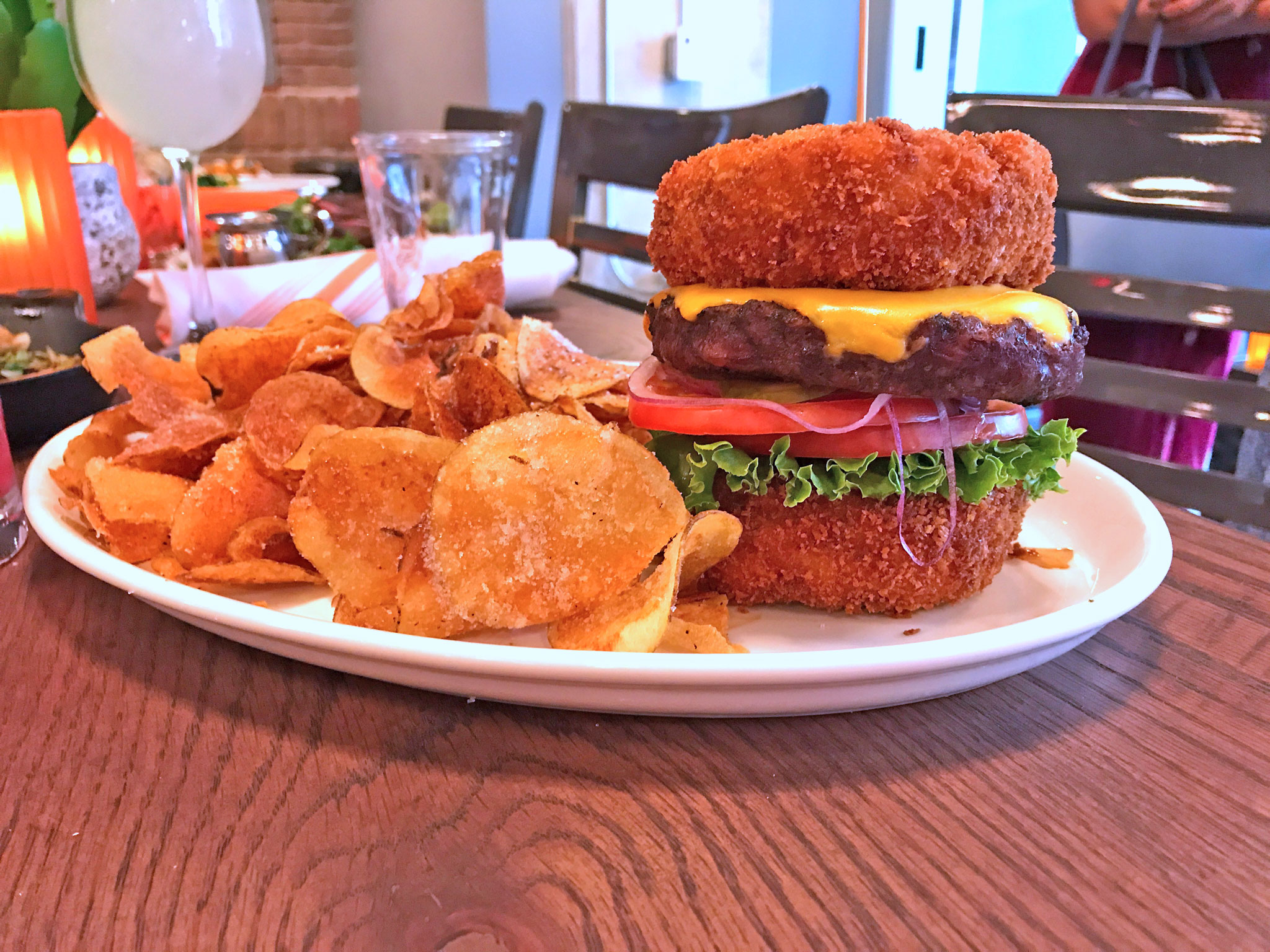 Remember the crazy concoctions I promised you? Above is one of the most famous of Datz.
The Cheesy Todd  – Ground brisket and short rib burger, American cheese, lettuce, tomato, red onion and pickle. Served on two bacon-jalapeño mac n' cheese "buns".
Not easy to eat, but fun, tasty, and needless to say, quite filling.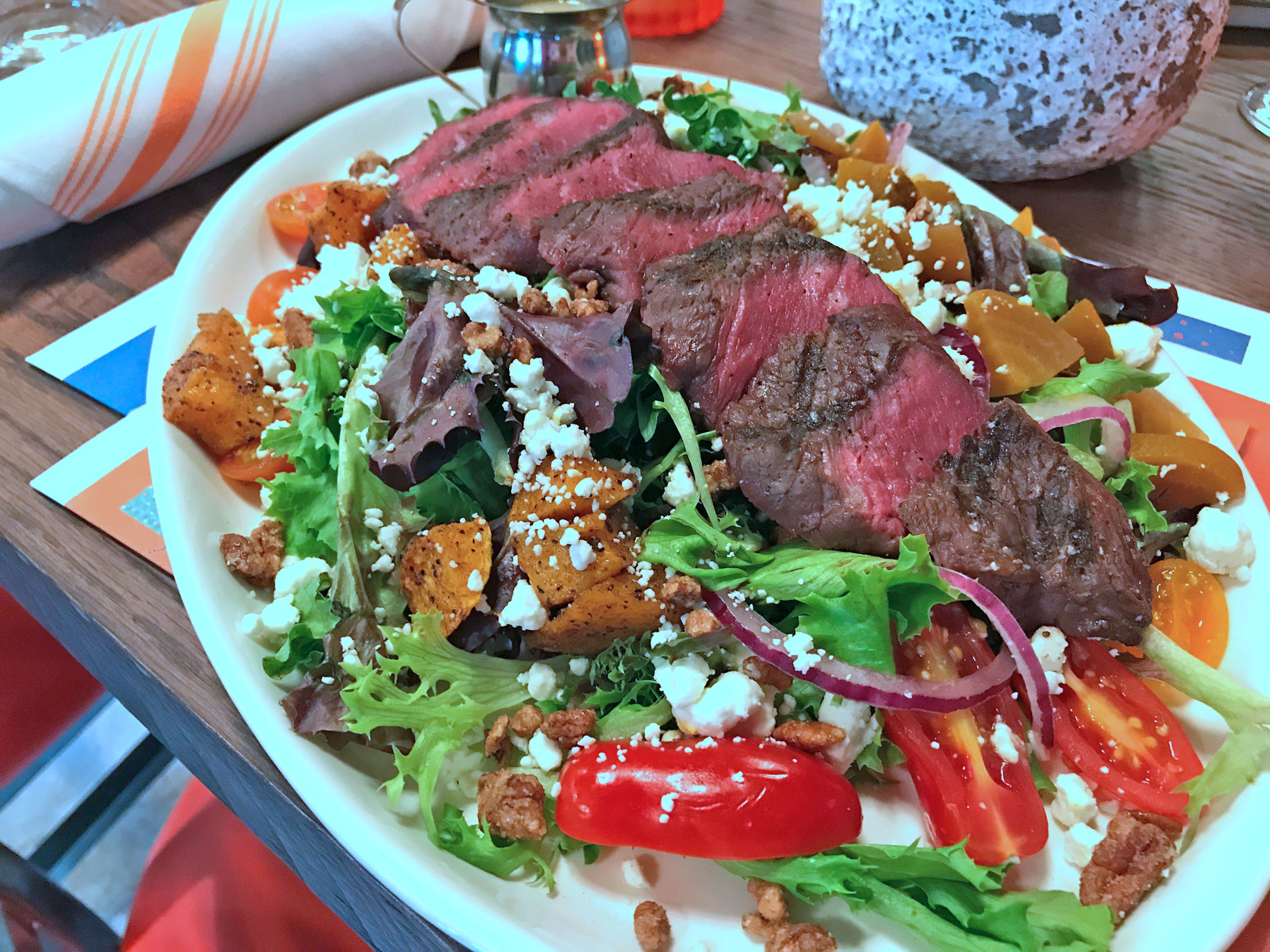 How do you make a salad better? Put a steak on it!
Put a Steak on it – Seared steak, Arcadian lettuce mix, roasted butternut squash, golden beets, goat cheese, candied pecans, tomatoes and red onion with sweet Italian vinaigrette.
The next two items were our favorites – Short Rib Paparadelle, and Shrimp & Grits.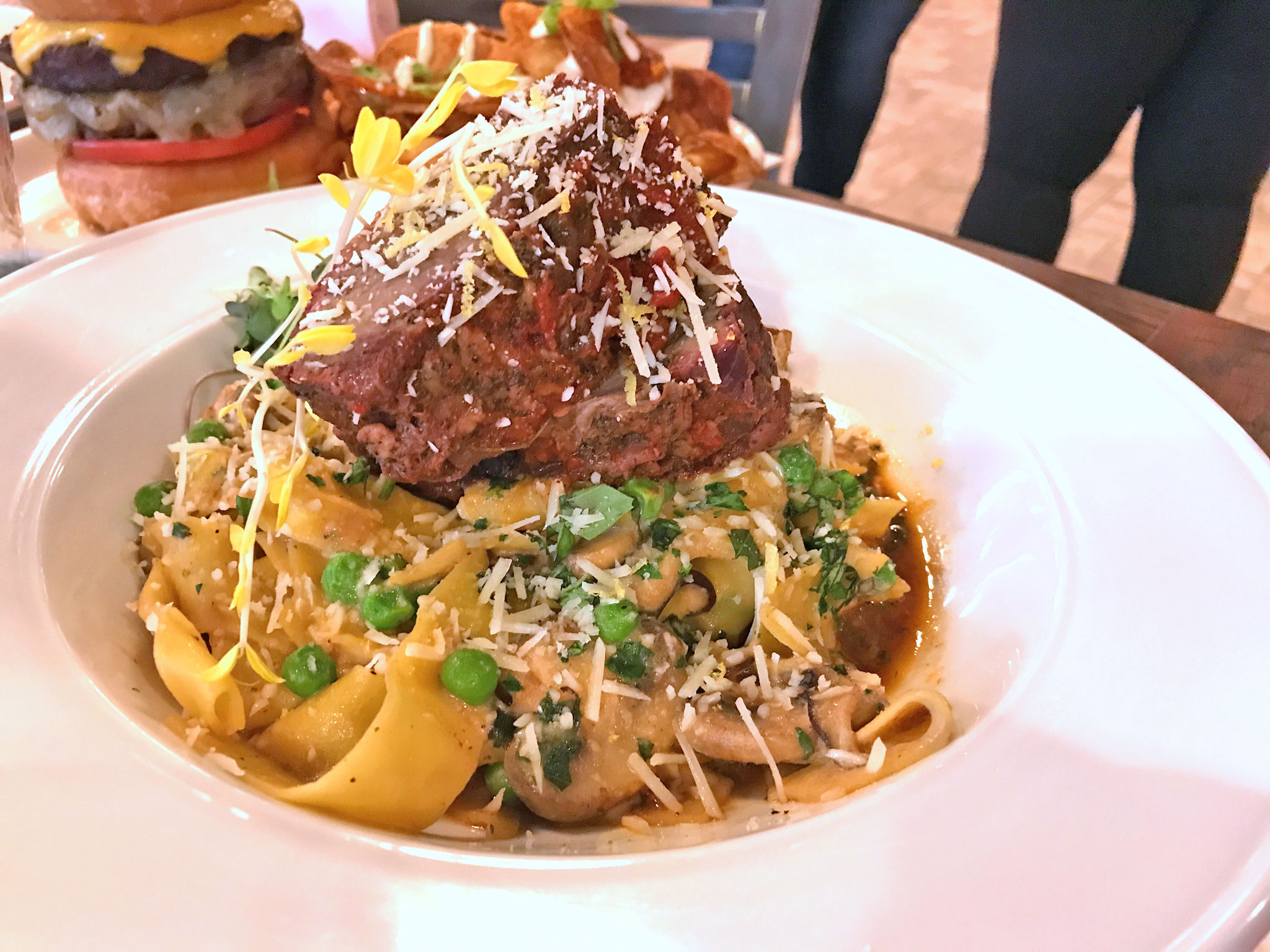 Short Rib Paparadelle Bowl – Burgundy braised short rib, paparadelle pasta, green peas, parmesan, soft herbs, shiitake & button mushrooms topped with cured egg yolk.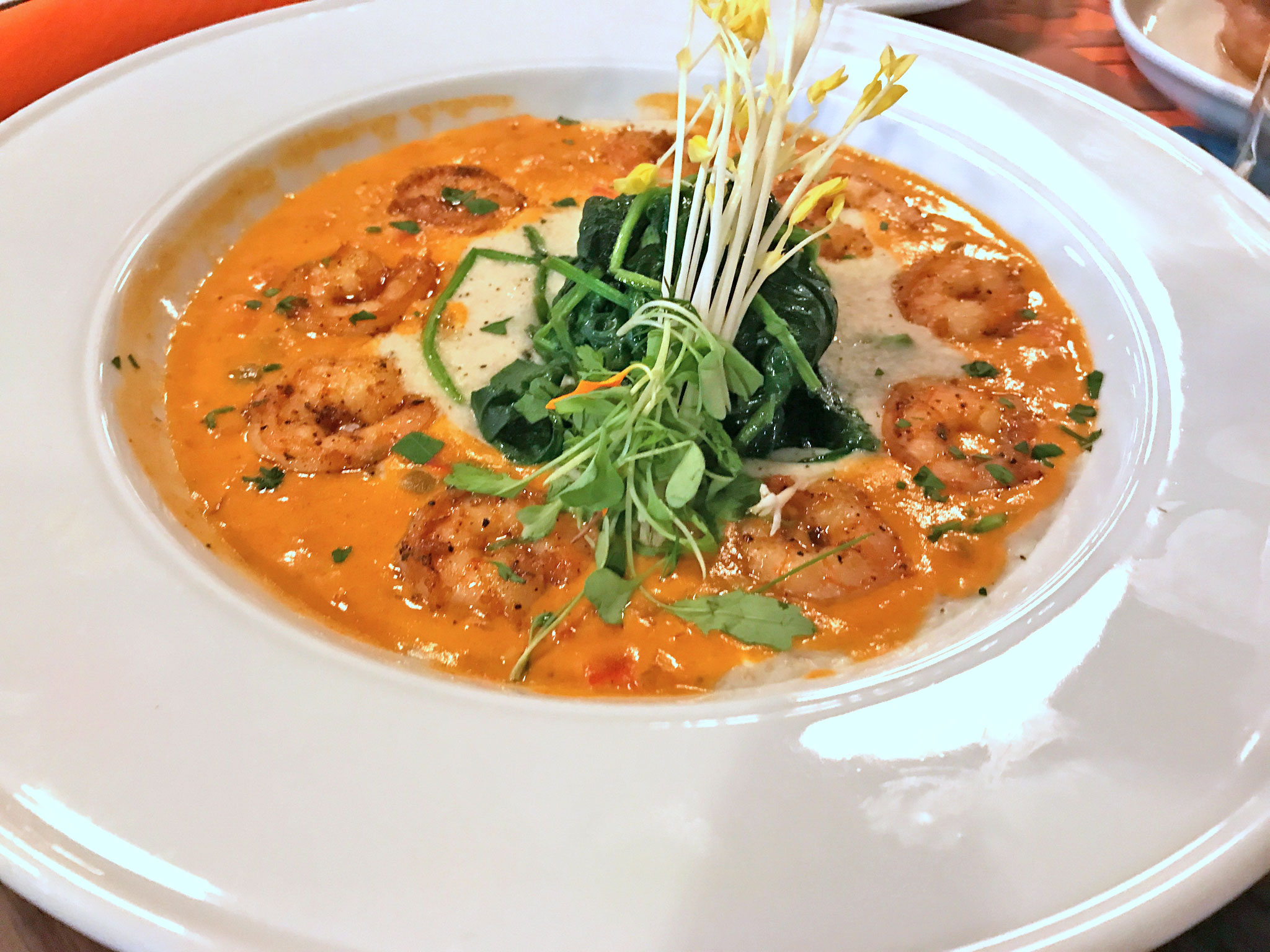 Shrimp N' Grits – Blackened shrimp, rich cream cheese grits, Indian Makhani sauce and spinach.
The sandwiches we tried were quite good as well, and we even liked the vegetarian one just as much as the pork one. That's really saying something.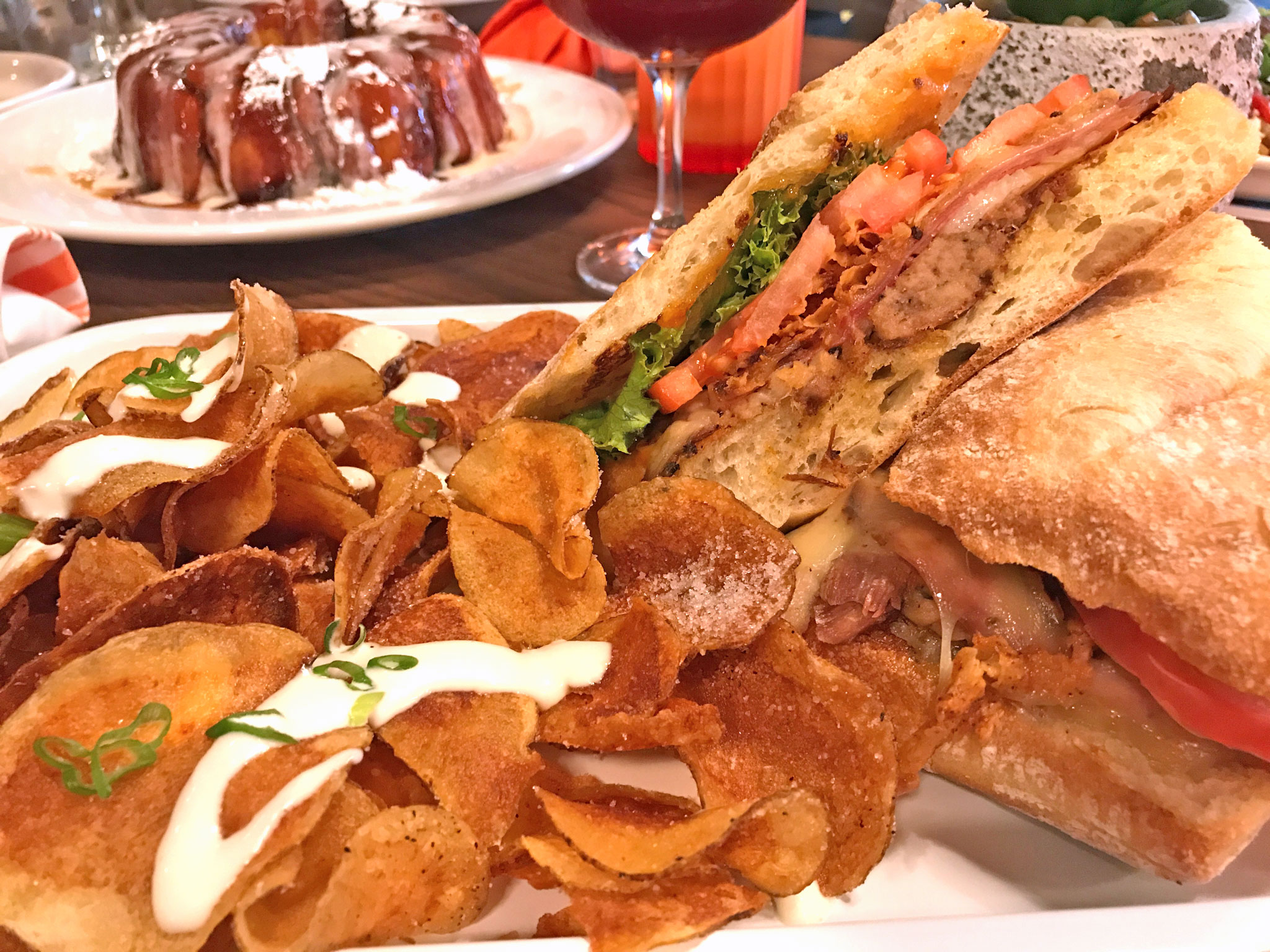 Porkfection – Pulled pork, sliced ham, pork belly, white cheddar, tobacco onions, firecracker sauce, shredded lettuce and sliced tomato. Served on a batard.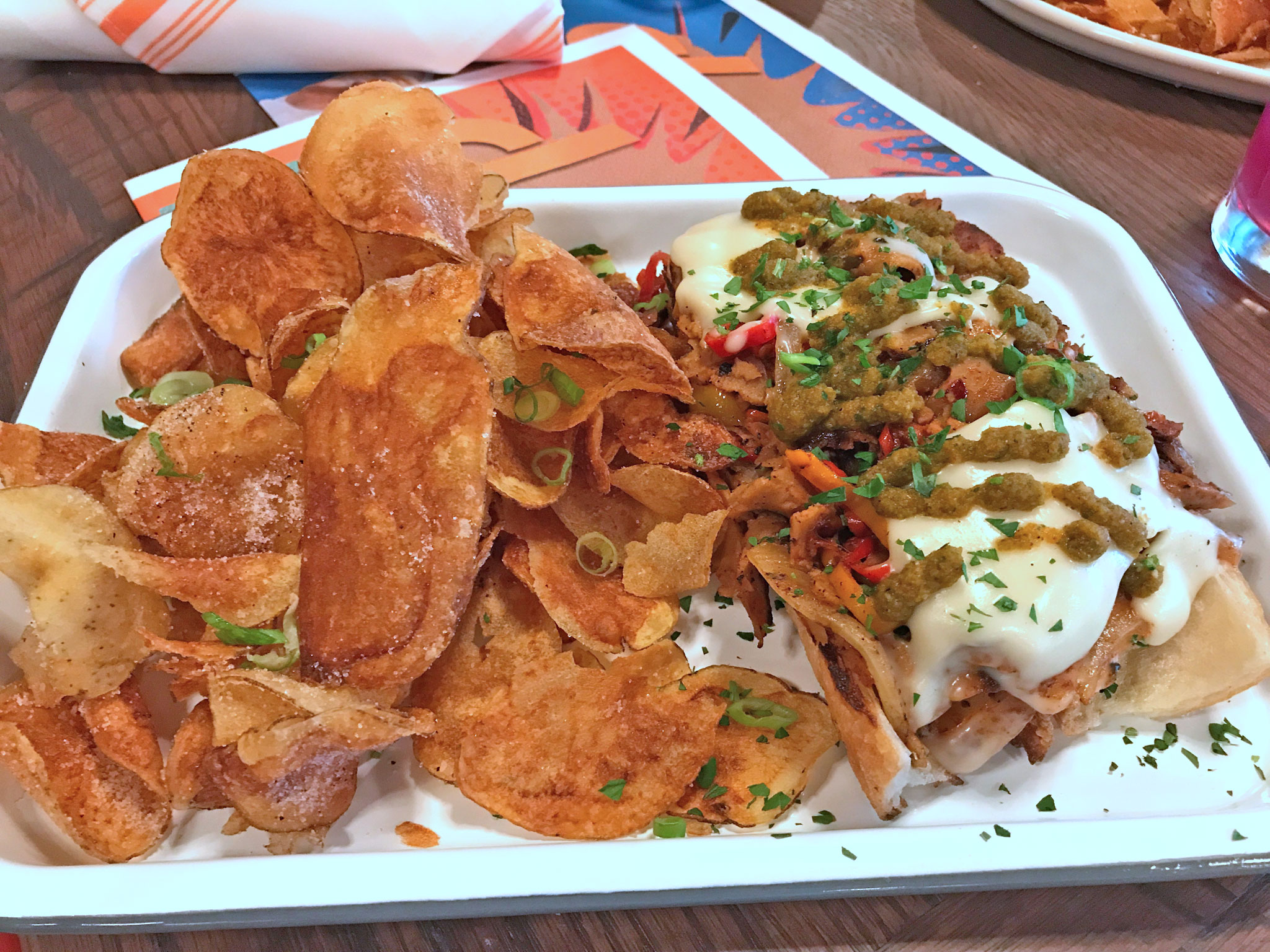 Sold to Seitan – Chipotle glazed seitan, vegan-friendly provolone, hatch chili salsa, sautéed onions and roasted sweet peppers. Served hot on a batard.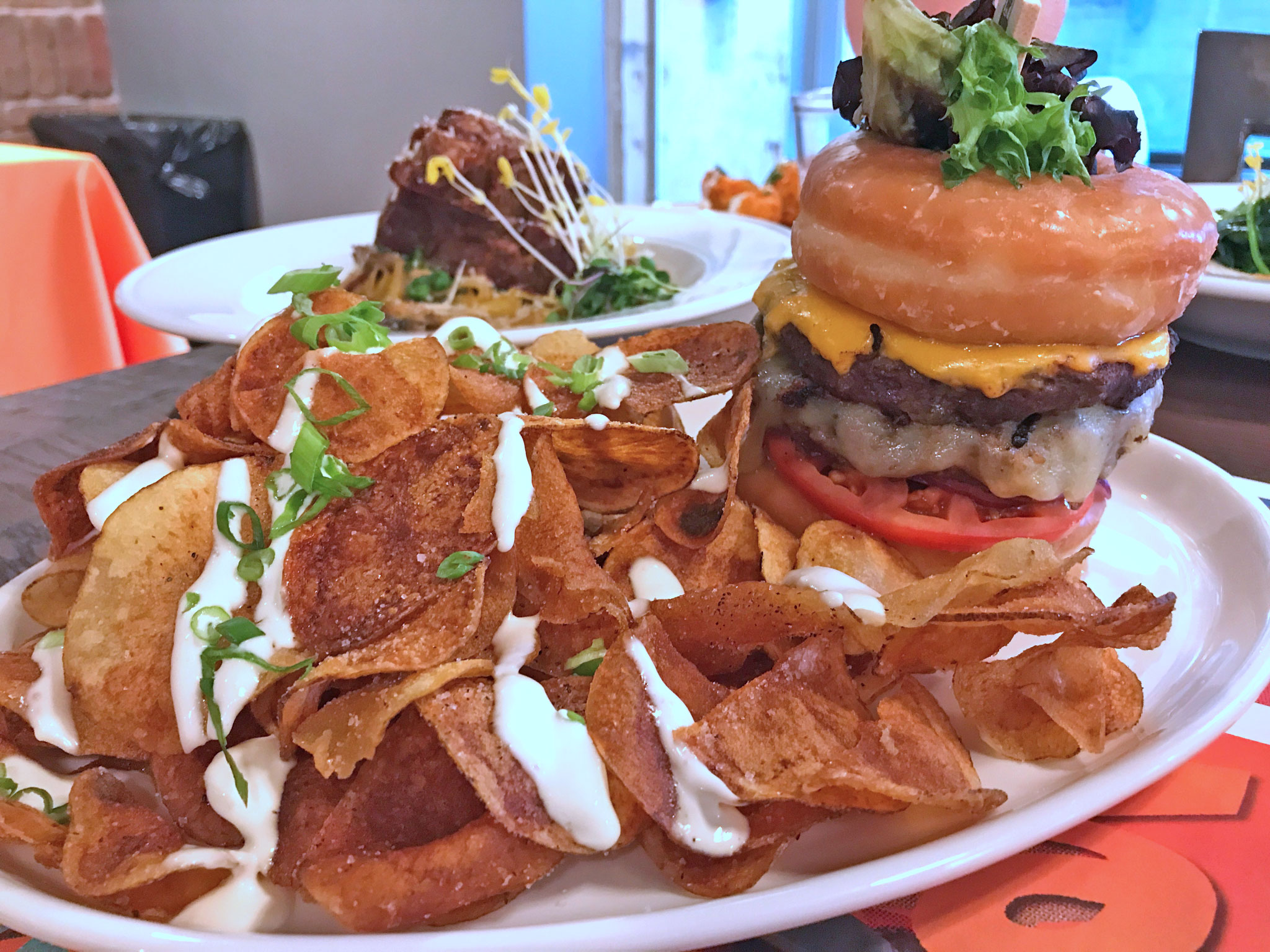 Another thing Datz is known for is mixing sweet and savory. A lot of people love this, although mine and Lori's tastes are not so much for the sweet, or mixing the two, (except for chocolate and peanut butter).
This is still a popular one with lots of people, and is certainly Instagramable.
The Double D – Two 6 oz ground brisket and short rib patties, Swiss & American cheese, lettuce, tomato and red onion. Served on 2 whole glazed doughnuts.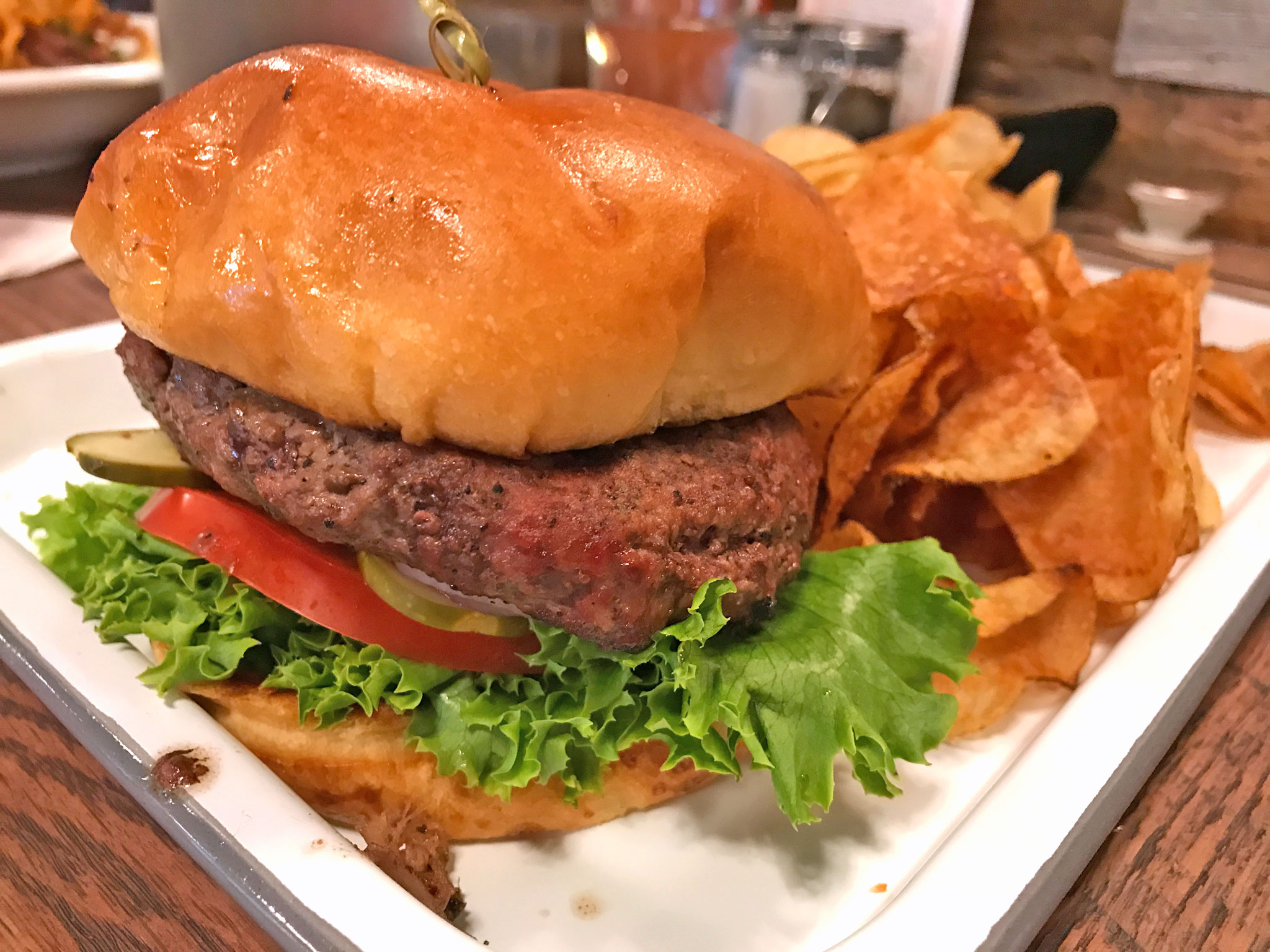 Biggity Big Big Burger – Ground brisket and short rib burger, lettuce, tomato, red onion and pickle. Served on a sweet sourdough bun.
The Biggity Big Big Burger is what you might call a "normal burger", and that's what Lori wanted after all the crazy ones the night before.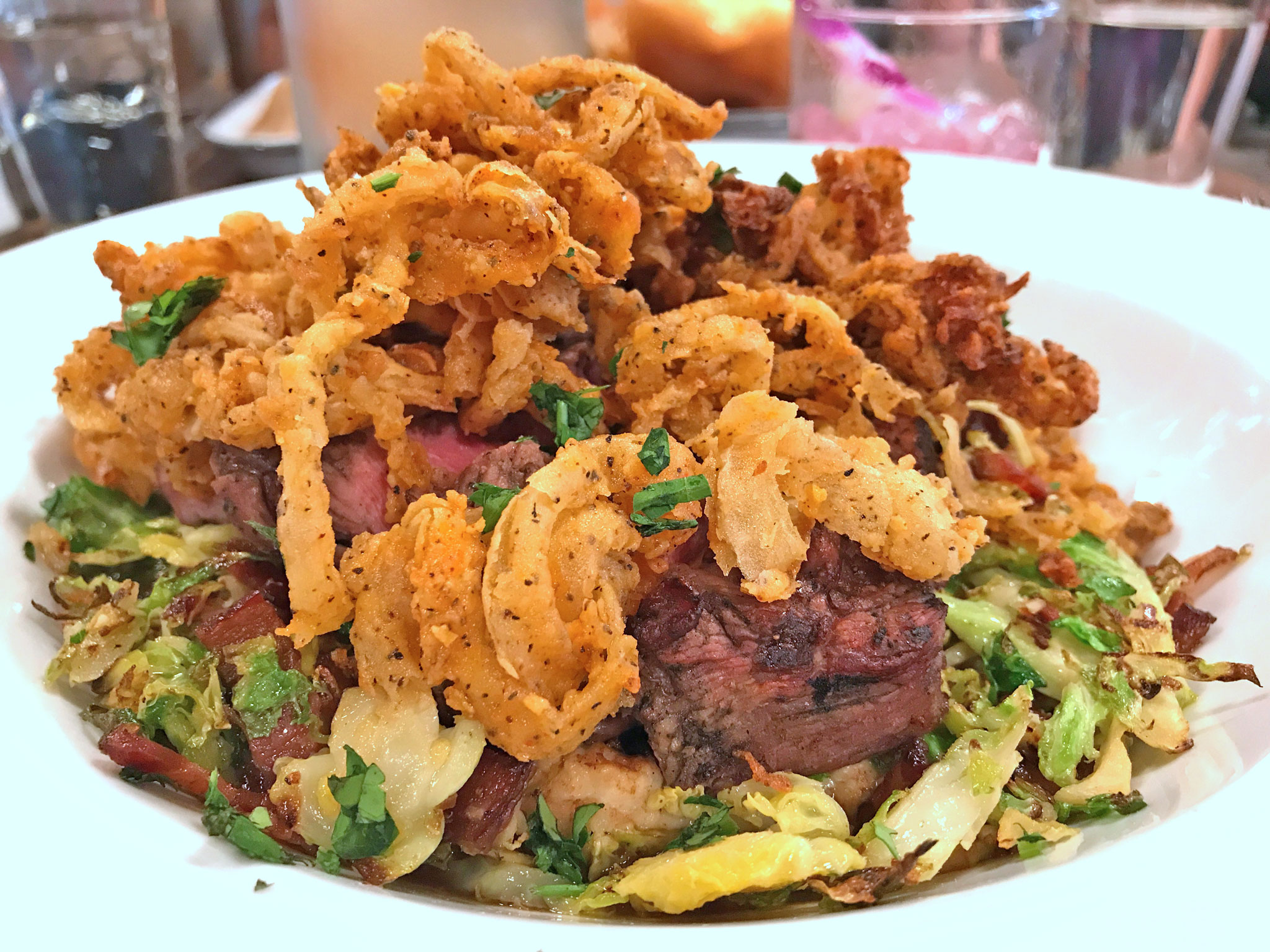 High Steaks Bowl – Seared steak, bacon Brussel sprouts, au jus, tobacco onions on top of cheesy grits.
I had this one, and it was delicious. The grits, which you can't really see on the bottom, are some of the best in downtown St. Pete.
Our two favorite drinks are the Kelly Kapowski and the Spaaa BlahBlahBlah.
Both are crisp and refreshing, with Kelly being slightly more sweet, and Spaaa being less sweet. We have to find some Mr. Q. Cumber soda for home.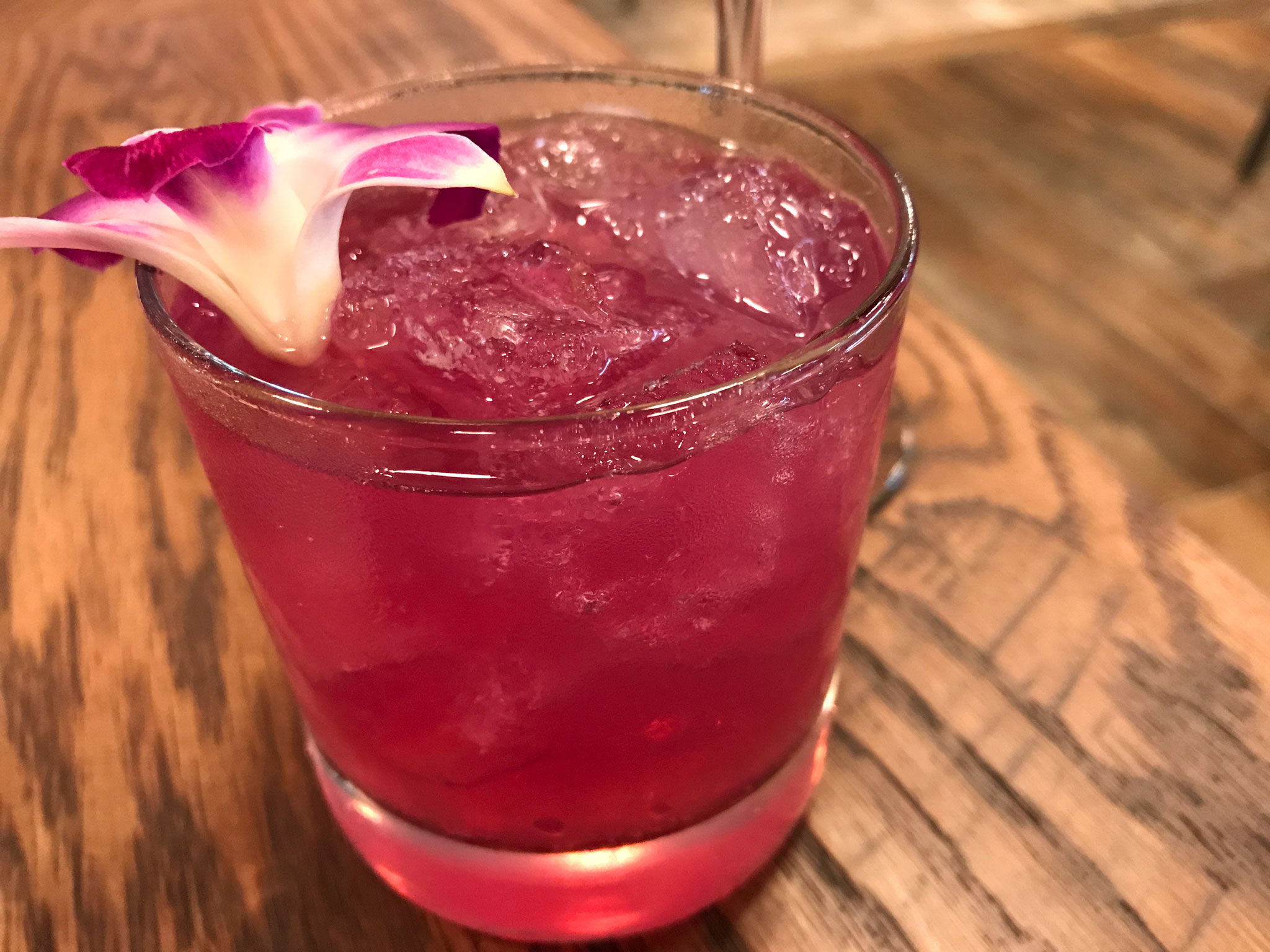 Kelly Kapowski – Suerte Silver Tequila, orange blossom water, lime, prickly pear, topped with Tidal Boar ginger beer and an edible orchid.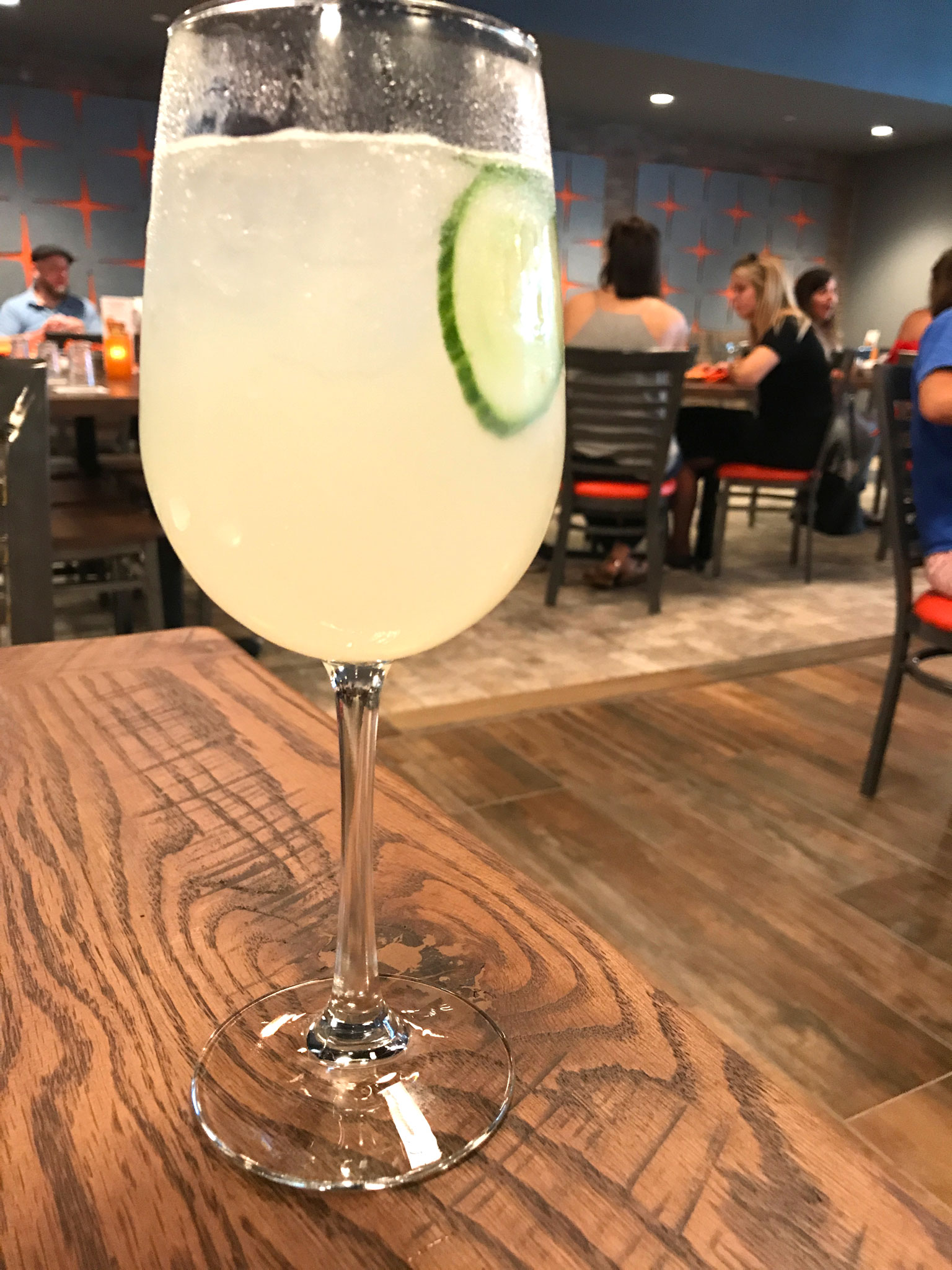 Spaaa BlahBlahBlah – Hendrick's gin, fresh lemon juice, cucumber, Mr. Q. Cumber soda.
The Datz Group (owned by Suzanne and Roger Perry) also owns two other locations in downtown St. Petersburg: The Canyon at The James Museum (located in the same building as Datz), and Dr. BBQ at 1101 1st Ave S, St. Petersburg, FL 33705. Our Dr. BBQ review is here.
The original Datz is in Tampa, along with their bakery Dough, and a Southern-Creole concept called Roux, which we hear is killer delicious.
(All photos – Kevin Godbee / St. Petersburg Foodies)
Datz is one of the most famous restaurants in Tampa, and now you can find them in downtown St. Pete.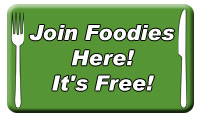 More Foodies News, Reviews & Recipes