Dr. BBQ —Not Your Typical Barbecue Joint—Over Delivers (in a Good Way)
Dr. BBQ —Not Your Typical Barbecue Joint—Over Delivers (in a Good Way)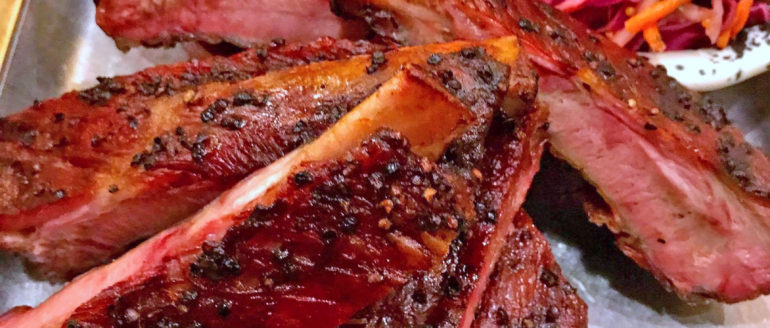 Dr. BBQ.
"Yeah. I've heard that name before."
That was my first thought a couple of years ago when we caught wind of a new restaurant coming to town via the Datz Restaurant Group from Tampa.
Admittedly, even though I hadn't previously watched any full shows with Ray Lampe a.k.a. Dr. BBQ (I have now), the name recognition was there, plus it's coming from Datz.
Even though it can be hard to get me out of downtown St. Pete, and even more challenging to get me to cross the bridge, we have eaten several times at the flagship Datz on MacDill Ave in Tampa, and it's quite the gastronomical extravaganza. The Doc has traveled all over the country and won over 400 barbecue competitions, and the Datz Restaurant Group has amazing restaurants in Tampa, so this has to be a winning combination.
So, there's Dr. BBQ, the dude, and Dr. BBQ, the restaurant. You can see the dude at the restaurant quite frequently, where he is more the baby kisser and palm presser persona, but don't let that fool you.
The dude can cook, and it goes beyond barbecue. He has seven cookbooks, plus a "road trip" book guide to barbecue places around the country.
He's earned the right to not have to sweat it out with the smoker all day.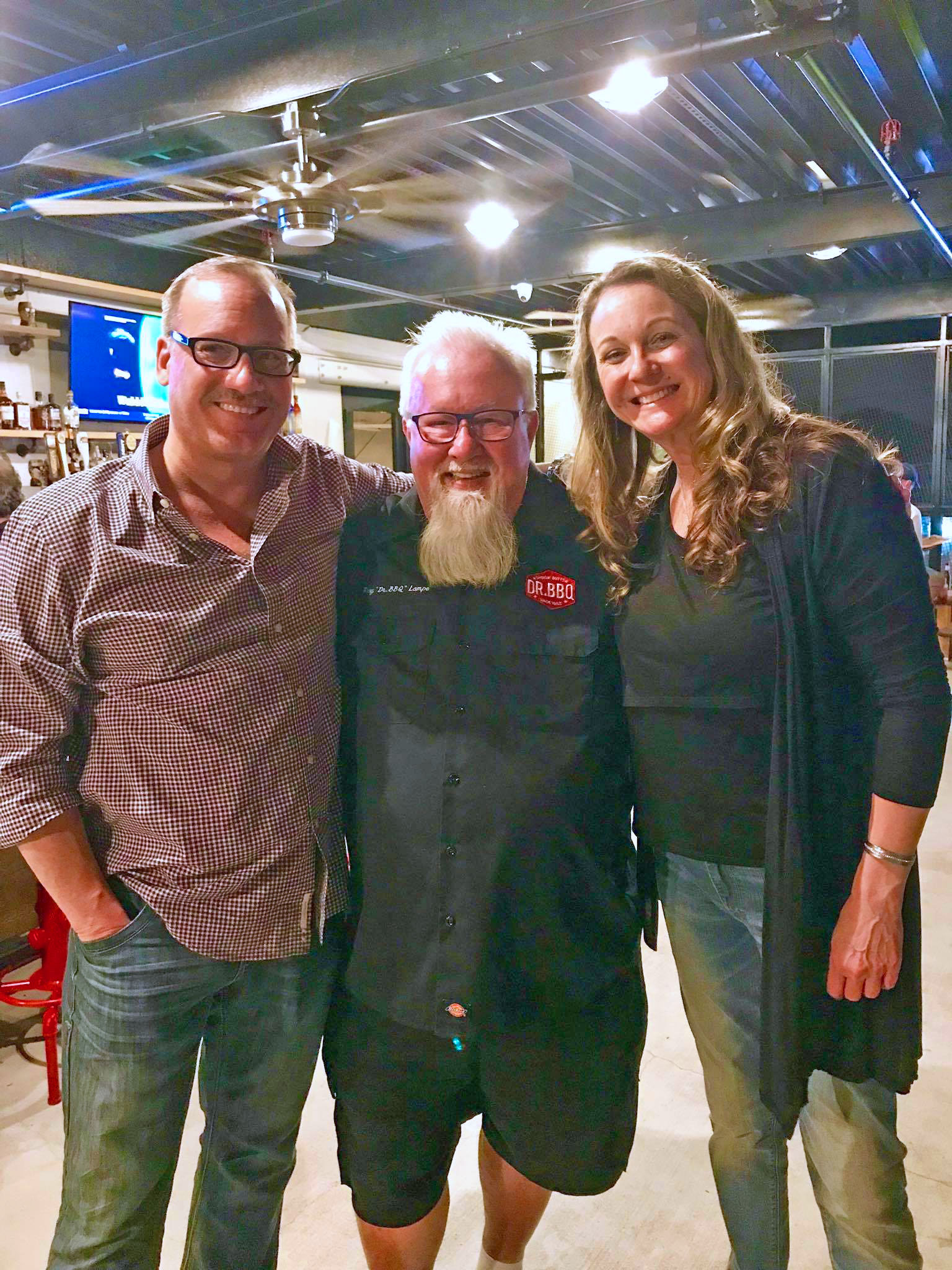 What they didn't do is adhere to one strict style of barbecue. There are several clearly defined barbecue styles with the most well-known being: the Carolinas, Kansas City, Memphis, and Texas. There are also regional variations within those.
For some serious regional barbecue connoisseurs, it goes beyond the food, and traverses into a subculture of sometimes rigid, and competing regional guidelines.
Roger and Suzanne Perry, the husband-wife team behind Datz, not only recruited Ray Lampe, but also Texan Lee Jasper to be the Pitmaster at Dr. BBQ. Lee has been smoking meats for 12-years working at the famous Kreuz Market in Texas.
In a video interview with Fox 13 News, Lee expresses how leaving Texas for Dr. BBQ in St. Pete allowed him to "break out, have fun, and explore".
What the Perry's and Dr. BBQ did do is create an excellent restaurant experience in a cool large industrial space where you can get your foodie freak on.
Ray says, "I like to think of it as a really great restaurant that serves barbecue."
I've heard a few people saying they weren't fond of the food offerings, and when it comes down to it, it seems to be because Dr. BBQ doesn't strictly adhere to a regional BBQ definition.
I say "hogwash!"
It's actually quite excellent food, and if you are a barbecue aficionado that needs to strictly adhere to subculture convention, then take a chill pill before you go, and keep an open mind.
I think Laura Reiley of The Tampa Bay Times said it best when she wrote; "It's upscale barbecue, nondenominational barbecue" in her recent review.
We've made two visits with two different couples, and we still have a lot of food to go back and try, but we loved all of this.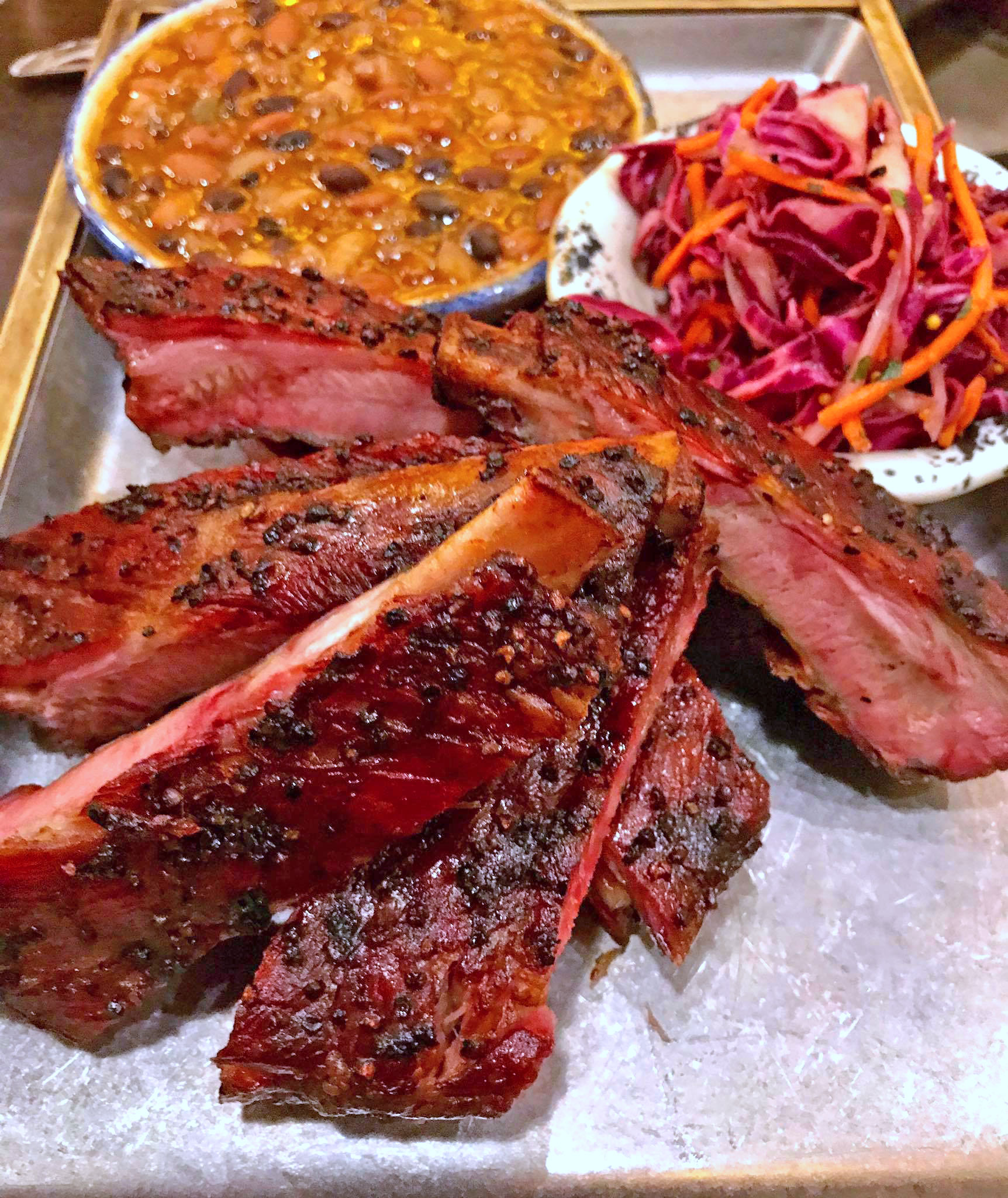 The St. Louis Ribs come from Compart Duroc™ small family farms. The "hogs are bred, born and raised on small farms where our family members are involved in the day-to-day management of their stock. The breeding program is the result of 55+ years of combining the very best purebred lines of the Duroc breed." In short, they are like the Black Angus of pork—this is some of the best pork you can get.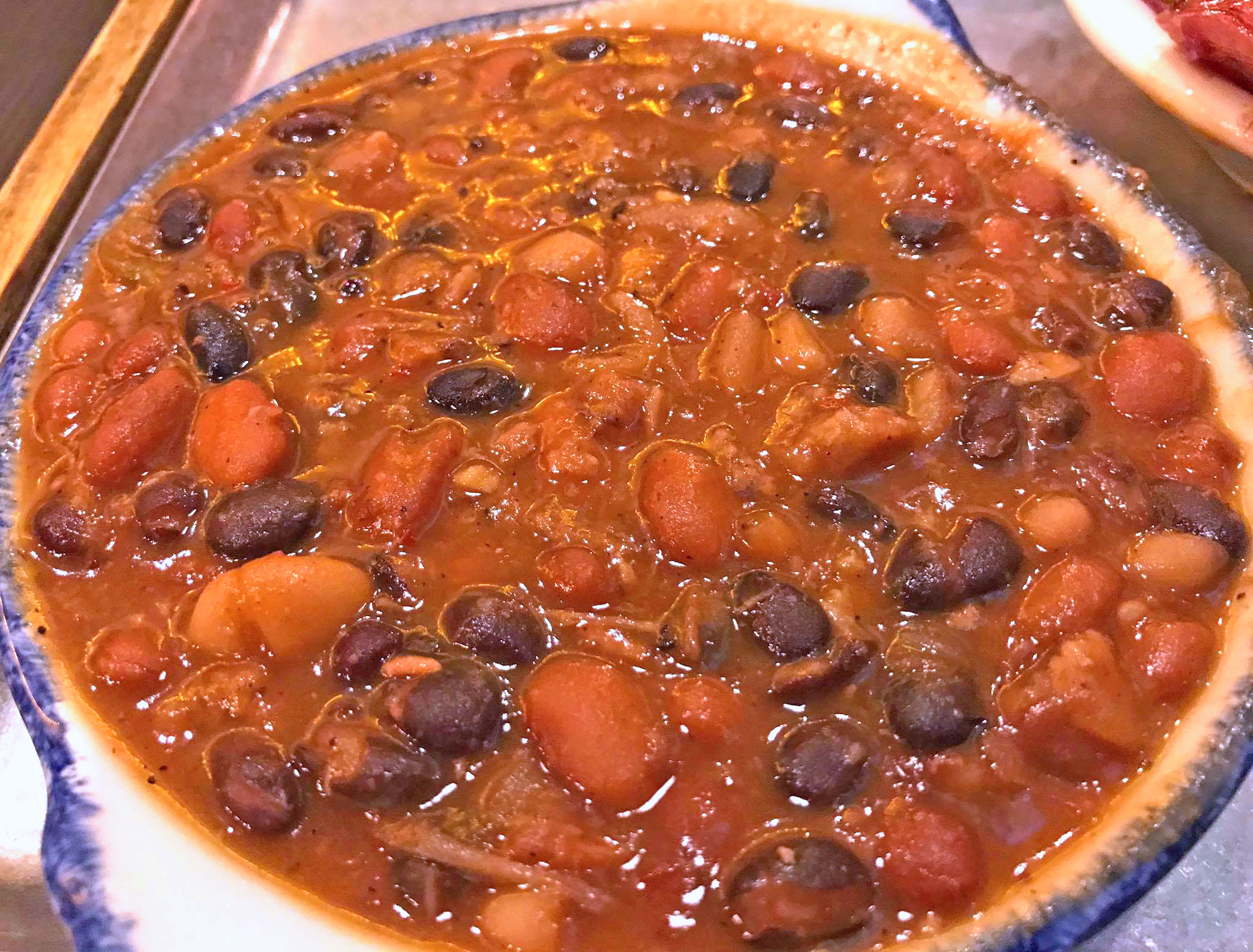 The ribs were fantastic, and these are the best baked beans we've ever had! Made with Northern, pinto, and black beans with pork, in Jack Daniel's BBQ sauce.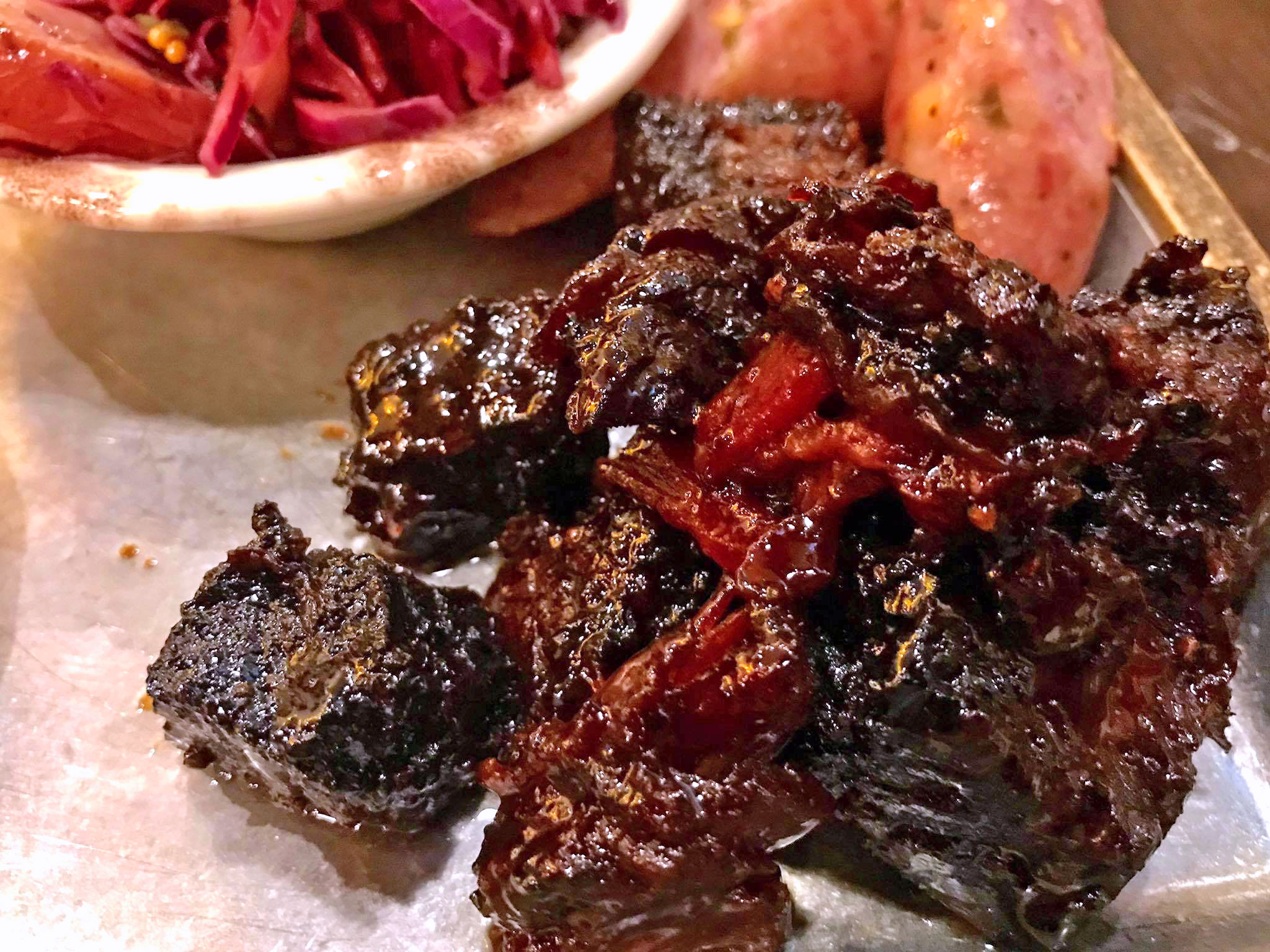 Burnt ends are considered a delicacy by some and sometimes referred to as "meat candy". They are super-flavorful, but also quite chewy, which Lori considered a chore, but I thought worth the effort. They are Certified Angus Beef®.
Behind them in the above photo, you can catch a glimpse of the Jalapeño Cheddar Sausages, which I loved. They bring them in from Southside Market in Elgin, TX. Here's a better photo from the market, where you can order them directly as I just did.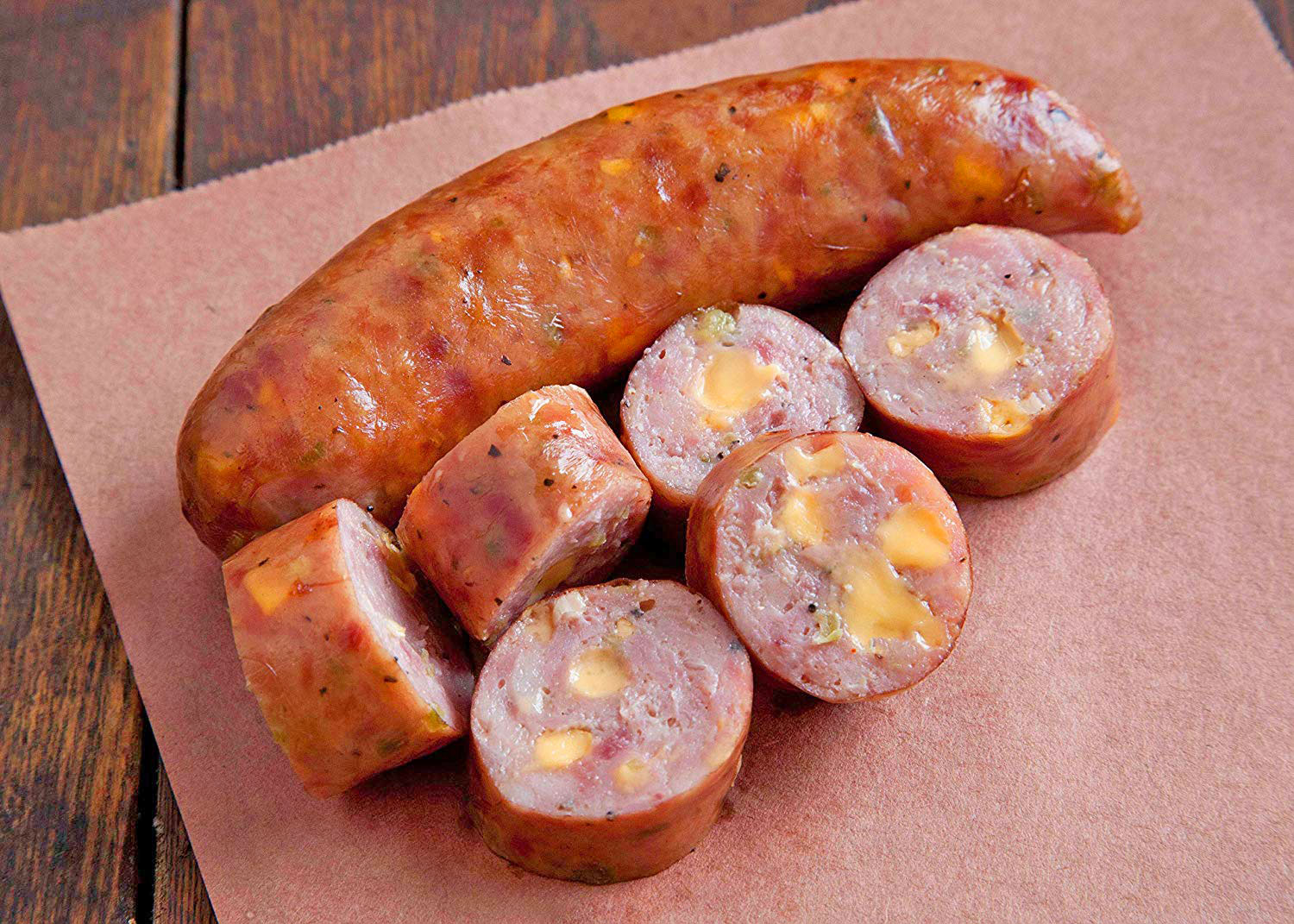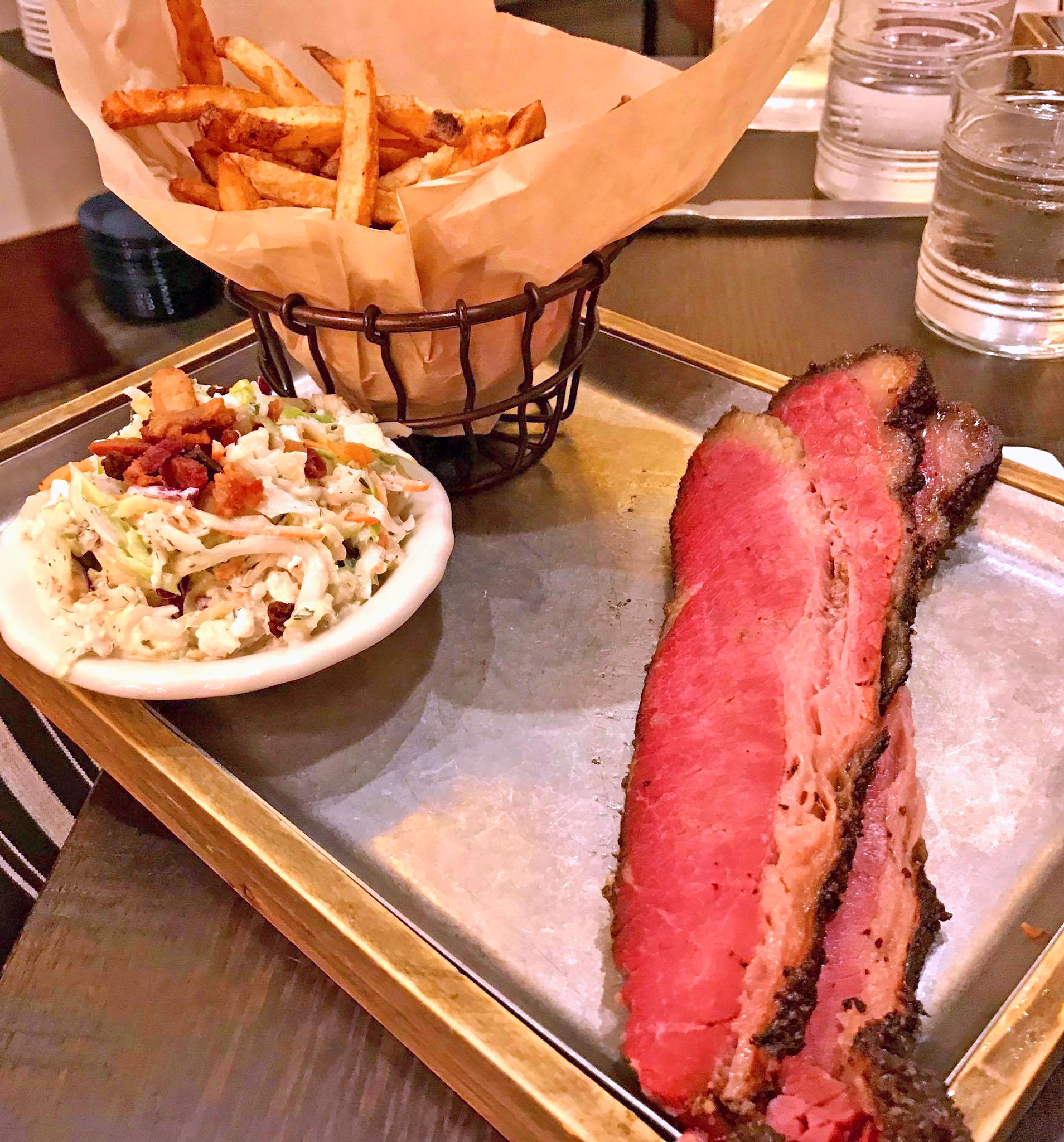 The pastrami is house cured and smoked and is also Certified Angus Beef® as is all of the beef including the Sliced Brisket below.
Sandi's Bacon Blue Cheese Slaw is delightful.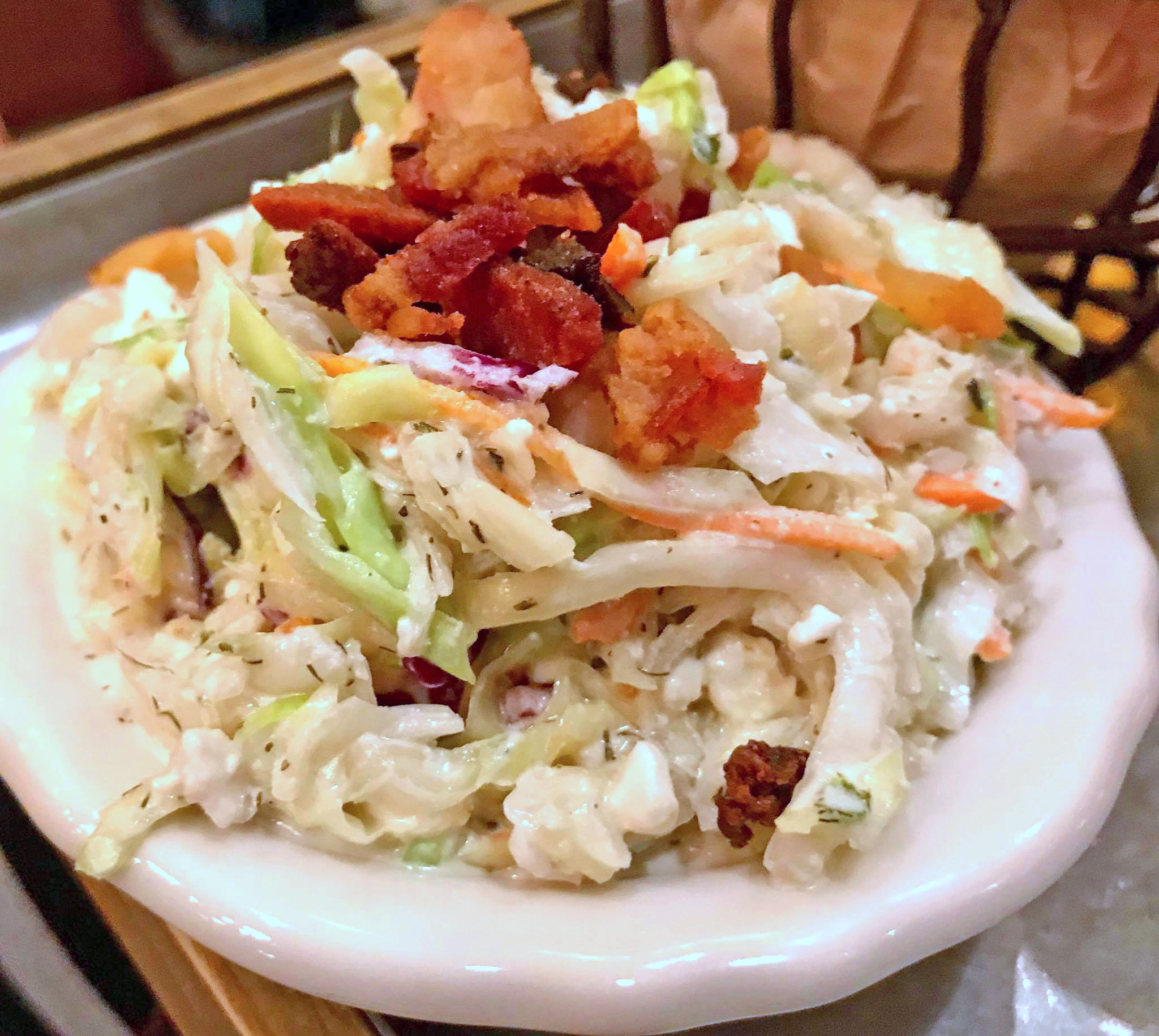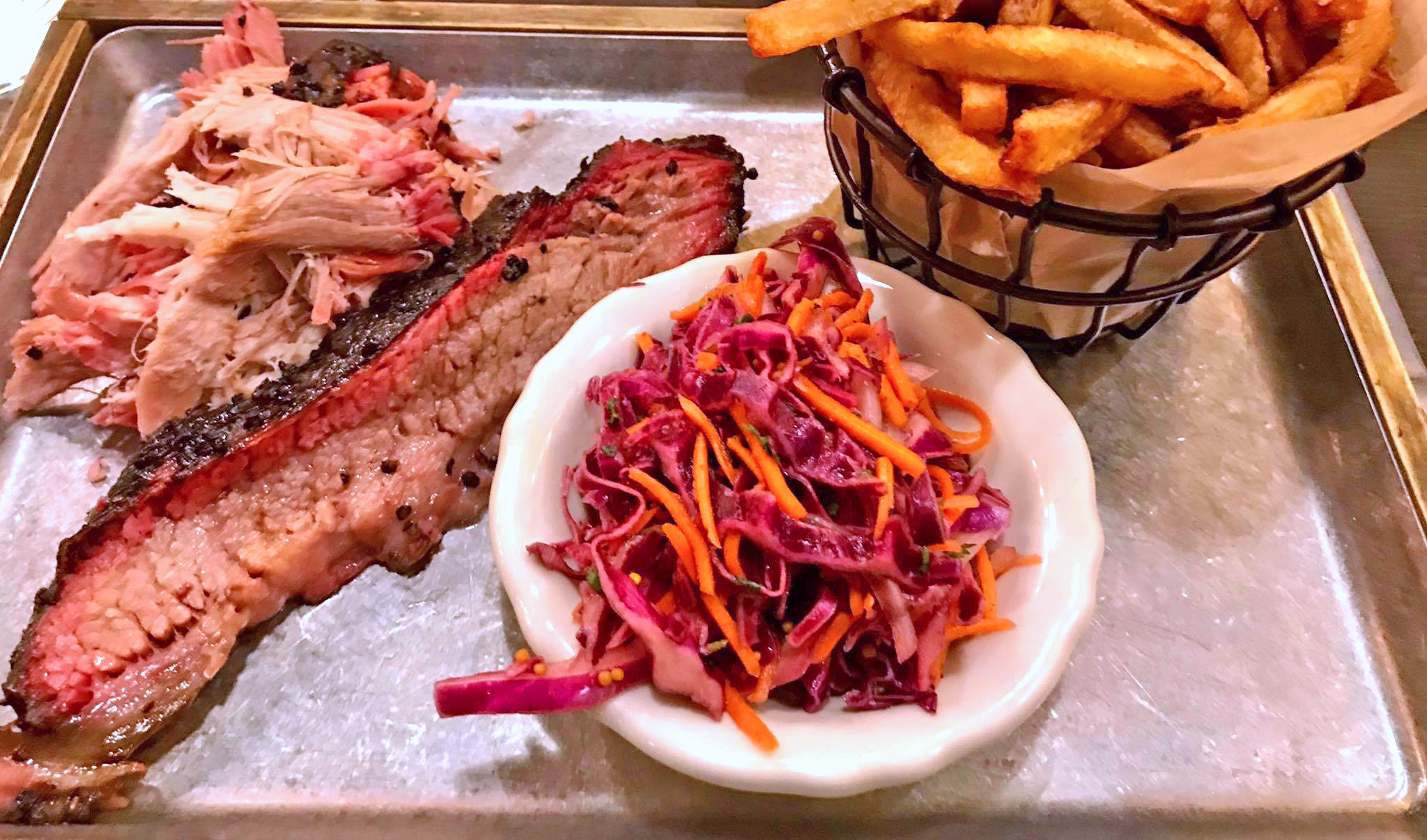 Some other sides that we really enjoyed are as follows.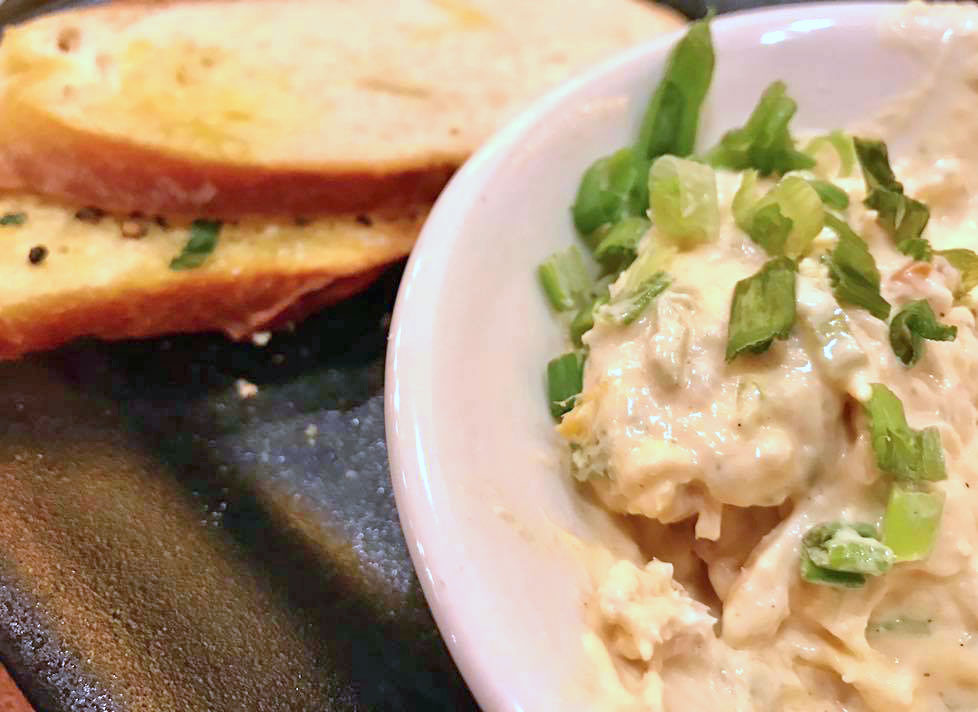 Tastes Like Chicken Spread – House-smoked grouper and gator, seasoned and served with both crackers and buttery garlic toast.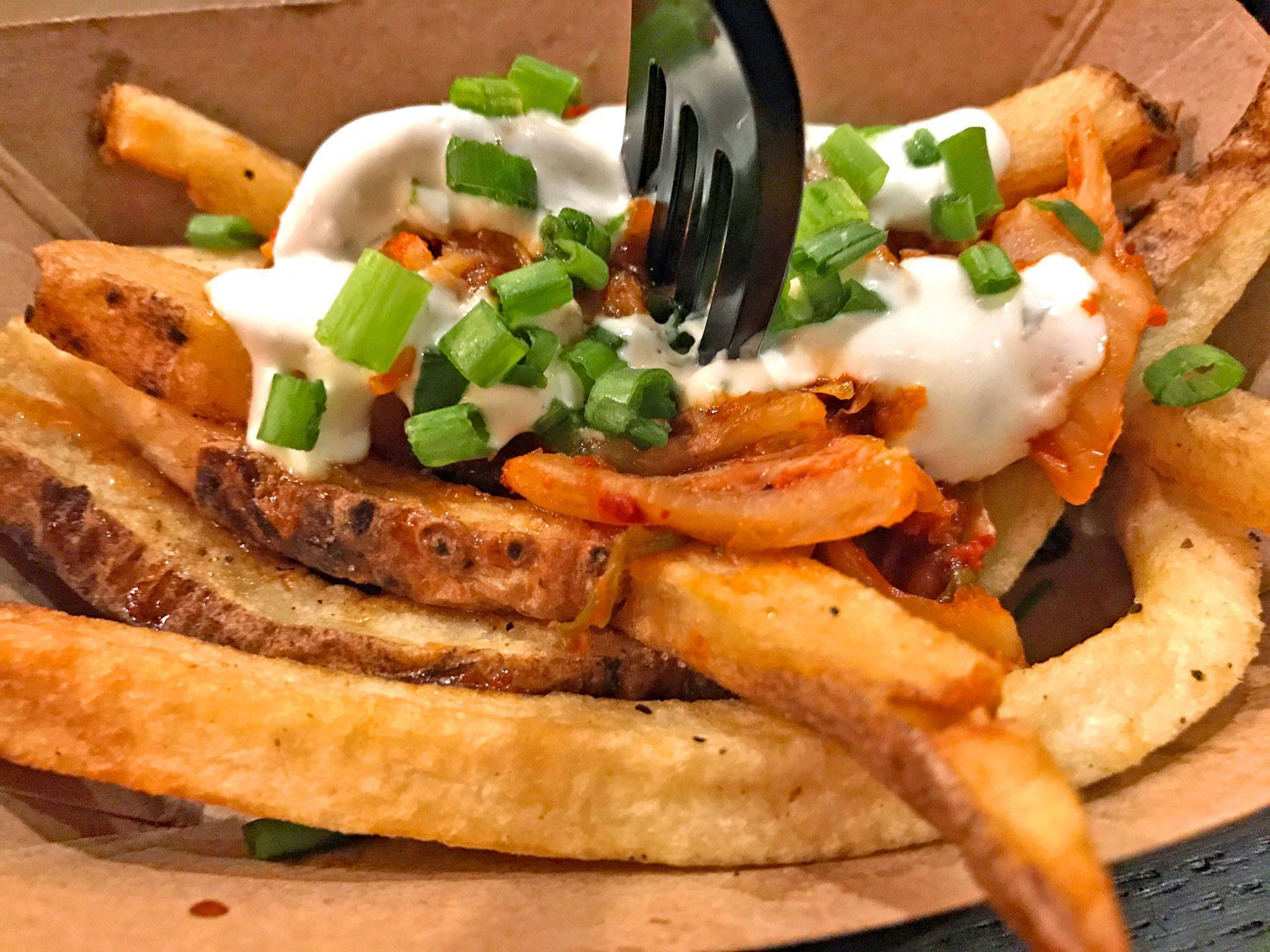 Kimchi Fries – Crispy hand-cut double fried Idaho Potatoes® topped with locally-sourced caramelized kimchi, house-made Korean BBQ sauce, lime crema and green onions.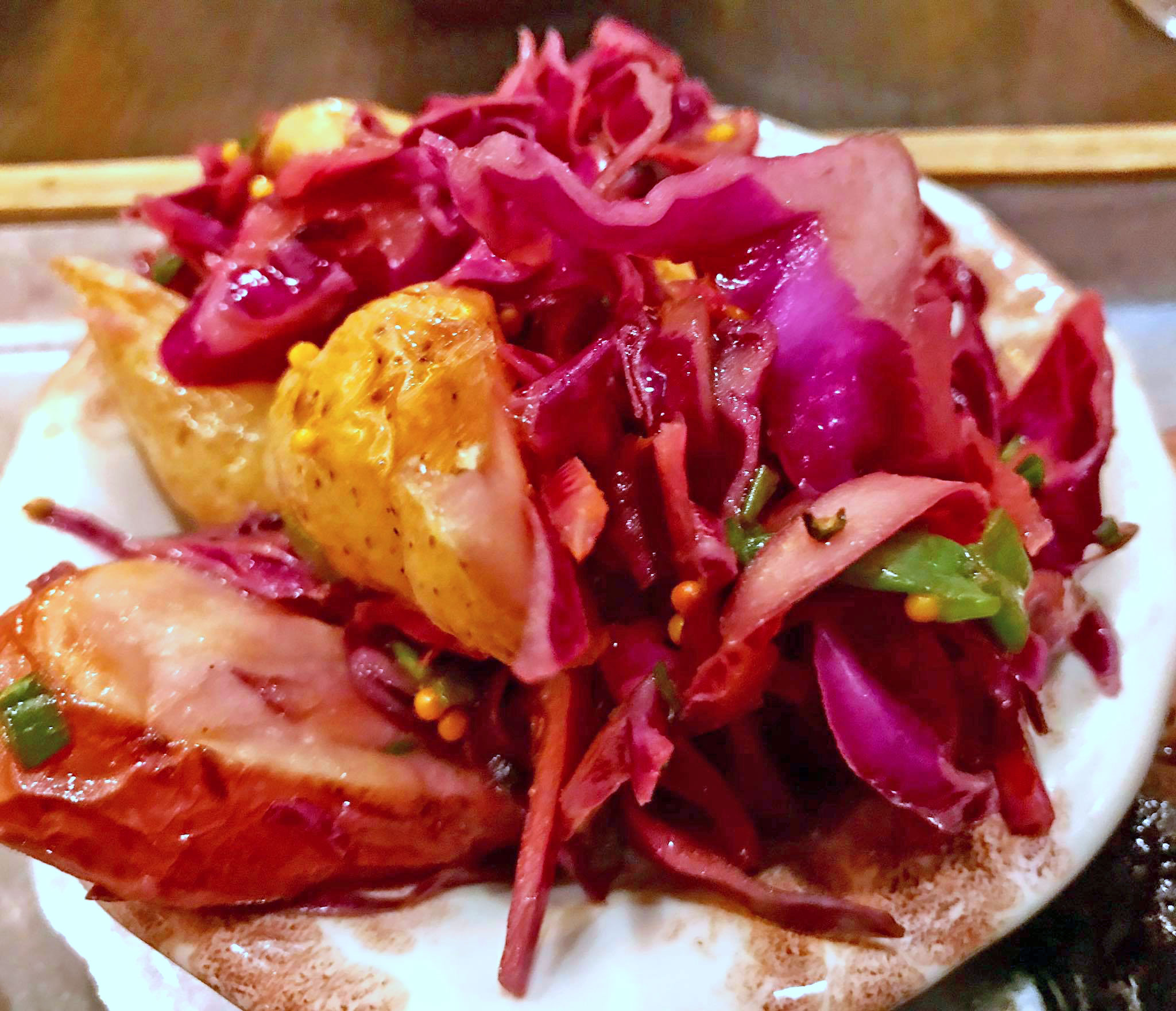 Tri-Colored Purple Potato Salad – Roasted tri-colored fingerling potatoes, red cabbage, pickled mustard seed, sugar and rice wine vinegar.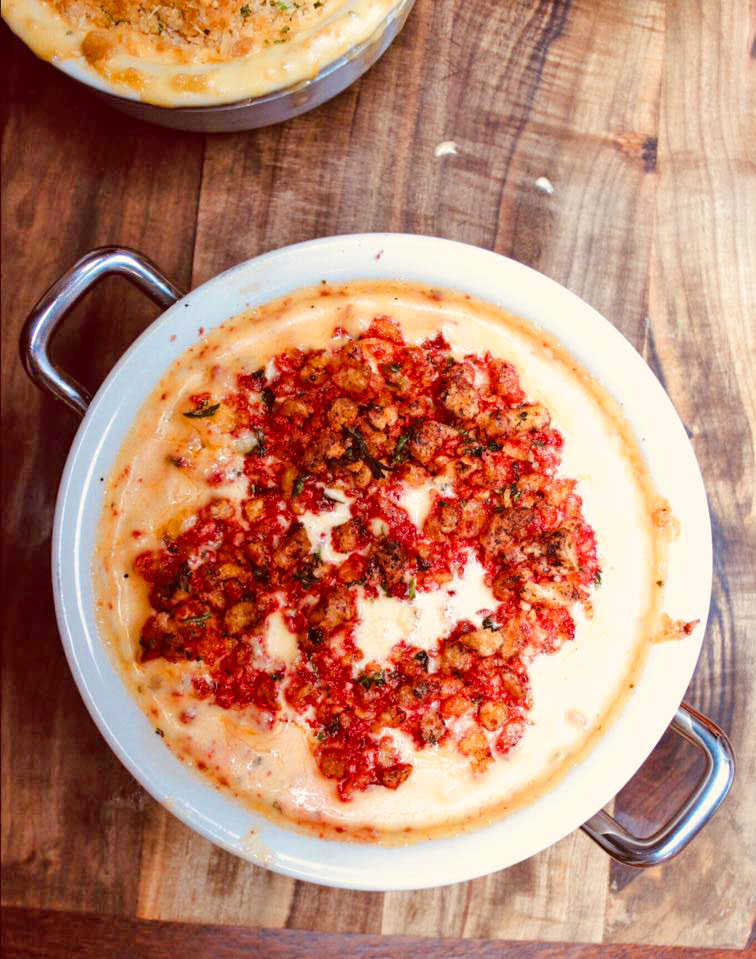 Flamin' Mac-A-Phoni – Plump hominy, tequila habanero aged cheddar queso, bell peppers, sweet onions, jalapeños, topped with Flamin'Hot Cheetos®. Super delicious!
And for dessert ….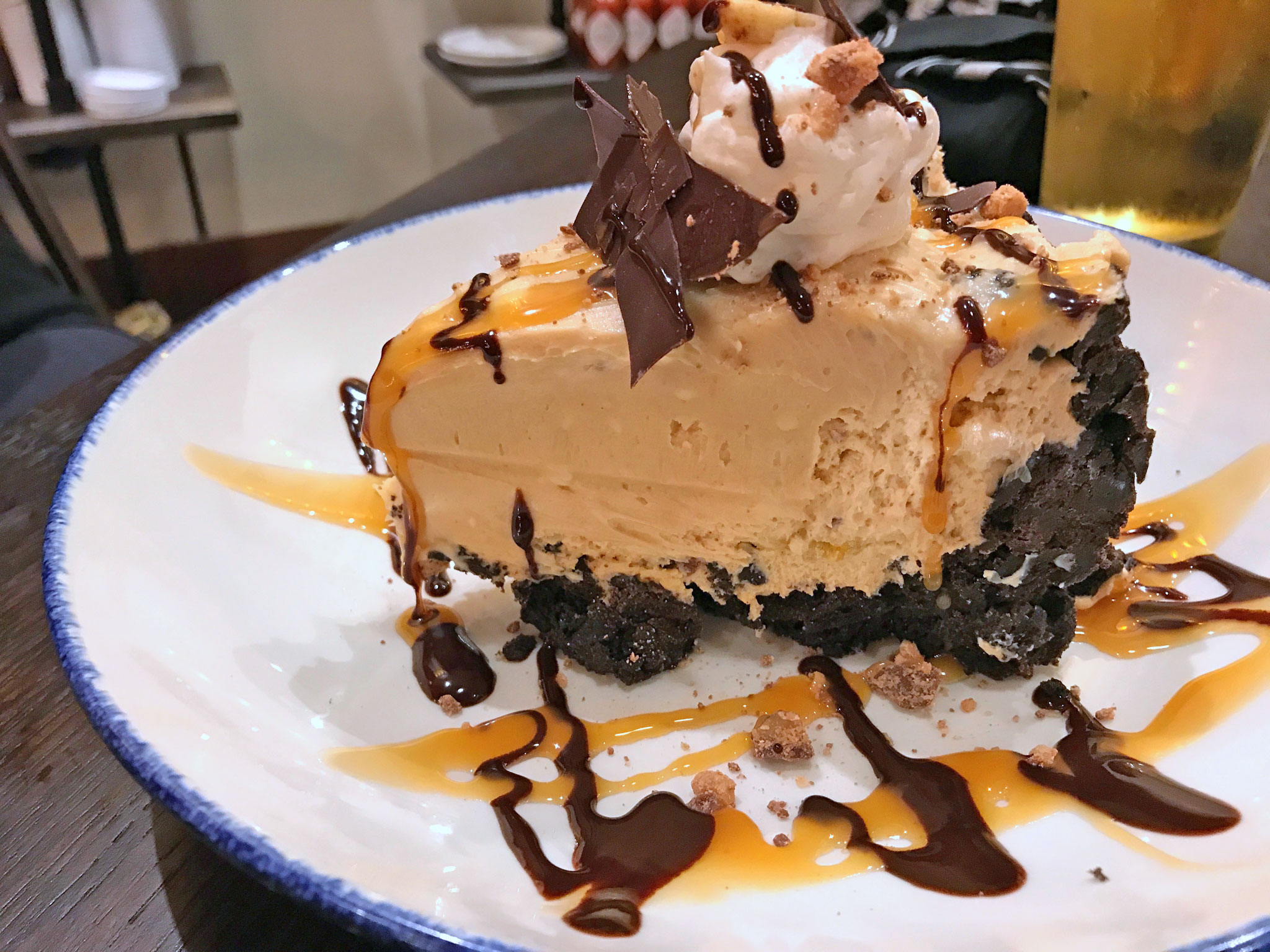 Epic Peanut Butter Pie – Light, fluffy, creamy peanut butter filling, with Heath® Bar and candied banana chips in a homemade Oreo® crust. Topped with whipped cream, chocolate and caramel.
The space is pretty epic. It used to be a steel fabricating plant, so it is pretty industrialist, but with a warm homey feel. There's an inside bar downstairs, and an outside bar and deck upstairs.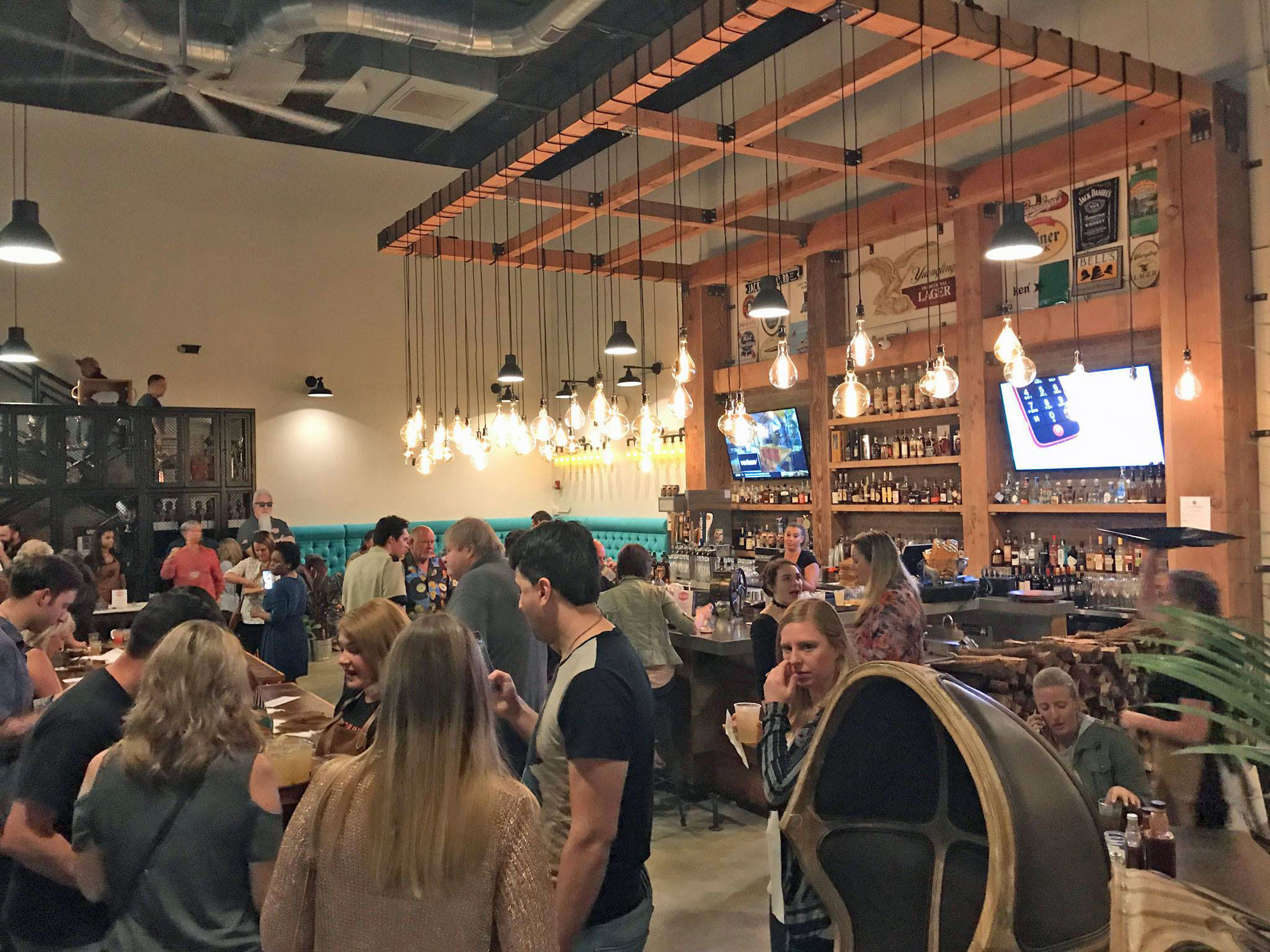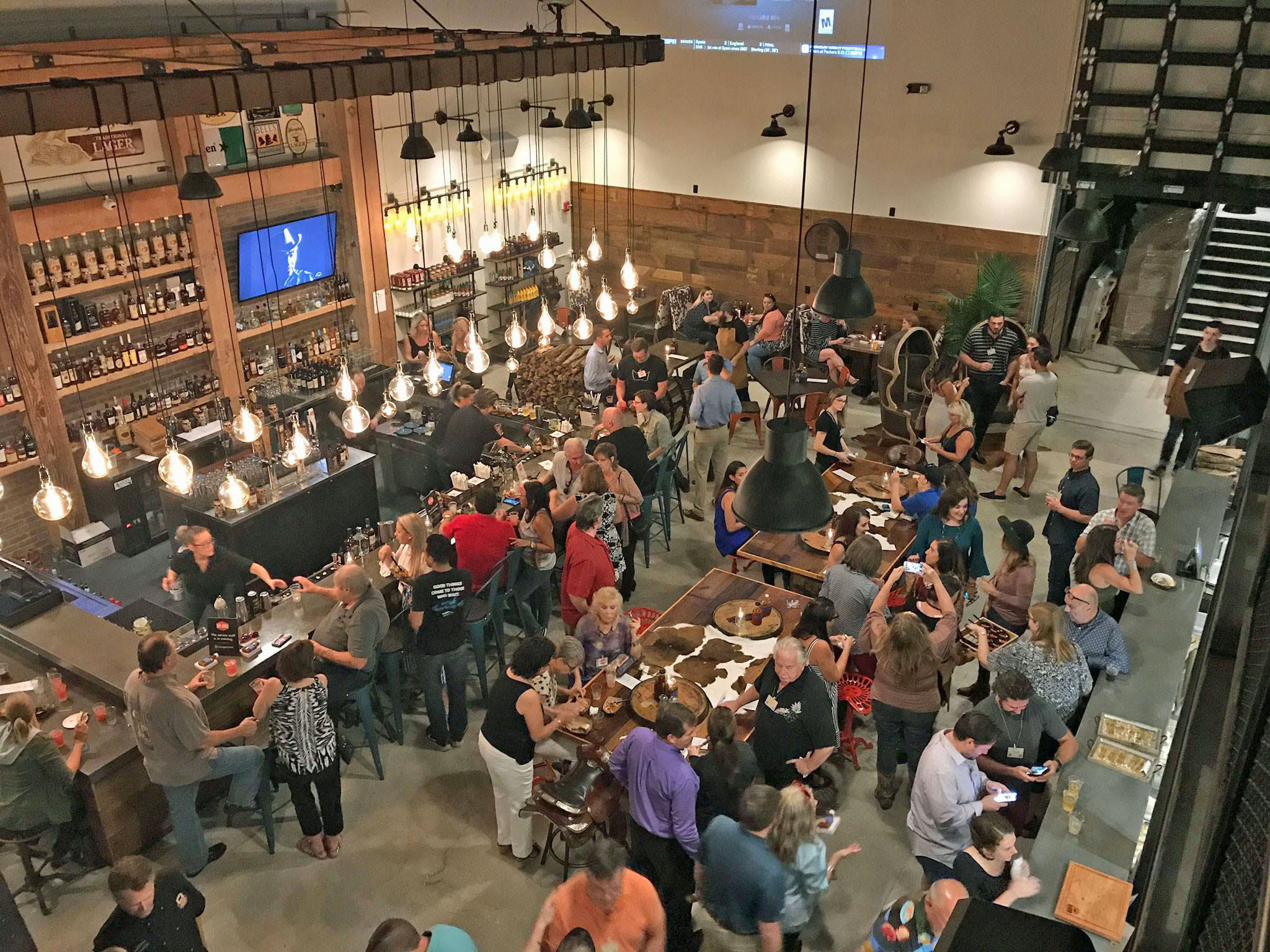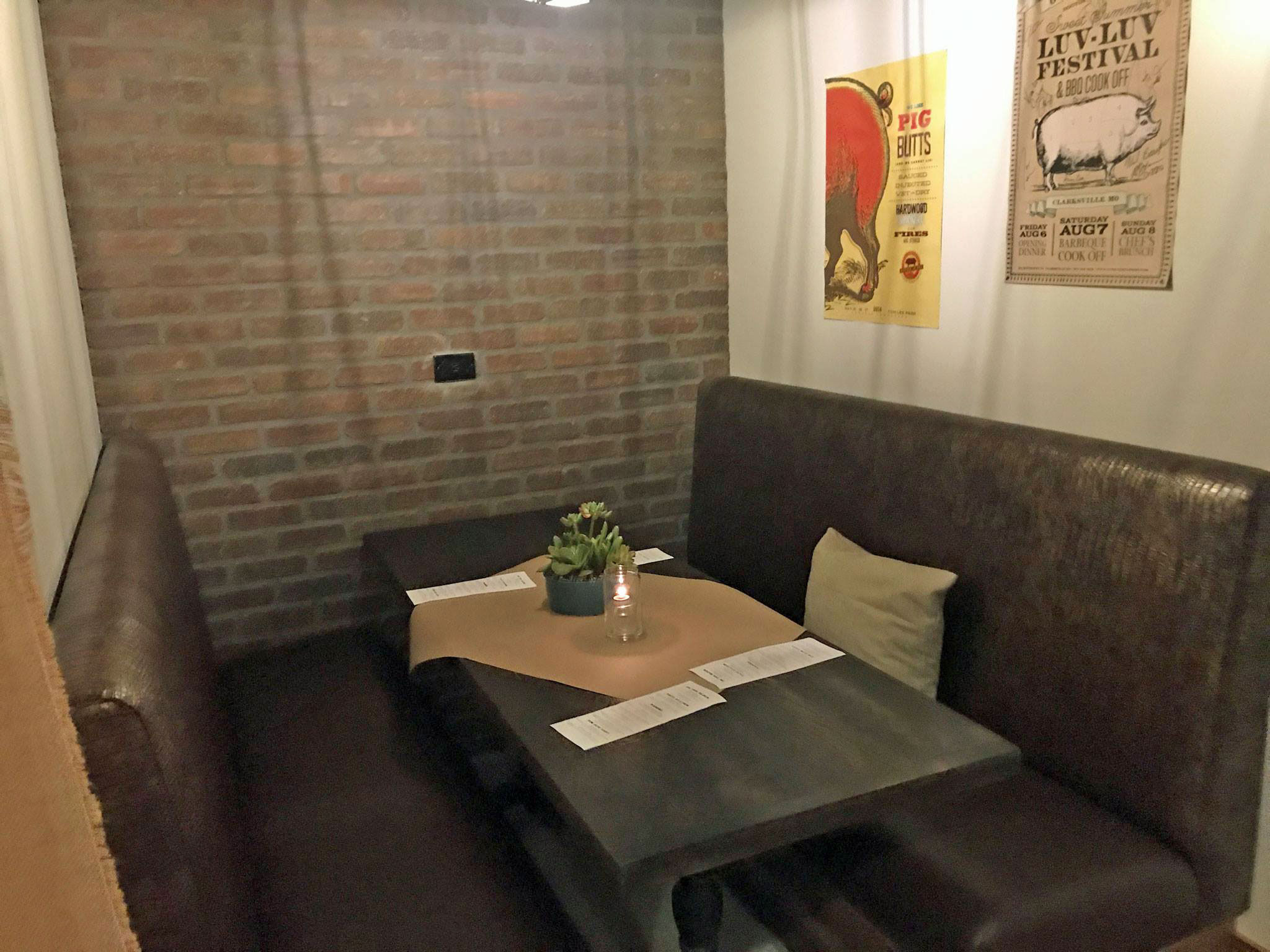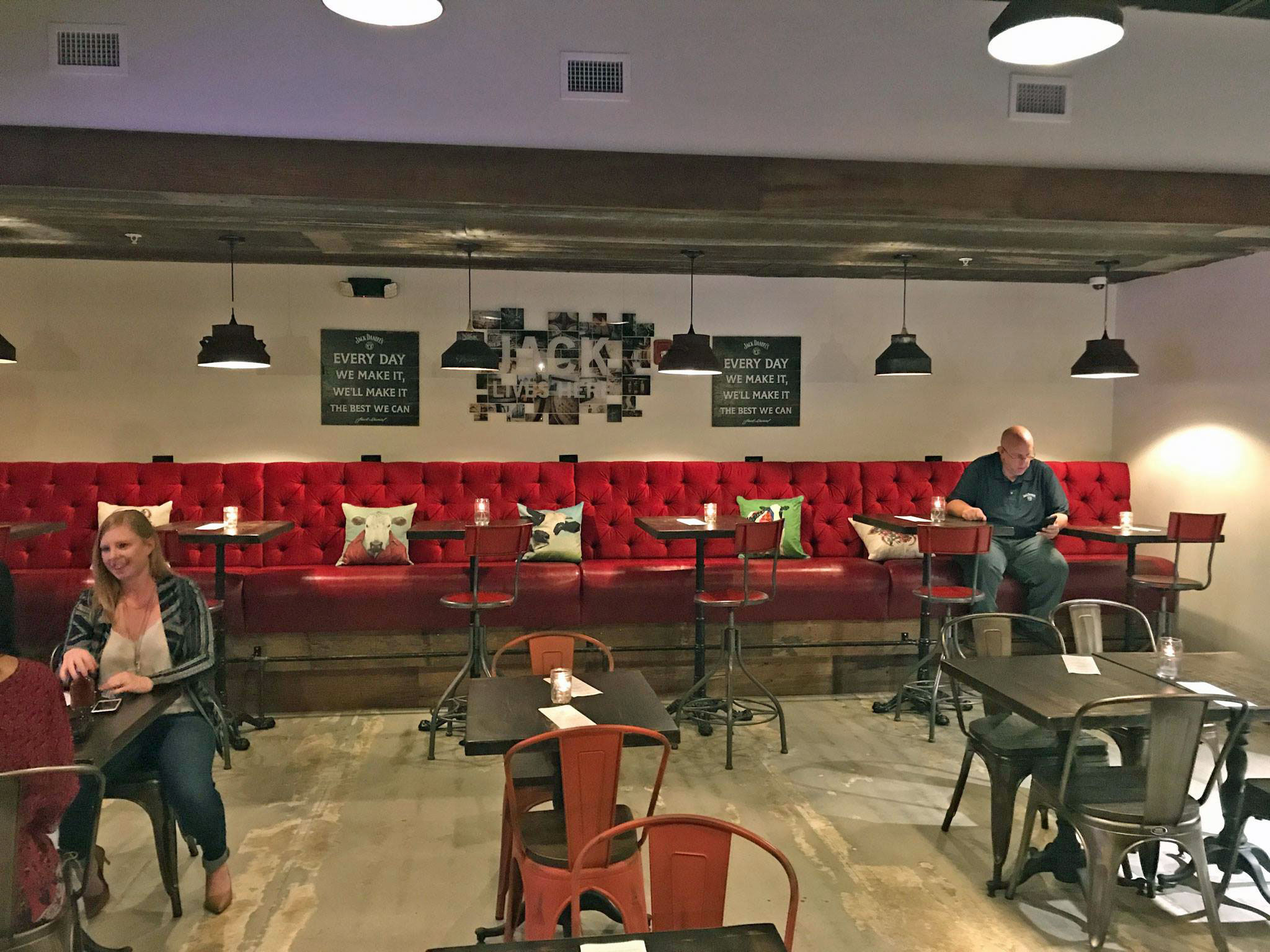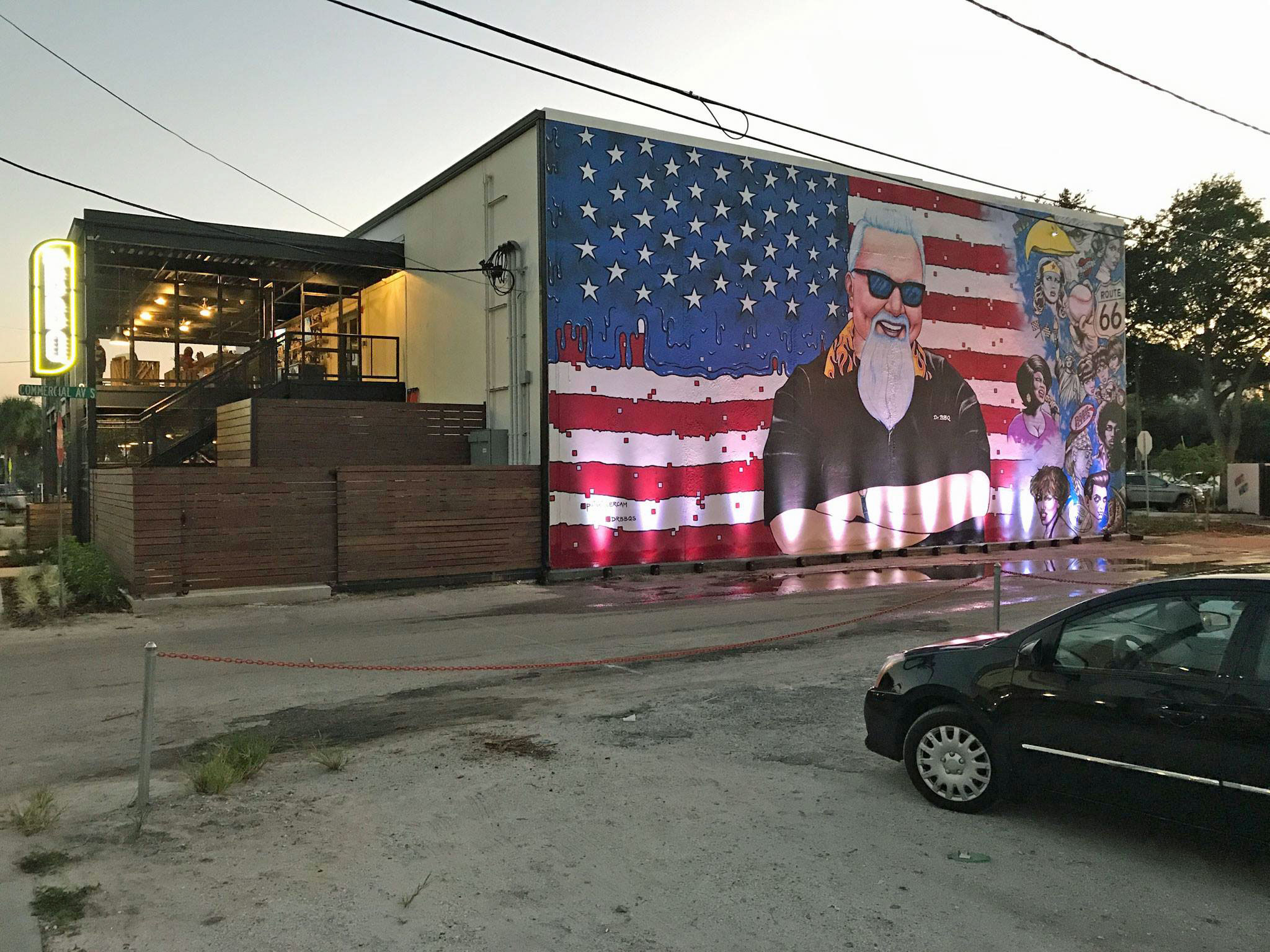 Even though his head measures about one story tall on the mural, Ray is a totally down-to-earth guy, a little bit of a character, but very low-key, humble and grateful for his success.
And yes—he lives in St. Pete. He is a local, albeit, originally from Chicago—which you can hear in his voice if you pay attention.
The doctor is in, and he awaits your hungry belly!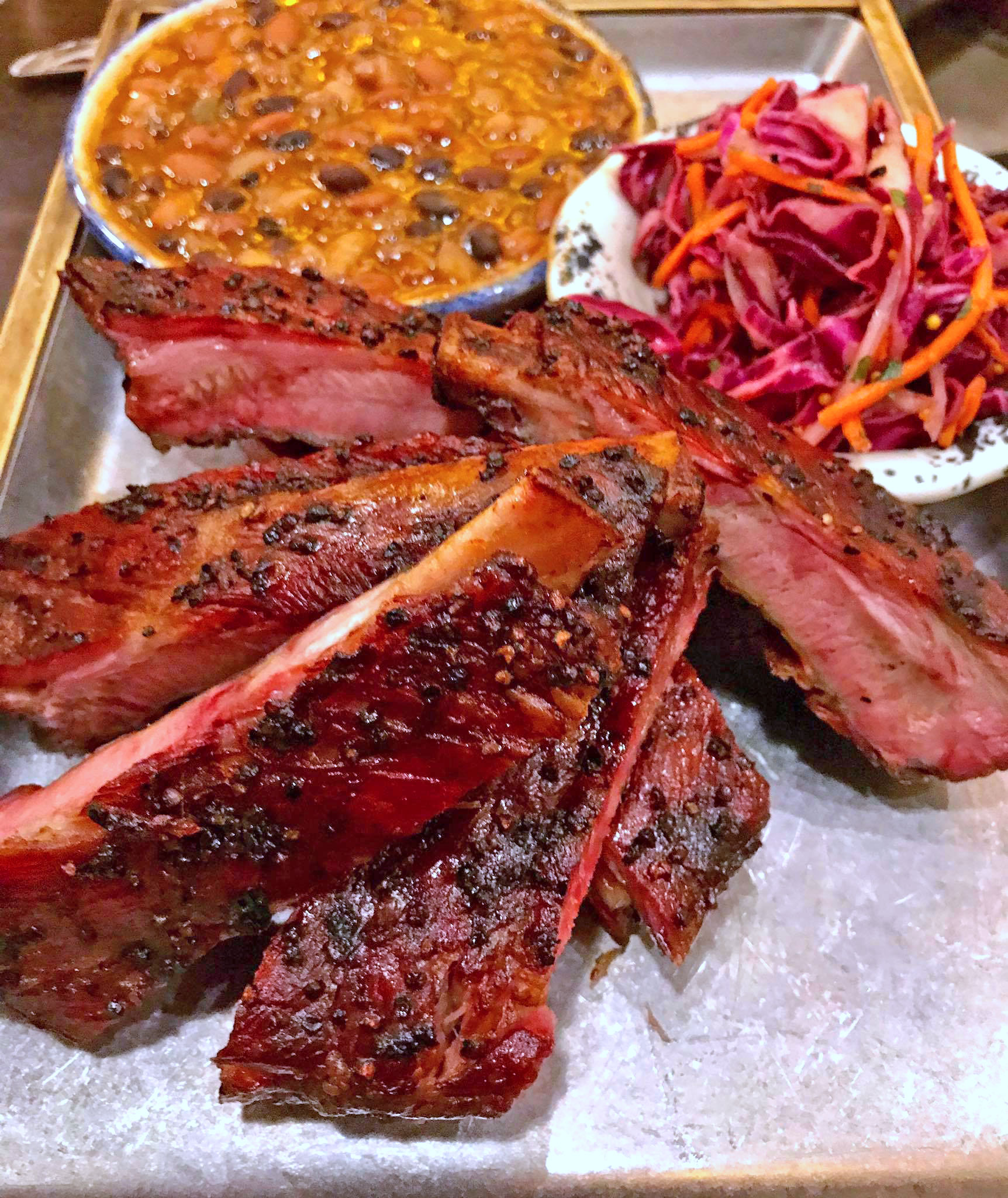 Readers Rating

Rated 4.5 stars




4.5

/ 5 (

Reviewers

)

Outstanding
---
Dr. BBQ The Restaurant

(727) 443-7227

New American BBQ

,

Eclectic Culinary Creations

,

Vegetarian Options

Sun - Thu

11:00am - 10:00pm

Fri - Sat

11:00am - 11:00pm
1101 1st Avenue South

,

St. Petersburg

,

FL

33705

,

US
---
Dr. BBQ has won over 400 BBQ competitions, and now opens his first restaurant in partnership with Datz Restaurant Group.
DISCLAIMER: Kevin, Lori, Abby, Haley, & Lindsey do not dine anonymously (this would be impossible) and we sometimes get free food (though never expected). However, we dine with the locals and we support our own. You will always get honesty in a respectful manner. We do not include any large national or regional chains in our ratings and reviews. We focus on independent locally owned eateries exclusively.

PLEASE NOTE: Reviews reflect a certain moment in time. Some restaurants stay extremely consistent over many years, and some change for the better or worse. Some things that may change are: chefs, recipes, food suppliers, ingredients, philosophies, ownership, etc. We always hope that you have the same good, or great experience we had.
More Foodies News, Reviews & Recipes