Elevated Bar Food with Great Craft Beer at The Wheelhouse in St. Pete
Elevated Bar Food with Great Craft Beer at The Wheelhouse in St. Pete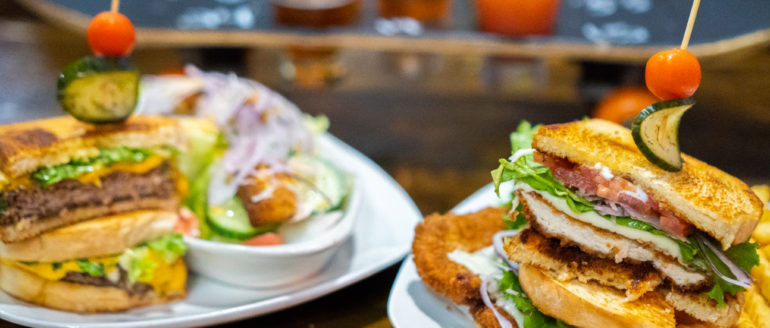 The Wheelhouse in St. Petersburg is a local hot spot to grab a refreshing craft beer and enjoy tasty food. You'll feel like a local the minute you step foot inside, as the vibe is very laid back, welcoming and overall super friendly.
Tucked away in west St. Petersburg on Central Ave, The Wheelhouse is a neighborhood spot to kick back and relax or get competitive over trivia. The specials will draw you in and the impressive craft beer list will keep you here.
One thing that makes The Wheelhouse stand out is their sweet skateboard flights. Not only are they Instagram worthy, they are also fun and a great way to enjoy a few local and national brews from their extensive beer list.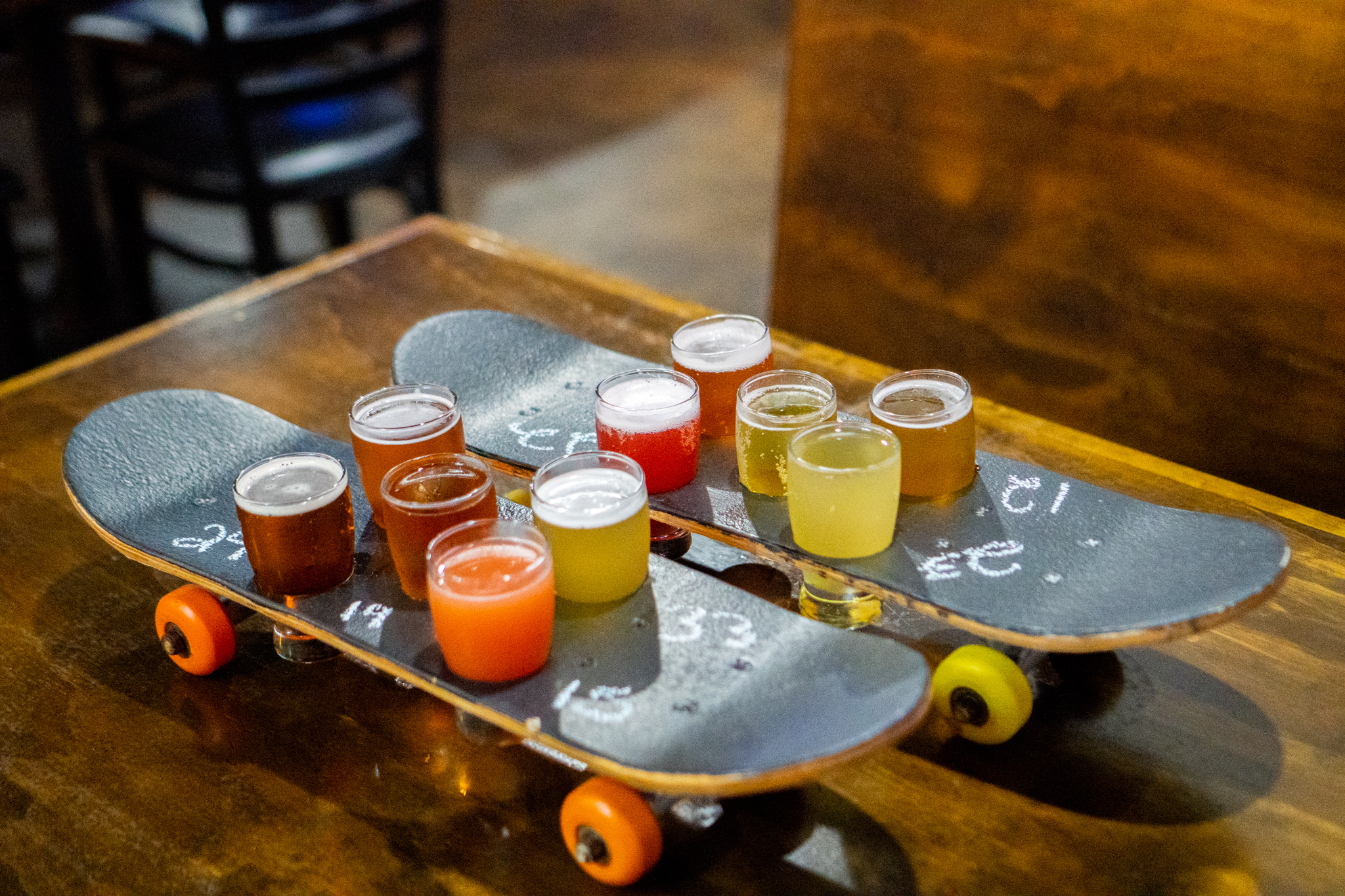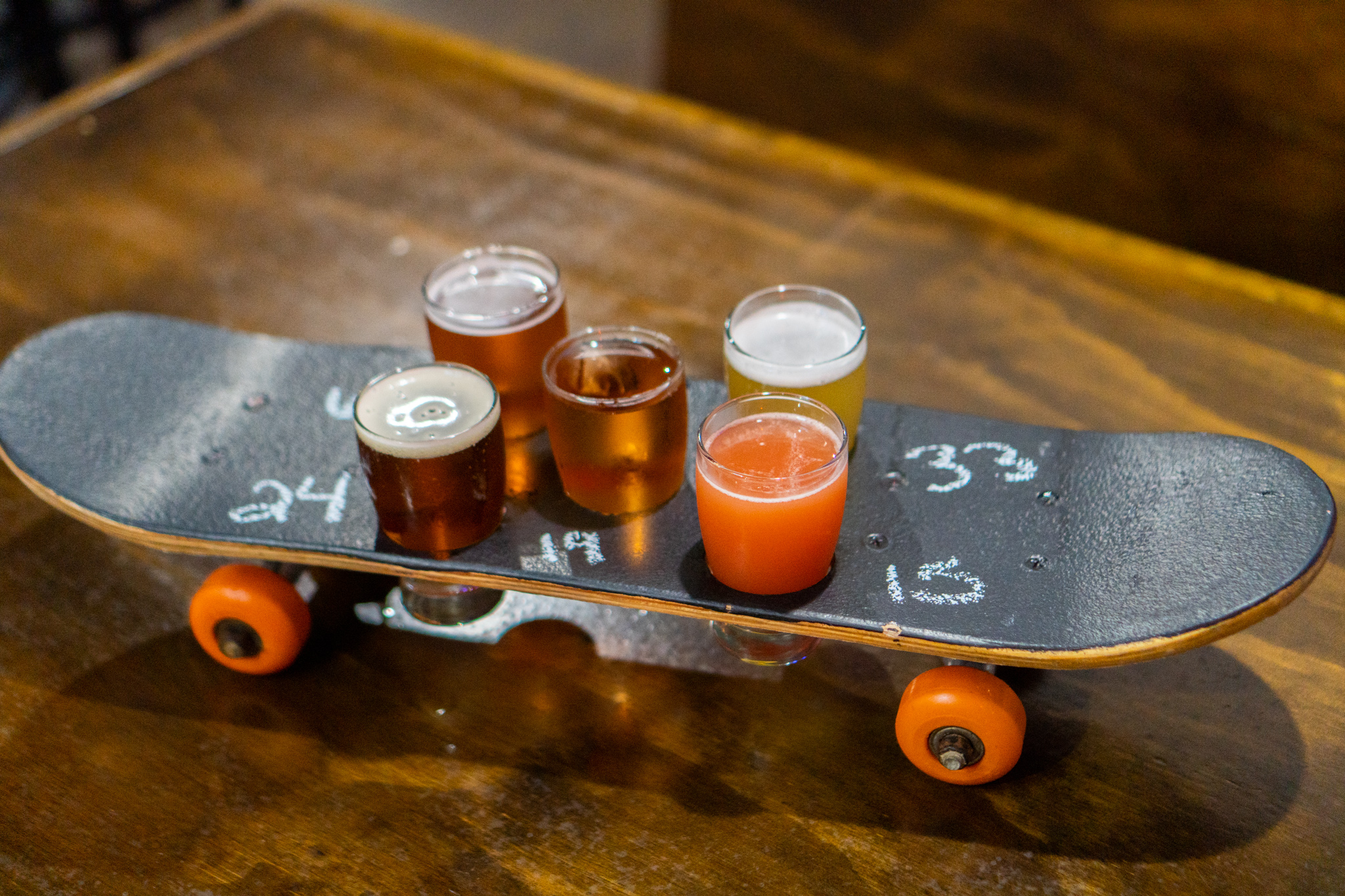 In order from left to right, I ordered: #6 Cranberry Dreams Sour, #24 Tag & Release Red Ale, #19 Zombie Killer Cider, #33 Lemon Creme Sour, #13 Here Plums the Sun Sour. These selections were all spot on to my liking, which is a little surprising as there's typically one in the mix that I dislike when I try a variety of different sips. My favorite was the Here Plums the Sun Sour from 81Bay Brewing Co right here in Tampa Bay. It was a unique blend of plum and cinnamon, which sounds a whack but it was delicious and you should try it out for something different.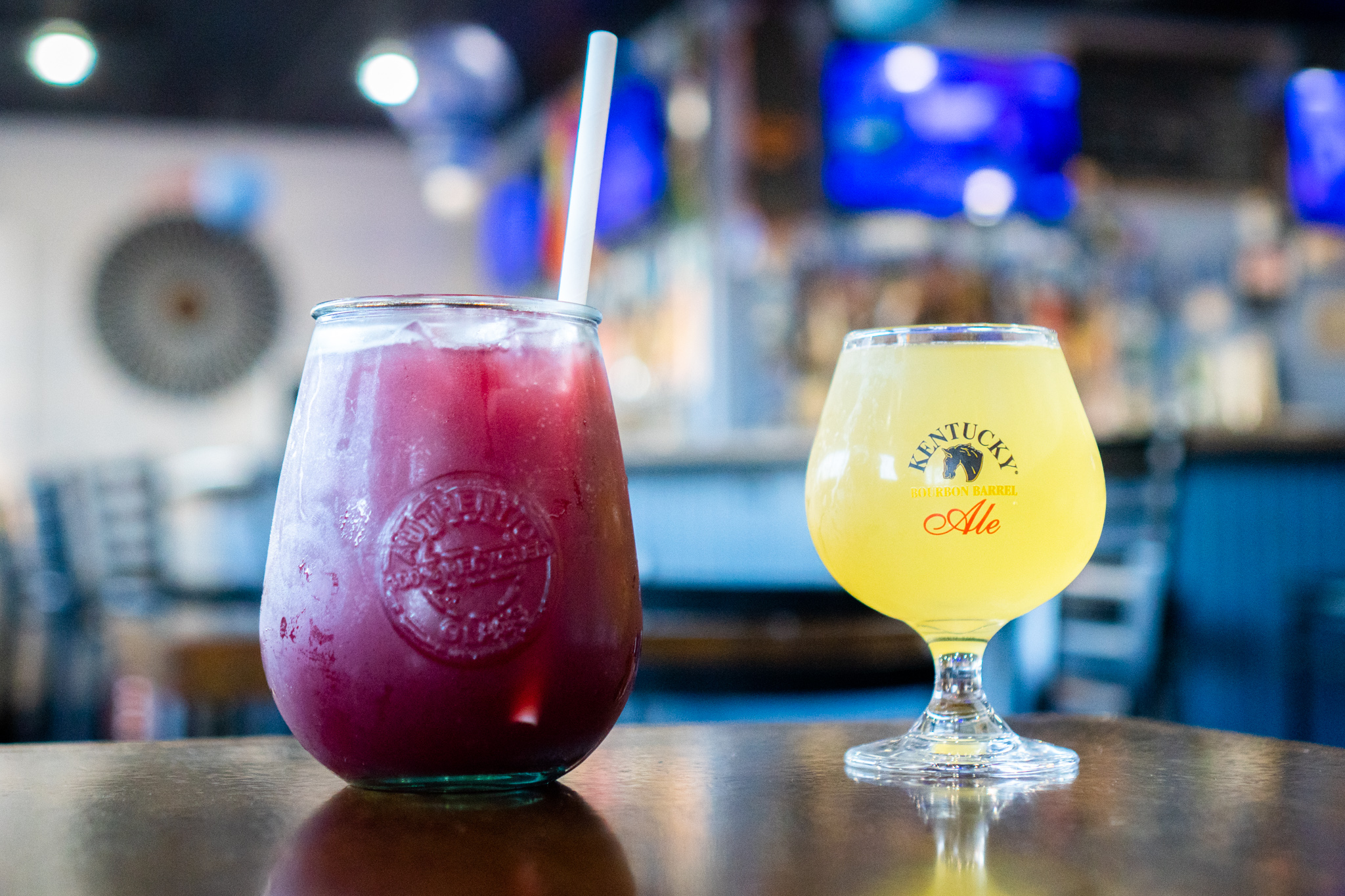 A delicious and generous pour of sangria is a great way to lean if craft beer isn't your thing. Anytime I see a sweet cider on the menu, I cave and order it instantly. The Coco Loconut Cider by Pierced Ciderworks was a tropical oasis that transported me to right to an island in the sun with hints of coconut and pineapple.
The Shareable portion of the menu is a great place to start for a savory appetizer that'll pair nicely with your drink. The options here vary from mozzarella sticks, nachos, onion rings and more. I'd say it's considered elevated bar food. You can't go wrong with anything but I highly recommend trying the Crispy Panko Zucchini Spears and Buffalo Chicken Dip.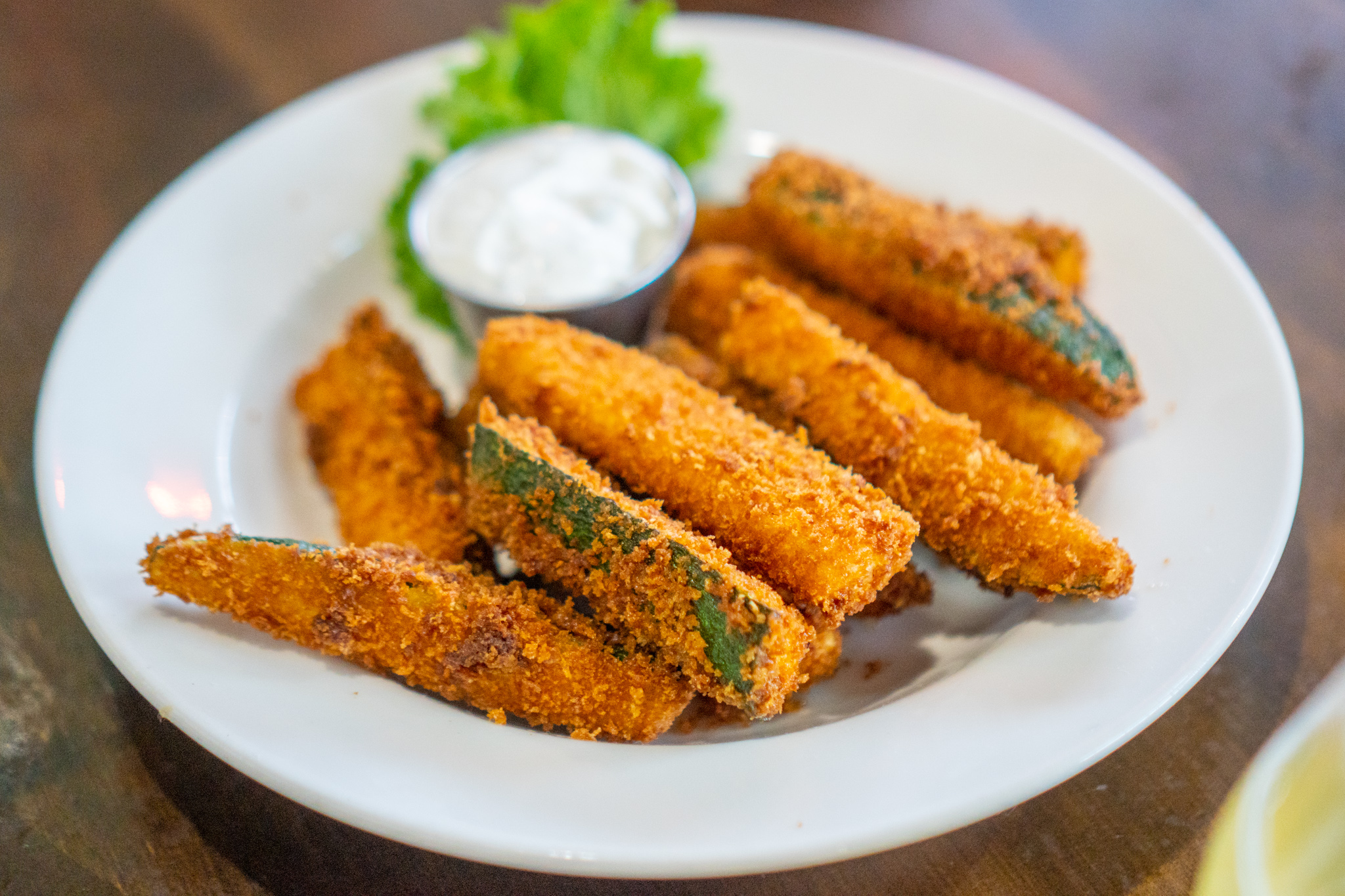 For the veggie lovers who also enjoy a crispy crunch, the Crispy Panko Zucchini Spears are calling your name. These simple, yet delicious, bites are crunchy and fresh. The portion size is again super generous and can feed a full table. The panko coating was perfectly breaded onto the sides to give each bite crunchy, salty excitement.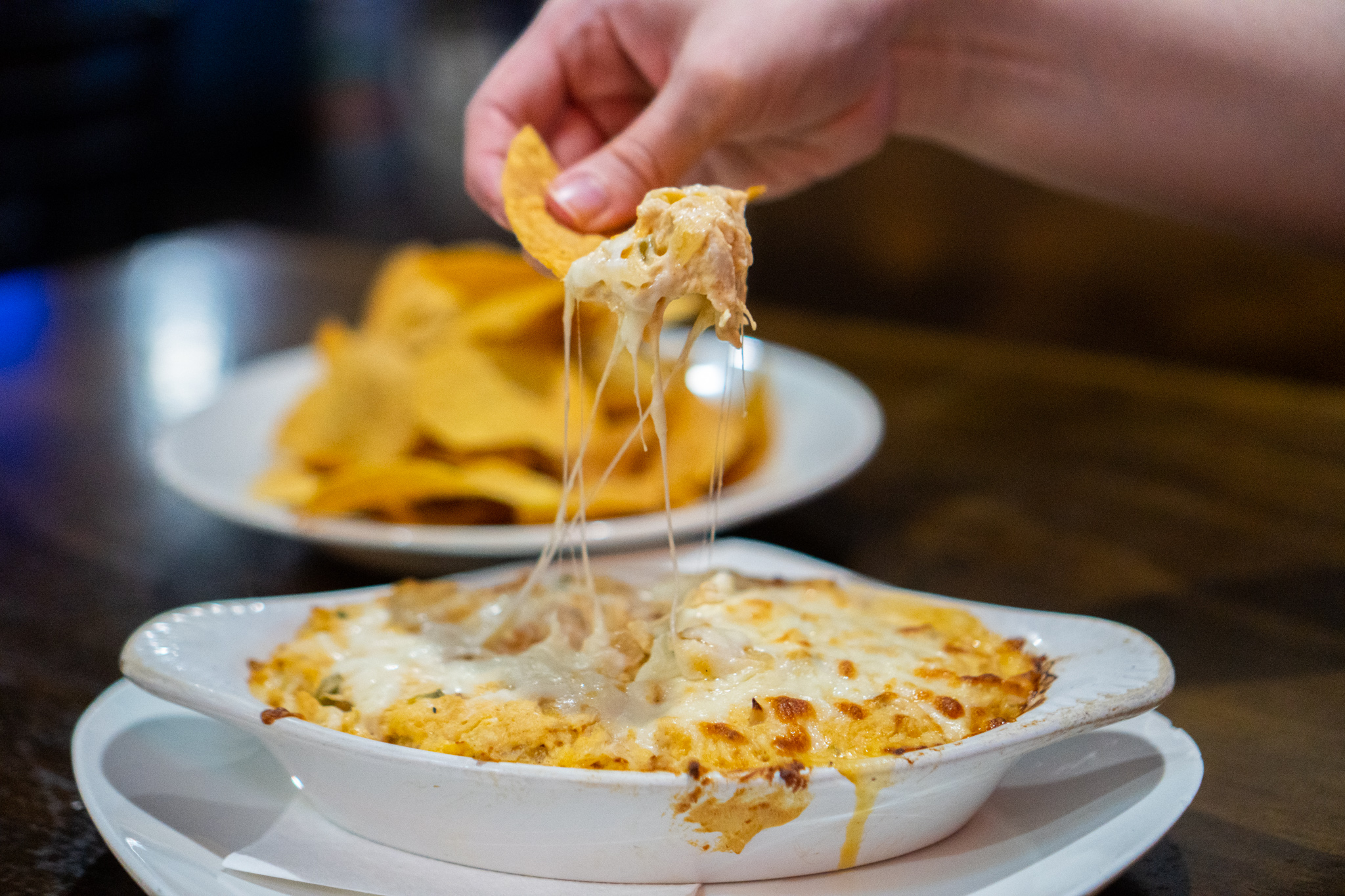 If you're like me, anything that involves cheese is a must. The Buffalo Chicken Dip was cheesy and filling, with a slightly spicy kick to it. It arrived to our table smoking hot and we completely devoured it in seconds.
The French Bread Pizzas get a ton of hype at The Wheelhouse and I can totally understand why. The mozzarella on each pizza is sourced from the cheese state itself, Wisconsin. Plus, the ingredients scream freshness and are truly crave-worthy even after indulging in the generously sized pieces.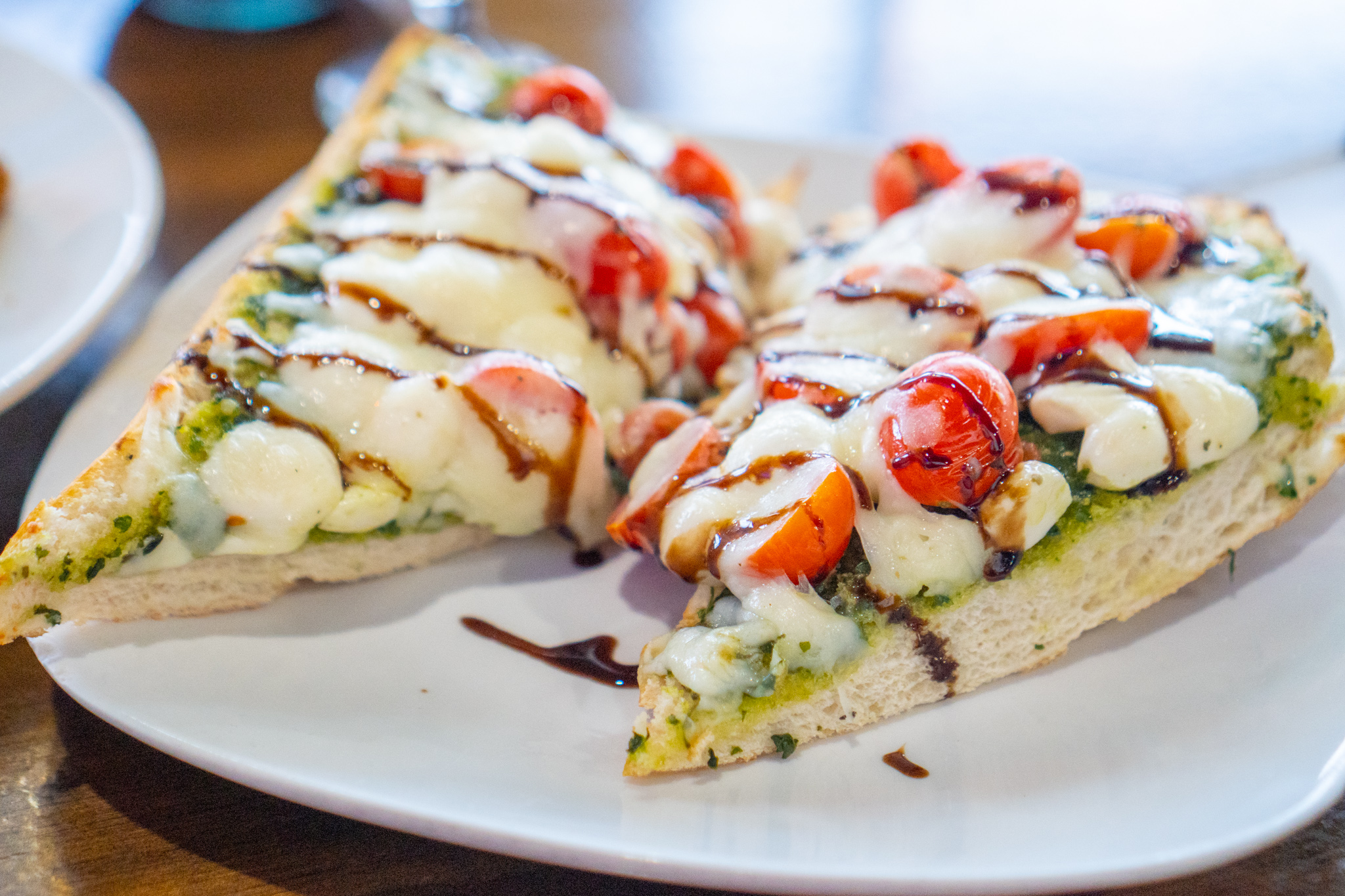 The Caprizza French Bread Pizza was delicious and is a must try. The size of the French Bread Pizza is ideal if you're looking to split it with someone. I especially enjoyed the fresh mozzarella, fresh cherry tomatoes and drizzled balsamic. The pesto sauce was rich in flavor and just the right amount. For such a simplistic dish, I loved every single bite.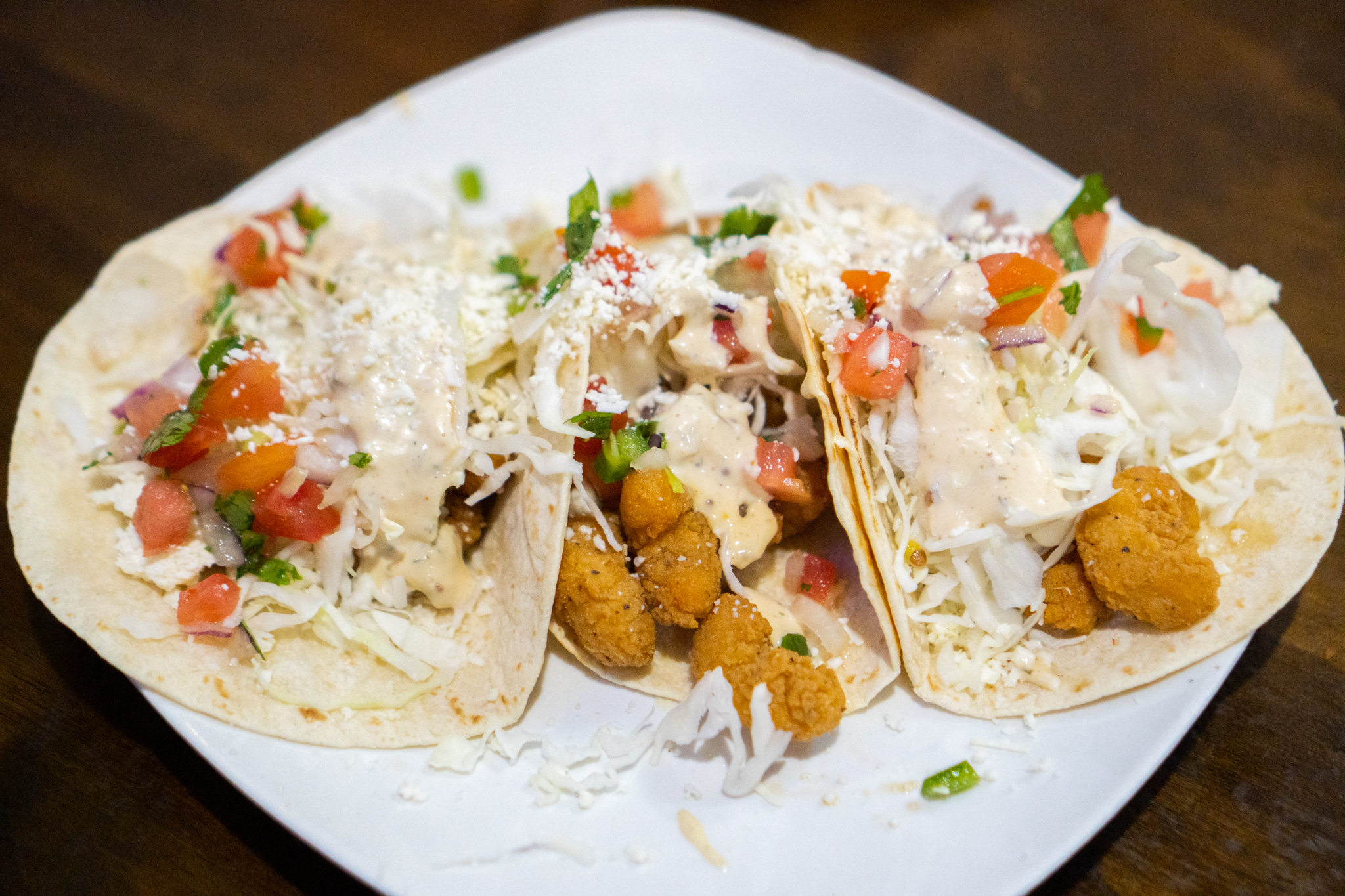 One thing that will always win me over, is a good taco Tuesday special and thankfully The Wheelhouse has a great one. The Taco Tuesday special is $5 for any of their listed tacos, which come in threes. Their different options include a shrimp, chicken, beef and vegetarian plate.
I decided to go with the Big Shrimpin' and I'm so glad I did. The Big Shrimpin' is a mix of breaded shrimp, queso fresco, cabbage, remoulade sauce and fresh pico de Gallo. The best part about these tacos? Almost every single bite included a piece of each ingredient, which is a ton of shrimp.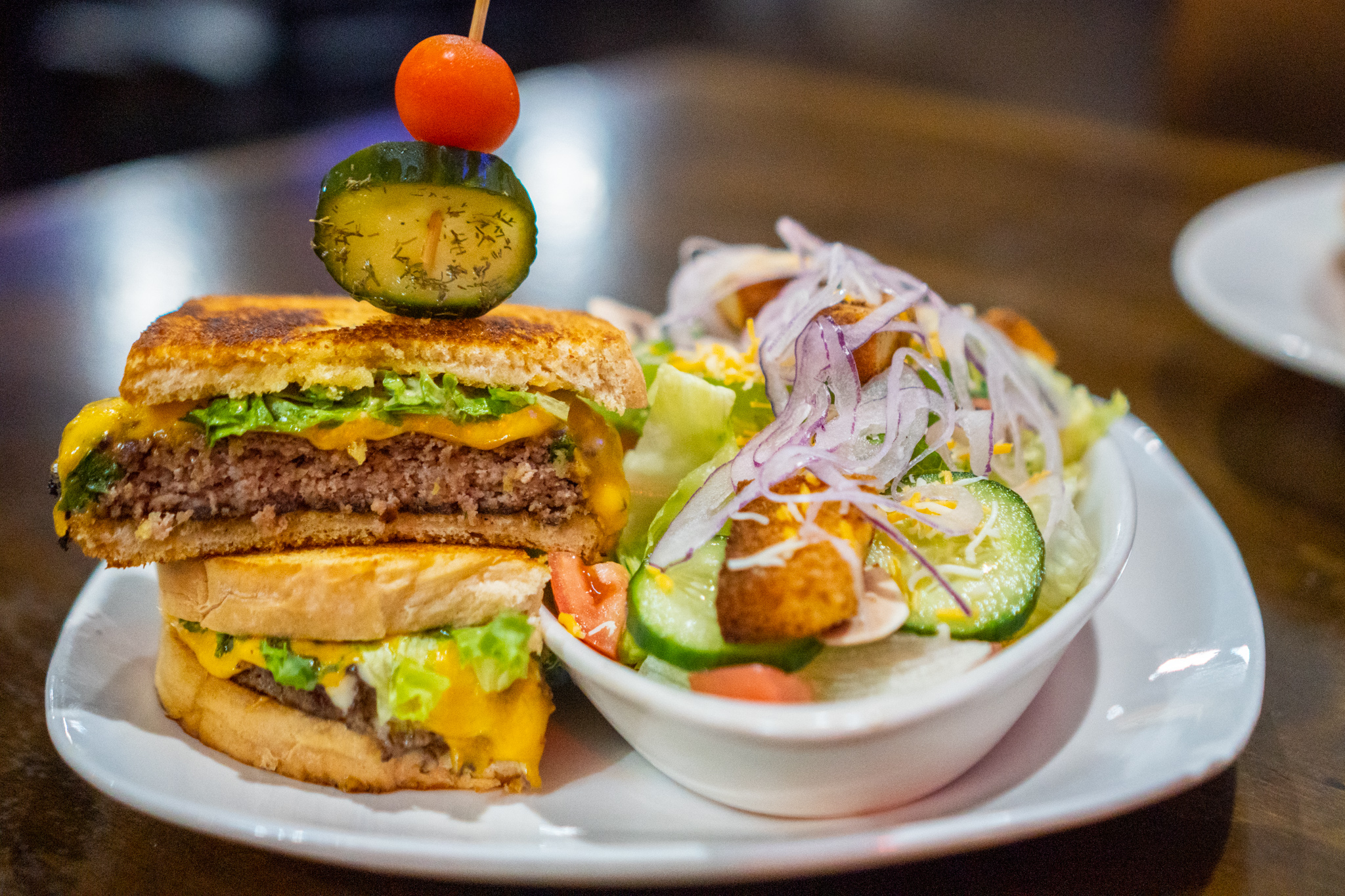 After seeing someone's plate passing by with a big juicy burger melt, I just had to get one myself. The menu includes six different melts and I truthfully wasn't feeling too adventurous on this night so I stuck with the Boopie's Burger Melt with cheddar and white American cheeses, lettuce and a secret burger sauce. I was blown away at how delicious this was. I really liked that it didn't become messy as some burger melts typically do. The flavors were familiar yet exciting. I would highly recommend this to someone who's looking for an easy meal that will surely taste amazing each time.
The side Garden Salad was a great addition with plenty of veggies like green bell pepper, tomatoes, onions, mushrooms, plus deliciously crunchy croutons and cheese. Can't go wrong here.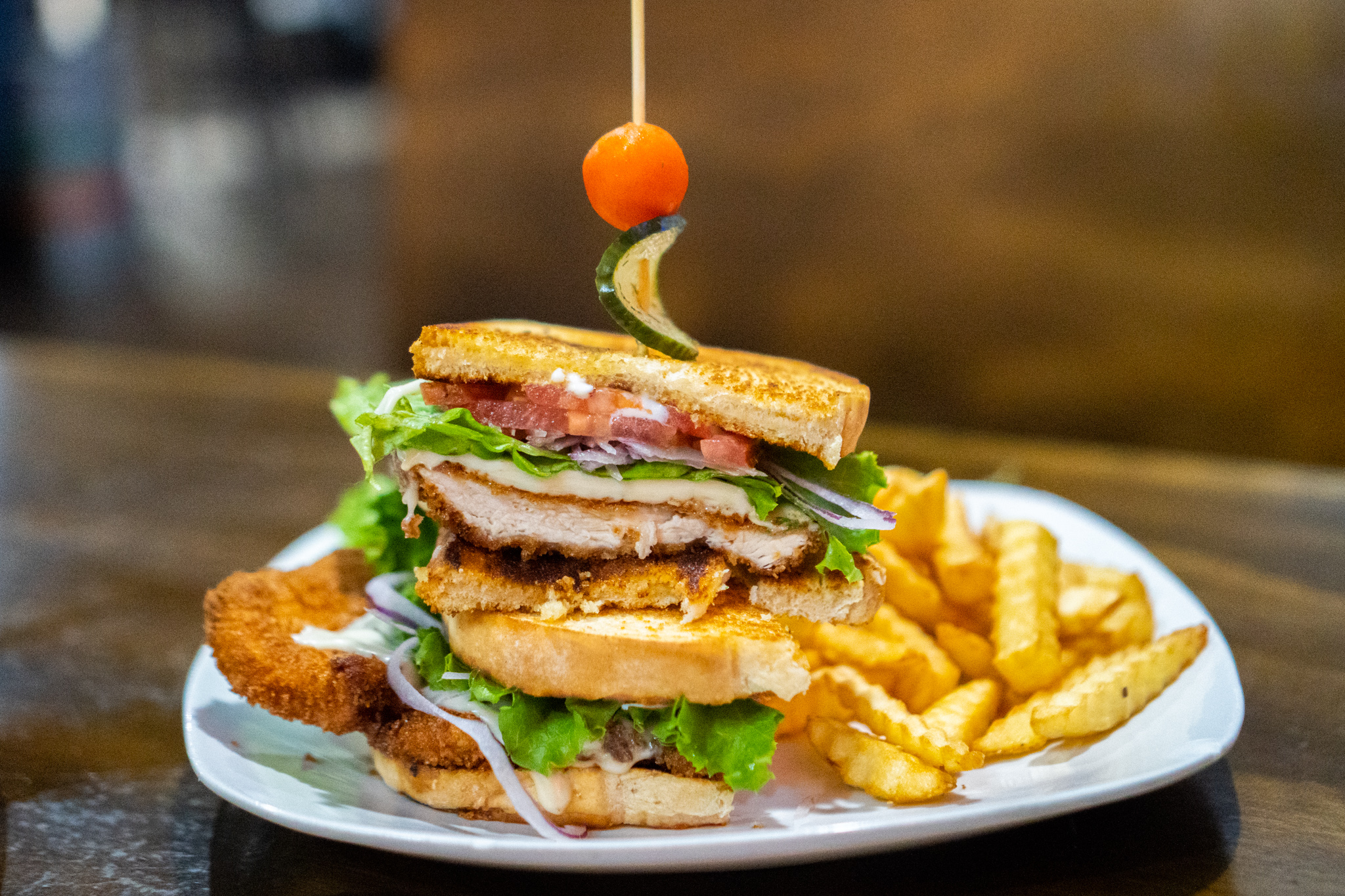 The Big Mother Clucker Sandwich was wonderful. This insanely delicious chicken sandwich consisted of Panko crusted chicken breast, American cheese, lettuce, tomato, onion and mayo. The quality of the chicken was juicy and really fresh. As you can see, the portion size here is massive, so be prepared. The fries were crispy and hit the spot.
If you like elevated bar food, a long craft beer list and a super chill vibe, then this spot is right in your (The) Wheelhouse.
The Wheelhouse specializes in craft beers from both local and national breweries paired with a friendly and comfortable atmosphere to enjoy them in.
DISCLAIMER: Kevin, Lori, Abby, Haley, & Lindsey do not dine anonymously (this would be impossible) and we sometimes get free food (though never expected). However, we dine with the locals and we support our own. You will always get honesty in a respectful manner.

PLEASE NOTE: Reviews reflect a certain moment in time. Some restaurants stay extremely consistent over many years, and some change for the better or worse. Some things that may change are: chefs, recipes, food suppliers, ingredients, philosophies, ownership, etc. We always hope that you have the same good, or great experience we had.
More Foodies News, Reviews & Recipes