Embark on an Enthralling Edible Journey at Roam Restaurant & Bar
Embark on an Enthralling Edible Journey at Roam Restaurant & Bar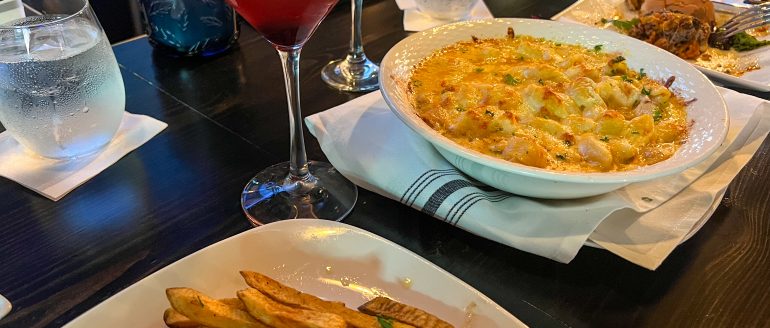 Situated on 34th St. N, in the Lealman vicinity of St. Pete, sits a new steakhouse concept which was opened by brothers Joshua and Christian Jackson. If those names sound familiar, that's because the two gained popularity in the area with their food truck, Red's BBQ. Presently, the restaurant is the main focus as this is the first brick and mortar location for the duo, which just opened in April of this year.
Prior to eating at the restaurant I did a little research (as I always do with new-to-me restaurants) on the food to get a taste of what to expect. During this research, I uncovered one rave review after another. Patrons boasted about everything – from the food and service to the atmosphere. Well, after our visit, it is blatantly obvious why folks love this place so much. The hospitality is warm and genuine, the feel is intimate and the food – well, I can't quite say enough good things about the food to possibly do it justice, but I'll dive more into that shortly.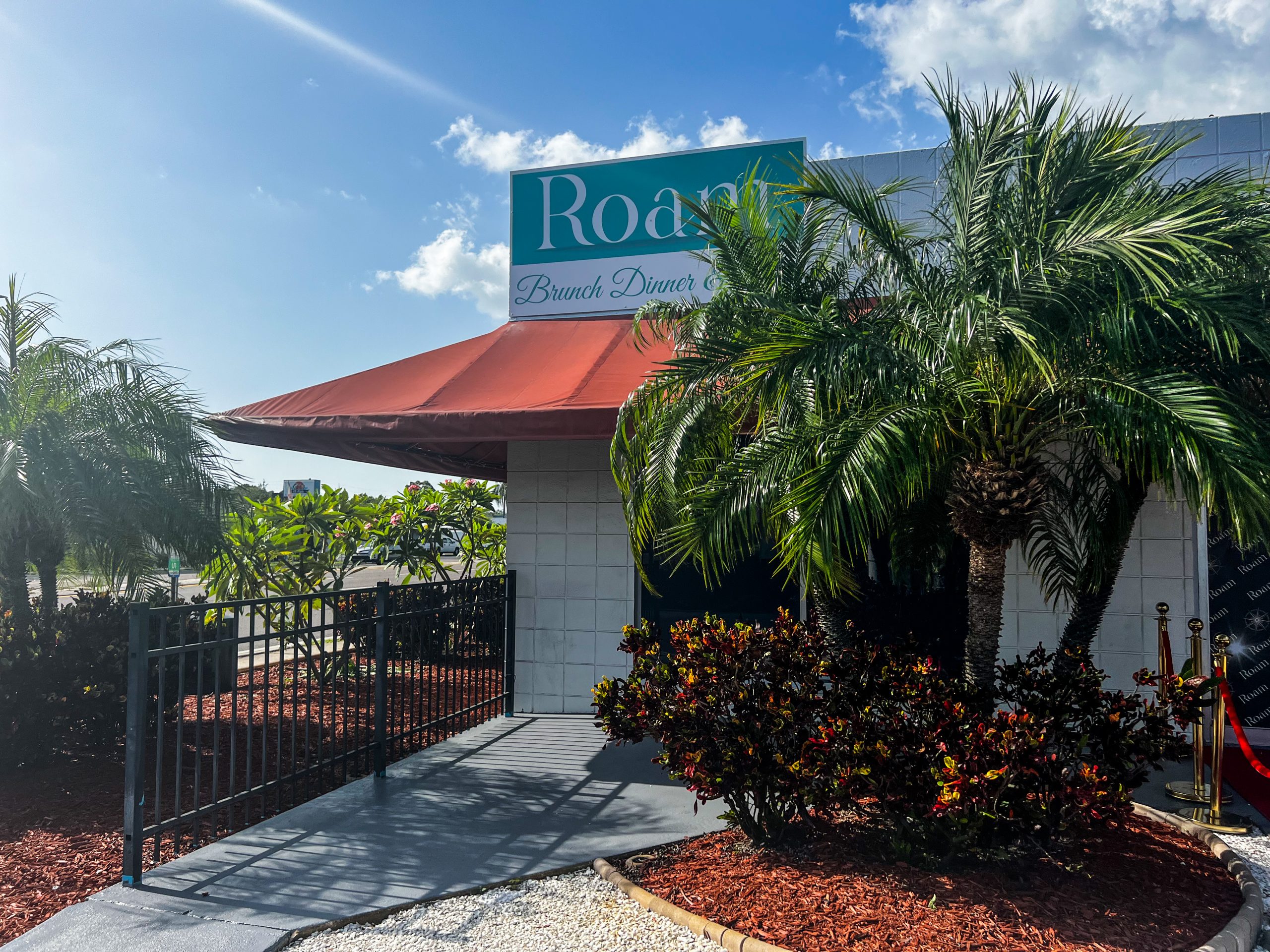 Because Roam is located on busy 34th St., it can be easy to miss. If you're traveling south on 34th St., Roam will be on your left and the first sign that you will see is the one below which says Roam Steakhouse. If you are driving north on 34th St., Roam will be on your right and the sign that you will see is the one listed above, which is the newer of the two signs. The restaurant does share a parking lot, so parking in the lot can be limited; however, there is a wide side street with ample street parking just off of the restaurant parking lot. While sitting at the bar, we had some great conversation with Christian and during that he informed us that they are working on additional parking.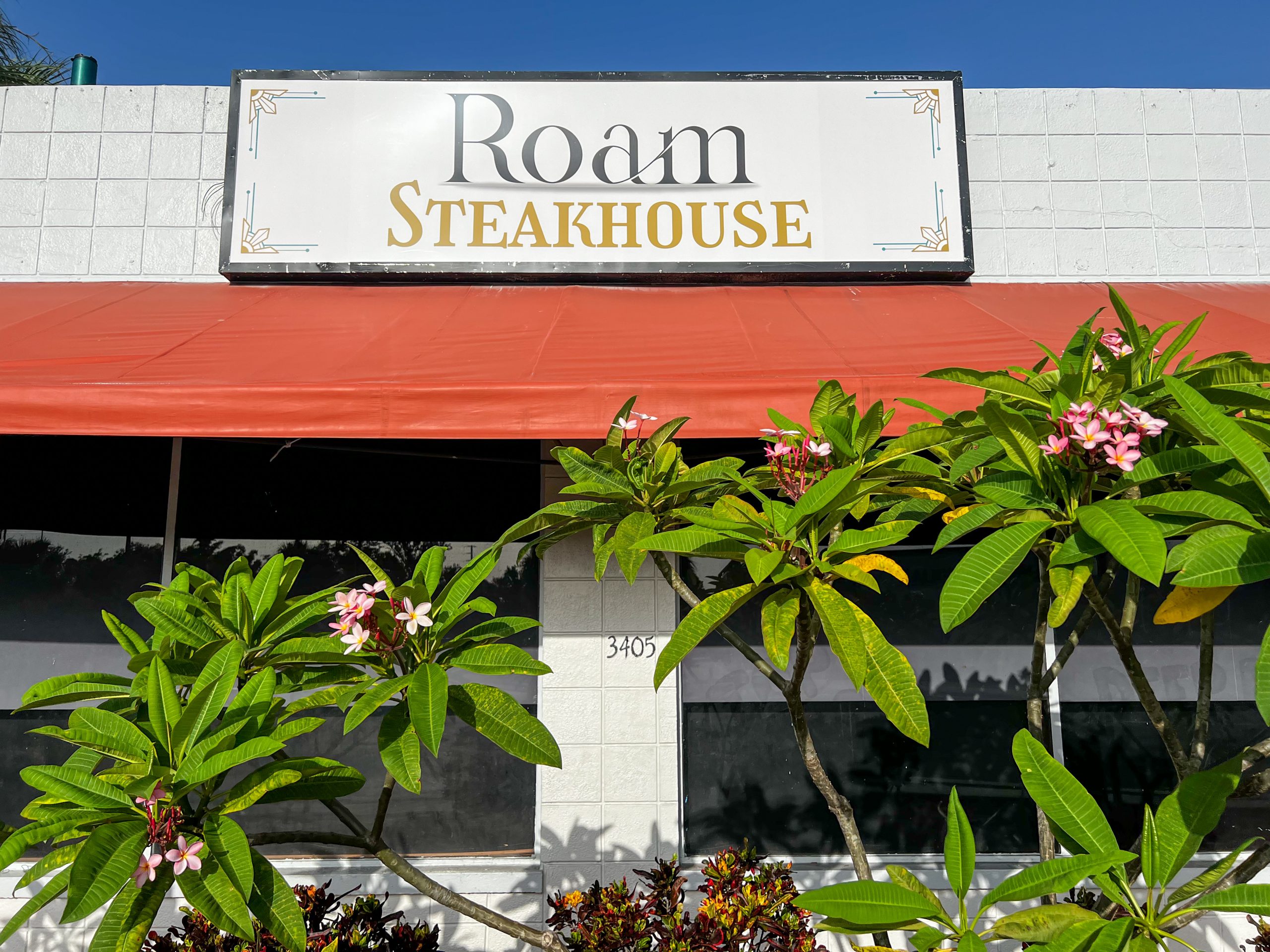 As I mentioned, the interior of Roam is very intimate with murals of different worldwide locations on the windows, dim and cozy lighting and ultra chic velvet chairs situated at the tables. We felt so welcome – Christian, Tina and Vanessa took phenomenal care of us at the bar as they helped us navigate the menu during our first visit. No detail was spared and the hospitality, authentic – talk about some great people.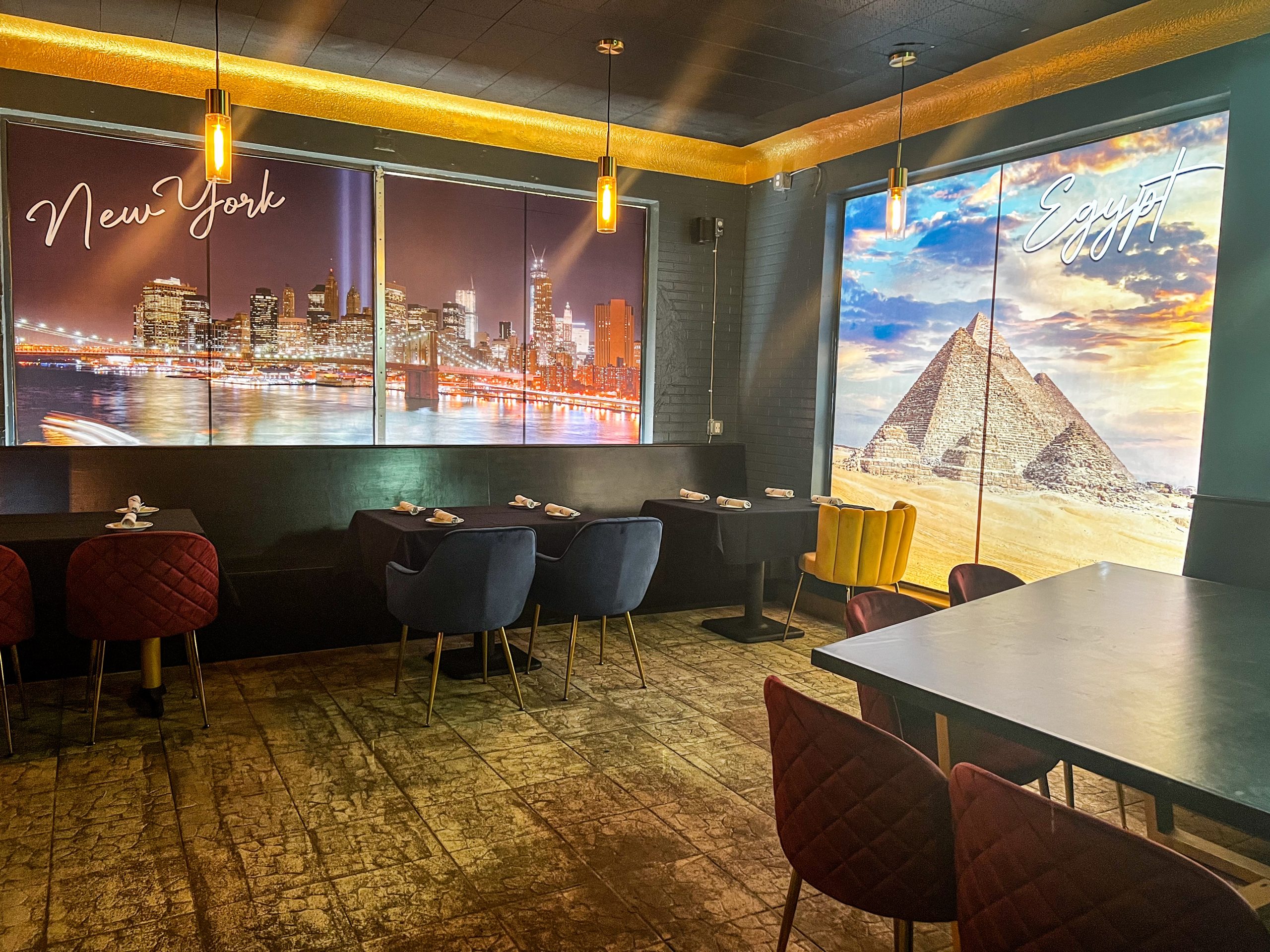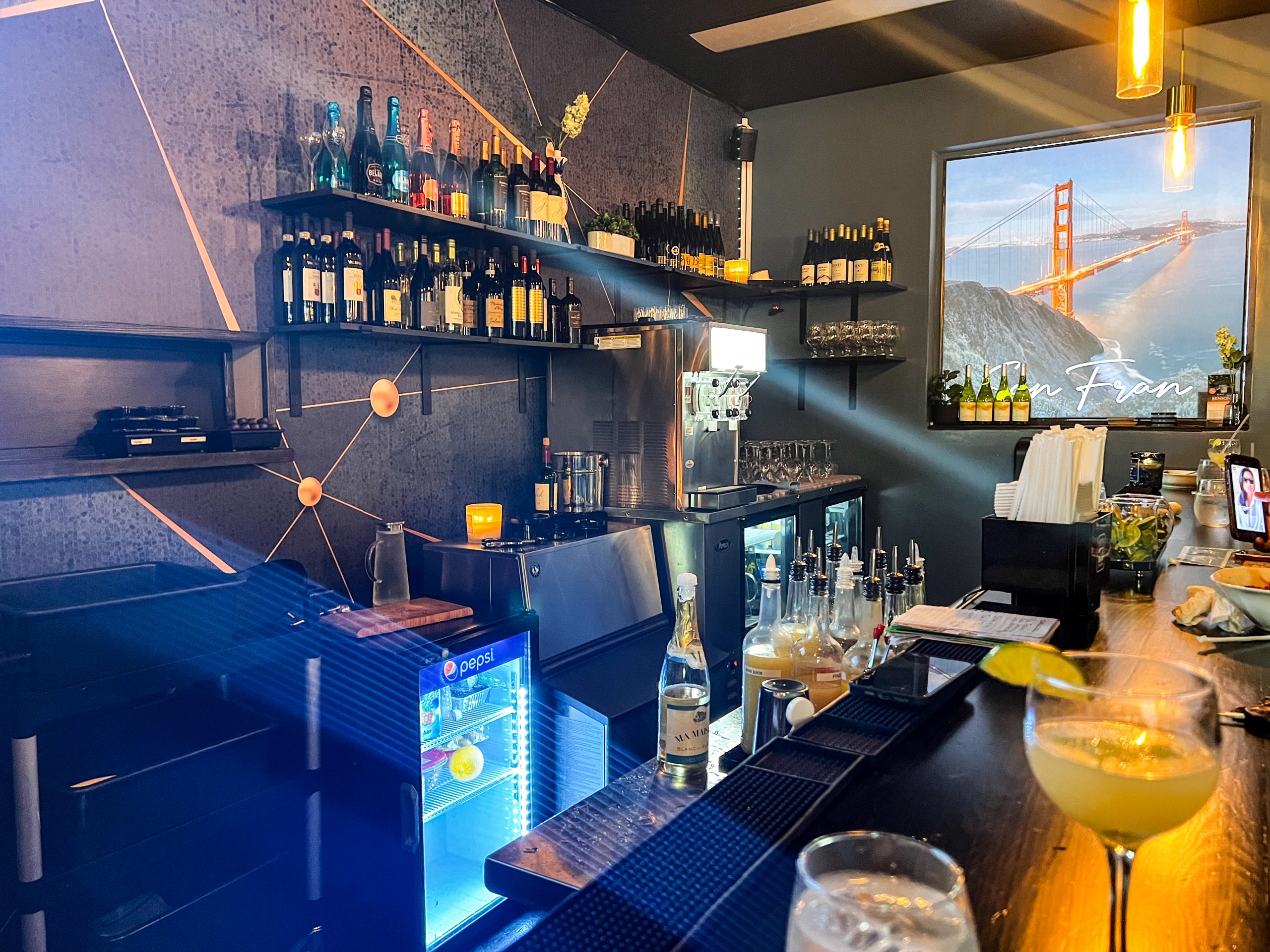 Happy Hour at Roam happens every Thursday and Friday from 4-6PM at the bar and it includes a ridiculously delicious line-up. If you're looking to enjoy a number of options from the menu in smaller portions, this happy hour menu is for you. During these happy two hours, cocktails are $8, frozen margaritas and froze are $6, select bottles of wine are 50% off and a number of small plates are available, like sliders, petite steak frites and more.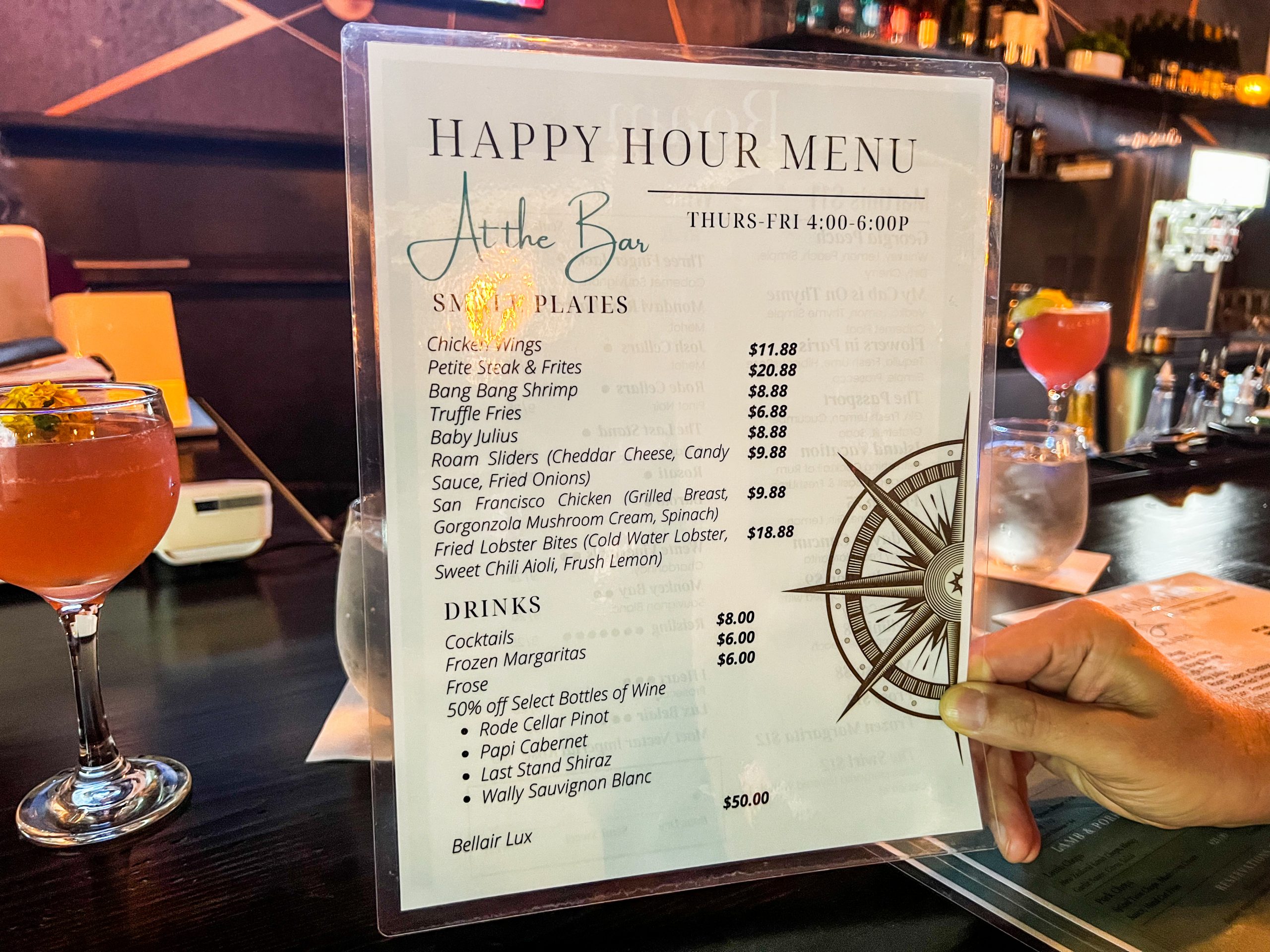 From the happy hour small bites menu, we ordered the fried chicken wings, petite steak frites (per a recommendation) and the Roam sliders. As far as drinks are concerned, I began with Flowers in Paris and my husband, Mike, opted for the Island Vacation.
Flowers in Paris is crafted with tequila, fresh lime juice, hibiscus-rose simple syrup, prosecco and is garnished with a vibrant edible flower. This cocktail was quite refreshing, especially on a 90 degree day. It was bright with subtle bubbles – a drink that I think just about everyone would enjoy. For the Island Vacation, gears are shifted to rum but the refreshing vibe remains. Rum, pineapple, basil and fresh lime fill the glass in this bright concoction.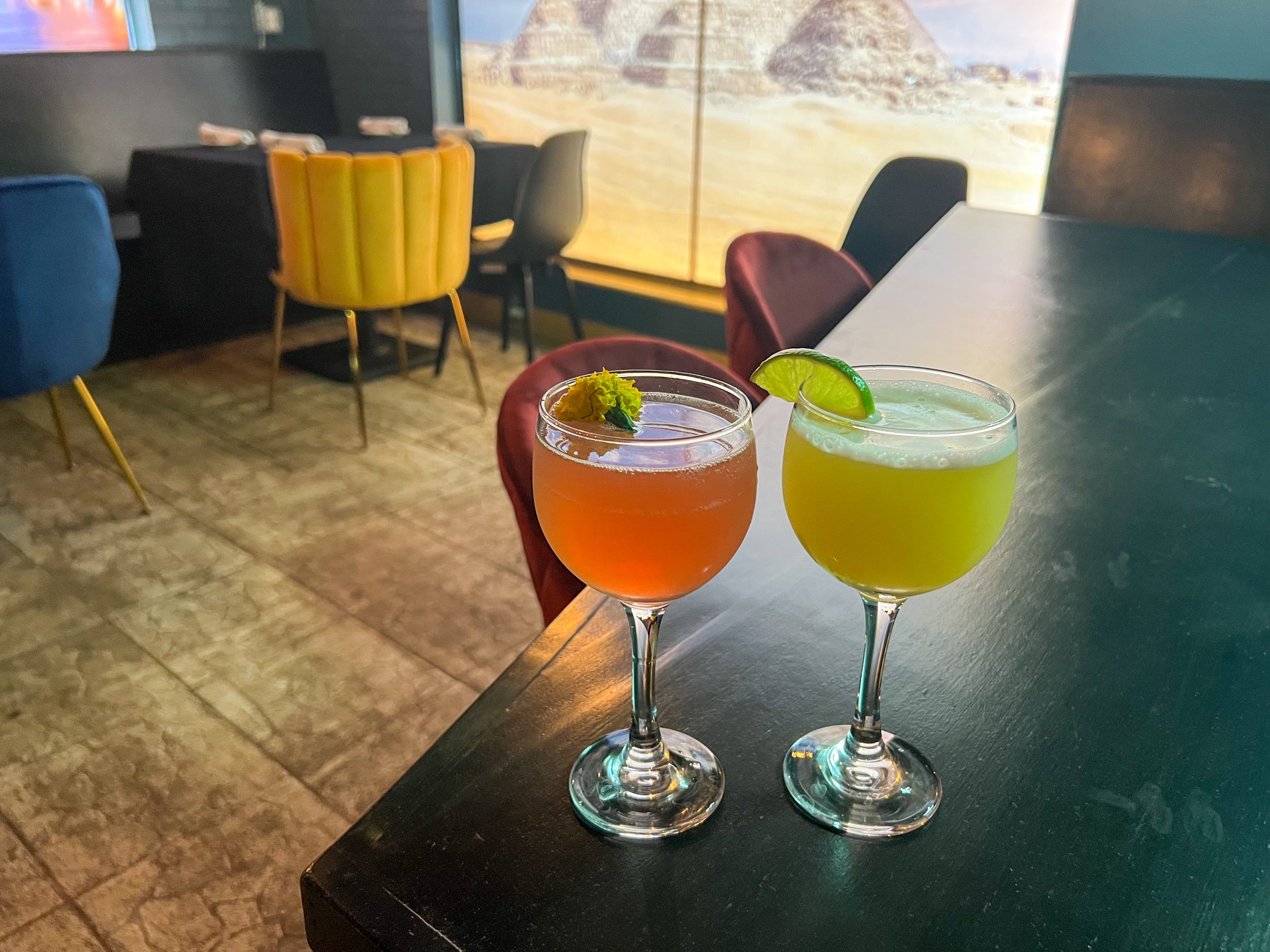 The small plates began to file out of the kitchen and first up, the sliders. We knew we wanted to be able to try a handful of different things without much food waste and the sliders were perfect for just that. The sliders are stacked with fried onions, candy sauce (a sweet and savory sticky sauce) and cheddar cheese. These initially jumped out at us because of the sauce – we ordered the wings with herb buffalo sauce instead of candy but still wanted to try the candy sauce. This slider is an absolute flavor bomb – juicy patty, crunchy and savory onions, sultry melted cheddar and that lip-smacking candy sauce, need I say more?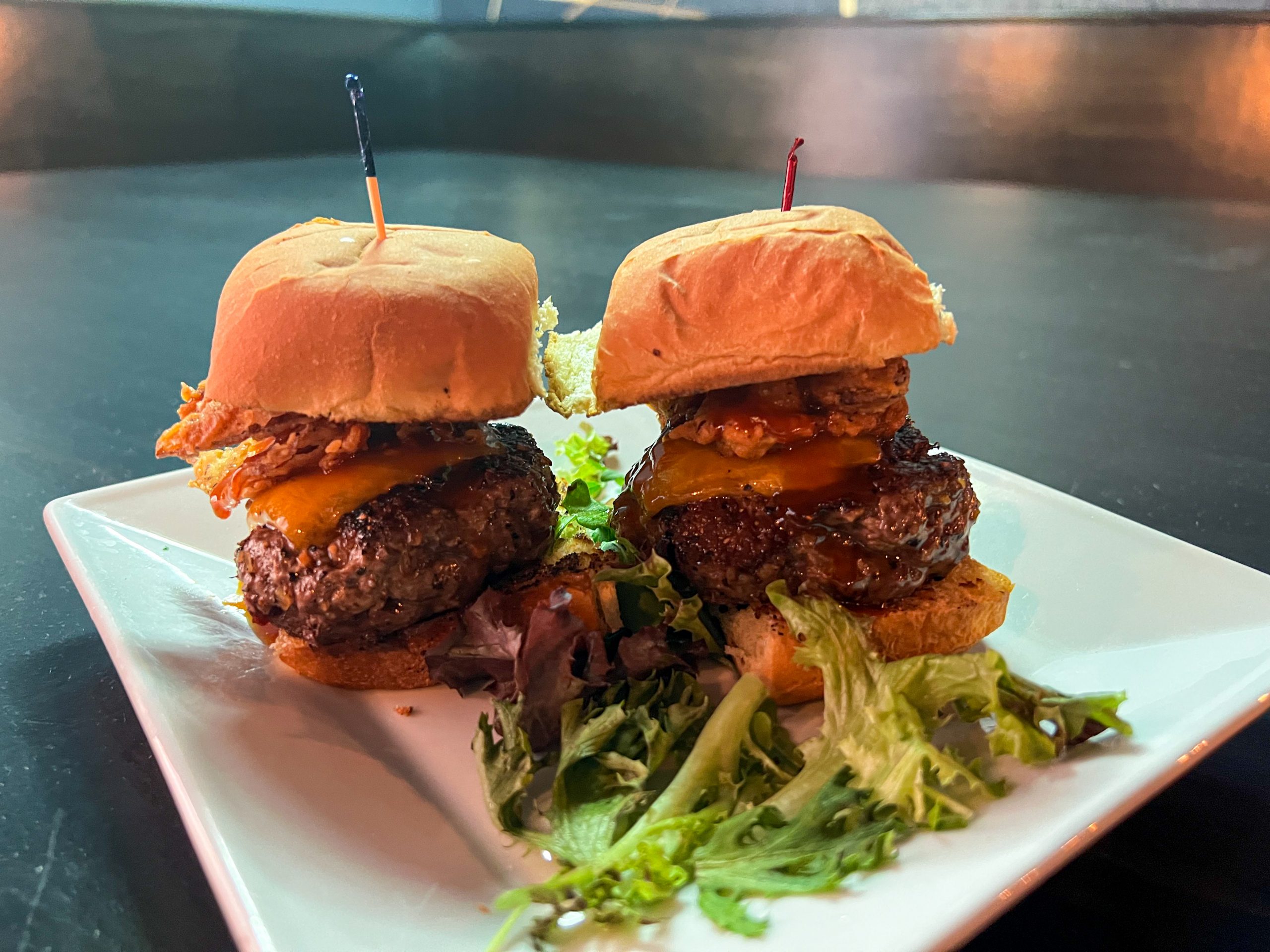 Prior to this meal, we admittedly hadn't had chicken wings in a long time. With one glance at an order that someone received down the bar, it was a done deal. As mentioned, the wings come with either candy sauce or herb buffalo. We opted for the more traditional route of herb buffalo since we were able to enjoy the candy sauce on the sliders.
Spoiler alert, we made a great decision. These wings are perfectly crispy and fried to perfection and are undoubtedly some of the best in town. The spice from the buffalo sauce was idyllic for heat babies like me, but still bursting with herby buffalo flavor.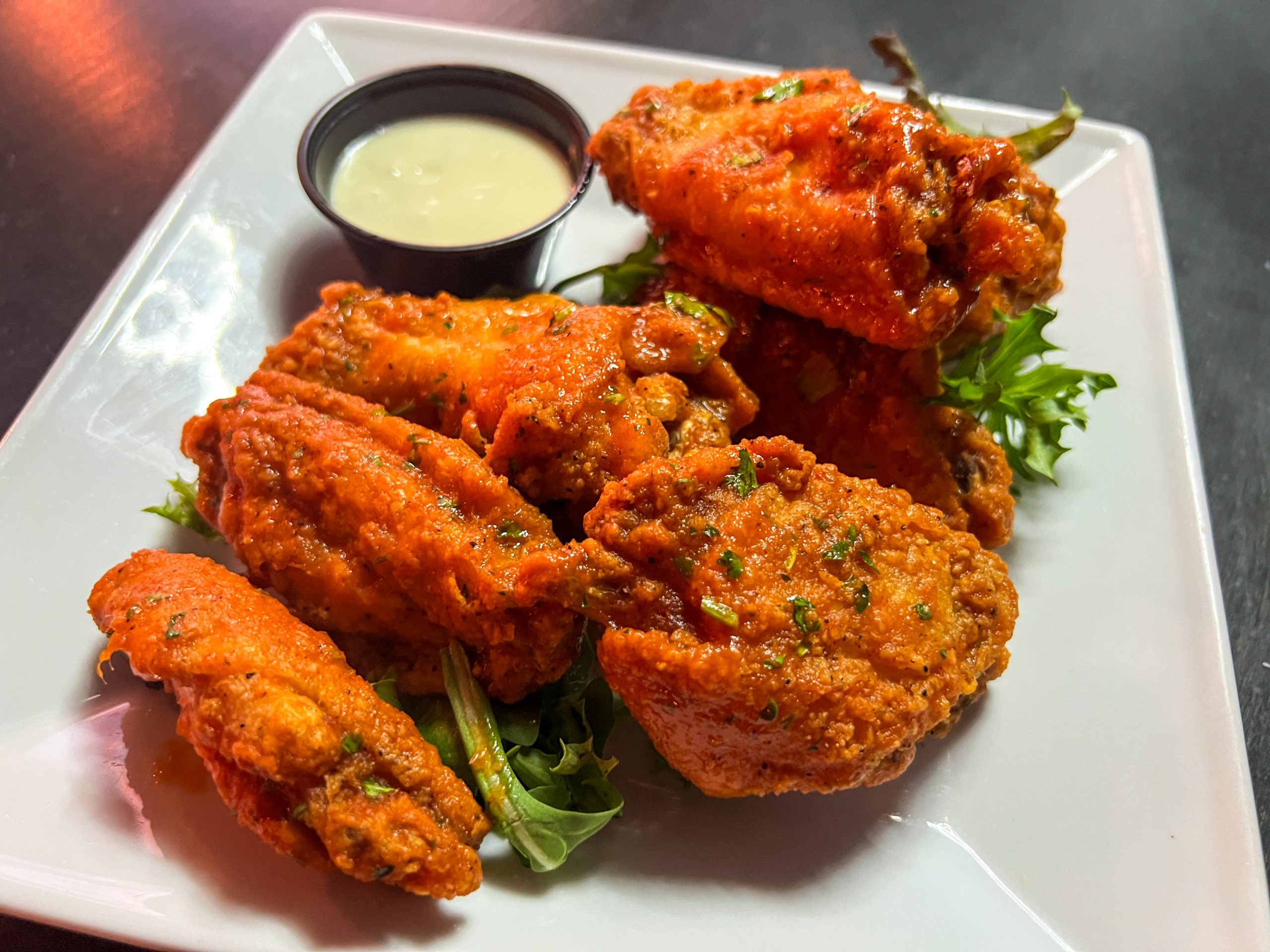 When we were first reviewing the menu we were chatting with Vanessa and asked her for some direction and she immediately said that we had to get the petite steak frites, which just so happens to be on the small plates happy hour menu. After the first bite, I wanted to get up and hug her, because that is a damn good piece of steak that is both cooked and seasoned flawlessly. For just under $21 during happy hour, this exquisite steak is definitely a sure thing.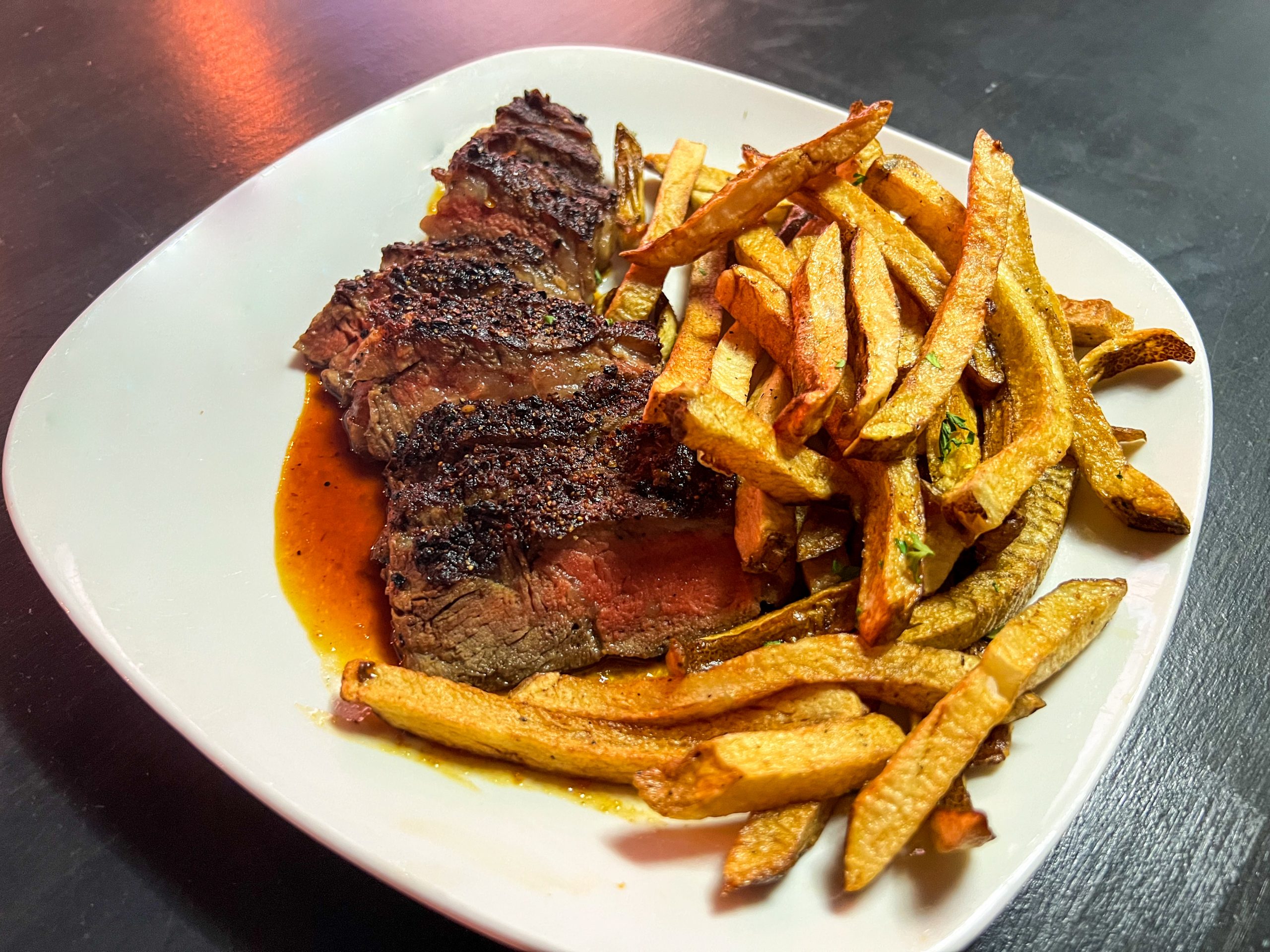 Last, but never, ever least is the NY Lobster Mac & Cheese. This dish is from the main menu and the first time I laid eyes on a picture of it before we even visited the restaurant, I knew I had to have it. With a mouthwatering combination of four cheeses, fresh lobster and black truffle it's nearly impossible to go wrong unless you go overboard. I assure you though, chef Joshua absolutely nailed this one on the head too. It's creamy, well-balanced and ultra seductive. To put it simply, you need it in your life.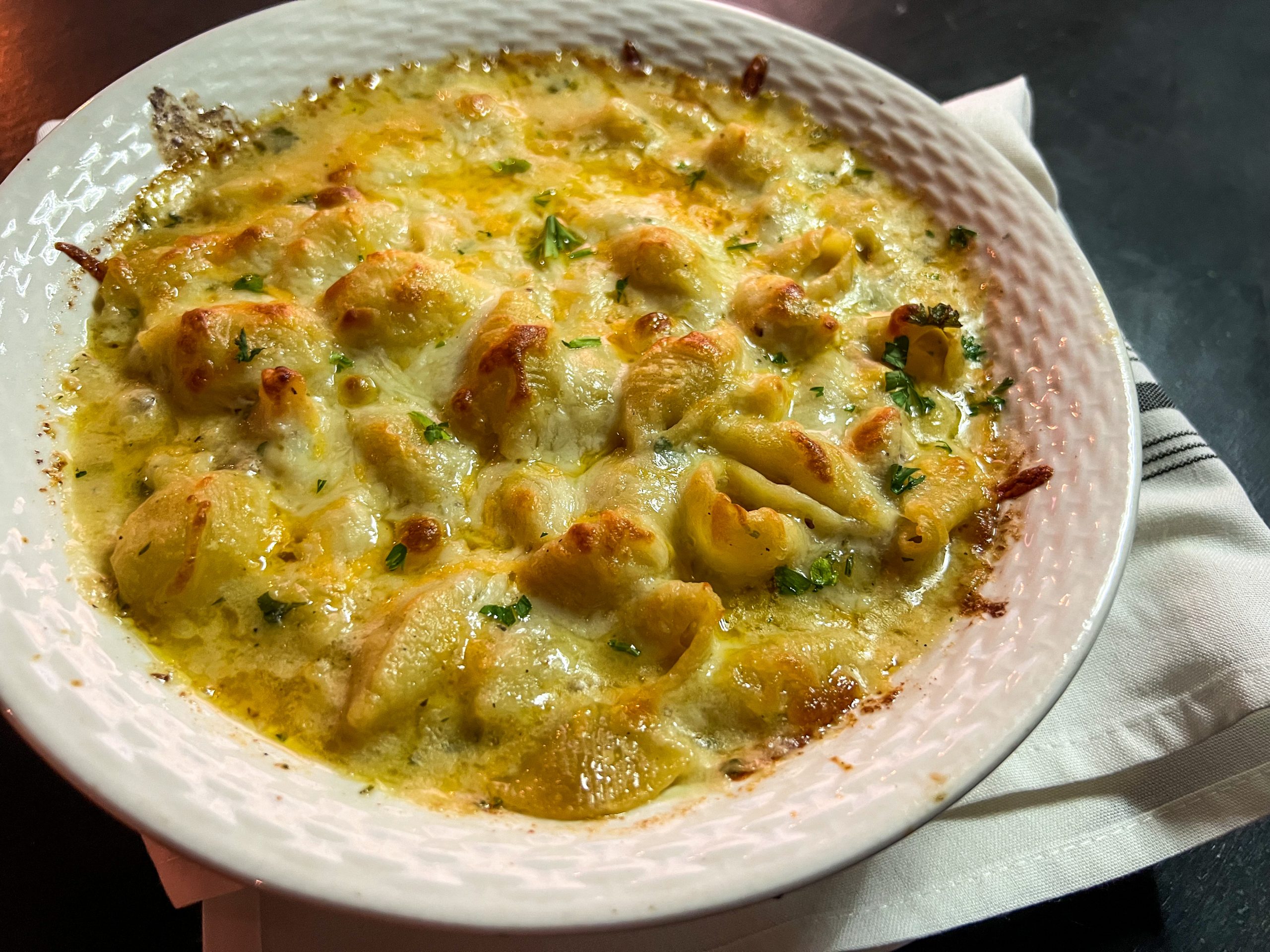 Roam is open for dinner on Thursday, Friday and Saturday. On Sundays, chef Joshua prepares brunch from 11:00AM – 4:00PM. Items on that menu span from elevated avocado toast and a hangover burger to peaches and cream waffles and foster French toast.
Bottom line, Roam Restaurant & Bar deserves your attention. Not only are you in for some fantastic food, but you're also going to encounter some wonderful people. The combination of those two are what make Roam so memorable.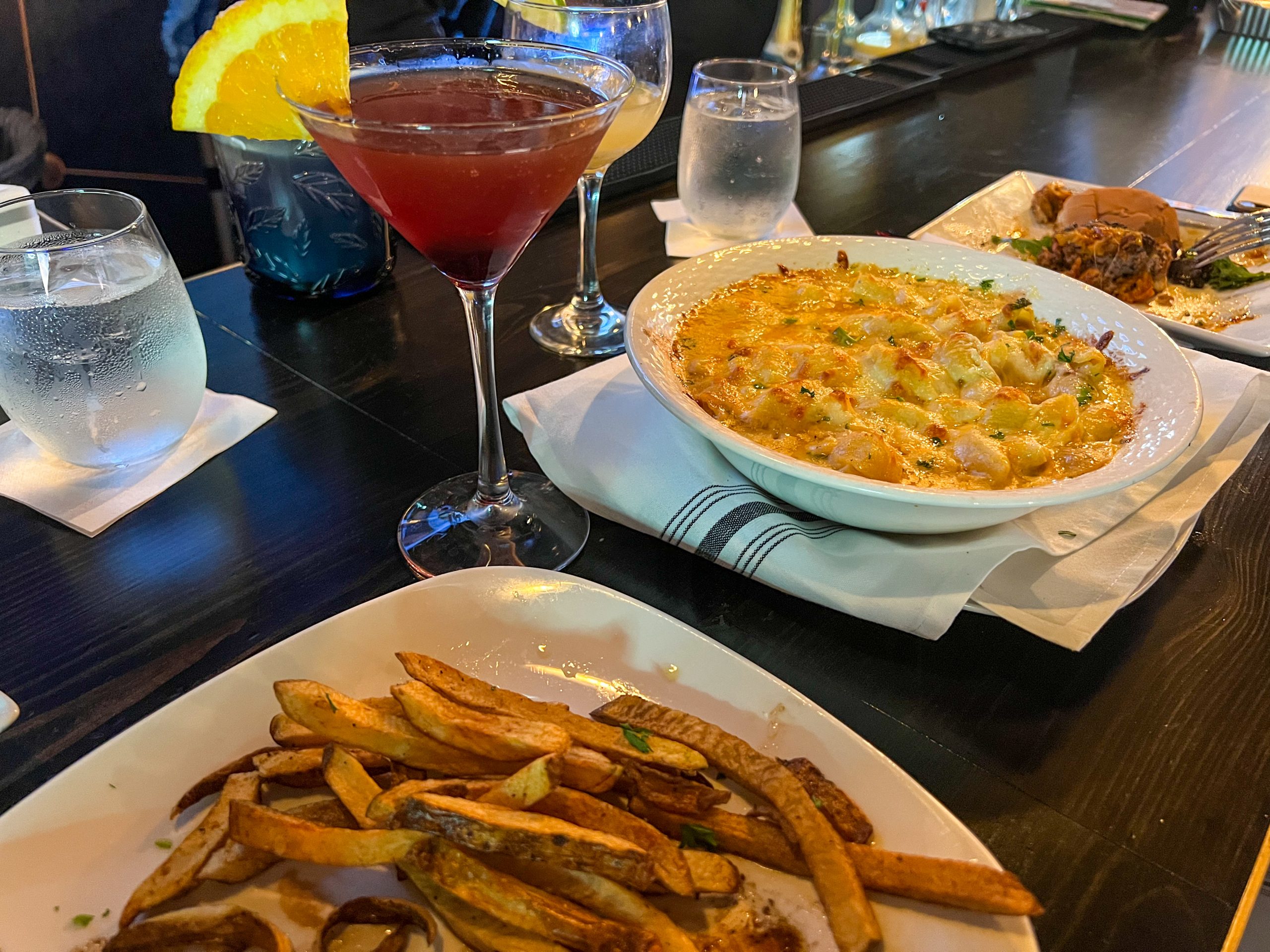 Roam offers a seasonal menu that is a harmonious combination of NY Steakhouse and French cooking with a Southern twist.
DISCLAIMER: Kevin, Lori, Abby, Haley, & Lindsey do not dine anonymously (this would be impossible) and we sometimes get free food (though never expected). However, we dine with the locals and we support our own. You will always get honesty in a respectful manner. We do not include any large national or regional chains in our ratings and reviews. We focus on independent locally owned eateries exclusively.

PLEASE NOTE: Reviews reflect a certain moment in time. Some restaurants stay extremely consistent over many years, and some change for the better or worse. Some things that may change are: chefs, recipes, food suppliers, ingredients, philosophies, ownership, etc. We always hope that you have the same good, or great experience we had.
More Foodies News, Reviews & Recipes