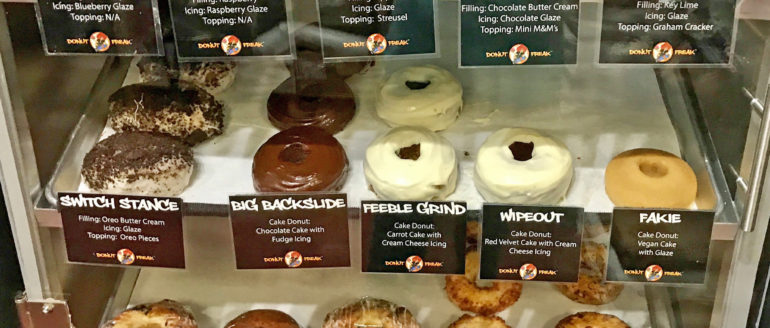 Our Visit
Last Saturday morning, August 5th 2017, Kevin and I had the distinct pleasure of meeting with Lou Albano who just opened and launched his brain child of ten years, Donut Freak, located at Genaro's Cafe on Central Avenue in St Petersburg's burgeoning Edge District.
Kevin and I tried several of their many options. All of them absolutely delicious and unique.
Their Story
In 2007, Lou Albano, the son of a pizzeria owner and entrepreneur had the thought of opening a gourmet donut shop. He approached his then girlfriend, daughter and one of his best friends about the idea. Together they toured just about every donut shop in Florida and a few other states. In almost all cases, they found the donuts to be greasy and made with subpar, canned ingredients. He wanted to offer a higher quality, healthier product and shelved the idea after their exhaustive, unsuccessful search.
In 2012 Lou decided to seek the advice of one of the most decorated and accomplished pastry chefs in the nation named Michael Ostrander. Lou approached Chef Michael about the concept of a baked donut. Chef, being a rigid pastry ideologue scoffed at the idea and stated that donuts are meant to be fried. He once again shelved the idea of a baked donut and instead launched a dessert bar called Everything Dolce with Chef Michael as its executive pastry chef.
Everything Dolce was one of the most talked about and appreciated dessert bars in the Tampa Bay area for three years but was maybe a bit before its time in the now thriving Edge District and therefore sold in 2015.
In 2016 Lou decided to reapproach Chef Michael with the baked donut concept and a bit of a different twist. Lou stated "Michael, I would like to offer baked pastries and fill them with an array of gourmet ingredients…Which of your airy and mildly sweet doughs do you feel would make for the absolute best product?" Based on the rephrasing of the question, it was now Chef Michael's idea…He quickly retorted, "You should consider three of my 100 year old plus recipes." They experimented with all three and made some modifications to one of them and now have in their vault Donut Freak's secret baked dough recipe.
With the recipe being selected, Lou immediately re-contacted his dear friend Dennis McEleny, that was supportive of the idea over ten years ago, about a partnership opportunity and he quickly jumped on board.
Now it was time for site selection…Lou was sold on the Downtown St Pete area and he knew gourmet coffee is a must with gourmet donuts. He approached his longtime friend Patricia Francati, the daughter of a coffee farmer in Colombia and owner of Genaro Café in the Edge District, about the possibility of a joint venture with Genaro's and partnership opportunity in Donut Freak. Patricia fully embraced the idea and they couldn't have found a more perfect marriage of donuts, coffee and culture.
Chef Michael is one of the most gracious of pastry chefs and all of Donut Freak's gourmet fillings, toppings and icings are from Michael's tour of the world and illustrious fifty year baking career. The ingredients utilized in Donut Freak's baked donuts are back to the basics: butter, flour, sugar, eggs, cream, real fruit, nuts and absolutely NO preservatives. All of the donuts are made on premises. These recipes did not come free of any charges…Donut Freak's management and staff have to regularly listen to Chef's countless lectures about his love affair with pastry and the art and science behind it.
In addition, Chef Michael mandated that Donut Freak offer a partnership opportunity to his protégé and assistant pastry chef Brooke Warner, who is a graduate of Johnson and Wales University, to ensure that they do not deviate from his recipes and continue to provide a baked donut that he would be proud to be associated with. The owners gladly obliged and are excited to have Chef Brooke on the team. She has provided the restaurant with countless donut tastings over the last five months and has been tireless in her efforts to take into consideration input from all involved.
From early on, an advisory board of individuals with varied backgrounds was established, to include: executive chefs, restaurateurs, foodies, entrepreneurs, accounting/legal specialists, illustrator/graphic artist, marketing/social media experts, customer service professionals and a few strays that wandered in during a tasting that provided their two cents to ensure that your dining experience at Donut Freak is the absolute best possible. Ownership envisions many of these advisors to be future shareholders and/or franchisees of Donut Freak.
In addition to baked donuts, Donut Freak offers cake donuts, gluten free donuts, a vegan donut and Duffins™ (muffins with a hole). So you can enjoy Donut Freak throughout the day they offer an array of savory donut sandwiches on both plain or glazed donuts. To satisfy the extreme sweet tooth, they have dessert selections to include an ice cream donut sundae and an ice cream donut sandwich. Donut Freak has coupled their donuts with frappes and cappuccino by the introduction of Freakafrappe™ and Freakaccino™.
For the extreme "Donut Freak", they offer the "Wanna be a Freak Challenge™ "…eat an 8" donut covered with your favorite toppings in three minutes or less and receive a FREE Donut Freak T-Shirt.
Management and staff look forward to unleashing the "Freak" in all of you and sharing their quality, baked, gourmet donuts as well as receiving suggestions for donuts of the week.
The Sweet Eats
Here's what we had. We started with four donuts. Starting at the top at 12 o'clock – Boneless – Apple filling, Glaze icing, Streusel topping. Grip Tape – Chocolate butter cream, Chocolate Glaze filling, Mini M&M's on top. Primo – Cannoli filling, Glaze icing, Mini Chocolate chips on top. Tail Slide w/Maple icing & Bacon Pieces.
Nothing comes out of a can or a box here. These are the freshest, highest quality ingredients. Even the fruit fillings start out as fresh fruit and are cooked on-site.
Genaro's lattes are delicious and huge.
We also decided to try one of the egg sandwiches. We had the Fingerflip – Egg, Cheese & Sausage between a plain, non-glazed donut.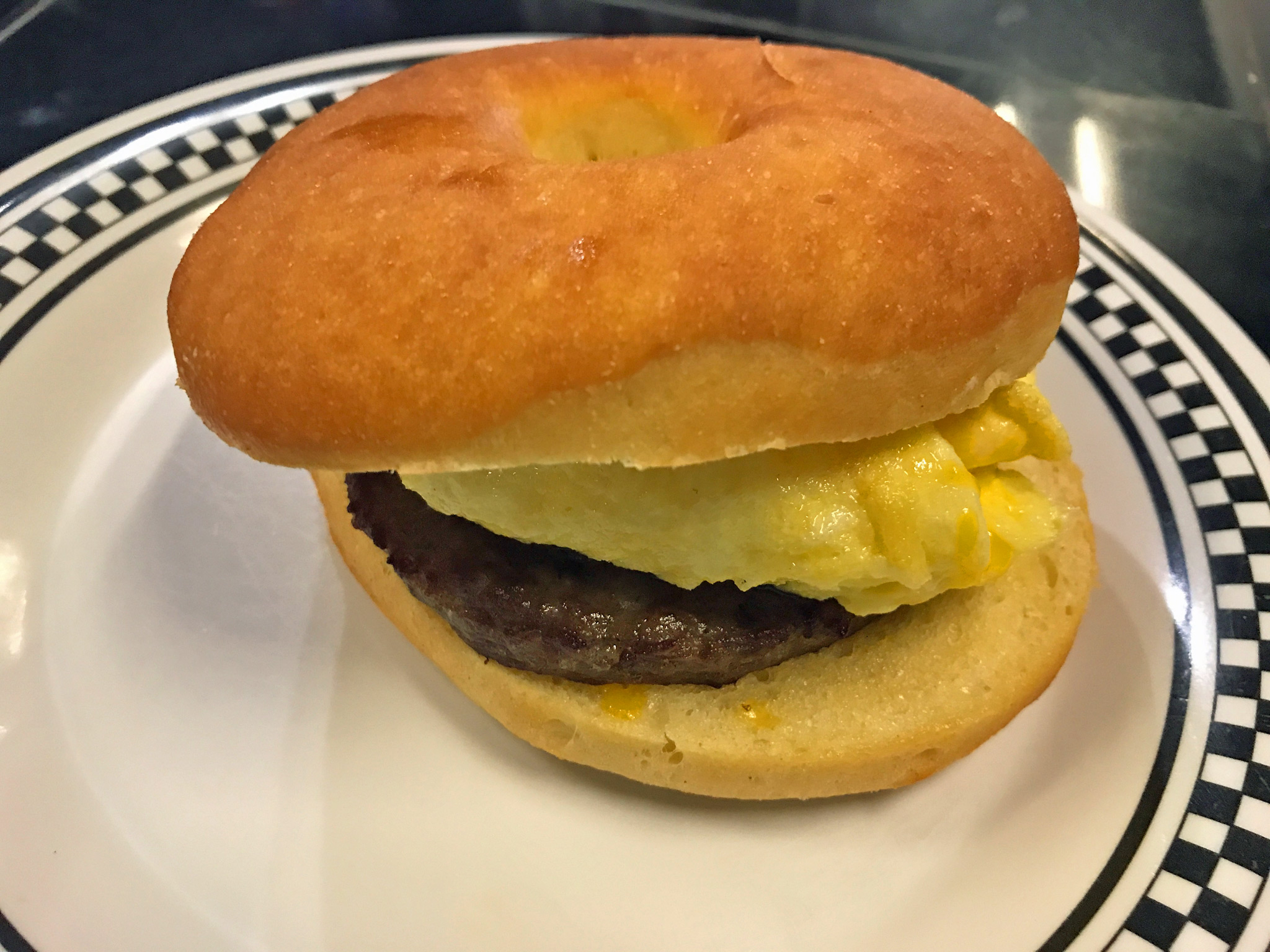 You have a choice of donuts, toppings, and maple syrups for the sandwiches, but we chose the plain, non-glazed as we don't like to mix our sweets with our savory, and we enjoyed this quite a lot. The donut reminded Kevin of a sweet bun.
Tuesday thru Sunday, Donut Freak will be there for your breakfast, lunch, and late-night needs – open 5 pm until 3 am on weekends, but please check the schedule as they are making adjustments based on demand.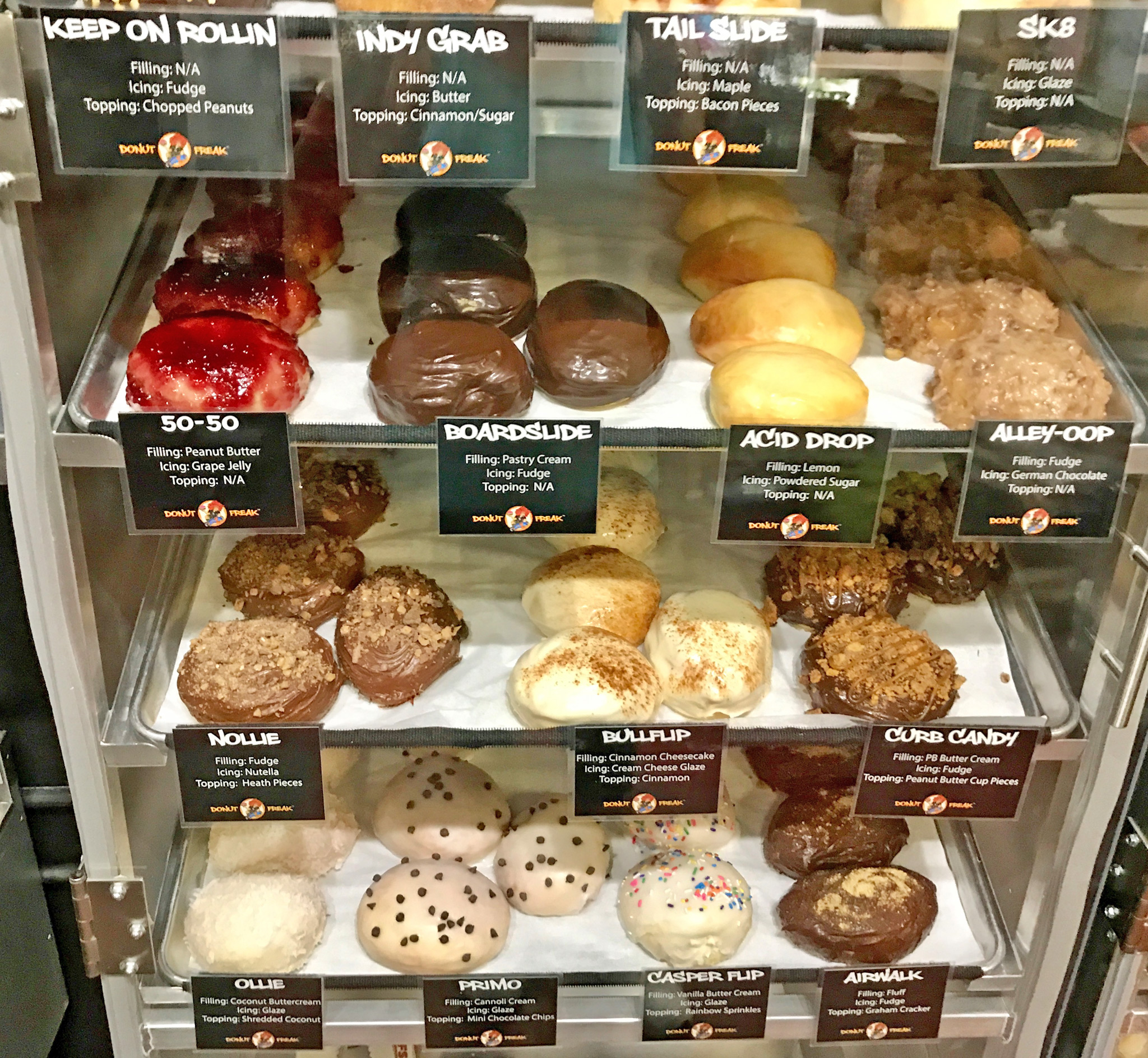 You can see that there is also a skateboarder theme with the logo and menu items names.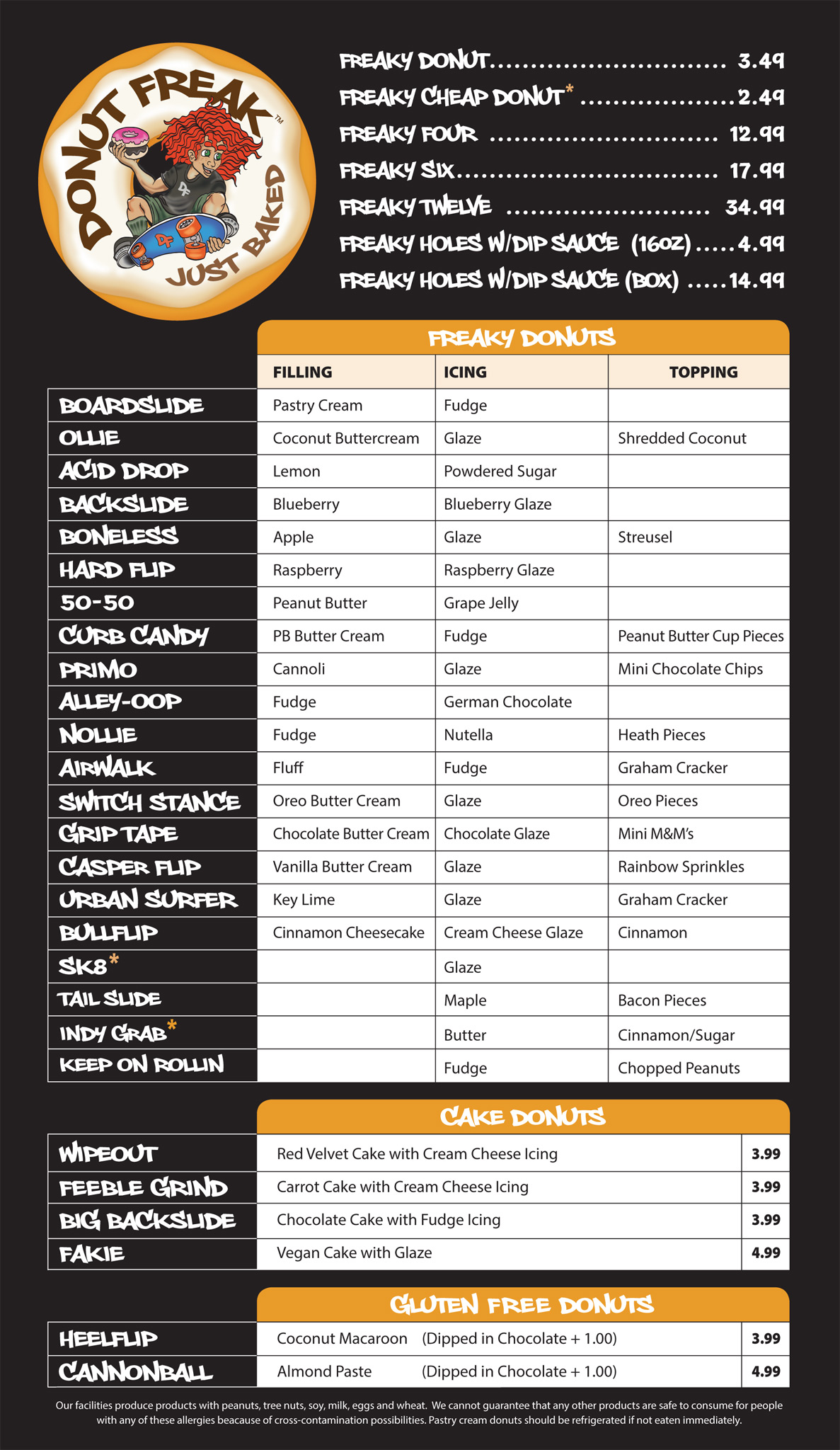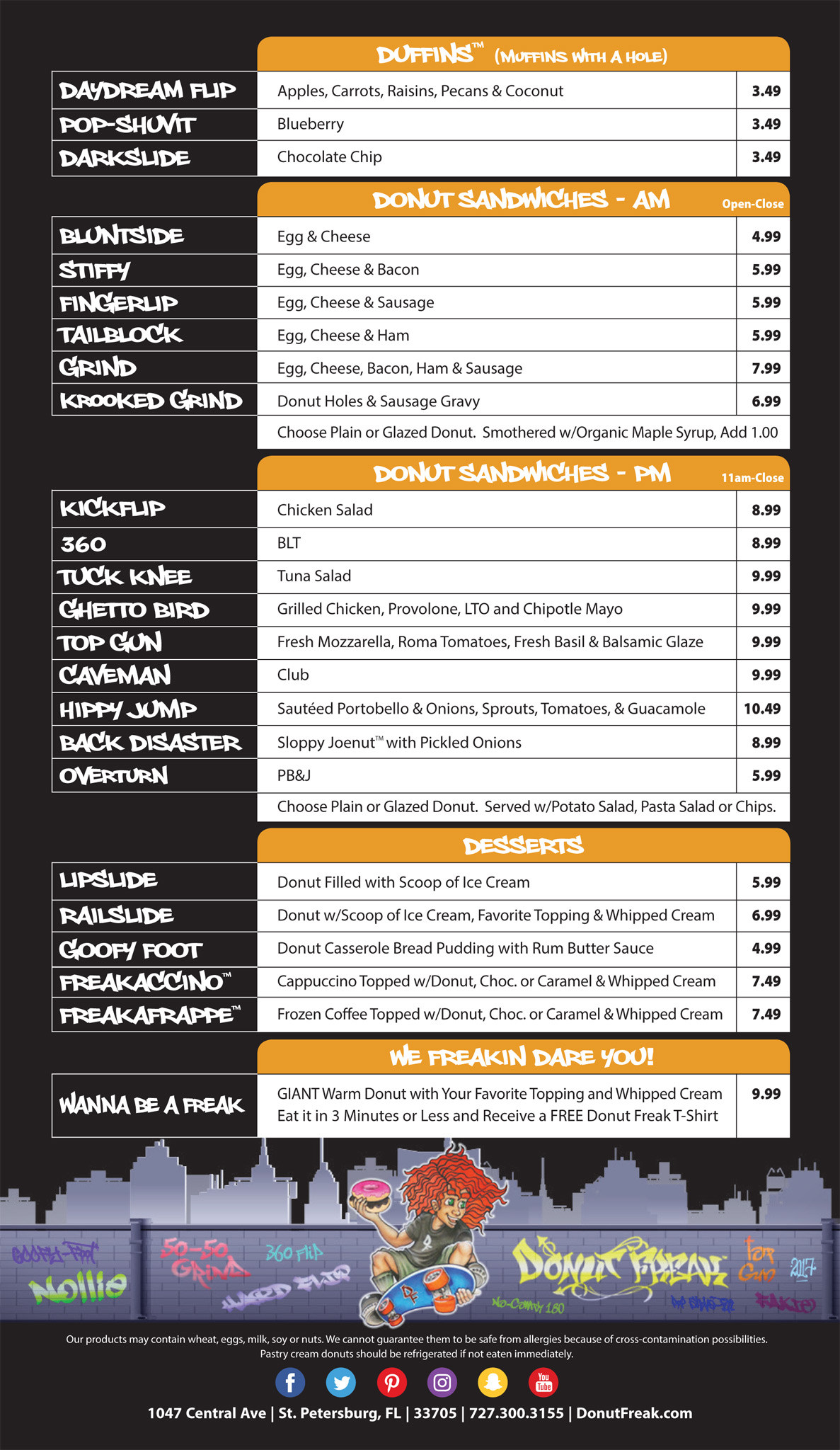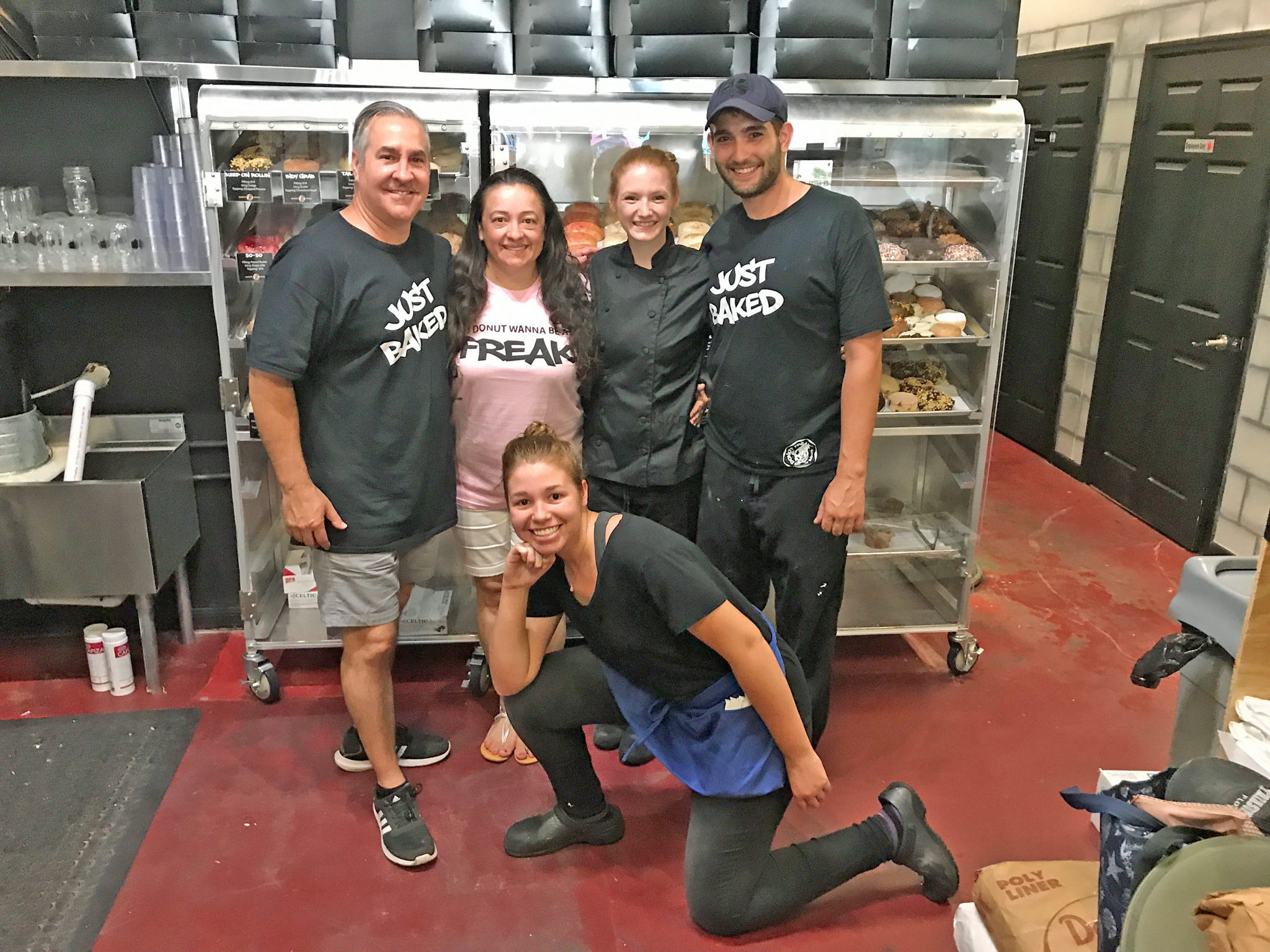 The donut craze is just beginning in St. Pete, and Donut Freak is currently the only offering that is baked and using fresh gourmet ingredients. Go get your donut freak on at Donut Freak.
(Kevin Godbee contributed to this article)
(Photos by Lori Brown)
It's where a donut is everything. It's breakfast, lunch, dinner, or dessert. It's a meal in itself or whatever you want it to be. Donut Freak donuts can be eaten traditionally as a donut, or as a sandwich. And something that makes our donuts stand out even more is that they are baked. "Just Baked".
DISCLAIMER: Kevin, Lori, Abby, Haley, & Lindsey do not dine anonymously (this would be impossible) and we sometimes get free food (though never expected). However, we dine with the locals and we support our own. You will always get honesty in a respectful manner. We do not include any large national or regional chains in our ratings and reviews. We focus on independent locally owned eateries exclusively.

PLEASE NOTE: Reviews reflect a certain moment in time. Some restaurants stay extremely consistent over many years, and some change for the better or worse. Some things that may change are: chefs, recipes, food suppliers, ingredients, philosophies, ownership, etc. We always hope that you have the same good, or great experience we had.
More Foodies News, Reviews & Recipes