Serbian Mediteran Restaurant: a Traditional Serbian and Balkan Style Food Experience
Serbian Mediteran Restaurant: a Traditional Serbian and Balkan Style Food Experience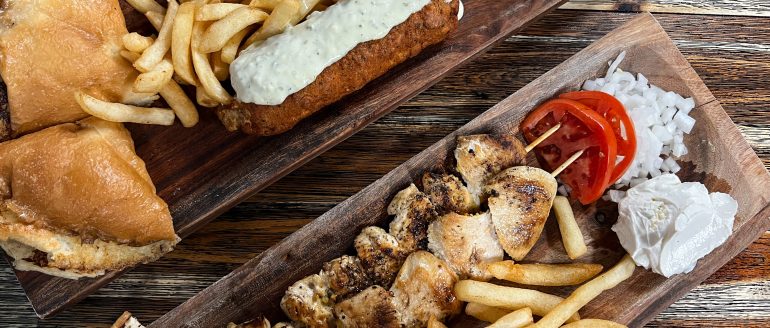 The dining on 4th St. N. is nothing to sleep on. Sure, there are plenty of hip new spots opening in other areas throughout St. Pete, but let's not forget to shed light on the under the radar gems that have been under our nose, are ultra consistent and have been loved by people for years. Enter, Serbian Mediteran Restaurant.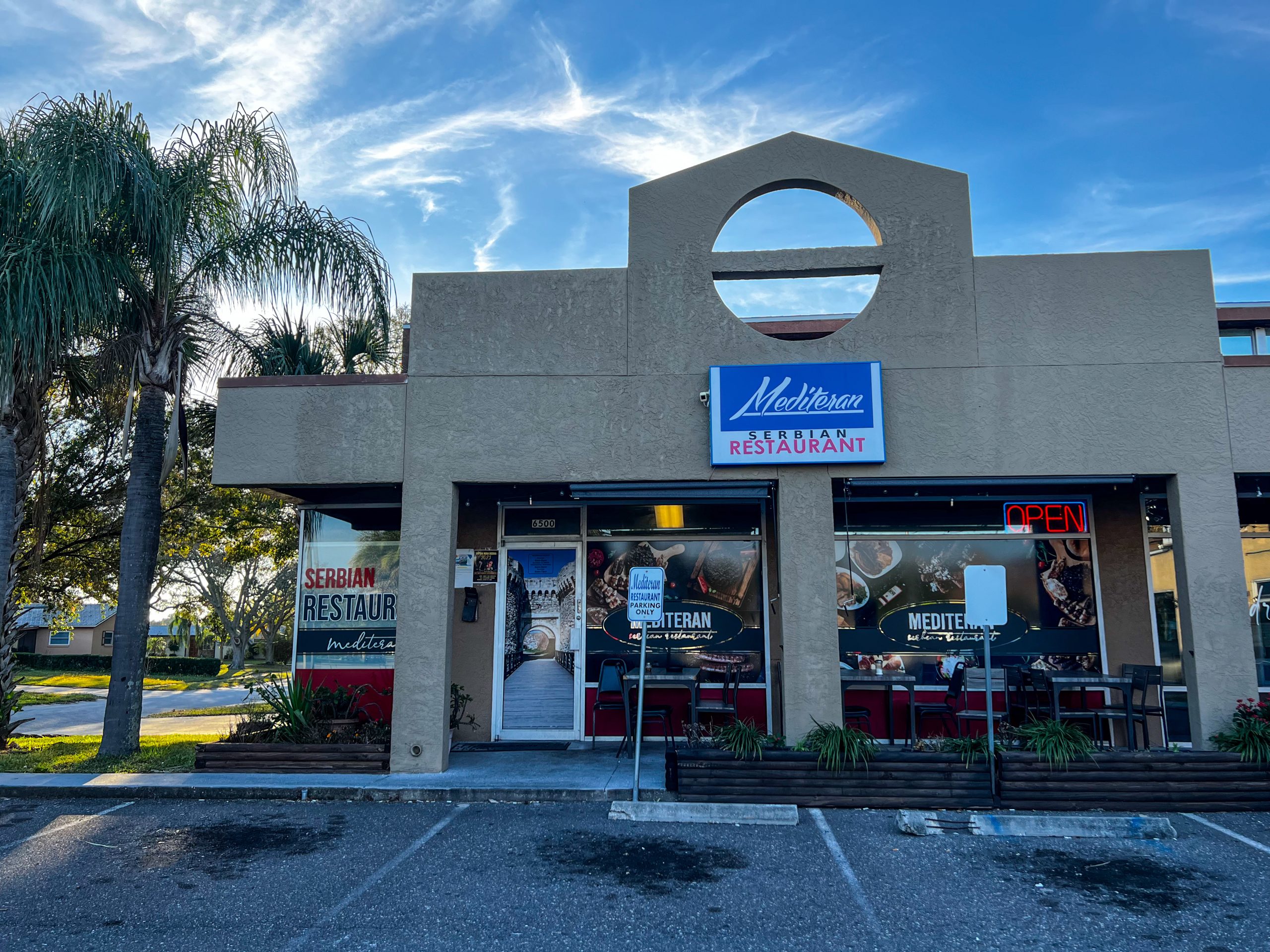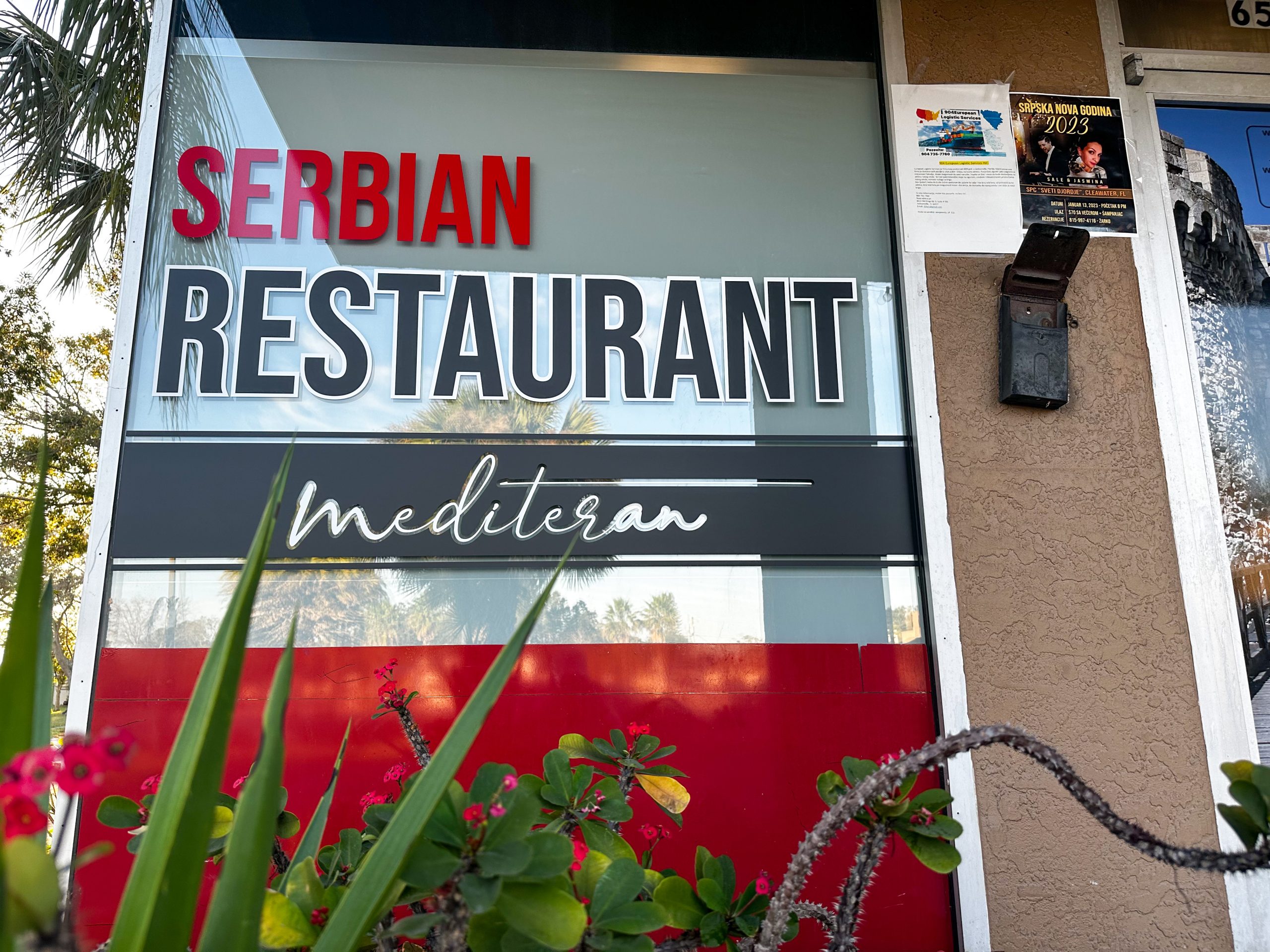 More times than not, I find myself researching a new restaurant that I have plans to dine at prior to visiting. After engaging in a few different searches on various social media channels and google, I was able to locate only a Facebook page and a slew of positive remarks about the restaurant scattered all across the web. Because of this, my husband and I didn't know what to expect upon arrival.
The moment we opened the doors, we were greeted with a quaint and immaculate dining space. Four tables (that could seat 4-6 people) were situated inside and a small handful outside as well. Silly me, because of the recent updated appearance of the space, I assumed that the restaurant had maybe been around for a few years at most. Oh, how I was wrong. After chatting with the owner of the restaurant, Brano, I learned that he in fact opened this family owned and operated restaurant 17 years ago when he and his family moved to the United States from Serbia. Brano has been living out his passion in the kitchen for the past 40 plus years. The level of detail, service and care that he gives to his restaurant and customers is the utmost genuine. During our entire meal, he seated us, waited on us, prepared our food, served our food, bussed our table and ran our payment at the end of our meal.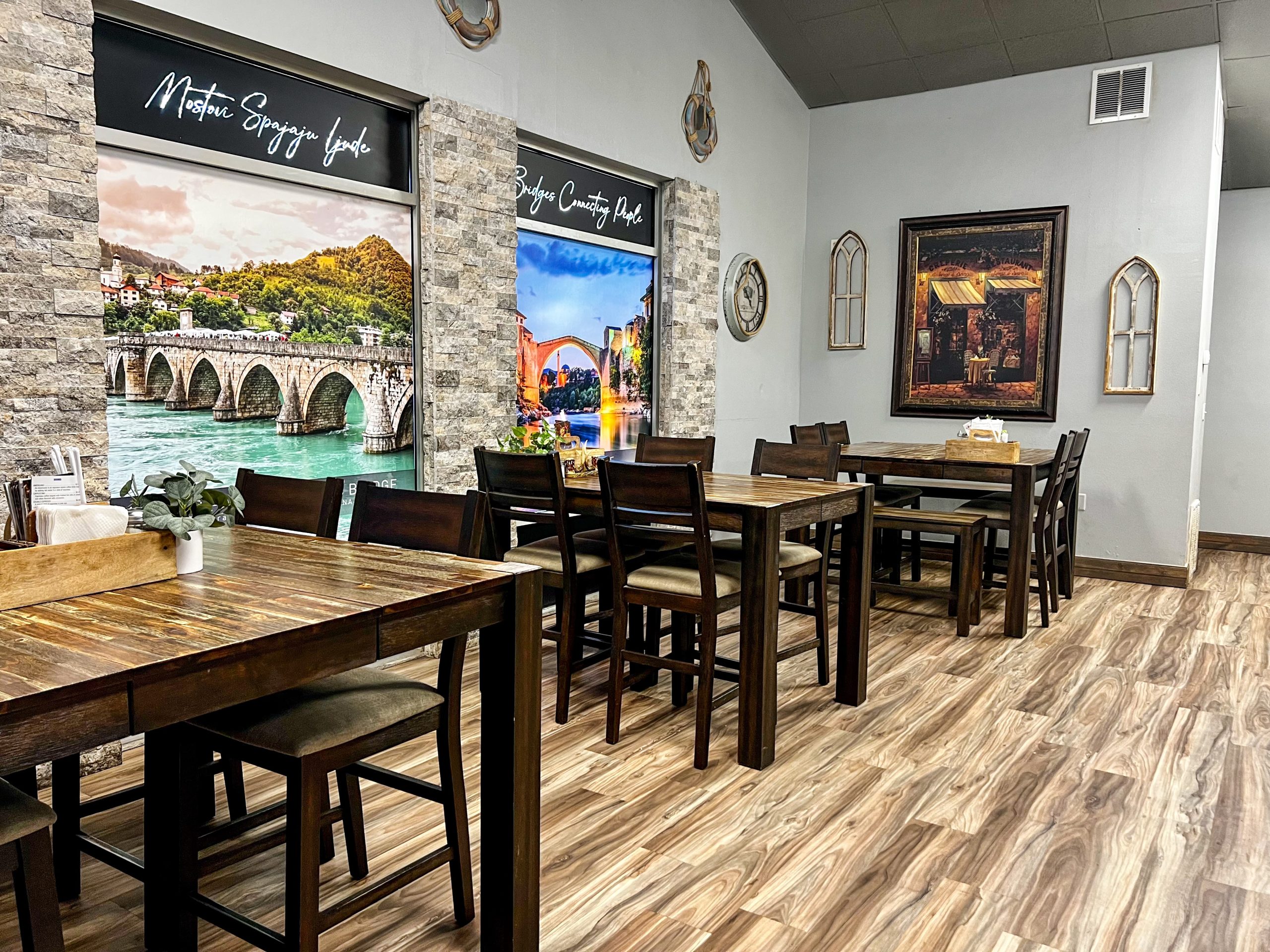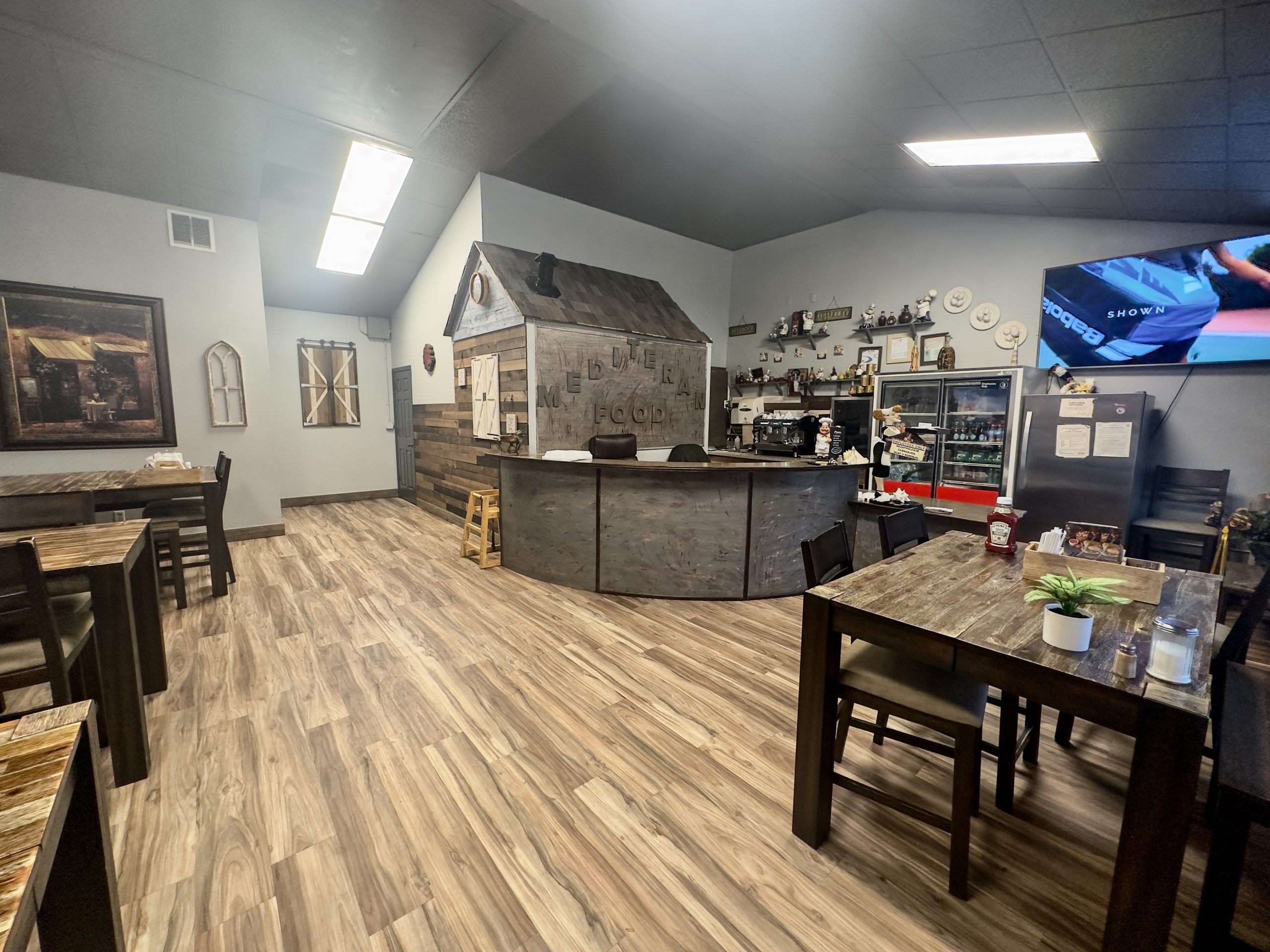 As I mentioned, the tables are limited but large enough for a small group each. Because they do close most evenings at 8:00PM, and 7:00PM on Sunday, thoughtfully planning your arrival for dinner at Siberian Mediteran is suggested. This is especially recommended on the weekends. We stopped in for an early dinner around 5:00PM on a weekday and were the first ones in for dinner. When we left an hour later, the tables inside were all occupied and a handful of folks were in and out for their meal to-g0.
In addition to dinner service, Siberian Mediteran Restaurant also serves breakfast every day beginning at 8:00AM. It's always been somewhat of a task finding somewhere open for breakfast (that isn't just a coffee shop) at that time of day. The restaurant serves items like pastries, omelets and morning necessities like Americanos and espresso, so be certain to keep them in mind to satisfy breakfast cravings.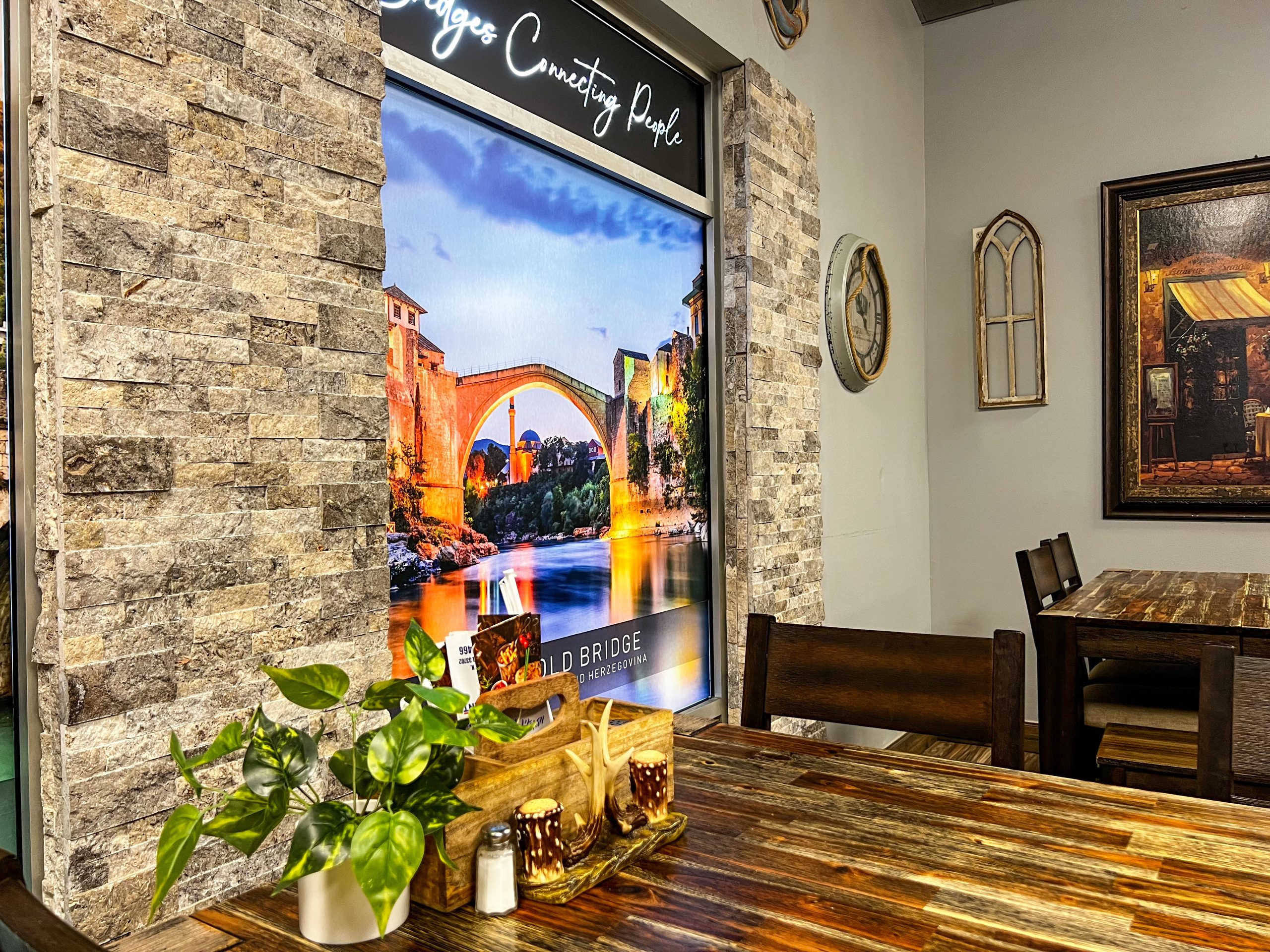 The menu at Siberian Mediteran Restaurant is broken down into a few different categories: appetizers and breakfast, grilled entrees, specialties, soups and salads, beverages and desserts.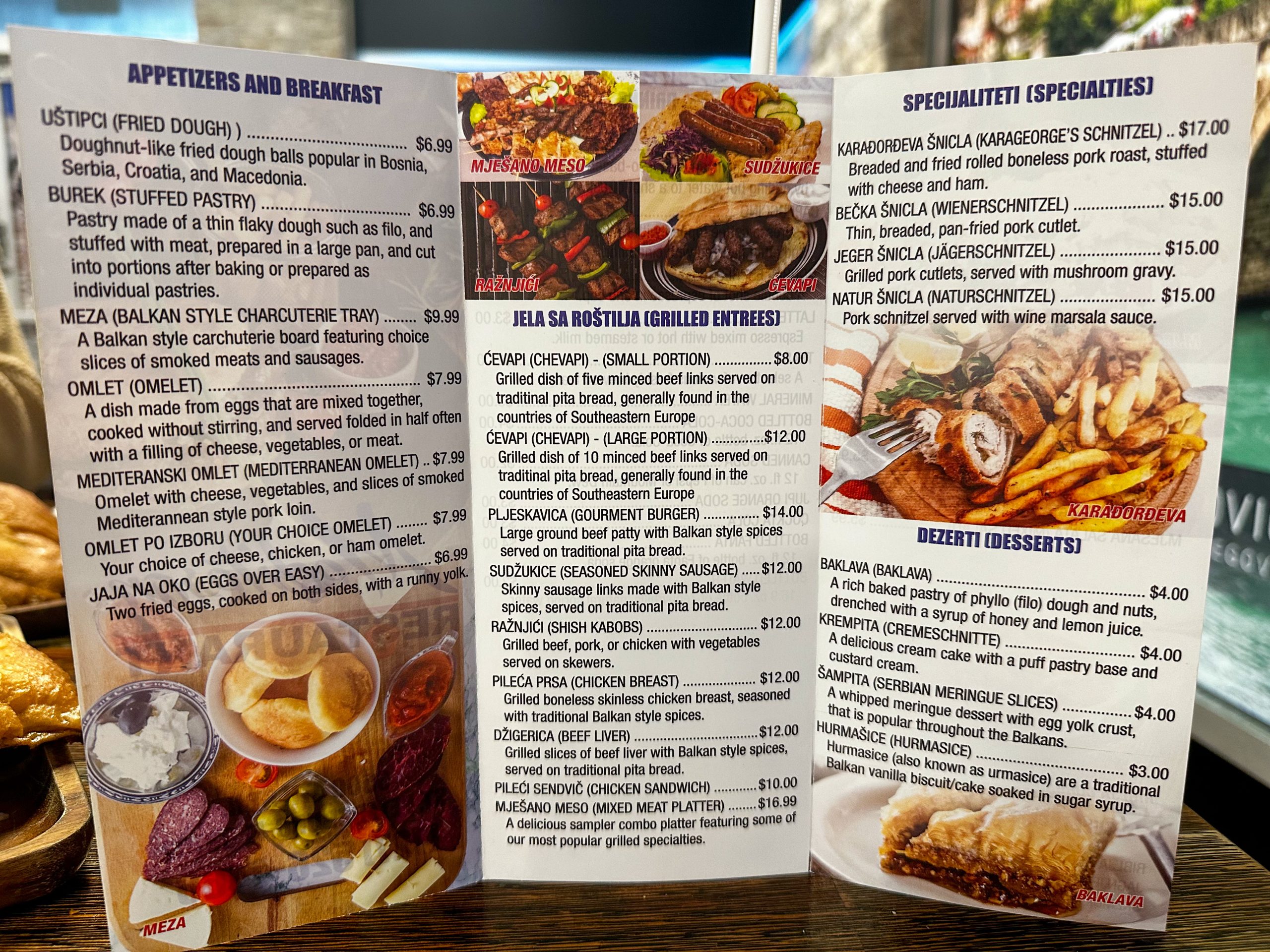 Alcohol is not served here, but there are plenty of other enticing and refreshing options available. We landed on Cockta and the Schweppes bitter lemon. The Cockta was incredibly interesting. My husband described the flavor of it perfectly though – it tastes like Pepsi with a hint of candy necklace. When I tasted it for myself, I couldn't deny it. He was totally right. The Schweppes flavor was zingy and bright. It reminded me of any other kind of lemon-lime soda or sparkling water.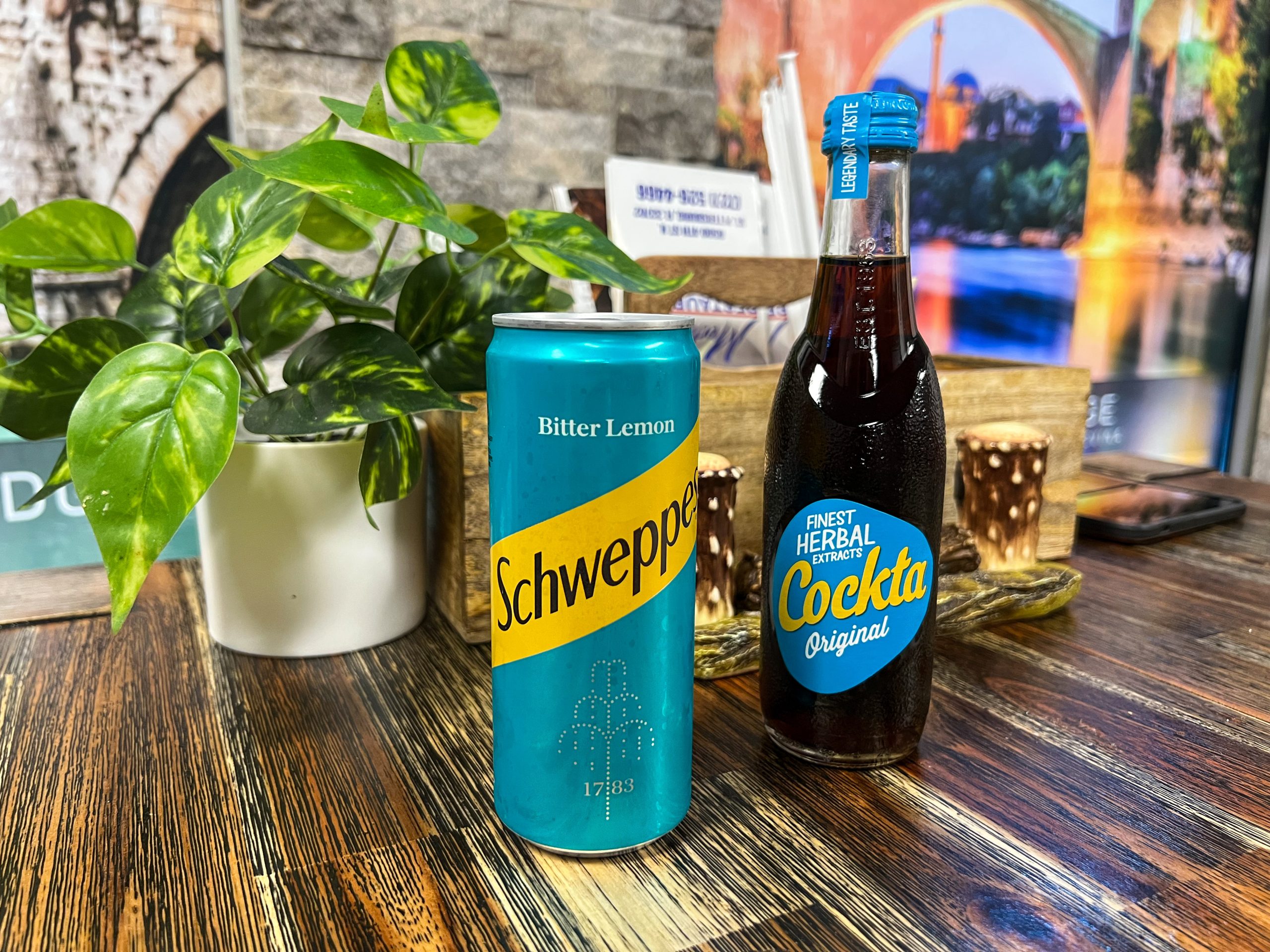 When it came down to the food, we didn't have much of a clue what to order. The only item I knew we had to get was the Cevapi due to rave reviews. Aside from that, we gave Brano the reigns and asked him to guide us through the favorites.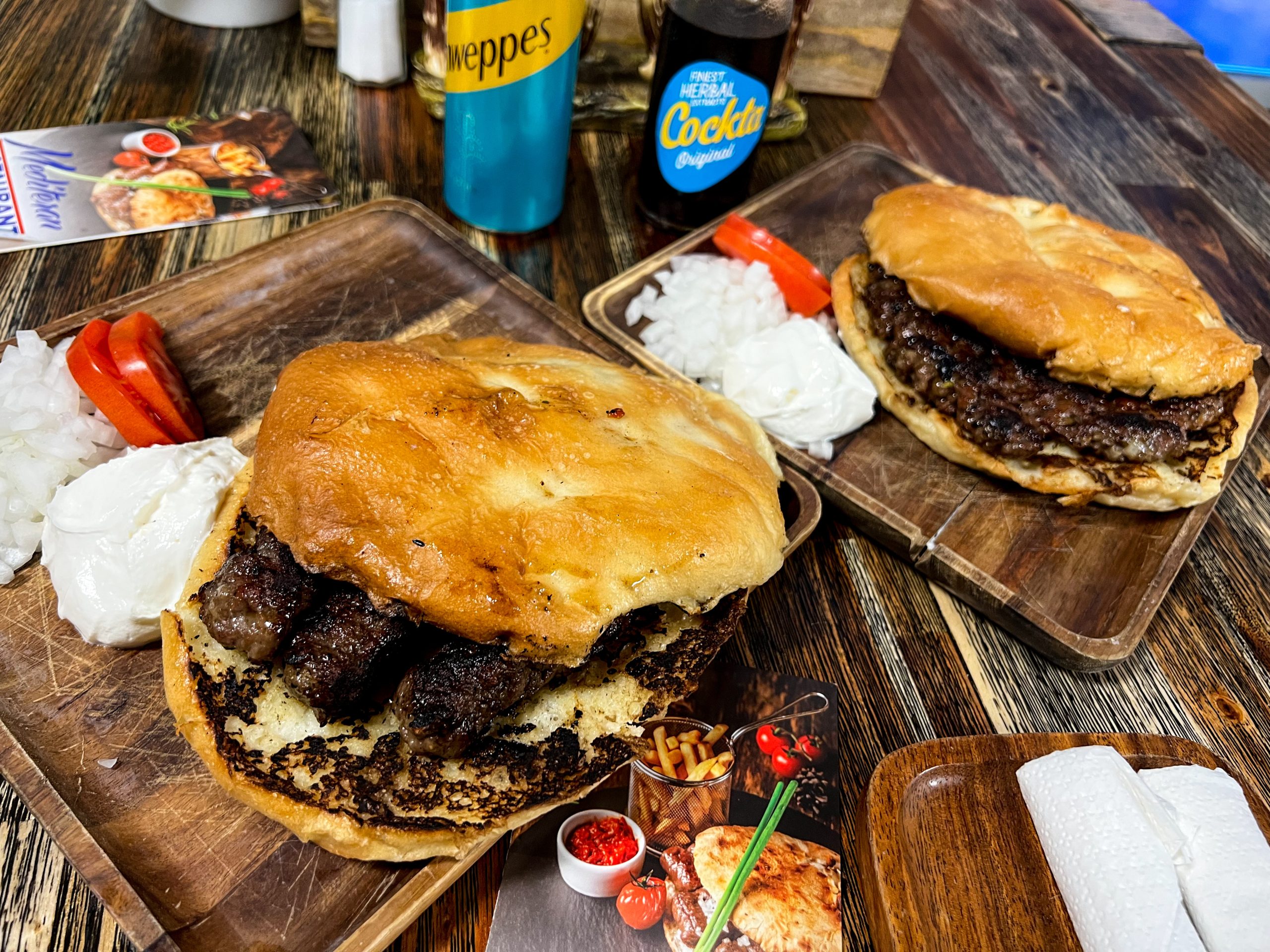 The first two items Brano pointed out were the Cevapi and the Pljeskavica (aka the gourmet burger) and they hit the table first. At first, I couldn't believe my eyes as to the size. This large ground beef patty is seasoned with Balkan style spices and served between two pieces of traditional pita bread. Along side the burger, and most everything else, you'll find sour cream, onion and tomato.
The Balkan style spices on that patty are absolutely incredible, bursting with savory notes. The pita bread was surprisingly light and airy and paired perfect with the beef. This one can easily be shared between two.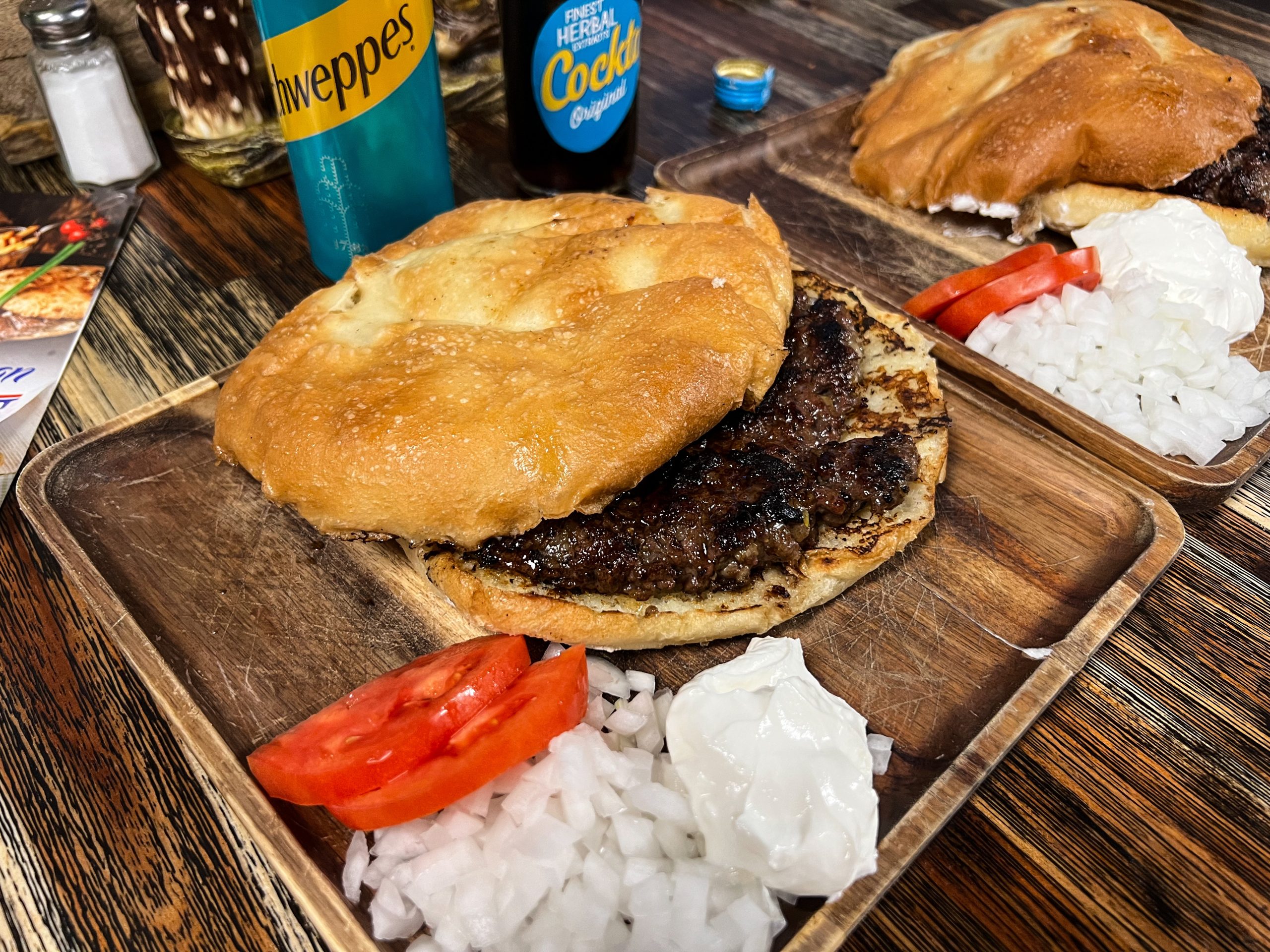 The Cevapi comes in two sizes – small and large. The smaller size has five minced beef links and the large comes with ten. Cevapi is also served on the traditional pita bread with the standard accoutrements on the side. This dish is traditionally found in the countries of Southeastern Europe.
Ordering the smaller size was definitely the right move for us…and we still had leftovers. Leftovers that we definitely are not mad about because the minced beef links were totally on point. When you visit Siberian Mediteran Restaurant, be sure to order this one.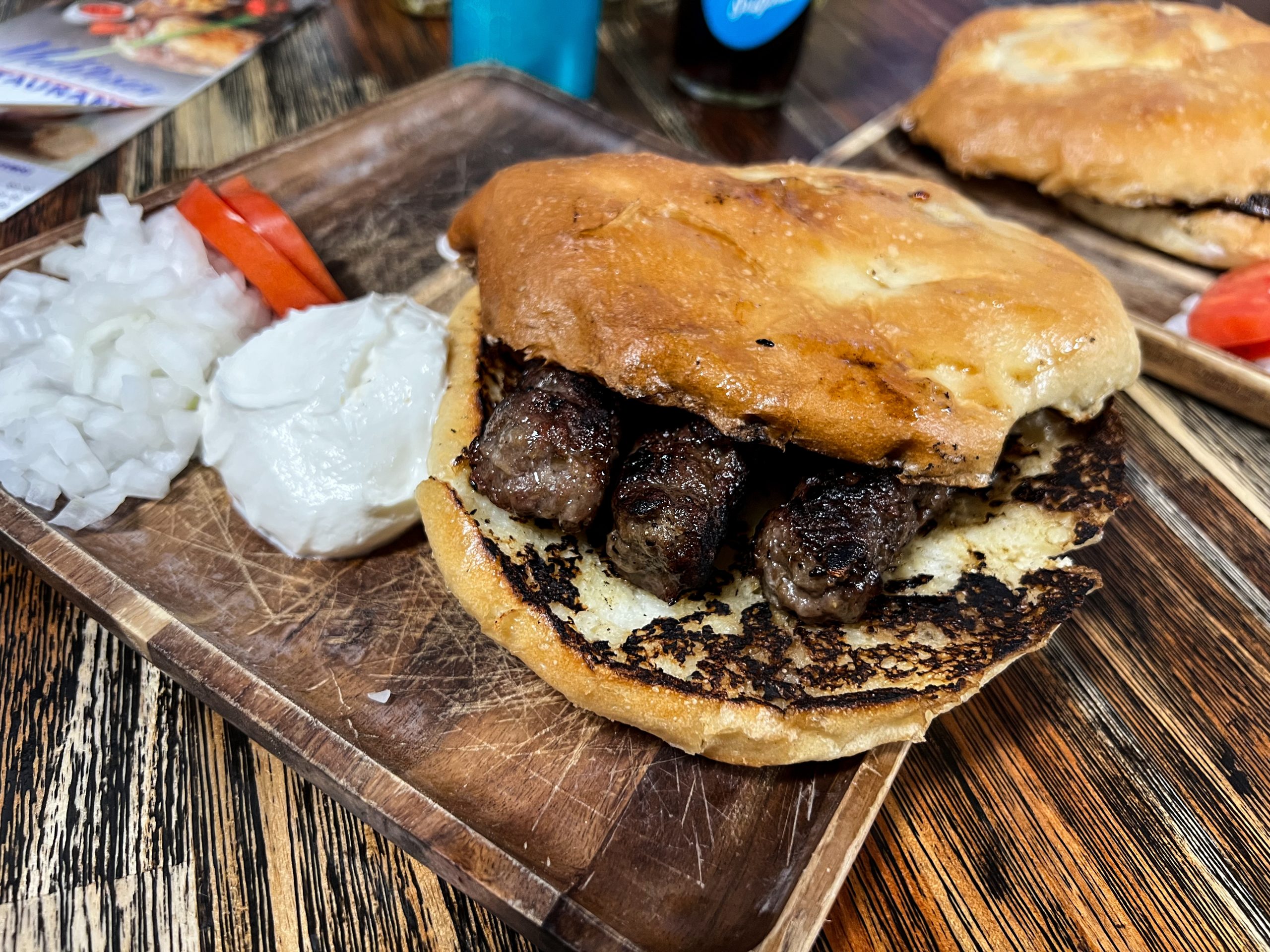 The other crowd favorite that Brano pointed out was the Karadordeva Snicla (type of schnitzel) and then we took it upon ourselves to order Raznjici (chicken shish kabobs).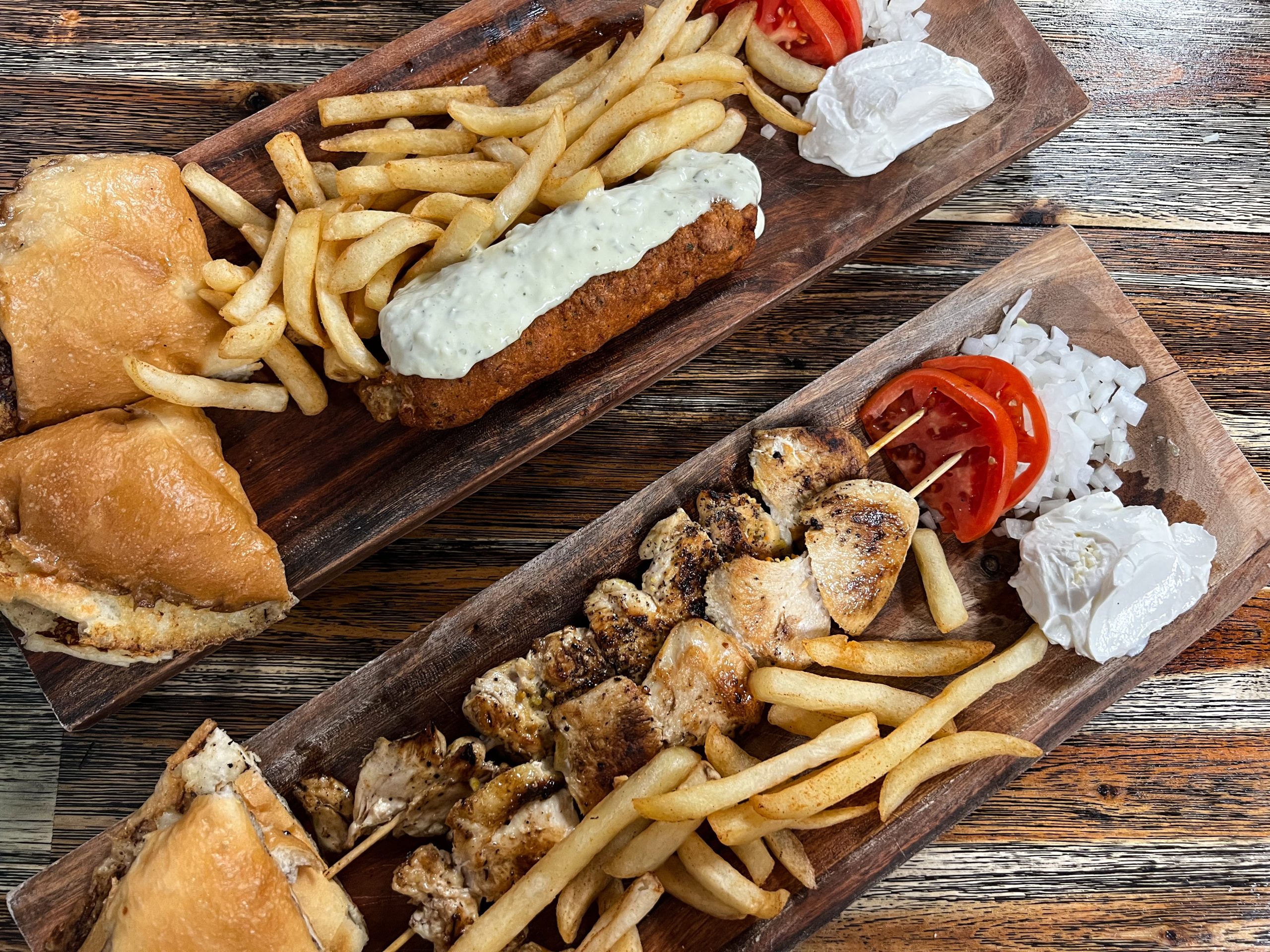 The kabobs were simple yet satisfying as is with just the right amount of seasoning and time on the grill. They too are served with the onions and such, along with some traditional pita bread and French fries on the side. This portion was definitely a lot more manageable than the other dishes we had and would be quite suitable for a meal for one.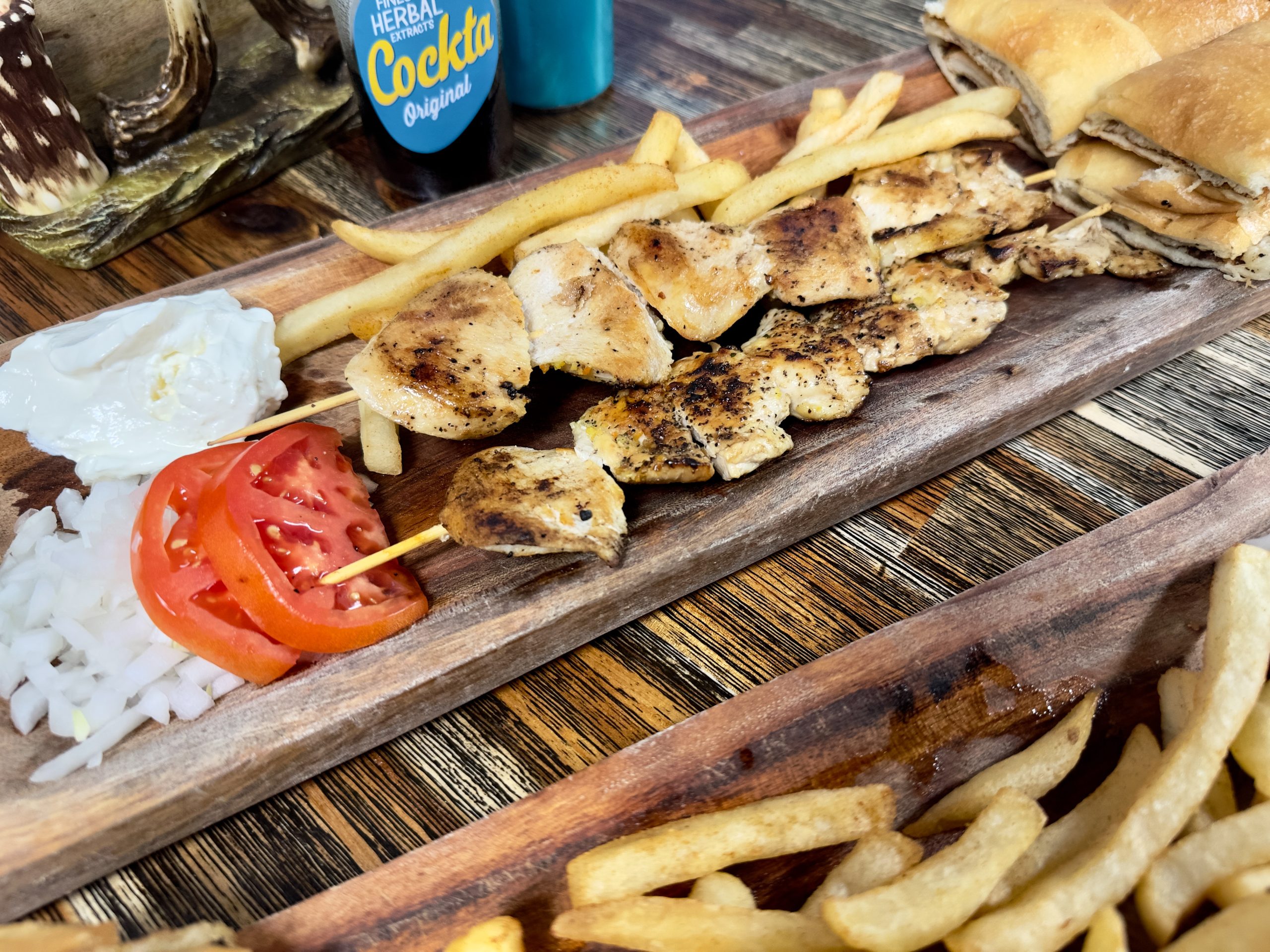 This schnitzel was unlike any I had ever had before. It's comprised of breaded and fried rolled boneless pork roast that is stuffed with cheese and ham and ladled with a silky smooth and luscious sauce. Also on the plate with the schnitzel, you'll find the same accessories as the kabobs.
In my opinion, the schnitzel is another non-negotiable when dining here. The menu isn't limited to just one and each one sounds as enticing as the last. For my next visit, the Becka Snicla (Wienerschnitzel) is undoubtedly what I'm opting for.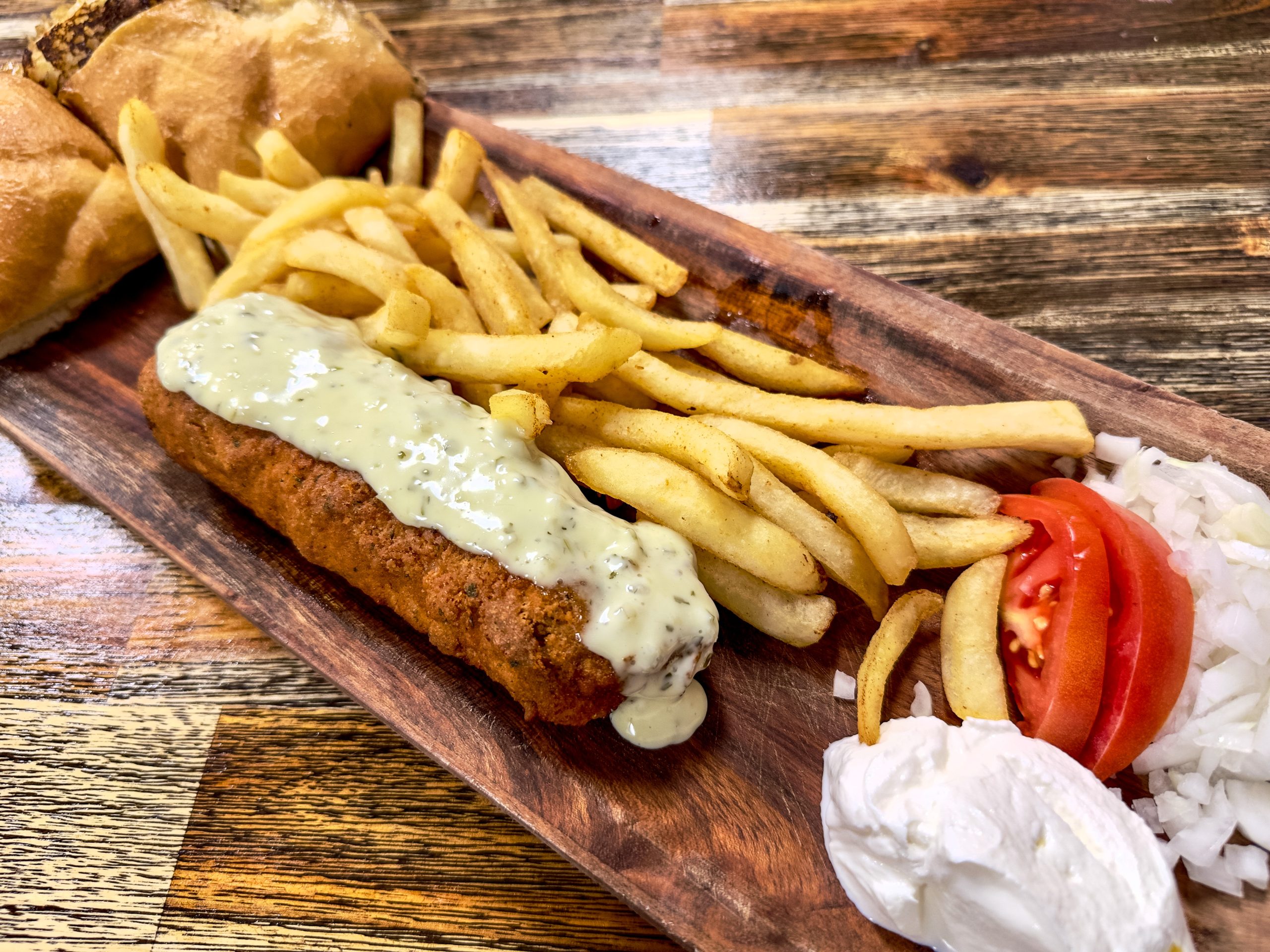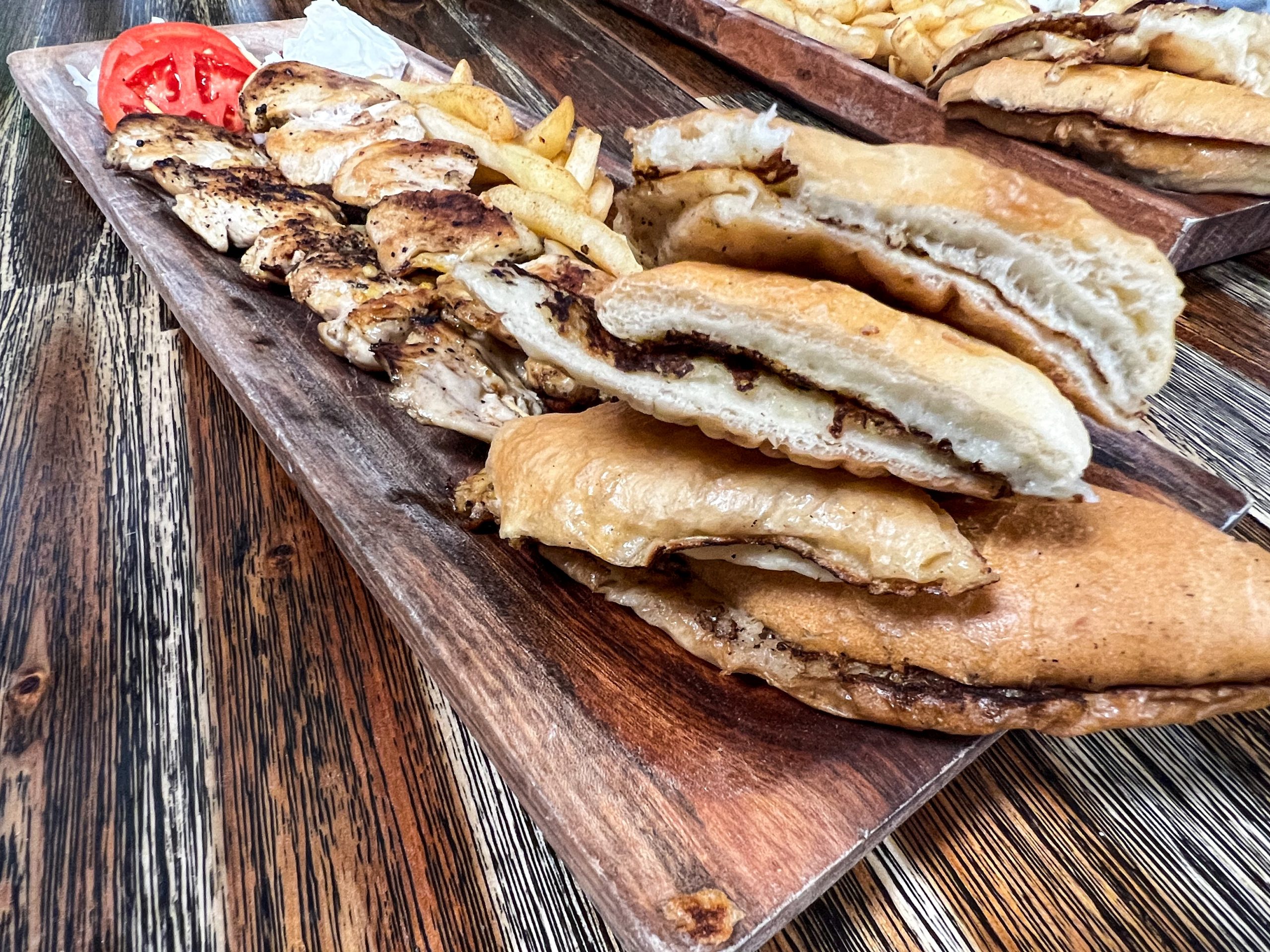 I was so bummed when we left because we forgot to indulge in some dessert. I had Baklava on my mind the whole time and then ended up too full to order any at the end. Don't make the same mistake that I did.
Brano and his family created something really special for both them and our community when they opened their doors 17 years ago. For a taste of Siberian and Balkan style food and an authentic experience, add a visit to Siberian Mediteran Restaurant to your list. Whether breakfast, dinner, a cappuccino, or dessert, you'll be happy you stopped in.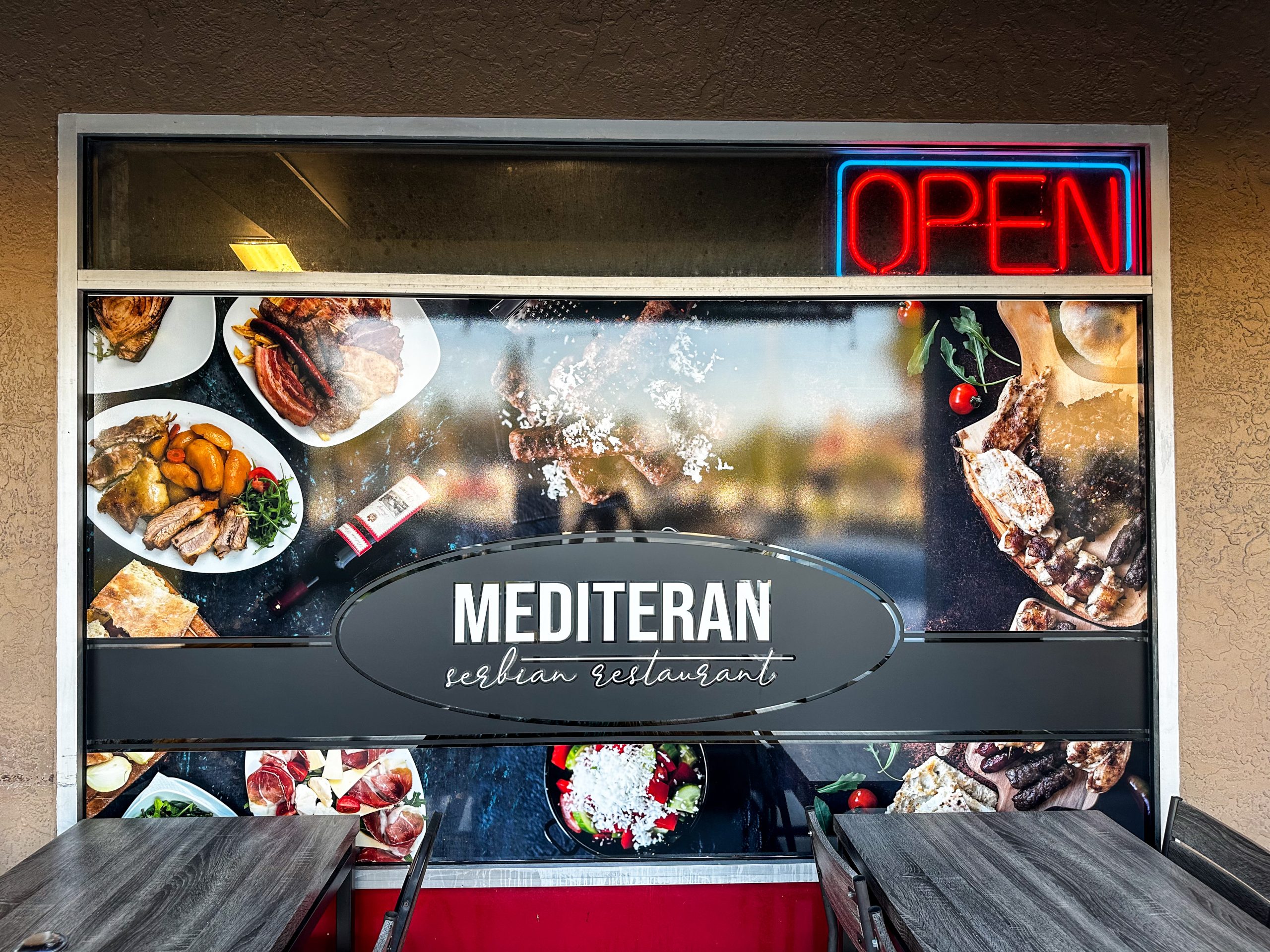 Low-key, sparsely-decorated joint serving Mediterranean Cuisine such as grilled meats and sandwiches.
DISCLAIMER: Kevin, Lori, Abby, Haley, & Lindsey do not dine anonymously (this would be impossible) and we sometimes get free food (though never expected). However, we dine with the locals and we support our own. You will always get honesty in a respectful manner.

PLEASE NOTE: Reviews reflect a certain moment in time. Some restaurants stay extremely consistent over many years, and some change for the better or worse. Some things that may change are: chefs, recipes, food suppliers, ingredients, philosophies, ownership, etc. We always hope that you have the same good, or great experience we had.
More Foodies News, Reviews & Recipes