No Need to be Salty about The Salty Nun
No Need to be Salty about The Salty Nun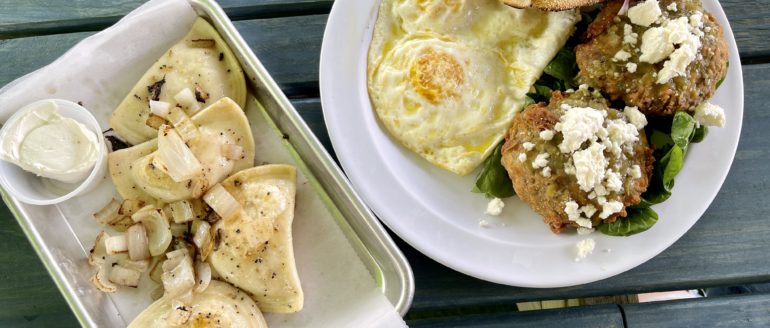 From the creators of Salty's and Stella's in Gulfport comes The Salty Nun located in the Grand Central District. The Salty Nun took over the short-lived Swinger's space, which I unfortunately never got a chance to try. From what I've seen through pictures, they kept the previous aesthetic and brought in a new menu.
You'll notice as you arrive the bright blue and green colors that adorn the large patio. The restaurant is about 90% outdoor seating and 10% indoor. It's the perfect spot for a breezy St. Pete afternoon. Especially on the days they have live music. Unfortunately for me, I missed the live music by about five minutes. They were setting up as we were checking out.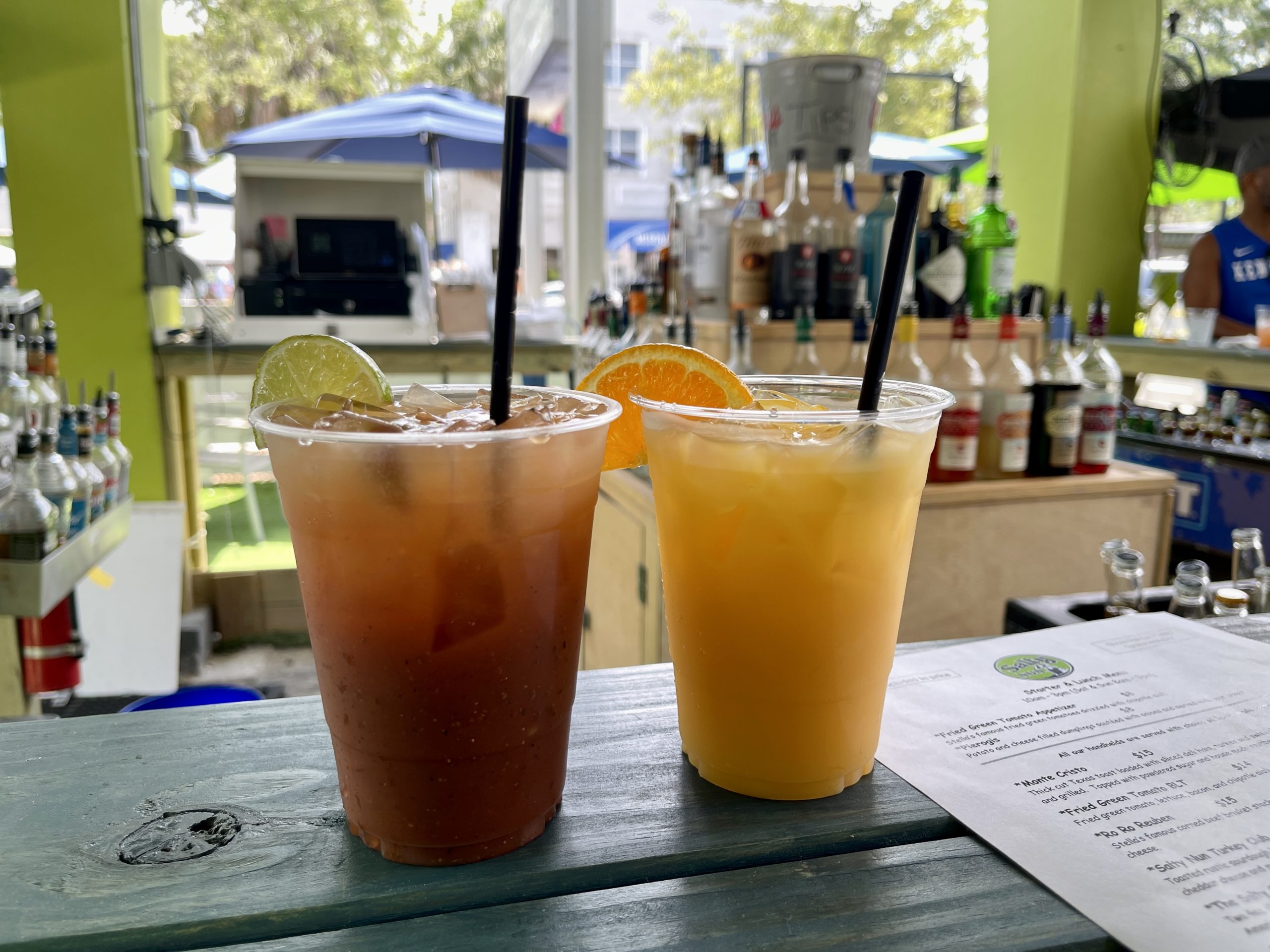 My friend and I decided to take a spot at the bar, my favorite thing to do when there's just two diners. I quickly learned that this was a very casual joint by asking what fun breakfast cocktail they could make for us, and she suggested a screwdriver. The good news is that they offer doubles. She convinced my friend a screwdriver was the way to go, and I went with a Bloody Mary. The Bloody Mary was perfect for me, made with a doctored-up Zing Zang base.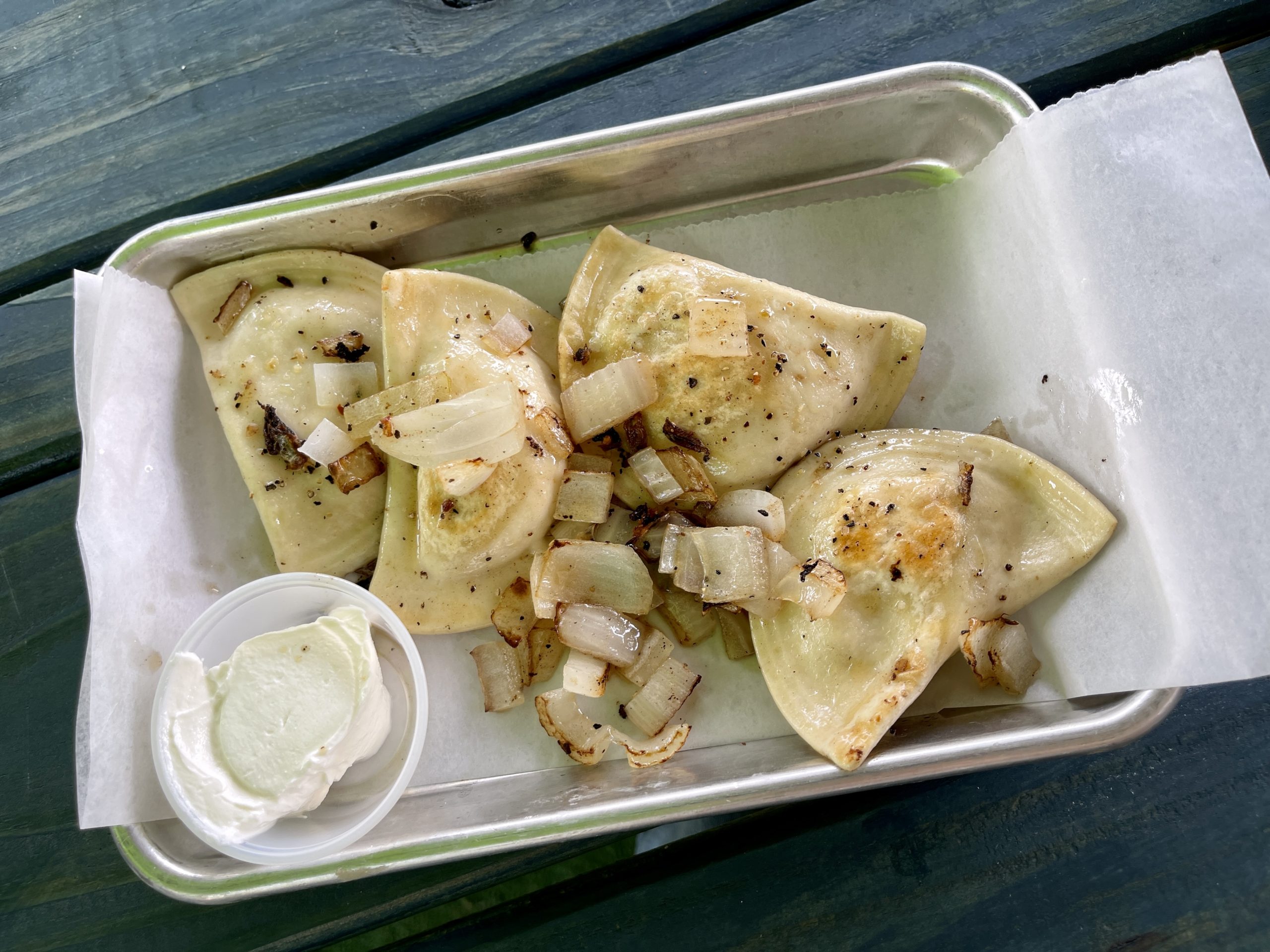 We decided to share several items on the menu starting off with the Pierogis and Black Bean Cake Breakfast.
In my eyes, the Pierogis were flawlessly cooked (not that I'm an expert on Pierogis by any means). The dough was slightly chewy with a bit of crisp from the pan frying. The potato filling was extra smooth and had a slight garlic flavor. The Pierogis were topped with grilled onions and served with sour cream on the side finishing off each bite perfectly.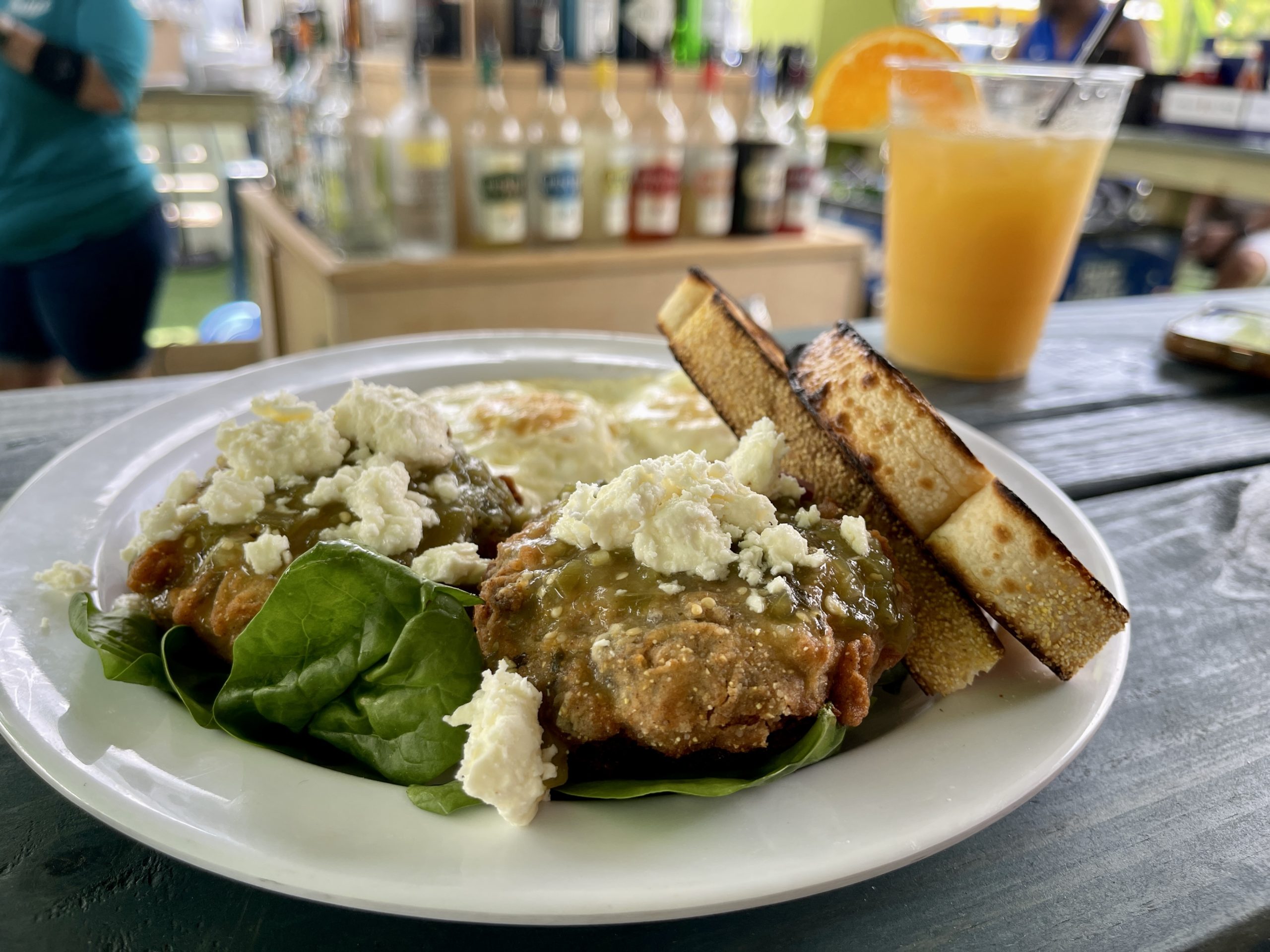 The Black Bean Cake Breakfast was the star of the show for me. It comes with two crispy on the outside (presumably deep fried) soft with good texture inside and topped with a salsa verde, adding heat and acidity, and feta cheese, then two eggs your way and toast. We decided to order our eggs over medium and chose sourdough toast. With each bite of the black bean cake, we found a new way to eat it. A bite with just the cake and minimal salsa verde, a bite with salsa verde and feta, a bite dipped in egg yolk, a bite on the toast with the salsa verde and the feta and the yolk (aka the perfect bite). This was a dish that my friend and I both said we would come back for time and time again.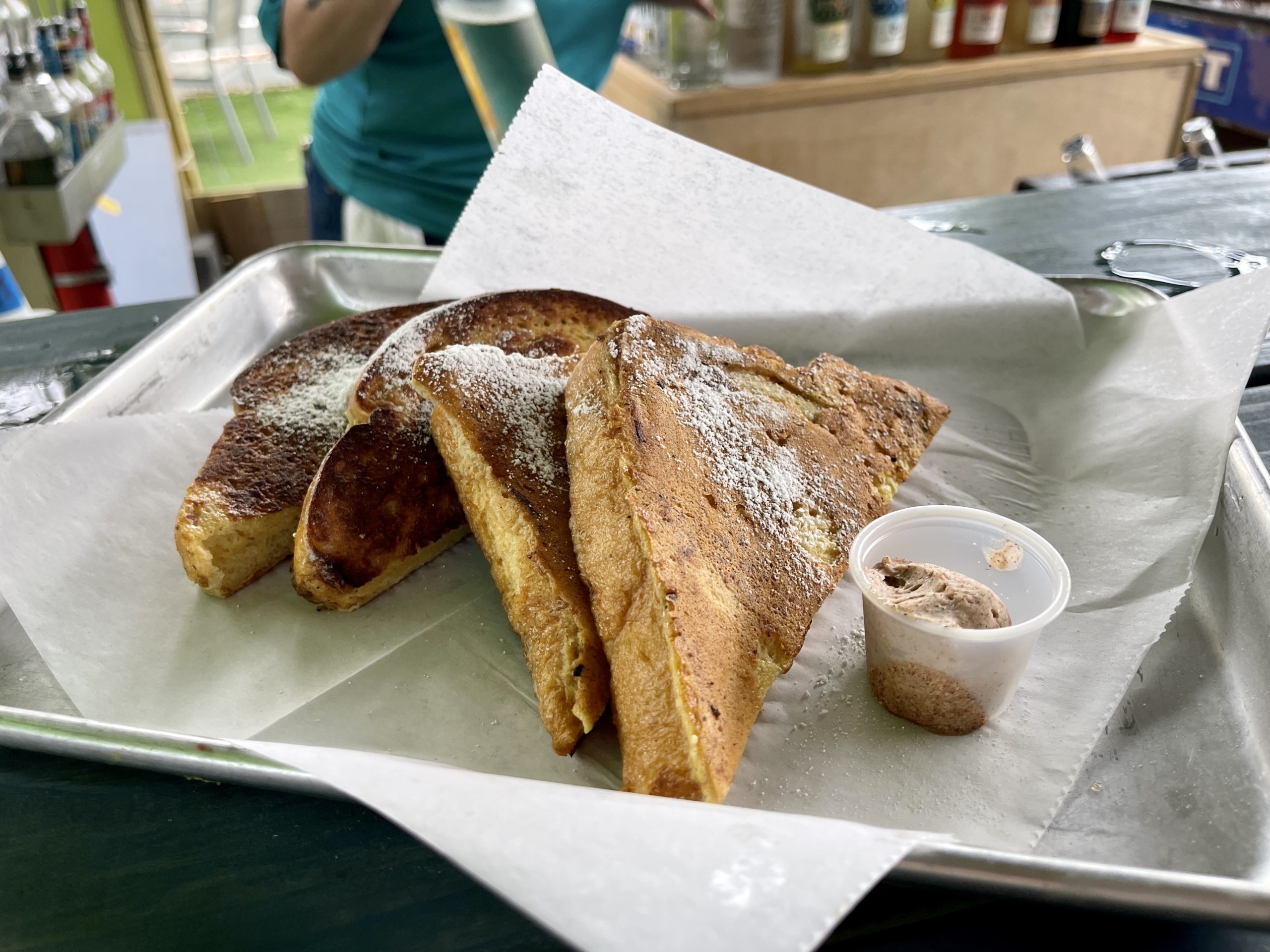 Next up was the Thick Cut Challah French Toast served with cinnamon butter. I would say this one slightly missed the mark for me. The French toast itself was simple, as if you made it at home yourself. Which is not a bad thing! What threw it off for me was the cinnamon butter and not having syrup given to me until I was nearly done eating. The cinnamon butter was so cold it almost had the texture like it was just pulled out of the freezer. The flavor was there, but it would have been much better if it could have easily melted on my toast. Once I had a bite with the syrup and some butter I saw where the dish could be quite good, but it seemed it was poorly served and executed. I'll chalk it up to bad luck on that one.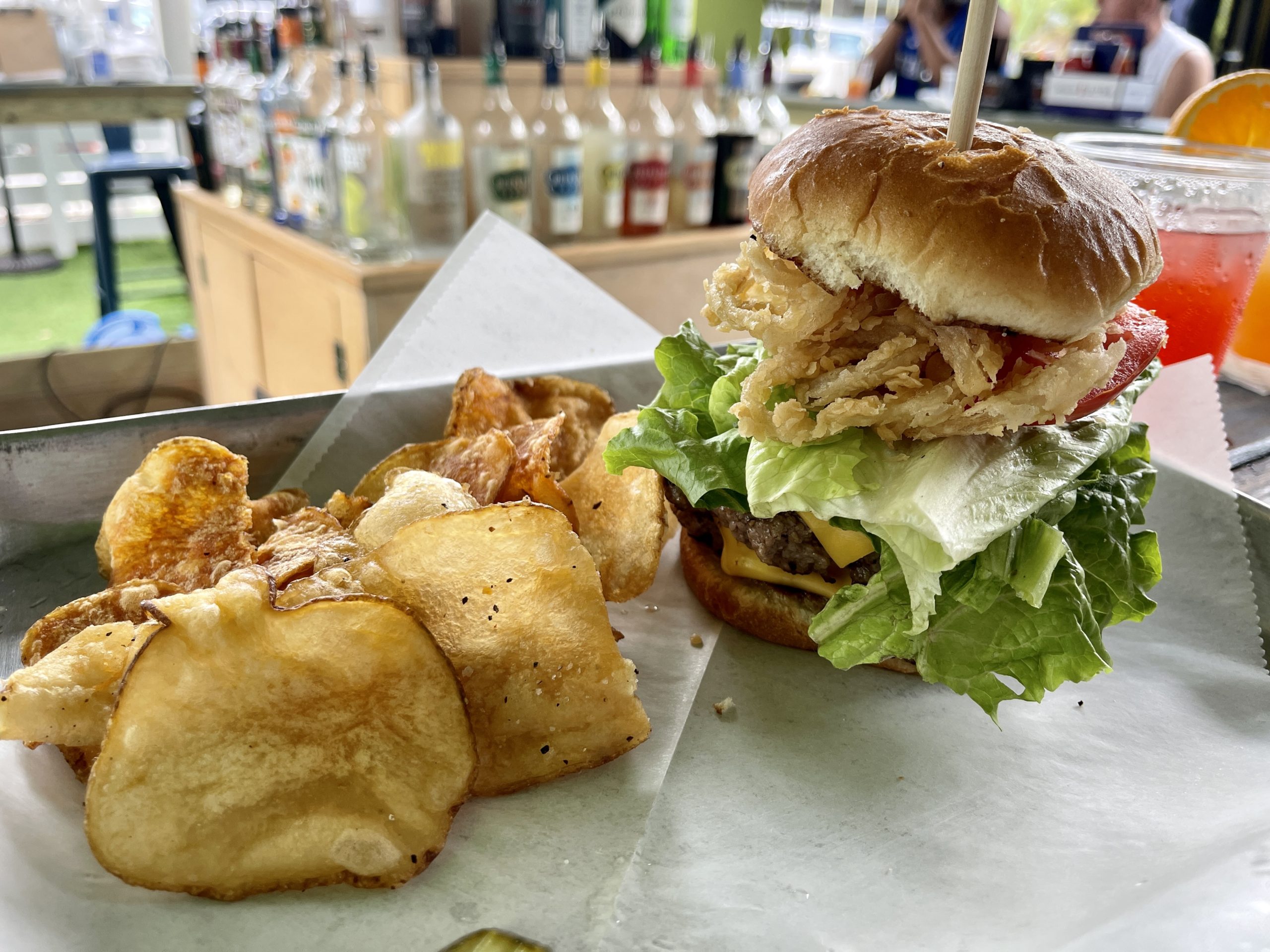 From there we decided to move on to some lunch items. I ordered The Salty Smash Burger and my friend ordered the Salty Nun Turkey Club.
The burger was served with two patties, American cheese, onion straw, lettuce and tomato. The "smash" burger was more like a double cheeseburger, sans smash. I had to remove one of the patties to even be able to take a bite, but it was worth it. The burger was juicy and flavorful and the crisp and saltiness of the onion strings rounded out the burger well.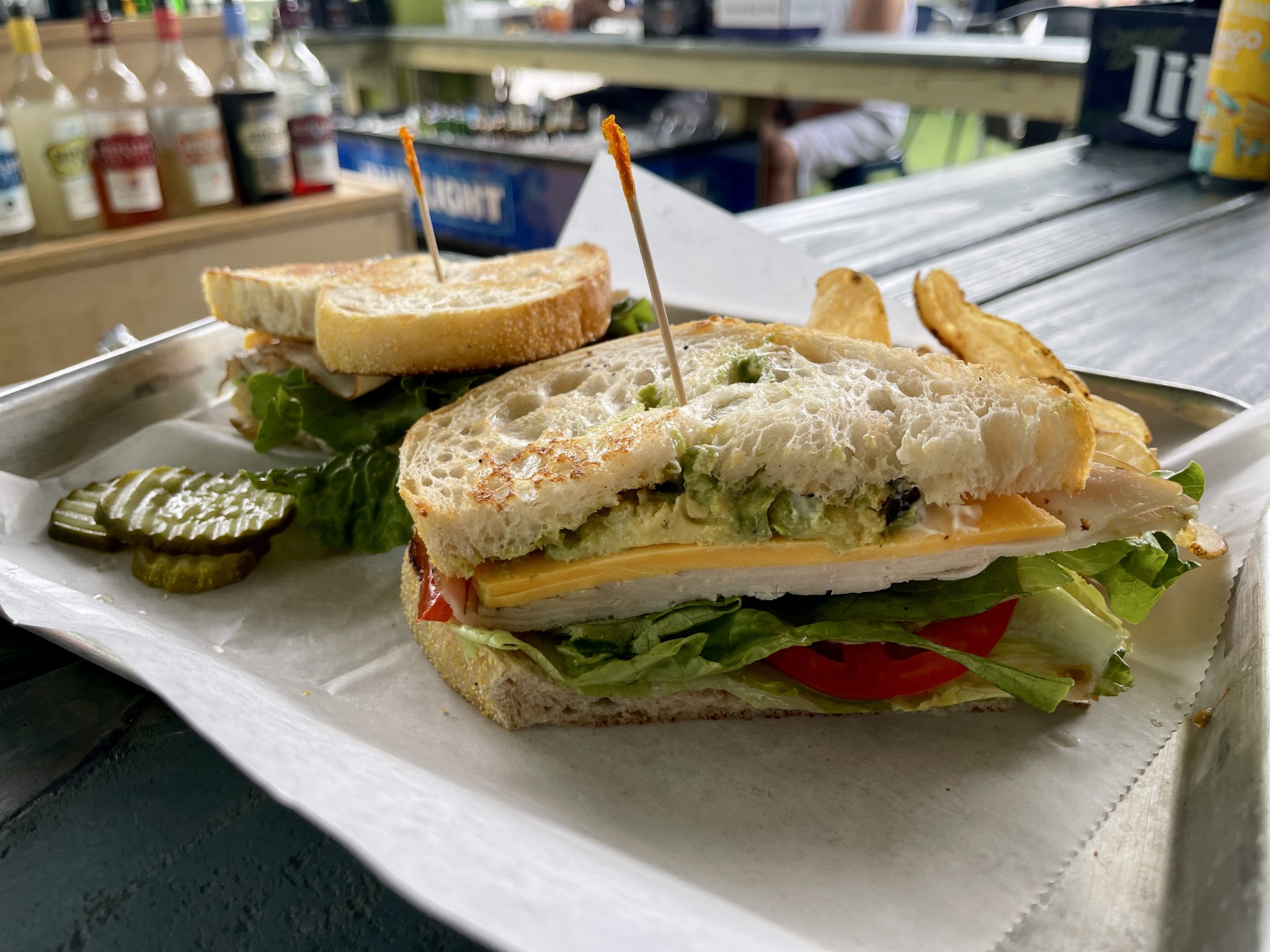 We ordered the Turkey Club with no bacon, as my friend doesn't eat pork. It came served on lightly toasted sourdough bread with an abundance of turkey, lettuce, tomato, avocado, cheddar cheese and mayo. This was your classic Turkey Club sandwich; it was refreshing and perfect for a warm afternoon eating lunch outside.
Overall, The Salty Nun was a great spot to sit at the bar, have a couple of drinks and enjoy the company of a friend and some good food. I plan on going back on a Drag Brunch Sunday and ordering the Black Bean Cake Breakfast as soon as I can!
Breakfast, Lunch and Dinner served in the Grand Central District, St. Pete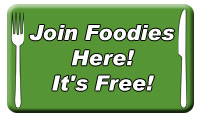 Best St. Pete Breakfast, Best St. Pete Brunch, Best St. Petersburg Breakfast, Best St. Petersburg Brunch, New Restaurants St. Petersburg FL, New Restaurants St. Petersburg FL 2022, St Petersburg Breakfast, St. Pete Breakfast, St. Pete Brunch, St. Pete Drag Brunch, St. Petersburg Brunch, St. Petersburg Drag Brunch
Written by Lindsey Harris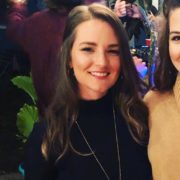 I'm a rare native Floridian, spending the first 28 years of my life in Orlando. In May of 2018 I decided it was time for a change of scenery and moved to St. Petersburg. I work in Commercial Real Estate by day and I am a self-proclaimed Foodie by night. I love trying out new (to me) restaurants, breweries, cocktail lounges, and bars. Not only do I love to try new restaurants, I love trying out my skills in the kitchen at home.
View all posts by: Lindsey Harris
More Foodies News, Reviews & Recipes
Comments are closed
#stpetersburgfoodies #stpetefoodies
Sponsors
Recent Posts
If you're looking for an astonishing experience, head to this quaint house cellar and restaurant, Bin 6 South. It's a relaxing establishment in downtown St. Pete and just a few blocks off Central Avenue. Though the atmosphere is casual, the food menu and wine options are truly extraordinary. I was blown away by the attention to detail, the quality of the food and wine and the charm. Life's 'bin' good ever since I visited Bin 6 South. This home turned wine cellar/restaurant has an impressive wine list and a surprising menu of lunch, dinner and decadent desserts. The setting is super intimate with only 12 seats in total. You'll either be seated at the table with other parties or you can have a front row seat of the kitchen sitting at the bar. Be sure to book a reservation or call them in advance. There is a lot of wine packed into this little home so be ready to let Sommelier, Danielle, guide you to your new favorite. Locals get 10% of wine bottles from the cellar. You can reserve the whole table for a party of 6 or you'll be seated next to strangers turned friends. It's that kind of place where everyone talks to everyone and you'll leave with some new wine friends and a buzz. Inside Table Watching the chefs do their thing is really unique. If you sit at the bar, not only will you see the creation of each dish, but you'll hear the story or little fun facts as the chef is preparing it. Although the vibe is casual and friendly, Bin 6 South offers a remarkable experience to be able to learn about the dishes you're about to eat. There's also an element of  familiarity as if you're hanging at your best friend's house and they're cooking for you while you sip on wine. The only difference is now your best friend is a chef and your getting wine suggestions from a sommelier. Getting to know the team throughout the night really made my encounter change from simply enjoying dinner to making new friends and seeing the passion and story behind Bin 6 South really unfold. If you're like me, as soon as the temperatures climb, you'll want to swap those bold reds for light, refreshing whites and rosés. I started with a glass of Secateurs Rosé and it was exactly what I needed for something light. The description reads as aromas of complex red fruits, spice, rose water and currants. Generous, textured palate with a long finish. If asparagus appears on any menu, I'm always going to order it. This spring special was a wonderful start for me to really understand how fresh their menu is. It was simple but the cheese on top and white bean hummus on the side really made it comforting. Their Roasted Red Pepper Soup is unlike any other. It's a must-order for me every time now because of the freshness and spice. It's a comforting bowl of fresh roasted red pepper, chipotle, sun dried tomato, cold smoked crema, herb cracker, and aleppo pepper. The crunch and savoriness of the dipper was fantastic too. Now that my entree was approaching, I had to switch to Chardonnay. The description is: notes of brioche, toasted almonds and stone fruit flavors are echoed in the multi-textured palate. I really enjoyed the taste and knew it would go well with my salmon that chef was preparing. If I could only use one word to describe the Salmon Mi Cuit, it would be tremendous. Wow. The flavors really pair so nicely and it's unlike any salmon dish I've ever had. If you don't know what Mi Cuit means, it's French for "half cooked" which may seem odd but just trust the process. The Salmon Mi Cuit at Bin 6 South is a dish with tender Salmon, quinoa, preserved lemon, chamomile, and herbs de Provence tuile. Chef pours chamomile tea over the dish as a sort of tableside experience. I'm so glad I ordered this. All of the elements paired so nicely and gave a variety of flavors from savory to zesty to salt to comfort. If you don't know what to order, start here. For lunch, I was drawn to the Banh Mi on a French baguette with chicken breast, ku cai vegetables, fresh jalapeño, chicken liver mousse, sambal olek, cilantro, and a side of B&B pickles. The level of detail this sandwich had, did not go unnoticed. This delectable sandwich delivered a fiery kick that was balanced out by the refreshing sweetness of pickled vegetables and savory chicken. It was time for dessert so naturally I needed another glass of wine for that. I tried three dessert wines and ended up loving the Itsasmendi Urezti (the middle bottle in the photo). It was dense, sugary and very complex in my opinion. I loved it. If you're looking to end the night with something super bright and light, and mildly tart, yet sweet, The Lime in the Coconut is for you. The Lime in the Coconut is lime curd, coconut meringue, toasted coconut crumble, lime zest, and a glucose tuile. The complexity of this dessert is unmatched and truly one of a kind. Again, all of the little details from the smooth coconut meringue and zesty lime curd are fantastic. The shining glucose tuile was a great touch for that extra crunch and sugar, plus it really makes the dessert look even more fancy. The next dessert had this brilliant holographic chocolate on top. How cool is that? I've never seen anything like this. It tasted just as good as it looks. The Chocolate Cake dessert was my favorite only because I love anything chocolate. To have three different styles of chocolate on a dish really won me over. This plate of chocolate cake, cherry rose coulis, berries and edible flowers was truly the perfect night cap. The cherry rose coulis added a nice sweetness. Behind the holographic piece of chocolate is a […]
Recipes
March 2, 2023

Miso-Spinach Pesto Pasta with Lemony Breadcrumbs Recipe

At one point or another, you've probably enjoyed or even made some form of pesto. The standard starting lineup for most pesto recipes is typically pine nuts, parmesan, garlic, lots of fresh basil, olive oil and salt. In this rendition, we're totally shaking things up using mellow white miso, spinach, cilantro (in addition to basil), lemon juice and soaked cashews in place of pine nuts (and of course oil and salt) to create a delicious and creamy miso-spinach pesto. There's a good chance that the ingredients for this pesto are already on your weekly grocery shopping list. Miso is probably the outlier, but it's definitely an ingredient that I recommend keeping on hand. What is miso, exactly? It's a fermented paste that is made with a cultured mix of soybeans, a grain (often rice or barley), salt and koji, which is a type of mold. The mixture is then fermented for as little as a few weeks and as long as a few years. It's packed with umami and has a number of uses in the cooking world. Often, it is added to soups (hello, miso soup), marinades, sauces, dressings, and so on. Rollin' oats carries Miso Master organic miso in mellow white, sweet, red and chickpea miso as well as Cold Mountain white miso. I always opt for Miso Master though, because it is organic. In this pesto recipe, miso adds a lovely savoriness that salt alone cannot provide. I've included an optional homemade pasta recipe to pair with the beautiful and bright miso-spinach pesto. But if you do not have the equipment, patience or time for homemade pasta – simply opt for a quality store bought option. Rollin' Oats has two great organic spaghetti options on their shelves that I like – one by Alessi and the other by Field Day. For added crunch and texture, don't skip out on the lemony breadcrumbs. You can absolutely use store bought panko (like Edward & Sons organic panko), but I recommend grating your own breadcrumbs with some sourdough bread and a course paddle microplane. I recommend using Gulf Coast Sourdough, which also can be found at Rollin' Oats. To make the breadcrumbs, simply combine your grated bread with some lemon zest, olive oil and salt and pop into the oven until crisp and golden. Miso-Spinach Pesto with Pasta & Lemony Breadcrumbs This umami-packed spin on pesto would be great for more than just pasta. It would be great with roasted or grilled vegetables or even on a sandwich. High Speed BlenderStand Mixer with Pasta Attachments Miso-Spinach Pesto4 cups baby spinach1/2 cup olive oil1/2 cup cashews (Raw and unsalted. Soaked for 2 hours with boiling water)1/2 cup basil1/2 cup cilantro (You could sub this out for another 1/2 cup of basil and vice versa)2 tbsp mellow white miso2 garlic cloves (Peeled)1 lemon (Juice only)2 tsp salt (Plus more to taste)Pasta2 cups all purpose or 00 flour3 eggs1 tbsp olive oil1 1/2 tsp salt1/2 cup semolina flourLemony Breadcrumbs1/2 cup sourdough breadcrumbs (Grated with a course paddle microplane. You can also use store bought panko in place of this)1 lemon (Zest only)1 tsp olive oil1/2 tsp salt Miso-Spinach PestoPour enough boiling water over cashews to cover. Let sit for two hours to soften.After cashews soak, add all pesto ingredients to a high powered blender. Blend on high until pesto is creamy and well combined. Season with more salt to taste. Set pesto aside until ready to use.Homemade PastaAdd all purpose or 00 flour to the bowl of a stand mixer with eggs, olive oil and salt. Using your hands or a fork, combine until a shaggy dough begins to form.Knead with a dough hook for about ten minutes, or until dough is smooth and elastic. Let rest in a covered bowl for one hour.Add pasta sheet attachment to mixer and dust a clean counter with semolina flour. Divide dough into four equal sections.One section at a time, flatten dough into a small disc and pass through lowest setting of a pasta sheet maker. Fold dough in half like a brochure and run it through the same setting two more times.Turn knob to the next setting and run pasta sheet through. Repeat this process on each setting until dough is nearly paper thin. Cut the dough sheet in half to make it more manageable.Place dough sheets on prepared surface with semolina. Repeat steps with remaining three dough sections. By the end, you should have eight sheets.Add pasta attachment of choice to your mixer and run each sheet through to make your noodles – I opted for spaghetti.Place pasta noodles on a drying rack until you're ready to cook and assemble your pasta.Lemony BreadcrumbsLine a baking sheet with parchment paper. Combine breadcrumbs, lemon zest, olive oil and salt, spread onto baking sheet in an even layer and bake at 375F for 6-8 minutes, or until breadcrumbs are golden and crisp.AssemblyBring a pot of salted boiling water to a boil, add pasta and cook for 2-3 minutes. Reserve 1/2 cup of the pasta water and strain the noodles. Add noodles back to the pot with pesto and a tablespoon or two of pasta water. Stir to combine, adding more pasta water as needed to thin out. Plate pasta, top with lemony breadcrumbs and serve. Condiment, Main DishAmerican, ItalianMiso-Spinach Pesto

February 1, 2023

15 Hour Potatoes & Steak Recipe

Steak is great, but when it comes to this meat and potatoes duo, it's all about the potatoes baby. I've been itching to recreate this recipe with my own spin for a long time now. I actually had plans to make it for our Christmas dinner this year, but realized I was already fighting a losing battle when it was already Christmas morning and I hadn't started the 15 hour process – oops. Yes, you read that right – a 15 hour process. Is it worth it? Yep. Was I skeptical initially? Sure was. All you need to properly execute this recipe is some potatoes, a mandolin slicer (crucial), a good amount of fat (duck fat, butter or olive oil), some flakey salt and a bit of patience. This two-day method does not disappoint and is actually quite simple. The process begins by slicing peeled potatoes ultra thin with a mandolin slicer. Then, toss them in fat and salt, stack them in a loaf pan and pop them into the oven at a super low temperature for a few hours. I used Olive Oil this time around because I had a lot on hand but I also highly recommend duck fat oil. At Rollin' Oats, you can find EPIC brand cage-free duck fat oil and that would work quite well. Remove the potatoes, cover and weigh them down and then refrigerate for 12 hours (I prep the potatoes in the evening and let them hang in the fridge overnight). After the waiting period, slice, fry and eat with dipping sauce of choice. You *can* fry the potatoes in the air fryer as an alternative; however, it does not yield quite the same product. The potatoes do not get as crisp, but if you'd like to make them this way, heat your air fryer to 400F and cook the potatoes for about 8-10 minutes. If you're going to fry them the way that I suggest – in oil – definitely use an oil with a high smoke point. A lot of recipes recommend peanut oil but I prefer to use avocado oil. Rollin' Oats sells Primal Kitchen's avocado oil and that's what I utilized for this recipe. I turned my potatoes into a steak frites type of moment by pairing them with a lovely filet from Rollin' Oats. They offer lots of quality grass-fed steak cuts from Thousand Hills that are sure to satisfy. You don't have to have these potatoes with a steak though. They make for a great side dish for most any main and would be idyllic as a snack for the upcoming super bowl with a dipping sauce of choice. 15 Hour Potatoes and Steak Don't let the 15 hours scare you – the majority of that is either cook or rest time. These are going to become your new favorite potatoes. MandolinCandy ThermometerDutch OvenLoaf Pan 2-3 Yukon Gold Potatoes (Medium to large in size)1/4 cup Olive Oil (Or other fat like duck fat or butter)2 cups Avocado Oil (Other oil with a high smoke point will work as well)1 1/2 tsp Salt (Plus more as needed)Steak (This is optional, but it makes for a great dinner. I recommend a filet or a strip.)Dipping Sauce (Also optional, but an aioli or other dip makes for a great accessory to the potatoes)Flakey Salt (Like Maldon, to hit the potatoes with post-fry. This is optional – you can use whatever salt you have to finish.) Preheat oven to 250F. Peel potatoes and slice very thin with a mandolin slicer. Toss in a bowl with 1/2 cup olive oil (or fat of choice) and 1 1/2 tsp salt (plus more, as needed).Layer potatoes in a tight stack in a parchment-lined loaf pan. Cover with another sheet of parchment and bake for 3 hours.Remove from oven, weigh down the top of the parchment-topped potatoes evenly with cans or other heavy kitchen objects. Refrigerate for 12 hours (I allow this part to take place overnight). Remove weights and parchment and carefully invert potatoes onto a cutting board. Cut the potatoes into even 1" stacks and then cut all of those evenly in half.Heat oil in a dutch oven or pot with high walls over medium high heat. When the heat reaches about 375F, carefully drop in potatoes one at a time until a few are in the pot. Fry, turning occasionally, until potatoes are golden all over but not burnt – 3-5 minutes (keep an eye on them!). Remove from oil, hit them with a good sprinkle of salt and allow them to cool on a rack set over a baking sheet. Repeat process with remaining potatoes.While your potatoes are frying, prepare your steak of choice. I chose a filet and salted it all over and allowed it to sit at room temperature for 40 minutes before cooking it. I season with pepper and then sear it off for about 6-7 minutes, flipping occasionally, until I've reached a nice medium rare. Slice up and serve the steak along side the potato stacks with dipping sauce of choice and perhaps a drizzle of chili crisp, herbed butter or chimichurri on your steak. Appetizer, Side DishAmerican15 Hour Potato Recipe, Appetizer Recipe, Potato Recipe

January 10, 2023

Chicken Khao Soi Recipe

This dish is a consistent go-to of mine for so many reasons. Because of the ingredient list it may sound involved, but I assure you, the most difficult part of the process is prepping your mise en place. From start to finish, prep included, you can have this meal on the table in one hour flat. Utilizing your food processor is highly suggested when making the Khao Soi paste, which is the backbone of this whole dish. The first time I made this dish I did not own a food processor so I minced and chopped all of the ingredients by hand. It was great practice with my knife but it was daunting and made for a more textured paste. The Guajillo Chiles don't boast a ton of heat in my opinion so I encourage you to add additional heat to your taste. I started adding in crushed red pepper and Gochugaru regularly and really enjoy the addition of a different spice element or two. The Gochugaru that I always buy is found at Rollin' Oats – the brand is Mother in Law's. I always keep it on hand and use it interchangeably with the crushed red pepper flakes. As for the noodles for this dish, most will recommend using Chinese egg noodles – Rollin' Oats carries the Sharwood brand. I have used the egg noodles in the past and do enjoy them, but most of the time, I use whatever noodles I have on hand. This typically includes ramen, udon or soba. The noodles won't make or break the dish so I encourage you to use your preference. Chicken Khao Soi This coconut curry noodle soup may sound involved, but it couldn't be easier to throw together in a pinch. Dutch Oven Khao Soi Paste6 garlic cloves (Peeled and crushed)2" fresh ginger (Peeled and roughly chopped)2 shallots (Medium in size – peeled and roughly chopped)5 guajillo chilies (Dried and medium in size)2 limes1/2 cup cilantro (Roughly chopped)2 tsp turmeric2 tsp curry powder2 tsp coriander (Ground)1 tsp crushed red pepper flakes or Gochugaru (This is optional, but suggested if you're looking for a bit more heat)Soup & Assembly2 tbsp olive oil2 cups vegetable broth2 14 oz cans coconut milk (Full fat and unsweet)2 chicken breasts (Boneless and skinless)salt (At least a couple of tsp, plus more as needed.)noodles (For example: ramen, udon, soba or Chinese egg noodles. Use whatever you have on hand or prefer.)2 carrots (Medium in size, peeled and sliced into thin rounds.)1/2 cup red onion (Sliced thin)1 jalapeño (Sliced into thin rounds) Khao Soi PasteBring a few cups of water to a boil in a kettle or on the stove top. Place chiles in a medium bowl and pour boiling water over to cover. Allow peppers to soften for at least 30 minutes. Reserve 1/2 cup soaking liquid and discard the rest as well s the stems of the peppers.Add softened chiles and remaining Khao Soi paste ingredients and half of the chopped cilantro to a food processor with half of reserved soaking liquid. Process, adding more liquid as needed, until a paste forms.Soup and AssemblyHeat olive oil in a dutch oven over medium high heat and add paste to the pot. Cook for about five minutes – the paste will become quite fragrant and will take on a deeper color of red.Carefully pour in broth and coconut milk then add in the chicken. Bring the pot to a boil, reduce the heat to medium-low to maintain a simmer and cover mostly, leaving the top slightly ajar – 30 minutes.Prepare noodles of choice and divide evenly between bowls.After chicken has cooked, taste and season the soup as needed and add the juice of one lime. Remove the chicken from the soup and shred using two forks – carefully return to the pot. Stir in sliced carrots.Ladle soup into the bowls with the noodles and top with sliced onion and cilantro and serve with additional lime wedges. DinnerThaiChicken Khao Soi, Coconut Curry Noodle Soup

December 5, 2022

Eggplant Parmesan Recipe

If a dish has the word parmesan in the title, it's almost guaranteed to be wonderful. Eggplant parmesan is certainly no exception. Though it is quite the labor of love, the result is more than worth the effort. To make this process easier, break the recipe down into steps and begin to prepare a day or so before you plan on serving the dish. About 36 hours ahead of time, I make my marinara and I salt/cover my sliced un-cooked eggplant with paper towels. Then on the day of, you can focus on frying your eggplant and assembly. Trust me when I say that following the process this way makes for a much more relaxed experience, especially if you're preparing this meal for guests. Eggplant is in season currently in Florida so locating a few good ones shouldn't be an issue. Rollin' Oats is stocked with eggplant right now, along with everything else that you'll need to make this recipe. The best part about sourcing ingredients from them is the quality and care they take in providing premium, organic products that are often local. What's not to love about that? Perhaps the most important yet most simple step of making eggplant parmesan is allowing ample time for it to cool before slicing and serving. Absolutely no one wants to eat a serving of piping hot and mushy eggplant. Allowing it to cool ensures a lasagna-like form for each piece. Eggplant Parmesan When prepared properly (patience included), eggplant parmesan is the poster child for luscious comfort food. In my opinion, the key to this recipe rests in two aspects: salting the sliced eggplant and allowing it to rest for an ample amount of time pre-breading/cooking and allowing the the dish to cool for at atleast 30-40 minutes before slicing and serving. Marinara2 28 oz can whole peeled tomatoes1 onion (Peeled and sliced in half)3 garlic cloves (Fresh, minced)1 tsp crushed red pepper2 tbsp tomato paste1/2 cup red wine (Something you would drink)2-3 dried bay leavesparmesan rinds1 tbsp salt (plus more as needed)1 tsp black pepper (plus more, to taste)1 tbsp olive oilorange peel (approximately 3", to balance the acidity)Eggplant & Assembly4 eggplant (Medium in size. Peeled and sliced lengthwise into 1/2"thick slices)1.5 cups all purpose flour6 eggs (whisked well)3 cups panko bread crumbs2 cups vegetable/olive oil2 tsp dried oregano2 cups parmesan (grated, divided – plus more for serving)2 cups low-moisture shredded mozzarella8 oz mozzarella ball (torn into 1-2" pieces)1/2 cup basil (fresh, chopped) MarinaraHeat oil in a dutch oven over medium heat. Add onion halves and cook until beginning to brown (8-10 minutes).Add in minced garlic and crushed red pepper and cook, stirring here and there, until fragrant (1-2 minutes).Mix in tomato paste, salt and pepper and cook stirring occasionally until tomato paste begins to darken, 2-3 minutes. Add in bay leaves.Pour in wine and deglaze pan. Then, carefully dump in both cans of tomatoes and toss in parmesan rinds and orange peel. Bring to a simmer, reduce heat to medium low and allow sauce to reduce and cook until onion is soft and sauce is quite flavorful – 1.5-2 hours. Add more salt as needed. Remove and discard bay leaves, orange peel, parmesan rinds and remnants of onion. Season as needed.EggplantSet a wire rack inside a baking sheet and line it with paper towels. Layer eggplant slices single file and salt liberally. Repeat eggplant layering with paper towels. Allow to sit for at least a couple of hours and up to one whole day.After eggplant slices have rested, combine panko, one cup parmesan, dried oregano and a couple of pinches of salt in a food processor and pulse until well combined. One at a time, dredge eggplant slices in flower, egg (allowing excess to drip, and then coat well all over in bread crumb mixture. Set slices on a wire rack single file. Add vegetable/olive oil to a large pot or dutch oven and heat over medium-high. Cook dredged eggplant pieces a few at a time until golden brown (3-5 minutes). Remove from oil and add to paper towel-topped plate. Press with more paper towels gently to absorb oil. Repeat with remaining slices of eggplant.Eggplant Parmesan AssemblyPre-heat oven to 350. In a casserole dish, disperse one cup of marinara, followed by a single layer of fried eggplant slices, more marinara and then 1/3 cup of the cheese mixture. Repeat steps starting with eggplant slices, sauce and then finishing with cheese layer until you run out of eggplant – I usually get three layers, but it all depends on your dish.Cover with foil and bake for 50-60 minutes. Remove foil and increase oven to 425F.Top with torn fresh mozzarella and bake for another 20 minutes – cheese should be golden on top. Remove from oven and allow to cool for at least 30-40 minutes before slicing to ensure lasagna-like slices. Serve garnished with grated parmesan and fresh basil. Dinner, Main CourseAmerican, ItalianAbby Allen Recipes, Dinner Recipe, Eggplant Parmesan, Vegetarian

November 2, 2022

Cacio e Pepe Corn Ribs Recipe

Creamed corn, corn casserole, and even frozen corn are some of the standard players there to represent corn at the Thanksgiving table. Add in a dose of nontraditional fun with this vegetable this holiday season by making these air fryer corn ribs. Sweet corn season just started in Florida as it runs from October through June. Perhaps the most difficult part of this recipe is slicing the corn into ribs. First of all, you want to make sure that your knife is very sharp. The cob can be very difficult to cut through so just make sure to take your time and be extra careful. Cacio e pepe, which basically translates to cheese and pepper, is a delicious way to prepare these ribs but not a have to. Other seasoning combinations I recommend are: paprika/parmesan/cayenne/cilantro with a crema drizzle, or even just salt/pepper seasoned and finished with a drizzle of good vinegar and some fresh dill – get crazy. Rollin' Oats carries a large assortment of organic spices and seasonings that would be idyllic with corn. Mother In Law brand Goghugaru Korean Chile Flakes and Frontier Co-op's organic Tandoori Masala are a couple of my favorites. Cacio e Pepe Corn Ribs Have some fun with your corn side dish this holiday season with this air fryer corn rib recipe Air Fryer 4 ears of corn1/2 cup olive oil (plus more, as needed)1/2 cup parmesan cheese (grated)1 tbsp garlic powder1 tbsp onion powder1 tsp salt (plus more as needed, to taste)2 tsp black pepper (freshly cracked)1/4 cup basil (torn) Peel the corn. One at a time, cut each cob in half length-wise and then cut each half in half again so you have 4 corn "ribs."Combine spices, salt and pepper and oil in a medium bowl. Mix well.Brush each corn rib evenly with the mixture. Finish with a pinch of salt and more black pepper.Preheat an Air Fryer to 400F. Lay corn ribs in a single layer in the Air Fryer tray. Set the timer for 15 minutes and flip halfway through. Cook until desired doneness has been reached (I like a bit more char so I tend to cook them longer).Arrange on a platter and serve topped with parmesan and torn basil. Appetizer, Side DishAmericanCorn Ribs Recipes