Beer, Wine, Biggie and Vibes at Hawthorne Bottle Shoppe
Beer, Wine, Biggie and Vibes at Hawthorne Bottle Shoppe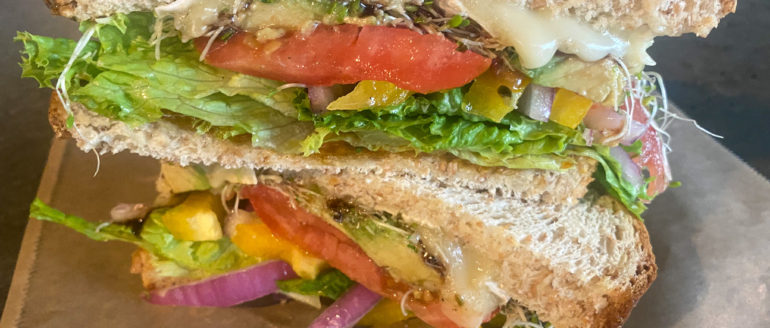 One step over the threshold at Hawthorne Bottle Shoppe is all it takes for you to realize that you're in a spot with plenty of cool factor. Walls adorned with shelves of fascinating beers and captivating wines, displays topped with witty merchandise and of course, the notable nods to Biggie Smalls throughout the entire space – it's a place you'll find yourself revisiting time and time again.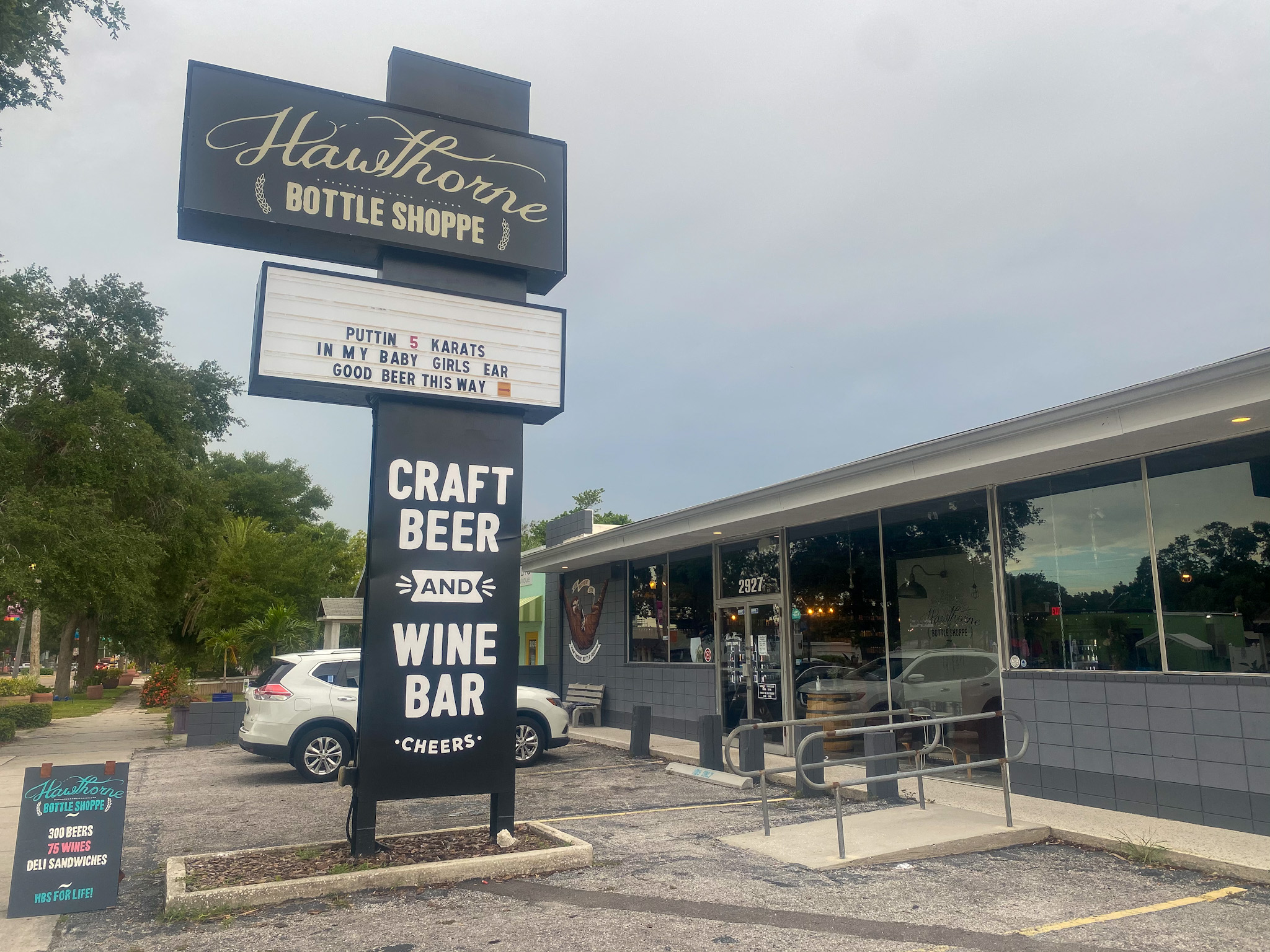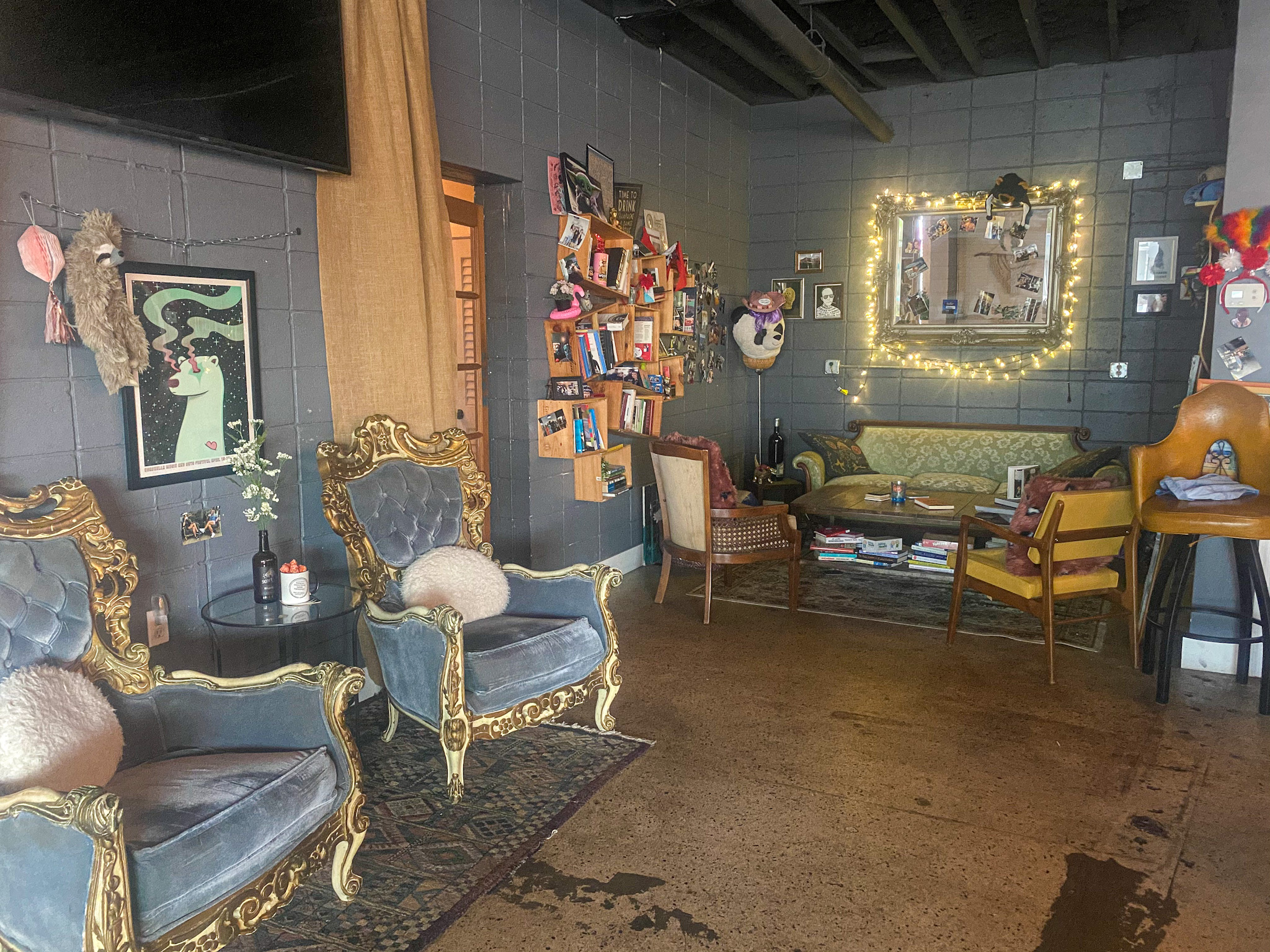 The doors of Hawthorne Bottle Shoppe opened on February 20th, 2017 by owners Tegan and Amanda. The two of them worked in the craft beer industry together for years and their ultimate dream was a bottle shoppe. Eventually, they spread their wings, said goodbye to corporate America and turned their dreams into reality. Not only did this brilliant duo open a bottle shoppe – they breathed life into a space with their vision and managed to create one of the coolest hangouts in town.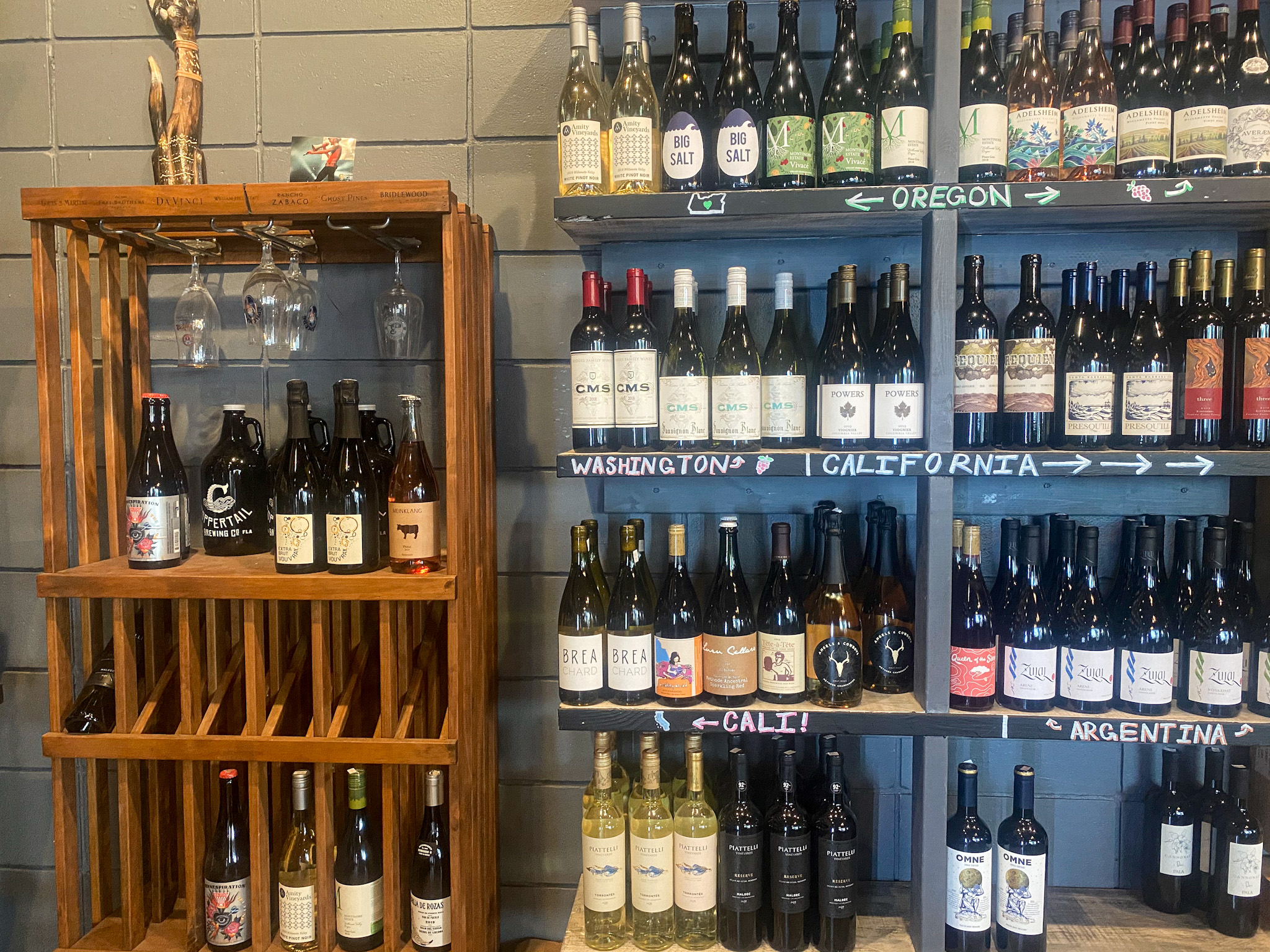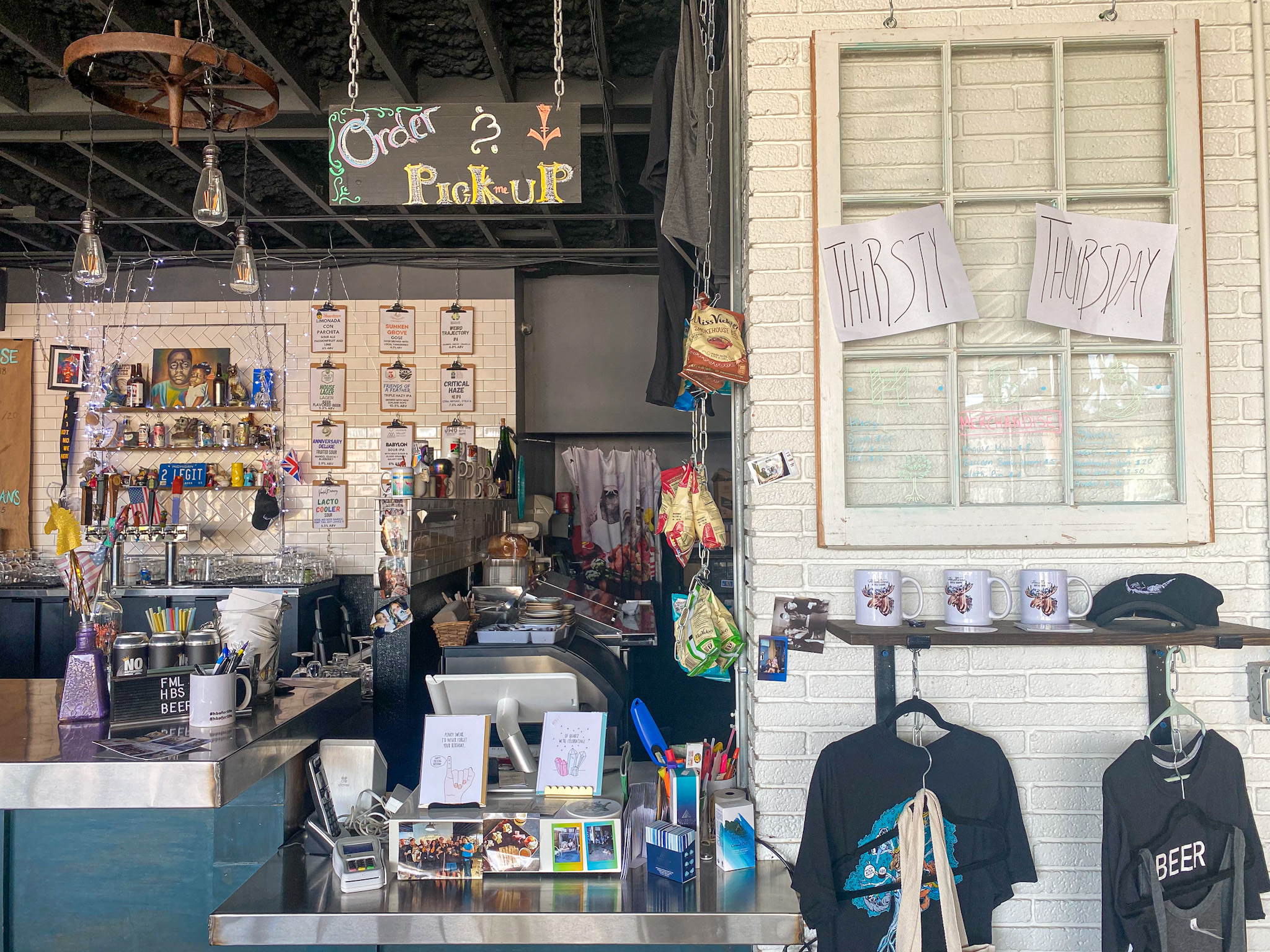 The interior of Hawthorne Bottle Shoppe is killer – they totally nailed the aesthetic. In the midst of the abundance of beer, wine and novelties, you'll notice Biggie Smalls almost everywhere you turn. That's right, Hawthorne Bottle Shoppe is a Biggie bar – what's not to love about that? If you don't know, now you know.
Since opening their doors a few years ago, Hawthorne has expanded seating areas inside. This now allows patrons to bask in much more of the killer ambiance that each unique area boasts at the shoppe.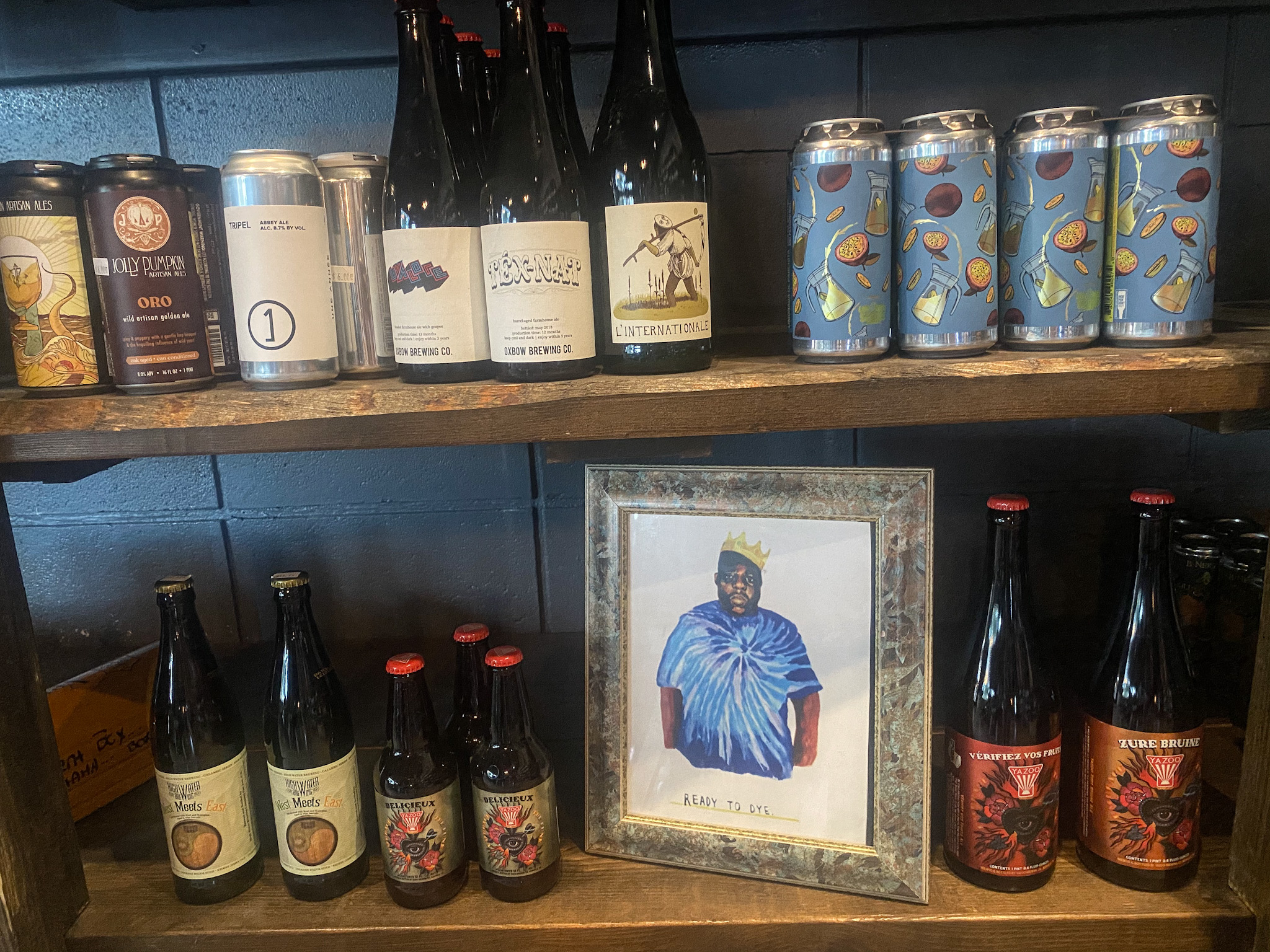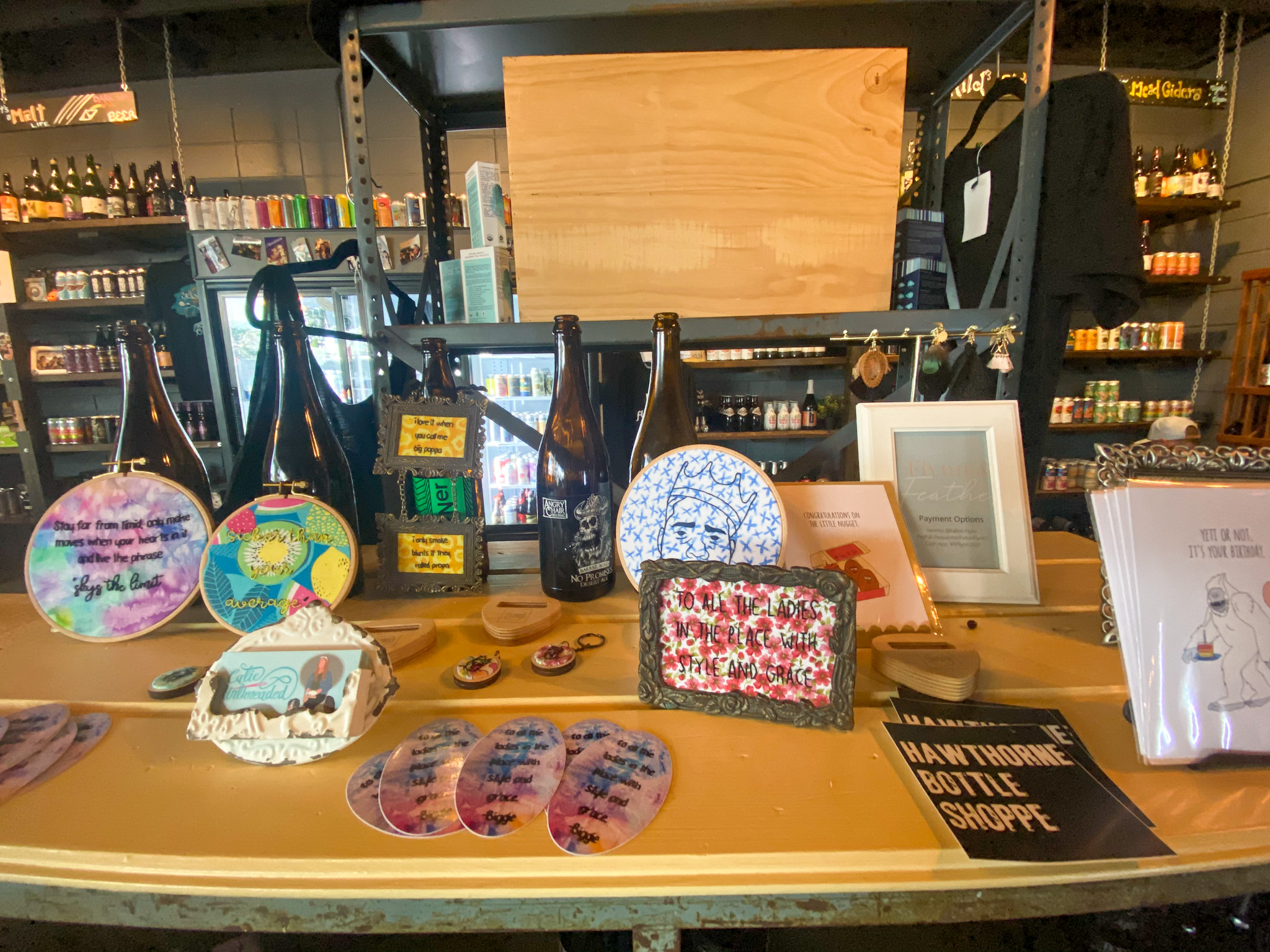 Seating inside and outside is quite ample at HBS. They have plenty of bar seating, high-tops and also intimate seating areas throughout with these magnificent mismatched chairs. The outdoor space is incredible with tons of seating, covered tables, open air, ambient lighting and more of the fabulous mismatched pieces. One of the best parts about this outdoor space? They rent it out for private events. In fact, they love throwing unique and fabulous parties!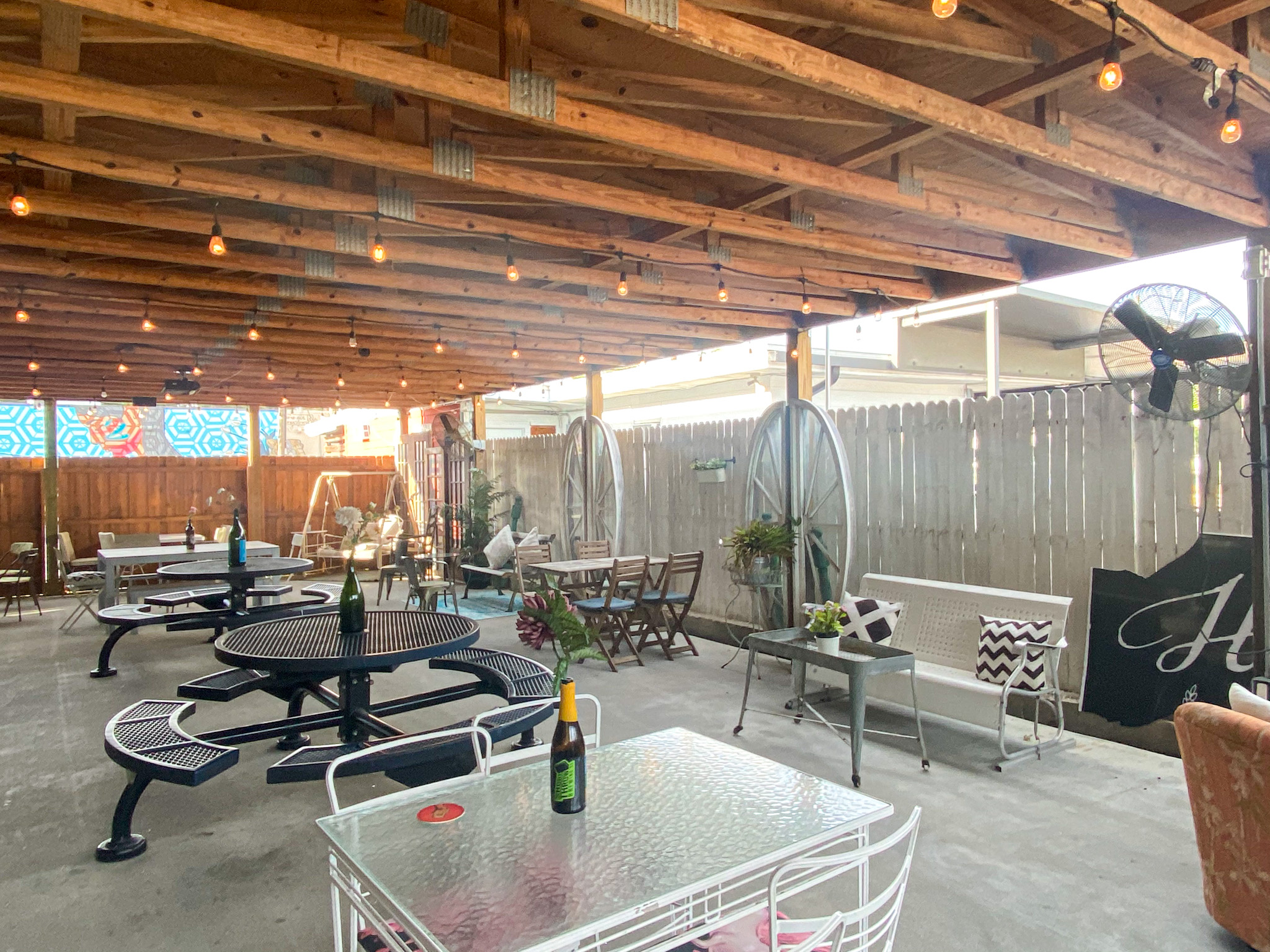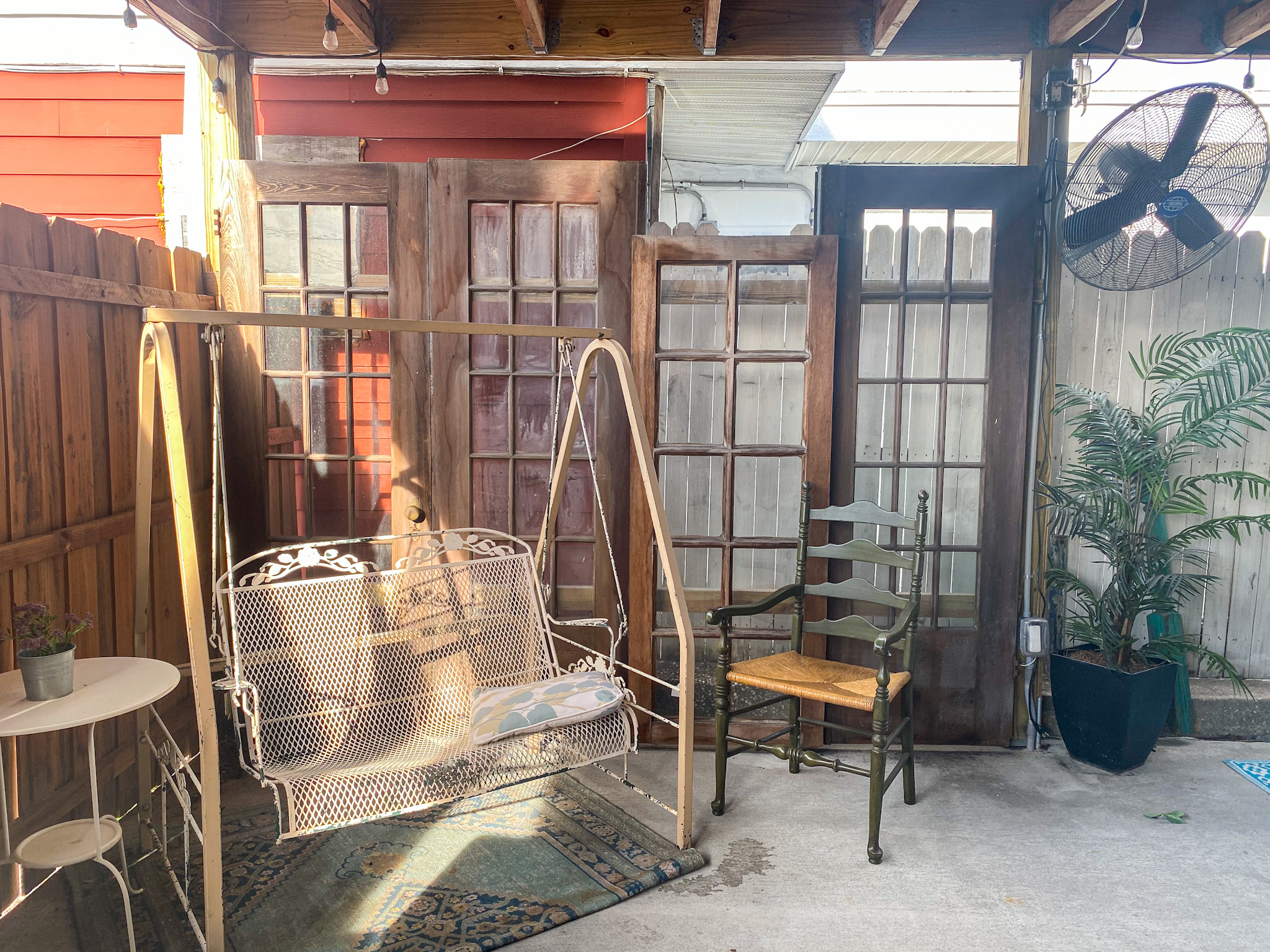 Of course, the spotlight at Hawthorne Bottle Shoppe is on their beer and wine program. Not only do they have a vast retail beer and wine section, but they also have some superb options by the glass on their menu. One of the really special things at Hawthorne is that beer and wine on their shelves can be purchased at retail value and you can enjoy them all at the shoppe for that same price! Cans start at $5.00 and bottles of wine at $13.99. For wine bottles consumed onsite, a small $4.99 corkage fee is tacked on. One impressive aspect about Hawthorne's beer program, specifically, is that they join forces with breweries to create their own beer that can only be enjoyed exclusively at HBS. Events are created around each one of these special beers. They collaborate with the breweries on the name, label, ingredients and style.
Additional events at Hawthorne include Wine Talks, a once-monthly intimate and relaxed wine educational tasting, and food and beer/wine tastings. The tastings involve teaming up with local chefs and they're something that Tegan said they really have a lot of fun with. In fact, they have one coming up on August 12th with Sara-Ellen Burnett that you should definitely check out on their Facebook page!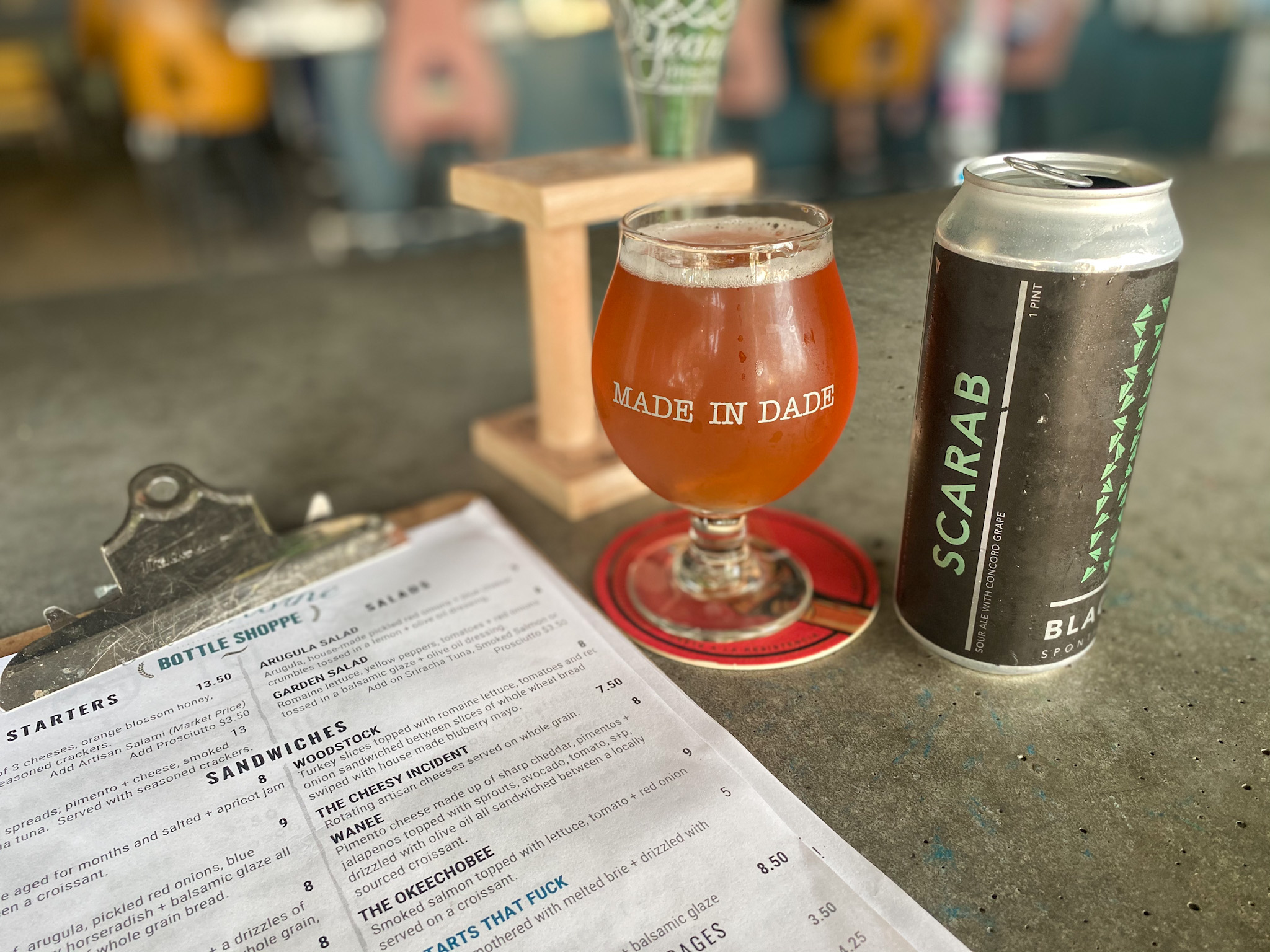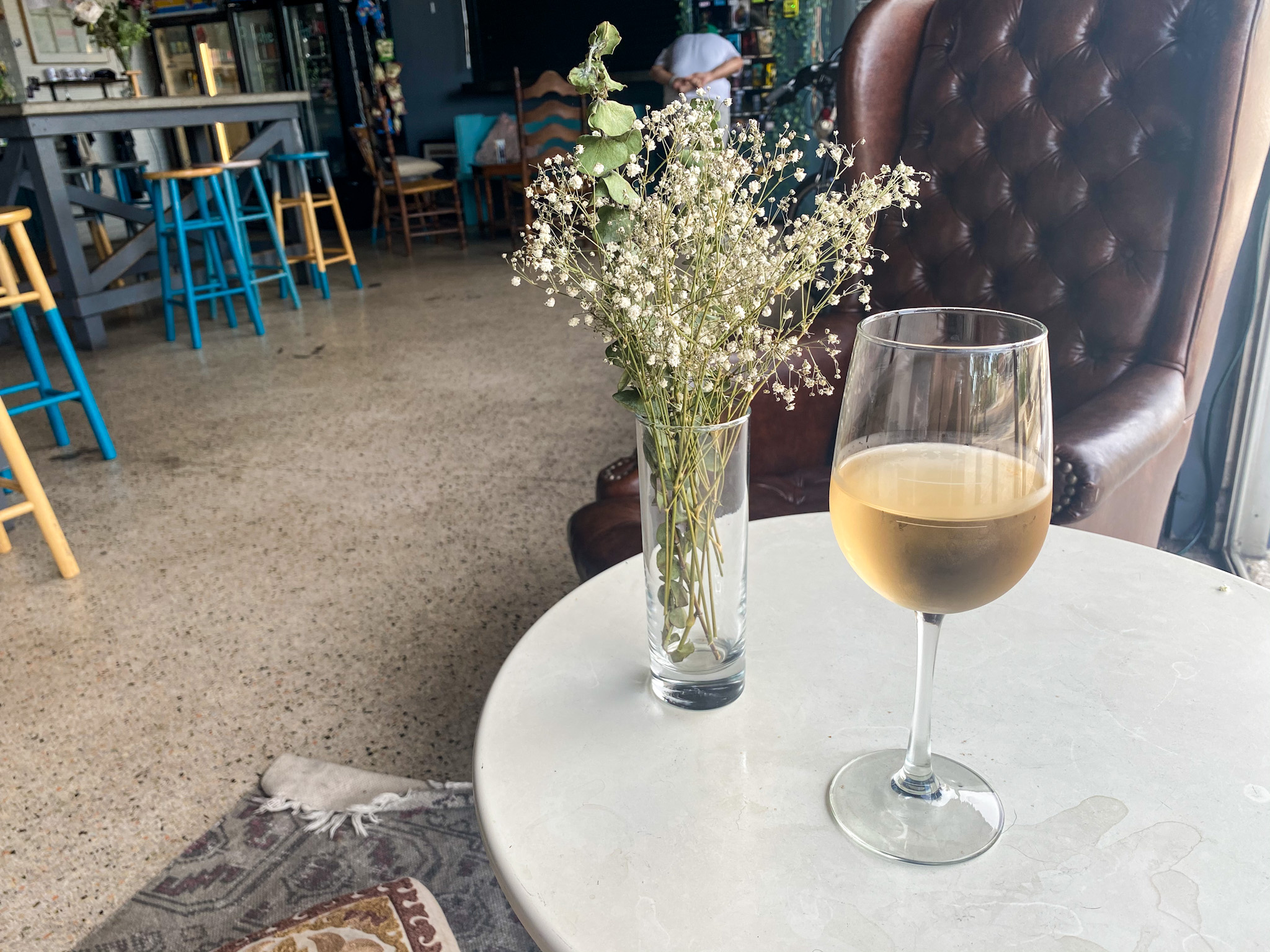 When I first glanced at Hawthorne Bottle Shoppe's menu, I quickly realized that it was everything that I'd hoped it would be: uncomplicated, intriguing, witty and mouthwatering. A couple of starters (all of which include cheese), a main focus on handhelds, some salads and sides like Lays Chips – I don't know about you, but that's enough to make me happy. Of course the sandwiches are what the clientele at HBS love most. There are eight on the menu to choose from and each sandwich is completely different than the last. We enjoyed a few and are already looking forward to eating our way through the rest of them.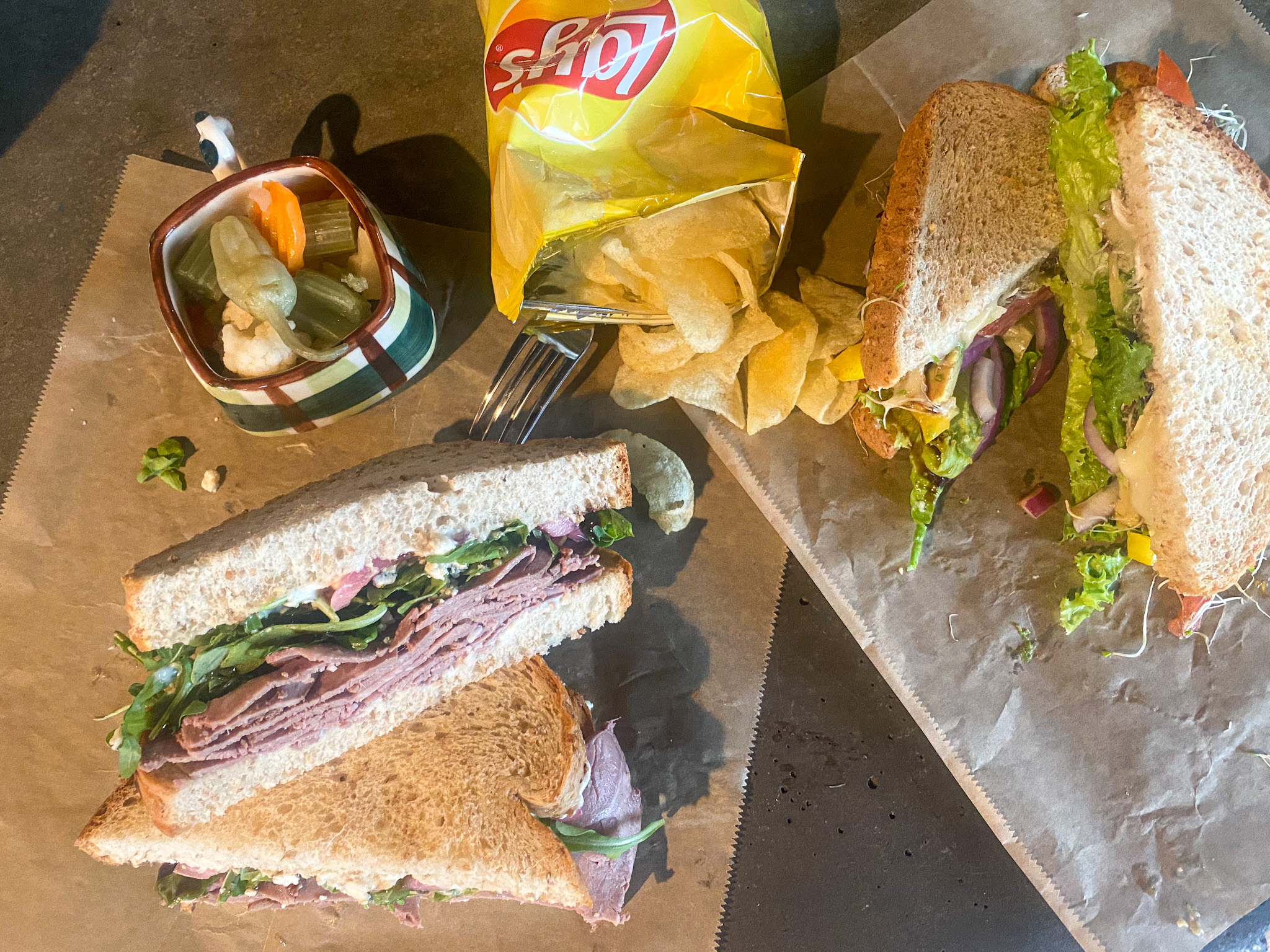 To be honest, I have not eaten much meat in the last few months – I just don't crave it quite like I used to these days.  So naturally when my eyes glanced at the Coachella, it immediately appealed to me. The sandwich is made to order and comes with your choice of avocado, sprouts, bell peppers, tomatoes, red onion, lettuce, brie, cheddar, balsamic glaze, apricot jam, blueberry mayo + olive oil.  I decided that I needed all of the veggies of course and then Tegan provided her expert advise and said that I should finish that off with some balsamic glaze, apricot jam and brie – I certainly didn't fight her on it. She also suggested that I toast my bread, which I 100% recommend.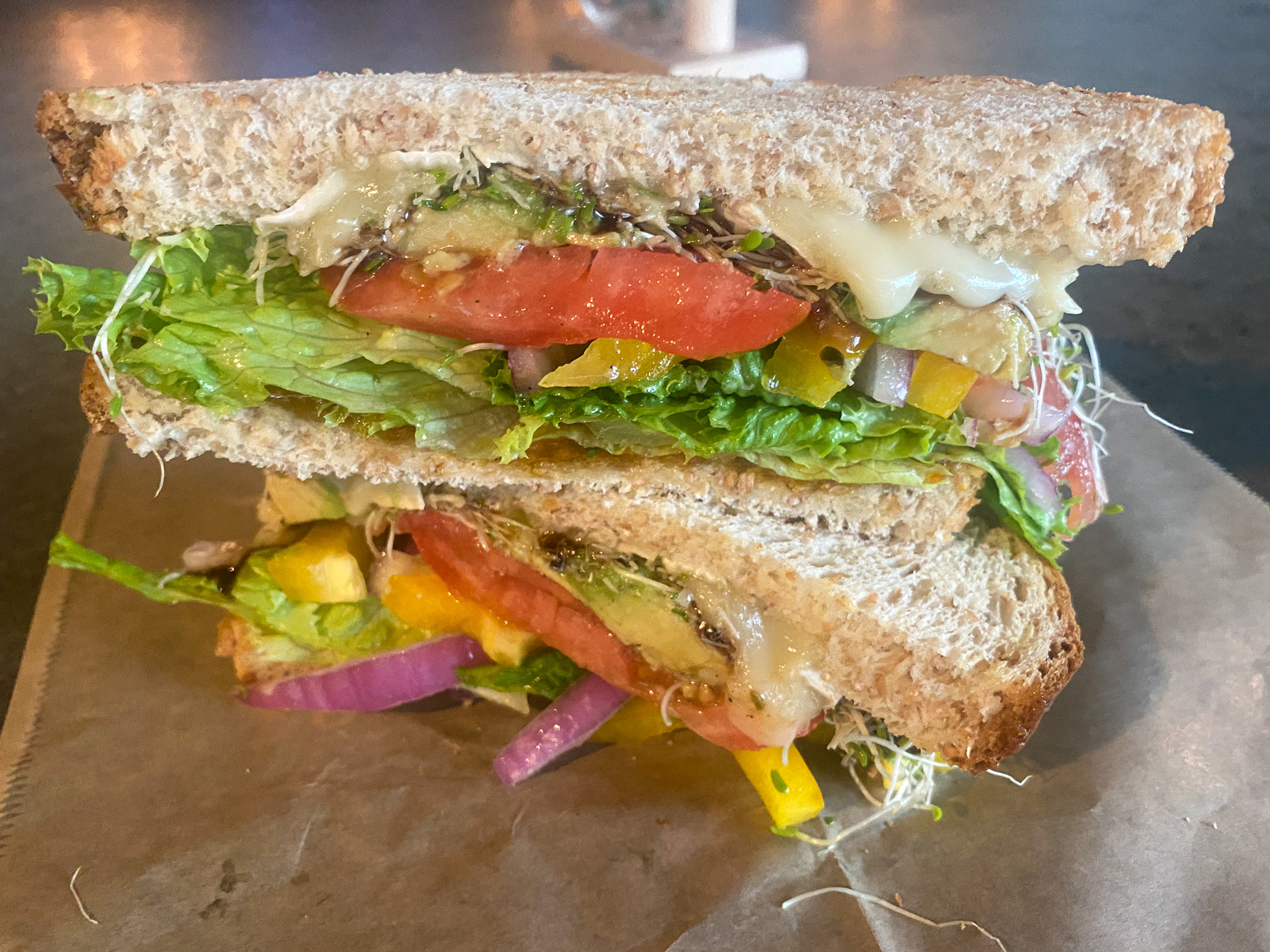 Savory, slightly sweet and ever so satisfying, this sandwich hits all of the right notes. If you're into it, you have the option to upgrade this baby with the addition of prosciutto or turkey for only $3.50.
If you're into Thanksgiving, you'll be into this stack. Meet, The Woodstock. Turkey slices topped with romaine lettuce, tomatoes and red onion, sandwiched between two pieces of whole wheat bread with house made blueberry mayo. Tegan said that this combination was created to be a play on different components enjoyed on Thanksgiving, with the blueberry mayo standing in for the traditional cranberries/cranberry sauce. This sandwich 100% just works, with the standout for me being the blueberry mayo. It adds the touch of sweetness that this otherwise savory-forward sandwich craves. This blueberry mayo is so good, that I'd more than likely slather it on most anything.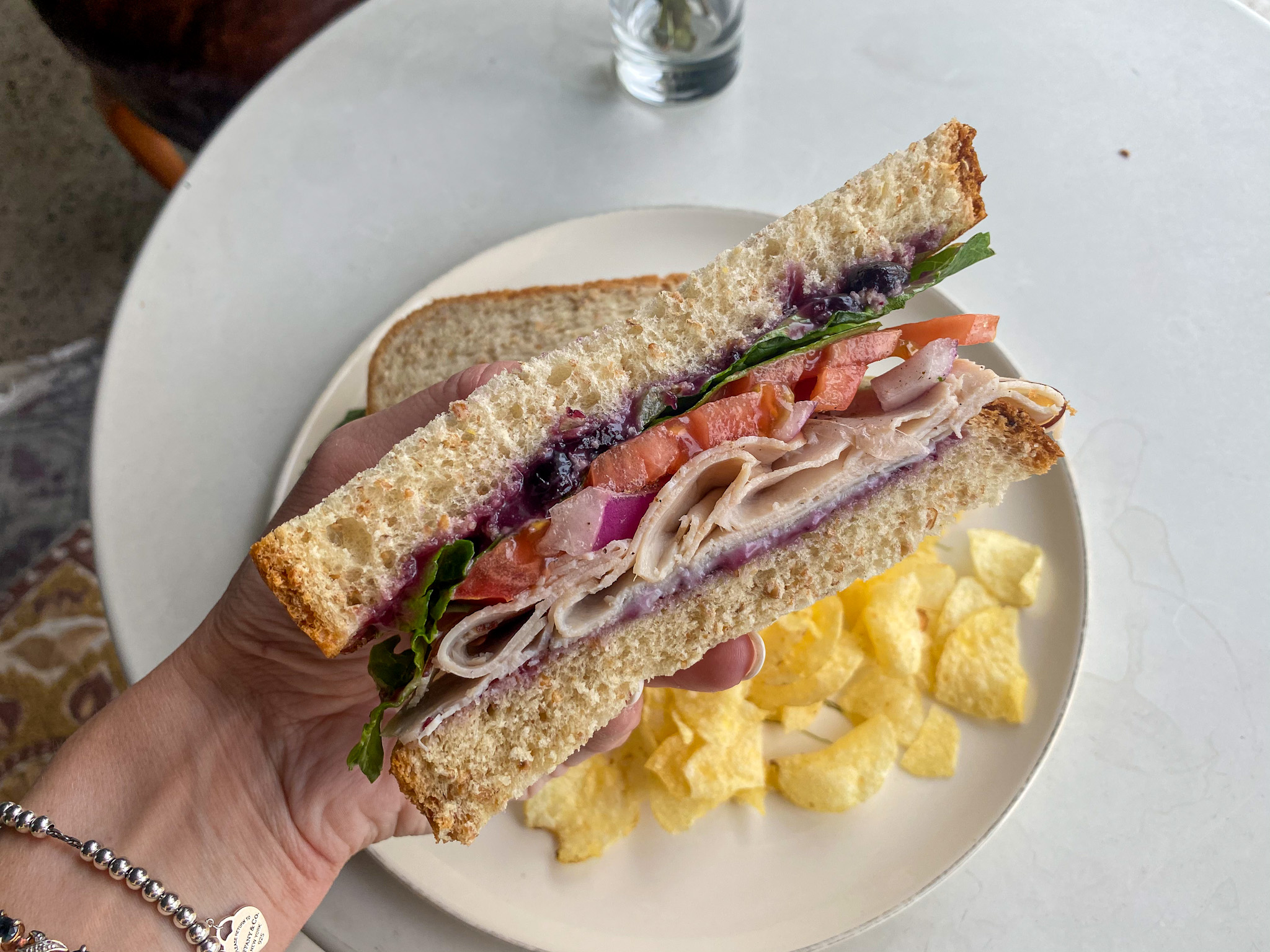 The Burning Man sandwich is the most popular handheld on the menu at Hawthorne Bottle Shoppe. Layered with roast beef, arugula, pickled red onions, blue cheese crumbles, creamy horseradish and balsamic glaze between two slices of whole wheat bread. All of the ingredient gleam through in this act, with a highlight on the aspects of salt, fat, acid and heat for the idyllic balance. Snag a bag of Lays Originals to enjoy along side for ultimate gratification.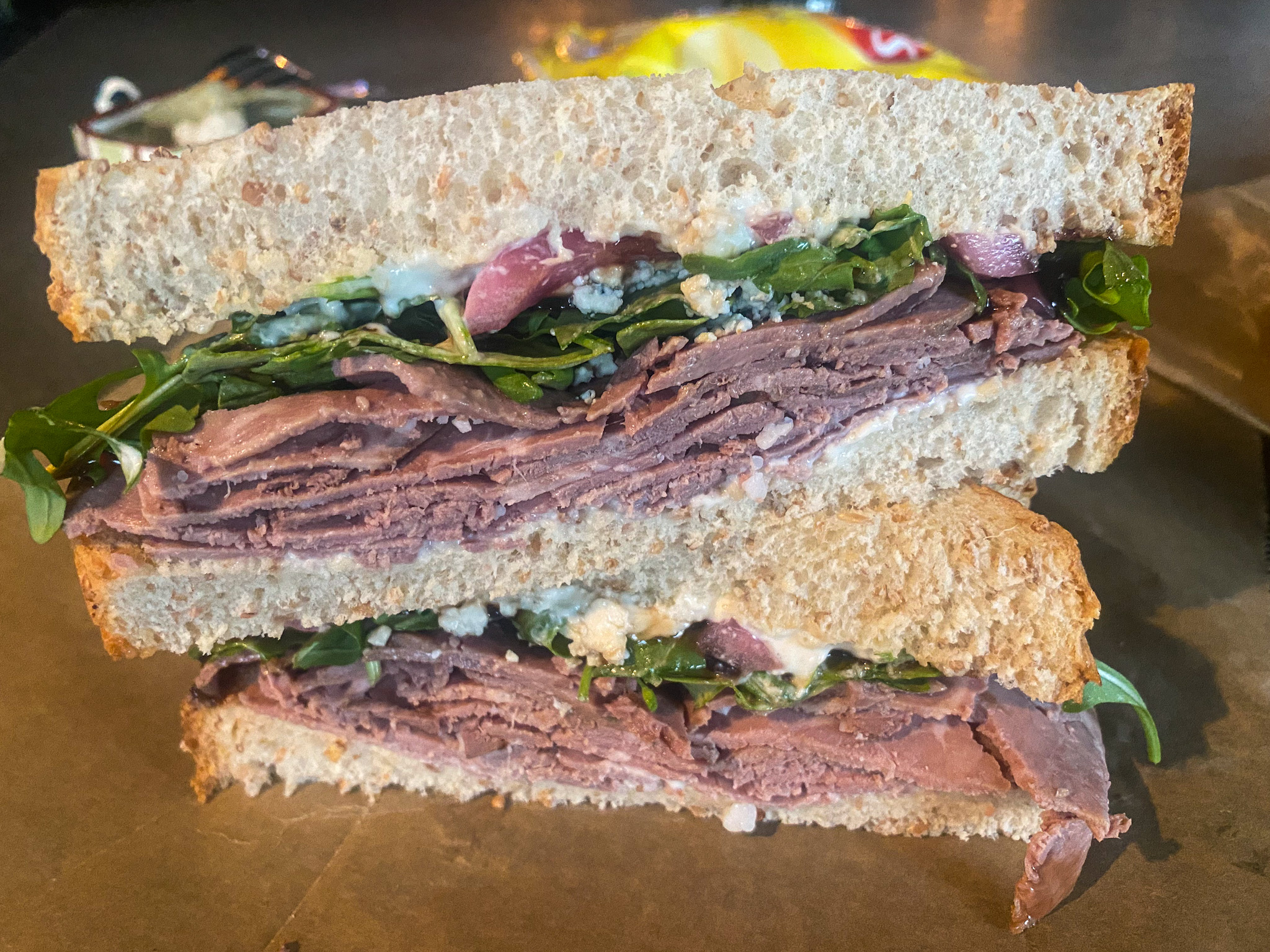 Think toasted pop tarts from your childhood…but grown up and that much better. That's right, the crew at Hawthorne ramped up the ever-popular grab-and-go breakfast classic with the addition of melted brie cheese and a healthy drizzle of honey. A number of the classic pop tart flavors are available to choose from too, like strawberry, blueberry and brown sugar cinnamon. The pop tarts are served as a pair, which makes them perfect for sharing. This is a MUST try! It's a fan favorite at HBS for a reason.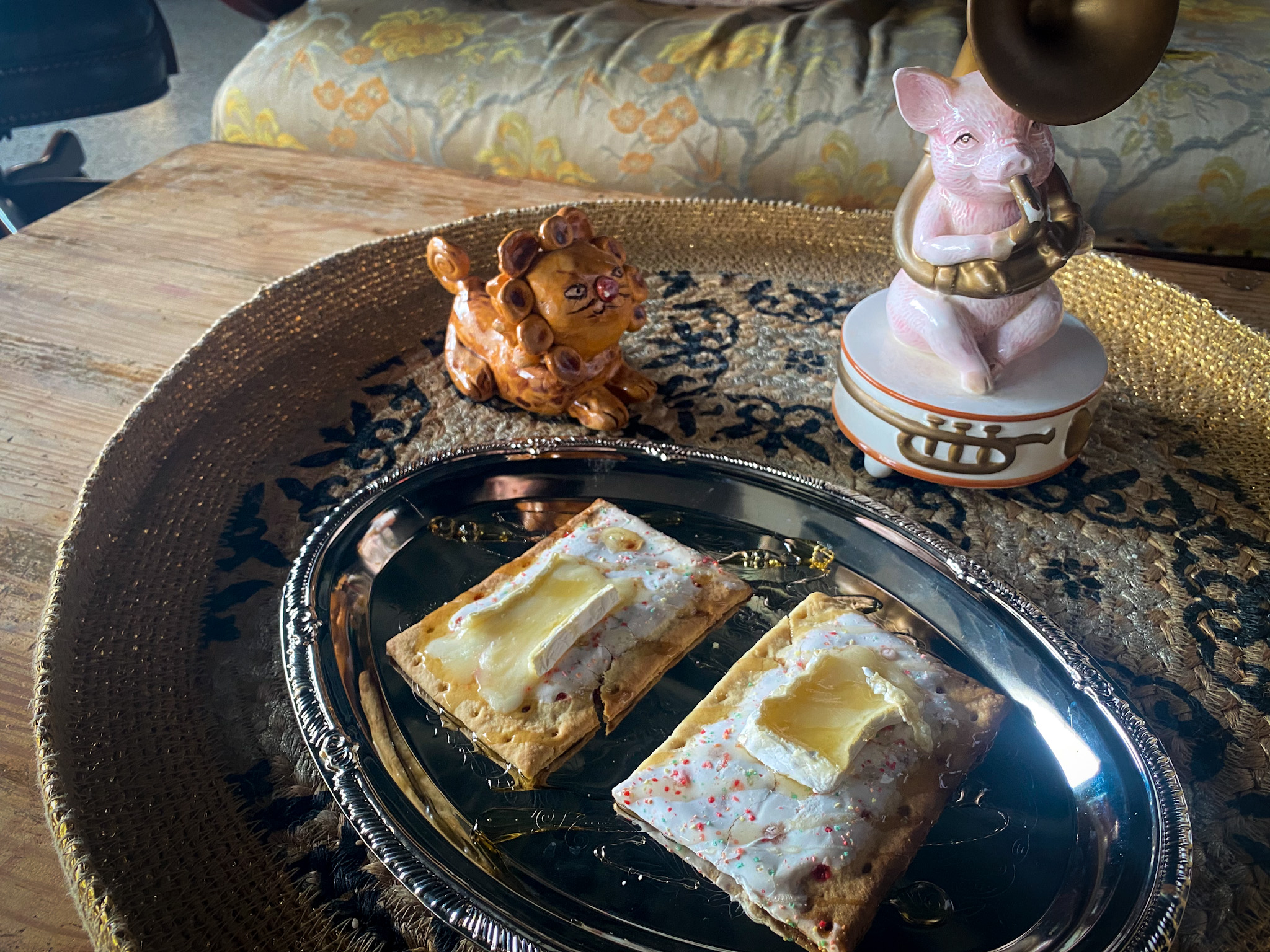 When it comes to the cheeseboard at Hawthorne, there's nothing fussy or complicated – just some really good cheese with simple accoutrements that totally hit the spot. For the cheeseboard below, Tegan used Smoked Gouda, Sharp Irish White Cheddar, Cranberry Stilton, Prosciutto, local honey, crackers and pickled veggies. This little snack situation pairs quite well with a wine flight and good conversation, if you ask me.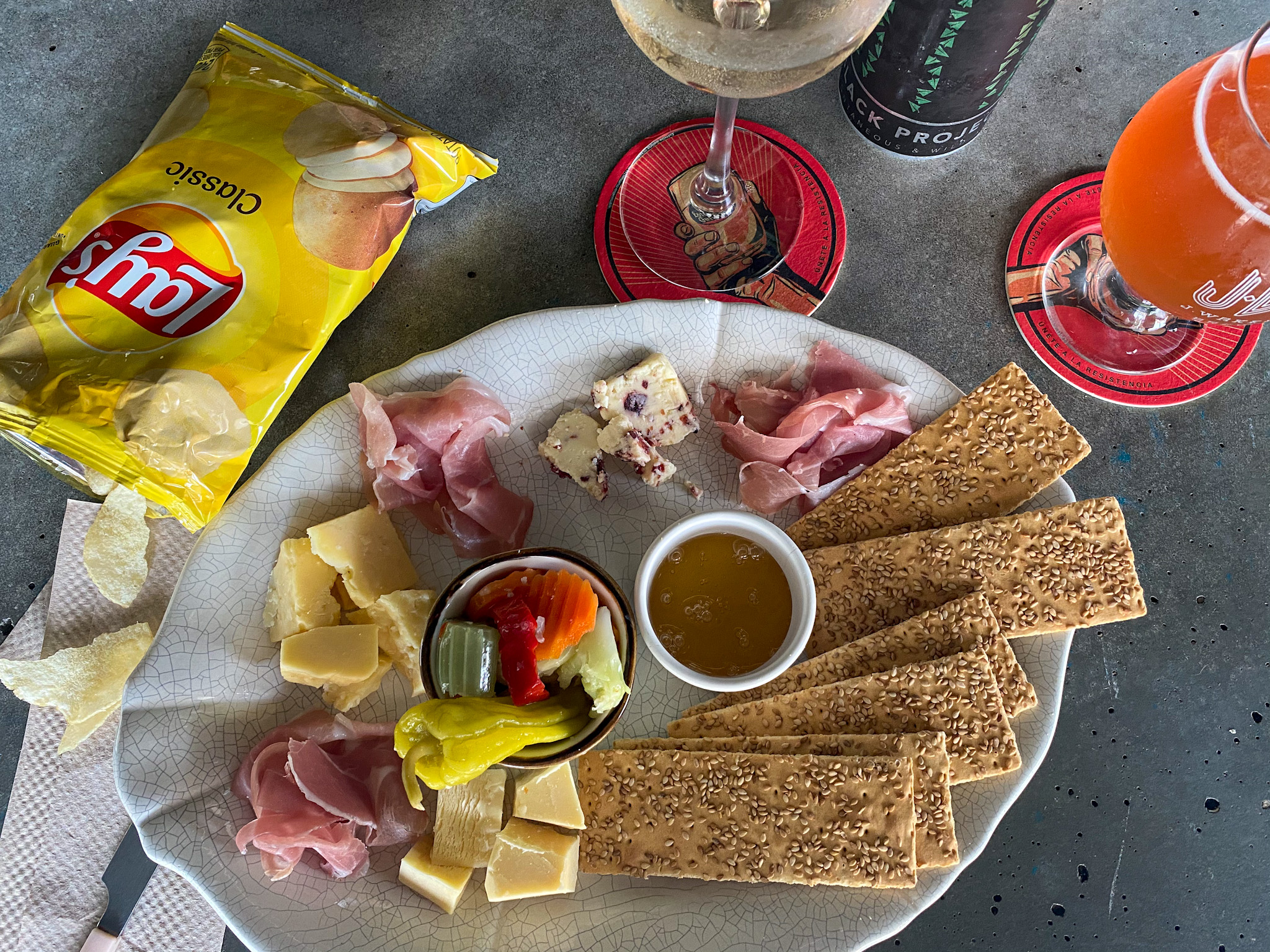 Speaking of wine flights, you already know that I had to have one. Hawthorne offers a flight comprised of sparkling, white, rose and red, or, you have the freedom to create your own lineup of juice.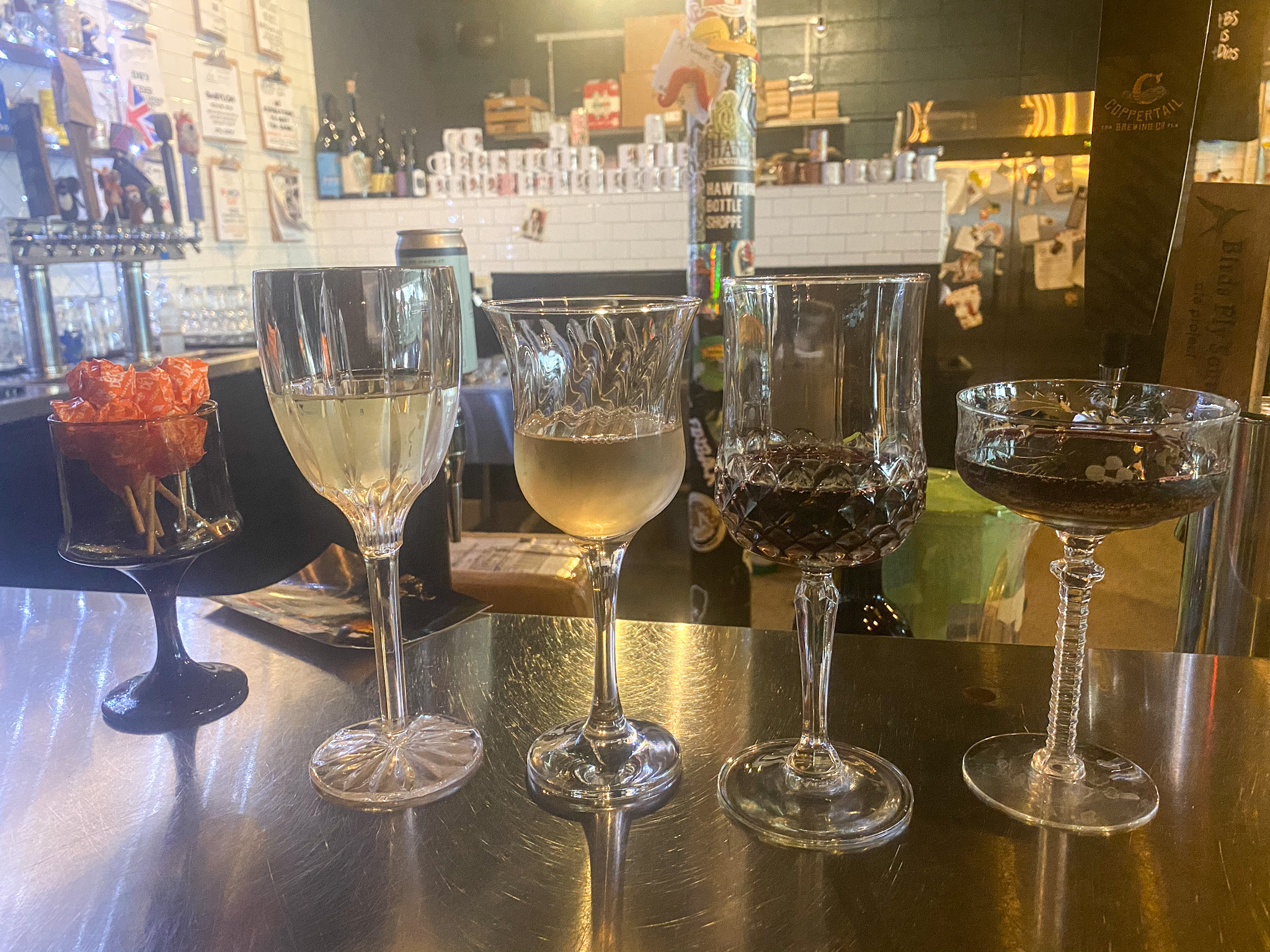 In addition to the cheeseboard, you'll also find The Lineup in the starters section. It's a trio of delicious house made spreads served with seasoned crackers. The spreads include pimento cheese, smoked salmon and sriracha tuna and they are everything you could ever want while tipping back a few libations.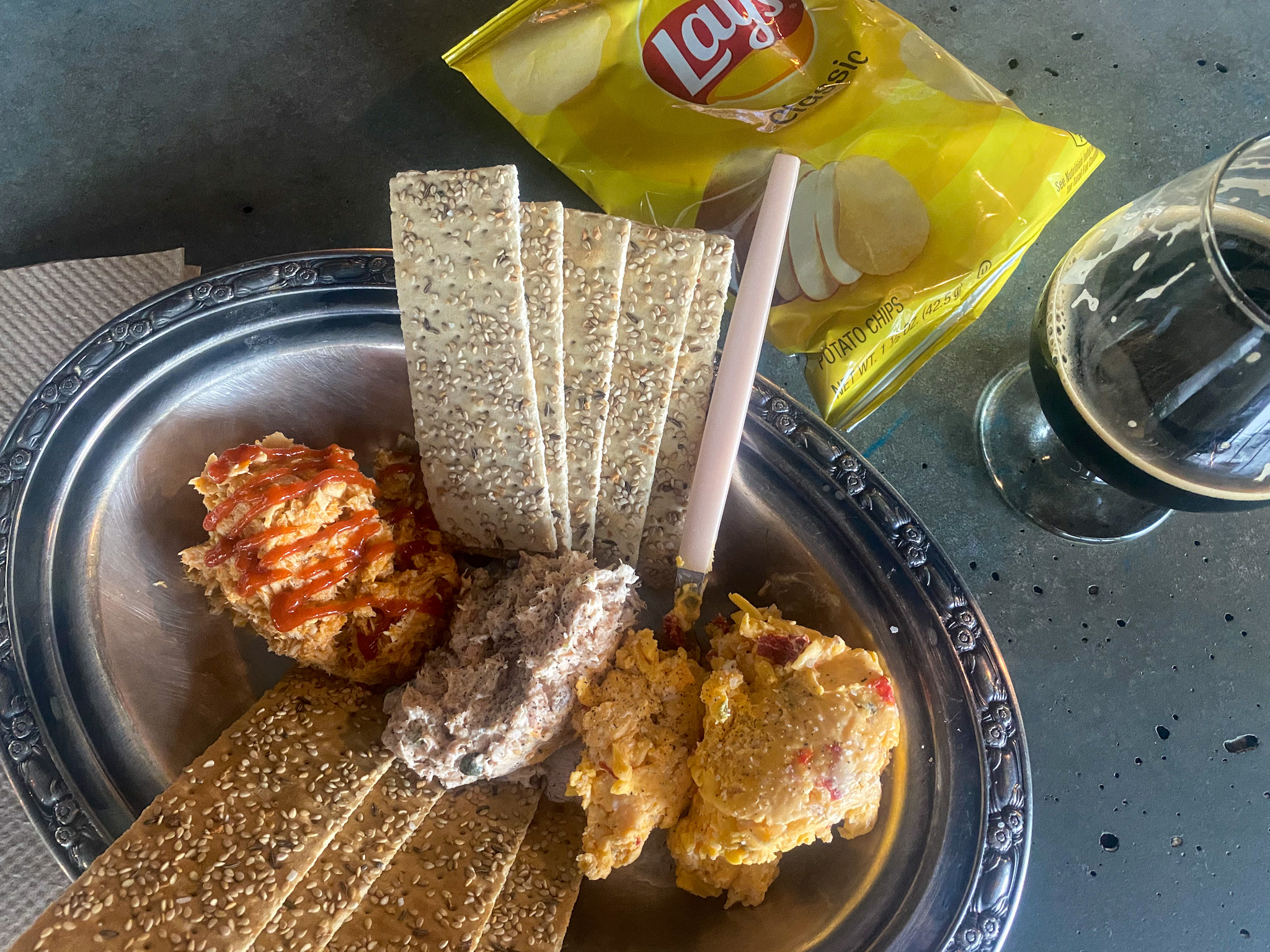 Everything at Hawthorne is a vibe – it's the type of watering hole that you'll find yourself frequenting often. Whether you're in need of a satisfying sando, a bubbly beverage or a chill conversation with a friendly face, HBS has your back.
Hawthorne Bottle Shoppe is a neighborhood, social establishment and market dedicated to the education and enjoyment of craft beer, wine and locally sourced deli offerings. More than a market, HBS offers over 300 beers and 75 wines from around the world, eclectic knick knacks and an atmosphere that fosters neighborhood camaraderie. Drink in, take away or both; that's the easy decision.
DISCLAIMER: Kevin, Lori, Abby, Haley, & Lindsey do not dine anonymously (this would be impossible) and we sometimes get free food (though never expected). However, we dine with the locals and we support our own. You will always get honesty in a respectful manner. We do not include any large national or regional chains in our ratings and reviews. We focus on independent locally owned eateries exclusively.

PLEASE NOTE: Reviews reflect a certain moment in time. Some restaurants stay extremely consistent over many years, and some change for the better or worse. Some things that may change are: chefs, recipes, food suppliers, ingredients, philosophies, ownership, etc. We always hope that you have the same good, or great experience we had.
More Foodies News, Reviews & Recipes