NuMex Chile Keeps Getting Better and Better
NuMex Chile Keeps Getting Better and Better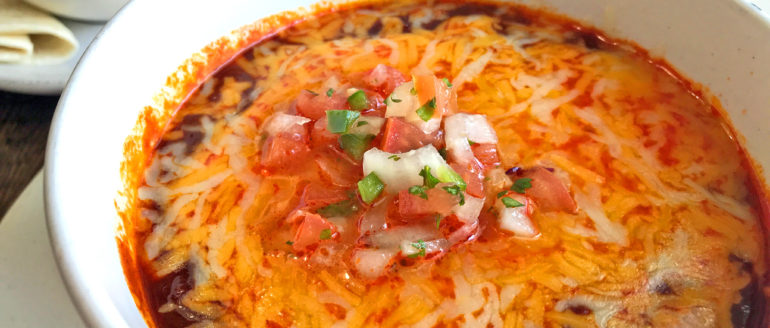 When we first told you about NuMex Chile in the Grand Central District of St. Pete, we talked about traditional New Mexican fare (as in the US state), and there were no tacos or burritos.
There are still traditional New Mexican dishes using the famous Hatch Chiles, but there are also tacos, burritos and a few other new items. When every other customer that walks in expects tacos and burritos—you make tacos and burritos.
That said, we didn't try the tacos, burritos, quesadilla, or enchiladas yet—I love that I always have a reason to go back as I love this place—but I want to eat more of the amazing New Mexican cuisine that I haven't had yet.
Chef Bill Harrison deserves a shoutout for coming up with some succulent eats. Bill has held key chef positions around country, and has played key rolls in developing menus in St. Pete restaurants such as Café Alma and Pacific Wave. He is a classically trained chef.
For this review, Lori and I made two visits in one week on February 1st and the 6th.
For our visit on the 1st,  we were feeling cheesy, so we started with the Green Chile con Queso & Chips. The cheese is quite mild, but the green chile gives it a nice little kick. The chile salsa is layered on top for a nice presentation, but you should mix it in before you start dipping.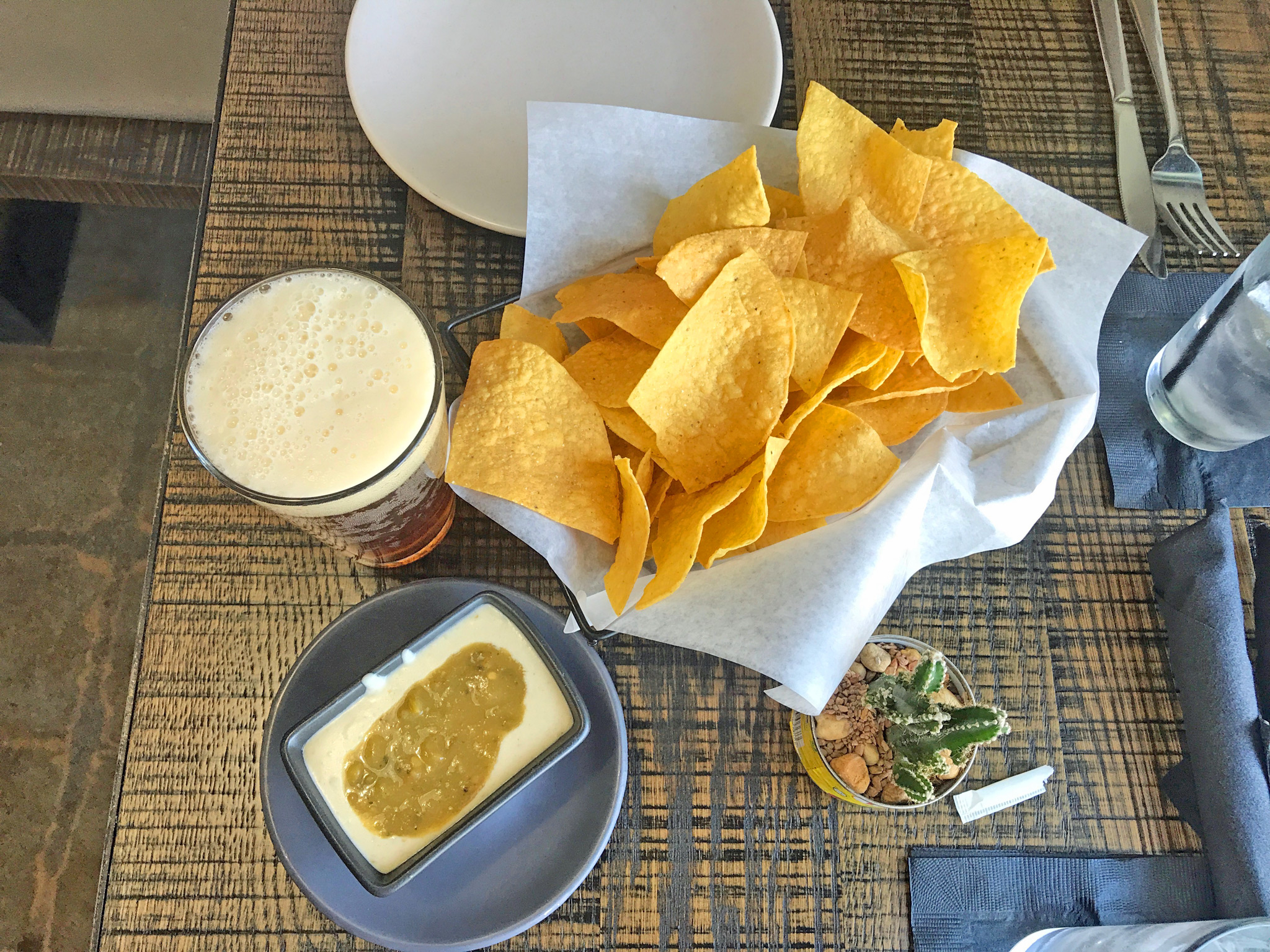 On this day there were two specials that we couldn't resist. I had the Lamb Barbacoa and Lori had the Gumbo. I loved them both, but we switched before we were halfway through as Lori liked the Barbacoa much more than the Gumbo.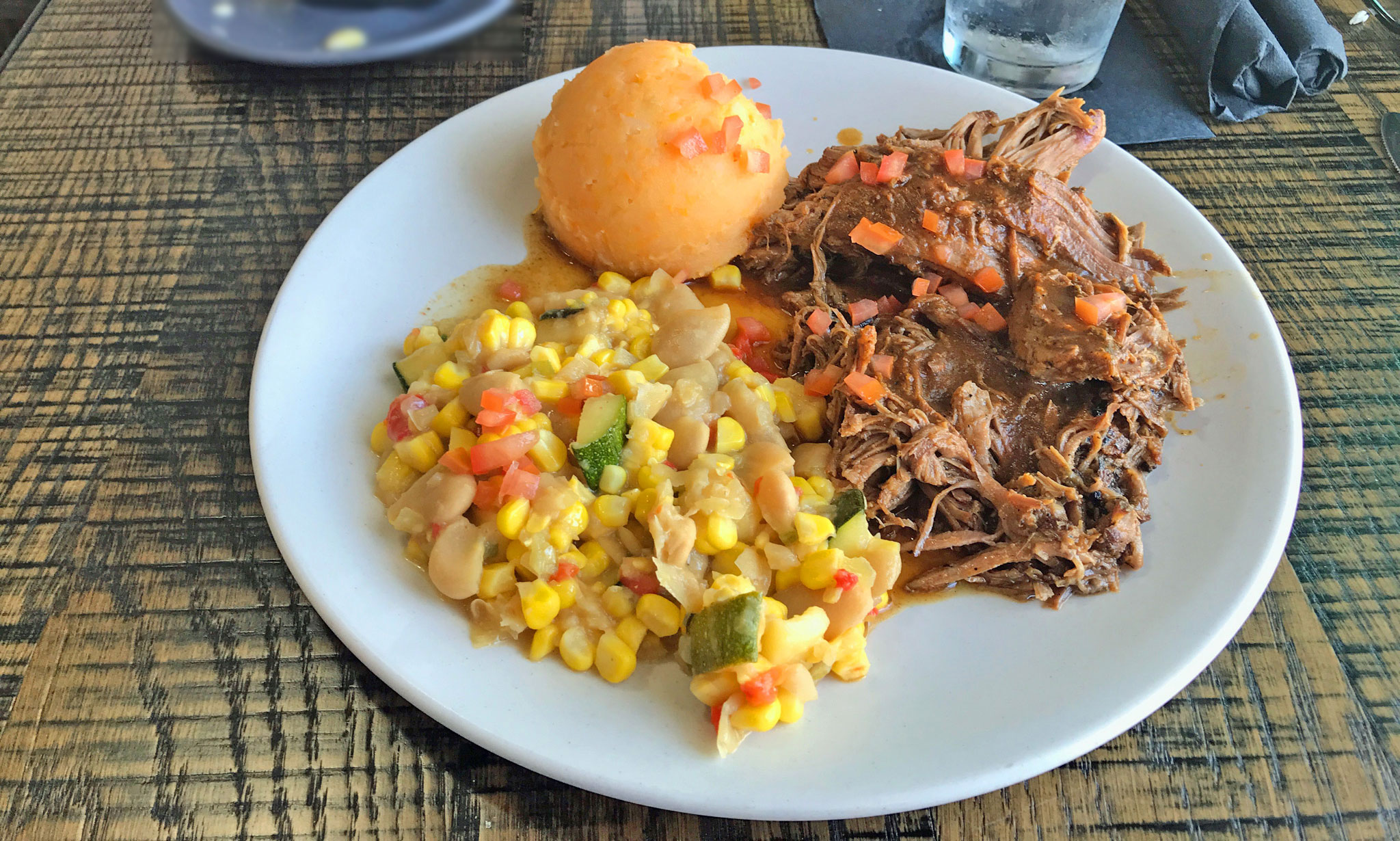 The barbacoa is hearty and bursting with flavor and just a little bit spicy. The slow-cooked meat is moist, tender, and well-seasoned. It is red chile rubbed, and slow roasted.
The mashed potatoes were a creative mix of sweet and white Idaho potatoes with only butter, salt, and milk added, as they should be. They are prepared in a food mill for a nice texture that is not too creamy, but not too lumpy. I'm not usually a fan of sweet potatoes, but when you mix them with white, everything is alright.
The Southwestern Succotash was quite impressive. It consists of corn, lima beans, and zucchini.  Looking closely, you can tell that the corn was cut fresh off the cob as some pieces were still attached to each other. See the photo below.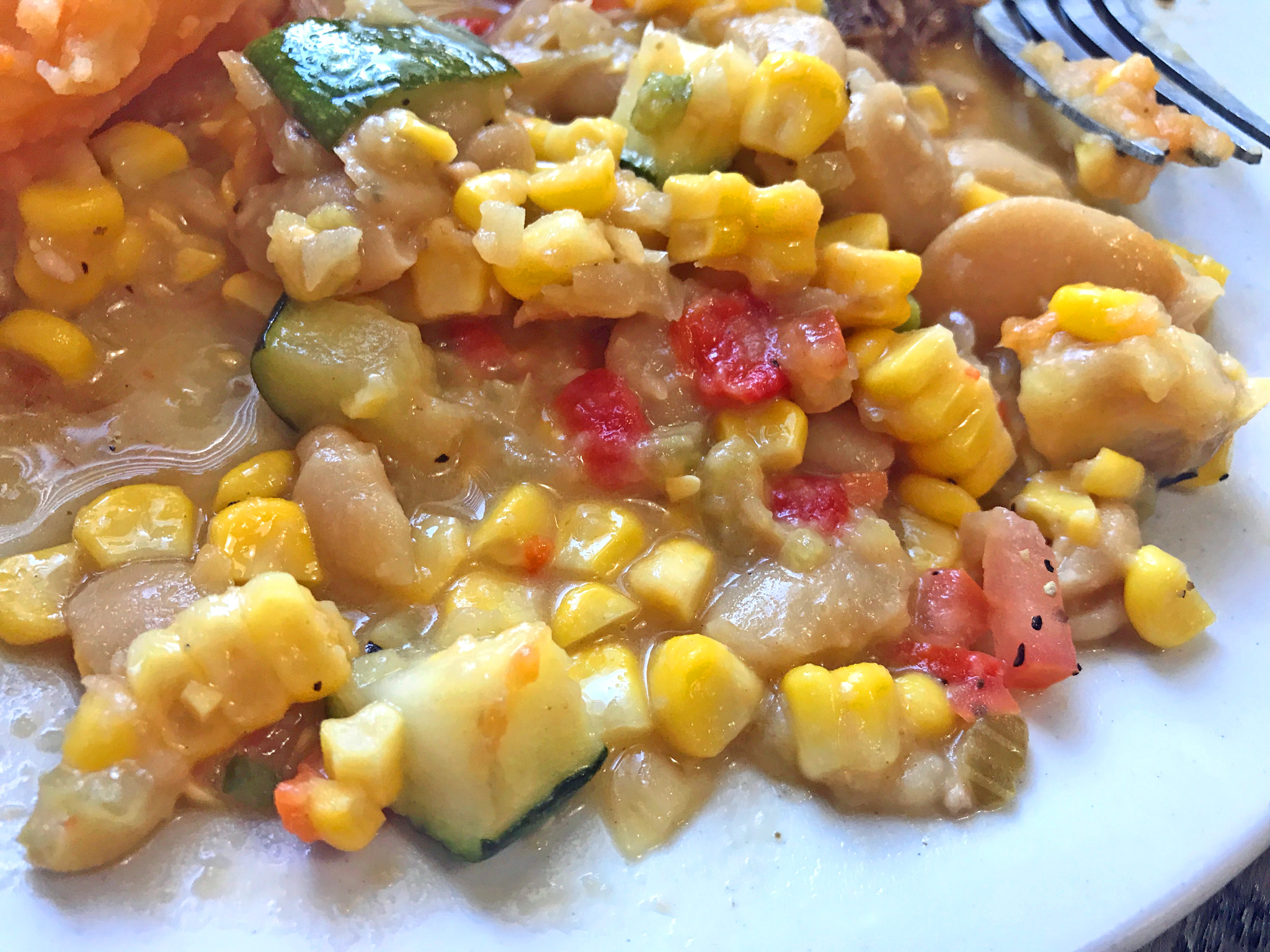 The gumbo was rich, earthy, spicy, and smoky. Lori thought it was too smoky, which is why we switched dishes. I thought it was scrumptious. Gumbo is supposed to be smoky, by the way.
It was a traditional New Orleans Gumbo featuring the traditional Indian fry bread.
The crawfish and shrimp meat were tender and extremely tasty. The andouille sausage was sliced nice and thin, and the fresh jalapeños added a pleasant sting. As you'd expect, there was also the silky, vegetal okra.
I love NuMex's Mexican-style rice, which is fresh, flavorful and fiery—and way better than having white rice in your gumbo.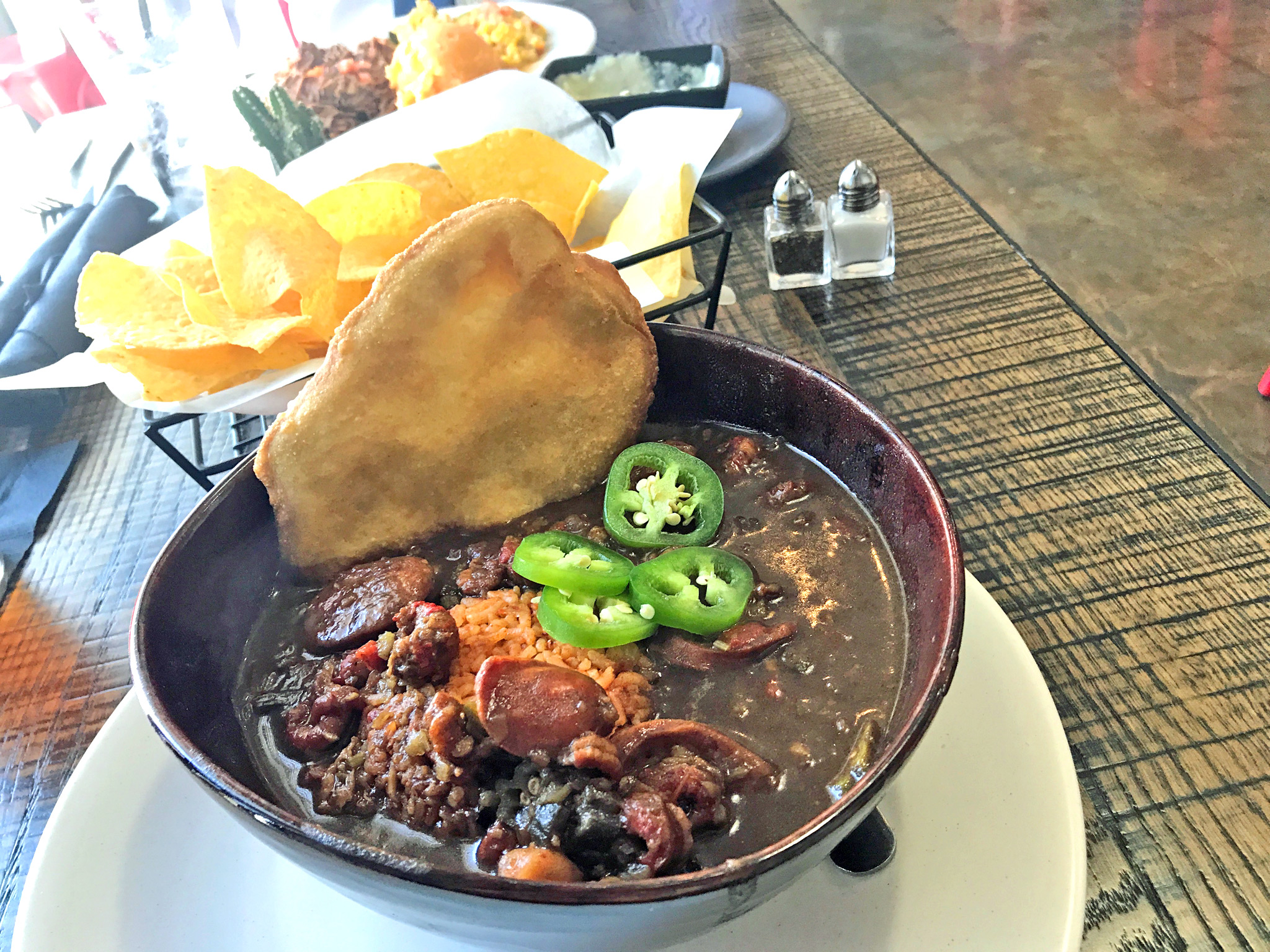 Both the Barbacoa and the Gumbo were generous portions that we brought home for leftovers for lunch the next day. (Lori wouldn't give me back any of my barbacoa.) 😡
On the 6th, we got to try some interesting wines. We both love Chilean wine, but we've never had Chile Wine, as in Hatch Chiles. They were surprisingly good, and a natural accompaniment to the food.
The white is a cross between a Moscato and Chardonnay. It has a green pepper aroma and a little bit of a spicy kick. The red is similar to a ruby port with a little bit of a pepper bite. These are both sweet wines, so if you're not a fan of sweet wine, these are not for you. Lori wasn't fond of them, but I liked them.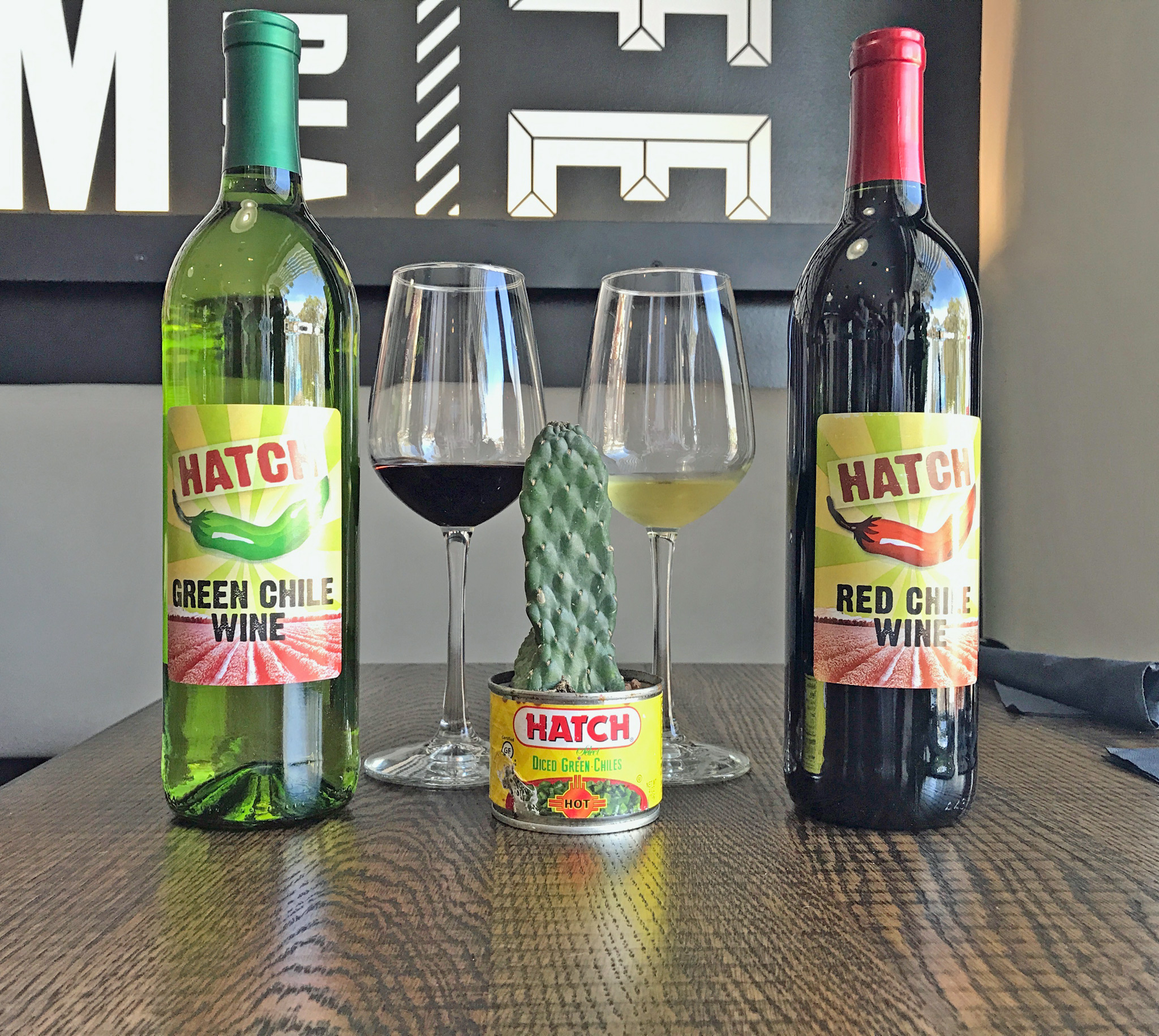 Lori couldn't resist ordering her favorite from the first time we went back in November, which was the Machaca. It is local grass fed beef marinated in green chile, onions, garlic, tomato and beef broth, served with a choice of corn or flour tortillas and with pinto beans and posole. You can read more about it in our first NuMex Review.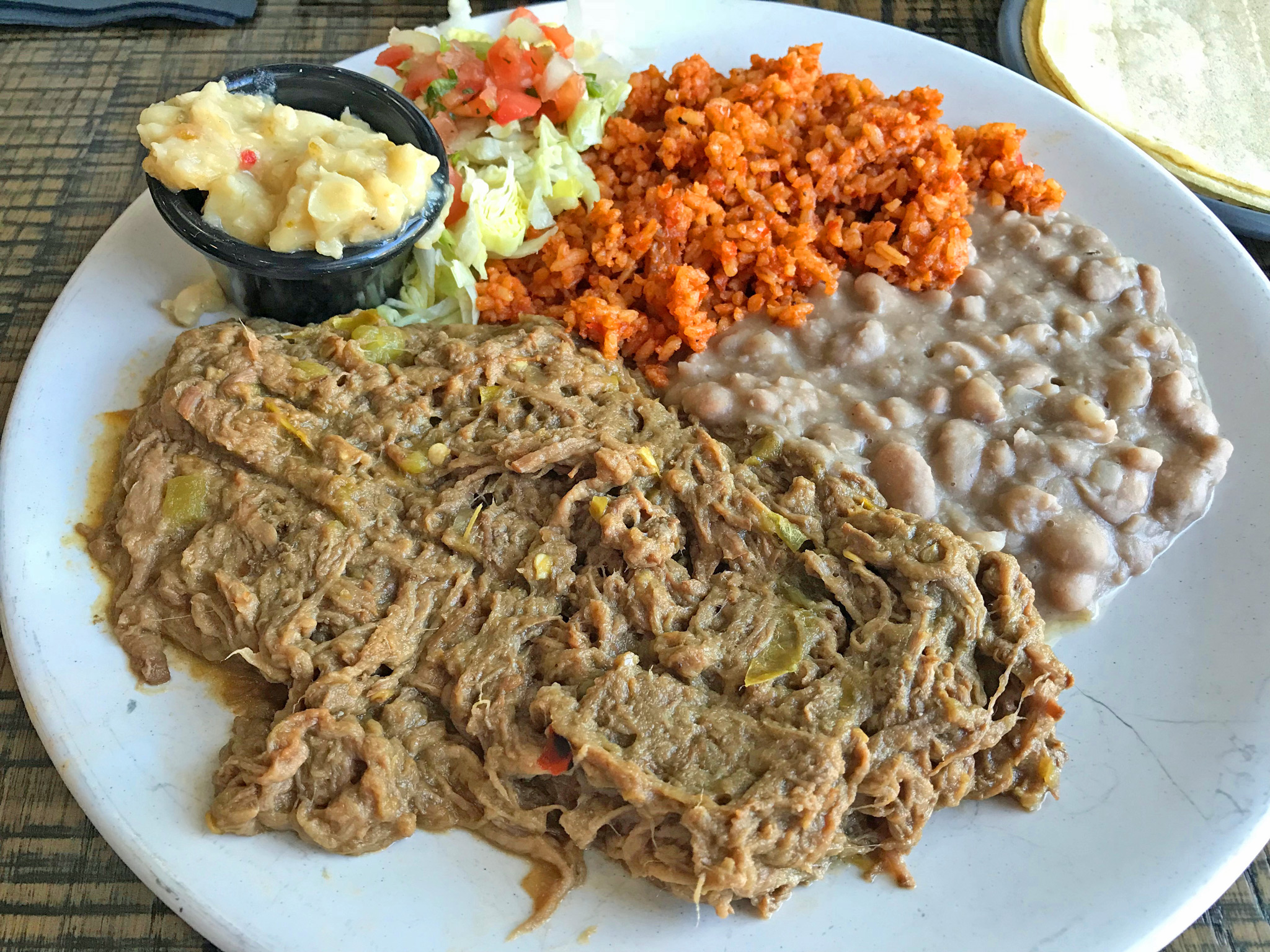 I had a different idea.
I wanted to eat and report on all three different items in the soup section of the menu. I had a cup each of the two stews, and a bowl of chile.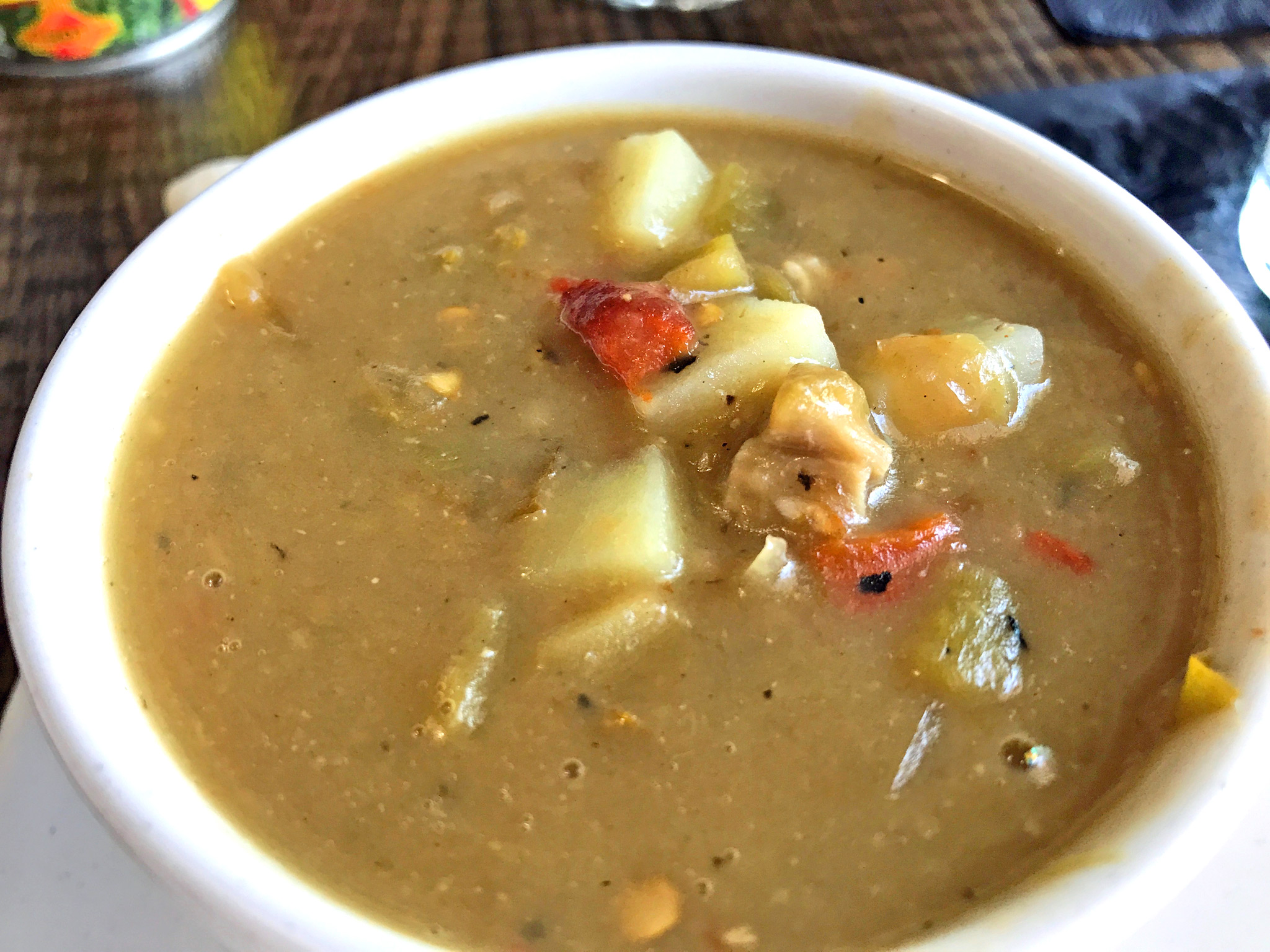 Green Chile Stew + Pork with Hearty Potatoes, Green Chile, Onion, Garlic And Roasted Peppers. It has a medium heat with a little bit of smokiness. The potato chunks are pleasantly firm while the pork is moist and tender. This one is the tangiest of the three.
Again, the portions are quite generous, even with the cup of stew.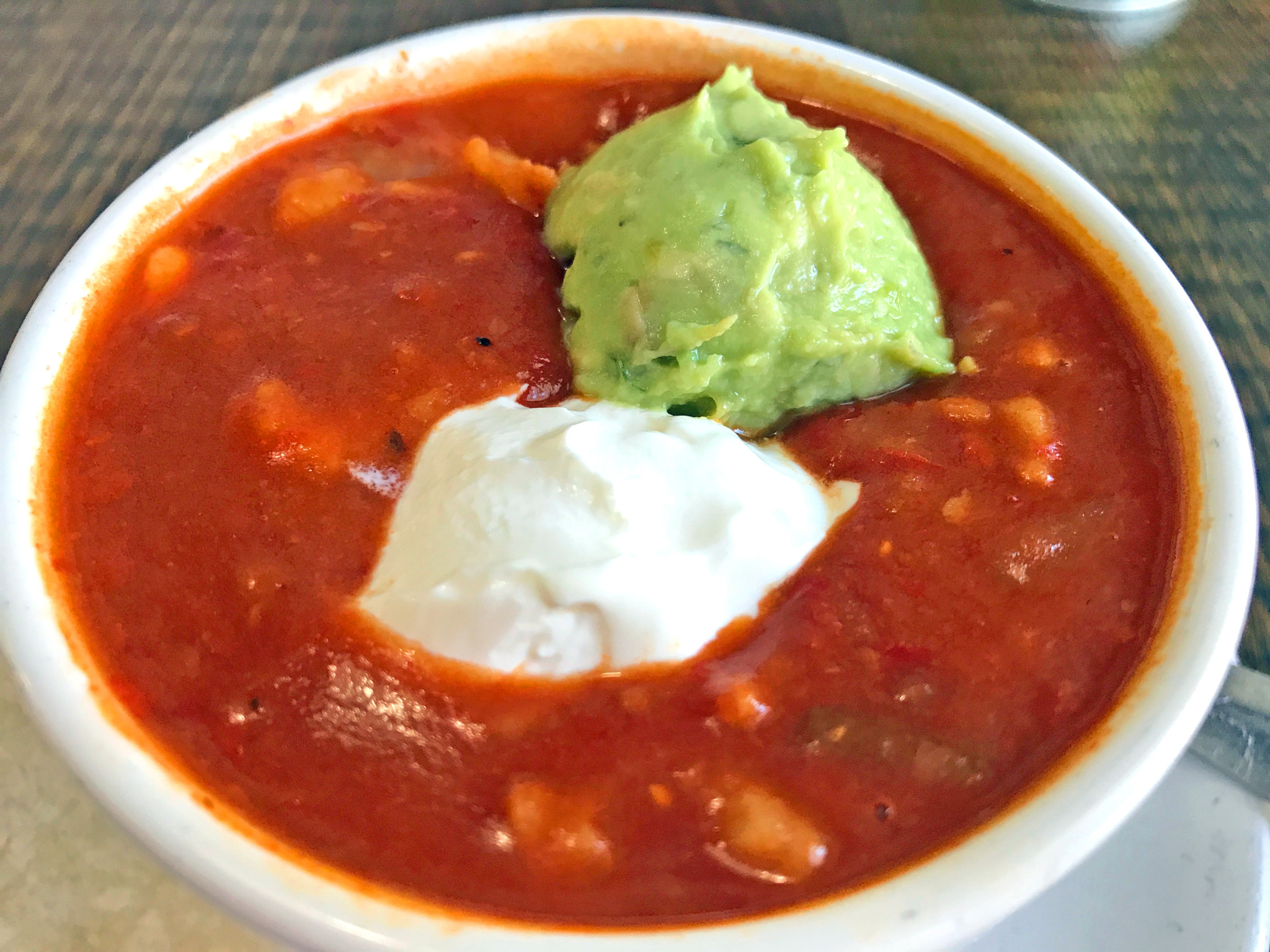 Posole Stew with Posole, Onion, Red Chile, Garlic And Roasted Peppers. You can add chicken, machaca, or carne for an up-charge, but I went sans meat on this one. The posole is rich, spicy, and has that good red chile flavor to it. This is the spiciest of the three.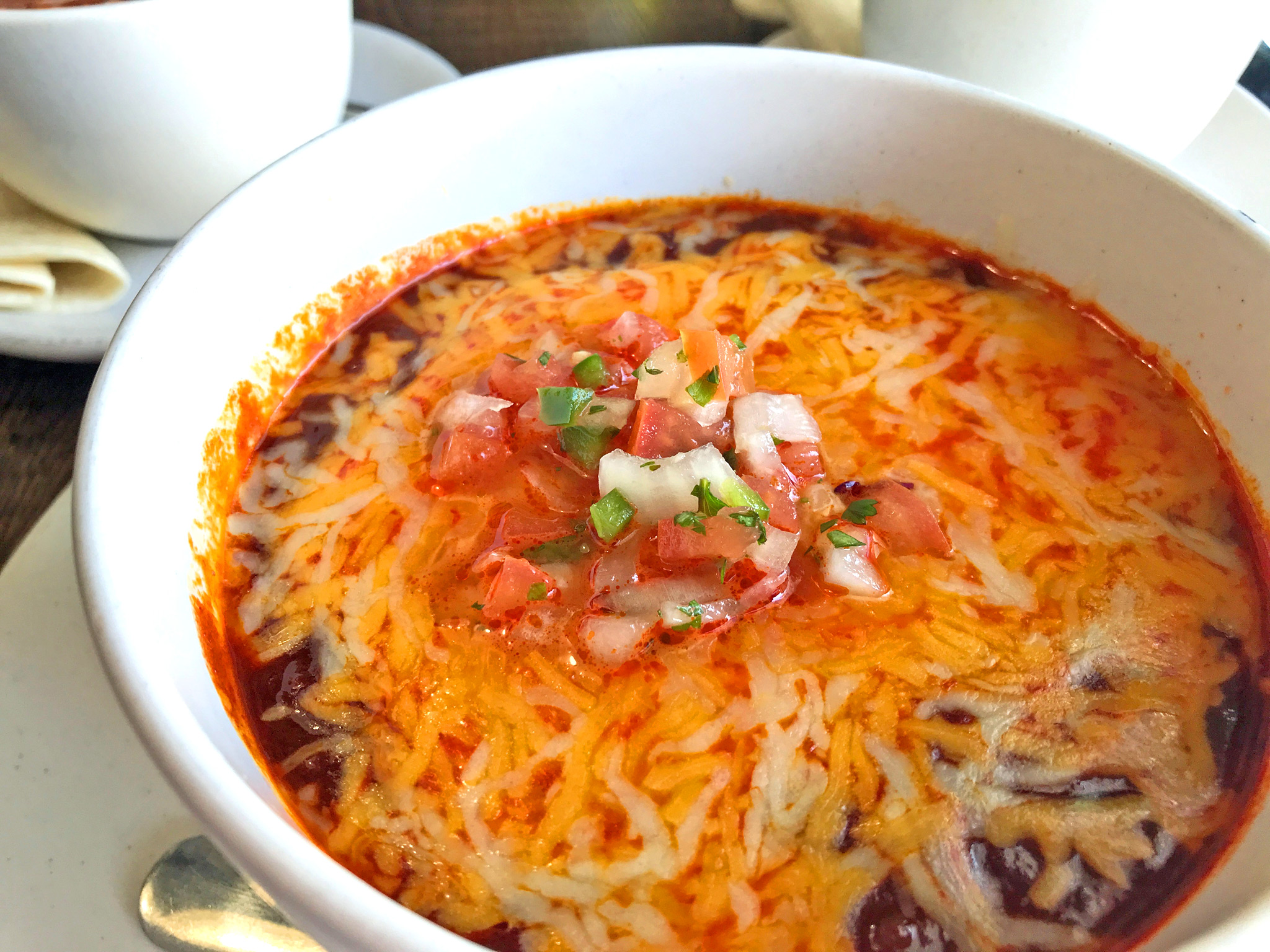 A bowl of Red Chile served with Pinto Beans and Ground Beef. You have a choice of green chile as well, and instead of beef, you can go vegetarian with Tempeh Soyrizo.
The chile is uniquely served in layers kind of like a layered taco dip. Building up form the bottom, it starts with beans, then ground beef, and chile sauce, topped with cheese. I mixed it all together.
This one is the most mild of the three, but still has some fire, and is so packed with flavor that it is one of the best chiles I've ever had. It's a definite contender to win the Grand Central District Chili Cookoff next month.
If you haven't been yet, go check them out, and even if you have, there's new deliciousness on the menu to try. Tell them St. Pete Foodies sent you.
Traditional New Mexican and Southwestern Cuisine centered around Hatch Chiles.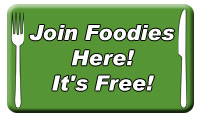 More Foodies News, Reviews & Recipes
8 Responses