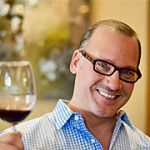 Kevin Godbee · May 3, 2021 · 6 min read
Great Wine Program & Outstanding Cuisine from Chris Ciarcia & Chris Stockwell
Sauvignon Wine Locker & American Trattoria has taken over the upstairs space above Five Bucks Drinkery on the 200 block of Central Avenue in downtown St. Pete. Sauvignon's new home for many years housed A Taste for Wine at 241 Central Ave.
Sauvignon Wine Locker & American Trattoria officially soft-opens tomorrow, Tuesday May 4th at 4:00pm.
We published our original announcement way back in September 2019, so this is a long anticipated opening, and I can tell you that it was worth the wait.
We attended the first of four "friends & family" events last Thursday night, and to sum it up, this place is going to be a huge success. Everything was amazing—food, service, and ambience.
Owner Chris Ciarcia was the GM and sommelier at Annata for five years. He is a Certified Level Two Sommelier. The new Sauvignon digs are located in a 100-year old building on the first block ever built in St. Pete, and they are serving Italian-inspired New American cuisine including homemade pasta and gelato, Creekstone Farms steaks and more. To start they have 177 bottles of wine, including - 115 reds, 42 whites, 16 sparkling, four rosés with 73 available by the glass. There is also an optional membership with benefits including temperature controlled wine lockers. (At press time, the wine lockers are still under construction, but you can get on the waiting list here.)
Executive Chef Chris Stockwell has been Sous Chef at Locale Market, chef de cuisine at Parkshore Grill and spent time at Mise en Place in Tampa.
He has created a spectacular menu here.
We decided to start off with Nicolas Feuillatte Palmes d' Or Brut Champagne - 2008 Vintage.
The nose of this wonderful brut has a complex baked apple, and yeast scent, and on the palate, there is wonderful yeastiness, breadiness, baked apple skins and brioche. It was perfect to pair with the focaccia board.
The bread is served with whipped butter, extra virgin olive oil, and bagna càuda that has a craveable flavor profile. Bagna càuda is an Italian dipping sauce made from EVOO, garlic and anchovy, and then it is up to the chef to decide which varieties of herbs to add. In this case it was parsley, chive, and oregano, and it was super delicious. An interesting note is that the bread boards are made from wood from the U.S.S. Constitution.
Roasted Beets - baby arugula, chèvre, candied pecans, pickled shallots, lemon vinaigrette. This was a nice bright starter to wake up your taste buds.
Classic Caesar - focaccia croutons, shaved Parmigiano-Reggiano, garlic anchovy dressing. I love Caesar salad so much that there was a time that I ate it every day with dinner for about two years straight. This one was perfect in every way. The romaine is from Brick Street Farms.
Iceberg Wedge - crispy pancetta, baby heirloom tomatoes, gorgonzola buttermilk vinaigrette. I guess I should just say that everything was perfect. It looks like that's where this review is going. I would eat all of this again right now. The iceberg lettuce is from Brick Street Farms they are also supplying the Gem Lettuce.
The next bottle we ordered was one that Chris talked about during his podcast interview with us. The 2018 Trimbach Riesling from Alsace, France was dry, fruity and rich at the same time. The palate is bright with a little bit of tartness, and the finish is dry and all about zesty citrus.
Cavatelli Primavera - seasonal vegetables, Champagne beurre fondue. The seasonal veggies here are peas, asparagus, baby heirloom tomatoes, and sweet peppers along with some micro greens.
The food continues to knock it out of the park. The perfect al dente chewiness of fresh housemade cavatelli combined with the crispness of the fresh veggies and rich butteriness of the sauce marries perfectly. You just can't stop eating it.
Pappardelle - oyster mushrooms, caramelized Tropia onion, lamb sugo, mint. This is another perfect dish that checks all of the boxes. The pappardelle noodles, again housemade, have their own wonderful mouthfeel with nice contrasting bites of mushrooms, the delightfully chewy lamb bits, and the brightness of the tomato sauce. All of your problems melt away, and everything is right in the world.
Chris suggested a glass of 2013 Chateau Musar for our next wine. Chateau Musar is from Lebanon's high altitude Beak Valley. It's a dense deep red with sweet, savory, and spicy characteristics from the blend of Cinsault, Carignan and Cabernet Sauvignon grapes. The wine has a nice roundness with a spice-dominant palate of licorice, clove, cinnamon, raspberries and blueberries. Chris said it reminds him of a cross between a Bordeaux and a Rhône.
Pan Seared Diver Scallops - creamy stone ground polenta, crispy speck, frisée, salsa verde. We love scallops with a perfect char on the outside, and creamy butteriness on the inside. These were delectable, and again a perfect melody of flavors and textures with the bright fresh frisée, the crispy saltiness of the speck, and creamy hearty polenta.
Heritage Airline Chicken Breast - sweet corn risotto, braised local greens, pan jus. Without mentioning specifics, there is a chef at a certain downtown restaurant that makes the best most perfect chicken we've ever had in our lives. Now there's two. It would be interesting to do a blind taste test between the two. That's how close they are. It's packed with flavor, super juicy and tender with a crispy skin, and perfectly seasoned.
Mama Anne's Pound Cake - fresh strawberries, pistachio gelato. This one is named after Chris Ciarcia's mom, and it is impeccable. My favorite part was the crunchy pistachios.
Black Pepper Buttermilk Panna Cotta - raspberry vincotto, fresh berries, whipped vanilla cream. There have been so many times that we have said that we are not dessert people. I think we can stop saying that now. We just haven't had the right desserts. Sauvignon Wine Locker & American Trattoria has turned us into dessert people.
This meal was multi-orgasmic.
Soft opening is tomorrow, Tuesday May 4th at 4pm. Grand opening to be announced.
Here are some shots of the interior, and balcony.
Sauvignon has a beautiful New Orleans-style balcony with great views.
Italian-influenced New American cuisine with an expertise in wine and craft beer. Wine club membership with climate-controlled wine lockers.