Ride the Teppanyaki Wave at Tsunami Japanese Steakhouse
Ride the Teppanyaki Wave at Tsunami Japanese Steakhouse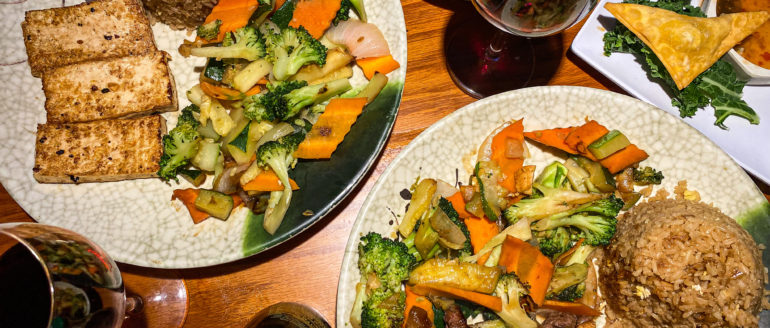 Permanently Closed
Teppanyaki Grilling, often confused with "hibachi-style," involves utilizing a flat iron griddle with a solid surface to prepare food in front of guests at a restaurant. Here in America, we have wrongly dubbed what is actually teppanyaki as hibachi. Well, what the hell is "hibachi-style" then, you ask? While hibachi is similar, it involves a grill called a shichirin which is much smaller, made from cast iron and is actually portable. What does any of this have to do with Tsunami Japanese Steakhouse? Well, they are one of the few restaurants in the area which offer teppanyaki. And let me tell you, the people absolutely love it.
Tsunami Japanese Steakhouse, which is located on Tyrone Blvd in St. Petersburg Florida, is much more than just teppanyaki though. When you first step foot into the establishment, one of the first things that you'll notice is the large bar and lounge area with an abundance of seating. If you walk through this area towards the back of the restaurant, you'll discover multiple tables situated around flat iron griddles. This is where all of the teppanyaki magic happens.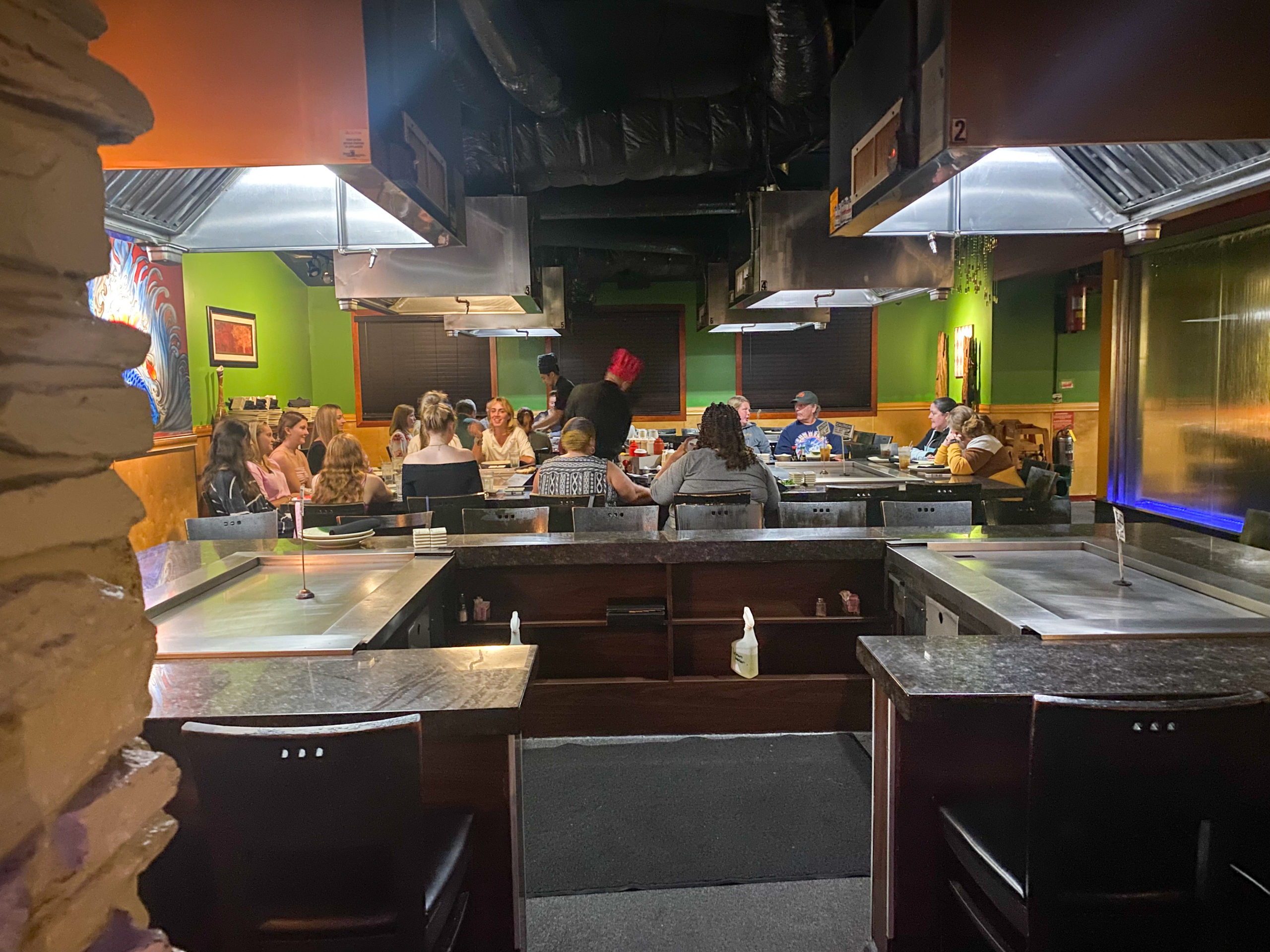 When we first walked in on a Friday evening around 7:00PM we couldn't believe how busy the place was – absolutely packed. We neglected to make a reservation but were fortunate enough to grab a table near the bar (which there was not an empty seat). The energy inside the restaurant is incredibly lively and there were many large groups there celebrating various occasions. Ooh'ing and aah'ing and laughter poured from the back of the restaurant while the talented chefs put on their show in front of guests seated around the griddles. If you plan to visit Tsunami and want to enjoy the teppanyaki experience, I definitely recommend calling ahead for a reservation…especially if you're bringing a larger group
But if you do end up at Tsunami on a whim without a reservation and have to sit at a regular table you can still enjoy an entree from the teppanyaki section. Which is precisely what we did. We actually tried two different mains from the griddles: the chicken and steak and the veggie with tofu. Every entree from this section of the menu comes with house soup, ginger salad, 2 pieces of shrimp, appetizer, fried rice, vegetables and noodles. Needless to say, it is plenty of food. Entree options include but aren't limited to: chicken, filet Mignon, veggies with the option of tofu, shrimp and even Wagyu. Entree combinations are also available and range from the basics like chicken and shrimp to more elaborate duos like lobster and Wagyu.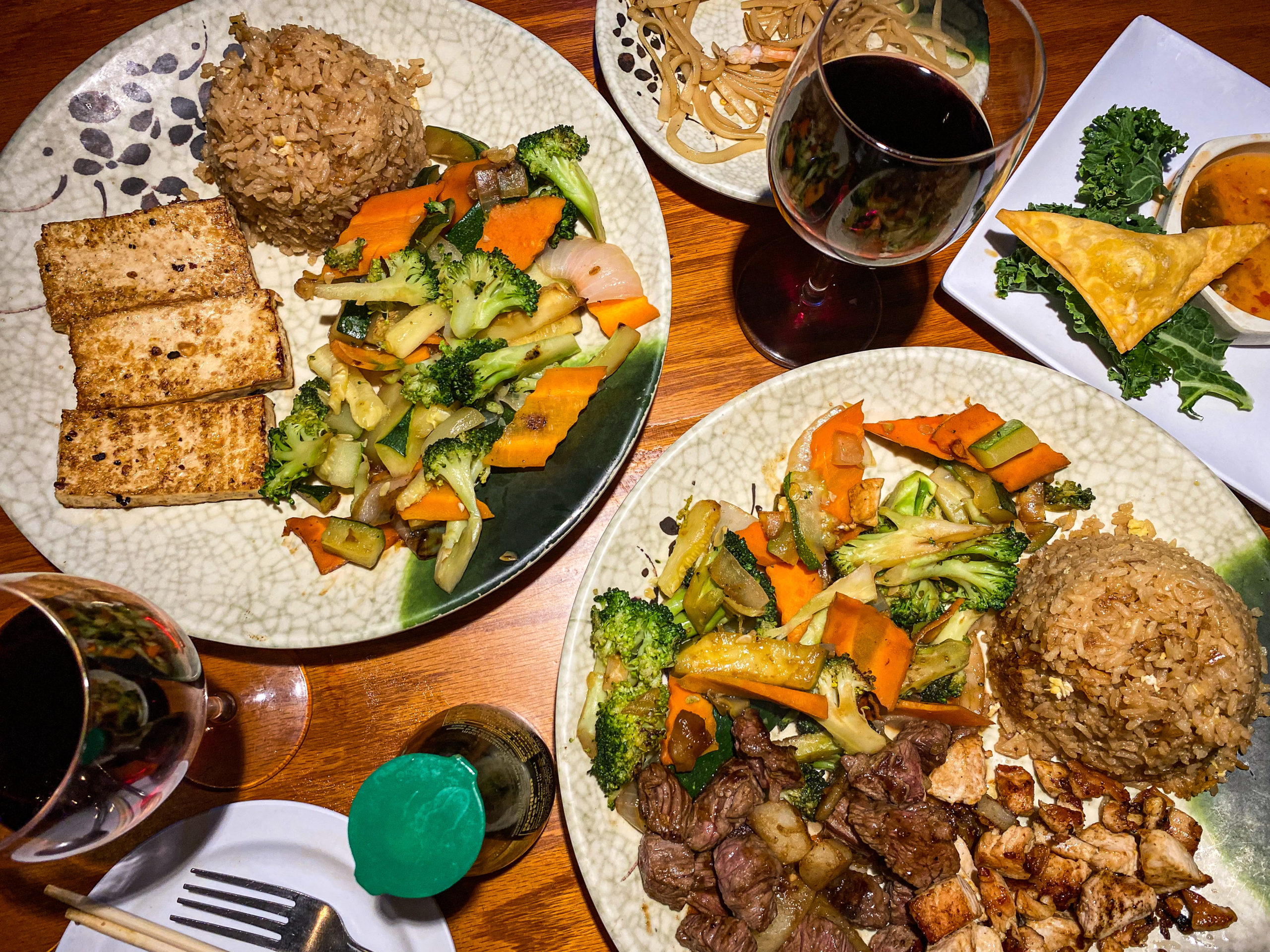 As I mentioned above, we actually ordered two dishes from the griddle: the veggies with the addition of tofu and the chicken and filet mignon combination. Just a few moments after we ordered the the house soup and gingers salads arrived. Both were perfectly portioned – plenty to satisfy but not near enough to spoil the remainder of the meal. The ginger salad was vibrant and delicious. The dressing bursts with bright flavors, prominently ginger. The house soup was light but still had plenty of umami present. When the entrees landed on the table, we couldn't believe how much food was on each plate. Everything was cooked to perfection and even better than we expected. Leftovers were definitely involved, as we barely managed to put a dent into either entree.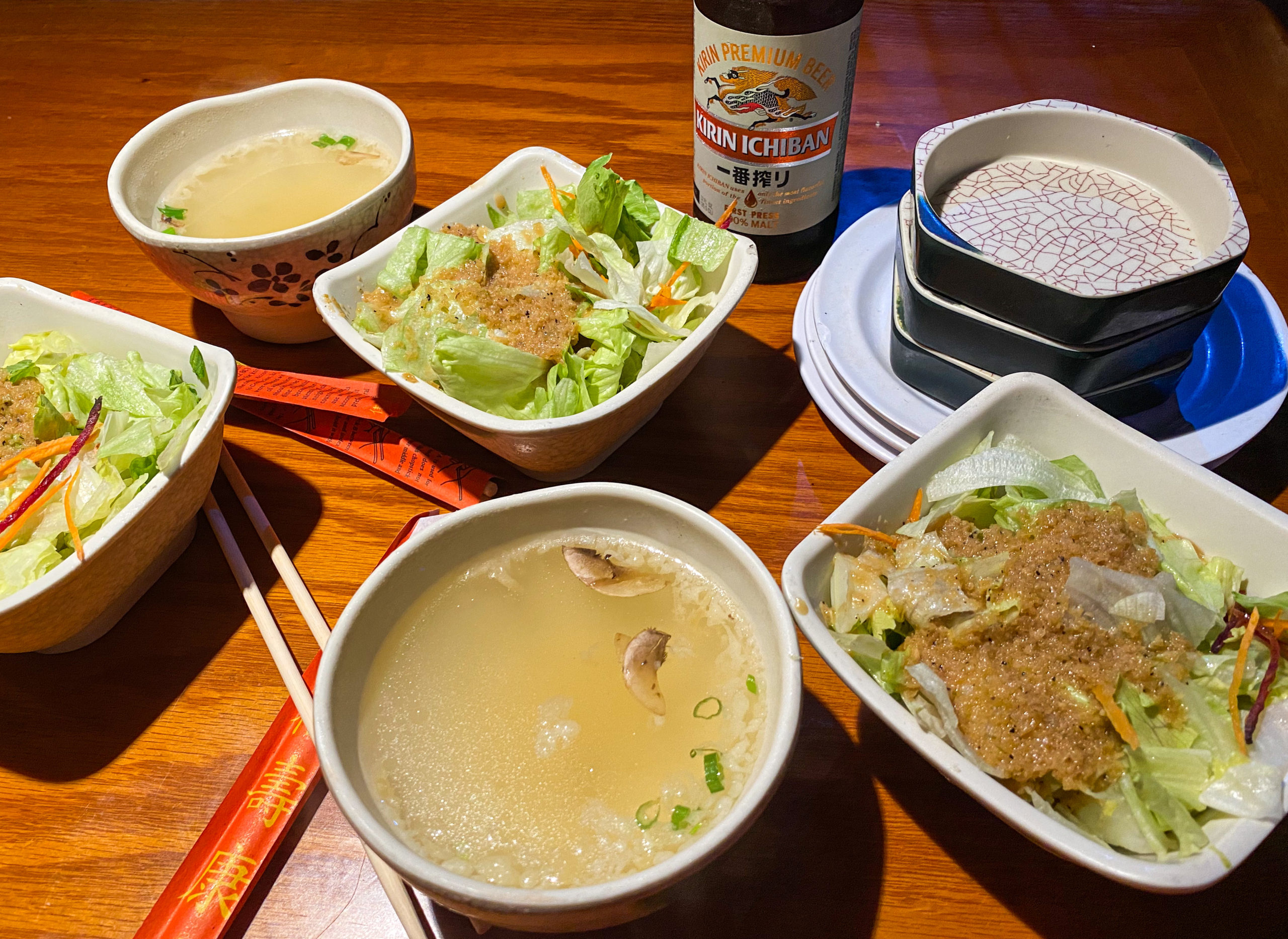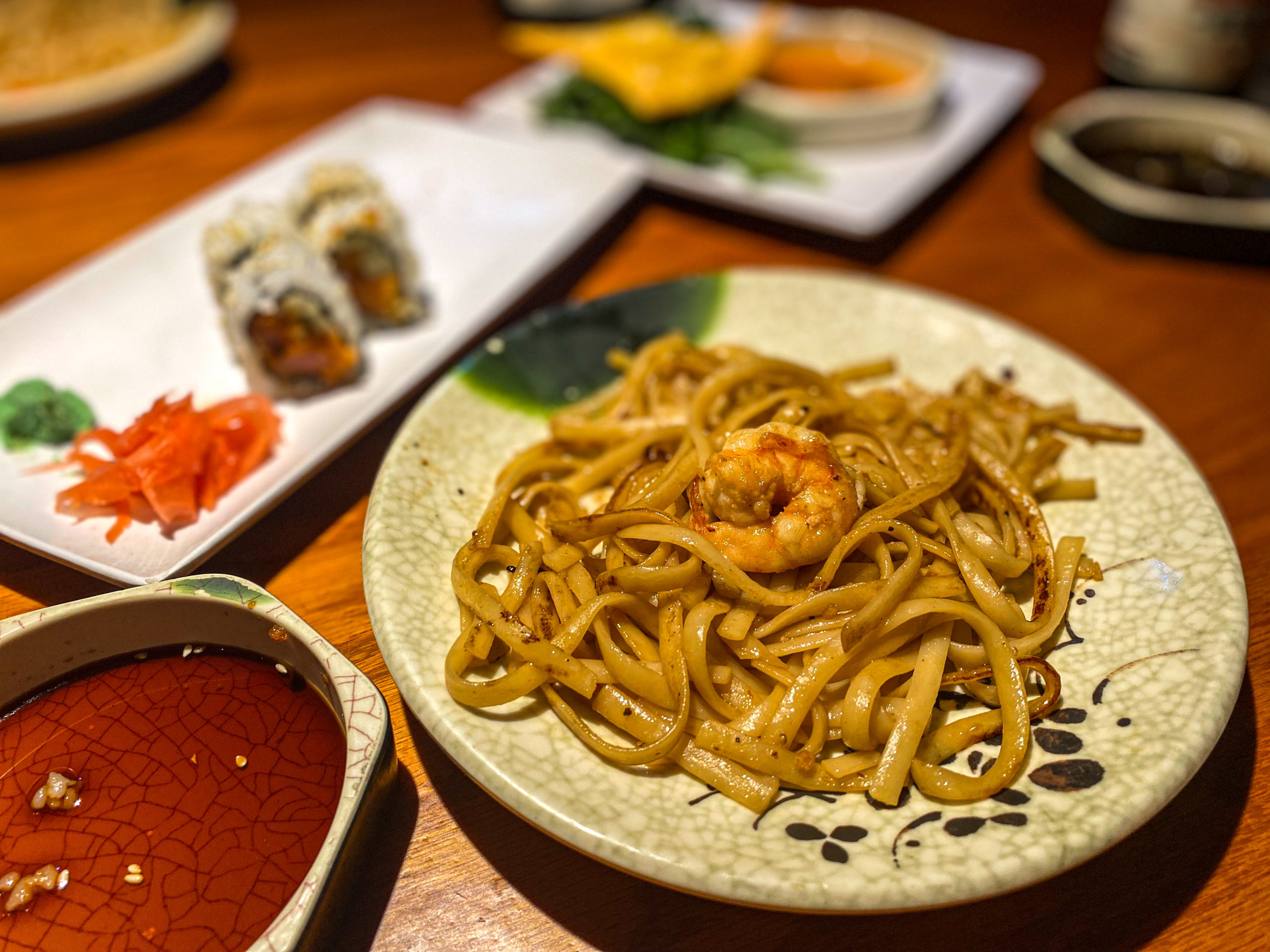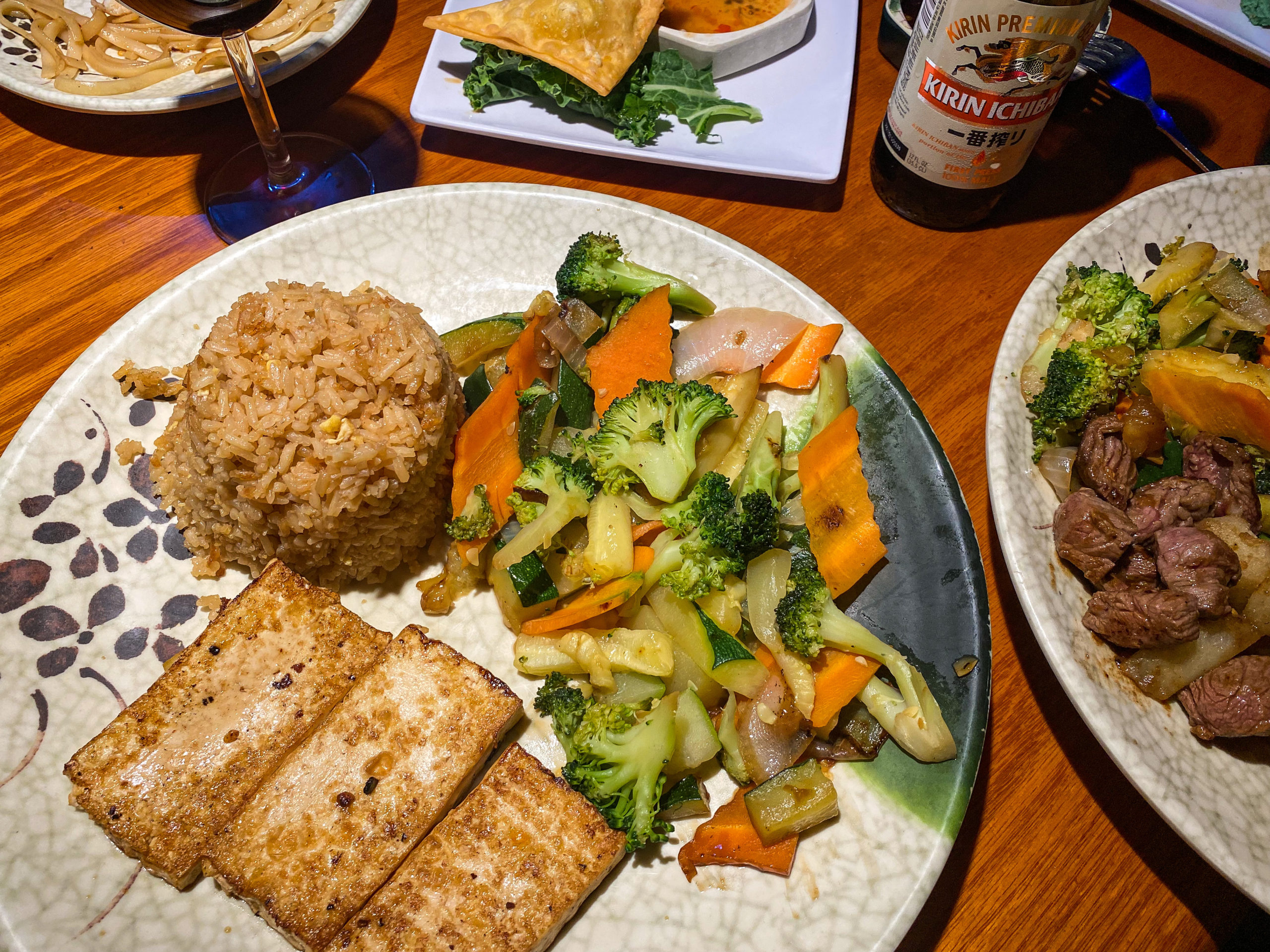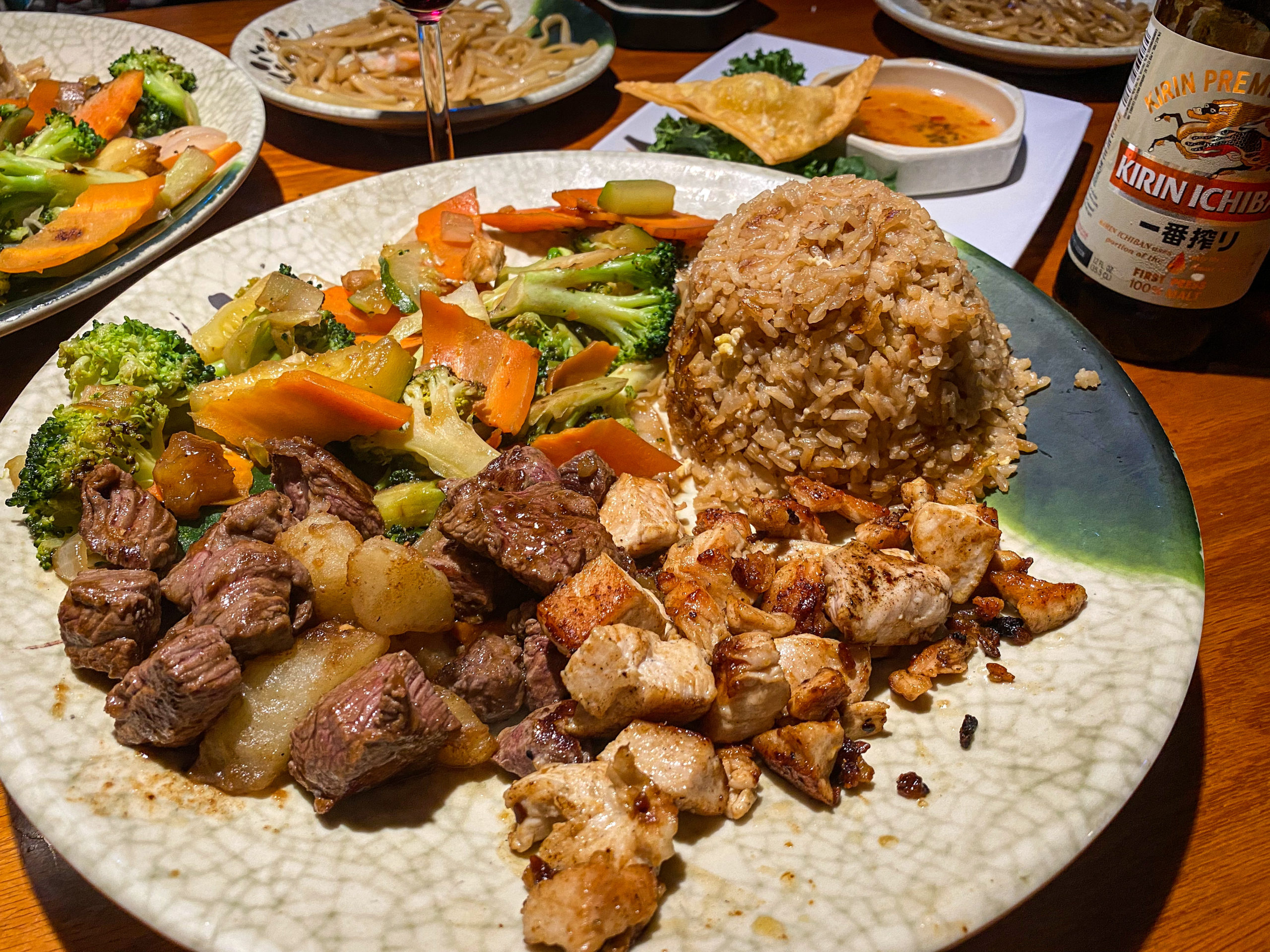 After we enjoyed the soup and salad our appetizer of choice arrived: the Crab Rangoon with Sweet Chili Dipping Sauce. They're larger in size so one per person was plenty. Perfectly crisp on the outside and the inside filling was still quite warm. In my opinion, these Rangoon needed that bit of Sweet Chili Dipping Sauce to cut through the richness.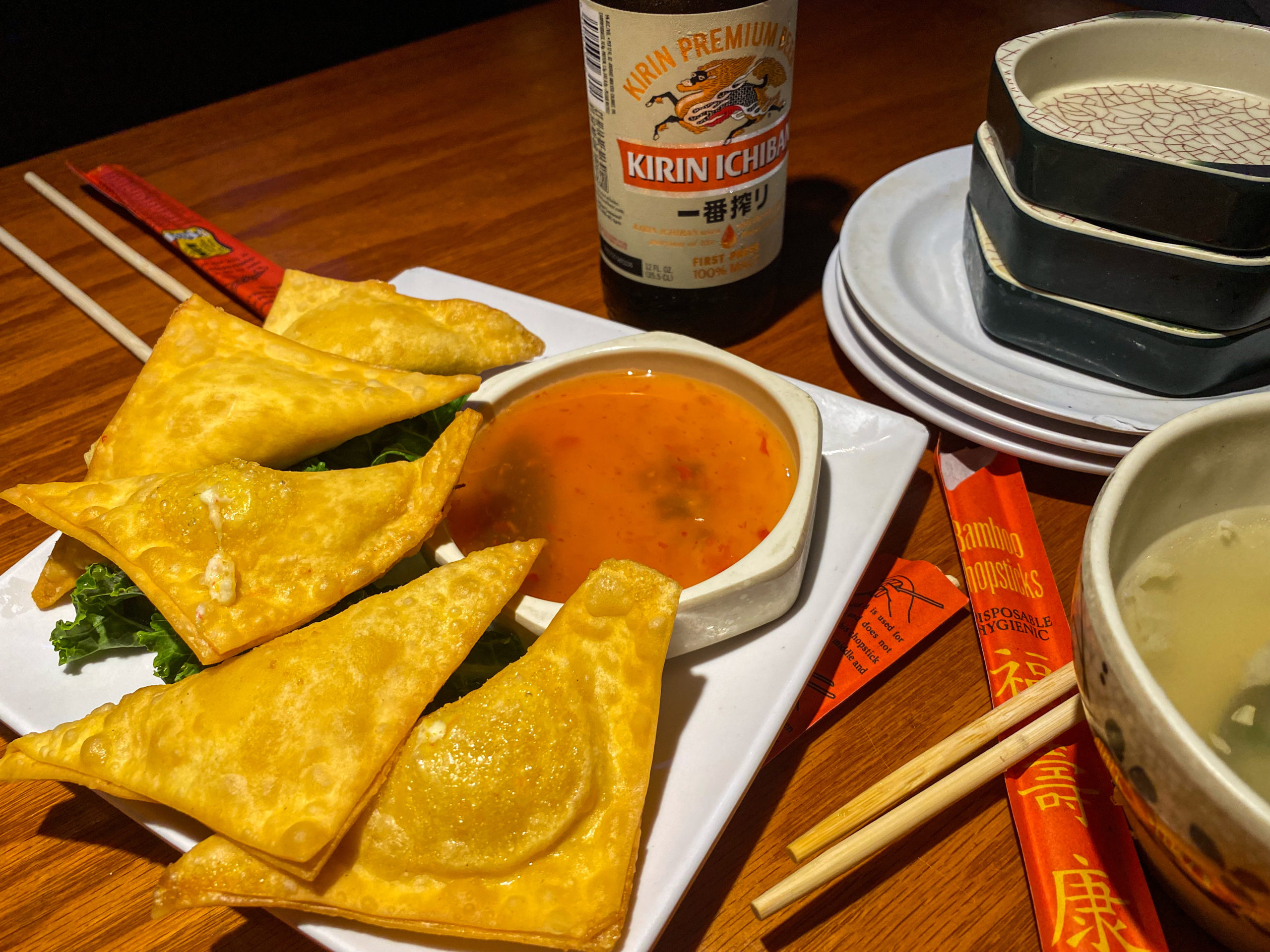 A large number of sushi rolls flew past our table so we decided that we'd order a smaller one to try. We always end up ordering something with some spice as that is my husband's preference, so the spicy tuna roll was an obvious choice. The presentation was beautiful and the size of the pieces were small and manageable which is what we prefer. It was good but we probably could've done without it.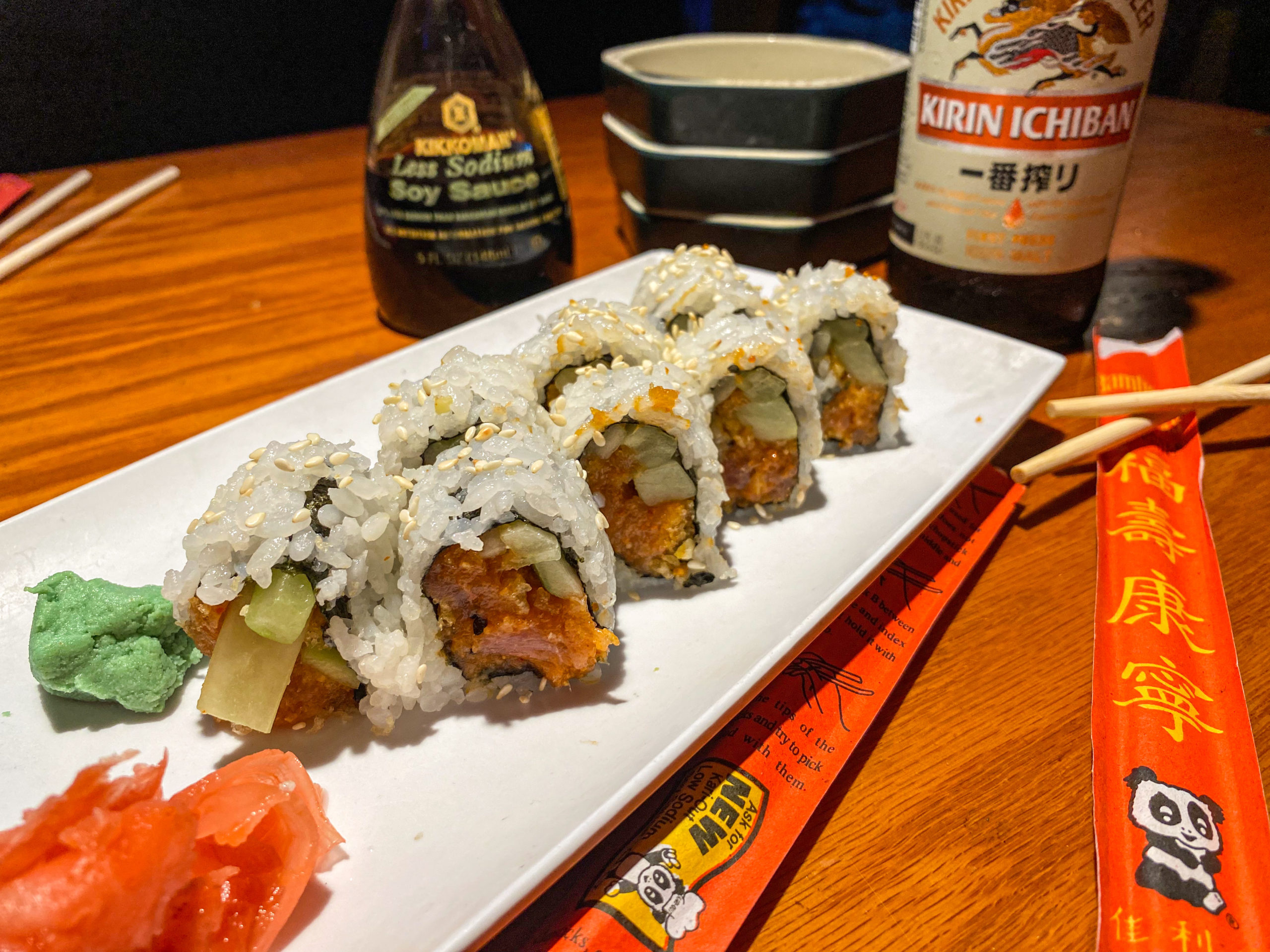 On a different occasion at Tsunami, my husband and I sat at the bar for a light and earlier dinner. During this visit, we started with the Pink Lady roll which is one of the specialty rolls on the menu. This roll is made up of spicy tuna that is rolled in tempura chips with tempura shrimp, soy paper and rice, topped with avocado, salmon, escolar, krabstick, spicy mayo, eel sauce, scallions, tempura chips and smelt roe. The roll was much larger and a little more difficult for me to eat but it was the perfect amount of food for my husband as a meal.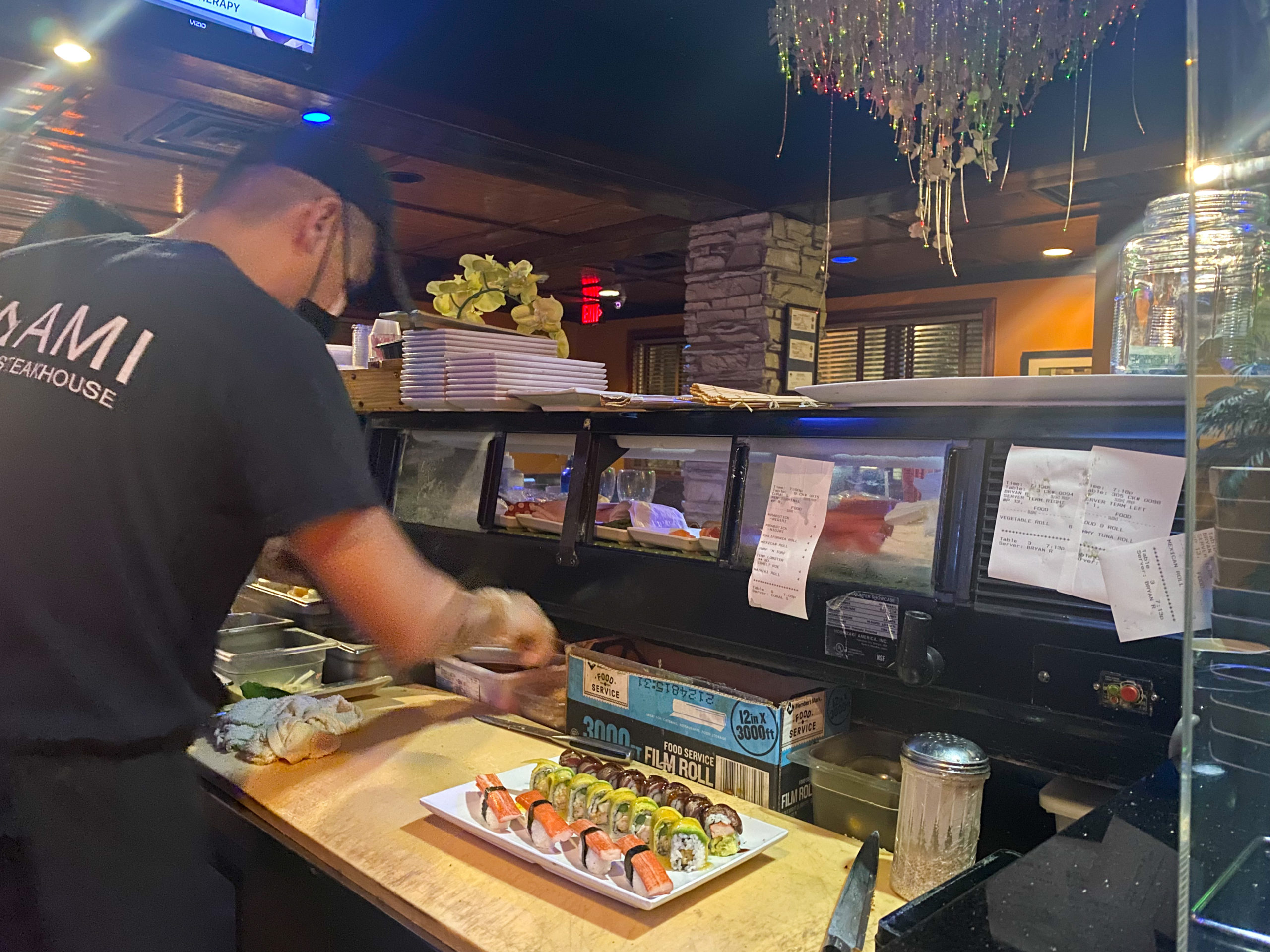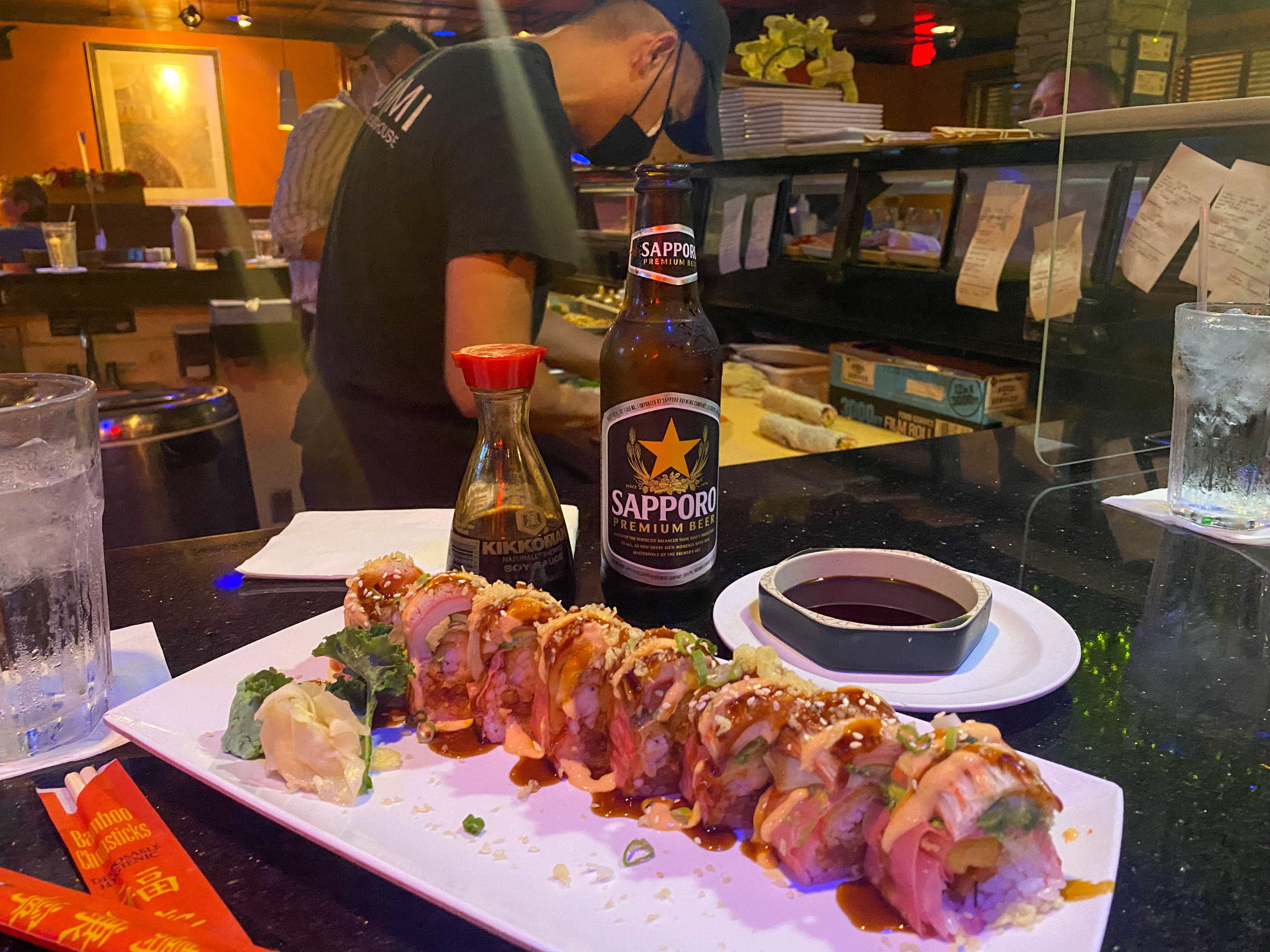 During this casual visit, we also tried a bowl of the warming Udon Noodle Soup. Thick white noodles served in a light mushroom broth with mushrooms, broccoli and two pieces of tempura shrimp. The bowl of soup is quite large but it was comforting to have on a chillier evening. We also ordered some edamame with the soup too and it made for an idyllic meal for me.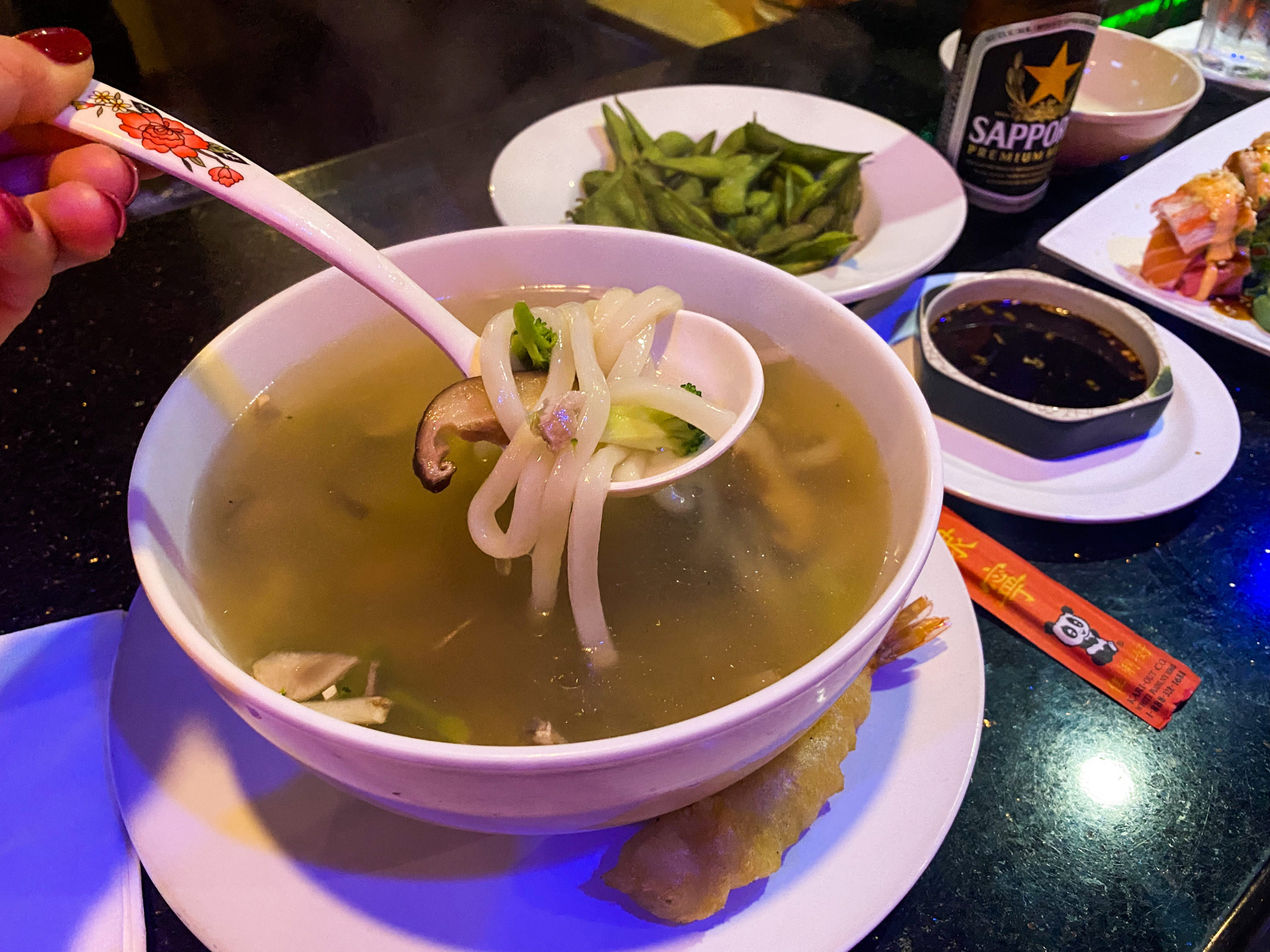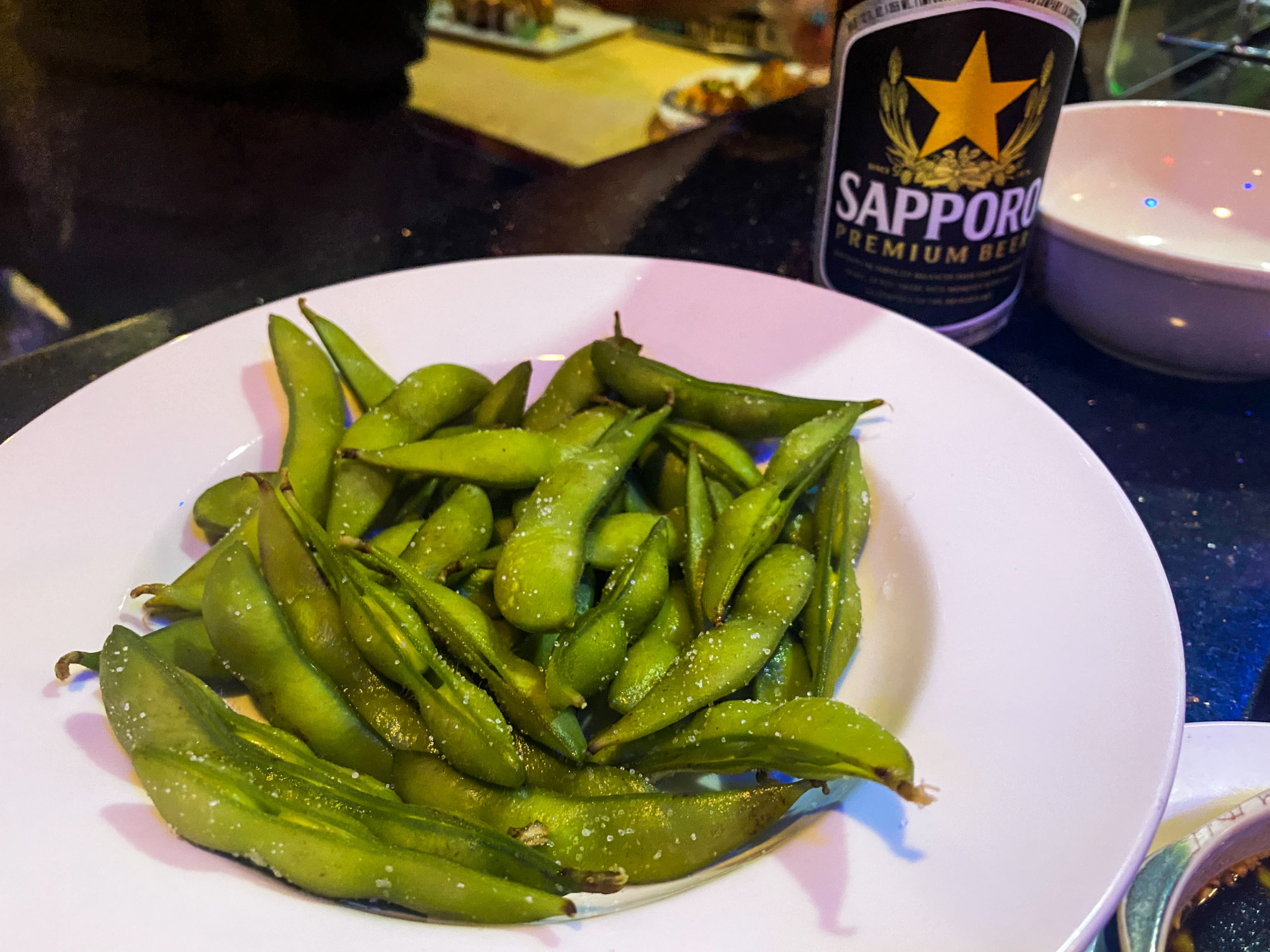 I always love a Bento Box. It's a great option if you're looking to try a few different items from the menu. At Tsunami the Bento Boxes come with white rice, two fried dumplings, tempura vegetables and one piece of tempura shrimp. Choose from Katsu chicken or pork or Bul Go Ki chicken or beef as your entree. They offer the boxes in two sizes, large and small, and for only $2 you can upgrade to fried rice or noodles. I opted for the small Katsu chicken order and I still didn't quite manage to eat it all. The Katsu was completely satisfying – crunchy on the exterior yet tender on the inside.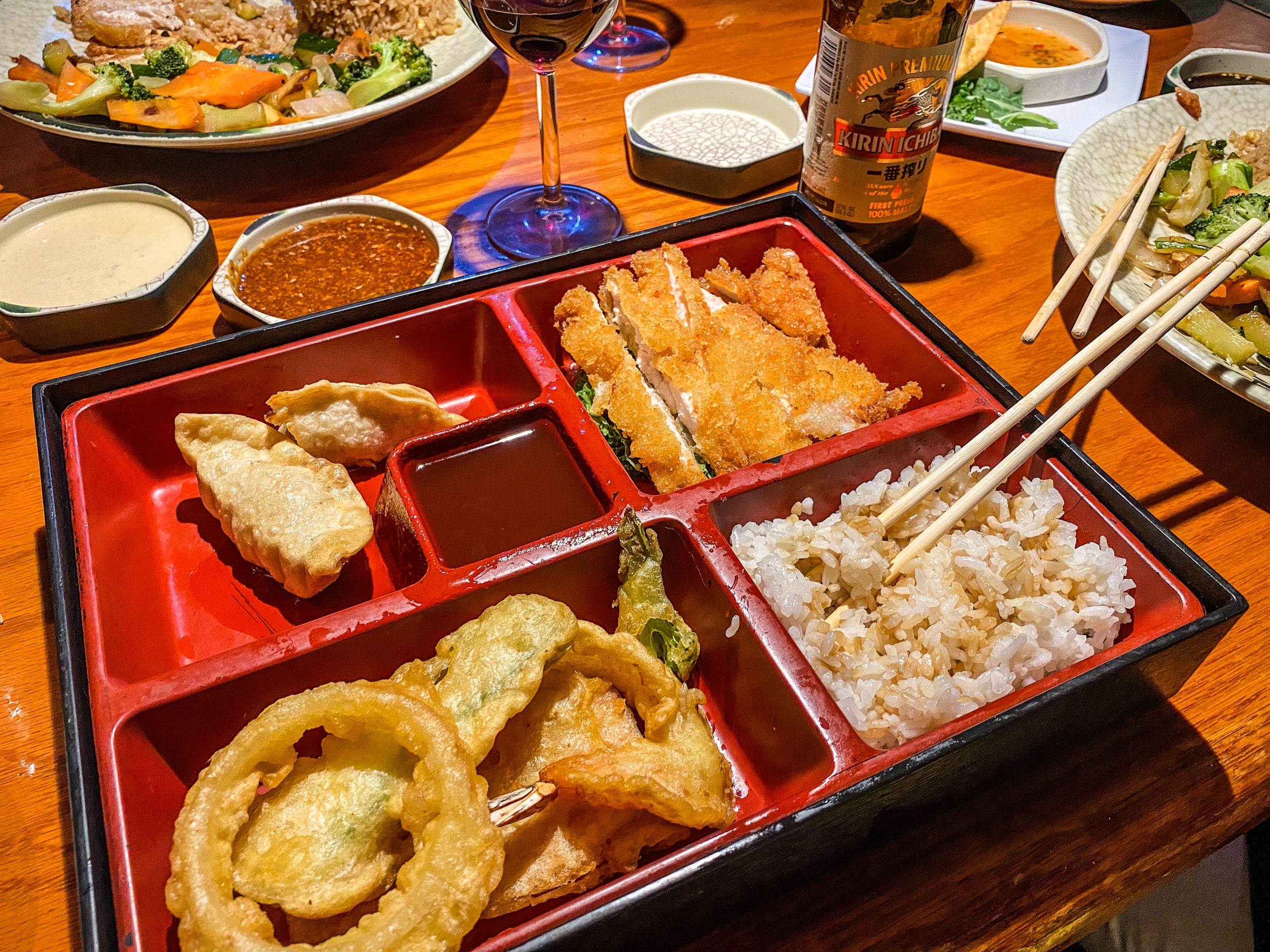 We ordered a bottle of wine to enjoy with our meal and were shocked at their very reasonable prices. My mom was with us for dinner so she and I shared the wine (Diseno Malbec) and my husband opted for a Kirin. Both totally hit the spot and neither broke the bank – all were happy.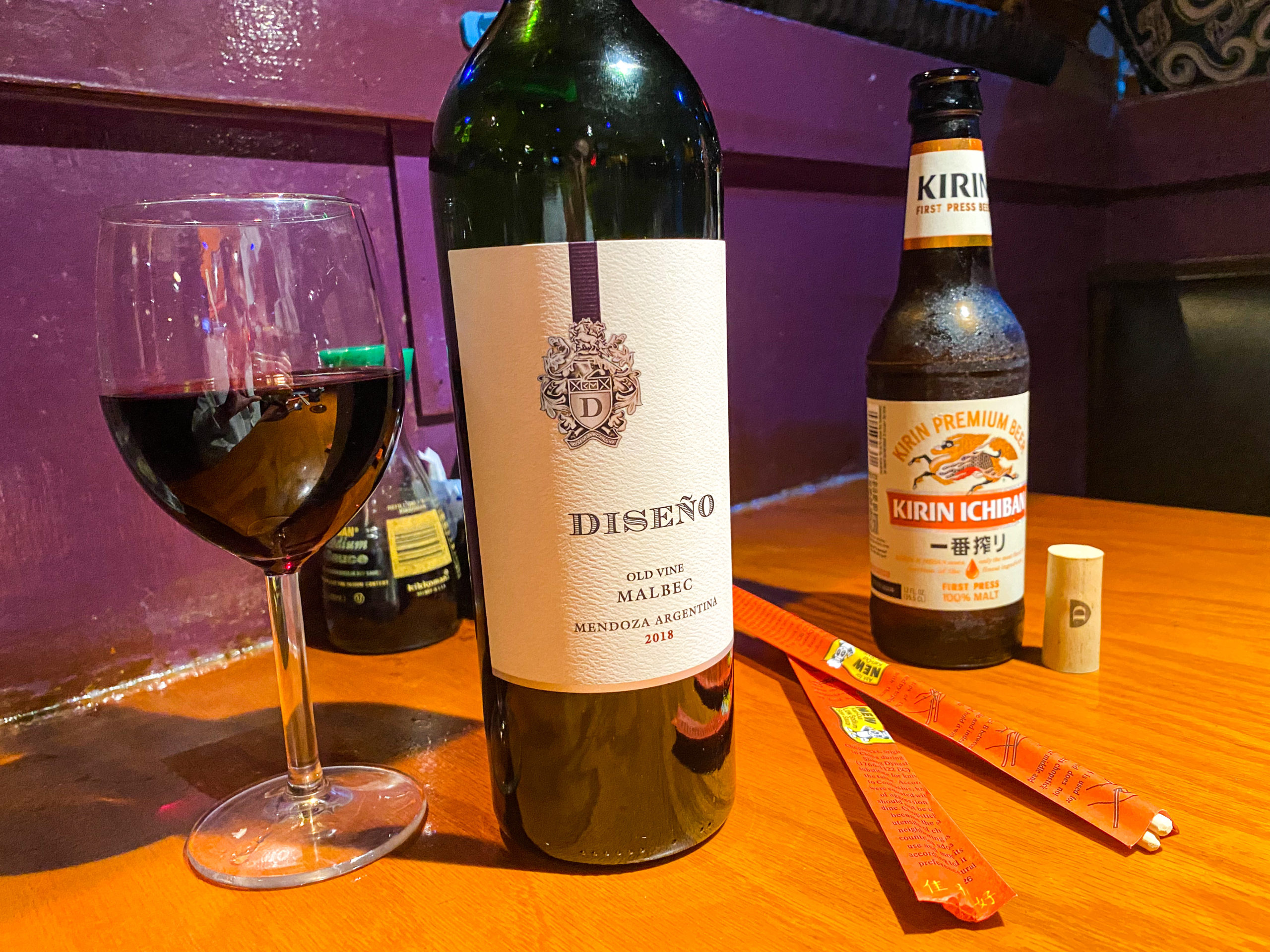 For an extremely busy Friday night, our service was absolutely incredible. Every single person who visited our table throughout the course of our meal was the utmost pleasant, thorough and accommodating. Bottom line is, if you're looking for an interactive dinner with a group but are looking to get a good bang for your buck, Tsunami is definitely the place. With their extensive menu, everyone in your party is certain to find something that grabs their attention.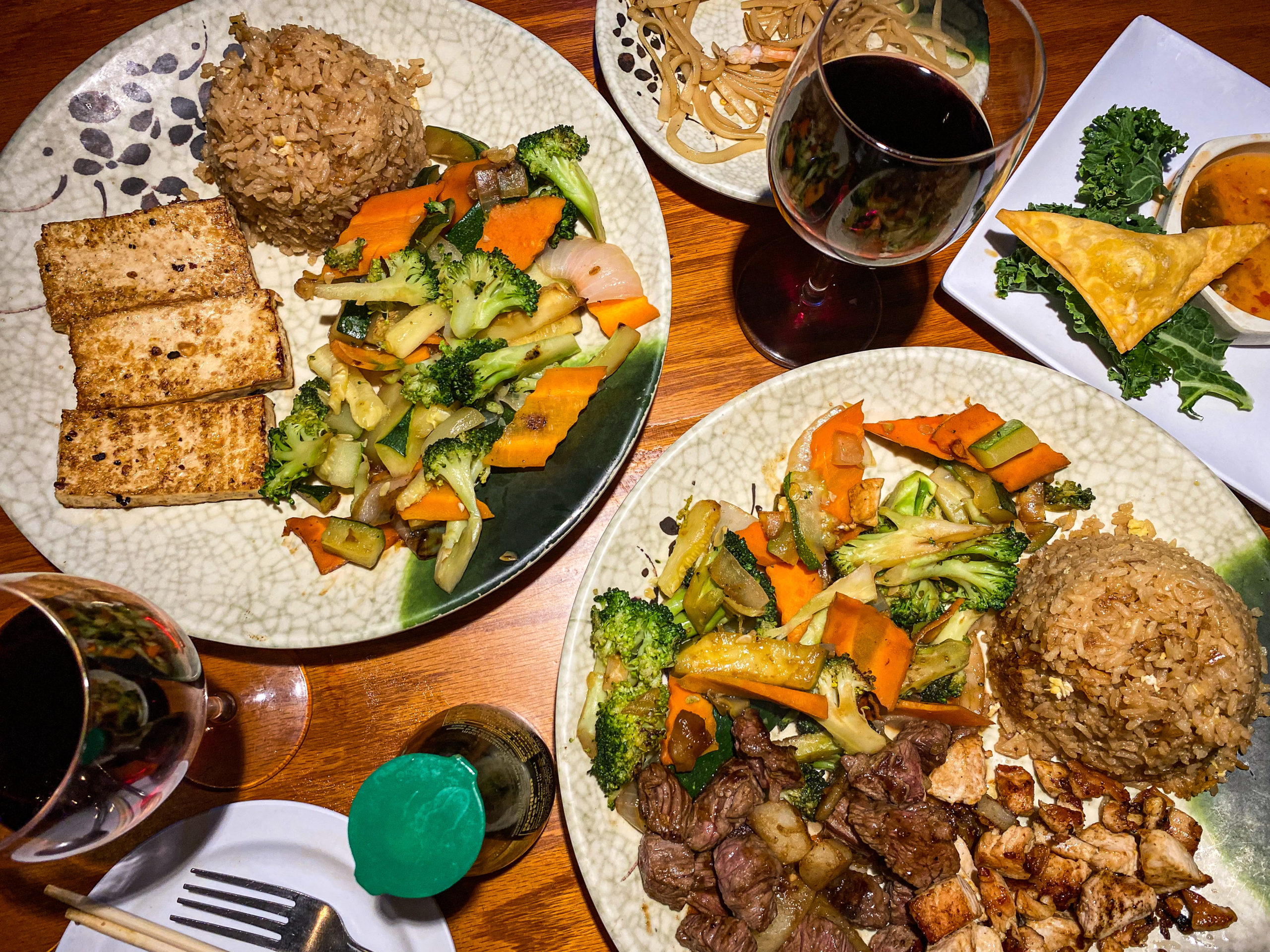 Readers Rating

Rated 5 stars




5

/ 5 (

Reviewers

)

Spectacular
---
Tsunami Japanese Steakhouse

727-498-8774

Japanese Steakhouse

,

Teppanyaki

,

Sushi

Mon - Fri

11:30am - 3:00pm

Mon - Fri

5:00pm - 10:00pm

Sat - Sun

12:00pm - 4:00pm

Sat -

5:00pm - 11:00pm

Sun -

5:00pm - 10:00pm
2176 Tyrone Blvd N

,

St Petersburg

,

FL

33710

,

United States
---
Polished Japanese Steakhouse offers creative sushi rolls and teppanyaki dinners prepared tableside.
DISCLAIMER: Kevin, Lori, Abby, Haley, & Lindsey do not dine anonymously (this would be impossible) and we sometimes get free food (though never expected). However, we dine with the locals and we support our own. You will always get honesty in a respectful manner. We do not include any large national or regional chains in our ratings and reviews. We focus on independent locally owned eateries exclusively.

PLEASE NOTE: Reviews reflect a certain moment in time. Some restaurants stay extremely consistent over many years, and some change for the better or worse. Some things that may change are: chefs, recipes, food suppliers, ingredients, philosophies, ownership, etc. We always hope that you have the same good, or great experience we had.
More Foodies News, Reviews & Recipes