Yaki-mono Japanese Kitchen: Alluring & Vibrant Fare with Flair
Yaki-mono Japanese Kitchen: Alluring & Vibrant Fare with Flair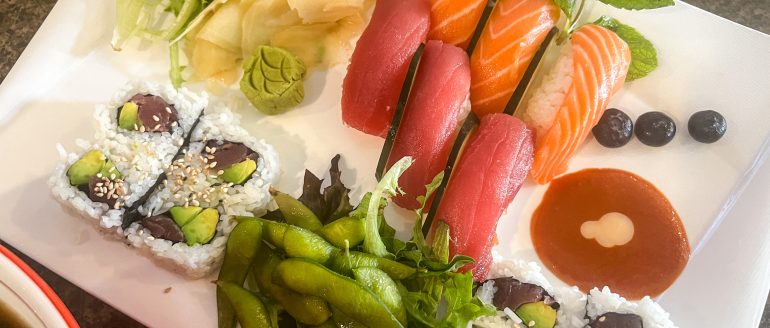 St. Pete Beach is loaded with just about every type of cuisine that you can imagine: Mexican, Mediterranean, Italian, Thai, standard American and so on. Whatever you're craving, you're likely to find it. This includes one of my new favorites in that part of town – Yaki-mono, a Japanese Kitchen. It's nestled just off of bustling Gulf Blvd. near 46th Ave and has only been open for about five months or so. In that short period of time though, they've earned a following and some popularity and after eating our way through their menu, it's easy to see how and why.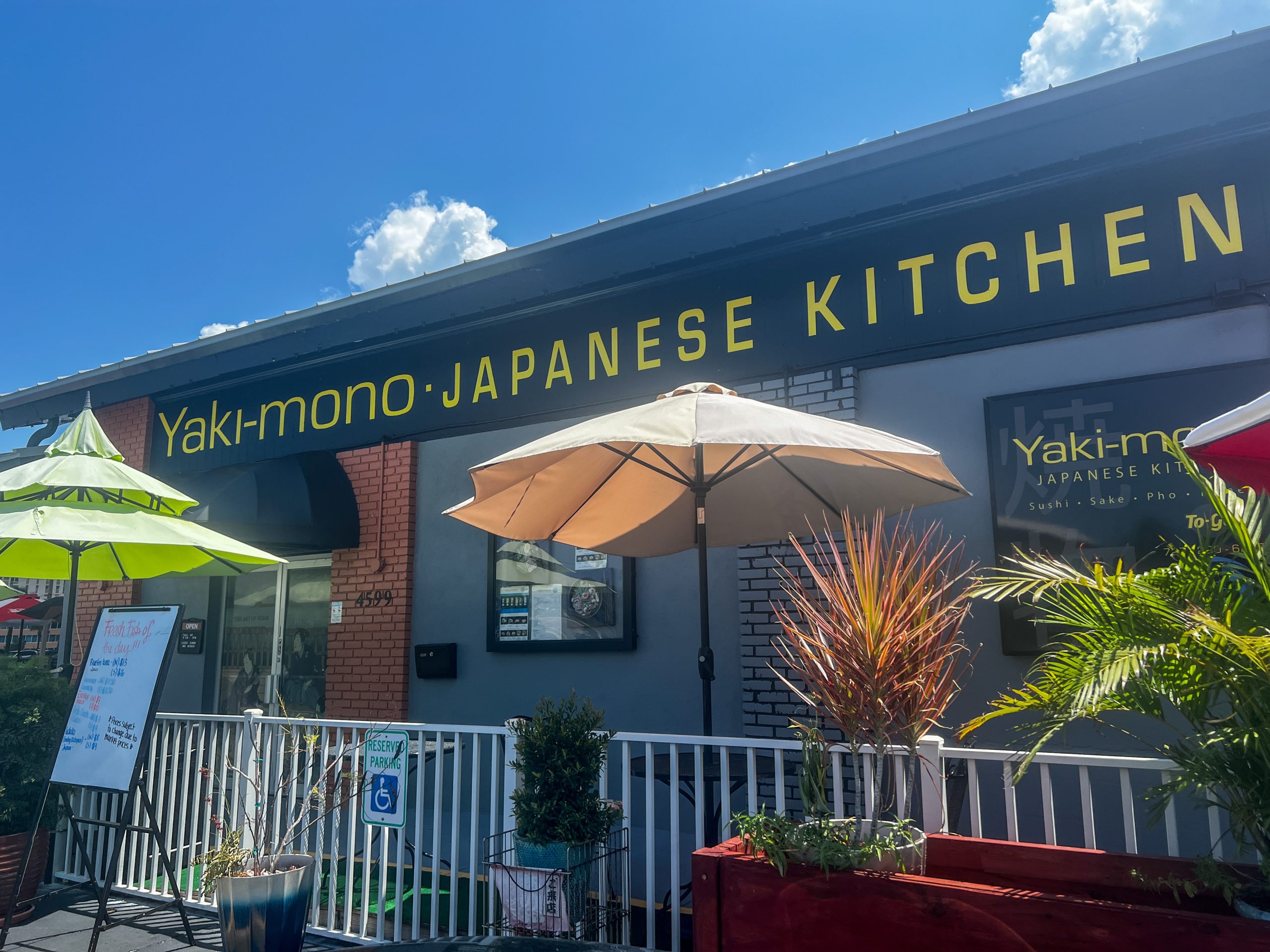 It's exactly what you want and need after a few hours of basking in the hot rays of sun at the beach. Refreshing, light and full of vibrant flavors, their menu is loaded with appealing Japanese options that are certain to satisfy. Think sushi, udon, hibachi, poke bowls and chirashi (which is essentially "scattered sushi" served in a bowl), just to name a few of their sections offered. The manager at Yaki-mono, Lisa, stated it perfectly by saying, "it's food that keeps you going." We had that same thought when we were first browsing through the menu. After a day of sun, sand and the water, it's often so easy to gravitate towards easy, comforting and familiar foods like burgers or sandwiches, fried platters and foods, etc. which are definitely convenient, but often leave you feeling sluggish. The cuisine at Yaki-Mono is quite the opposite – it's both delightful and fueling.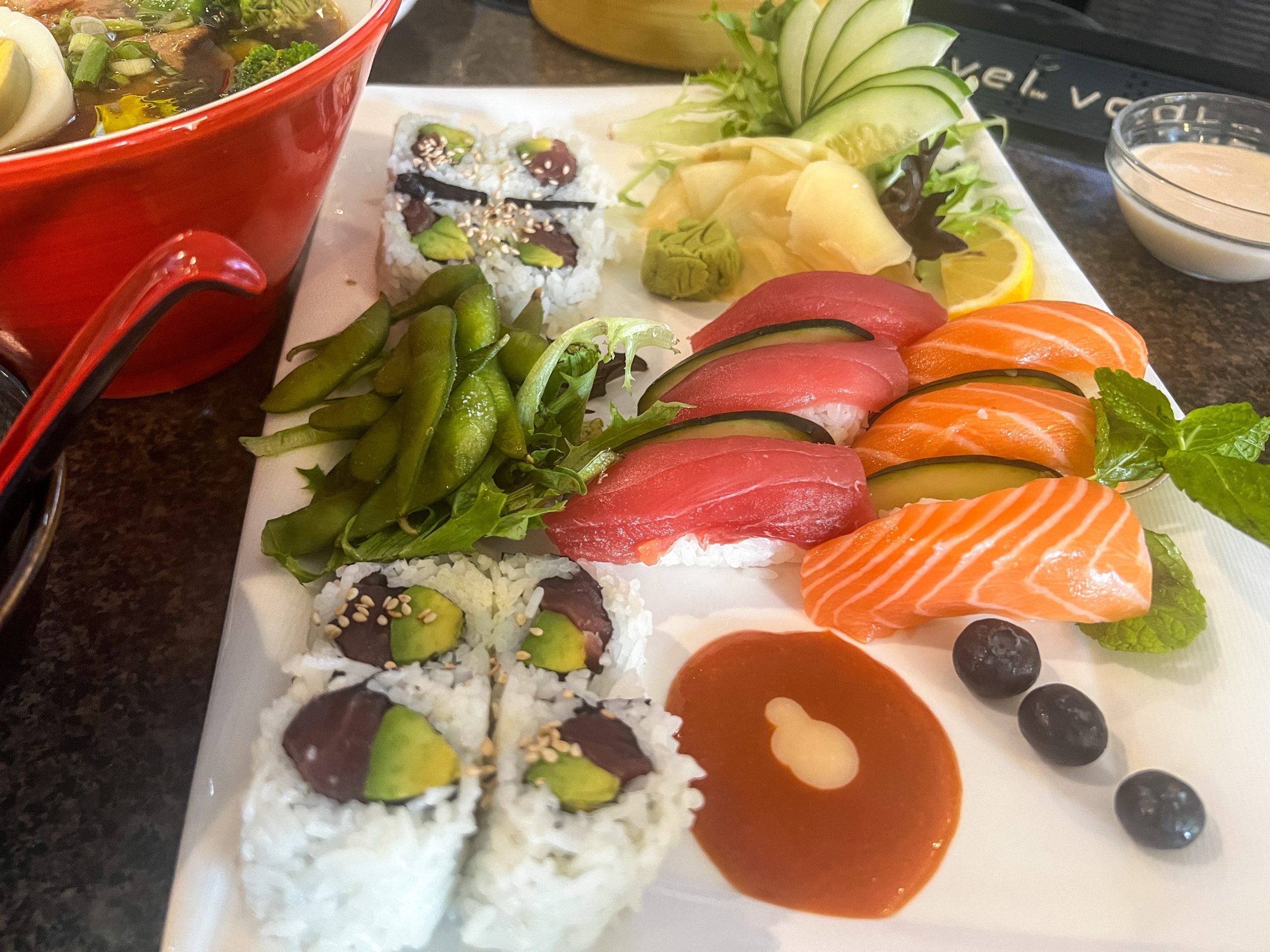 The service by Lisa was simply fantastic. As mentioned previously, she is the manager of Yaki-mono. We appreciated that she took the time to guide us through their menu as it helped us immensely whilst ordering. She was genuinely pleasant and truly enhanced our visit. Because of their hours (11-6PM Tuesday – Saturday), Lisa and all of the employees are able to enjoy both their mornings and their evenings. She said that she typically is able to leave before 7PM (after the early dinner crowd feasts) which allows plenty of time to unwind and enjoy the remainder of the night. That is typically a rare luxury in the service industry and it was very apparent that Lisa is undoubtedly appreciative of her hours at the restaurant.
The restaurant offers seating in their dining room, at their bar in a lounge type area and also outside along the front and side of the building. Unique decor adorns the walls and conversation-starting art can be found throughout the space.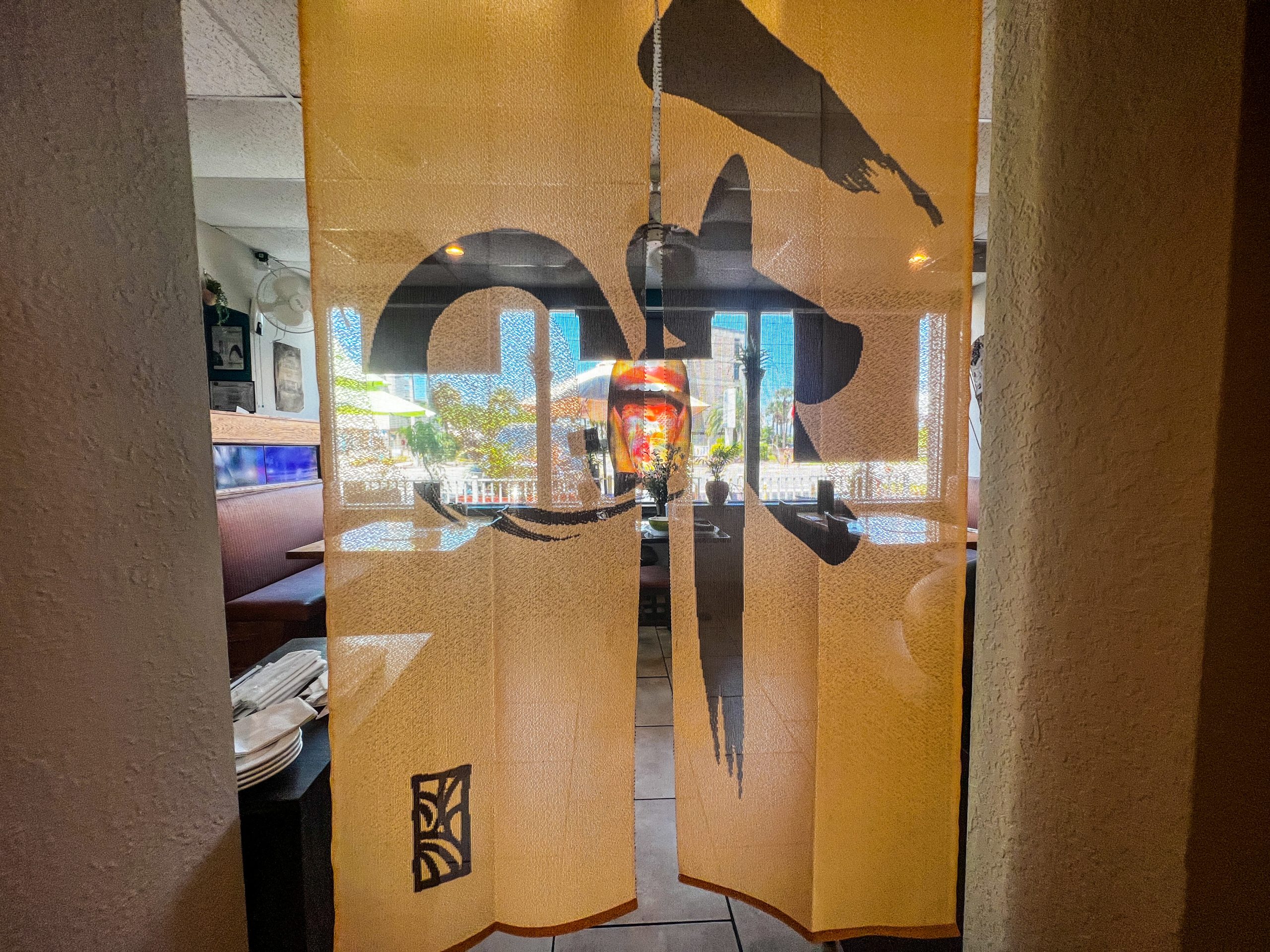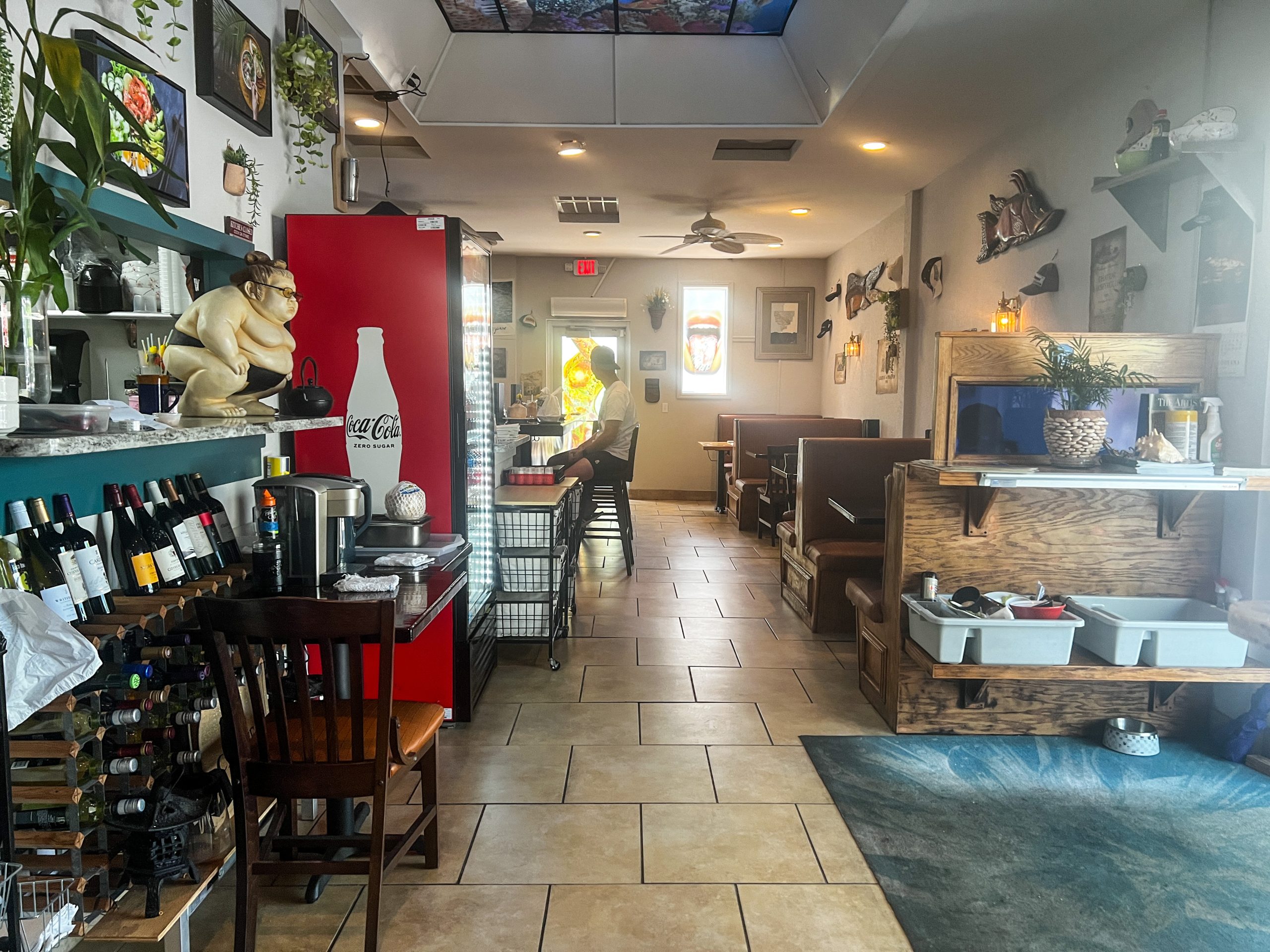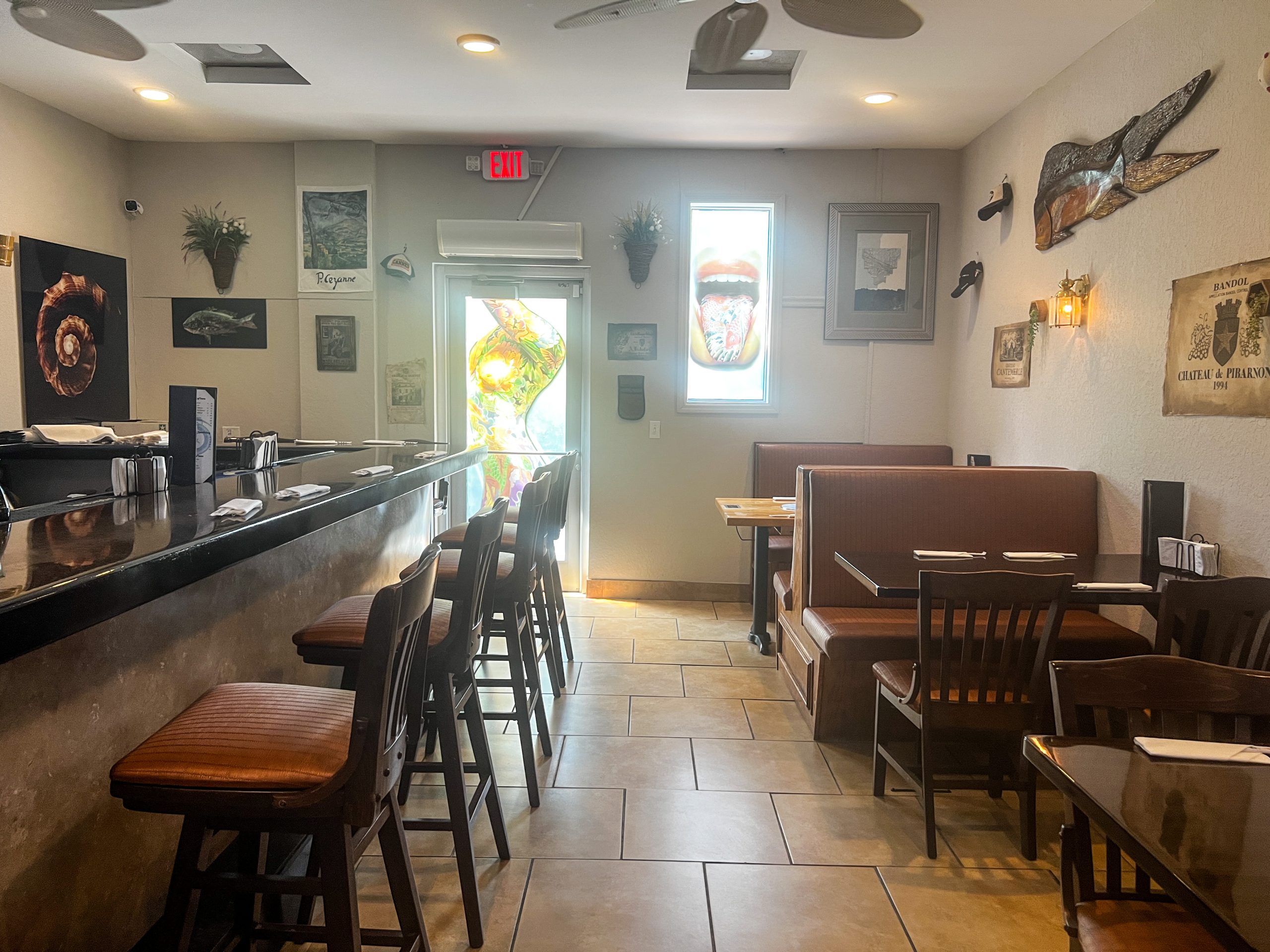 Because of their hours, I definitely recommend planning to dine at Yaki-mono for lunch; however, an early dinner would suffice as well as long as you arrive around 5:00PM. We landed at the restaurant around 11:15 after spending a few quaint hours on the beach. We typically don't have our first meal of the day until around this time so it worked out perfectly. Yaki-mono had a few specials listed for the day, like Blue Fin Tuna and other appetizing options. However, it was the fresh coconut water that intrigued us the most. Normally coconut water does not excite us that much, but Lisa informed us that the water is served straight from the coconut and that these are some of the best as they are from Thailand. She was not wrong – this coconut water was insanely delicious. I don't know what it was, but they tasted almost like toasted coconut. In fact, we enjoyed them so much that we ordered a second one. If you see these on the menu, order without any hesitation – I promise, you'll be glad that you did.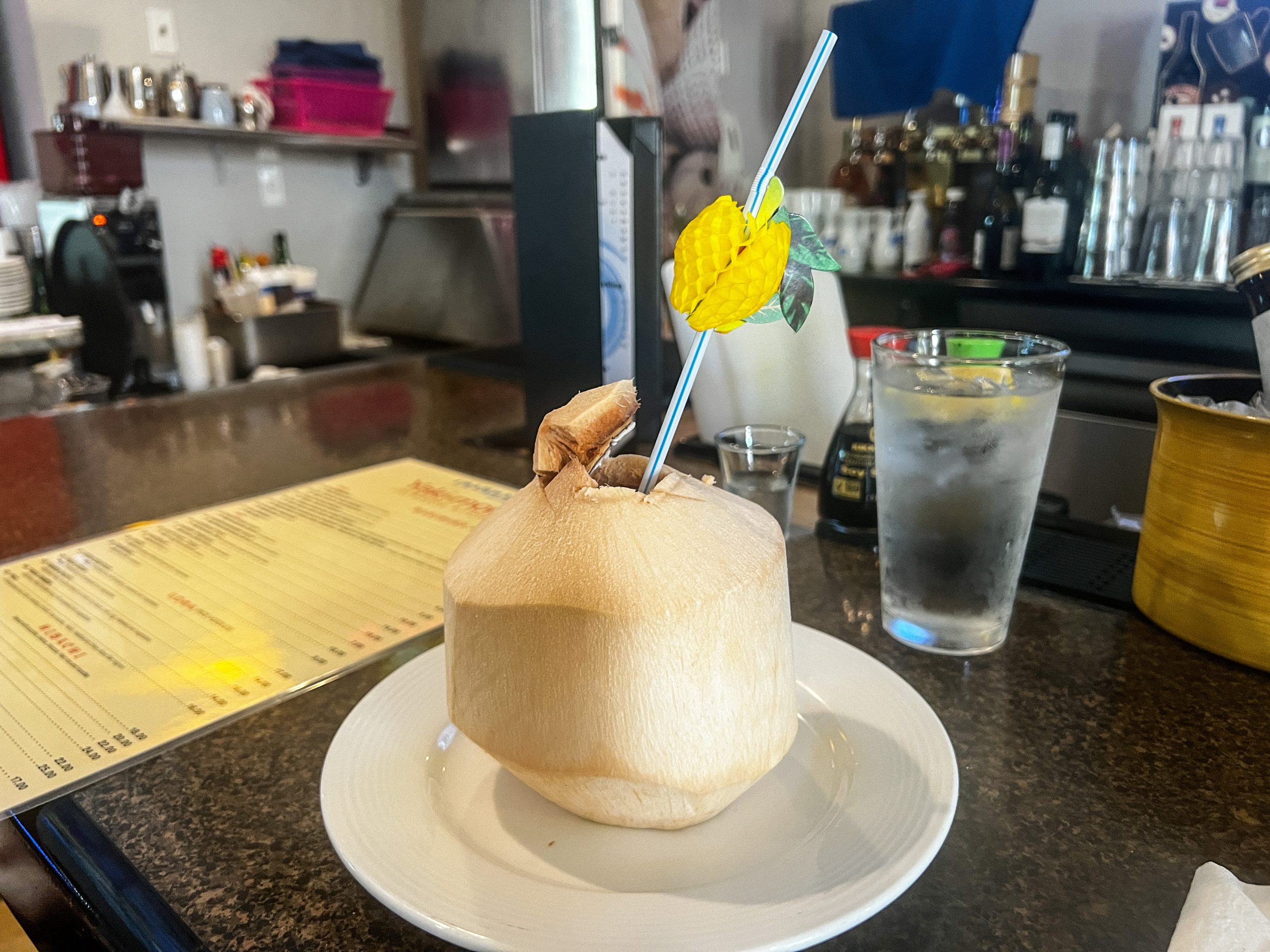 In addition to the coconut water, we also ordered some sake from the "sake bible," as Lisa described it. Turns out, this was the perfect terminology for the small but mighty book. Each page contained a different sake with a full profile on what to expect with each one. The particular one we ordered was out of stock; however, Lisa guided us to its brother, which proved to be totally enjoyable and exactly what we were looking for. It was smooth and full of body – not too sweet, and not too dry. The bottle lasted through the duration of our meal.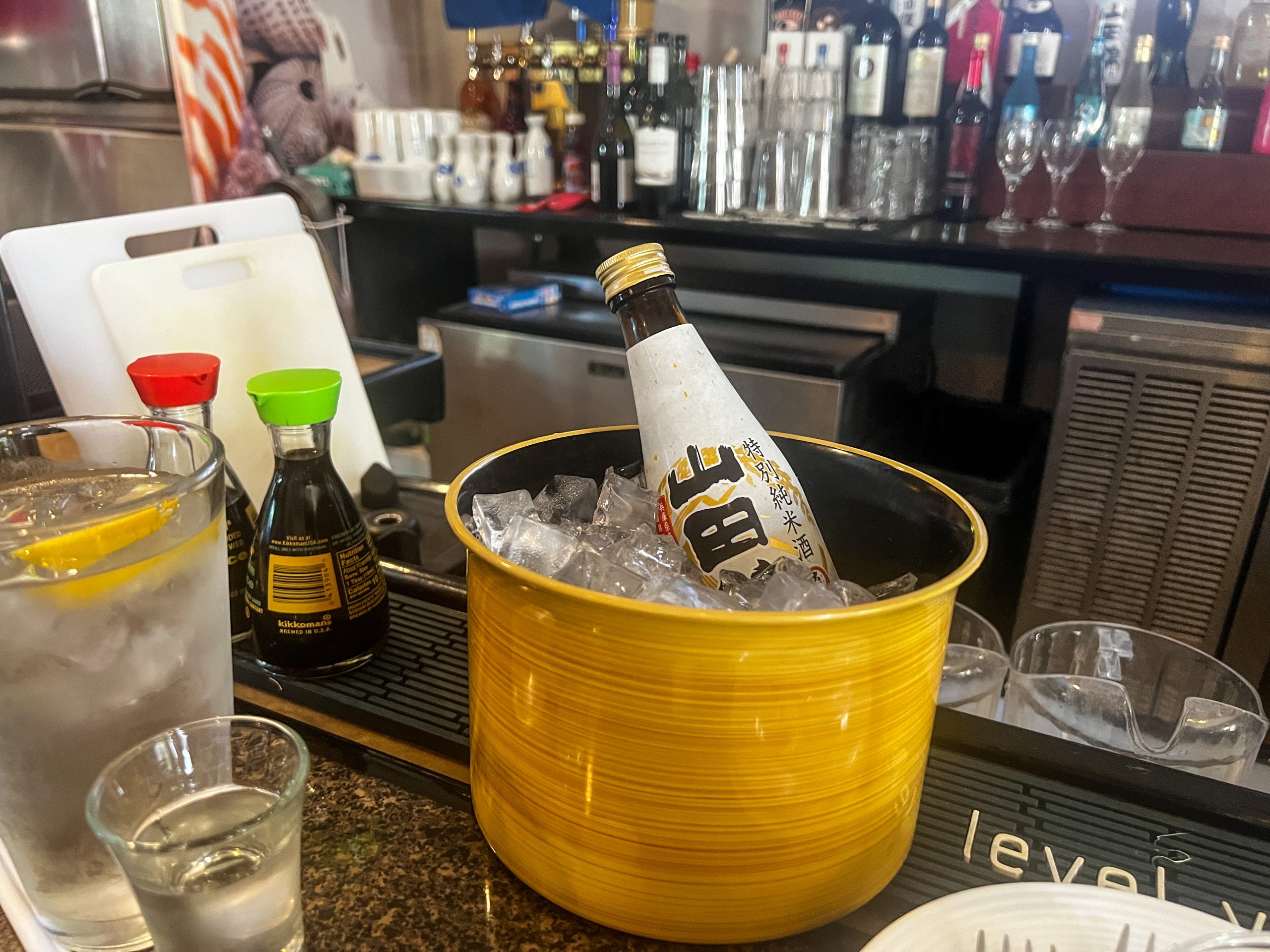 The first item of food to hit the table was the classic ginger salad. It was exactly the right size and the dressing was a total home-run. It's precisely how I always want a Japanese food experience to begin.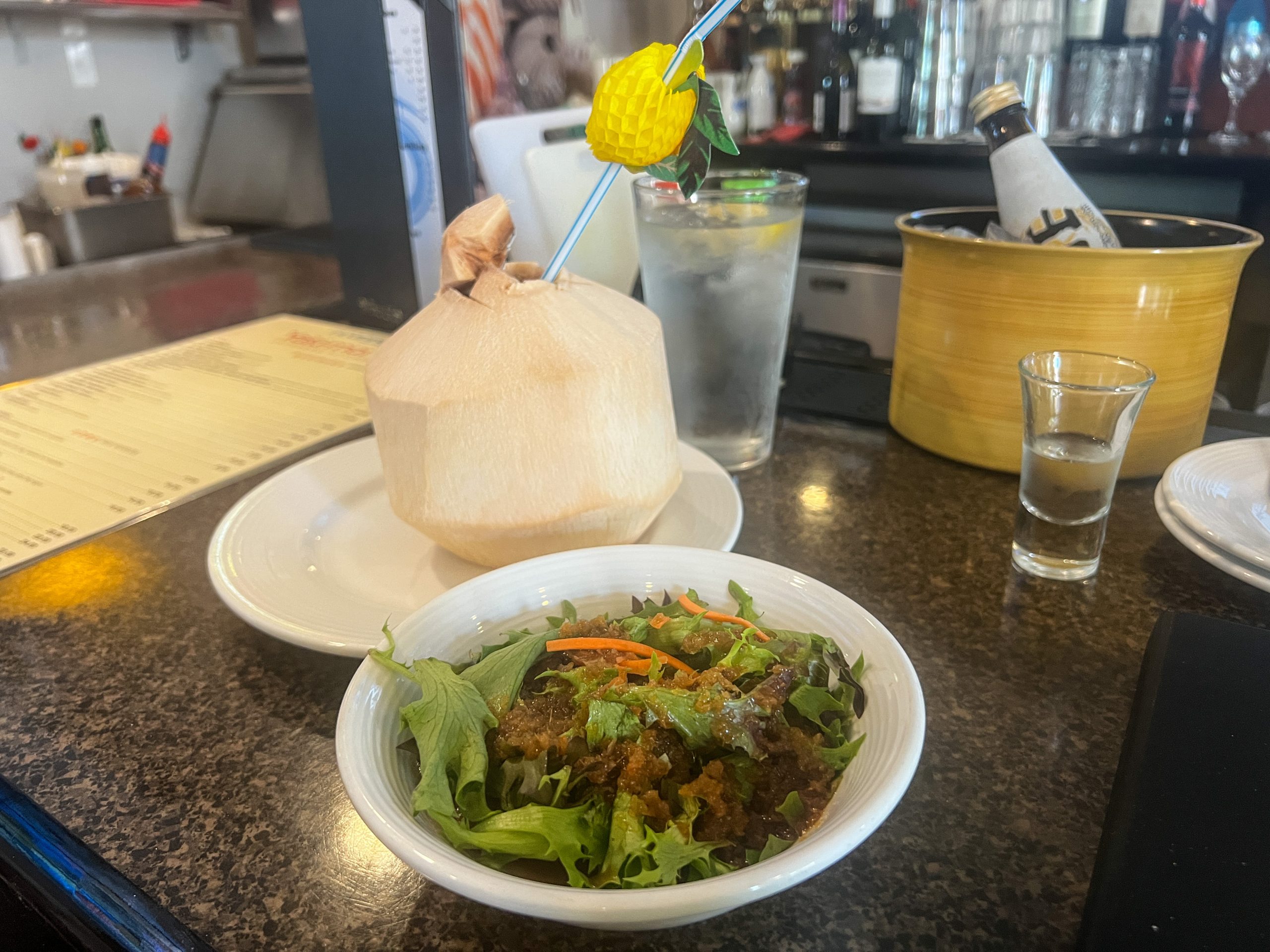 Shortly after the salad dropped, our Gyoza were delivered. They're stuffed with pork and vegetables and come with a fragrant sesame oil on the side which we highly enjoyed. The portion size was on point with five gyoza in total. We devoured them all and fought over the last one (which we ended up sharing).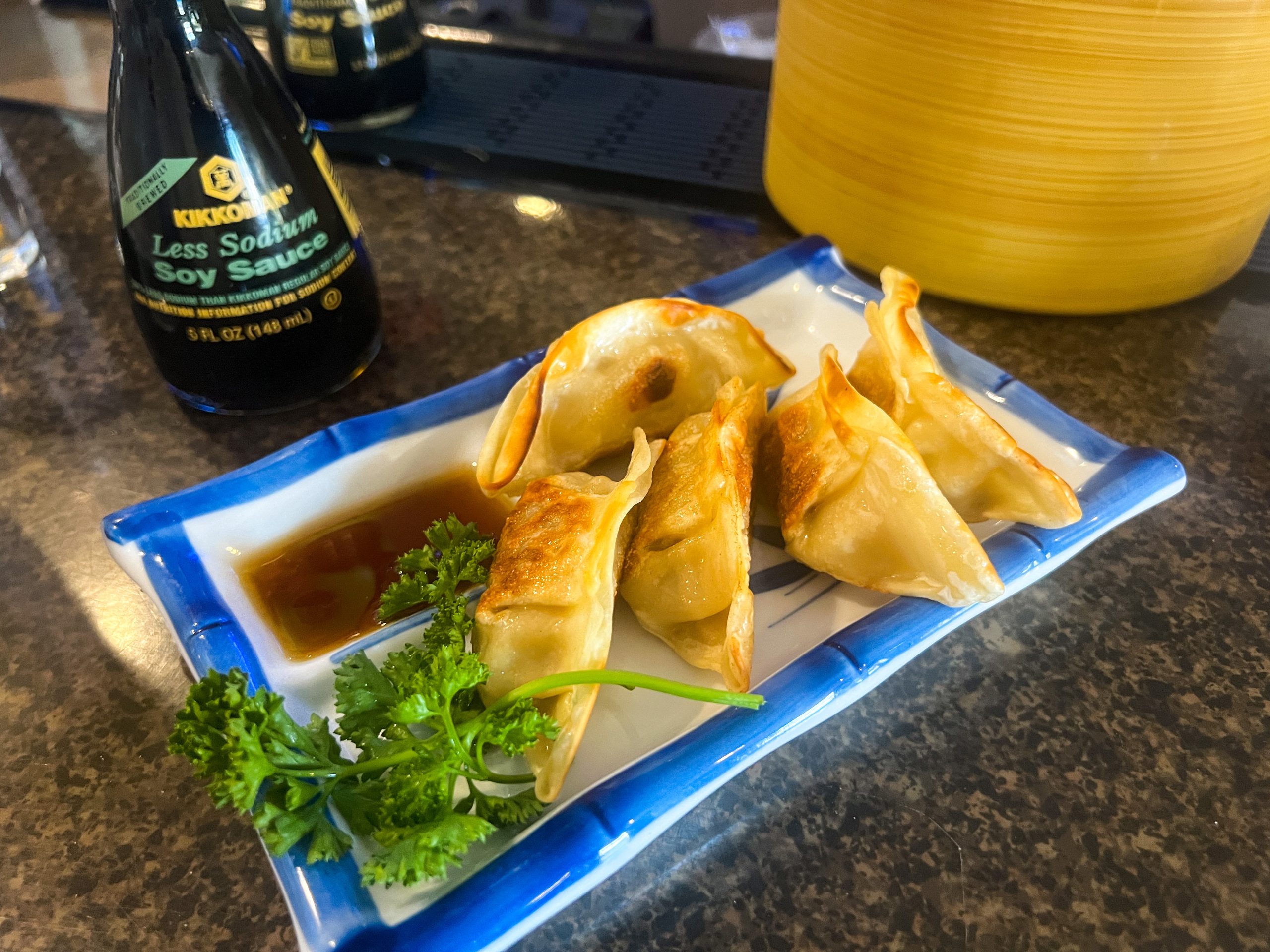 When I asked Lisa what the popular items on the menu were, the first thing she mentioned was the poke bowls, specifically the Hawaiian Ahi Tun Poke Bowl. Though because we were ordering a myriad of items, she recommended the Ahi Tuna Avocado Poke Mono which she said was basically the same thing as the bowl, minus the rice, which can be a bit filling. We happily took Lisa's advice and we ate every single bite of this dish. The flavors were bright, fresh and compelling. The combination of mango, avocado and tuna were so satisfying and perhaps what I loved most about the plate.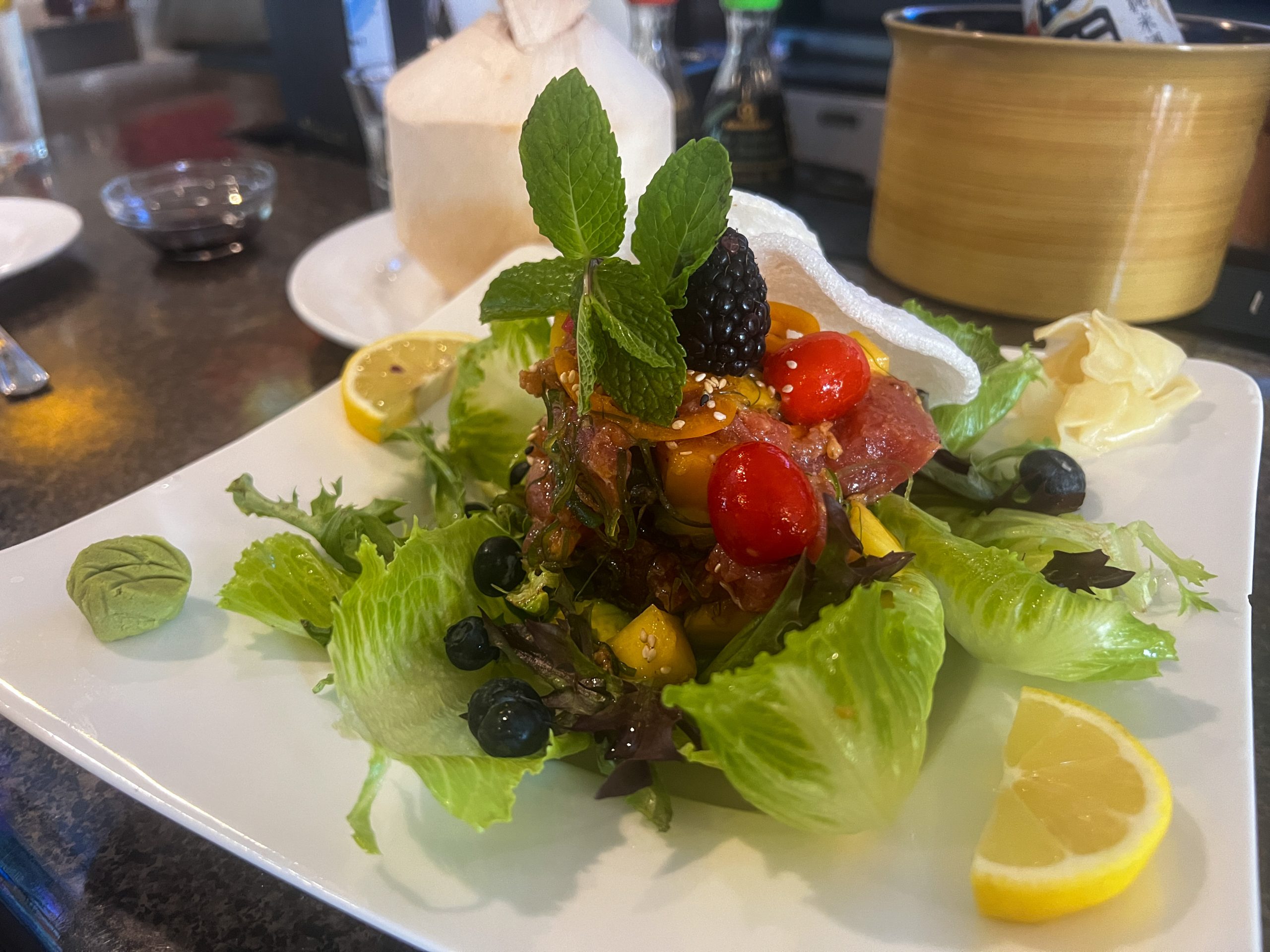 Yaki-mono has a "lunchbox" section on their menu which I think is fantastic. It's a great section to head to for a few options in one when you aren't quite sure what to order. There are six different lunchbox options which all come with a variety of sushi, house edamame and sushi proteins like salmon and tuna. We landed on lunchbox option "E" which comes with a California roll with tuna and avocado, edamame, sushi tuna and sushi salmon. The whole plate was an absolute delight. The main aspect that both my husband and I talked about several times was how incredibly fresh the fish tasted. The flavors and aromas were everything that you want when enjoying fish in this manner. The lunchboxes are offered from 11:00AM – 3:00PM and should definitely be on your radar.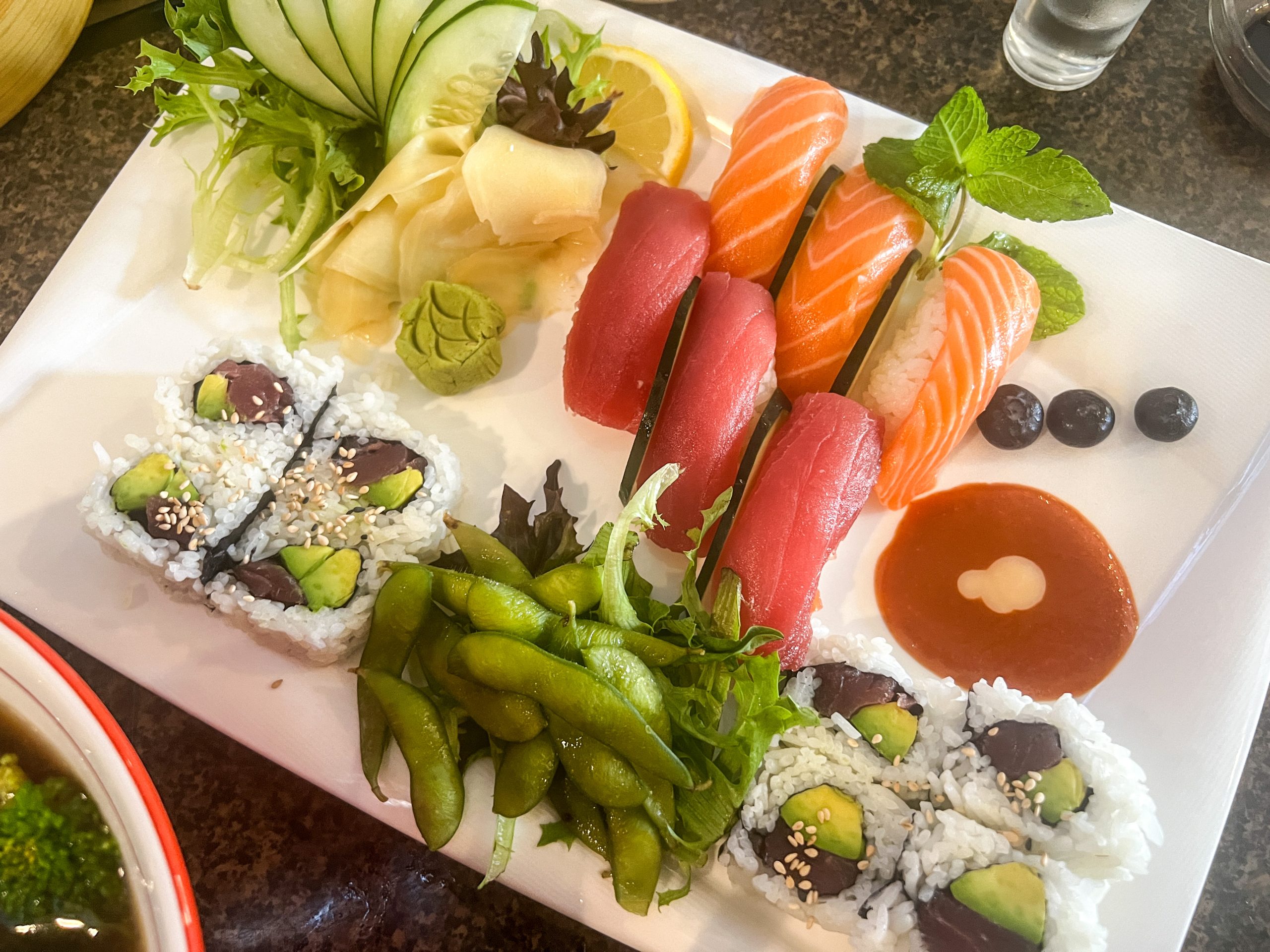 When we initially asked Lisa about popular items on the menu, she stated that basically anything with pork was sure to be incredible. Enter, Ramen Shoyu with Japanese wheat noodles, egg, pork, vegetables, soy sauce and seaweed. The portion size was just right – had we ordered only this with our appetizers, it would've been the perfect amount of food. The pork was tender and basically melted in your mouth. As for the broth, it was comforting with subtle flavors which allowed the other components of the bowl to shine.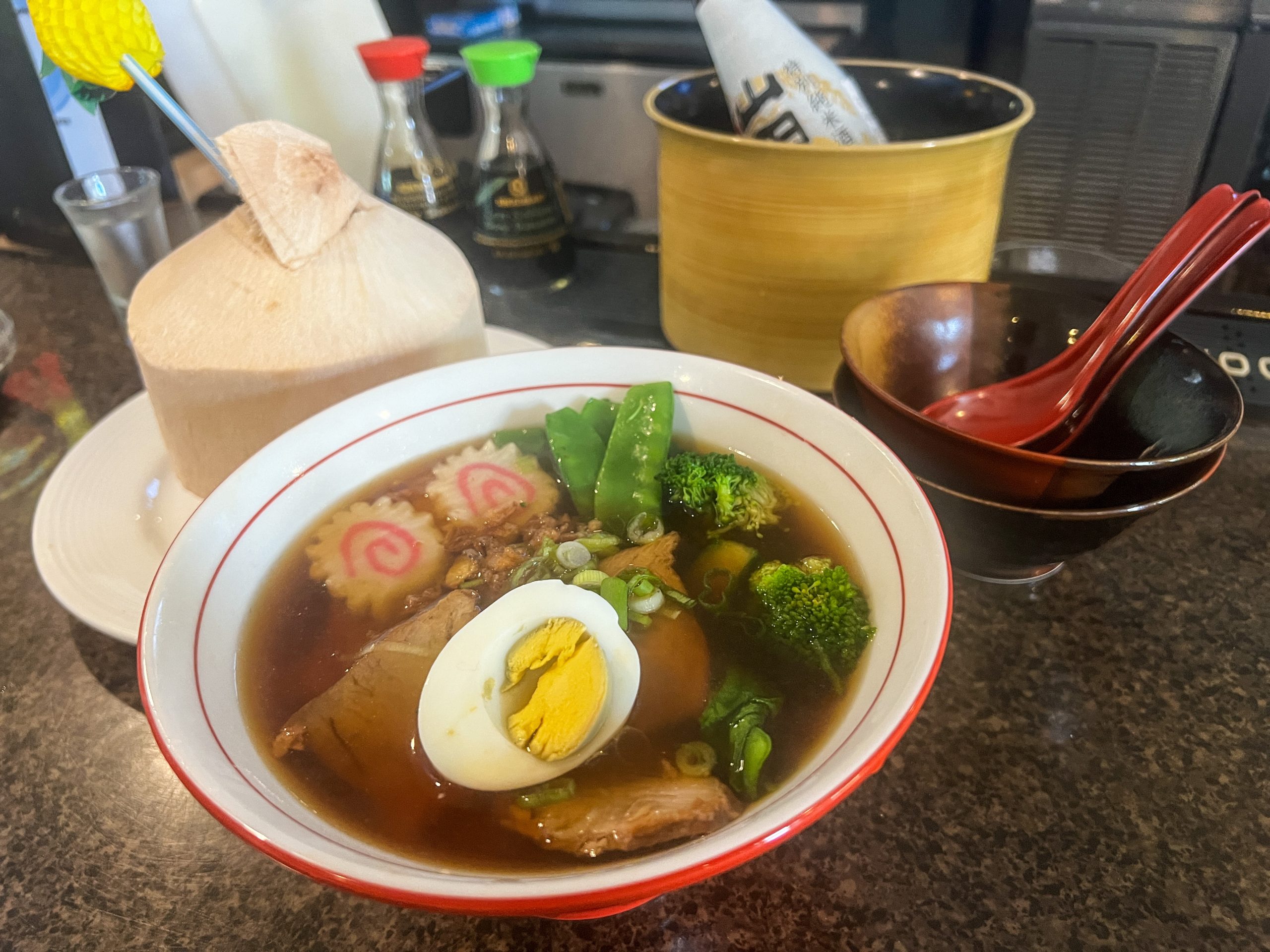 We decided to order the chicken fried rice as a last minute option from the side section of the menu. It arrived with a side of yum yum sauce and was exactly what we expected – pleased all of the senses and was just as good the next day. It's one of those menu items that you really can't ever go wrong with.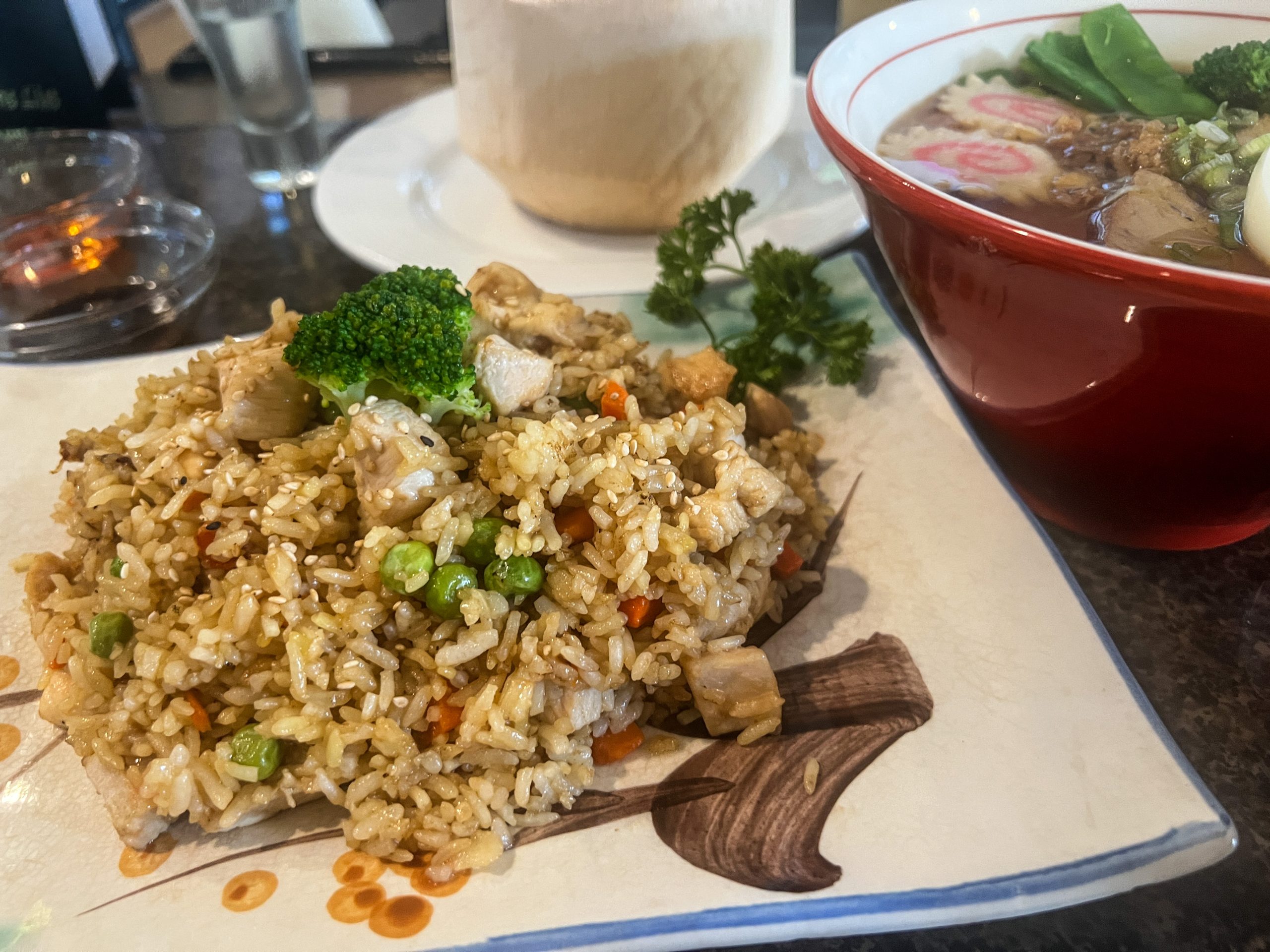 All-in-all, Yaki-mono is 100% a new spot for us to add to the St. Pete Beach regular restaurant rotation. I can't say enough good about both the food and the overall service. Everything exceeded our expectations and we are already looking forward to our next visit. This is definitely one of those spots that I'm excited to share and recommend to folks looking for a quality meal on the beach.
Experience delightful and unexpected Japanese specialties in St. Pete Beach. Yaki-Mono is pleased to offer Japanese dishes with flair and distinction, prepared for your enjoyment.
DISCLAIMER: Kevin, Lori, Abby, Haley, & Lindsey do not dine anonymously (this would be impossible) and we sometimes get free food (though never expected). However, we dine with the locals and we support our own. You will always get honesty in a respectful manner. We do not include any large national or regional chains in our ratings and reviews. We focus on independent locally owned eateries exclusively.

PLEASE NOTE: Reviews reflect a certain moment in time. Some restaurants stay extremely consistent over many years, and some change for the better or worse. Some things that may change are: chefs, recipes, food suppliers, ingredients, philosophies, ownership, etc. We always hope that you have the same good, or great experience we had.
More Foodies News, Reviews & Recipes
1 Response