The Wine House: Your New Gulfport Go-To for Wine & Barbecue
The Wine House: Your New Gulfport Go-To for Wine & Barbecue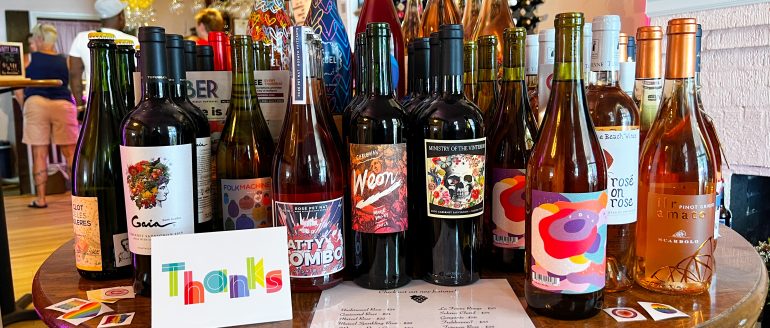 The Wine House, located on Gulfport's most popular street, Beach Blvd, is serving up incredible barbecue and a slew of wonderful wines. The wine and smoke house opened back in early April and the community welcomed the new establishment with open arms. The location, former home of Backfin Blue, boasts a large selection of wine inside – retail and wine for on-site consumption – and also has a sprawling outdoor space which is connected to the Peninsula Inn. It's truly the perfect setup for experiencing The Wine House's exceptional barbecue while washing it all down with their notable wine selection.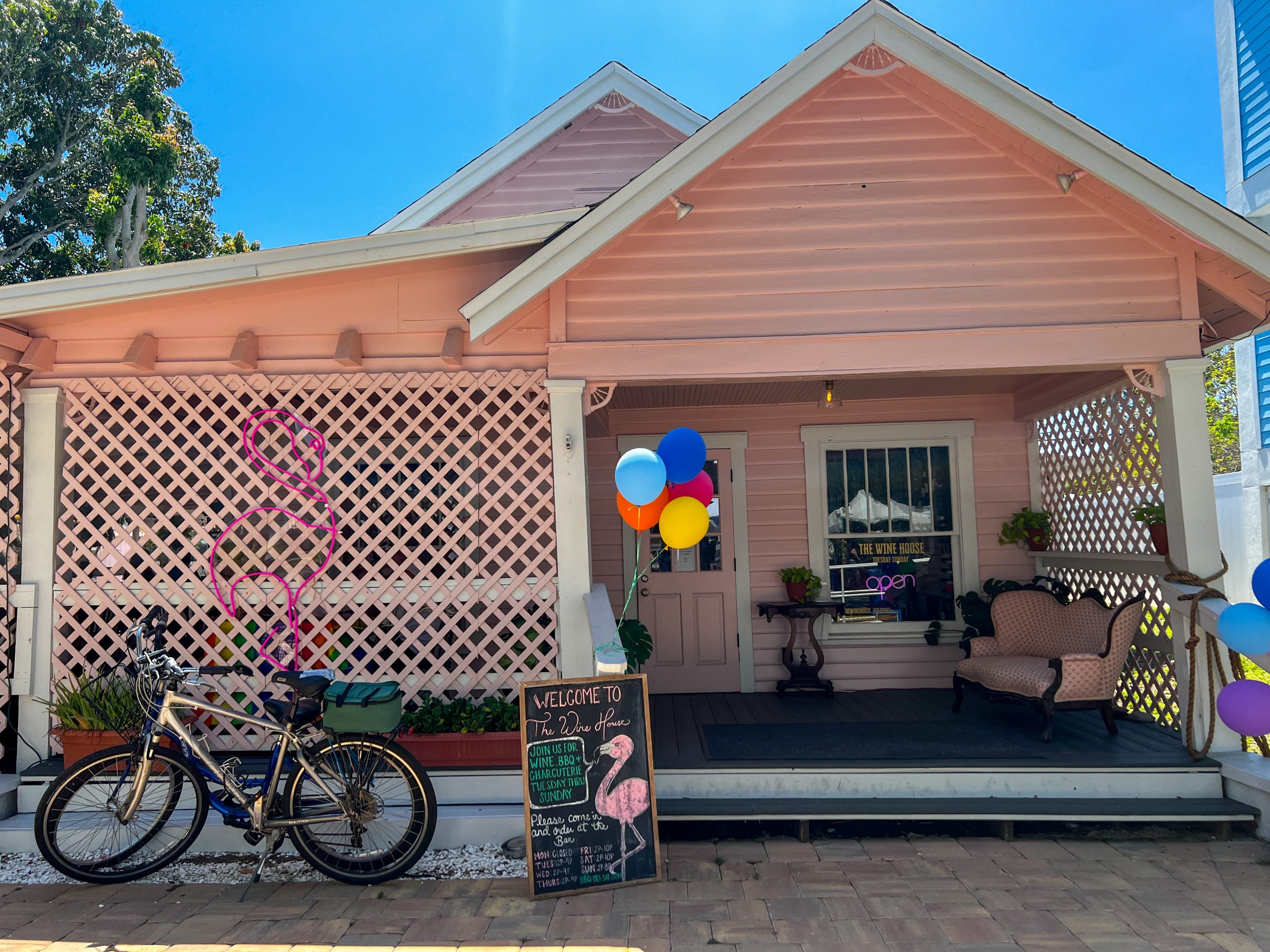 The space is hip and ultra laid back with lots of seating, the majority of which is on their covered porch and breezy outdoor patio. The building is hard to miss, as they have painted it a playful hue of pink. The color selection pairs perfectly with the convivial vibe of the wine and smoke house. A handful of seating is available inside as well, but the majority of the indoor real estate is where their large selection of wine lives. Outside is where I suggest you choose to hang. The seating out there is convenient for groups, or just a couple, as well as gatherings with larger parties. The tree tops and a pink canopy provide ample shade and the surrounding plantings make the space feel more cozy and private. They're also pet friendly, so feel free to bring your pup along for the fun. It's an optimal spot for live entertainment, too, which you will be pleased to hear that they do have from time-to-time. We happened to be there on a Saturday afternoon where they did have a live performer and it was so enjoyable. The sound of good music, the taste of wine or bubbly on your lips and the smell of barbecue in the works – it's a dreamy scenario.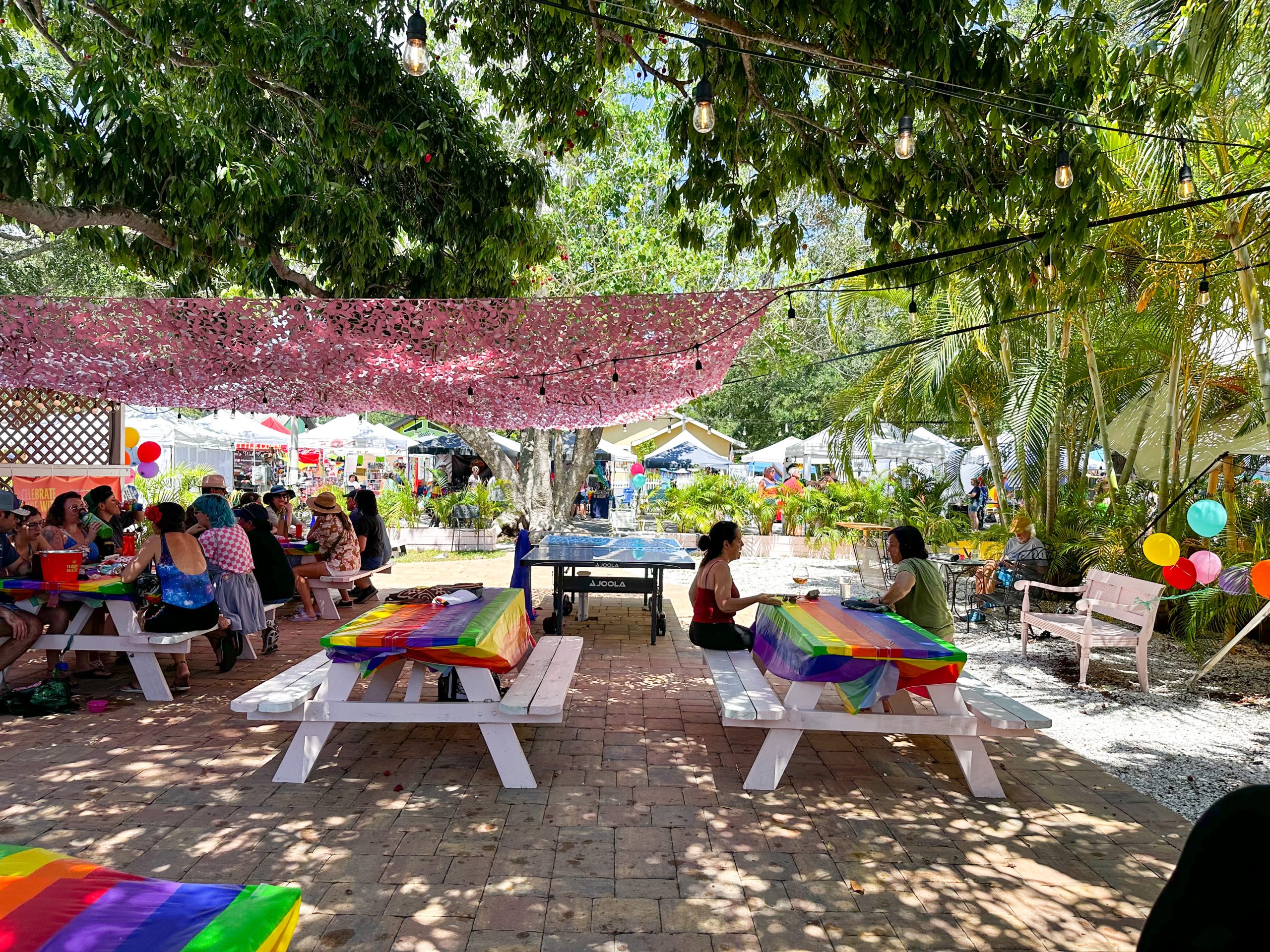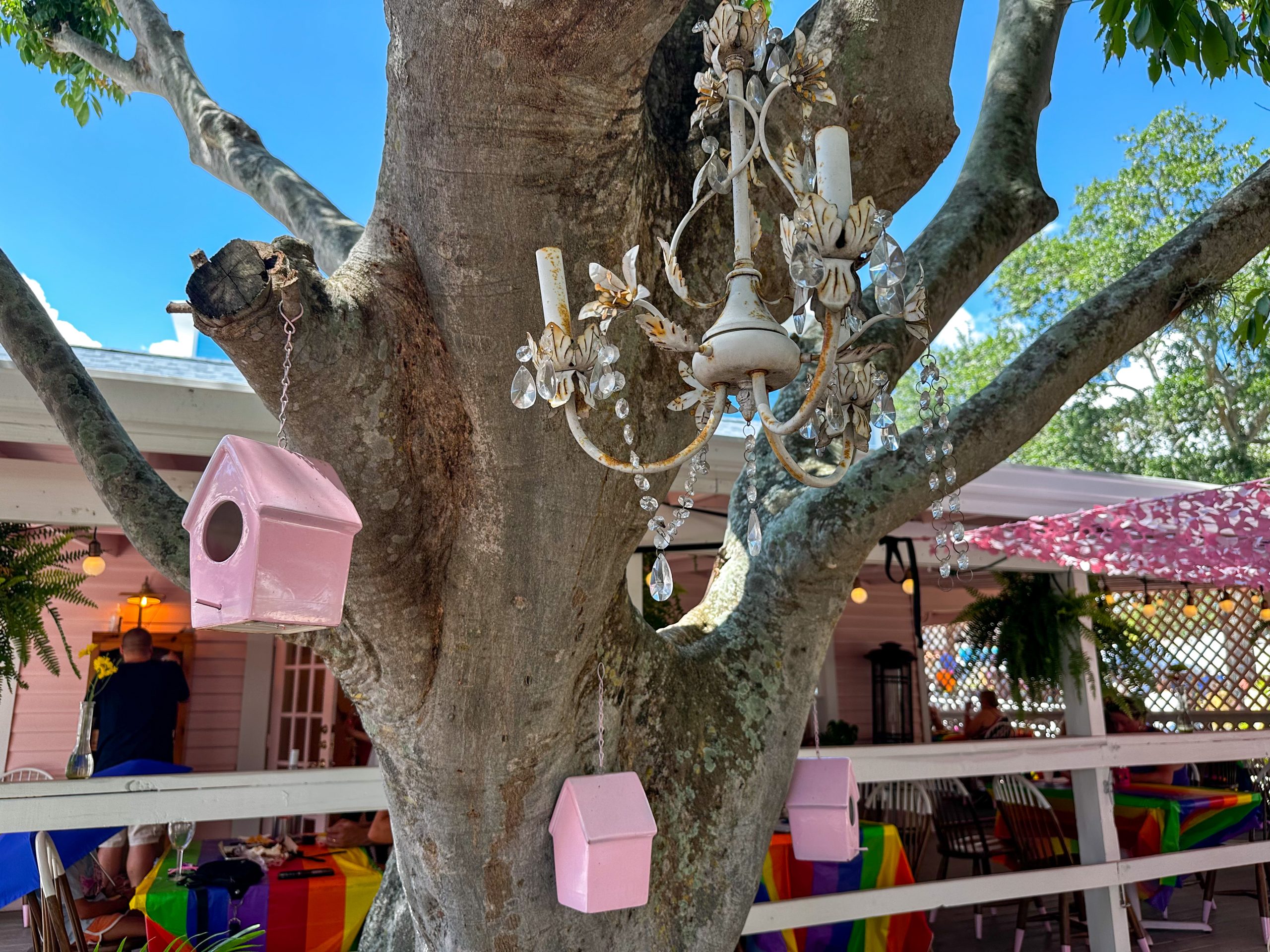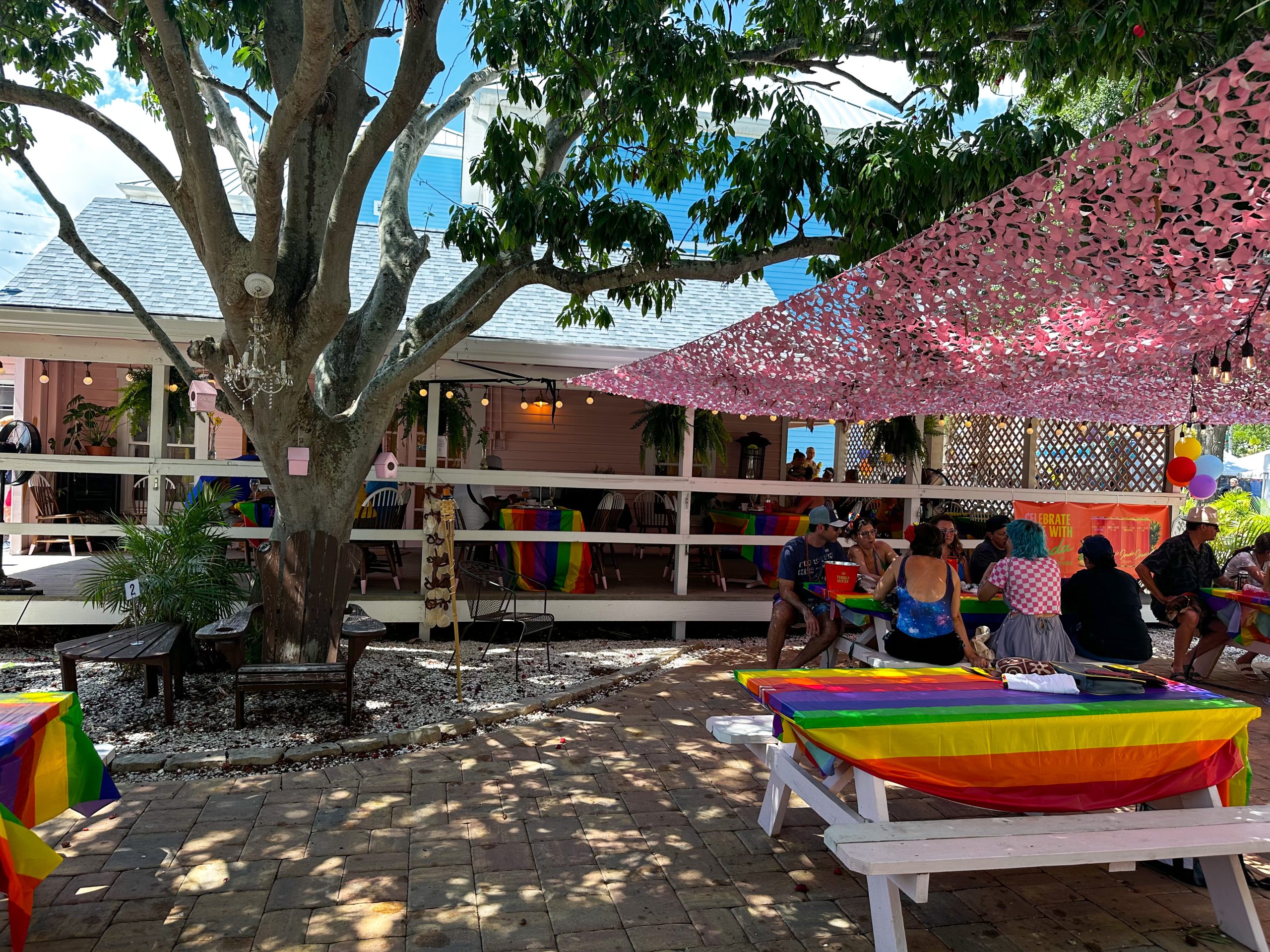 While the majority of the wine at The Wine House is by the bottle, they also have selections by the glass too (including a flight for indecisive folks like me who want some variety). The Wine House has an array of wine, with plenty of natural and organic wine varietals that range from white to red and basically everything in between. There's no doubt in my mind that they have something in stock for every palate. Enjoy your wine selection on site with a small $5 corkage fee, or stock up with a handful of your favorites to enjoy at home. If you're in the mood for something other than wine during your visit, select beers and canned beverages are also available. We enjoyed a light and bright rose which proved to be extremely delightful on the rather warm May afternoon.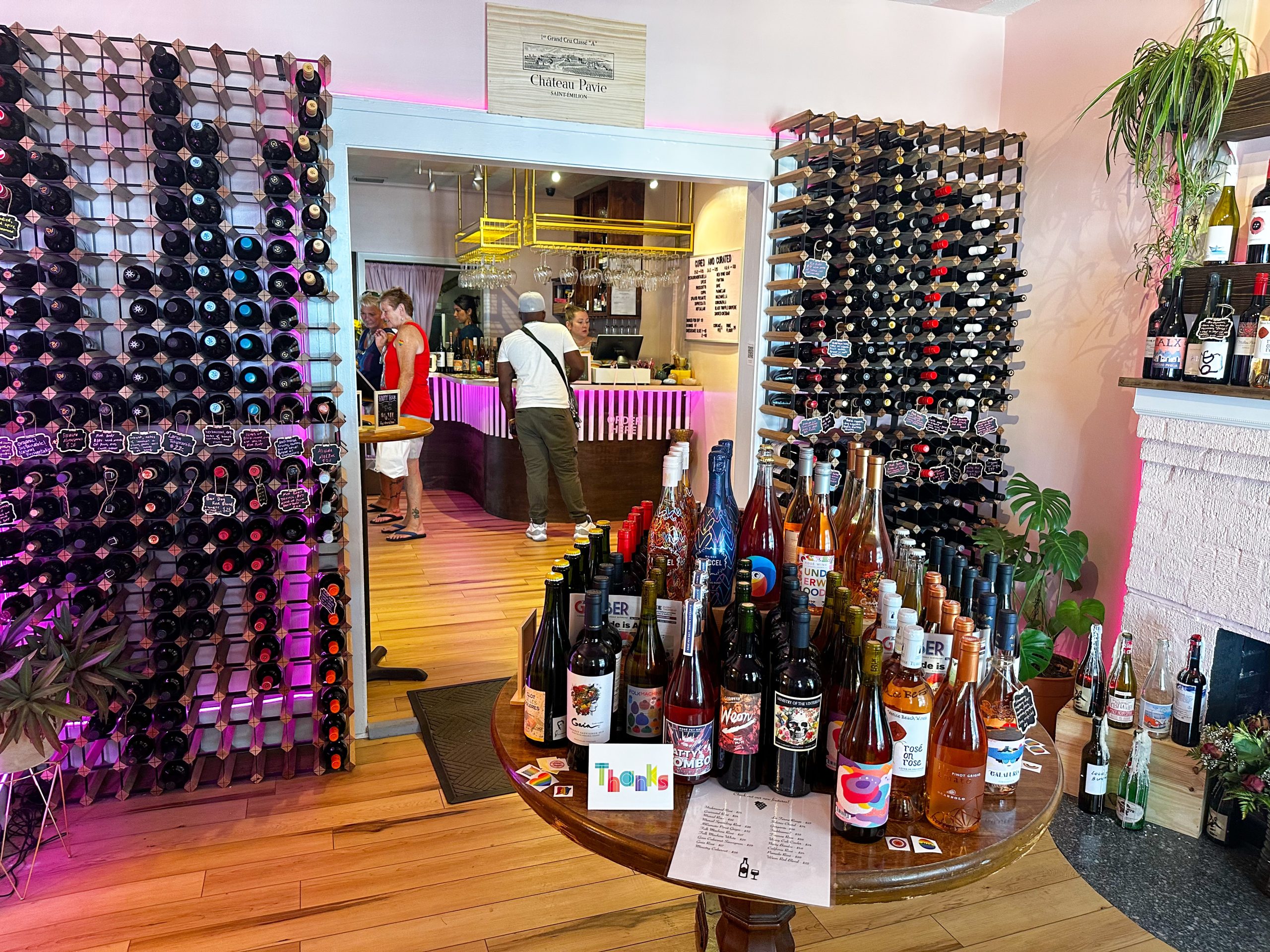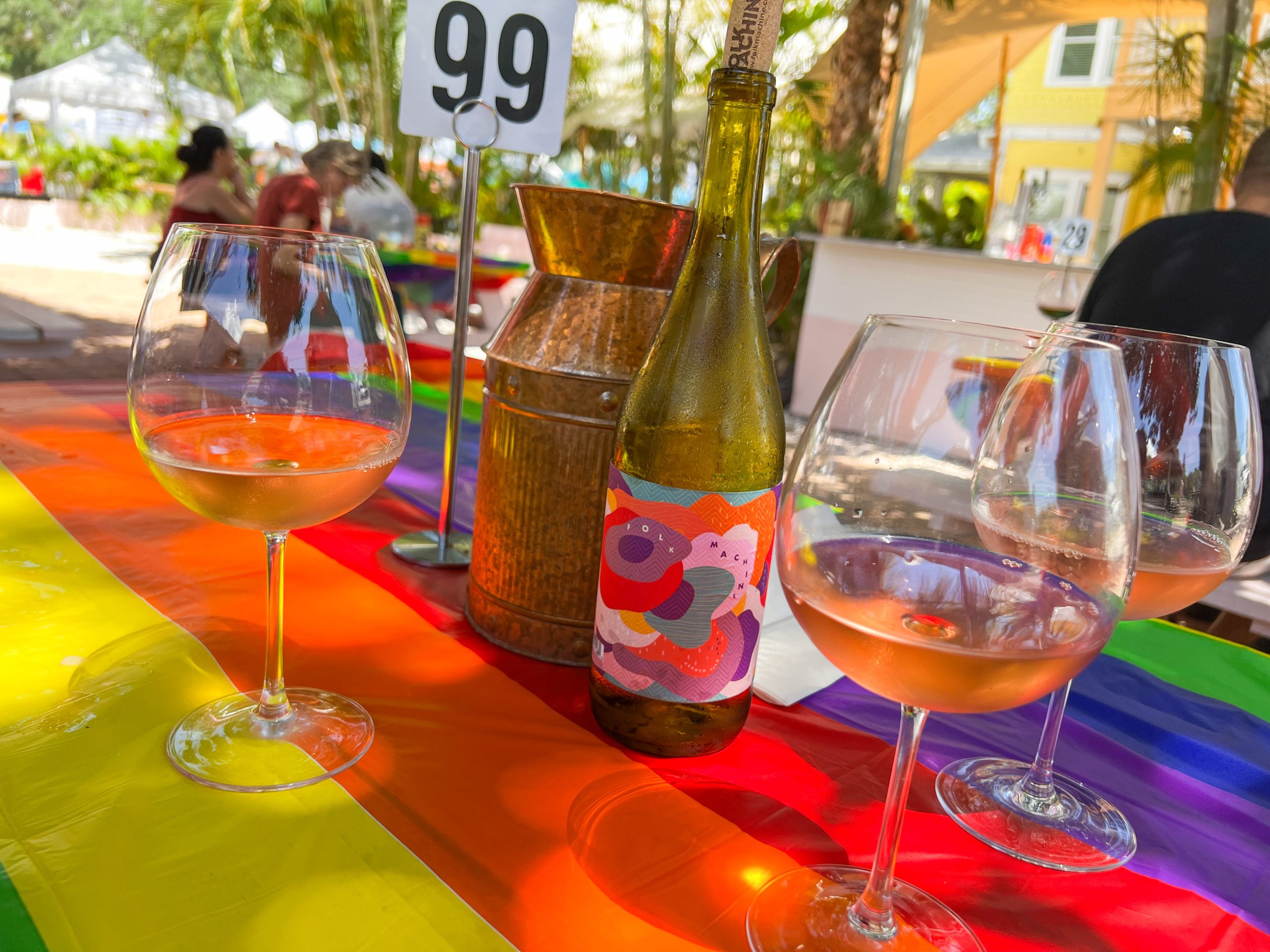 As previously mentioned, their food focus is on barbecue. However, if you're not wanting to eat a meal but still want a small bite, The Wine House has an array of cheese and charcuterie options. You can mix and match and create your own spread of four, six, or eight items. With your meats and cheeses, you'll also be served a nice little mix of pickled veggies, jam, honey, crackers (gluten free available by request) and toasted bread  Other options for small bites include hummus and smoked fish dip.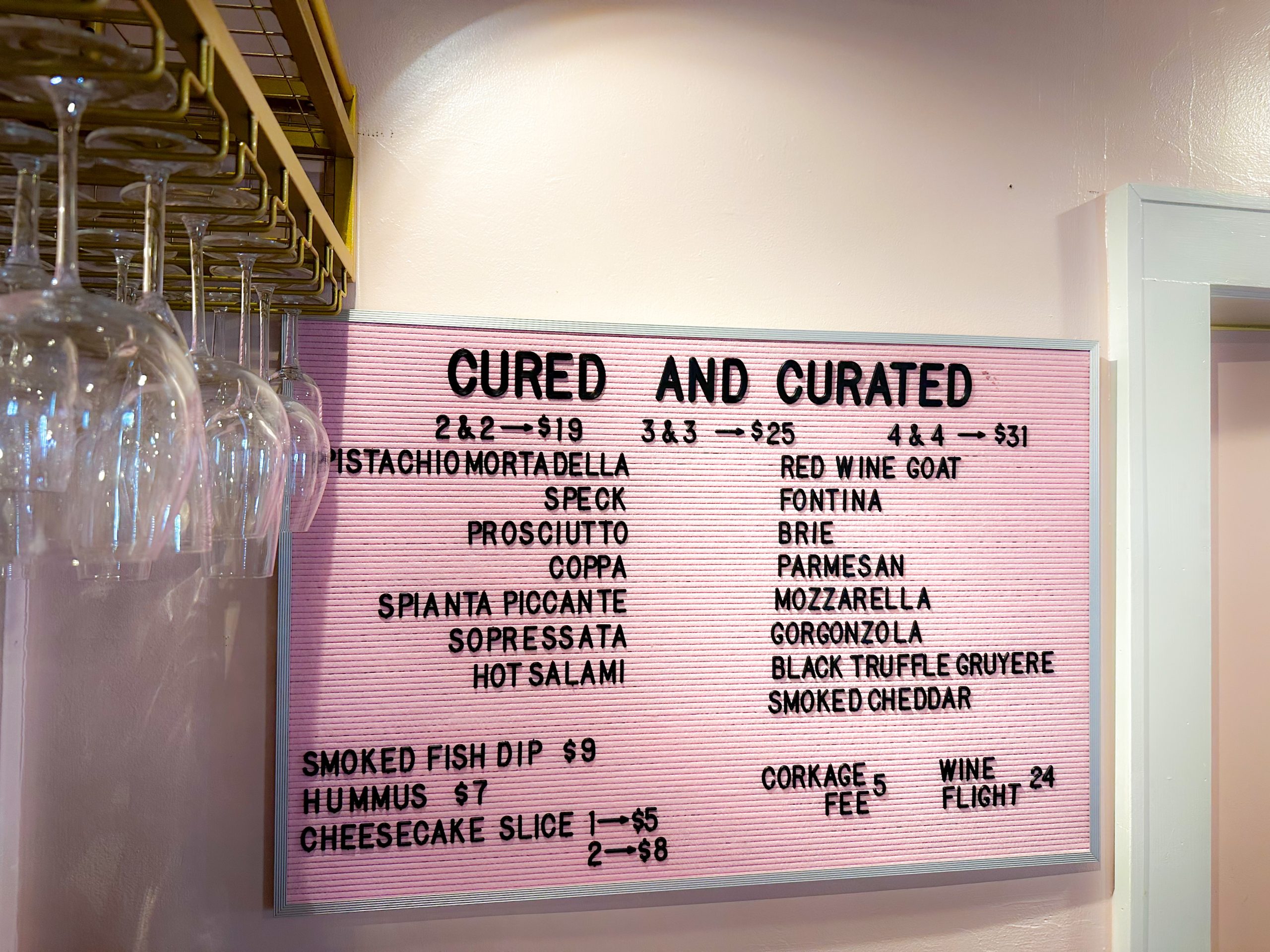 Now for the food that you're really anticipating – the good stuff, the barbecue. The menu may sound small, but it's incredibly mighty and I assure you, all that you need. Barbecue is available at The Wine House from Thursday through Sunday. The lineup available during our visit included: St. Louis Ribs (half or full slab), Half Chicken, Smoked Pork and Chicken Wings. The options on the menu do change weekly, so it's worth reaching out to them for the current menu if you're looking to enjoy a specific item. Side options included Truffle Mac & Cheese, Baked Beans and Potato Salad and each order comes with two Hawaiian Rolls & pickles. Unfortunately for us, they ran out of the chicken wings right before we ordered. However, owner Paige Valensky Acree said that the wings were such a success this weekend that they will always have the smoked chicken wings. You better believe that we will be back sooner rather than later to enjoy those for ourselves.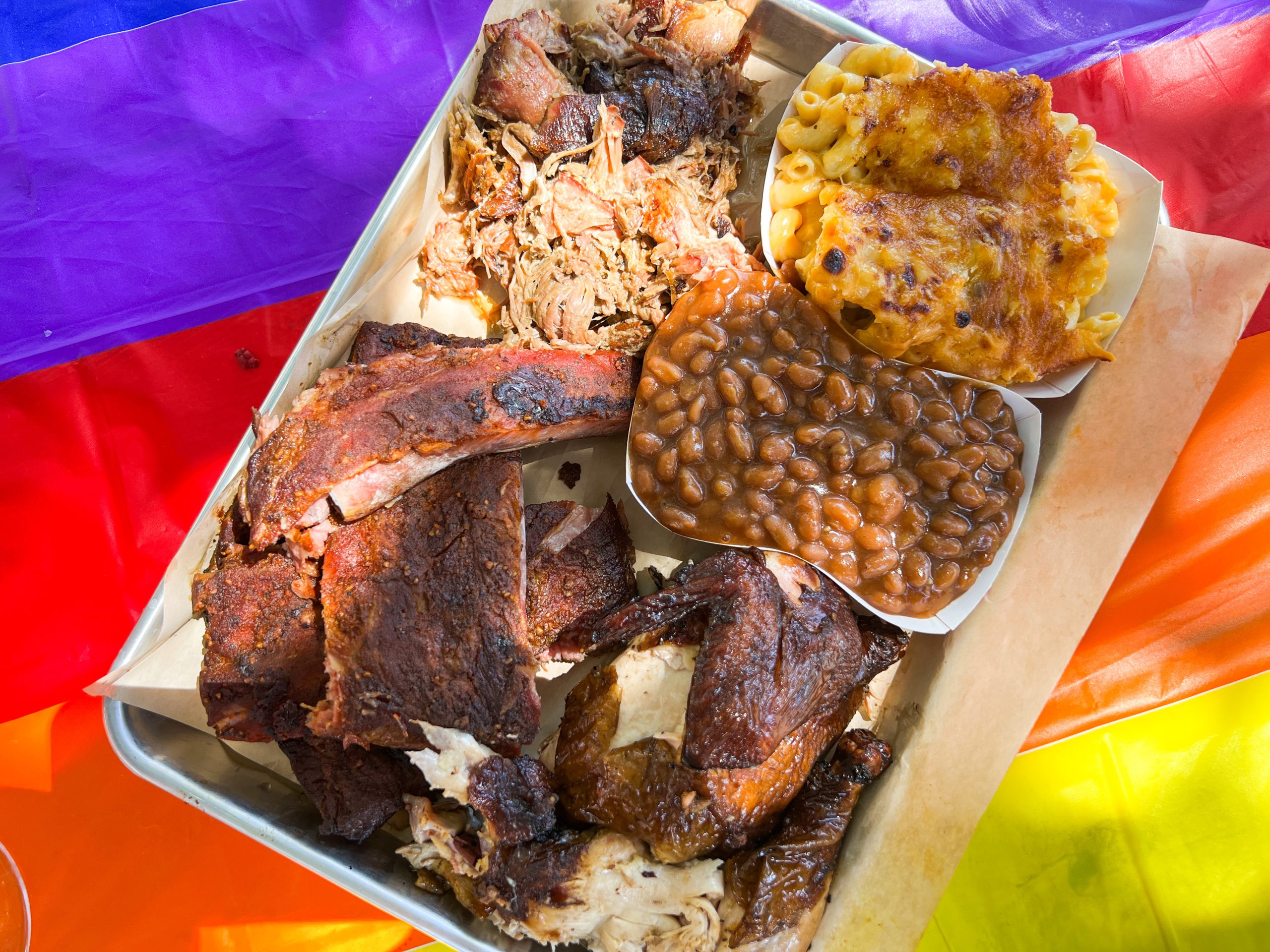 We ended up ordering one of everything on the menu. It may sound aggressive, but wasn't an overabundance of food. I love that their meats are available in two different sizes in most cases – 1/2 & full slabs of ribs, 1/2 and whole chickens and 1/2 and full pound options for the smoked pork. They also have an array of sauces to choose from. You can choose to have your sauce of choice tossed with your order or you can ask for it on the side.
The food arrived all together on the same tray which was both pleasing to the eyes and quite functional. Small containers are provided if you're sharing the fare family-style with others. We chose to order one of each of the sauces and requested those on the side so that we could sample each as we pleased. I first dove in for the ribs, which were cooked to perfection. – they fell right off the bone. I wanted to try them without assistance from a sauce and I'm glad I did because they were flavor-packed enough to stand on their own. Though, I did try them with some sauce and it obviously made them even better. The meat was juicy, tender and damn near perfect. I wouldn't consider myself a connoisseur of barbecue at all, but I will say that these were some of the best ribs that I've ever had the privilege of trying.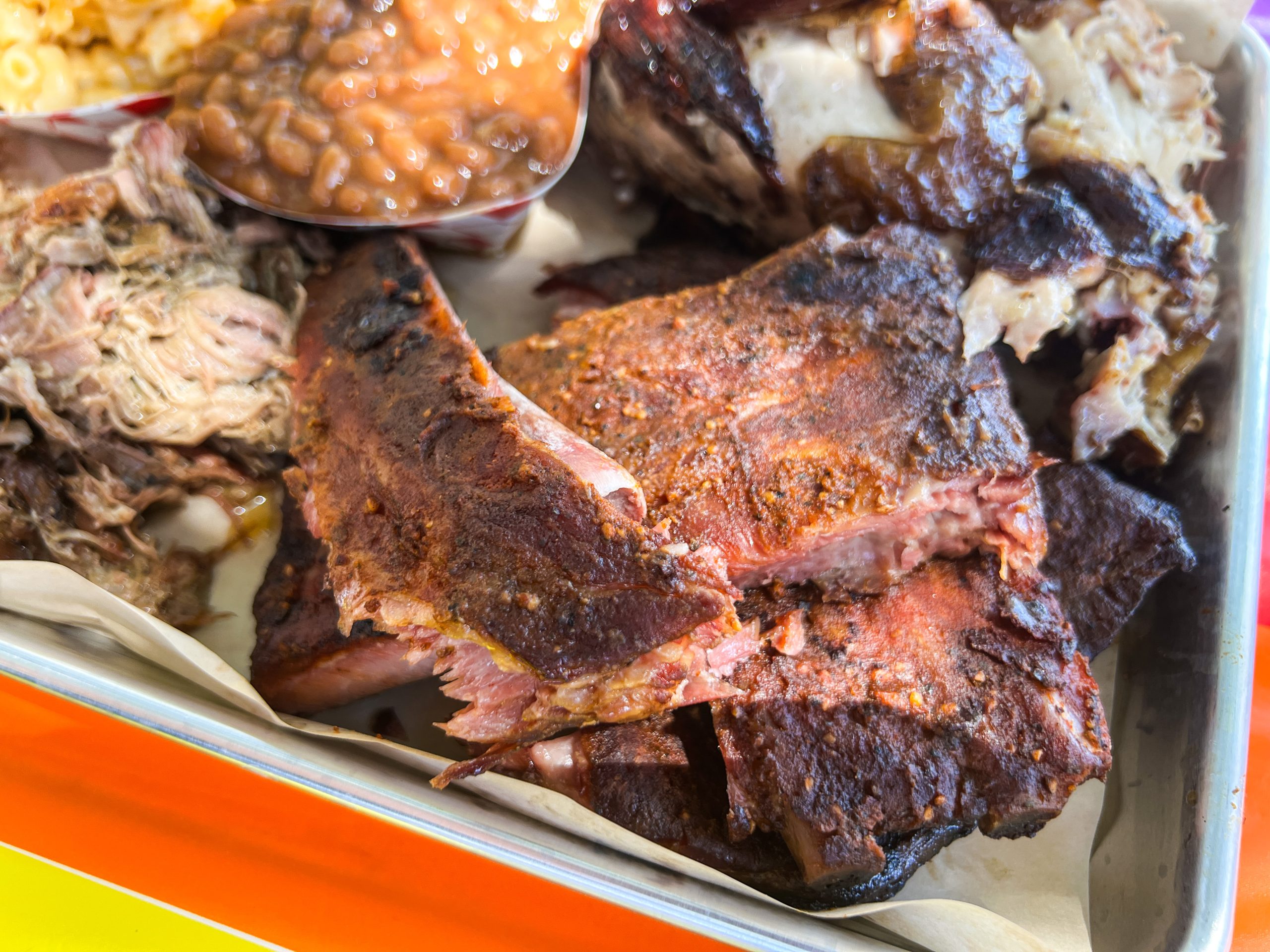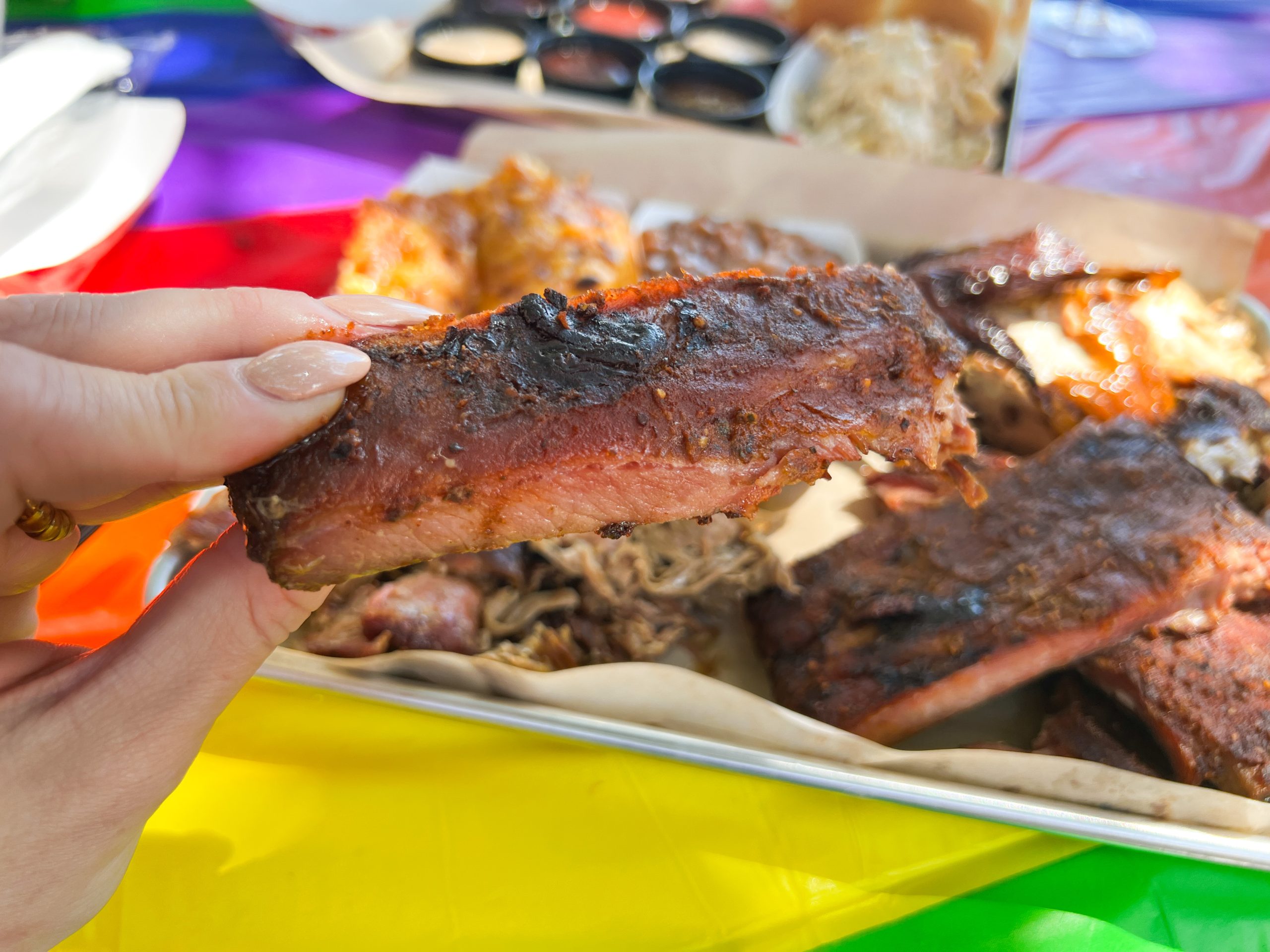 We were so eager to finally get a taste of the chicken. We first saw the chicken in person back in April when we were just having a glass of wine before going to a dinner reservation and stumbled upon The Wine House by chance. We watched a handful of orders of the chicken cruise past our table that evening and admired each and every one. Turns out, not only does it look great, but it tastes even better. It's moist and smokey and ultra delicious when slathered with a sampling of your preferred sauce. The 1/2 bird was definitely the right move for three of us and we even took half of it home. Had that been the only meat we ordered, we most definitely would've eaten a bit more of it. So, if you're only ordering this protein with a side or two, I think that this is probably enough to feed two people comfortably.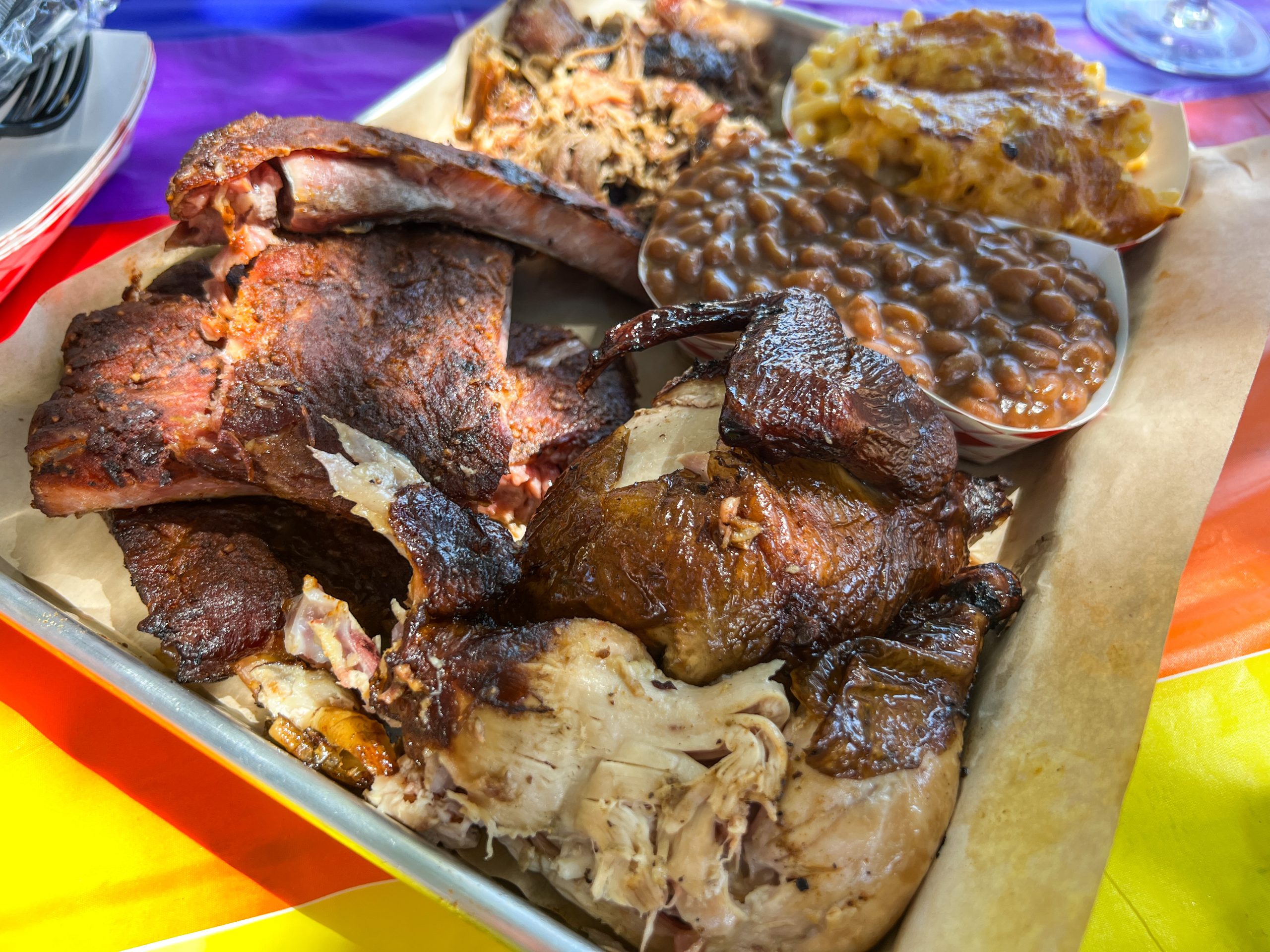 The smoked pork was extremely satisfying – especially when situated in the middle of one of the King's Hawaiian rolls with a heathy bit of sauce. Definitely order an extra roll or two with your order and thank me later. The pork just hits all of the right notes and the shredded texture, with some tasty well-done bits here and there, is exactly what you want.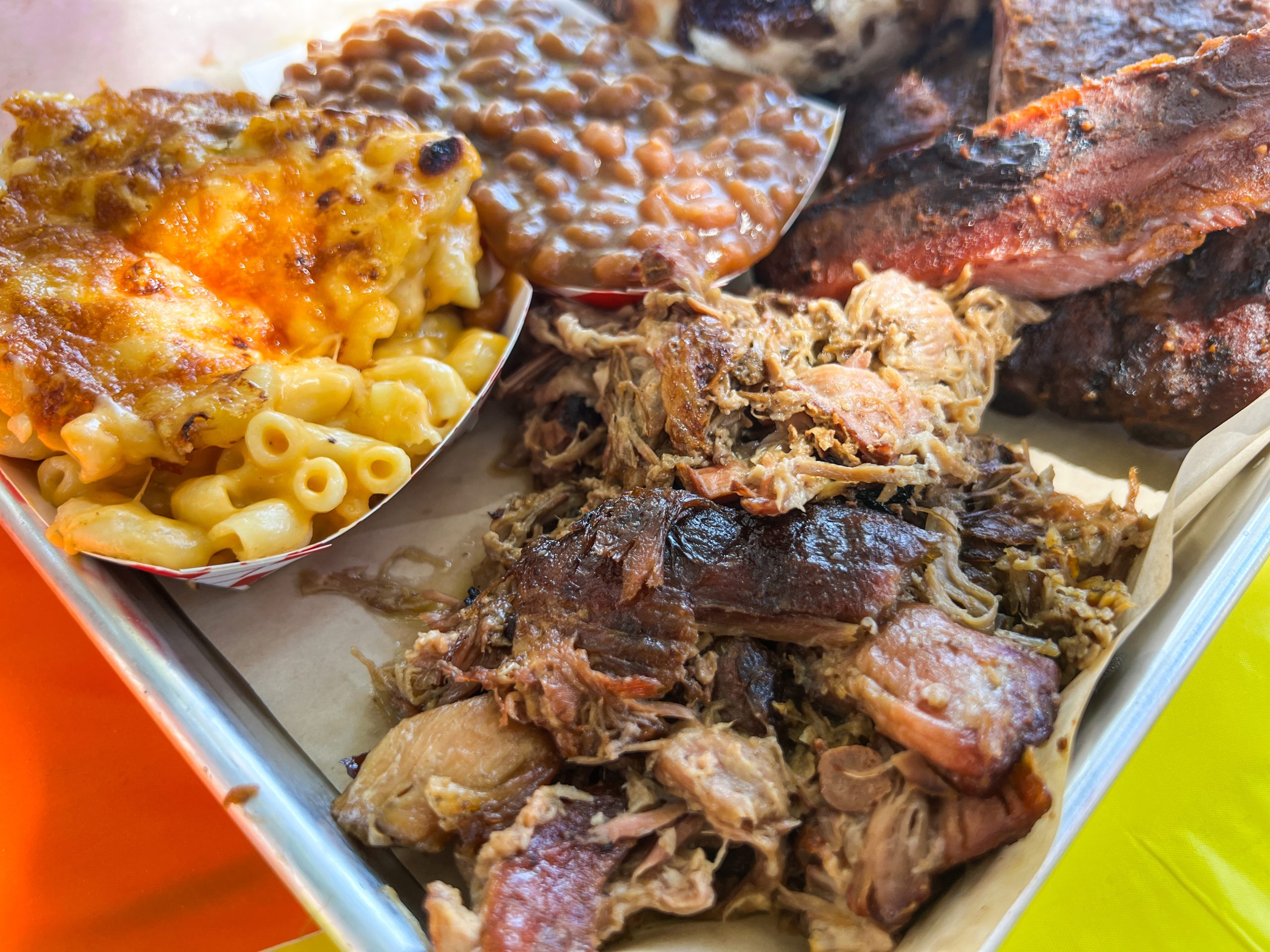 The sides were precisely what you want to enjoy along side some barbecued delights. The crowd favorite was definitely the Mac & Cheese, which had a faint hint of truffle that was just the right amount so that you know it's there, but not so much that it's overwhelming. We actually loved all of the sides, period. The potato salad was creamy yet refreshing, while the baked beans were luscious, rich and oozing with essence.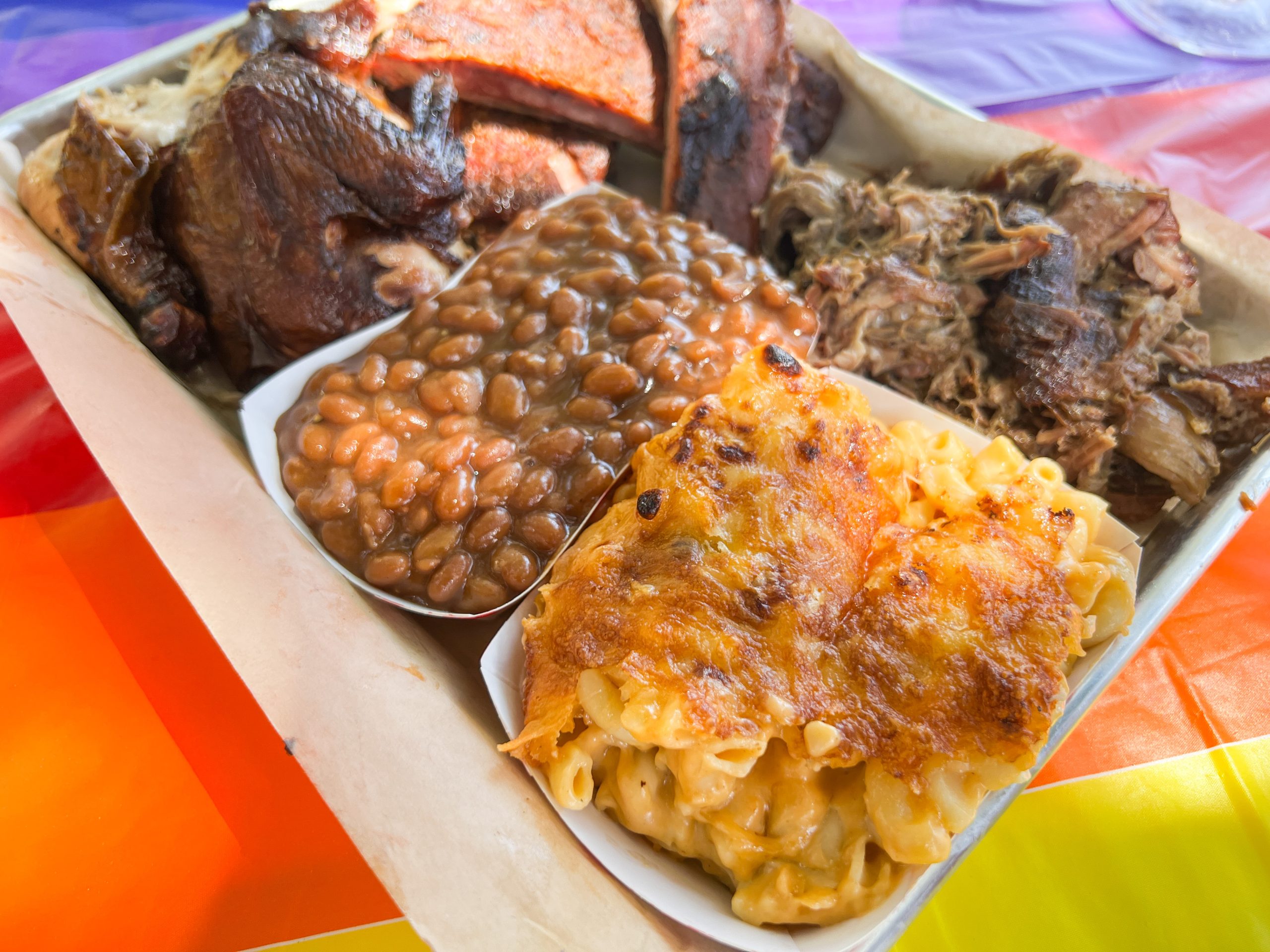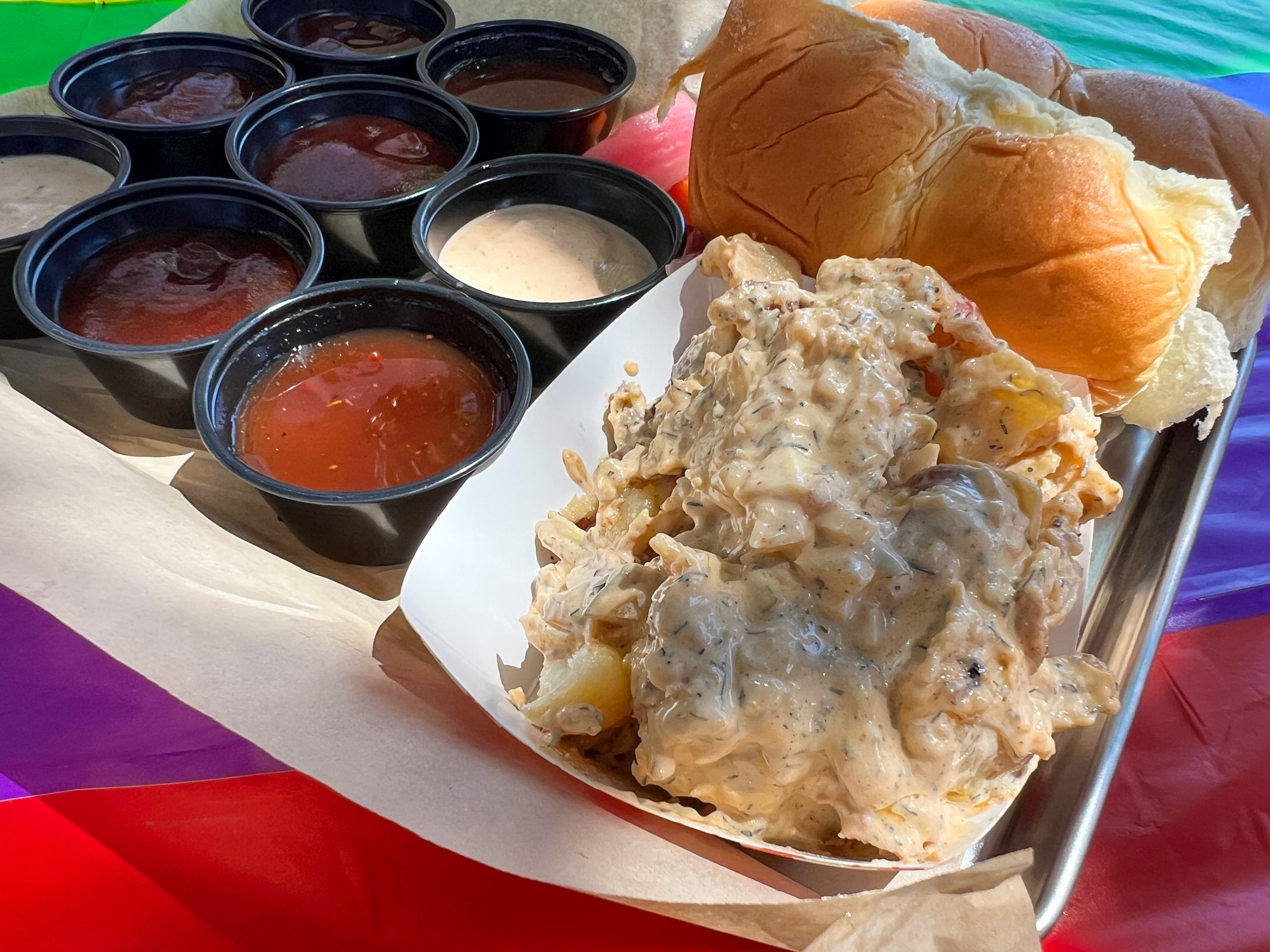 The Wine House does host events at their space, which is fitting because they do in fact have a solid location to do so. Stay up to date with their latest events by keeping a close eye on their social accounts. They also has a great happy hour that runs Tuesday – Friday from opening until 5:30PM where they offer $6.00 select wines by the glass.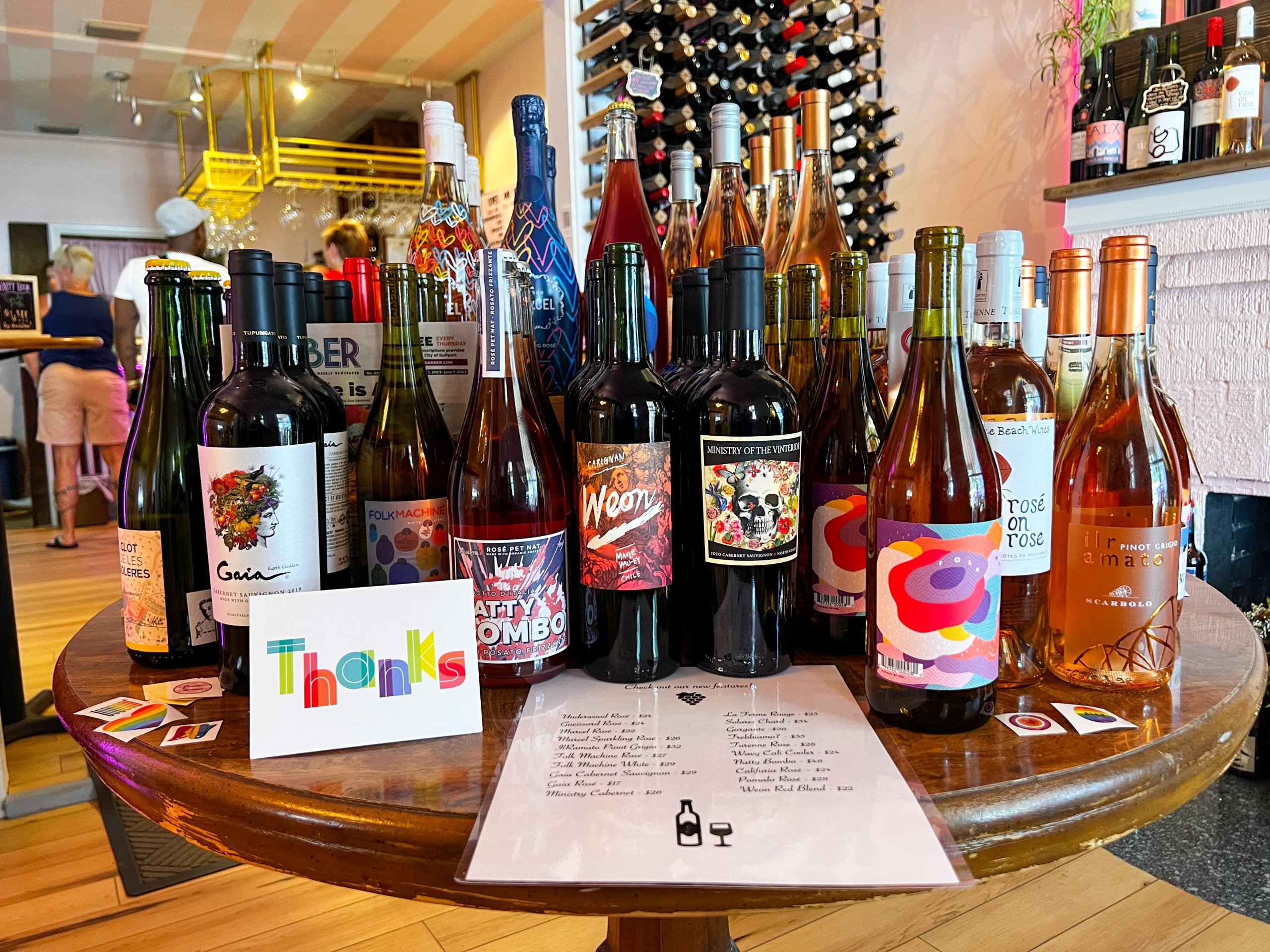 After our most recent visit to The Wine House, we quickly realized how well this hip new establishment has settled into Gulfport. When we arrived around 3PM on a Saturday, the place was basically full. Granted, it was Pride weekend in Gulfport, but it was evident how much other patrons were enjoying the atmosphere, food and wine. The service is fabulous, too. The staff is so incredibly kind and outgoing and they truly make you feel welcome – especially GM Nikki Nadeau who we had the pleasure of meeting. The Wine House is exactly what Gulfport has been missing. The next time you're looking for a crisp and refreshing beverage on a prime patio, or perhaps some of the tastiest barbecue around, you know where you need to go.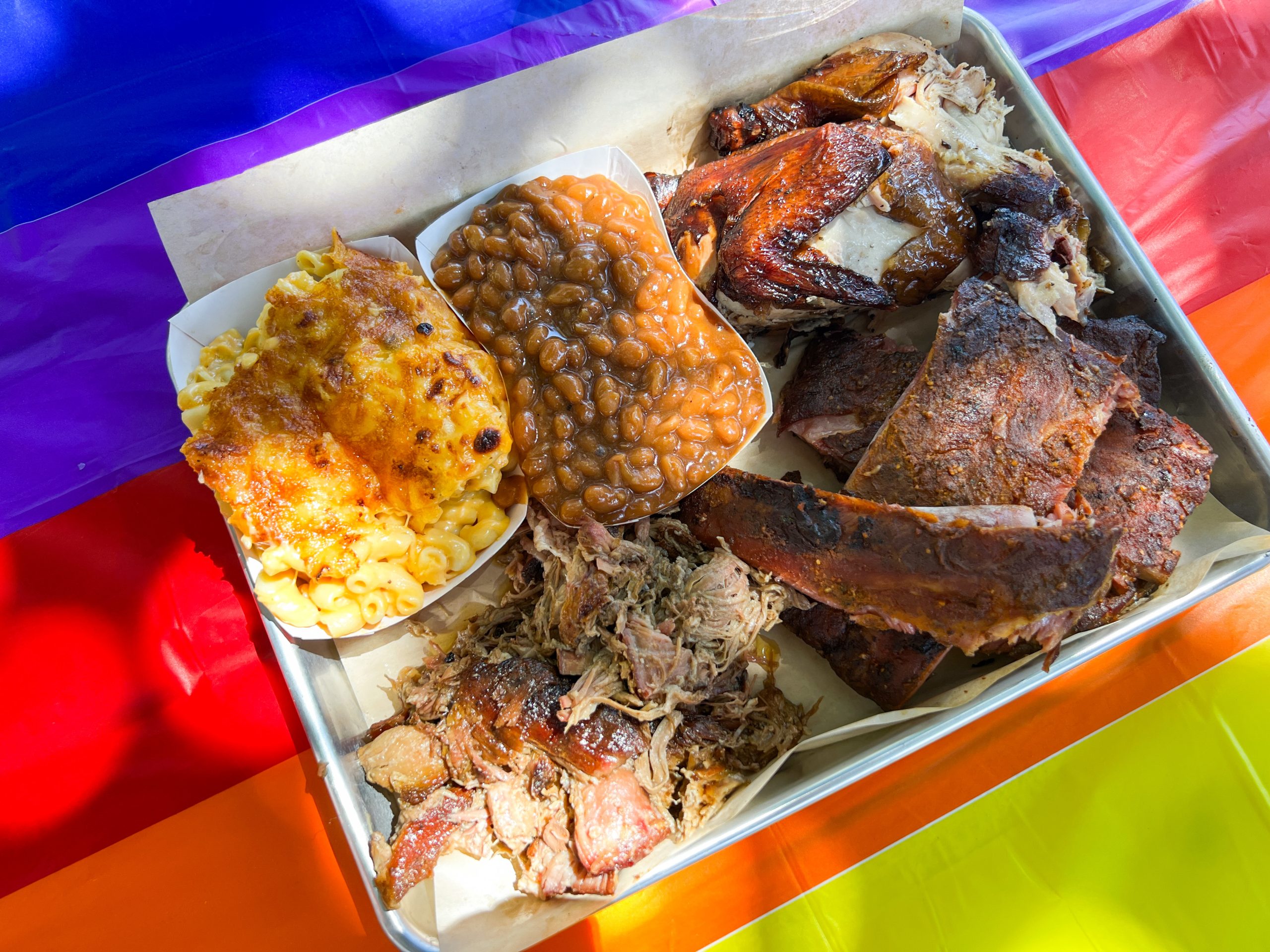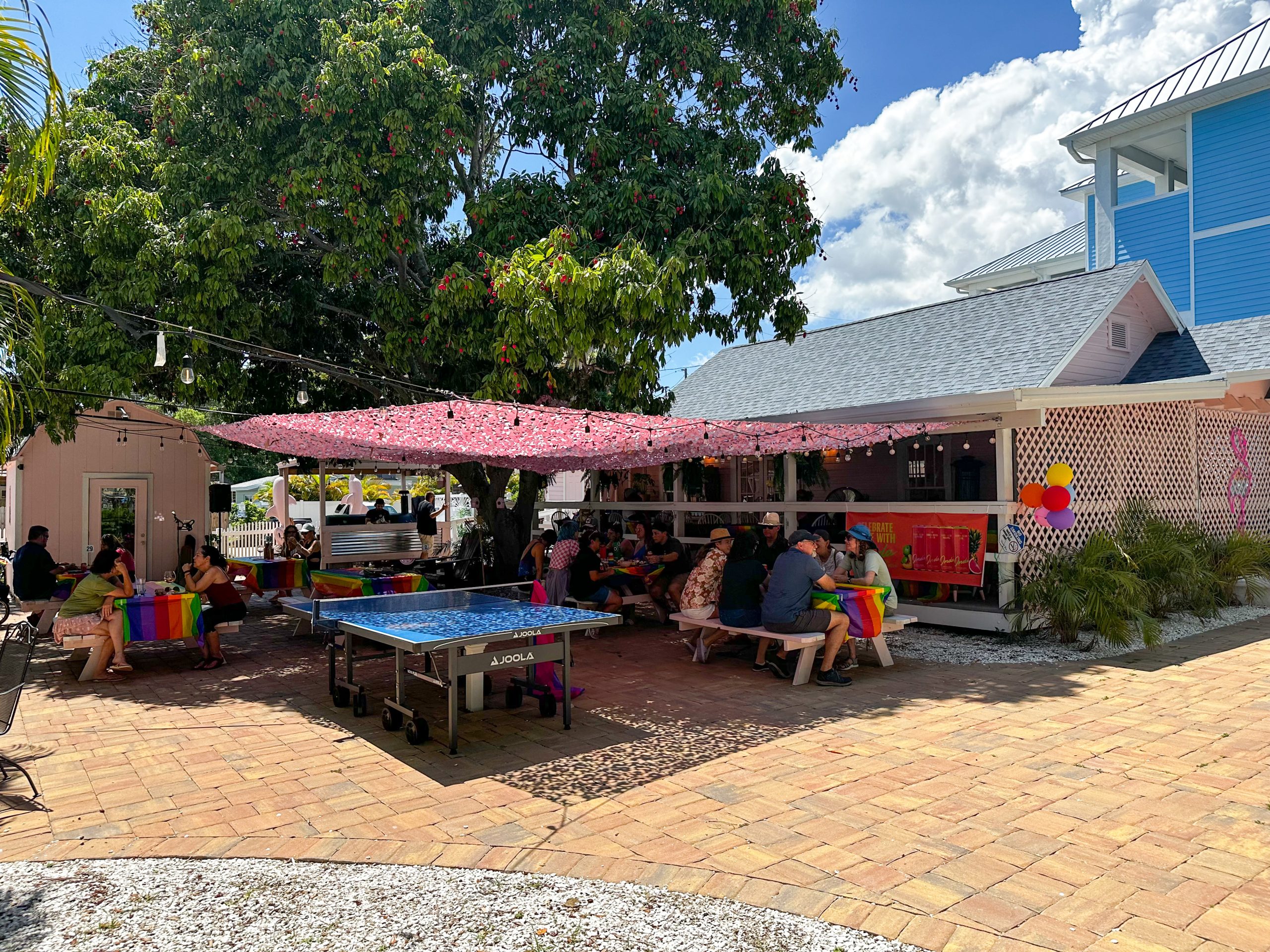 Wine + Smoke House with a quaint, old Florida mood.
DISCLAIMER: Kevin, Lori, Abby, Haley, & Lindsey do not dine anonymously (this would be impossible) and we sometimes get free food (though never expected). However, we dine with the locals and we support our own. You will always get honesty in a respectful manner. We do not include any large national or regional chains in our ratings and reviews. We focus on independent locally owned eateries exclusively.

PLEASE NOTE: Reviews reflect a certain moment in time. Some restaurants stay extremely consistent over many years, and some change for the better or worse. Some things that may change are: chefs, recipes, food suppliers, ingredients, philosophies, ownership, etc. We always hope that you have the same good, or great experience we had.
More Foodies News, Reviews & Recipes