Salty J's Sprinkles Snark and Sass onto 4th St N – Let's Get Salty St Pete!
Salty J's Sprinkles Snark and Sass onto 4th St N – Let's Get Salty St Pete!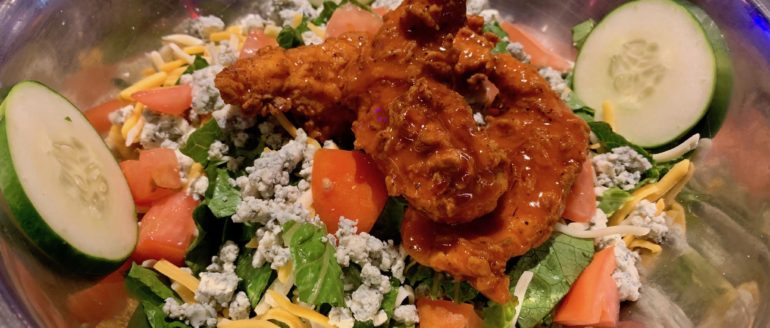 Yes, I understand that the name of Salty J's refers more to sass than to my favorite cooking mineral. But I have to admit, I do love the name. The only thing better would be if the name was Salty L's, however that wouldn't coincide with owner, Josh Connell's first initial, now wouldn't it?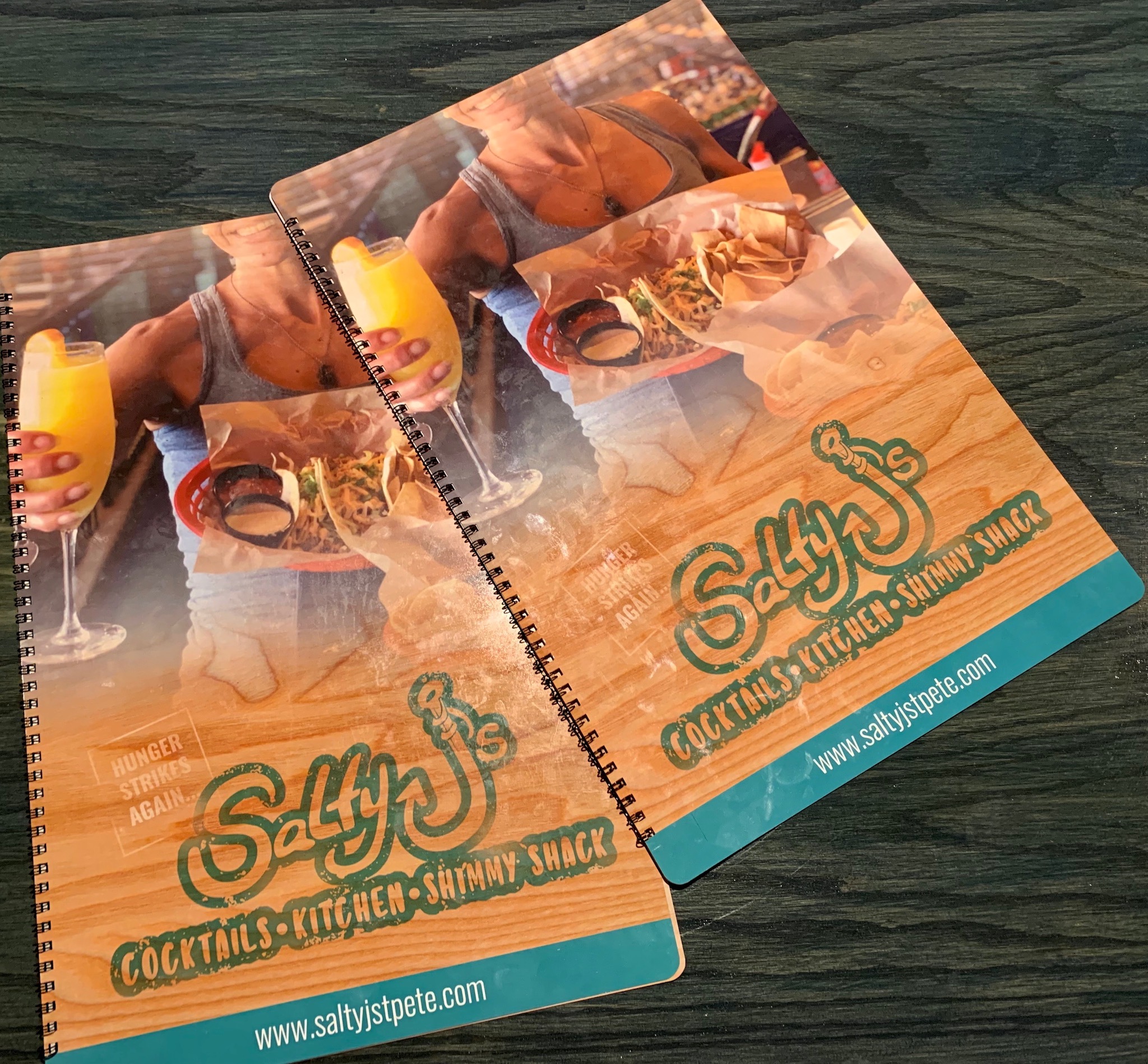 Salty J's opened the first of June in the 54th Avenue corridor of 4th St N. According to GM, Jack Berres, they were busy from nearly day one. He said that "4th St has its own fiercely loyal patrons, similar to those that don't like to leave Central Avenue or Beach Drive."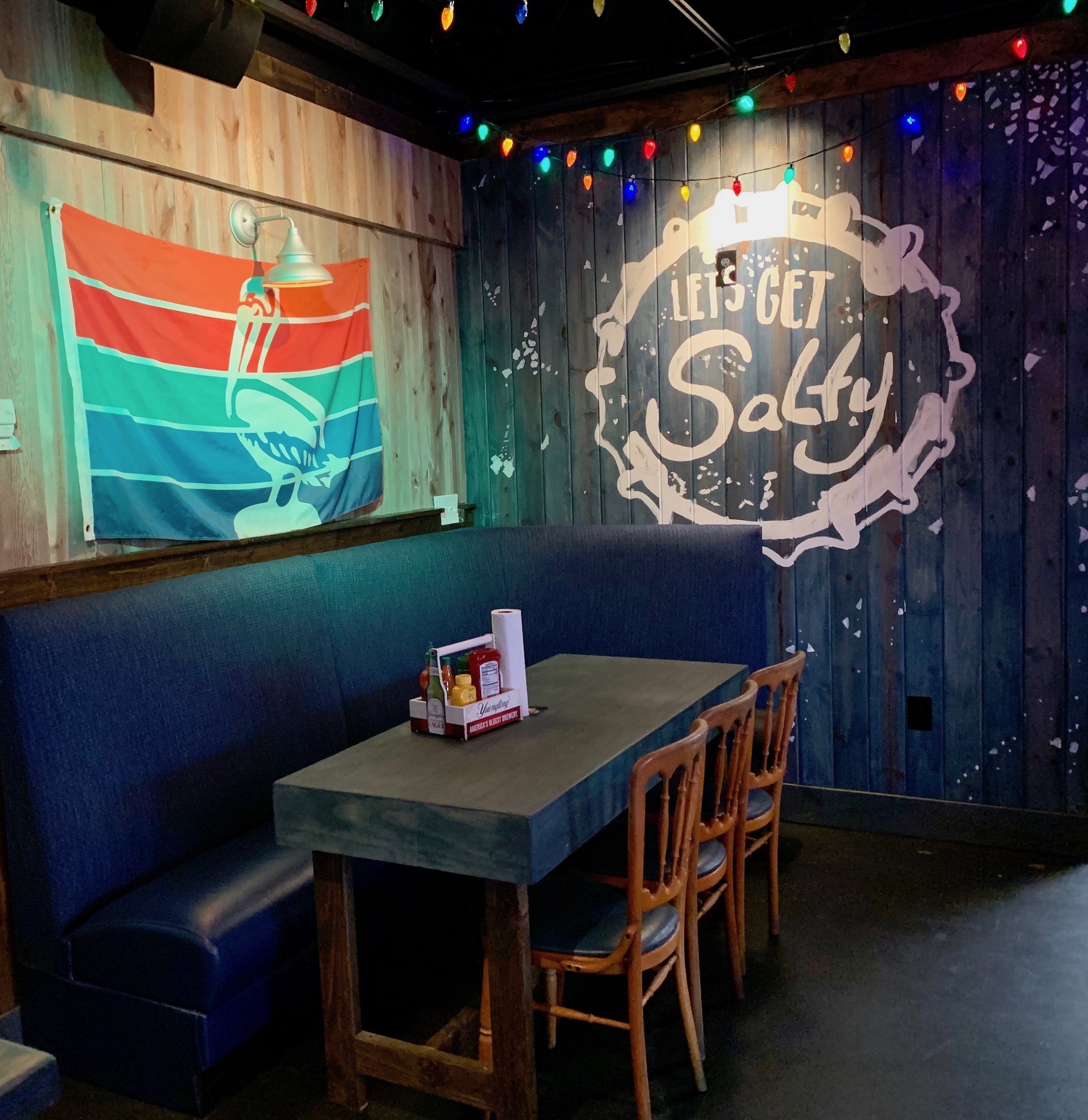 The space feels homey and somewhat nautical with high top and regular tables and a fully stocked long bar with quite comfy barstools – a must for my bad back.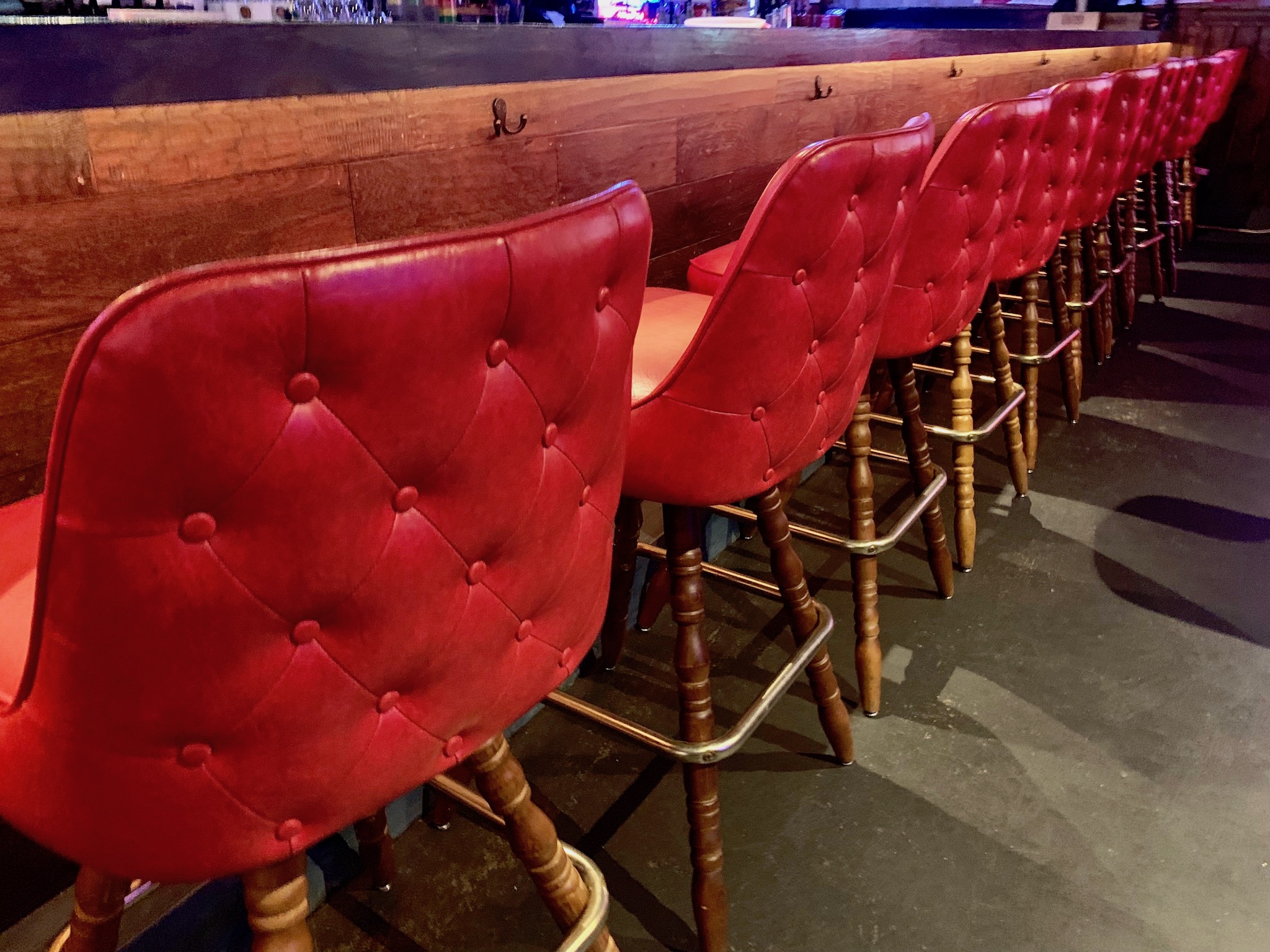 We first met with Elaina, owner Josh Connell's social media manager extraordinaire, a couple of weeks after they opened. She invited us in on a day when she was going to be taking professional shots of the food on the menu for promotional purposes. This way we could get our own shots and a few bites of food that would normally go to waste.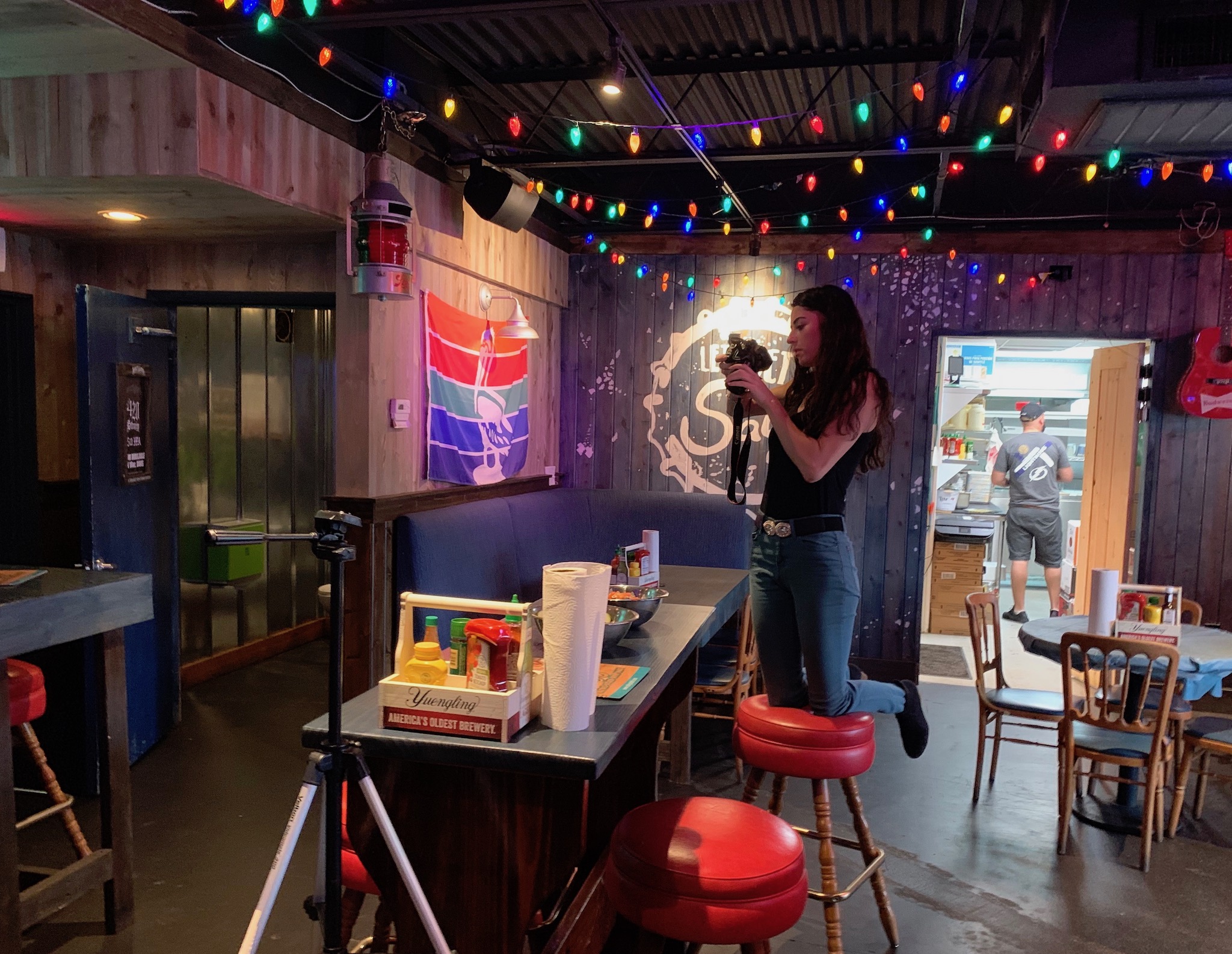 Jack started us out with the house margarita made with Dobel tequila and a black salt rim. When asked about their drink menu he said, "we are not a place that's about craft cocktails, but we have a damn good margarita and all of your other favorites."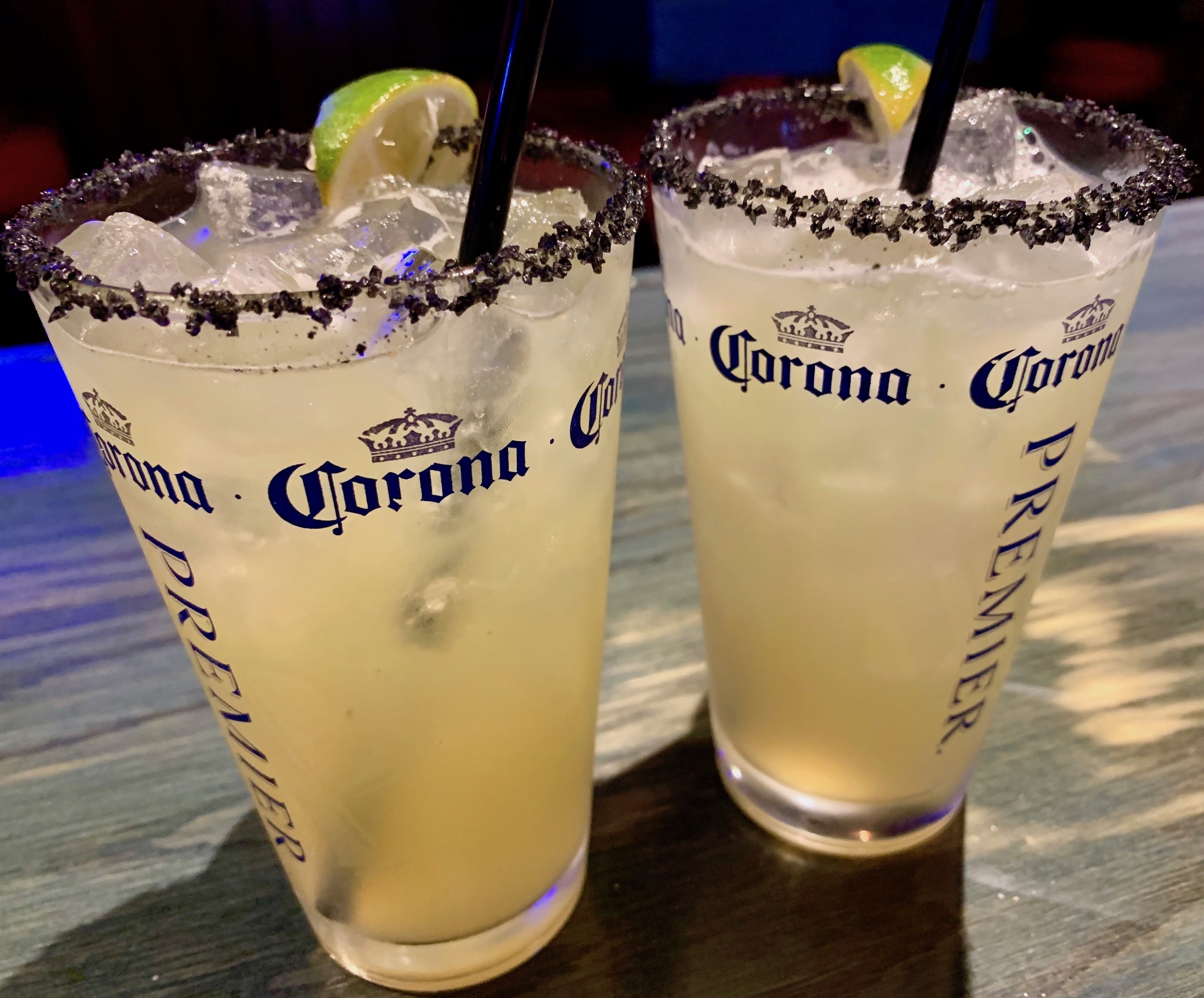 And then the food started coming out in a rapid fire fashion for Elaina to photograph first and us to eat and photograph second. The first up was the Blackened Chicken Nachos. Josh says they use fresh ingredients whenever possible, and you can see for yourself those jalapeños are freshly sliced and trust me you could taste it too. These nachos are a refreshingly different take on traditional nachos with shredded lettuce, cheddar jack cheese, queso cheese, diced tomato, Jalapeño slices and sour cream and your choice of blackened chicken, bbq chicken or grilled veggies.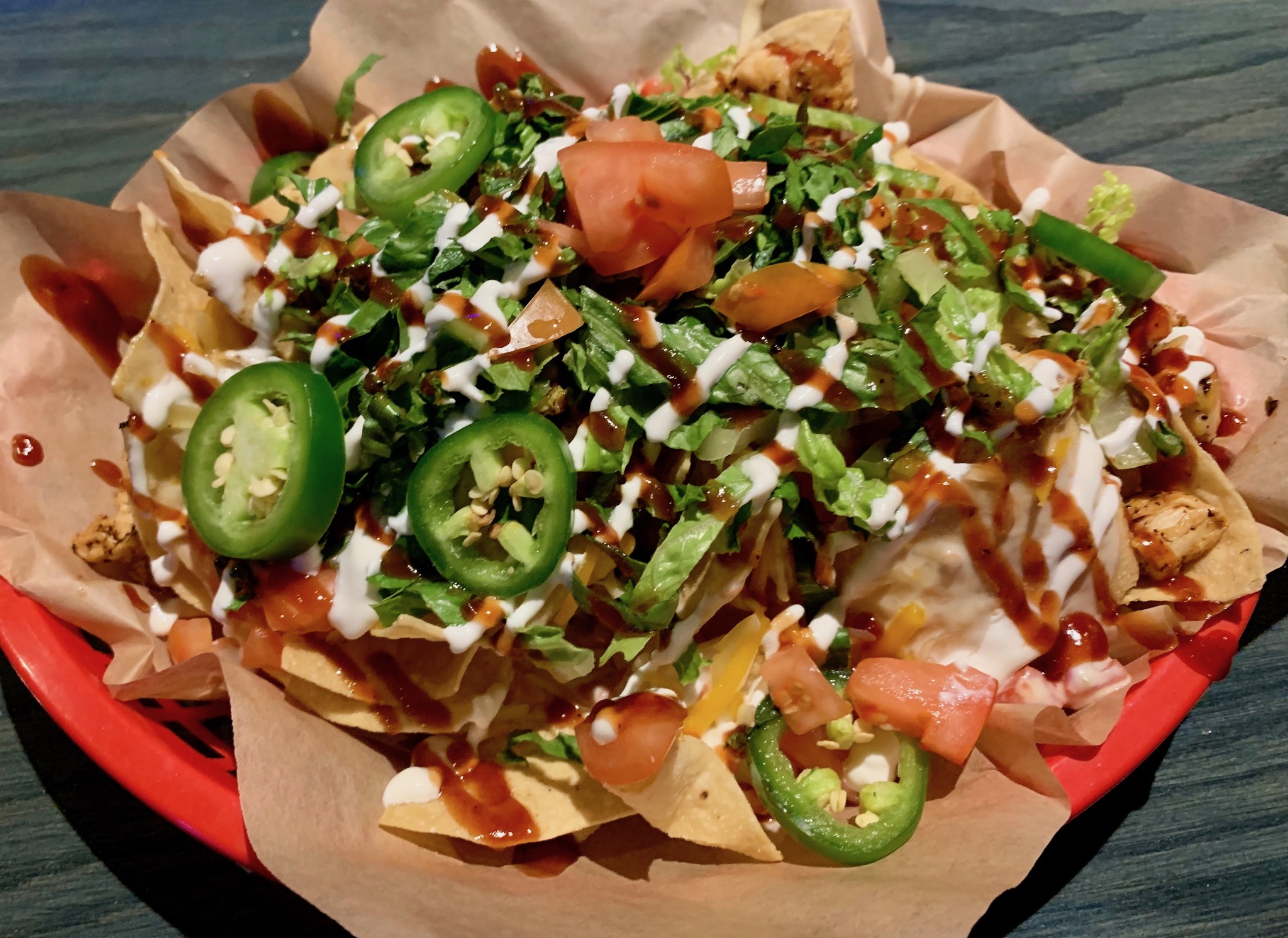 What would a neighborhood bar like Salty J's be without buffalo shrimp and spicy breaded buffalo cauliflower? They definitely fulfill their comfort food role deliciously with bleu cheese for a dipping sauce. But watch out, they do have some spice!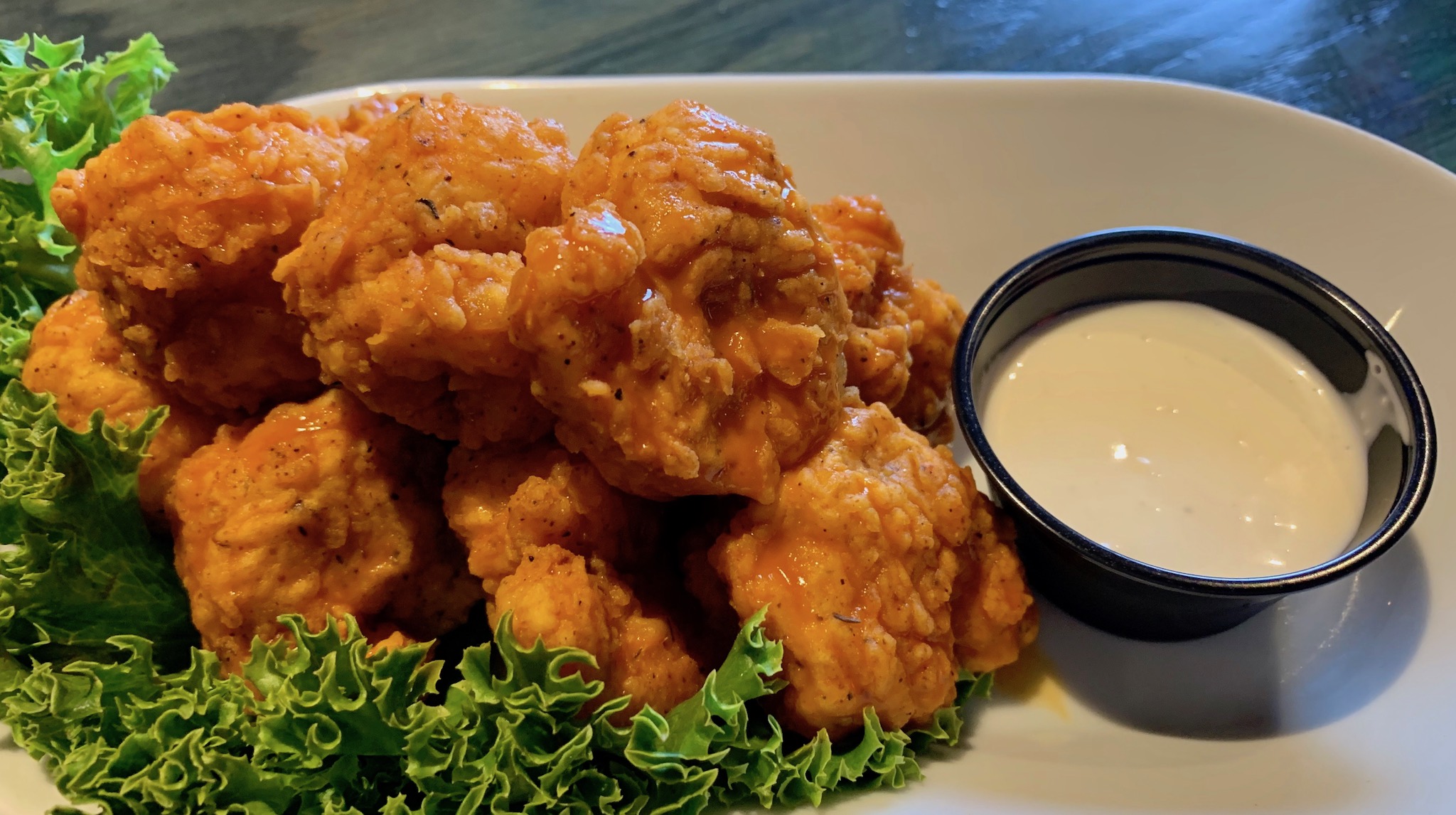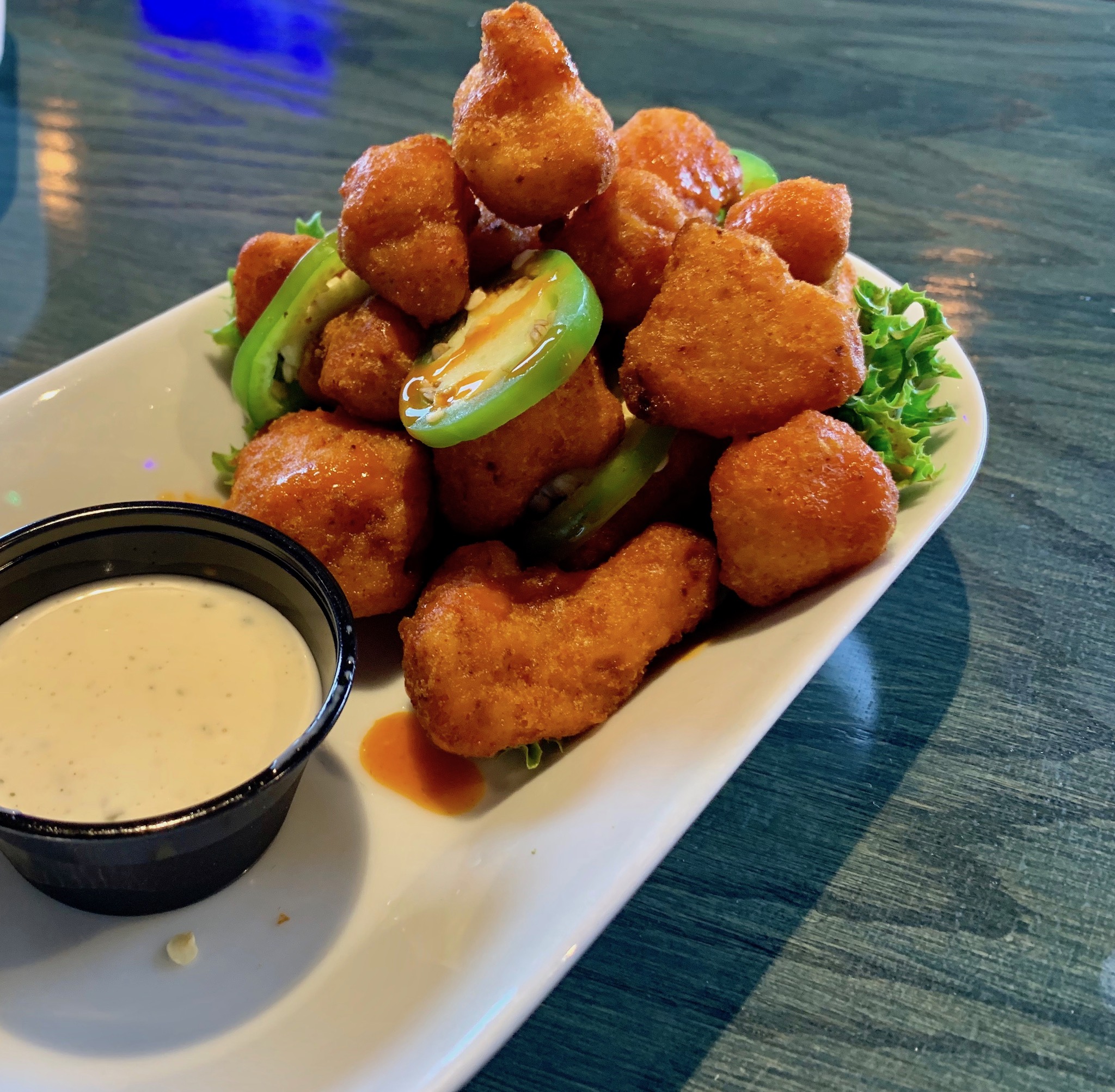 My mouth actually dropped when the next two salads came out. No one can say that they scrimp on the size! And both salads looked and tasted extremely fresh!
The first is the Tossed "BIG BLEU" Salad with chopped blackened burger, tomatoes, cucumbers, bleu cheese crumbles, chopped bacon, ranch and balsamic glaze. They definitely love bleu cheese as it's impossible to get a bite without it. This is a burger, salad and bleu cheese lovers dream!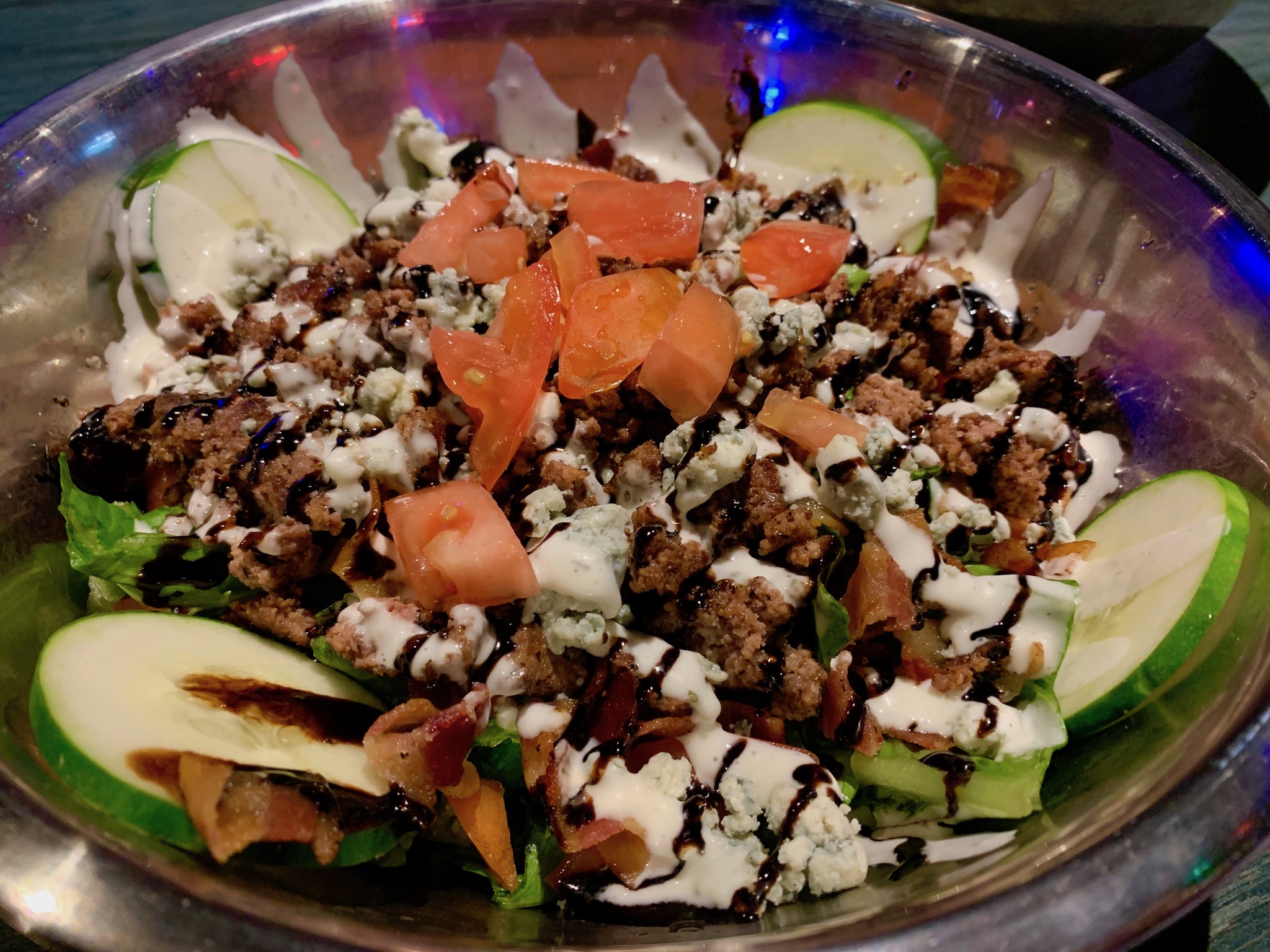 The next is the Buffalo Chicken Salad with nice size pieces of buffalo chicken tenders over romaine with shredded colby jack and bleu cheese crumbles, diced tomato and sliced cucumbers.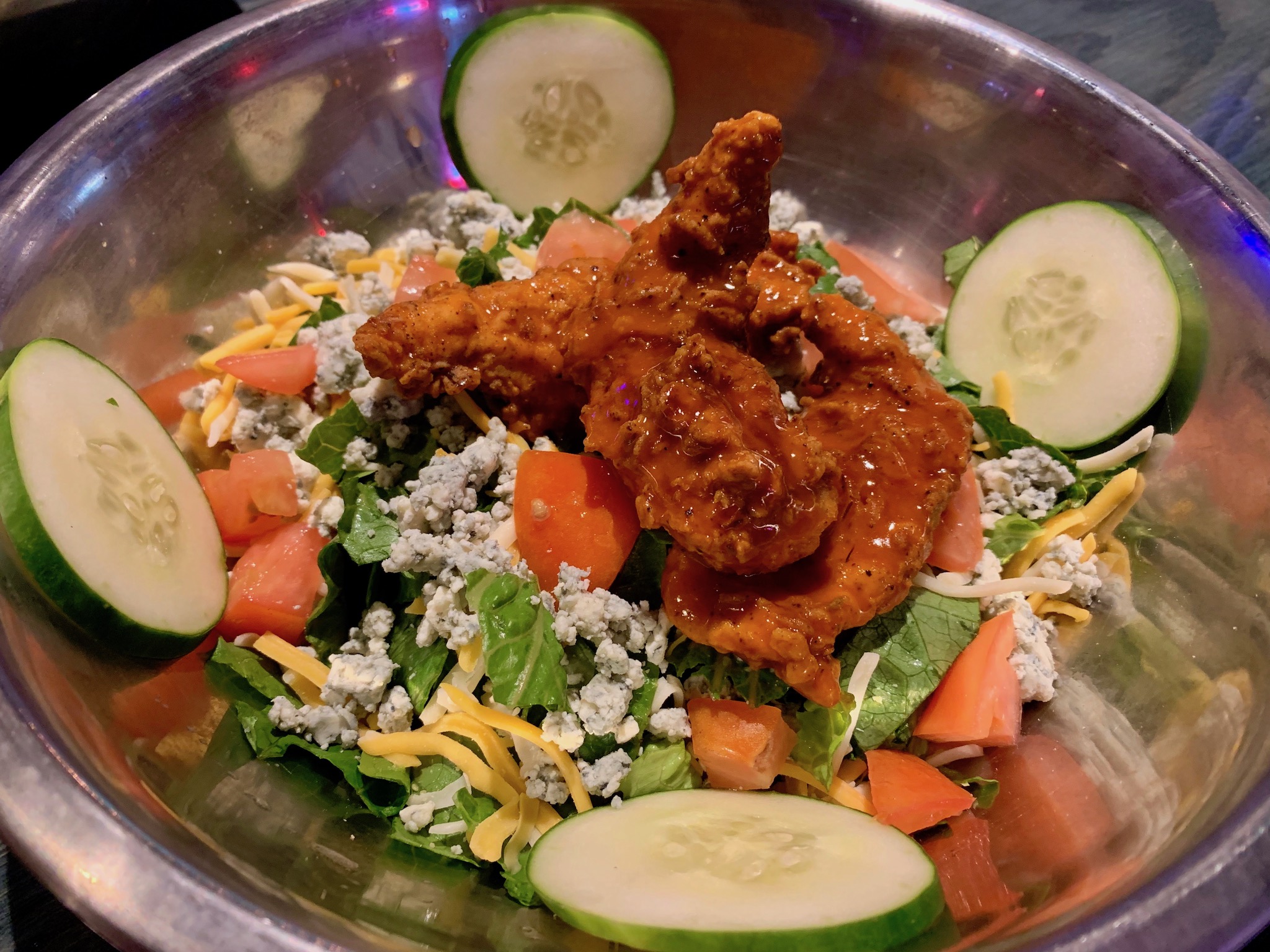 Love tacos? Well you will definitely fulfill your cravings here. They come two per order and are served with chips, salsa and queso blanco. Kevin tasted these because they had cilantro, of course, but he very much enjoyed them! And the queso blanco is spicy and scrumptious, and made in-house.
First up were the Placido Bayou Tacos, named after a nearby St Pete neighborhood and Bayou. They consist of grilled chicken, onion, peppers, lettuce, shredded cheese, homemade bayou sauce drizzle and cilantro.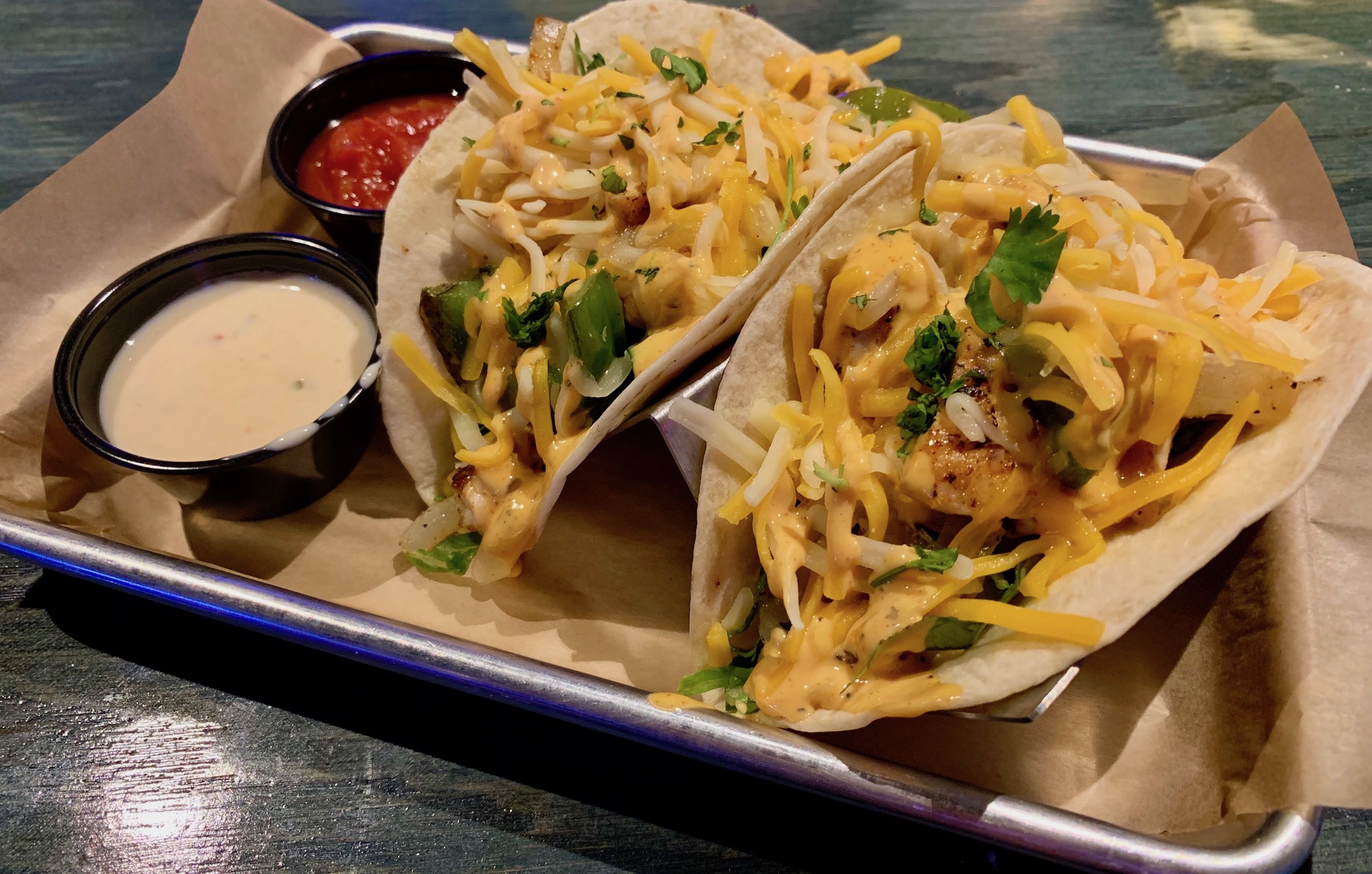 The Sweet Thai Tacos blackened chicken, sweet thai chili, spicy mayo drizzle, romaine, shredded cheese & cilantro.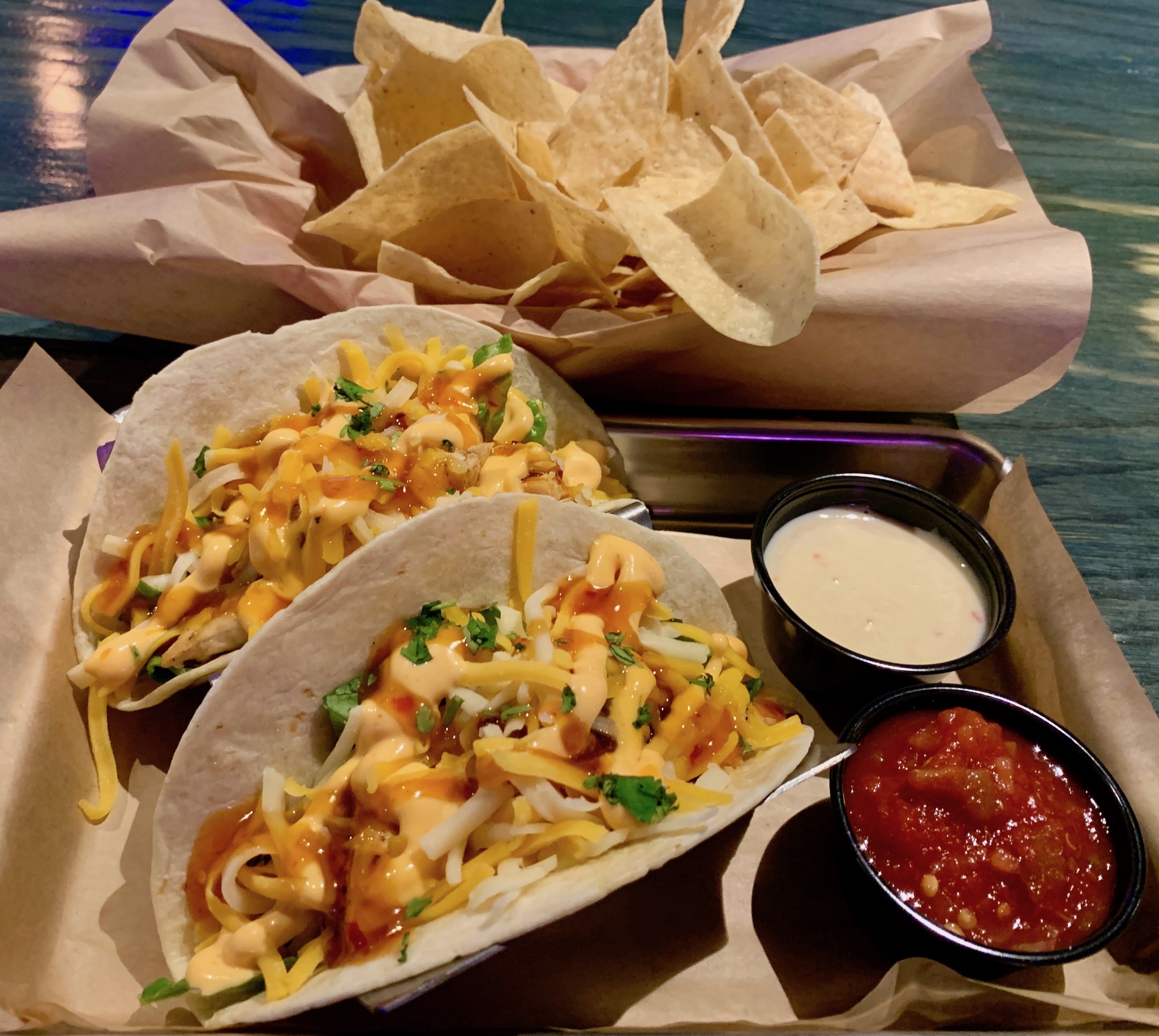 The peel & eat shrimp were just that…peel & eat shrimp and sometimes that's all you need.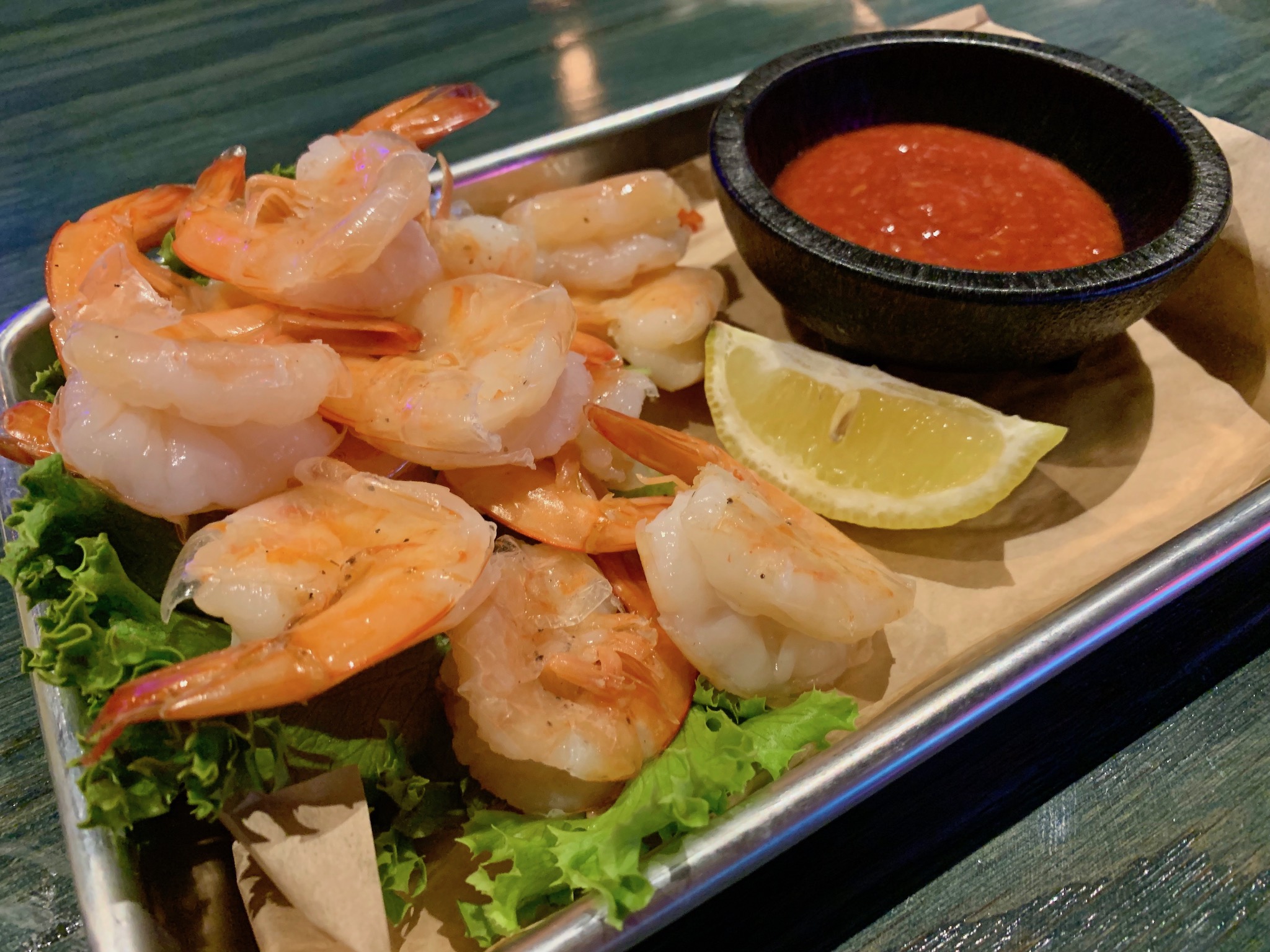 Another jaw dropper, but nothing I would ever order due to it's massive size and inability to fit in my mouth to actually take even one bite, was the Big Tex Burger: pepper jack, jalapeño slices, fried onions and sriracha aioli. Kevin dared it and dare I say he did some damage. He really enjoyed the spice and the crunchy fried onions.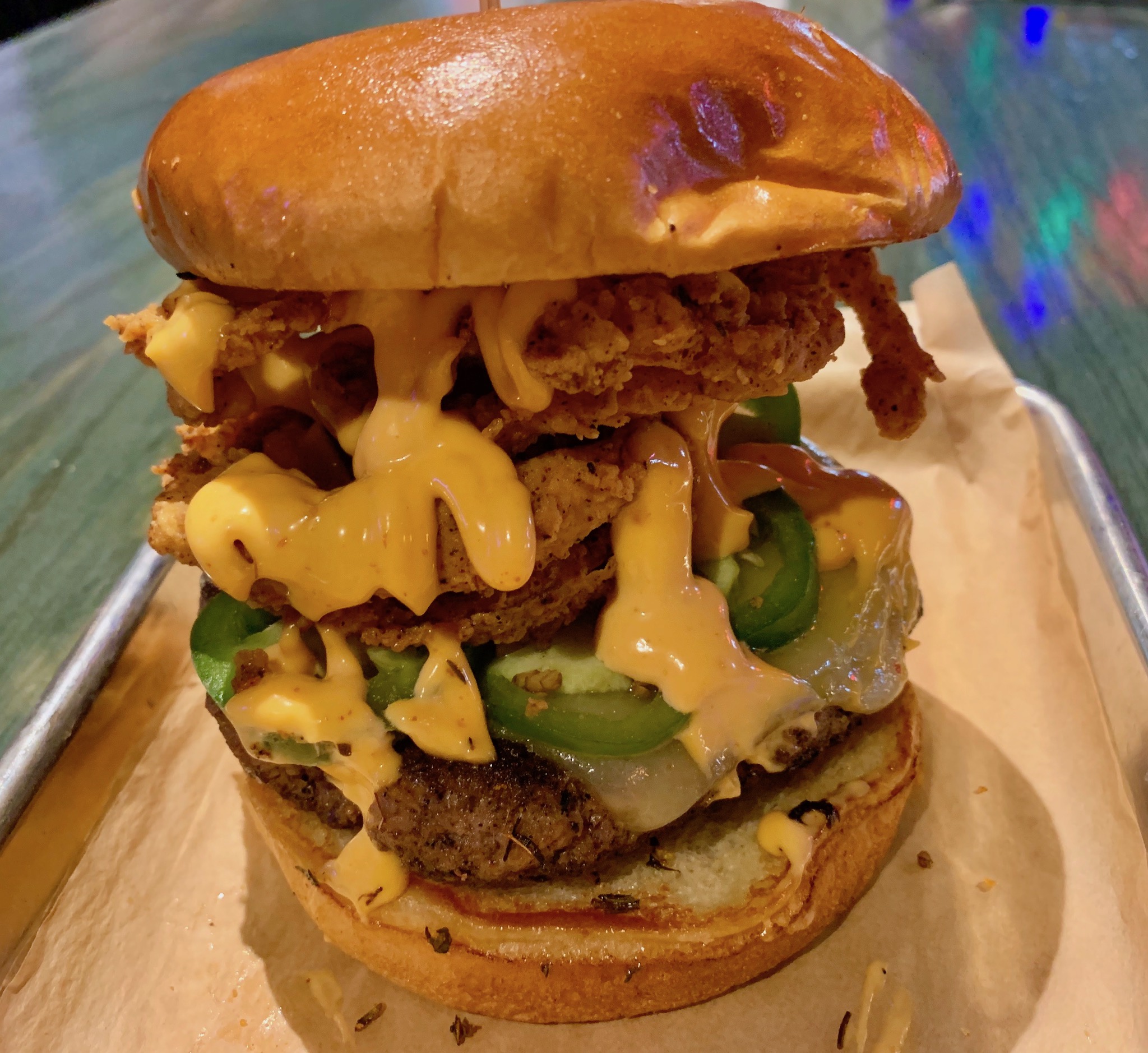 This burger was more my speed. I like one that you can pick up and fit into your mouth without getting too messy. Plus I enjoy the classic flavor of a classic American cheeseburger. The Bonfili Burger is just as I said a classic American cheeseburger with american cheese, lettuce, tomato, onion and pickles. The name of the burger pays homage to the late Mary Jean & Frank Bonfili of El Cap. It was quite tasty, but please note, they cook their burgers to medium well, so this one was a bit dry for me, but I would make sure to order it medium rare next time. And the seasoned fries are in the tops for me. They were terrific!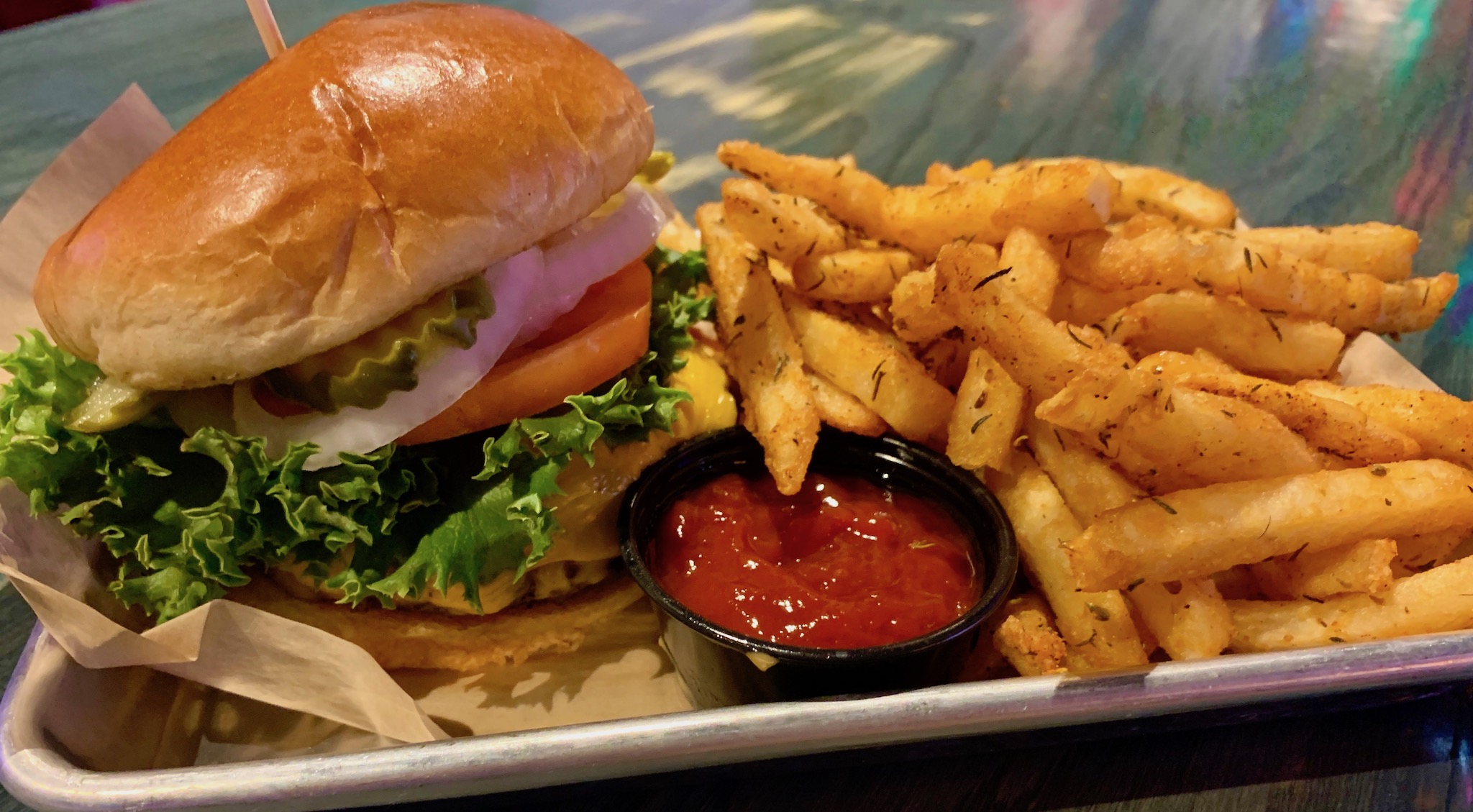 I love a great Philly cheesesteak and Big J's Loaded Sirloin Philly definitely fits the bill and of all things I tasted the best of the day. It has thin sliced sirloin or grilled chicken, melted provolone, grilled onions, mushrooms and peppers. This sandwich will totally make me return.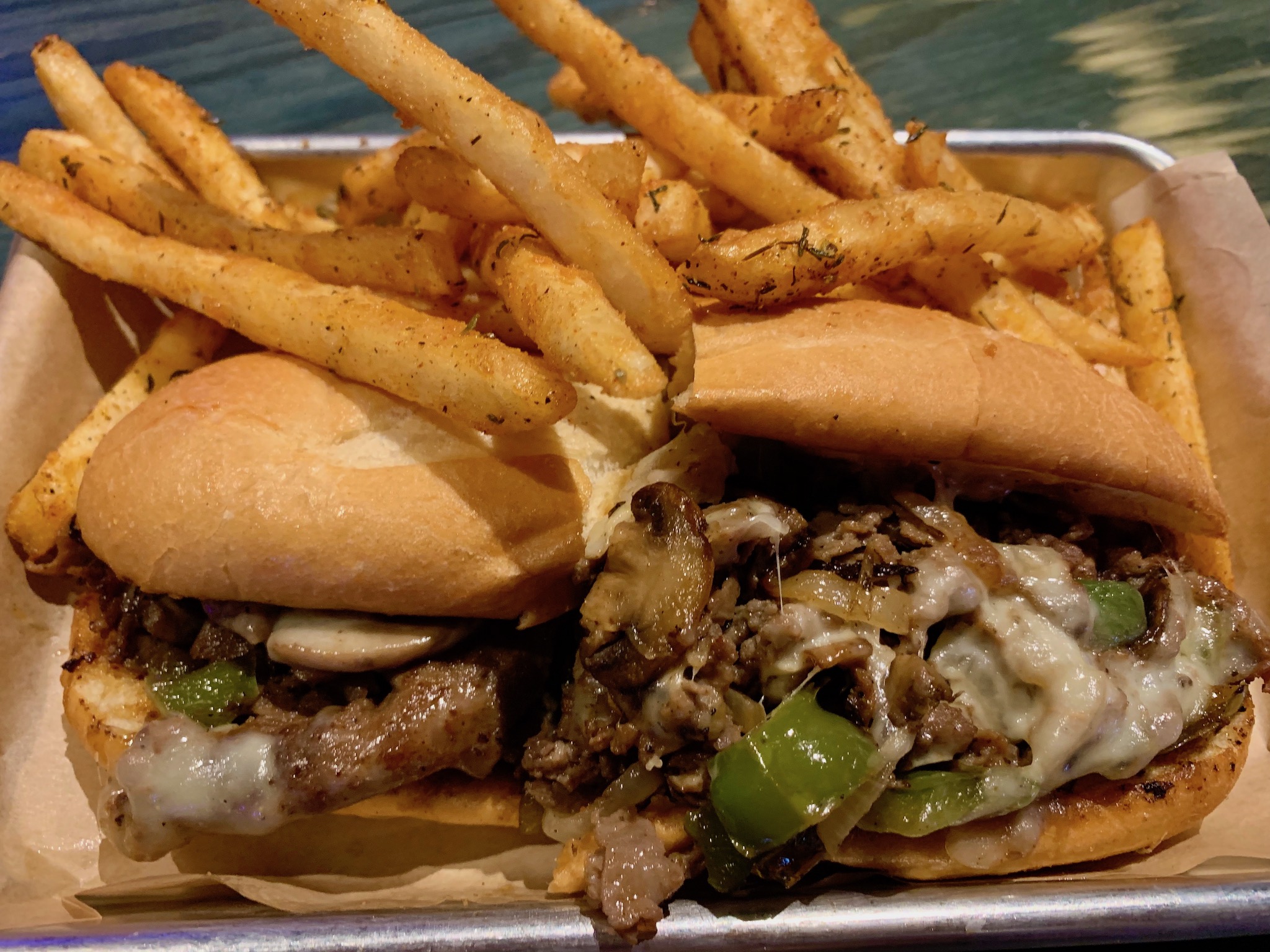 When this hot dog came out of the kitchen, I laughed out loud at the absurdity! Yes it is really that big! It is called Mrs. Salty's Favorite Massive Hot Dog and you can actually dress it with whatever toppings you like. I know, ketchup is never supposed to go on a hot dog, but owner Josh Connell dressed this one and he likes his with mustard, ketchup, cheese, queso and jalapeño. I didn't taste the toppings, but I bit off the end and it was a gluttonous, huge, delicious all beef Nathan's hot dog. You best be hungry for this sucker!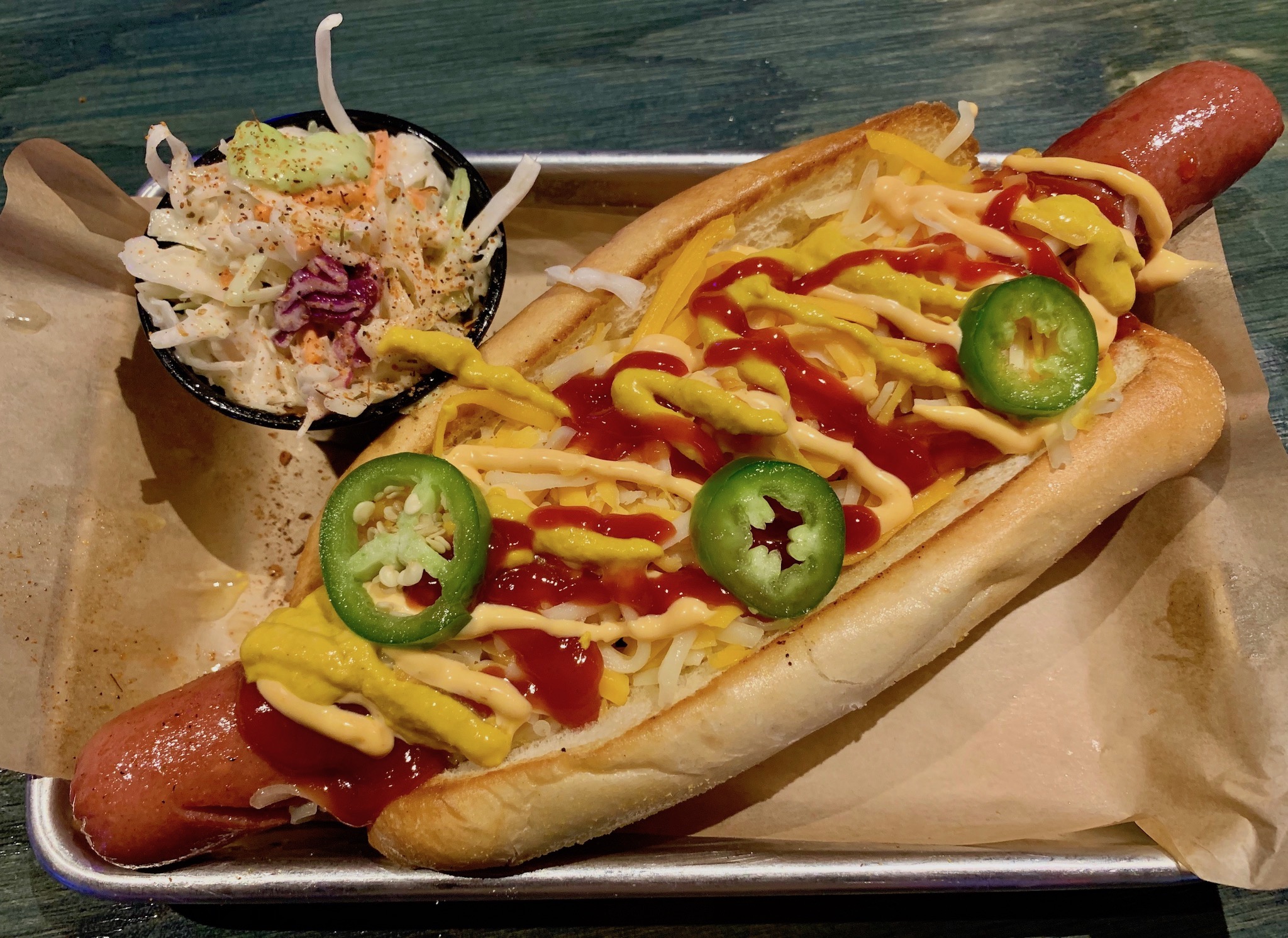 Salty J's is already a great addition to the 4th St N neighborhood and I am sure will continue to gain clientele as it definitely offers something for everyone in a chill, relaxed environment. Head on over and let us know what you think. Let's get Salty St Pete!
See Full Menu Below: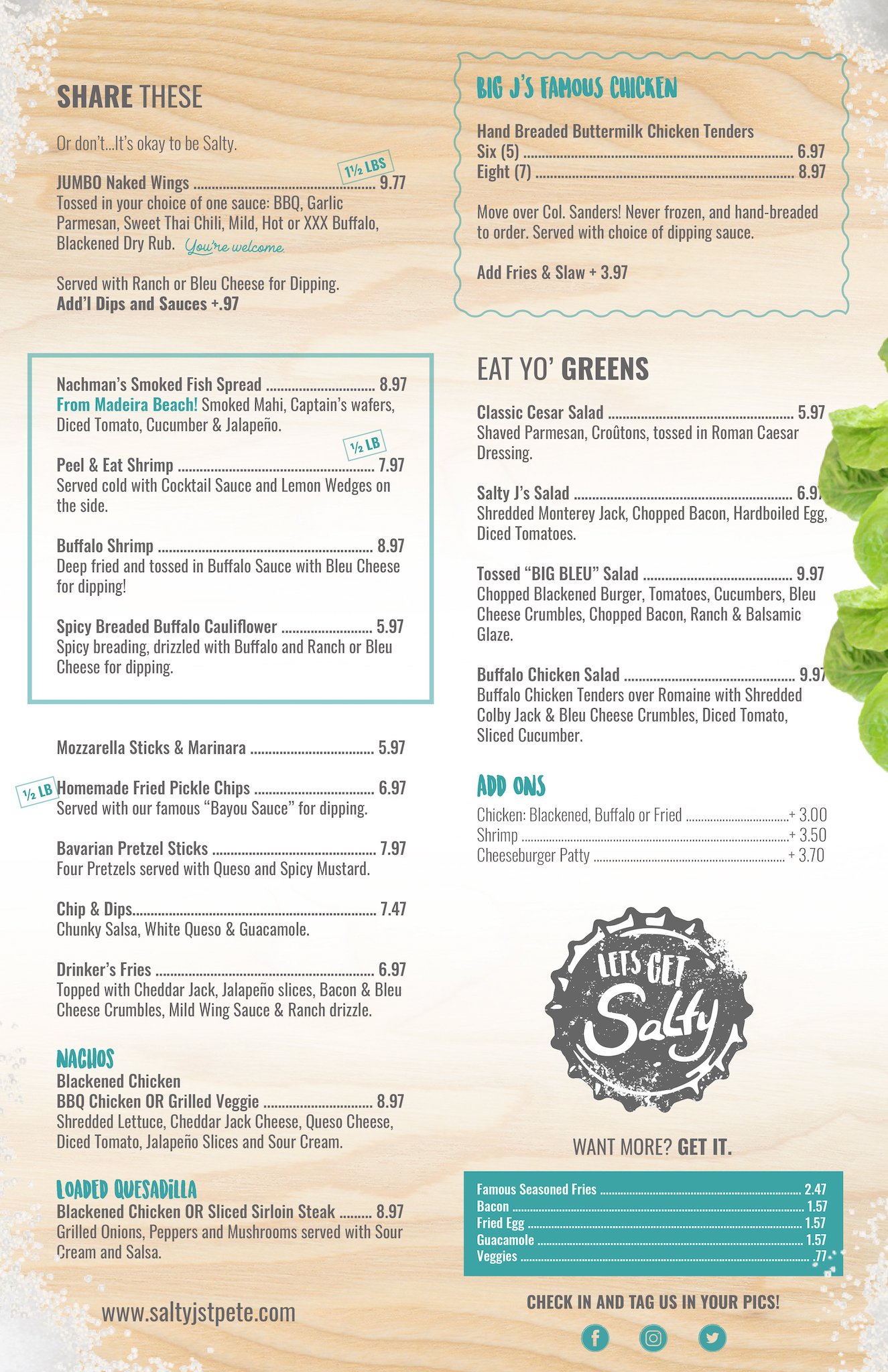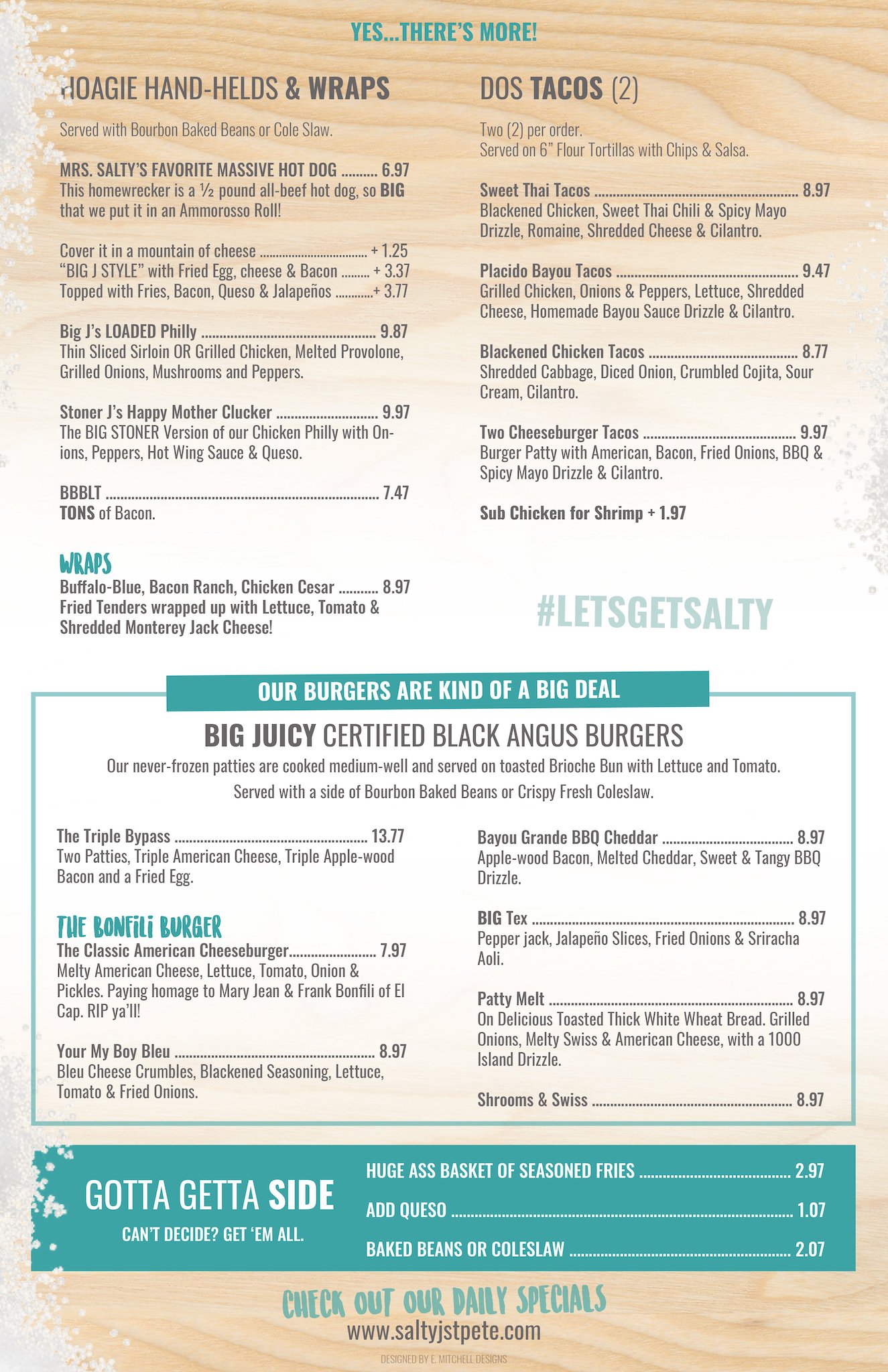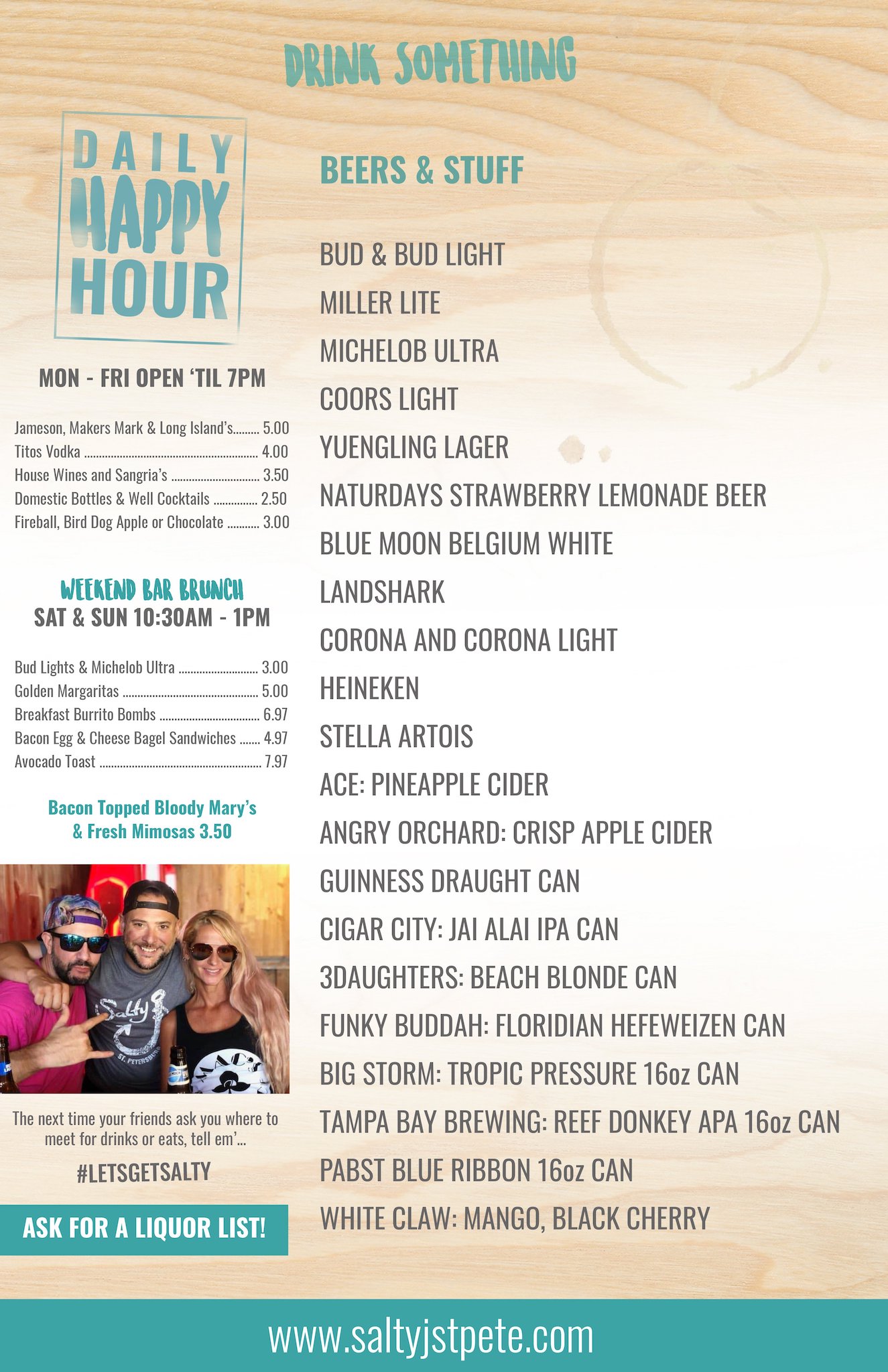 Classic American elevated bar food. Nachos, Burgers, Salads, Tacos, Hot Dogs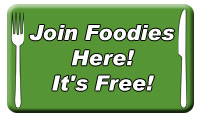 More Foodies News, Reviews & Recipes